There are many nail designs to make short nails beautiful, the secret is in the shape! If your nails never grow long or you just prefer a more practical length, short oval nails are in your future.
An oval shape is flattering on short nails because of the way they nicely elongate short or wide fingers. Many ladies choose this shape because they don't like their fingers to look stubby or stunted.
A naturally curved edge is soft and feminine. Before you go painting your nails, treat them to a little buff and file first. All edges should be curved and smooth. Now you're ready to pick a nail design!
Classy Short Oval Nails for Women
Don't want to end up resorting to the same old color for your short oval nails? We've got some fresh stylish nail designs in our list below.
#1. Black Abstract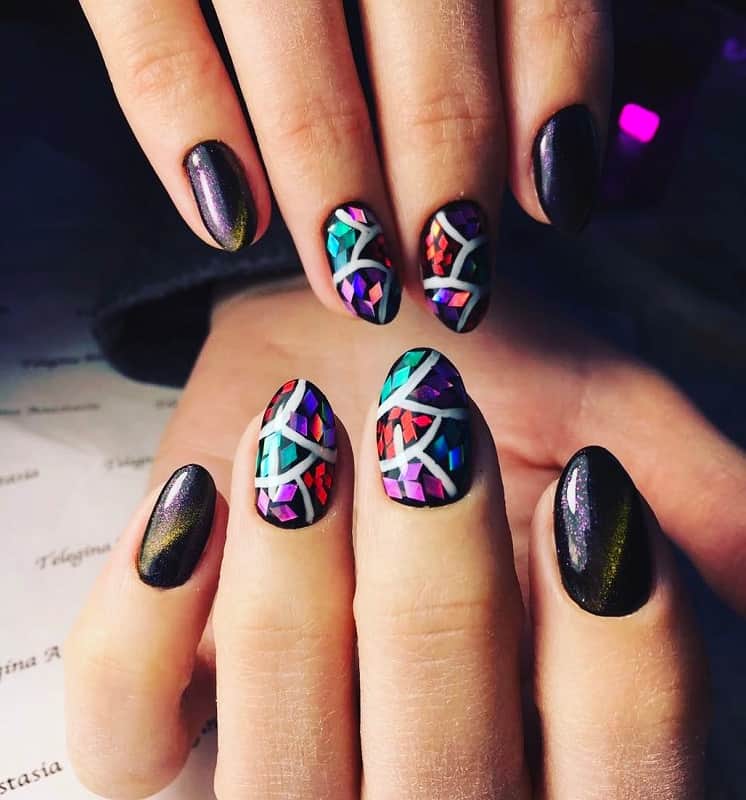 Start with a shimmering black as your base coat on short oval nails. Then use colorful tape or nail stickers to create abstract art on the ring and middle fingernails. Finish by using a white brush to create thick white curved lines.
related: How To Get Oval-Shaped Nails
#2. Very Short Oval Nails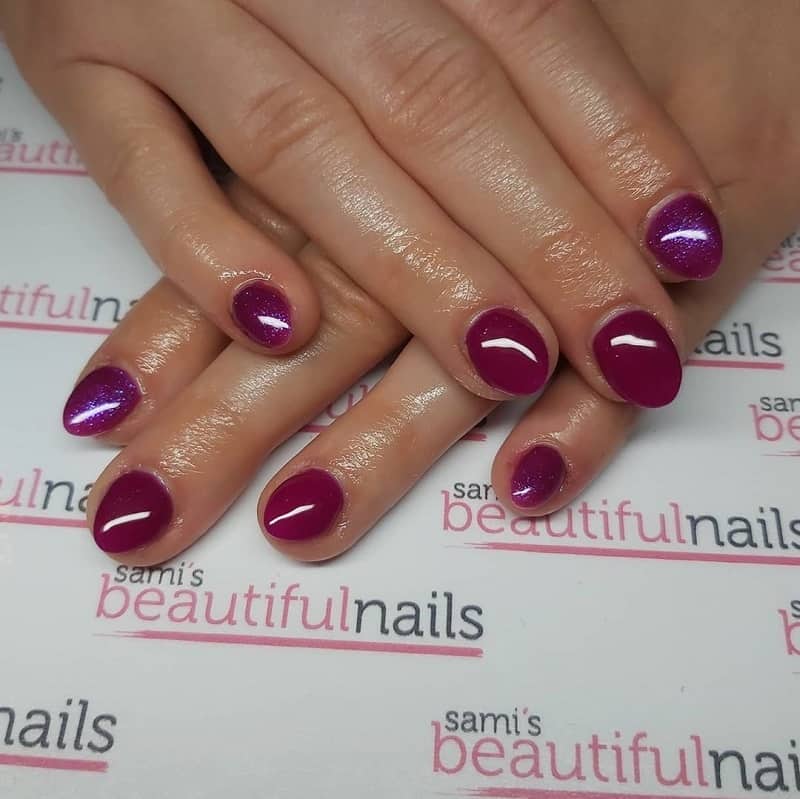 If your nails are shorter than a typical short oval nail, no worries! Distract from the shortness with a rich dark pink gel polish in both plain and glitter versions.
#3. Nude Nails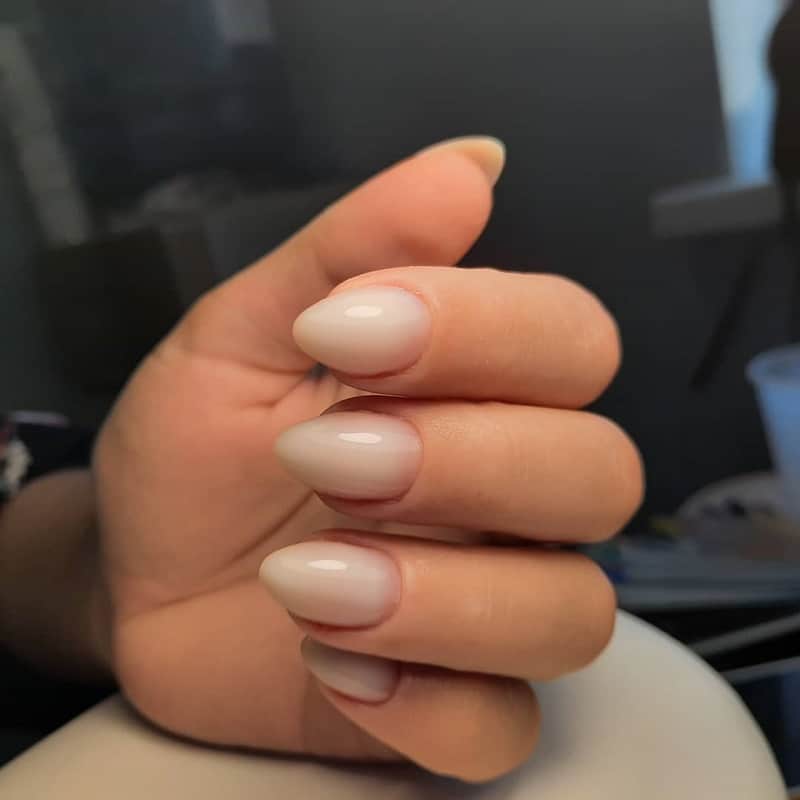 Are you all about class when it comes to your nails? A neutral nude is what you need for your short oval nails. Pick a shade very similar to your skin tone for seamlessness.
#4. Purple Gel Nails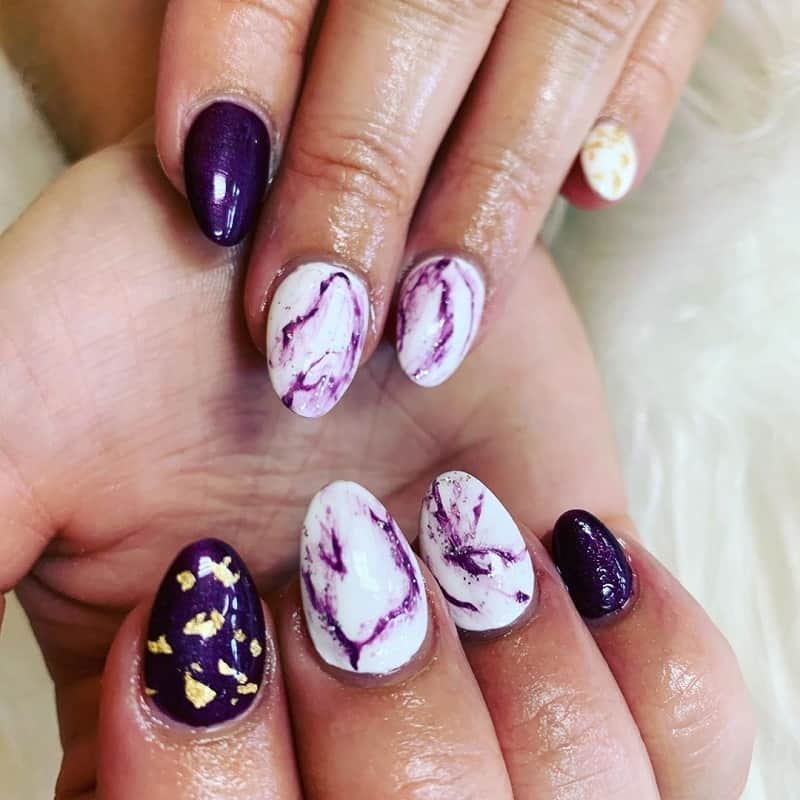 White and purple always look very hip and trendy together. Make two nails bright white and two dark purple.
Add purple splotches or odd wavy lines to the white nails before adding gold foil flecks to the purple ones.
#5. Blue is for Lovers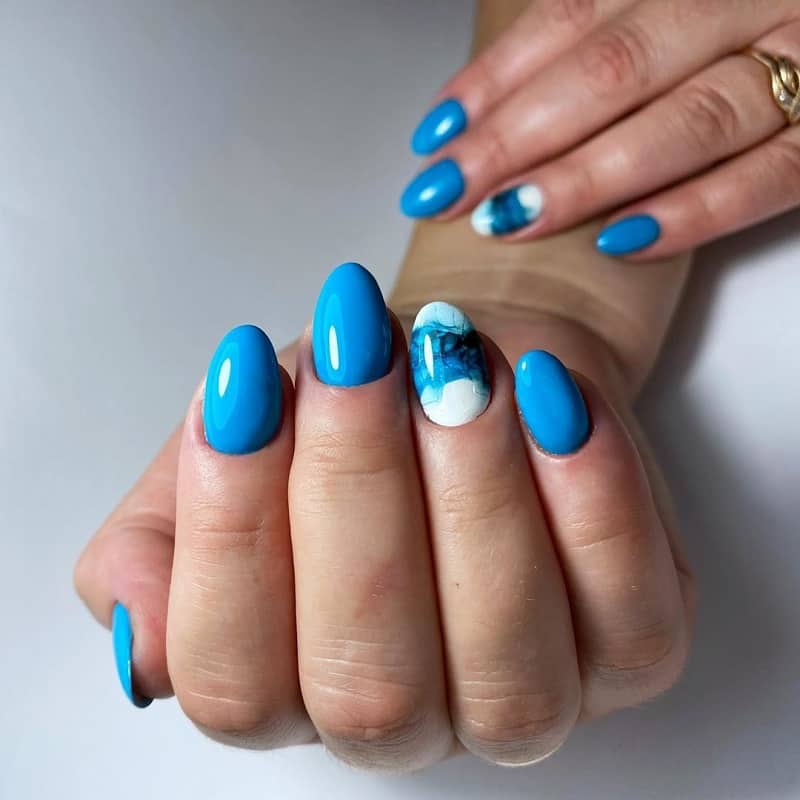 It's no wonder blue is many people's favorite color. The color comes in many shades, like this bright cheerful one. It accentuates the short oval nails and a watercolor-looking accent nail stuns.
#6. Hot Pink Ombre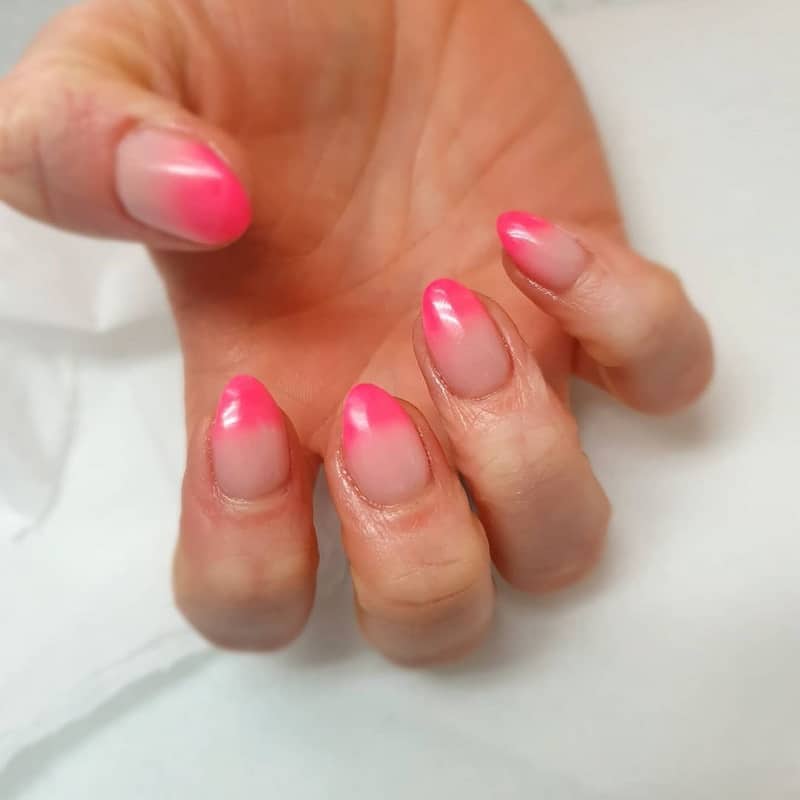 For a simple short oval nail design with a bright pop of color, go for a bright pink ombre. The top of the nail is nude and the tips are where the action is at.
#7. Nude and Black Geometric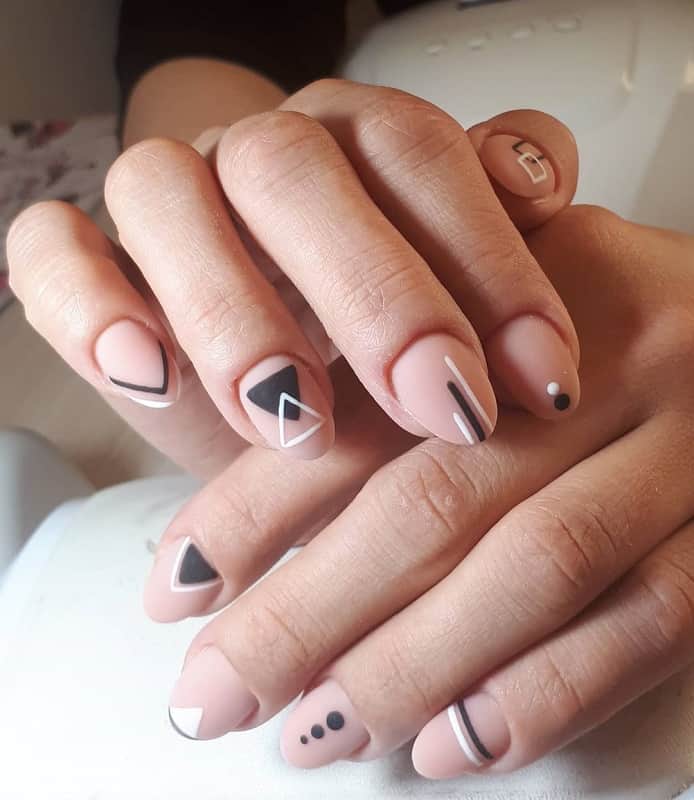 On nude or beige short oval nails, make a modern geometric design by using straight black and white lines, dots, and triangles.
#8. Pink and White Ombre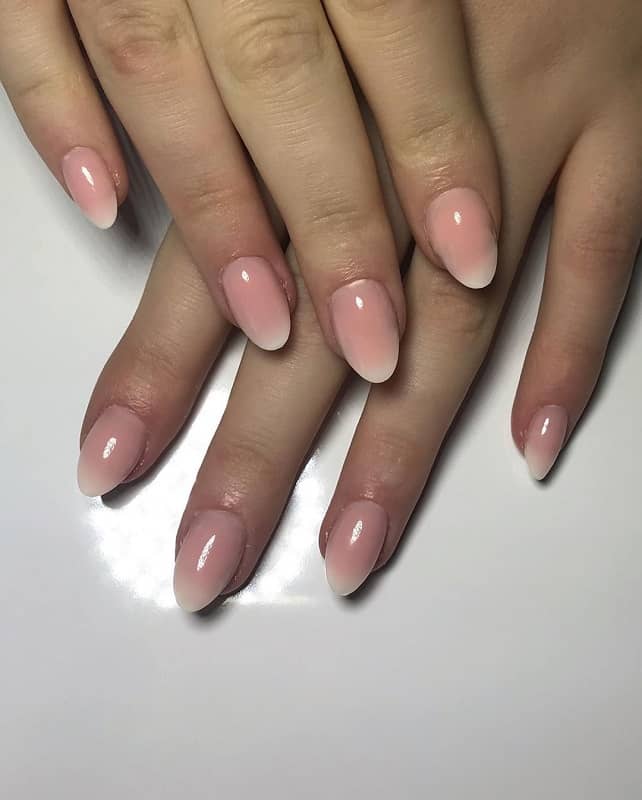 A luxe gel polish will help you get a nude and white ombre design for short oval nails. This style certainly isn't in your face, but rather gently noticeable.
#9. Glitter Ombre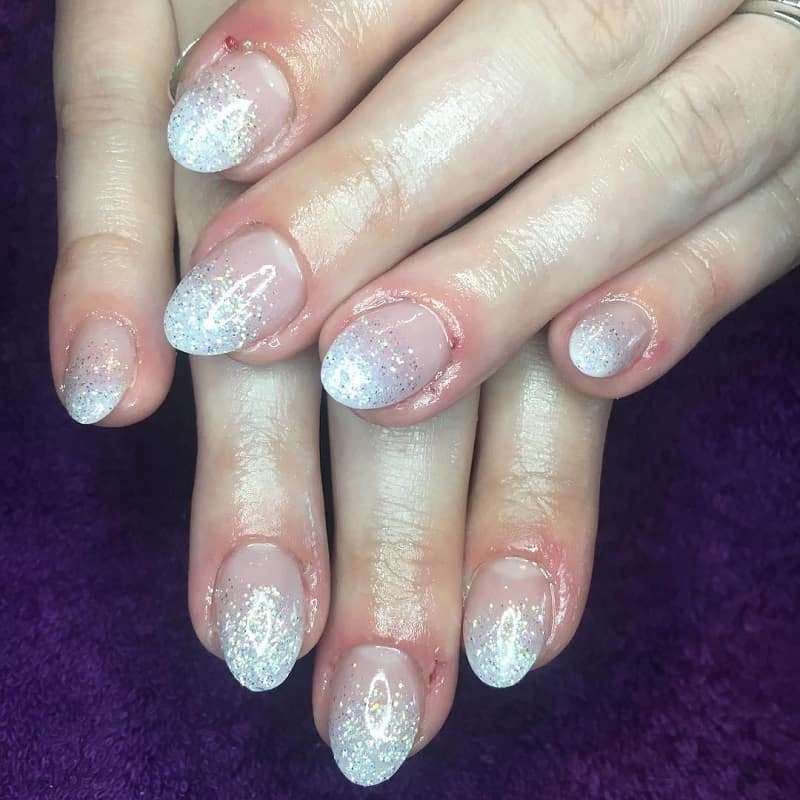 A white glitter ombre on short oval nails is perfectly shimmery for special occasions like birthdays and even New Year's Eve. You'll love the sparkle!
#10. Just Grey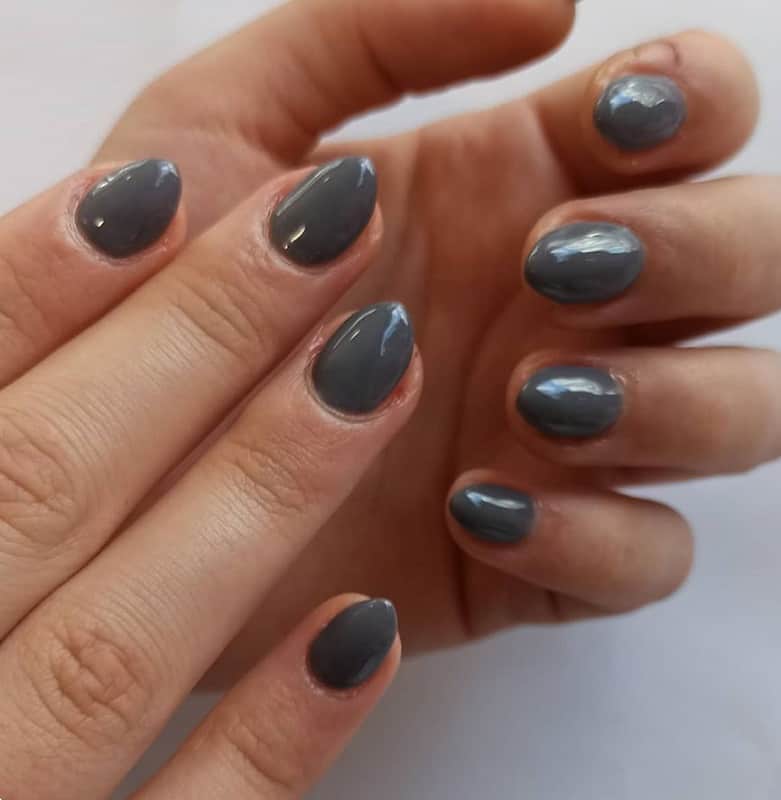 A plain grey nail is easy to do in minutes on your short oval nails. For shine, use a rich gel polish. For another kind of style, choose the color in a matte.
#11. Square Oval Short Nails
The squoval shape is different from short oval nails but still in the same family. For a wintry design, choose a shimmery light pink with a grey accent nail. A white snowflake finishes off the design.
#12. Short Oval French Tip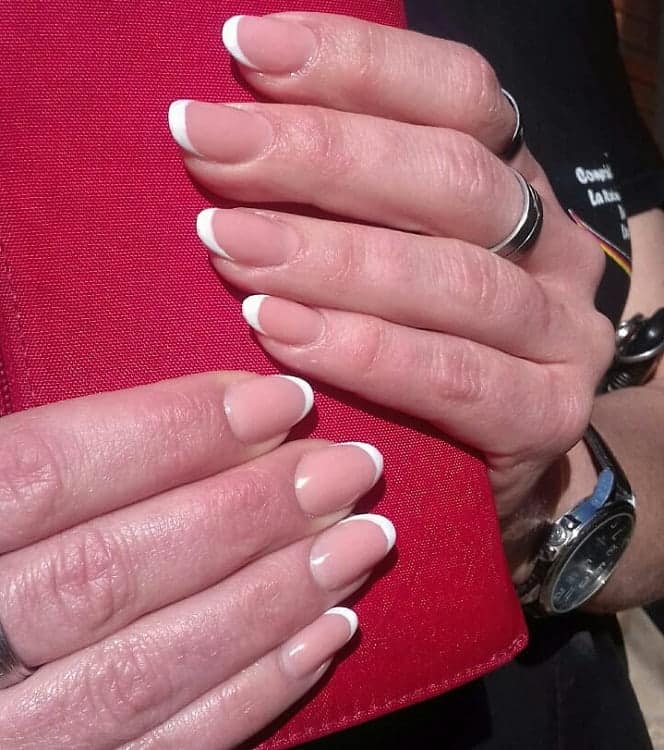 A French tip takes on a new appearance when worn on short oval nails. The always classy nail design will never let you feel anything less than classy.
#13. Half White Oval Nails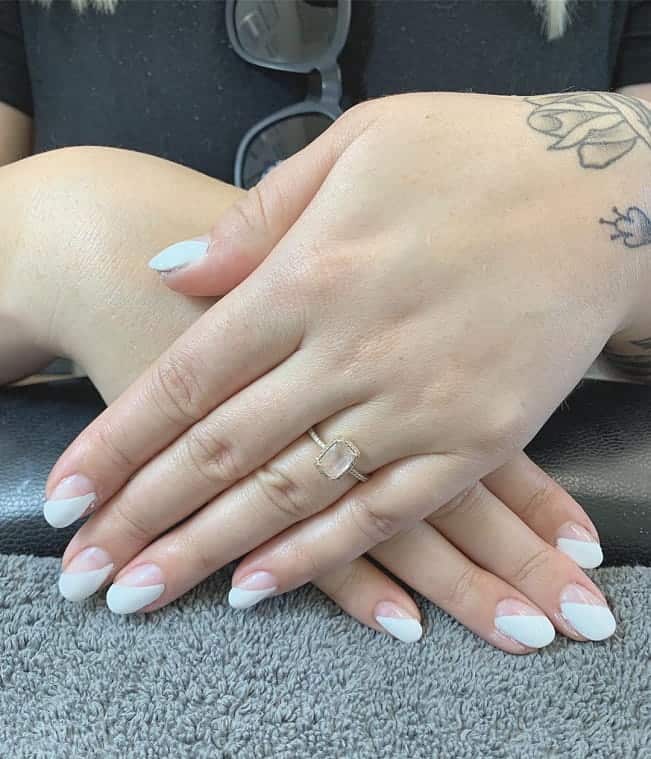 Why paint the full nail when you can do just half and have a totally new nail design? A soft white is perfect for light and pale skin tones, as well as your short oval nails.
#14. Short Purple Ombre Nails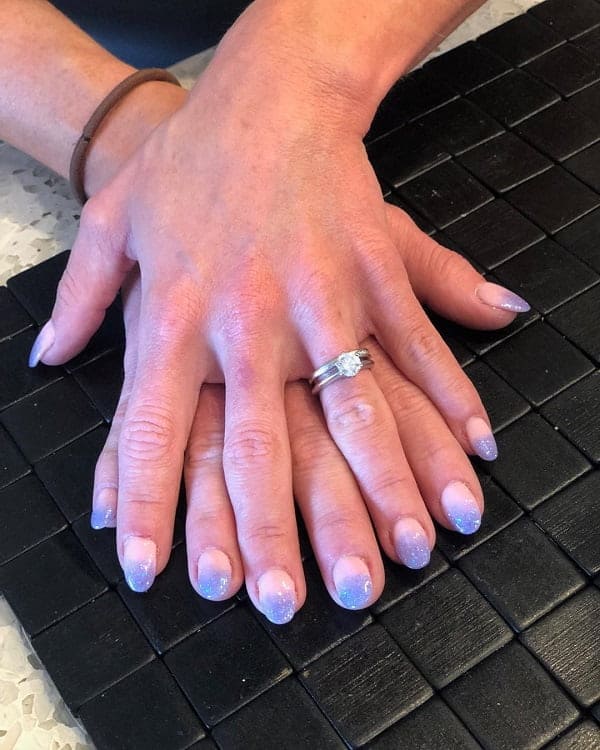 If glitter polishes are your best friend, we recommend a light purple for ombre on short oval nails. The colorful tips will accentuate the beautiful shape.
#15. Short Oval Matte Nails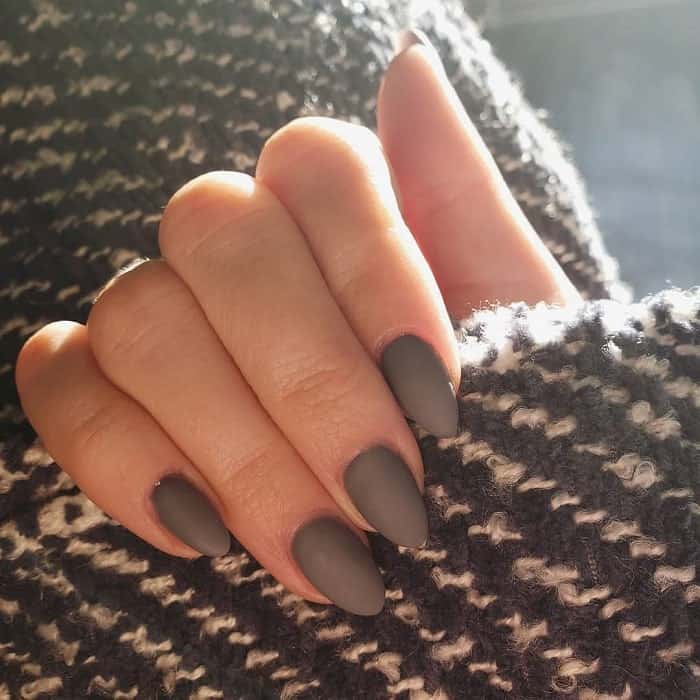 A matte grey is mysterious and edgy at the same time on short oval nails. There's no shine here, but that doesn't mean it's void of style!
#16. Berry-licious Purple
Purple often symbolizes mystery and wealth. Use a nude base coat for a glossy surface, topping with purple glittered polish on the tips.
Play It Classy With Purple on Your Nails
#17. Black And Nude Space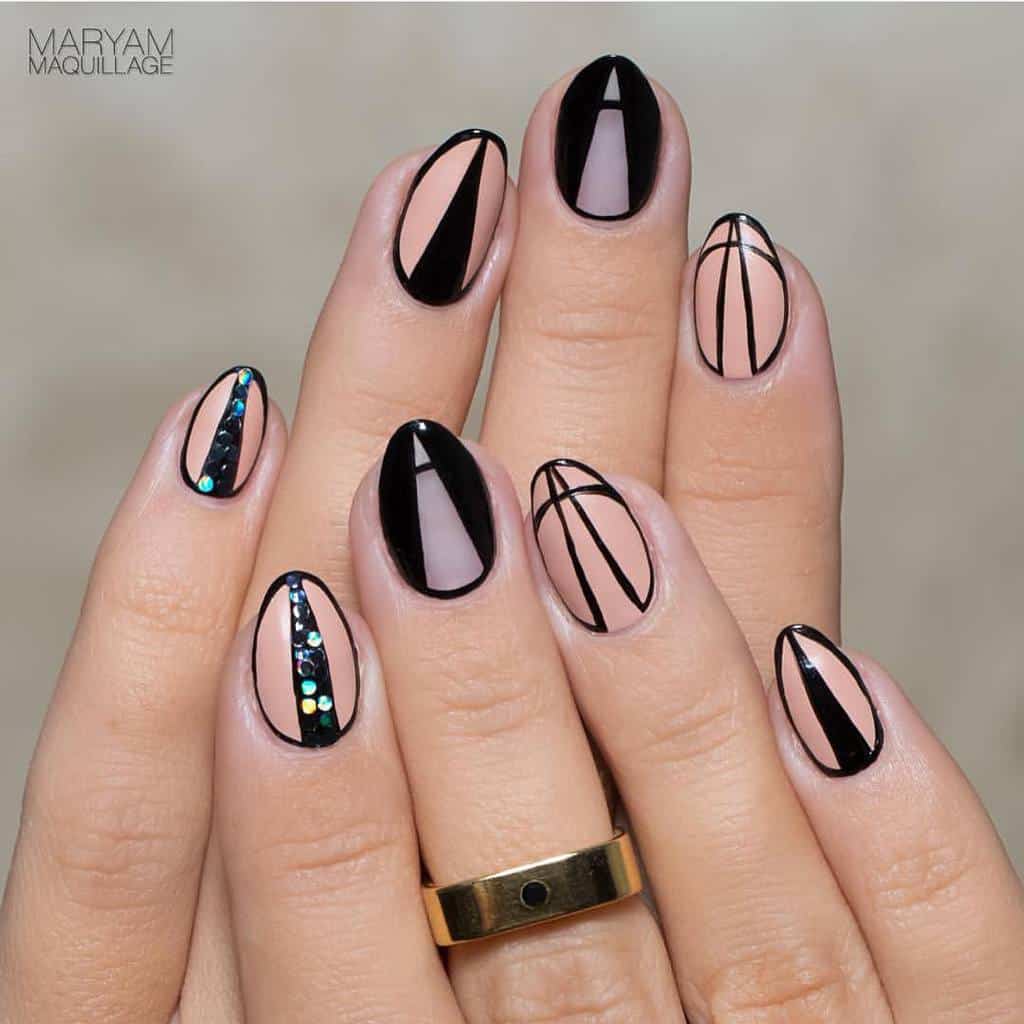 This design will attract the eyes of the people around you right the minute they see you. Use a nude base coat for all the fingers. A thin-edged nail brush is a must for this design.
Draw black patterns and keep space to make a contrasting look with the presence of black patterns and nude base coat. You can use some rhinestones for a better look.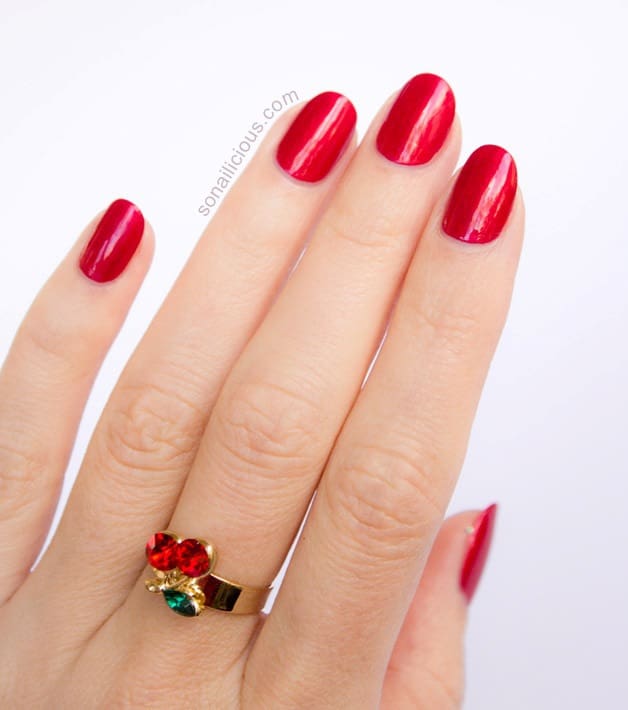 Red is the only color that always represents hotness so choose the color for short oval nails. Use dark or light red for shiny acrylics or top the color with a clear coat for shine on natural nails.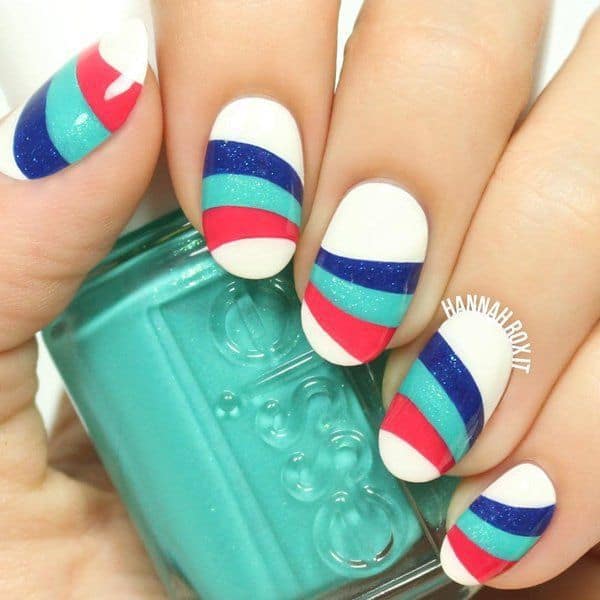 Want to express your happiness through your nail design? Colors are best for expressing your bliss. Use red, turquoise and dark blue on white short round nails. Use glitter to enhance the radiance.
#20. Pink And Peach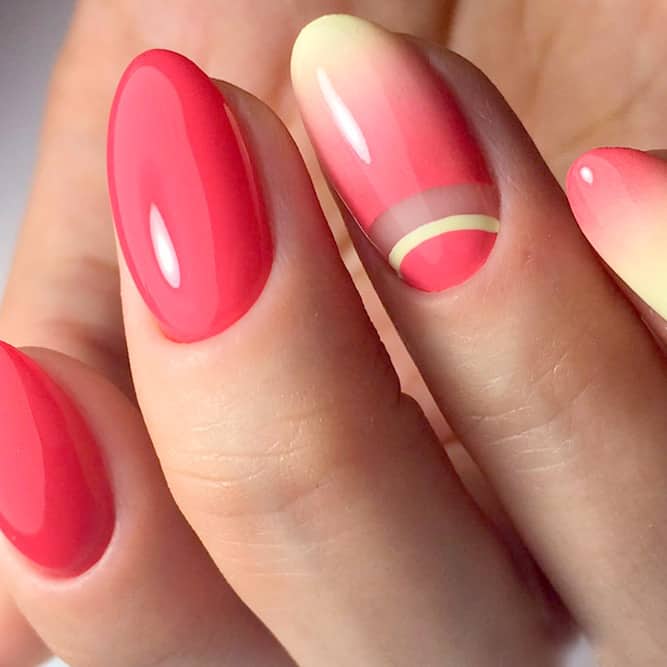 Pink and peach colors share a very close relation. Use them together to create an elegant short oval nail.
Maintain crescent-shaped negative space on nails where both pink and peach colors are applied and line with a bright yellow.
#21. Short Oval Acrylic Nail Design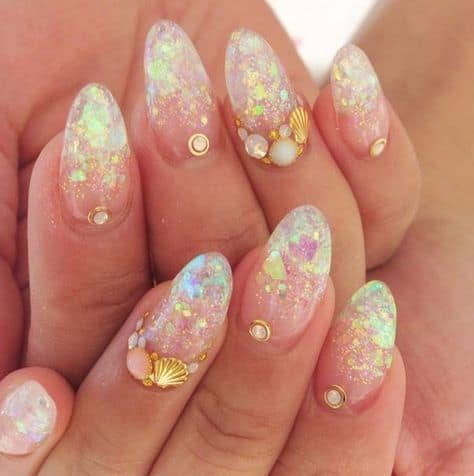 This is an exceptional design for ladies who love a whimsical nail design. Are you aiming for mermaid nails? Imagine the waves of the sea on your short oval nails when you add shell stones.
#22. Love in Paris
This is a wonderful theme-based nail design. Once upon a time in Paris, or love in Paris are both nostalgic nail designs easily featured in light pink short oval nails.
Short oval nails are beautiful in terms of both fashion and tradition. Your short nails will look marvelous in oval shapes and our designs will be the cherries on the top.
Whenever you need suggestions or guidelines for your dearest nails, we are always only a click away from your computer or cell phone. Keep connected for more impressive nail designs for your fashion purposes.