We're all quite familiar with a French manicure which features white tipped nails on a nude nail bed, but have you heard of the reverse French manicure? Instead of white tips, the crescents at the tops of the nails are filled in with white.
The world is all about updating classy styles to make them beautiful, and a reverse French manicure is no exception. The best part of the reverse French mani is the design doesn't stop at white!
Use any color you like to define those half moon crescents whether it's in plain traditional polish, chrome, or matte. Take a look at our favorite nail designs!
How to Easily Get a Reverse French Manicure
The process of a reverse French mani is super simple and anybody can do the manicure at home very easily. There are many ways of doing this.
Some ladies draw a half-moon at the bottom of the nails whereas others use stencils to create a crescent shape right on the lunula of the nails. Stencils are obviously easier.
First, paint your nails in your preferred base color
Place reinforcement labels at the bottom of the nails as depicted in the video. These labels have adhesive and will work as stencils.
Paint the nails with the color you want the design to be. This color covers the whole nail except the crescent shape – thus, the reverse manicure. Adding glitter, rhinestone designs and coloring the half-moon with nude polish are your choice.
When finished, apply a top coat for seal and shine.
Amazing Reverse French Manicures
Many ladies are familiar with French manicures but a reverse mani is where it's at these days. Let's have a look at a few stunning ideas for a reverse French manicure.
#1. Deep Red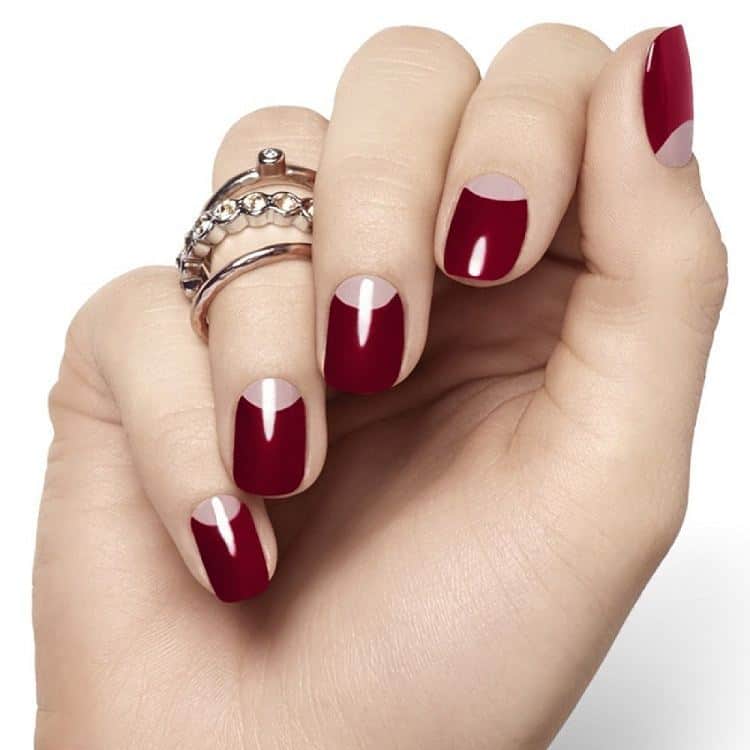 A nude reverse French manicure ensures long deep red nails are the focal point. Instead of nude, you can also use beige to fill in those crescents.
#2. Sparkly Silver
If it's date night or New Year's Eve, no outfit is complete without a sparkly reverse French manicure. We love the thick white line that leads to a bed of silver.
#3. Shellac Cow Print
Cow print is taken to a whole different level when outlined in glittered gold polish on this gorgeous reverse French manicure. A light purple pairs well with the white crescent and black spots.
#4. Iridescent Light Pink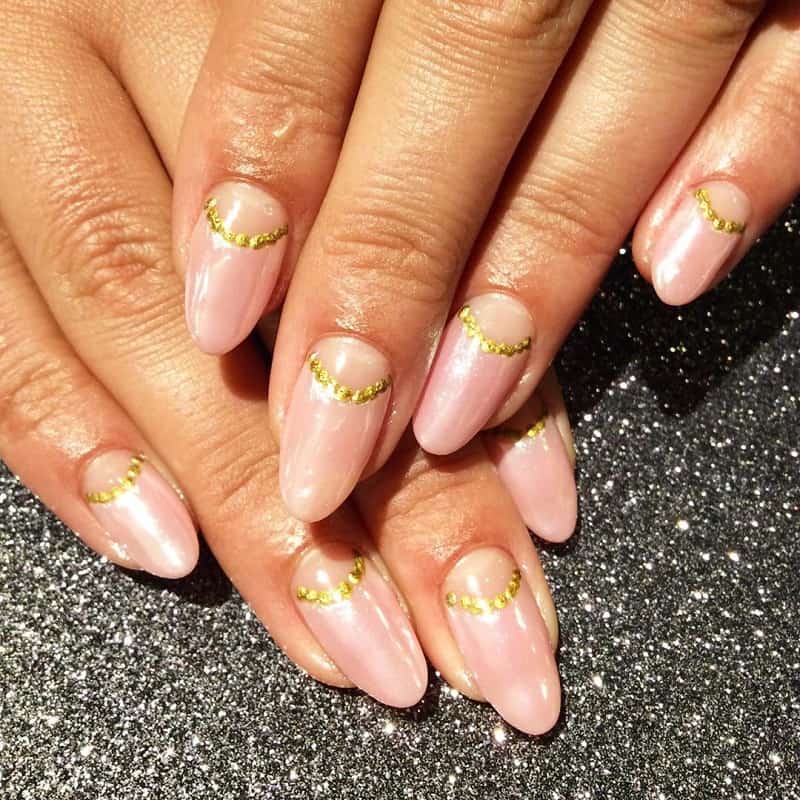 Show off a half moon reverse French manicure with tiny gold crystals. Use a gorgeous iridescent light pink for the entire bed for all day shimmer.
#5. Black and Gold
Another stunning New Year's Eve nail design is this reverse French mani featuring black and gold. The colors alternate to define the crescents in an edgy, beautiful way.
#6. Reverse French Gel Manicure
A rich gel polish in pure black is used for long round nails. To get the reverse French manicure, use chrome, gold, or silver for a thick line at the top.
#7. Reverse French Glitter Manicure
Ladies love glitter because of its addicting sparkle. After painting nails a sparkly glittered teal, line the half-moon crescents in black for definition.
#8. Reverse French Acrylic Nails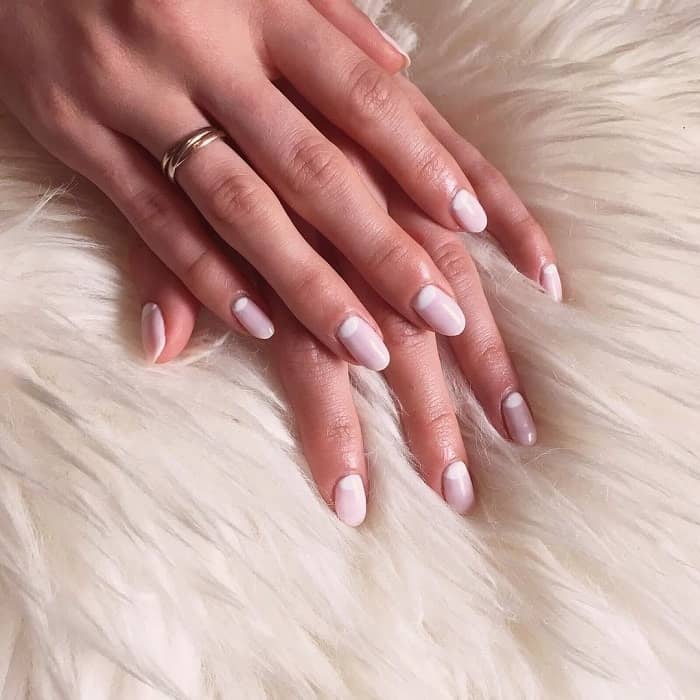 Everyone will be wondering how you created an updated reverse French mani when they see these neutral but stylish long round nails. To emphasize the crescents, fill in with nude or beige.
#9. Pink Reverse French Manicure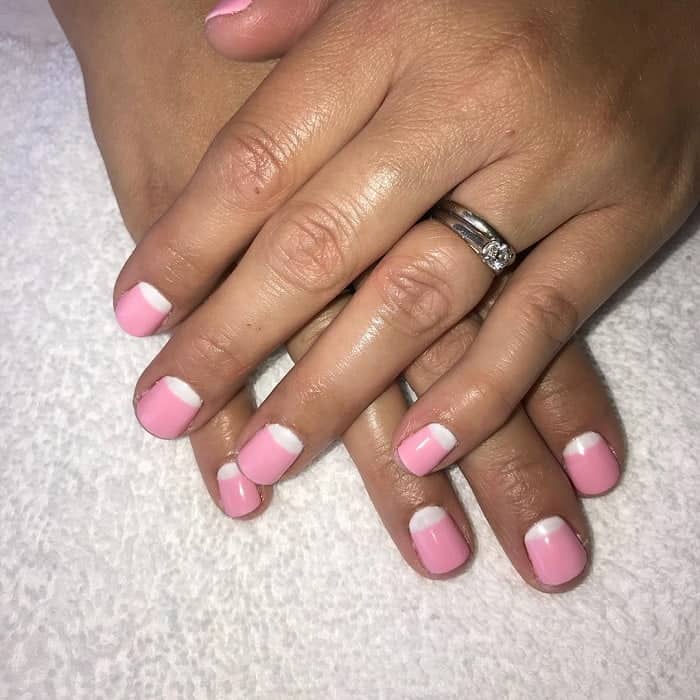 For ladies whose favorite color is pink, flaunt the feminine color on your short round nails as a reverse French manicure. White crescents will make the pink stand out even more.
#10. Reverse Ombre French Nails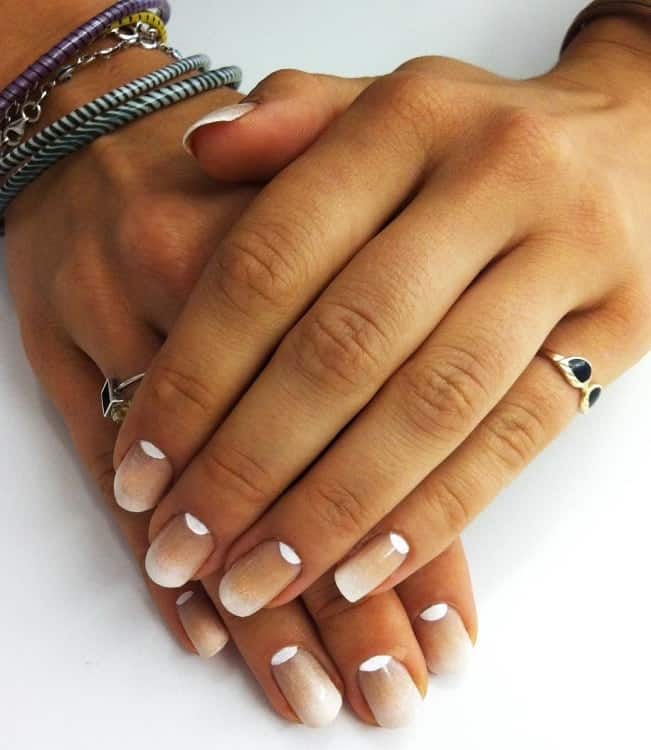 It's all in the details, right? So go for a reverse French manicure with ombre detail! Beige to white is a gorgeous transition of color and classy for any occasion.
#11. Matte Reverse French Nails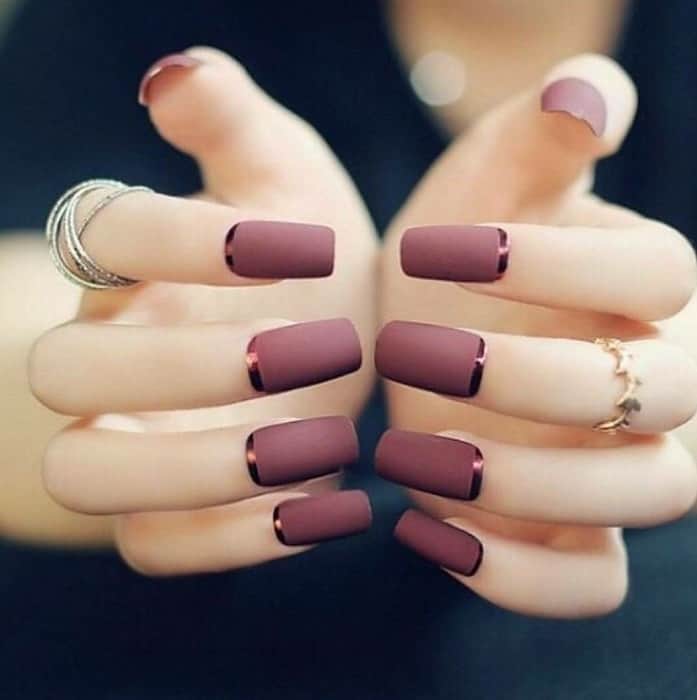 Nix the shine and opt for matte to give a sexy spin to a reverse French manicure. Use colors in the same family, like this burgundy nail design that features a shiny burgundy top.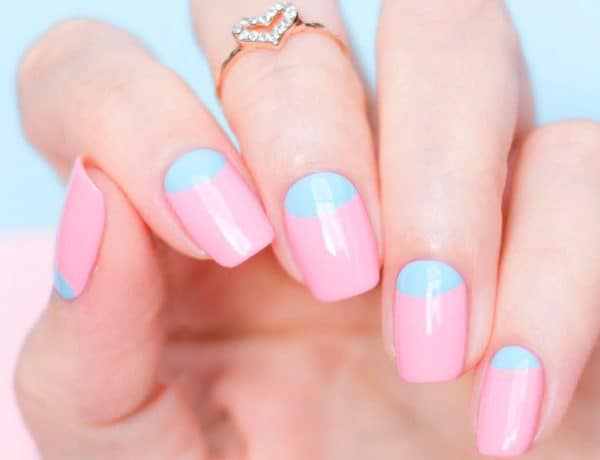 Pastel colors are calm and soft. Get cotton candy nails using light blue and pink on a reverse French manicure. For the best look, add a top coat for shine.
Top 12 Colored Nail Tips to Rock Your French Manicure
#13. Golden Charm
The power of gold shouldn't be underestimated for nail designs. It can change the look of a nail design to a great extent. Fill in the half-moon shape at the top of soft periwinkle nails for this reverse French manicure.
#14. Burgundy Magic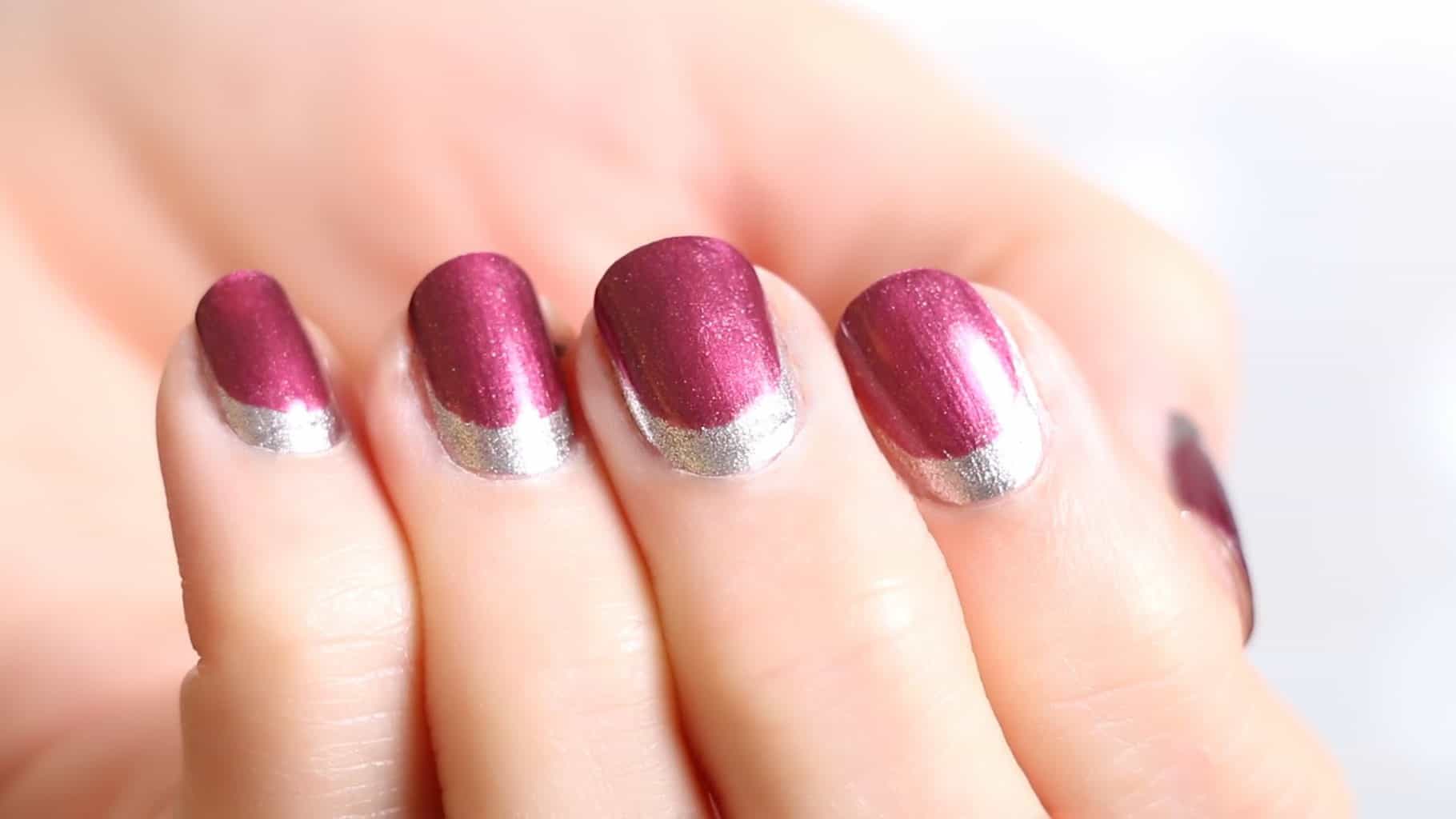 Burgundy nail designs are often used for classic beauty. Use sparkly silver to outline your nail's crescents for a shiny reverse French manicure.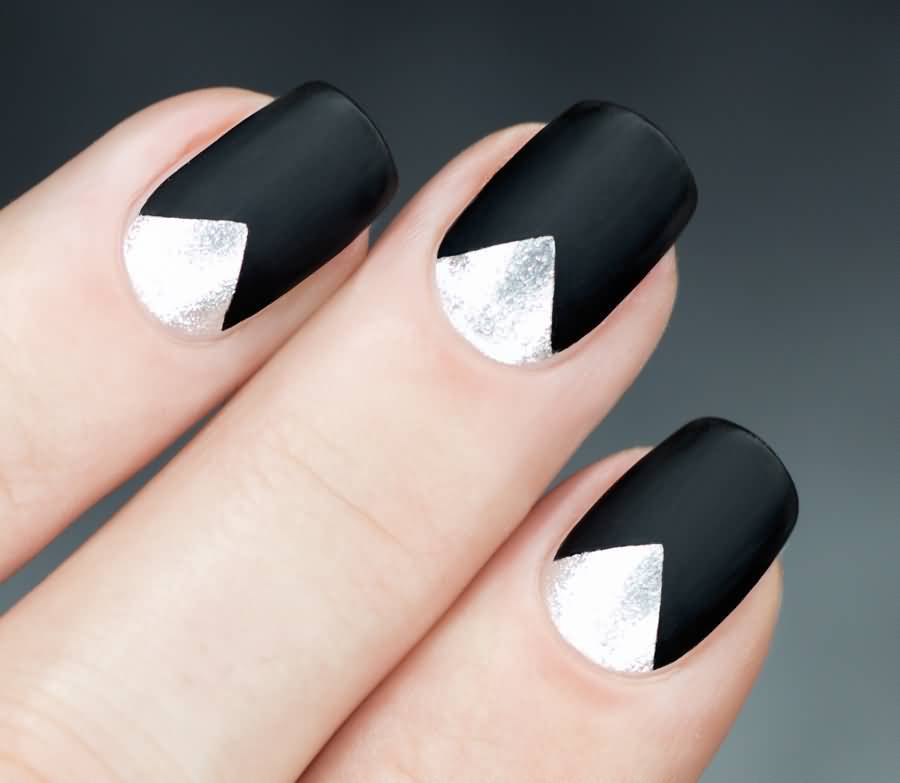 Black is an elegant color used in almost every fashion product. A silver triangle is created at the tops of nails for this edgy reverse French manicure.
#16. Sprinkle with Colors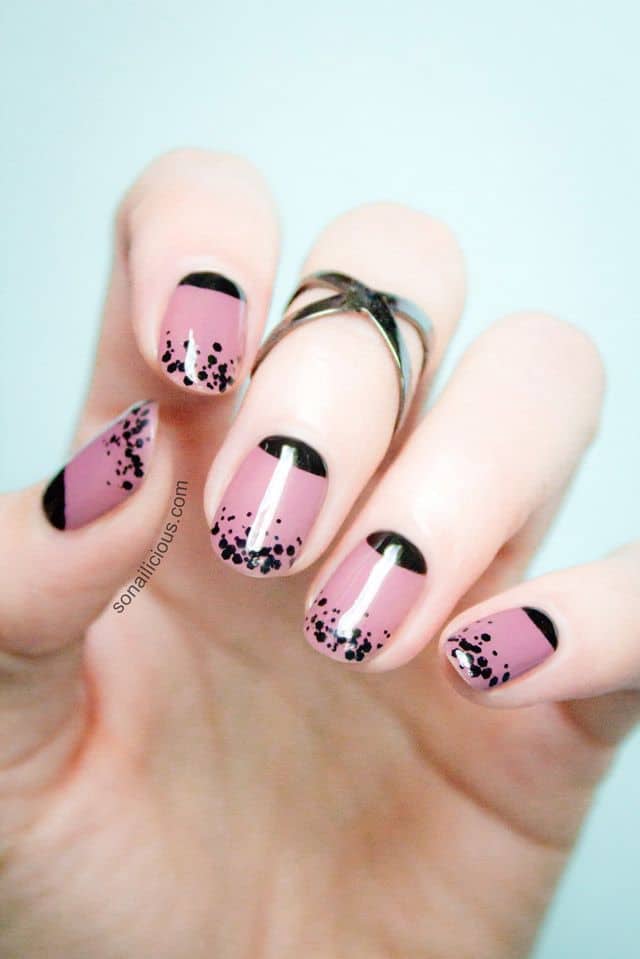 If you want to add glam to your nail design, this light pink reverse French mani is it. A black half moon is painted at the top of the nails and tips are sprinkled with little drops of black.
Try The 5 Most Expensive Celebrity Manicures
#17. Checkered French Mani
If you love both the classic and the reverse French mani, feature both in a single nail design. Here, black and white create gorgeous nail art.
#18. Red Reverse French Manicure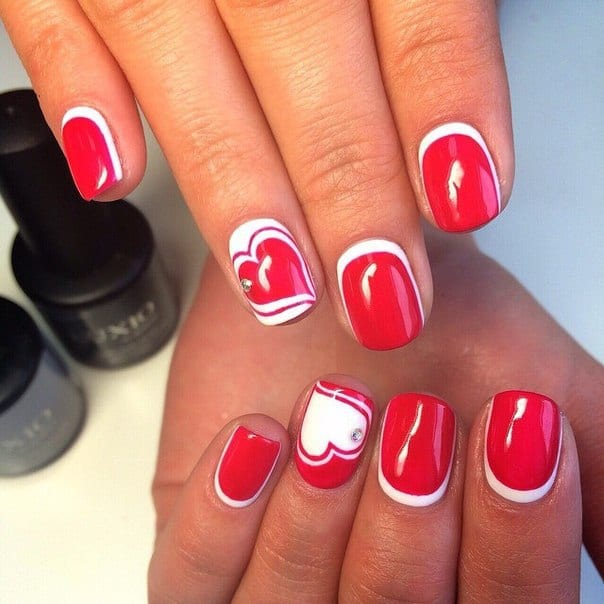 Use this gorgeous design for Valentine's Day nail art. Draw red and white heart shapes on accent nails and paint the rest with a reverse French mani.
Silver-colored half-moons with sky blue looks amazing on the nails. We love the colors on short round nails.
Purple comes in many shades. No matter what shade you choose, you'll create a trendy design for your nails. Above, gold and purple are used together for a French reverse manicure.
#21. Watermelon Sugar High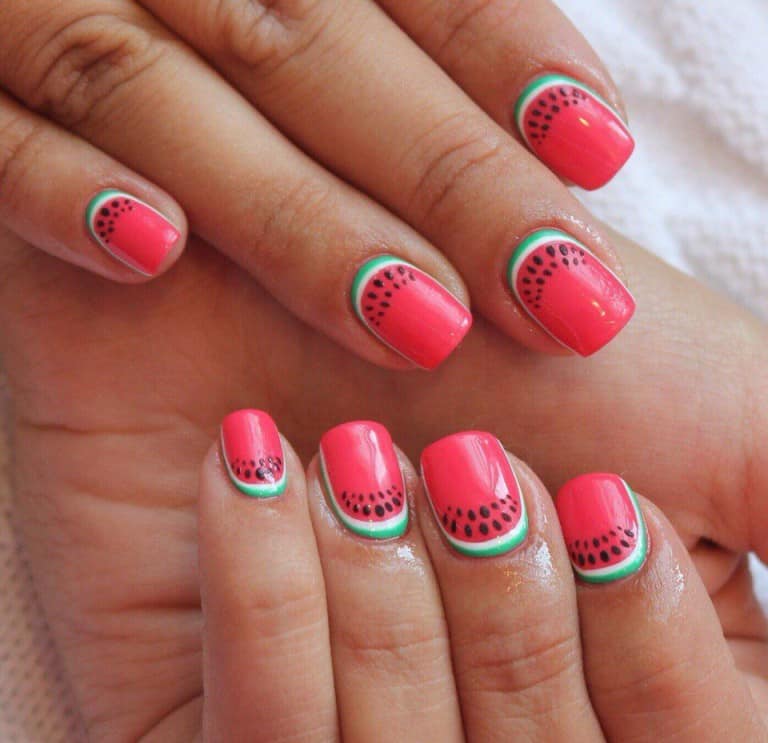 Watermelon is a famous element of fruit nail art. Use a sliced watermelon on your reverse French manicure. The greenish rind of a watermelon will be the reverse mani.
#22. Reverse French Pedicure
Don't leave your toenails without a design! A reverse manicure can be applied beautifully on the toenails. Here only the big toes are adorned with a reverse French pedicure.
Flowers are a natural source of inspiration for nail designs. Many designers and artists are inspired more or less by nature. You can use some flowery designs along with the French mani.
25 Unavoidable Coffin Nail Designs
Reverse French manicure designs are a form of art. You have the liberty to make the design your own, so run free with creativity!