Best 23 Reverse French Manicure Ideas to Adorn Your Nails
Girls are concerned about their looks more than ever in modern days. They always strive to get a better and trendy look to impress all the people who come across them. Nail designs can go a long way to supply the necessary equipment that will enhance the beauty of the nails.
French manicure has always been so popular with the girls but reverse French manicure is the newcomer in the nail art industry. But, this is surely a gem that will turn everyone's head.
How to Get Reverse Manicure Easily
The process of doing reverse French mani is super simple and anybody can do the manicure at home very easily. There are many ways of doing this.
Some girls use their expertise and techniques to draw the half-moon at the bottom of the nails whereas some others take the help of stencils that can create a crescent shape right on the lunula of the nails. The second one is easier, and we are saying about that one.
First, choose the color which one you want to have as the base. Paint the nails with that base color.
Then put the reinforcement labels at the bottom of the nails as depicted in the video. These labels have adhesive and will work as stencils.
Then polish the nails with the color you want to display. This color will cover the whole nails except the crescent shape which is called reverse manicure. You can change the color as per your personal choice. Adding glitters, rhinestones designs and coloring the half-moon with nude nail designs all these things depend on you.
After doing the designs, apply a top coat to seal the deal.
Amazing Reverse French Manicures 
Most of the people are familiar with French manicures but reverse mani is new in the town. So, you will be the talk of the party if you wear these nails and walk in any party.
These nails will draw the attention of every fashionista around you. Let's have a look at some of these stunning reverse French manicure ideas.
#1.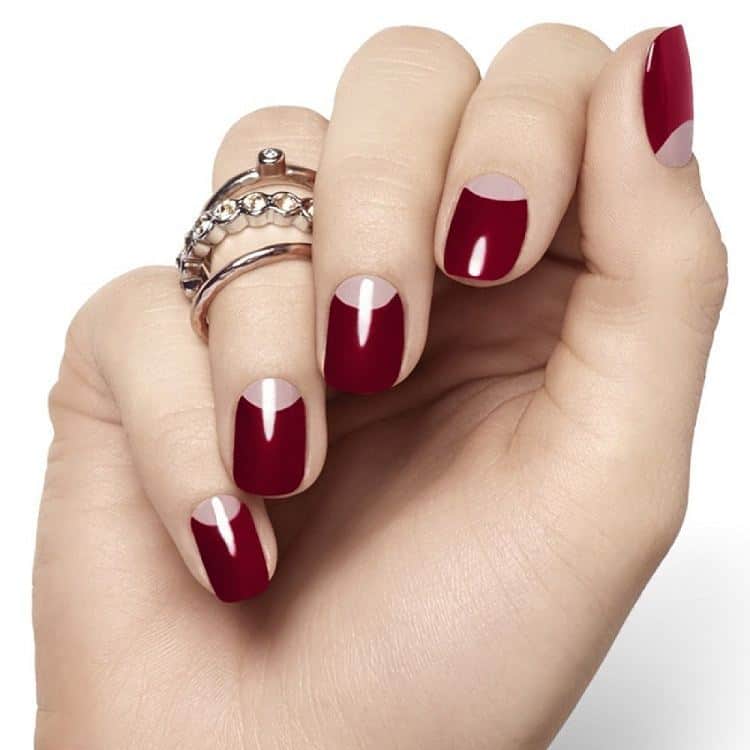 reverse french red manicure
#2.
silver reverse french manicure
#3.
shellac reverse french manicure
#4.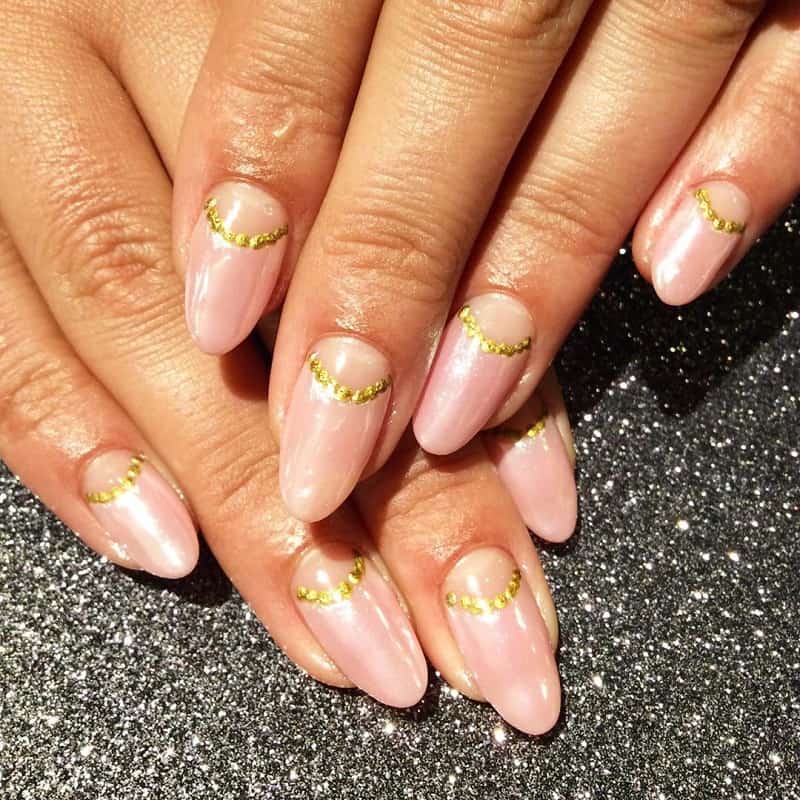 half moon reverse french manicure
#5.
black and gold reverse french manicure
#6. Reverse French Gel Manicure
#7. Reverse French Glitter Manicure
#8. Reverse French Acrylic Nails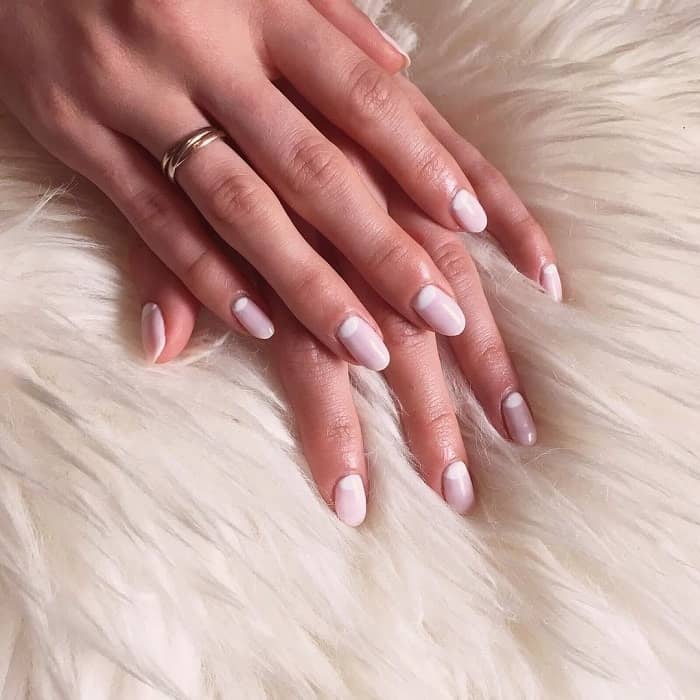 #9. Pink Reverse French Manicure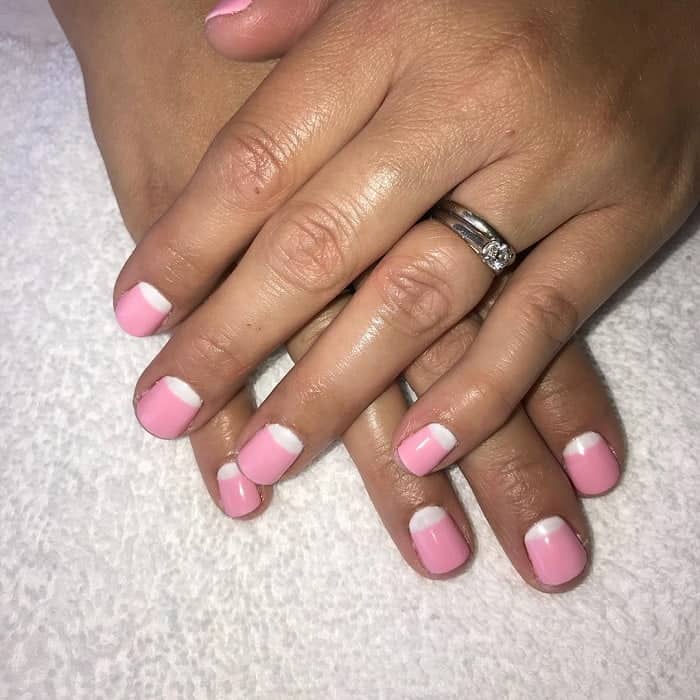 #10. Reverse Ombre French Nails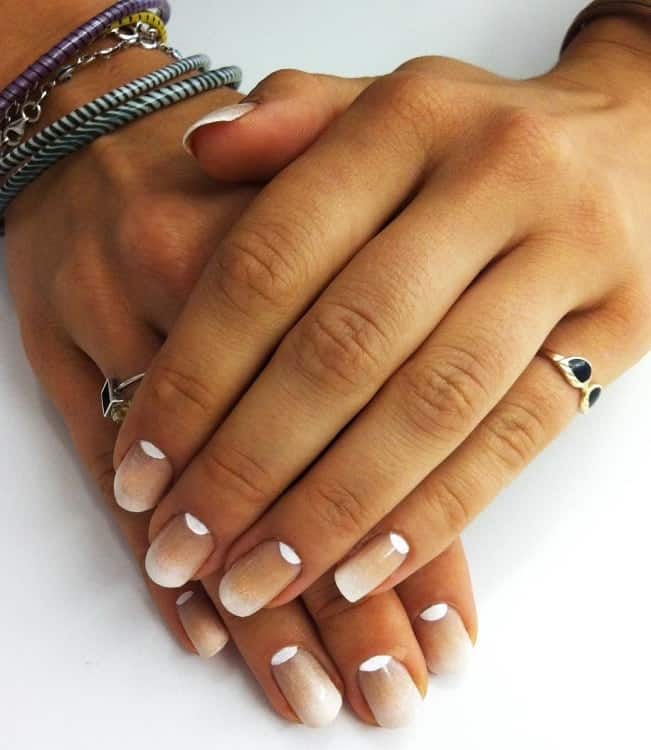 #11. Matte Reverse French Nails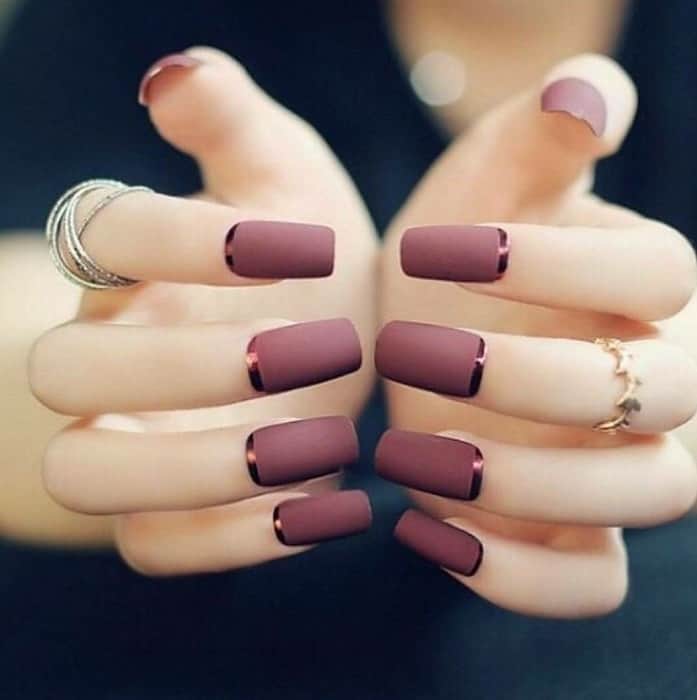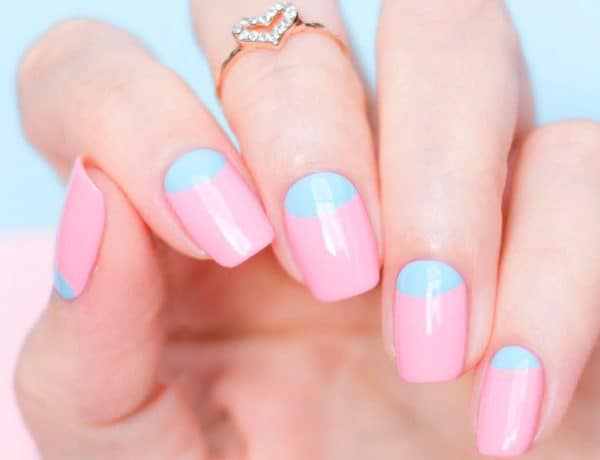 Pastel colors are so calm and peaceful. These colors are eye-soothing. You can use the most used pastel colors sky blue and light pink to get your French mani in reverse done.
Top 12 Colored Nail Tips to Rock Your French Manicure
#13. Golden Charm
The magic of gold is undeniable when you are talking about nail design. Gold glitters can change the outlook of single nail design to a great extent. Paint some golden half-moon at the bottom of your nails while having a reverse manicure.
#14. Burgundy Magic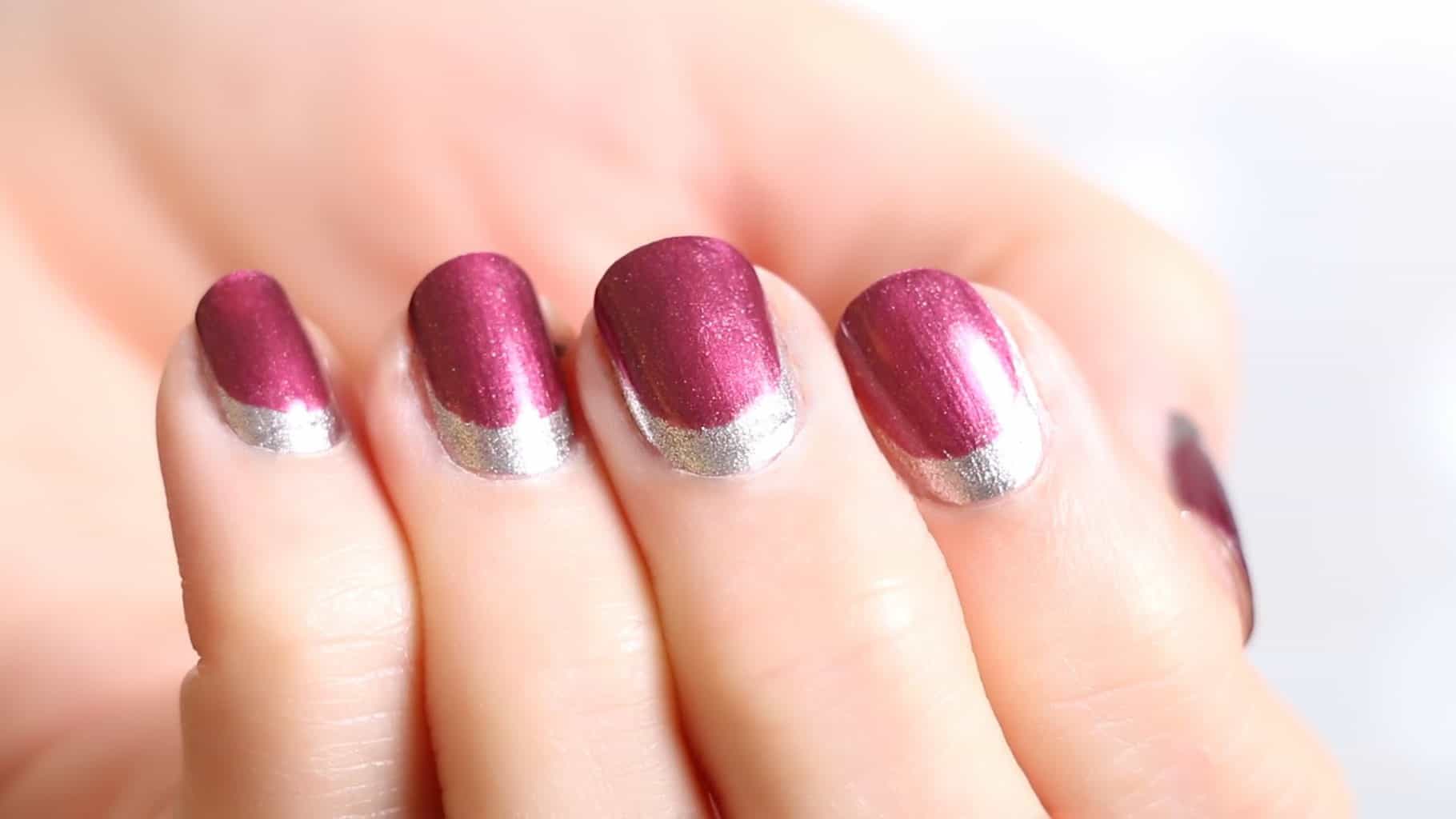 Burgundy nail design itself is sheer beauty. You don't have to do much to beautify the nails if the polish is burgundy color. Silver crescents go the best with this color.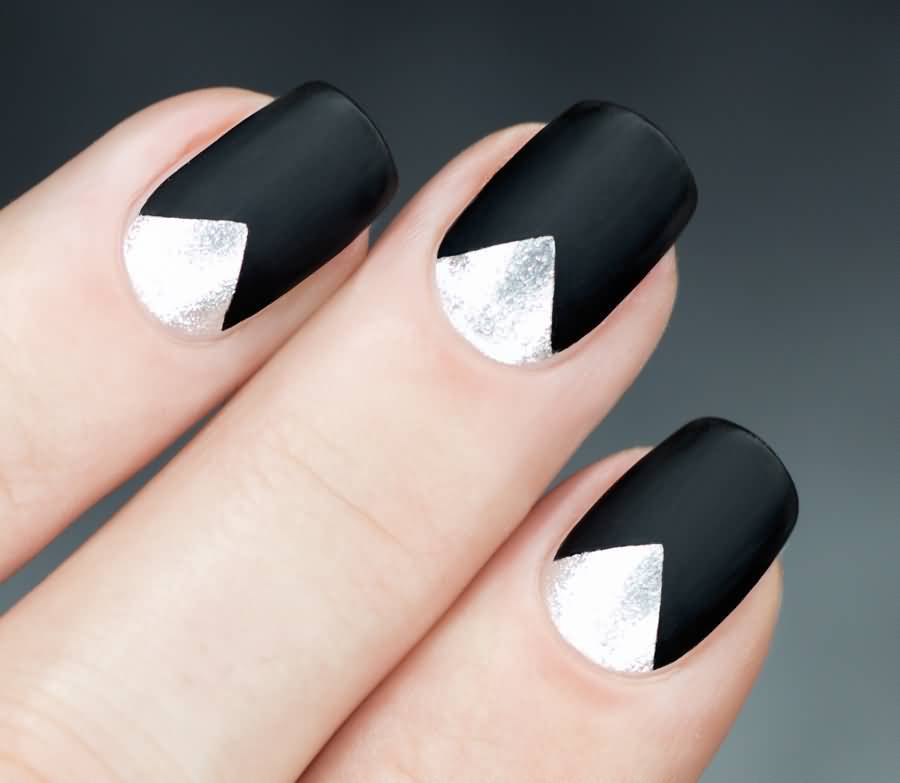 Black is an elegant color that is used in almost every fashion product. Golden colored reverse French manicure associated with gorgeous black has produced a stunning ambiance on the nail plates here.
#16. Sprinkle with Colors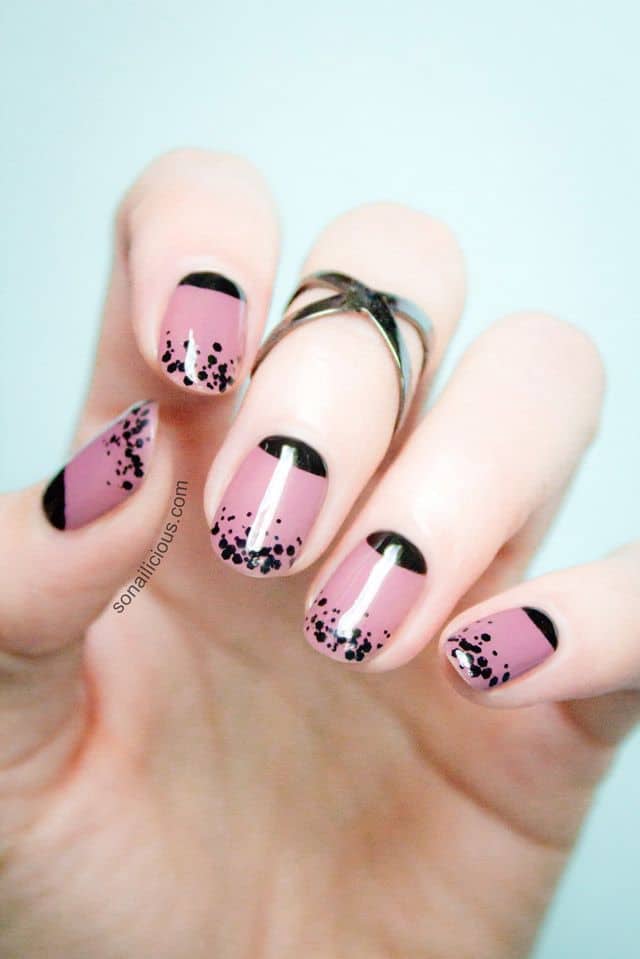 If you want to add diversity to the designs, this could be the best option. A black half moon is painted at the bottom of the nails and the top is sprinkled with little drops of black color.
Try 5 Most Expensive Celebrity Manicures
#17. Two Way French Mani
You can have both reverse and normal French manicure in single nail design. Here, black and white colors have been used so effectively to create gorgeous nail art.
#18. Red Reverse French Manicure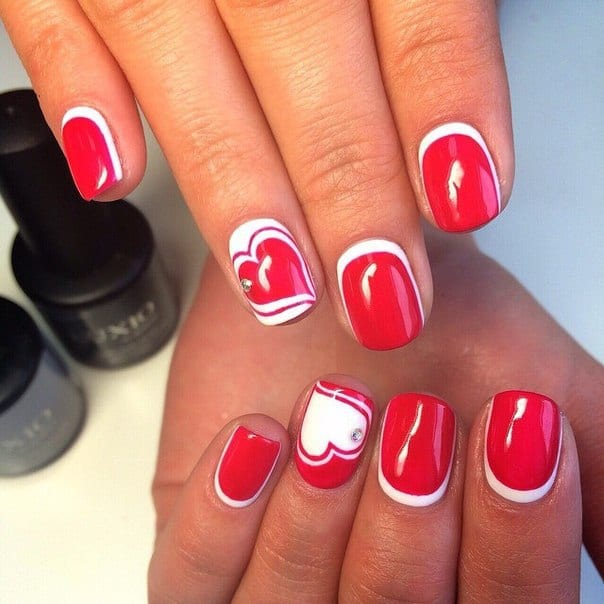 These nails can be considered valentines day nail art. Draw some heart shapes on some of the nails and paint the rest with reverse. The combination of red and white is looking great here.
Silver-colored half-moon with sky blue looks amazing on the nails. You can try these manicures at the fingertips very easily.
Purple has many variants. No matter what type of purple it is, it can create a trendy design under any circumstances. Gold and purple have been used together to get the best impact of a French reverse manicure.
#21. Innovation at Its Best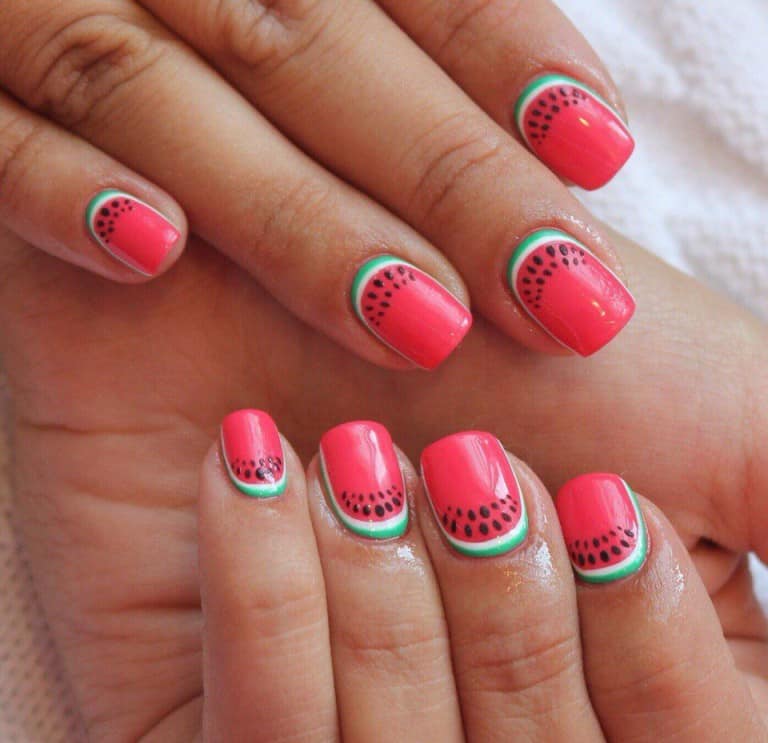 Watermelon is a famous element of fruit nail art. You can use the image of sliced watermelon while having a mani. The greenish and outer part of watermelon will be the key feature as the reverse mani.
#22. Reverse French Pedicure
Don't leave your toenails alone without designing them. A reverse manicure can be applied beautifully on the toenails. Here only the thumbs are adorned with this French pedicure style.
Flowers are the natural source of patterns and designs. Most of the designers and artists are inspired more or less by nature. You can use some flowery designs along with the French mani.
25 Unavoidable Coffin Nail Designs for You
Reverse French manicure designs are a form of art nowadays. You have the liberty to try anything but make sure that the nails don't lack aesthetic beauty. Hope you'll be inspired by our designs and try them on.