As centuries passed by, the black color has simulated a primary part of our everyday lives, also the black nails. It has been associated with mourning, hidden secrets, magic, force, violence, death, elegance, and sophistication.
Since it is the complete absorption of any light source, it has been linked with the hidden and unknown mysteries.
We all use this color to cover up one of our deepest emotional vulnerabilities or fears and to create a protective black shield from the cruel judgment of the outside world.
That shield can be anything we use to protect ourselves like wearing a plain dull black T-shirt to lay low and draw away attention from us or like getting ourselves a smooth black nail design to trap those sorrows inside.
But Why Is Black Superior?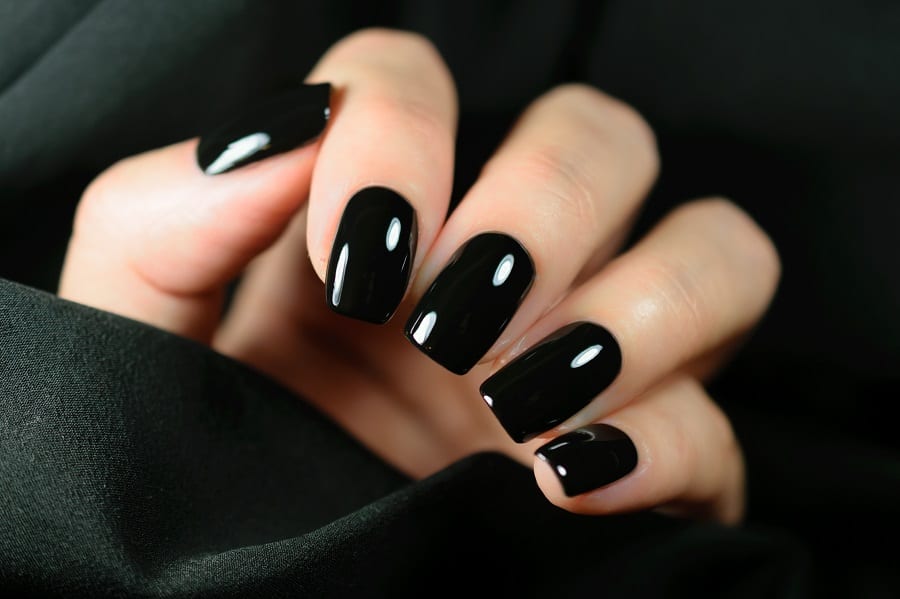 In color psychology, black implies self-control, independence, and strong will and therefore it conveys possessing high authorities and information keeping from others.
It has always been the mother of all colors even though it is practically deprived of any actual color.
Because of its dominant nature, it is often seen as the color of sophistication and therefore popularly used as in "little black dress" and "black tie" events.
And what's an event without a complementary black manicure to go with your outfit?
Most Captivating Black Nail Designs
In order to enforce that power bottled up inside of you, you need to build a barrier between you and everyone else marking your territory and putting some ground rules to be followed and respected.
But how can you do that while not looking as fabulous as ever? After all, your impeccable work would be recorded in history someday, and you should be ready to smile for the camera at any place and anytime.
Check out this list below and start with choosing the best black nail design for your rising star style!
1. Red And Black Nail Design
2. Black And Gold Nails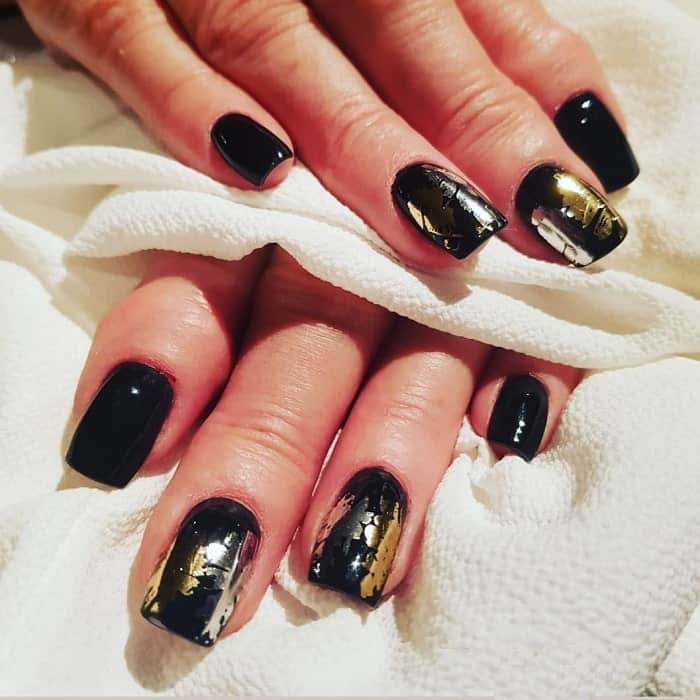 3. Pink And Black Nails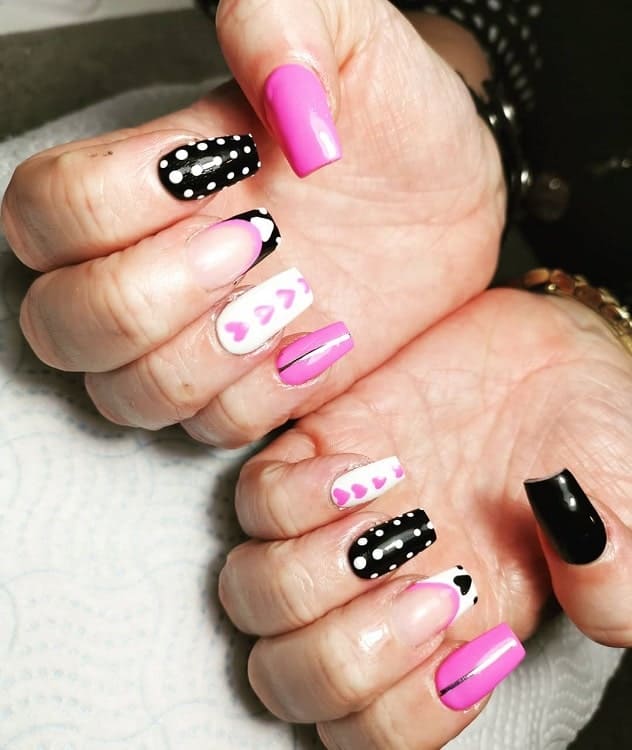 4. Matte Black Nails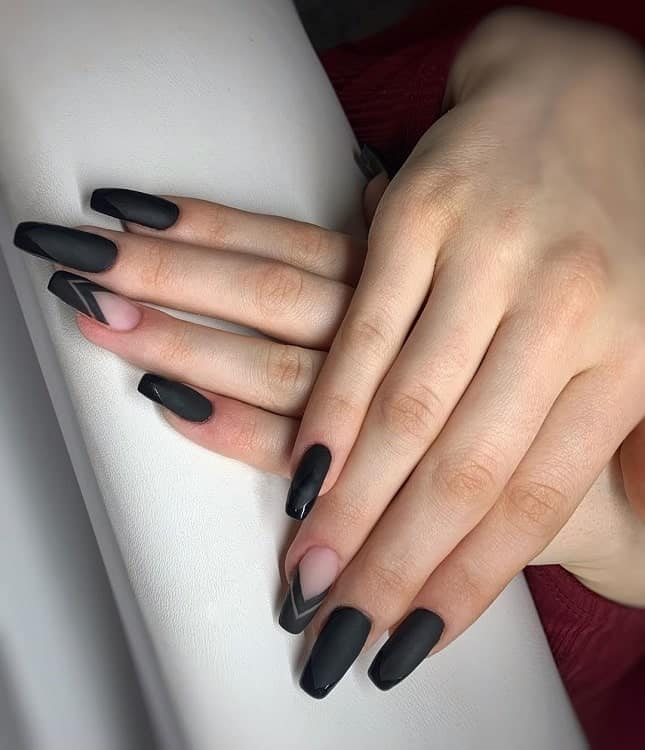 5. Black And Silver Nails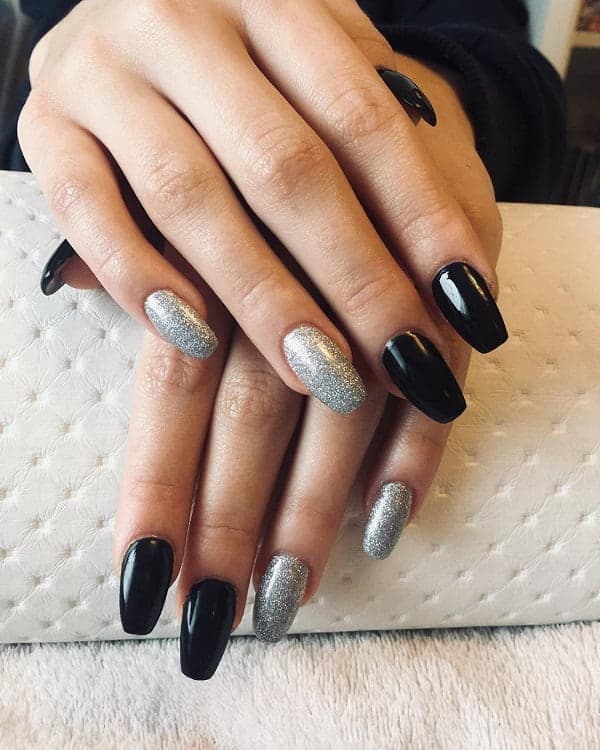 6. Black Acrylic Nails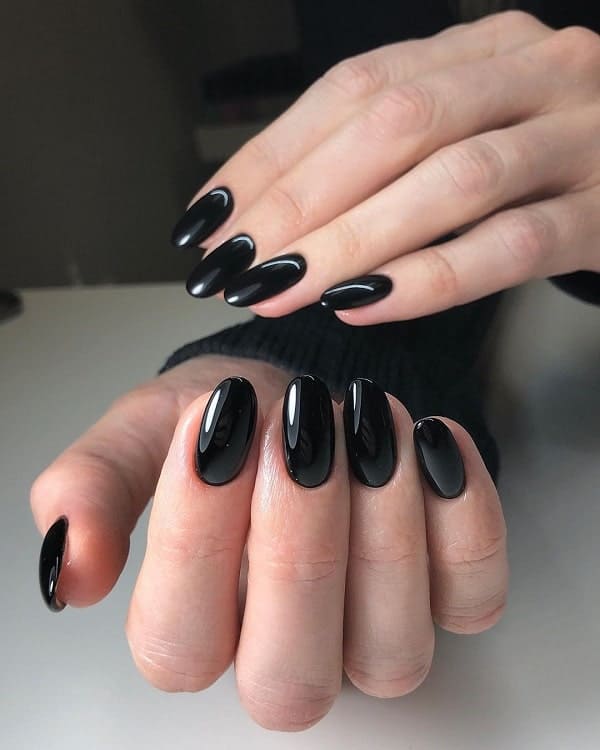 7. Black Coffin Nails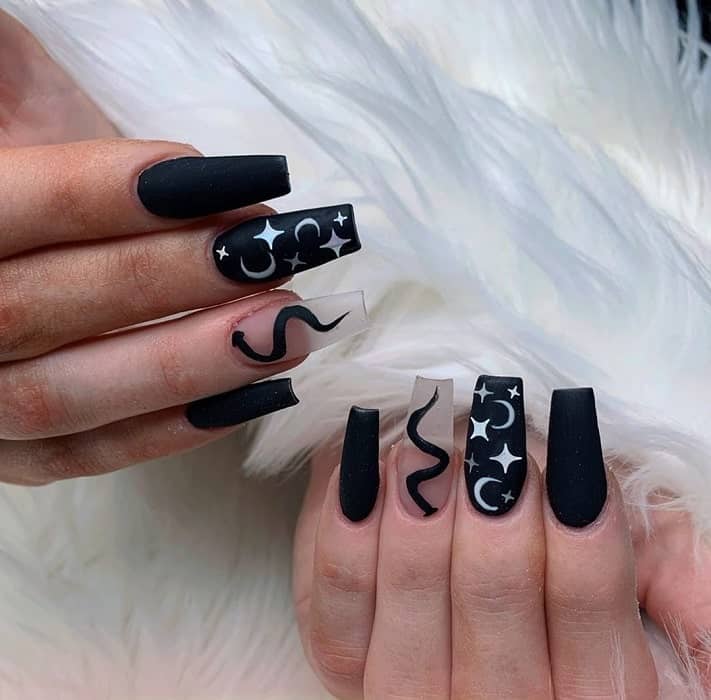 8. Black Stiletto Shaped Nails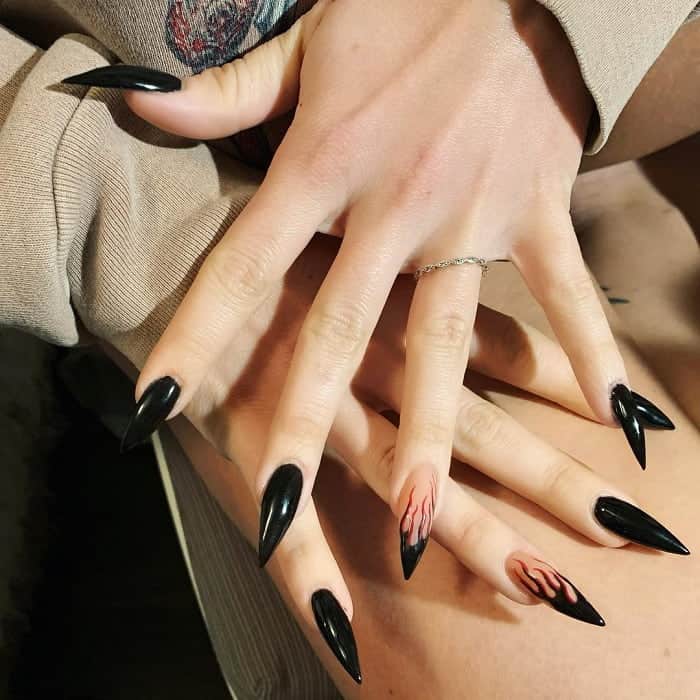 9. Short Black Nails
10. Black Almond Nails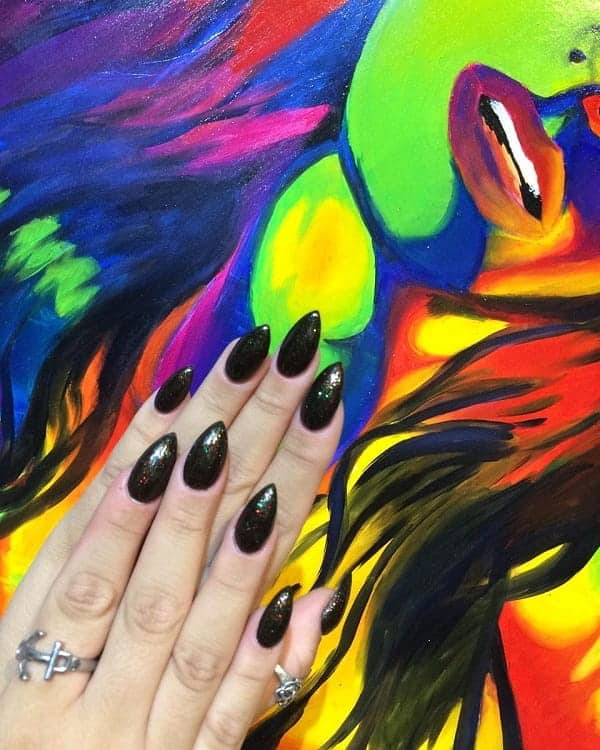 11. Black Toe Nail Design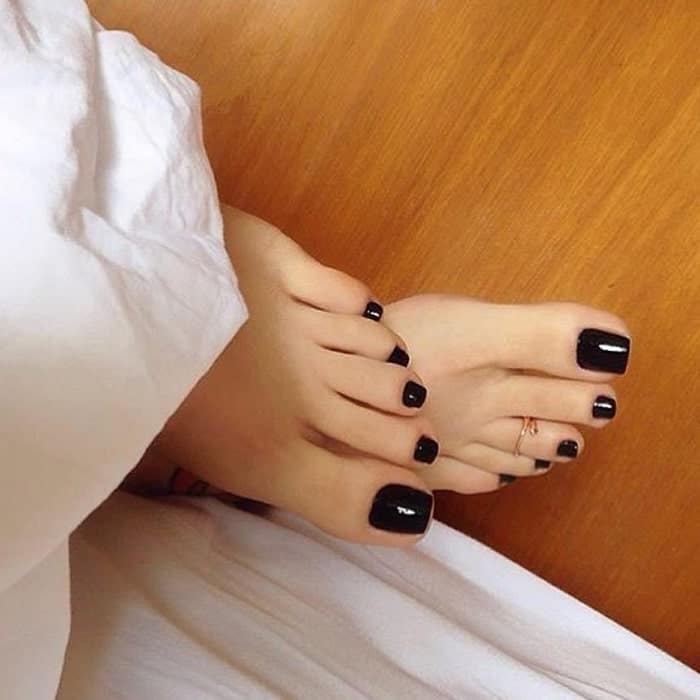 12. Purple And Black Nail Art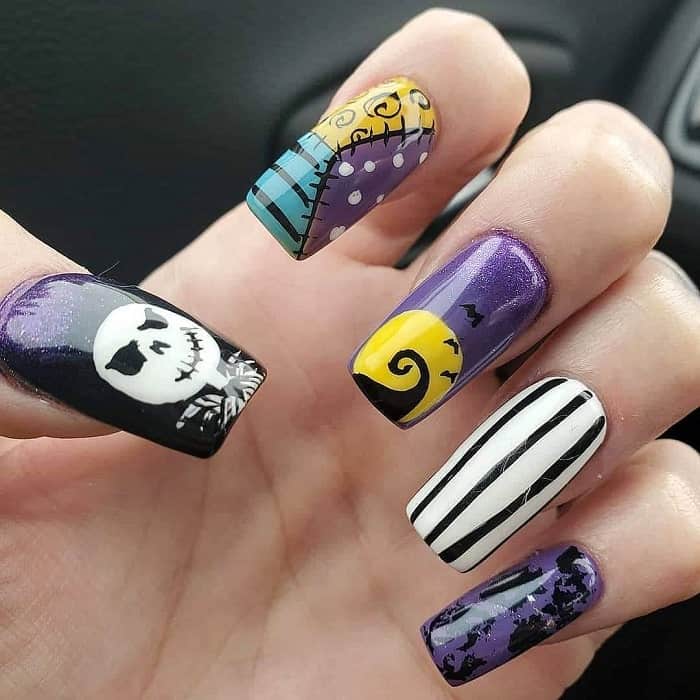 13. Black Gel Nails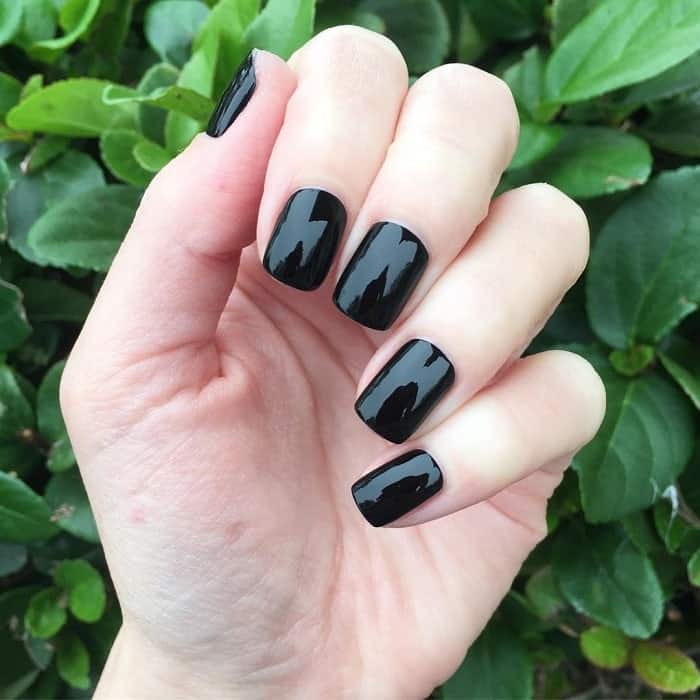 14. Black And Blue Nails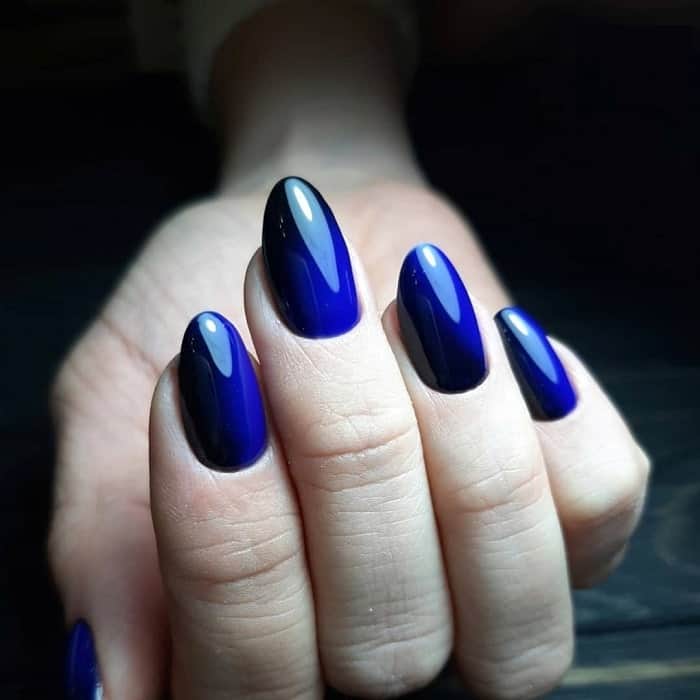 15. Red Black And White Nail Design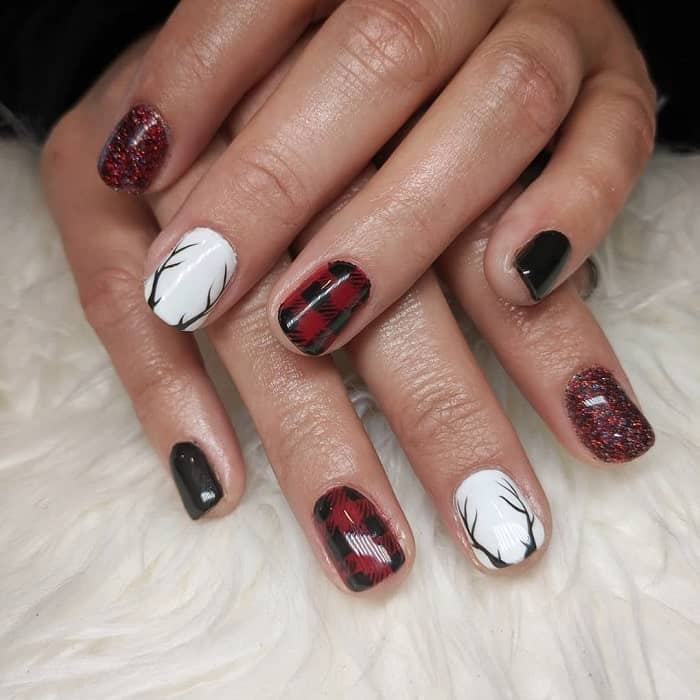 16. Black And Yellow Nail Art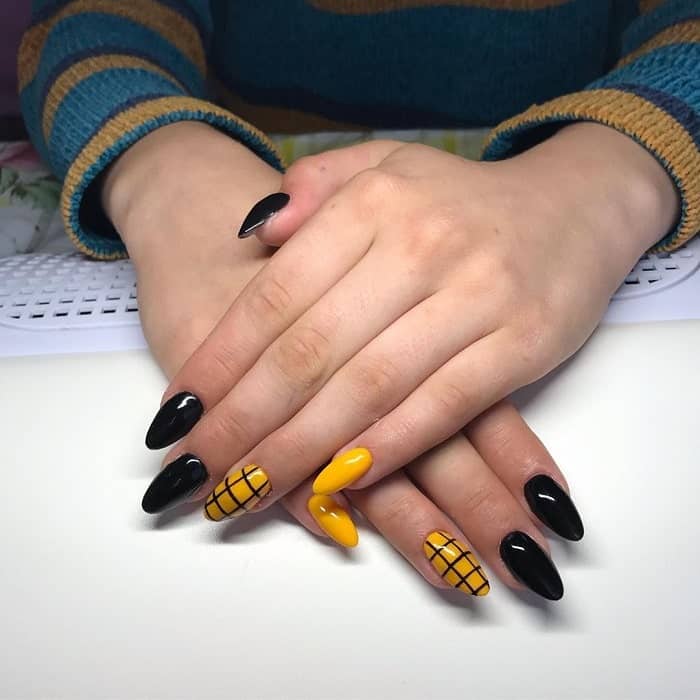 17. Orange And Black Nails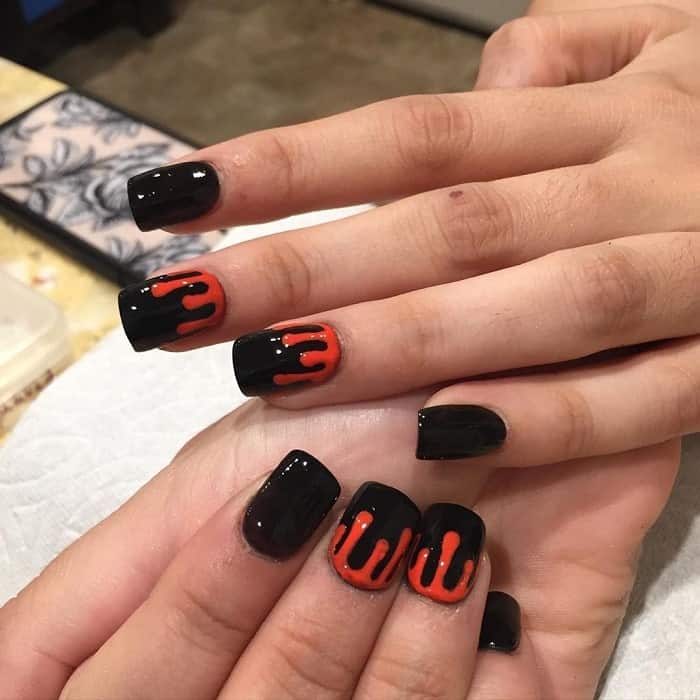 18. Black Wedding Nails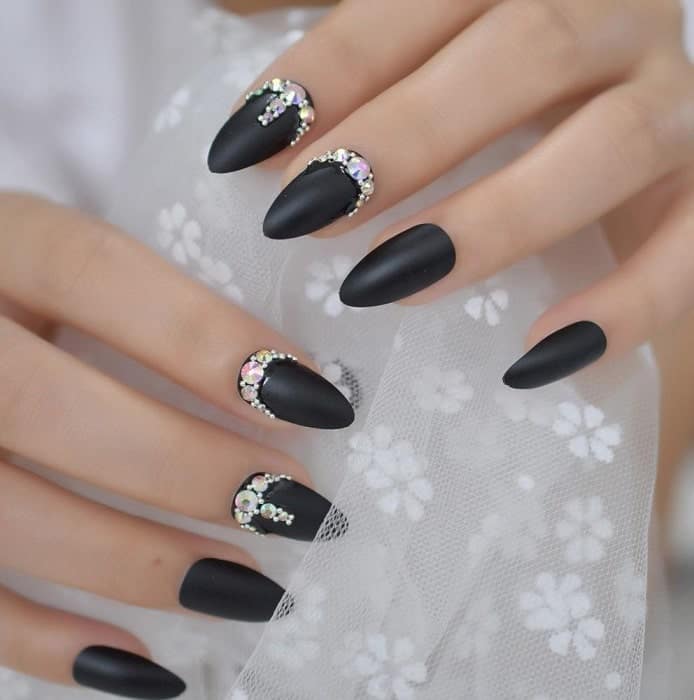 19. Black And Green Nails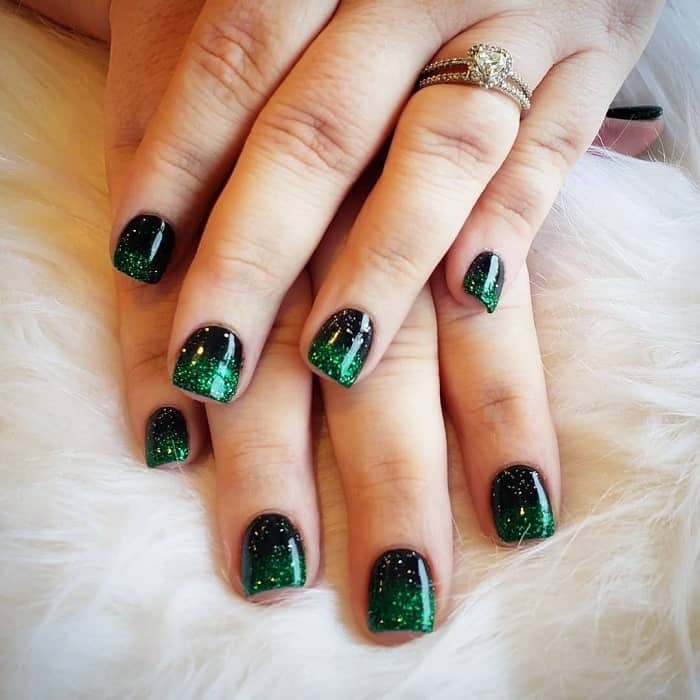 20. Black And Grey Nail Art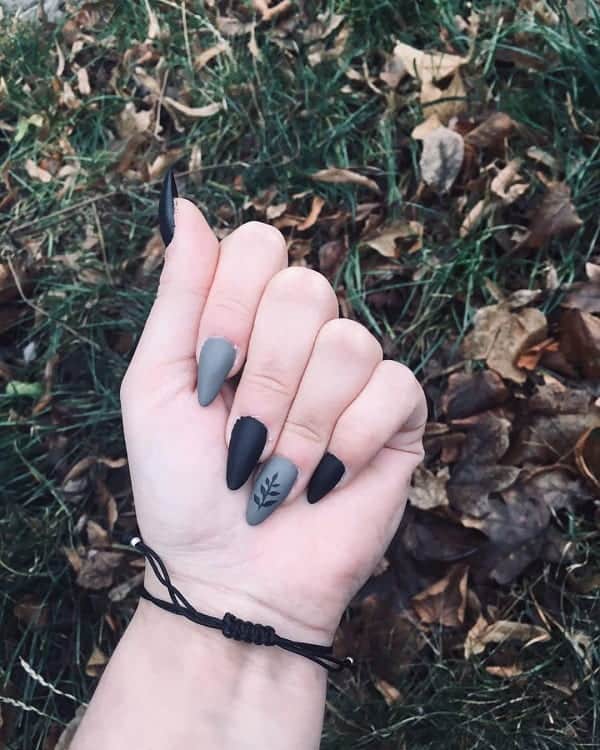 21. Black Chrome Nails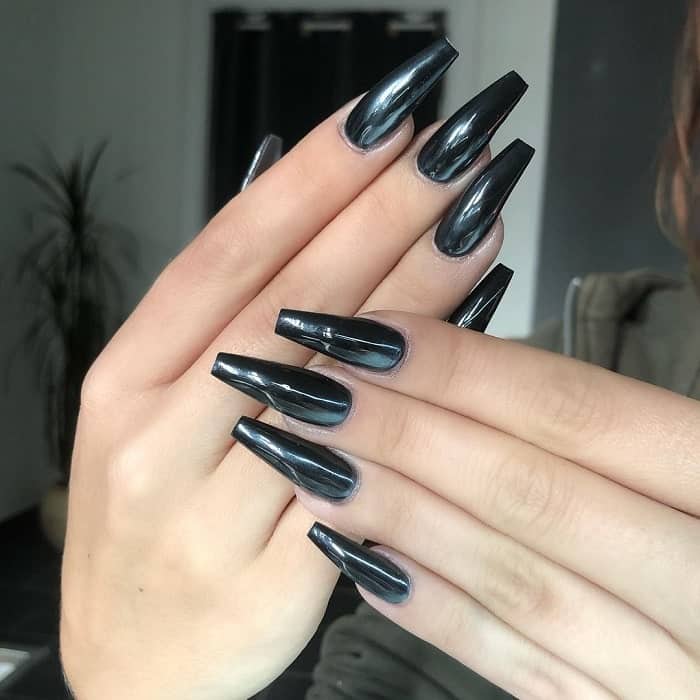 22. Black Nails with Diamonds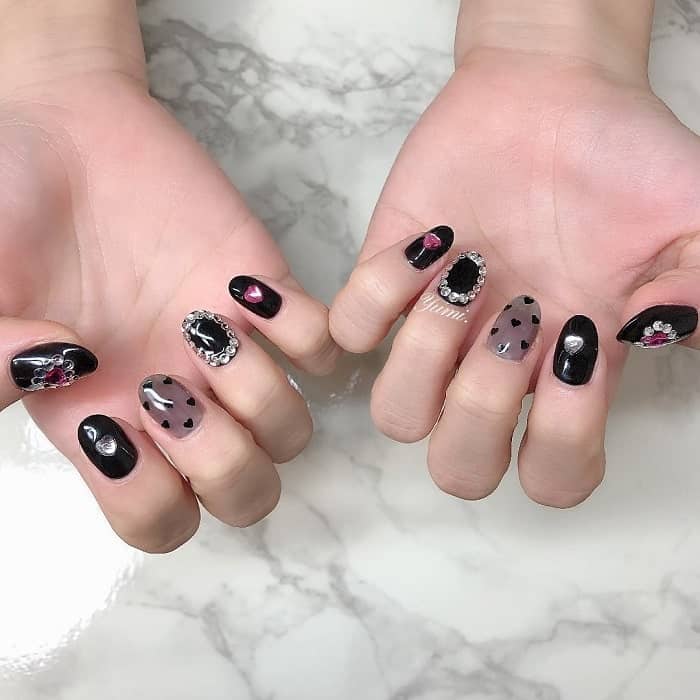 23. Black And Nude Nail Design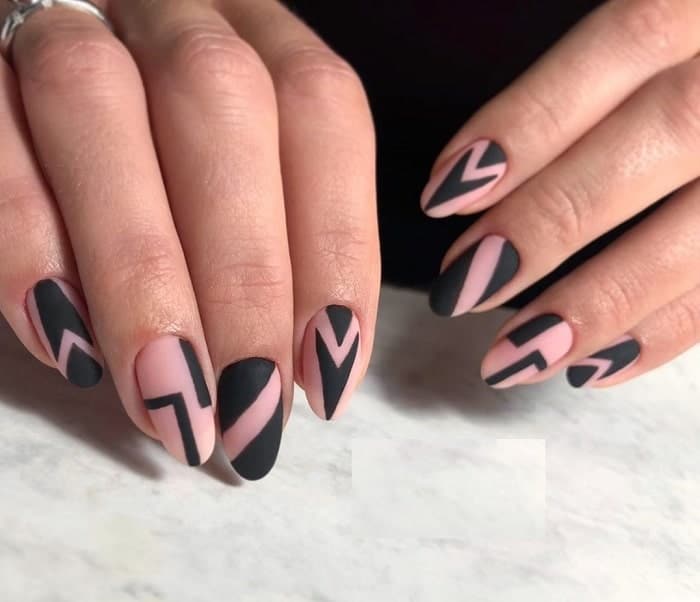 24. Black Clear Nails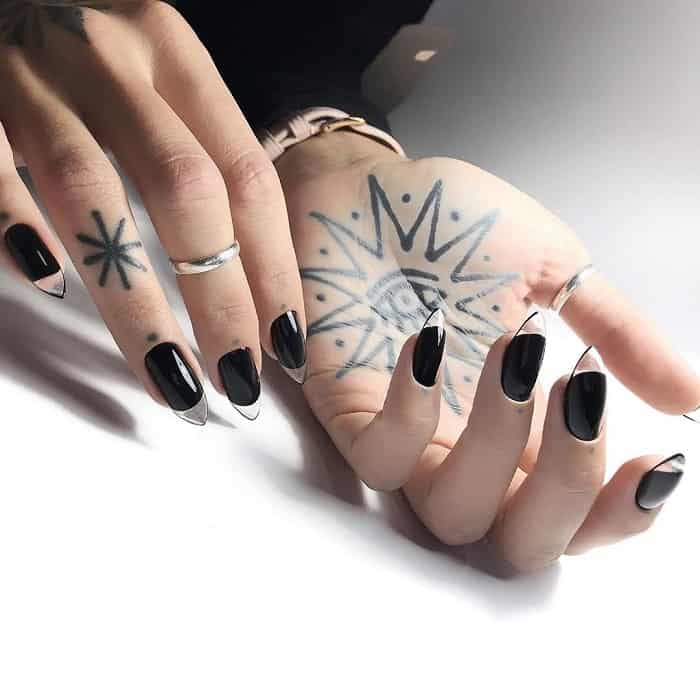 25. Black And Teal Nail Art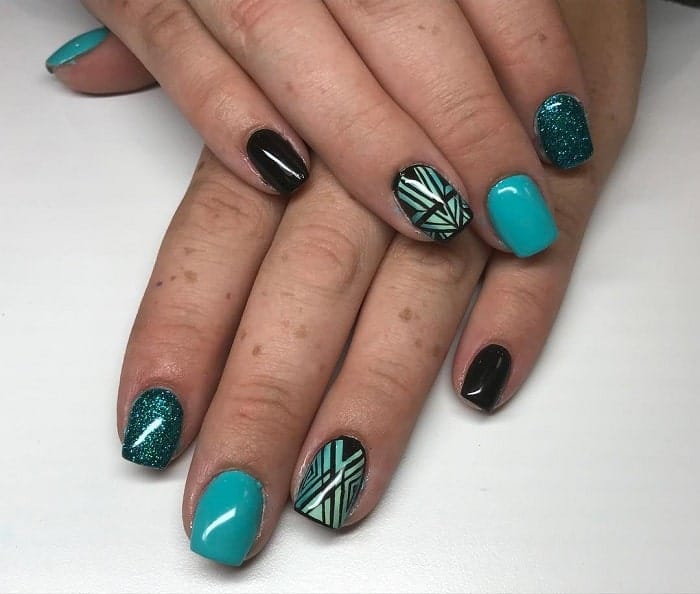 26. Burgundy And Black Nails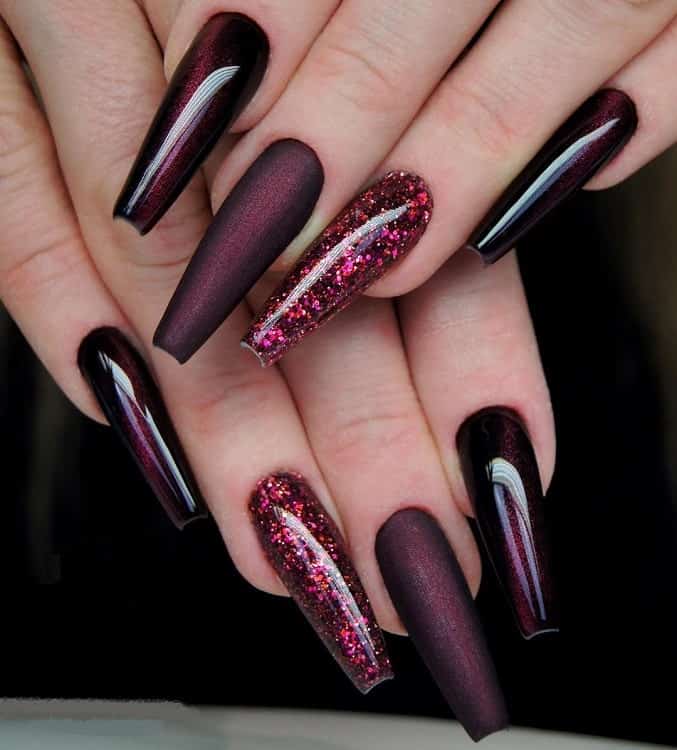 27. Coral And Black Nail Design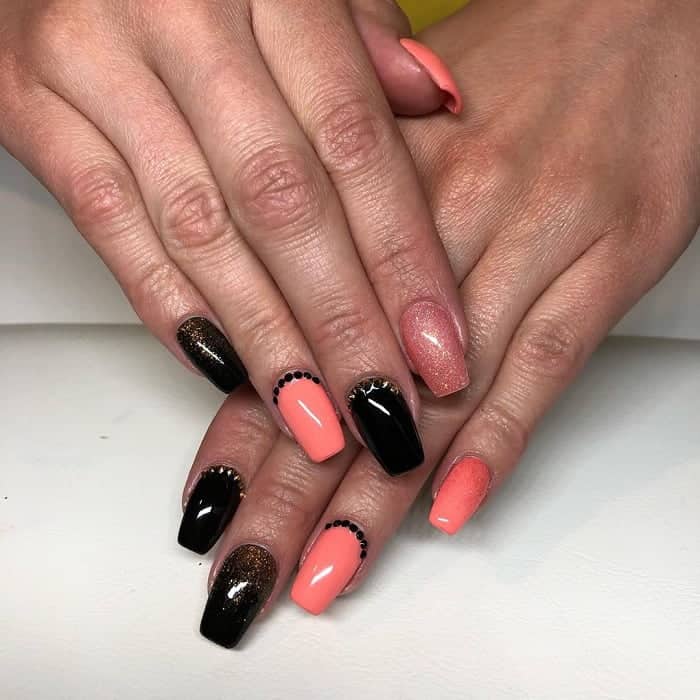 28. Beige And Black Nails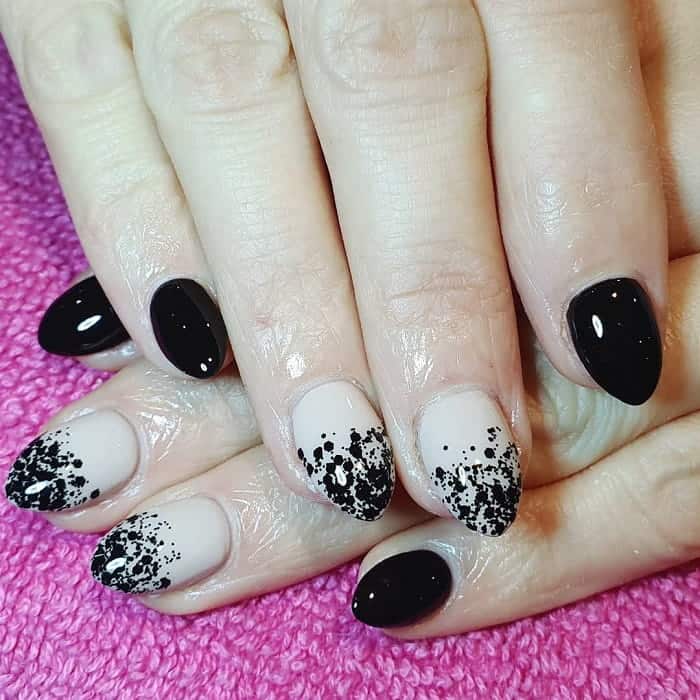 29. Black Cat Nail Art Design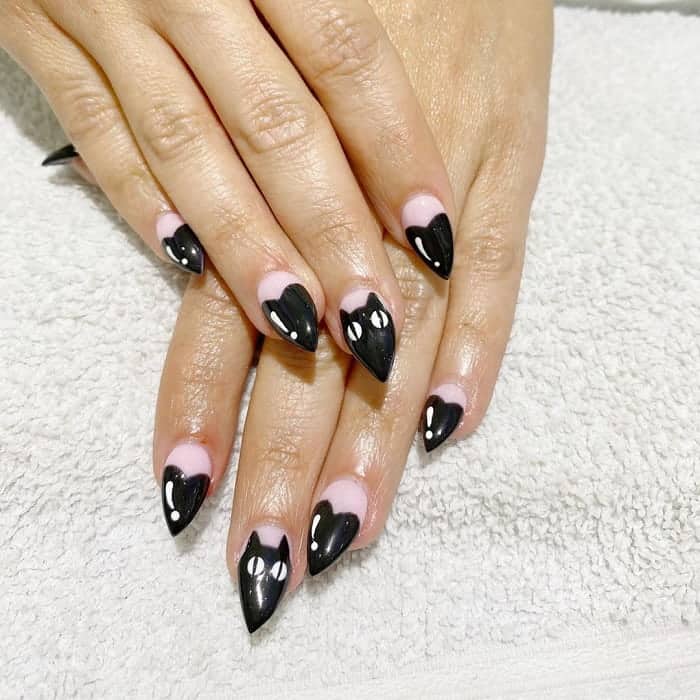 30. Black Long Nails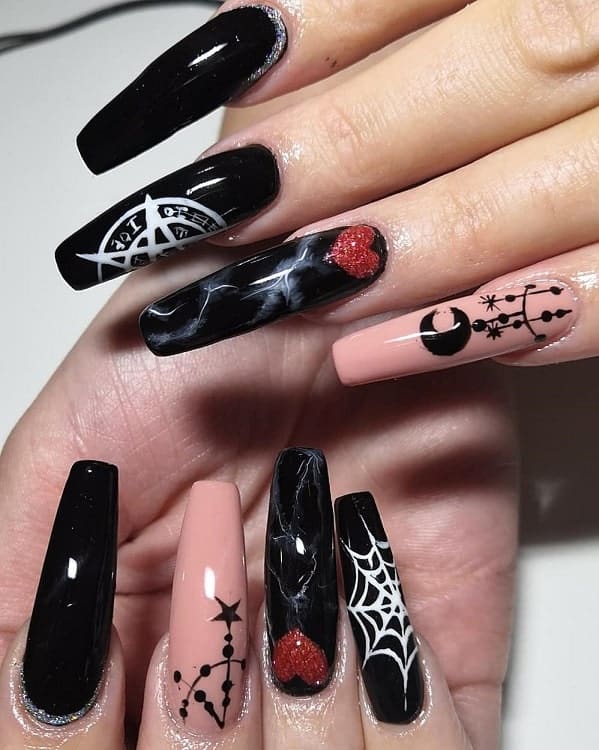 31. Black Cat Eye Nails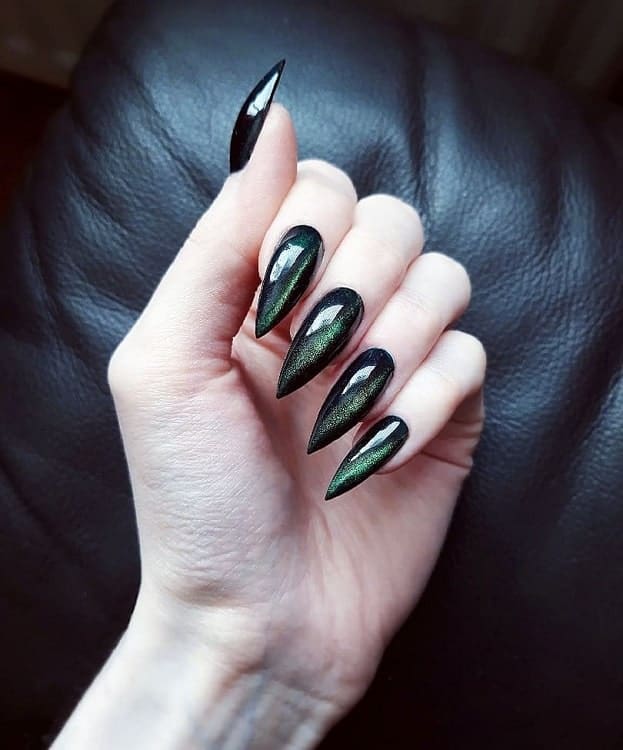 32. Black Nails with Glitter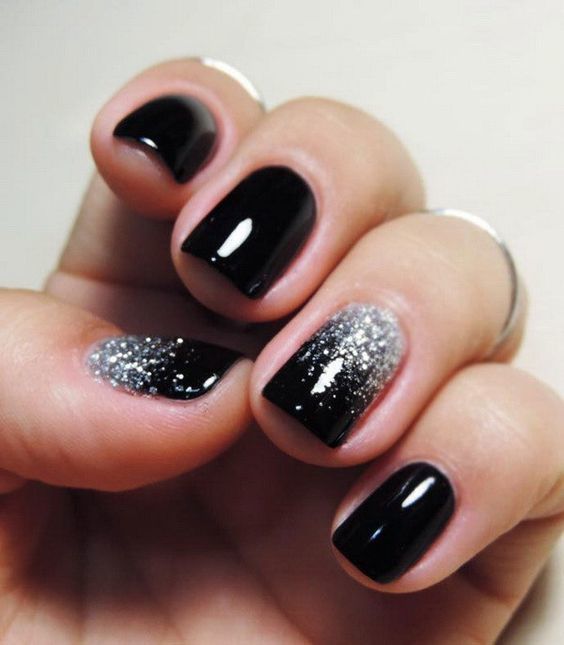 Silver Glitter on a black base is a style that will hardly fade away. You can wear it to celebrations because glitter is used on special occasions.
Don't wear it to funerals, sparkles were never made for upsetting situations.
Trendiest Black & White Nail Designs
33. Chevron Negative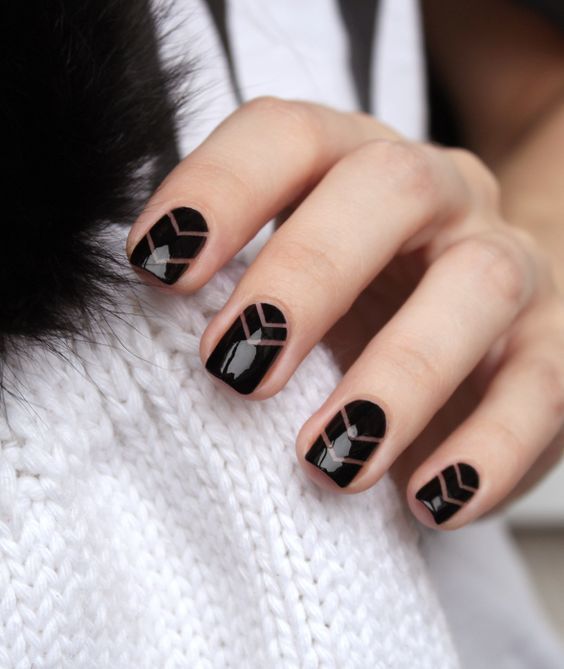 Before the rise of digital cameras, we had to spend hours working on the negatives until we could get solid photographs.
If photography taught us anything is that is essential to take good care of the negatives because without them we can't have positive results.
A complete piece of art is all about working on the negative parts as hard as working with positive ones.
34. Feather Weather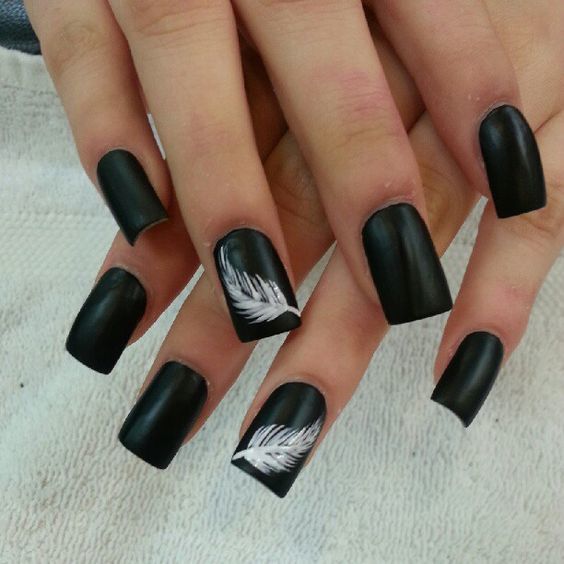 For an exotic look accessorize your accent nail with a rich looking feather.
35. Silver Glitter French Tips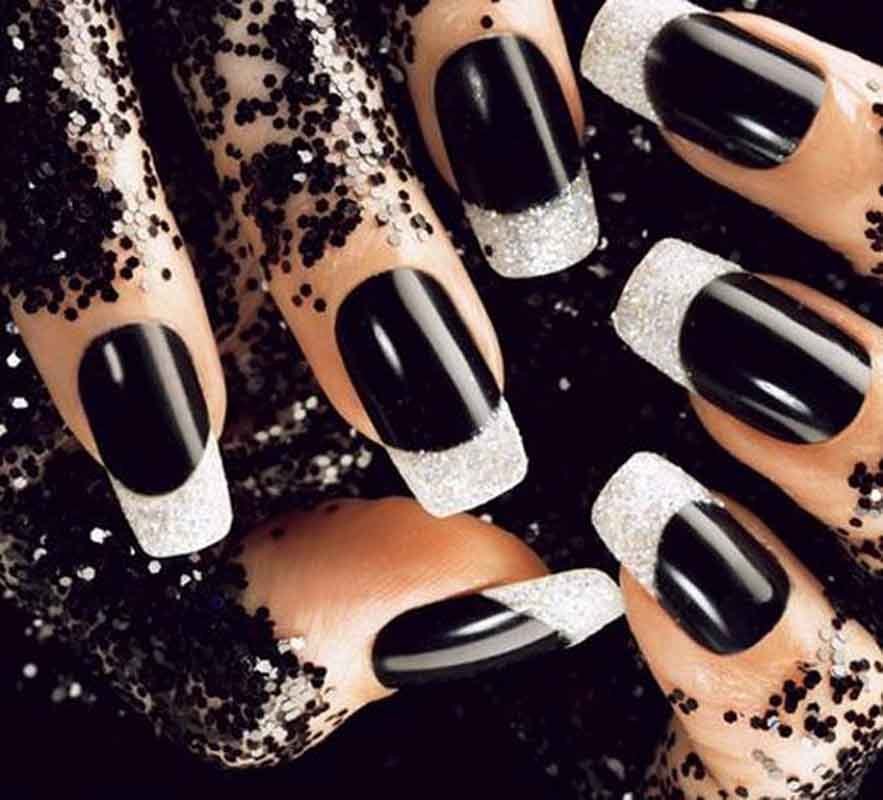 While keeping in mind that this design only works for special occasions due to its flashy and extraordinary nature, you must practice your catwalk so that you would be able to whip out these long squared babies and flash that sexy smile of yours whenever your eyes catch a target.
36. Beaded Crisis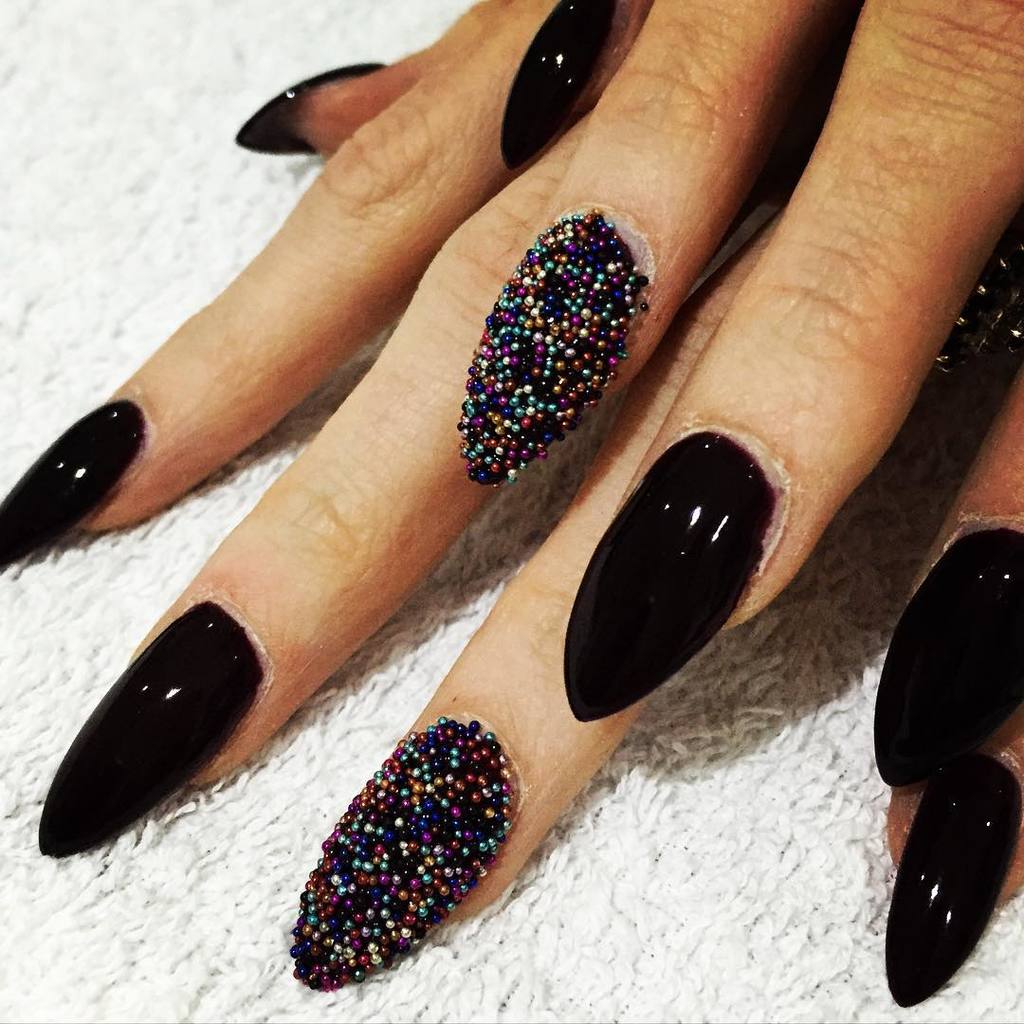 Glue tiny colorful beads on your accent nail to break the monotonic vibe in your plain glossy black nail design.
37. Chiffon Nails
Chiffon is a lightweight fabric with a sheer appearance and a magic luster. If your goal is to look sexy and provocative then this is the style for you!
38. White Accent Nail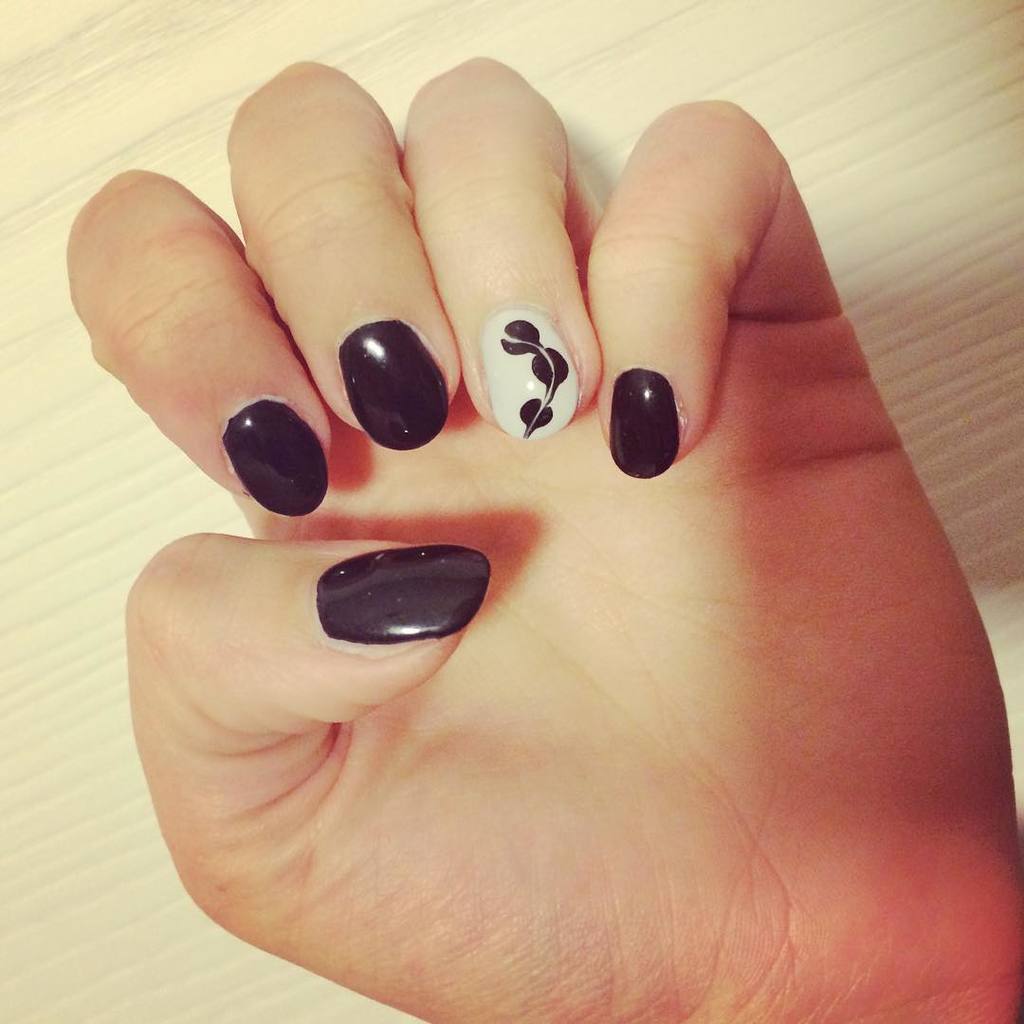 Cute and simple always does the trick! Paint your accent nail with plain white and add a little figure with black to make it pop.
39. Freehand Nail Art
To make a unique nail art design you're gonna want to go for a freestyle themed nail design. Use abstract unusual prints for each nail bed so that it continues to look one of a kind!
40. Glitter French Tips
Glitter works anywhere you apply it. Whether you paint the whole nail with glitter varnish or just as a coat above the basic color it is guaranteed to give you that shining star reputation! Wear this style for parties and celebrations.
41. Gamer Nails
Who said you can't play video games while looking as hot as a tomato? This is for all of you girl gamers out there.
Playstation Controller inspired black nails are best for all us girls who want to look stylish while we invade the gaming world with every fiber of energy we have left in our bodies!
42. Tribal Collection
Here's another nail design to add to your tribal collection, with curly doodles and eye details you" definitely look glamorous and mysterious.
43. Pretty Striped
Adding a cute little bow tie adorned with tiny rhinestones, pinkish stripes and a white background are the perfect combinations for a dashing black nail design.
44. So Random
Drawn random shapes with the negative spaces on the black base coat. You can draw various designs like chevrons, diagonals, X and much more.
45. Vintage Black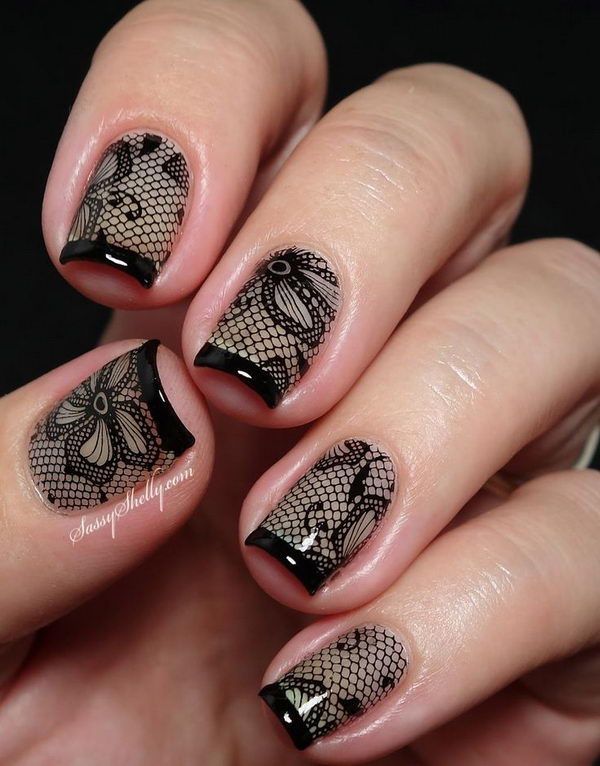 Apply black french tips and vintage-like design with a net effect will make you look as appealing as ever.
46. Swirl And Twirl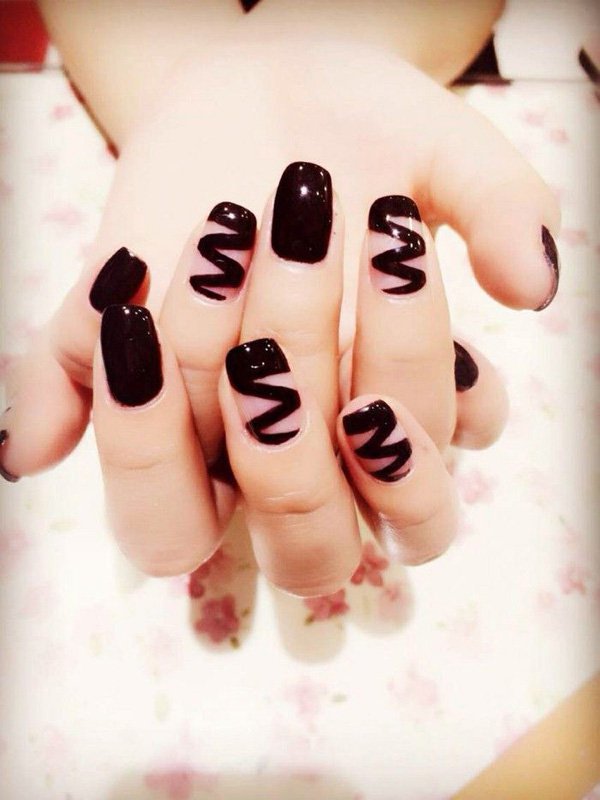 Pick random nail beds and make a zig-zag line just before the black french tips with a transparent background to get a funky graphic style.
47. Glossy Black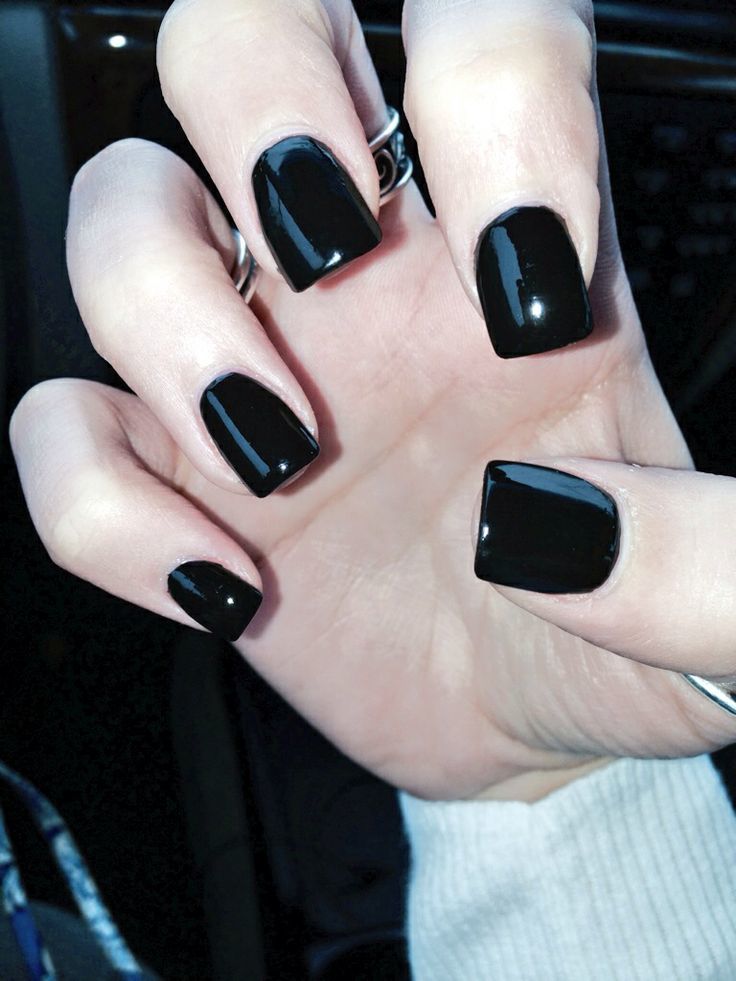 Black fans tend to be conservative, serious and of high dignity and sophistication standards. With plain glossy nail polish send a message to the world of what you really think. It works for short nails as well!
48. Tinted In Black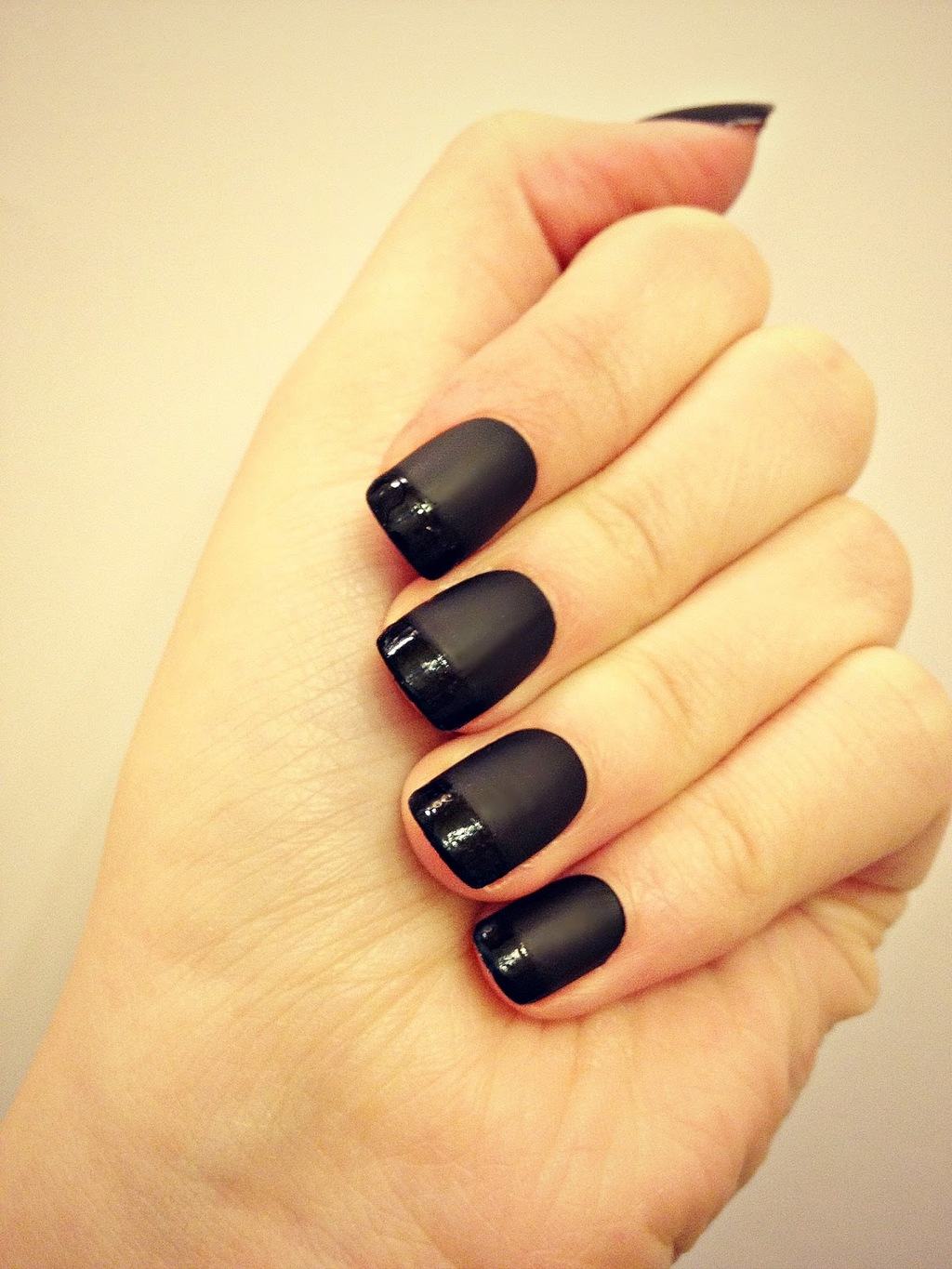 Going black 100%. This is a theme that would work with elegant and business occasions. Chrome french black tips on a black background only add more mystery to your identity.
49. Polka-Black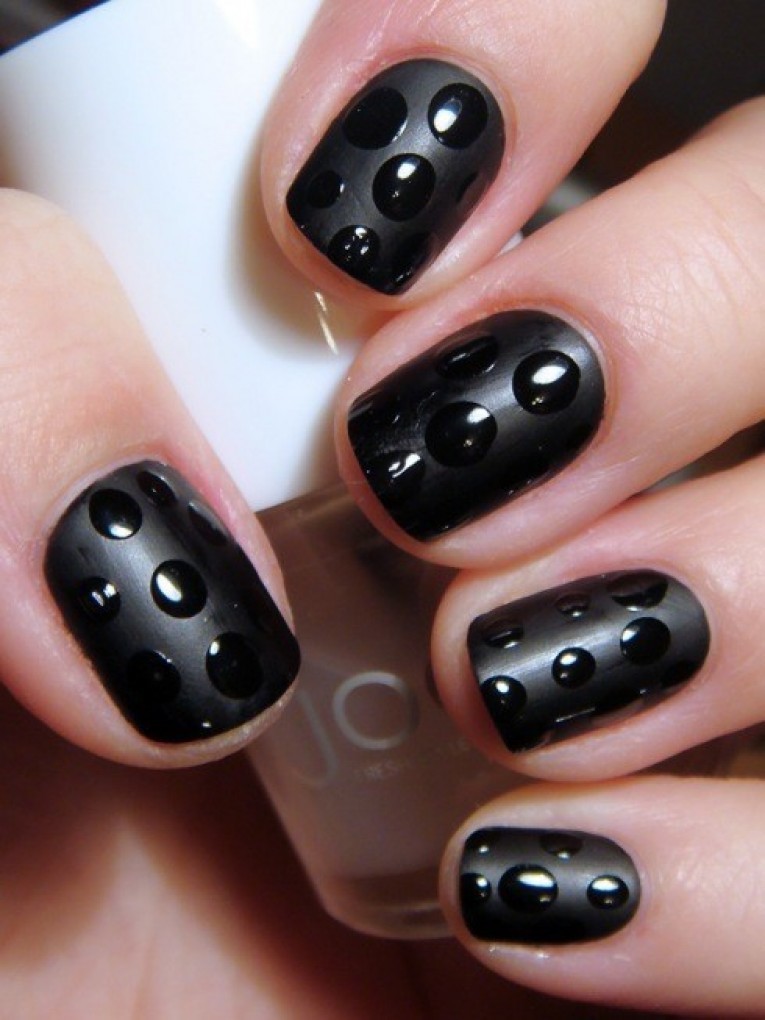 Successful women often choose black as it can give an impression of elegance, sophistication, and confidence.
With black polka dots, it breaks the seriousness and shows that this woman can have it!
50. Red Lips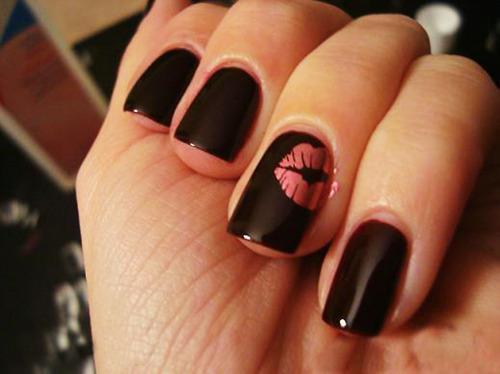 " All I ever want to be is somebody to you" is the message sent to the person you go out with this stylish manicure. All we can hope is that he can catch a hint. Fingers crossed!
51. Queen Of Hearts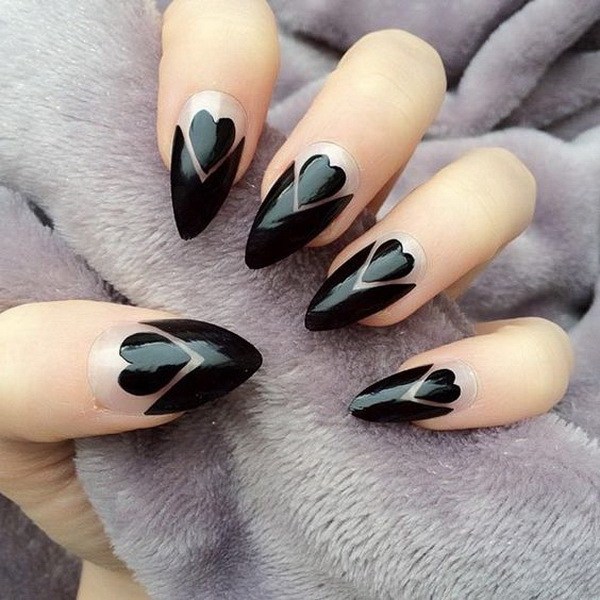 They say that the key to a man's heart is his stomach. But how about a great stylish look and let the fancy take-out restaurants take care of the cooking and cleaning, this ain't the 1880s.
Guys expect you to be all dolled up all the time, and what shows more love than a heart-themed black nail design?
52. Metal Vibes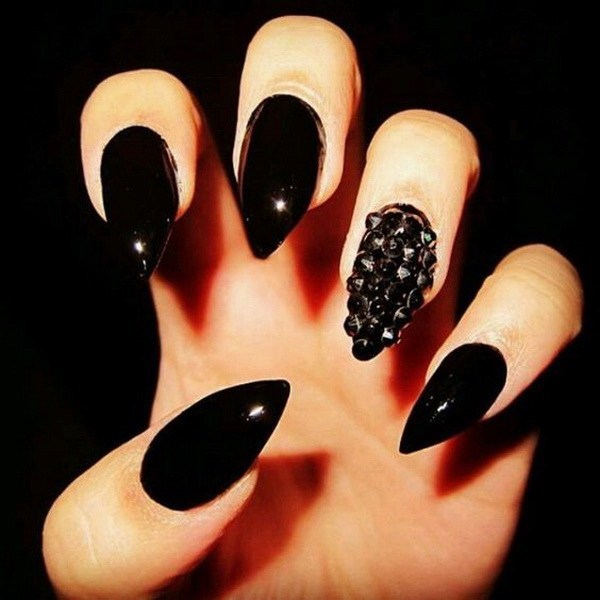 Party like a cold hard metal rock star with these stiletto black nails and pointed black rhinestones.
53. Simply Successful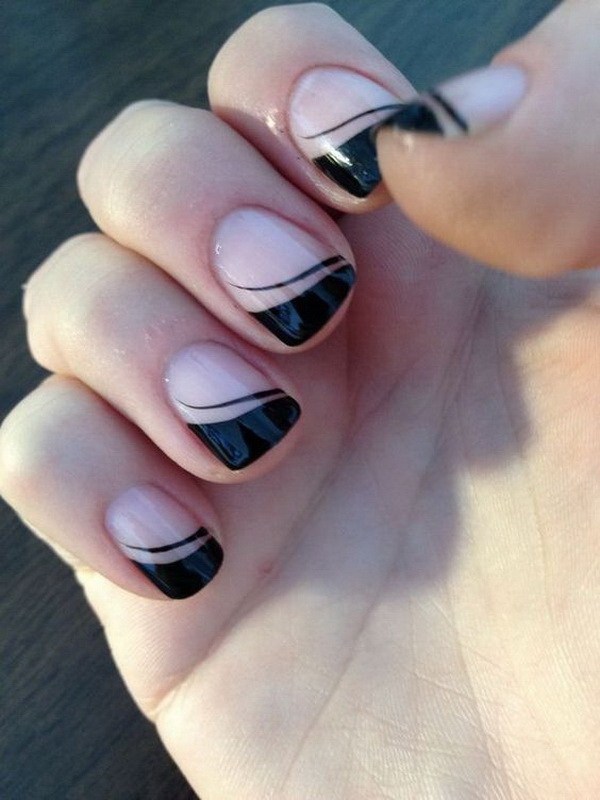 Success is often backed up by simplicity. And what's more simple that black french tips with a delicate stroke on transparent nail beds?
54. Flashy And Sassy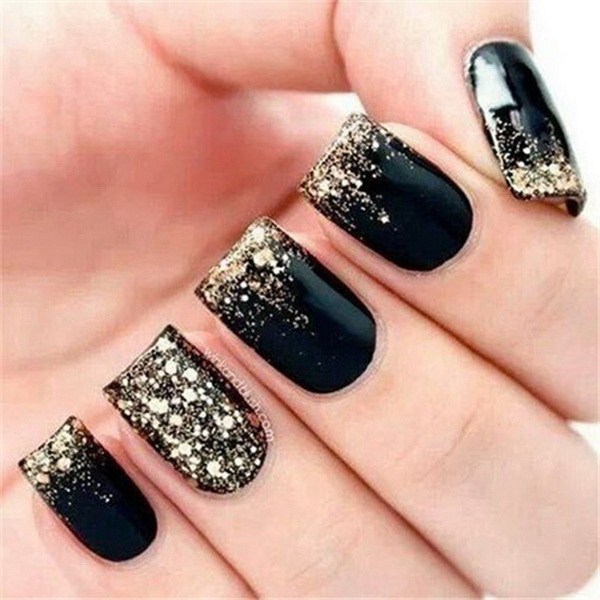 Twinkle twinkle little star, I wanna be as shiny as you are! Styles like this work best for parties and club nights!
55. Pink Tornado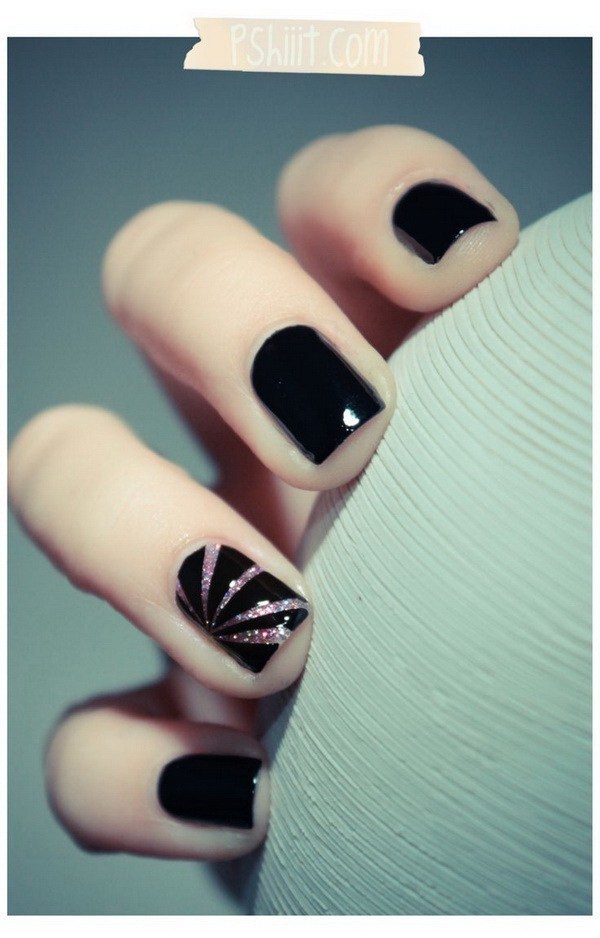 Got lost in the pink glitter tornado-themed accent nail and tell us all about your adventure!
56. Better With A Frame
Equip your nails with tiny colorful decals and frame others with a black contour to mark your doodle territory.
57. Busy Bee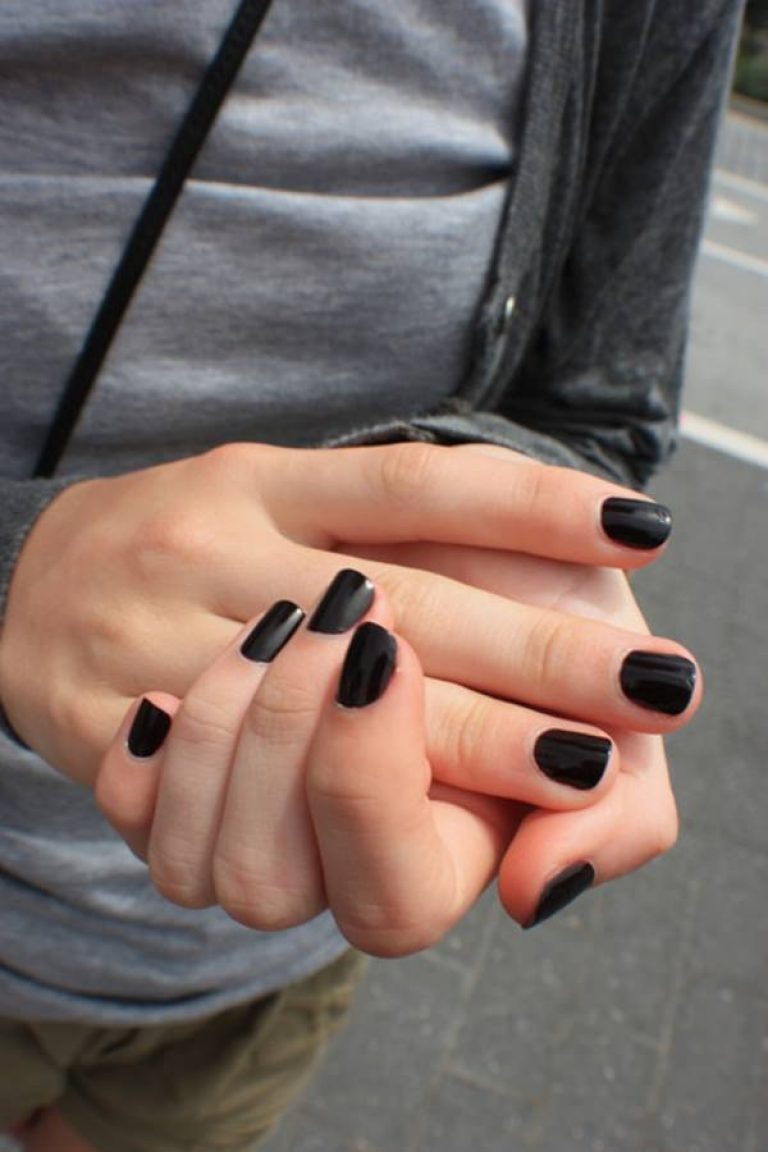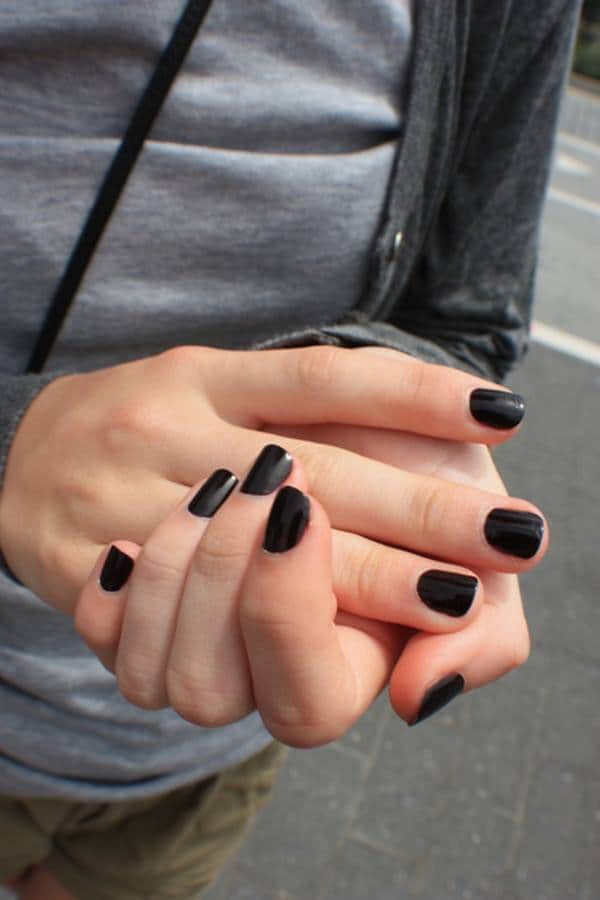 Working hard all week as a busy bumblebee can be an obstacle for us busy young ladies. We tend to lack ample time to salvage ourselves from the horrors of everyday life like "black bags" under our eyes from staying up late all night trying to finish up that upcoming project that your boss is so intensely fond of.
Or waking up to new wrinkles you never knew they existed like the great aging magician just pulled a hell of a disappearing trick on you.
But thank god that despite all of that we are still able to take quick and good care of ourselves without resorting to looking totally neglected with this simple glossy black nail style.
58. Neon Lights
Selena Gomez was right when she said: "We'll be burning up like neon lights". It is not logically possible to notice neon colors and not keep your eyes on them.
Then this the right modern style if you want all eyes on you!
59. Chrome Stripes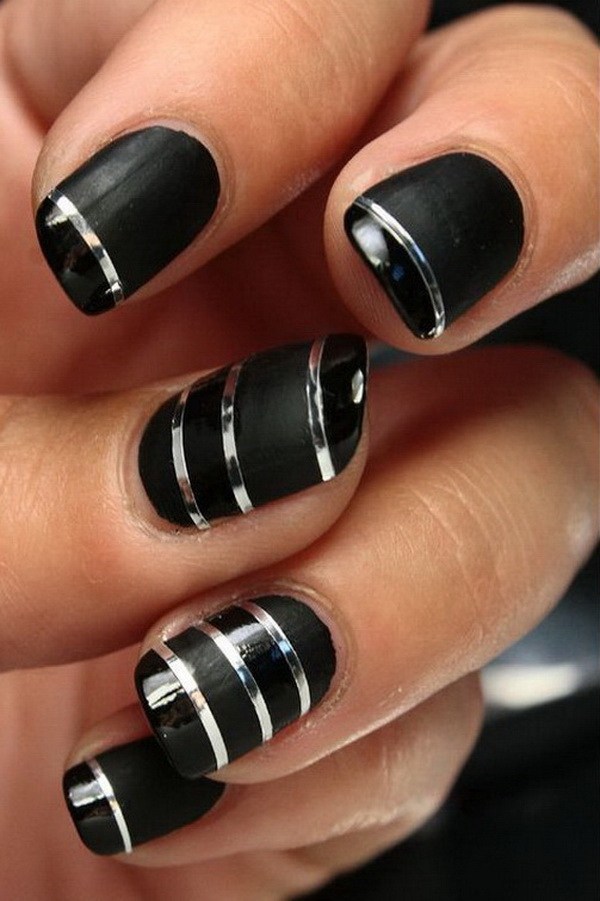 Stripes are a classic method to design nails, but when done in silver chrome it is just to die for!
60. Edgy And Dangerous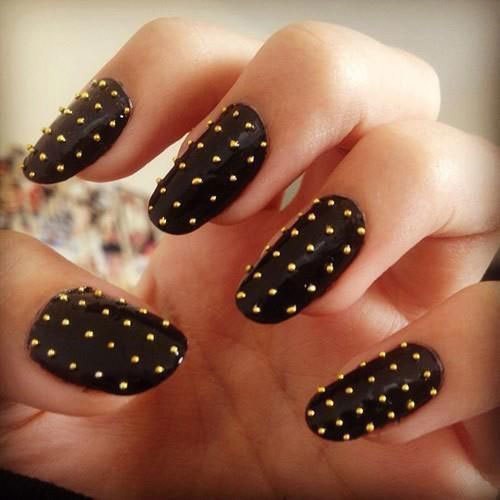 This is also for you girls who believe that they can pull the edgy punk rock n' roll look. Be sure try it out!
61. Silver Leaves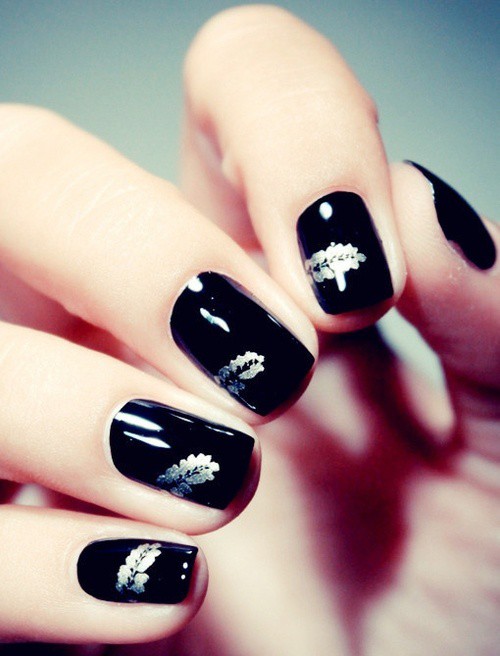 What's a better decoration than a gift from mother nature? Celebrate Autumn Season with these fallen leaves and get your spirit ready in line.
62. Cracked Open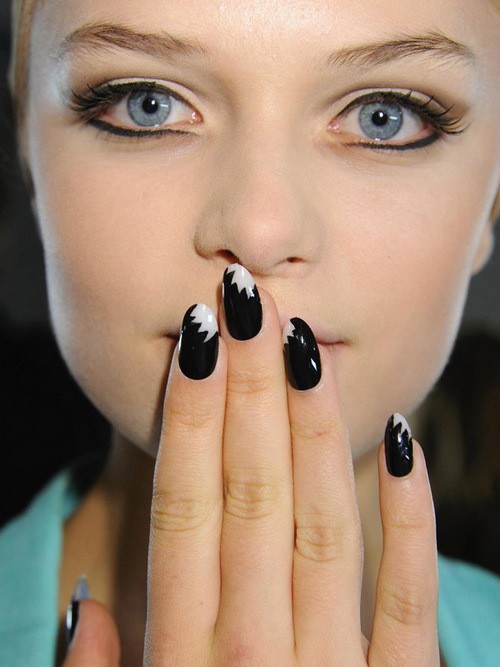 Marlene King made it quite clear that "Pretty Little Liars" Tv shows that two can only keep a secret if one of them is dead.
Since secrets are meant to be told, and with black being the secretive color, what about a black eggshell cracked nail design to tell everybody you keep every information to yourself?
63. Shine Bright Like A Diamond!
Diamonds are a girl's best friend, and they certainly look picturesque when drawn on nails in black and white! Shine bright like a diamond with this theme.
64. Immortal Black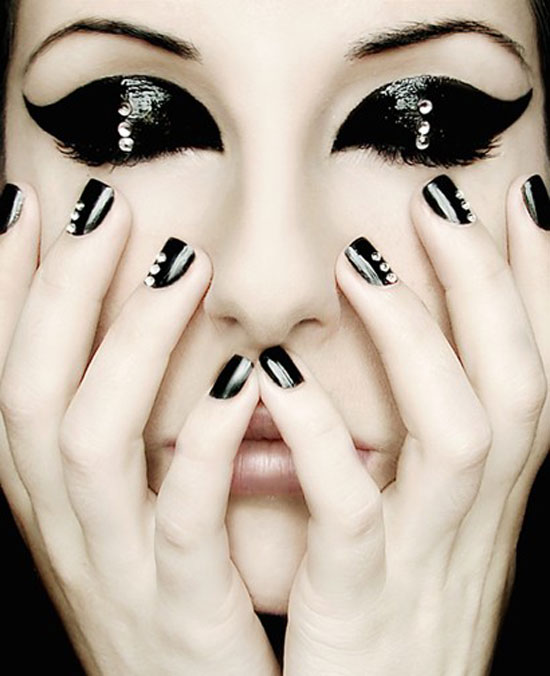 Black is definitely a color that never dies. And that's why you can never go wrong with a pure black nail design!
65. Accent Sequence And Chevron Glitter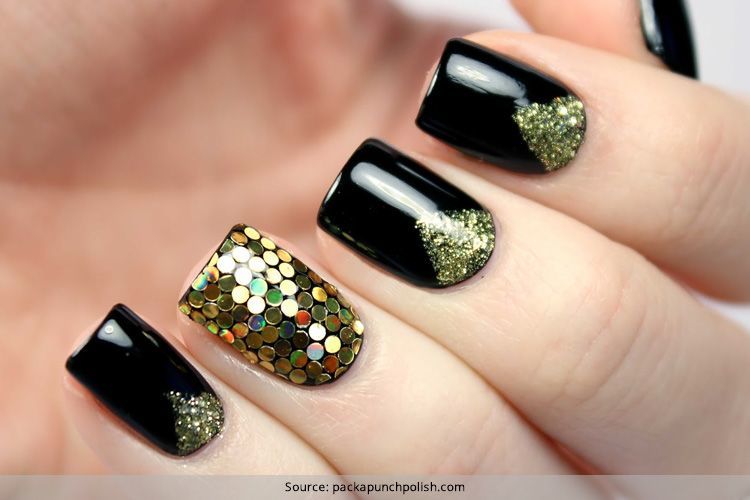 Black is an elegant color, but it is best to use another color with black to lighten and brighten its energy and what's more energetic than the sunlight color itself?
Red & Black Nail Designs to Try
66. Black Nails with Rhinestones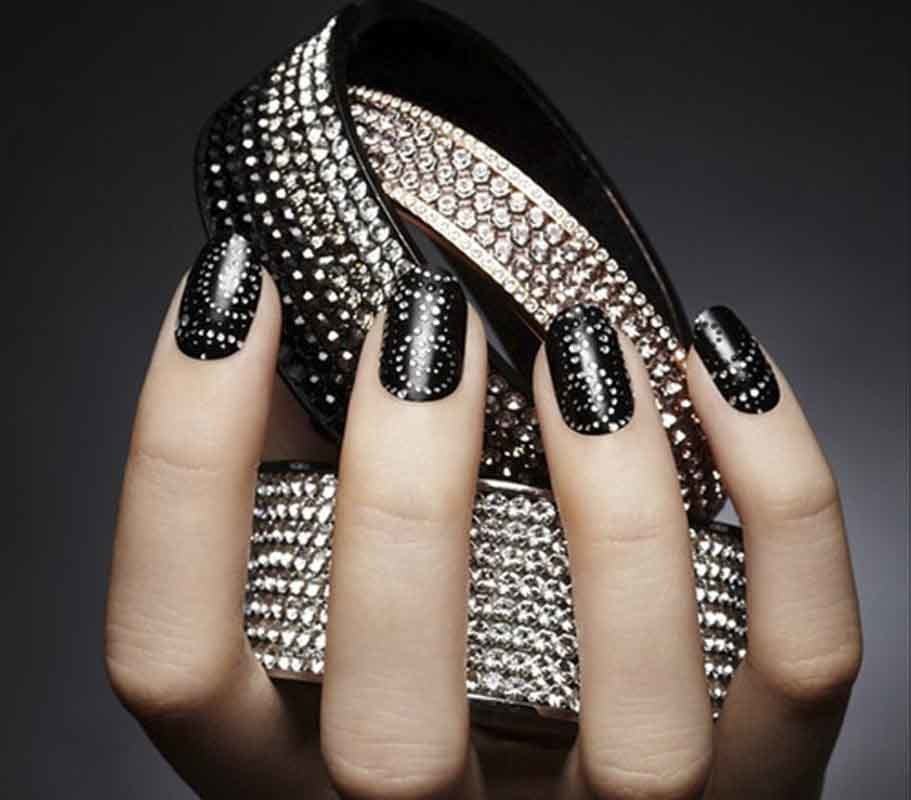 Create your masterpiece on a plain black coat with silver rhinestones. Make sure every nail is different to get a catchy reputation.
#67. Just Chilling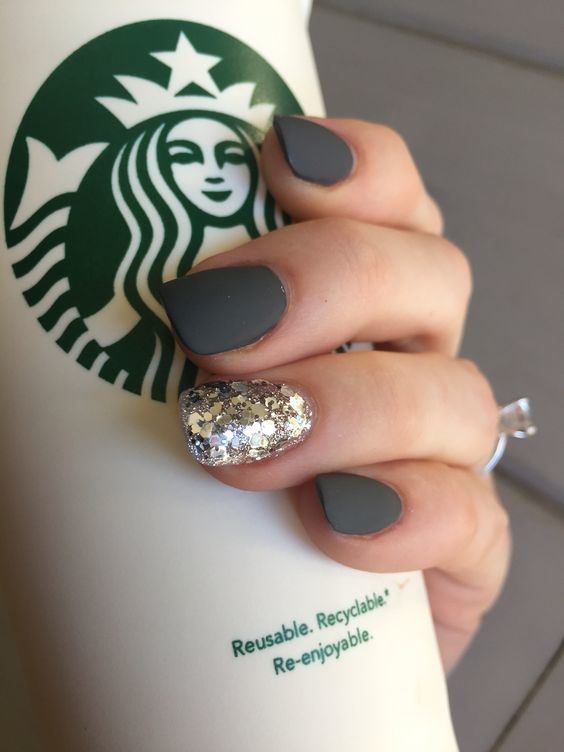 Going out to Starbucks with your friends and want to leave them in awe? Try this not too complicated but not too crazy light black look and tell us how it turns out for you.
68. Get Your Disco On
Get your dancing shoes and disco ball because if you hadn't noticed there's a party doing right down there on your nails and everybody is invited!
69. Temptress And You Know It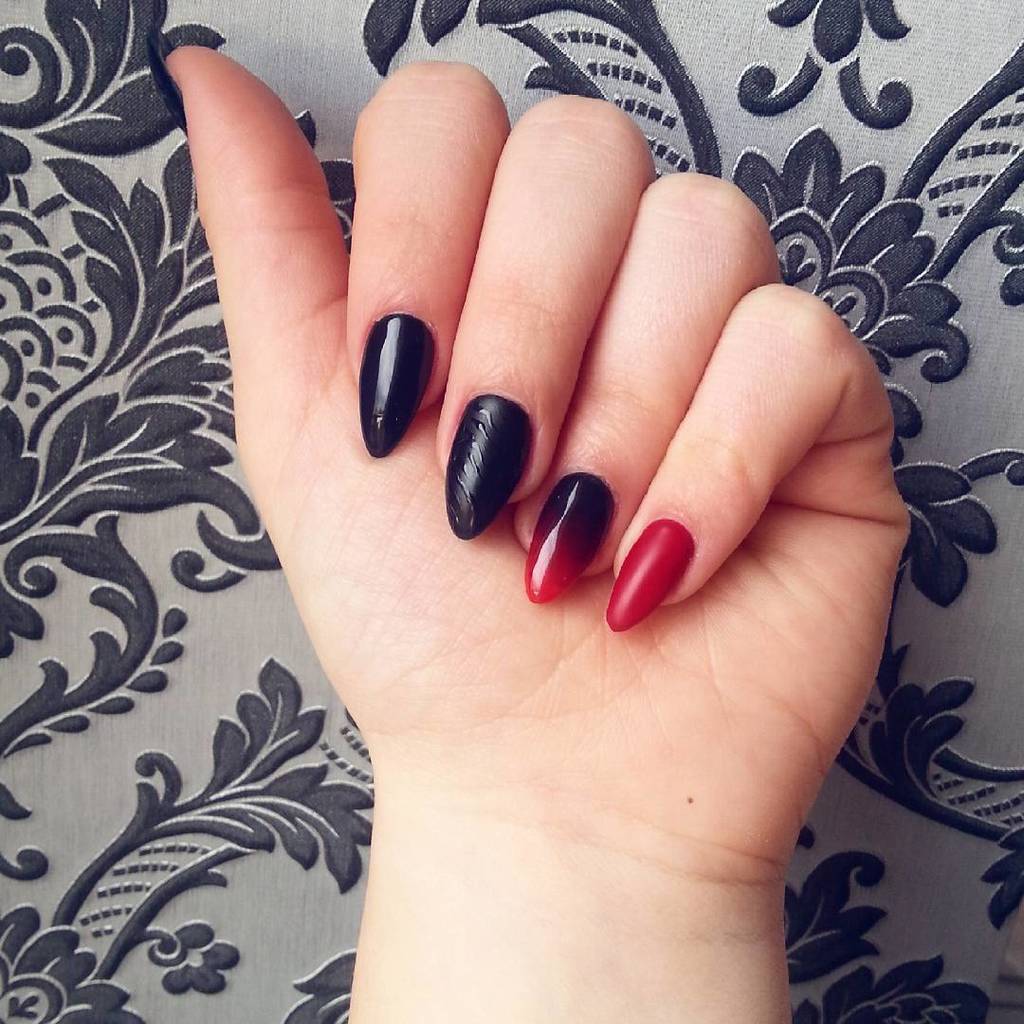 Black is often associated with seduction, create an intimate atmosphere with black lingerie and you've got that man hooked without breaking a sweat.
70. Squared, Striped, And Glittered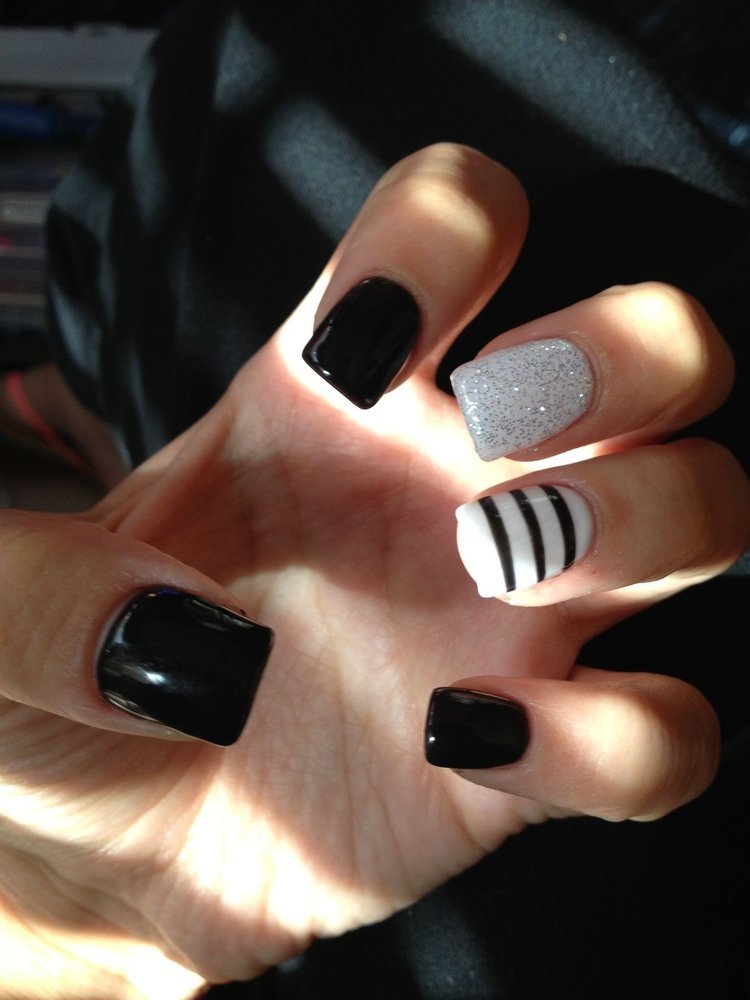 Square nails go best with long fingers and wide nail beds. Adopt a bumble-bee effect and stripe the accent nail to make it more memorable.
71. The Yin-Yang Effect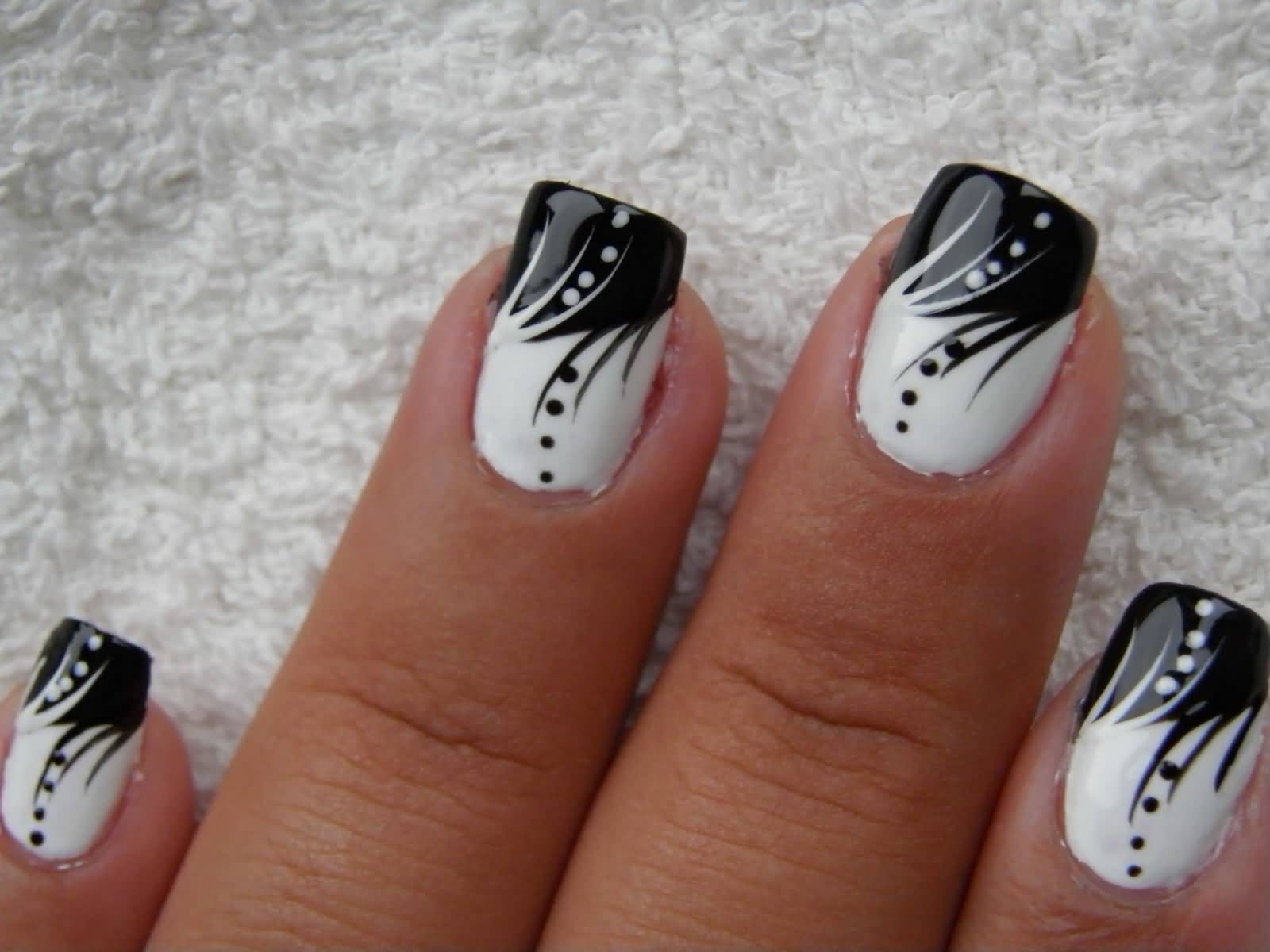 Every good has a dark side and every evil has a bright side. It is our job to balance between good and evil and know what's the right choice to make.
72. Bumble Bee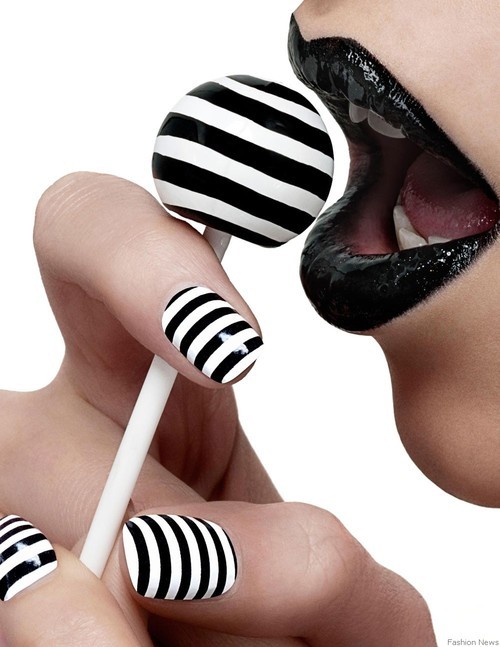 Every lady and bumble bee, every two lovers sitting in a tree be ready for this black and white nail design that will set you free!
73. Silver Linings
Too much black can create a negative environment with depression and mood swings.
That's why when combined with a bright and upbeat color it can lighten up your mood while keeping that level of elegance you worked so hard for.
74. You're A Sky Full Of Stars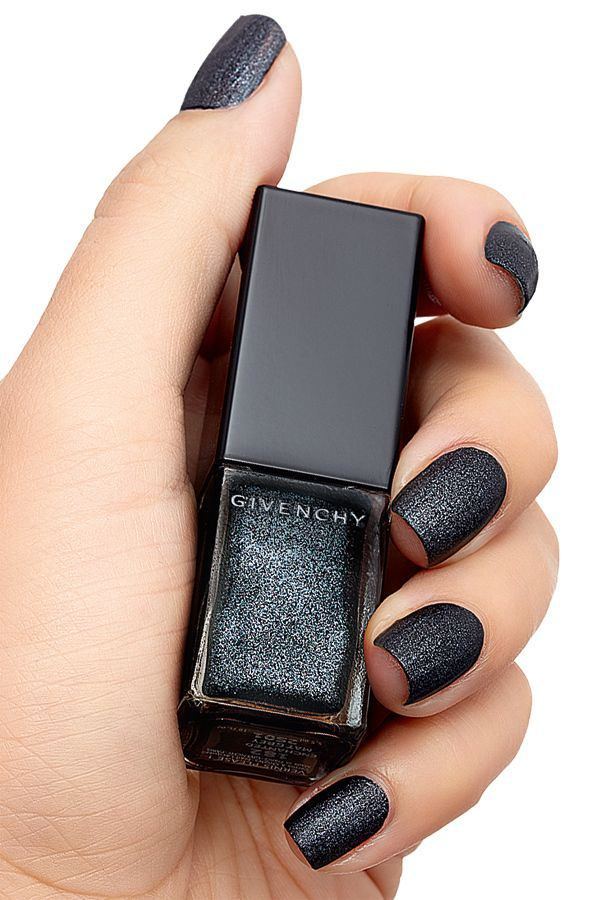 Have you ever had one of those nights when you just laid down on the grass of your lawn or on the rooftop of your building and just stared at the sky with a heart full of admiration like it's the greatest creation you have ever seen and started to relive an old childhood memory in which you try your best over and over again to count the twinkling stars on that black mattress but failed miserably?
Don't let your nostalgia get the best of you and remember all the memories you want with this nail style!
75. Young And Moody
Teenagers tend to fall in love with the black color and that's psychologically interpreted as a normal transitional state.
They are moving from the innocence of childhood to the complication 0f adulthood and they need to protect themselves from the outside world and the black color would provide them that safe salvation shelter until they find their own unique identity.
76. Bubbly Tips
Just a bubbly tip for you all, silver bubbles are a great concept to apply on glossy black backgrounds.
77. Round And Round
Going round and round with that boy and don't know what else to do? Splash on a fresh modern manicure because nobody is worth depressing you!
78. Stylish Accent Nail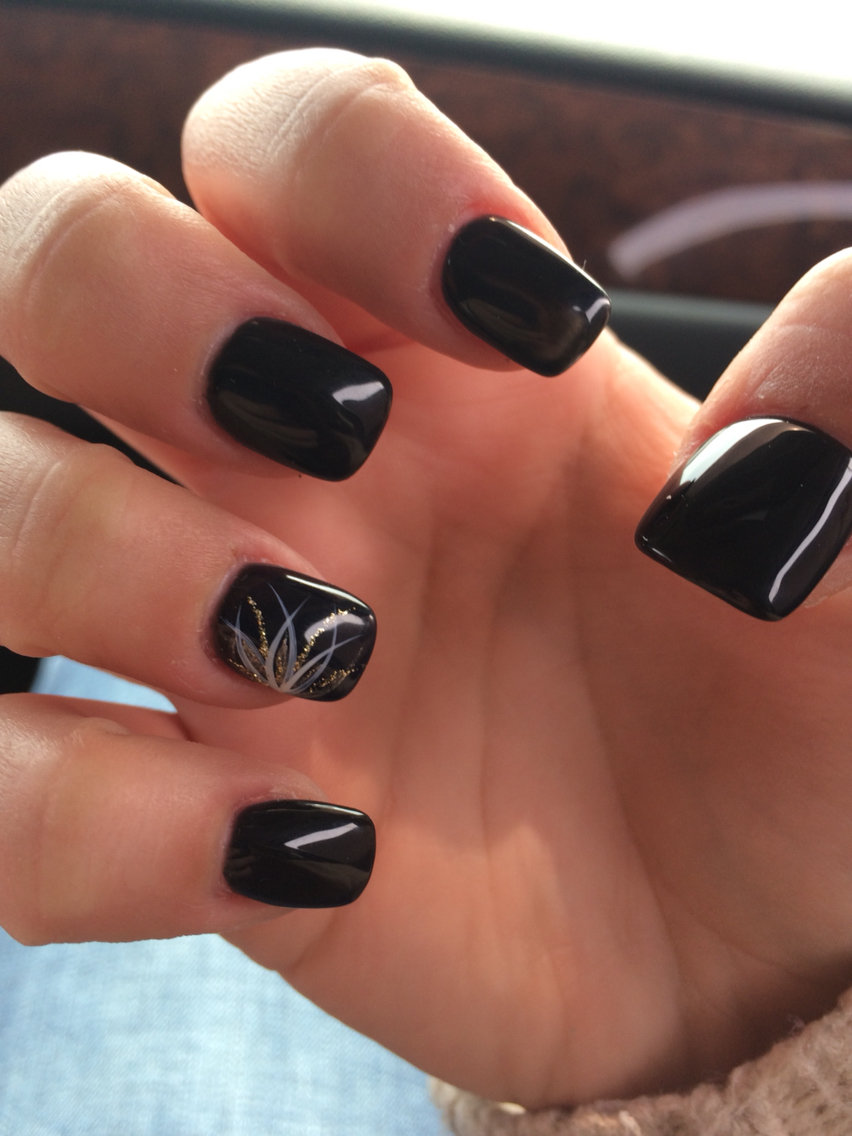 In a rush but you need to look fabulous? Don't worry here is a black nail design made just for you!
79. More Tribal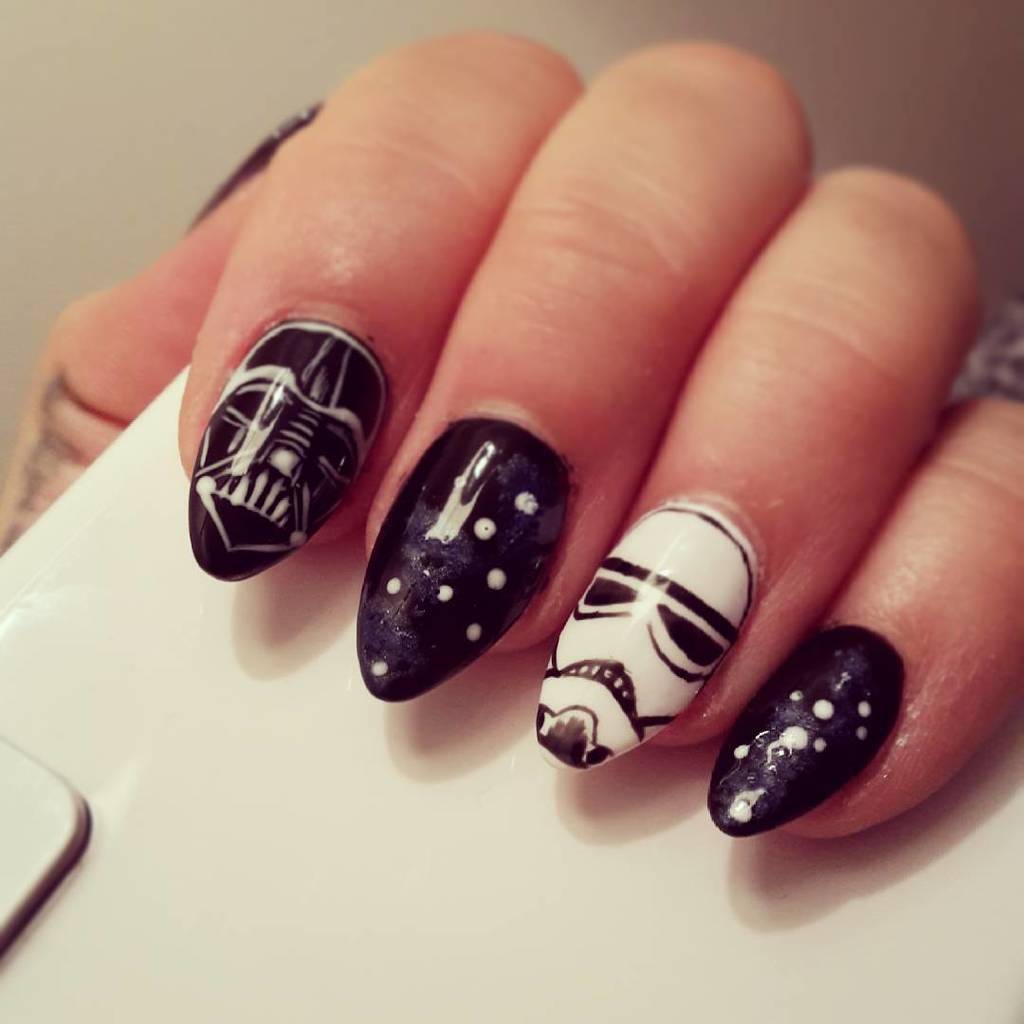 Here is more of the tribal theme and more of the mystery! It's so hard to choose!!
80. Column Of Decals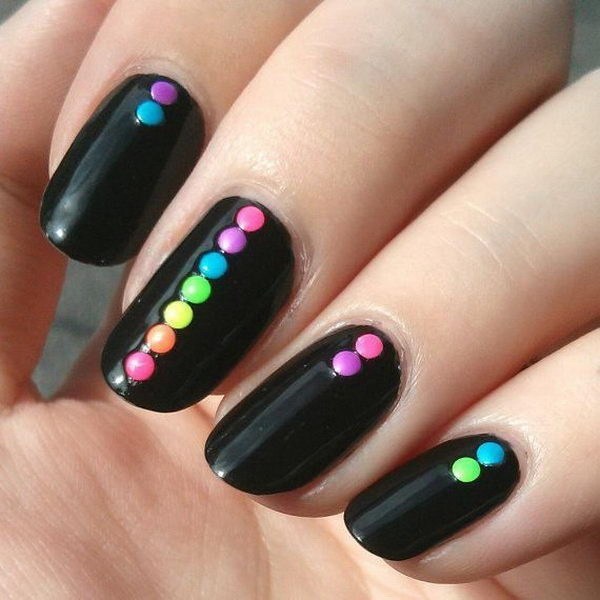 For those of you who lack steady hands, you can try out designs like this one that is effortless and don't require any artistic slight hand. Just stick them wherever you feel like and you'll get a trendy look for sure!
81. Zebra Nails
Animal print is never out of style. Spice up your nail polish with your favorite nail print and get a trendy and sexy nail design.
Some More Black Magical Designs You Can Opt for
Being the darkest color, black masters the art of deceiving us and makes us think of trying new experiences and things we never thought we would do.
It is the ultimate elegant color and the mother of all colors. The least we can do is show it some respect and use it in our black nail designs.