Mixing up colors has never been more fun! Pink and ombre are two very popular nail colors and when we talk about pink ombre nails, the variations of combinations you can make are endless!
If you choose to take your manicure to a whole new level of greatness, create pink ombre nails and designs that involve glitter or rhinestones.
Best Pink Ombre Nails
Here's a list of beautiful pink ombre nail designs. Have a look:
1. White Lace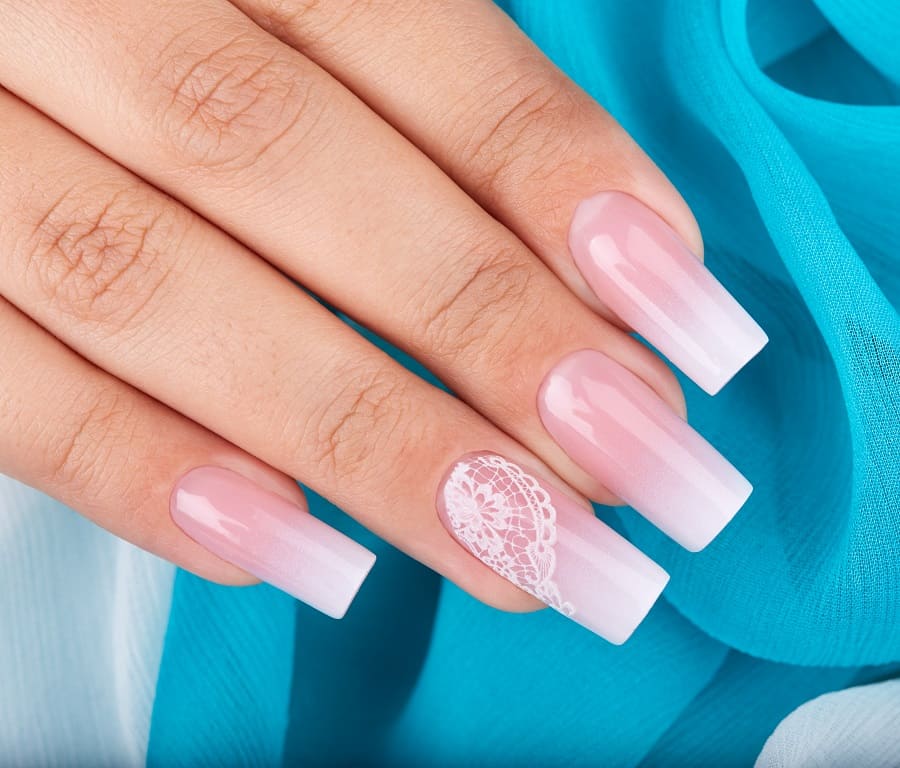 Looking for an elegant and lady-like nail design? Freehand a white lacy corner of one pink ombre nail or use an easy-to-apply nail sticker.
2. Shimmery Purple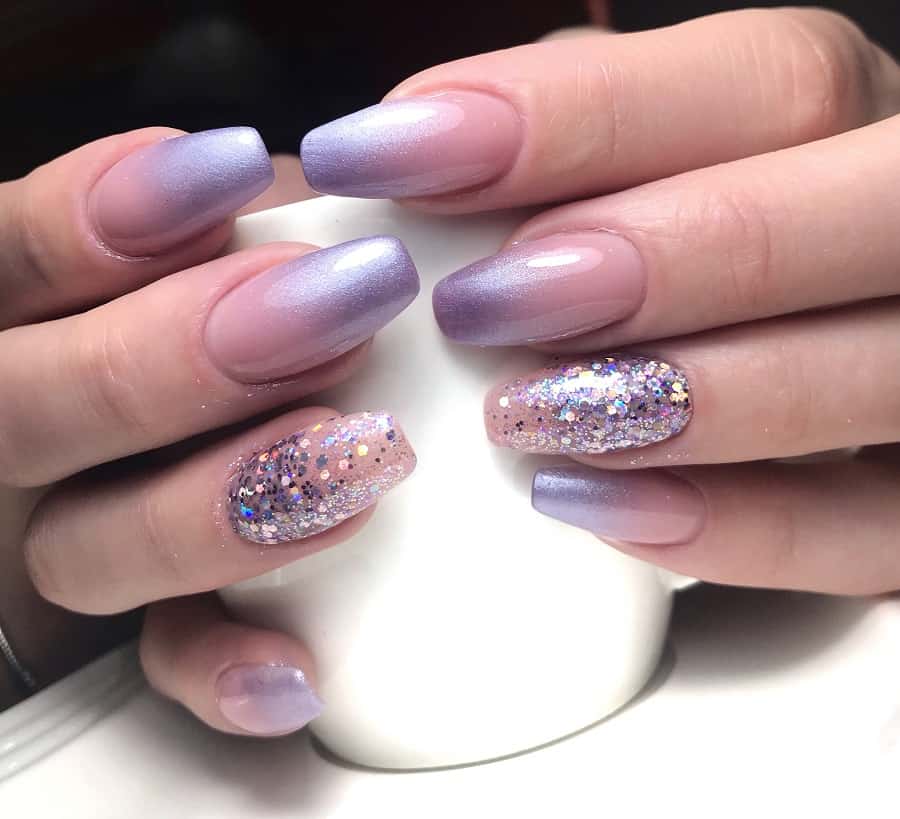 This shimmery purple polish makes the tips of pink nails shine, as does the glittery accent nail. Try the colors on long coffin nails.
3. Hot Pink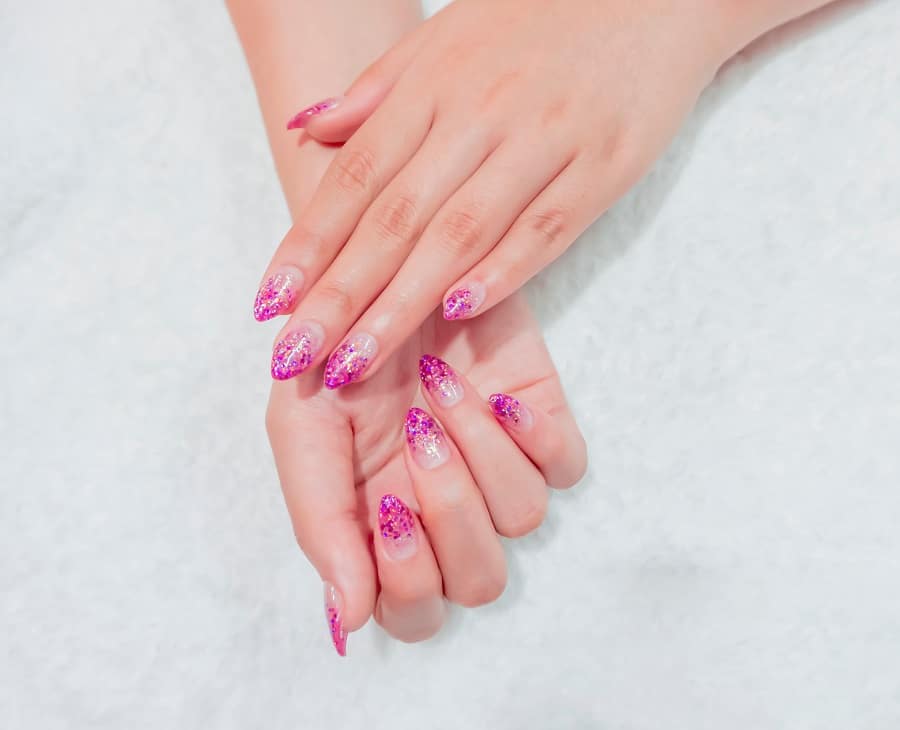 Hot pink ombre will make your nails catch anyone's attention. On almond or stiletto nails, paint just up to the halfway point of the nail.
4. Lines on Lines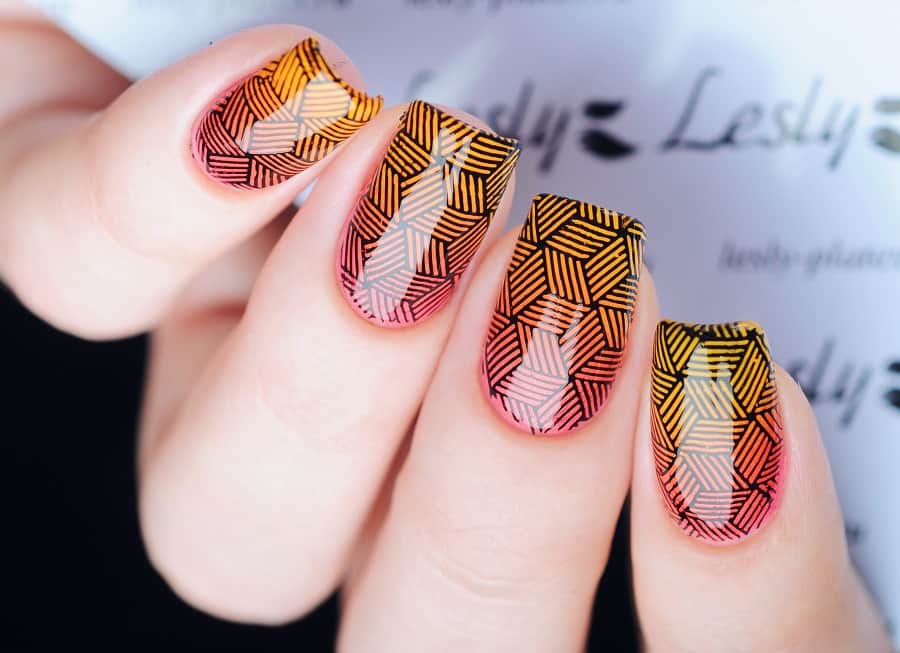 An optical illusion can be just at your fingernails by painting small, thin and slanted lines in different directions. Use pink and orange for a hot combination.
5. White Flowers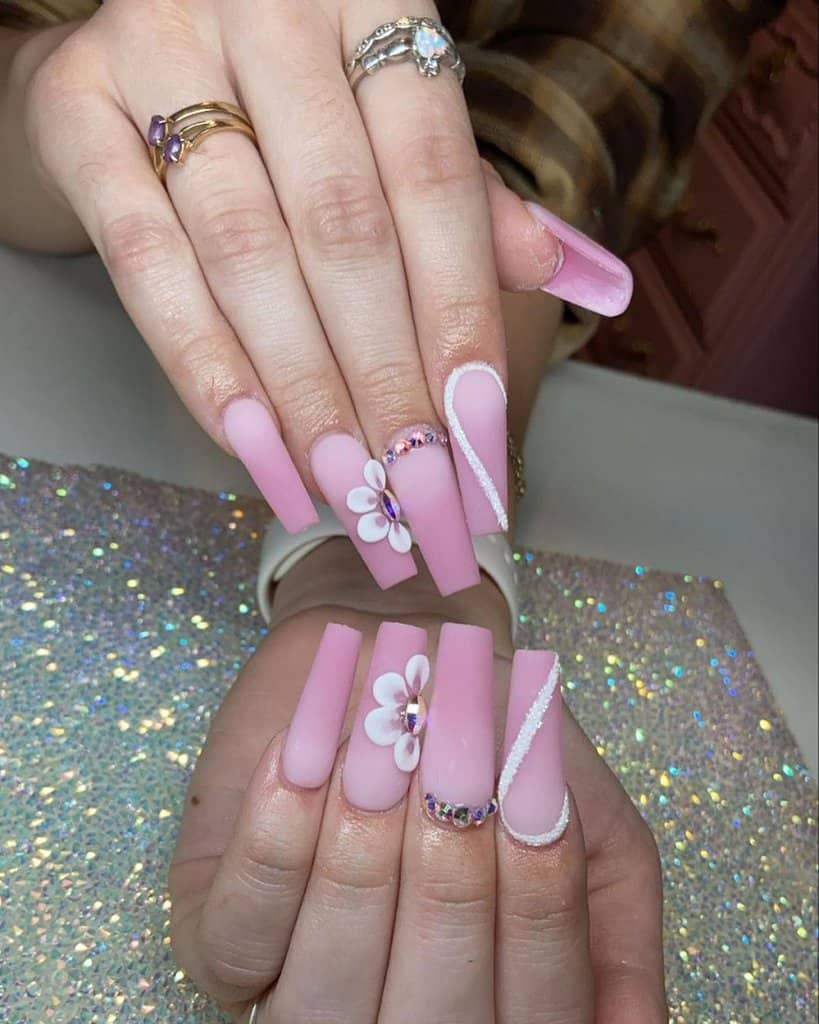 These extra long coffin nails can't be ignored. With a matte ombre, large jewels, and white glittered polish covering the pink nails, they're a pretty sight.
6. Hot Pink and Jewels
Another style on extra long nails includes this hot pink ombre. It's the perfect color for tropical vacations, especially with the rainbow-tined jewels to accent.
7. Lime Green
We often see dark green nails on women, but it's not too often we see lime green. The light color is refreshing, eclectic, and can be decorated any number of ways, including with jewels.
8. Neon Pink Ombre
Colors like orange and pink, tinged with a little yellow, are great together. Stick to bright neon colors on long oval nails for an electrifying nail design.
9. Sparkly Silver
If what you want is a nail design that catches the sunlight, you'll get it with sparkly silver and pink ombre. Paint it on your middle two fingernails, leaving the other nails light and dark pink ombre.
10. Butterfly Stilettos
It doesn't get more feminine and flirty than butterflies on long stiletto nails with light pink ends. A speckled or marbled silver on their ends makes an extra special detail.
11. Sunset Gradient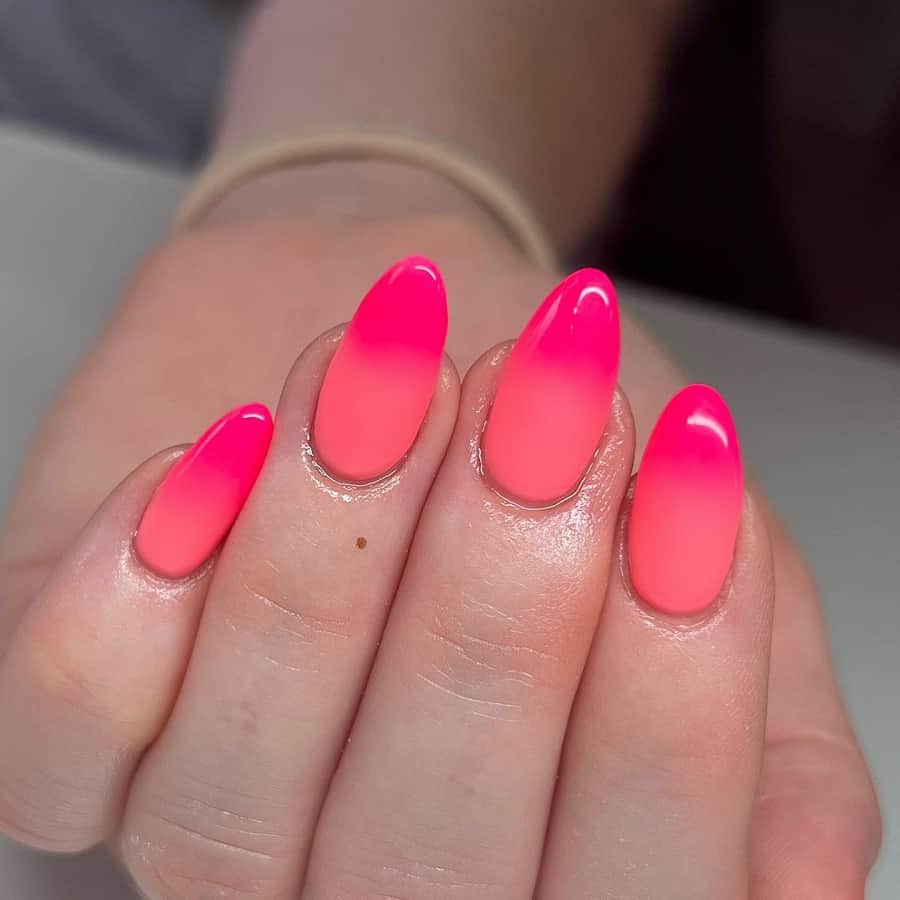 There's no need to wait for sunset when you have it on your nails. The gradient of hot pink and light pink seen here is subtle but beautiful.
12. Tiny Flowers
These long coffin nails shine in the light with the help of little white flowers featuring a jeweled or glittered center. It's certainly a design you can do at home with a steady hand.
13. Classy Traditional
If you're not one for a bunch of details or designs, you can still rock pink ombre. Long square nails may be simple with just the polish, but even plain can be classy!
14. Matte Pink Ombre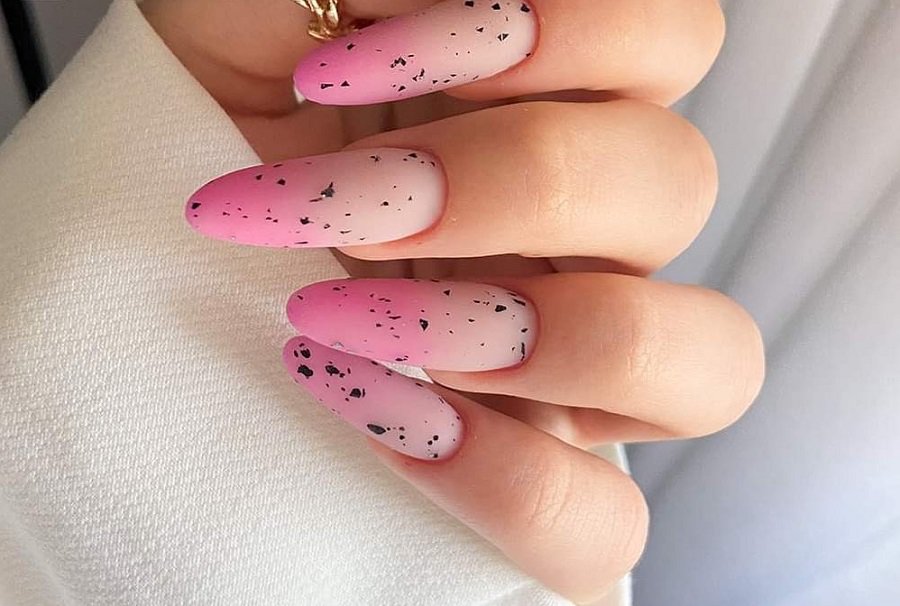 For women who don't want too shiny of a manicure, stick with matte pink ombre. Whether you keep it plain or add the funky black specks seen here, you'll love the new look.
15. Gold Lines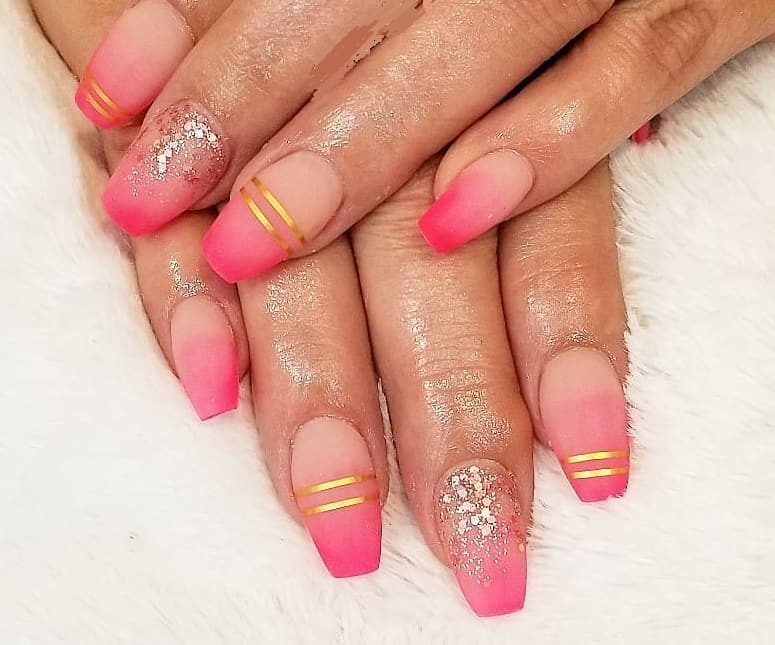 Two gold stripes lead the way to dark pink tips on these pointer and ring fingernails. With the middle fingernail, use a rose gold sparkly polish to decorate the nail bed.
16. Black Hearts
Show some love, literally, to your fingernails by drawing on black hearts or sticking on black heart nail stickers. Keep them close to the tips of the nails to make them pop against hot pink.
17. White Flames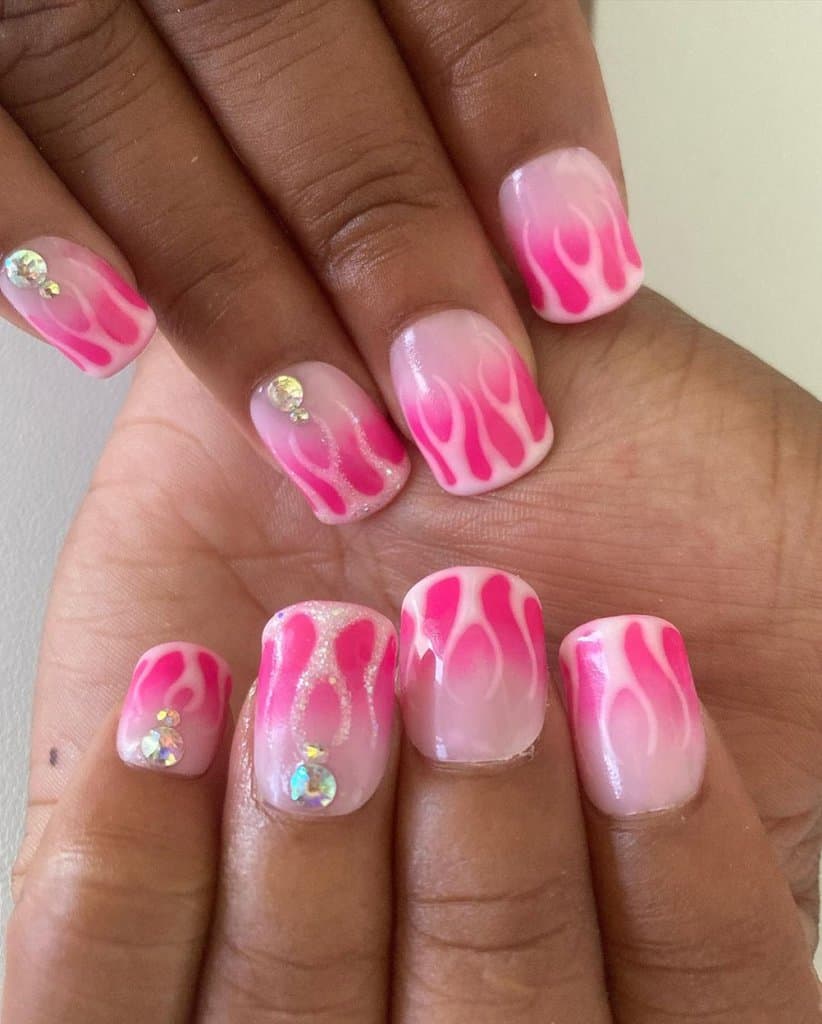 Flames are an edgy touch to a pink ombre manicure. Go with white and silver flames for a lighter detail. Stack a couple nail stones near the cuticle to finish off the look.
18. Medium Pink Ombre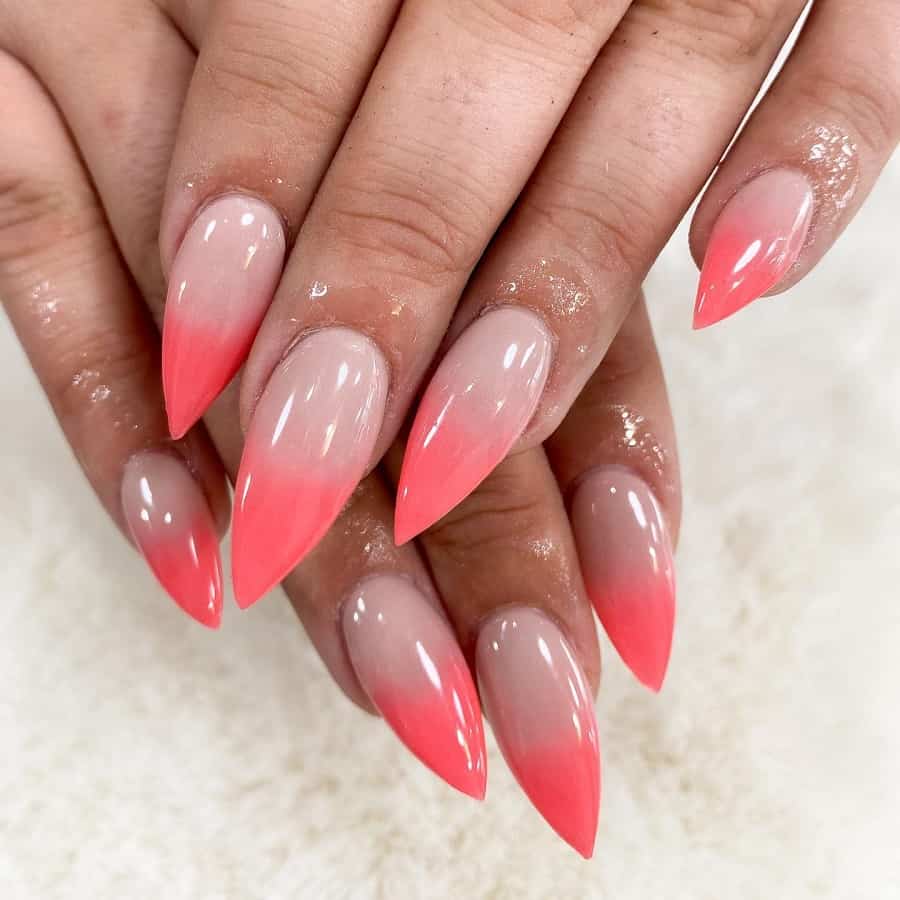 Can't decide between hot pink or light pink? Keep it neutral with a medium shade. On long stiletto nails, the mod design accentuates pointed tips.
19. Glitter Ombre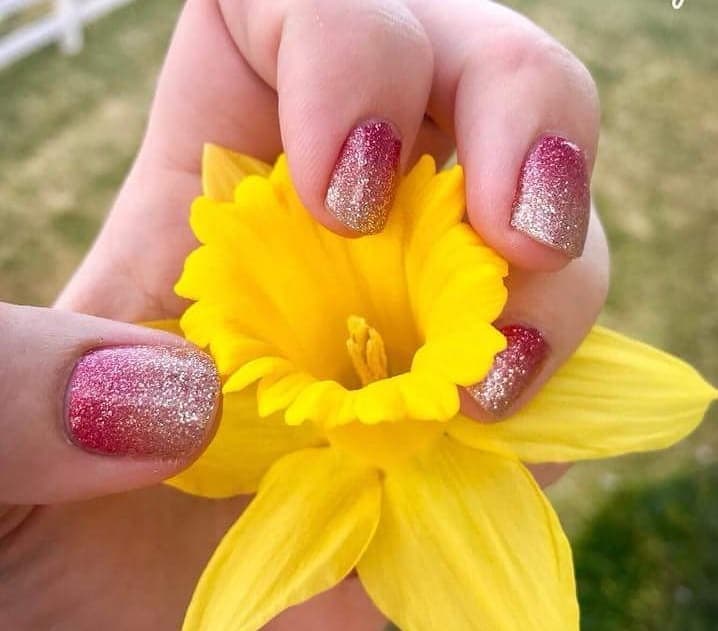 Whether it's date night or a wedding, you need a fancy nail design. We recommend short squoval nails with glittery gold and pink ombre.
20. Pink And White Ombre Nails
If you adore girlie mani that shows your dreamy passionate side, style your nails in a square shape, and create a pink ombre. Use a glitter topcoat and paint a small bow on one of your fingernails.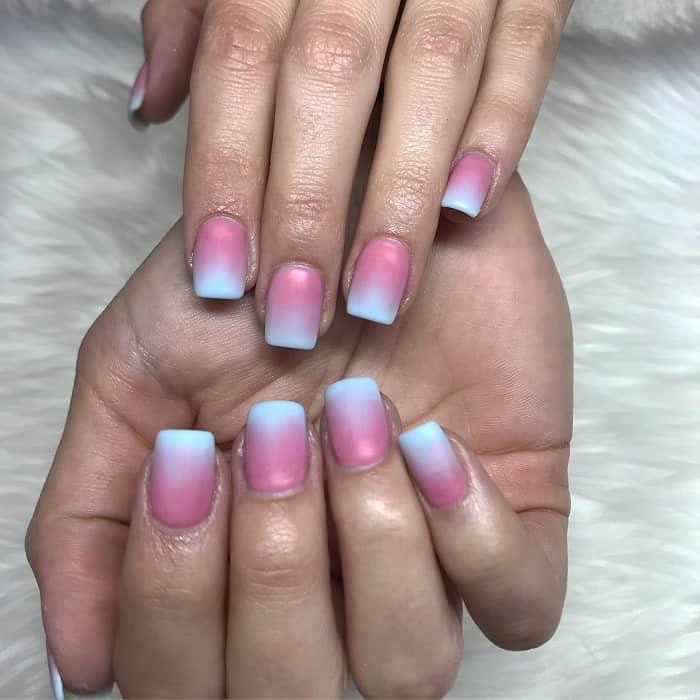 These pink nails are total attention grabbers! Use a matte shade of dark dusty pink and create an ombre that ends into a mate pale blue color.
The acrylic gel will help you get resistant pointy nails, and a pink ombre will do the trick in making your mani look stunning. Create a pink marble effect on one of your fingernails.
23. Bright Pink Ombre Nails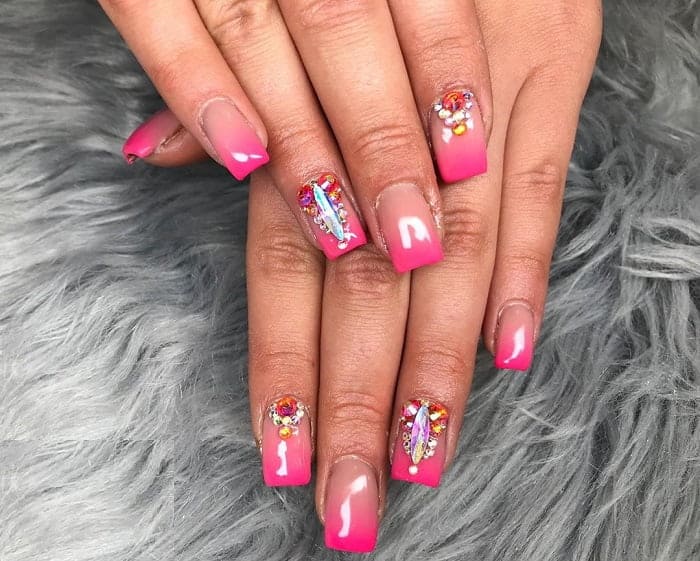 Make those nails look breath-taking with a fresh, bright pink ombre. Use rhinestones to decorate your nails amazingly.
24. Pink And Purple Ombre Nails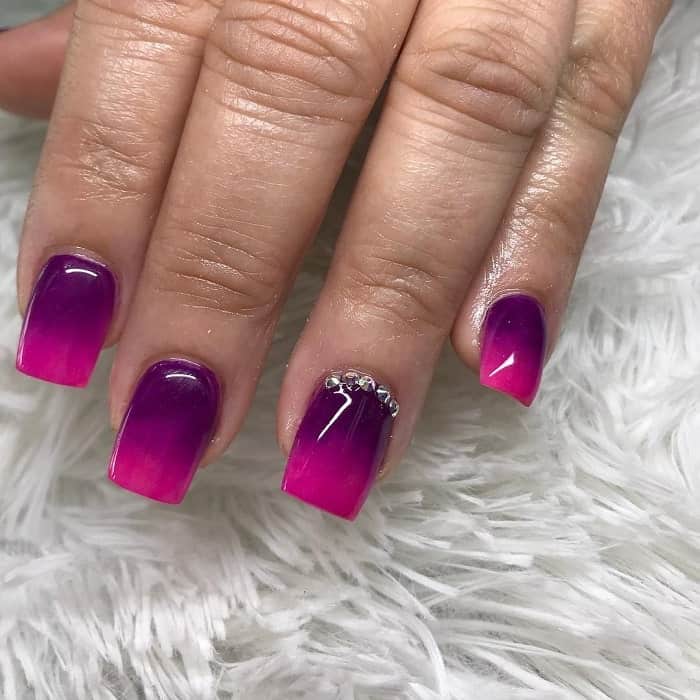 That transition from dark purple to bright fuchsia is so satisfying to watch! Decorate the base of your nail with a couple of silver rhinestones.
Love Pink and Red? Try These Nail Designs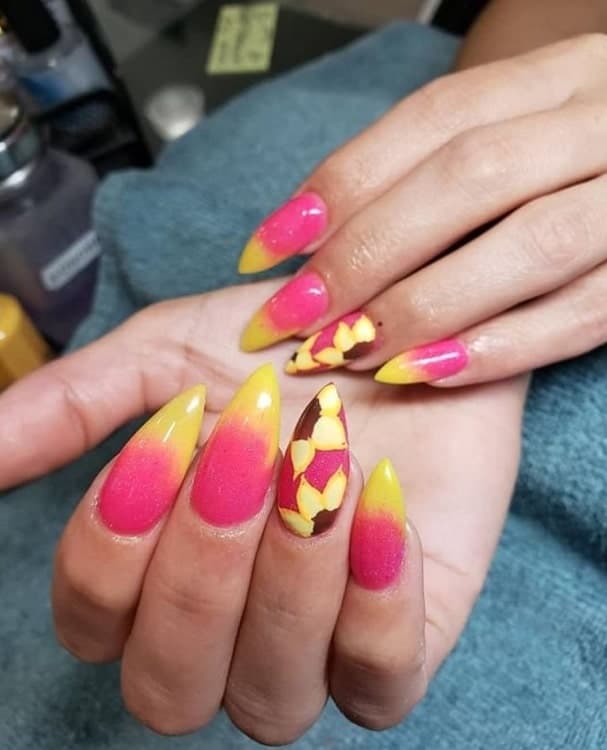 A mani like this is perfect for spring and summer! Create these pointy nails with gel and combine yellow and pink to create a gorgeous ombre!
26. Pink And Black Ombre Nails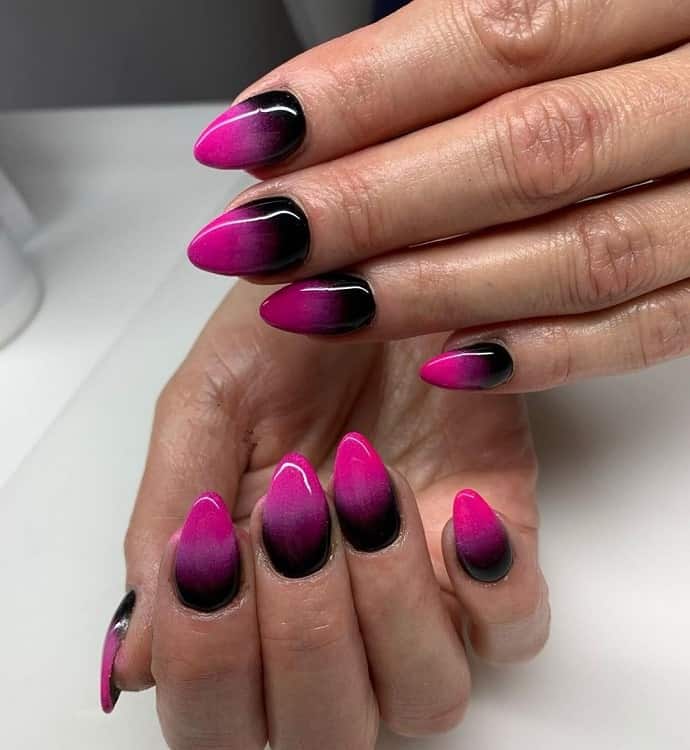 Such an outstanding contrast! The black base color makes the bright pink ombre stand out fabulously!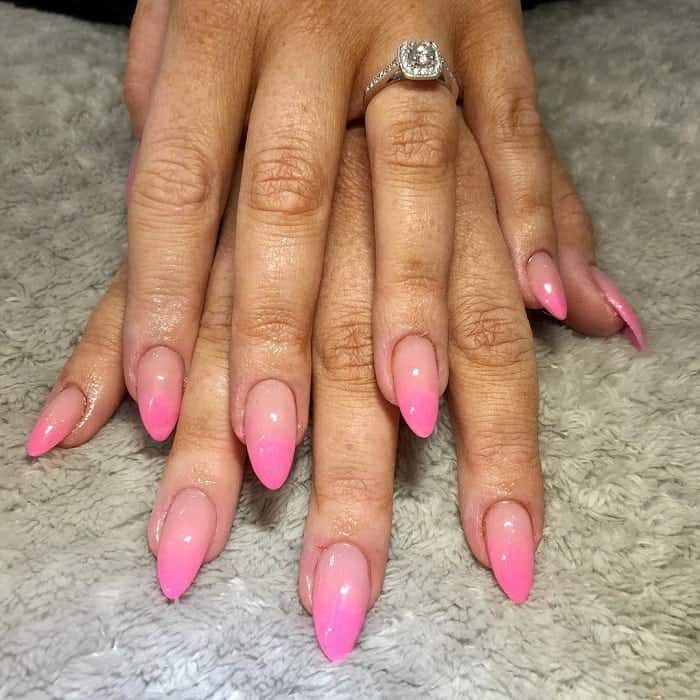 Make your nails look delightful with a long almond shape and an eye-popping ombre. Construct your nails with gel if you want to preserve your mani for up to 2 weeks.
If you're in love with long pinky coffin nails, try this color combination. Add glittery look to add vibrance.
29. Short Pink Ombre Nails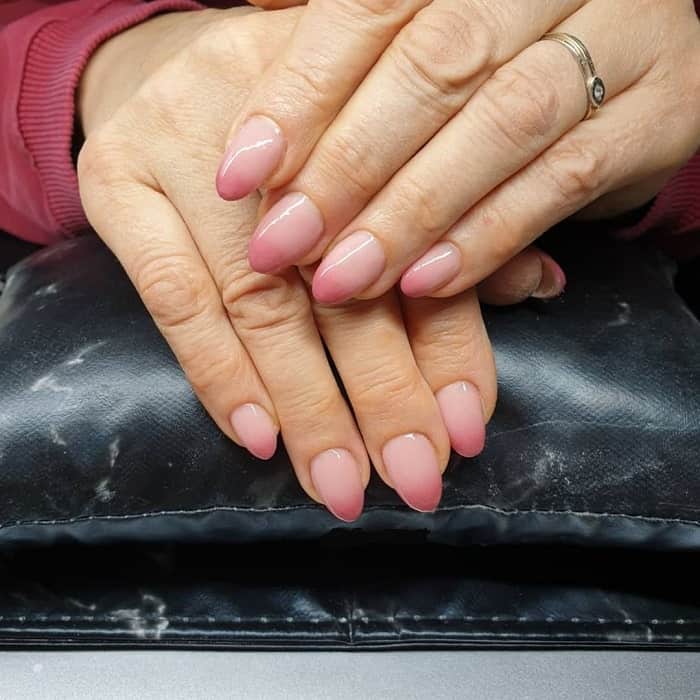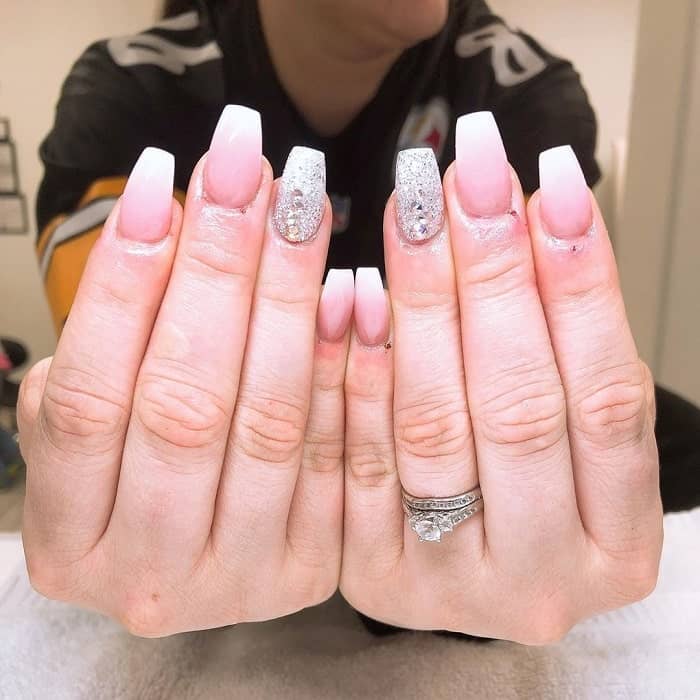 From translucent pink to electric neon shades, your pink ombre nails can really become a work of art.
Call your best friend, glitter, and start creating an impressive design for your nails. Which one would you choose?