Nicki Minaj is an inspiration. In a male-dominated world of rap, she is making a splash like no other. Besides being a formidable name in the entertainment industry – courtesy of her songs and shows – Nicki Minaj is quite the style icon too.
Her clothes, dresses and makeup garner nearly as much attention as do her songs. She is particularly known for her show-stopping nail art. So if you want to make an impression as bold and classy as Nicki Minaj nails, you got to pick up her tricks. This is exactly what we are up to today.
Best of Nicki Minaj Nails
Nicki Minaj's style quotient is much like her songs. She is uniquely feminine and a very strong one at that. Her nail art is no different and in fact, seems to channel that strength and security in her self. She has appeared in numerous red carpet events, where, besides here overall getup, her nails attract a lot of attention from photographers and interviewers.
Let us take a look at the top ten Nicki Minaj nails ideas from her manicure regimen.
#1. Red Nails with Nicki Minaj Stickers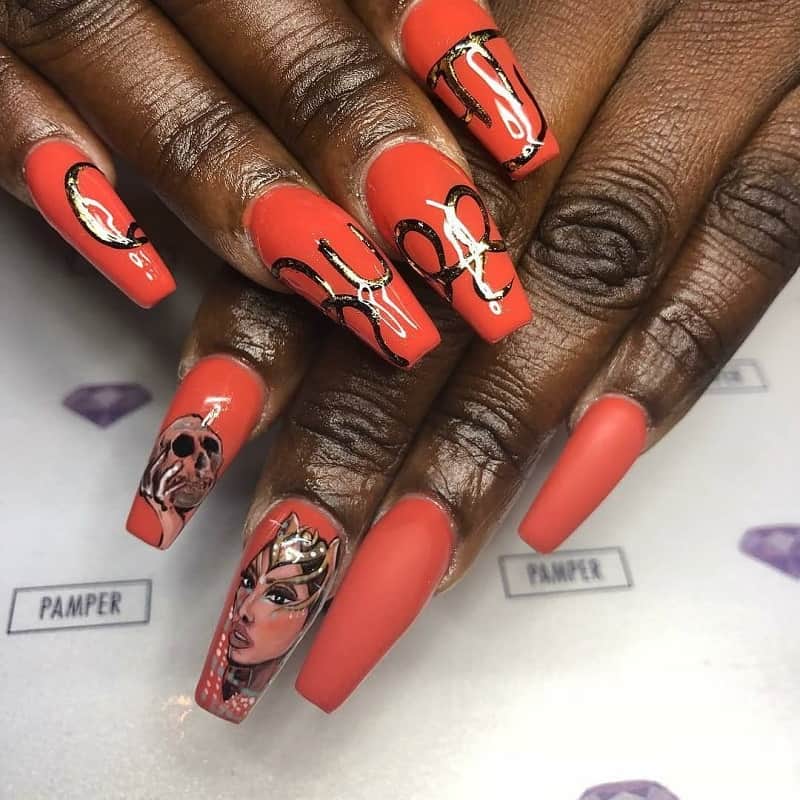 When we're talking about this strong female rapper, we all know that she loves to step out from the crowd with her outfits and style. Extravagance should definitely be her middle name! Create red matte and shiny nail polishes and finish the design with Nicki Minaj nail stickers if you want to resemble her look.
#2. Fendi Logo Nails
This woman really likes Fendi, and she's always wearing different pieces from this luxury brand. With these Nicki Minaj opi nails that feature a pointy long shape, metallic red, and Fendi logo, you will look like the rap diva.
#3. Bubbly Nicki Minaj Nails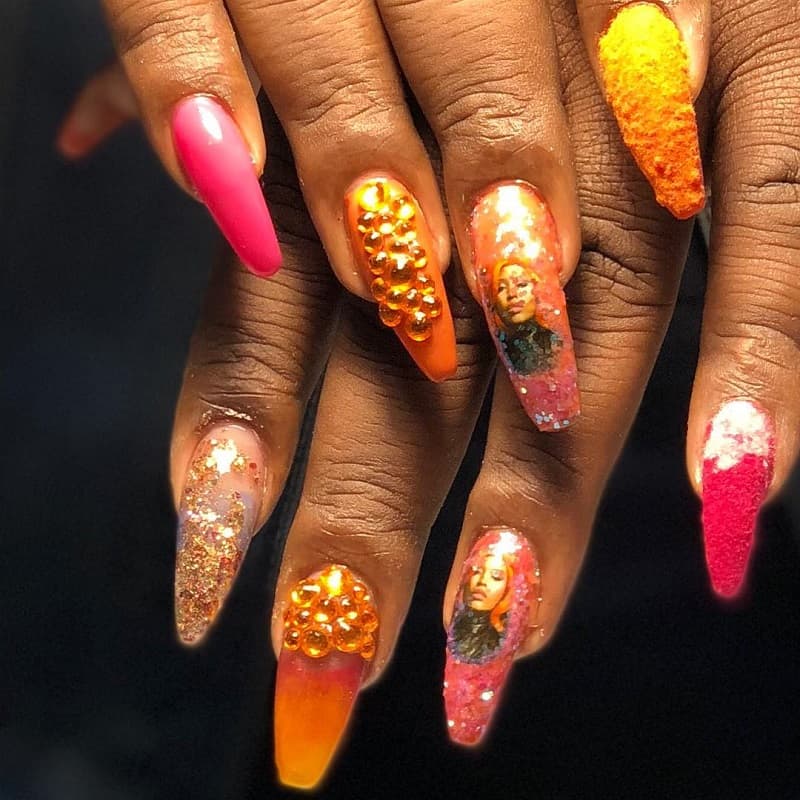 Nicki Minaj fake nails can look extraordinary! Give them a ponty shape and transform these acrylics into your canvas! Apply Nicki Minaj stickers, create gradients and ombre. You can even integrate golden foils to make your fingertips look outstanding.
#4. Rhinestone and Lace Nails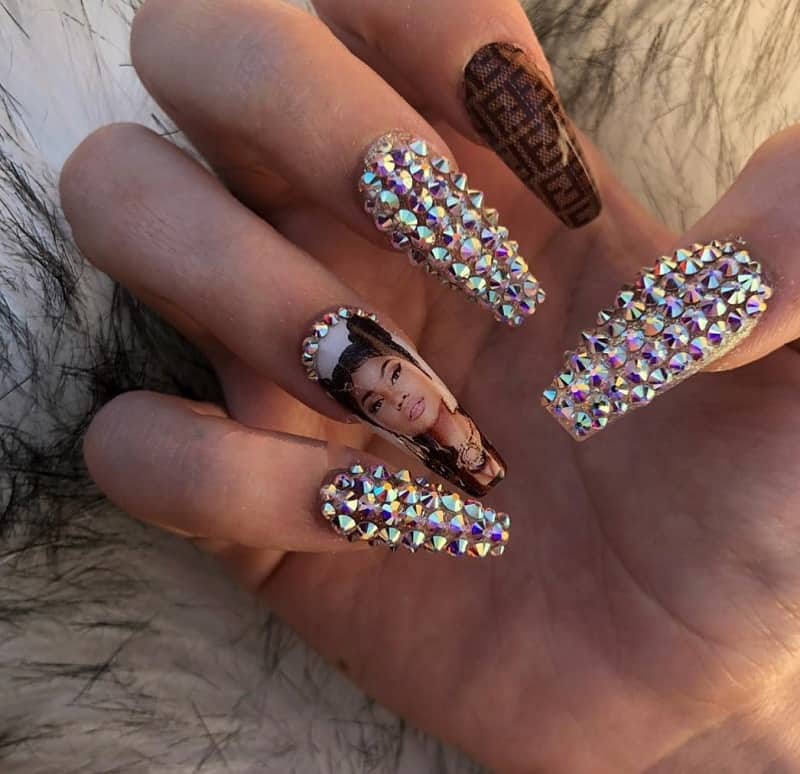 Nicki Minaj's brown nails are as bold as she is! Build long coffin nails and create a great base. Apply pointy rhinestones, stickers, and a Fendi logo with lace on top. You will create a true statement and show off your love for your idol.
#5. Pink Nicki Minaj Nails with Stickers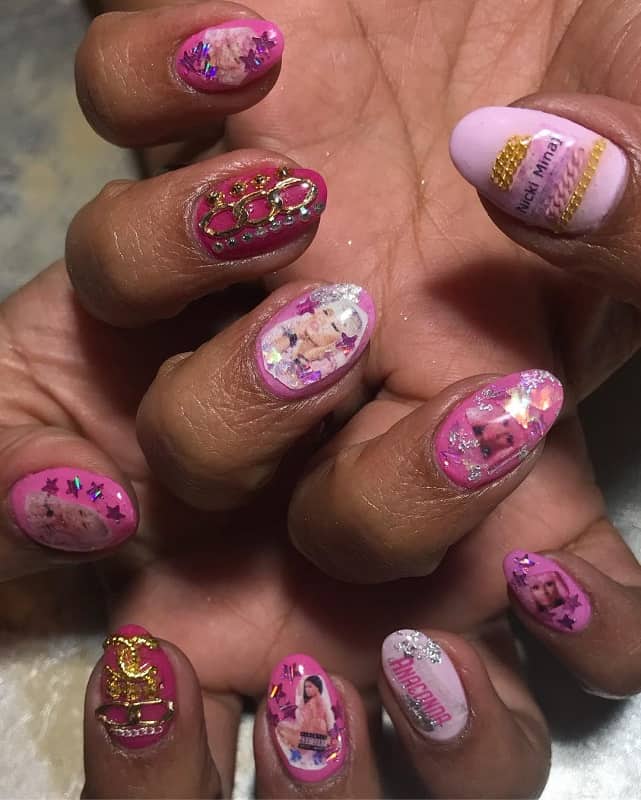 Girls adore Nicki Minaj for her strength and the power to deliver her message, even if she does that through her songs, clothes, attitude, or even nails. If you adore her, adopt her boldness and pull off a Nicki Minaj pink nail polish design that include stickers, a Channel logo, your fav song name, and chains.
#6. Star-Studded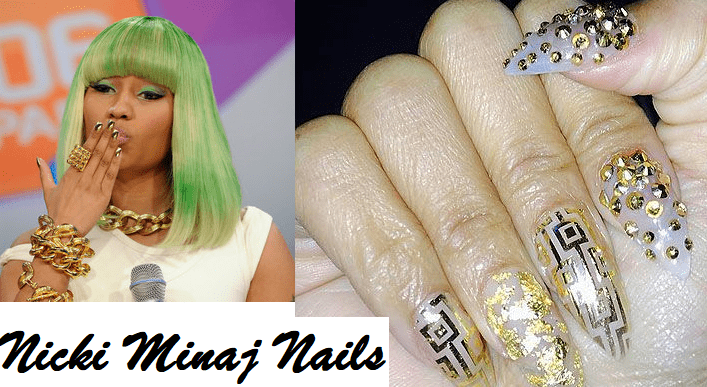 Minaj is known to sport a lot of bling on her nails. For this reason, she often keeps her acrylic nails clear. Long almond nails, studded nails with rhinestones are very commonly seen on this star. The clear base makes it slightly difficult to get a good grasp of the pattern, but on the other hand, it allows a focussed sparkle, unmuted by any glossy background.
12 Nail Artists on Instagram You Must Follow
#7. Solid Lacquers
If she is not dazzling under the glare of rhinestones, Minaj is seen sporting pastel shades, preferably in pink and yellow. There has also been an occasion when she was found wearing grey. These solid lacquers look cute, and adult at the same time. Pastel shades, by nature, are muted, so if you are attending a formal occasion but still want the oomph factor, pastel is a good option.
#8. Stiletto Nails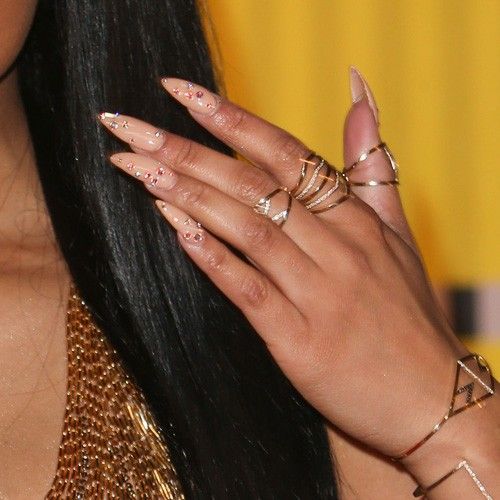 Long nails are a Nicki Minaj trademark. It may even look absurd standalone, but somehow, such as her sense of style, that these nails blend in beautifully with the rest of her get-up. Stiletto nails are just one of the various nail shapes that Minaj prefers, keeping them painted in pastels or decking the up in stones and studs.
#9. Square Nails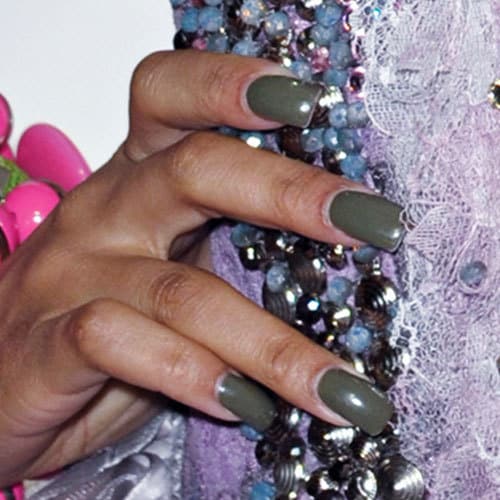 In many appearances, Nicki Minaj has been seen with long nails, with the tips filed absolutely flat, so that they look like shapely rectangles, perfectly curved over the nail bed. Of course, very few people, like Minaj can actually pull off a style like that, considering that such nails look best on long, slender fingers.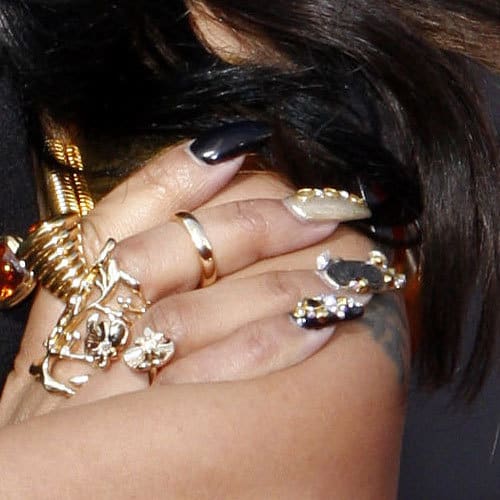 For a rap artist, black matches with many of the moods of the occasion. Minaj is known to flaunt matte black shades on both square nails and stiletto nails, occasionally embellished with gold strips or even rhinestones. Black is a safe option for most occasions, but you really need to have well-manicured nails in order to rock them.
#11. Polka Dots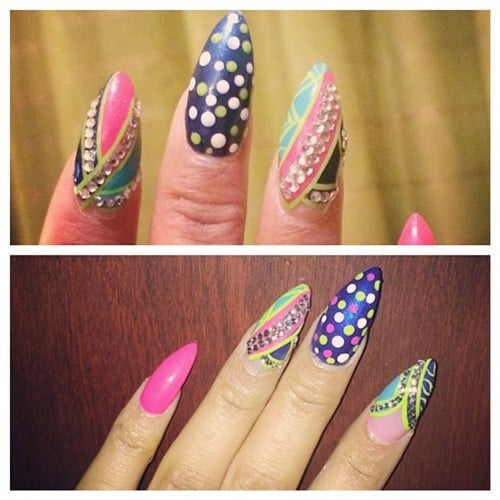 Who does not love polka dots? Even Nicki Minaj does. Summer picnic polka dots on a blue background can make the nails look like a piece of confectionary with sprinkles on them. Although polka dots look cute on shorter nails. Minaj prefers to wear them on long nails, which creates quite a striking effect.
#12. The Classic French Manicure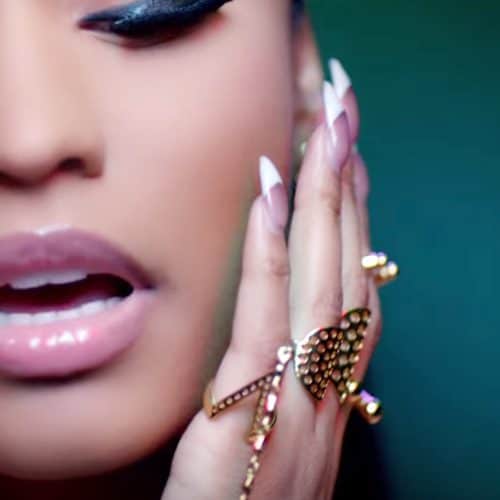 With shapely, long nails, the classic French Manicure comes off beautifully on Nicki Minaj's nails. Considering the broad tips – either in the form of stilettos or square nails – the white of the French Manicure makes a sharp contrast.
#13. Coffin Nails
Just another shape of the nail that Nicki Minaj experiments with is coffin nails. Coffin nails look good with a variety of patterns and Minaj makes the best use of this canvas to portray her nail art. Criss-cross patterns, with studs and glitter shade, make for quite a style statement.
Most Awaited Red And Pink Stiletto Nails for You
#14. Negative Space Nail Art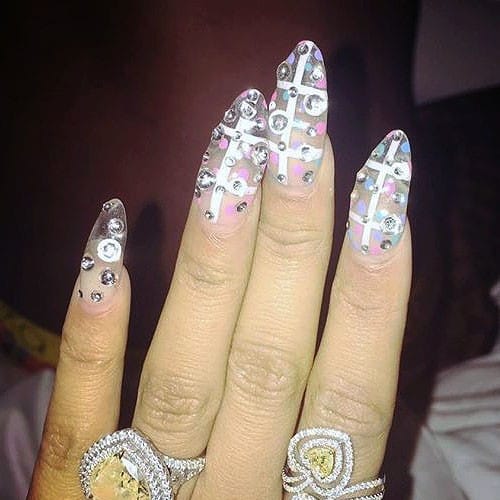 With a wide canvas at your fingertips, it is only natural that you would go for negative space nail design. Minaj has often been seen with clear nails, which act as the base of some heavier pattern. Similarly, she also makes liberal use of geometric patterns on nails, keeping snippets of negative space. This looks classy and trendy simultaneously.
#15. Animal Prints
For the bold – like Minaj – the animal print nail art is an excellent way to bring out the strong femme fatale in you. Nicki Minaj's animal print nails are not clunky. In fact, she often limits them to the tips of the fingernails, leaving a bare space towards the cuticle. This calls for a break in the pattern and makes it look more eye-catching.
Nicki Minaj's OPI Nail Set
Of course, shutterbugs focus so much on Nicki Minaj's nail art, that it is barely a surprise that she has her own line of OPI nail paints – a collection of six nail polish shades. These include some of her signature styles so that if you buy them, you get to rock nails like Nicki Minaj. Let us take a look at what this OPI set is all about.
#16.The Gorgeous Fly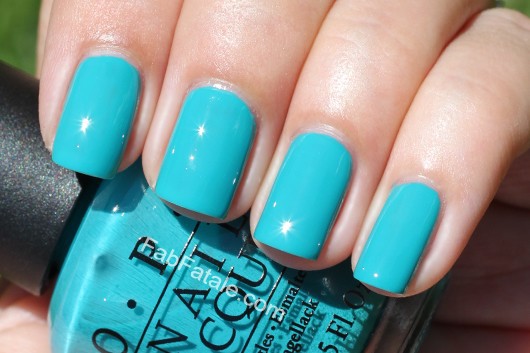 The fly is a teal colored nail polish, which looks absolutely gorgeous. The longer the nails, the better the effect. There is something old-school about this shade, with a very antique look about it. A certain show-stealer, the Fly is a perfect choice for women out for a semi-formal party.
#17.The Did It On 'Em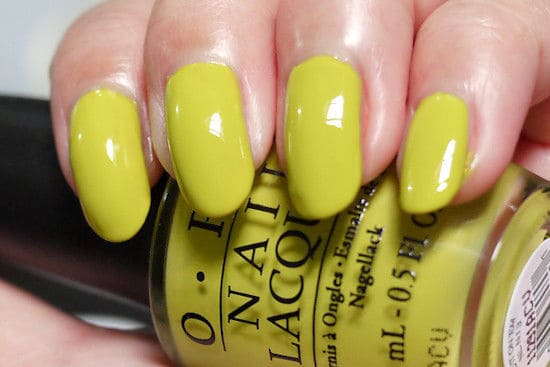 This is a yellow nail-greenish creme polish., which lends a certain pop look to the nails. This is very similar to the pastel shades that Minaj herself seems so partial to. This shade has a sun-kissed quality to it, which makes it ideal for a day at the beach or a lazy girl's lunch.
#18.The Pink Friday
Who does not love baby pink? It is an excellent shade, with a bubblegum look about it. Many may say that there is nothing really new about this shade and quite a few dupes can be traced to this shade. Nevertheless, you cannot dismiss the cheekiness of the shade and the brilliant finish it creates.
#19.The Metallic 4 Life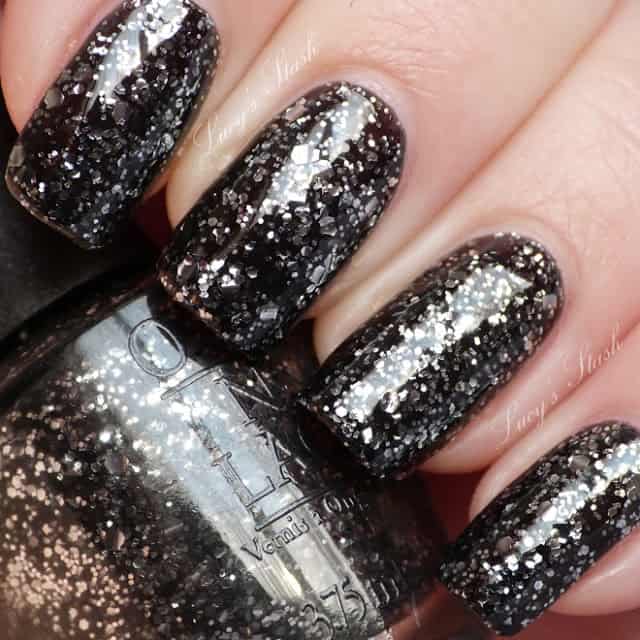 What is a Nicki Minaj nail without the glitz? Metallic 4 Life is a proper glitter nail polish, which includes big and small hexagonal and square glitter pieces submerged in a black base. The excess of glitter in the nail paint does make it hard to handle, but if you layer it up twice or thrice, you can get a rich starry-night effect.
#20. Super Bass Shatter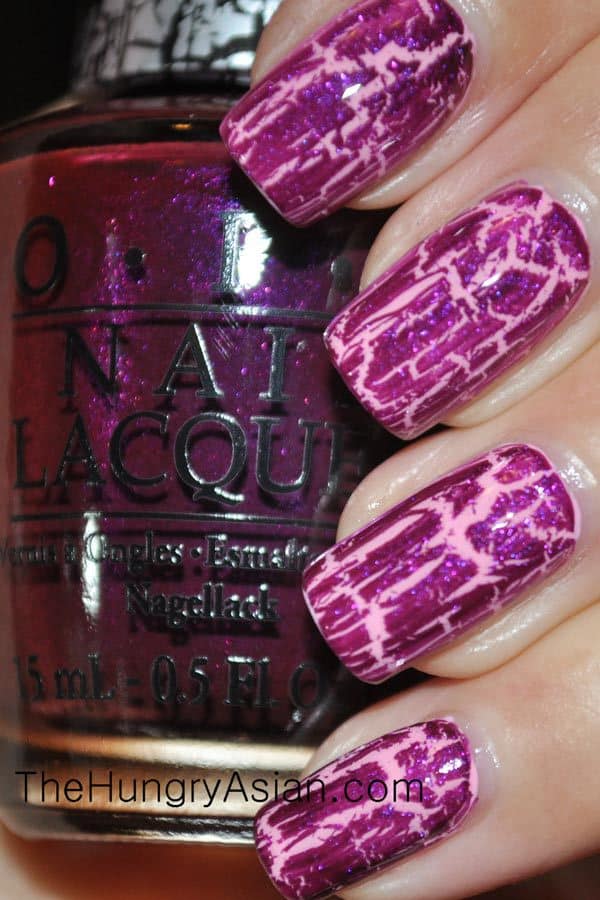 Ah, the life of a rockstar! Nothing says it better than a statement nail art. That is why the Super Bass Shatter is such a hit. The polish shatters beautifully on the nails and assumes different broken shades on different bases.
#21. The Save Me
This is just a milder version of the Metallic 4 Life, and may not exactly be the best of the lot. It comprises of glitter (silver, blue and holographic) on a clear base. The shade, nevertheless, sparkles plenty but creates more of a statement on a dark base.
Follow Step-By-Step Guidelines to Get Nicki Minaj Nails Easily
Try Kylie Jenner Nails To Keep It Up With The Trend
Being Nicki Minaj is mostly impossible. Not many of us have the guts or the talent to pull off her look without looking callous. If her nail art can be treated as a representative of her demeanor, it can be described as gutsy to wear Nicki Minaj nails.