15 Teal Nail Designs You'll Fall In Love With
Imagine yourself sitting under a tree, with the birds twittering and tweeting all around you, and the clear blue sky hovering over your head providing you with silky sun rays and an awakening breeze that takes you to an alternate universe where everything is okay, easy and problem free…all in a greenish field adorned with flowers of all colors and sizes! Wouldn't that be a dream come true? Well, you're only a few steps away from living that dream! All you have to do is try out a teal nail design that combines both colors of blue skies and green fields. Sit back, relax, and enjoy!
Stunning Teal Nail Design Ideas
If you are a nature lover and an environment enthusiast who would do anything for a cool breeze to touch the warmth of your cheeks and ruffle the hem of your skirt then you might have a soft spot for teal nail styles! Check out this list below of the top prototypes you can ever come across and feel free to copy and improvise. What's ours is yours !
#1. Cute Flower Teal Nails

To get a cute and peaceful nail design all you need to do is use the colors of nature to chill out and relax! Add a daisy to celebrate spring season and a white accent nail to break the monotonic pattern.
#2. Tectonic Squares

Go all geometric on your nail beds and divide them into random squares to get a catchy and visually unusual look!
#3. Classy And Fancy

This style increases sensuality and playfulness by a factor of 10. Relive the 60s and 80s with this funky theme.All you need is teal, black, purple polish and a thin nail brush to do the trick!
#4. Magenta Leopard

Animal print is always a trendy technique that never goes out of style! It is sexy and attractive, let alone if you use it with amazing colors like magenta and teal!
#5. Curvy And Swirly

For further artistic approaches, use curves and curls to spice up your nails and brighten up the mood.
#6. Leopard Jeopardy

Employing contrasting colors as a nail theme makes a nail design more interesting and eye-grabbing.
Purple Nail Design Ideas to Try in 2016-2017
#7. Pink & Tiffany

This is a nail design you can add to your floral collection. The pink hue adds a beautiful compliment to the light robin's egg blue.
#8. Cracked Theme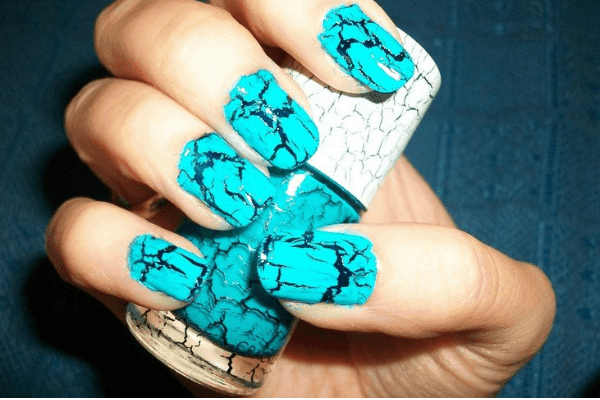 This is a simple design to achieve, all you need is a bottle of regular nail polish and a bottle of cracked nail polish. One- two coats of regular color and the same goes to the cracked varnish and there you go, you have a complex yet simple looking style.
#9. Pretty In Pastel

Teal is a magical color but combined with another upbeat color can make every man stare and every woman glare at you for being more glamorous than ever!
#10. Glitter Paradise

Glitter is a classic technique to kick it up, but when it is paired with floral symbols and relaxing colors like teal it certainly defines the full package!
#11. Viral Tribal

Here's to all the technophobes and modern technology haters who believe that simpler ancient times are the best stages of the human circle of life.
#12. The Heart Wants What It Wants

Nobody could stand in the way of Romeo and Juliette's love when they were sure as hell they wanted to be together. Not even their tribes could come between them no matter how hard they tried! This heart-themed teal nail style is gonna make you fall in inevitable love with it one way or another and then you are gonna realize how hard it is to defy what you heart chooses!
#13. 1…2…3… Splash!

Be random and creative with this splash-on style and unchain that creative calm creature inside of you!
#14.  Ombre And Glitter

Have you ever seen the colors of the dawn sky? Have you ever just fallen in love with the different blended colors and wanted to feel all those vibes pass through you? This nail style allows you go on all the adventures you crave!
#15.  Silver & Opals

With just the teal color and some add-ons you can work magic with your nails!
Also Look at These Teal Nail Designs
Nature-inspired teal nail design themes are a big hit! All you need to do is apply any of the above various combinations to help you get inspired. Apply or design yourself by hand, either one of these techniques show results as if done by a professional, from the comfort of your own home!