Are you thinking of trying the amazing blue nail designs? If yes, try today! Blue is one of the three primary colors other than yellow and red. It is considered a basic color that millions of other hues are extracted from.
Essential colors tend to be connected to one's psychological body, mind, and emotions. Despite it being a cold and unemotional hue it is a soothing color that reflects coolness and calmness and above all of that, it has been scientifically proven that this world's most favorite color is the color of clear communication.
And what better way to fit in your social group that to start with an efficient blue nail design as your first step toward popularity and friendship?!
Why Do Blue Nail Designs Matter?
If you're stressed out all you need to calm down is new blue nail styles because, like Raoul Dufy, French Fauvist Painter said: "Blue is the only color which maintains its own character in all its tones… it will always stay blue".
It is a great color to keep your personality in order and the ideal one for one-to-one communication. Check out the list below for the 80 best blue nail designs that will both keep you in style and feel relaxed while being surrounded by trustworthy friends at the same time, you can Have it All!
1. Baby Blue Nails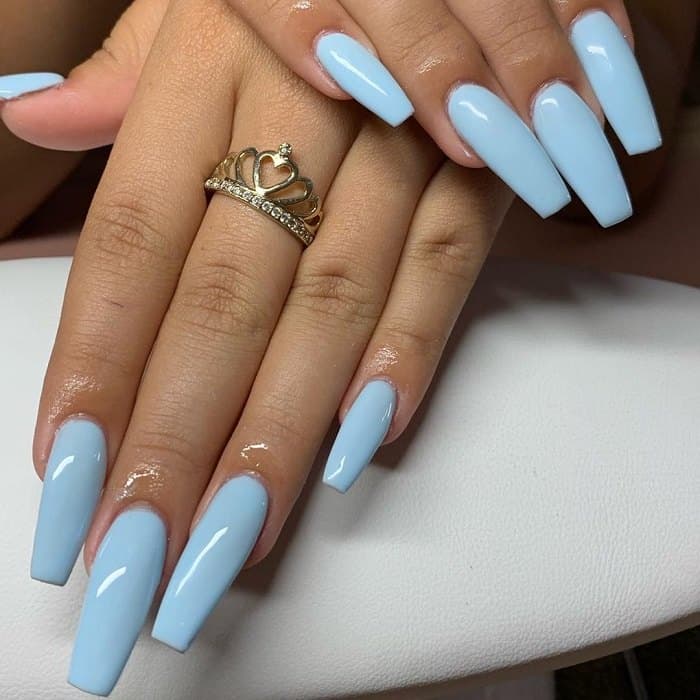 2. Black and Blue Nail Design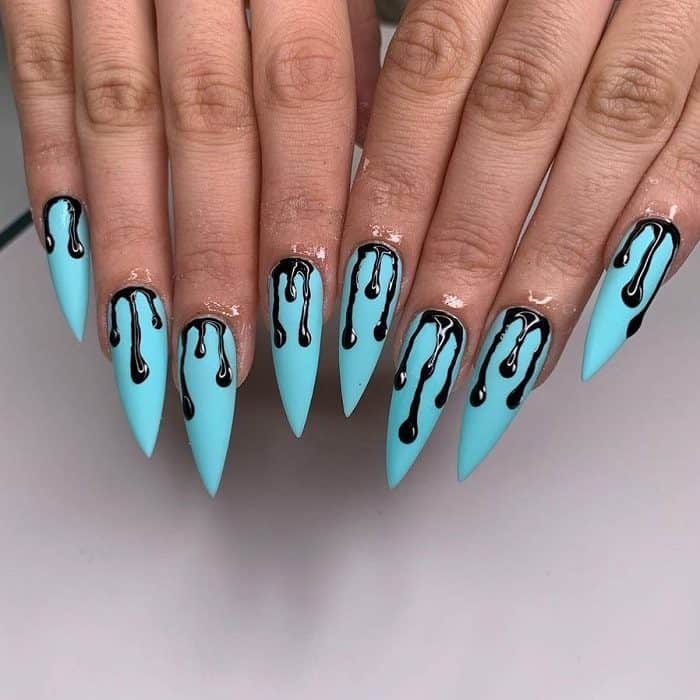 3. Blue + Gold Nail Art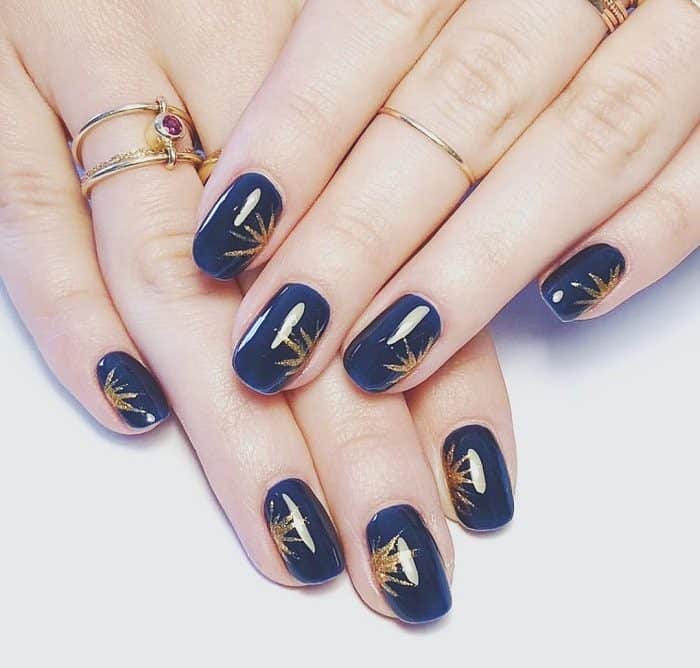 4. Blue and Green Mixed Nails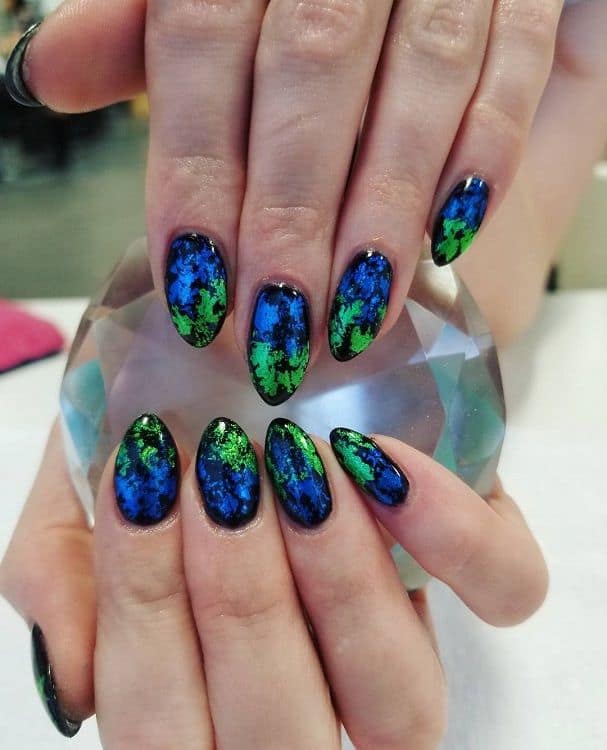 5. Blue Chrome Nail Paint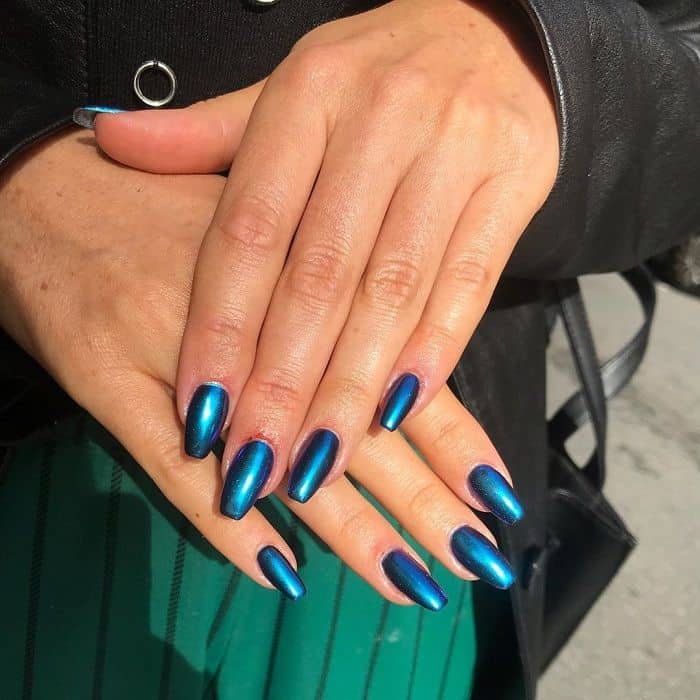 6. Blue Glitter Nails
7. Purple and Blue Nails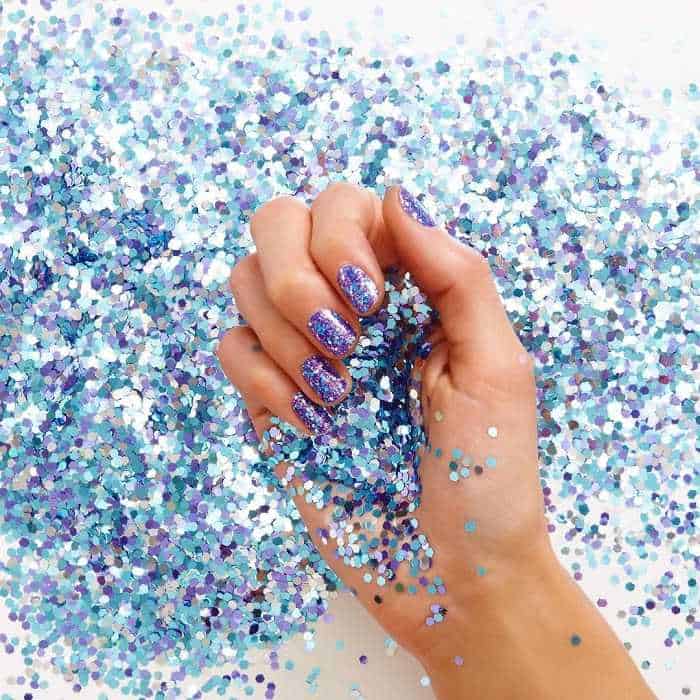 8. Tiffany Blue Nails
9. Blue with Silver Nail Art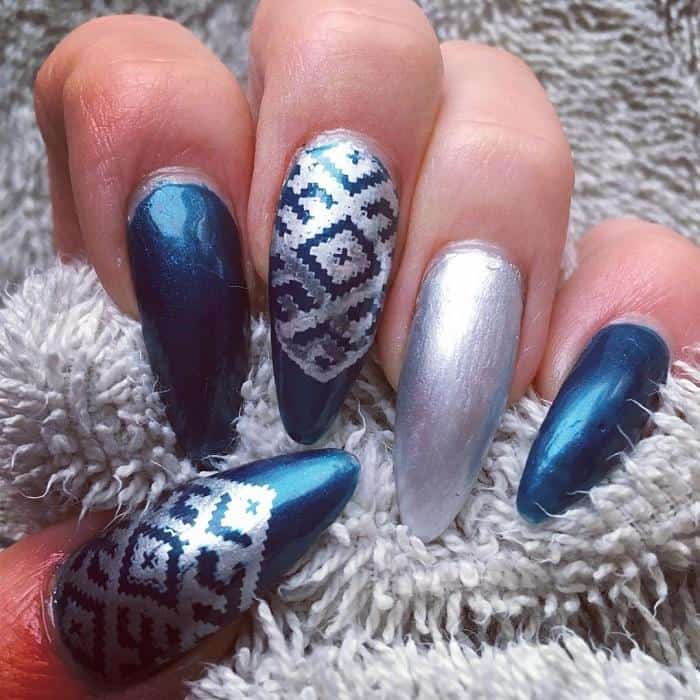 10. Royal Blue Nail Design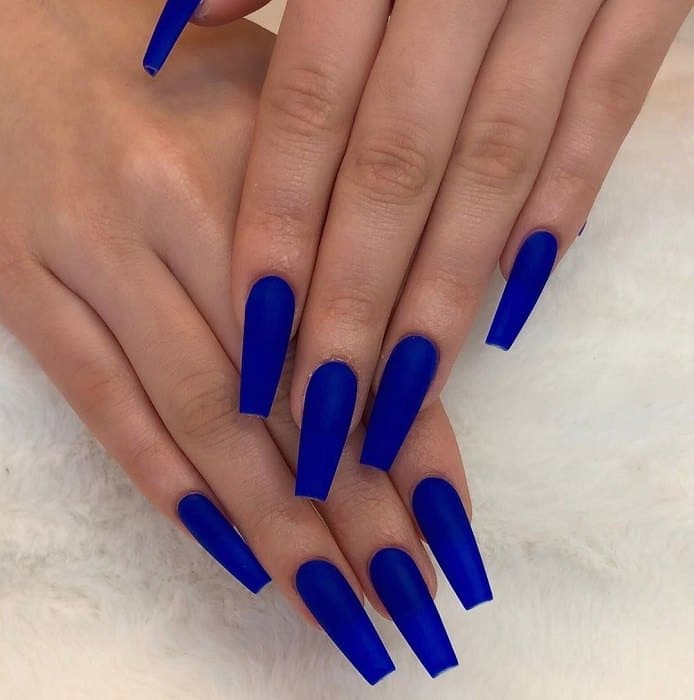 11. Blue + White Nails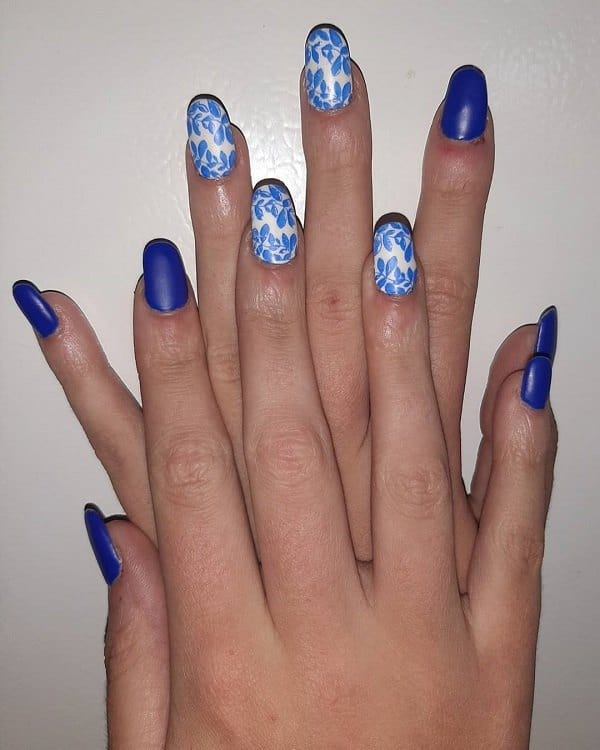 12. Blue Yellow Mixed Nails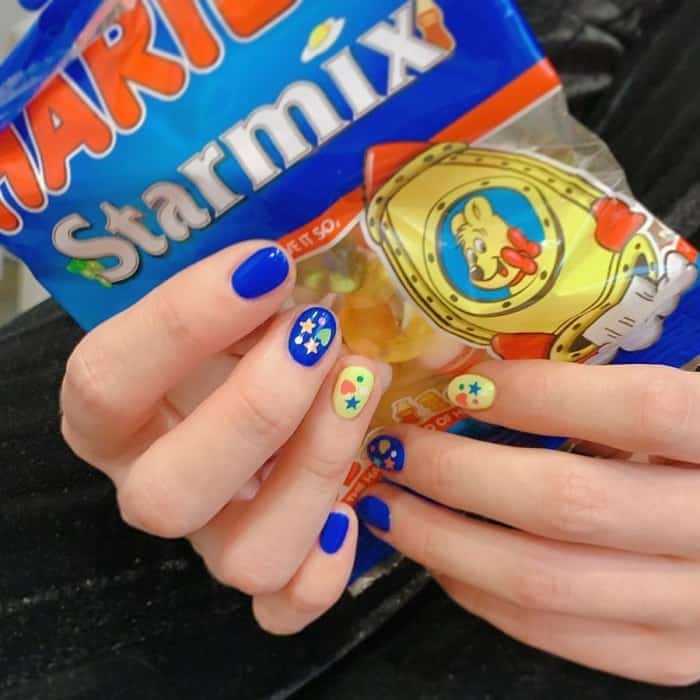 13. Light Blue Plaid Art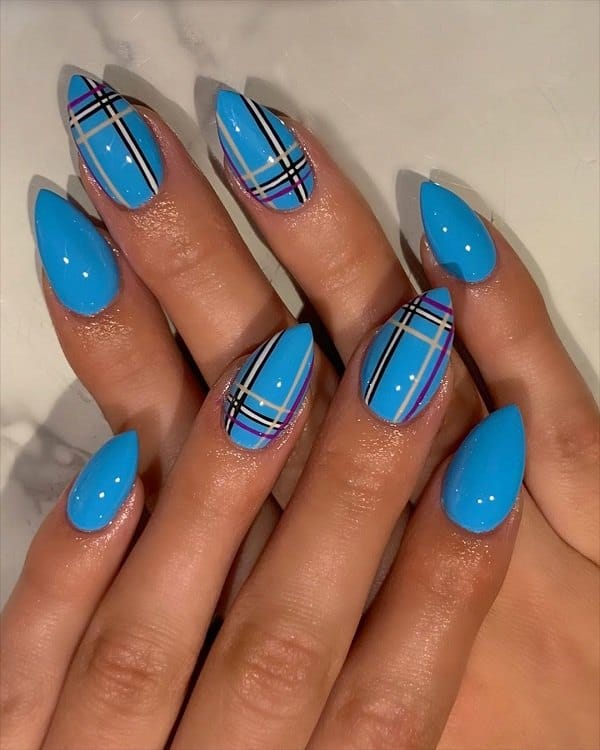 14. Matte Blue Nails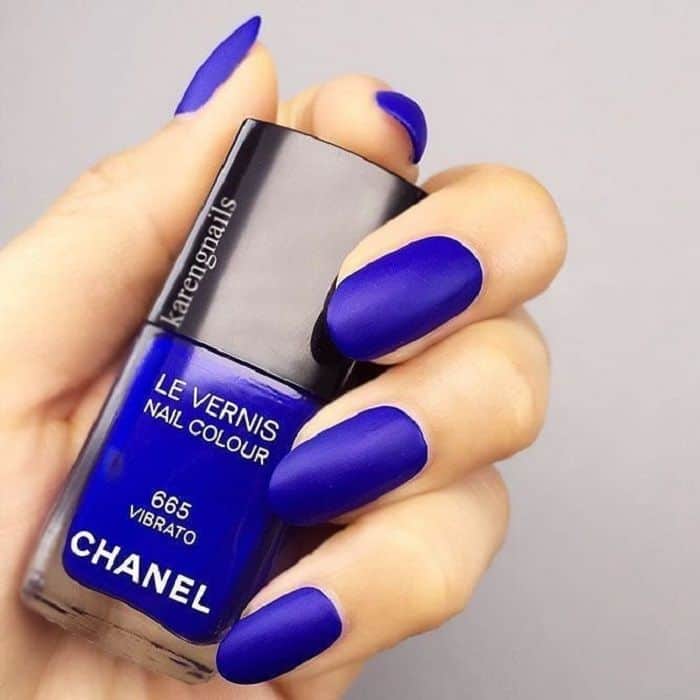 15. Orange Blue Combo
16. Blue and Pink Nail Art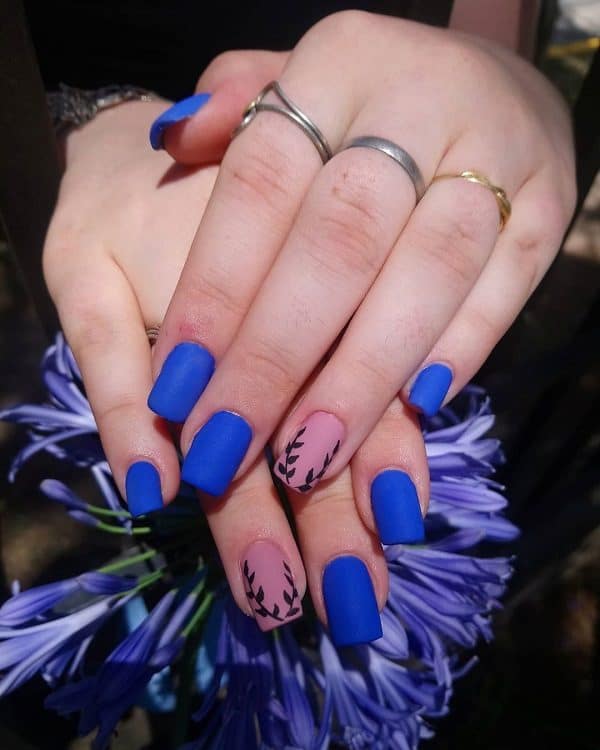 17. Blue Nails + Diamonds
18. Blue and Red Nails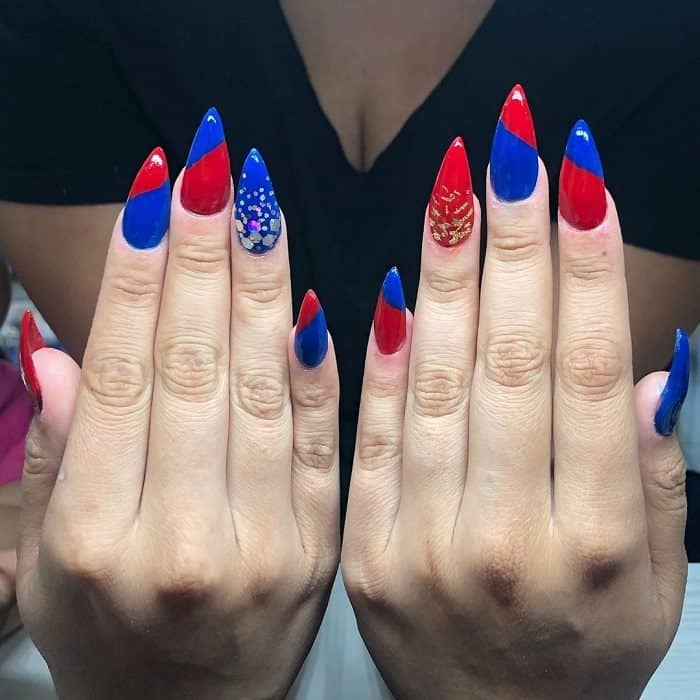 19. Sky Blue Nail Paint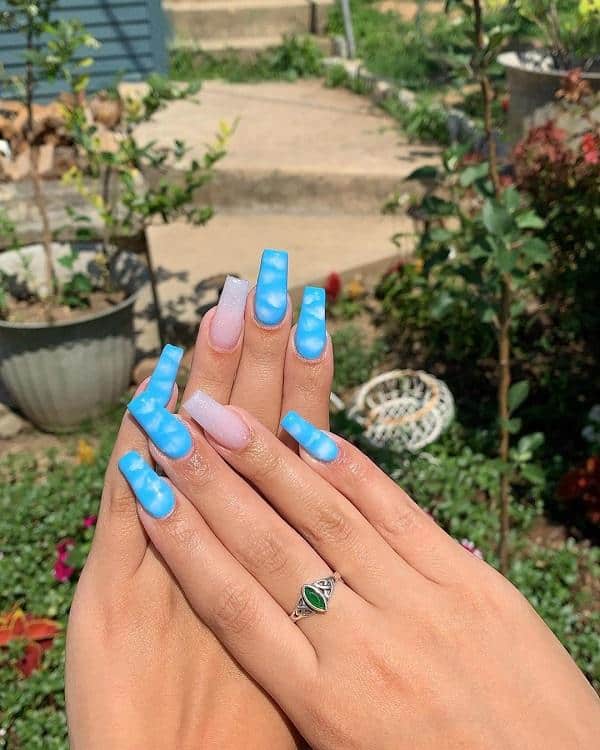 20. Red White and Blue Nail Art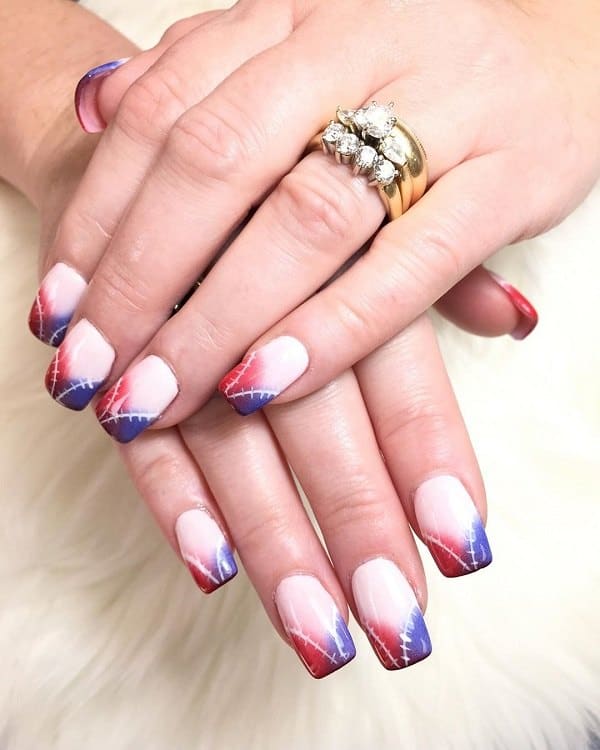 21. Blue Toenails
22. Ombre Yale Blue nails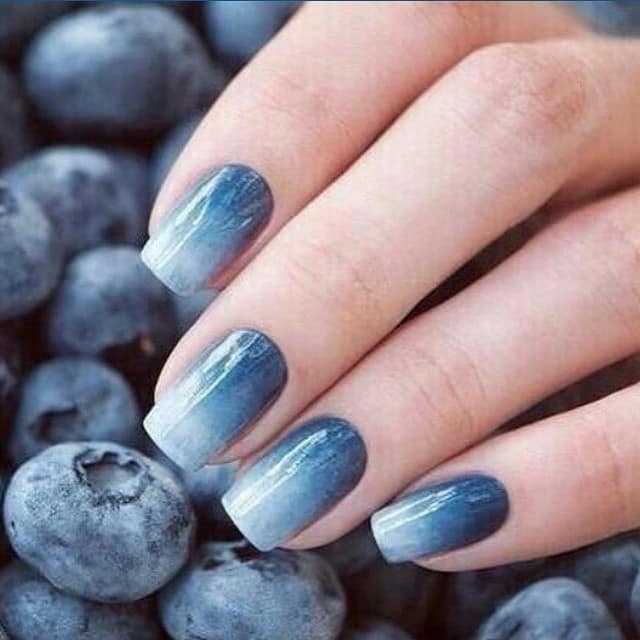 Yale is by definition a type of lock that is hard to break. Using the yale shade of blue kind of reflects a lot of your personality.
It means that you are a secretive person and worthy of people's trust because, like a yale lock, you are hard to be broken and you'll do whatever it takes to maintain a promise you made to stay silent and support someone.
In addition to that blue conveys the impression of being reliable and responsible. Send a message to your clique by choosing this special nail art.
23. Fish Scales
It is said that there are plenty of fishes in the sea. But each and every one has its own unique qualities that make it different from the others.
For a more creative and different reputation, you can always use this type of nail that is for sure not worn by anyone else. Make a statement and show them that you're not like everybody else. Be unique. Be you.
24. Cerulean Florals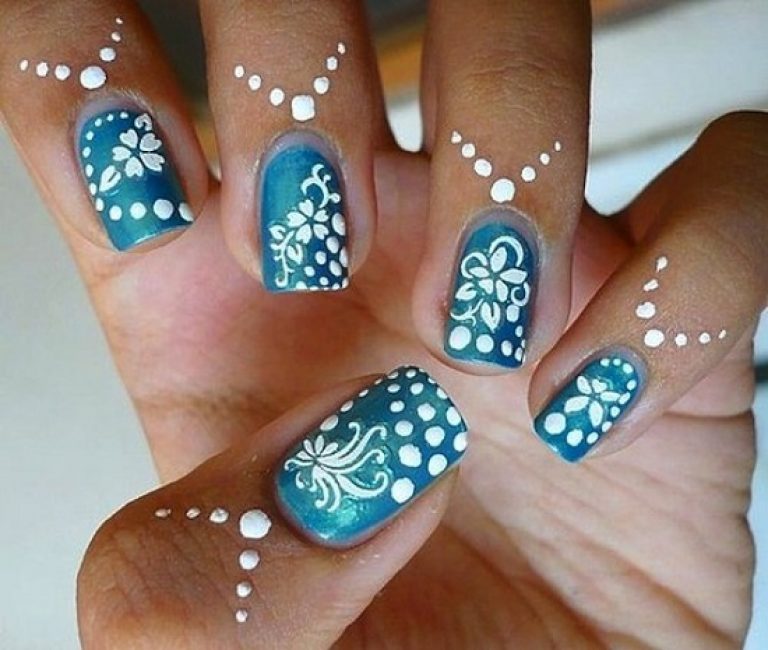 This blue nail art is really cute and you should try it. Flowers are always a good idea to spice up a nail style, but combined with a bright shade of soothing blue like cerulean blue can give you all the confidence and inner security.
You need to be a determined person who does everything and anything in their power to reach their targeted goal.
Without confidence and determination, you can't be the successful person you made up in your dreams. Be brave enough and highlight this nail art with outside-the-nail decals like the chevron dots shown.
25. Blue Coffin Nail Art
Tall and rectangular is one of the shapes of acrylic nails you might want to consider. But going differently with the stiletto pinky nail makes it more stylish and catchy especially with the unusual and vivid tribal-like doodles on your accent nail.
Include other colors with it and take some time to make it as eye-catching as possible because it's so worth it!
26. Brandeis Blue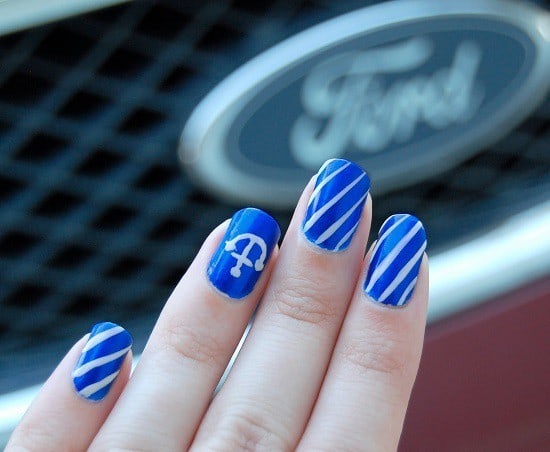 Marine life is not for everybody obviously. It is only for the strongest and those who are ready for any kind of difficult and unexpected encounters.
Go with the nautical marine theme applying swirly stripes and all with a fun and upbeat Brandeis hue to give the effect of the wavy water tides of the sea and think about a cute design for the accent nail like an anchor, seastar, shells etc… to make it more appealing.
27. Welcome, Winter!
Winter is the time of year when you just want to curl up beside the fireplace under the safety and comfort of your own soft blanket with a hot drink in your mug to keep you warm and cozy. It is also the season for several sports like skiing and skating on the ice.
If you're not a glove kind of person, you would definitely want to celebrate the winter season with this type of blue nail design that looks great both casual and elegant at the same time. Use tiny snowflake prints to make it more realistic.
28. Palatinate Blue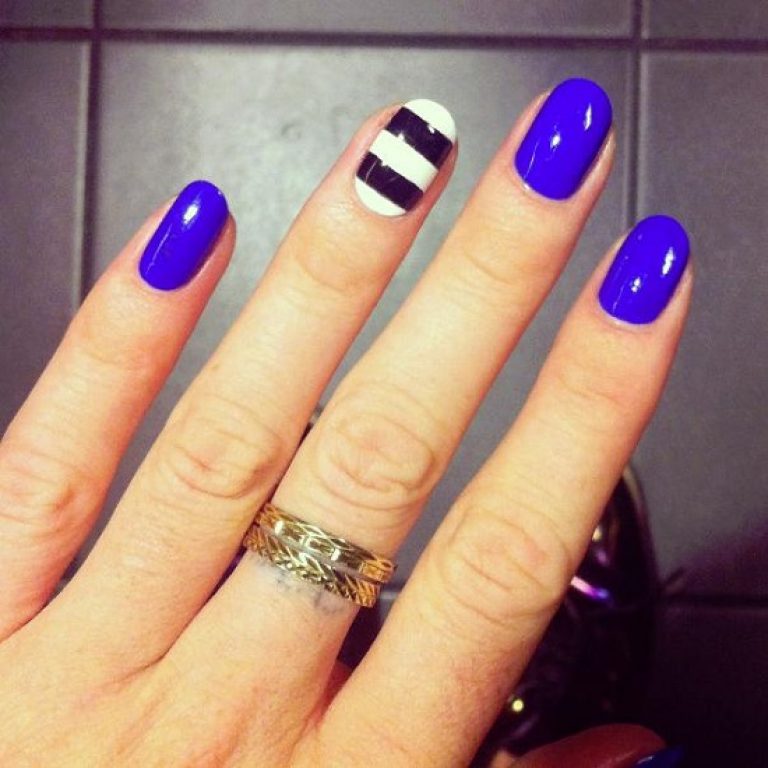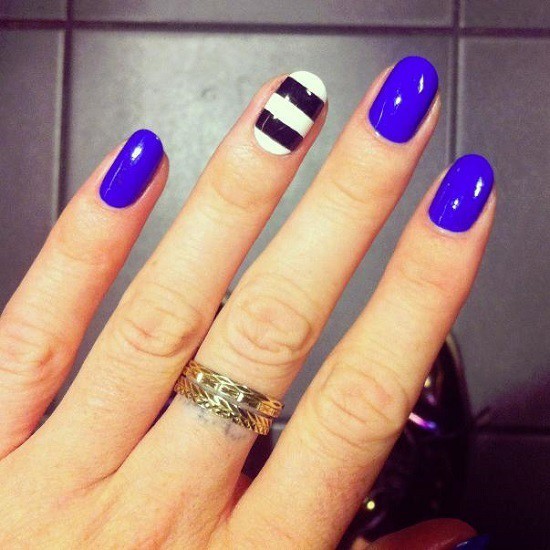 Using other colors with blue hue is a good idea, especially if you use contrasting colors like the greatest opposite colors in the universe, black and white.
In addition to the elegant effect they convey, using them with stripes increases the sensuality and playfulness of your design by a factor of 10.
29. Ombre Fade out Blue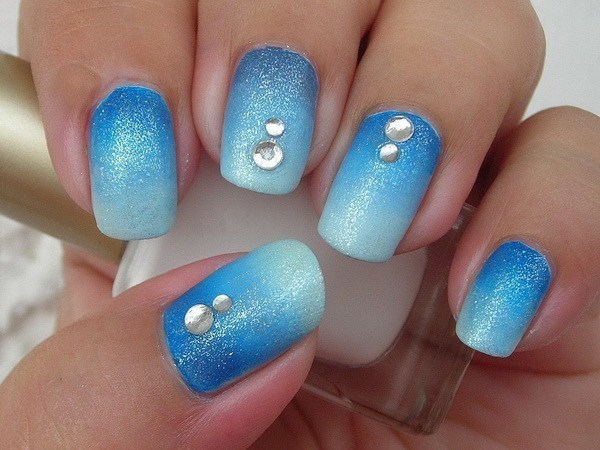 For a spiritual ombre blue design, you can use bright and light hues to lighten up the mood and fade away into cloud 9.
For example, the above nails range from the dodger blue color to a brighter Carolina blue. Sticking some rhinestones makes it shine even more in the moonlight and sway with the rhythm of the soft cold morning breeze.
30. Duke Blue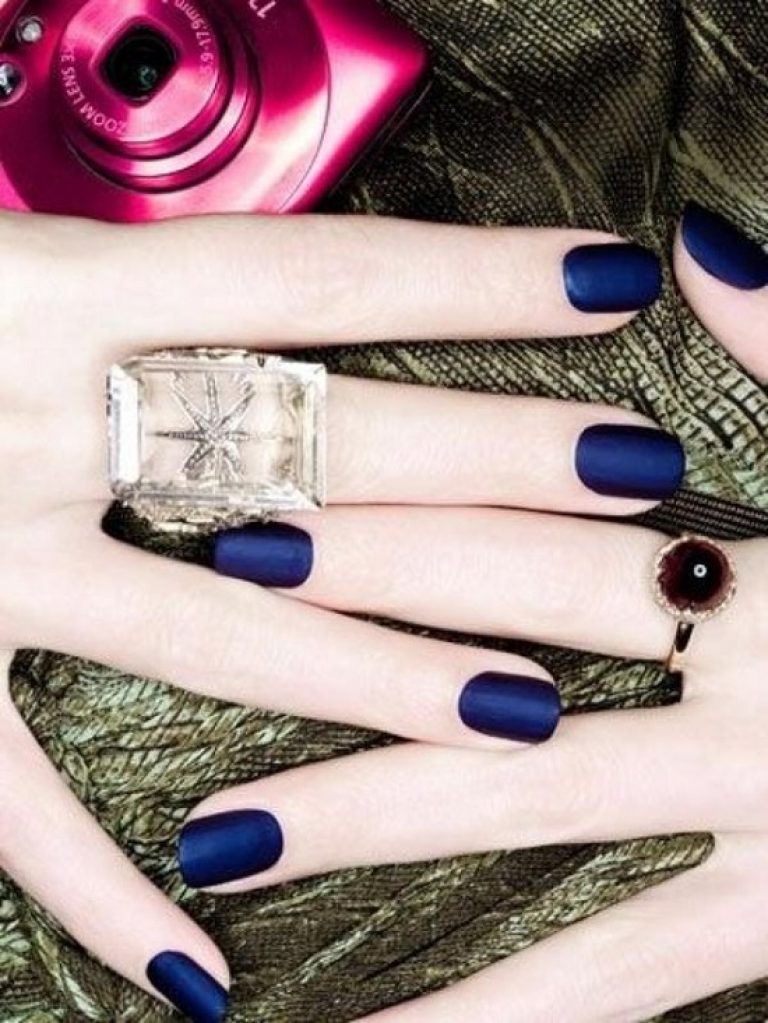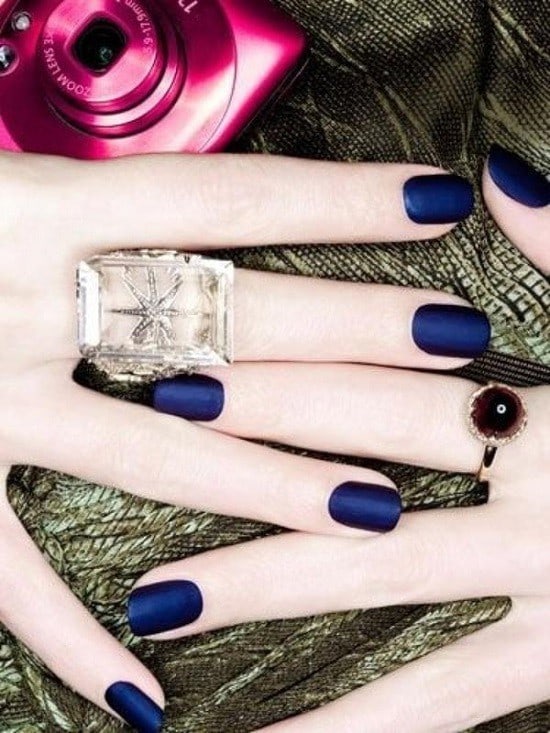 Dukes and duchess are the royal elite of the highest layers of society. They are the role models for everyone out there or else why were put in charge of such a big responsibility like given the biggest task of ruling a principality, a state, or several united nations?
And since they are the ideal humans, they must choose the best of the best designs to look reliable,elegant, and self-confident. They should be calm,but firm also harsh, but fair. Be one of the royals with this shade of blue nail design!
31. Drawn-On Bows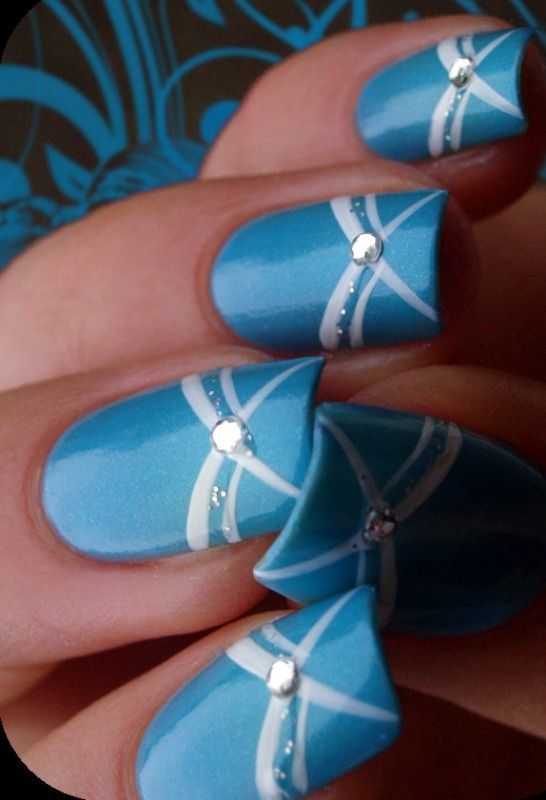 French tips are the classic kind of decor to your nail beds, but you can always be creative and invent other shapes that go perfectly at the tips. Cute and girly icons like bowties, butterflies, flowers… can add a beautiful touch.
Smart coordination between the shape you choose to use and the choice of the details is important. It is the thing can cause your style to rate higher or lower.
An example of the coordination is like using a rhinestone in the place of the middle knot of the bow tie, or a stud in the place of the middle flower button for a metal rocker vibe…
32. Ocean Breeze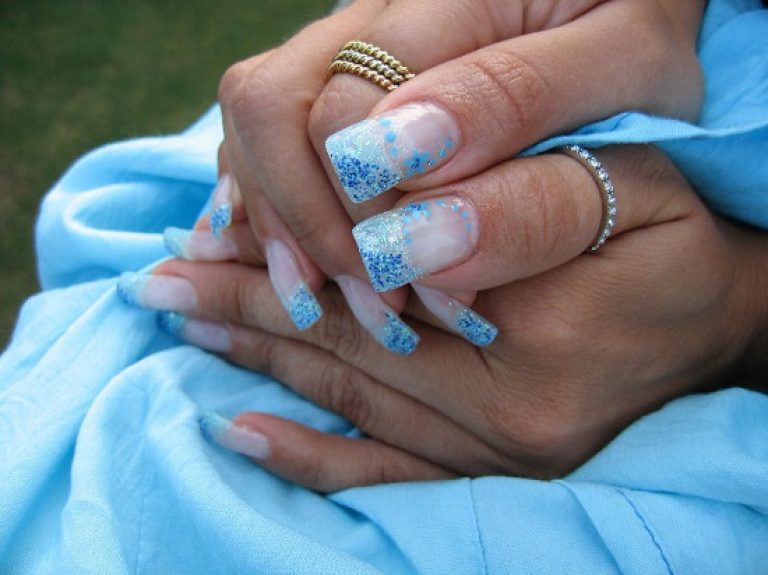 Acrylic nails are the ones you just stick in the place of your natural ones because they might not be the length you want or you can't figure out how to buff them to the right shape!
They are easy and can be done in one step. One of the various styles you can use to style them out is the ocean breeze style.
It is all about glittery bright blue french tips that invade the other part of the nail with a flying tiny flower that leaves a trail of electric blue spots behind so it won't lose it's way back!
33. Ultramarine Blue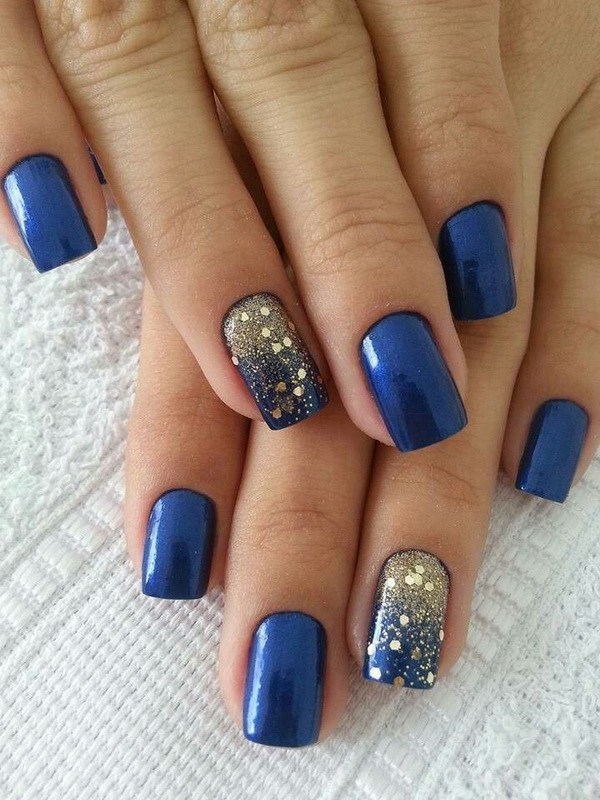 Unlike its name, the ultramarine blue shade is not only for super marine soldiers or sailors. It's for everyone wondering around for happiness that lasts for an infinite lifetime.
By sparkling the accent nail with golden glitter it gives the "always ready to party" girl impression and makes you look fun to be around!
34. Shining Dark Blue Nail Designs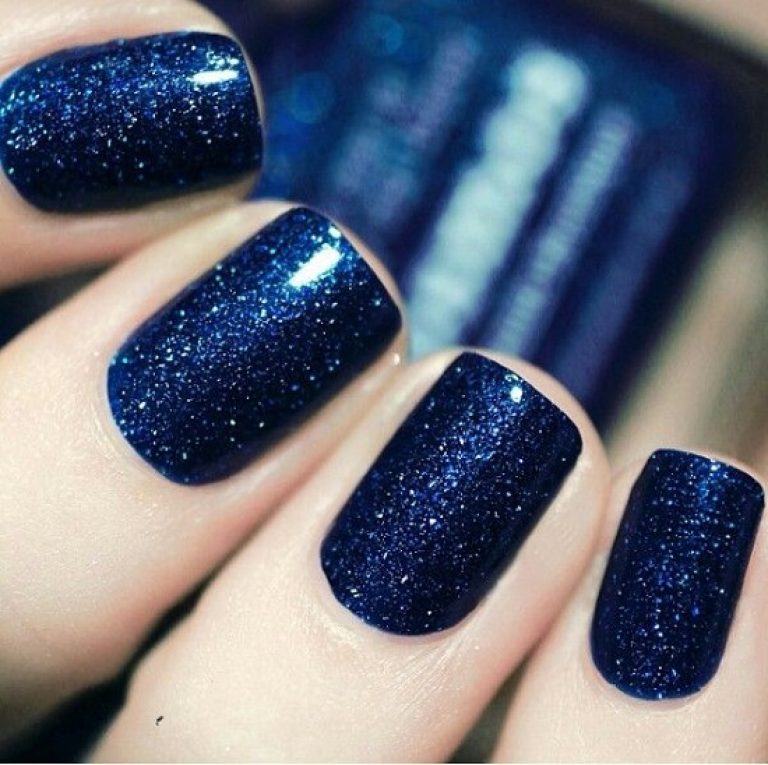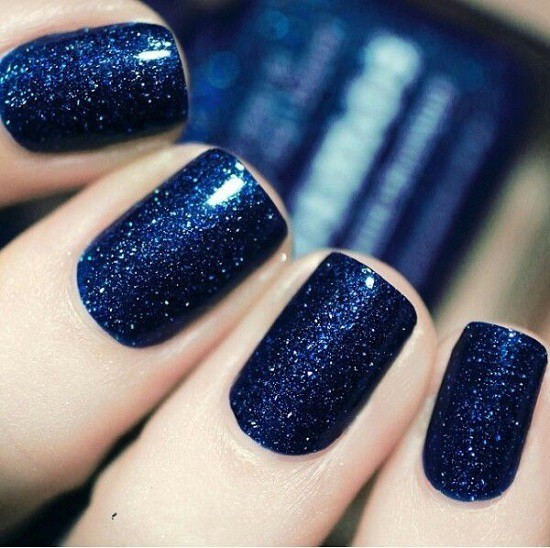 There's definitely a logical reason for the sky's color to be blue. It has all the shades of blue in the world and at any time and in any season you can't help but get that relaxing feeling when you gaze at it whether it was dawn, noon or midnight.
Every shade is unique and makes you feel better in its own way. Dark blue hues like midnight glitter blue are not only heart mending when you feel down and stare at the sky after you had a fight with your special someone wondering what to do.
It is also the color of authority and makes a highly recommended style for every professional business attire.
35. Phthalo Blue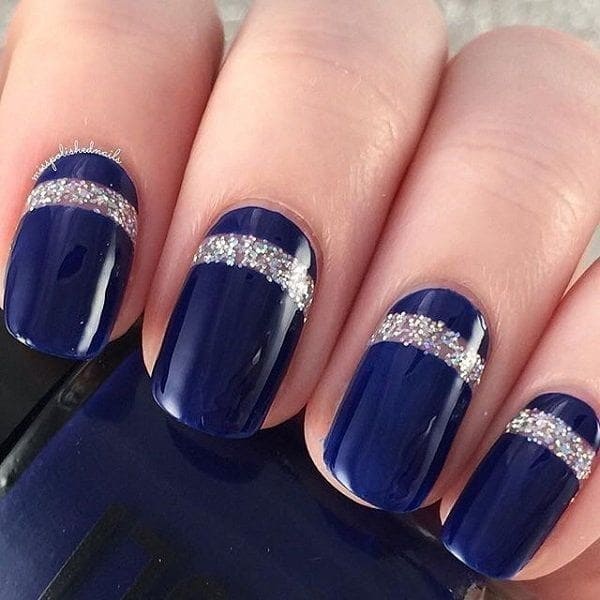 Despite the possibility of being perceived as a cold and unfriendly color, blue is the most commonly used color in corporate identity and therefore great for business events and meetings.
It reflects an image of confidence and elegance that is not easy to be achieved. Adding the silver belt-shaped stripe at the quarter of the nail gives it that peculiar nice touch.
36. Cobalt Blue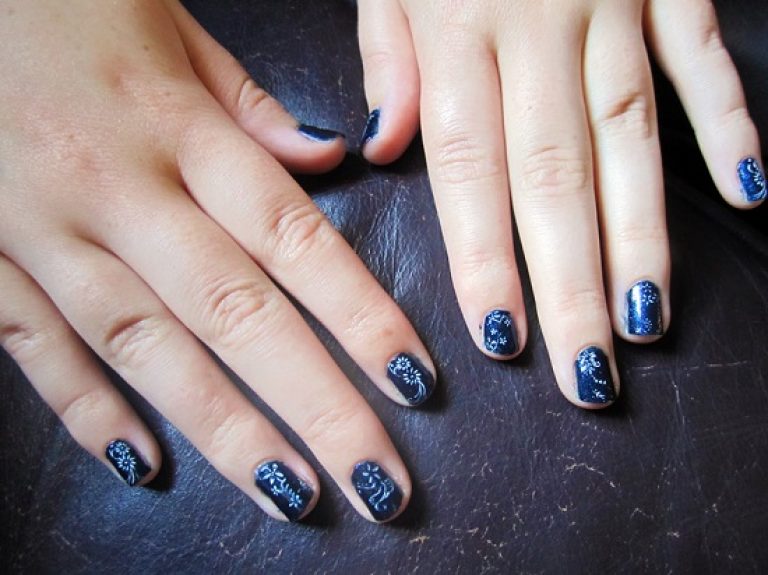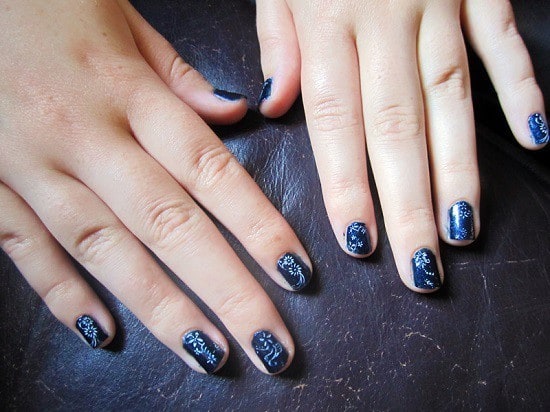 Another creative nail art design. Cobalt is just another element in chemistry the teacher used to go on and on about all the time.
While serving a boring and uninteresting subject for us fashion-heads, it can do a great job fulfilling the occupation of another spectacular shade of blue that creates a sense of calmness when applied with a simple yet cute floral pattern. It works for short nails as well!
37. Paisley Print Stiletto Nails
Stiletto nails can give you the image of the sharp and strong-enough-to-solve-her-own problem. Combined with a paisley print that signifies an insanely impossible range of human experience with a bright blue hue makes it talk for you.
Wearing it for a first date would definitely impress him and guarantee you'll gonna be asked for a second one!
38. Oblique Glitter Blue Nail Tips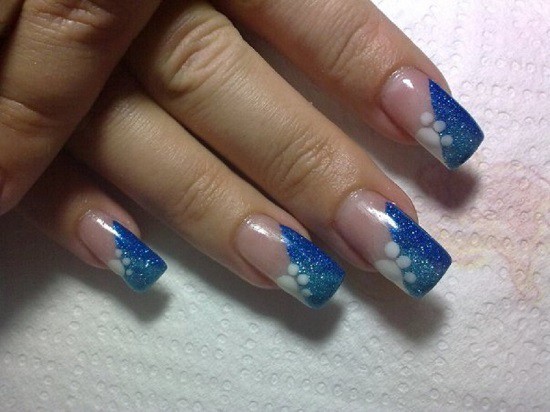 Everybody goes for the cliché french tips that are limited to the top part of the nail, but you always be different yet stylish as ever. All you need to do is use the same classical patterns but in your own way.
For instance, the above nail style combines both the idea of french tips with glitter and a cute repetitive icon that wouldn't make it look boring rather than more interesting.
In this one, the creator changed the space that is usually defined by the french tip and rotated it to be oblique and used a catchy icon (the paw) that is easy to be drawn and looks cute even when you repeat it several times.
Also, the glitter polish used was a combination of two contrasting hues of blue, one being brighter than the other to make it more visually interesting.
39. Insidious Indigo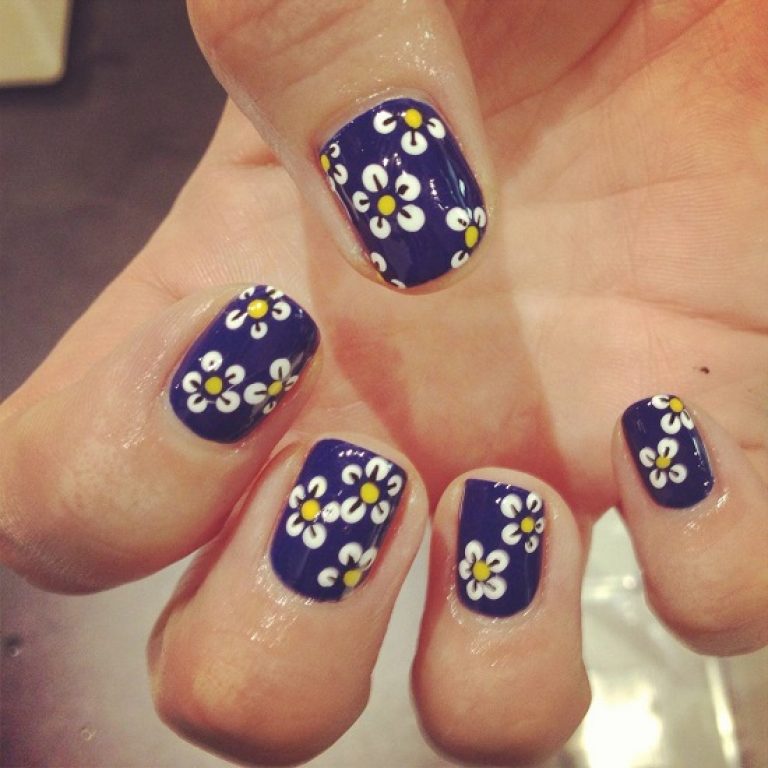 Indigo is that color between purple and blue. It's the color that separates creativity from calmness and being social from being unfriendly.
It's that state in between when you aren't sure if you want to shut yourself out from the outside world or if want to be surrounded by your nearest and dearest.
But don't let the psychologists expose you with their color psychology mojo and cover it up with cute little daisies scribbled on top of the base coat.
40. Gradient Blue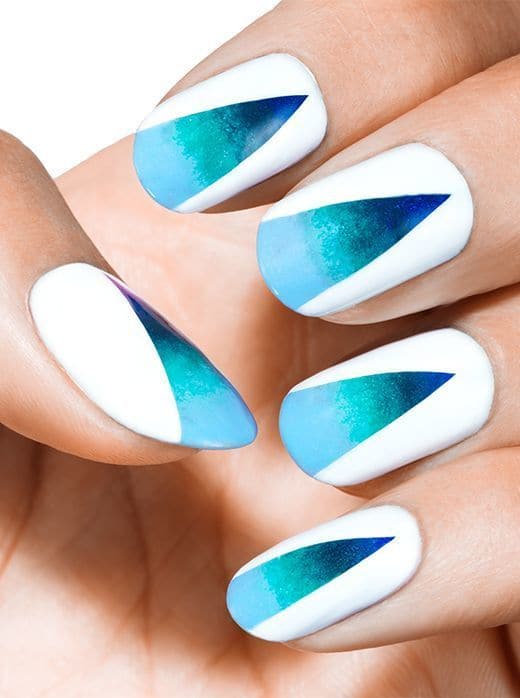 Using one blue color in your nail can be calming and soothing, however using a wide range of hues ranging from international Klein blue to powder blue surrounded by a white background really brings out the summer spirit in you because it creates a tiny little ocean-like texture right down there on your nails!
Whether you're a surfer, a swimmer, or someone who just likes to enjoy fun in the sun on the sand.
41. Gorgeously Geometric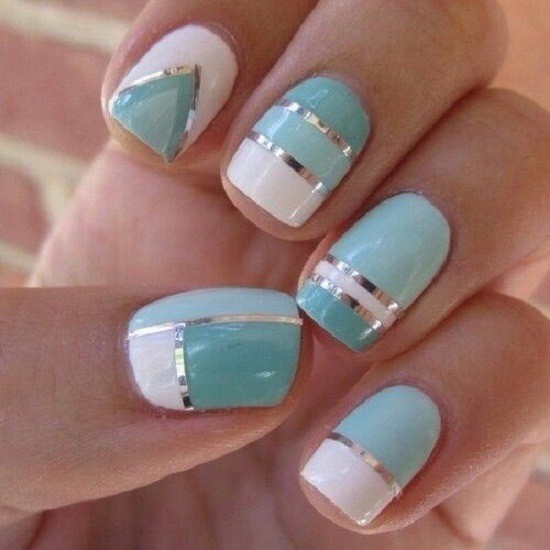 Within the span of a few polish brush strokes, you can design anything that makes them go from bawling their eyes out to breaking the world's record of having the biggest smile plastered on their face. All of that can be done by the mighty and powerful nail art.
All you have to do is cast a theme to play the most important role in your show entitled " The secret to my successful life". An example of themes that you might like is a geometric theme when you use thin golden stripes to divide your nail to random or equal parts.
Bright shades of blue only indicate your pure intentions and strength. In the above style both the turquoise and the tiffany blue were showcased as the two basic factors besides their sidekick, the white color, that brightens up the scene and makes it all tie together.
42. Risky Red & Navy Blue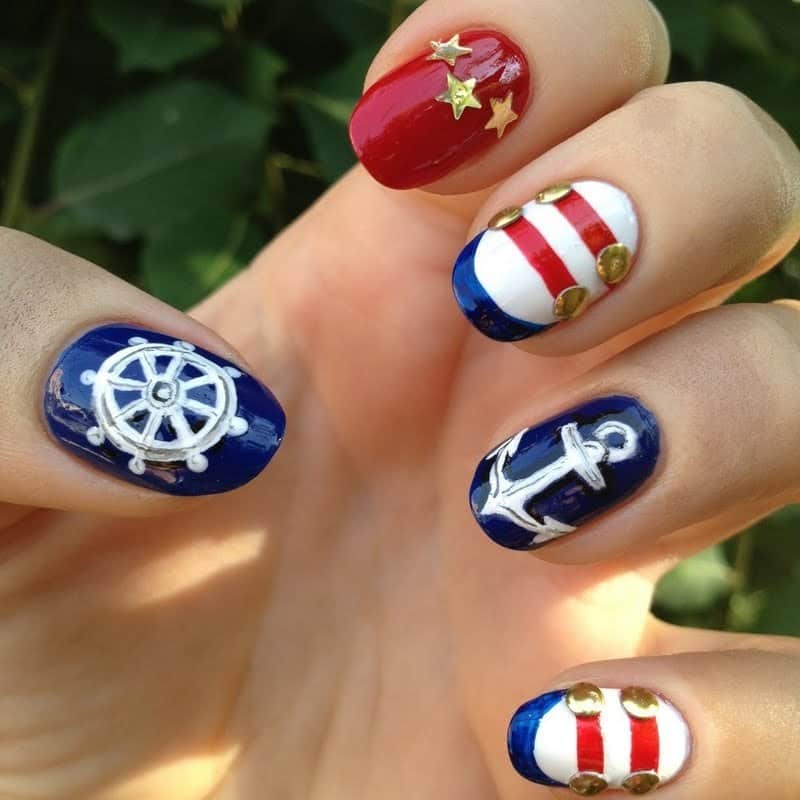 We all wanted to become sailors when we were little kids the minute we fell in love with Popeye, the fictional cartoon character who loves spinach and works as a sailor, he used to save the day and make it seem like a simple task and that's what made us love sailing and the aqua life.
Get inspired by your favorite tv shows as a kid or by the colors of your country's flag in order to get a marvelous blue nail art design. Scribble icons to life on your nails like an anchor or the boat's steering wheel.
Also, the use of color is rather important. Flaming red is always a great addition for an adventurous cartoon character like popeye or you can just use the colors of that famous flag as your source of enlightenment.
And finally, don't forget that the usage of details in the right corners and on the right spots define the whole look and highers or lowers its rating.
43. Paper Planes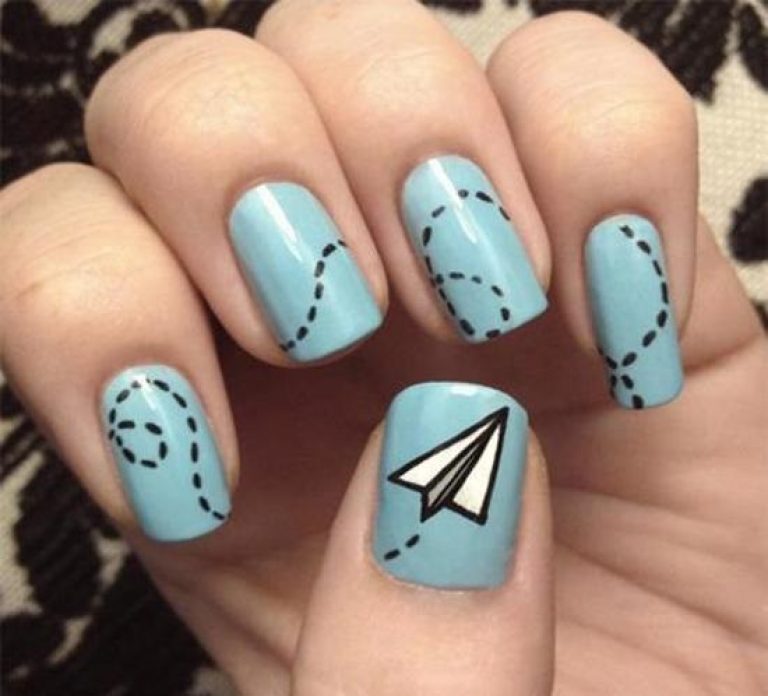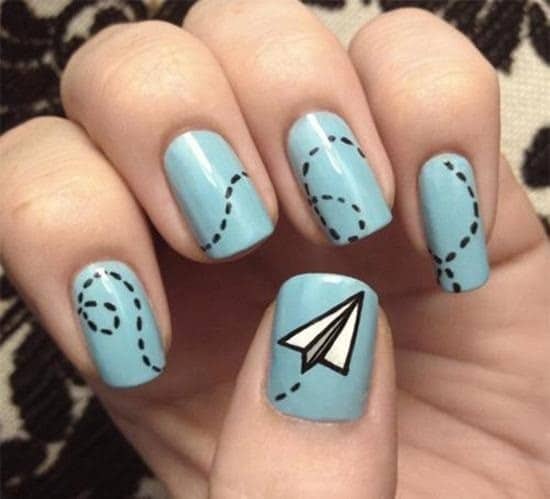 Admit it, every time you have one of those unauthorized moments of nostalgia about your days back in school and as the memories flashback in front of your dainty eyes hitting you like a cold breeze.
You come to realize that most your shenanigans involved a paper plane that outlawed the rules of the classroom and soared in the class's private forbidden sky behind the scenes of your own math or history teacher as he/she went on and on about a boring and endless subject that never seemed to really teach us anything useful in life.
That plane had all your innocent dreams and future plans on board. And every time you flew it was like you reassured your self that you're determined to acheive them all one day. And there you are with every single one ticked off your list.
That kind of chances only happens once in a blue moon and you should take pride in it and use it as inspiration to a one and only nail design. Let your nails speak about your glory.
44. Bondi Blue
If dark shades are just not how you roll, then you'll gonna knock your nails off with this rocking bondi blue hue.
Along with silver glitter french tips and a rick looking accent nail overwhelmed with decals of various shapes and sizes including rhinestones, strass, and a cute little bowtie.
45. Zaffre Blue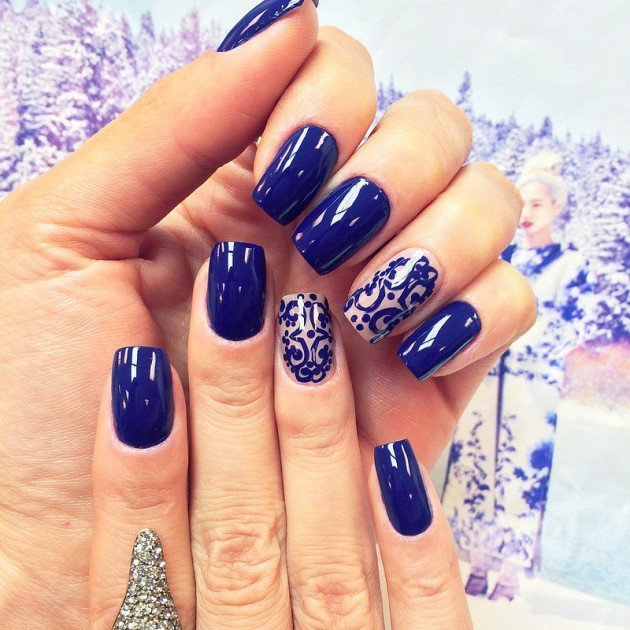 Dark blue is the color of mourning in Korea. Maybe that's because psychologically it's a nostalgic color that ties the past to everything that happens in the present and in the future.
This design works for celebrations and mourning. It is a divine style that you can never worry about over or underdressing with.
46. Baby Blue Tips
In Belgium, baby blue is for girls and baby pink is for boys. They might have a point regarding the incredible result of the compelling blue color on nails.
With a line of small rhinestones and with a few decorative white needle drag you'll have a cute and beautiful blue nail design that works perfectly for both formal and casual events.
47. Religious Blue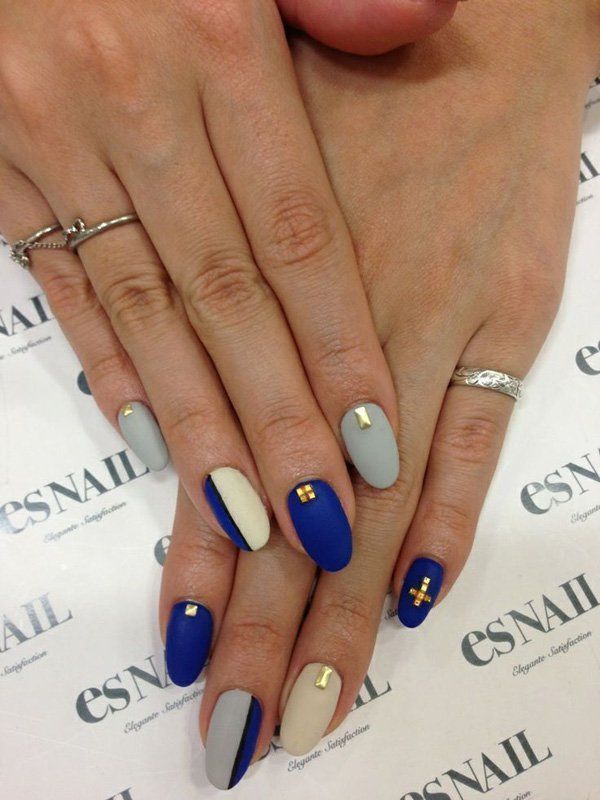 Another characteristic of the blue color is that it is a spiritual color that conveys religious views and devotion to one's beliefs.
This devotion can be their determination to succeed in a certain sport or achieve the highest ranking at work. It can be about family or relationship goals that he/she has always dreamed about.
48. Tribal Accent Nail
There are endless artistic approaches you can use to catch every eye in the crowd, but it is vital to choose the suitable one for each event. With this tribal approach, you'll definitely be the girl of the hour.
It is a casual and everyday look you might want to wear everywhere but it would be best if it wasn't worn on rather formal events.
You might want to restrict wearing it to hanging out with your girlfriends or for game night at your neighbor's house. It also works for a high school or college loud parties and goes best with jeans.
49. Paisley Pattern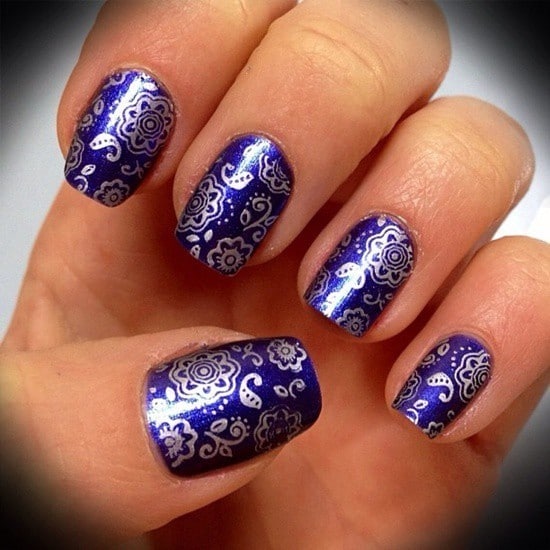 Patterns are one of the popular styles you can combine with nail art. You can pick any pattern like basketweave, Morrocan, circlelink, or paisley prints and you'll be guaranteed to get stunning results.
Make sure to draw them or stick the prints that have a bright color when using a deep shade of blue as the one in the above example in order to make the print pop.
50. Rain Drops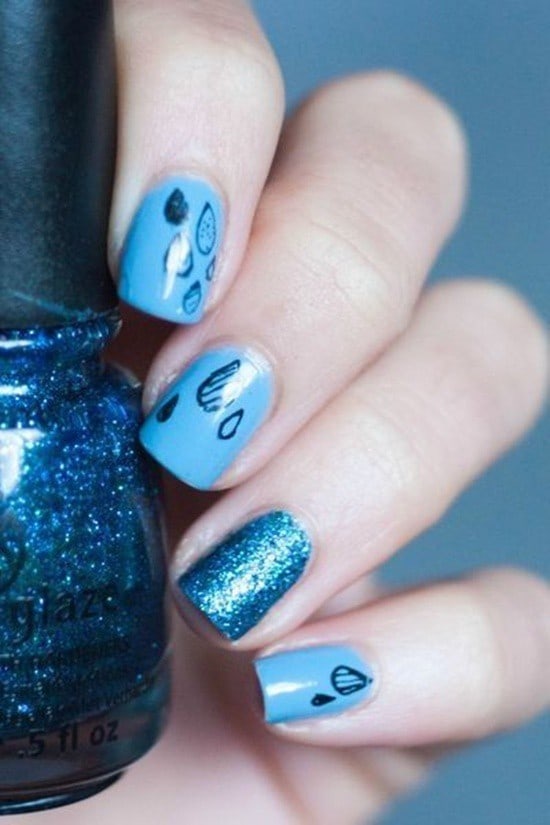 When we were little kids there was this song we were taught to sing every time it rained during the winter season and we couldn't go out to play in the garden. It used to go something like this… rain rain go away, come back another day, little children want to play.
And we used to believe that if we sing it over and over again until we reach enough times the rain will hear our song and eventually stop and we get our freedom to play outside again.
But the thing we didn't realize as toddlers was that we used to fall asleep singing it before we could ever get the chance to see if it works.
Celebrate winter memories and welcome this season using an inspired nail art from your own beloved childhood and don't be afraid to hold on to the memories!
51. Gingham Pattern
Overusing the blue color can make it seem boring and you may end up with a cliché design if you used it alone. However, using it with other colors and patterns can definitely make up a style of utmost importance.
Like showcasing it as the primary color of several patterns such as barcode, arabesque, greek key or gingham. Each pattern is unique and sends a different message that goes to a specific occasion.
Morever, combining the design with another color can break the monotony especially when certain details are used like the little small golden hearts in the above example.
52. Everything Is Blue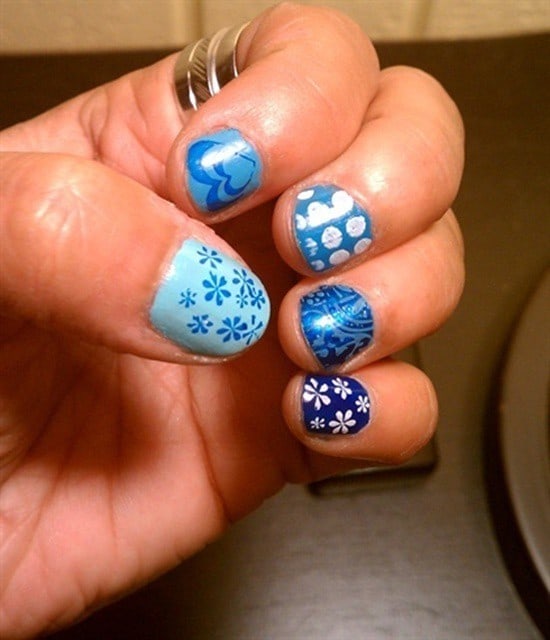 Almost everything around us is blue, the skies, the water… it's a color that we can never live without if it didn't exist. If you think about it, there isn't any other color that can fill the void and replace the blue one.
Even in nail art, blue is an effective color that sometimes can never be substituted with another. Mix up several patterns and avoid being repetitive with this style to show that you love variety and discretion.
53. Floral Fascination
Nothing seems to be more appealing than flowers these days. They are the ultimate gift for grief and for happiness and therefore you can never go wrong with a floral nail style.
54. Midnight Blue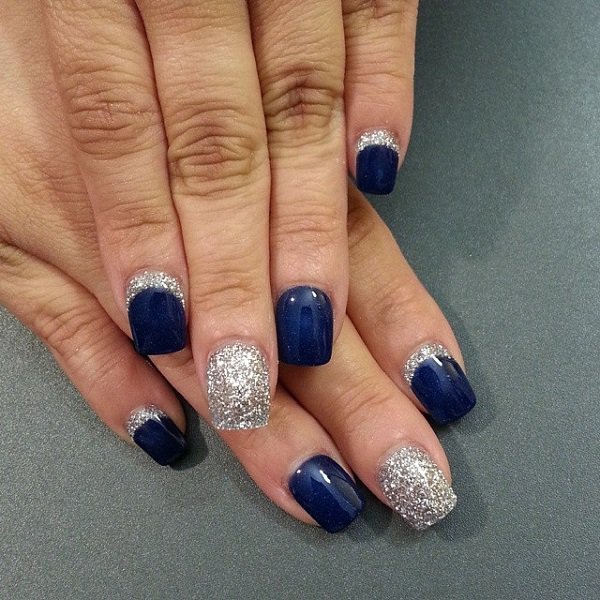 Tick tock, on Cinderella's clock, you'll never be home by midnight with this midnight blue nail design because you'll be full of luck! Choose one nail and dip it with total glitter varnish. And you can add a silver lining to the inside of your nail. Live your fairy tails!
55. Tall & Blue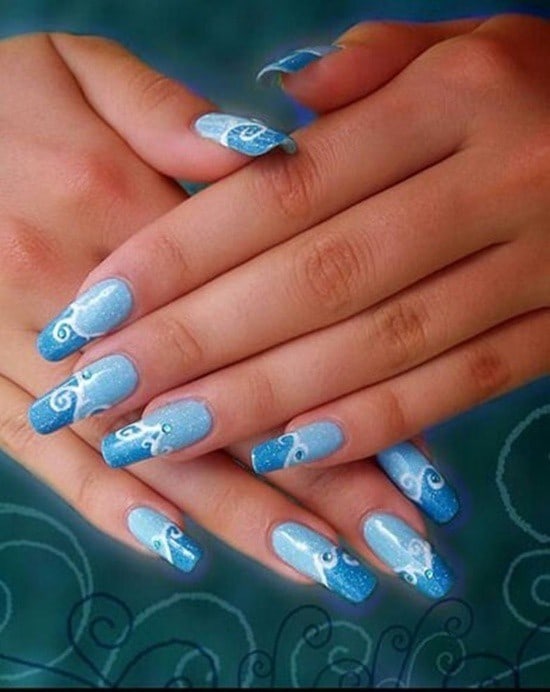 This blue nail art is great for an evening ball or for a beach day out. It is the color of the open wide sea and therefore it holds an infinite variety of options. It works for everywhere!
56. Ribbons & Pink
It's always a good idea to keep it simple and spice it up with the accent nail that you make te star of your show. Use a cute idea like the one shown above that looks it 3D and interesting!
57. Teal & Purple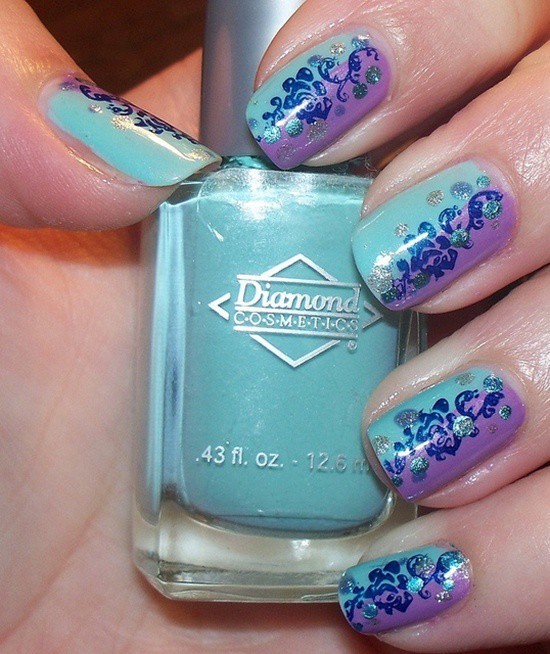 The gothic style was used in almost everything over the centuries. It has been a remarkable architectural style and an exquisite pattern for home decor.
Due to its remarkable preferred identity, it has been used in nail art as well! Go all gothic and take their breath away!
58. Animal Print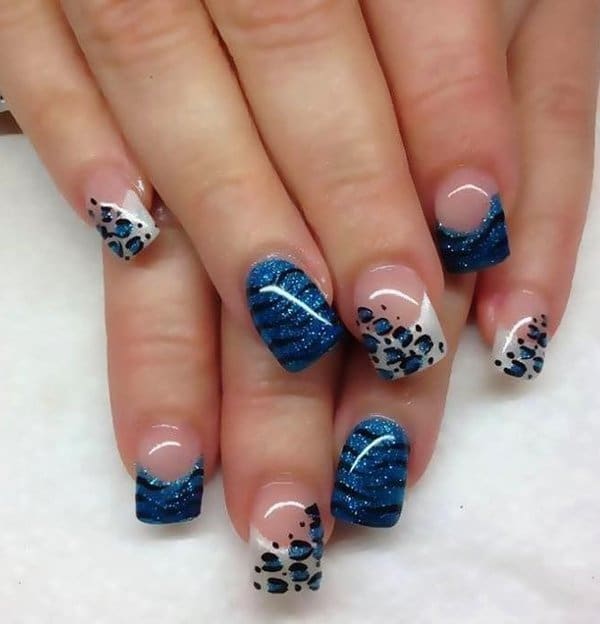 Leopards, tiger, zebra with blue shades in your nails… all of which are popular fashion choices that can draw a million questions when seen by a crowd.
It makes you look sexy and appealing but calm and sophisticated when combined with the blue color!
59. Leopard & Zebra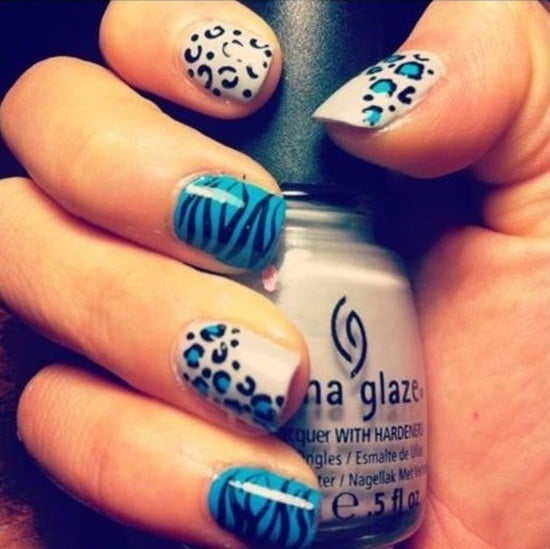 If you are an animal lover or you just love the animal prints to go with your outfit then you might have a soft spot for this nail design! Try it out this blue animal style nail art with confidence , you deserve it!
60. Navy Blue Tips
Blue nail french tips are a classic technique to use. Apply them in a dark blue hue to look intelligent and elegant at the same time. Favor one nail and apply related decals to it like 3D florals or strass.
61. Swirly Pattern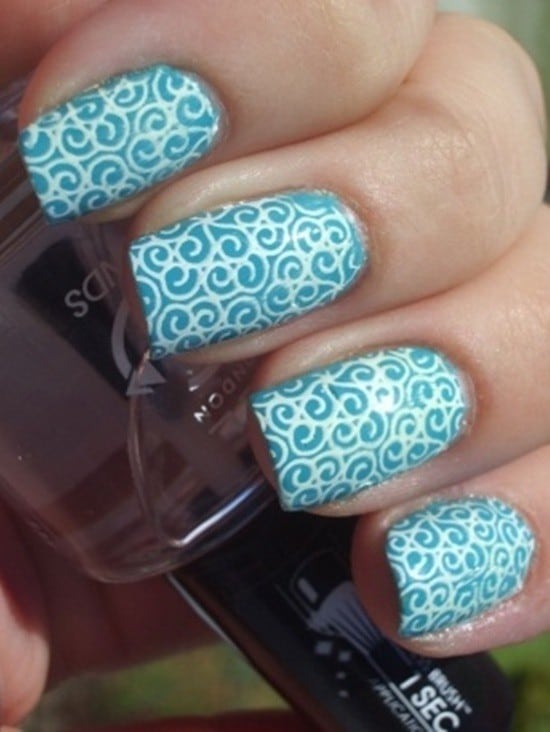 Curves and curls just make a design more interesting and peculiar.
62. The Evil Eye
Greeks believed that the blue color wards off "The evil eye". They believed that it could fully protect them from anything bad happening to them.
Get inspired by everything even the old myths of different cultures and wear this little piece of history on your nail beds!
63. Feminine Art
This is an example of the feminine style you might wanna go with. It combines the pattern, glitter, doodles, and glossy technique all using the blue hue in your nails to maintain being calm and ordered.
64. Stone Cold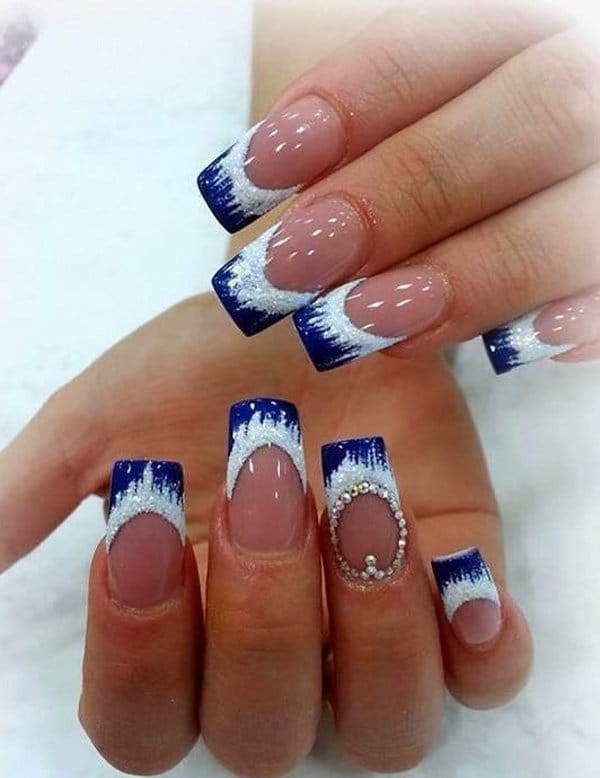 Sometimes it just gets too cold for you to bear in winter! Ice becomes more popular than the famous Michael Jackson himself and it's your job to showcase it in a new trend to benefit from its popularity. Check out the above blue nail design inspired by the cold winter season!
65. Blue Frenzy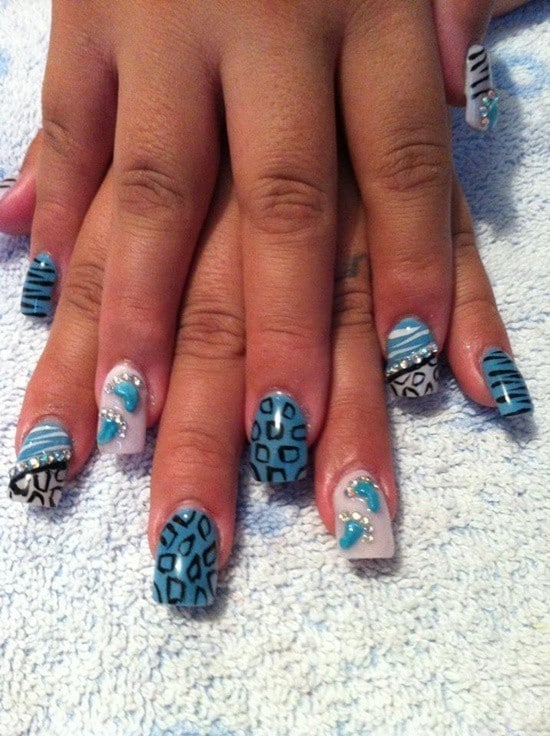 Mix everything up in one nail style and look out for a rare nail design you'll never see anything like!
66. Chic Blue Nails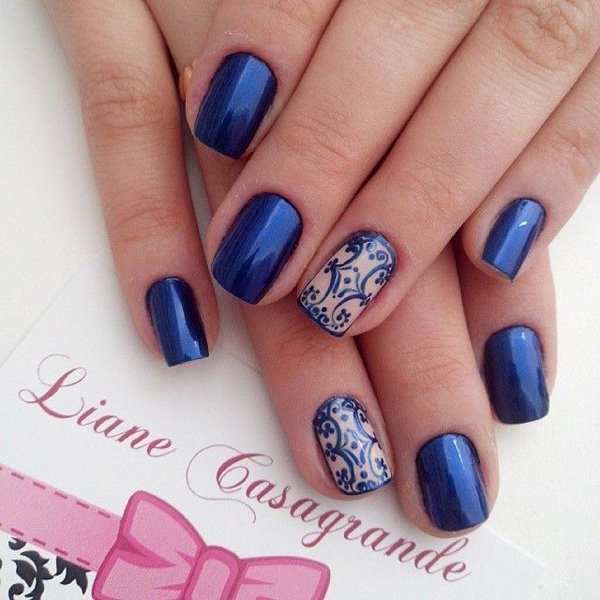 This is an elegant design that works perfectly for a cocktail dress to be worn on the day of the business dinner. It is entitled to be worn for balls and dances as well.
67. Sky's Secret
Ever wondered what the sky held under it's folded pages? Did it ever occur to you that the secret behind the majestic blue sky is the color that makes it itself? Be purely magnificent with this blue nail design!
68. The Lost Boys
We've all wished we could go to Neverland and get lost with Peterman and lost boys where we can never grow old and do whatever we want whenever we feel like it!
This theme is totally recognizable and stands out from a mile away, like really who on earth hasn't watched Peterman and laughed so hard at Captain Hook's bad decisions and stunts.
Who here hasn't wished for a little of tinker bell's pixie dust so that they can finally know how cool birds feel when they soar through the sky?! Be dreamy and imaginative with this Disney nail design.
69. Heart Accent Nail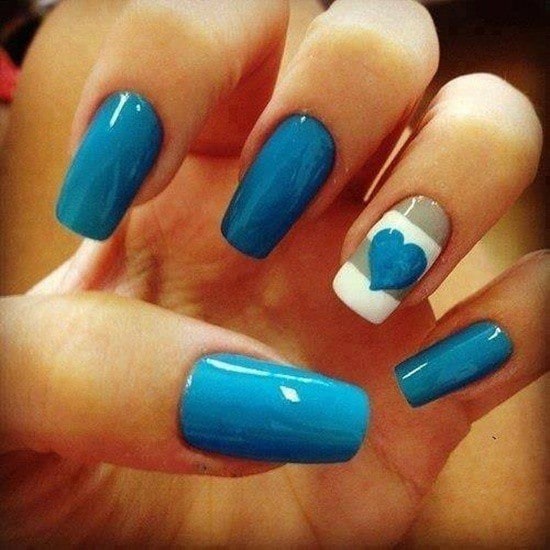 This is a style you might you to apply when you are in a rush but you still want to blush everytime you notice that cute guy checking you out and tell your friends to hush! It is easy and simple and only takes a couple of minutes to be splashed on!
70. Blue & Gold Nails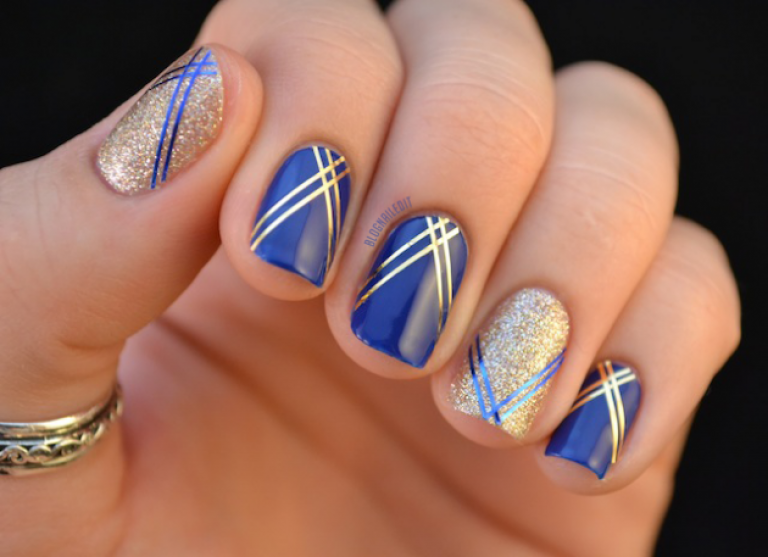 Royal blue is literary the color of royalty. As it's name says it all, it is the color of elegance and poise and therefore when combine with gold it reflects the "Princess" personality appeal.
71. Blue Shattered You
These shattered little pieces symbolize the way any guy's after shock after they catch a glimpse of you wearing such brave nail art!
72. Easter Fever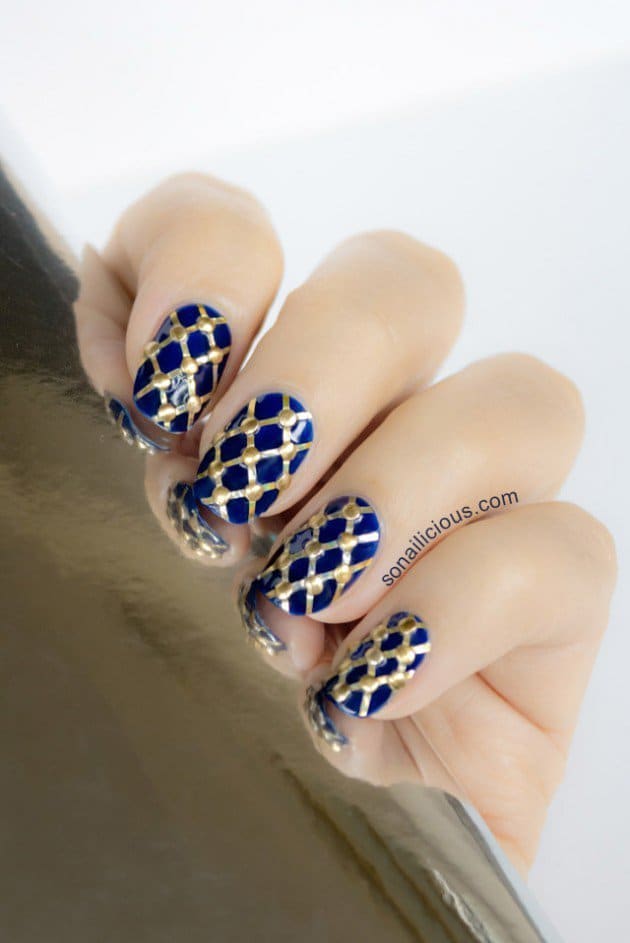 Now, this is a design you'll want to wear on easter day due to it's a similar look to an easter decorated egg. Get in line with the spirit and enjoy every minute because life is too short to worry about everything all the time!
Some More Cool Blue Nail Designs That You Can't Ignore
If you are ever feeling blue, then only a blue nail design can heal you with its complexity! We hope the list above was the answer to all your prayers and remember to always keep in mind that creativity is the only thing standing between you and your popularity.
Be your own true self especially if you are a blue nail lover which means you are a calm and a person worthy of authority. It has been statistically proven that blue is the world's most favorite color. It is because blue is the helper and the friend you'll always find beside you when you are in need.
Thus, if you ever come across a blue lover hold on to them really well and be sure to let them check out this list of the top blue nail designs they'll ever come across!