35 Amazing Ballerina Nails to Spread
The ballerina nails are in vogue with the advent of stiletto nails. These nails have a long and narrow shape on the top but the top is flat unlikely the pointy ones of stiletto nails.
Astonishing Ballerina Nails to Wear
To have coffin or ballerina shape you must have very long nails or you must use fake nails or extensions. If your long and narrow nails are filed horizontally on the top, it will give the ballerina shape. Once you are done with the shape, try the designs given below to have amazing ballerina tips nail.
#1.
red ballerina nails
#2.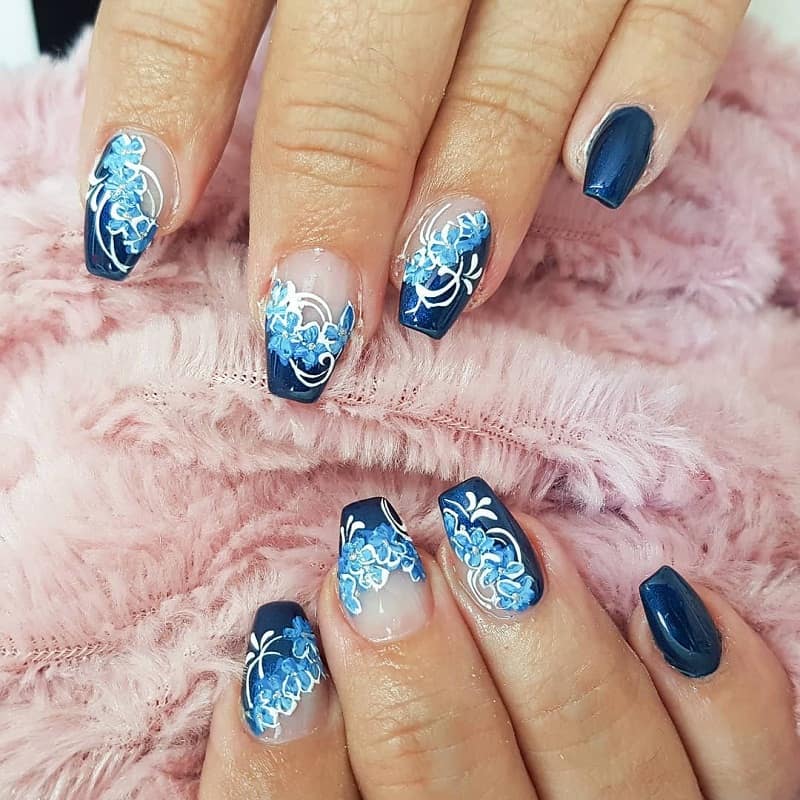 cute ballerina nails
#3.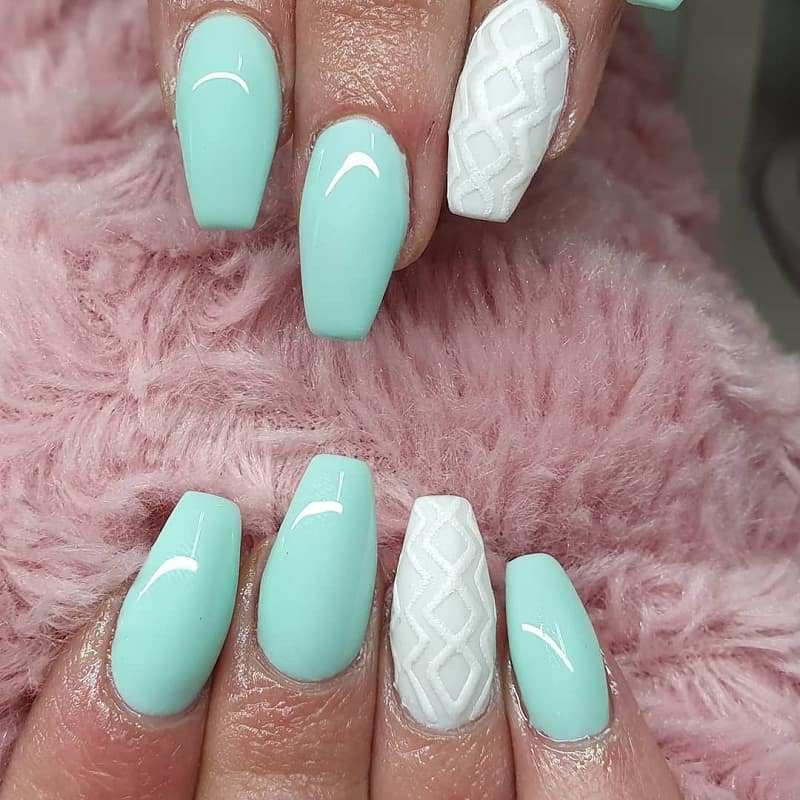 purple ballerina nails
#4.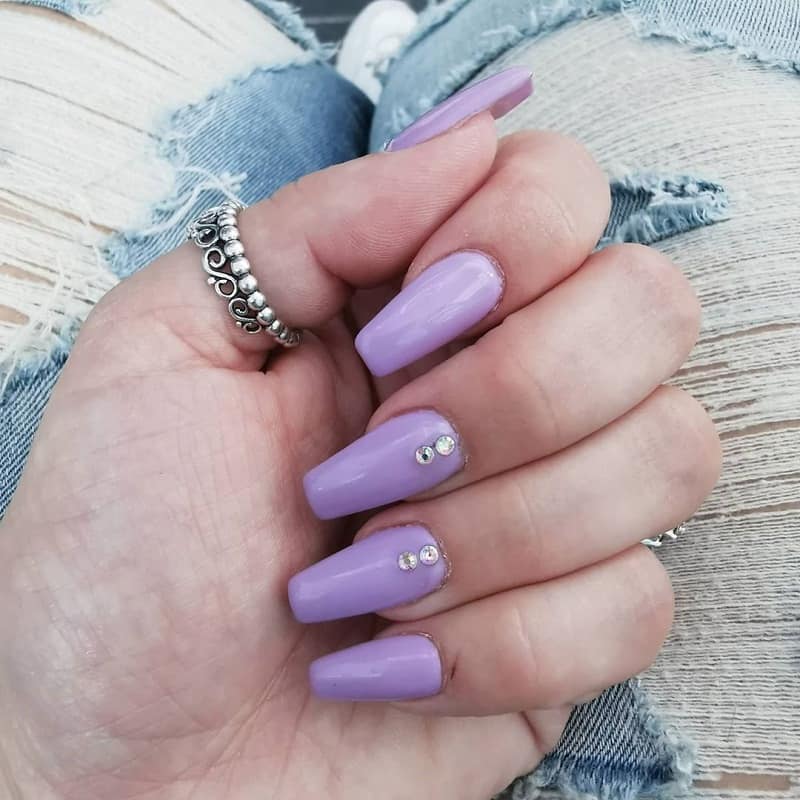 purple ballerina nails
#5.
summer ballerina nails
 
#6.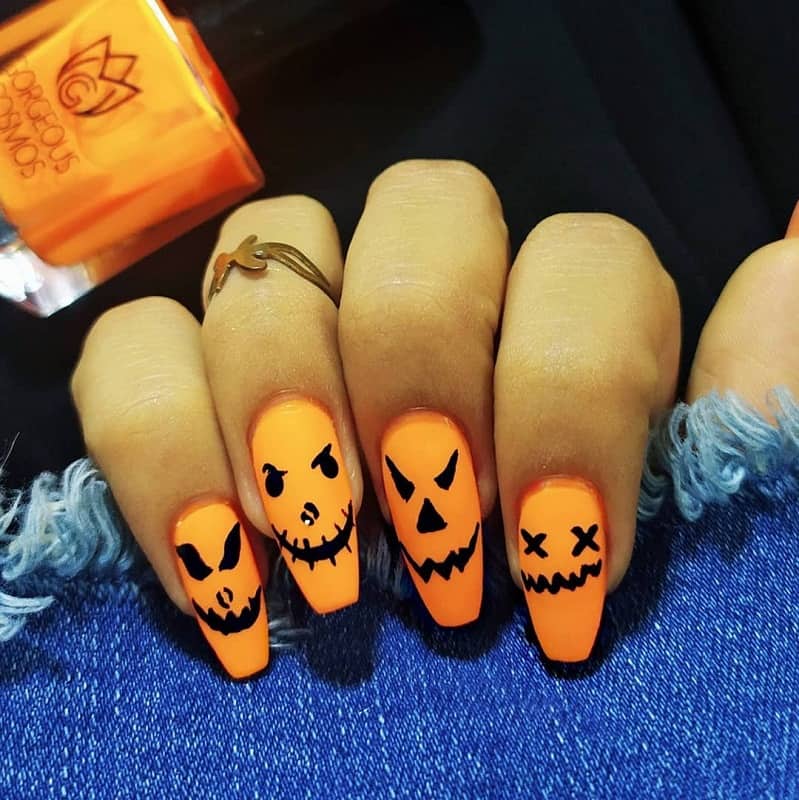 Halloween ballerina nails
#7.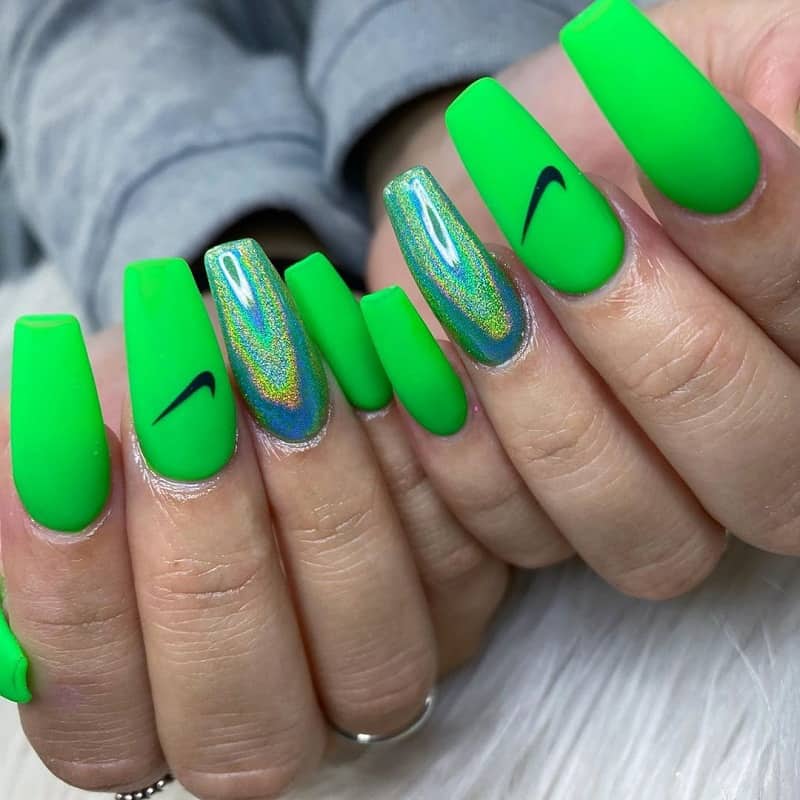 neon ballerina nails
#8.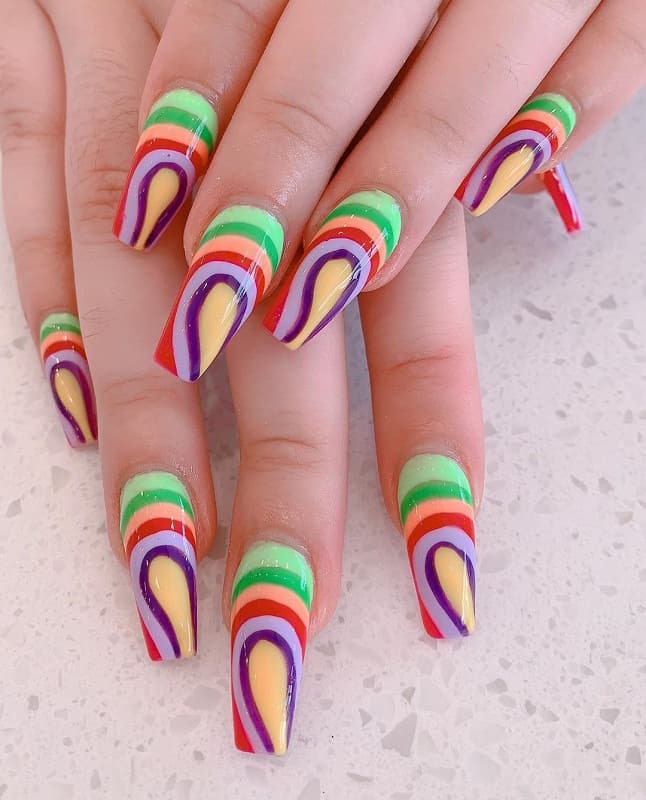 rainbow ballerina nails
#9.
red and white ballerina nails
#10.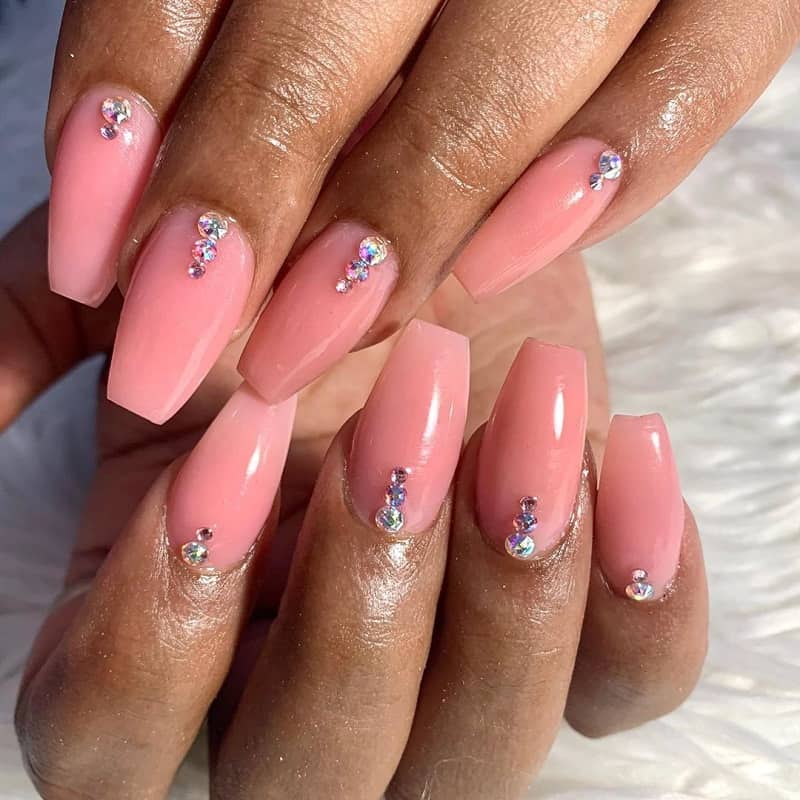 baby pink ballerina nails
#11. Light Blue Gradient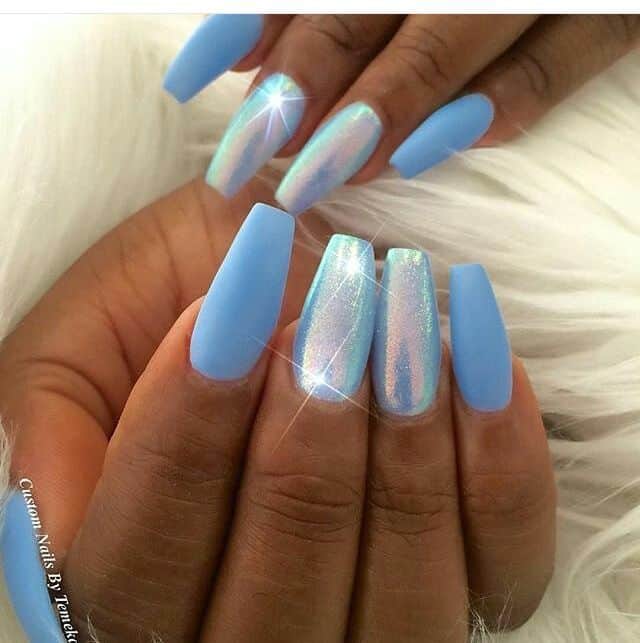 Light blue is a peaceful color to look at. If you are in a peaceful and blissful mind, wear this color. You can use matte color in most of the fingers. To give a gradient look use shimmery glitters on the light blue base coat. Your ballerina nails are ready to shine as the light blue gradient.
Get Inspired from Our List of Stiletto Nails
#12. Black Mystery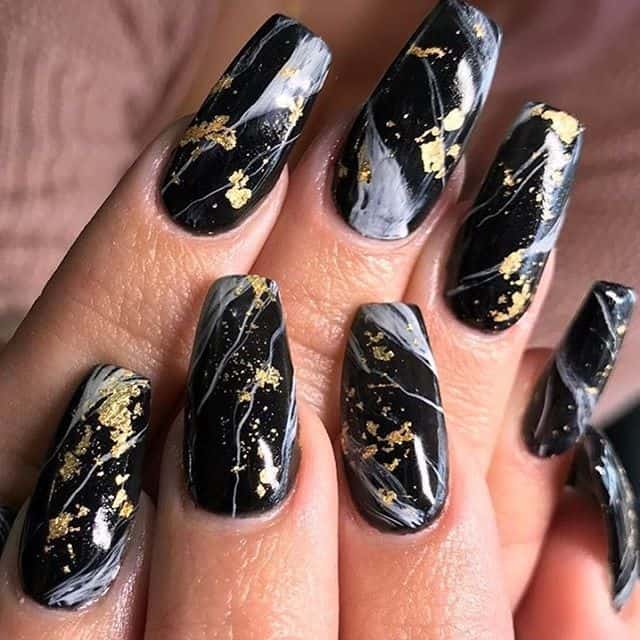 Black is a mysterious color. Yiu can give a thrilling look to your nails by using black color to design your ballerina shaped nails. Carefully drip a white thin brush to paint a little portion of the black nail polishes. You can use golden foils or glitters to make it more interesting. That will do the trick to give it a mysterious look.
#13. Lady of The Rings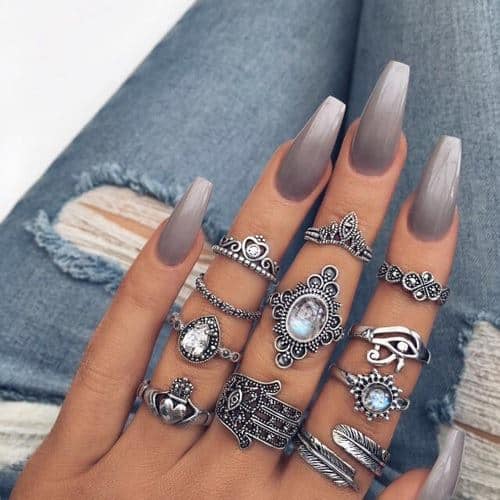 If you are a diehard fan of antique looking rings and want to have nails which match with your favorite rings, this design is rightly for you. Firstly, determine the color of your rings. Then use that color to fill your nail beds. You can have a very good design if your choice of rings complements the color of the nails.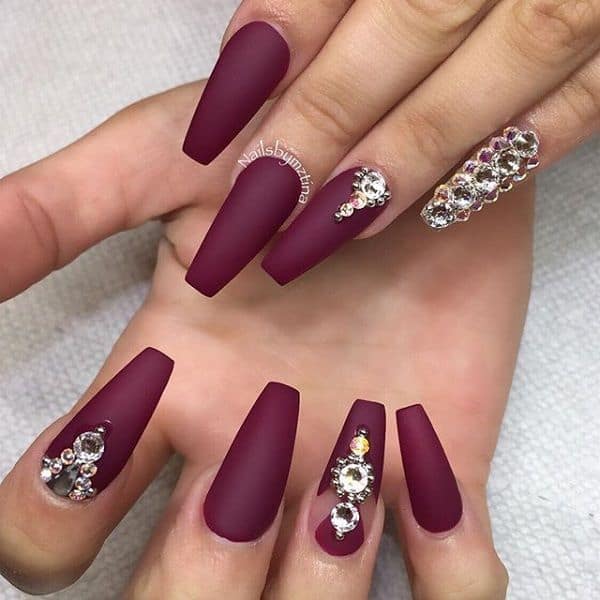 Maroon is a great color which can enhance the beauty of your nails with a blink of the eyes. Only applying maroon color is enough for a design but you can use rhinestones to give it a glitzy look. Use matte maroon color and stones of different sizes to have this design done on your ballerina tip nails.
#15. Henna And Blue
Henna is kind of hobby for some of the girls. Here is a henna design for you which is associated with blue ballerina nails. Color your nails with royal blue acrylic for this design for your coffin nails.
White is a handy and useful color in terms of fashion designs and ideas. It is used in numerous ways in every sector. This is a simple design associated with navy blue color. Draw some angular shapes with navy blue on white. You can use some silver rhinestones too on the white base.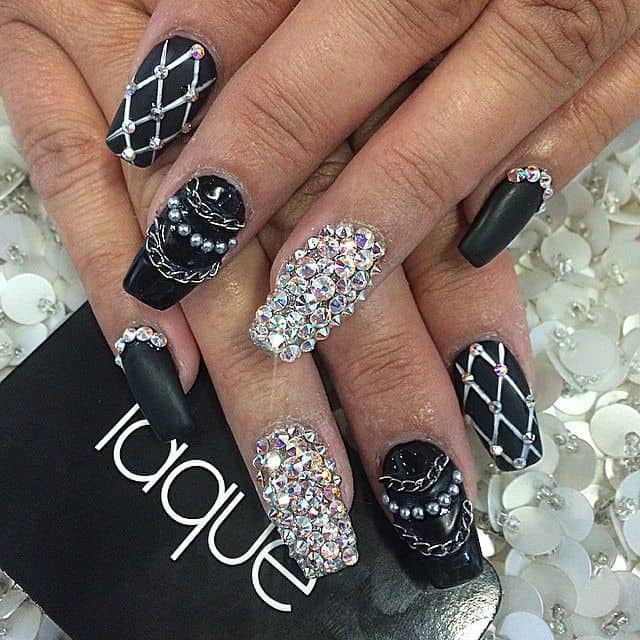 If you want to have a party and pretty look together, this design is for you. Your ballerina nails will dazzle the eyes of the party people by the implications of this innovative design. Add some small chains and rhinestones to give an exceptionally radiant look to your black fingertips.
#18. Green Ballerina
The use of green in the fashion world is not so vast as other colors, but green color can give a charming glow if used with perfect guidance. Paint your nail in green then use glitters and rhinestones on some of them. You can also keep a nail nude drawing the edge of it with green glitters.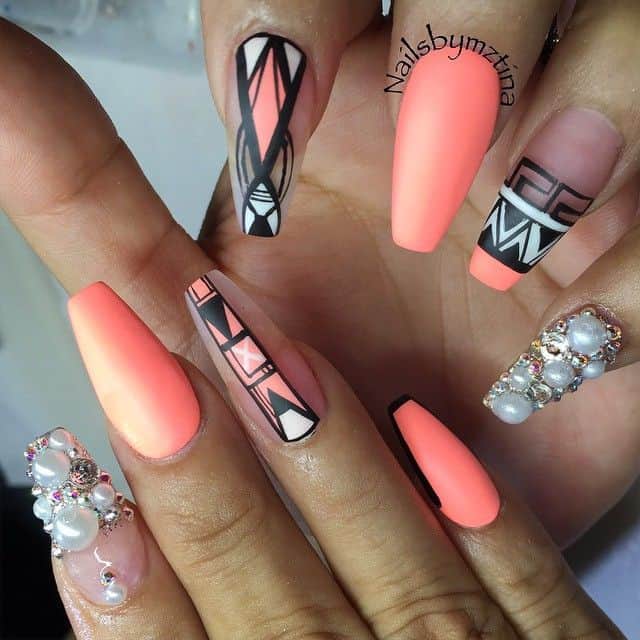 Your ballerina nail designs can be inspired by tribal designs. Use light pink or peach color to fill the surface of your nails and draw some tribal patterns in black and white. You can use stones too.
#20. Paint Your Canvas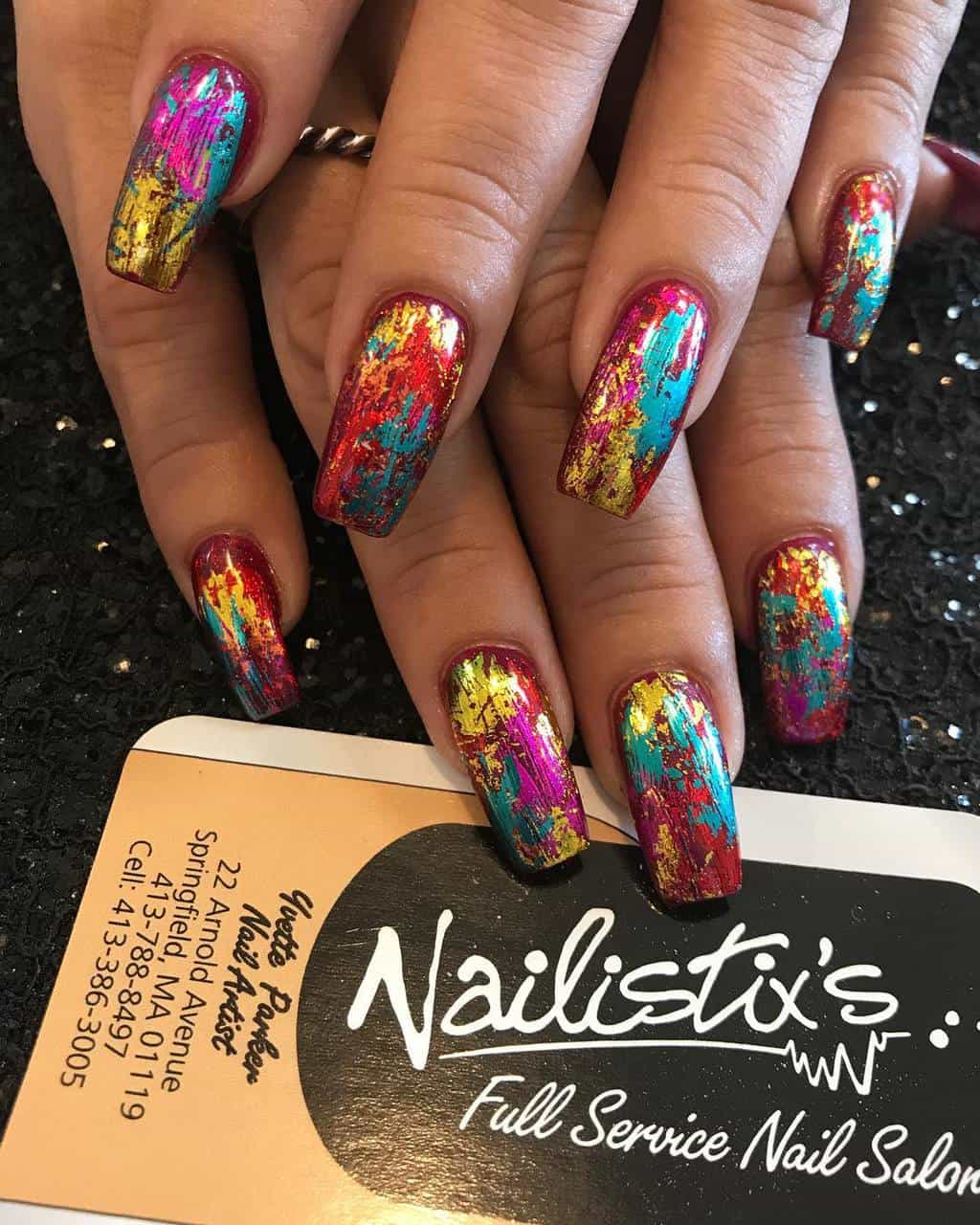 Imagine that you are a painter and the nail bed of your ballerina shaped nails are the canvas. Pick up some bright colors and brush them as you like. No patterns or designs have to be maintained as you will not compete in an art exhibition.
This is a different design to have on your ballerina nails. Use a nude color to fill the surface of these nails then use golden, red and orange glitters to draw some patterns like those of the given picture. Your nails will look luxe in this design.
#22. Glitters And Colors
Glitters are colors are the most used pair of materials to design any nails. There is no exception in this regard too. You can use blue colors in between to give an intense look. Paint your nails with two or three colors without any proper order. Its kind of draw as you like. You can use silvery glitters and rhinestones on some of the fingers.
#23. Spider-Woman
Like superwoman character? Envious of the dynamic spiderman? No worries, here is a spider woman design for your ballerina nail designs.  Draw the patterns and designs tactfully as you are supposed to draw something very specific. 
#24. Snakes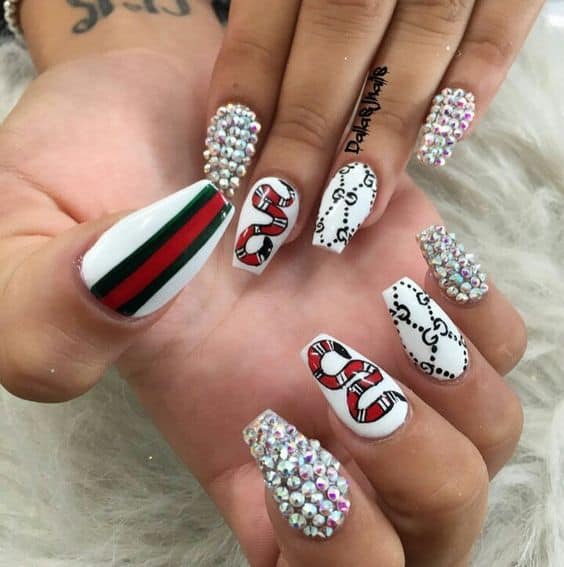 This is a design for snake lovers. If you want to get the attention of your friends, this is a great way to do that. Everybody will look at your nails for sure. Draw snakes on your nails to give them a different look. You can use red and black color on a white nail polish for this design. Use rhinestones on some of the nails.
#25. Shine on The Edge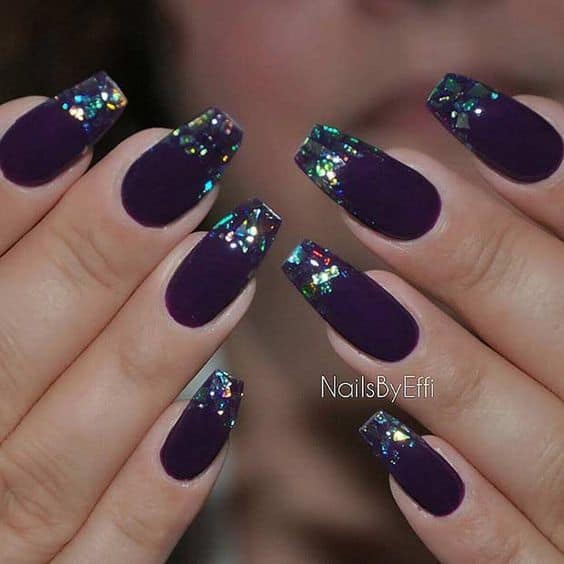 A simple design for your ballerina nails. Paint the edge with some glitter polish. The edge of your nails will look glitzy and you will have the desired shine on the edge.
#26. Layers
Three or four different shades of colors are used in this design. You can use these colors on the nude nail polish. First, have the nude coat done, then paint the colors in different layers to complete this design. You can wear rings to complement the beauty.
#27. Shine Like the Stars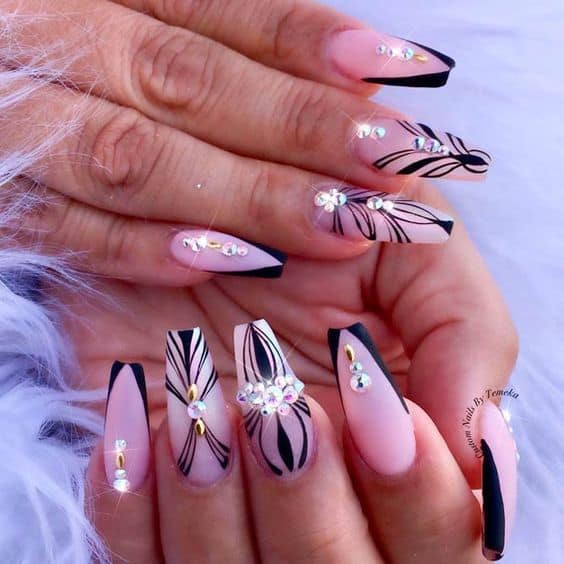 This is a simple but glamorous design to be looked at. The process is simple. Draw some black patterns on the nude base. Use beautiful shiny diamond cut rhinestones in between the black patterns. Your ballerina nails will shine like the stars.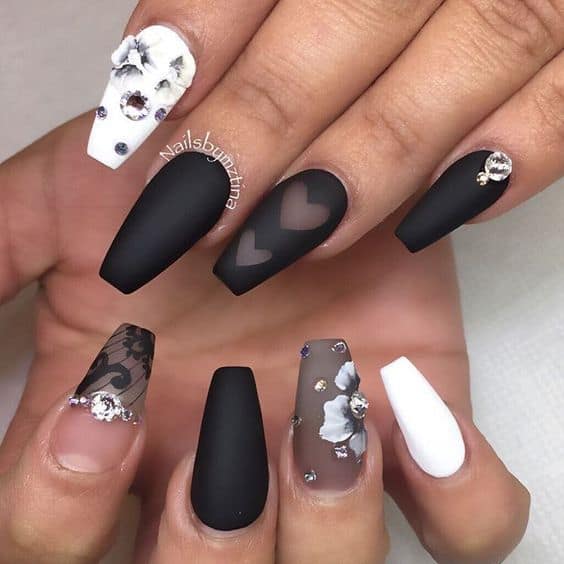 The use of black and white in the fashion world will never lose its appeal. Whenever they are used together, they produce something new. This design is also one of the finest B&W designs.  You can draw love shape on the black coat with the help of negative space or draw some 3d art.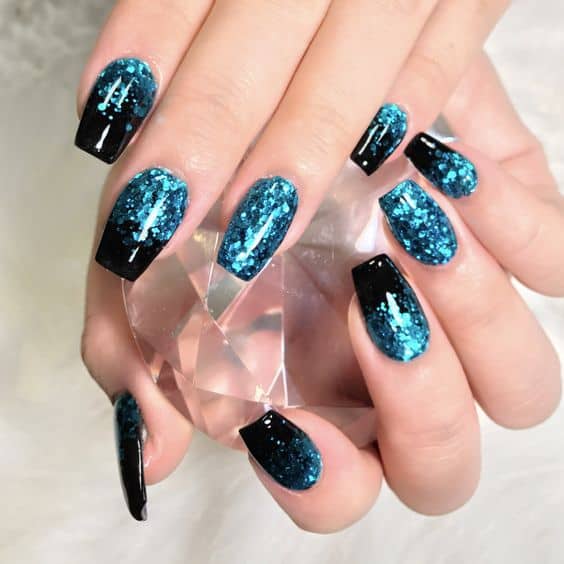 This design is shiny and glittery as the name is suggesting. Use a deep black polish then use shiny glitters on the top of the nails. If you choose the perfect shiny glitters you will have the perfect design.
#30. White Marble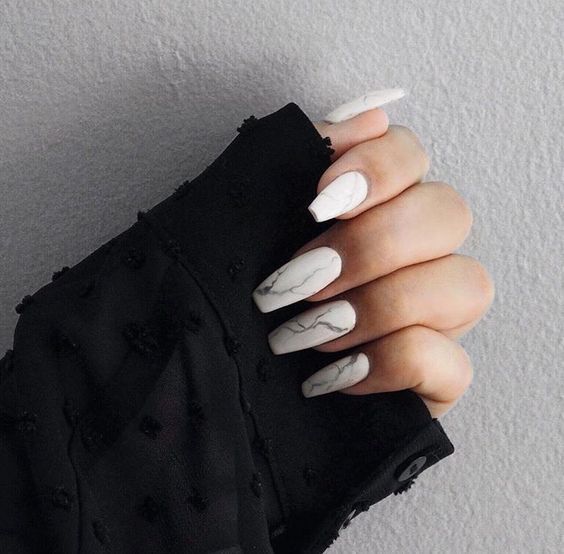 This is a simple but delicate design to have on your ballerina nails. Try Marble art on your nail. This will give an artistic look of white tiles on your fingertips.
#31. Pinkish Delight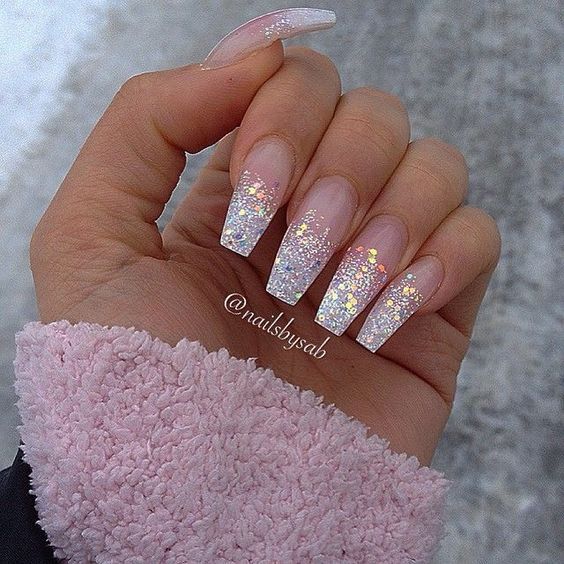 If you want to carry a piece of a peaceful world on the tips of your fingers, this is the right fit for you. Use nude light pink color as the base coat. Then draw the upper part of the nails with golden and silver glitters.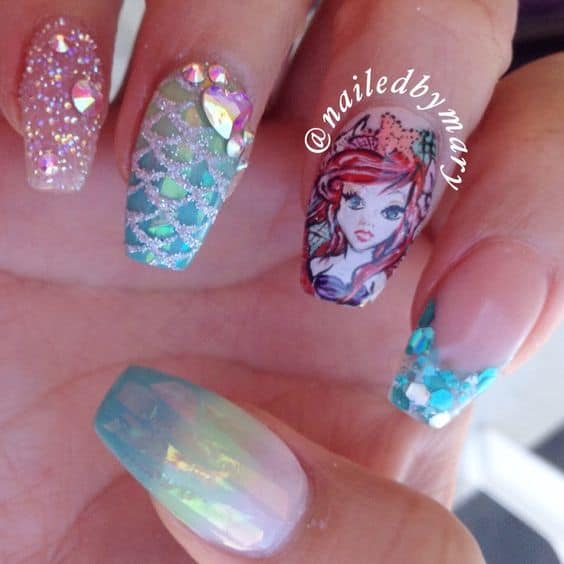 This design is for the imaginative girls. If you have ever wished to be a mermaid, this design is for you. Your dream of being mermaid will come true and you can see it on your ballerina nails. Use glitters to draw fish scales on the light sky blue basecoat. This will give an underwater look on your nails. Then draw a mermaid on one of the middle fingers. Here you are, a beautiful mermaid!
#33. Purple Ballerina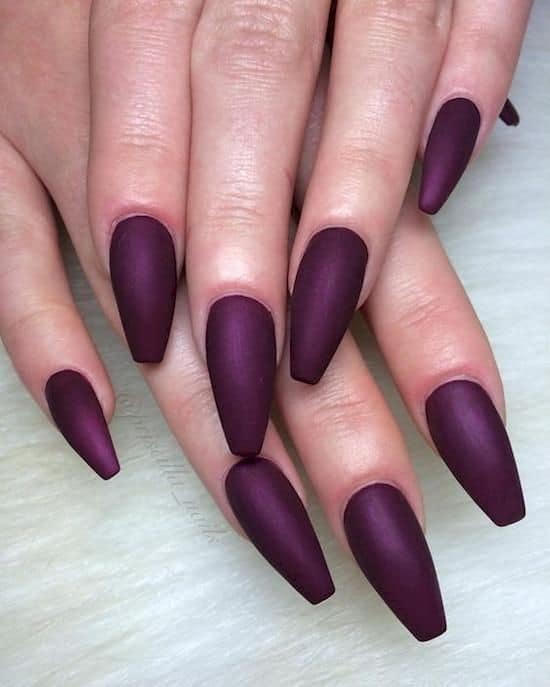 This design is very simple relying on only the use of purple color. You can use a smooth and deep matte purple color for this design. The charming beauty of purple is enough for the beautification of your coffin nails.
#34. Pastel Nails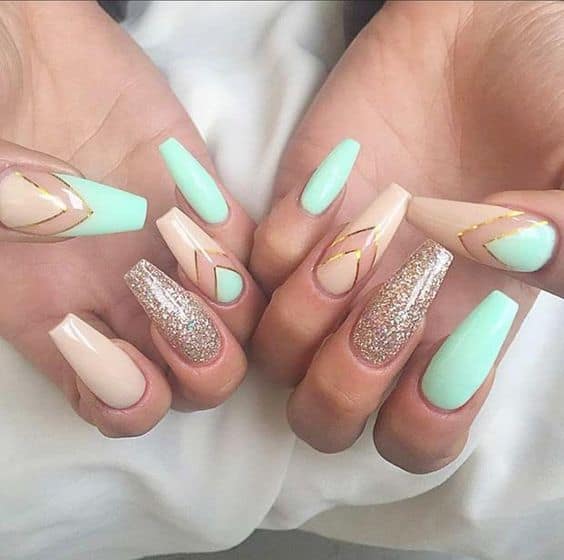 If you are a fan of light colors yet you want to have a shiny design, this is for you. Use light colors in most of the nails. You can use more than one color on a single nail. Use some glitters for a shiny look.
#35. Nail Art And Stones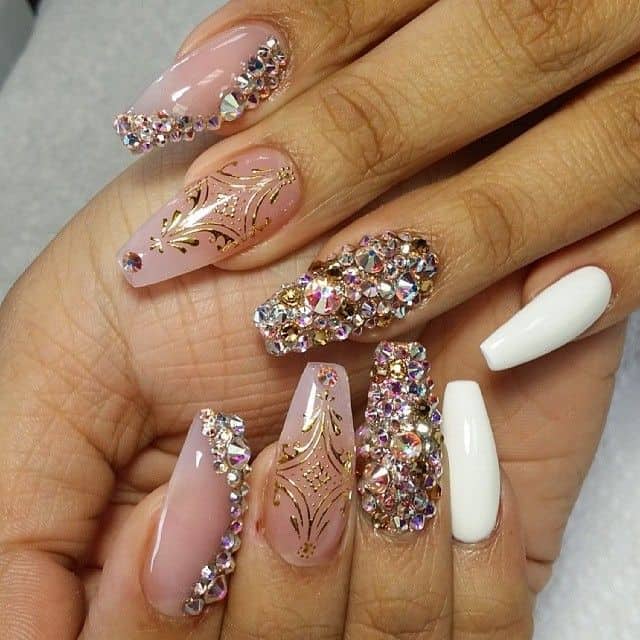 Nail art looks magnificent if they are applied by expert hands. If you can art your nail efficiently and have an aesthetic choice of colors you will find this design absolutely try-worthy. Use colors of your choice as the base then adorn them with beautiful diamonds. 
In fine, I can say that choosing the perfect shapes along with the perfect colors and designs can make your ballerina nails extremely attractive. On the contrary, a wrong choice can make them look ugly. So, before doing anything silly pay heed to our suggestions. Bring out the best of your ballerina nail shape with the help of our ideas and designs.