25 Amazing Ballerina Nails to Spread
The ballerina nails are in vogue with the advent of stiletto nails. These nails have a long and narrow shape on the top but the top is flat unlikely the pointy ones of stiletto nails.
Astonishing Ballerina Nails to Wear
To have coffin or ballerina shape you must have very long nails or you must use fake nails or extensions. If your long and narrow nails are filed horizontally on the top, it will give the ballerina shape. Once you are done with the shape, try the designs given below to have amazing ballerina tips nail.
#1. Light Blue Gradient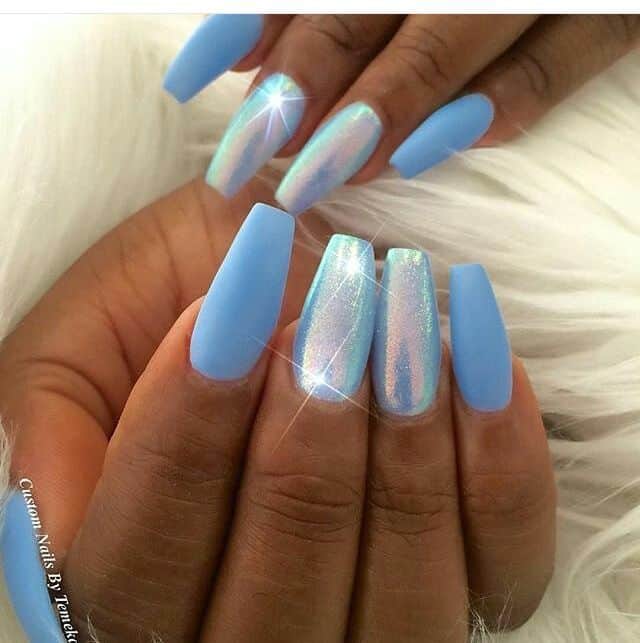 Light blue is a peaceful color to look at. If you are in a peaceful and blissful mind, wear this color. You can use matte color in most of the fingers. To give a gradient look use shimmery glitters on the light blue base coat. Your ballerina nails are ready to shine as the light blue gradient.
Get Inspired from Our List of Stiletto Nails
#2. Black Mystery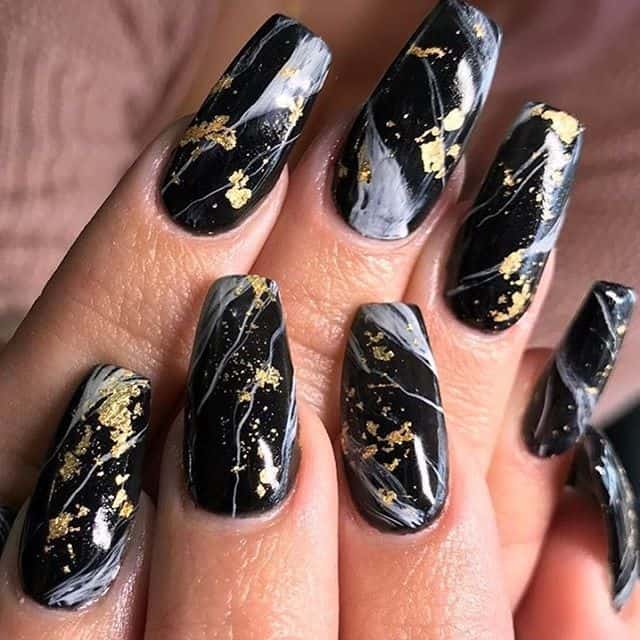 Black is a mysterious color. Yiu can give a thrilling look to your nails by using black color to design your ballerina shaped nails. Carefully drip a white thin brush to paint a little portion of the black nail polishes. You can use golden foils or glitters to make it more interesting. That will do the trick to give it a mysterious look.
#3. Lady of The Rings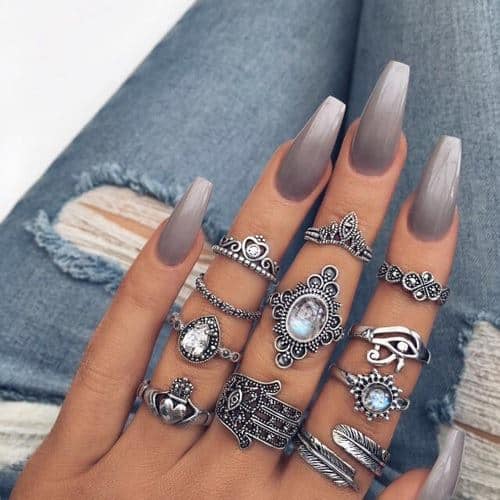 If you are a diehard fan of antique looking rings and want to have nails which match with your favorite rings, this design is rightly for you. Firstly, determine the color of your rings. Then use that color to fill your nail beds. You can have a very good design if your choice of rings complements the color of the nails.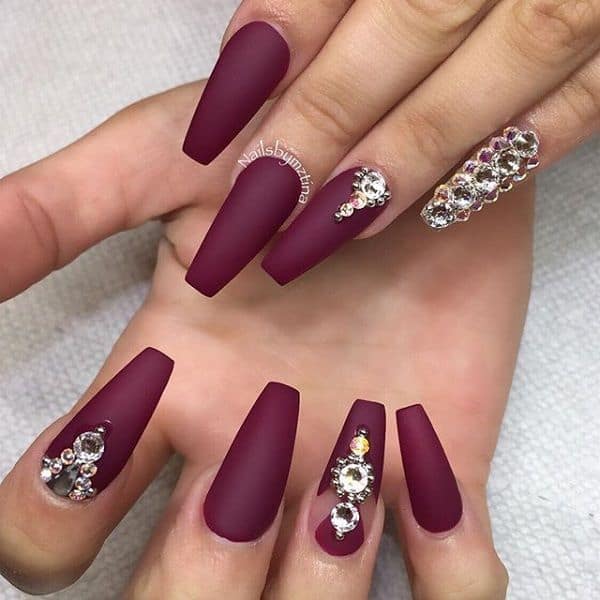 Maroon is a great color which can enhance the beauty of your nails with a blink of the eyes. Only applying maroon color is enough for a design but you can use rhinestones to give it a glitzy look. Use matte maroon color and stones of different sizes to have this design done on your ballerina tip nails.
#5. Henna And Blue
Henna is kind of hobby for some of the girls. Here is a henna design for you which is associated with blue ballerina nails. Color your nails with royal blue acrylic for this design for your coffin nails.