For us ladies who are ballerinas – or for those of us who wish we were – giving your nails a ballerina look is a great idea. Ballerinas are graceful, delicate, fragile, and truly mesmerizing to watch. The same feeling can be given to your nails by first shaping your nail into a square, not pointed, stiletto shape.
Not all ballerina nail art has to be girly with pink and white bows. Modern spins on the feminine style can be given with edgy, gothic, and even Halloween designs. Whether you have acrylics, natural nails, short or long, there's a stunning design for you below.
Astonishing Ballerina Nail Ideas
Amaze your friends and feel good every time you look down at your nails by picking a design from our 35 favorite ballerina nails.
#1. Bright Red
Bright red is sure to stun no matter where you go. Keep them extra long for drama and get the shine seen here with a few top coats.
#2. Ocean Blue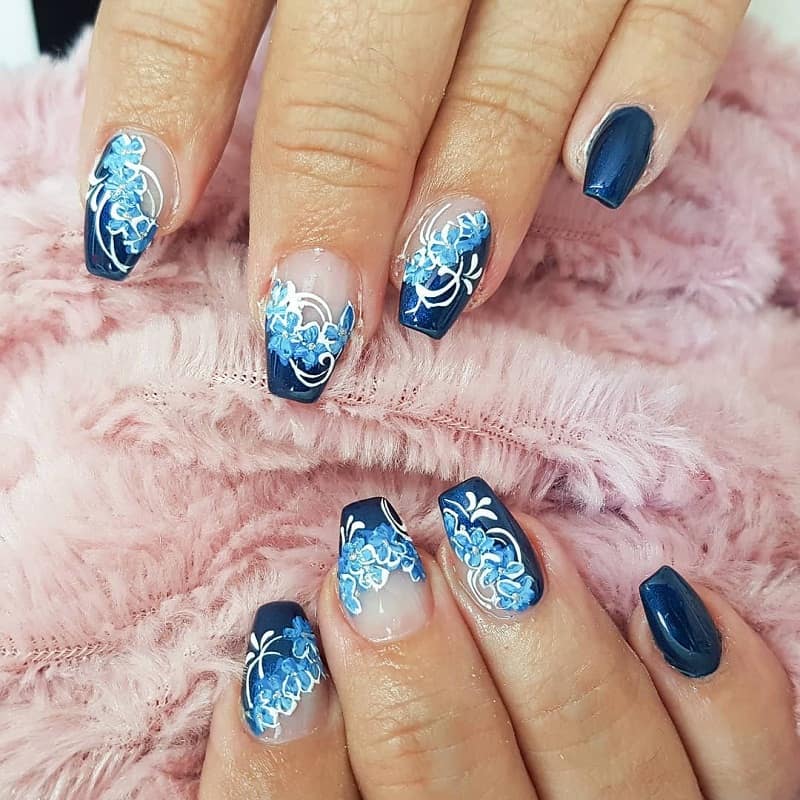 These ballerina nails feature two or three shades of blue with white swirls and flowers to accompany.
#3. Light Green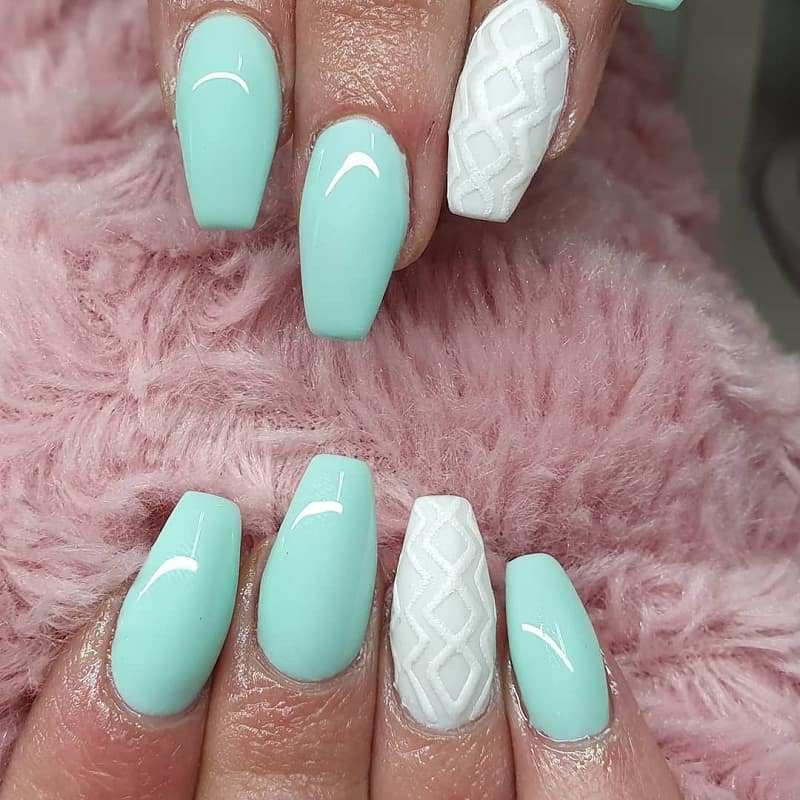 Pastel green might not have been in your mind for ballerina nails, but the soft shade works wonders. The key is adding an accent nail with zig zag white.
#4. Lavender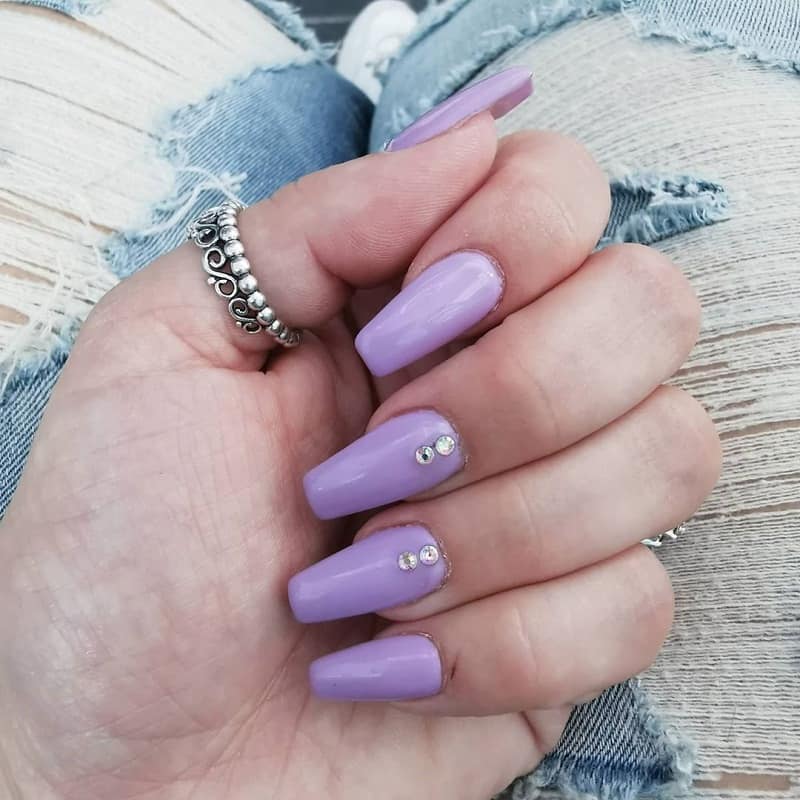 If you're aiming for a girly ballerina nail design, choose this light shade of purple. A few small rhinestones or sequins stuck on top near the cuticle add small sparkle.
#5. Summer Lovin'
To give a summer feel to ballerina nails, choose a bright color like yellow. They don't have any complicated designs, so you can do this one right at home.
#6. Pumpkins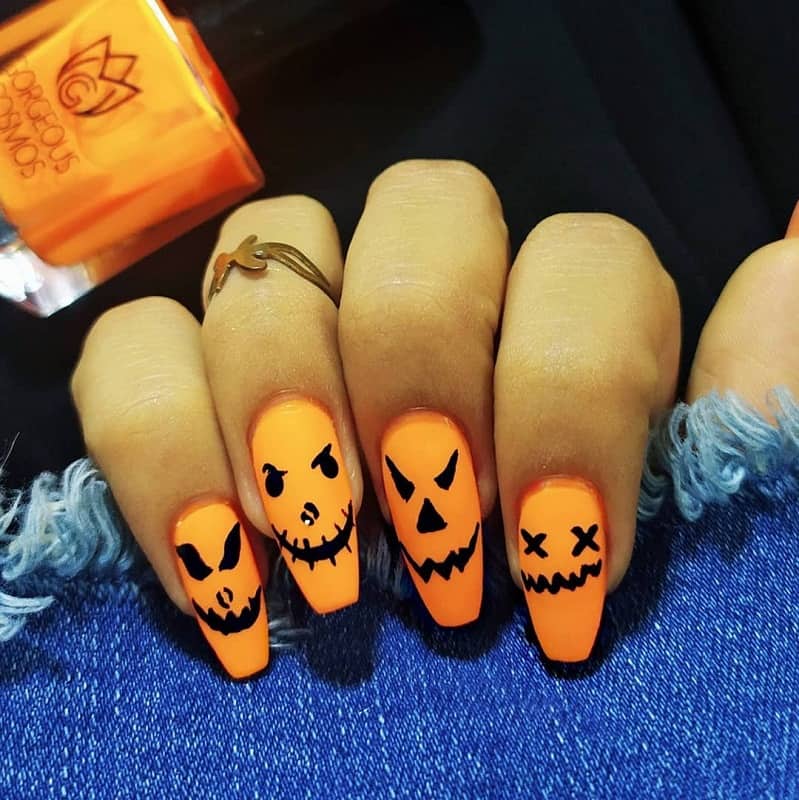 Long orange nails just need some scary black pumpkin faces for the perfect Halloween design. This is another look you can do right from your couch!
#7. Neon Ballerina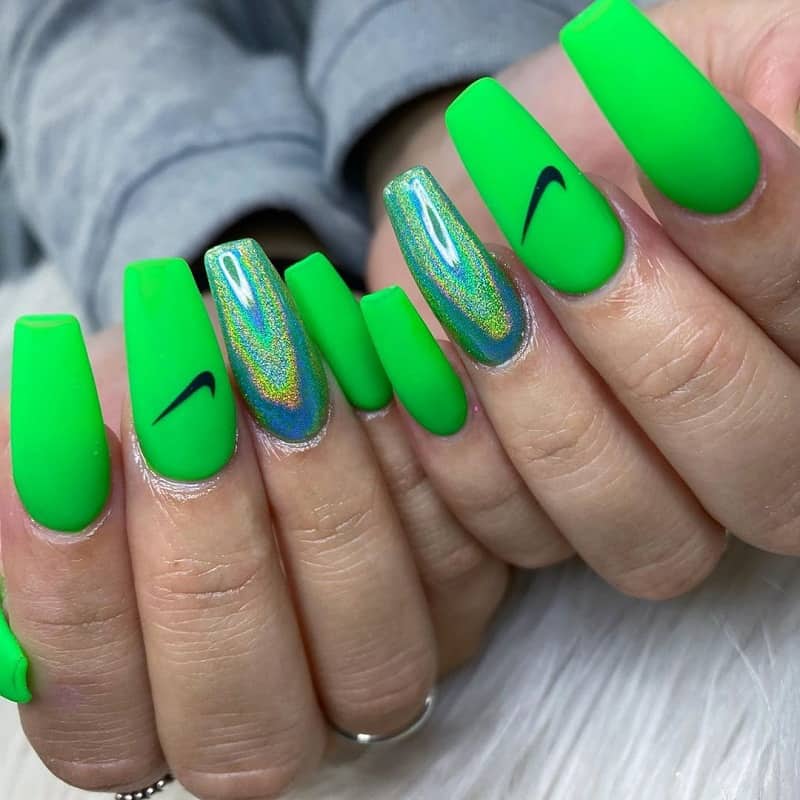 Let the electric ballerina in you come out by using a lime green as your base with a chrome accent nail. While the Nike symbol is used here, you can switch it to a black ballerina shoe.
#8. Rainbow Nails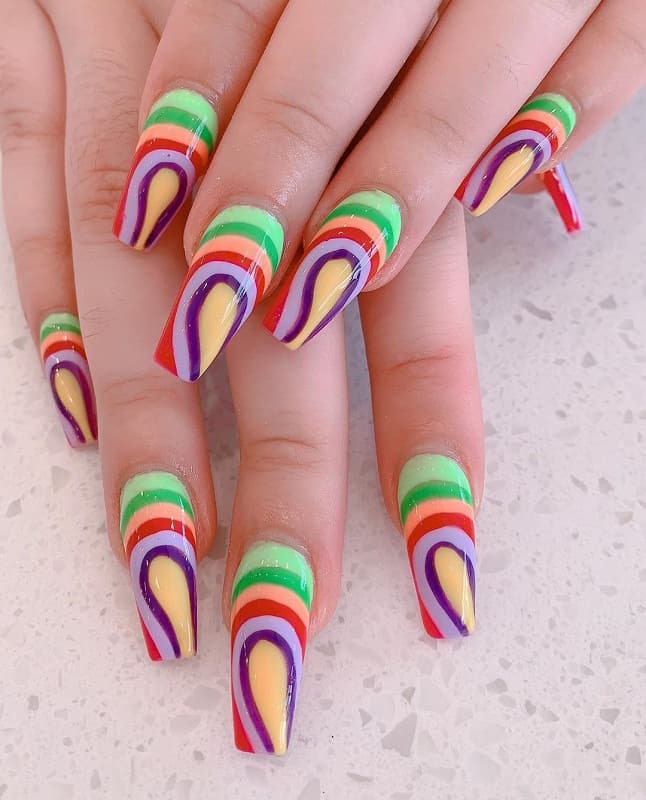 These rainbow nails remind us of the inside of a jawbreaker, making them the perfect ballerina nail design for a fun, funky feel.
#9. Christmas Time
Show your Christmas spirit on ballerina nails with traditional red and white polish. On the white nails, use gold to create these cute antlers and all word art with red polish.
#10. Baby Pink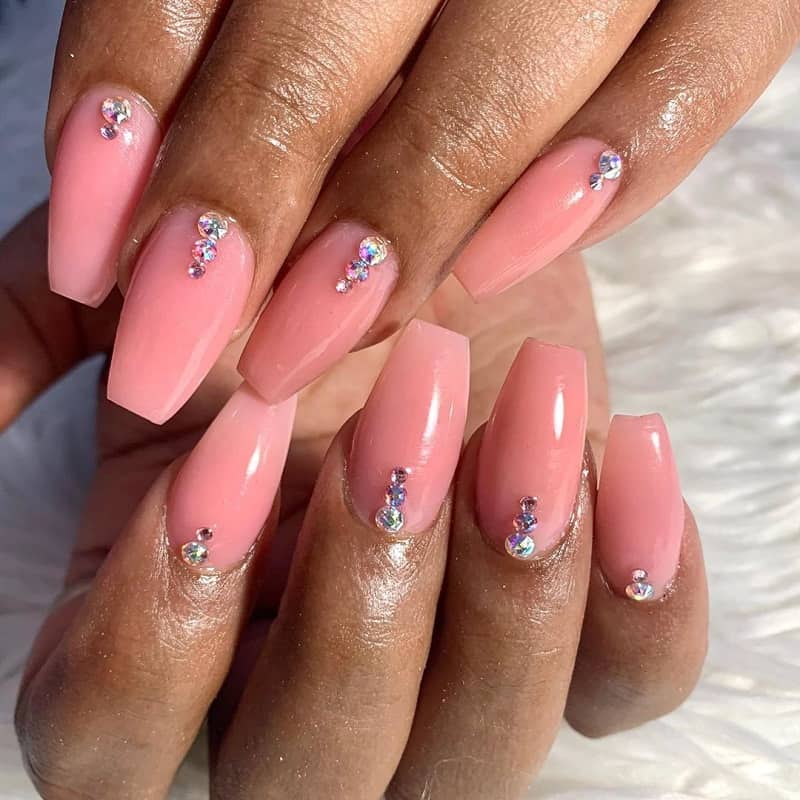 A soft ballerina look is created using baby pink as the base. On each nail, stack three rhinestones starting from the cuticle for sparkle.
#11. Light Blue Gradient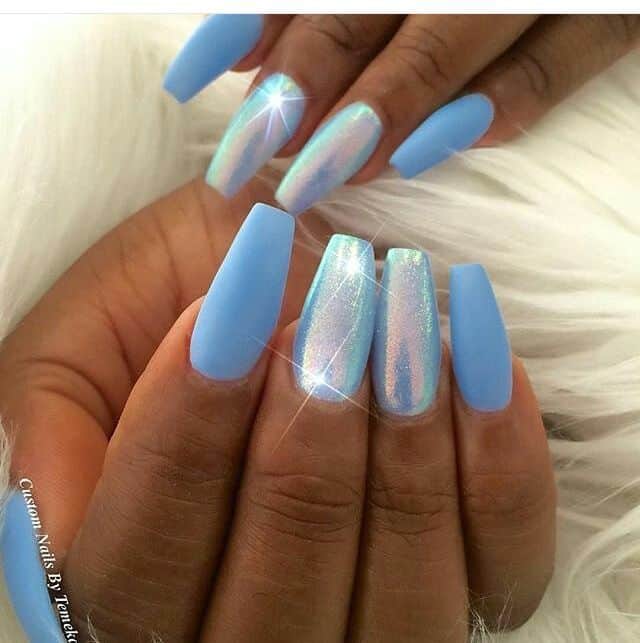 Light blue is a peaceful color to look at. You can use matte color in most of the fingers, but get a gradient look using shimmery glitters on the light blue base.
Get Inspired from Our List of Stiletto Nails
#12. Black Mystery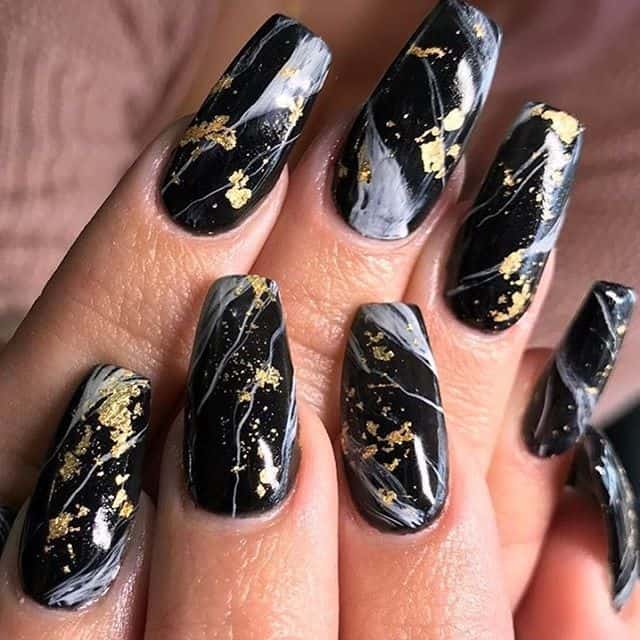 Black is a mysterious color, best for giving a thrilling look to your ballerina nails. For the marbled design, drip a thin brush of white haphazardly over the black. Use golden foils or glitters for sparkle.
#13. Lady of The Rings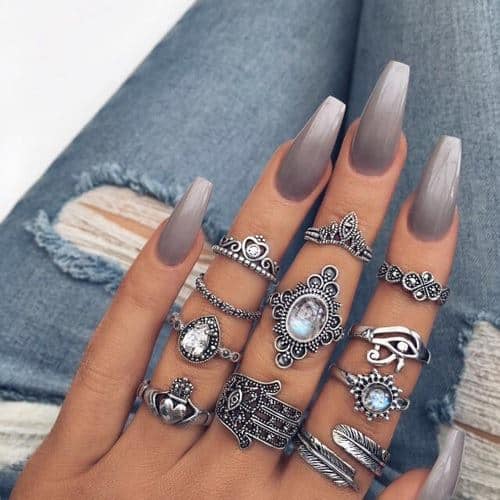 If you are a diehard fan of antique looking rings and want nails to match, use a soft grey-white to fill your long acrylic nails.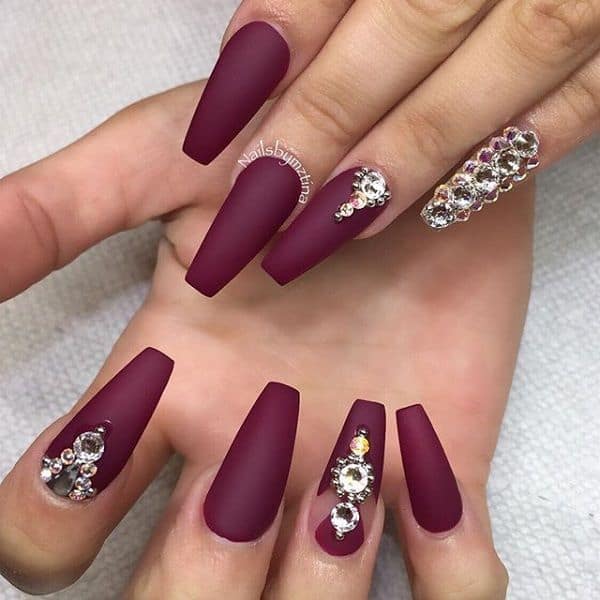 On maroon ballerina nails, use rhinestones to give it a glitzy look. The matte polish is the perfect plain background to make stones of different sizes pop.
#15. Henna And Blue
On henna hands, a rich midnight blue on nails is stunning and unexpected for a ballerina look. Paint extra long acrylic nails with royal blue for this design.
White is a universal color and is often seen in the ballerina world. This simple design features navy blue and angled shapes with white rhinestones for accent.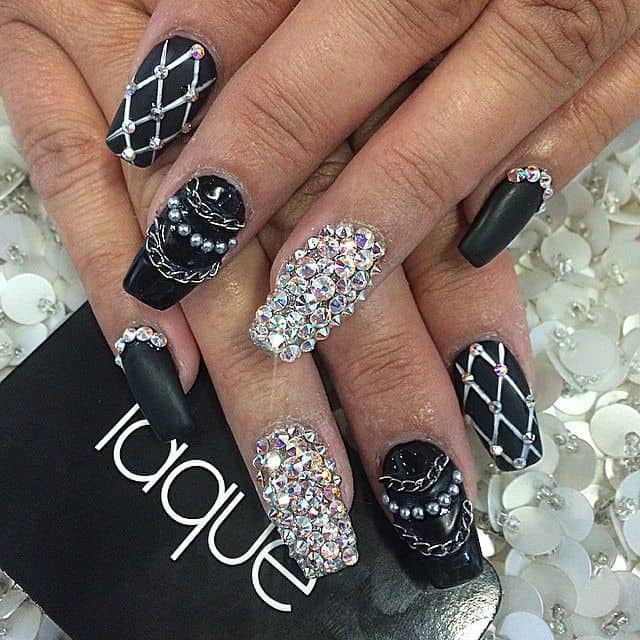 Edgy ballerina nails will dazzle the eyes when they feature this intricate design. Tiny chains curve upward on nails while lots of tiny crystals fill in and add to the designs on others.
#18. Green Ballerina
Green color gives a charming glow to ballerina nails if used with glitters and rhinestones. Keep a few nails nude, lining the edges with the glittered green.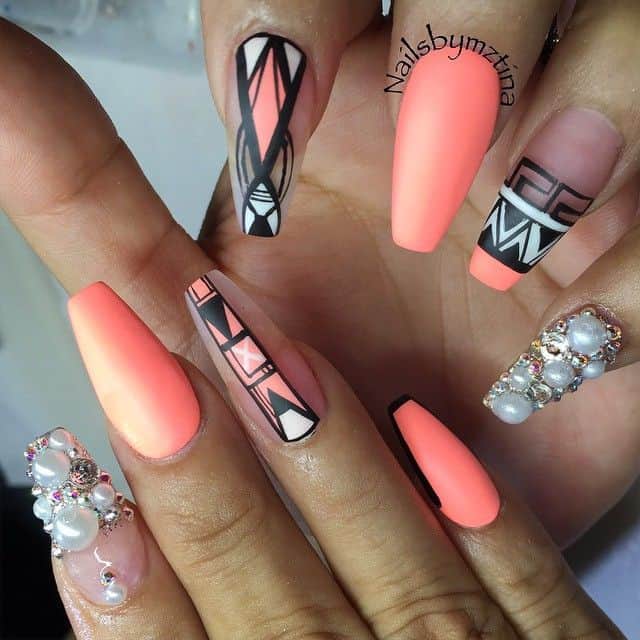 Your ballerina nail designs can be inspired by tribal designs. Use light pink or peach color to fill the surface of your nails and draw some tribal patterns in black and white. Load up those pinky fingers with pearled stones.
#20. Paint Your Canvas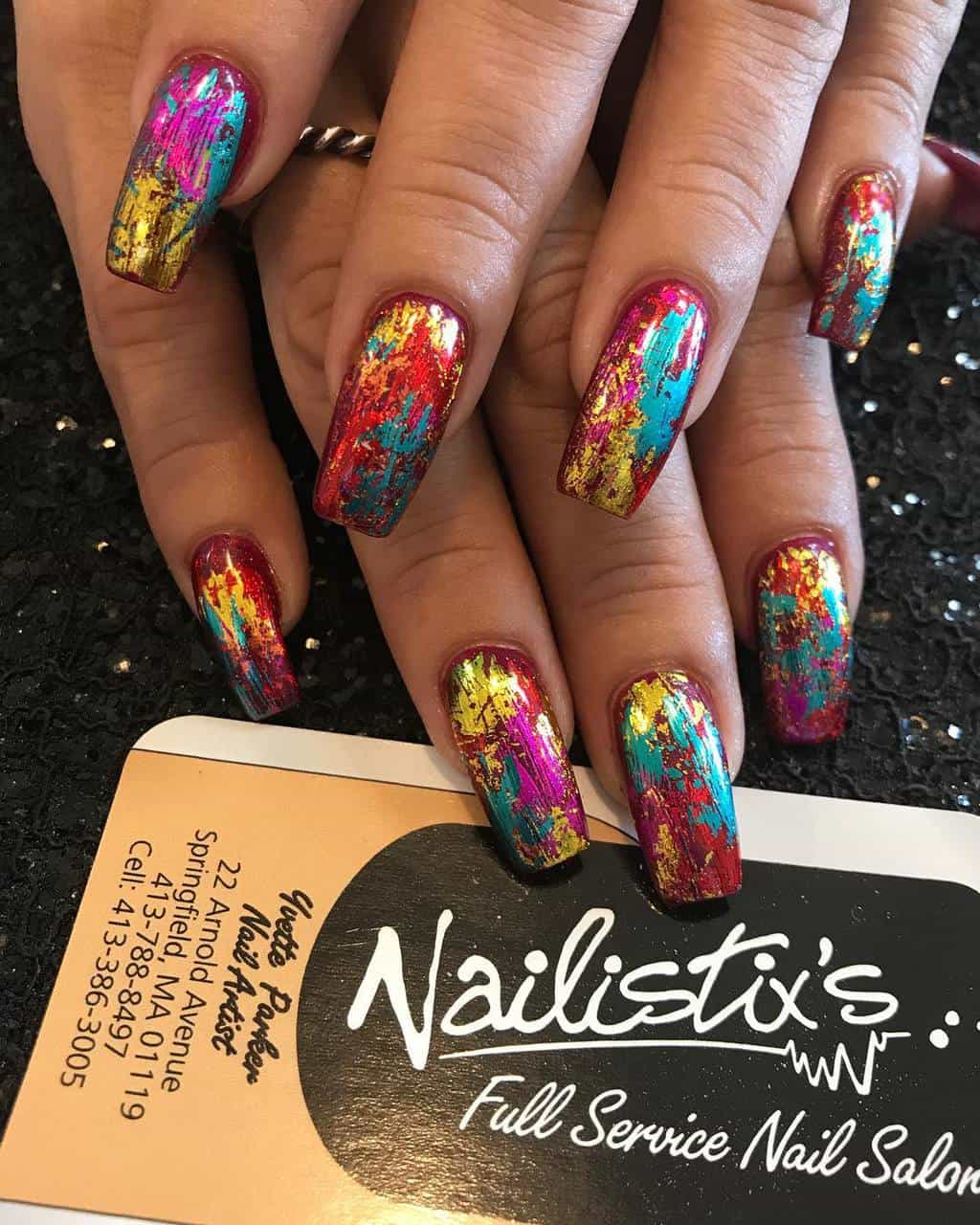 Imagine that you are a painter and the nail bed of your ballerina shaped nails are the canvas. Pick up some bright colors and brush them as you like, no specific patterns or designs needed.
For sophisticated yet luxe ballerina nails, use a nude polish. Then use gold, red, and orange glittered polish to draw the patterns above.
#22. Glitters And Colors
Use blue, silver, and chrome polish to give your extra long ballerina nails a truly artistic and abstract look. Crystals in various sizes detail just the blue nails.
#23. Halloween Ballerina Nails
If Halloween is your favorite holiday, you definitely need to try this spider designs on your ballerina nails. Try your hand at spiderwebs and creepy spiders, adding a few small crystals where you like.
#24. Snakes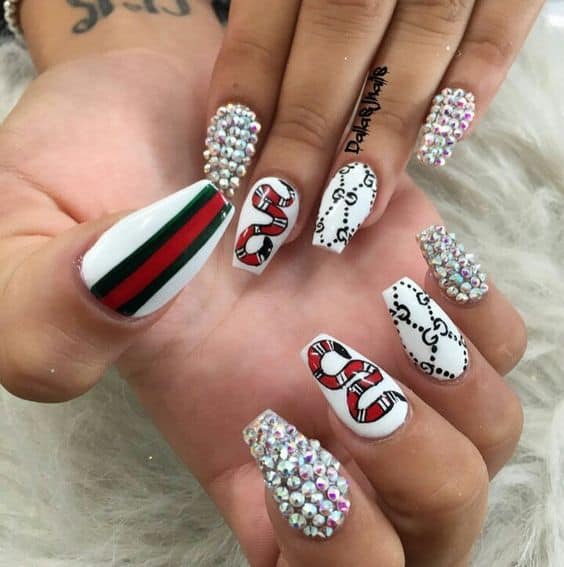 Snake lovers, take note! Your ballerina nails quickly become edgy with red, white, and black snakes. Keep them from looking too boyish by filling the pointer and pinky nails with silver rhinestones.
#25. Shine on The Edge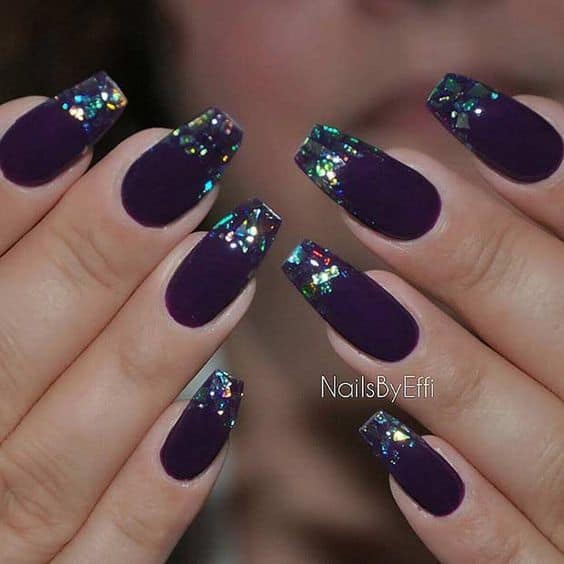 A simple yet glitzy design for ballerina nails features midnight blue polish and glittered ends.
#26. Layers
Three or four different shades of colors are used in this nude-polished ballerina nail design. After painting a nude base, use orange and a pale pink to make the geometric design.
#27. Shine Like the Stars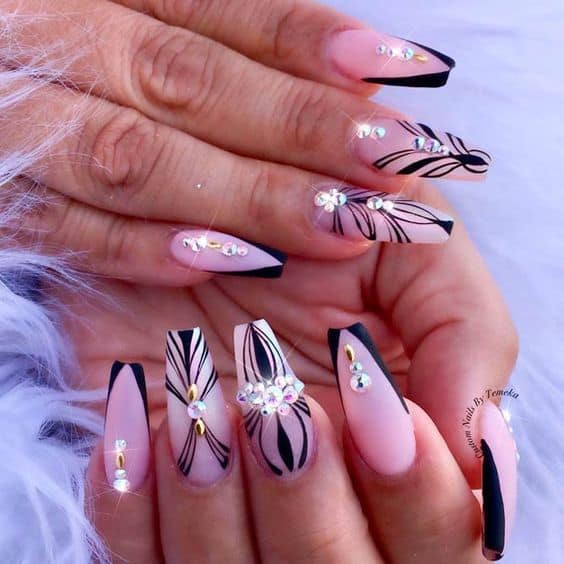 A simple but glamorous design for ballerina nails is seen here. Use a thin nail brush to create the tiny black patterns on a nude base. Shiny rhinestones in between the black patterns ensure your nails shine like the stars.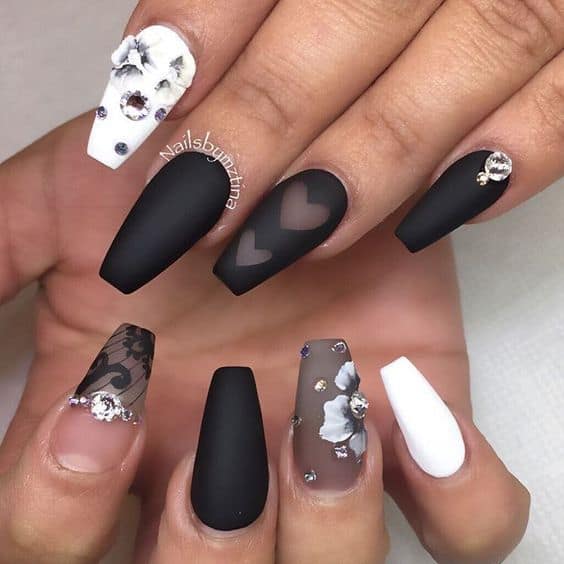 When black and white are used together, they create this dark ballerina nail art with its tiny rhinestones for sparkle. An airbrush may be best for creating the perfect hearts and flowers seen here. For touchable detail, consider drawing some 3d art.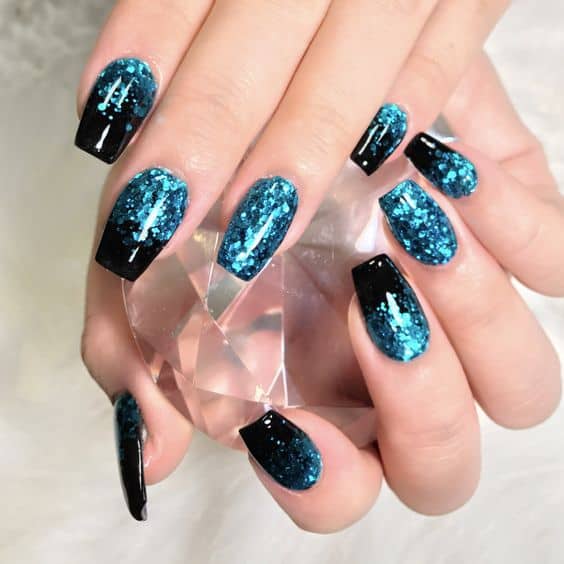 For shiny, glittery ballerina nails, choose a deep black polish, adding glittered polish on the top. Alternate the glittered effect by painting just the tips of nails or half.
#30. White Marble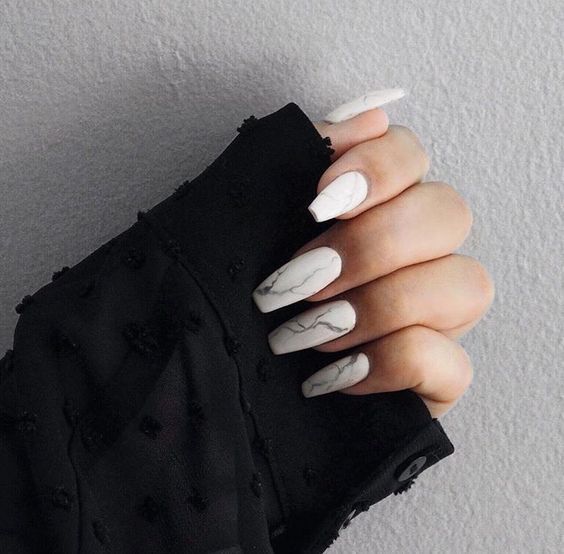 Marbled nail art creates another sophisticated ballerina design. You'll probably get this look best by using long acrylics, but you can always try your own hand at it too!
#31. Pinkish Delight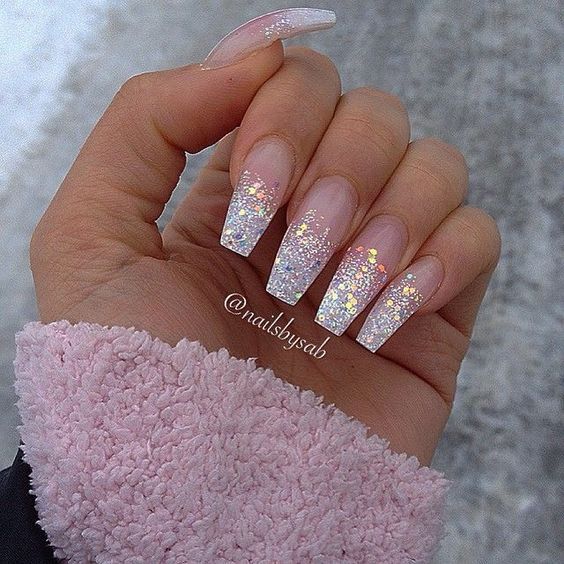 If you want to carry a piece of a peaceful world on the tips of your fingers, use an opaque light pink as the base coat. Then detail ends with gold and silver glitter.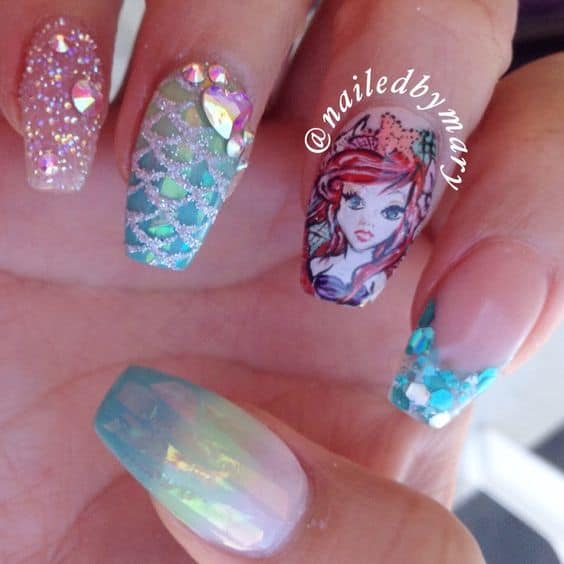 If you have ever wished to be a mermaid, your dream can come true on pink, blue, and white ballerina nails. Sparkly scales decorate tips, pinkish crystals make the design 3D, and a mermaid drawing is the showstopper on the middle fingers.
#33. Purple Ballerina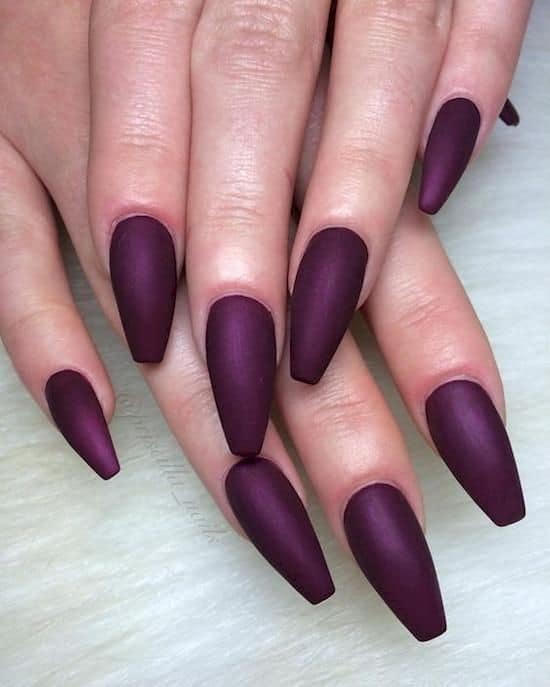 A sophisticated ballerina nails take on a deep purple with smooth, deep matte polish. The color's dramatic beauty is perfect for long coffin nails.
#34. Pastel Nails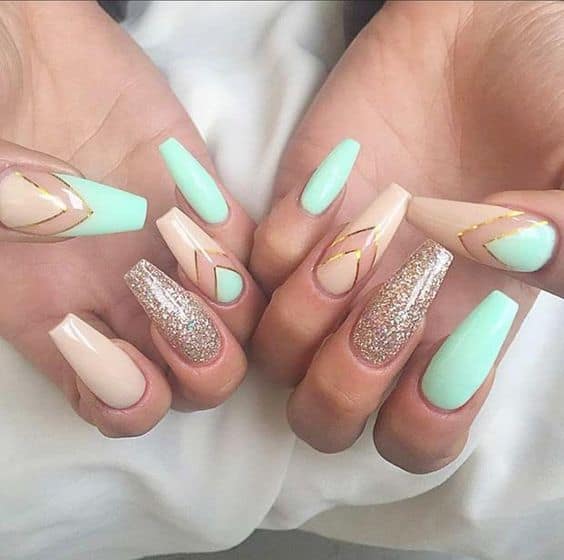 If you are a fan of light colors with shine, this art is for you. Use pastel green, beige, and an opaque glitter, followed by gold-lined geometric designs.
#35. Rainbow Stones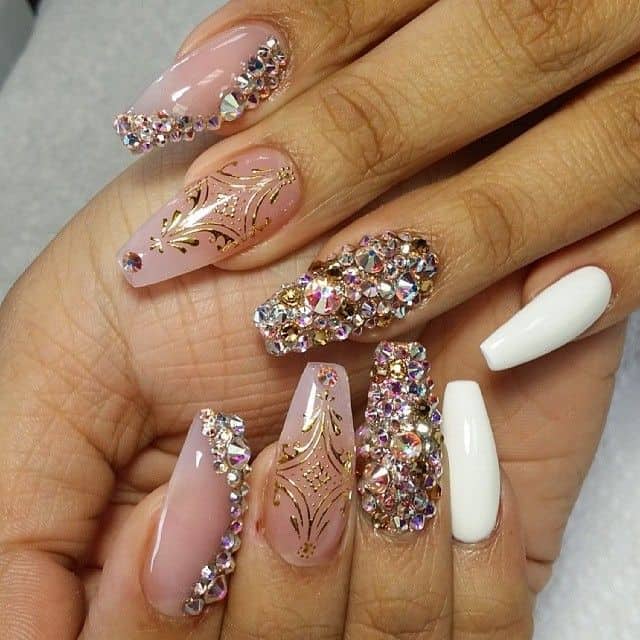 For the ultimate ballerina nail, load them up with diamonds of all colors and sizes. On the nude nails, use gold to outline an intricate design.
Choosing a good mix of shapes, colors, and designs will make your ballerina nails extremely attractive. Before committing to a design and to choose the best look, consider the above suggestions for beautiful ballerina nails.