Do you love all those girly nail designs, but feel like you've tried them all? Don't call it quits without trying pink and red nails!
For these two colors, the nail design possibilities are endless. Feature both colors or just one, mix light and dark shades or just one, and razzle the design up with crystals, beads, gold lines, or 3D accessories! Creativity is truly your friend when creating a pink and red nail design.
Beautiful Pink and Red Nails
Whether you wear red and pink together on your nails or you wear them separately as part of their own designs, there are plenty of beautiful ways to wear red and pink nails.
#1. I Heart Pink
A heart nail design like this is perfect for Valentine's Day. Choose a light shade of pink for nails, using red for the accent nail where a negative space heart takes center stage. At the tops of pink nails, draw a tiny red heart.
#2. Pink and Red Stripes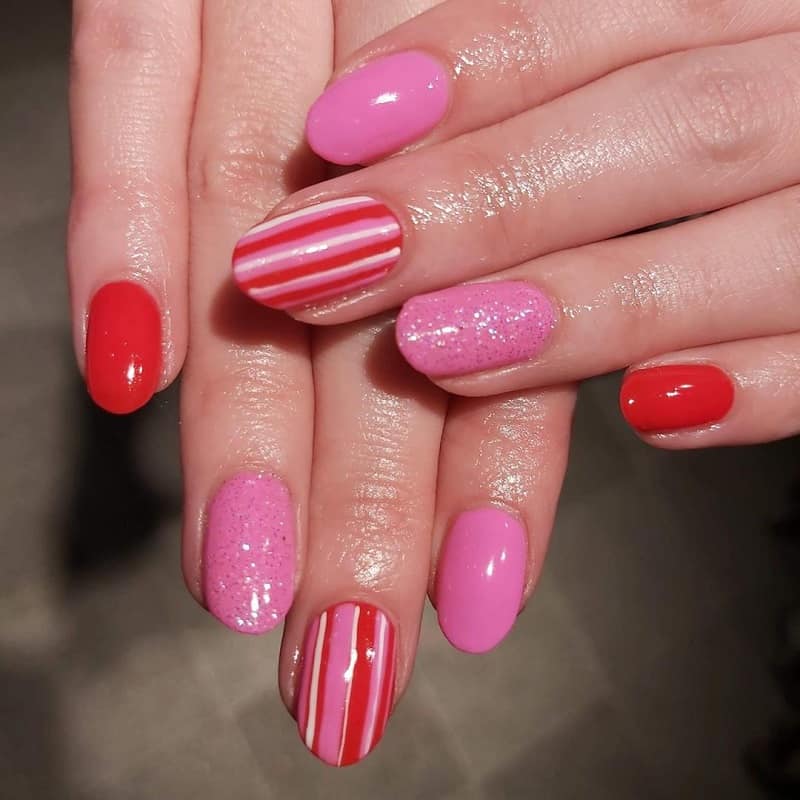 Light pink round nails worn with glittery pink and striped red, white, and pink nails almost make us crave a sweet candy! To keep the lines straight, mark off with tape.
#3. Pink with Red Tips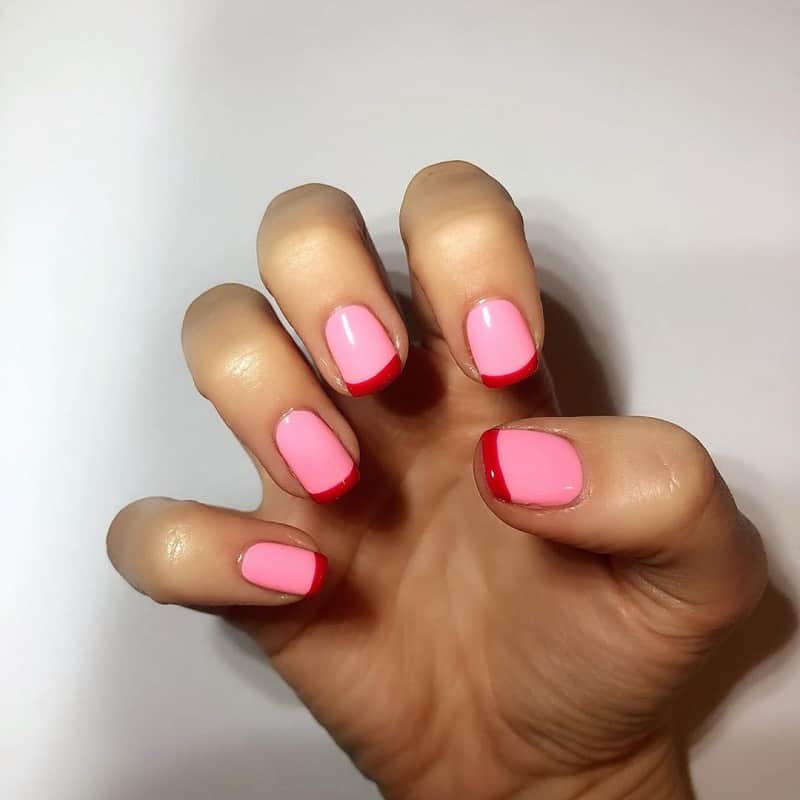 One way to make your short round nails a little prettier is by painting them in light pink and giving it a French tip in red. You can also reverse the colors depending on which one you want to be the base.
#4. Heart Tips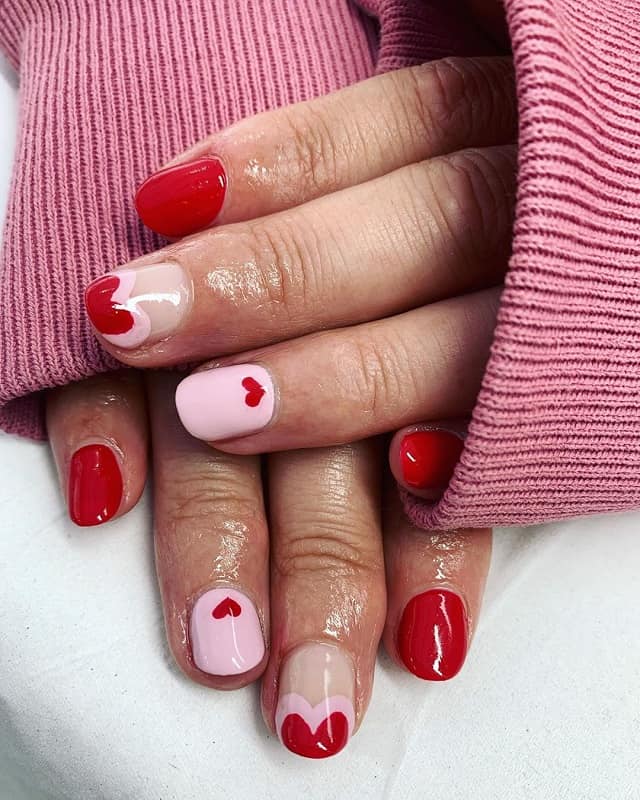 Instead of only doing an accent nail, make the center nail stand out as well by lining its tip with a heart shape filled in with red.
#5. Pink and Red Ombre Nails
For these mesmerizing long coffin nails, you can create an ombre that starts from a pale pink and ends in an electric red hue.
#6. Dark Red and Pink Nails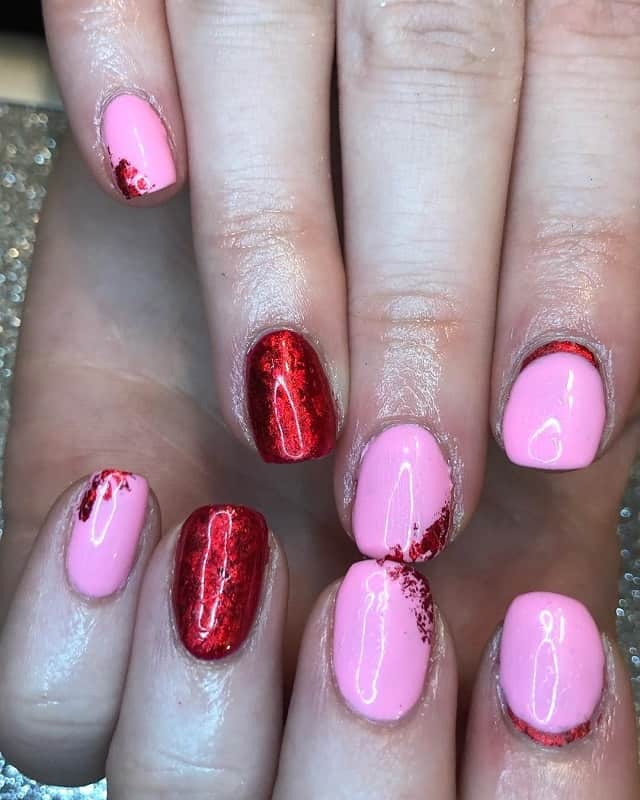 Keep your nails short and paint them in glossy pink shade. Gain all the attention on your nails with some tiny dark red details.
#7. Light Pink and Red Nails
Your nails will look bloody fantastic! Get your nails in an almond shape, choose a gorgeous pink color and use some red nail polish to create a dripping liquid effect.
#8. Pink and Red Nails for Christmas
Christmas nails take on a whole new look with these light pink round nails featuring cute Christmas-themed art like lights and a Santa hat-topped glass. Bring the red in on the pink nail or at the tips of a pink nail.
#9. Pink and Red Gel Nails
Another way to emphasize a round nail shape is by lining pink nails with red tips. We recommend a thin red line to avoid making the nails look shorter.
#10. Pink and Red Glitter Nails
Don't these glittery red tips on light pink nails remind you of a sweet sugar cookie? Make sure you do a couple coats of the glittered red instead of a thin coat.
#11. Pink and Red Nails for Valentine's Day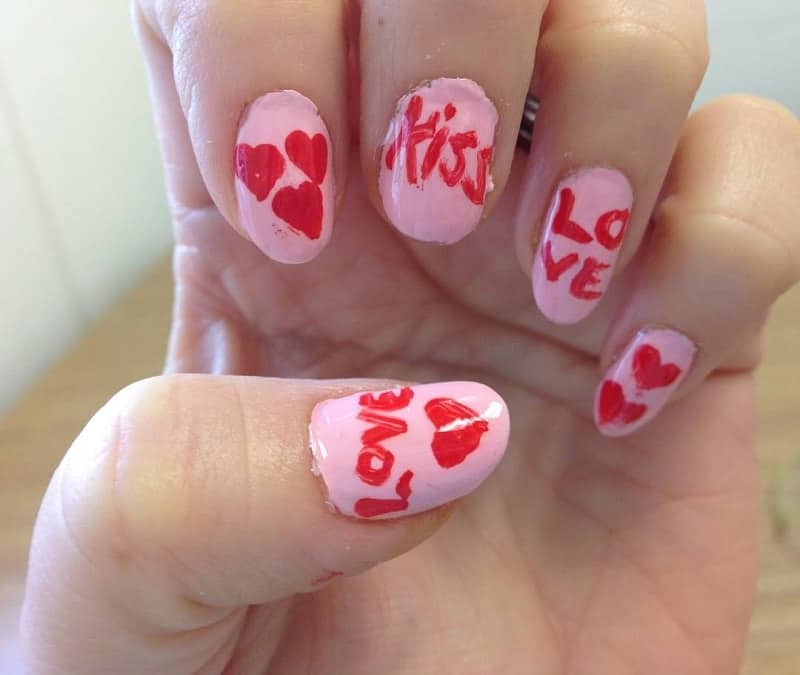 If you love love, show it on your red and pink nails! A baby pink round nail gets its own love from red word art and medium-sized hearts. This is one nail design you can do from the comfort of your own home.
#12. Pink+Red +Gold Combo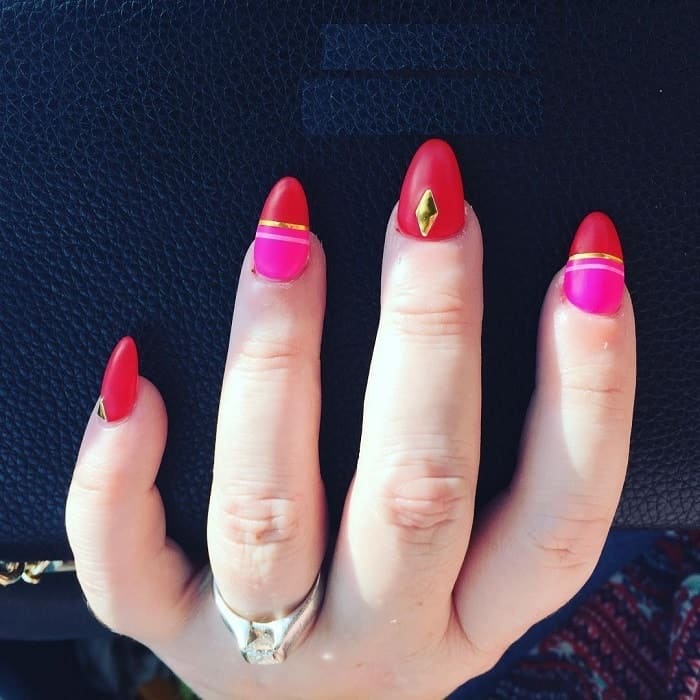 While some pink and red nail designs use black to make the look bold, this one features shiny gold. Use tiny gold decals or crystals at the top of the nails and one thin gold line on the accent nail.
#13. Red and Pink Acrylics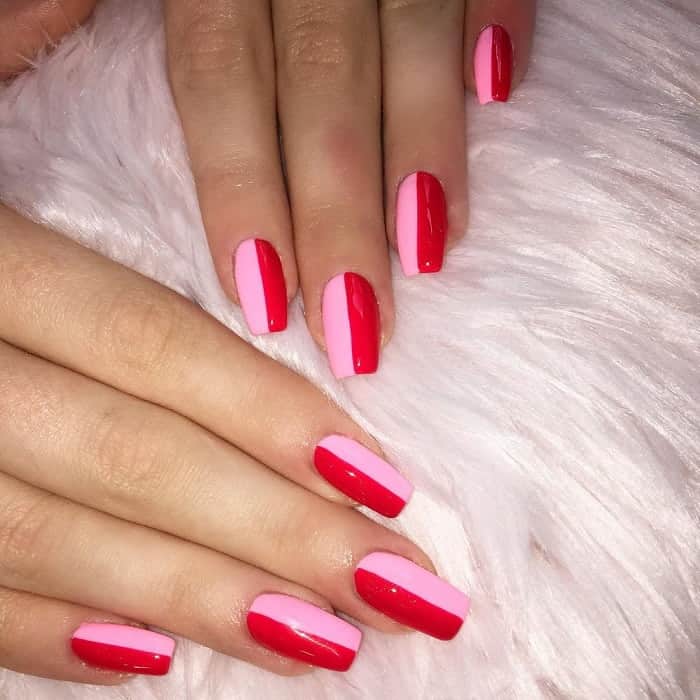 Can't decide which color you like better? Split them up, literally! Paint one half of the nails pink and the other half red. You can even define the middle line with a gold, black, or white line.
#14. Red and Pink Stiletto Nails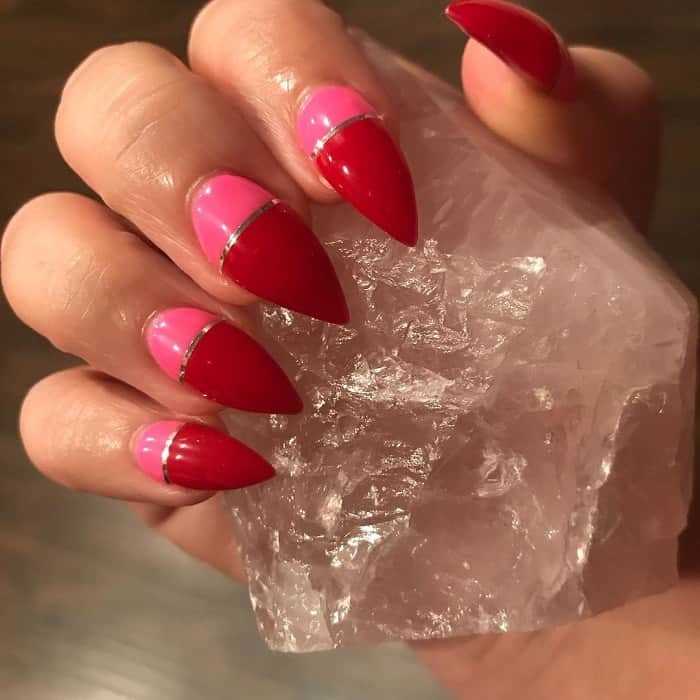 These glam stiletto nails boast a thick bold red tip and light pink tops separated by a horizontal gold line. Choose to wear all nails like this or pick just a few to feature this design.
#15. Pink and Red Coffin Nails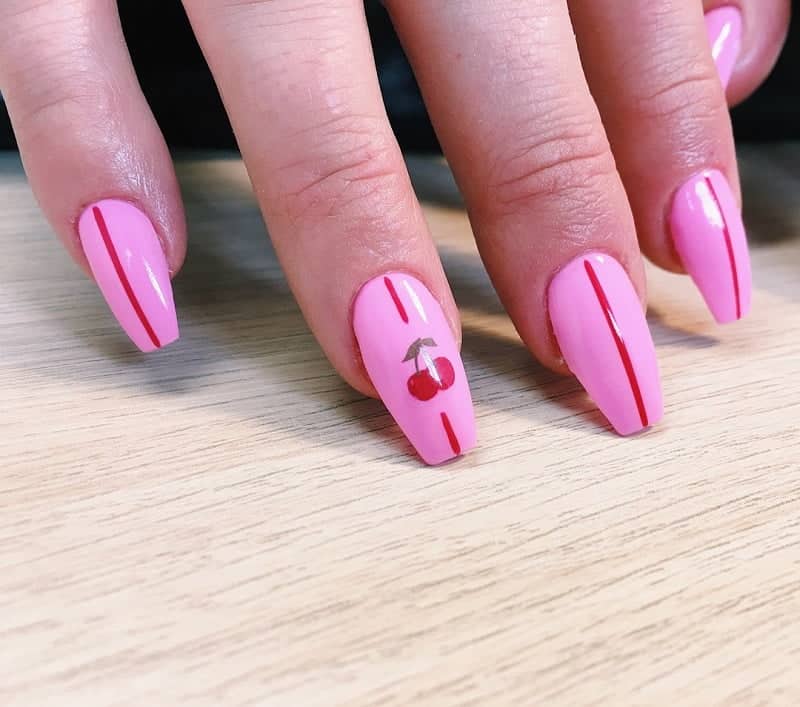 Bubblegum pink goes beautifully with cute little red cherry art and thin red vertical lines. For the cherries, you can either paint them on yourself or buy nail stickers.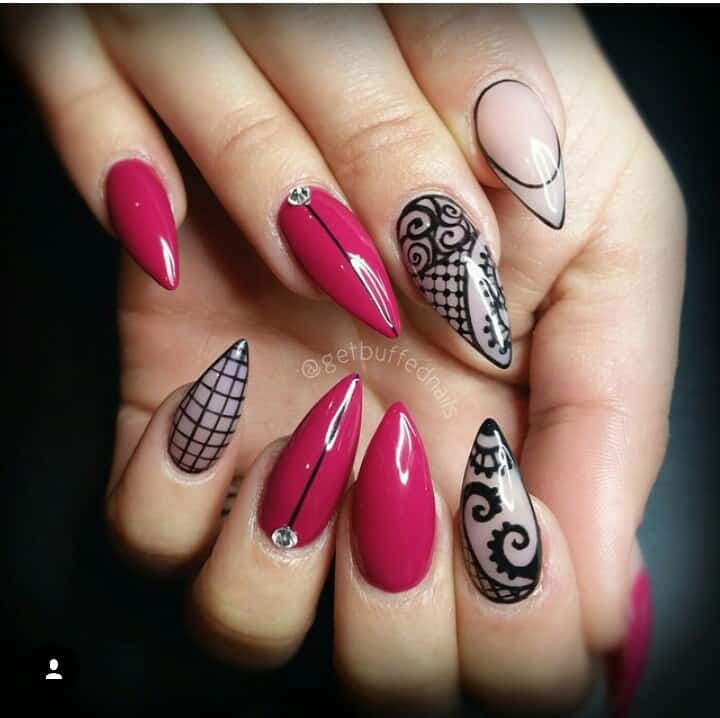 This hot pink and black combination is extremely attractive. Using black with pink makes for an edgy girly nail design. Wear the colors on separate nails or wear them on the same nail in a swirled or boxed design.
#17. Twinkling Pink
Shiny pink acrylic and glitter make a truly twinkling nail design. A sparkly ombre graces ring fingers – it's the finishing touch for a feminine style.
#18. All in the Details
Rhinestones, light pink, and black work together to make a truly detailed nail design. The black edges of hot pink spots create an edgy leopard design.
#19. Pleasing Pink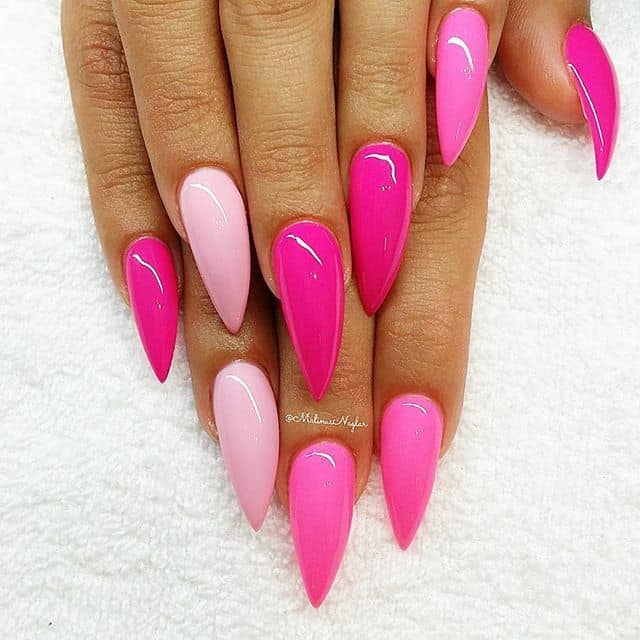 We love the way different shades of pink gloss long stiletto nails. If you want a little more design, use a little white or red on the accent nails.
#20. Paint Dripping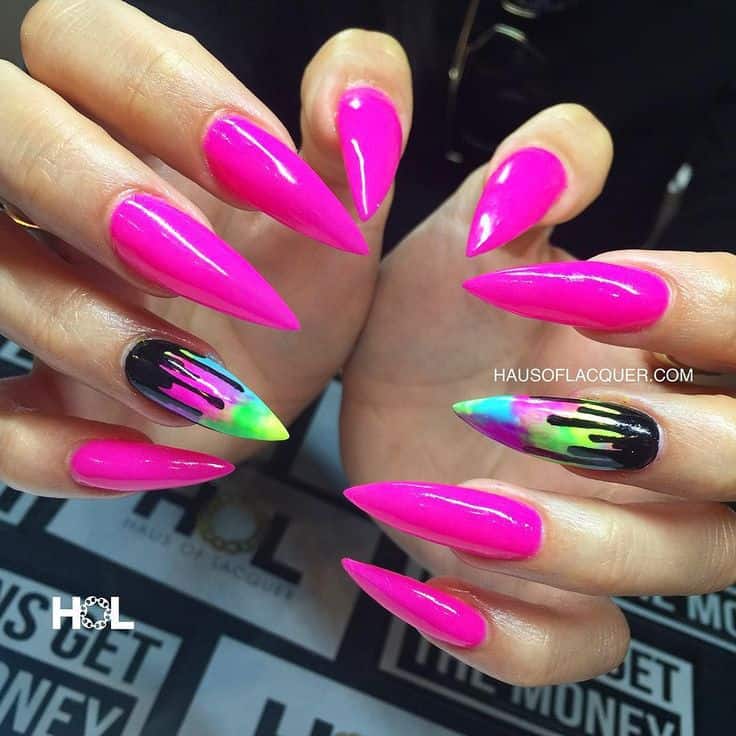 Use tie dye colors to "drip" on black nails and pair with hot pink. You could also fill nails with nude pink and create the drip on two or three nails.
#21. Negative Space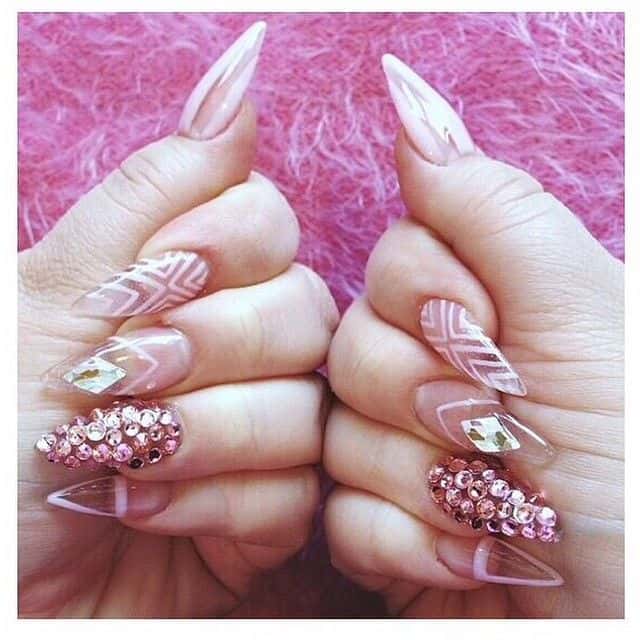 Pink gives a beautiful result with negative space and rhinestones. Create chevrons and line designs with light pink on clear nails, keeping negative space at the bottom of the nails. Using rhinestones will complete the design.
Princess Vibe with Pink Nail Design
#22. Red Matte And Stones
Red matte is a simple way to make your nails look beautiful. Use matte base on the nails for a non-shiny surface, then use red stones for sparkle.
Elegant Matte Maroon Nail Ideas
#23. Glittery Red With Rings
When you add a chunky ring to dark red glittery nails, you give the shade a sexy, tough edge. Use a shiny and glittery acrylic red with your favorite punk rings.
#24. Shining Bright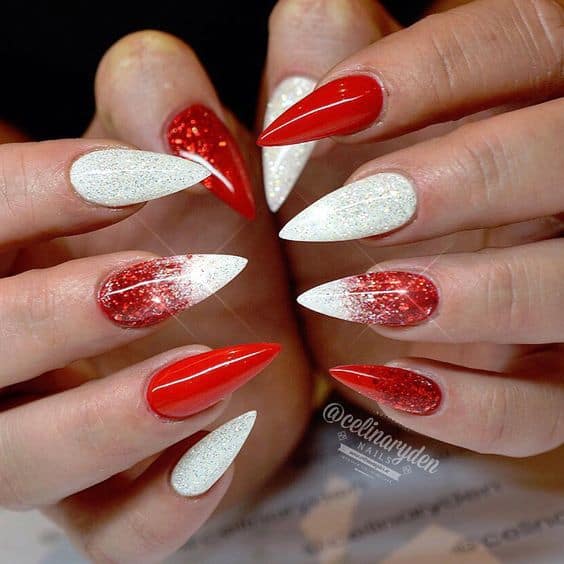 Spellbound someone special with a dazzling nail design featuring stiletto nails with bright red and deep glittery red. Use red color of different tones for a better design.
#25. Charming Red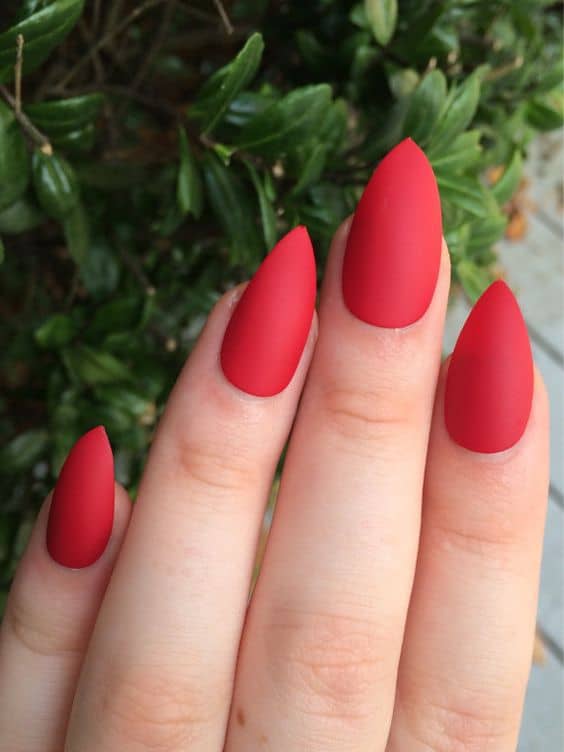 A simple and sexy nail design featuring pure red on short stiletto nails. You don't have to try anything special, just use a matte red nail polish and cover each nail.
Red and pink will never lose appeal in nail designs. You can feel confident knowing that whichever design you choose from above, you'll be both on trend and gorgeous!