With Alice In Wonderland nail art, it's easy to make dull daily life more exciting. If you're a daydreamer and a lover of the classic tale of adventure, bring those daydreams and fantasies to life! For those of us ladies who only resort to plain nail colors, skilled nail technicians are quickly reminding us that nails are the perfect place to flaunt a love of adventure like Alice's.
The beloved story takes us on the adventures of curious Alice who falls asleep one afternoon and dreams she falls down a rabbit hole. As she chases a talking rabbit through a wonderland of weird, we remember there's no limit to your imagination.
Alice In Wonderland Nail Art for Adventurous Minds
Unfortunately you can't wear the whole story of Alice in Wonderland on your nails, so choosing a few words or pictures to display is best. The Cheshire Cat, the Rabbit, and the Queen of Hearts are all waiting for your fingertips! We guarantee you'll love these 12 fantastical designs.
#1. Rich Red Queen
The Queen of Hearts is the lovable villain in Alice in Wonderland. To engage your badass side, this rich red nail art featuring the Queen's face and some fancy gothic jewels is a must.
#2. Character Stickers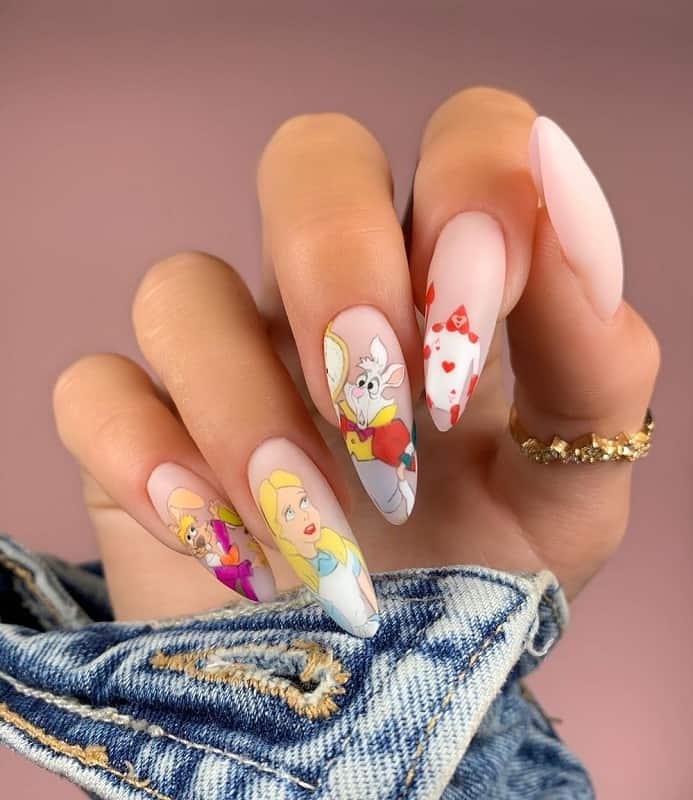 With stickers, you can make your own Alice in Wonderland nail art right at home. Rock all your favorite characters on plain nails for simple yet stylish art.
#3. Gel Nails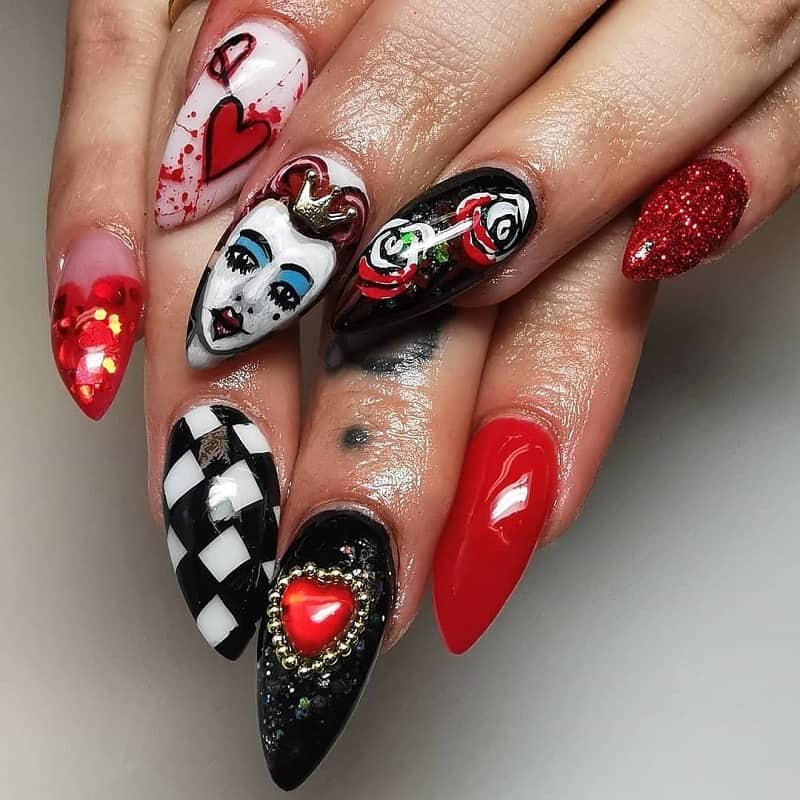 Everyone will know your favorite character is the Queen of Hearts when you sport gel nails with the above art. The varying textures, colors, and polishes make for a statement style.
#4. 3D Art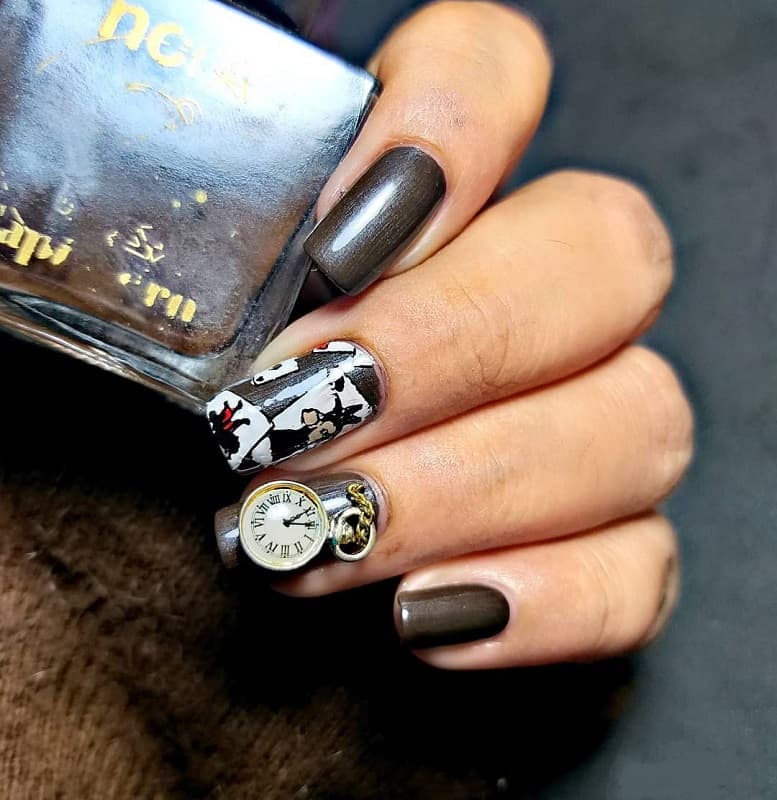 A touchable design like above is perfect for going the extra mile on your Alice in Wonderland nail art. A cute Roman numeral clock pairs well with muted black polish.
#5. Key Scenes
Pick your favorite scenes from Alice in Wonderland to rock on your nails. Here we see the Rabbit, his pocket watch, and the Cheshire Cat with pink and purple polish.
#6. The Playing Cards
The Playing Cards are interesting characters in this novel. They were assigned to paint the white roses of the garden with red. Alice encounters them in the garden and has a chit-chat with them about the Queen of Hearts. You can have these sign of playing cards drawn on your nails as Alice in Wonderland nails.
Give A Shoot to Frozen Movie Inspired Nail
#7. Alice and Others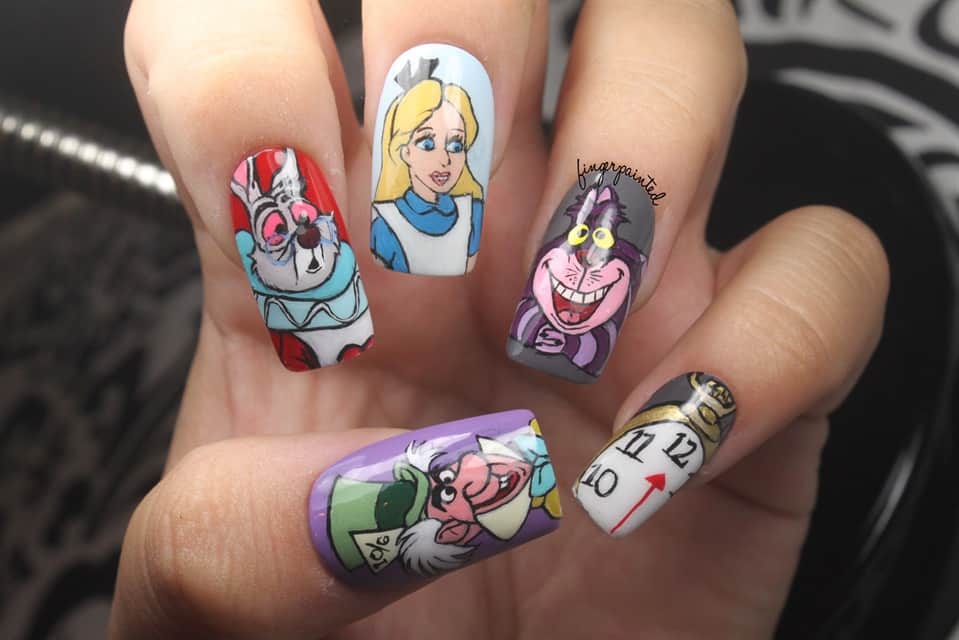 The rabbit, the cat, and the Mad Hatter are drawn along with the image of beautiful Alice in this design. You can also illustrate time in this design. This is the perfect Alice and Others nail art.
#8. Beautiful Combo
This design is a beautiful combination of the images of the playing cards, tea kettle, and flamingo. All these things are somehow related to the Adventures of Alice in Wonderland.
#9. Silhouette in Red And White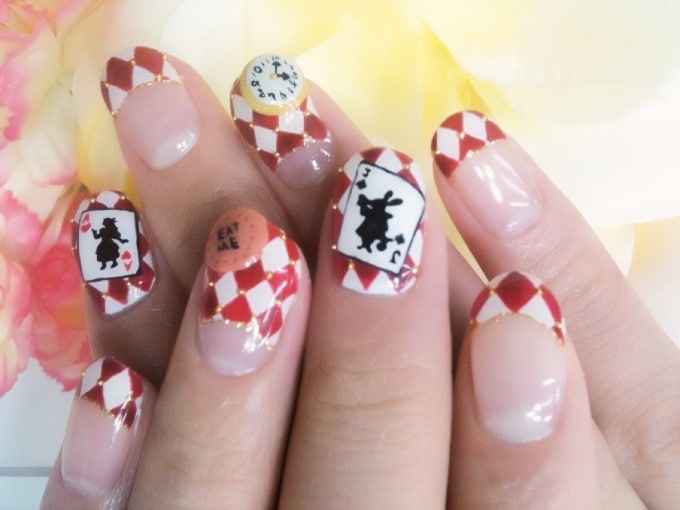 This design is a bit different from others, A silhouette image of Alice and the rabbit is painted along with playing cards on natural looking solar nails. A clock is also painted on the top to depict the time.
Accentuate Your Style With Abstract Nail Art
#10. Drink Me
When Alice sees a very small door leading to the garden she gets upset as the door is too small for her to pass through. Then she sees a bottle of water which has a label on it saying Drink Me. Alice drinks it and starts to shrink to a tiny size. You can use this Drink Me quote on black nail base for Alice in Wonderland nails.
#11. Eat Me
Eat Me is a popular quote from the novel Alice in Wonderland. When Alice turns tiny she recalls that she forgot to grab the key which is in an upper place. This time she eats a cake Eat Me written on it. This cake turns her into a gigantic size. You can use the image of time, the cat and other characters along with this Eat Me quote.
#12. Mad Hatter's Tea Party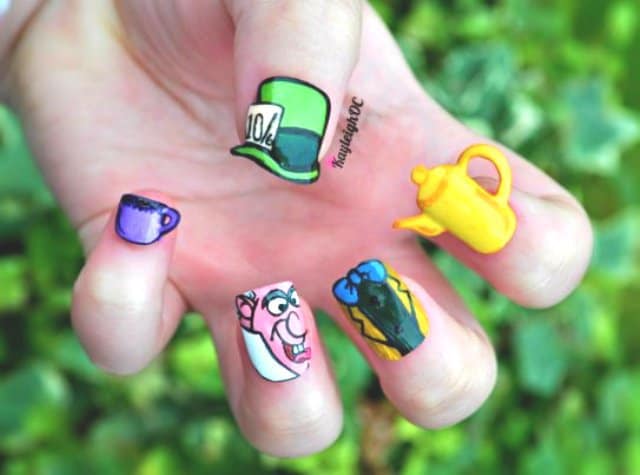 Alice encounters an apparent madman who wears a hat having the price tag attached to that hat. The tag says 10/6 referring to the British currency as 10 shillings and 6 pence. He threw a tea party where Alice was asked if she wanted more tea when, actually, she had no tea at all. You can use the theme of this tea party in Alice in Wonderland nail art.
Disney Fan?? Try These Amazing Disney Inspired Nails
The journey of Alice is known to almost every girl out there by means of movies or cartoons. So, don't worry about the acceptance of Alice in Wonderland nail art in your society. If you are both curious and adventurous in nature, these nail ideas are the best fit for you. Try out our designs and ideas to celebrate the freedom of fantasy.