Over time, your nails can get yellow or brittle if you don't take care of them. While it's easy to make that problem disappear with a new coat of polish, it doesn't fix the root trouble. Instead, these issues can be solved with a bit of help from a kitchen staple: the lemon!
Lemon is a great way to clean your nails naturally. It's a natural disinfectant and helps remove any built-up nail polish or dirt. It makes your nails smell fresh and citrusy!
Why You Should Clean Your Nails Regularly
While it's not obvious at first, cleaning your nails is essential for a few reasons. Before you go about soaking your nails in lemons, here are some of the things that cleaning your nails does for you:
Nail polish and products can stick to your nails even after using chemical removers
When cleaned, your nails are receptive to the natural oils your body makes to strengthen your nails and make them shiny
Cleaning your nails keeps them hygienic and germ-free
While being clean is well and good, we want to make sure that the new polishes we use look the way we want them to. That's where the lemon comes in!
Benefits of Using Lemon to Clean Your Nails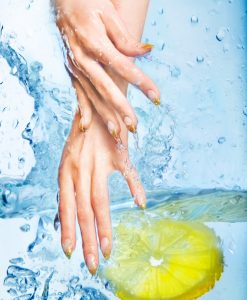 Lemon is used in a lot of home remedies. This isn't because lemon is some magical food that can cure all sorts of problems. It's actually because of the natural stuff inside lemons!
If you're not sure why lemons are so popular for cleaning stuff at home, here's why we're using lemons for our nails:
Lemons are cheap and easy to find.
Lemon juice is much more kind to your body and skin than the chemicals you'll see inside nail polish removers and other manmade nail products.
Vitamin C, potassium, and plant protein inside lemons are natural revitalizers and moisturizers for your nails.
Lemon juice is a natural antibacterial and antifungal agent, thanks to it being so acidic.
Lemon juice removes stains with little issue.
Lemons smell amazing!
How To Clean Nails with Lemon – Step By Step
Here's how to use lemon to clean your nails in just a few easy steps.
What You'll Need
Here's what you'll need to get together before cleaning your nails:
A small dish or bowl
A lemon or some pre-squeezed lemon juice
Baking soda
Warm water
Cleaning Procedure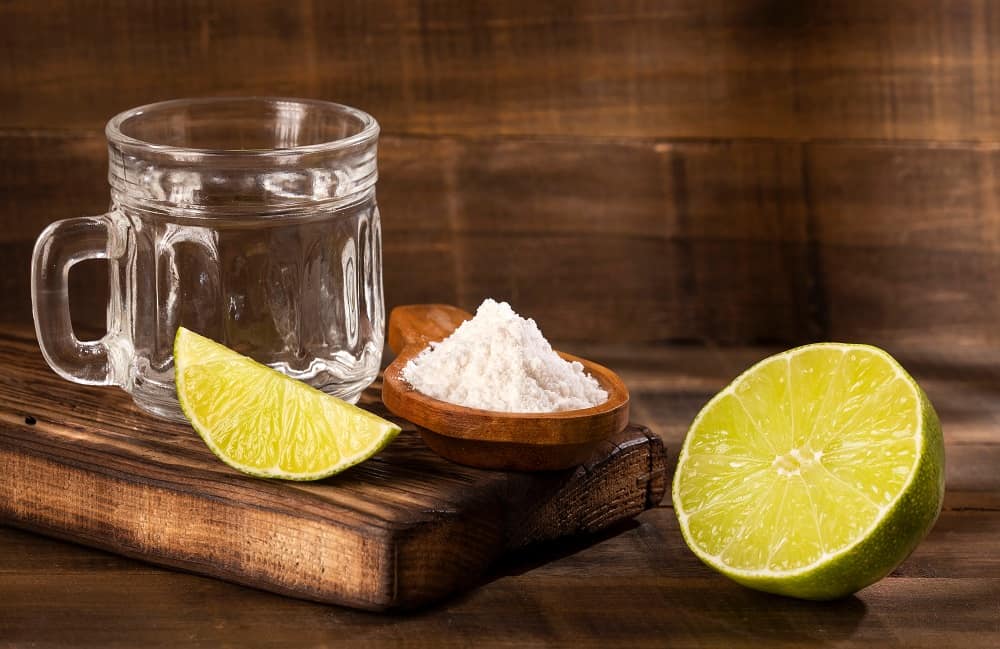 To start, you'll want to grab the small dish and put three teaspoons of baking soda and water. Give this a good mix, making sure that the baking soda fully dissolves.
Once that's done, add ten to twelve drops of lemon juice into the dish. If you bought a lemon instead of just the juice, you'd need to juice the lemon and collect it so that you can add the small amount you need to the dish.
Fun fact: lemon peel makes for a good refresh for your nails by rubbing it across your nails!
Anyways, mix everything to get a foamy mixture. Then, dip your fingers into the mixture and wait for a little bit to get your under nails clean and brighter.
If you're just looking to sanitize your nails or whiten them, a five to ten-minute soak is all you need. On the other hand, to remove any deep-seated product that's leftover on your nail, you'll want to soak your nails for at least fifteen minutes. Either way, sit back, enjoy a good show, and wait for your nails to get clean!
You won't have to do this more than once or twice a week if you're just cleaning your nails. Otherwise, try this out whenever you need to get the last bits of nail polish off your nails.
How Does Lemon Juice Clean The Nails?
How exactly is something as plain as lemon juice and baking soda cleaning your nails? Even though these household items are cheap and easy to use, they're somehow more effective and nicer to your nails. So, what's going on here?
What's happening is that with lemon you're creating a liquid that has both acidic and basic components to it. Acids and bases make up the main cleaning components for all your household cleaners.
Lemon juice and baking soda are nicer to your skin because they aren't as harsh as your other cleaners.
How to Get Rid of Nail Polish Out of Almost Anything
The good news is you don't have to understand the science of what's going on to get your nails nice and shiny!
With a mix of lemon juice, baking soda, and water, you can give your nails a quick soak and get them looking brighter and healthier in no time!