Red stiletto nails are the perfect shape and color for making a statement with your fingernails, whether it's a romantic, bold, or soft vibe you're going for. In the color world, red symbolizes romance, love, and courage, among other feelings.
Many women often resort to red nails when their goals are romance or drama, so imagine the look that can be created by changing your nail shape to something more pronounced as well.
Since the stiletto nail shape is more distinguished with its pointy tip than a simple round or almond nail, when you put red stiletto nails together, your manicure is going to look nothing less than fabulous!
Radiant Red Stiletto Nails
Be instantly ravishing with these designs for red stiletto nail designs!
1. Shiny Dark Red Stiletto Nails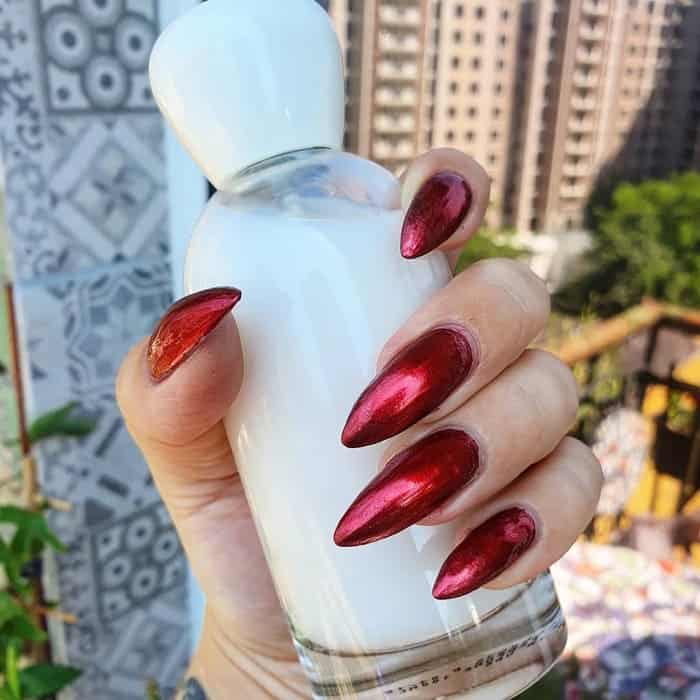 These shiny dark red nails are quite a contrast to the light skin tone they are worn against. To get the shine, choose your red nail color in metallic or extra shine finish.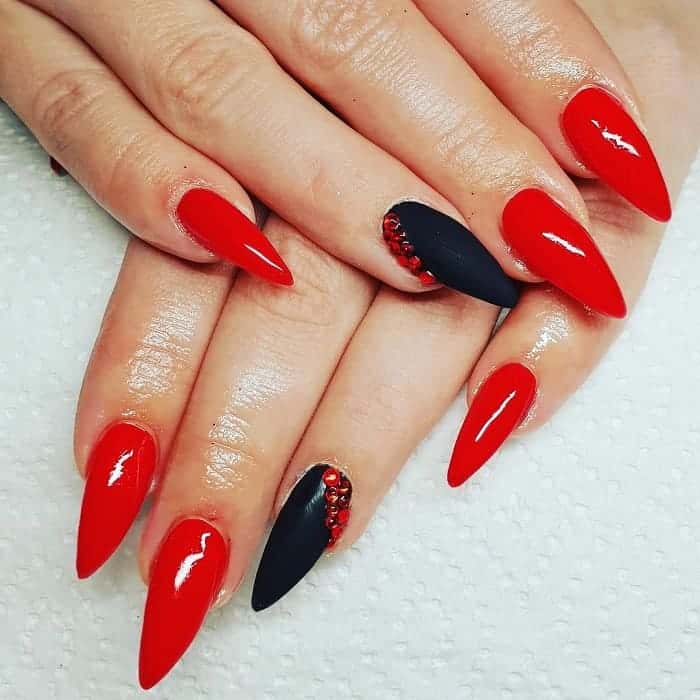 A pure black matte stiletto nail is a stunner with bright red color. Use black on just the ring fingernail to make the most noticeable design. Adding red jewels at the tops in the corners will help it pop.
3. Extra Long with Texture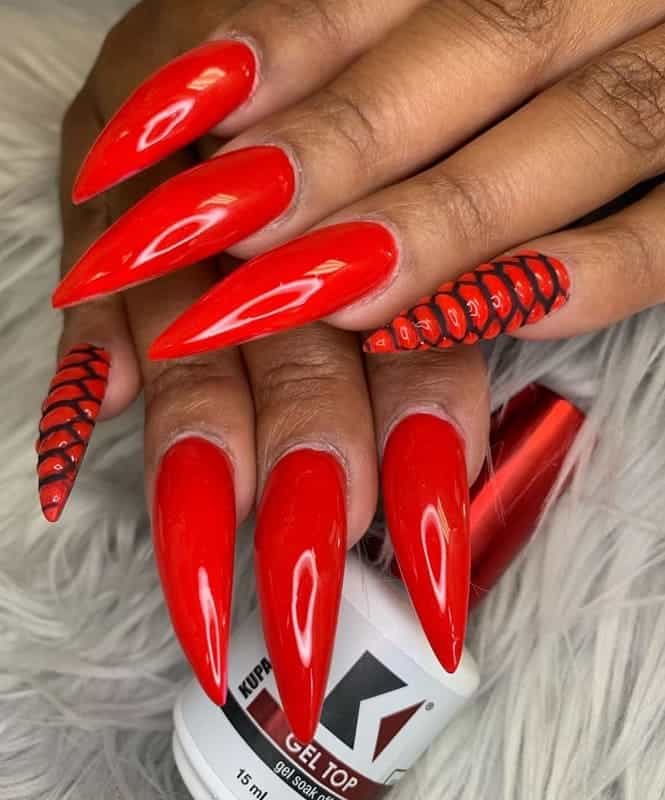 Are you all about being extra? Then you must choose these extra long bright red stiletto nails. Choosing acrylics will enable you to pick a textured accent nail, like the one seen here with its black pattern.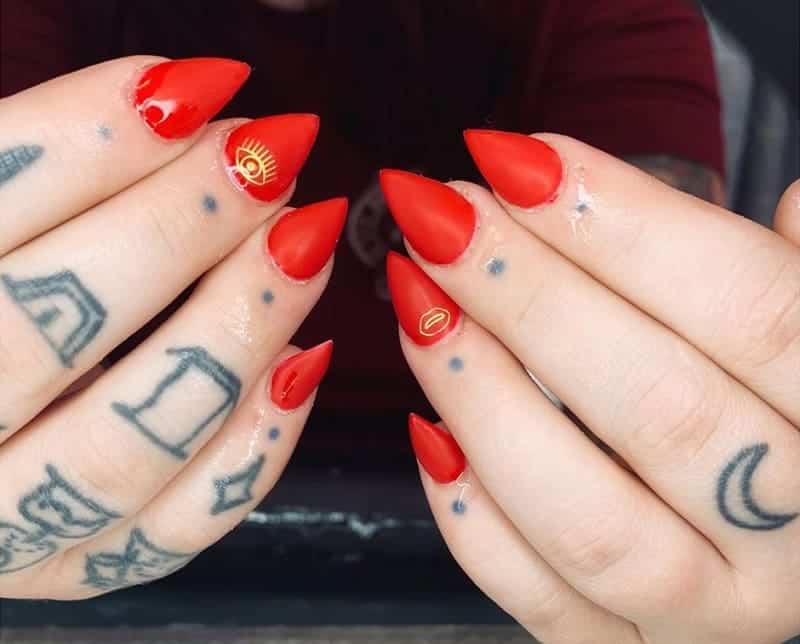 When you like the shape of stiletto nails but want a shorter length, go for these short red stiletto nails. The bright red is a perfect complement to little gold shapes or art like the eye and lips seen here.
Red stiletto nails don't need to be shiny when you have glittery gold to do that job! This design would be great to wear on Halloween because of the "dripping" effect the gold makes.
Hottest Pink & Red Nail Designs
6. Dark Red Stiletto Acrylics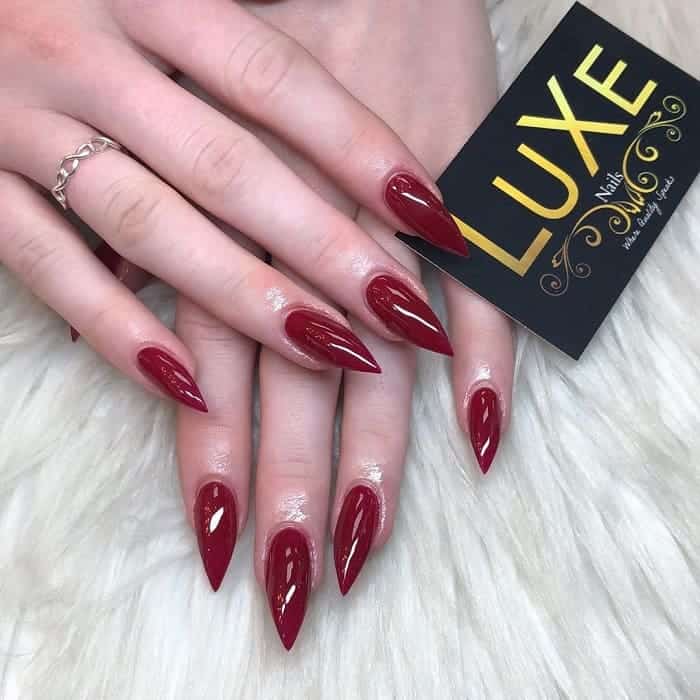 Some ladies like dark shades over light. In that case, go with these dark red stiletto nails in acrylics. Their darkness is flattering to all skin tones.
It's easy to add bling to your red stiletto nails – just grab a few tiny rhinestones and place them either in threes in a vertical line on the pointer nail or horizontally at the cuticle. The stones will look good with both bright and dark red shades.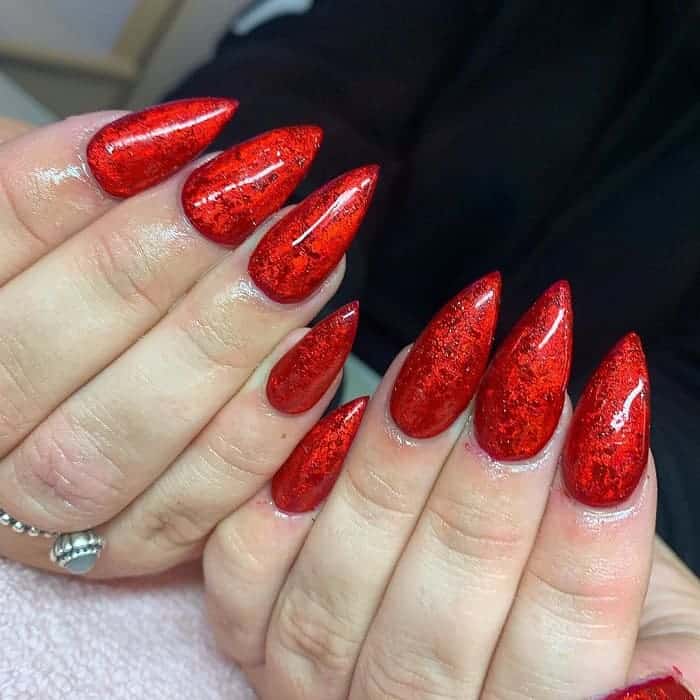 Not a fan of plain nail styles? Go with these glittery red stiletto nails! Start by painting your nails in bright or dark red, then dab on a clear coat of glitter with the brush all over the nails.
9. Red and White Stiletto Nails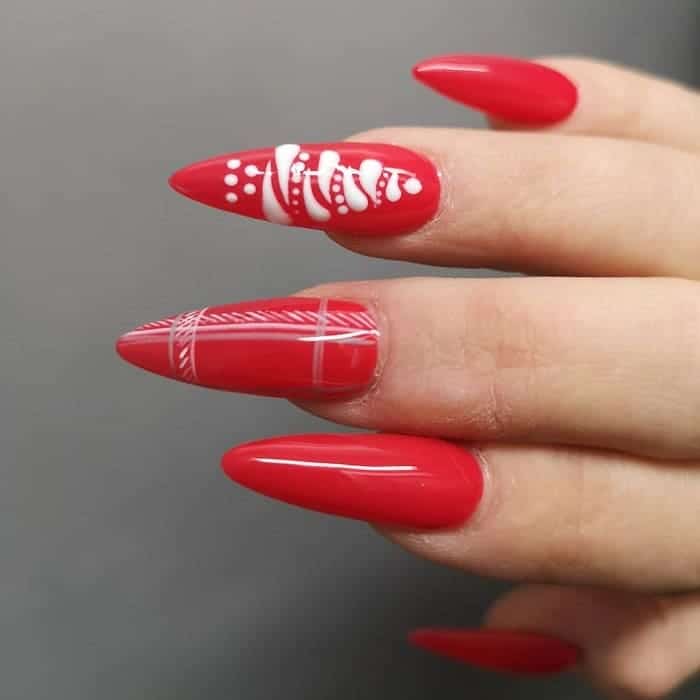 Every time you look down at these shiny bright red stiletto nails, you'll be reminded it's the holiday season! Their white detailing is a reminder of sweet candy canes. Choose the above patterns or go for simple diagonal stripes in white.
The design possibilities for red stiletto nails are endless. From bright red shiny stiletto nails with tiny stone accents to dark red matte stiletto nails, the only limit for a stunning red manicure is your imagination!