Let's face it; those days are over for plain mani and dull colors! The ombre designs and sparkling rhinestones are now ruling the mani world. If you know this as well as we do, you will agree when we say that these blue ombre nails are totally fascinating.
Cute Blue Ombre Nails
Blue ombre nails will help you survive winter and will make your nails look ravishing.
1. Pink And Blue Ombre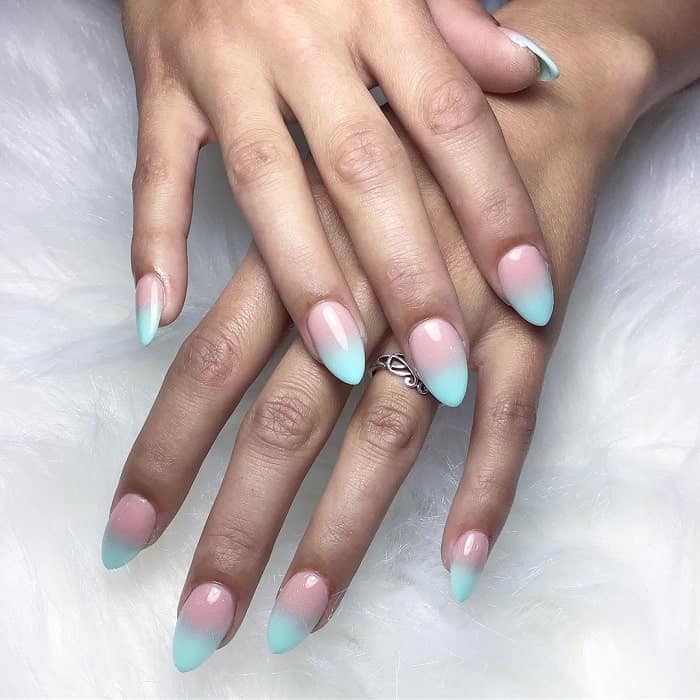 This pale blue and pink nail polish mix is by far one of the best blends you can get. Get an almond shape and smoothly transition from one color to another.
2. Blue And White Ombre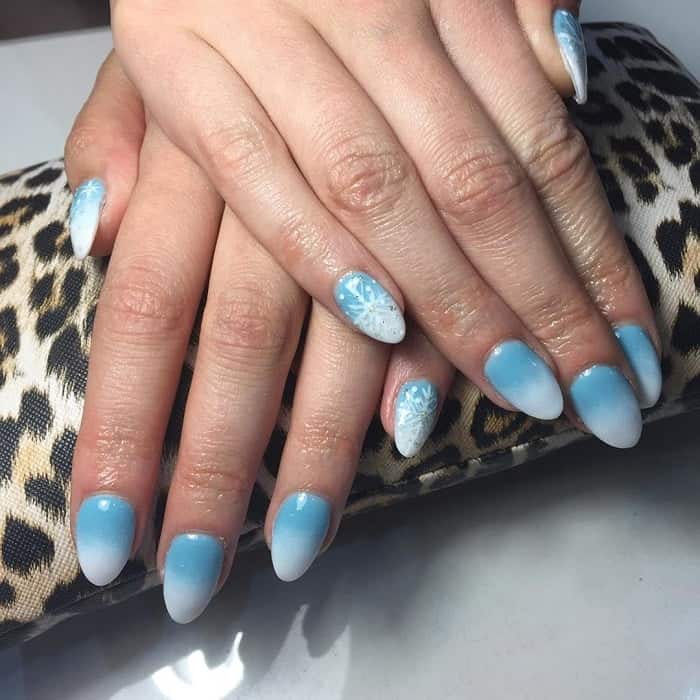 If you love winter that much, wear it on your nails. Start with a pale blue and lighten it until you get to white. Decorate your nails with some snowflake paintings.
3. Royal Blue Ombre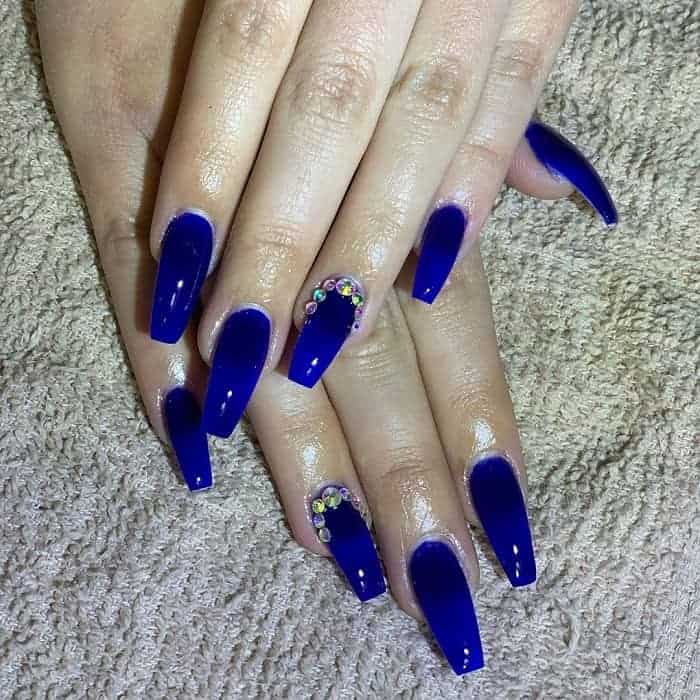 This electric royal blue nail color will be the first thing that people will see when they look at you. Keep your nails long, in a coffin shape, create a gorgeous ombre, and use rhinestones for decoration.
This white blue ombre is so subtle but fascinatingly beautiful at the same time. Keep your nails short, and you'll get the perfect mani for any occasion.
5. Dark Blue Ombre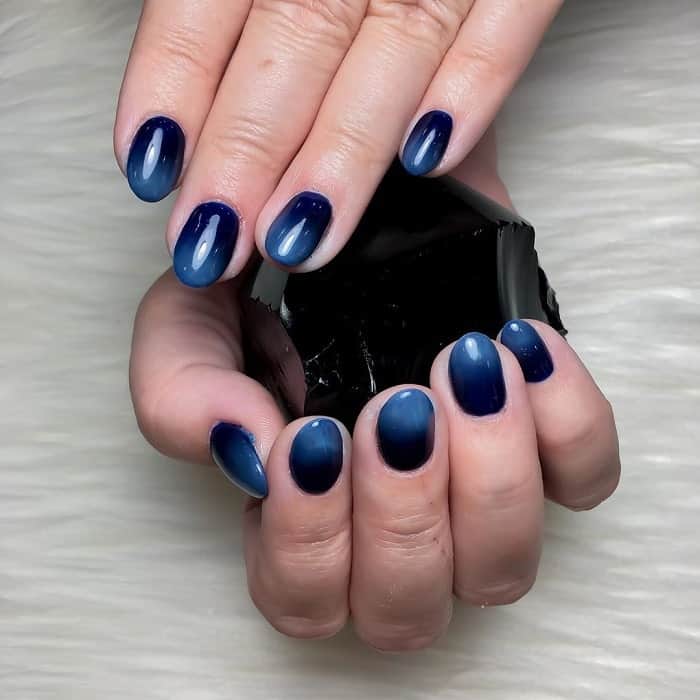 Ocean depth on your hands! This navy blue abyss nail color is undoubtedly outstanding, and it beautifully blends with that lighter blue tone.
6. Black And Blue Ombre Nails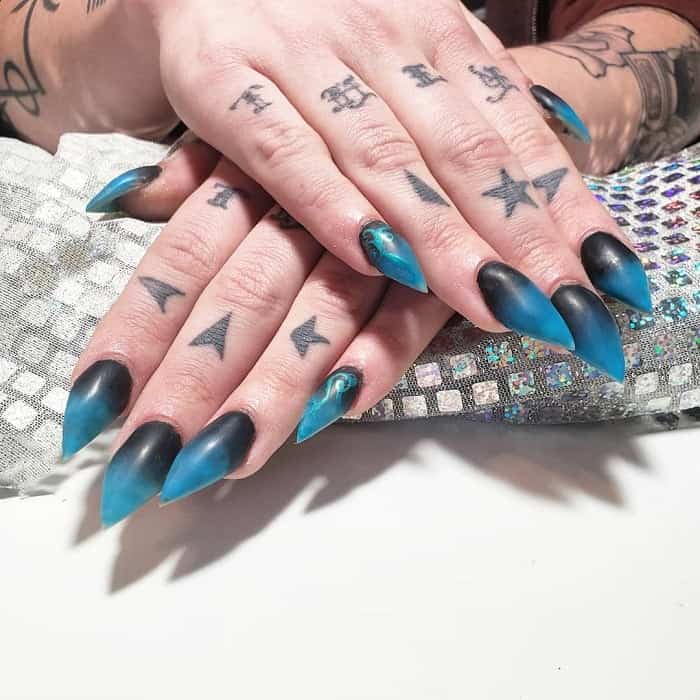 These gorgeous pointy nails look like you used real sorcery to create that mesmerizing ombre. Choose matte shades for both colors, blue and black nail polishes.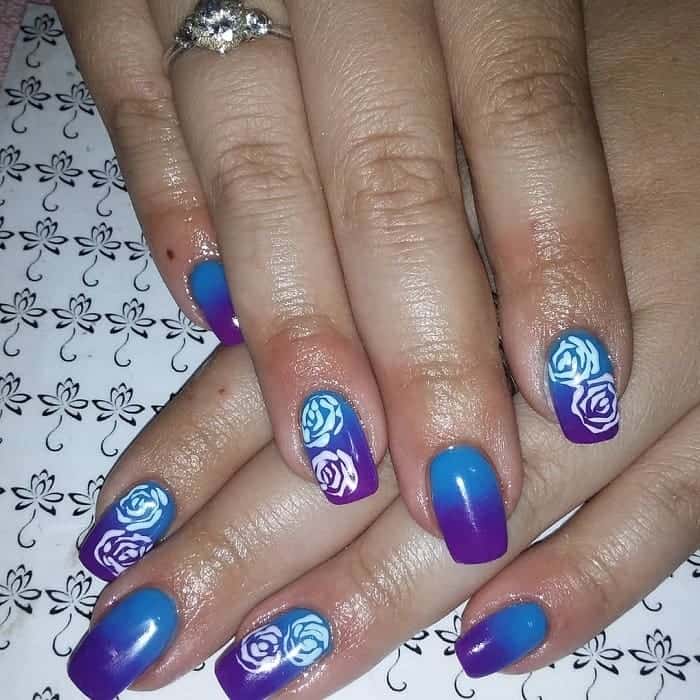 Create a gorgeous transition from a blue shade to a dark purple nail hue. Decorate your blue nails with small roses designs.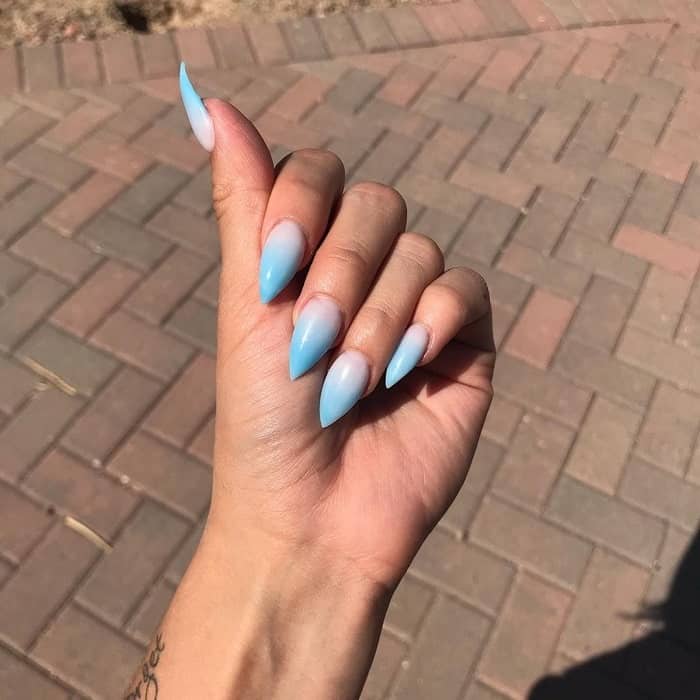 Welcome spring with a beautiful nude blue matte ombre. Use acrylic gel and build some long pointy nails for a stunning effect.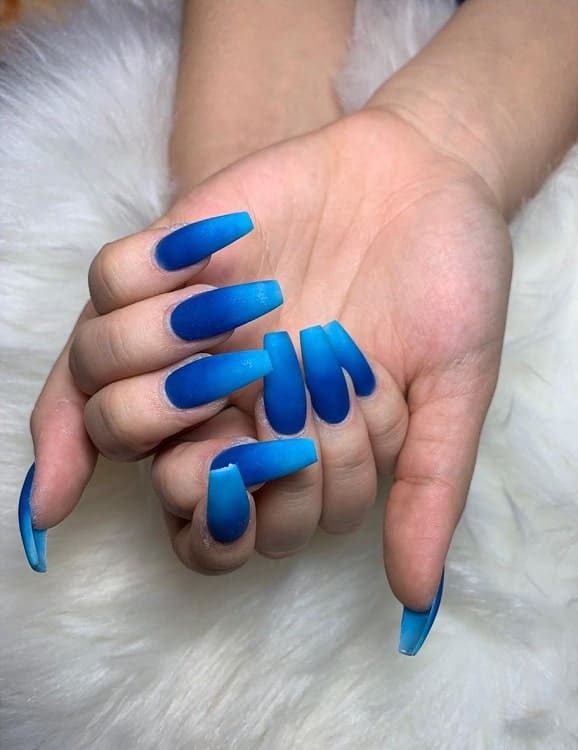 These coffin matte ombre nails require an acrylic construction that hardens your natural nail and prevents breakage. The nuances used for the ombre are an imperial blue that turns into a blue sky nuance.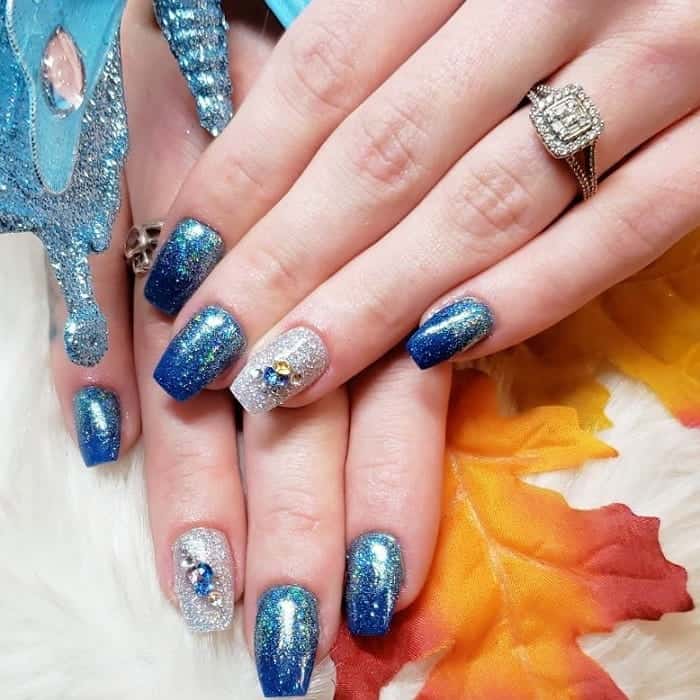 To recreate this short medium mani, you'll first need to give the nails a squared shape. Apply an intense blue color and create the ombre using a glittery lighter blue polish.
As for the ring fingernail, switch for white silver glitter paint and rhinestone decorations.
Spice up a simple many with a pale ombre that turns into a light blue color towards the tips.
Get that matte effect with a topcoat that cuts off the nail polish shine. Decorate the cuticle area with small rhinestones that look just like diamonds.
Whenever you want a fresh new look for your nails, copy one of these fabulous blue ombre styles. You can use a matte nail or shiny polish, and this way, you will make your nails look impressive for weeks!