When it comes to nail polish, there are no hard rules to follow. But choosing a nail shade according to your skin tone can make a huge difference in bringing out the true beauty of your hands.
Just as when choosing the right shade of lipstick or hair dye requires an understanding of your undertone, so does it when hunting for the perfect nail polish color for your light skin.
Peachy pink undertones look good with cool colors like pastels while yellow/olive undertones call for warmer medium shades. A neutral undertone is the best as you can rock pretty any shade from light to dark.
Best Nail Polish Colors for Light Skin
A light skin tone does not hinder you from rocking any nail shade; you just need to choose the correct tone. That's all!
1. Orange Fire
Vibrant colors like orange add a subtle youthfulness to your fair hands. Those who wish for a sun-kissed appeal can rock any shade of orange to make their warm skin tone appear tanned. Couple it with some white polish and nothing can go wrong ever!
2. Light Coral Pink
Whatever the undertone, this nail polish color for fair skin is a dream come true for ladies who wish for a cozy look.
It adds warmth to the nails without overpowering your skin complexion. Just add a coat or two of light coral pink on your short nails and done.
3. Bottle Green Beauty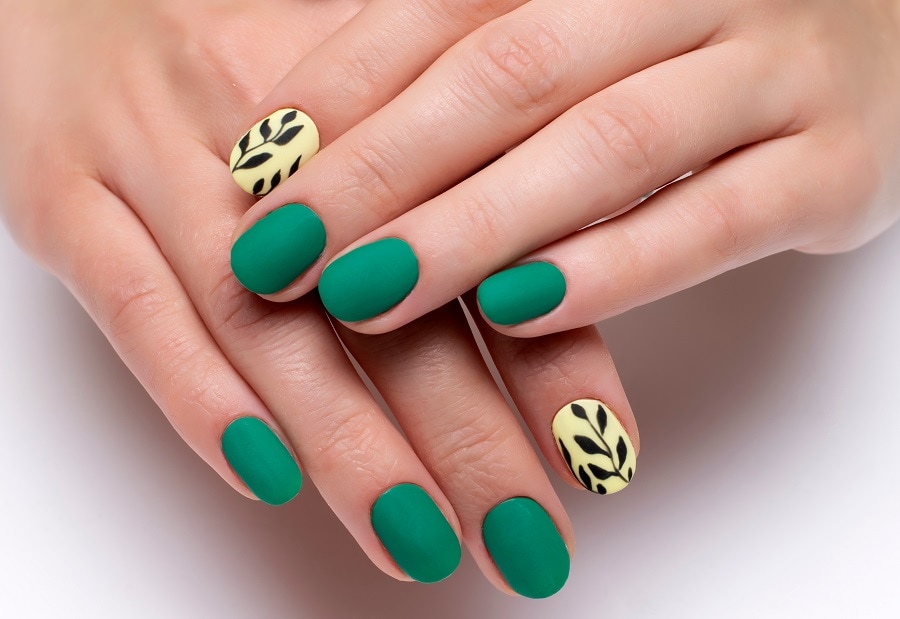 The color green is quite versatile and is a safe choice for pale-skinned women. Opt for light minty shades in case of cool undertones while warm-skinned ones can consider rocking darker hues like a bottle and forest green that'll pop on their fingertips without much effort.
4. Black and Red Ombre Stiletto Nails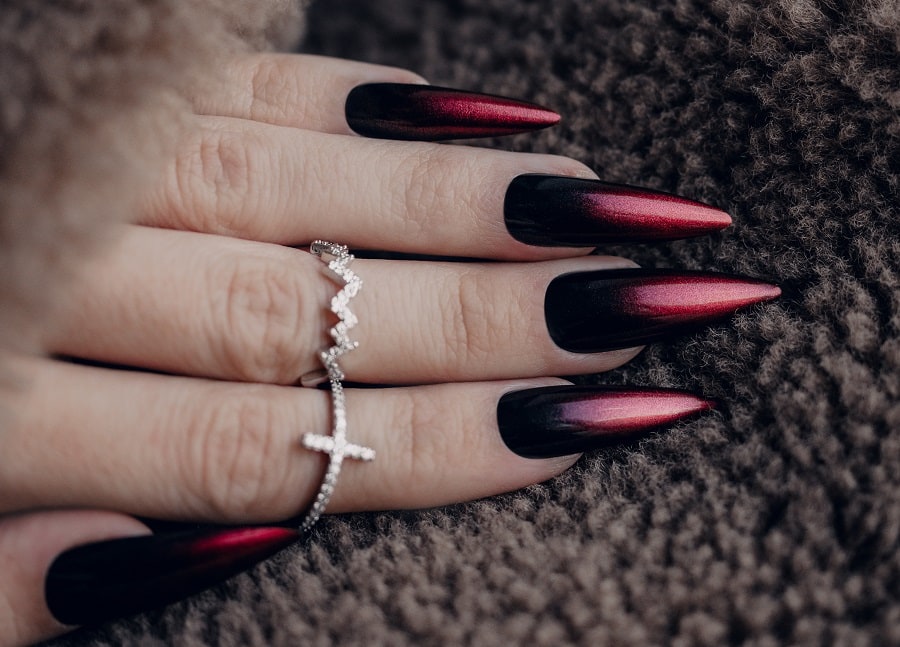 Very dark shades are not considered suitable when it comes to light skin tones as they make them appear washed out and pale.
Still, if you're a fan of deep mystic colors like black balance those out with a hint of a more suitable hue like red on stiletto nails as depicted above. 
5. Azure Blue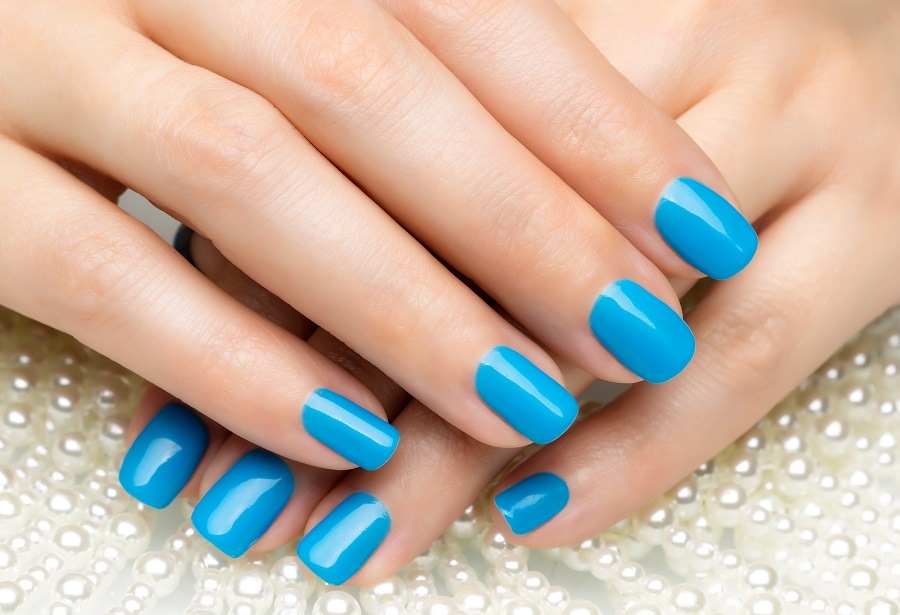 While pastel blues look dreamy and soft, a couple of coats of this azure blue are sure to drop some jaws around you. It lies midway between too dark and too light shades of blue, making it perfect for brightening up your summer days.
6. Nude Pink
Wish to involve zero risk when choosing the best nail polish color for your light skin? Nudes will be your best shot! The rule is simple; opt for pink nudes in case of pink undertones and creamy peaches for yellow undertones. Elegant without a doubt!
7. Ravishing Red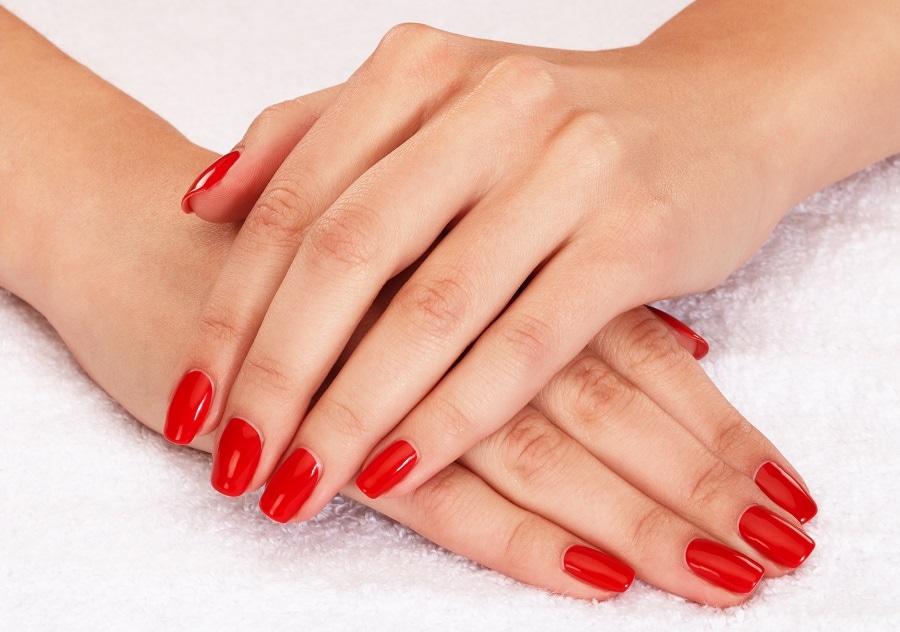 Red is love, especially when carried on the nails and lips. It is suitable to balance out the yellow or blue tint in the skin while brightening it up. So the next time you're looking for something classy or retro style you know what to ask for!
8. Mauve Move on Short Nails 
Keep it gentle with a deep mauve nail color this winter season. Dark shades of purple work well with pale skin but this particular shade is ideal for a soft feminine appeal on short square nails. Opt for a matte top coat with a glossy accent nail for a chic finish.
9. Pastel Gray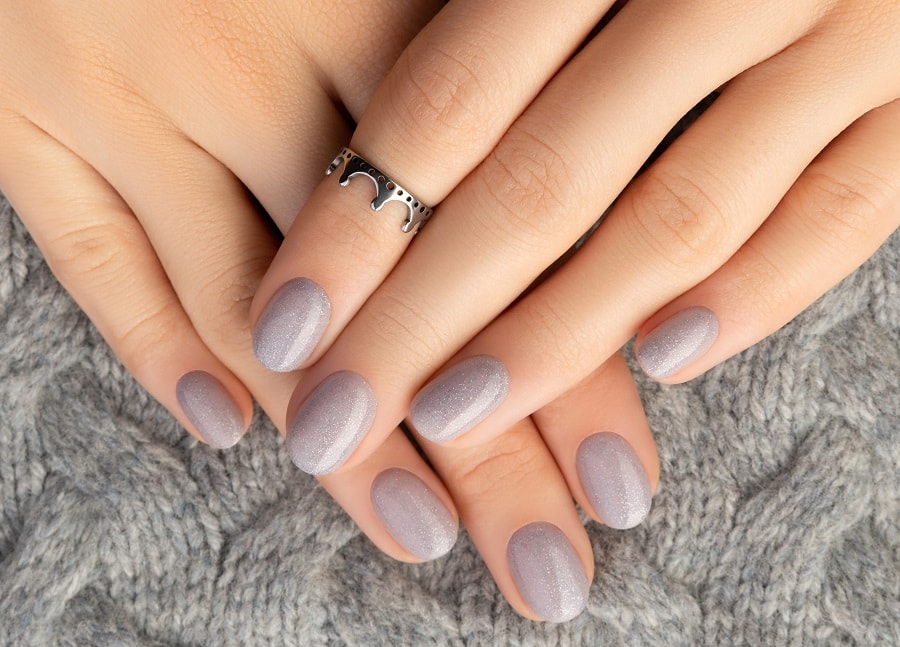 Pastel nail polish colors look super flattering on light-skinned ladies and a pale gray nuance is the ideal way to refresh your nails while staying neutral.
This shade is workplace friendly and goes well with all kinds of outfits. Add some sparkling glitter on top and you'll love it!
10. Navy Blue Square Nails
Make a style statement with these super chic navy blue nails. It is the best color to balance out a pale skin tone making it appear less ghost-like. Square nails with magnetic accents are not a bad idea for your next manicure. Right?
11. Gold Glam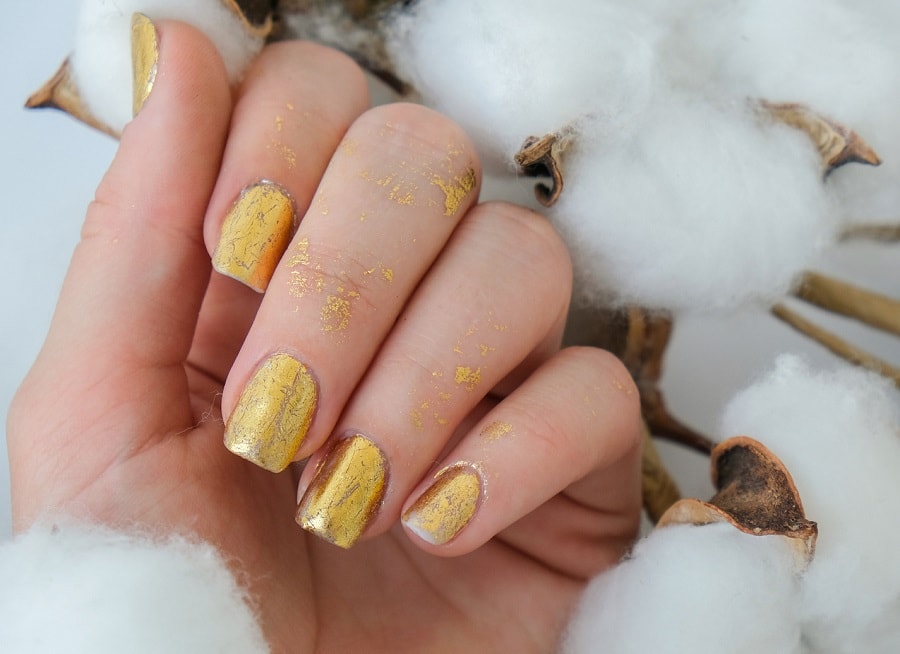 Another nail color to make your light skin look slightly tanned without sitting in the sun. Press a metallic gold foil on top of your tacky base coat or opt for a gold glitter polish instead for a fancier look. Gold studs and rhinestones can add further bling to your nails.
12. Coffee Brown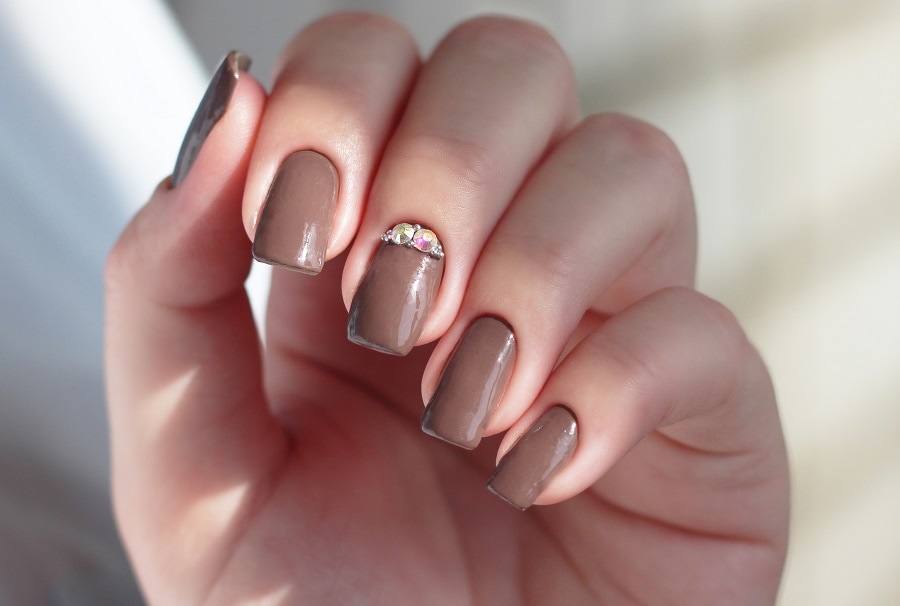 Cozy up your fair fingers with a warm coffee brown nail lacquer during the colder months. Although this shade works as a perfect nude for medium and dark skin colors, it is the go-to nuance for fair-skinned ladies with warm to neutral undertones looking for something more sophisticated.
13. Black Magic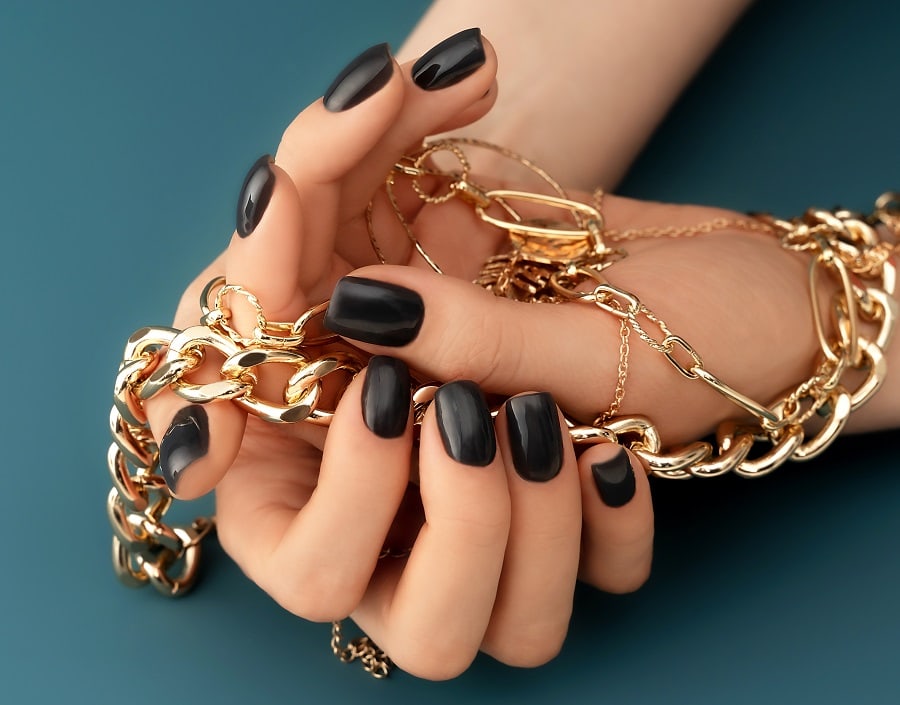 Black doesn't come first in the list of nail polish colors for light skin as it may cause your hands to look lifeless in case of cool undertones. But if you've got a warm yellow to olive undertone, rocking this mystic hue might not be a problem.
14. Lavender Love + Long Almond Nails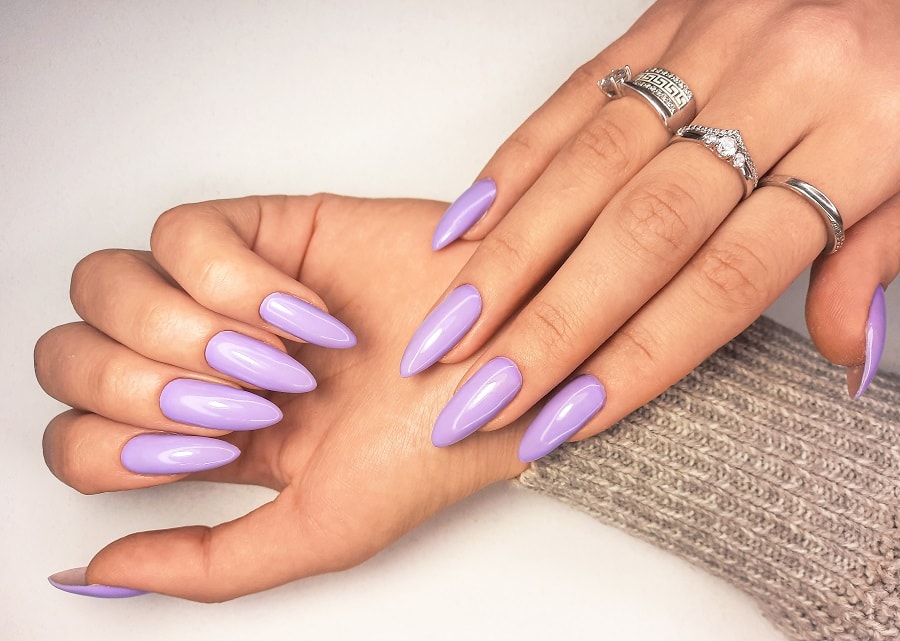 To be honest, lavender nails do not look as good on dark-skinned ladies as they do on fair-skinned ones. Make use of the subtle hints of blue present in your cool skin tone and match it with the hidden blue tint in a lavender nail color for a frosted look.  
15. Yellow Fellow
Complete your summer look with an eye-popping yellow tincture both on the finger and toenails. The color adds a refreshing touch to the skin without making it appear dull or pale as it accentuates a yellow undertone while balancing out a pink one.
16. Blue and Green Theme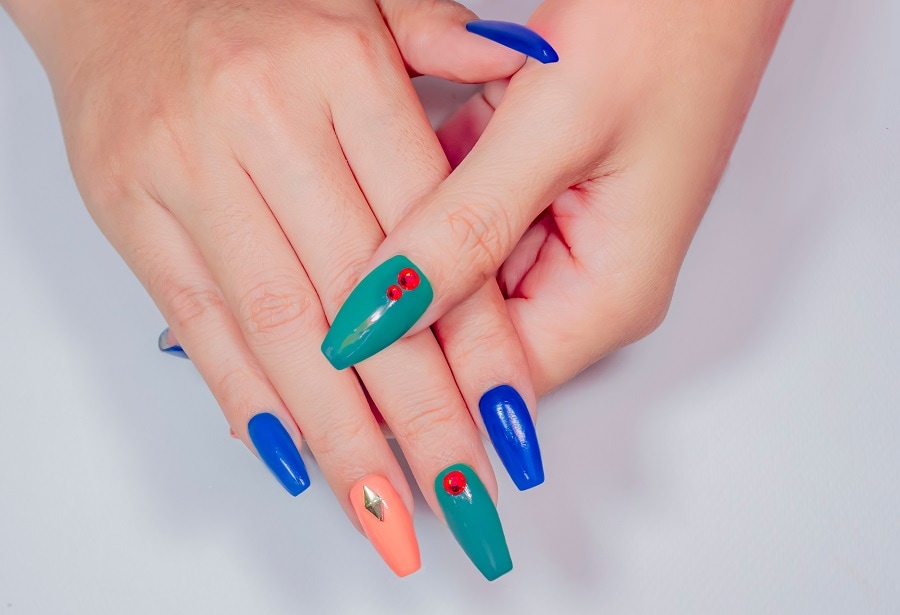 As mentioned earlier, medium tones of blue, green, and coral go well with a pale skin complexion. For a change, paint each one of your nails in a different color and adorn them with a few studs and rhinestones. Cool and crazy!   
17. Carrot Orange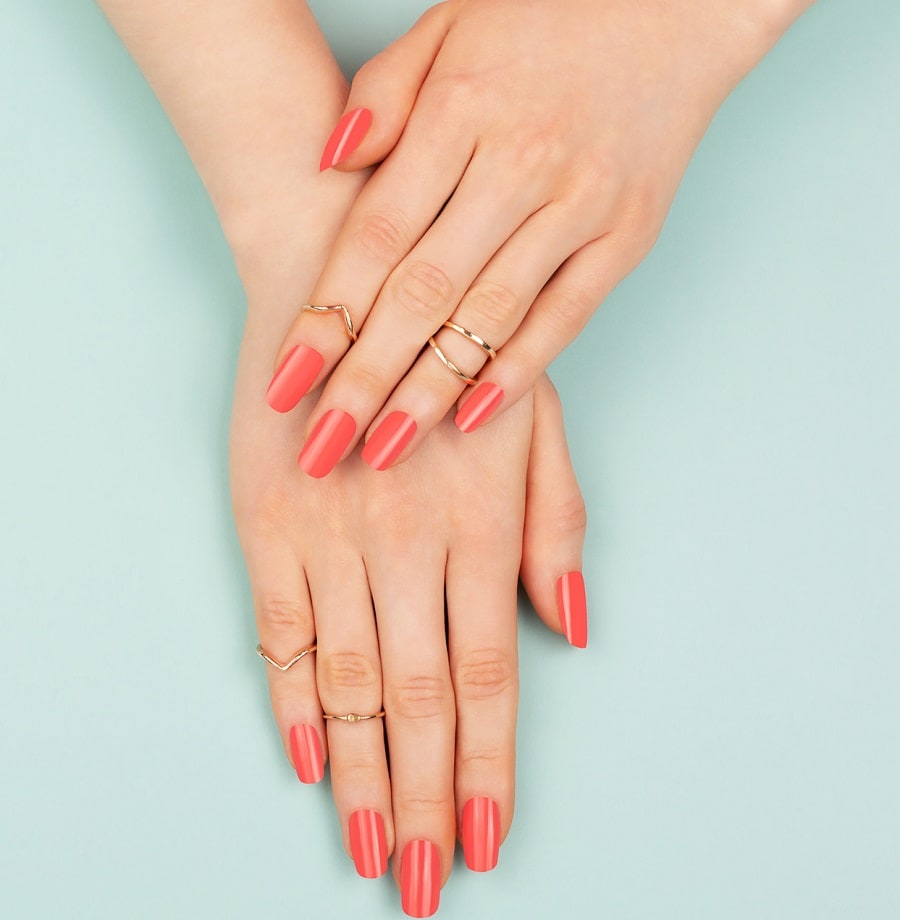 The carrot color is a muted form of orange and red both of which are fair-skin shades. Let your skin glow even when in a rush by painting your nails with this soft hue and you won't need to go to the salon for some time.
18. Neon Nails
Those who are bored of their ghost-like hands can make them appear darker with some neon nail colors. That's right, these vibrant nuances overpower the brightness of your fair skin making it look warmer than usual. Neon yellows and greens with some black details are all you need.
19. Pearl Pink-to-Blue Gradient
Consider pearl nail polish colors for a fair skin tone and you won't regret it. These feature milky-white tones with soft hints of blue, pink, and purple. Consider getting a solid color manicure or a seamless ombre with an iridescent top coat.
Multi-colored nails go well with all skin complexions. Get a little creative and gather all of your favorite colors even the ones considered less flattering for fair skin. Paint each nail differently and there you go. Easy breezy!
There are so many nail polish colors to accent your light skin tone. And although light and bright shades are considered the best based on your undertone, sporting deep colors won't look any less too. Those who want the appeal of freshly tanned beachy skin can opt for yellows, oranges, corals, and neons.