Lime nails look strikingly delightful and pretty. The color green, in general, looks so vibrant and friendly, so keep that in mind when getting manicured the next time.
Did you know that your nails grow a lot longer and faster in the summer than in the winter? So, this summer, you will be one lucky lady with natural, long, and colorful nails.
Spectacular Lime Green Nail Designs
You will see that sticking with just one design is pretty much impossible. Before jumping straight into this manicure make sure you have healthy nails and the proper green polishes right next to you. One thing is for sure, you will have the prettiest beachy nails.
#1. Lime Green Stiletto Nails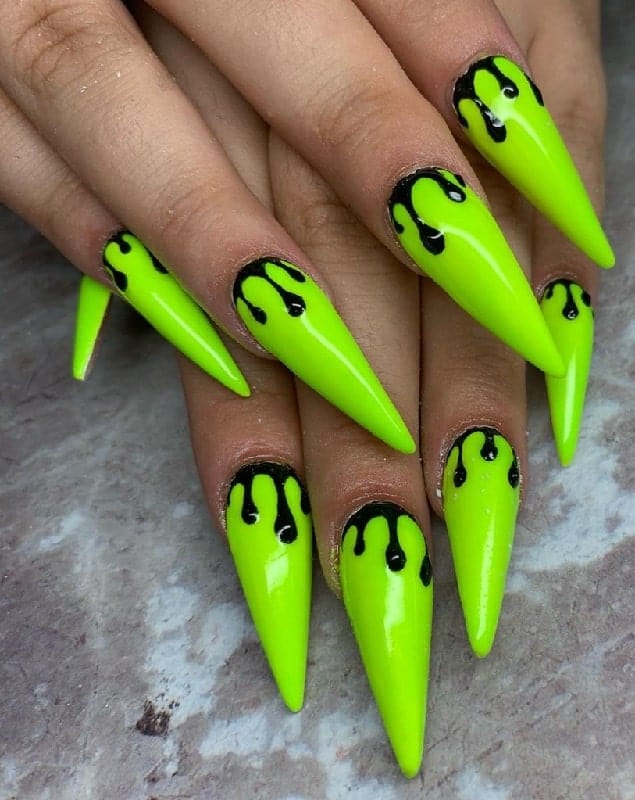 All about this mani screams for attention! The pointy nails, the electric lime color, even the black little black drops make you stare in adoration!
#2. Lime Green Nails with Diamonds
If you want to get noticed and look outstanding, this is the proper way to do it! Get some pointy nails, wear them in a bright lime color, and accessorize them with sparkling rhinestones.
#3. Lime Green and Pink Combo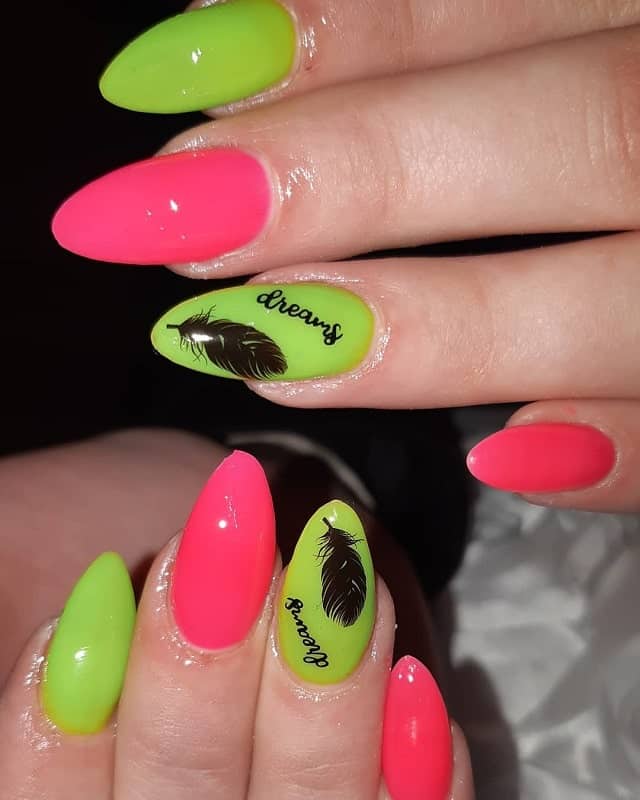 These bright and vibrant nails are a true inspiration! Mix a yellow lime color with an electric pink and create your favorite design on one nail.
#4. Black and Lime Green Nails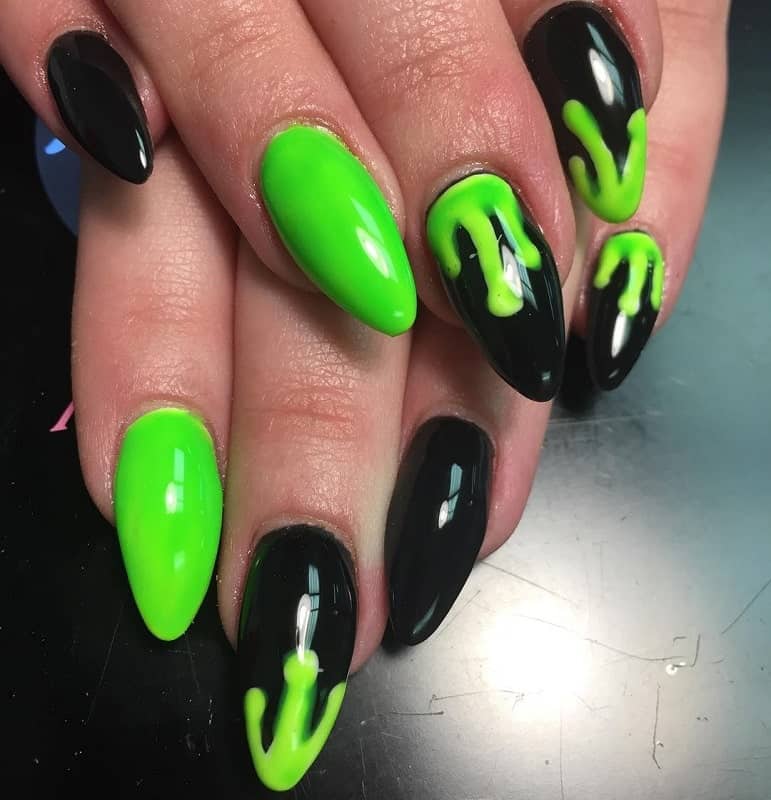 These Amazon salamander nails look outstanding, and they are quite easy to recreate. Give that black nail polish a vibrant look with a few drops of lime paint.
#5. Matte Lime Green Nails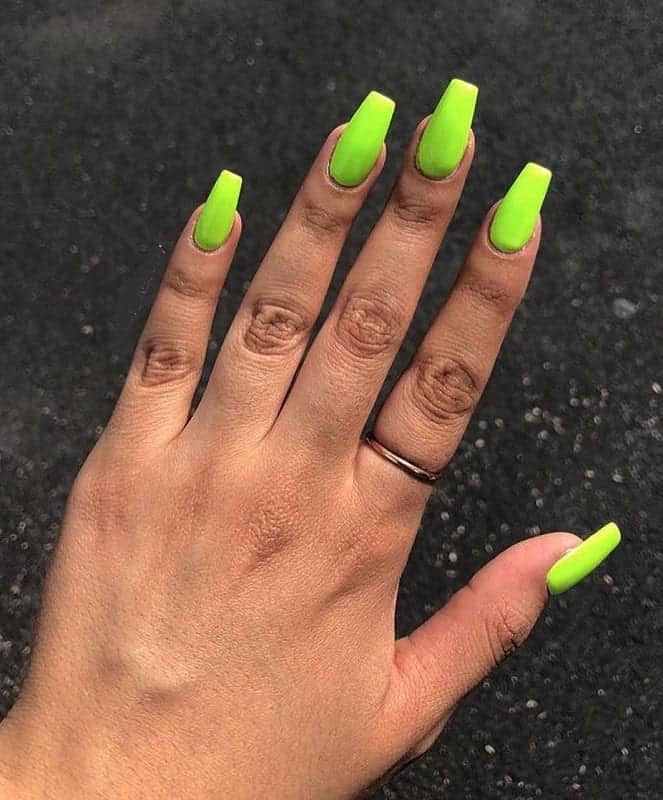 If you are attending a summer festival, this mani will definitely catch everyone's attention. Spread joy with these square-shaped lime nails.
#6. Lime Green and Blue Nail Art
#7. Lime Green Nails on Dark Skin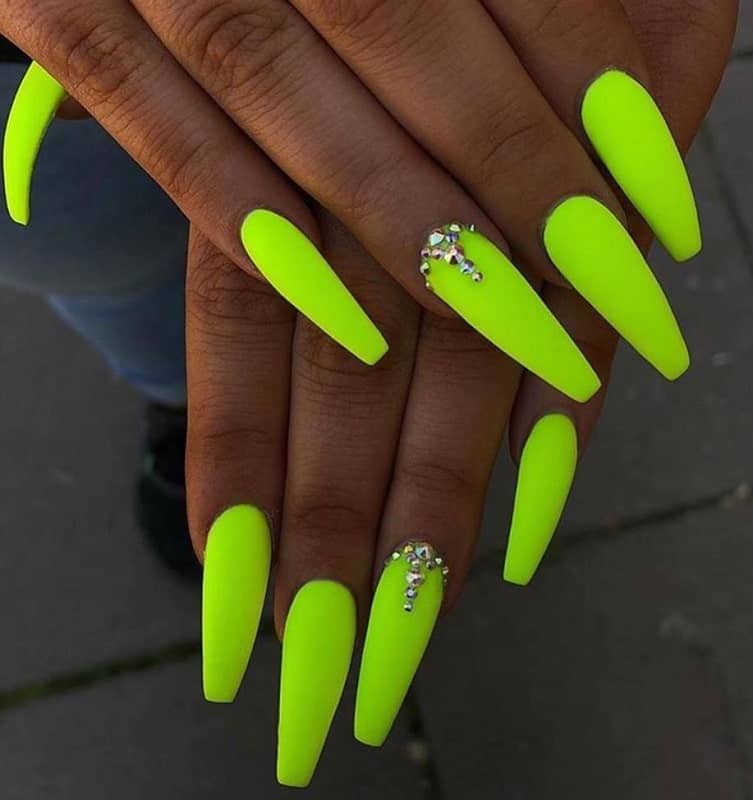 #8. Lime Green and Purple Nails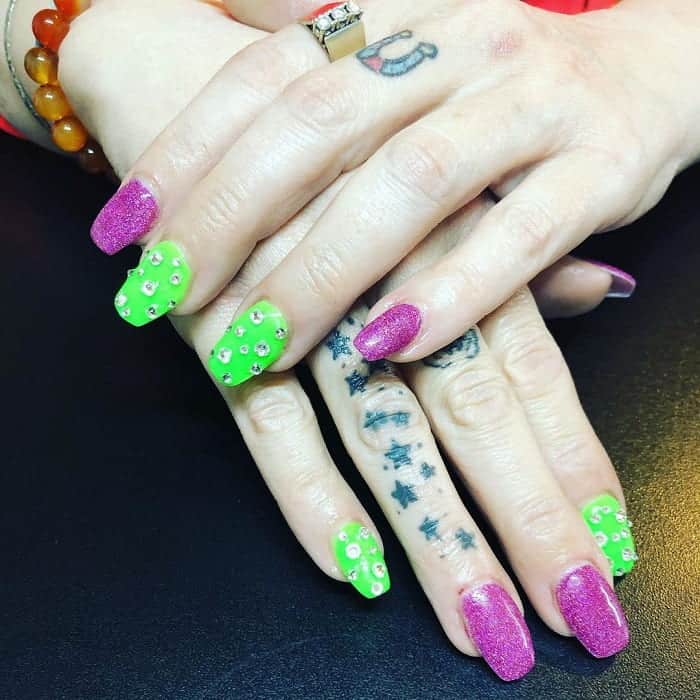 #9. Lime Green Glitter Nail Design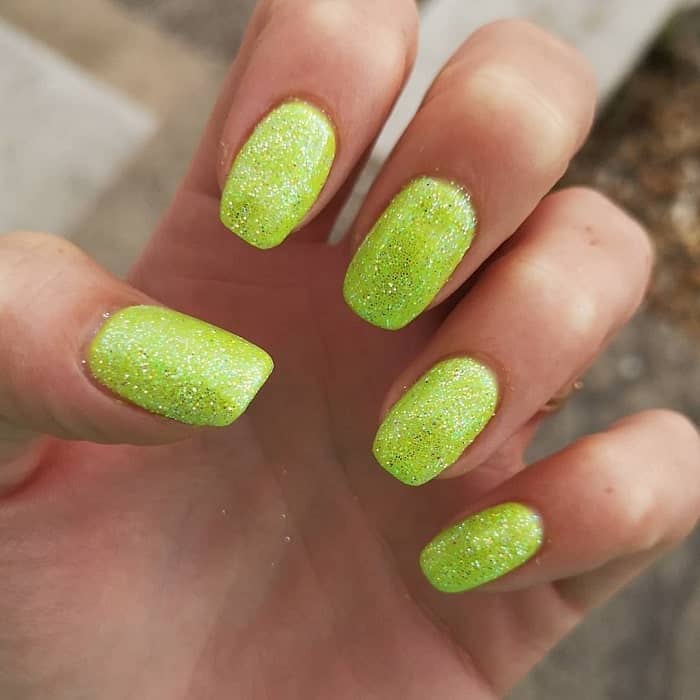 #10. Chrome Lime Green Nails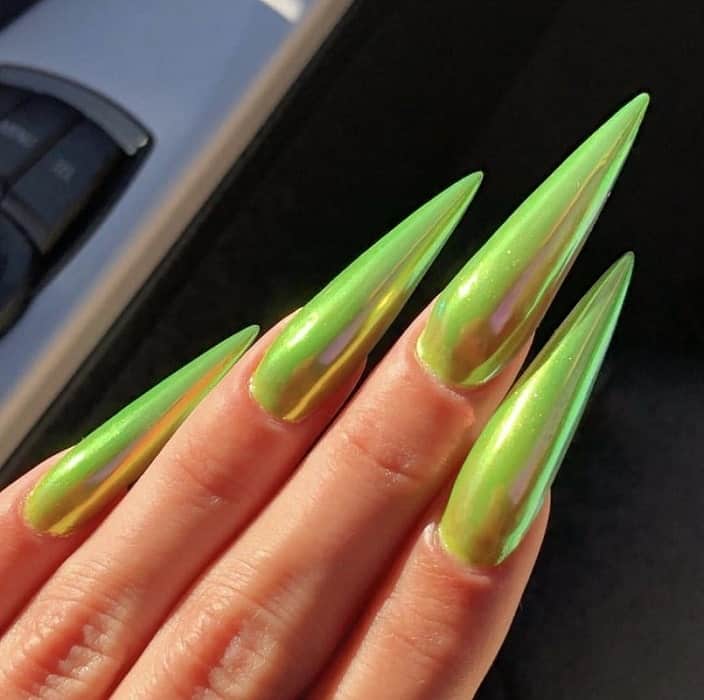 #11. Light Lime Green Nail Polish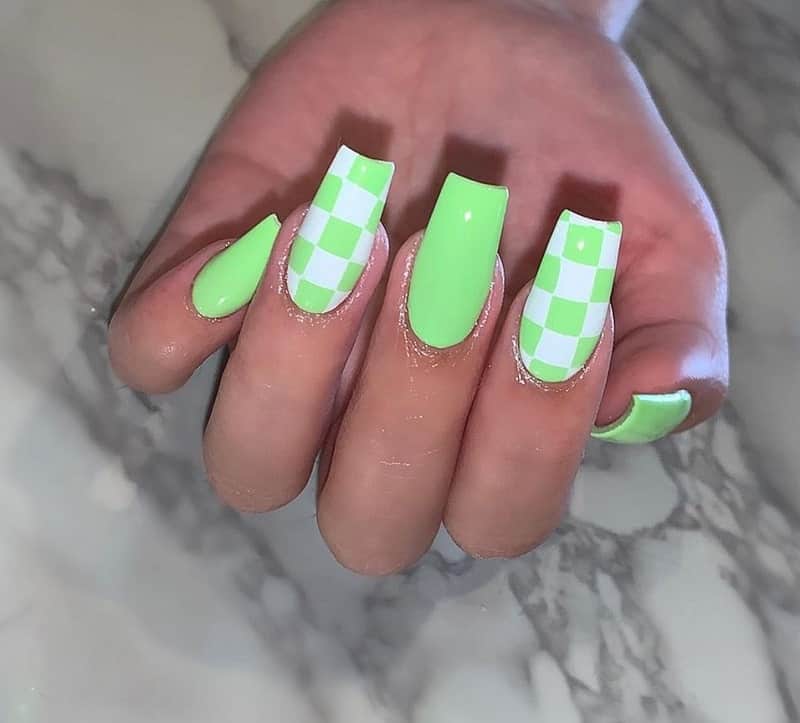 #12. Lime Green and Gold Nails
#13. Lime Green Holographic Nail Design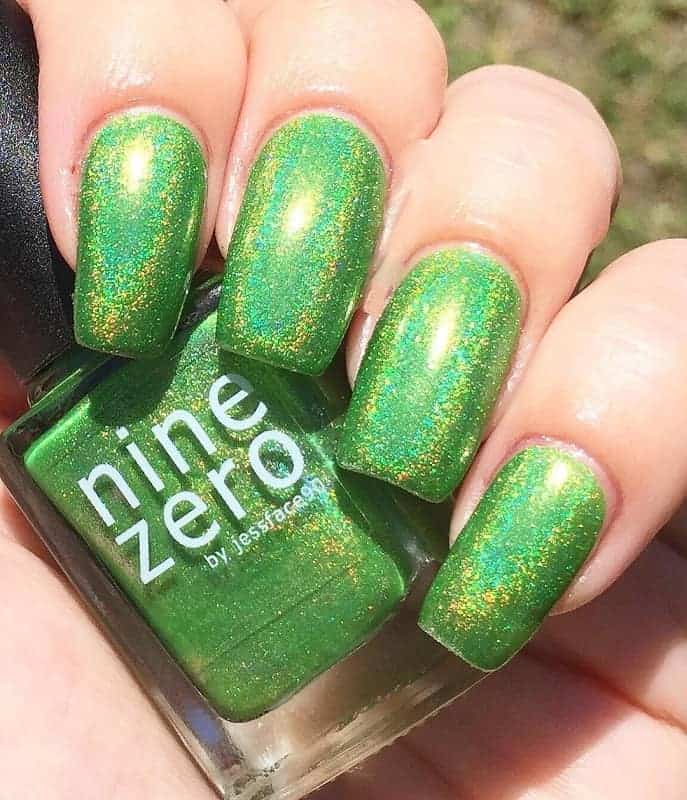 #14. Lime Green and Silver Nail Art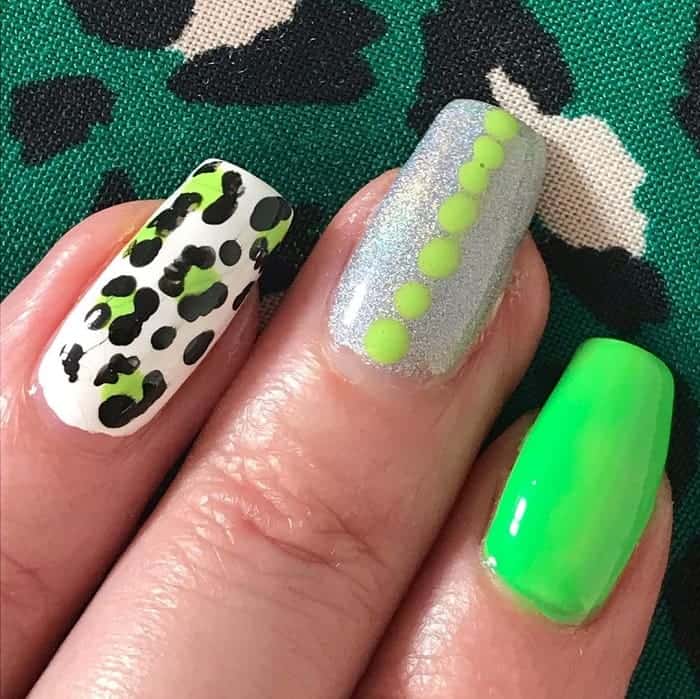 #15. Long Lime Green Nails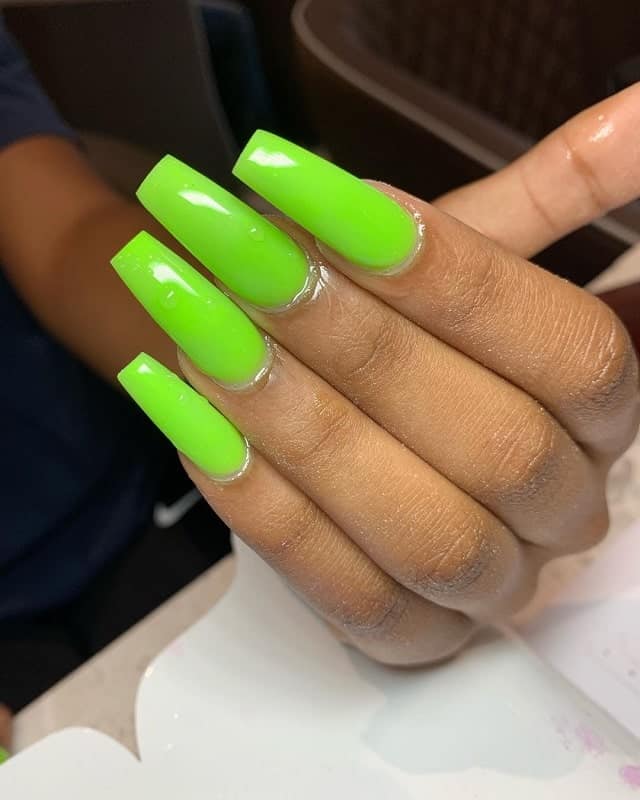 #16. Neon Lime Green Nails
Kill them with kindness and with style. This totally stylish and perfect for clubbing neon nail manicure should be worn by our party women.
They are very long, so make sure not to break them when ordering a drink or fearlessly dancing at a club.
Love pink? Hot Pink Nails Are in Trend
#17. Mini Me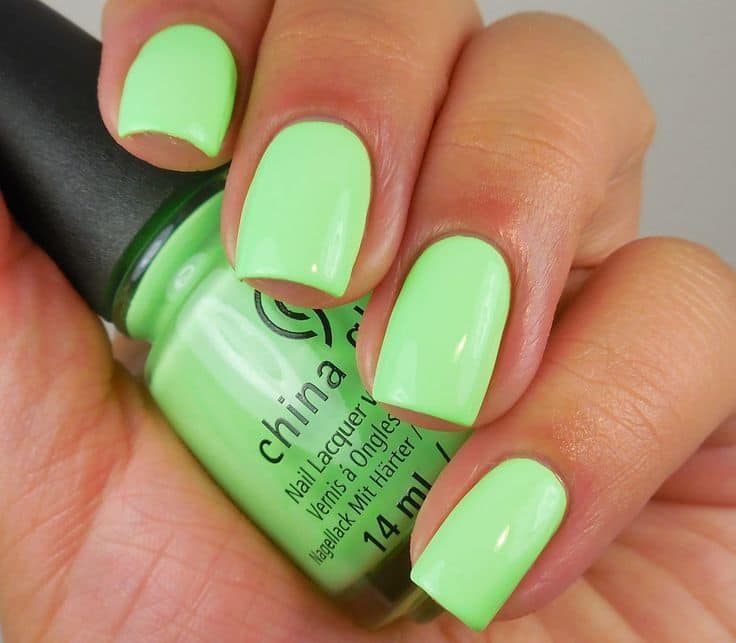 This short lime green nail design is perfect for women who do a lot of work. And not just work at the office, but also at home, since longer nails tend to break easier.
You will feel a deep relief after doing the dishes and having all ten of your nails untouched. Short, natural nails are also appreciated a lot more by men, so you are in good luck if you are seeking their approval.
#18. Crazy Me
These perfect for prom nails are fabulous. If you prefer shorter nails but with a little bit of attitude, just get these. Even though they are short, these green nails with silver shimmer and sparkle will not go unrecognized, trust me.
#19. Lime Green Nails With Patterns
If you felt blue and you've had a bad day, these lime green nail designs are here to cheer you up.
They have some tribal moments with a hint of elegance, so that's a plus for multipurpose. You can dress them up or down depending on your mood, go out in the wild, and have fun.
#20. Dot Dot
Little polka dots are a crazy and funky accessory to the nails. These asymmetrical and interesting shapes are also giving an extra funkiness to the whole picture.
#21. Light Ombre
Ombre is an endless trend that many ladies love. These square nails that transition from a green into yellow shade should be your go-to nails when the summer starts.
They are so vibrant and just perfect for those hot summer days. Get this manicure with your favorite neon lime green nail polish brand.
Try Mystical Solar Nail Designs
#22. Melon Time
Watermelon anyone? The ultimate summer fruit should be paired up with the ultimate summer nails. Cute lime green nail design with a glimpse of pink color is our favorite so far. These nails will also give you an instant refreshment.
#23. Take Me Out
Looks like someone is ready for a date. Fancy dinner is what's next on my schedule if I get this manicure.
Very long shimmery nails with added stones, these nails will definitely get you off the hook for the bill and add that extra glee you need.
#24. Real Deal
Some real professionals did a great job with these. The cheetah print looks fierce and frisky, while the lighter color tones it down a bit, so the nails don't look too aggressive.
They are just in the middle between being your stylish everyday wear, or your night-out option.
#25. Can You Handle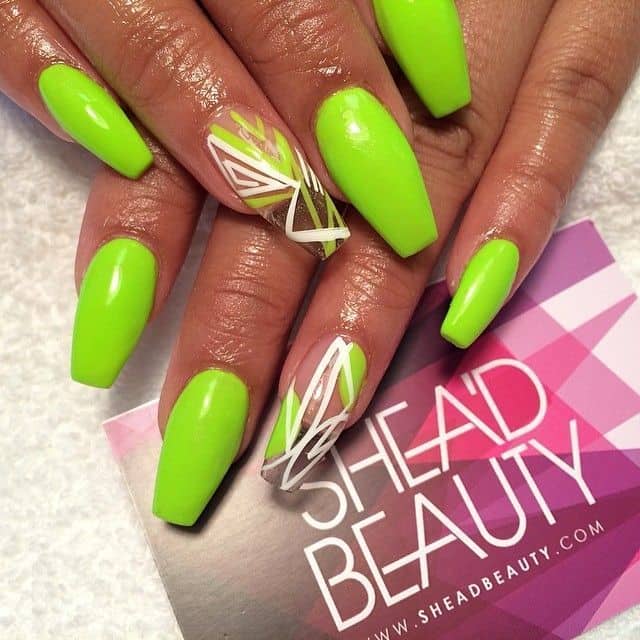 Can you handle these lime green coffin nail designs? The creations are off the chart and so original. Especially when we get to this lucky number 10.
The ring fingernails are mad-looking and totally spice up the whole design. The stiletto shape also makes them look sexier than you'd think.
#26. Spring Has Sprung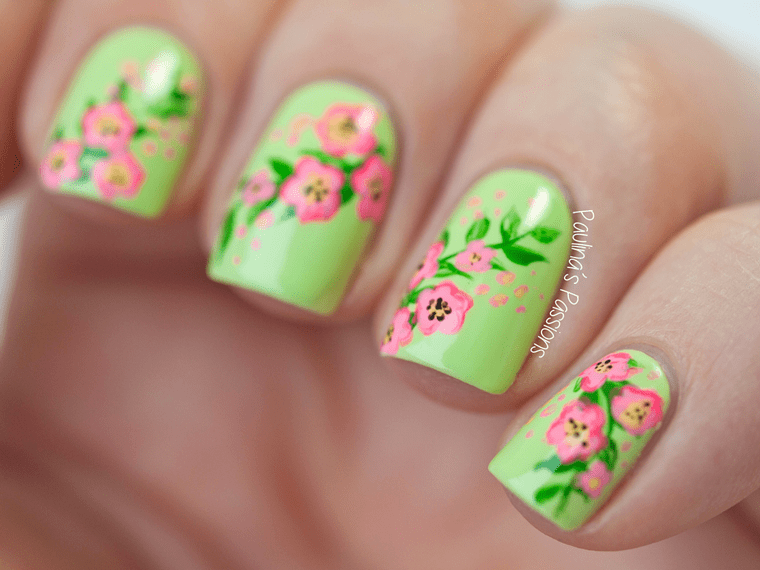 Spring has sprung a long time ago, but with these nails, we feel like it's the spring season yet again.
Little flower print reminds us of the Orchid, which is a flower that every woman likes. Have the most original nails and get this lime green nail design before anyone else.
#27. Square Lime
Hi, my fancy little princesses. These nails are screaming your name and waiting for you to slay them for your prom.
Don't be afraid to be different and to stand out in the crowd with these, because that's what beauty is all about.
#28. Catch
These lime green manicures are such a catch. Happy colors with loads of criss-cross lines give out that childish vibe and we love it.
Green Nails to Lighten Up Your Mood
#29. Take Me Out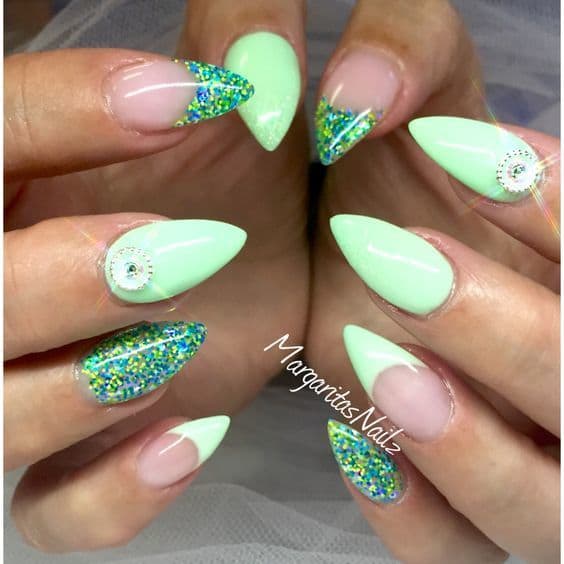 How about you take me out on a second date? This is the ultimate nail combo for your date night out. You will leave your man speechless because you will have style, sass, and uniqueness.
#30. Frog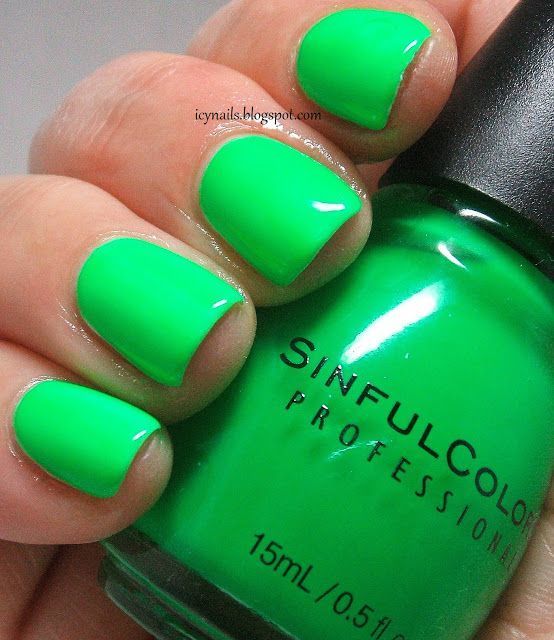 Do you know that fingernails grow an average of 3.5 millimeters per month? Try wearing them all natural with this cute green color and attract looks wherever you go.
#31. Artsy
If you are artsy and acrylic is what you love to rock, this manicure is for you. Very long, very detailed out, and very pretty, these lime green nail designs will make every woman around you jealous.
They might even ask for your nail technician's number, so be ready to give out some information.
#32. Army Lime Green Nails
Army inspired or camouflage nails are something that you don't see every day. If you are not feeling too feminine and would like to spice up your nails go for the camo option.
#33. Lime Green Nails With Dots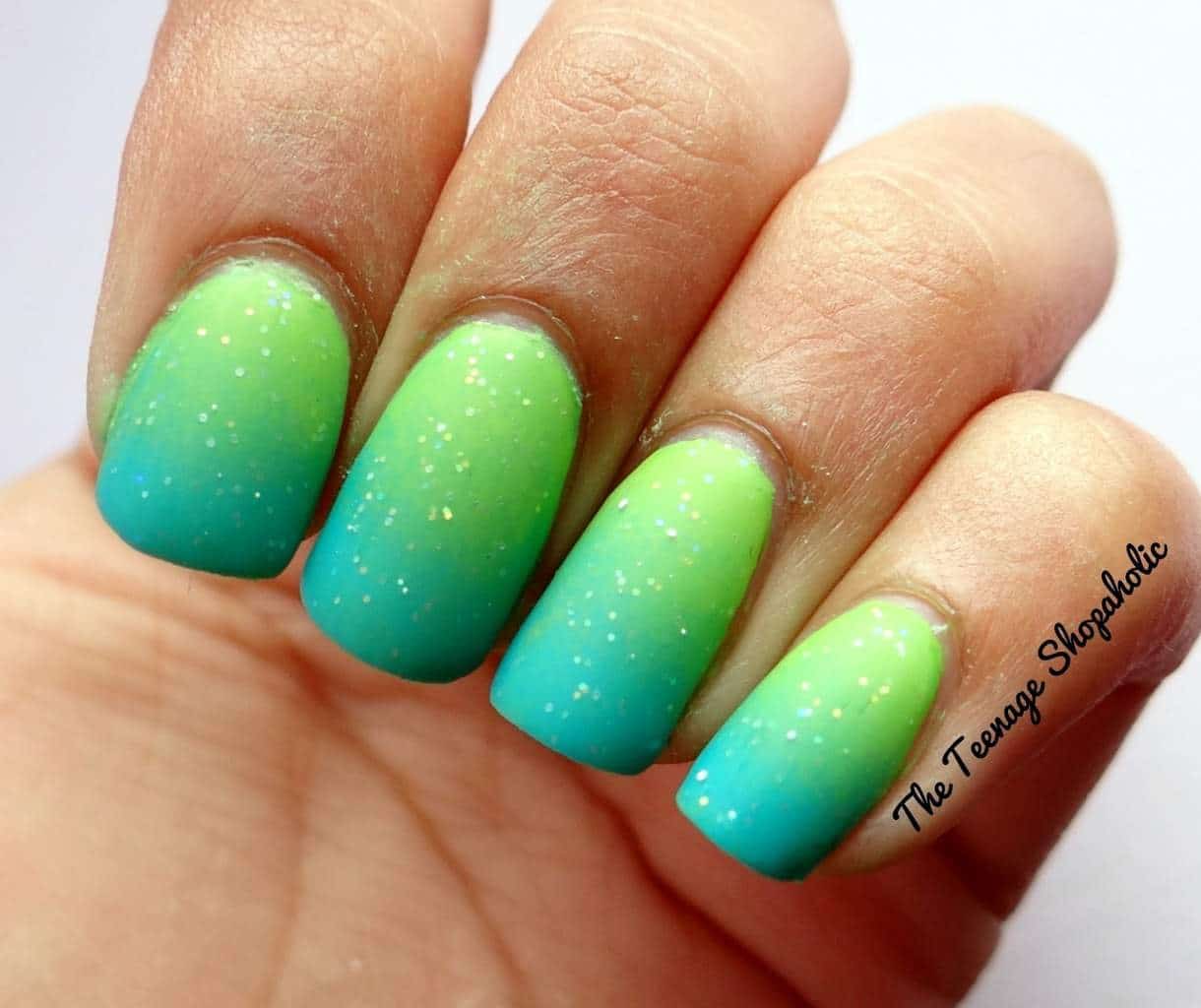 A little miracle has found a way onto our nails. These light ombre nails look perfect for summer. They look juicy and like they've been washed out by rain. Artful is the best word to describe this lime green nail design.
#34. Spooked Out
We did not mean to spook you with these nails, but we do believe that they are perfect for Halloween. The light green nail polish base with the black dripping effect looks mysterious and fun at the same time.
#35. Juicy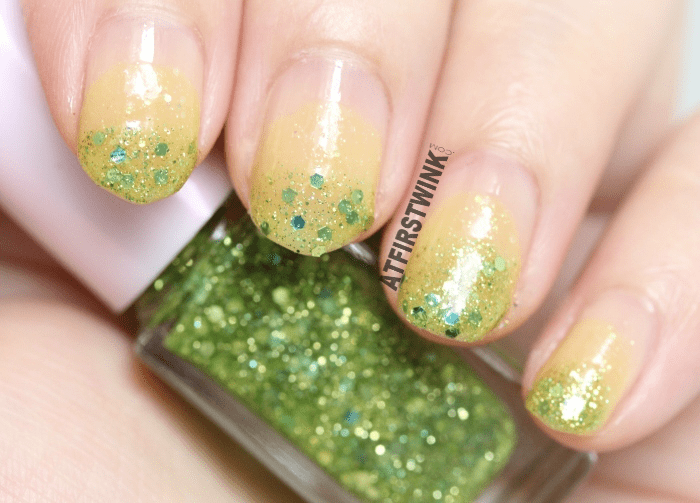 Don't these look juicy or what? They remind us of a cocktail or a nice, healthy, delicious smoothie. The beverage that you will be drinking the most by the pool in the upcoming months.
More Lime Green Nail Designs to Fall in Love
Even if you plan to go out with your friends to a club or to a festival, lime-colored nails look stunning, electric, and certainly eye-popping.
Get them in any shape you want and add details or complex designs to make them look even more breath-taking!