If you've ever had a movie marathon where you watched nothing but Marvel or superhero movies, you might have felt envious of these amazing characters and their kick ass superpowers. You may have even dreamt about which superpower you would choose if you could have one. While you may not be able to have Superman come rescue you from work, maybe looking down at your superhero nails will be enough to escape reality for a few seconds.
Characters like Iron Man and Superwoman allow many of us to escape reality into fantasy land. Reading comic books and watching superhero movies, like the Marvel series, helps us relax, taking us away for a couple hours to a world where where superpowers know no limits.
Marvel & Superhero Nail Art
Marvel Comics has created a lot of amazing characters – from Captain America and Spiderman to Wolverine and Black Widow. It can be hard to pick a favorite! But with superhero nail art, you may not have to!
Our list below contains 25 amazing superhero and Marvel nail art ideas so you can live vicariously through these brave characters.
#1. Spiderman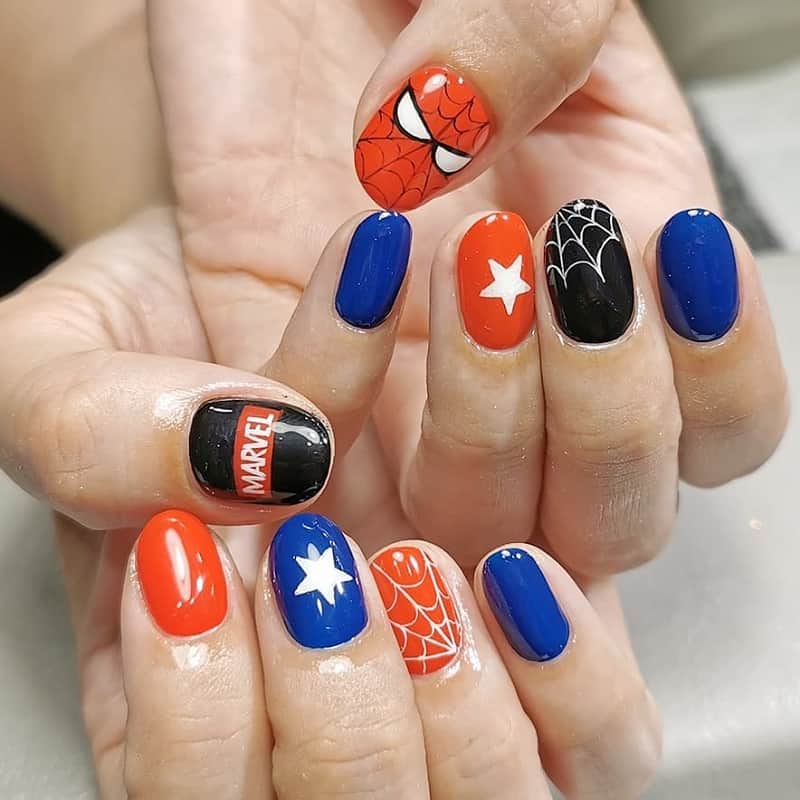 It's easy for Spiderman to swing into action on your nails. Just use bright red, dark blue, and black as your base. Add his spiderweb with thin white lines, and use nail stickers for Spiderman and his creator, Marvel.
#2. Love Them All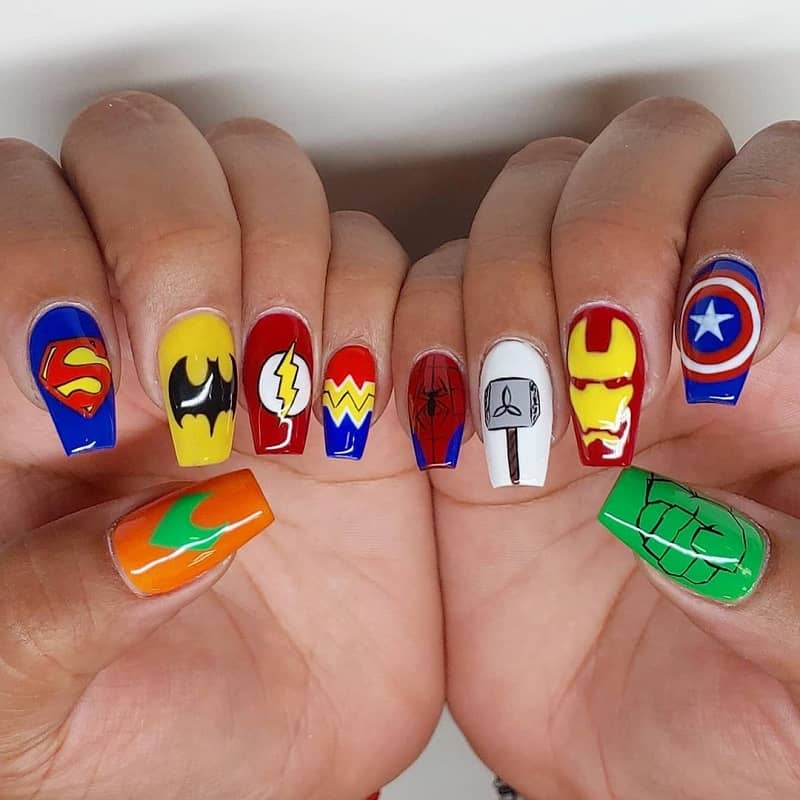 Can't choose a favorite Marvel superhero? Wear them all on your nails! Nail stickers on blue, red, and yellow nails is the best way to get this detailed nail art dedicated to our most beloved superheroes.
#3. Black Panther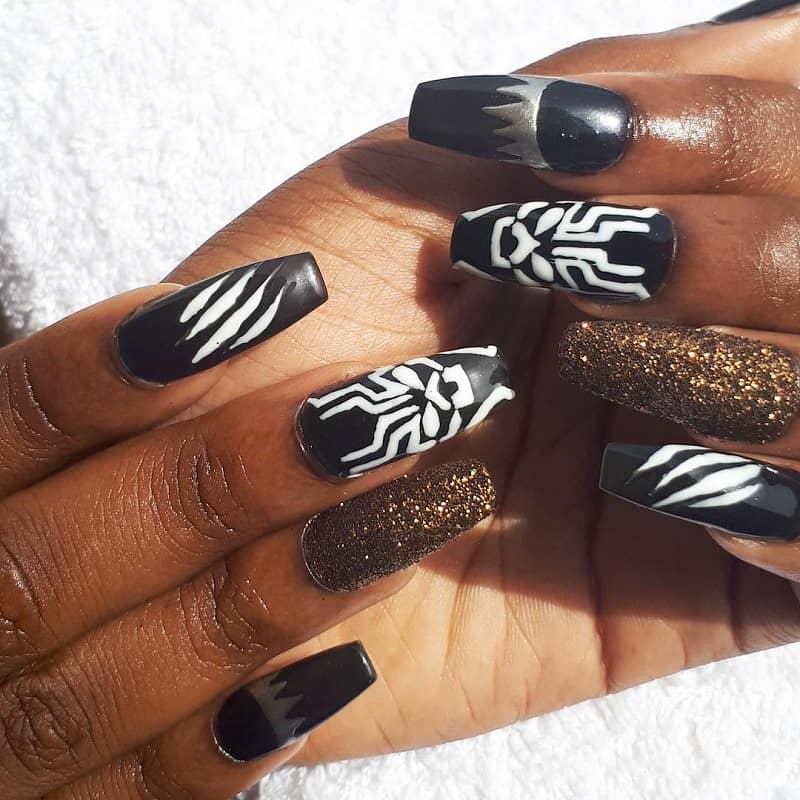 Black Panther took us all to another dimension. If he's your dream man, dedicate your superhero nail art to him by using black and glitter with silver and white accents.
#4. Red Antman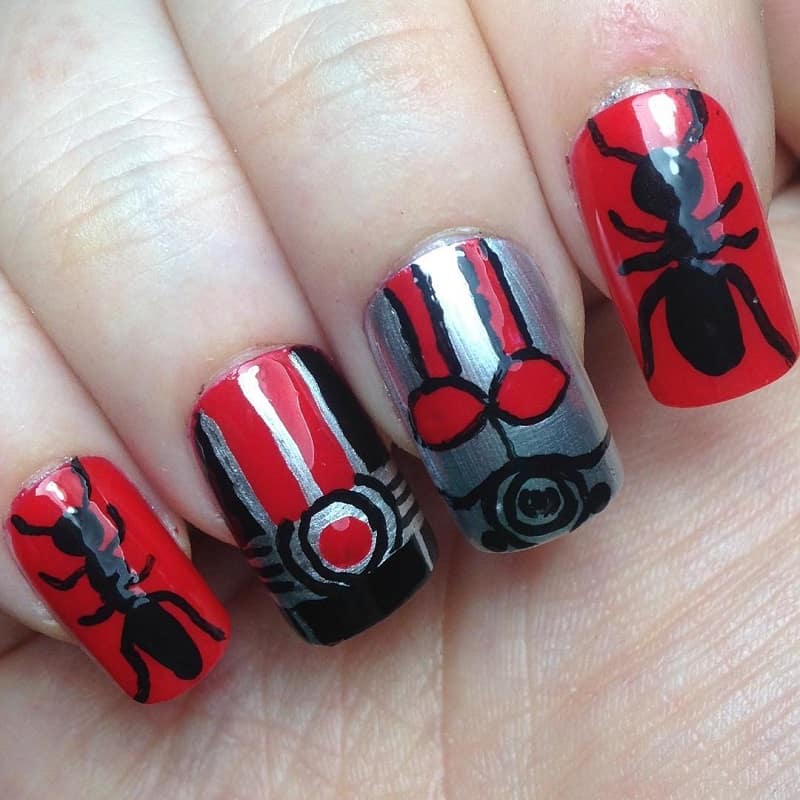 Red is the only base you'll need for Antman nail art. Use black to draw the ant on red nails and silver with black lining to add other Antman features.
#5. Purple Thor
Somehow, we think Thor would approve of these feminine purple nails. Their glitter and shimmer is enough to get everyone to notice which superhero you most love!
#6. The Spidy
Spider-Man is one of the most popular characters of Marvel. This character is still so popular that new movies are being made based on the heroics of Spider-Man. You can use the red and blue color of his costume in your superhero nail art.
Football Nail Art to Support Your Team
#7. Wonder Woman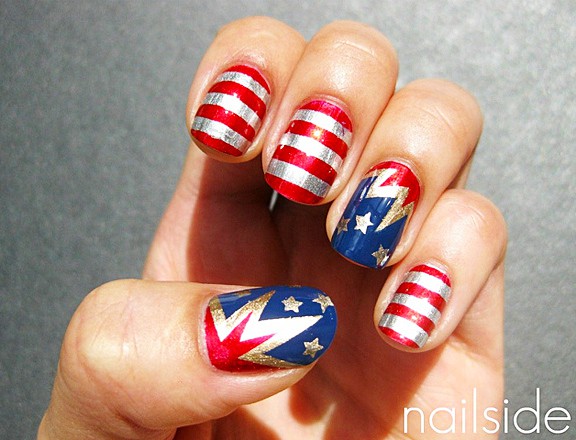 Wonder Woman is a dominating woman character of Marvel Comics. You can use the patterns and colors of the costume to paint Wonder Woman nails as superhero nail art.
#8. Marvel Comics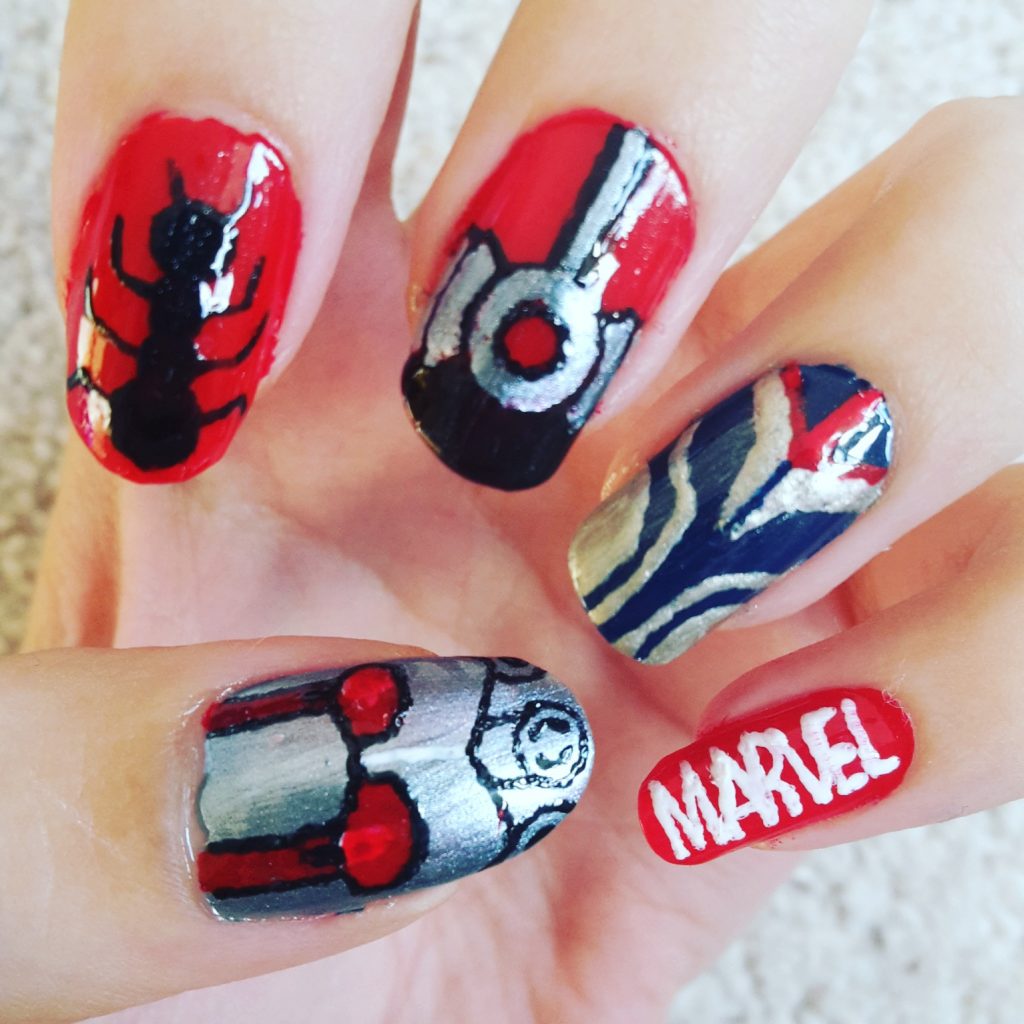 We all know what Marvel Comics is for us. You can write its name on any of your nails along with some superhero characters while having Marvel superhero nail art.
#9. Captain America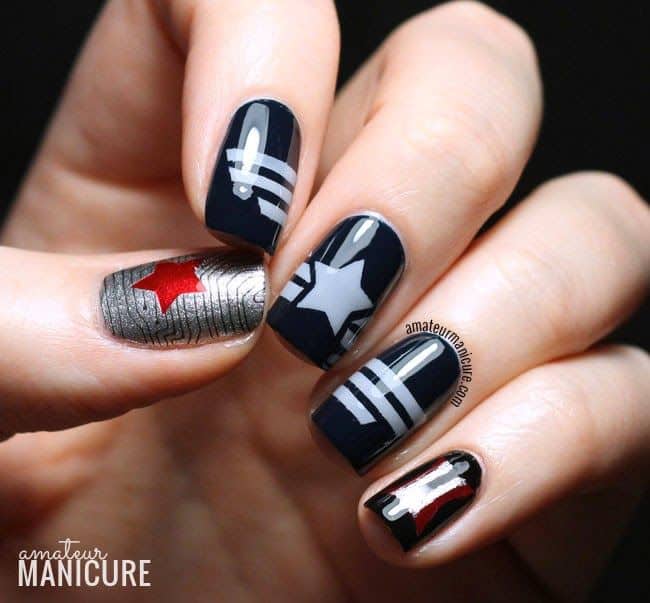 Captain America is known worldwide for its leadership qualities in fatal operations. You can have this design painting the identical stars of Captain America on your back nails.
#10. The Batman
The Batman is the person we need in every city. We all feel hopeless at some points being depressed by the activities of the political leaders. Only Batman can save our Gotham city. You can draw the logo of Batman to have superhero nail art on your black nails.
#11. Daredevil Nails
You can paint the image of Daredevil character of Marvel Comics when you are having Marvel & superhero nail art.
#12. Action Impacts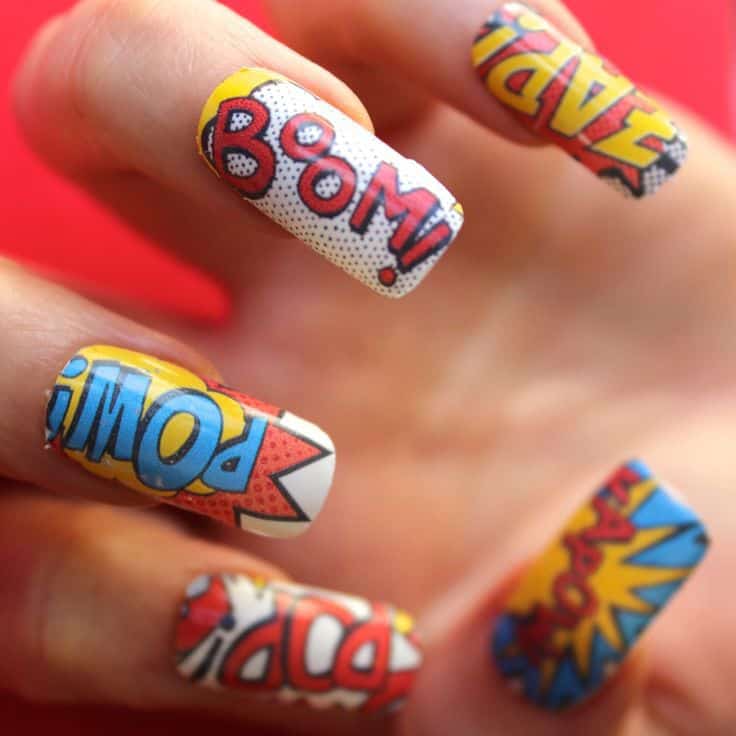 This is not the image of any character. This is the visual impacts of the action of the superheroes. You can paint your nails with these words as Marvel & superhero nail art.
#13. The Deadpool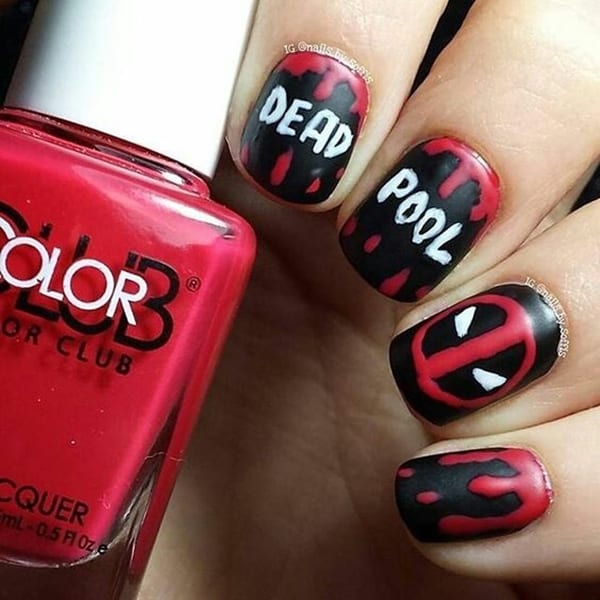 You can depict the image of Deadpool, which is a famous Marvel character, to paint your nails in Marvel & superhero nail art.
Harley Quinn Nails for The Badass
#14. The Superheroes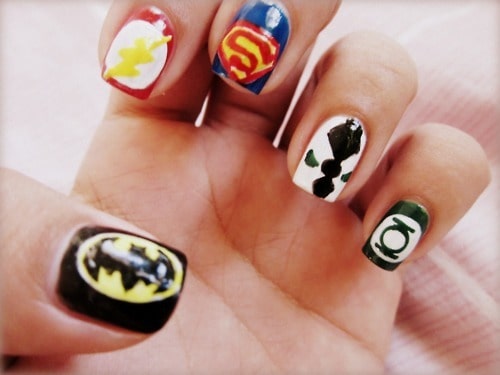 You can draw the logos of prominent superheroes such as Superman, Batman, the Flash, Antman etc on your nails. This is the perfect illustration of Marvel & superhero nail art.
#15. Superman Nails
You might not be a superman but you surely can have Superman nails. Paint your nails with the logo and the colors of Superman's super costume to have this nail art use polka dots on one nail to give it a feminine touch.
#16. Dazzling Spider-Man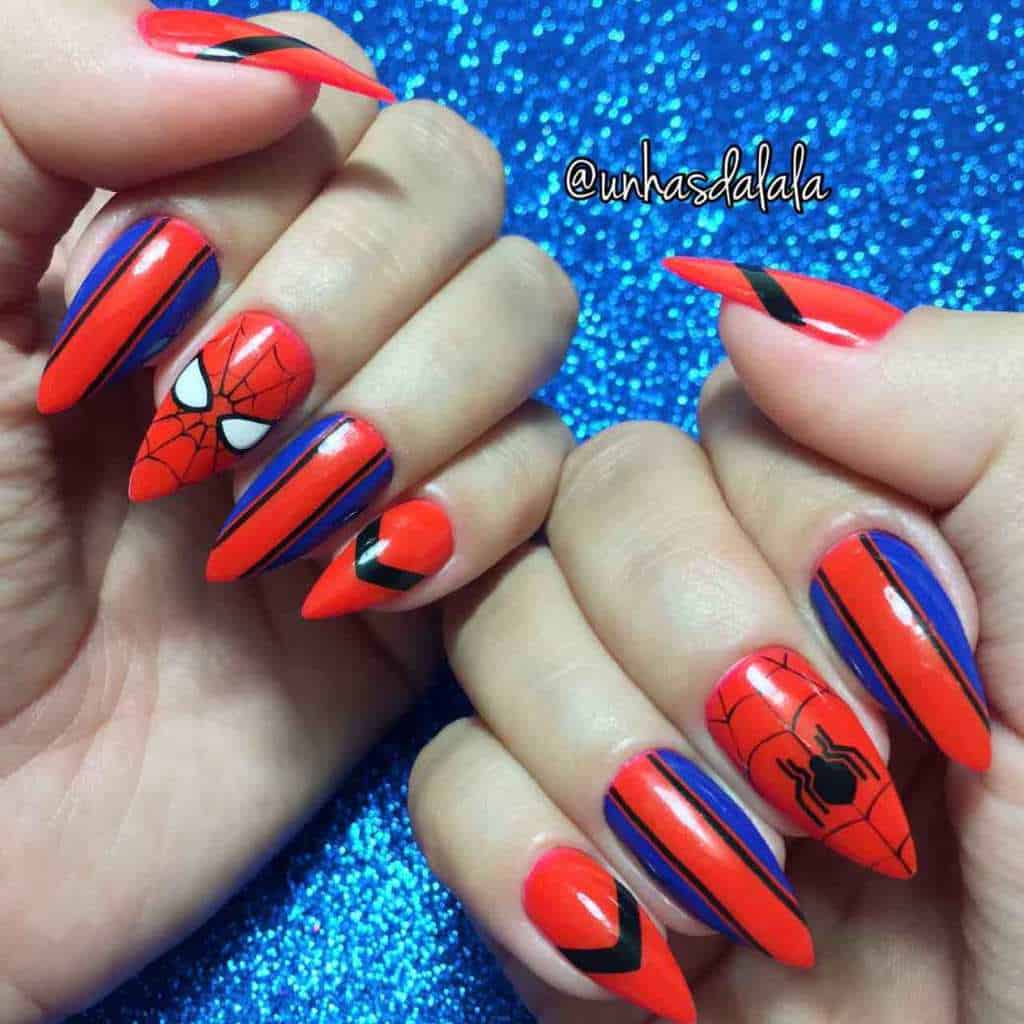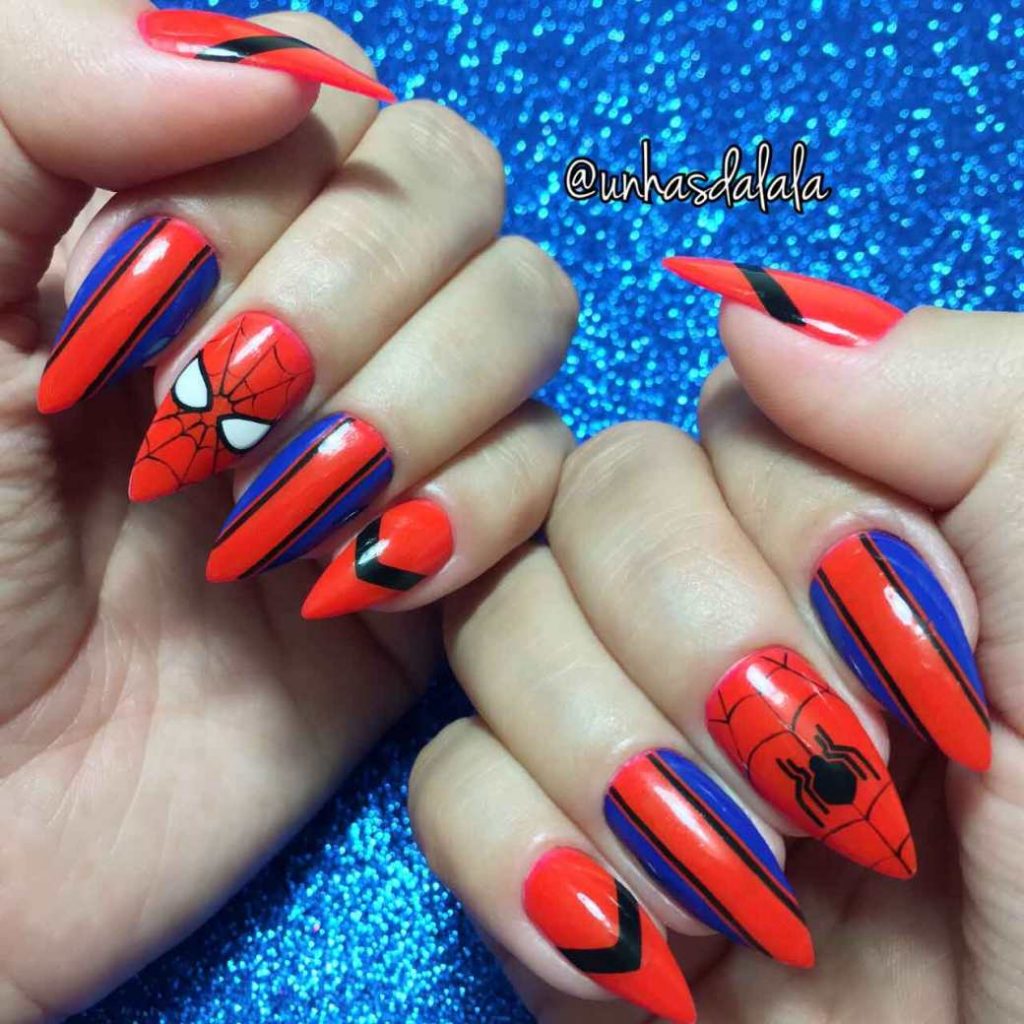 Our eyes get dazzled by the heroic activities of Spider-Man. And here are some dazzling Spider-Man nails to have as Marvel nail art.
#17. X-Man Wolverine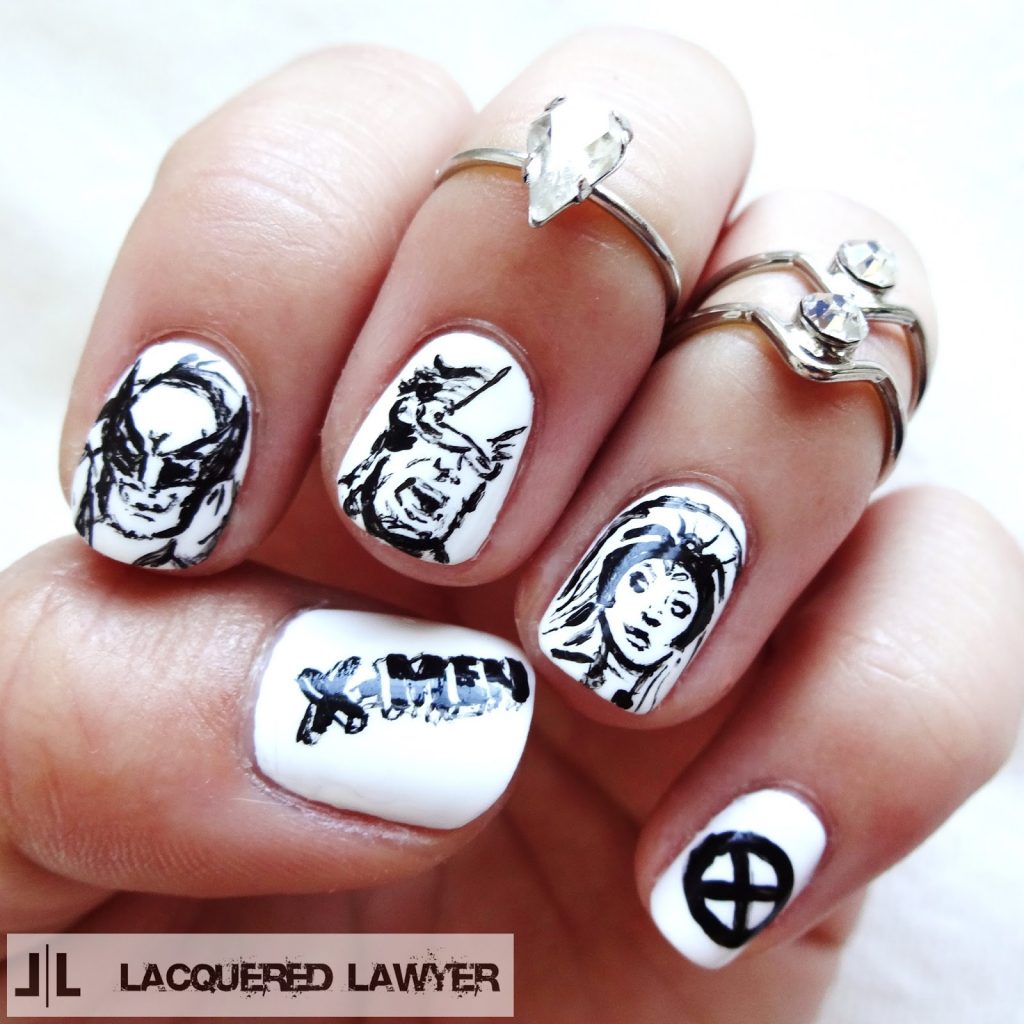 Wolverine is the most favorite character in the X-Men series. You can illustrate some mutant characters on your nails keeping the wolverine in the central attraction with black and white nail colors.
#18. Captain Fantastic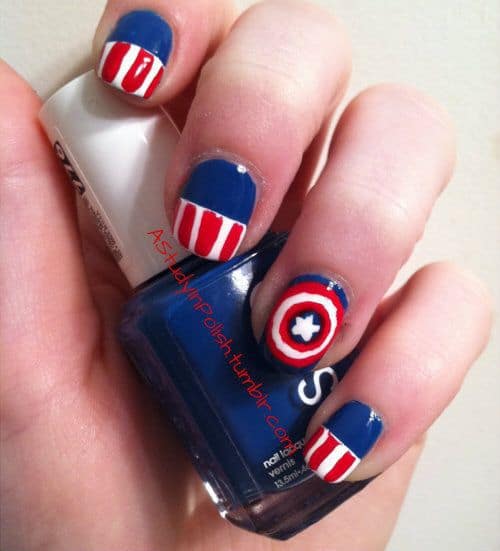 Captain America is widely known for keeping his cool at times of danger. You can illustrate his character on your nails while having Marvel & superhero nail art.
#19. Superheroes from DC
There are some popular superheroes in DC Comics publication. They can also be considered as elements to be used in superhero nail art.
#20. The Avengers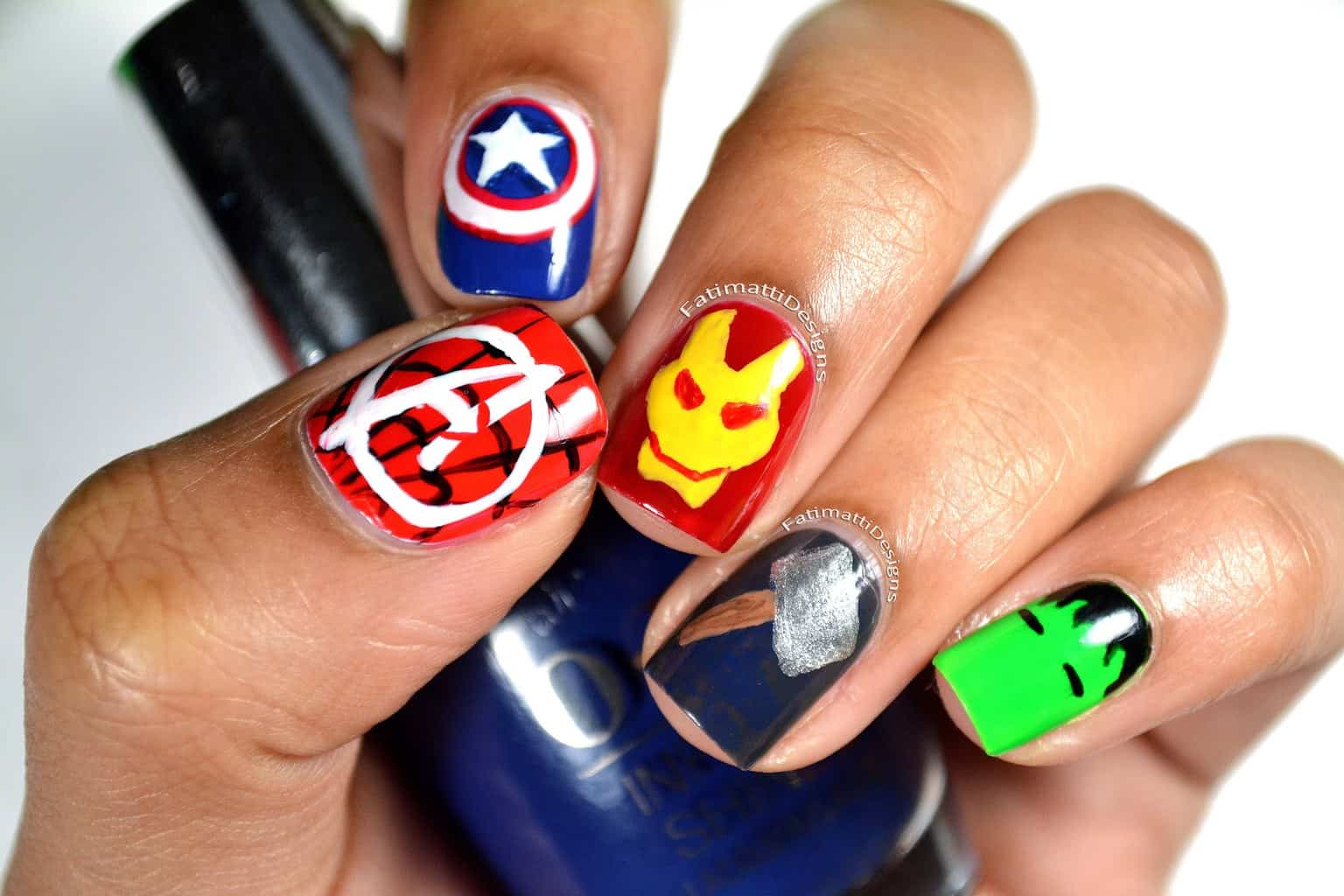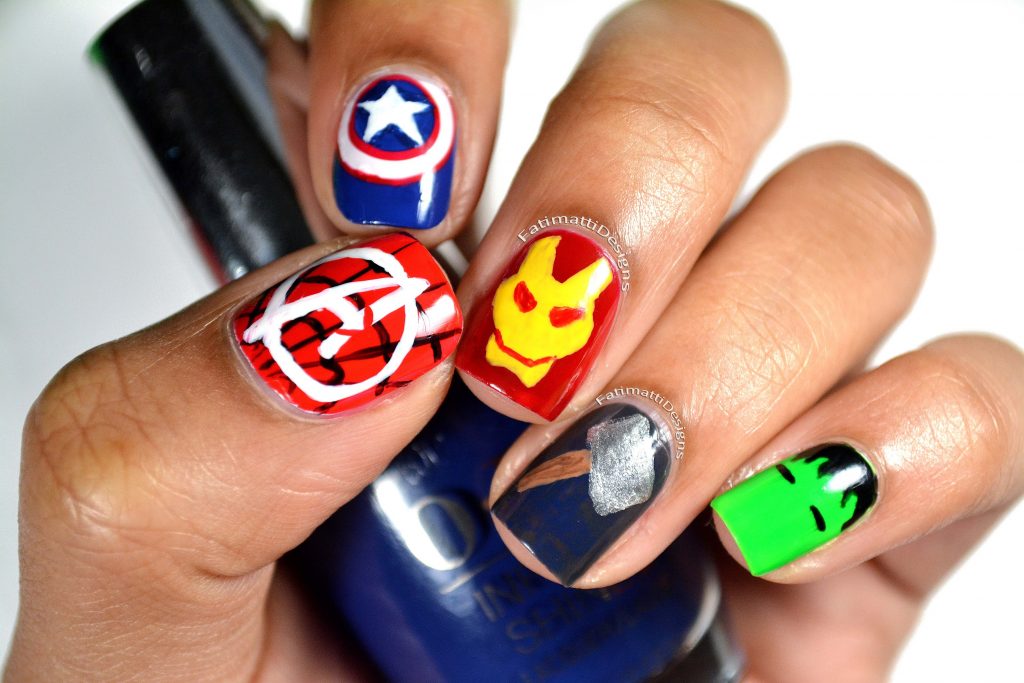 Most of the popular Marvel characters namely Thor, Iron Man, Hulk, Captain America etc are combined together in the Avenger series. They are working together to fight against all odds and evils in this series. You can have this as Marvel nail art.
#21. Amazing Superpowers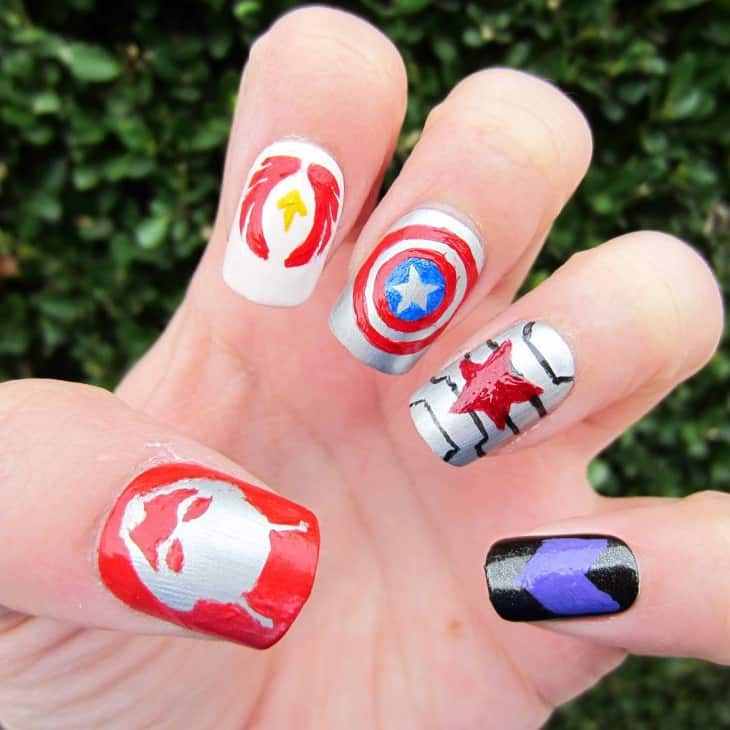 These logos of Marvel characters can be used to draw superhero nail. The logos of different Marvel superhero characters look amazing if they are drawn perfectly.
#22. Marvel Characters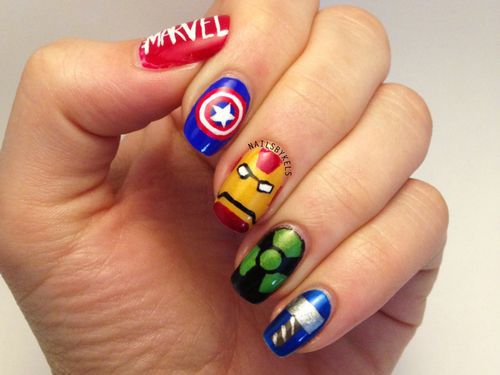 Popular Marvel characters can be painted in many ways to create ultimate Marvel superhero nail art. You can try this one too.
#23. Red Hot Superman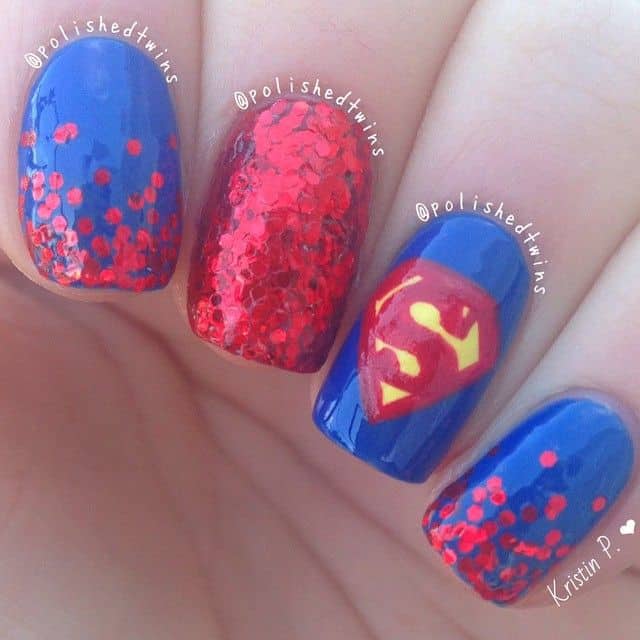 Superman is such a character in which almost every girl has a crush. You can use the hotness of red and the power of superman together in this nail art.
#24. The A-team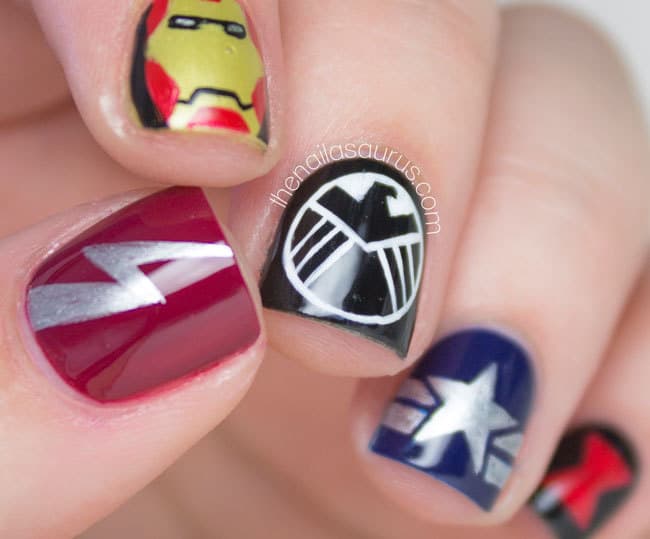 You can form a team of your own on your nails. Paint any logo of any superhero to form an A-team for your mission. This design will look stunning on your fingernails.
#25. Iron Man Nails

Last but not the least, you can paint the image of the great inventor Tony Stark on your nails. He is the Iron Man, who does the invention of gadgets for the Avengers. Paint his costume in maroon and gold color and face to have superhero art on your precious nails.
Nail Design Idea for Welcoming 2018
Some Marvel & Superhero Nail Designs for Crazy Look
There are a lot of superhero characters in different comics series. I have tried to uphold only the most popular ones. If your fav one goes missing, nothing to worry. You can paint that using the ideas discussed here in this article. Let your favorite superhero reign on your nails.