Hippie nail designs are something that will make your whole world so colorful. The ideas are so creative, bold and fun for every one of us. These nails are perfect for parties and big festive gatherings. Back in their day, it was a rare sight so see a hippie alone.
So in honor of the hippies, you should get your closest friends and go to the salon with them. Some matching nail madness is what's up next on your schedule.
Best Hippie Nail Designs to Flaunt
Before getting started with our list, you should first know what is it that you like and want. If you are more of an acrylic or tips person if you prefer longer or shorter nails, matte or glossy. So many options to choose from.
Of course, you can always get this bold print on your natural nails if you are not a fan of plastics. We are here to guide you, so without further ado, let's start this list of awesomeness.
#1: Hippie Acrylics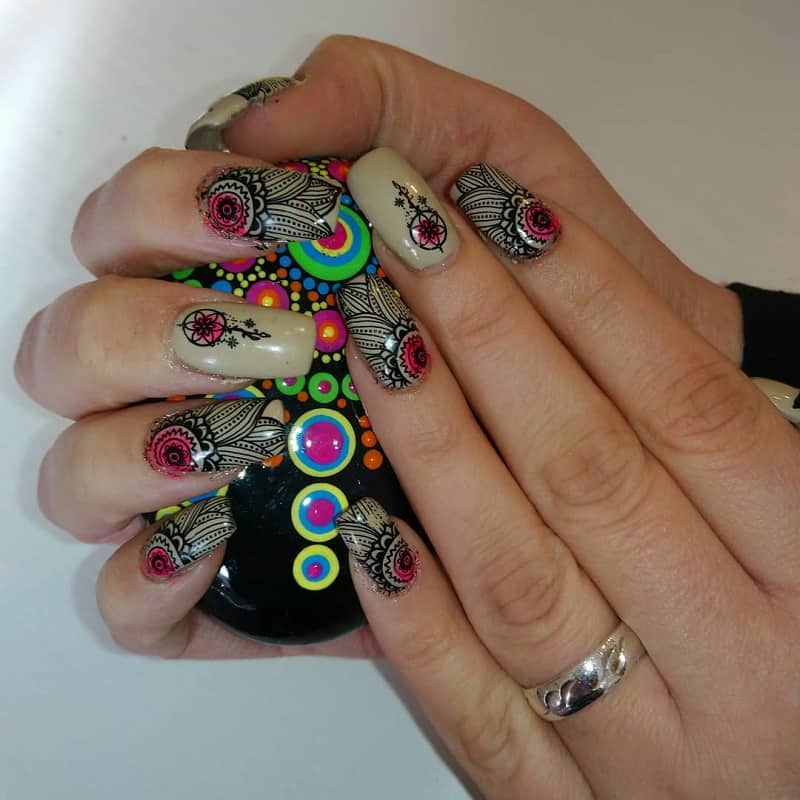 The super detailed black flowers on these long beige nails are livened up with hot pink star centers. Every time you look down at your nails, you'll feel like that zen hippie vibe.
#2: Lime Green Tie Dye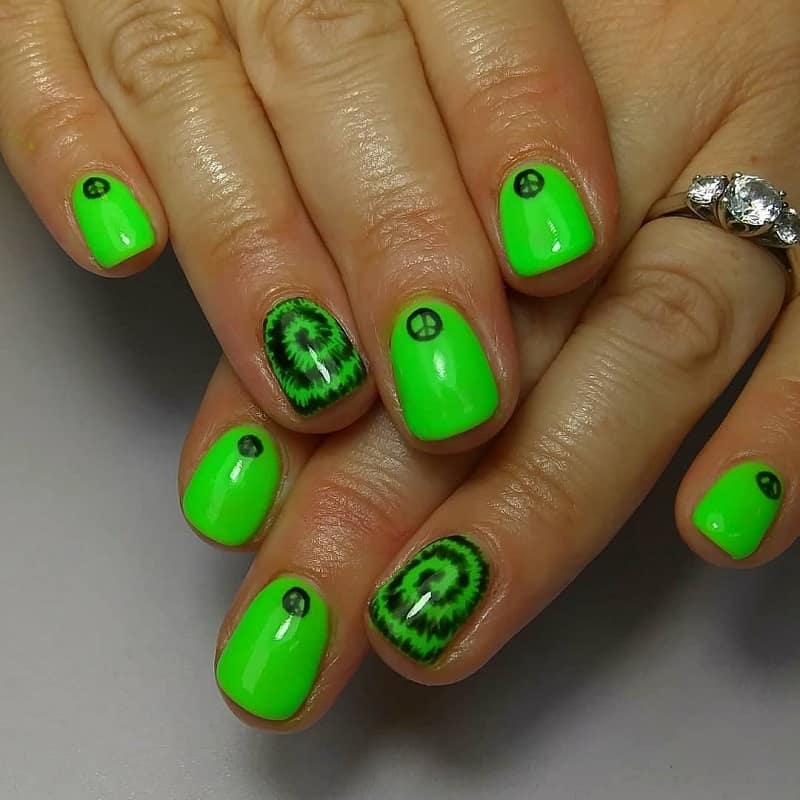 Not all hippie tie dye is created equal. A lime green is just the color for your electric personality. Wear the bright shade on short round nails.
#3: Grunge Hippie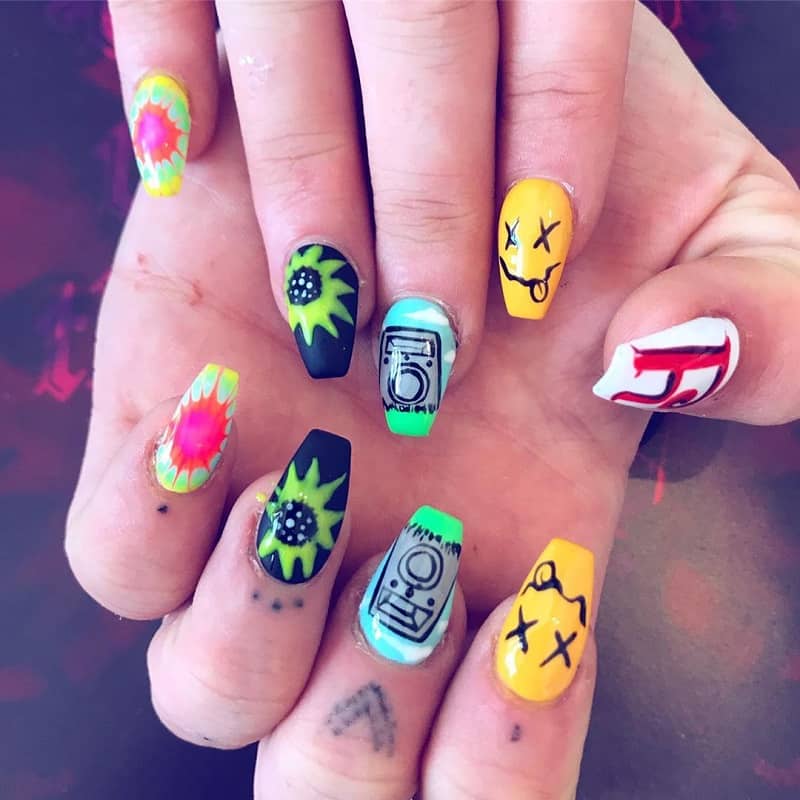 Make a hippie nail design modern yet grunge by pairing classic rainbow tie dye with emo or hipster designs on long brightly colored nails.
#4: Nail Stickers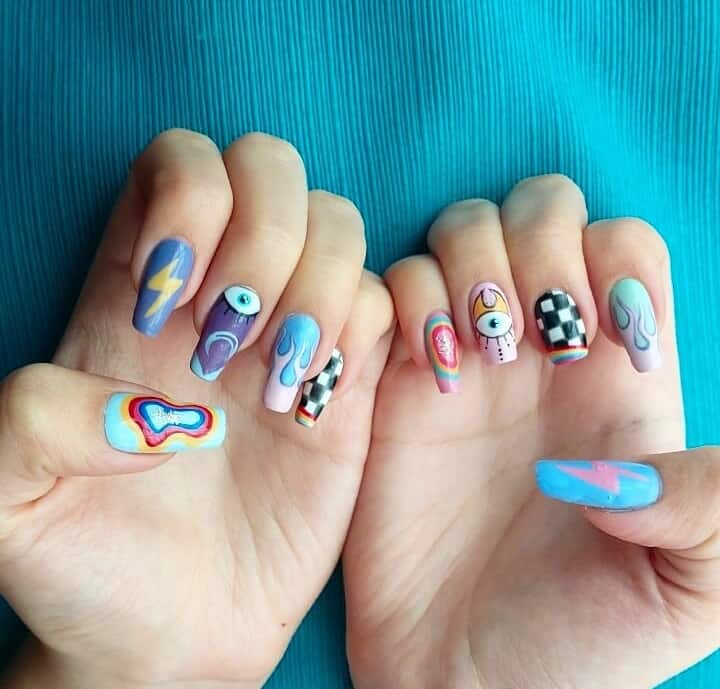 Bright blues and pinks blend well with darker shades of purple on long square nails. You can liven the nails up with themed nail stickers – just make sure they include a nod to the hippie era with multi-colored spirals or patterns!
#5: The Turquoise Hippie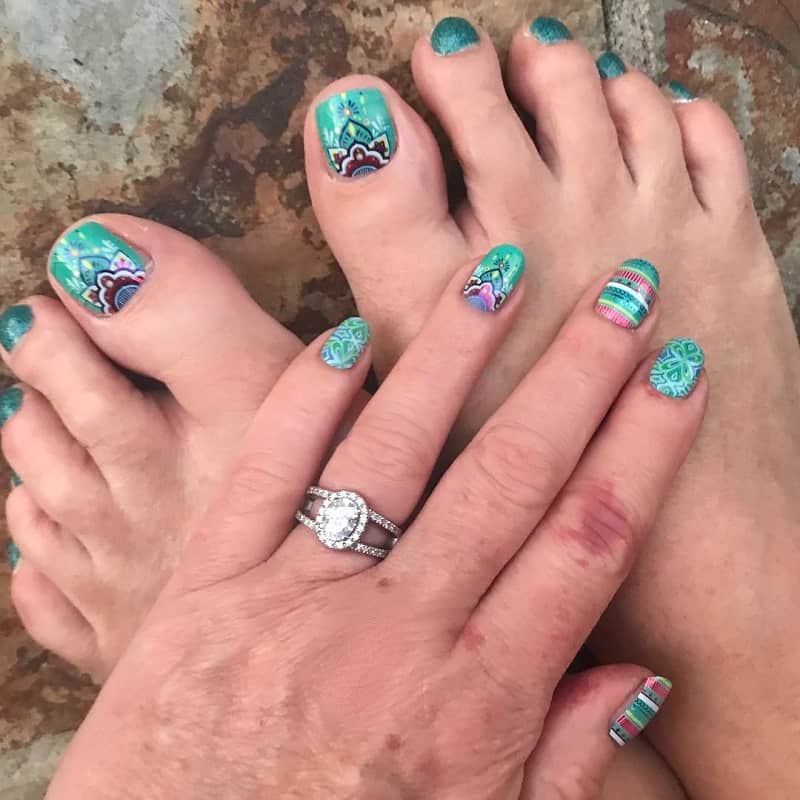 Is your aura all blues and greens? Make your hippie manicure match your toenails by using the same green-blue striped pattern with pinks and whites.
#6: Hippie Nail Tips
Not ready to go full hippie on your nails? Just go partial hippie by creating a hippie-inspired abstract design on the tips. A nude polish will shine up the nail without drawing attention away from your design.
#7: Neon Hippie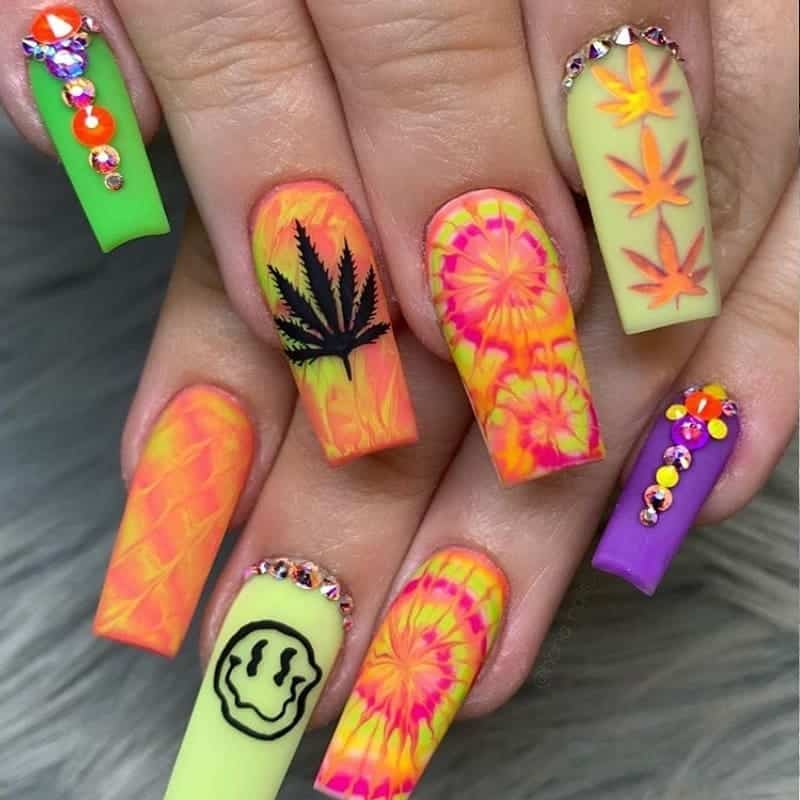 Use all the bright colors in your polish stash to get neon hippie nails. These long square nails are full of bright, energetic nail colors. A few black nail stickers bring the hippie vibe up.
#8: Dream Catcher Hippie
Another peaceful nail design that brings the hippie feel are these light blue marbled nails. The center nail is plain white with a beautiful dream catcher nail decal.
#9: Tie Dye Nails
A true retro hippie loves the classic pink, blue, yellow, and orange-red swirly pattern. Rock the colors on short rounded nails.
#10: Peace Signs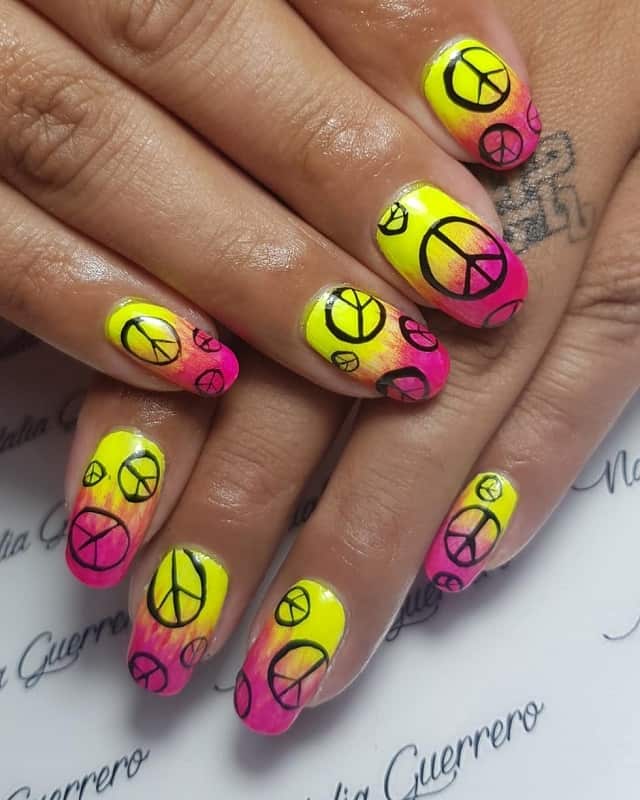 If you need a little more peace in your life, add black peace sign nail decals or stickers to bright yellow-pink ombre hippie nails.
#11: The Twilight Zone
Looks like someone has found themselves in a twilight zone. These green/blue nails are very long and very bold.
If you are a fan of dramatic moments these are just right for you. If you choose to add some jewelry to them they will look even more stunning.
Galaxy Nails Designs from Outer World
#12: Pink Hippie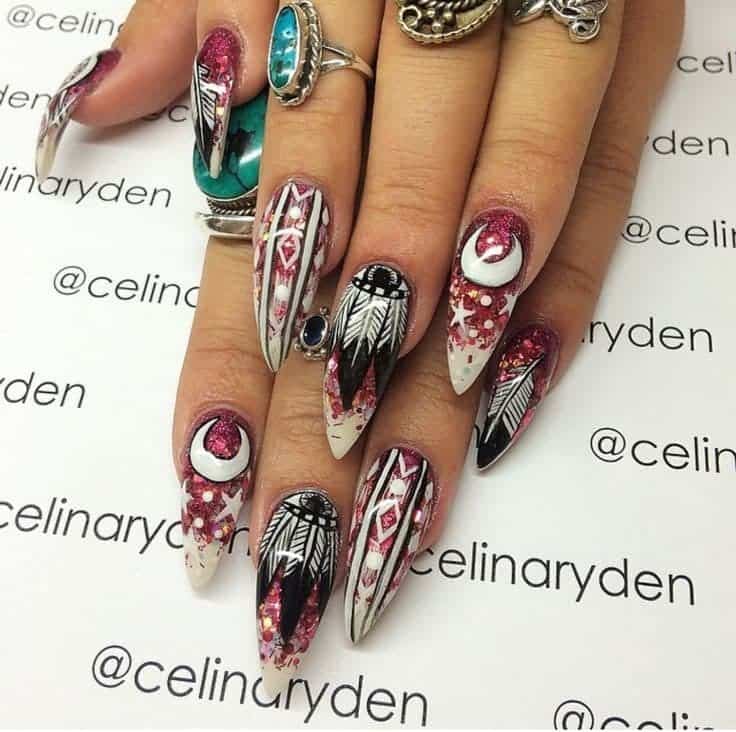 This hippie nail design looks pretty much the same as the first one. The only difference is that this one is in all pink coloring scheme. So these are perfect if you are a fan of the softer and more ladylike colors.
If you thought your nails were long, pause for a second. This acrylic manicure is done super long and looks so dangerous.
Try not to poke yourself in the eye when applying makeup, cuz honey, these look like a weapon. The beauty is still undeniable.
#14: Miss Sunflower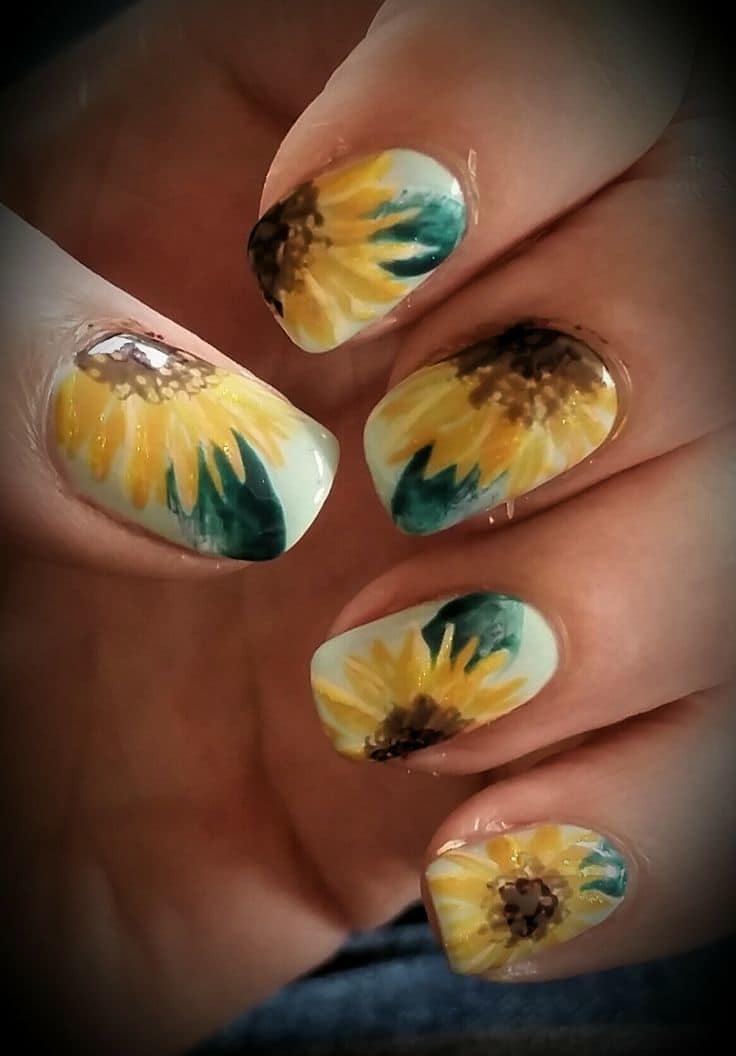 If you are a flower child and you were born during the hot summer days you will love these.
Sunflower print looks perfect for the upcoming hot summer days and suits women of all ages. These colors tho might look better when you put some tan on.
#15: The Real One
We have a real bohemian nail design on our list. It looks like it's the 60's again, or at least for our nails. Bold and vibrant manicure fits women with stronger character.
These nails could be worn for Halloween as a finishing touch to your hippie costume. Besides that occasion, we don't really see how you could rock them during your everyday life activities.
#16: Colors Everywhere
I see colors everywhere, and I love it. We have some psychedelic moments going on in this picture. You could totally wear this at a club or at the disco and have a total blast.
Make sure to wear something this vibrant as your outfit for the fuller, better and bigger picture.
#17: Bold Prints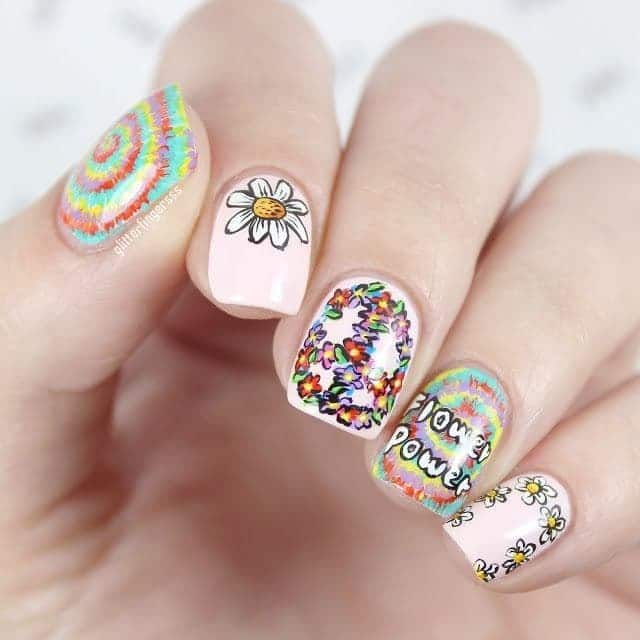 So delicate but yet so powerful. This hippie nail design with the nude nail polish base is perfect for women who don't like too much of a color.
You can also see that your nails can have some character to them if you add just a few concrete drawings.
#18: Purple Is Hippie
This purple manicure has been done on the natural nails, and we love it. Sometimes you need to let your natural nails breathe, and relax from all the glue and powder madness.
You could wear these nails at any point of the day and look super cute. That is a big plus since they are not made for just one specific event.
#19: Yellow Trees
Flower power, yellow color, trees, and a peace sign, does it get more hippie than this? These nails are somewhere in the middle when it comes to their length, but on top of the chart when it comes to the level of funkiness.
#20: Peace Sign
When having this hippie nail design you are required to drive a big colorful truck. Otherwise, it's just not right.
This manicure is the ultimate hippie one. So many bright colors and cheerful vibes, people will definitely think of you as a positive and friendly person.
#21: The Transitions
Lightly transitioning from a white to black color, these nails look like pure fun. They are not too hippie looking, so you could wear these casually and during your everyday life activities. You will not be in the center of attention, so if that's your goal, get this manicure.
#22: Happy As Never Before
These nails are so positive and friendly-looking. Mixed colors as a nail polish base look fun and so hippie.
If you add a little smiling sticker you are the main attraction. People will see you as a very positive person, and everyone will want to get to know you.
Match Your Toenails With Fingernails
#23: Kind Of Indecisive
If you are a bit indecisive and you don't know which way to sway, then why not hear what we have to say? (Hm that rhymed.) Sometimes, going all colorful is the best solution.
Paint every one of your nails differently and you will love it! Not just you, but everyone around you. That is if you get them really precisely and neat looking. Go to the best nail salon in order to avoid disappointment.
#24: Indian Inspired
This hippie nail design is also a bit Indian or tribal-looking. They are still beautiful and totally have multi-purposes. The lines on top give them such chicness and style, we love it!
#25: China Glaze Makes A Hippie Place
So festive looking, these nails could be worn at Coachella. They look like they've come out of the music video and have stolen all the glory.
A tip for these, always put two coats of a top coat in order to ensure the long-lasting effect. It would be such a pity to ruin this beautiful design.
#26: Pink Lover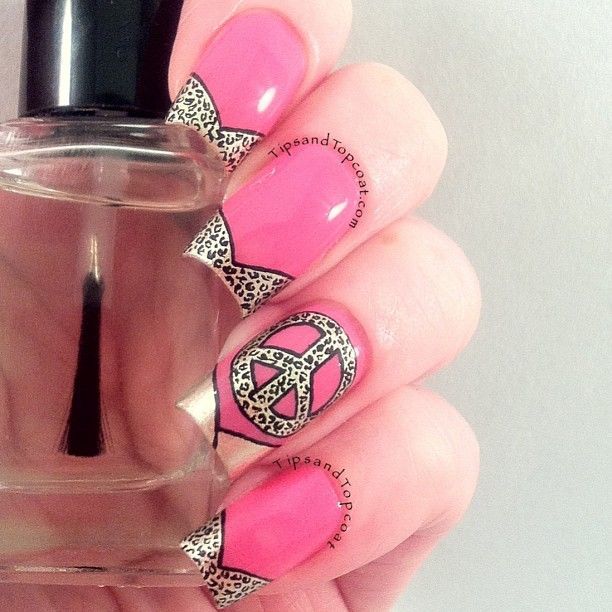 For my pink color lovers out there, don't worry, we got you. This design looks so simple with leopard print, but we can also see that just one peace sign is enough to ump up the whole picture. The square nail shape also looks stunning for these nails.
#27: Soft Colors
Here is more of these soft pink tones for the ladylike women. This hippie nail art with some yin yang moments looks fun. They totally have a mind of their own, since these nails are so flowy and different.
#28: Peace Bringer
You will definitely bring peace and joy to people around you with this ombre manicure. They will look even more stunning if you get someone to match their nails with yours.
The blue color is well known to be a color of peace and harmony, so keep that in mind when getting the next manicure.
#29: Glue Me Down Option 1
If you are that type of woman who is always rushing and can't get things done in time, don't worry, we are here to save the day. Many of us struggle to get all the tasks done in time, so at the end of the day, we forget to treat ourselves a bit.
Press on nails is the best choice you can go for. They are super-efficient, cheap, and only take 5 minutes of your time. Let's not forget that they look super pretty as well.
#30: Glue Me Down Option 2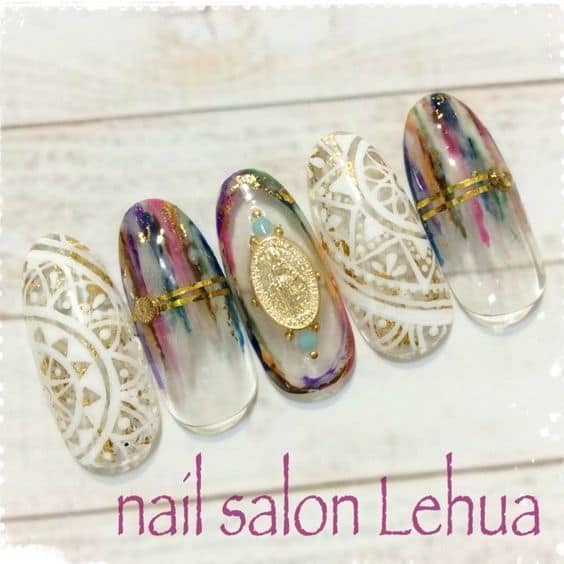 Here is one more example of the glue-down nails that you can go for. This boho nail design is so pretty and majestic looking.
If you are lucky enough you can find them on eBay extra cheap. If not, you might have to go to Ulta in order to find these beauties.
Get Dazzling Look With Silver Mannis
Some Must Try Hippie Nail Designs
There you have it. All 30 hippie nail designs that you might love. Make sure to take loads of pictures of your nails. Be a trendsetter, and make everyone jealous with your gorgeous manicure.