Unless you've been living under a rock, you're probably aware of the trend of people who are now painting their dog's nails. It's just one more way to give your dog his or her own sense of style. It's not enough to have colorful, printed leashes and jackets – now their nails need to be colorful too!
The most important thing to remember when considering painting your dog's nail is to pick a color from dog-friendly brands. Warren London or Color Paw are safe, quick-drying, and made from all-natural ingredients, so if your dog does end up ingesting the polish, no harm will come.
So paint away and watch as your pooch turns to pampered!
Dog Nail Polish Ideas
So, why not give your pet a cute paw-dicure? If you're needing a little nudge as to what your options are for colors, take a look at the adorable pet-friendly designs below!
#1: Rainbow Glitter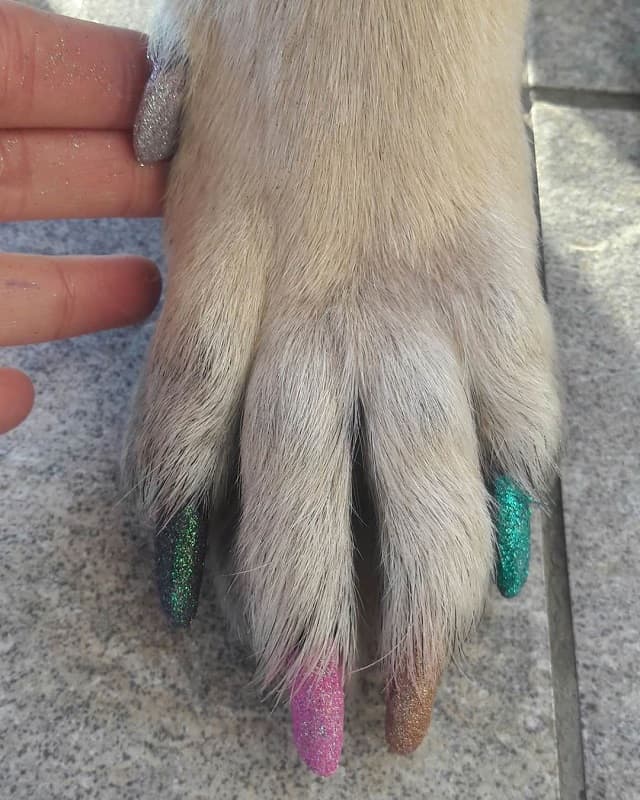 Can't decide which color your pooch would look best in? Why not give them all the colors? Sparkly ones are sure to catch the eyes of every other doggo on your daily walk.
#2: Bright Red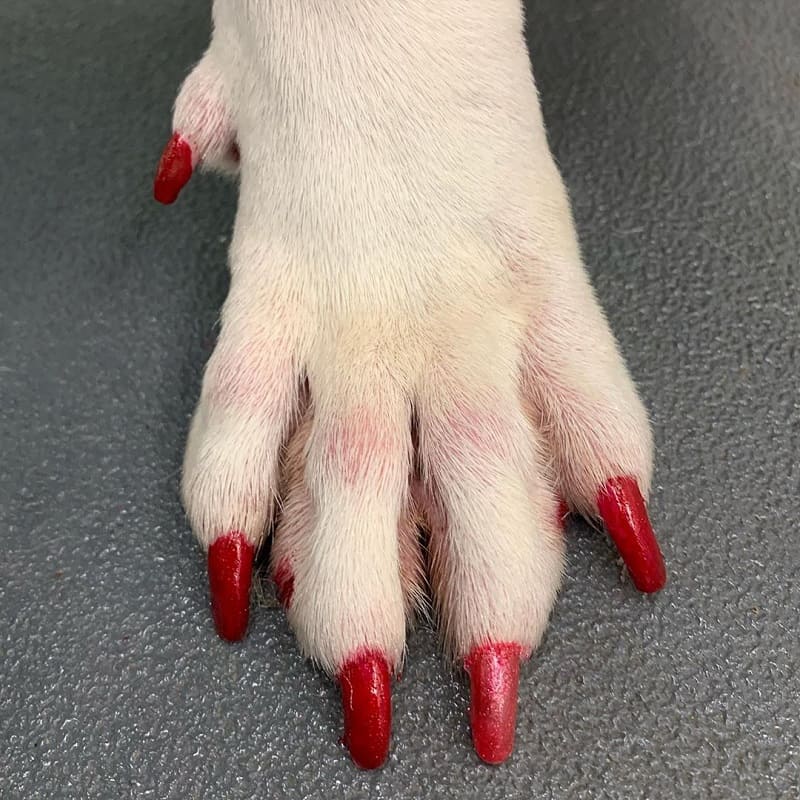 Just like many of us ladies have a favorite bright red heel we love to wear, maybe your pooch's favorite color is red! Give them a glitzy, glittered red nail to make them feel like your princess.
#3: Heart Love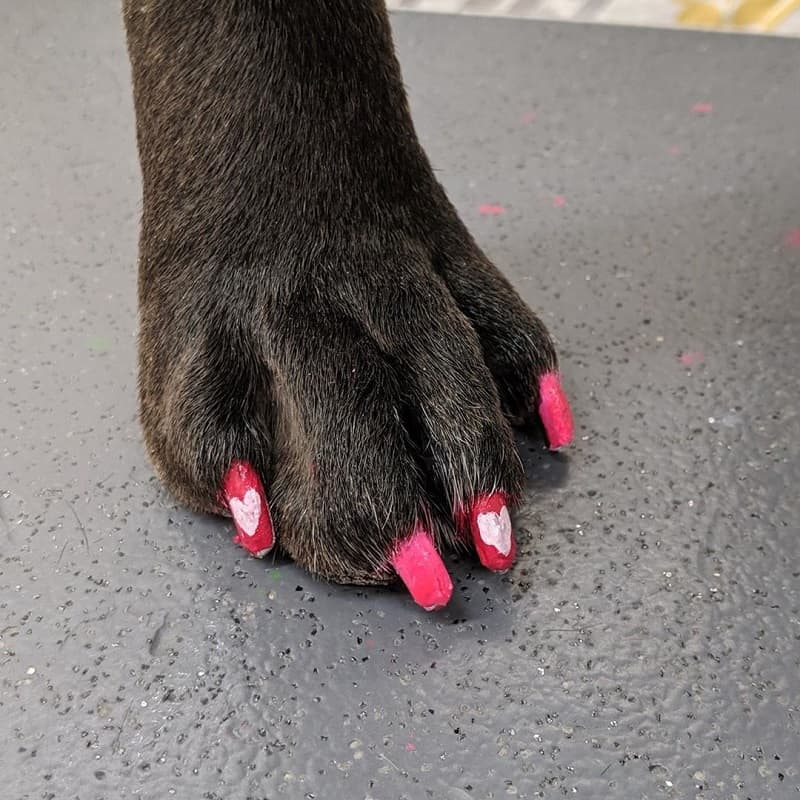 With a dog nail design featuring a simple white heart on red or pink nails, this is one design you and your dog can wear at the same time!
#4: Brown Nails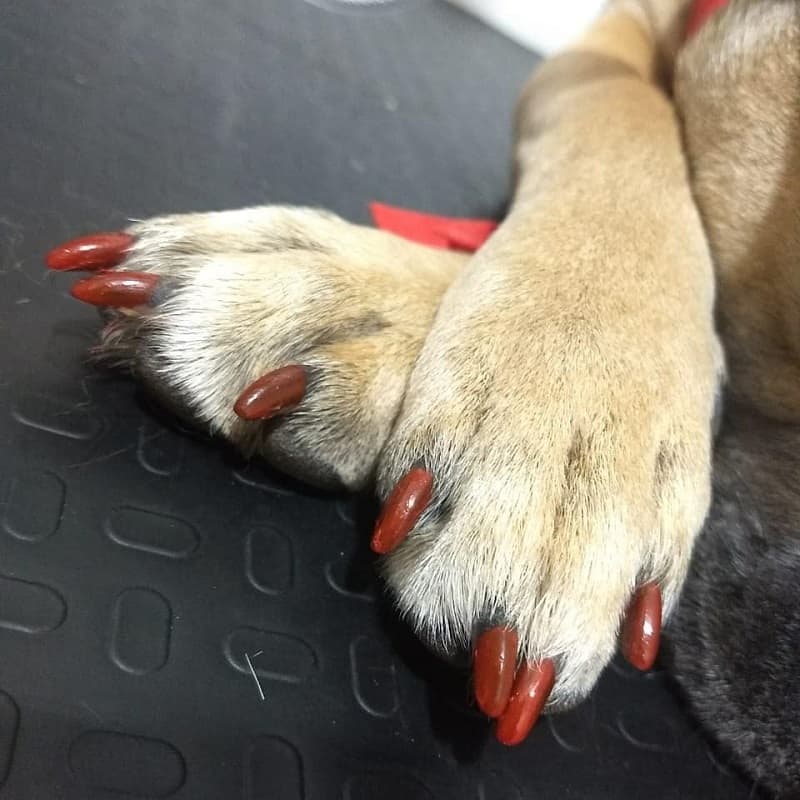 Not into the bright fancy colors you've seen so far? Maybe a neutral brown is better suited for your best friend. This color matches both light and dark colored fur and isn't as eye-catching (in a good way).
#5: Polka Dots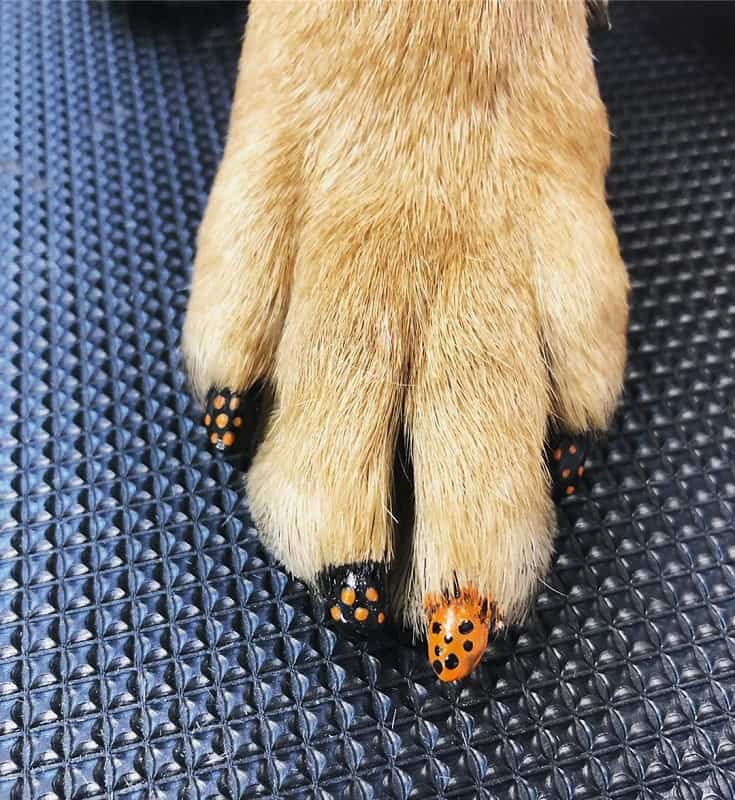 Polka dots on anyone are adorable, so can you just imagine them on your dog? These dog nails are black and orange with alternating orange and black polka dots.
#6: Rainbows with Polka Dots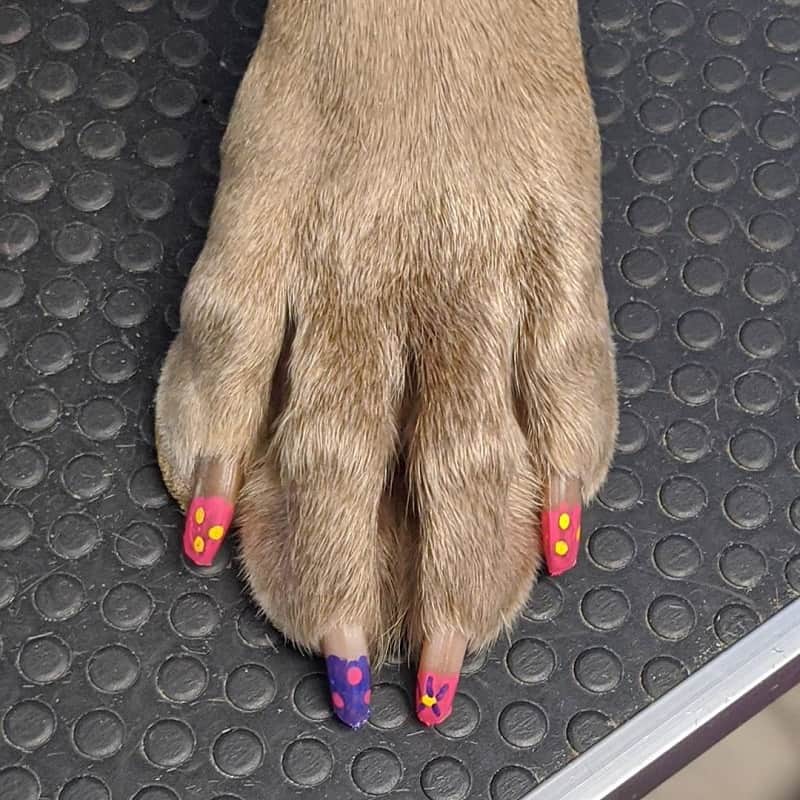 If you think your dog is more fun and vibrant than a neutral nail color, give them rainbow dog nails with polka dots! This funky style is sure to express their outgoing, energetic personality.
#7: Patriotic Dog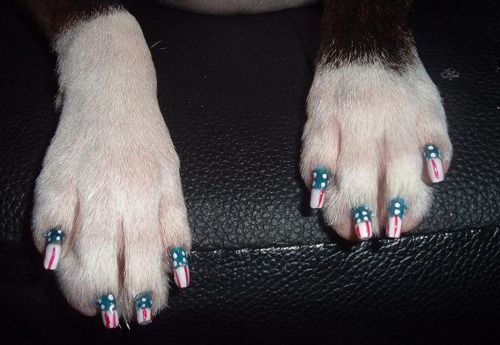 So, you're from the United States and you're proud of it? Maybe your dog also loves the place where he lives. If that's so, grab blue, red, and white nail polish and have some fun. If you're finding it hard to paint the flag precisely just use thin lines of scotch tape. The stars can be in the form of a sticker so just place them down evenly.
Show off Patriotism with These Nail Designs
#8: She's So Lucky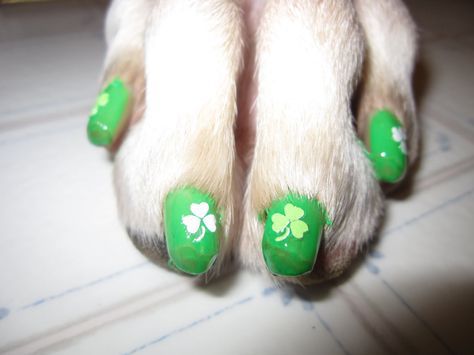 She always gets herself into trouble but nothing ever happens to her? She is a real troublemaker but somehow the luckiest dog on the playground? This dog nail polish idea is for those dogs that are born under a lucky star. First, paint your dog's nails with green nail polish and then draw a white clover. If you're not that good at drawing you can just put a little sticker.
#9: Butterfly Nails for Your Dog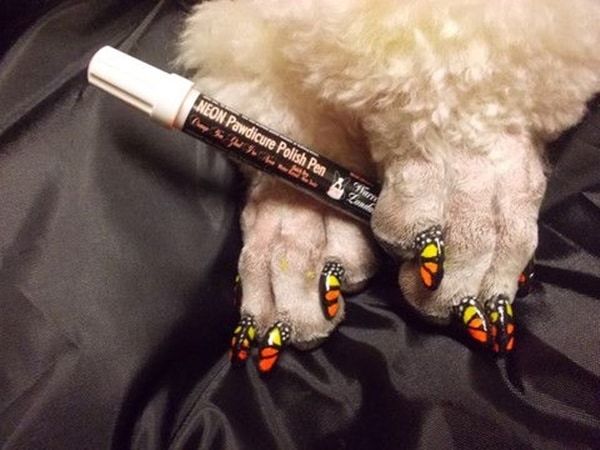 She can't stay still for two seconds, can't she? Is she always ready to play and to explore new things? Well then, how about you give her a butterfly nail design? Painting butterfly patterns can be so much fun because there is no right or wrong way. You can mix as many colors as you want or go for a combination of a few colors that go really well with each other. You will have one colorful and cheerful doggy.
#10: Ready For Vacation
Playing around all day can be exhausting for our precious little dogs. We all like to have some time off. If you're planning on bringing your dog on your vacation then this nail polish design for dog is the one for her. Paint your dog's nails black and then add some bright palm stickers. These will luck super cute and tropical; just right for the vacation!
#11: You Go Girl
If your dog is used to being treated like a queen, this dog nail polish style is perfect for her. Walking around the neighborhood with your dog's nails looking this flawless will definitely feel like you're on a red carpet. Achieving this look requires some skill, but you know your dog deserves the best.
Take Some Leopard and Cheetah Print Inspirations
#12: Spooky Dog Nail Polish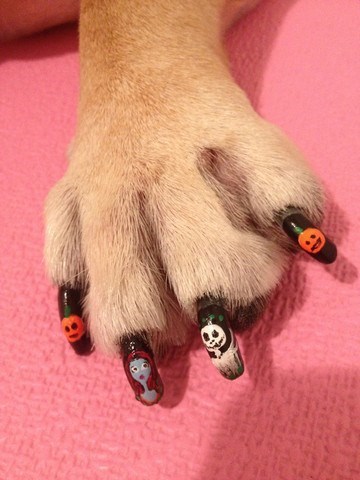 You're chilling, just minding your own business and bam, out of nowhere, there's your dog in front of you! It feels like she's always pulling scare pranks on you. This Halloween paints her nails black and then draw scary creators on her nails. Show the world how scary she can really be.
#13: I'm A Lady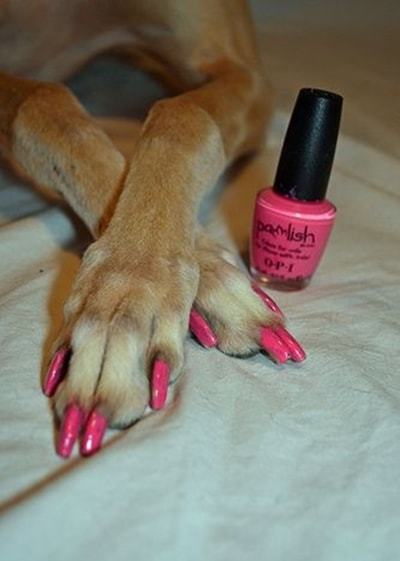 She loves to wear special pink collars and little red ribbons, doesn't she? She walks gracefully and never barks? Admit it, you spoiled her. How can you not when she's so lovely? She probably already has many accessories on her, so painting her nails pink is a simple, but a great and innovative idea.
#14: It's Spring Time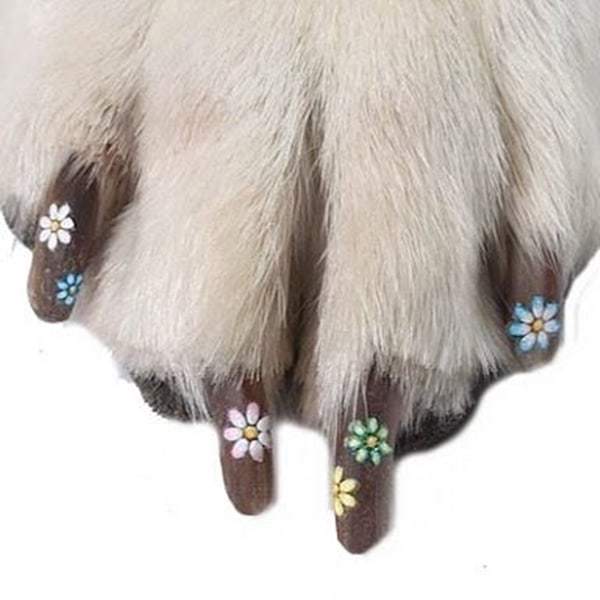 Every dog's favorite time of the year is spring. Everything is so colorful and interesting. A simple spring nail polish idea for dogs is painting little flowers on her nails.
#15: Blue Nail Polish for Dogs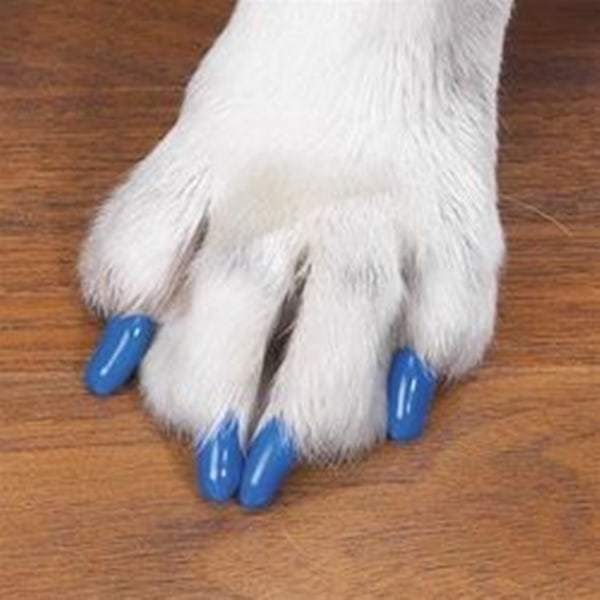 Who says male dogs can't have nail polish? Simply painting your dog's nails blue is a great idea. You and your dog will have so much fun together because it will be something new for both of you. He'll surely love his new look.
Dog-Themed Nail Designs for Your Nails
Whichever dog nail polish idea you choose we know you'll have a lot of fun. Make sure you take a lot of pictures and share with us in the comments!