A debate is going on in the nail design arena about duck bill nails. Most of the nail techs are against this new trend of having flared nails. Duck bill nails are also known as Duck Nails, Fan Nails, Duck Feet Nails, Flare Nails, etc. This shape is not ethical to have according to the nail techs who have spent a huge amount of time in learning what to do and what NOT to do with your nails. Wondering what the actual problem is? Read on for answers.
What Are Duck Bill Nails: The Definition
Duck bill nails are an exceptional shape of nail extensions where the nails get wider on the tips. These nails resemble a flared look extending from the natural nails to the ends of the artificial nails. But why are knowledgeable nail technicians saying they aren't they safe?
Why You Should Not Have Duck Bill Nails
If a customer wants duck bill nails, a nail tech should do them without question. However, they should warn the customer about any possible damage to nails. Since a nail tech has learned the proper way of sculpting nails, it's their duty to not just do the nail art, but inform the customer of potential hazards or issues.
The most technically perfect nails are those having parallel sidewalls or narrower sidewalls than the nail beds. Nails are well-balanced if the extensions are kept less wide than the natural nails. Flared or duckbill nails are quite opposite to the teaching of nail sculpture.
Duck bill nails are structurally unstable. If you are wearing duck bill nails, be ready to experience a disaster. The nails are totally out of balance having more weight spreading to the outer side of the nails instead of the nail beds. The free edges might cause chipping and cracking, resulting in the possibility of catching on clothing, sheets, etc. Besides, most notably, these nails lack the aesthetic sense of beauty.
Duck Bill Nails For The Challengers
We don't care what everyone else says, we have a liberal perception of your demands. If you're determined to have duck bill nails, we are prepared with some design options. These nails will suit your personality if you are the kind of person who loves to take challenges no matter what comes their way. Take a look below for inspiration.
#1. Hot Pink with Rhinestones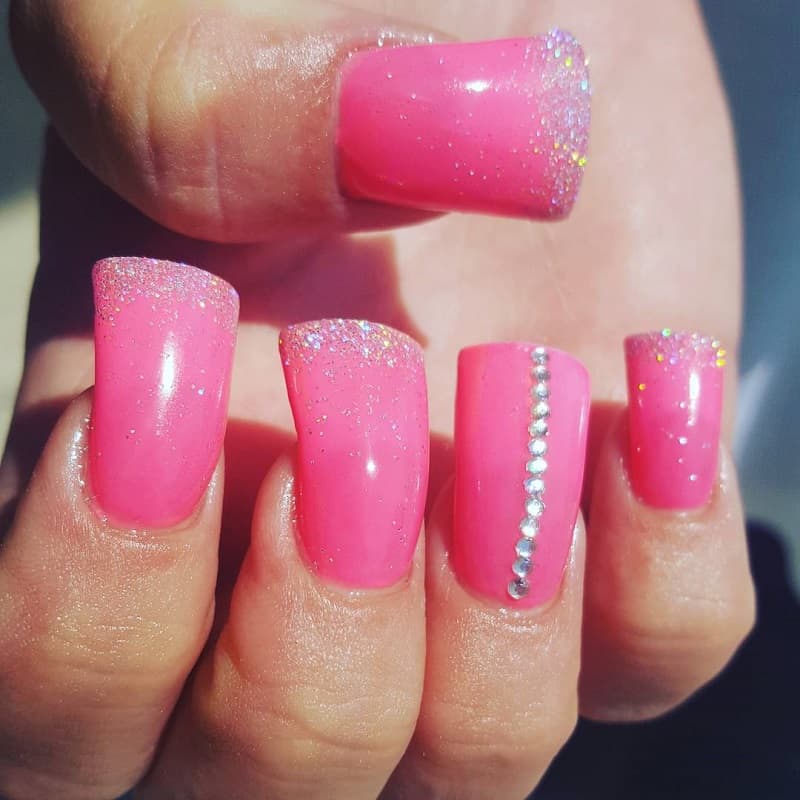 These duck flared nails are hot pink with glittered tips. If you're searching for a statement nail, add bright tiny rhinestones to one nail on each hand. You can arrange them in a straight line vertically or make your own pattern.
#2. Pearl Duck Bill Nails
Love a classy looking manicure with neutral colors? These duck bill nails feature a soft shiny pearl colored polish. Tips are pure white and beautifully fade into a soft baby pink.
#3. Duck Feet Nails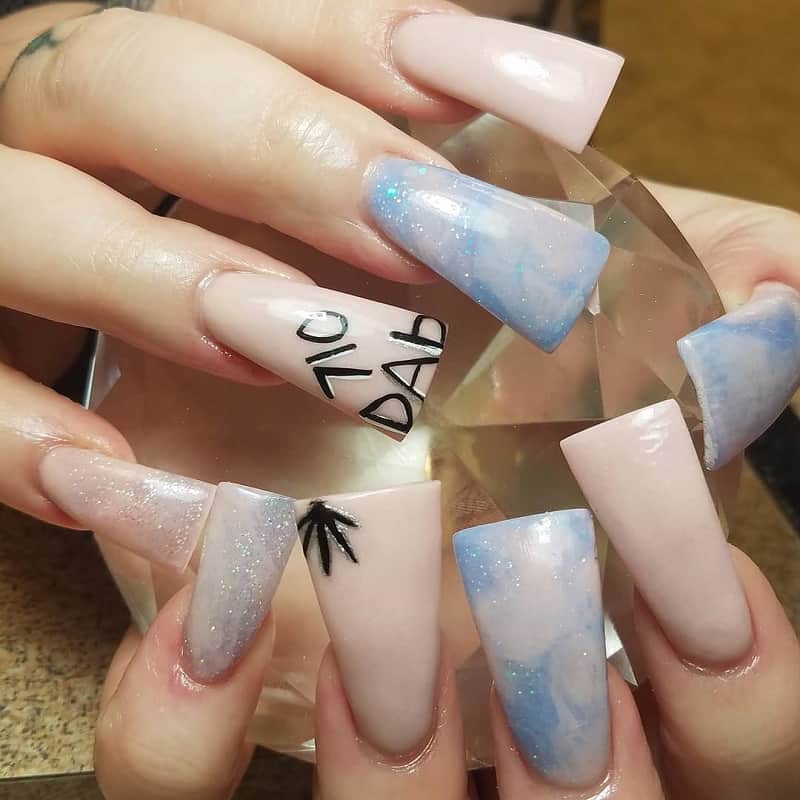 If you like to wear your love of art on your fingers, try these duck feet nails. Marbled blue polish accents soft beige and glittery nails. Experiment with stickers at the corners of a few fingers for detail.
#4. Bubblegum Pink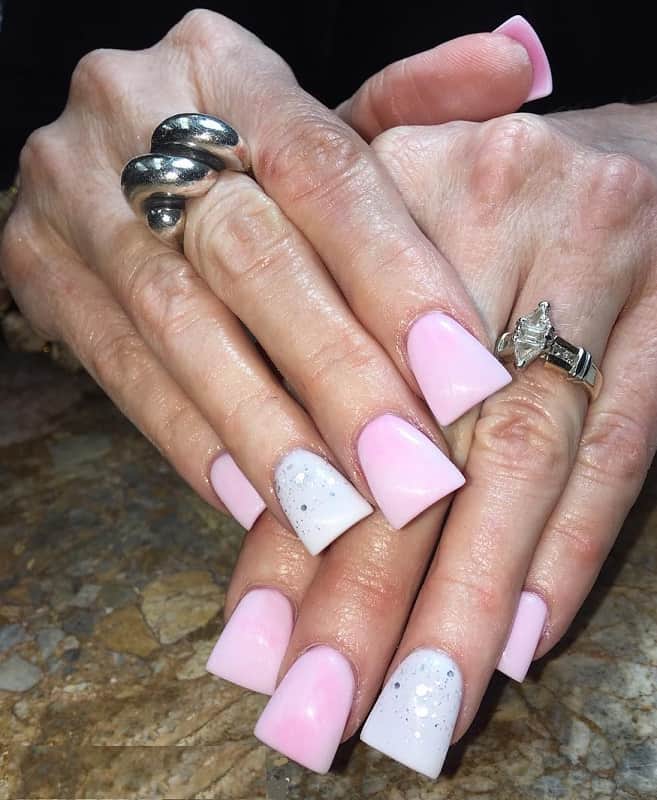 Even older women will love rocking duck feet nails. Try a polish that will flatter your skin tone, like bubblegum pink with white. Silver speckles are a shiny fun detail.
#5. Chevron Rainbows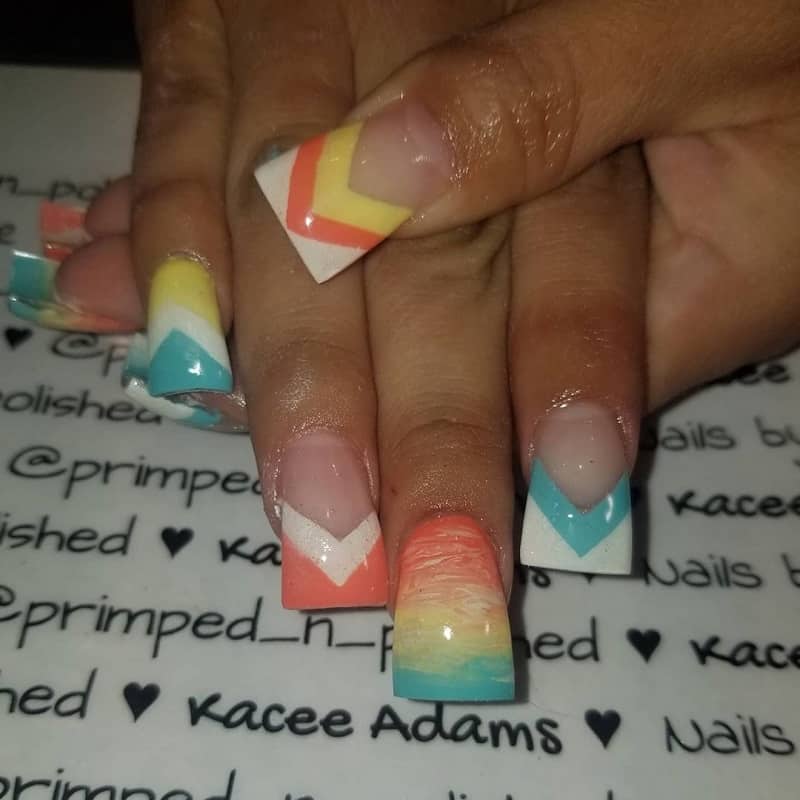 Can't decide on one color for your duck bill nails? This fun chevron style features all the colors of the rainbow with one finger on each hand a melted blend.
#6. Simple And Cute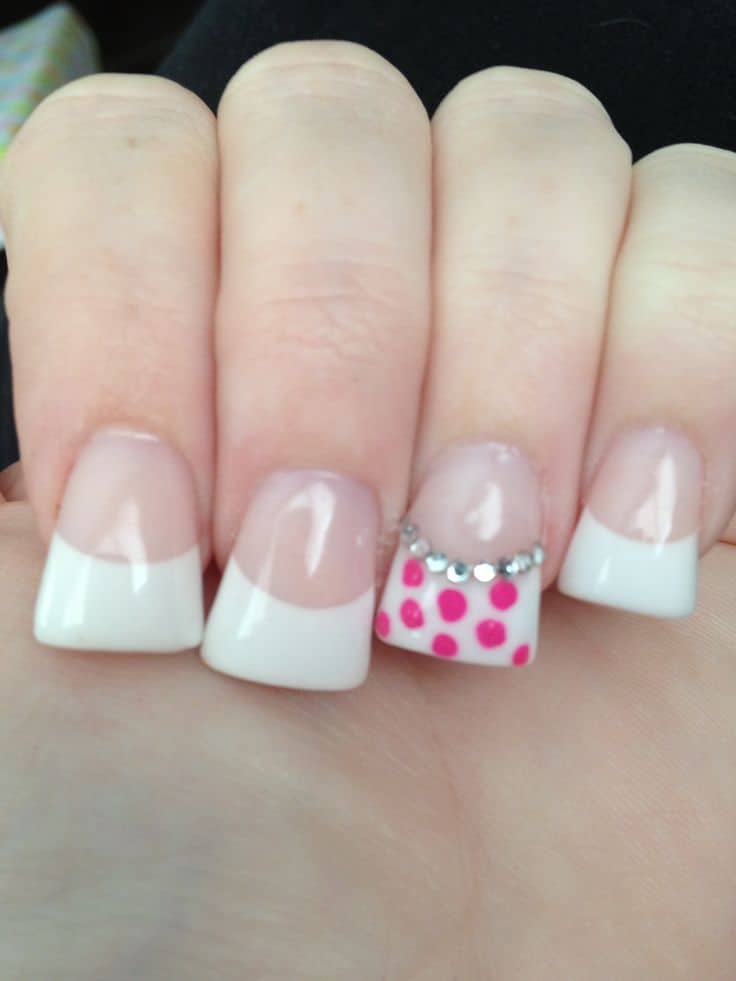 You can have this simple and cute duck bill nail art on your nails. Use pink polka dots to accentuate one French nail and keep the others nude for this duck bill nail design. You can use rhinestones to make it shine.
Which Manicures You Should Avoid
#7. Stunning Stones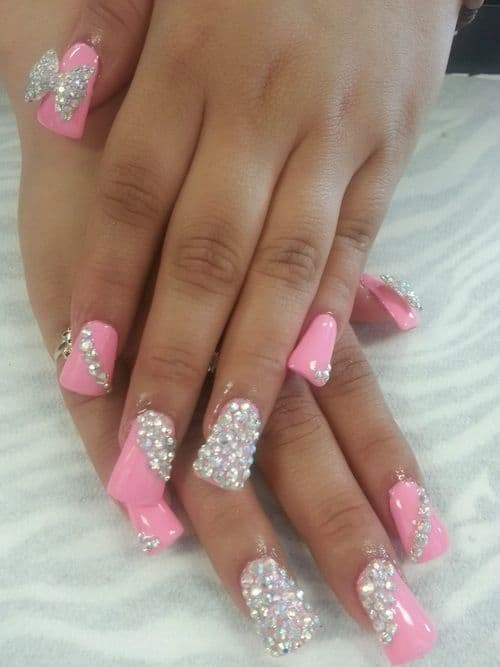 This design is mainly for the shine lovers. If you want to dazzle everyone's eyes with a vibrant display of stones, attach some shiny diamonds to pink duck bill nails.
#8. Peacock's Feather
This design is something worthy of having. Peacock feather looks good in any design. You can enhance the beauty of your duck bill nail designs to a great extent by using this image.
#9. B&W Tips
Black and white are two universal colors which are commonly used together in nail designs. For these duck bill nails, paint the tips with black and white.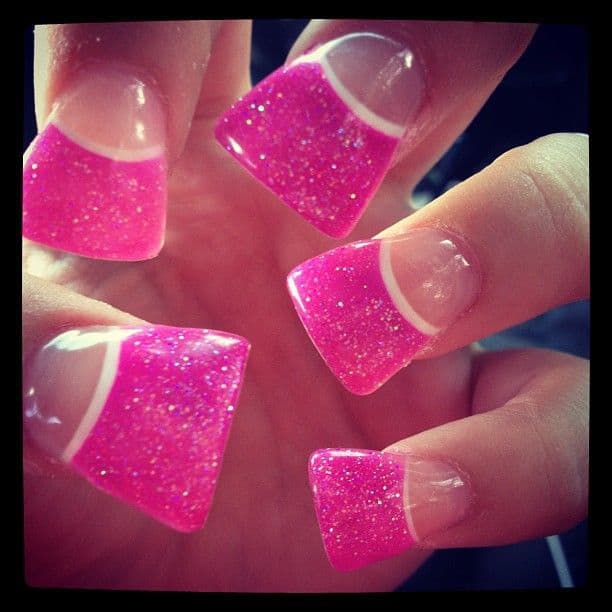 These funky duck bill nails feature glossy, shiny pink color with glitter and are outlined in a thin white curved line.
#11. Simply Gorgeous
Accent maroon-tipped duck bill nails with a chevron pattern in white and glittery gold. We love how the tips aren't perfectly straight and instead feature a flattering curve.
Add Some Fun to Your Look With Funky Nail
#12. Cheetah Patterns
Cheetah patterns are widely used in nail designs. Paint them on duck bill nails yourself, use stickers, or have your favorite nail artist do them. Mix up the colorful spots or choose just a few colors for consistency.
#13. Painted Images
For true art lovers, consider adding scenery to your duck bill nails. This style features a girl and a butterfly, but you can choose anything from the Eiffel Tower to your favorite book cover!
#14. The Fashionista
Real fashionistas who give careful consideration to every aspect of their outfit will love this design. Pink bows with black spots, lips, makeup, and high heels deck out these duck bill nails for major detail.
#15. Pink Leopard
Using different shades of pink, create this circular duck bill style with accenting leopard spots. Choose the hot pink and browns seen here, or other colors like ocean blue and lime green.
#16. Lonely Bow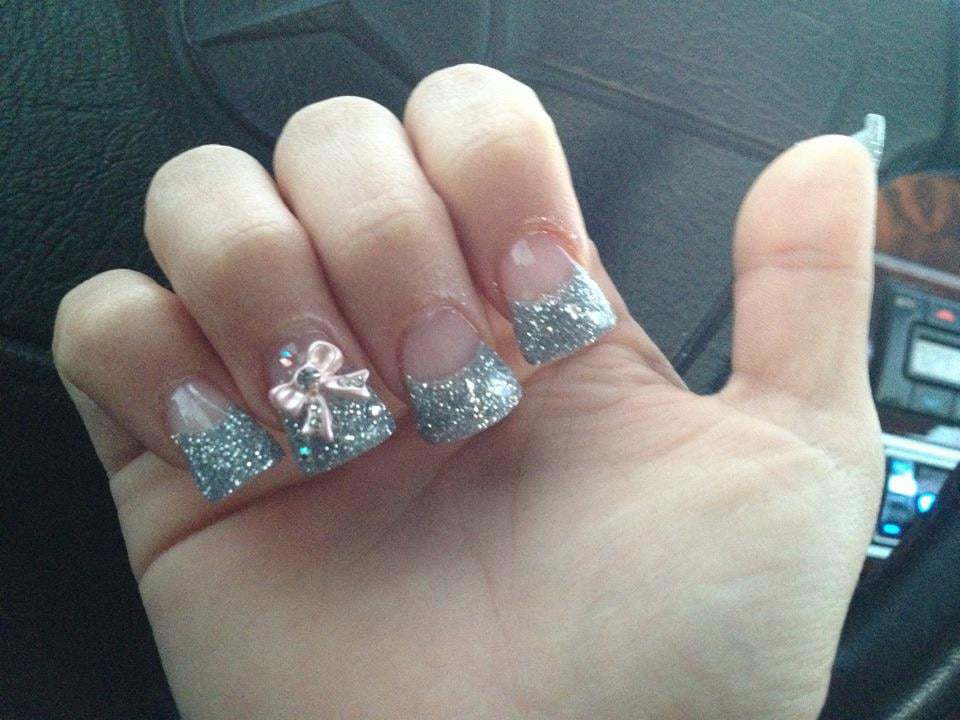 Silver glitters have been used in this duck bill design for extra sparkle. You can use a bow amid the shiny nails to add 3D beauty, making your nails truly come to life.
Smartest Ways to Wear Long Nails
#17. The Desperado
If you are a desperate fashionista and don't care for the special opinions of anyone when you are going to have any controversial designs like duck bill nails, this nail art is designed for you. Before choosing a dramatic look like the one seen above, make sure it suits your personality.
#18. Striking Stripes
For striking stripes, use black to outline stripes on the third nail of each hand. Then fill in with pink, blue, and purple. An equally colorful bow will add extra beauty to this duck bill nail art.
Flowers are one of the best creations of nature and are great inspiration for duck bill nail art. Use hot pink stripes on a French manicure, and go even bolder with floral scenery on every other finger.
#20. Duck Bill Love
You can show off your love for duck bill nails by drawing a hot pink heart outlined with silver glitter on your ring fingers. Before adding the heart, take a look at the different heart sizes available to see if you prefer tiny hearts clustered together or one giant one.
Like Simple French Nails? Click Here
Taste varies woman to woman. You may find something very ugly that your best friend absolutely loves. Nothing is absolute when it comes to choice and taste of different persons. So, don't worry about what people say. If you want to do duck bill nails, go for them. Just save this list for inspiration!