Duckbill Nails: Should I Give It A Try?
A debate is going out there in the nail design arena about duckbill nails. Most of the nail techs are against this new trend of having flared nails. Duckbill nails are also known as Duck Nails, Fan Nails, Duck Feet Nails, Flare Nails etc. This shape is not ethical to have according to the nail techs who have spent a huge amount of time in learning what to do and what NOT to do with your nails. Thinking about what's the actual problem? Read the article to get your queries answered.
What Are Duckbill Nails: The Definition
Duckbill Nails refer to an exceptional shape of nail extensions where the nails get wider on the tips. These nails resemble a flared look extending from the natural nails to the ends of the artificial nails. So, now you know what duckbill nails are.  Let's discuss why they are not safe to have according to most of the knowledgeable nail technicians.
Why You Should Not Have Duckbill Nails
If a customer wants to do duckbill nails, you have nothing to do except doing them. But, before that, you must warn her about the possible damage which may happen to her nails. Since you have learned the proper way of sculping nails, it's your duty to do them properly. Yet again, you should do as per the choice of your customers not what you want to do.
So, there is a bit confusion regarding Duckbill nails. Let,s see what Duckbill nails are.  The most technically perfect nails are those having parallel sidewalls or narrower sidewalls than the nail beds. Nails are well-balanced if the extensions are kept less wide than the natural nails. But, flared or duckbill nails are quite opposite to the teaching of nail sculpture. 
Duckbill nails are structurally unstable. If you are wearing duckbill nails, be ready to experience a disaster. The nails are totally out of balance having more weight spreading to the outer side of the nails instead of the nail beds.  The free edges might cause chipping and cracking on the nails catching on different things.  Besides, most notably, these nails lack the aesthetic sense of beauty.
Duckbill Nails For The Challengers
We don't care what everyone else says, we have a liberal perception of your demands. If you are so desperate to have duckbill nails, we are desperate to provide you with some good designs. These nails will suit your personality if you are that kind of person who loves to take challenges no matter what comes on her way. Hope you will like our designs given below.
#1.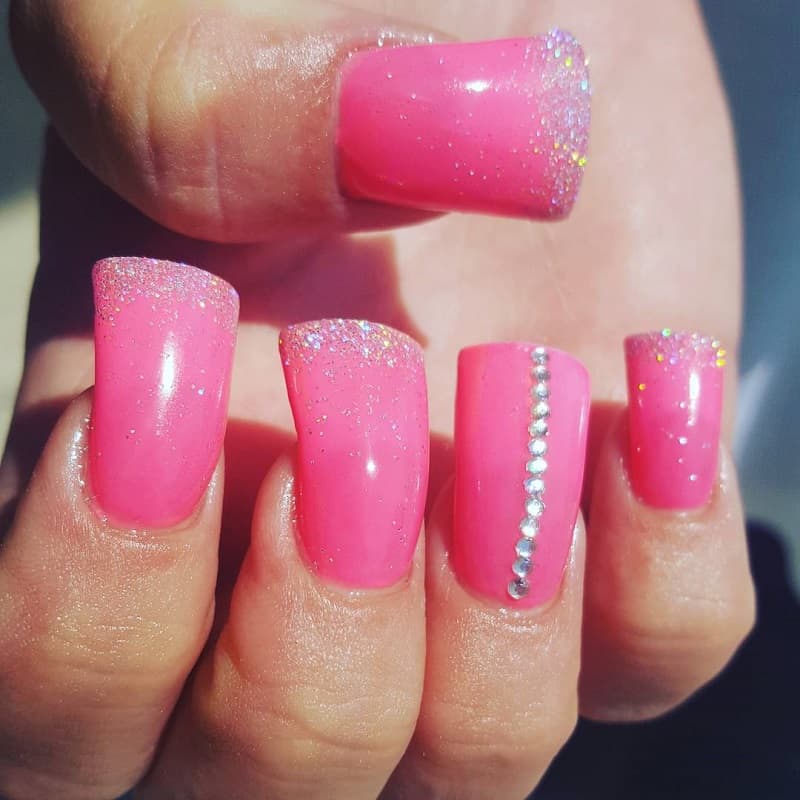 duck flare nail design
#2.
duck shaped nails manicure
#3.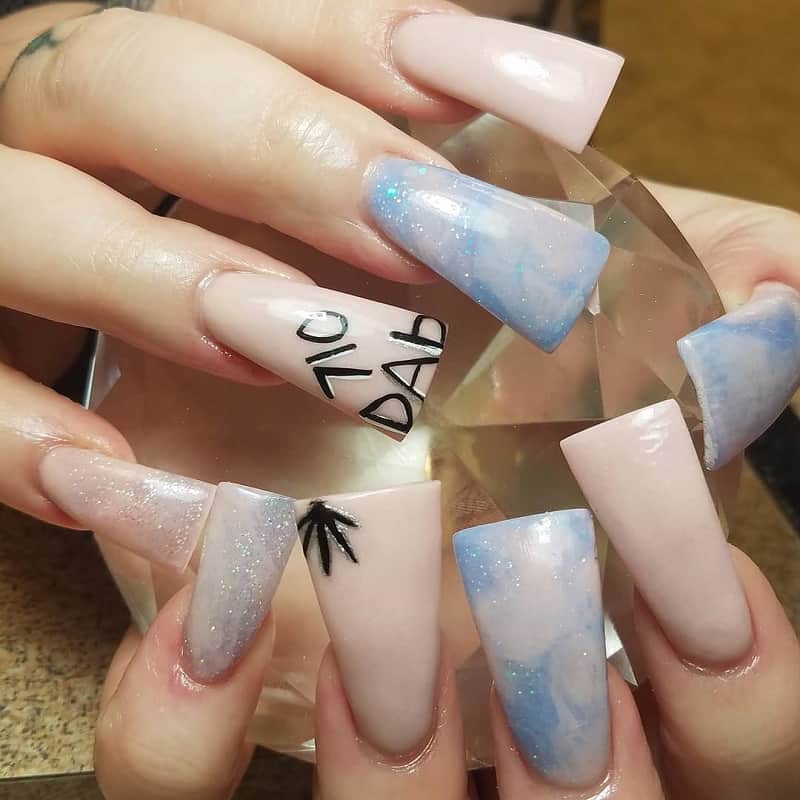 duck feet shaped nails
#4.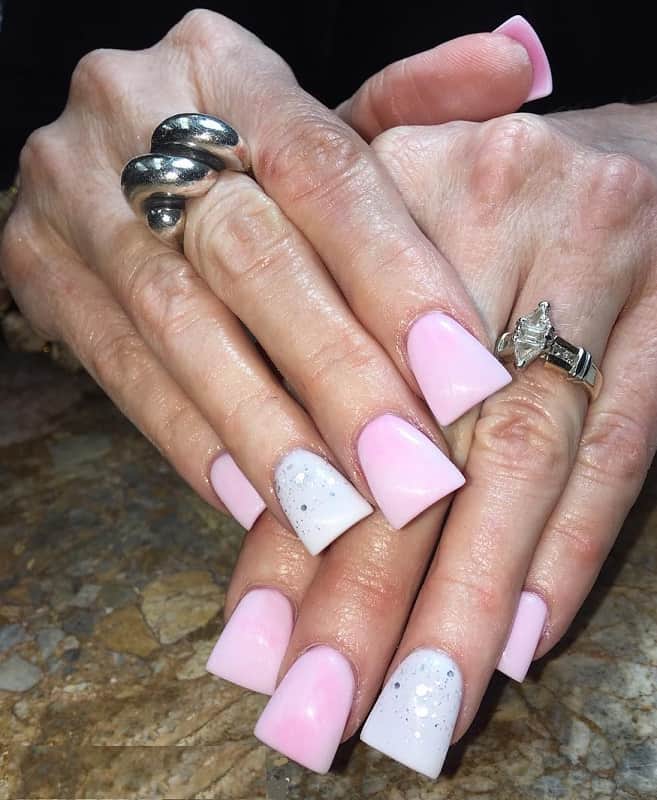 pink and white duck nails
#5.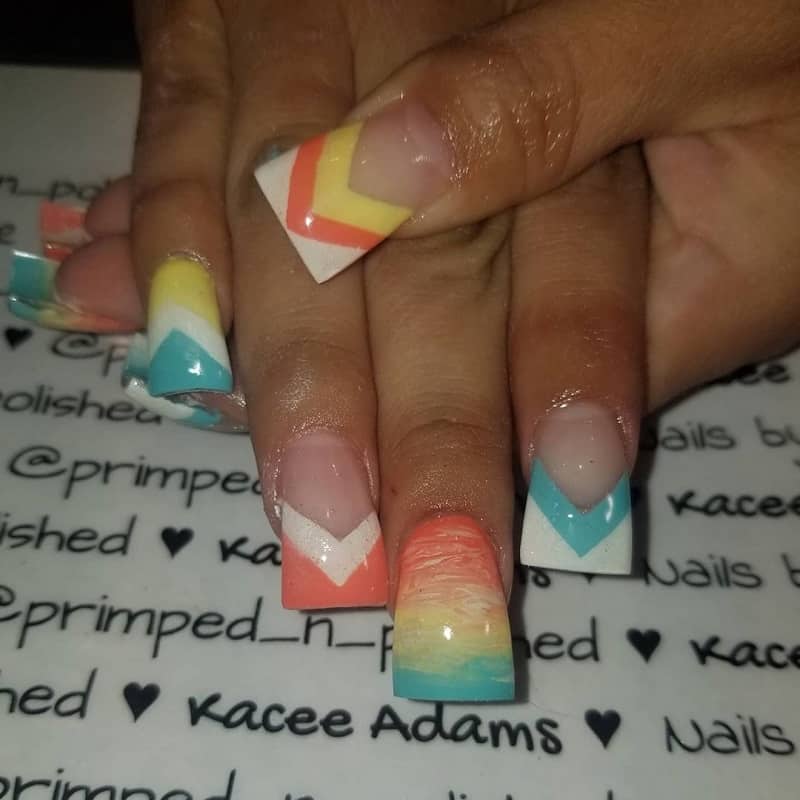 duckbill nails tips
#6. Simple And Cute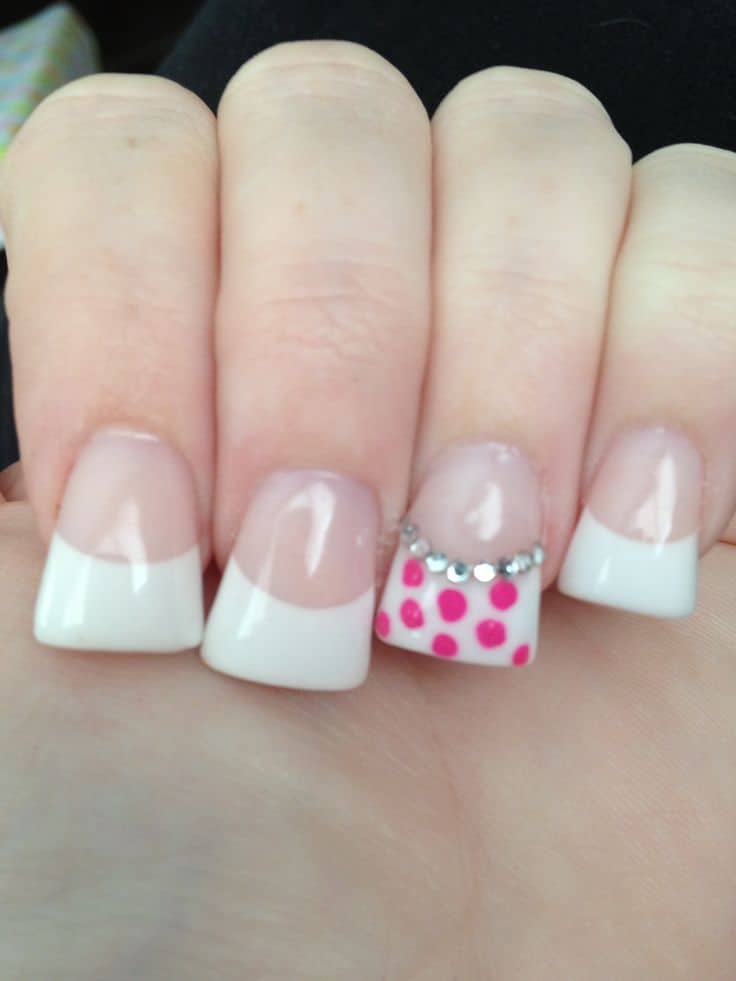 You can have this simple and cute duckbill nail art on your nails. It's very easy to get. Use pink color polka dots to accentuate one french nail and keep the others nude to have this duckbill nail designs. You can use rhinestones to make it shine.
Which Manicures You Should Avoid
#7. Stunning Stones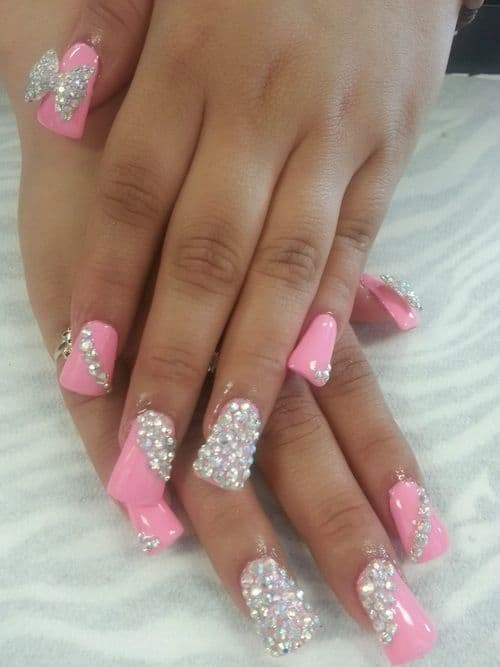 This design is mainly for the shine lovers. If you want to dazzle everyone's eyes with a vibrant display of stones, this is the right choice for you. Attach some shiny diamonds to the pink duckbill nails for this design.
#8. Peacock's Feather
This design is something worthy of having. Peacock feather looks good in any design. You can enhance the beauty of your duckbill nail designs to a great extent by using this image. A ring on the ring finger will complement the whole design.
#9. B&W Tips
Black and white are the two universal colors which are used together in almost every design. You can use this pair of duckbill nail designs too. Paint the tip of your pink duckbill nails with black and white.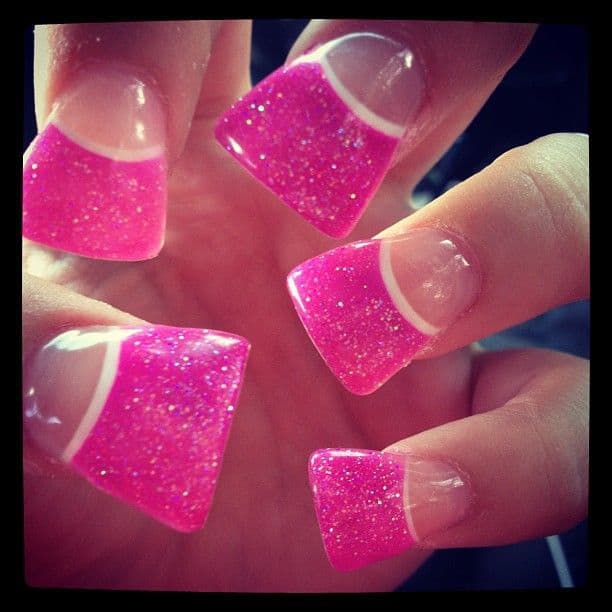 Duckbill nails can be considered as funky nails as they are chosen by a few desperate fashion geeks. You can have glossy and shiny pink nails to have this pinky and punky duckbill nail design.
#11. Simply Gorgeous
This is one of the most beautiful duckbill nails I have ever seen. You can have this simply gorgeous designs by accentuating maroon tipped duckbill nails using chevron golden glitters. These duckbill nail designs will blow your mind away.
Add Some Fun to Your Look With Funky Nail
#12. Cheetah Patterns
Cheetah patterns are widely used in nail designs. You can have these patterns painted on your nail extensions while having duckbill nail designs.
#13. Painted Images
You can paint your duckbill nails with different images.An image of a girl and a butterfly is drawn here in this picture. You can draw other things too if you want.
#14. The Fashionista
If you are a real fashionista, you get to love this design. This design is for those who give concentration on every single fashion accessories they have. It is not a fluke for them, they are trendy for real.
#15. Pink Leopard
This is a beautiful design having different shades of pink color. You can use brown leopard patterns in between the pink nails. This is a good nail art to have as duckbill nail designs.
#16. Lonely Bow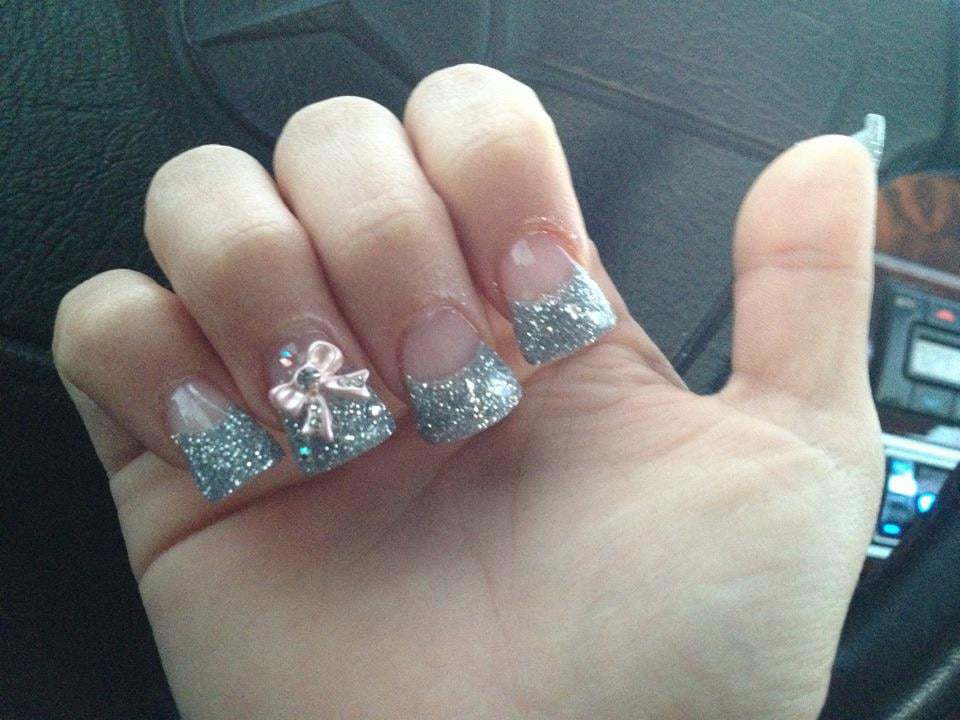 Silver glitters have been used in this design to give the extra shine to these duckbill nail designs. You can use a bow amid the shiny nails to add extra beauty to the duckbill nail designs.
Smartest Way to Wear Long Nail
#17. The Desperado
If you are a desperate fashionista and don't care the special opinions of anyone when you are going to have any controversial designs like duckbill nails, this nail art is only designed for you. But, before doing these duckbill nail designs, make sure that it goes with your personality.
#18. Striking Stripes
You can paint your white glittery duckbill nails with some striking stripes. You can use pink, blue, purple and black to draw the stripes. A compatible bow will add extra beauty to these duckbill nail designs.
Flowers are one of the best creations of nature. The amazing beauty of flowers mesmerizes the eyes of the beholder. You can use floral nail art for your duckbill nails.
#20. Love for Duckbill Nails
You can show off your love for the duckbill nails by having this design. Draw a pink love shape associated with silver glitters to design these nails. This love shape will increase the beauty of these duckbill nails to a great degree.
Like Simple French Nail? Click Here
Taste varies man to man. You may find something very ugly what I like so much. Nothing is absolute when it comes to choice and taste of different persons. So, don't worry about what people say. If you want to do duckbill nails go for them. You can check out our designs to be inspired.