Whether you are a romantic girl or irremediably in love with pink shades, these mesmerizing pink and white nails will make you forget about any other mani style. Why? Because they look absolutely fabulous!
Classy Pink and White Nail Designs
There are thousands of possibilities to mix these two colors, and in the article below, we will show you the most spectacular pink and white nails.
1. White and Pink Ombre Nails
Spread love wherever you go with this white and pink ombre nails. Create a half heart on your middle and ring fingernails. Choose small rhinestones if you want to create this design.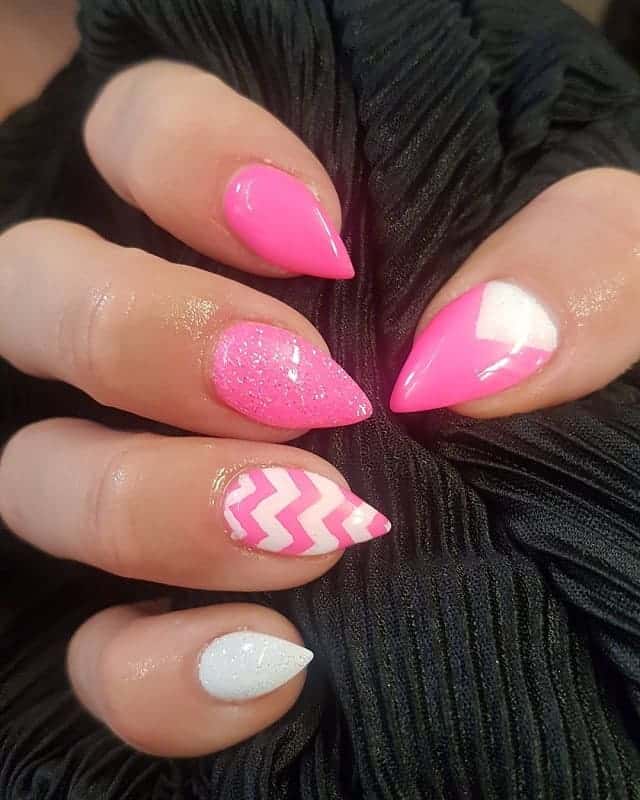 Pointy nails are very trendy right now, and if you want to copy this look, you'll need to build your nails with acrylic gel. Create various design mixes of white and pink on your fingernails.
3. Pink and White Gel Nails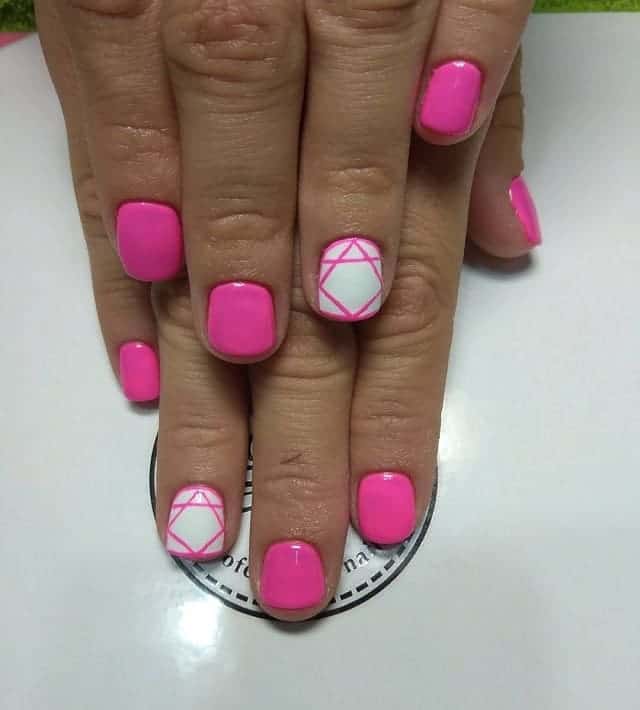 Use an electric pink shade for your nails and paint your ring fingernail in white. Create a line abstract design using the same shade of pink.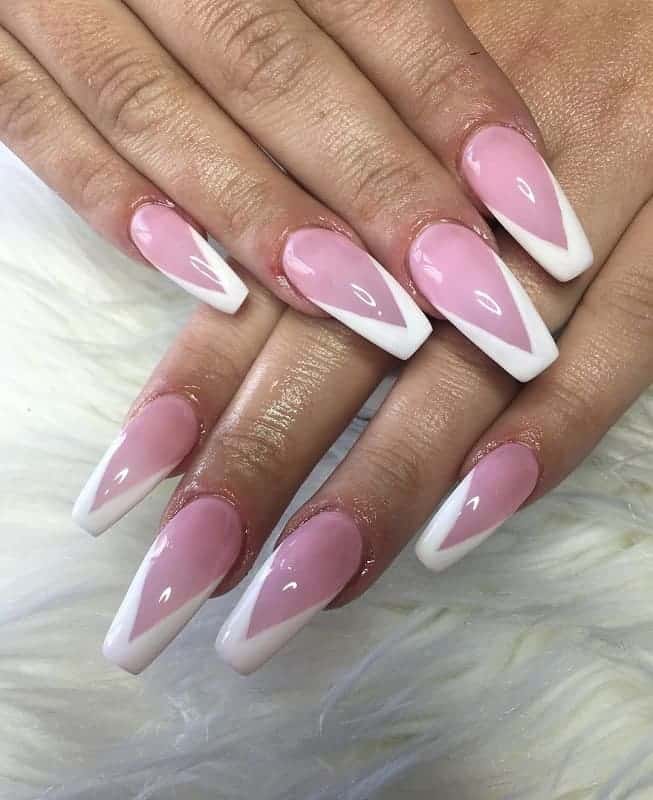 Take your French mani to a whole new level! Keep your nails long and paint them in a pale pink hue. Make a triangle design for the tips using white nail polish.
5. Pink and White Stiletto Nails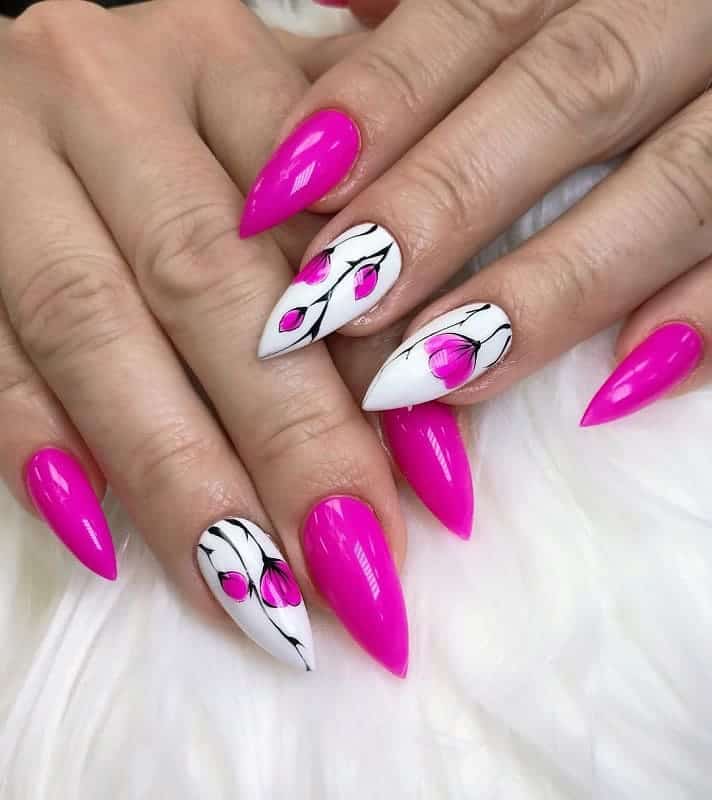 Stiletto nails look fabulous, especially if you choose to paint them in a darker electric pink shade. Choose one of your nails and paint it white; add a gorgeous floral design.
6. Flamingo Fun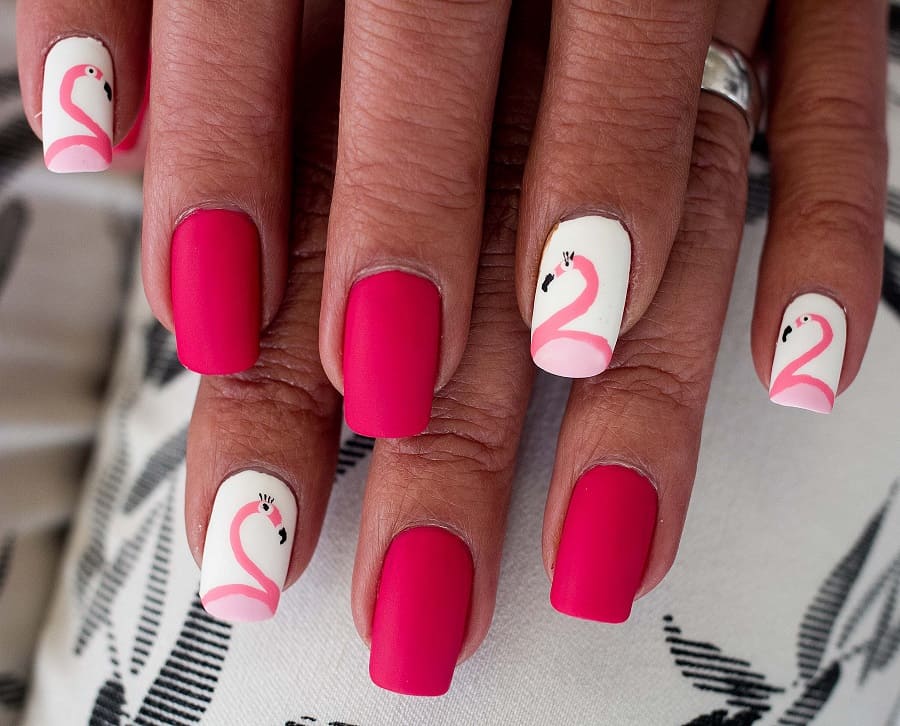 Flamingoes are the first living beings that come to mind when thinking pink. Draw the majestic birds on white nails alternating with the hot pink ones. The trick is simple, draw a half circle on the tip with a half heart-shaped neck on the top. Add details and done!
7. Floral Art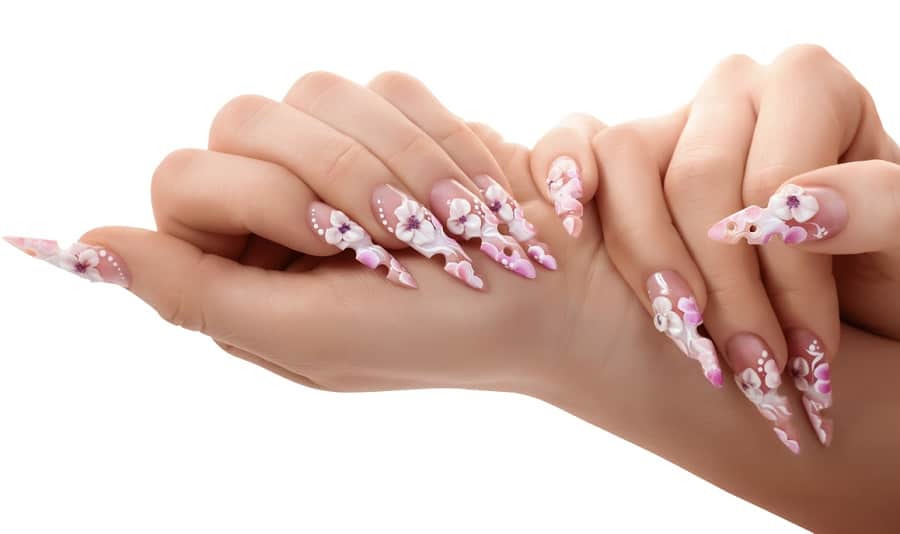 These glamorous stiletto nails will drop some jaws. The 3-D acrylic flowers look hyper-realistic when done correctly. Take a step ahead and drill holes in the nails but remember to be careful thereafter as the chances of breakage become high.
8. Cute Butterflies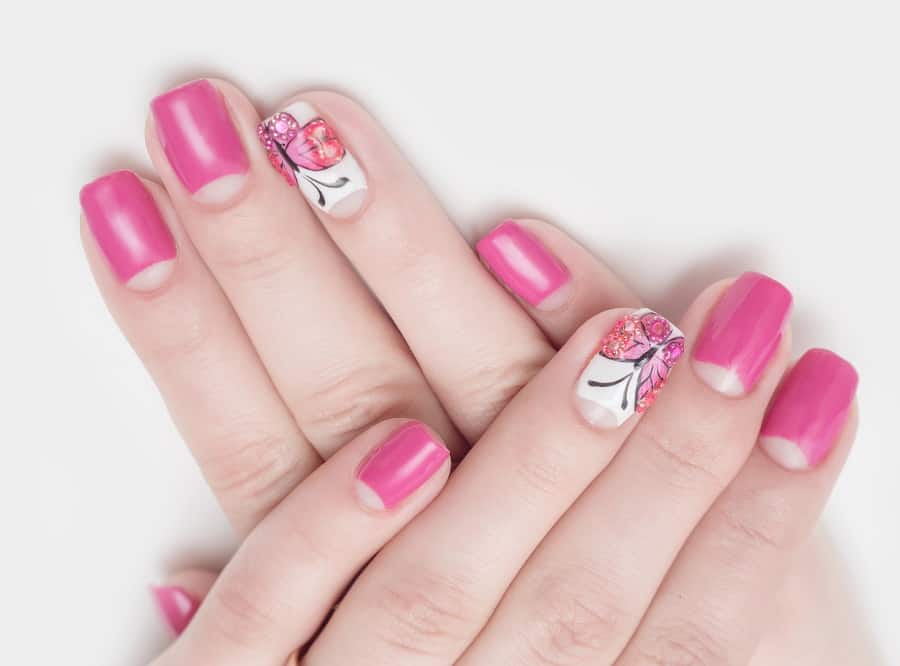 Who doesn't love butterflies? Paint the nails in a Barbie pink hue with white accent nails. Draw a line, add the wings and antennae, and top off with glitter or gems. Cute without a doubt!
9. White Winter Vibes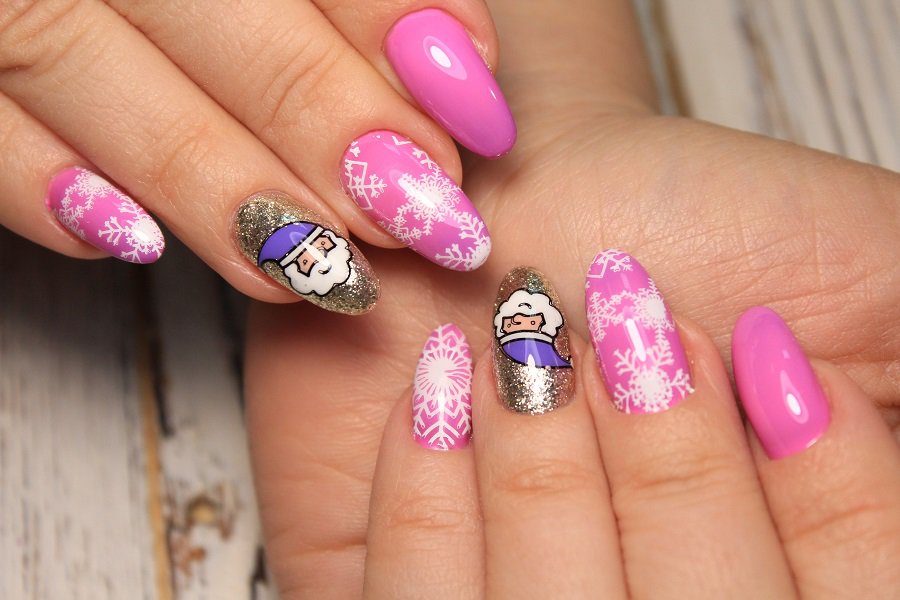 Give off winter vibes by adding snowflakes on a baby pink base. The accent nail has a silver shimmer with an elf's face on the top. Use nail art stamping kits and decals to achieve this detailed design with ease.
10. A Touch of Gold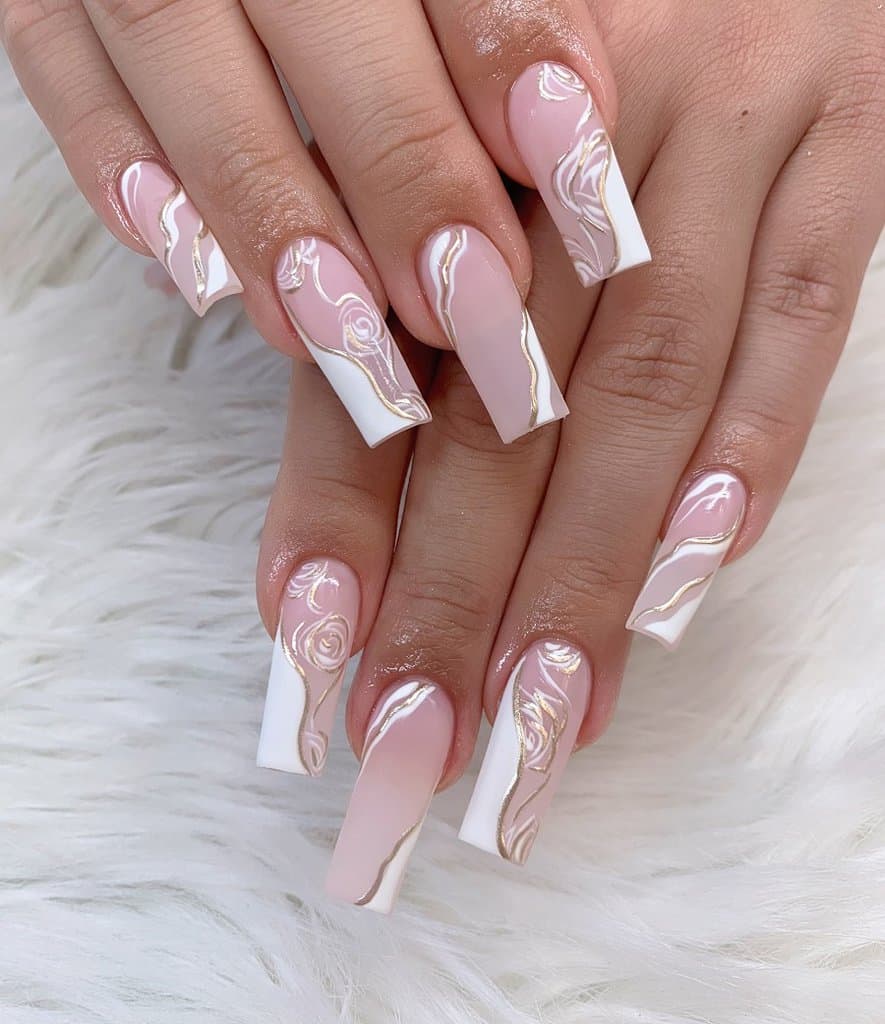 Make those long square nails stand out with a little effort. Go for a muted rose base color and create random stripes and swirls of white and gold. This design is perfect to try for beginners as a little mess won't matter.
11. Get Creative
Use each nail as an individual canvas to create your art. Try out a nude mauve and white marble design, or an ombre, add gems, sprinkle some glitter or keep it plain. Just remember that no two nails should look alike.
12. Polka Dots + Diagonal Lines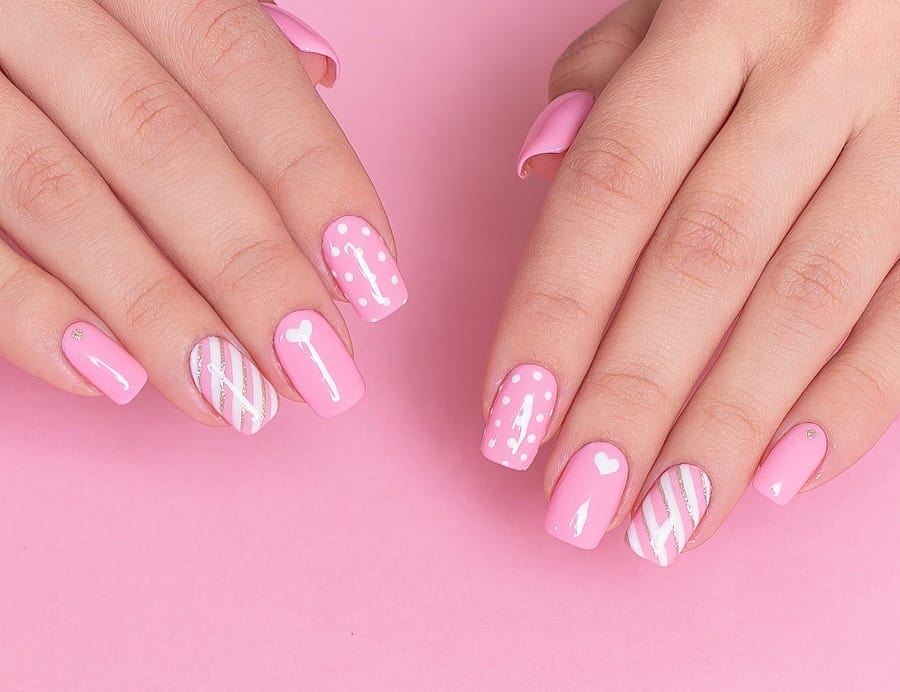 Polka dots are the easiest to achieve among all. Add white dots and diagonal lines with a hint of silver glitter on baby pink nails. A heart here and a gem there, these nails are adorable without a doubt.
13. Sparkling Gems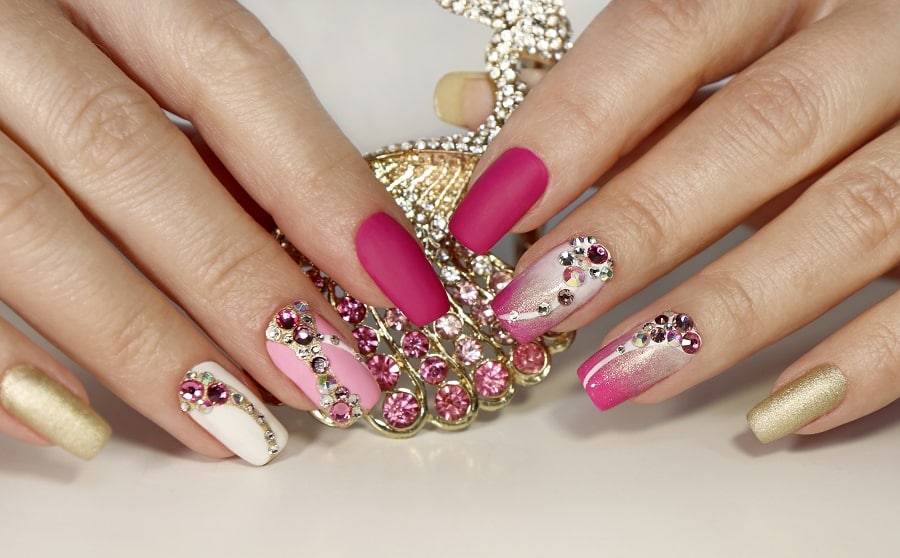 Add as much sparkle as you want to your pink and white nails using cute little gems. Keep some nails with an ombre on others. Adding crystals to the wet nail paint will do the job without an adhesive.
14. Marble Nails
Marble nails never go out of fashion. Paint the middle two fingers white and create the marble effect by mixing thinner with some pink nail polish before applying while the plain white lines on the other nails just look wow!
15. Textured Pattern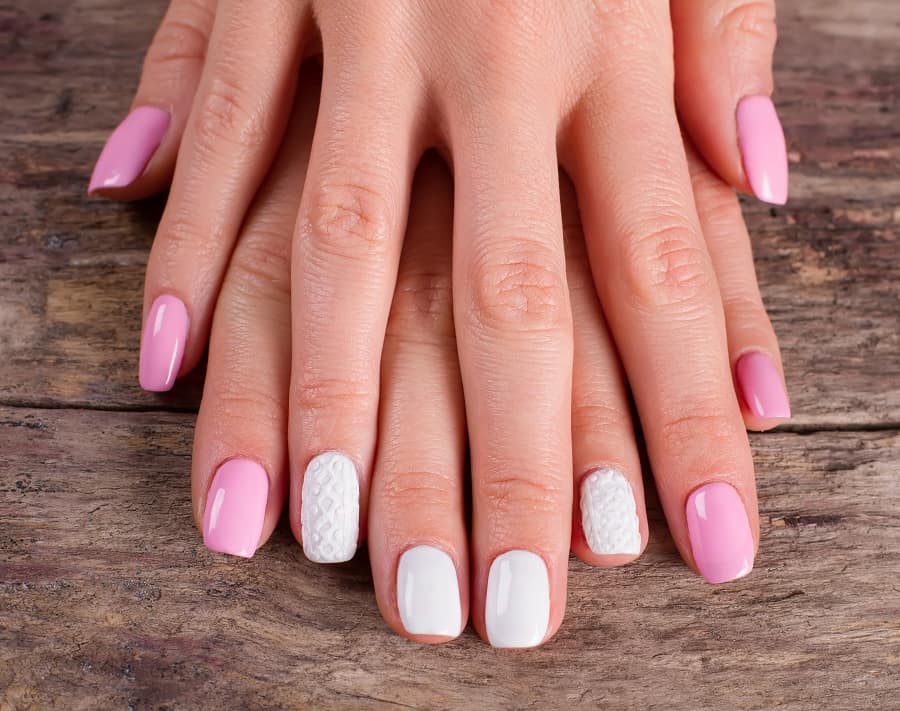 Level up your manicure with a textured nail design. Copy the pattern from a sweater using gel polish. Top off with translucent acrylic powder and brush off the excess. There you have it a cozy way to enjoy the winter!
16. Pink Flowers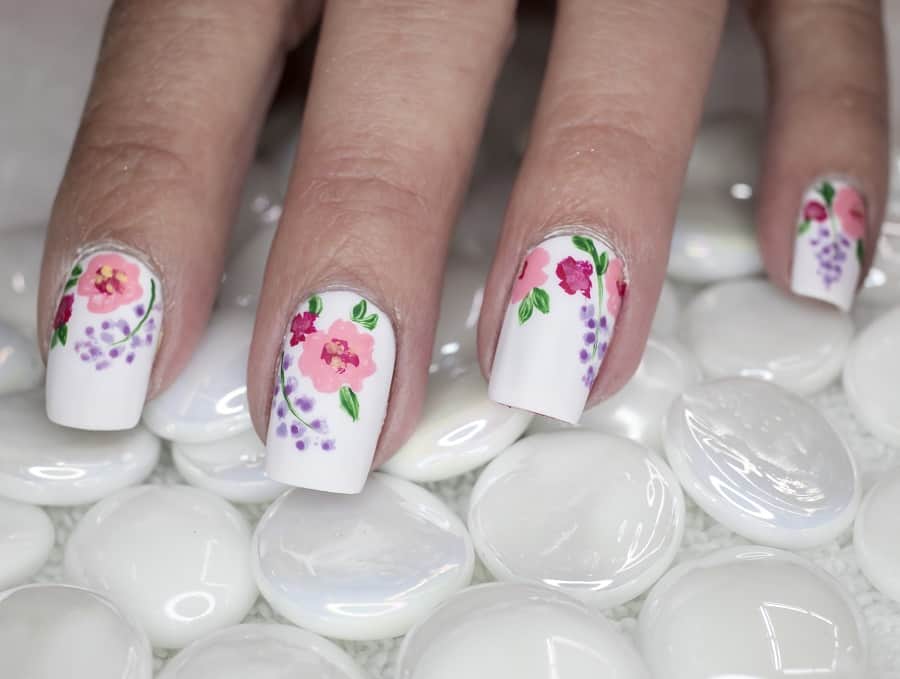 Flowers are beautiful and so are the ones on these nails. Go for a square shape and paint the nails white. Add pink flowers, purple lilies, and green leaves. Finish off with a top coat. Easy breezy!
17. Pink to White Gradient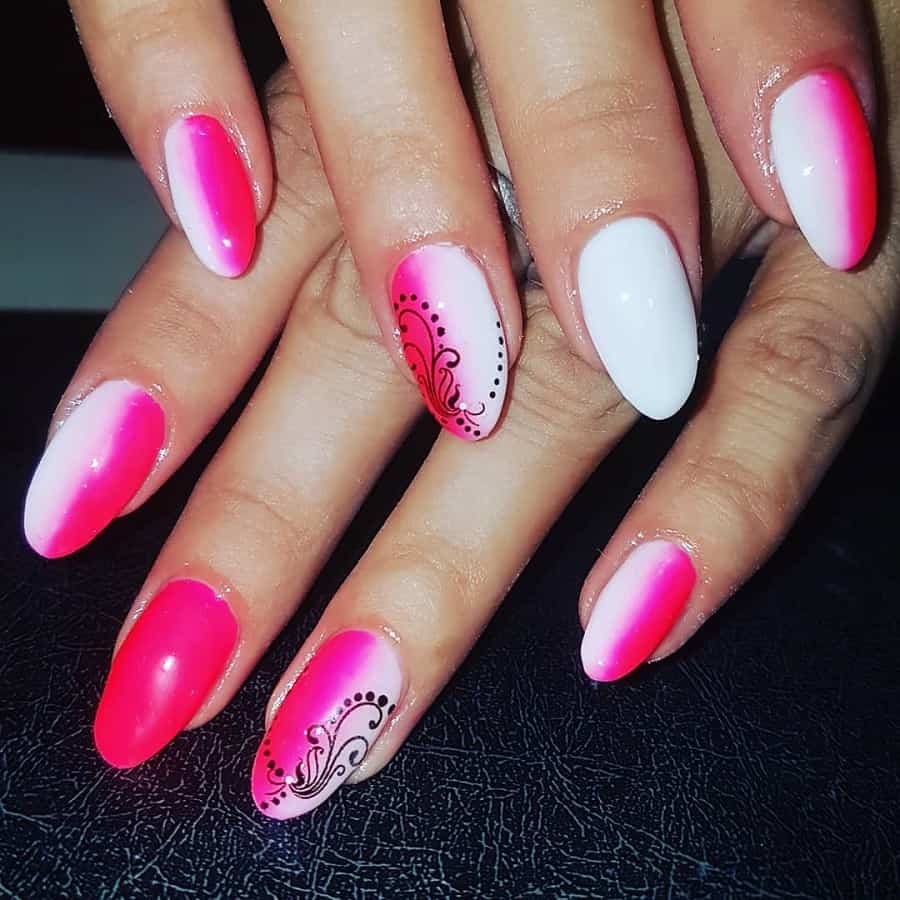 Rock a horizontal gradient by adding a stripe of hot pink on one half of the nails and a stripe of white on the other and letting them mix in the middle. A few swirls and dots of black and voila!
18. White Stripes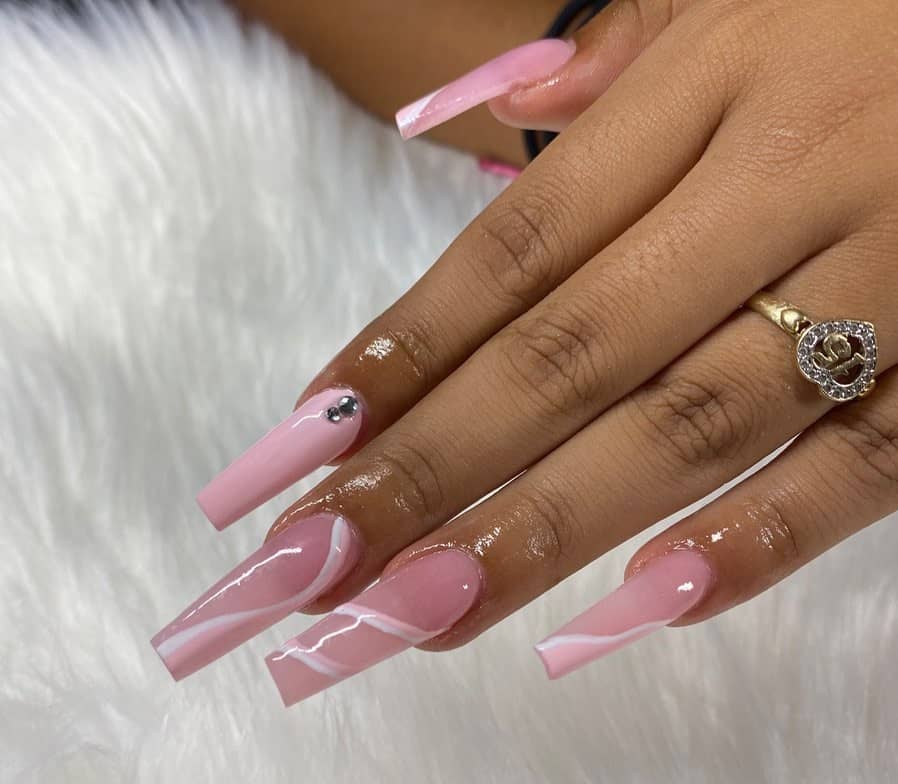 The simpler, the better! Paint those long rectangular nail extensions in a translucent hue. Add thin swooped lines of white and baby pink with a gem or two on the plain index fingernail. Chic!
19. Minimalistic Design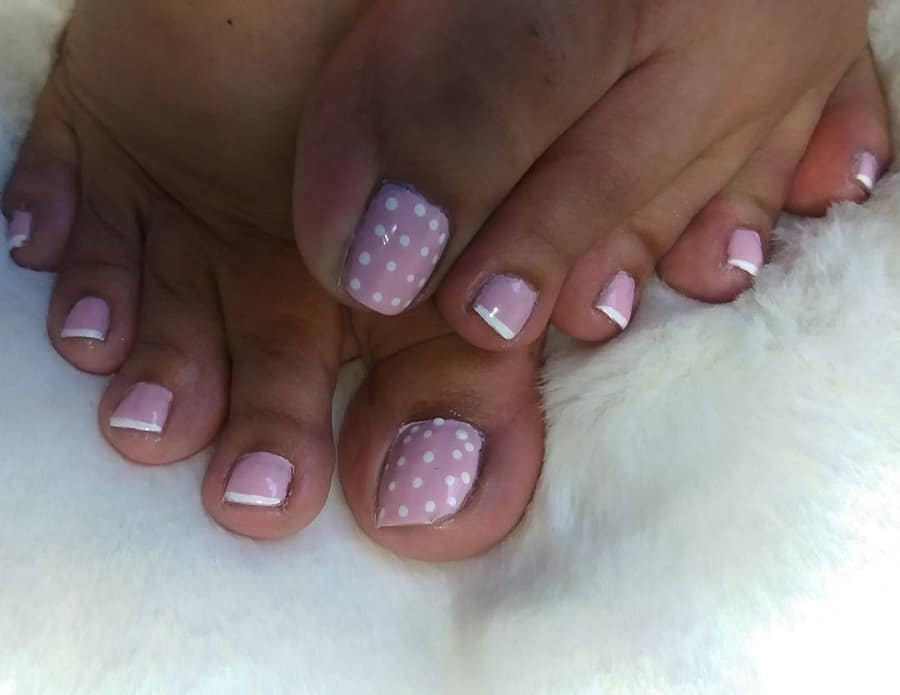 Ladies who don't want to spend much on an expensive pedicure can try this look at home. Add white polka dots on the big toenail with a stripe of white along the tips of the remaining nails.
20. Pink Hearts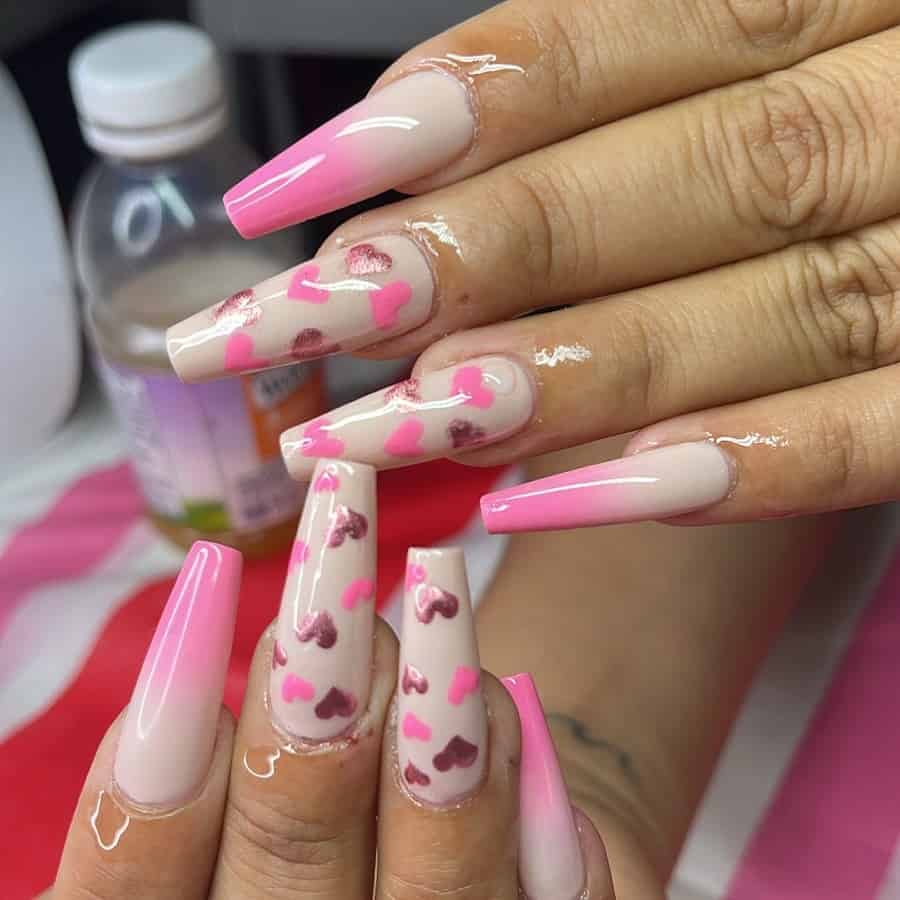 Spread some love with these gorgeous hearts. Create a soft gradient on some nails while adding cute little pink and mauve hearts on the plain ones. Try this design on long stiletto nails and you won't regret it.
21. Hot Pink and White Nails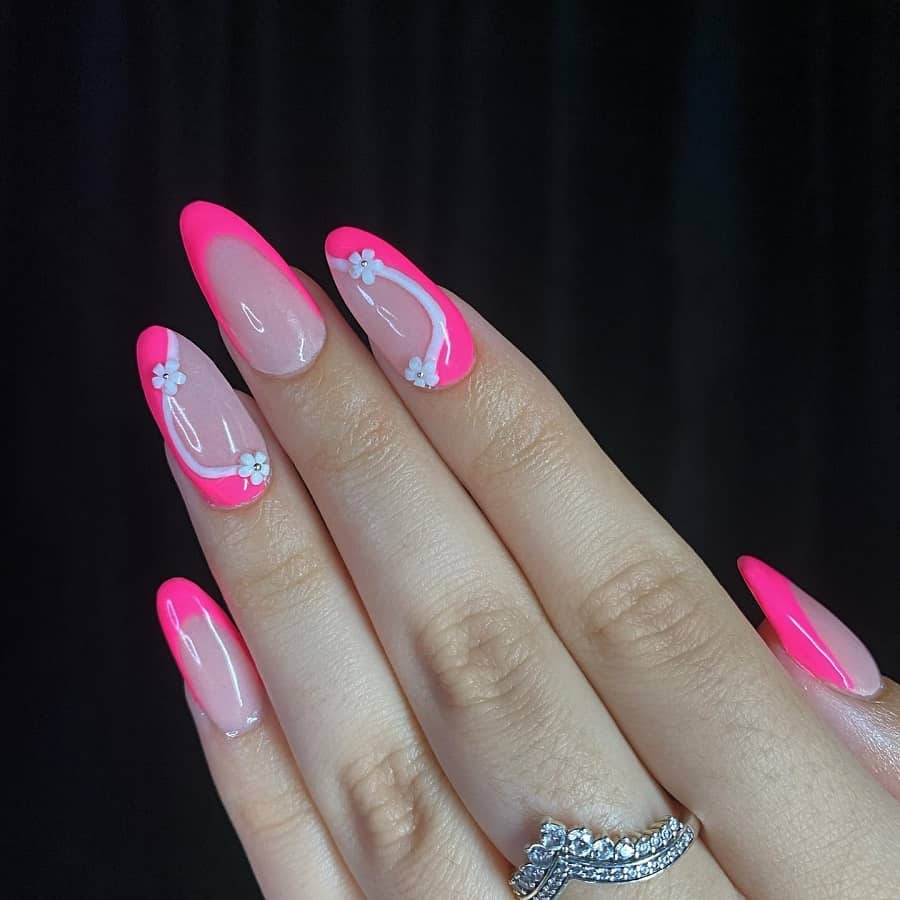 Experiment with a hot neon shade for a pop of color on the nails. Place it on the tips of the nude rose nails extending towards the base. Add a swoop of pink and white on any two nails and top off with tiny flowers.
22. Shine with Silver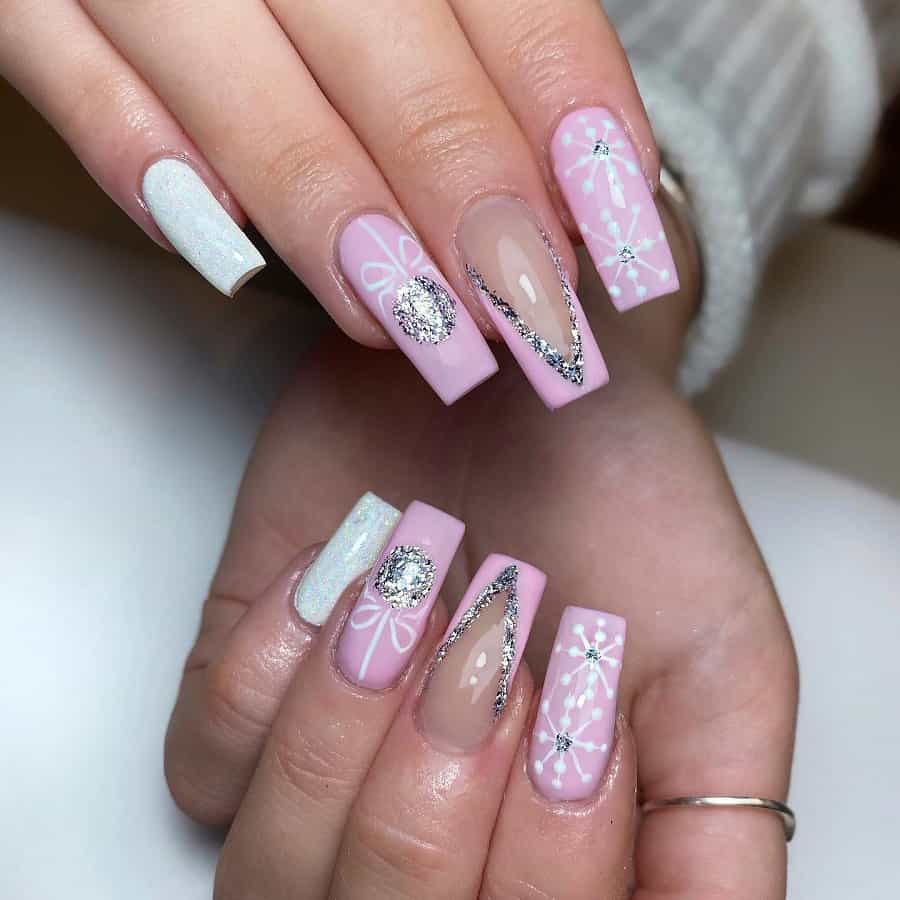 Get your nails ready for Christmas! Connect lines and dots to create snowflakes and use silver glitter to create a V-shaped contour on one finger while a cute Christmas tree ball on another. Keep some nails plain white for a chic finish.
23. Hand-Painted Acrylics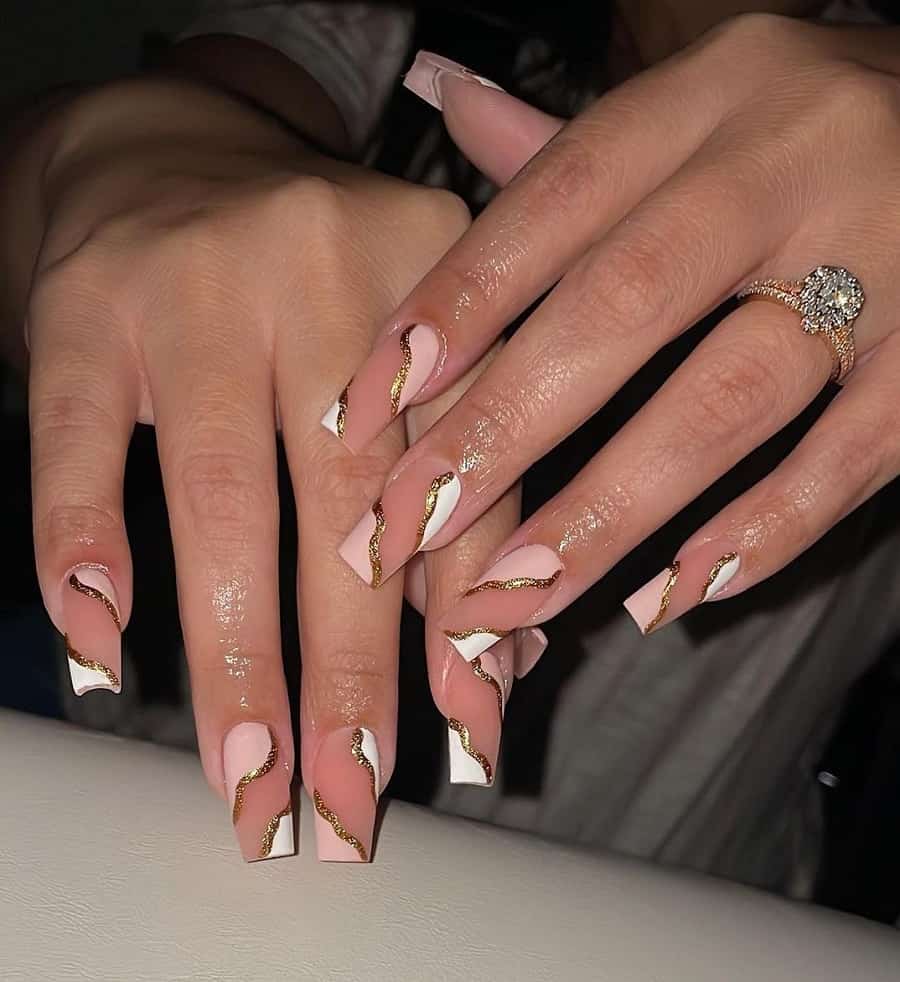 This nail design is all about choosing the correct shades. Go for a pale rose, nude pink, and white nail color and add them diagonal stripes on the nails. Complete with gold glitter swooped along the borders between the shades.
24. Simple and Stylish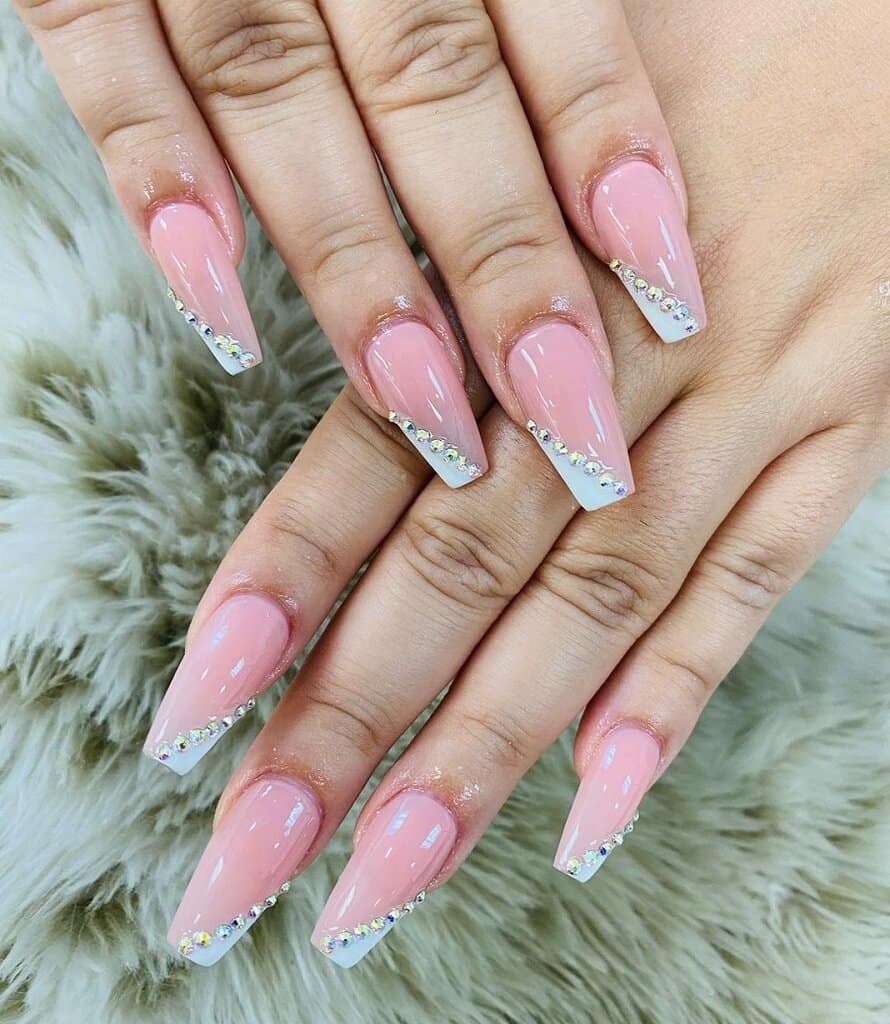 Why complicate when a simple design is enough to make a style statement? These long light pink coffin nails have a touch of white along one side. Add tiny rhinestones for a subtle sparkle that won't be ignored.
25. Short Pink and White Nails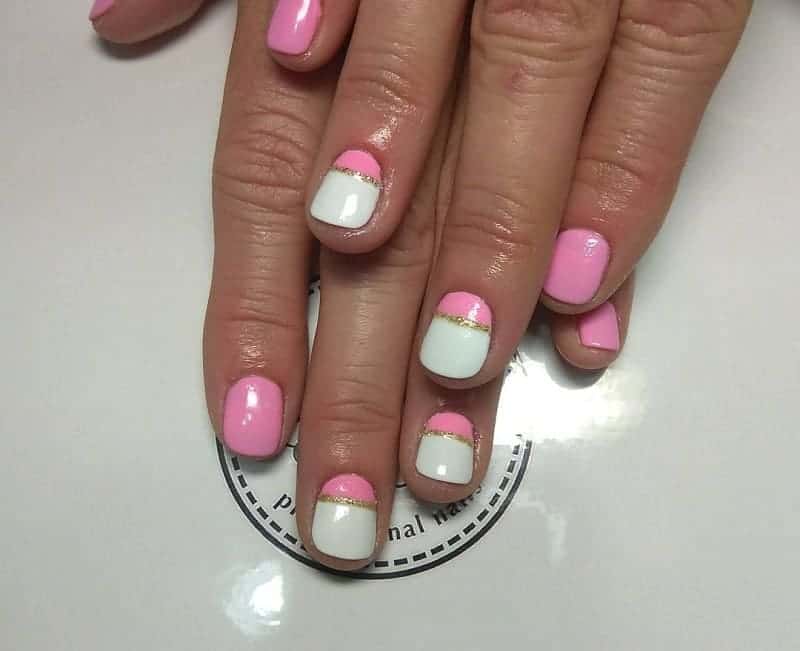 Glitter always adds a glamorous tone, and this is precisely the effect it will have on your nails. Paint them in a pale pink shade, and for two of your nails, combine that gorgeous hue with white. Draw a small glittery line.
26. Hot Pink and White Nails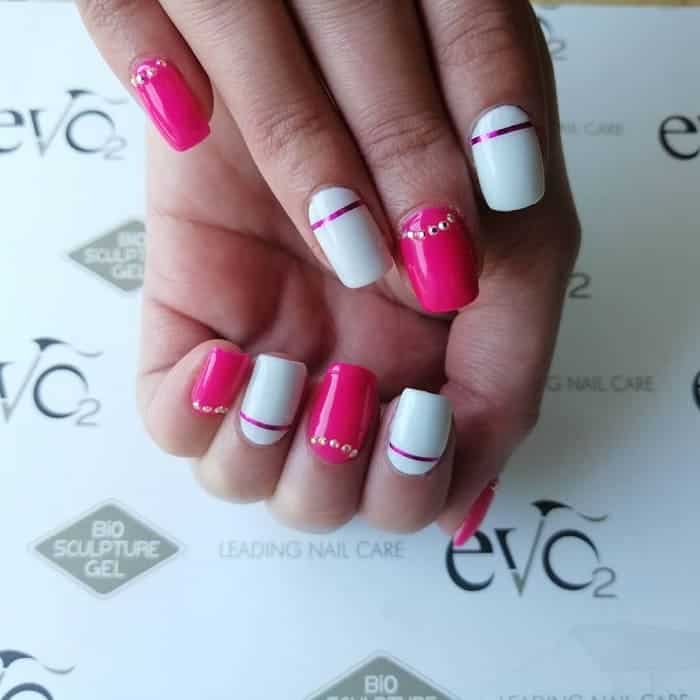 There is no way you'll go unnoticed with this electric pink nail polish! Mix it with white and create various designs using small rhinestones and thin lines.
27. Light Pink and White Nails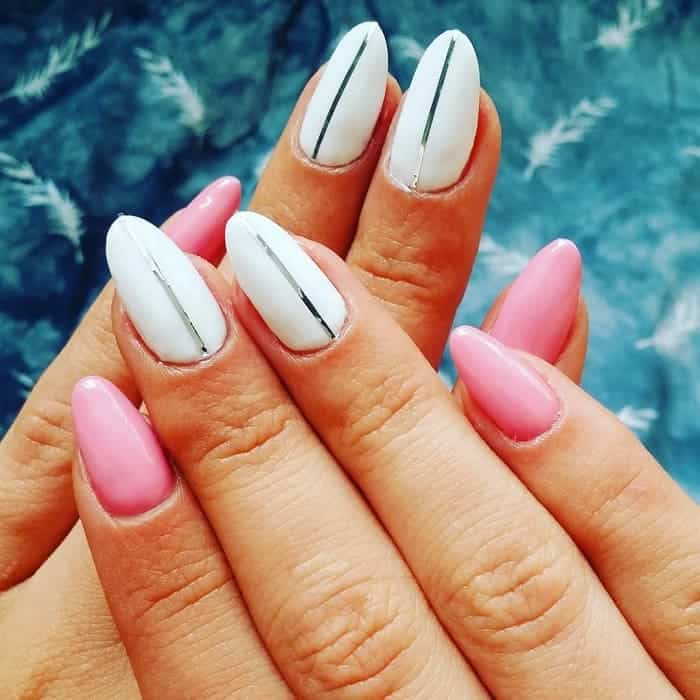 If you like your mani to be gorgeous but simple, use a light pink shade and a white nail polish. On the White nails, create a slim silver chromed line.
28. Halloween Vibes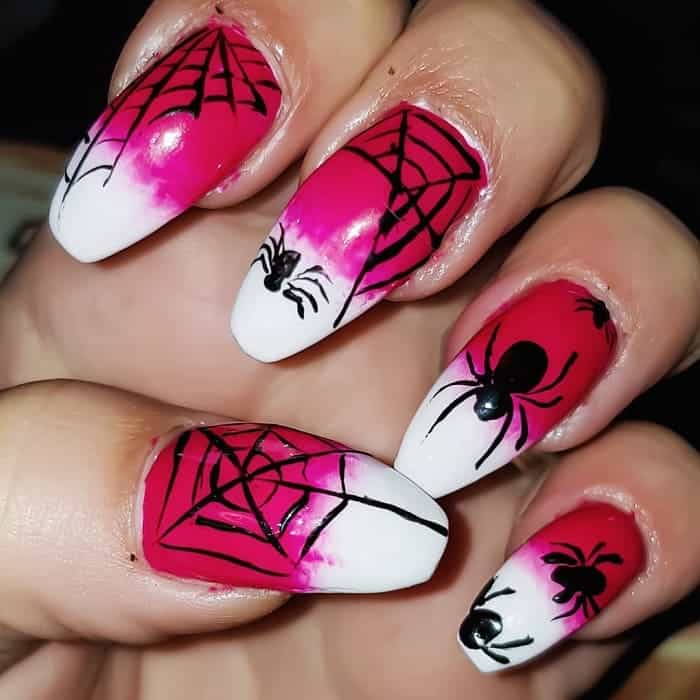 Add some black to those pink and white nails to match your costume on Halloween. Experiment with an ombre base and draw some spiders and webs using a thin brush. Spooky enough!
29. Shiny Nail Studs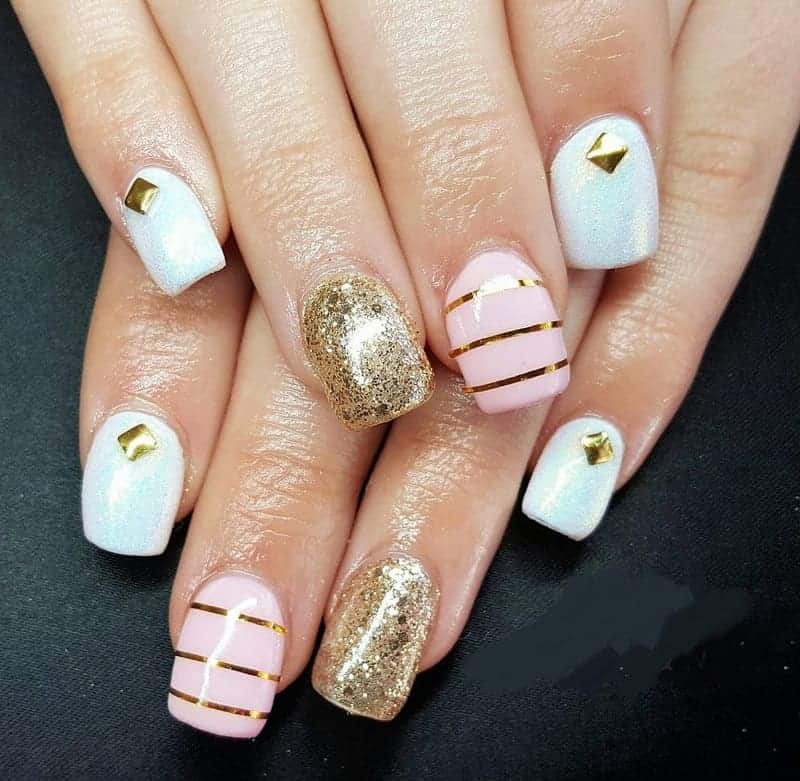 Here is a design for short nails. Spice up those plain nails by adding golden studs, line stickers, and glitter on them. Remember to choose a very light pink shade to make the golden tinge really pop.
30. Pink Glitter Glam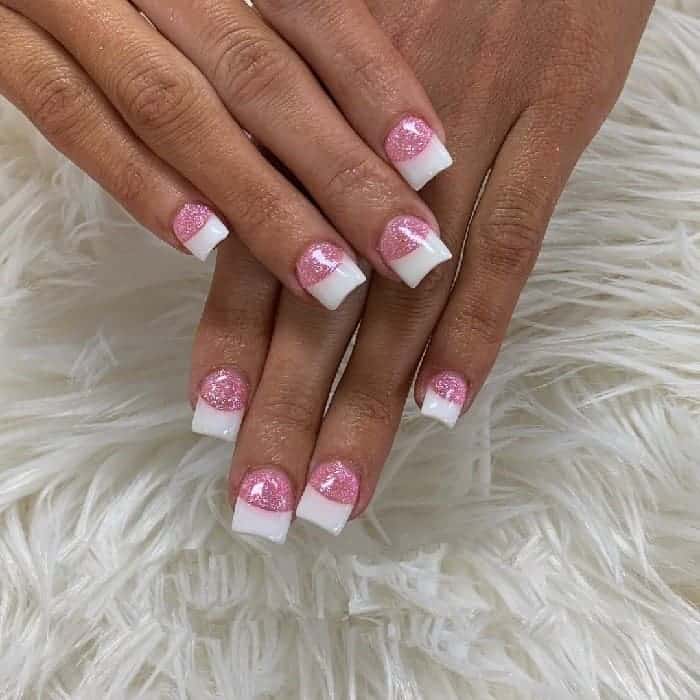 Adding a bit of glitter is just enough sometimes. Ask for a glittery pink gel polish with white tips. Finish off with a good quality transparent top coat to achieve some extra shine on the nails.
31. Chic French Tips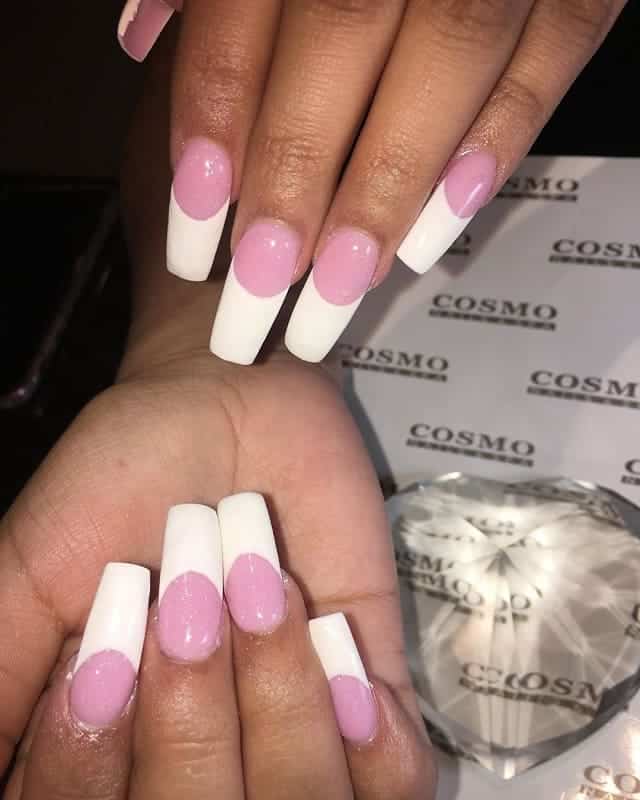 French nails are classy and timeless. Go with whatever nail shape you prefer with muted pink nail beds and long white tips. Add a gem or two on the corner of each nail or leave it simple. Your call!
The pink and white color mix is probably one of the best combinations you can think of when you want a spectacular nail design.
These two colors fantastically work together, and the examples above prove our point. We are curious, which pink and white nail color combo are you gonna try?