Fake nail designs come in such a large variety. They can be adapted to all seasons, tastes, and preferences. Also, nowadays, we have many options when it comes to the fake nails we desire. You can choose between acrylic, gel, wrap and glue-on nails. As for the design, whether you go for a handmade painting or a sticker, it's totally up to you.
Which Fake Nail Design Is Good For Me?
For each type of fake nail, there are pros and cons. Therefore, if you want acrylic, you must know they are long-lasting, don't break easily, but, on the other hand, they are more expensive than the others.
When we talk about gel fake nails, this liquid lasts for about one or two weeks and is a little more resistant than regular polish. Even so, they require a UV lamp.
Last but not least, glue-on fake nails are so easy to apply and can be done at home. There are so many options available for these particular fake nails with a design, so you'll find loads and patterns and shapes that you'll adore.
Below you will discover designs for all tastes and styles, so make sure you scroll down and check out all of them.
#1. Christmas Fake Nail Designs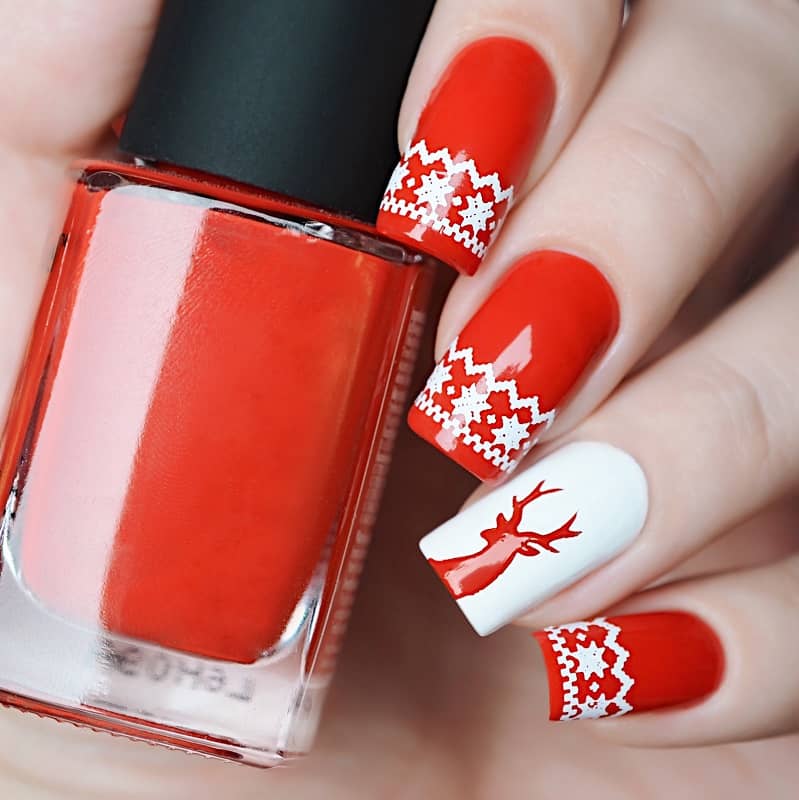 Christmas designs are ideal for fake nails! Use a white and red color combo, style that pattern, and paint a deer on the fingernails. Maybe Rudolf? Or should it be Prancer or Vixen?
#2. Coffin Glittery Blue Fake Nails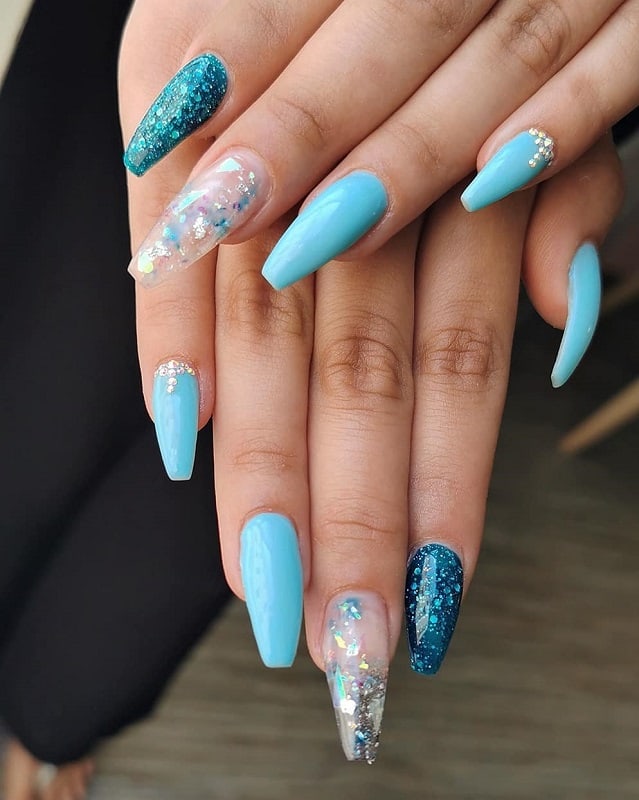 These fake nails with winter design will instantly transform you into an Ice Queen! Give the nails a long coffin shape and use pale blue sky polish. Recreate that frozen aspect with glitter, splashes, and rhinestones.
#3. Multicolored Fake Nails
Summer designs for fake nails usually include all sorts of bright, vivid colors. And this manicure is no exception! It features a gorgeous splashy pattern in nuances like blue, purple, orange, and teal.
#4. Haloween Fake Nail Designs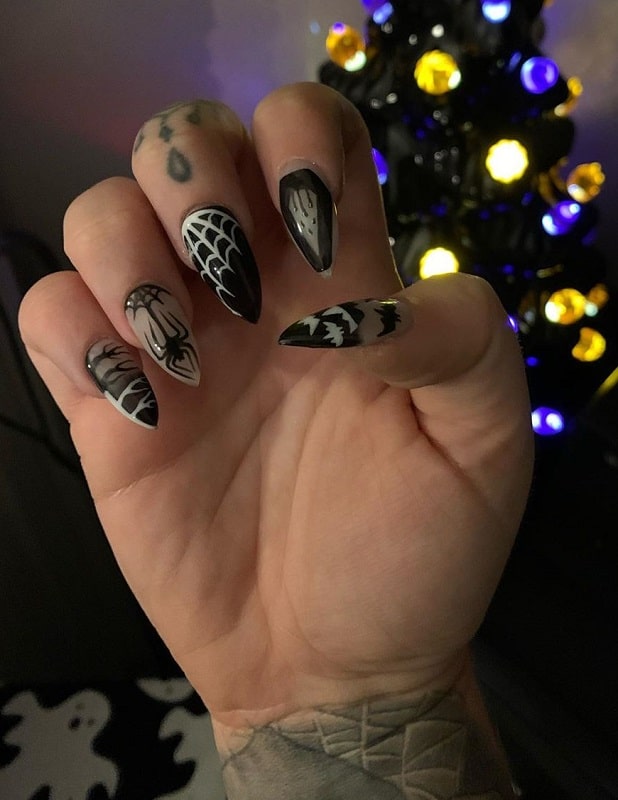 Fake nail Halloween designs are so spooky if you only combine white and black. You can create bats, spiders, creepy trees, and coffins for each nail. Also, get a pointy shape if you want a witchy look.
#5. Romantic Fake Nails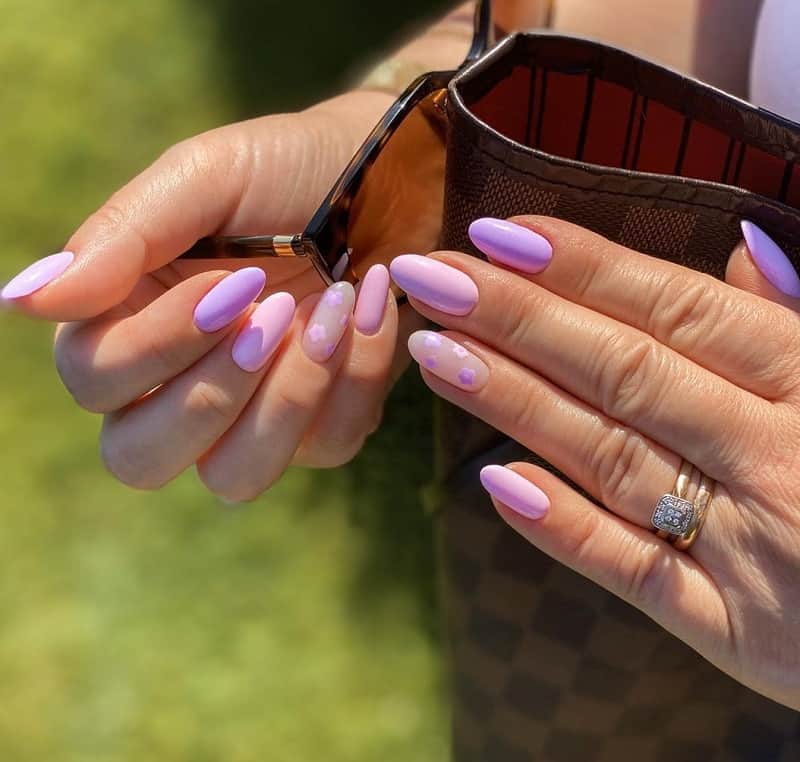 If you love a simple mani that is both romantic and cute, a purple fake nails design with a flower pattern is ideal for the ring fingers. Give your nails an almond shape for an elegant touch.
#6. Short Fake Nail Design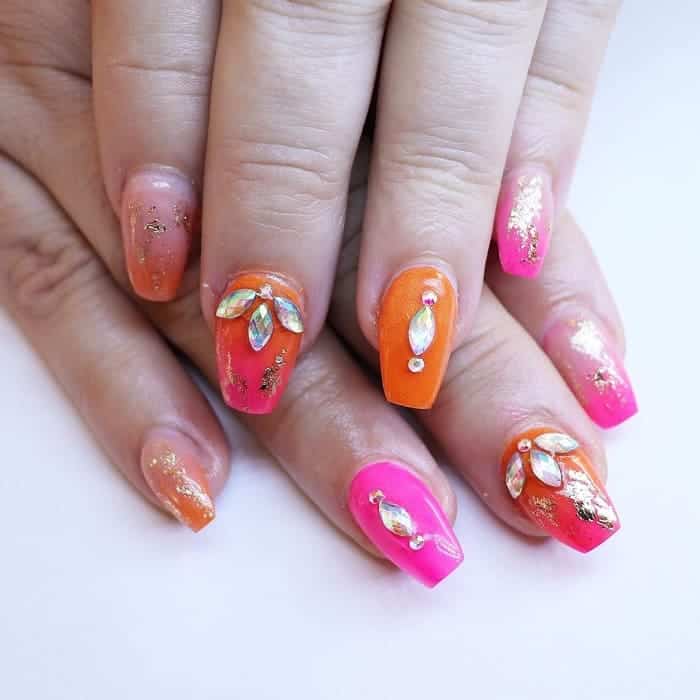 If a nail is short, that doesn't mean you can't get creative with the art. Use several nail polishes, create ombres, golden foils, and decorations for your fake nail designs.
#7. Long Fake Nails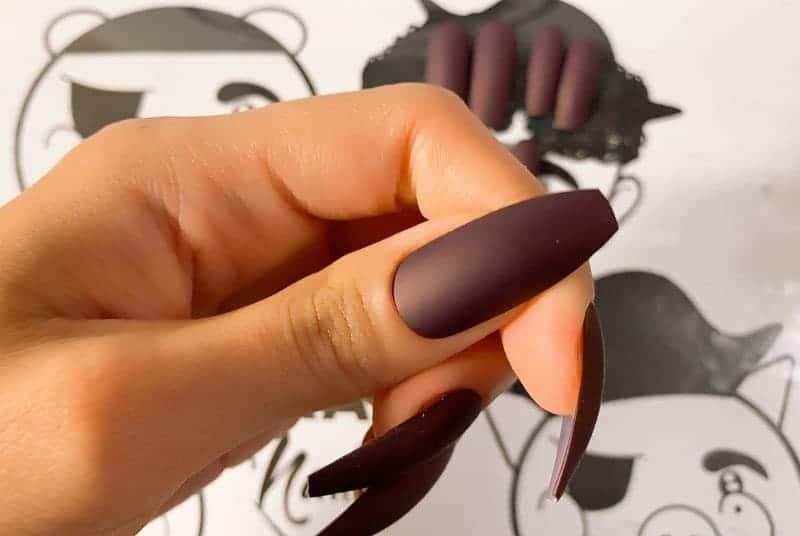 Glued-on nails can look as natural as regular acrylics if attached by a pro. They come in such a large variety, so you can even find matte colors that are so much easier to pull off than powder or acrylic nails.
#8. White Fake Nail Art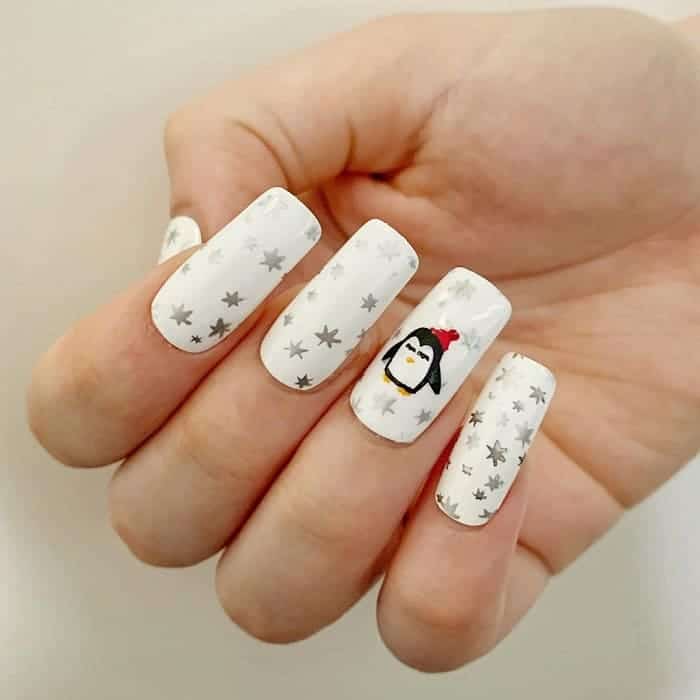 Winter fake nail designs that remind us of our childhood can be so cute. Paint tiny gray snowflakes on a white base and draw a cute small penguin with a little cap on.
#9. Fake Nail Design for Kids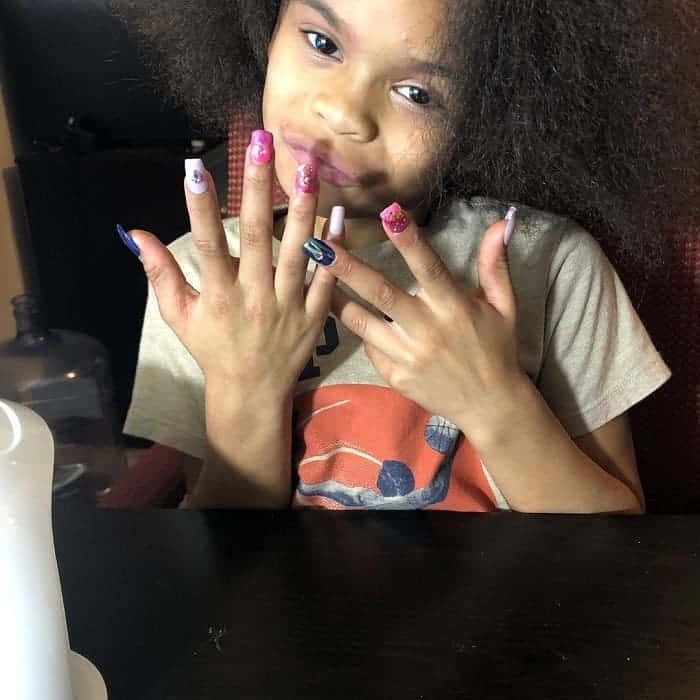 Even kids can play with fake nails if you allow them. It is easier for them to apply glued-on nails with several patterns and designs to take off anytime they want.
#10. Fake Nails with French Tip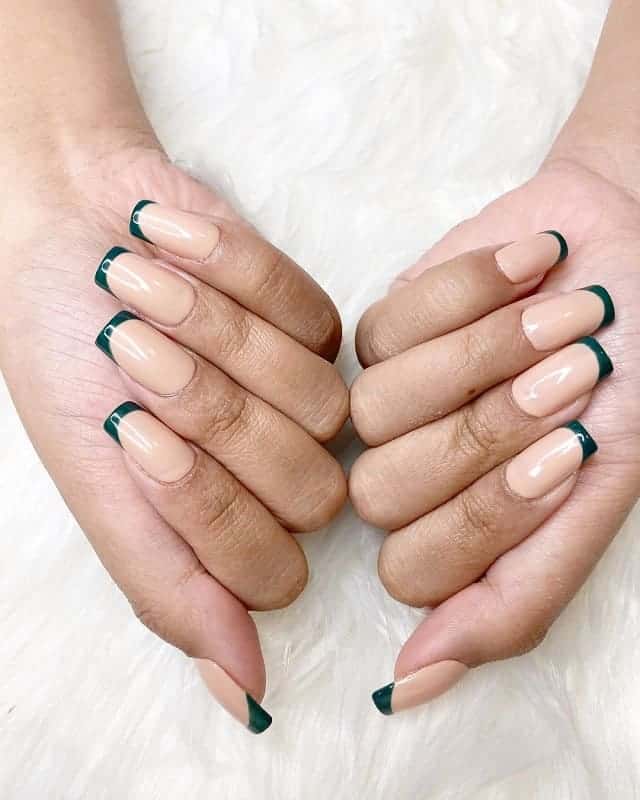 You don't always need to pull off that common white-nude color combo for your French mani. This time, you can try something new for those long square-shaped fake nails. Dye the tips in dark green polish and use a nude nuance for the rest.
#11. Fake Toe Nail Design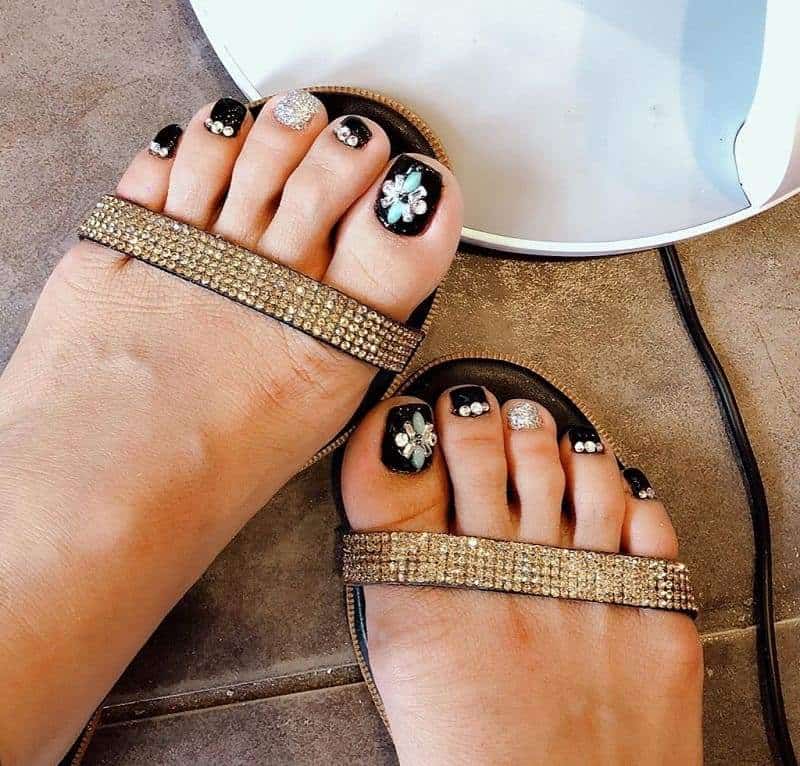 Your toes never looked so gorgeous! Build that square shape with acrylic and decorate each nail with silver rhinestones, glitter, and a flower design for the big toe.
#12. Pointy Fake Nails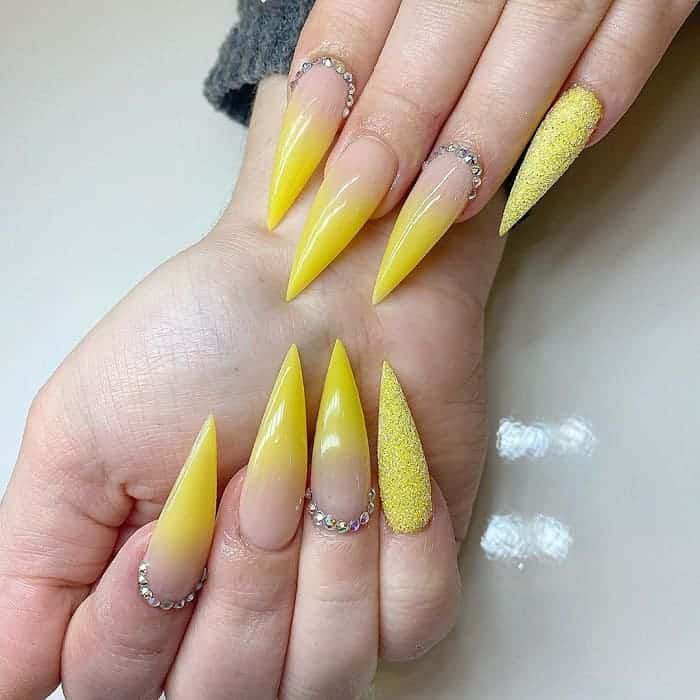 These pointy fake nails are not only killer-looking but can be easily transformed into a weapon. Make sure you don't hurt yourself when wearing these stunning yellow ombre nails with glitter and rhinestones.
#13. Yellow Fake Nails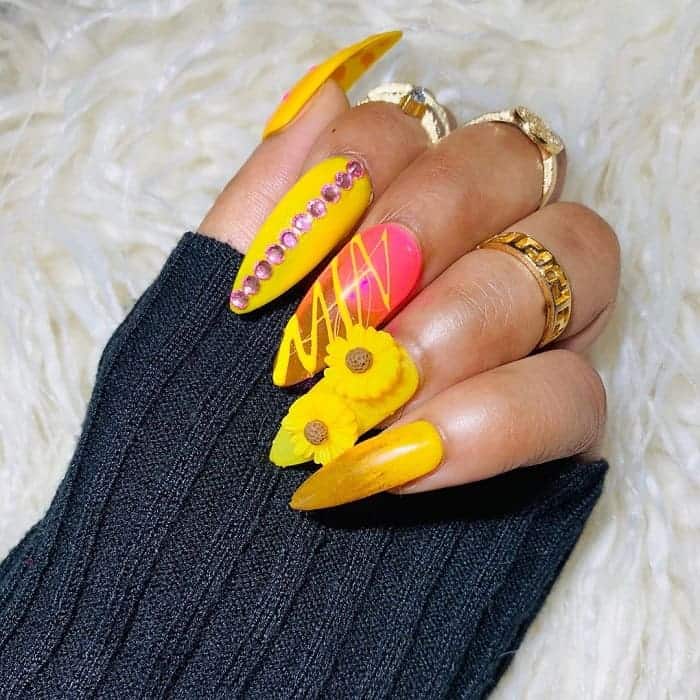 Eleganza extravaganza! How to better get that eye-popping mani if not with an electric design for those fake nails? Use your creativity and apply flowers, pull off gradients, and use shining rhinestones for each finger.
#14. Almond Fake Nails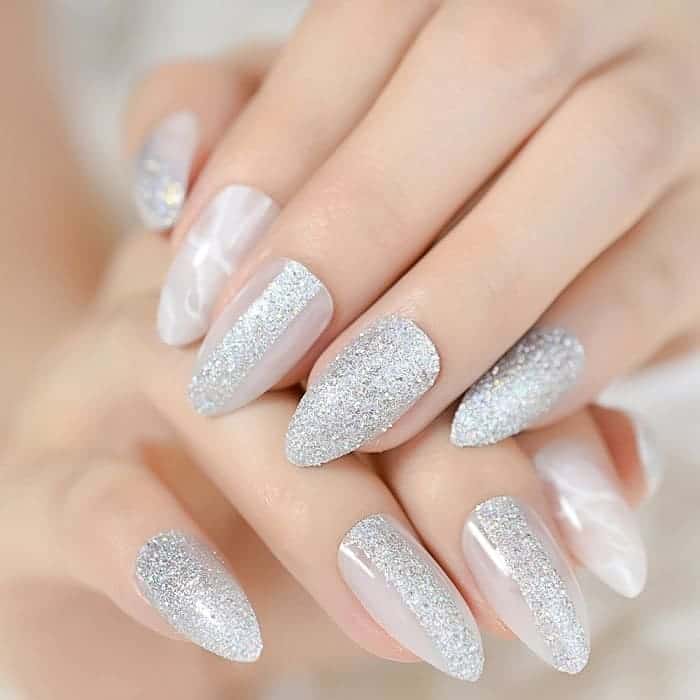 Wedding fake nails with silver glitter are everything you need for your special day. They are eye-catching, shine like diamonds, and reflect light. Mix more patterns for an outstanding mani.
#15. Coffin Shaped Fake Nails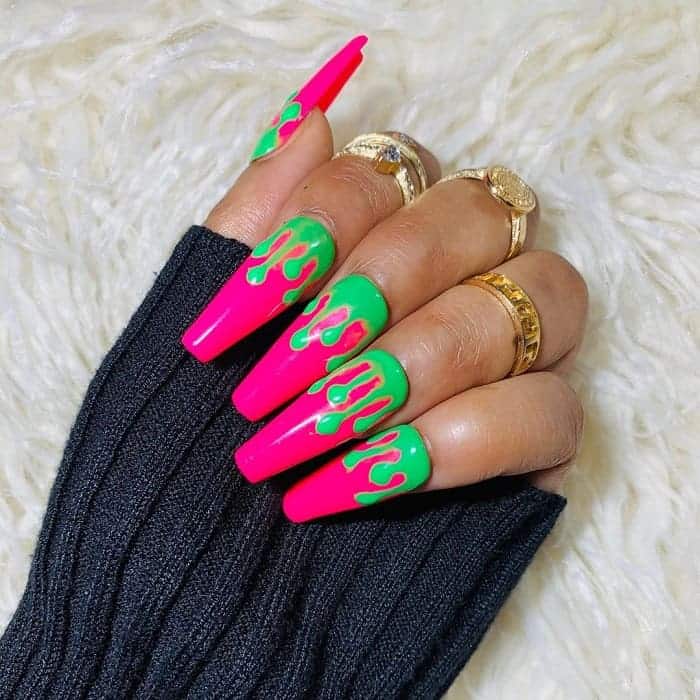 Wanna make a real statement with your stunning nails? If you need them to be this big only for one occasion, glue-on fake nails are the ones you should be buying. You can apply them at home, and they come with so many fabulous designs.
#16. Fancy Fake Nails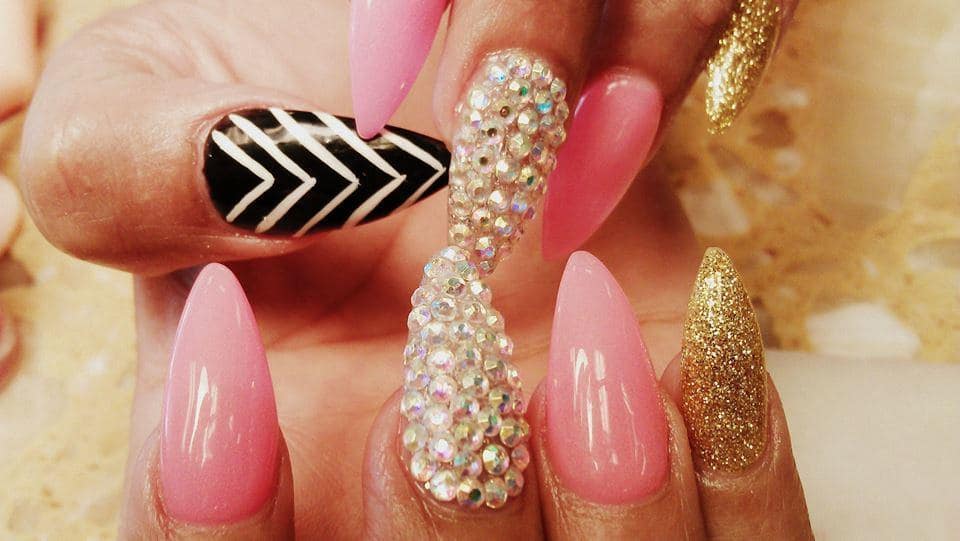 Aren't you just in love with these? These acrylic nails are so formal and chic and in our opinion perfect for your prom day. With a little bit of shine and glitter, who could resist them?
#17. Fake Gel Nails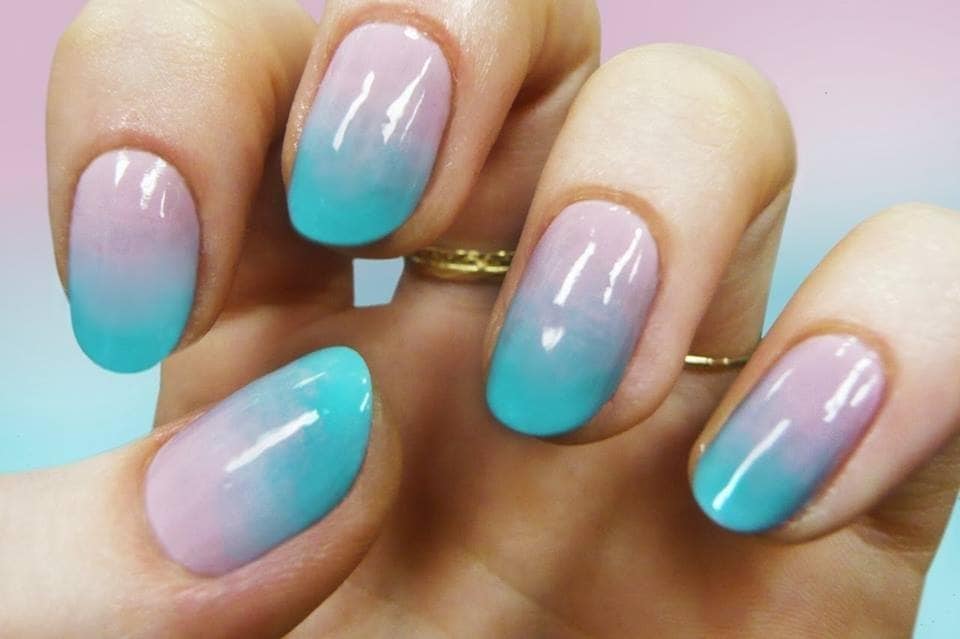 A subtle ombre is a total hit. The gentle transition between the blue and purple color is such a springy summer vibe. These look super cute and natural, but yet they've been done in the silk artificial way.
#18. Matte And Bold
Since we know that you've already fallen in love with the previous ones we thought how about we show you a mattified version. Besides being matte these fake nail designs have that state line on top which we thought was very bold and pretty.
#19. Grey-t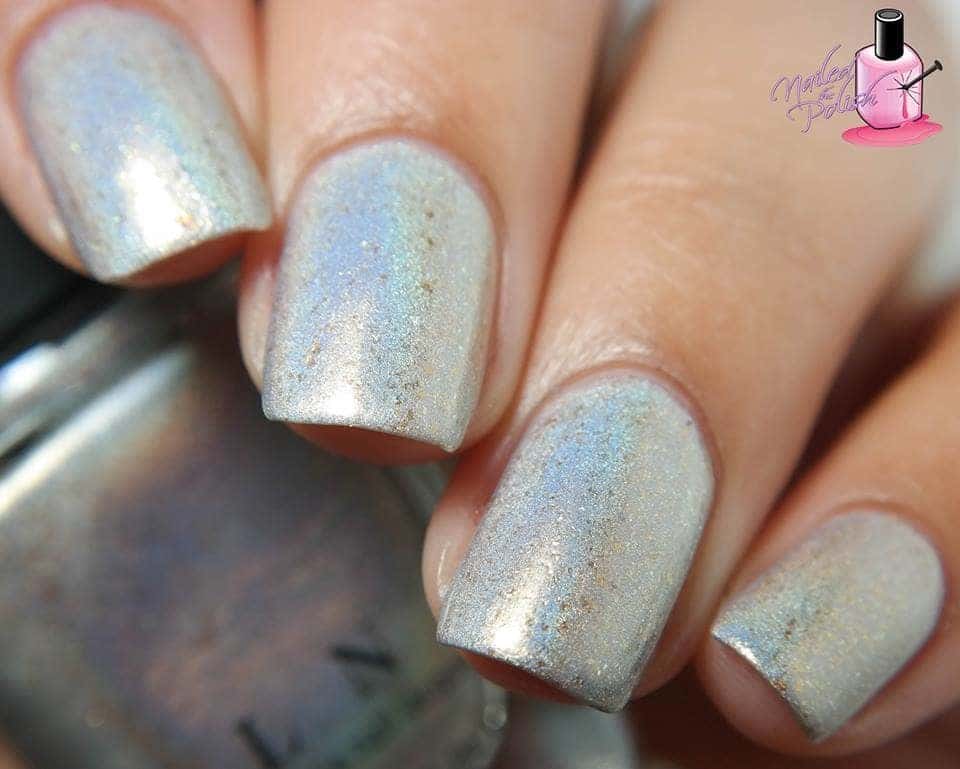 Even one mono color can look stunning. Perfect gray colored nails for those who like to look smart and business without looking fake. Since nails are not too long, in fact, they are just in the middle, people probably won't notice that these are not yours. So if you are a woman who likes to look all natural, you will definitely be able to pull these fake nails off as your own!
Nicki Minaj Nails: 21 Nail Designs to Wow Everyone
#20. Make It Rain
No, literally, make it rain on your nails. These silk short nails with some added jewelry and an umbrella sticker are simple but effective. Maybe they will bring you some luck and you will actually start making it rain.
#21. Don't Hold A Grudge Against Me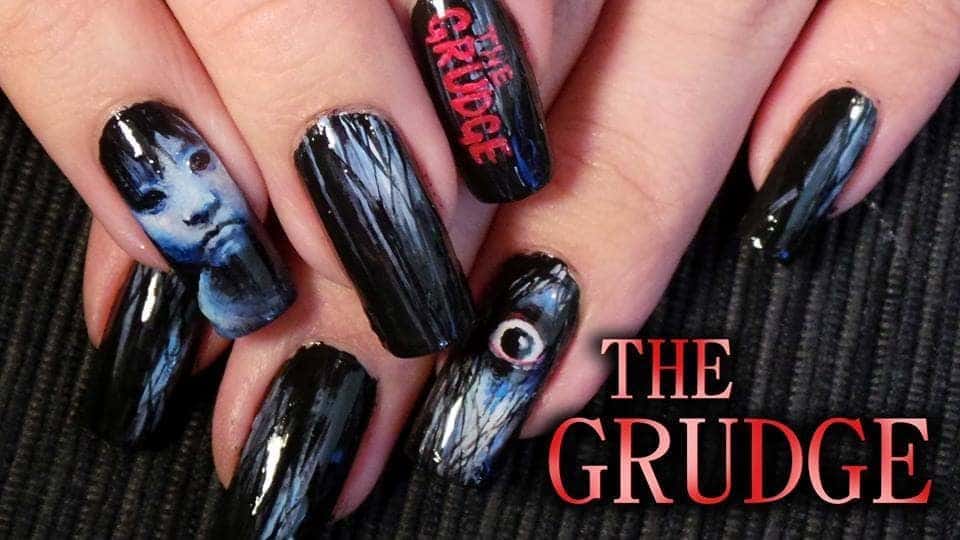 If your favorite genre of movie is horror, then why not take it up a notch? In this picture, we have a slight preview of true nail art on the nails. Every horror lover knows about this movie, and we thought what a creative and not everyday thing to paint on your nails. Of course, you can find your source of inspiration in any of your favorite movies, and give it a go, but in our opinion these fake acrylic nails are sick-looking.
#22. Frutti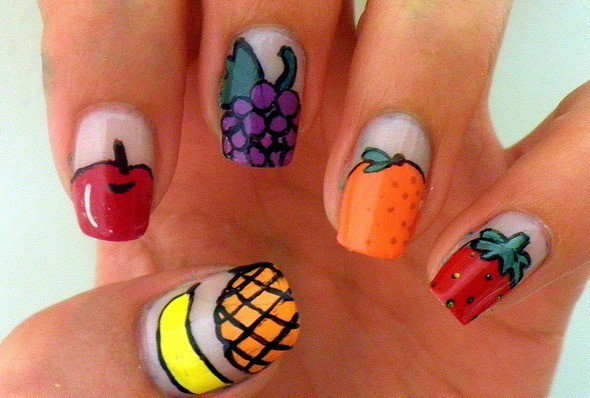 Grapes, strawberries, oranges and pineapples. Ingredients for a fruit salad, or just an ideal combo for your nails?! These are a must have during the summer days.
#23. Silver Shine
If you are at a party be sure that you will be noticeable! Silver nails with a metallic shine are a statement piece for every party. They can be either tips or acrylic, they will still look fabulous. You can make them even fancier by adding silver rings and a matching silver bracelet.
#24. News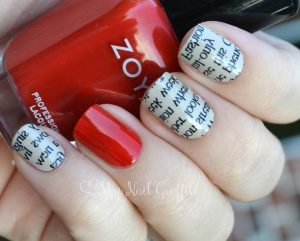 Do you like to read? Because these newspaper print nails are so hot that if you are not a big book fan you'll probably change your mind. They are on our list because you will probably be the only one who's rocking them, so that's a plus for creativity. And you know what else is also cool about them? They can be a great cheat sheet too. But shh, don't say you've heard it from me.
#25. Pink Ombre
Yellow combined with pink doesn't sound that appealing, but once you've seen this picture you will probably hop to your nail technician and ask for this sun-kissed melted goodness.
#26. Water Me
The tree symbolizes nature and growth. So if you do get this print on your nails, let's hope they will start growing faster and stronger in the future. If not, at least you had the prettiest fake nails among your friends.
#27. Black And Yellow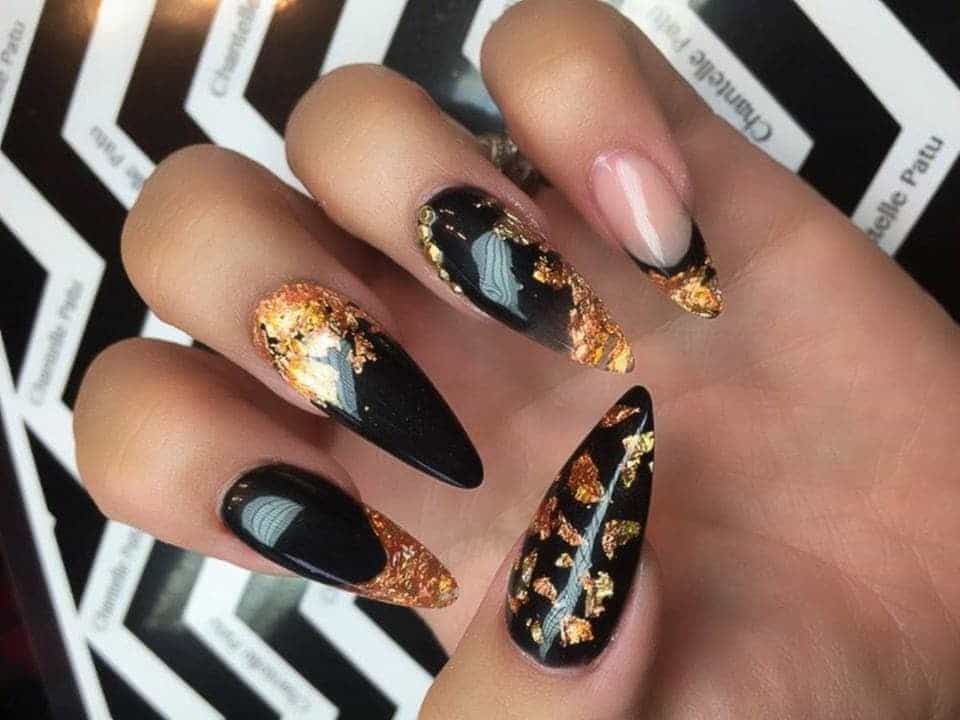 Every woman should have these long fake acrylic nails at least once a year. Since they are black they are symbolizing mysteriousness and strength, and also the golden/yellow tones are giving us the vibe of a true ladylike princess.
#28. Red And Pointy
Acrylic and sharp red nails will not go unrecognized. With them, you will look like a true queen. They are most popular in video shoots, and on sets, since they are so "up in your face".
#29. Matte Mate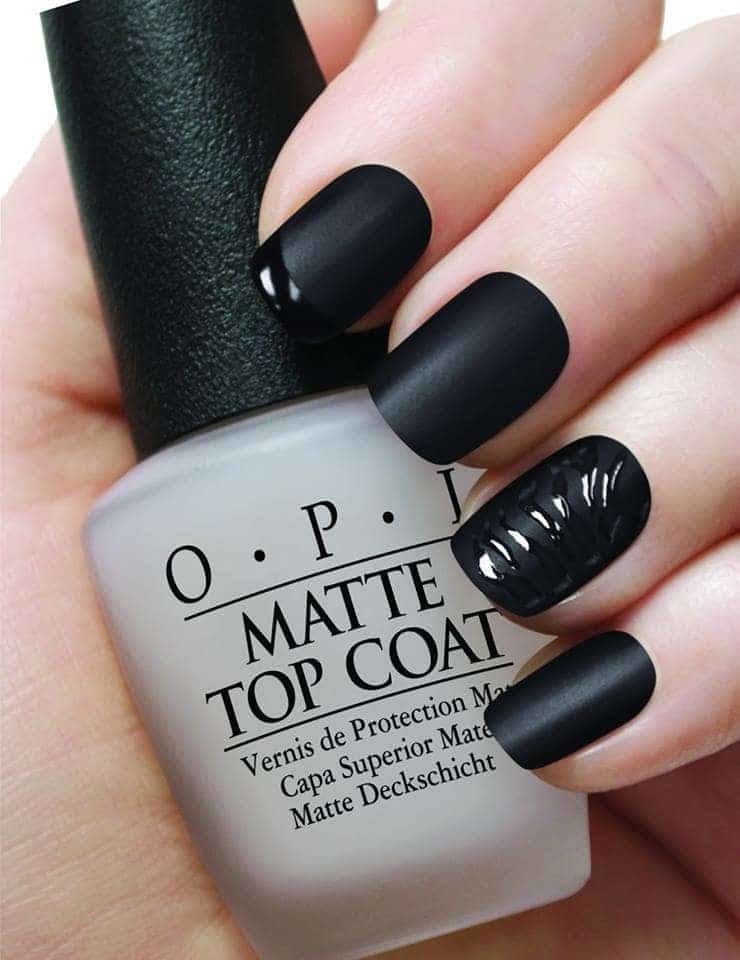 Matte top coats are something that we need from time to time, and we got to admit that the OPI nail gels and lacquers are hard to top off. And on this picture the nails don't look fake, they could even pass as your own natural nails, since everything melted down so perfectly.
#30. Black Flowers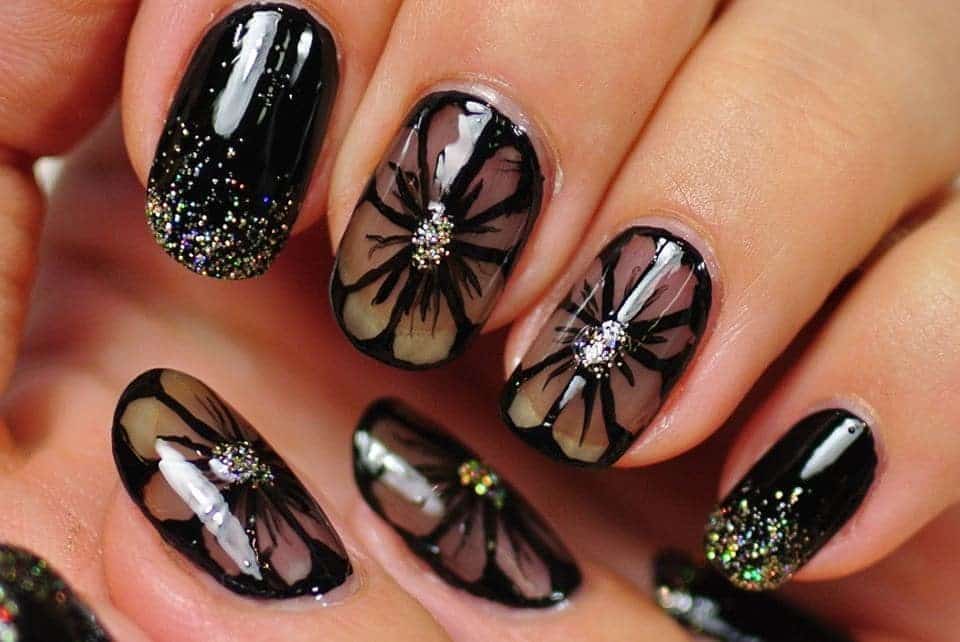 If you are a flower lover but also a bit mysterious then try out this combination. Perfect for a woman who is not about that glitter shining life and is more on a dark side.
#31. Blue And White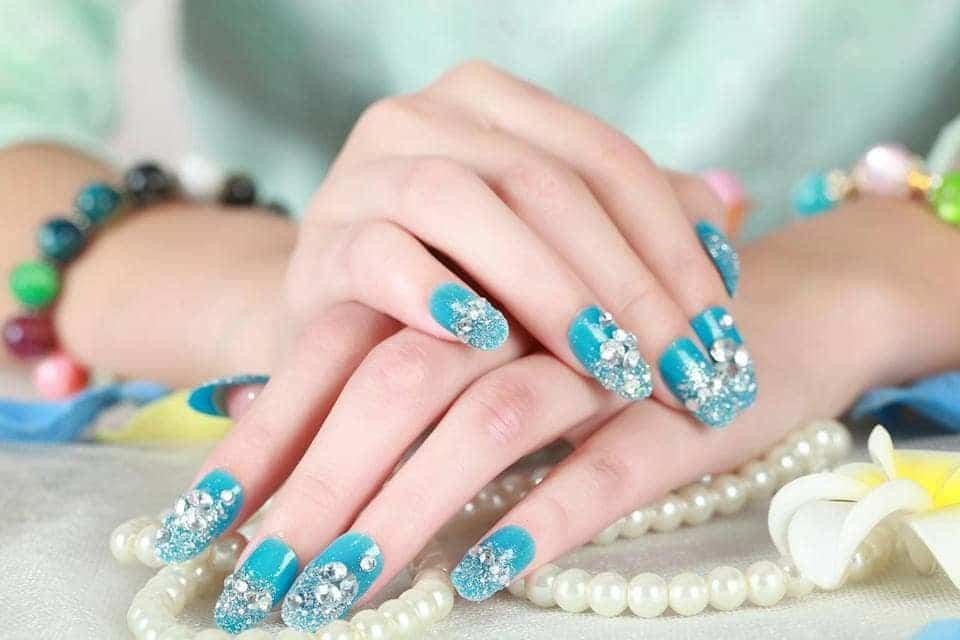 With these long and sparkly fake nails, you will look so fabulous. They are perfect for wedding days and other evening special events.
#32. Spooked Me
Do you believe in witches? If not then maybe you should, since you will be rocking these unique black and purple perfect for Halloween nail designs. Get them as precise as you can and rock them flawlessly.
#33. Fake Acrylic Nails
Acrylic, long, better to say XXL long, orange/red shade with a sharp pointy edge is a true statement of Bollywood, or some high end adds. So we believe that you should have your own high-end nails just to treat yourself a little bit.
 #34. Neon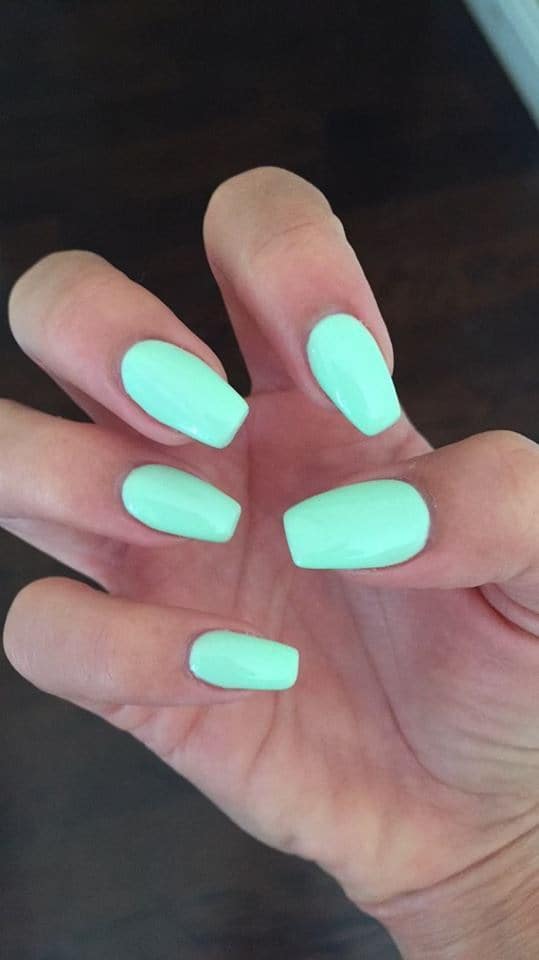 Neon will always be in trend, and we can see why. On our list are these fake square nails made with tips, just perfect for a pool or beach party. They are also very cool for rave parties too.
 #35. Say Yes To Gliterness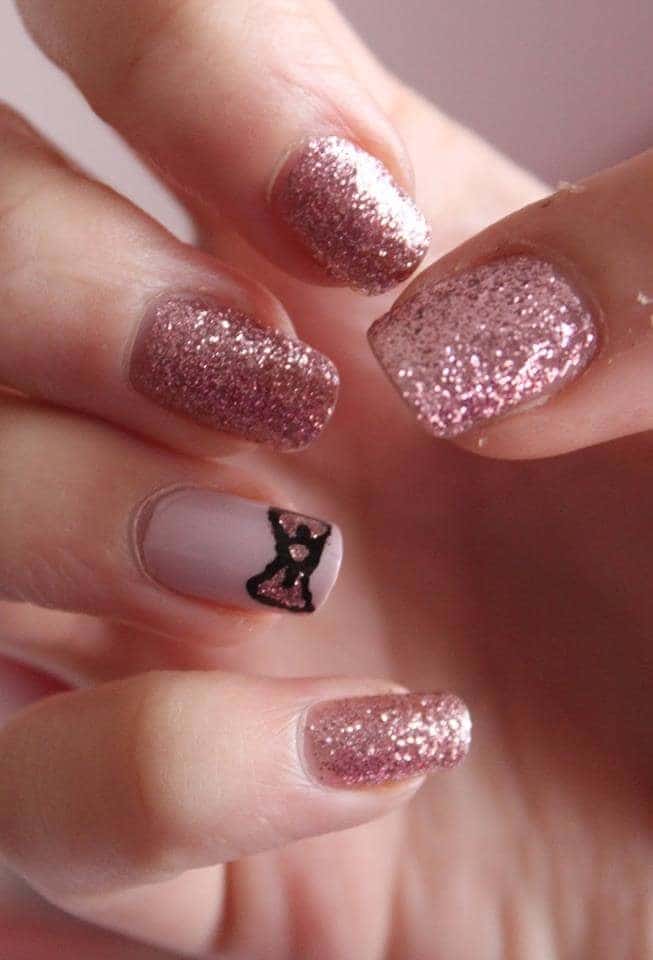 And the last on our "30 fake nail design" list are these pink fake nails. which have a glitter on top that transforms every woman into a princess. There is nothing every day about these nails, so make sure you rock them for your birthday, prom, or party occasions.
Try Out These Catchy Fake Nail Designs
So in the end, the choice is up to you. Which one of these 30 nail designs was your favorite? We really can't decide since they all look so stunning.