It's no secret that us ladies love flowers and all the art you can make with inspiration from your favorite one. When looking for a cheerful nail art design, daisies should be at the top of your list.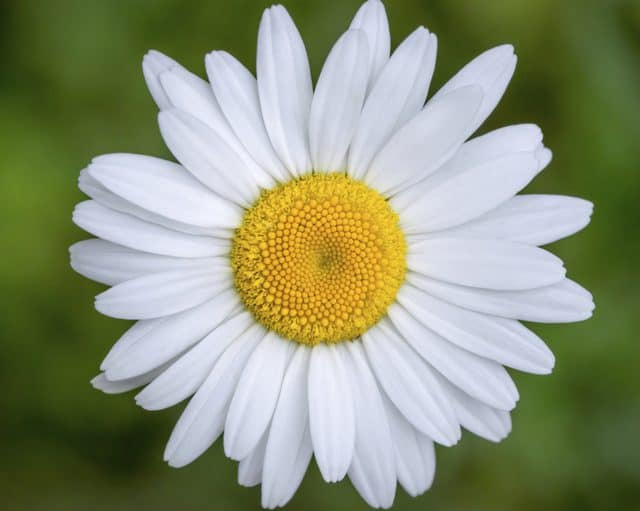 The daisy, meaning 'day's eye,' is a beautiful small white flower with a round pink, rose, or yellow center. The daisy symbolizes beauty, innocence, purity, new beginnings, and, of course, true love.
Use daisy nail art for a special wedding day design, a cute detail to a date outfit, or just to wear casually during the spring for a cheery pop of color.
Beautiful Daisy Nail Arts to Try
Whether you choose miniature daisies or more fluffy ones, they are both beautiful representations of femininity and daintiness.
And while the most common chosen colors are white petals with a yellow center, feel free to be inspired by the 25 beautiful daisy nail art designs we've collected below.
#1. Bright Orange
Long rectangular nails make a statement not just with their shape, but with the bright orange that covers the nails. Use a separate glittered polish for accent, leaving one nail plain for daisies.
#2. Teal with Tiny Daisies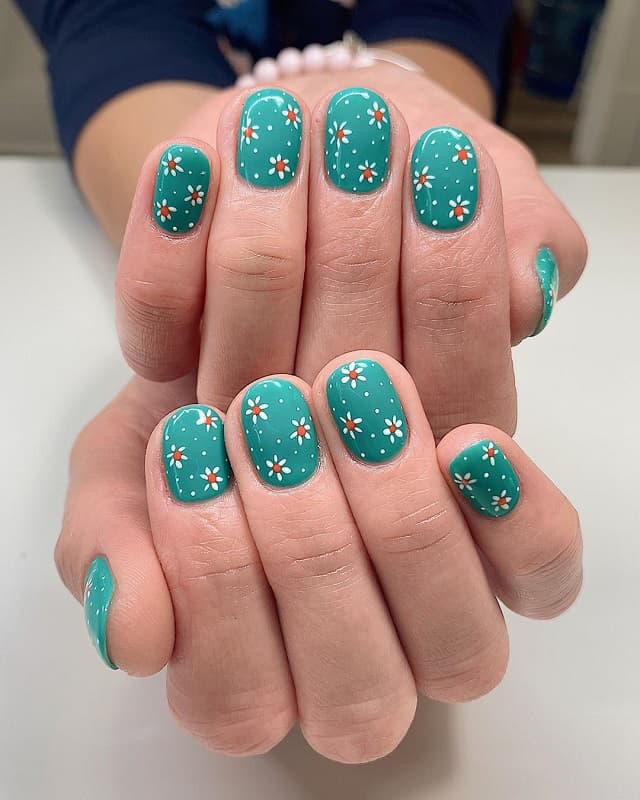 Get your daily nail art right from home by using stickers! First, paint your nails with a beautiful teal, then stick on tiny daisies and add a few white dots to fill in the gaps.
#3. 3D Nails
Let 3D nail art shine by using a nude or beige background. Then load up the ends of your fingers with petals and crystals to make your flowers. You can create an accent nail by loading it up with all the crystals left!
#4. Minimalistic French Mani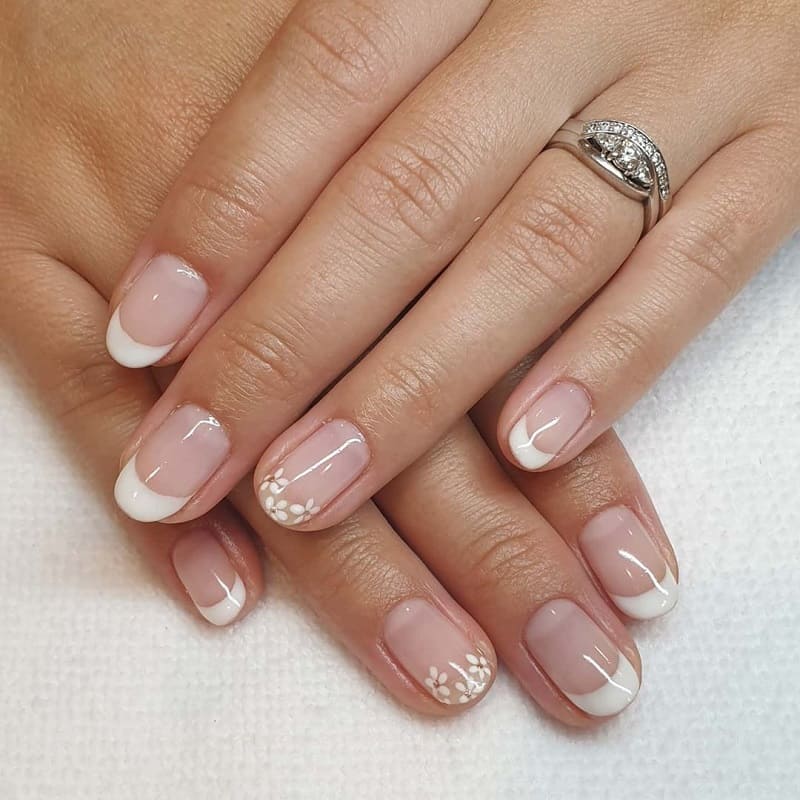 French nails are such a gorgeous, classy choice for nails. To give it a daisy addition, leave one nail on each hand with a plain tip, using daisies instead of white polish.
#5. Dramatic Black
We're guessing you've never thought of pairing black with your daisy nail art, but this edgy style on long nails shows how much more dramatic the dark color makes it.
#6. Acrylic Daisy Nail Art
Why opt for a plain yellow center when orange with black polka dots is even cuter? Use thick white strokes to create the petals over a black background.
#7. Bright Red Gel Nails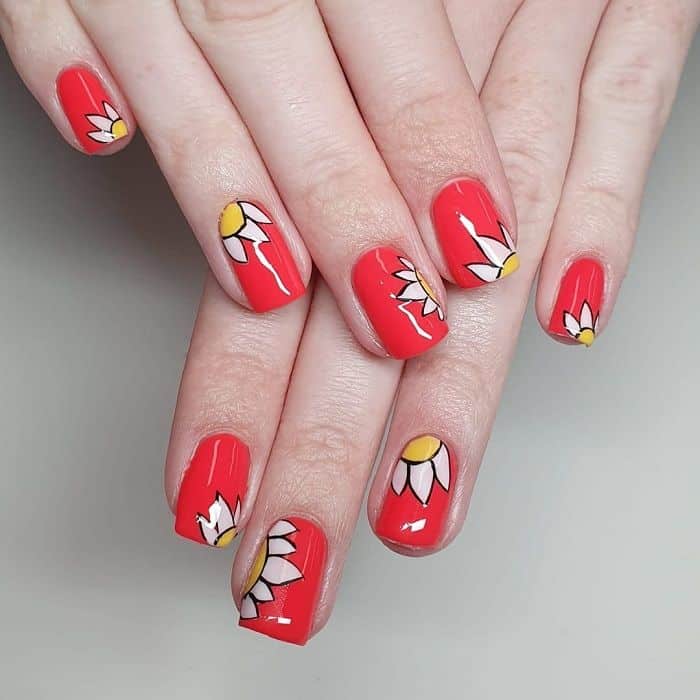 Liven up those red gel nails with some daisy detail! The flowers here are outlined with black and filled in with a large yellow circle.
#8. Daisy Toe Nail Design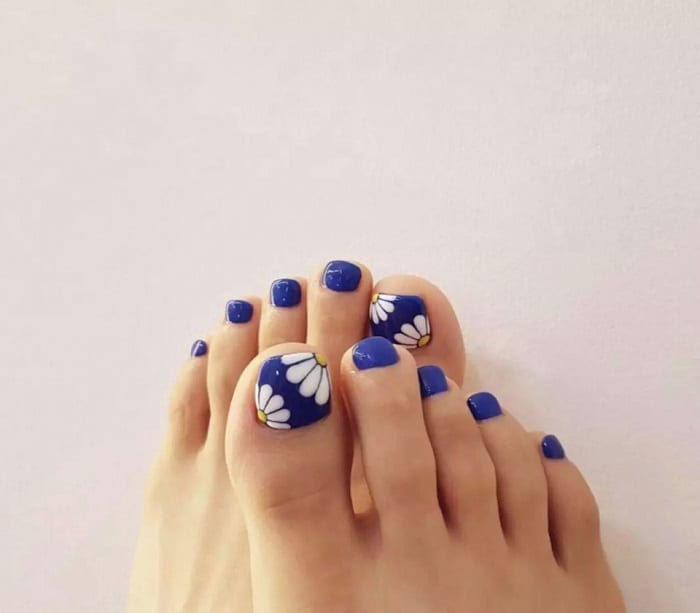 Your toes need some love too! We love a midnight blue and how it brings perfectly rounded white petaled daisies to life on the big toes.
#9. Daisy Nail Stickers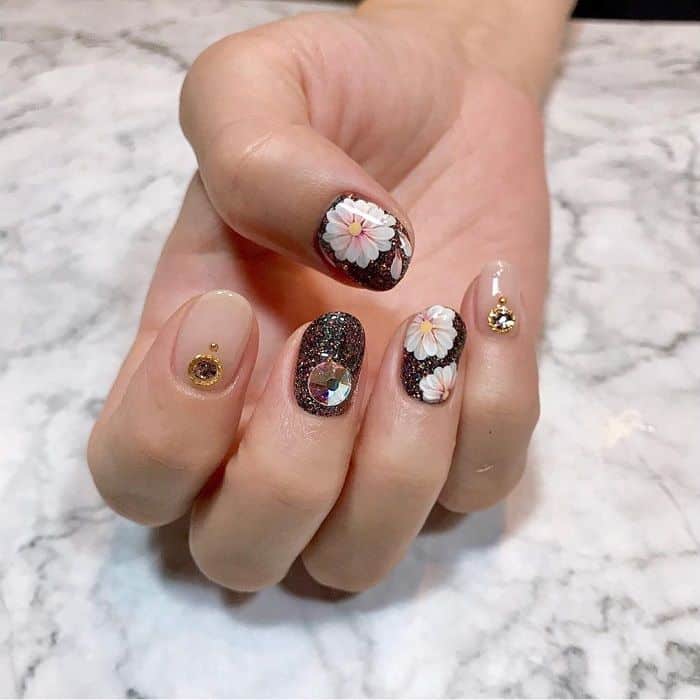 Another way to use nail stickers is seen here: brown and nude polish are not often seen together, especially on nails. But with a glittered polish, the color looks great with pinkish daisy stickers and golden crystals.
#10. Clear Daisy Nails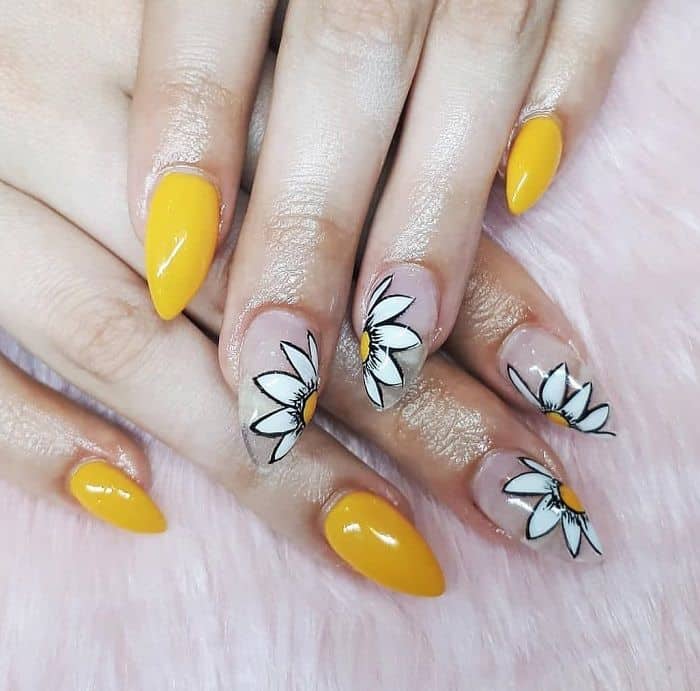 Use sunshine yellow and clear polish with large daisy stickers to create long graceful nails.
#11. Blue Base Daisy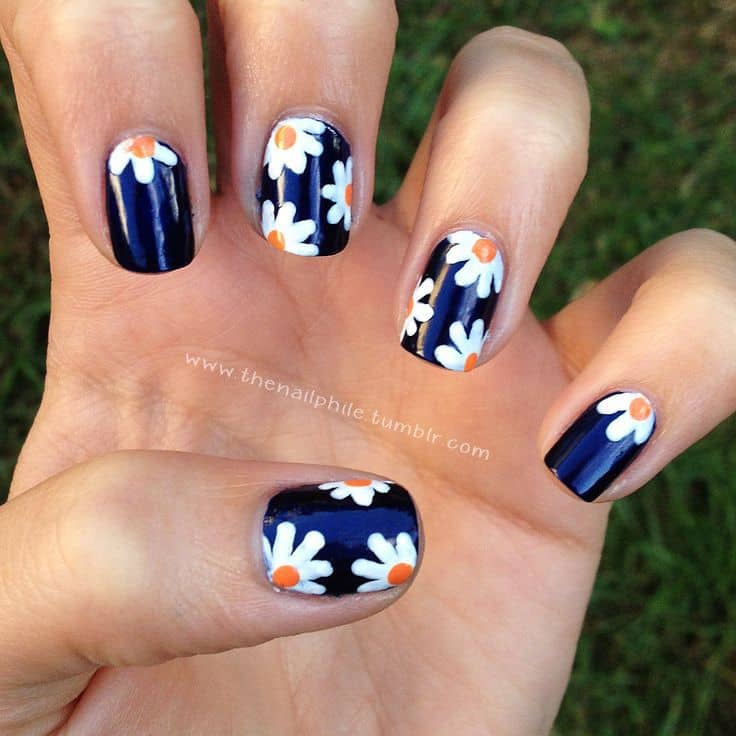 The white petals and yellow or orange center of the daisy flowers look the most outstanding on a navy blue base. Try this daisy nail art on your next outing.
#12. Daisy on Green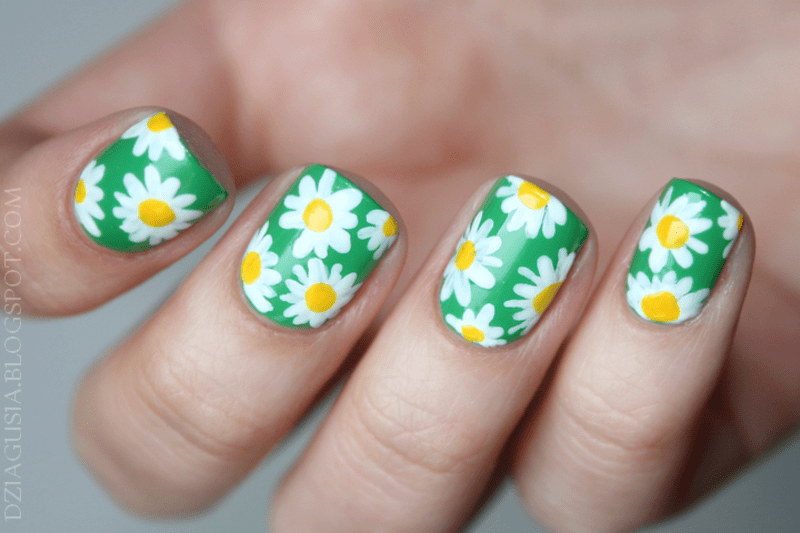 If you are a nature-lover and love to have green ambiance around you, this daisy nail a is the best choice for you. You will have a good feeling as if the white daisies were blooming in the green field of your nailbeds.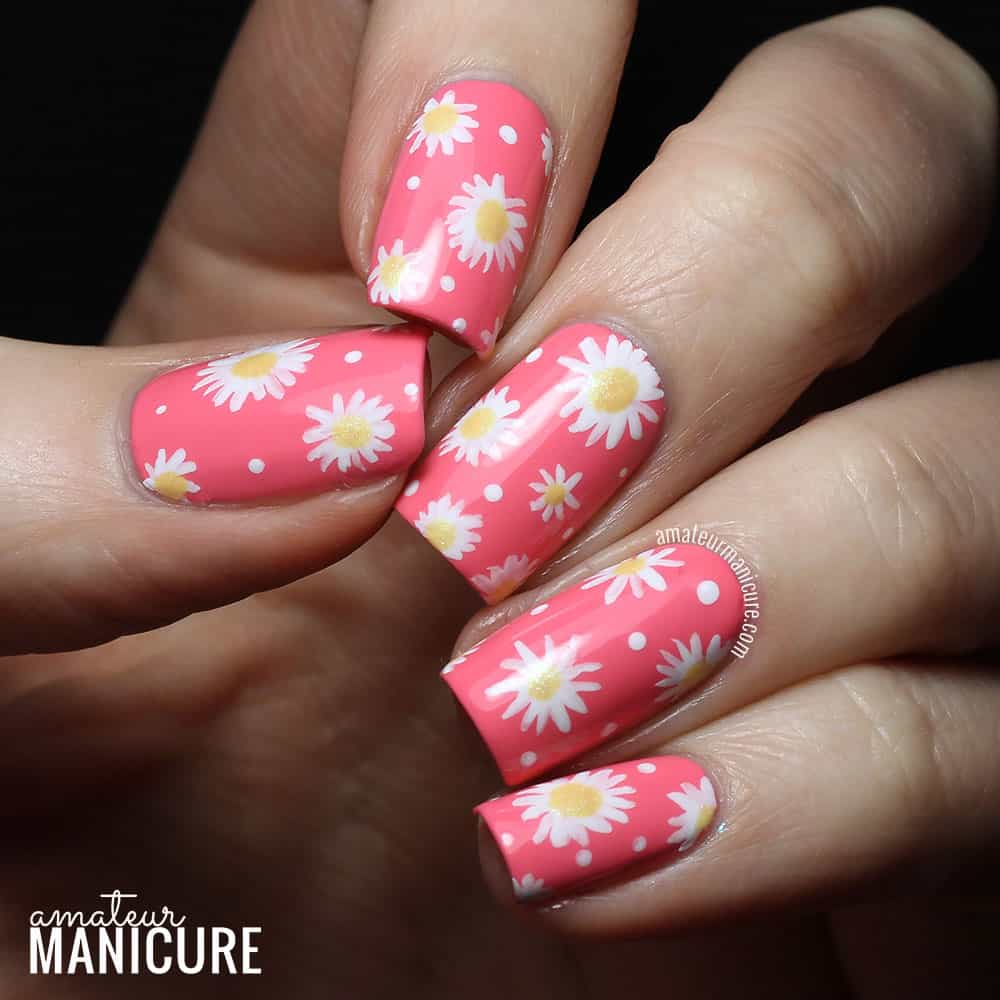 Pink complements the white daisy flowers on your nails. Draw some daisy flowers having the center of the flowers painted with yellow glitters. You can draw some white spots to fill the extra gap.
#14. Glitters And Daisy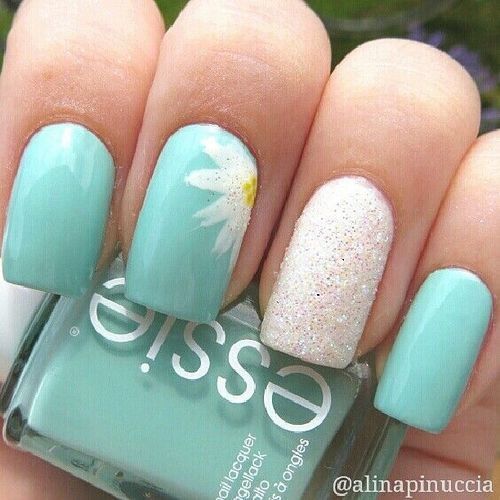 Glitters can be used effectively with daisy nail art. You can have an entire nail painted with white glitters along with an image of a daisy. A blue base will increase the beauty.
#15. Yellow Daisy Nails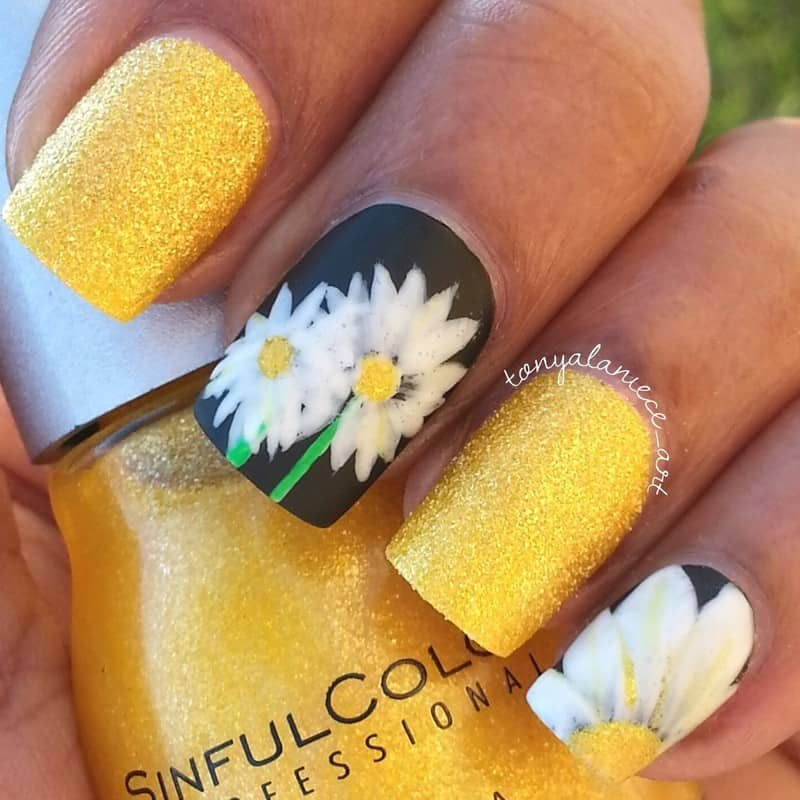 Yellow is a radiant color though it is not used in nail design frequently. You can use the charm of bright yellow perfectly in daisy nail design because the center of daisy flowers are also yellow. Use yellow glitters to make these nails shine brightly.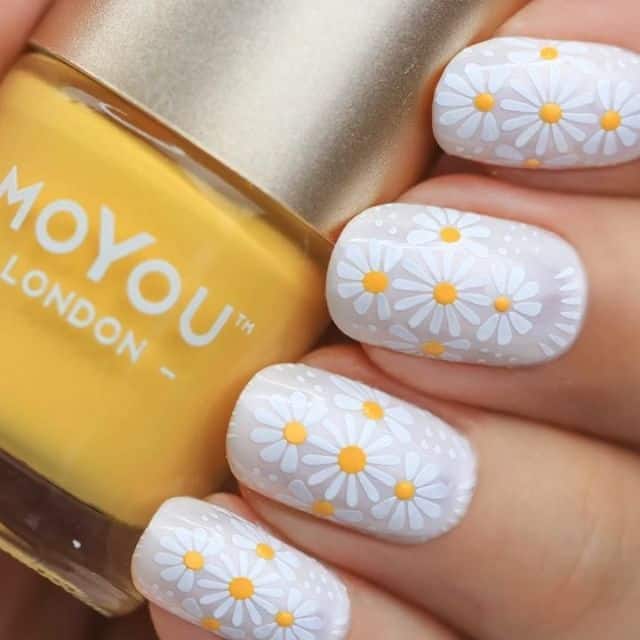 You can draw white daisy flowers on the white bases of your nails. The yellow centers and white petals will look good on the white bases.
Whisper Wishes to Breeze with Dandelion Nail
#17. Lazy Daisy
If you like simplicity, this is the perfect design for you. Paint some daisy flowers designs on your natural looking solar nails. Just don't paint a lot of them to prevent the nails from looking congested.
#18. Dear Daisy
If you want to have not only the flowers but also the stems of the daisy trees, you can try this one. Draw some stems in green color along with white and yellow daisy flowers to complement your gorgeous teal nail.
#19. Stiletto Black Daisy Nail Art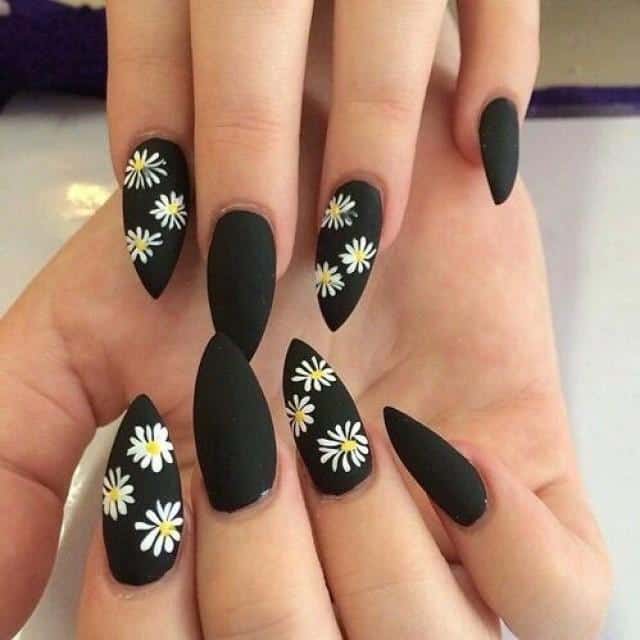 Black stiletto nails are so bold that the nails will look so eye-catching with whatever nail art you design them.
Daisy flowers also look stunning on the matte base of these stiletto nails. You can have this daisy nail art if you have the intention to draw everyone's attention.
#20. Pastel Daisy Nails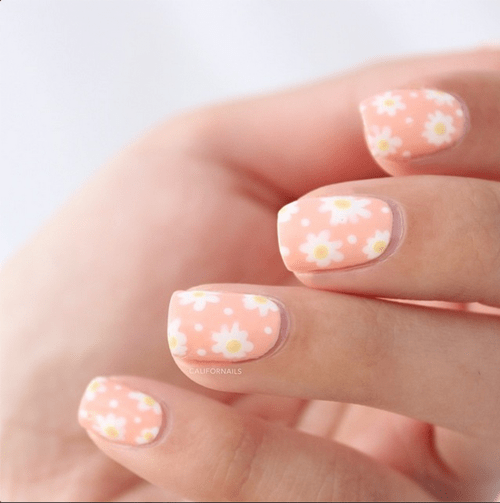 You can decorate white daisy flowers on the pastel color base of your nails. Pastel colors are those colors having low saturation. If you don't like it vibrant, you can choose this daisy nail art.
Celebrate with Charming Cherry Blossom Nail
#21. Edgy Daisy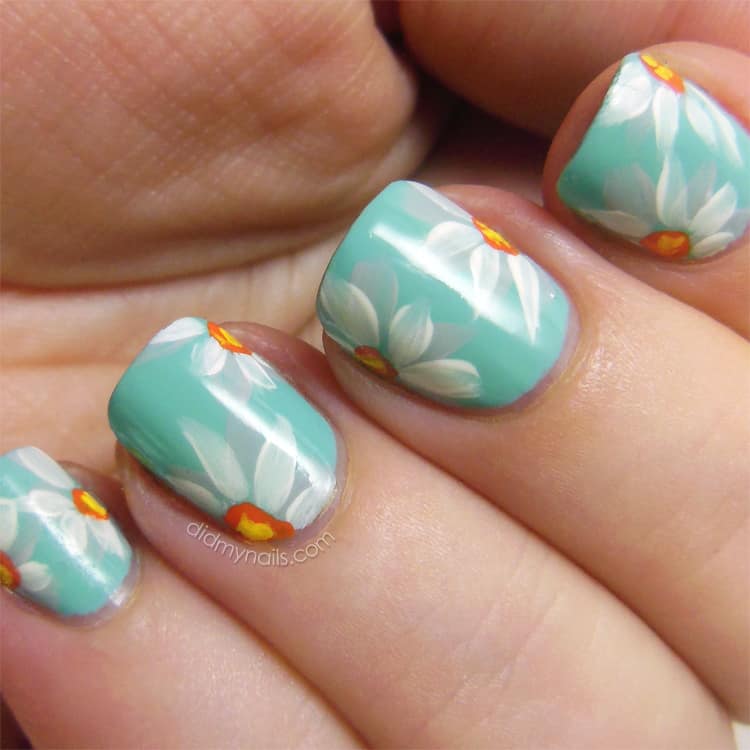 This nail design is a bit different from other designs. You can draw the daisy as if they were deriving from the edges of your nail beds. You can highlight the center of the flowers by using orange and yellow colors together.
#22. Altar of Flowers
Your nails can be used as an altar of the daisy flowers. The daisy flowers are painted in such a way that the nails look like an altar and the flowers look like the offerings made by the patron of the nails. You can have this daisy nail art to look different.
#23. Chic Daisy Nail Art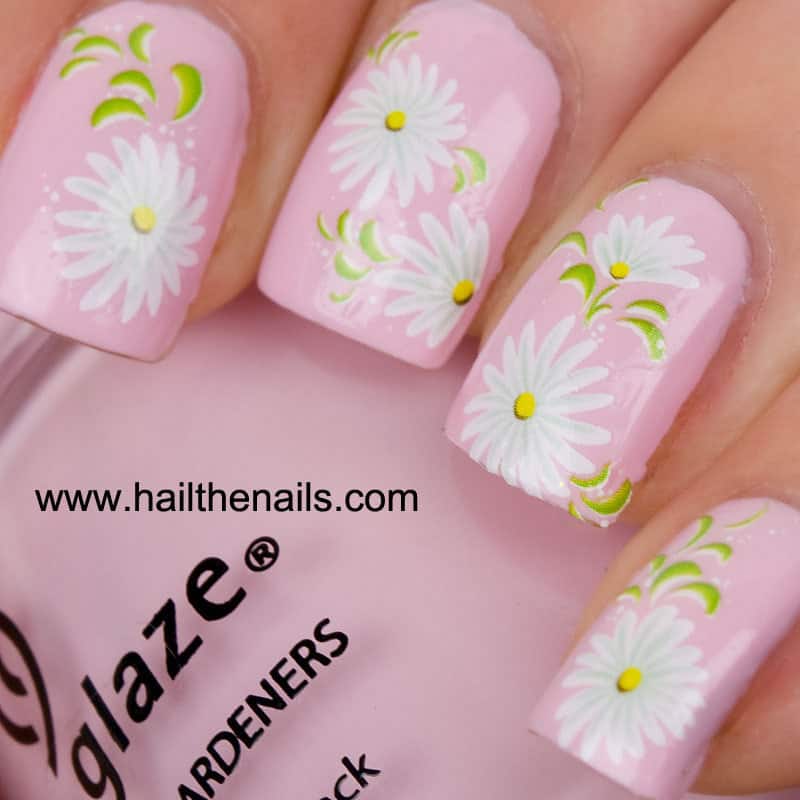 This daisy themed nail art looks so chic. You can have these nails done by painting white daisy flowers and green leaves on the light pink nails. Using some thin glitters on the white petals will give a luxe look to this daisy nail art.
#24. Simplified Daisy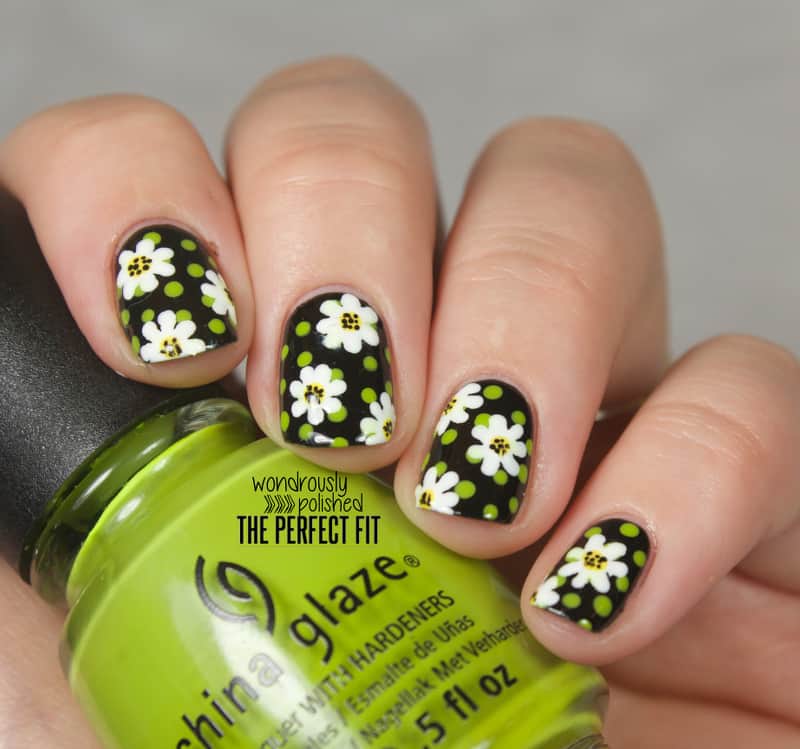 This daisy nail design will look amazing on your nails. You can draw a simplified version of daisy flowers for this design. Don't bother making the petals thinner to resemble the original image of a daisy.
A bit simplification will do no harm. Paint the flowers on the black base of your nails. You can add some polka dots to this daisy nail art.
#25. Blue Daisy Nails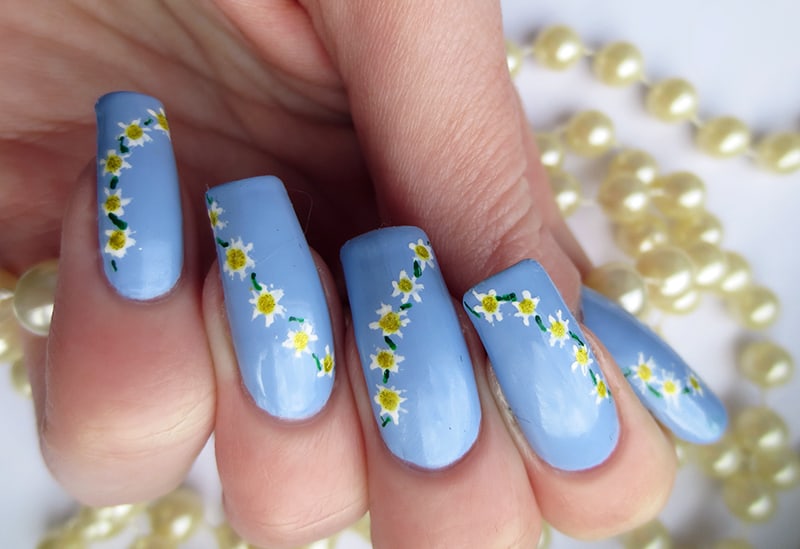 A wreath of daisy flowers has increased the beauty of these ballerina nails to a great extent.
At first, fill the surface of your ballerina nails with a blue color. Then paint some daisy flowers resembling a wreath from top to bottom of your nails. That's it, blue ballerina nails are painted in daisy nail art.
Summer Vibes With Flower Nail Designs
Daisy nail art is very much popular among the girls but you have to keep in mind that popular things should not have any flaws.
As everyone is aware of this nail art you have to do them correctly, otherwise, you will be criticized. I am here to guide you the right gateway to daisy nail art. You can try out our designs to have the best look.