25 Epic Daisy Nail Arts You'll Definitely Love
If you are planning to have daisy nail art at your fingertips, that would be a wise decision for sure.
What is 'Daisy' Nail Art?
Daisy, the name is interpreted as 'day's eye' which is relevant because these flowers bloom in the morning. Daisy is a beautiful small white flower having a round pink, rose or yellow center. They are found in almost every corner of the world notably in Europe, North America, and Africa.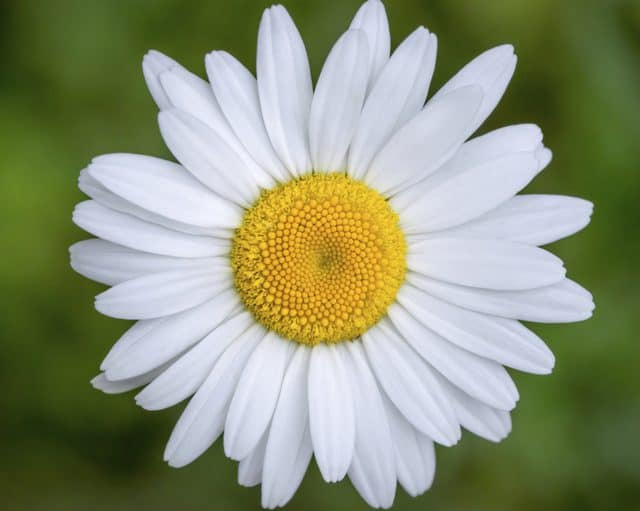 So, why daisy flower art on your nails? Well, Daisy is rich both in terms of beauty and symbolic meaning. They mean innocence, purity, new beginnings, true love etc. depending on a different context.
White daisies having yellow centers present innocence and purity. They are used in flower bouquets as a gift for new mothers referring to the new beginning of motherhood.
These flowers are also used to mean true love because a single daisy flower is actually a blend of two separate flowers. One may easily fall in love with these daisy flowers if she gets exposed to the beauty and symbolic meaning of daisy flowers.
Beautiful Daisy Nail Arts to Try
You can have the miniature of daisy flowers drawn on your nails to have daisy nail art. There is no specific color fixed for this nail art, your personal choices can be reflected on your nailbeds.
If you are wondering about what designs are perfect for you, here are a few designs to give you some ideas. You can choose the right fit for you from these designs, or a bit modification will do good in this regard.
#1.
coffin shaped daisy nail
#2.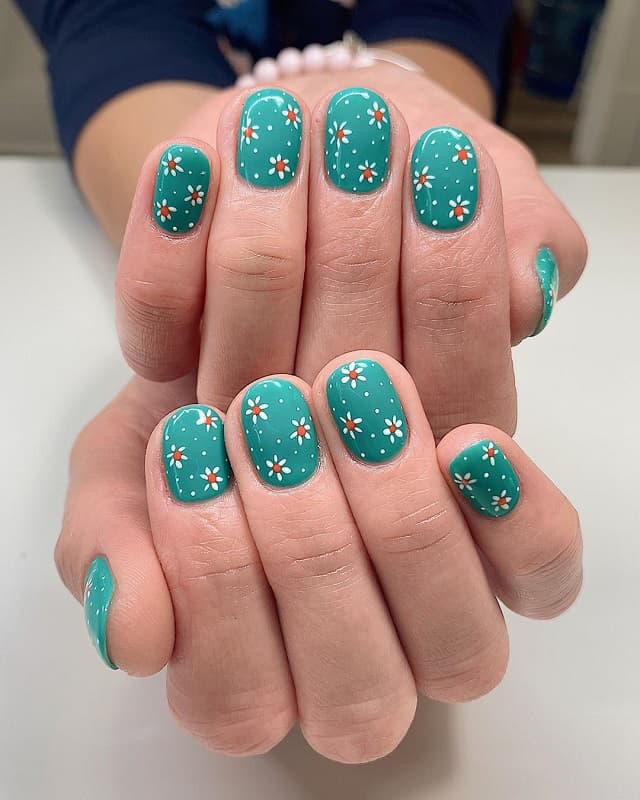 daisy nail art stickers
#3.
3d daisy nail art
#4.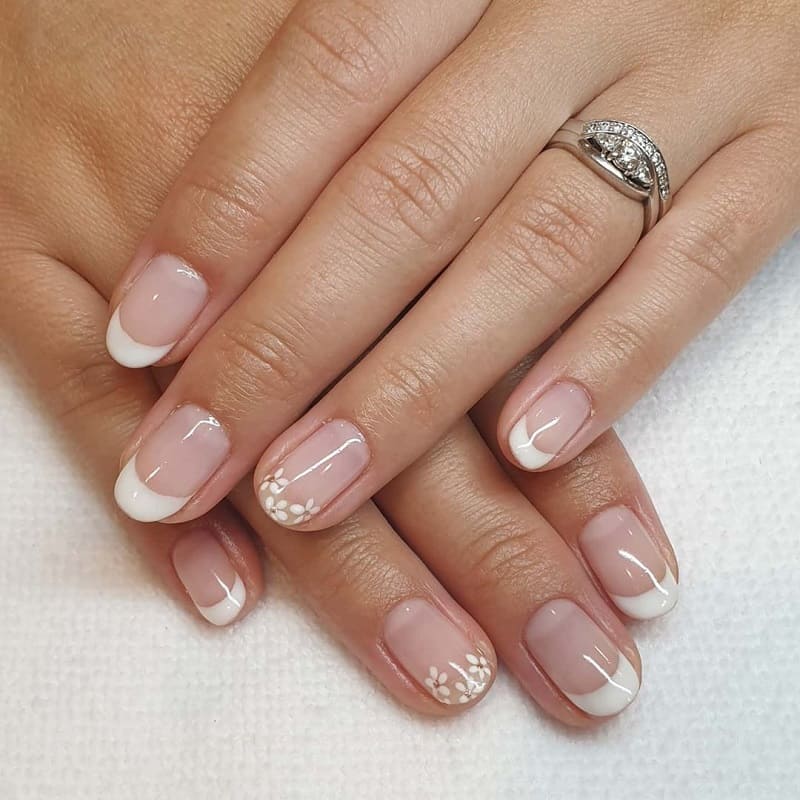 daisy french nail art
#5.
black nails with daisies
#6. Acrylic Daisy Nail Art
#7. Daisy Gel Nail Polish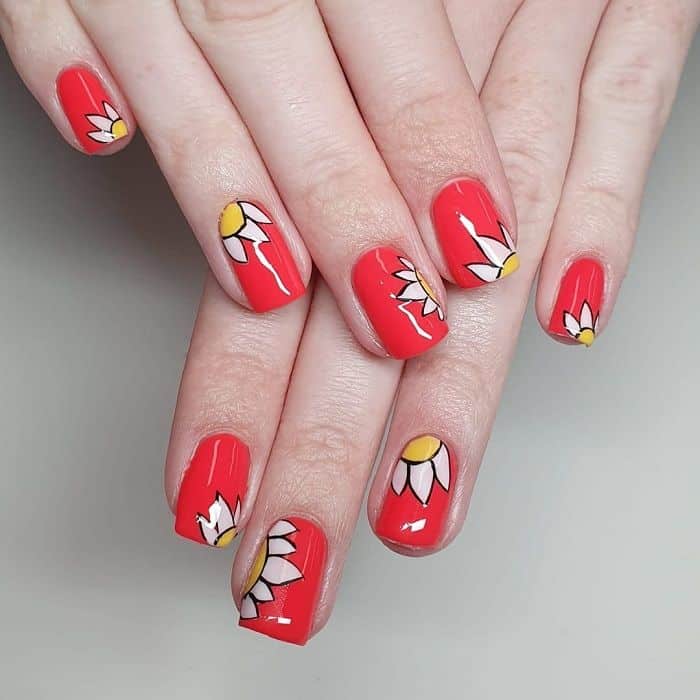 #8. Daisy Toe Nail Design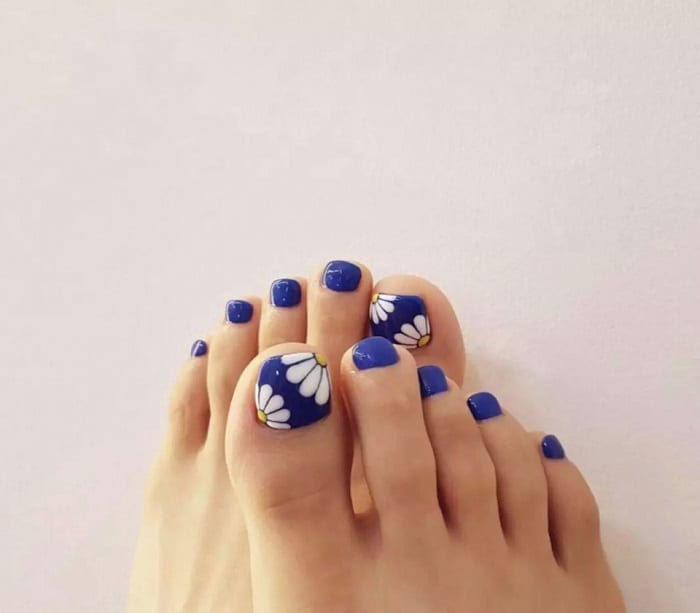 #9. Daisy Nail Stickers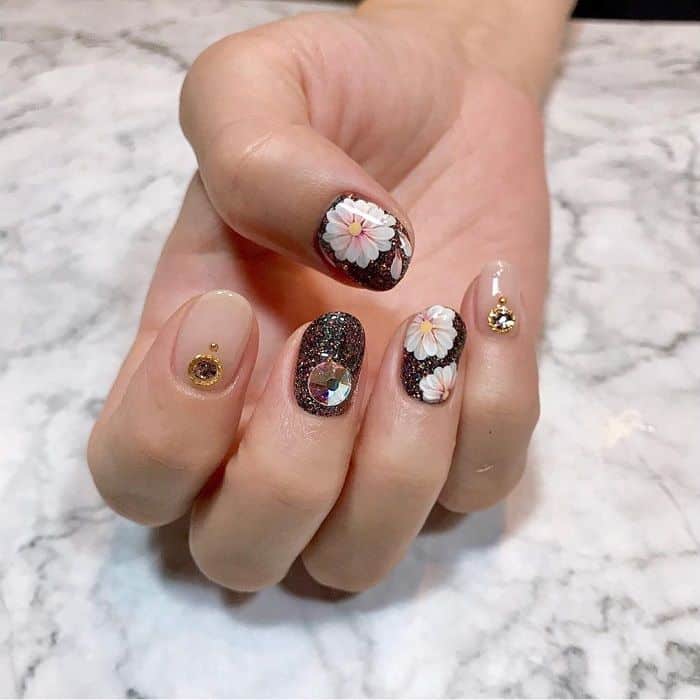 #10. Clear Daisy Nails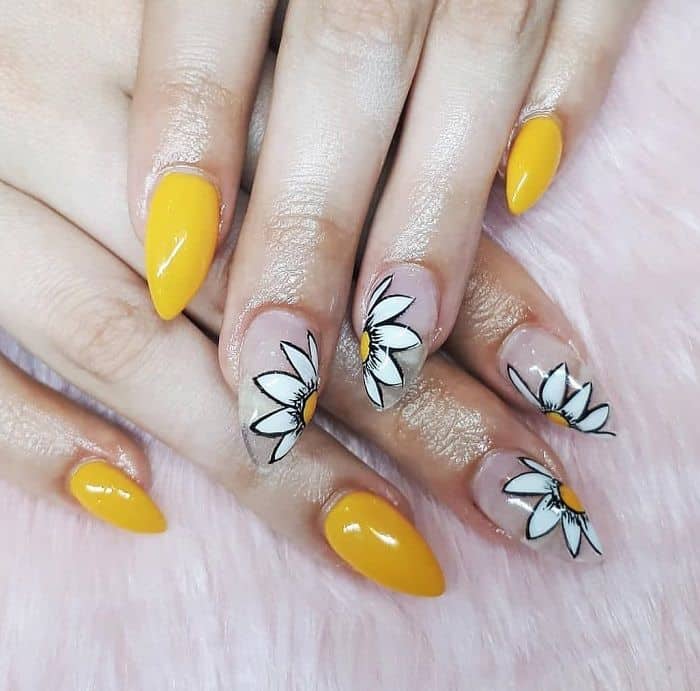 #11. Blue Base Daisy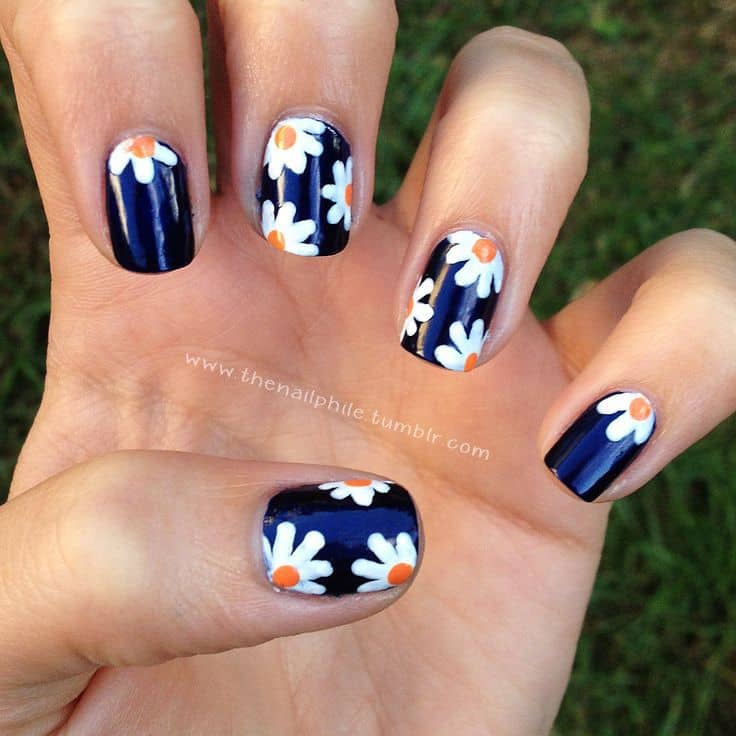 The white petals and yellow or orange center of the daisy flowers look the most outstanding on a navy blue base. Try this daisy nail art on your next outing.
#12. Daisy on Green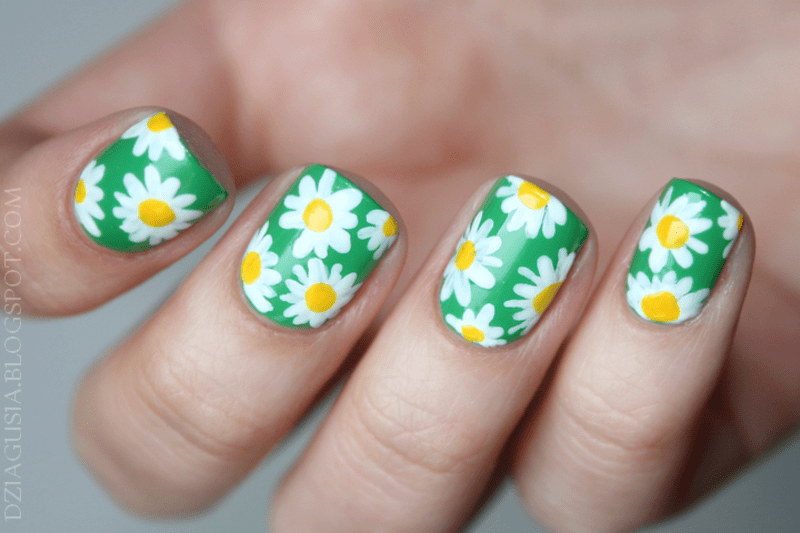 If you are a nature-lover and love to have green ambiance around you, this daisy nail a is the best choice for you. You will have a good feeling as if the white daisies were blooming in the green field of your nailbeds.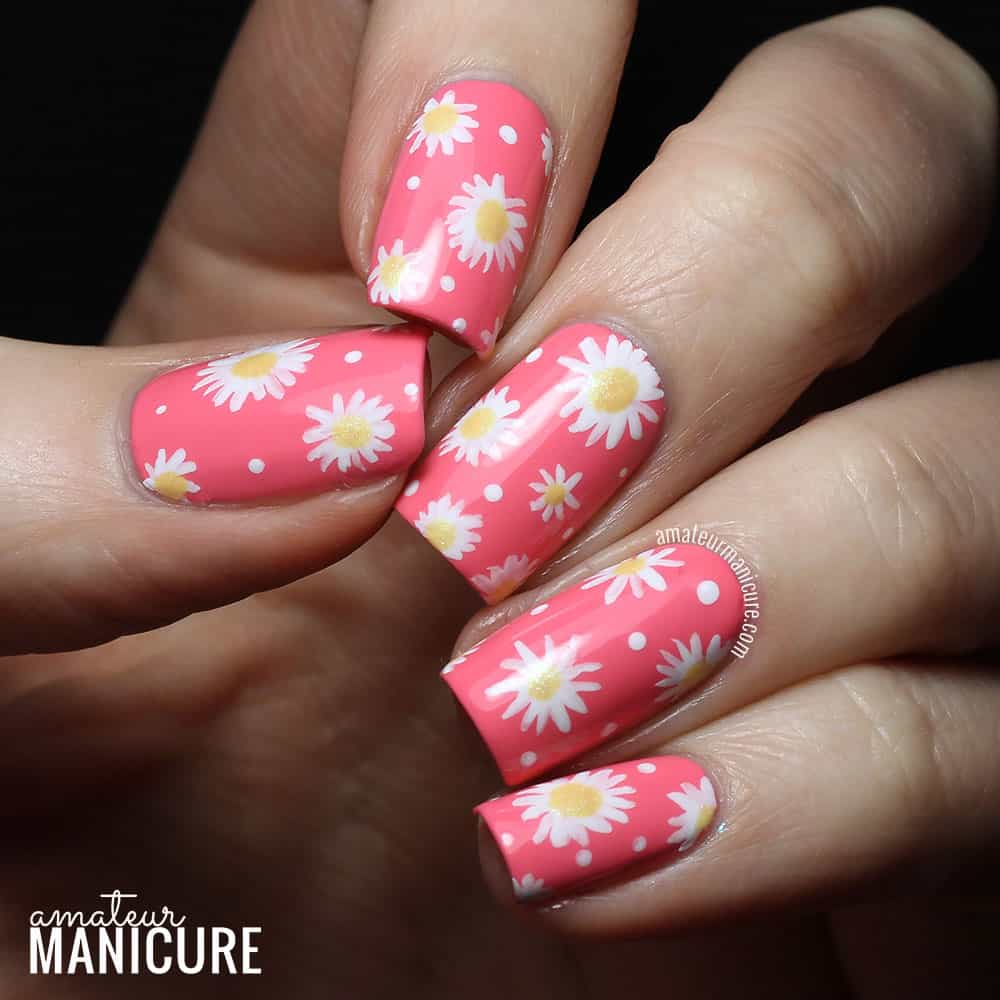 Pink complements the white daisy flowers on your nails. Draw some daisy flowers having the center of the flowers painted with yellow glitters. You can draw some white spots to fill the extra gap.
#14. Glitters And Daisy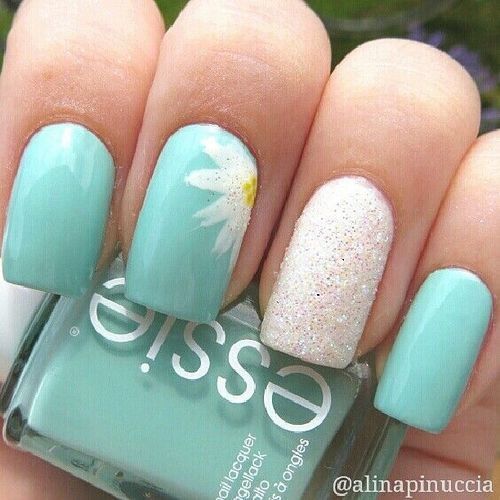 Glitters can be used effectively with daisy nail art. You can have an entire nail painted with white glitters along with an image of a daisy. The blue base will do the rest to increase the beauty.
#15. Yellow Daisy Nails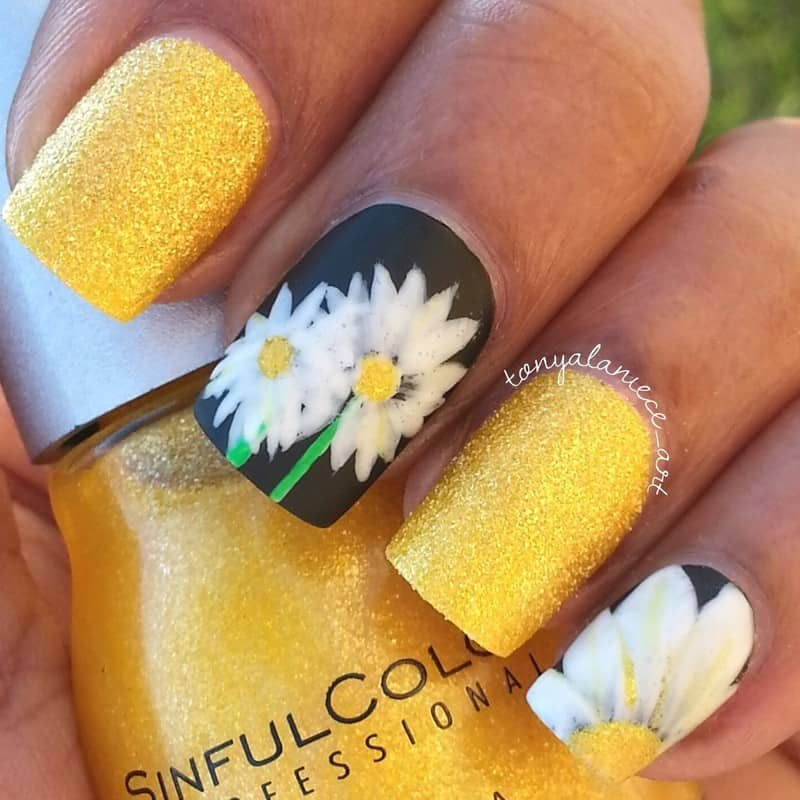 Yellow is a radiant color though it is not used in nail design frequently. You can use the charm of bright yellow perfectly in daisy nail design because the center of daisy flowers are also yellow. Use yellow glitters to make these nails shine brightly.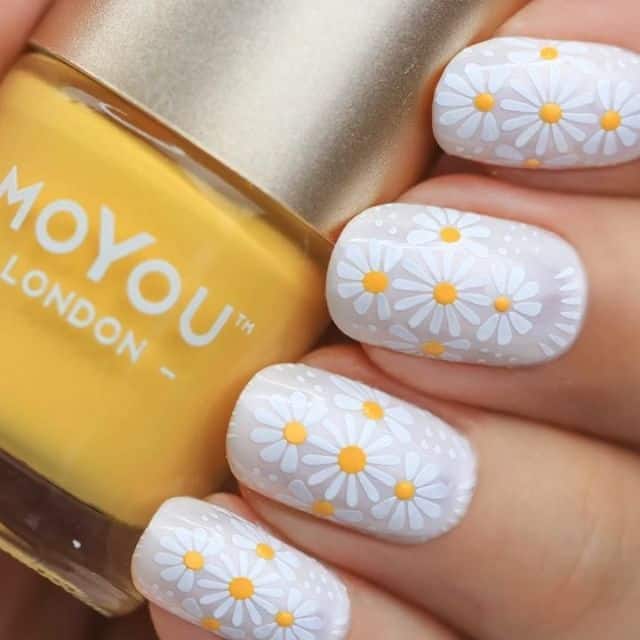 You can draw white daisy flowers on the white bases of your nails. The yellow centers and white petals will look good on the white bases.
Whisper Wishes to Breeze with Dandelion Nail
#17. Lazy Daisy
If you like simplicity, this is the perfect design for you. Paint some daisy flowers designs on your natural looking solar nails. Just don't paint a lot of them to prevent the nails from looking congested.
#18. Dear Daisy
If you want to have not only the flowers but also the stems of the daisy trees, you can try this one. Draw some stems in green color along with white and yellow daisy flowers to complement your gorgeous teal nail.
#19. Stiletto Black Daisy Nail Art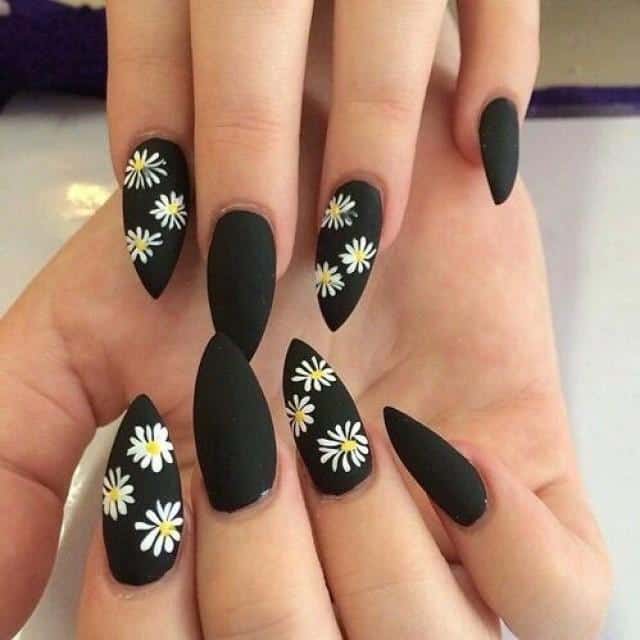 Black stiletto nails are so bold that the nails will look so eye-catching with whatever nail art you design them. Daisy flowers also look stunning on the matte base of these stiletto nails. You can have this daisy nail art if you have the intention to draw everyone's attention.
#20. Pastel Daisy Nails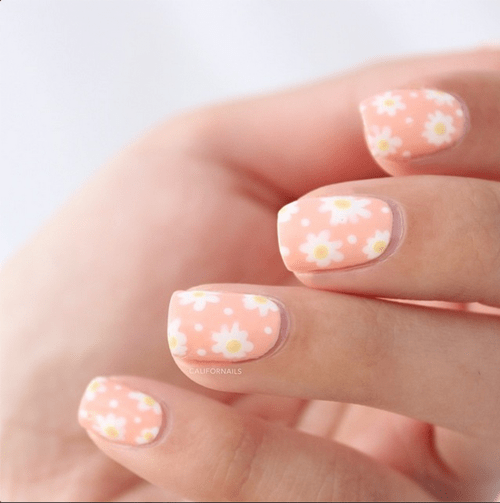 You can decorate white daisy flowers on the pastel color base of your nails. Pastel colors are those colors having low saturation. If you don't like it vibrant, you can choose this daisy nail art.
Celebrate with Charming Cherry Blossom Nail
#21. Edgy Daisy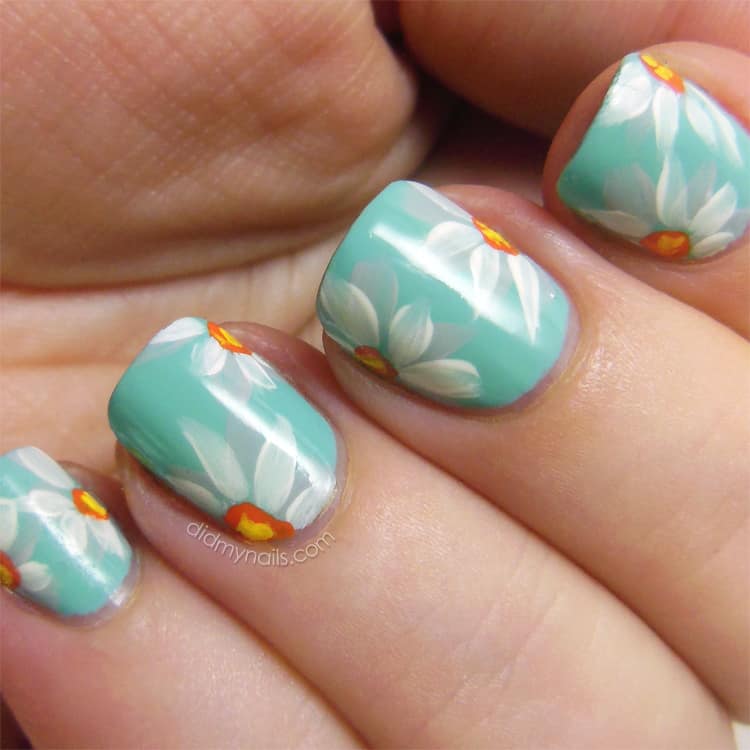 This nail design is a bit different from other designs. You can draw the daisy as if they were deriving from the edges of your nail beds. You can highlight the center of the flowers by using orange and yellow colors together.
#22. Altar of Flowers
Your nails can be used as an altar of the daisy flowers. The daisy flowers are painted in such a way that the nails look like an altar and the flowers look like the offerings made by the patron of the nails. You can have this daisy nail art to look different.
#23. Chic Daisy Nail Art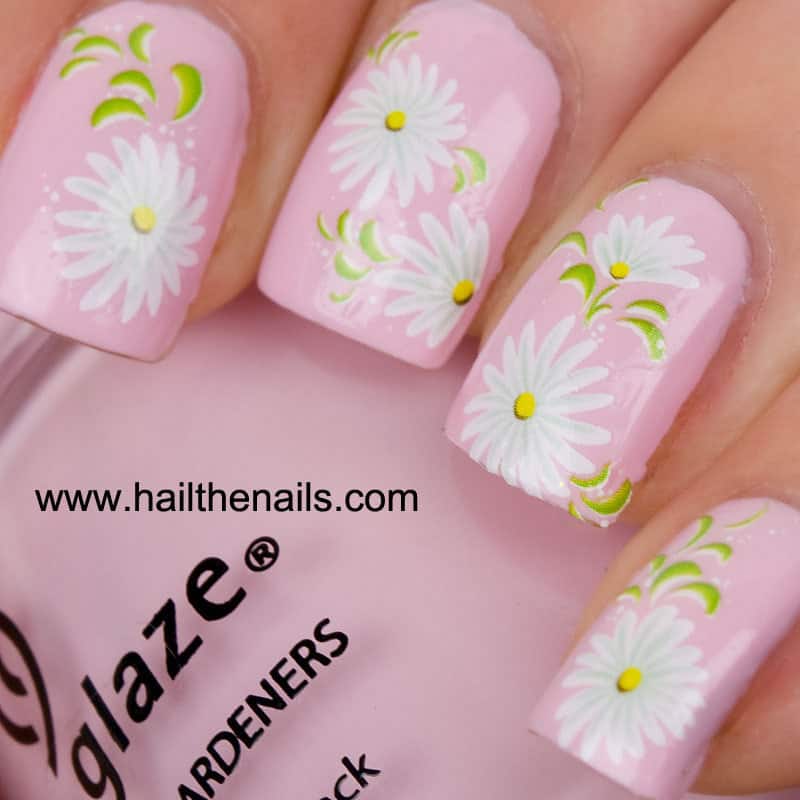 This daisy themed nail art looks so chic. You can have these nails done by painting white daisy flowers and green leaves on the light pink nails. Using some thin glitters on the white petals will give a luxe look to this daisy nail art.
#24. Simplified Daisy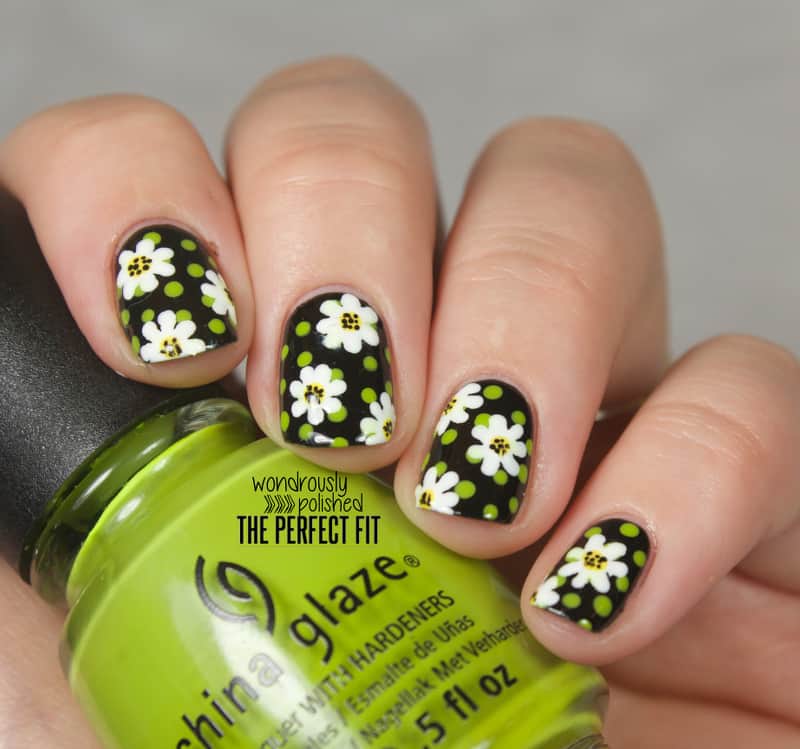 This daisy nail design will look amazing on your nails. You can draw a simplified version of daisy flowers for this design. Don't bother making the petals thinner to resemble the original image of a daisy.
A bit simplification will do no harm. Paint the flowers on the black base of your nails. You can add some polka dots to this daisy nail art.
#25. Blue Daisy Nails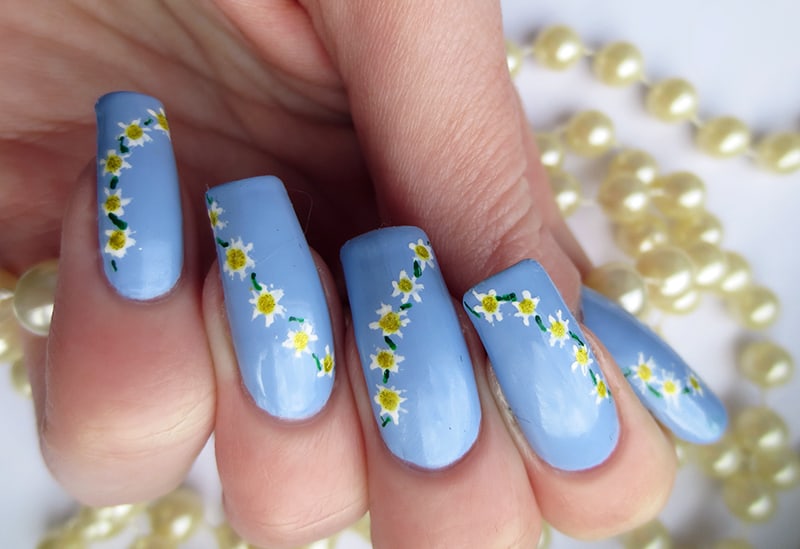 A wreath of daisy flowers has increased the beauty of these ballerina nails to a great extent. At first, fill the surface of your ballerina nails with a blue color. Then paint some daisy flowers resembling a wreath from top to bottom of your nails. That's it, blue ballerina nails are painted in daisy nail art.
Summer Vibes With Flower Nail Designs
Daisy nail art is very much popular among the girls but you have to keep in mind that popular things should not have any flaw.
As everyone is aware of this nail art you have to do them correctly, otherwise, you will be criticized. I am here to guide you the right gateway to daisy nail art. You can try out our designs to have the best look.