Ready to get mesmerized by some fabulous green nails? These styles are certainly trendy in 2023, and if you are a true fashionista, you should pay a visit to your nail salon and get them ASAP.
Green Nail Designs
It's not a secret anymore that green goes so well with gold shades and silver details. If you want a nail design that reeks elegance and beauty, you are in the right place.
Check the latest tendencies and tell us which is your favorite!
#1. Green Acrylic Nails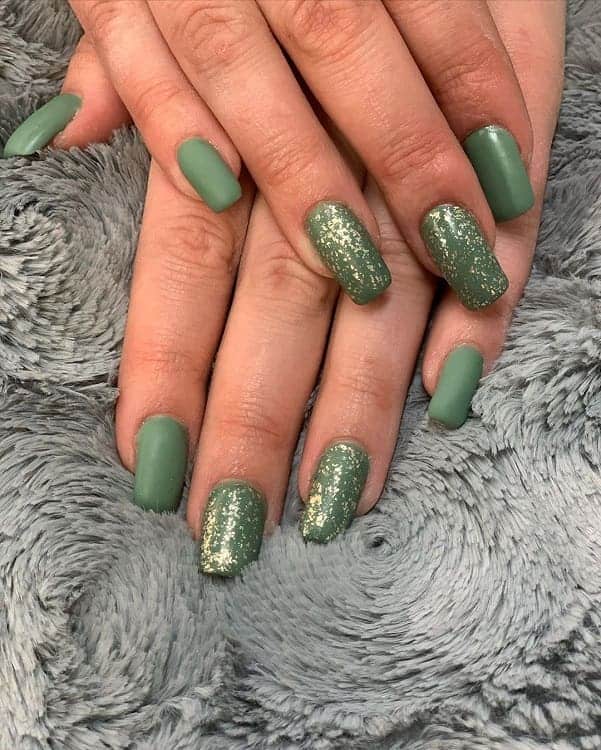 If you are an attention seeker, these glamorous green nails will undoubtedly get you the impressions you crave for! Keep your nails in a green matte shade and add some gold glitter.
#2. Neon Green Nails
Not even Cardin B can compare with you if you choose to construct these pointy nails with acrylic gel. Polish them in electric green and make your statement with some calligraphed words as "Babe" or "Love."
#3. Lime Green Nails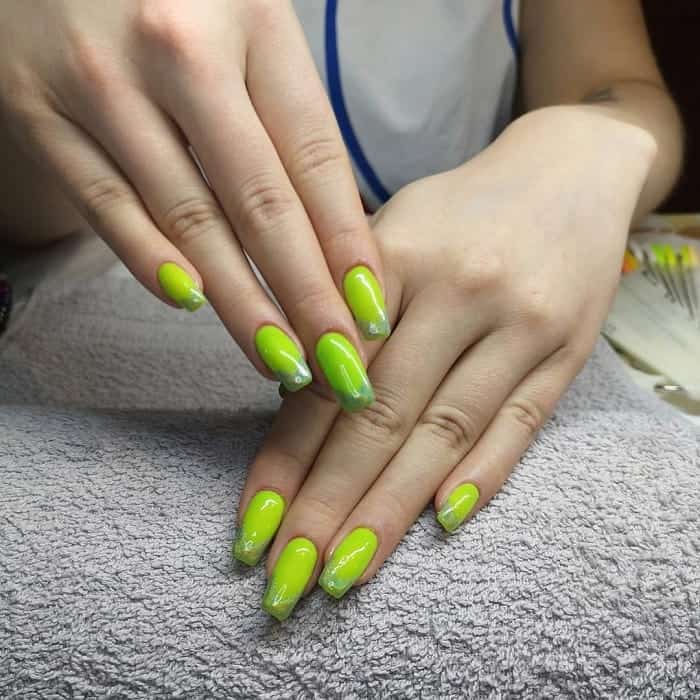 These gorgeous lime green nails are one of the best creations we gathered in store for you. Create some melting tips, and you'll take your mani to a whole new scale.
#4. Olive Green Nails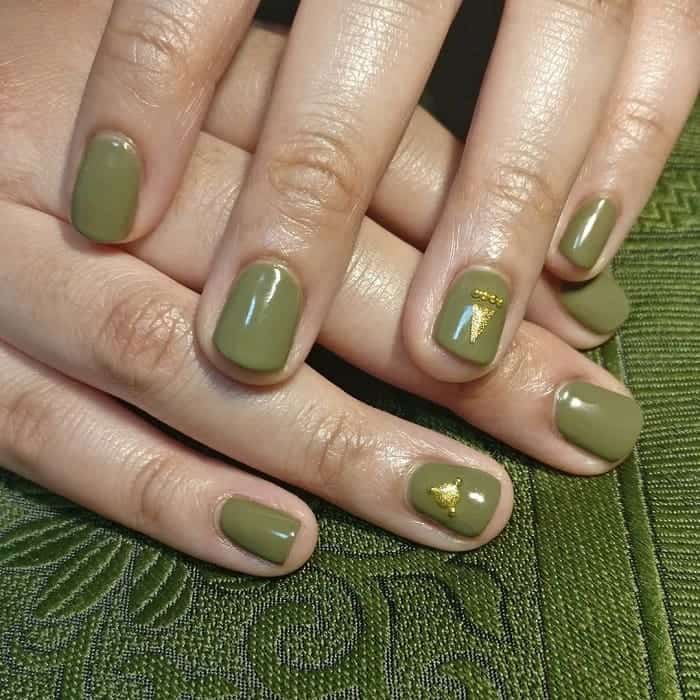 Olive green short nails make a fantastic combination with gold glittery small designs. Add as many as you like and your nails will look feminine and punchy.
#5. Mint Green Nails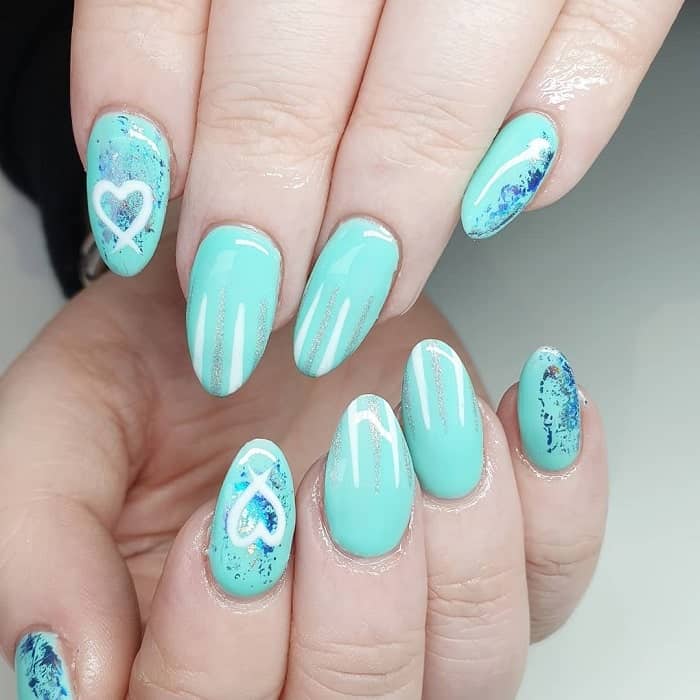 These mint teal green nails are outstanding thanks to those abstract designs. You can spot a little heart that is strategically applied to make that gorgeous blue pattern look so attractive.
#6. Light Green Nails
Light green nails are the perfect choice for cold winter days! That magnificent color will remind you of those fresh spring days that will come sooner than you think!
#7. Army Green Nails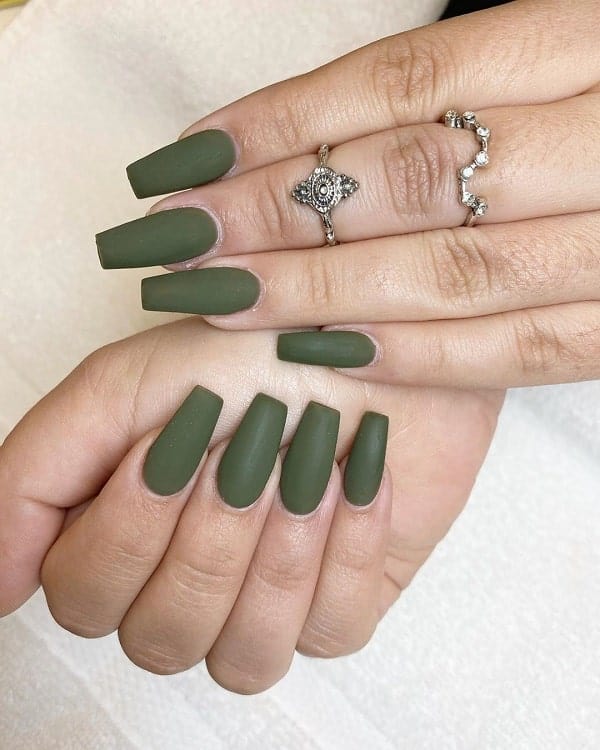 If you love army mix and matches, you can't say pass to this astonishing nail style! Get your nails a coffin shape and pant them with matte polish for a fabulous effect!
#8. Emerald Green Nails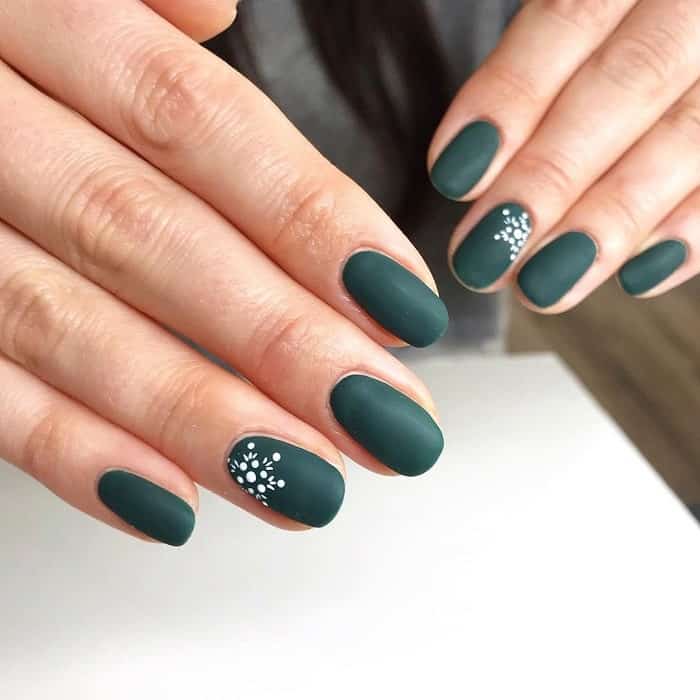 If you want a look that is luxurious but simple at the same time, these round emerald nails are the perfect march for you. Create a small snowflake design on one of your nails, and you will instantly adore this mani!
#9. Green Coffin Nails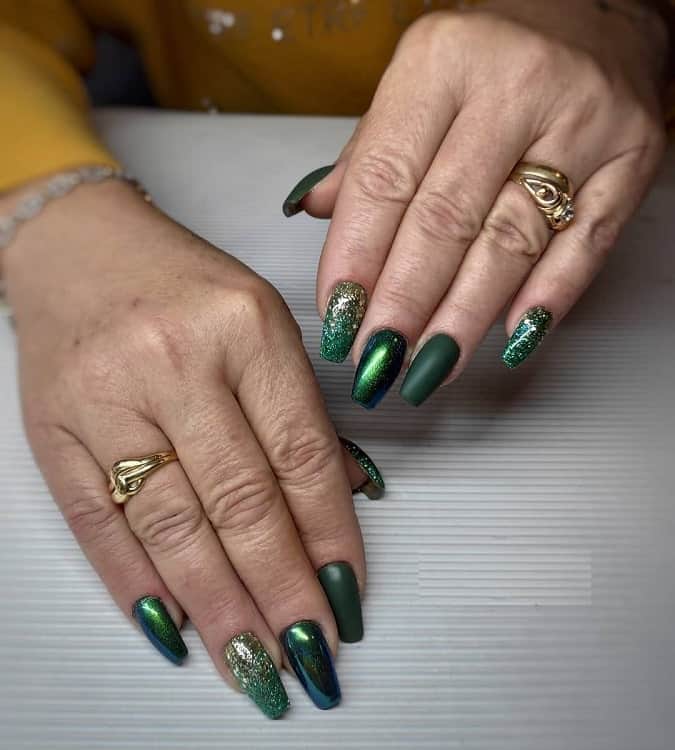 Mix a variety of textures if you want to get a beautiful mani. Matte, chromed, and even glitter can work together and offer you an irresistible look for your green nails.
#10. Green Stiletto Nails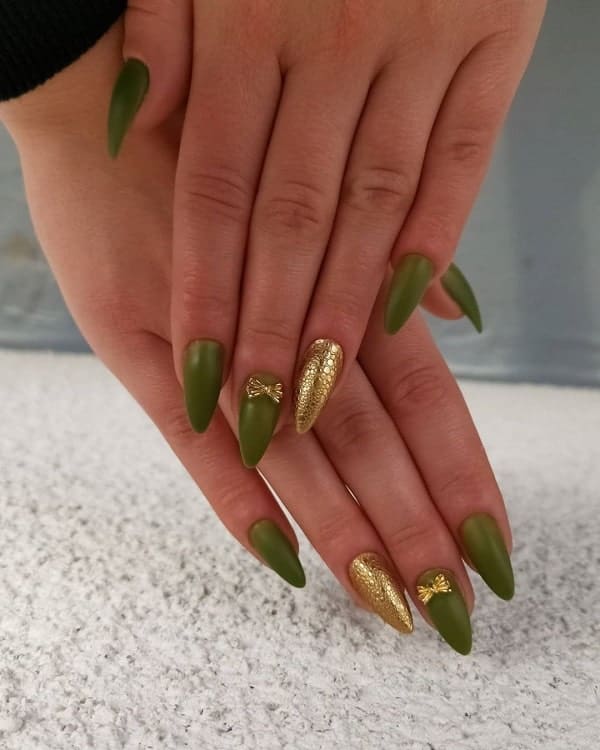 These green stiletto nails inspire feminity and luxury, and it's all thanks to that shiny golden polish. If you want to make your nails look even prettier, add a small golden bow.
#11. Pastel Green Nails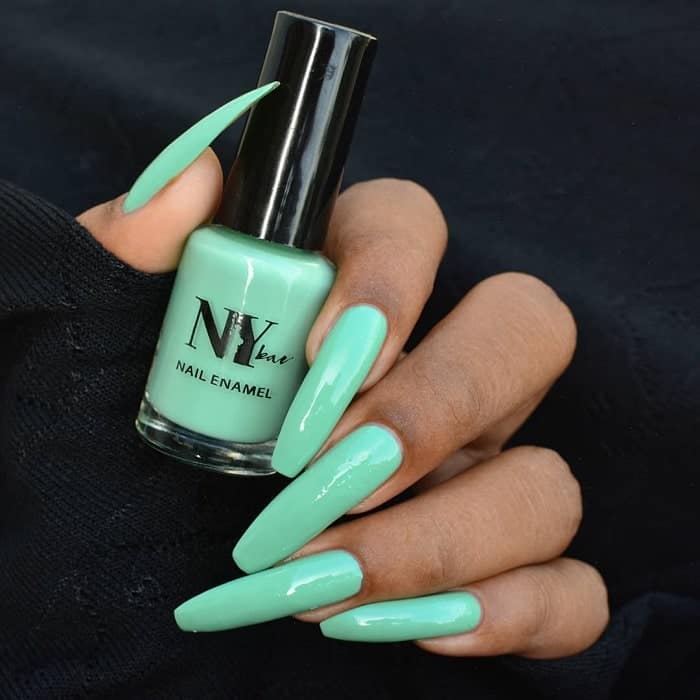 #12. Pink And Green Nails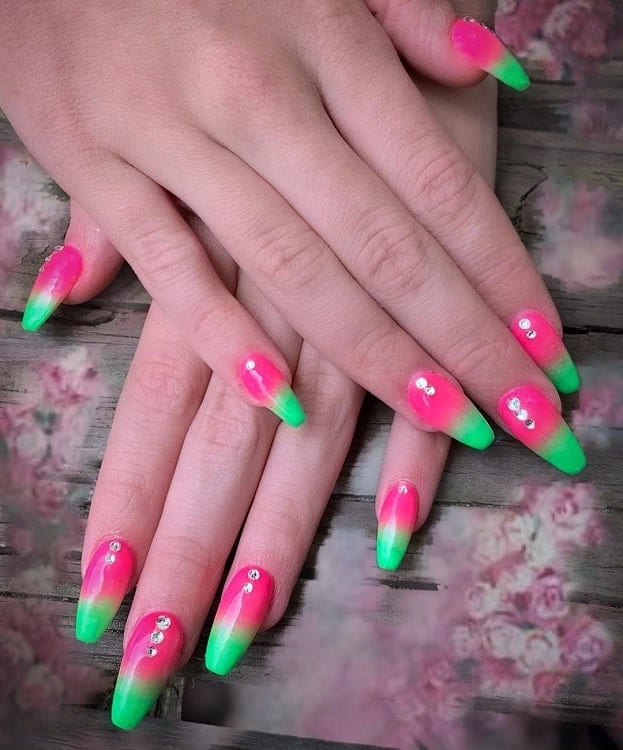 #13. Green Chrome Nails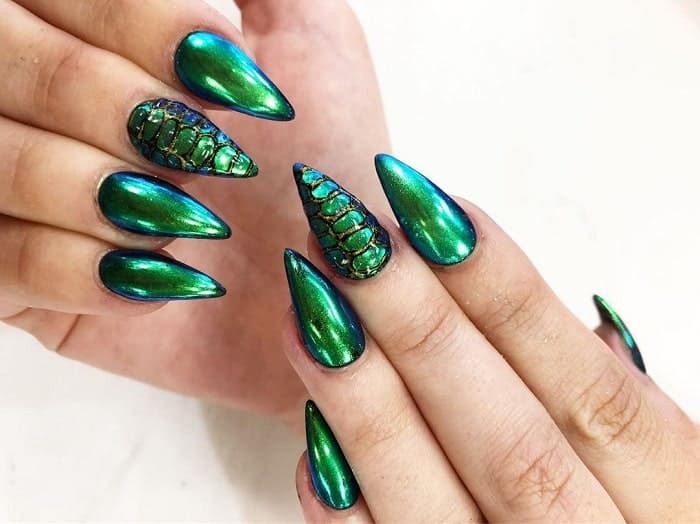 #14. Green Gel Nails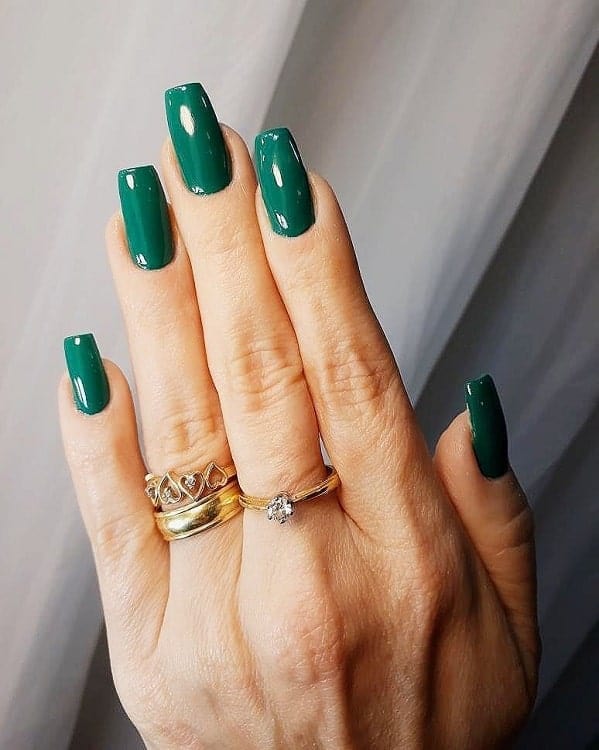 #15. Green And White Nails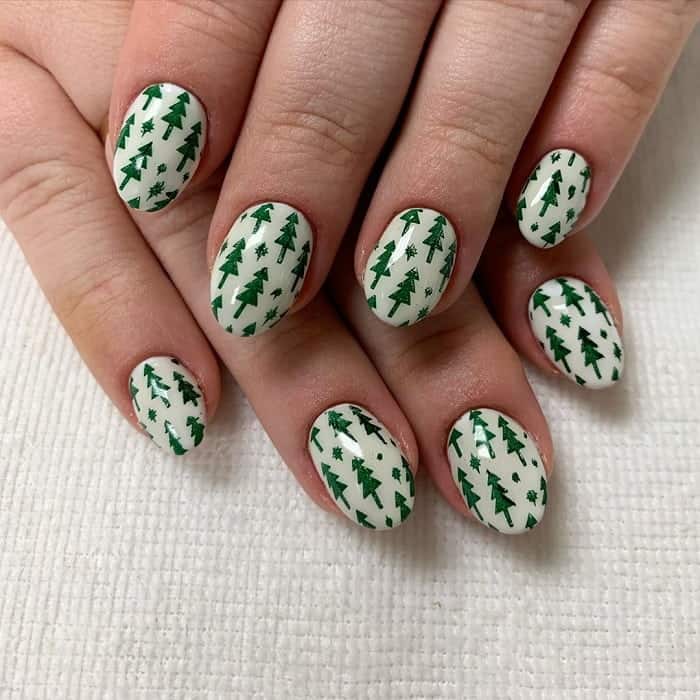 #16. Green Nails for Christmas
#17. Green Ombre Nails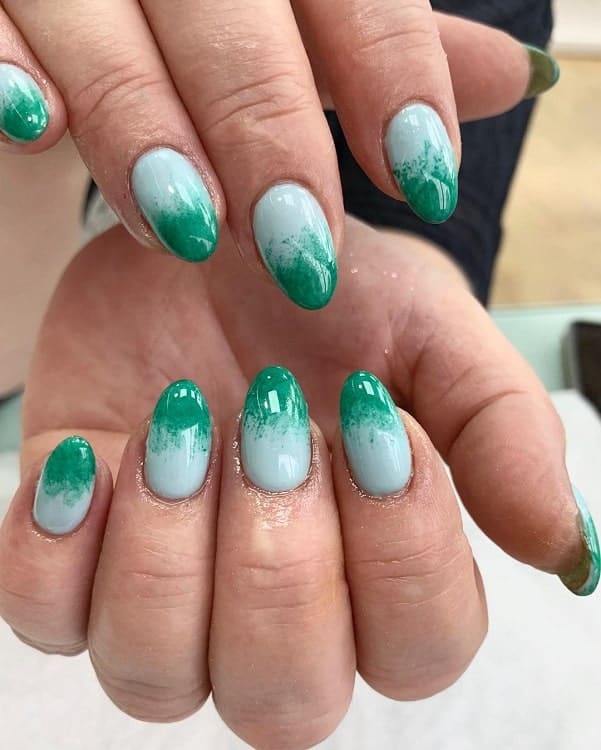 #18. Green Halloween Nail Design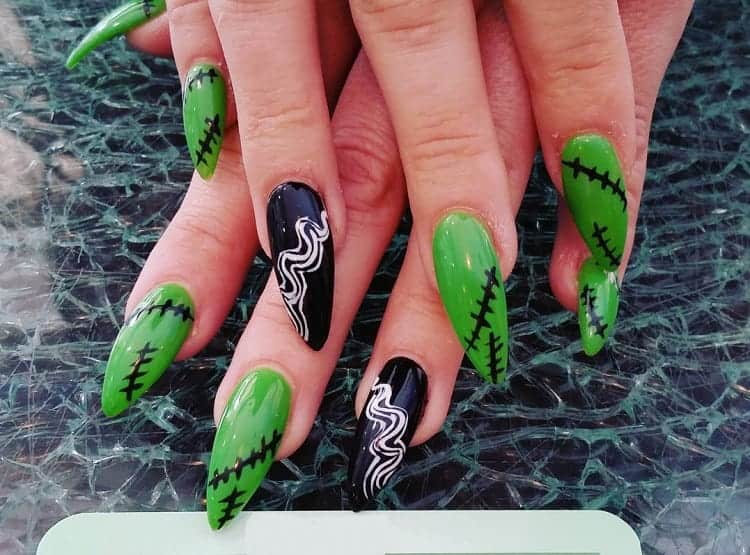 #19. Purple And Green Nails
#20. Teal Green Nails
#21. Tiger Green Nails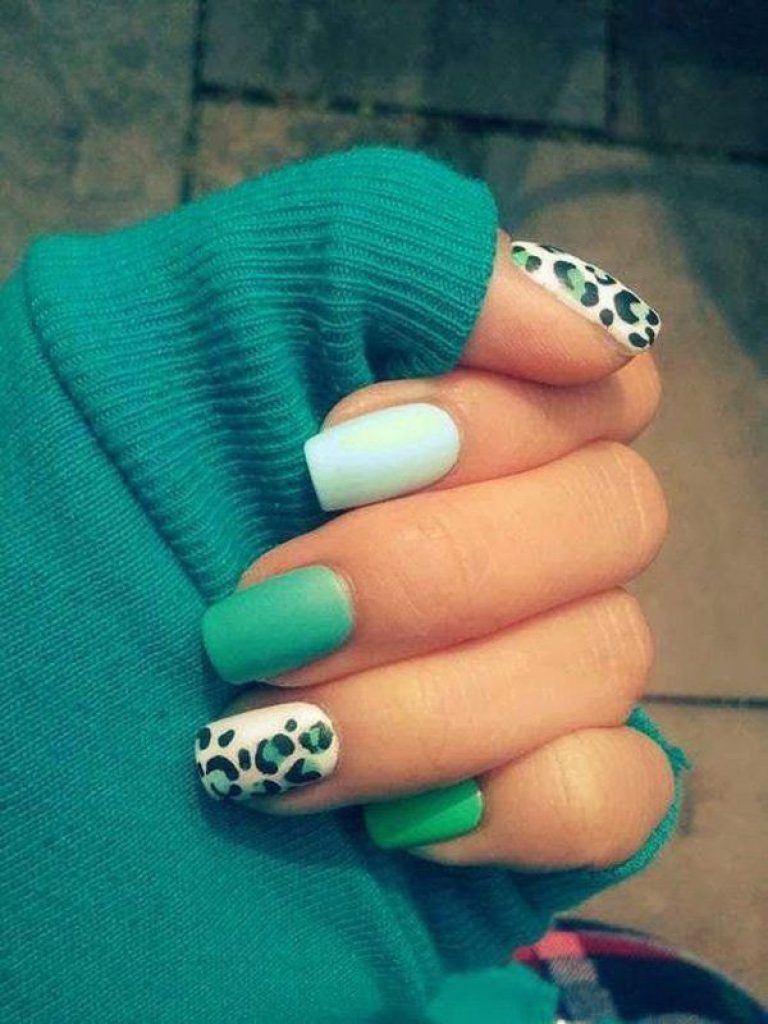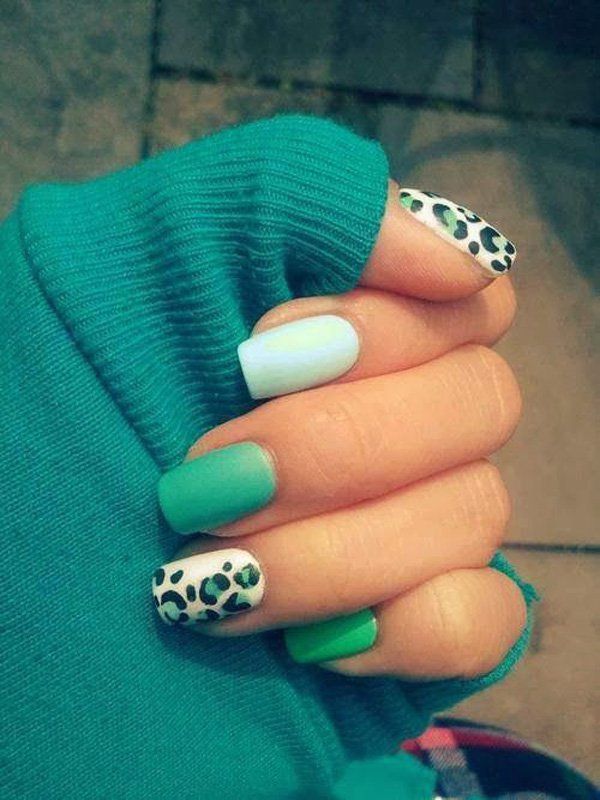 #22. Dark Green Nails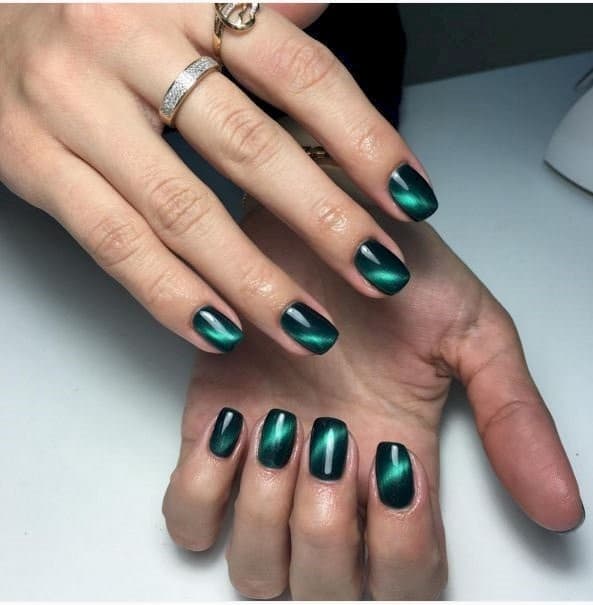 In the middle of a dark black simple nail design, shoot a seafoam green splash on each nail randomly to make up one of the best green nail designs anyone had ever seen.
#23. Shades of Green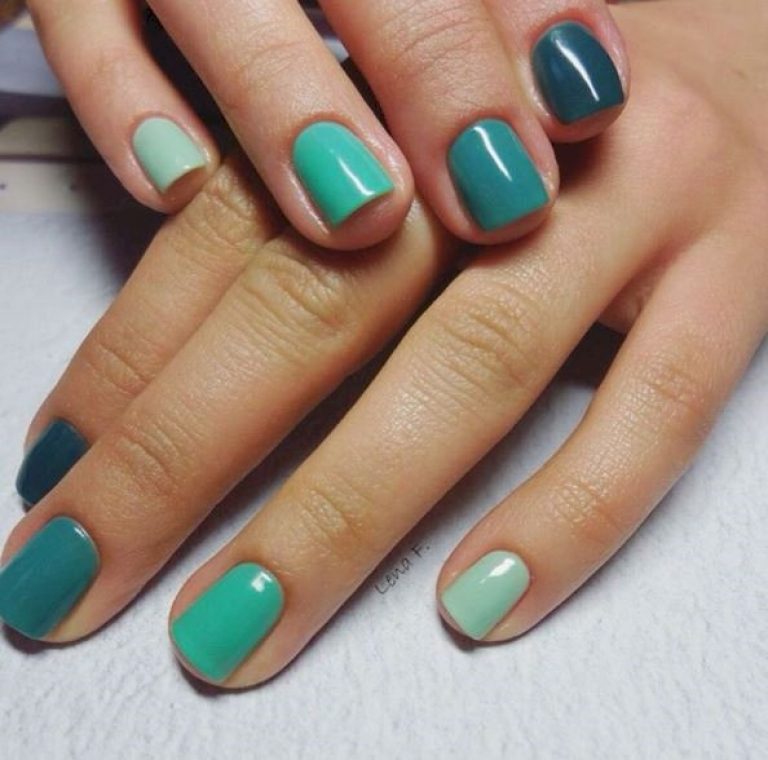 Do you really think that your nails should all be the same? Perhaps not! Your nails should all be free on their own way whether if that's according to their shape or their nail polish color.
However sometimes having different shades of the same color, especially if it was green, is the best reason for having different nail polished nails.
#24. Basil Green Nails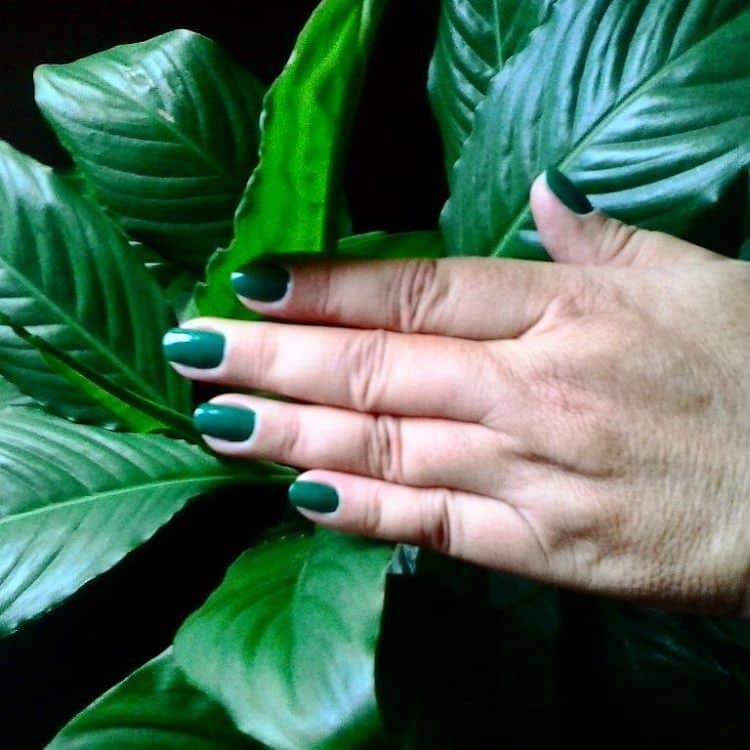 It's the color of the grass, it's the color of the leaves, it's the color of some crops, but it's the chicest of them all… Oh yeah, it's the basil green.
#25. Silver Bottom Greenish Nail Design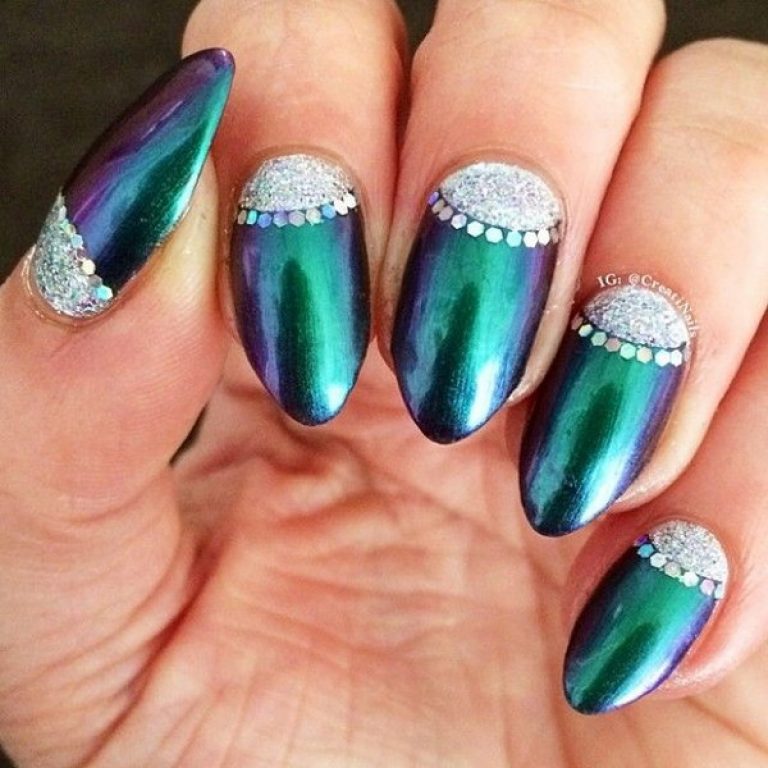 In a green nail design full of a fusion of all green color shades, try to make a simple touch so that you can specialize in your design. A good example is having a silver glitter bottom surrounded with silver decals.
Have Short Nails? Try The Coolest Short Nail Designs
#26. Save Green Areas
Are one of those that adores his/her environment? Are you ready to support that even in your nail design? If you are, in other words this design best describes you like that kind of person. Don't miss it!
#27. Glittery Plants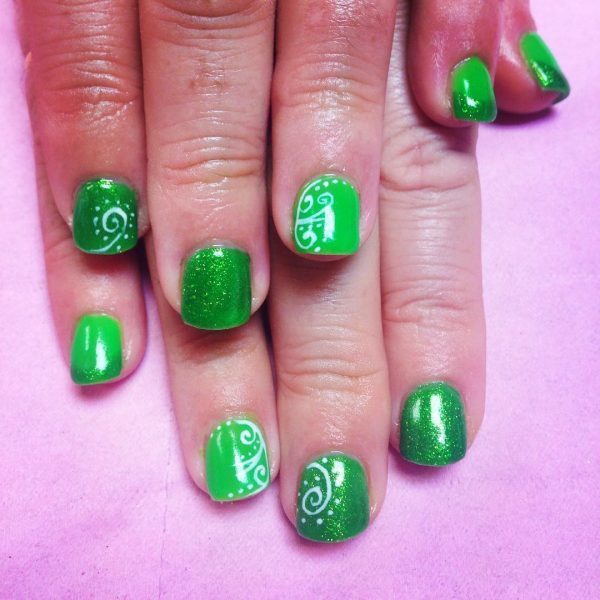 Polishing your tiny cute nails with a glittery shamrock green nail polish is just too gorgeous and too much for me to handle much beauty, but doesn't this design make you remember the green grass?
#28. Green Toenails with Patterns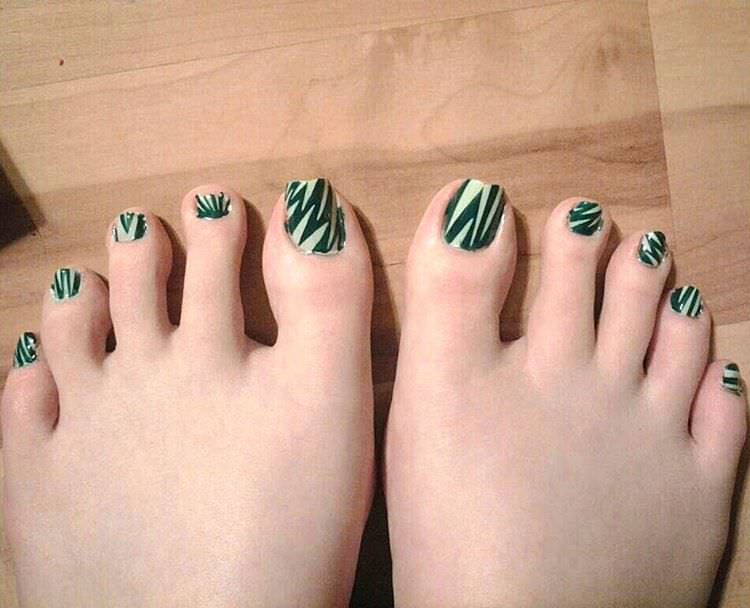 The term sharp here doesn't mean a very strong and daring color, but it is used in its real meaning which is having a tip similar to the tip of another word: a dangerous one where the green and white color mixes dangerously with sharp signs.
#29. Pear Green Nails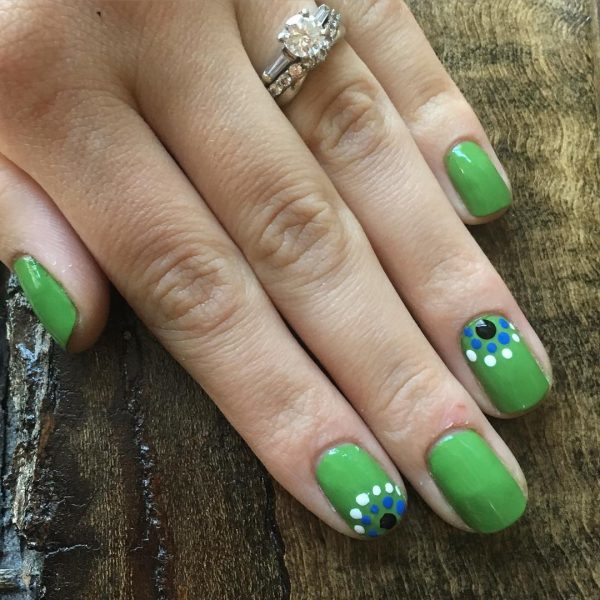 Pear green is very calm and seems to reflect many sensitive people because you feel that if anything went wrong, it will lose all its beauty.
So to sustain the wealth of this color, all you gotta do is to add some white, blue, and black dots to the design.
#30. Green Nails With Polka
The cutest way to design any nail design is spreading cute polka dots all over your nail polish, especially if it was a green nail design with a tiny golden heart on the ring finger.
#31. Smoking Hot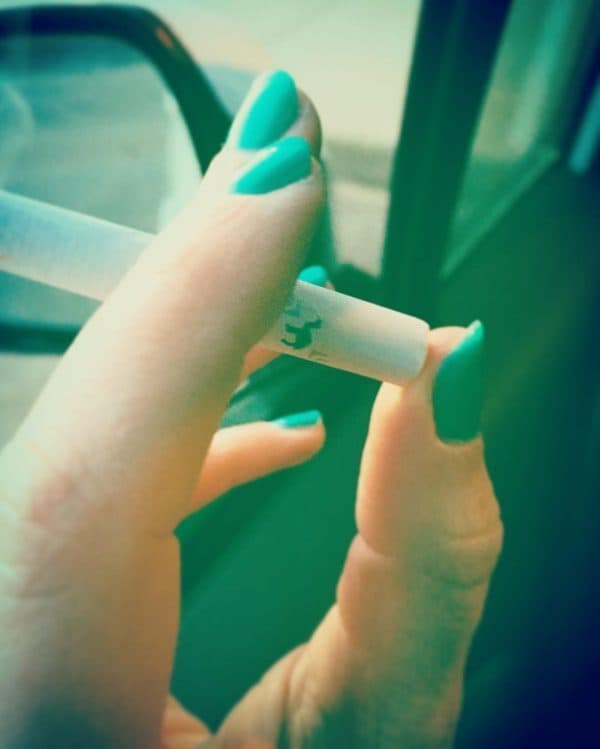 Living the life of a smoker, you have to show your nails in a beautiful image the minute you rise up the cigarette and put it between your lips.
So to have this, you have to wear any simple green nail design that gives you that hot look you always wanted.
#32. Black And Green Nails
Dark green color with black tips and reverse French manicure makes it the sassiest one among the designs listed here.
#33. Green and Gold Nails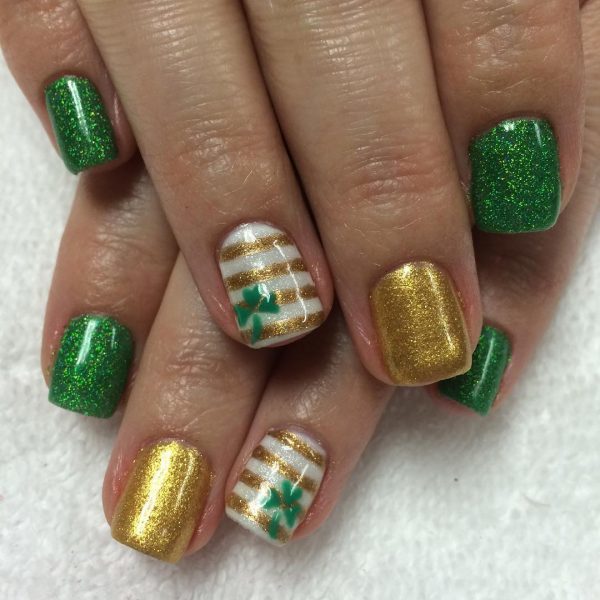 If you wanna give something priceless a price, just add to it a golden color not to show that it costs a lot but to show that it's full of everything that was missing before adding that to it.
#34. Lepricon Green
Green glittery tips with the transparent base with this green leaf all make up the style of a prison world!
#35. Sea Green Nails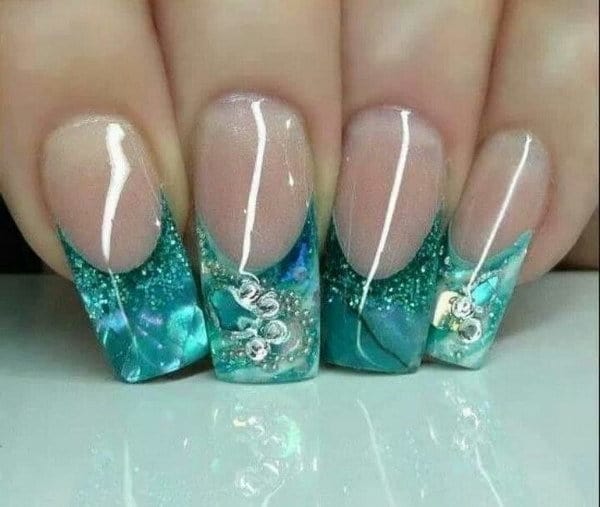 Are you a sea lover? All you gotta do is to design your tips with these sea colors combined together to make up a special sea style nail designs originated from blue and green colors.
#36. Pine Green Nail Design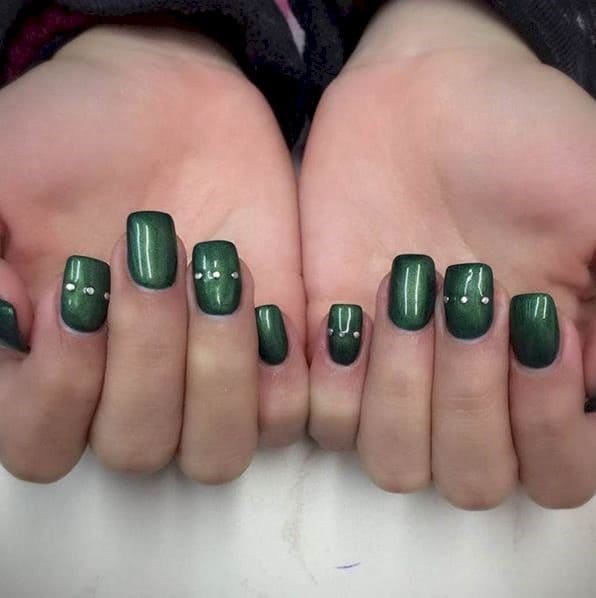 Pine green is one of the darkest shades of the green color, however, it's well known that dark colors are the, so chic between all of the colors.
So if you want to have a flirty, sexy, and chic green nail design, choose its darkest shades and make up a nail design from it.
#37. Black & Green Long Nails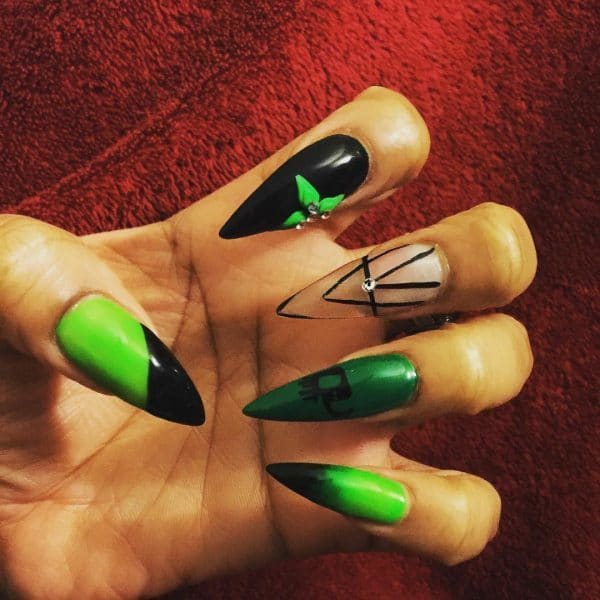 Long nails give you the opportunity to have a variety of designs on each nail. In this design, we go through a variety of designs in different nails.
But the one that grabs the attention the most is the design found on the ring finger made up of a green background and a black elephant.
#38. Yellow And Green Nails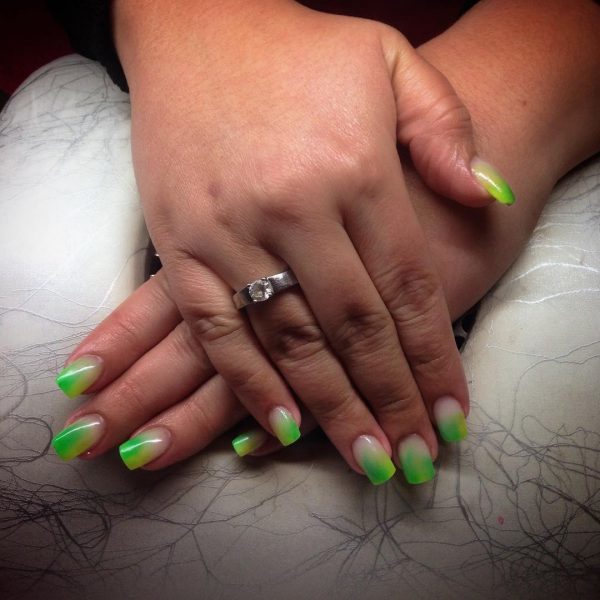 Fading tips are the best! How would they look if they were a mixture of green and yellow colors? Of course, they will make up the best green nail design.
#39. Butterfly Fly Away
Besides that all nails are green nail polished, we can see that the green color is also involved also in designing the butterfly by coloring it from the inside to obtain a fancy green nail design.
Love Glitter? Top 50 Glitter Nail Design Ideas
#40. Calm Palm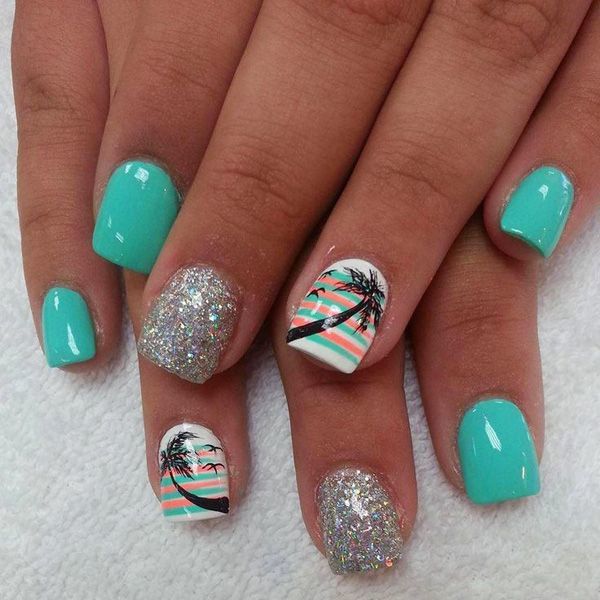 Clear blue, the sea, the palm trees, all remind me of summer.
#41. Tiffany Blue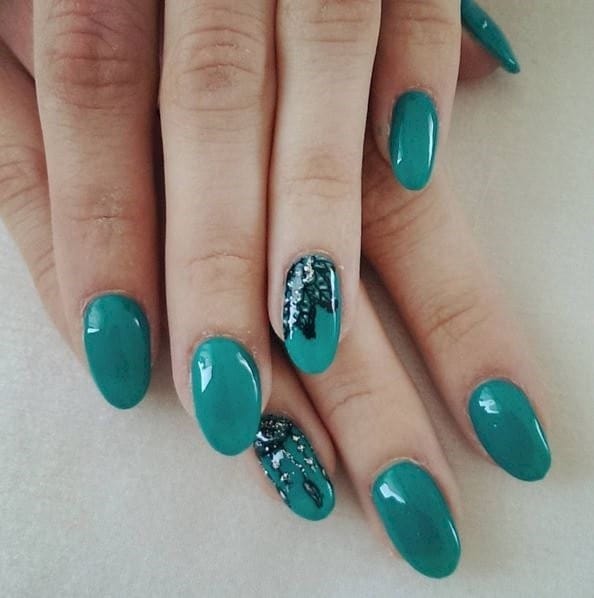 Go fame with no blame! By just wearing this tiffany blue nail design decorated with a touch of small black pattern to make up a chic nail design.
#42. Shimmer
Shine up the night with this green shimmer that will steal everyone's attention invited to the party. Don't miss the chance of being the beauty queen by wearing a shiny green nail design for tonight's occasion.
#43. Green Glitter Nails
Chartreuse is one of the strongest colors. It's one of the green color shades that are not usually used in woman's cloth, but in children's cloth, because they like strong colors that grab their attention.
#44. Matte Green
It doesn't always have to be normal nail polish, you can also wear a matte pine green nail design for a simple, classic, and chic dress.
#45. Anchor Green Nails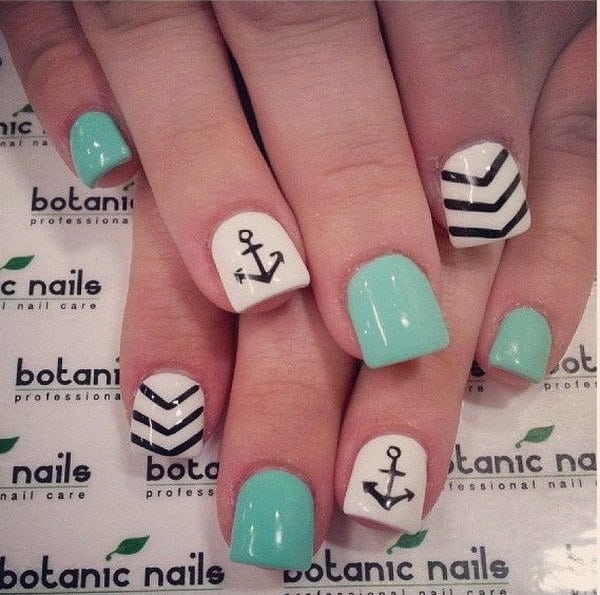 What grabs your eyes in this nail design is not just the blue color, but the white and black designs made up of chevrons in the index finger and an anchor in the ring finger.
Have a Look at More Green Nail Designs
From pale hues to teal green and dark emerald shades, there are only a few steps in becoming a green big fan. If you never had these colors painted on your nails, once you try one, you'll never get bored of it.
There is such a big range of colors that originated from green, and they all look impressive and worth trying.