You may get air bubbles in your nail polish for a few reasons. Most people shake the nail polish bottle before applying and that's one of the most common reasons. Other reasons might be- you didn't apply a clear base coat, or you applied expired and thick nail polish.
Whatever the reason is, once you are done with your manicure it's really annoying to see bubbles in the middle. If you have already faced the problem, here is How to Get Rid of Bubbles in Nail Polish.
Get Rid of Bubbles in Nail Polish the Easy Ways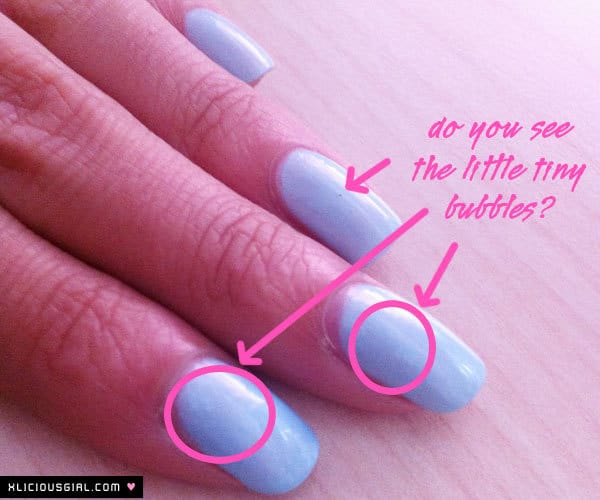 You'll have air bubbles in your nails if you don't follow the techniques of nail preparation before having a manicure. Make sure you clean your nails and cuticles before you apply anything on the nails.
And never forget to apply a base coat. If you follow these two steps you are almost free from bubbles. And if you already have bubbles, here are a few steps to get rid of bubbles in nail polish.
Whenever you see bubbles in the nails, don't get into immediate action. Let the polish dry completely first.
You'll need a clean and thin brush to apply acetone or nail polish remover to the affected area. Brush it over the place where there are bubbles.
Then apply one or two layers of top coats to seal the deal.
If you still have bubbles, you can try some glitters to camouflage the bubbles smartly.
Here is a before and after picture showing how it looks once you get rid of those annoying bubbles in your nail polish.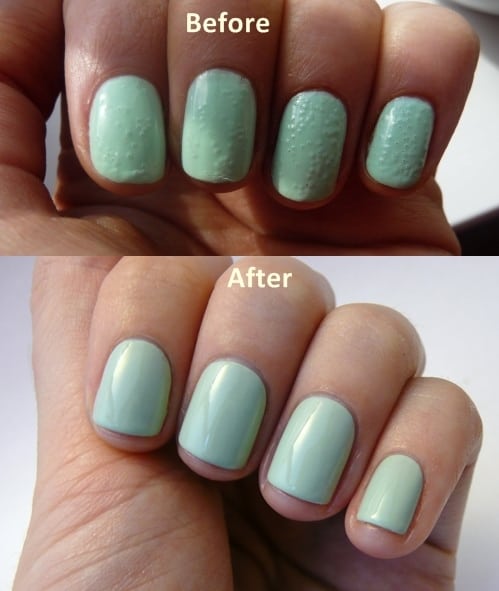 Flawless Nail Polish in Just One Stroke
How to Avoid Nail Polish Bubbles
It's always better to take precautions before anything bad happens. The same goes for nail polish bubbles too. You can avoid nail polish bubbles forever if you are careful to follow the below steps.
Store your nail polish in a cool and dry place. You are not using it every day. So, preserve it the right way.
Don't apply another coat until the first coat gets dry. Applying nail polish on wet coats may cause nail bubbles.
Try to do as long strokes as possible. The less you lift the brush, the less you have the possibility of having bubbles.
Never shake your nail polish. You can mix the color in other ways. The best method is to keep the nail polish bottle in between your palm and roll it.
Make sure you are using a thin and fine nail polish that is not clumpy and thick.
Keep the lids tight always. And close the lids before storing the nail polish.
Following Video Explains How You Can Avoid Bubbles in Nail Polish. Watch out!
How to Moisturize Nail: Bye Bye Brittle Nail
These are some tricks that will help you avoid nail bubbles. And, I have discussed the ways to get rid of bubbles in nail polish too. You have to use the right techniques and the right products to avoid nail bubbles.
Hope you are careful enough to avoid the bubbles in nail polish after reading this article.