Mermaid nail designs feature, most of the time, seashell decorations and fish scale drawings.
Depending on the polishes you use for your mermaid nail design, you can make them look either youthful and cute or glamorous and sophisticated. It is totally up to your tastes!
How to Make Mermaid Nail Designs
Mermaid nail designs will get that translucent touch with a topcoat with tiny glittery pieces. Small imperial blue rhinestones are also used to decorate these amazing themed nails.
The options for your mermaid nail designs are so vast, and the more complicated they look, they are likely to resemble that mythical marine stunning creature.
The suggestions we present below are gorgeous, and they deserve all the attention, so if you want to amaze, pick one of these examples and recreate it!
#1: Mermaid Nails with Glitter and Pearls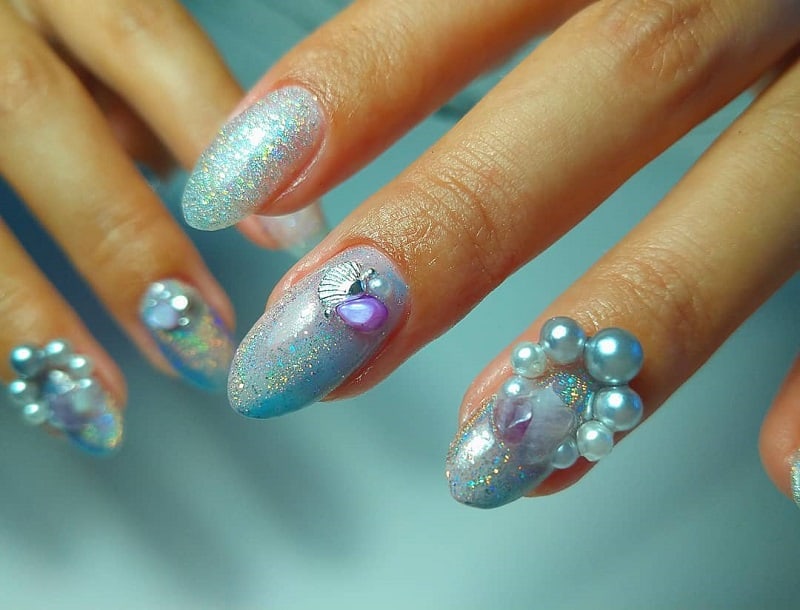 Fish scales have colored reflexes that you can easily recreate for your mermaid gel nail design.
Use glittered topcoat and glue pearls on your ring fingernails. Also, a few metallic shells will give the manicure an elegant, sophisticated touch.
#2: Gradient Blue Nail Design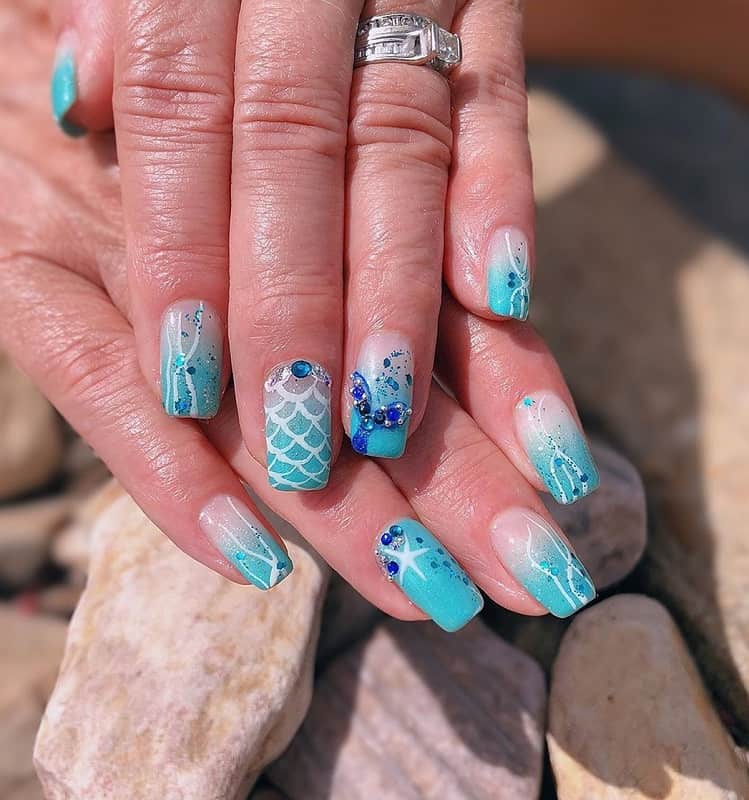 These short squared mermaid blue nails are a real work of art. Create a stunning white to sky blue color gradient and decorate each nail.
Draw fish scales, seastars, abstract navy dots and decorate them with imperial blue rhinestones.
#3: Mermaid Scales Design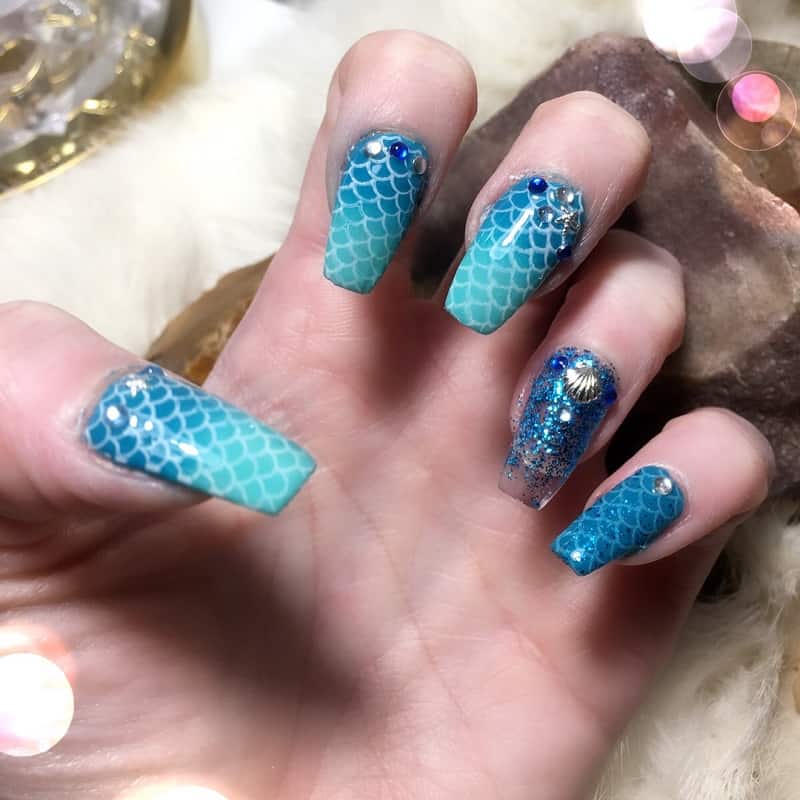 Mermaid coffin nails that use different nuances of blue like pastel, navy, or indigo will resemble that aquatic world.
Use white nail polish to create the fish scales, place rhinestones and seashell decorations for a more sophisticated mermaid look.
#4: Short White Mermaid Design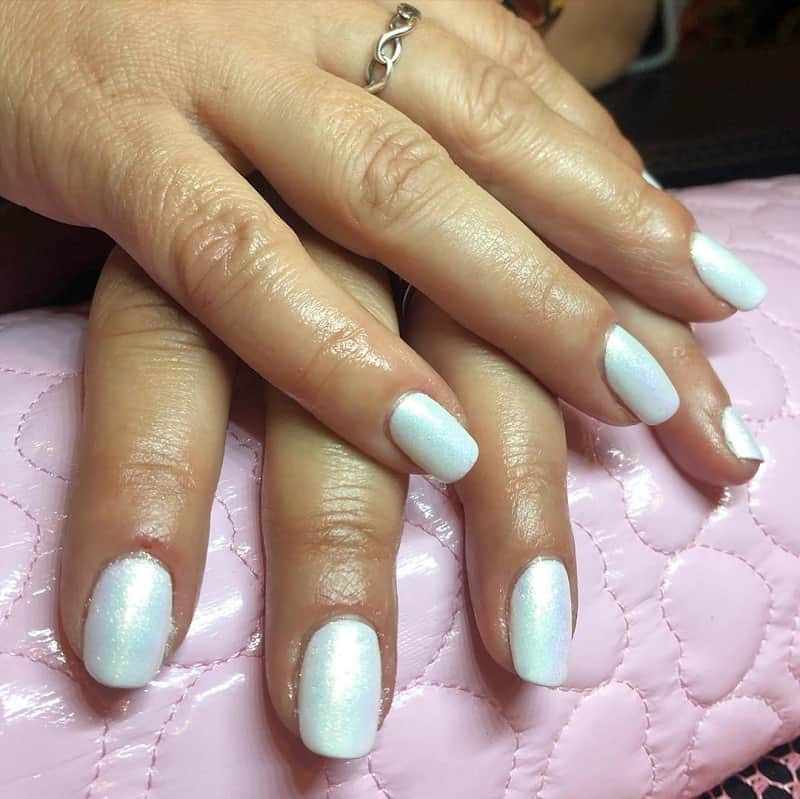 White mermaid glitter nails that are simple, with a shiny coating look so spectacular. They are perfect for women who don't want a complicated design but adore a translucent topcoat with reflexes.
#5: Seashells and Mermaid Scales Nails
Mermaid scale nails look absolutely fabulous if you use glittery green teal and white nail polish to design the tail scales. On some of the nails, you can also paint waves or white seashells.
#6: Miss Purple
Little miss purple mermaid has got some style. These short and square nails are a true hit for the prom season.
If you are wearing a sequence dress that's in these blue/purple tones, then you are in good luck. Your incredibly spectacular purple nails will look stunning with that formal dress, and you will have all eyes on you.
#7: Blue Sea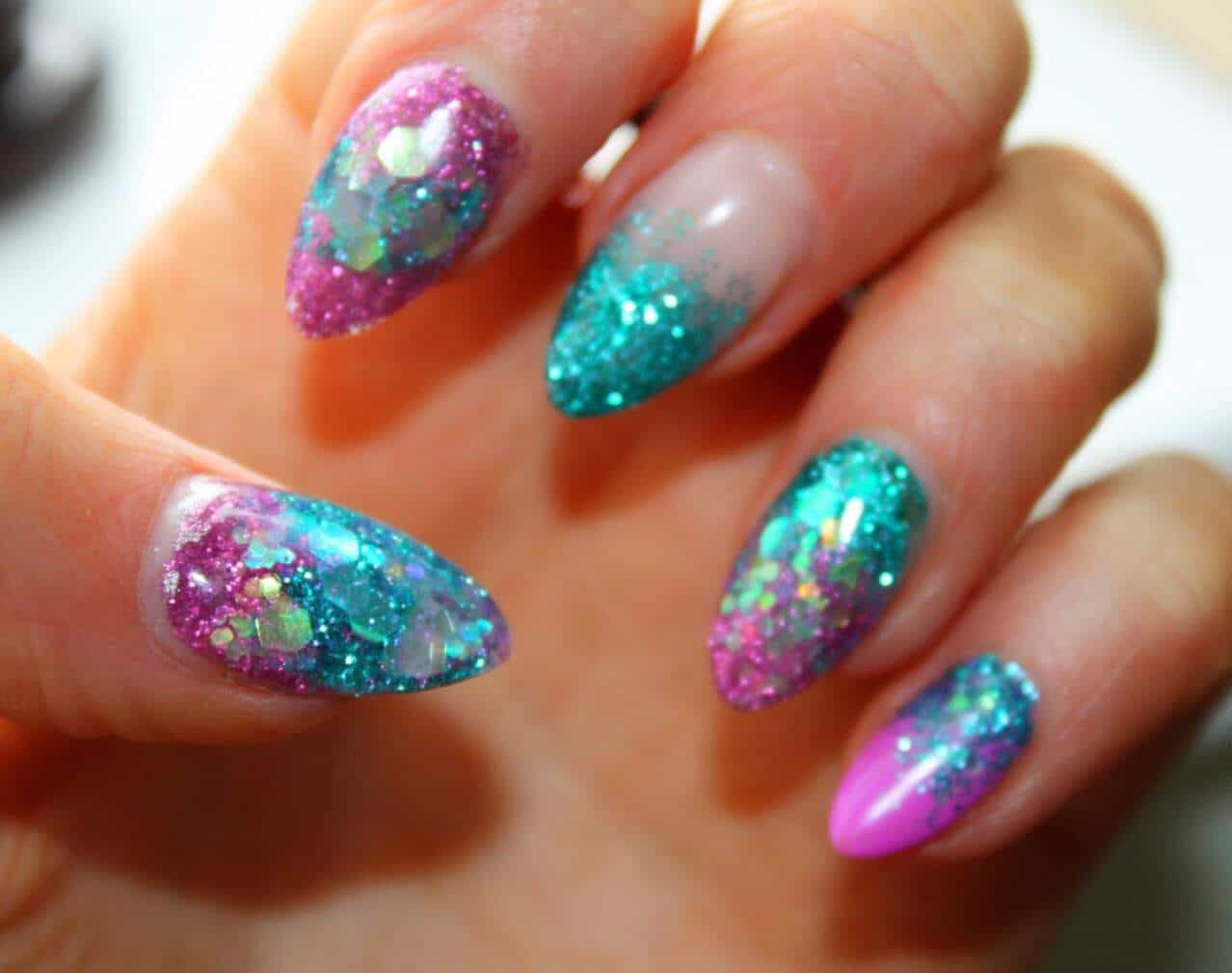 These mermaid nail designs with the obvious but beautiful 'ombre' effect should be worn with style and casualty. These nails are not too long or too snazzy but are just right in the middle when it comes to style.
#8: Acrylic Madness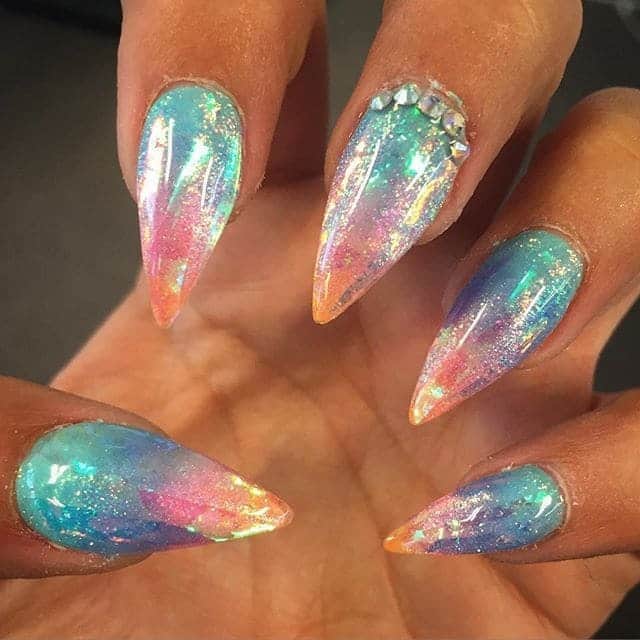 Super long, and super pretty, these acrylic nails look like they've taken a couple of lives already. You will be a true heart-stealing thief if you decide to get these.
The soft pink color looks alluring and gentle, but there is a lot more attitude when you look at the whole picture.
#9: Dramatic Entrance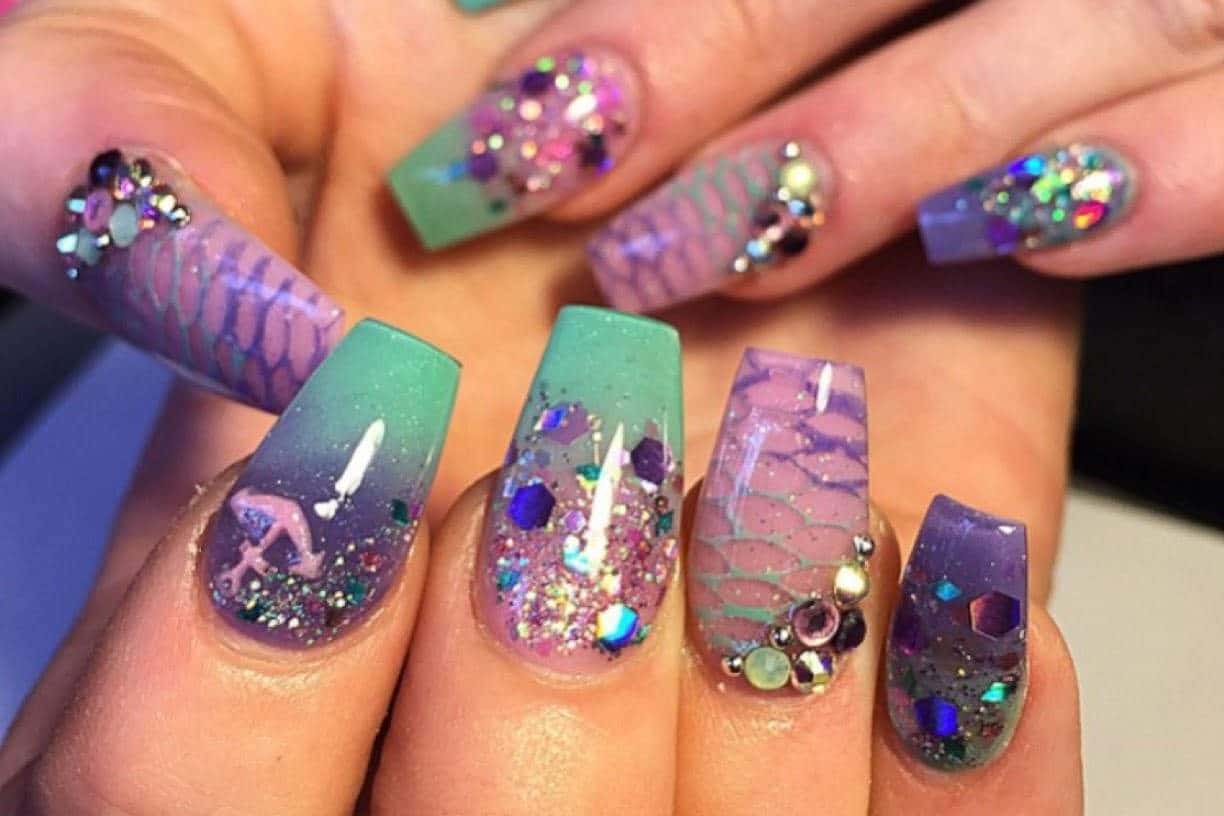 The drama is spotted with these! Curtains will start opening and you will hear loud cheering noises, since you, my dear, are a star of the show with this mermaid nail design. There is nothing simple or ordinary about this manicure, and we love it.
#10: Mermaid Princess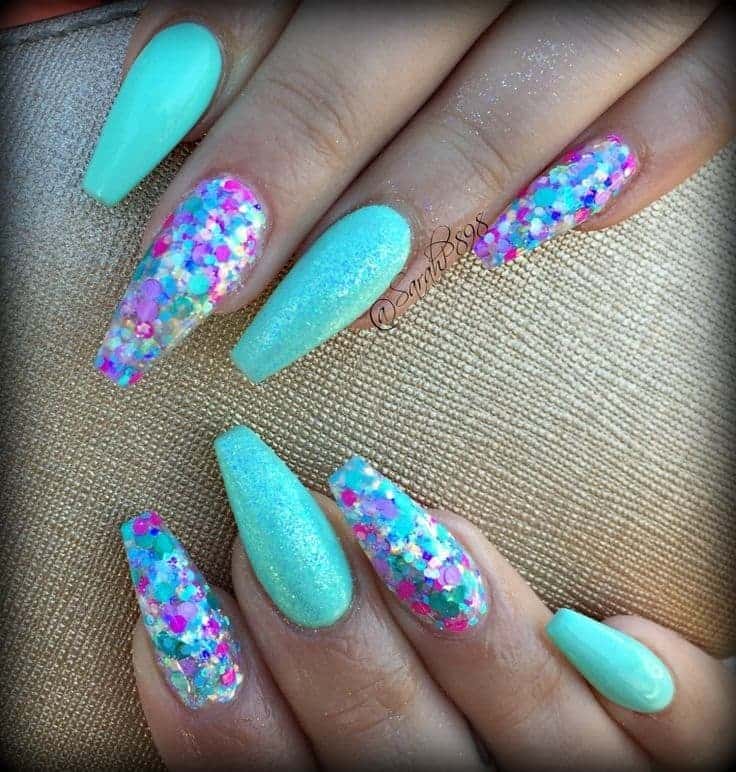 On the other hand, if you like to tone it down a bit, this nail design is a lot more simple and should be yours to try out.
The unavoidable blue nail polish color with just a pinch of pinkish coral color is just enough for you to feel like a little mermaid.
#11: Square Jewel
Square nail shape is the most appropriate one for the mermaid nail design. It just gives out the greatest underwater feeling, and the shell drawings and little pearl details melt so seamlessly onto this nail shape.
#12: Minty Fresh
Summer, are you ready for me? With this lime color, you will look the coolest at the beach. Neon colors are always a good choice when it's the summertime, and when paired up with these little shells you will have it all together.
#13: Real Little Mermaid
Little Mermaid is the ultimate mermaid nail design that you can go for. There isn't anything that can top this off, and we are aware of it.
Ariel is looking at us with a smile on her face and giving us a green light on this mermaid nail design.
#14: Under The Sea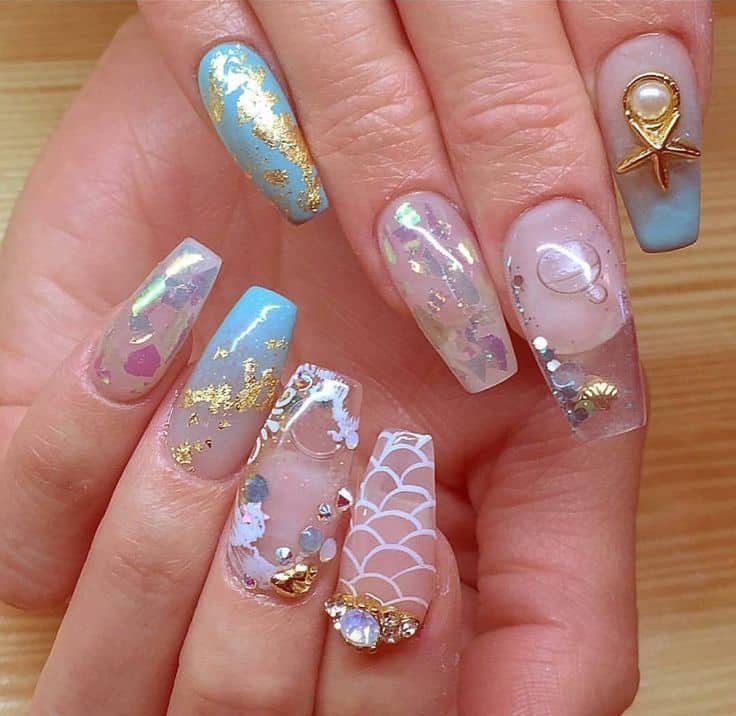 Shine bright like a diamond & feel like a true star! Make the fears and problems disappear in the deep waters of the sea! Pretty much, that is a summary of this picture.
A lot is going on, and they are the perfect mermaid nail designs for the bold and brave women, those who like to shine and look divine! Your problems will disappear in a blink of an eye with these, and entertainment is guaranteed.
#15: I Like It Elegant
Those who like it short, cute, elegant, and simple should go straight ahead to the salon with this nail picture and get the exact same manicure.
You could totally wear these at the office, meetings and they will look super appropriate for your everyday life activities.
#16: Deep Water
"And if you feel you're sinking I will jump right over into cold, cold water for you" is something that Justin Bieber sang in his song "Cold Water" which we've found to be super adequate for this nail picture.
With this mermaid nail design, you will have all the guys fighting for your heart and jumping straight into the water for you, or with you.
#17: Stars And Stones
As some myths say, mermaids can see into the future. And right now we are seeing a bright one for the lady who decides to wear this bright shimmery nail color!
You will have a lot of fun and you will look super friendly, cute and sexy with these nails.
#18: Shimmery Pink
We decided to tone it down with the blue, so this pink mermaid-inspired nail design is just right for those ladies who are fans of ladylike lighter colors. Just a little bit of the golden details are enough for you to feel strong and fashionable.
#19: Ariel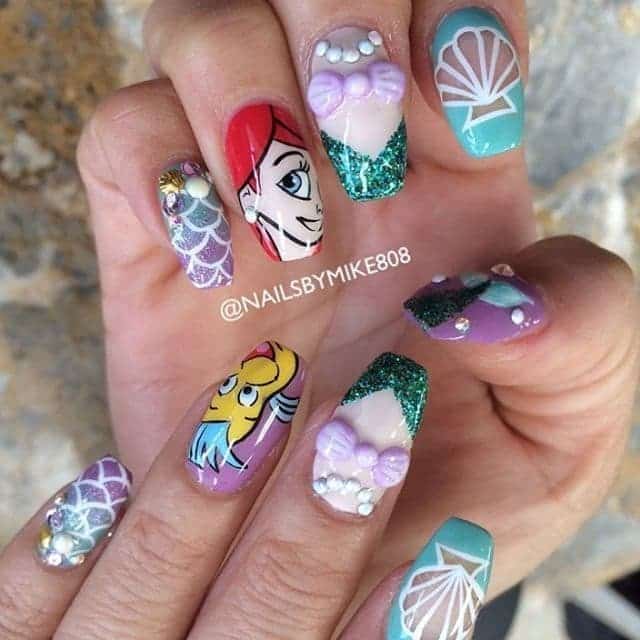 Just when you thought they can't get more stylish, we have these. Ariel is the famous Disney princess and she looks cute and stunning when being surrounded with all of this funky and fresh sea ambiance.
#20: Blue Details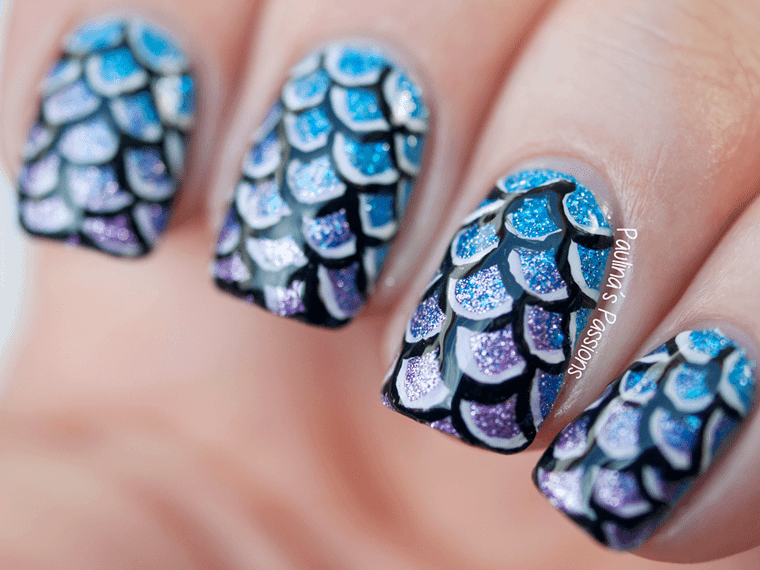 Short square mermaid nail designs are the best choice if you are scared of the breakage.
If you don't feel like getting them redone every now and then that's fine. Just go for the shorter version and feel like a little underwater queen.
#21: Doesn't Get Prettier
And the title says it all, they don't get prettier than these. The length, color and style of these acrylic nails are the ultimate party nail combination. You should wear these if you are off to prom or a hot date night.
#22: Little Mix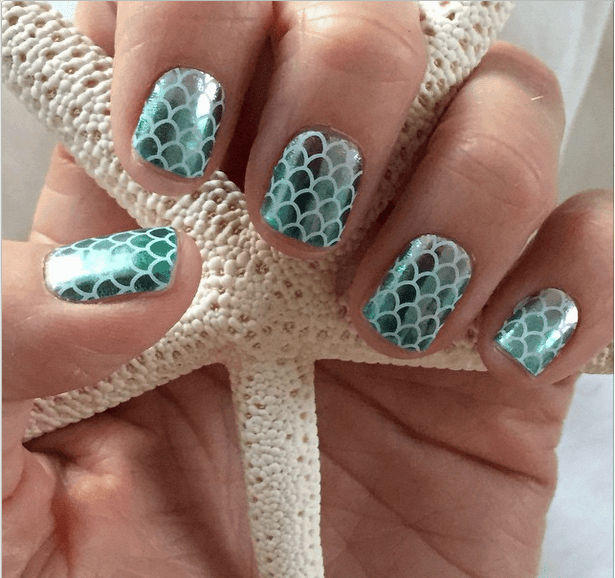 If you naturally have shorter nails, now it's time to embrace them. This summer, you will have the cutest nail manicure among your friends and you will prove them that sometimes plastic isn't that fantastic.
You won't be scared about damaging them, and you will feel super comfortable while rocking them.
#23: Silly Silhouette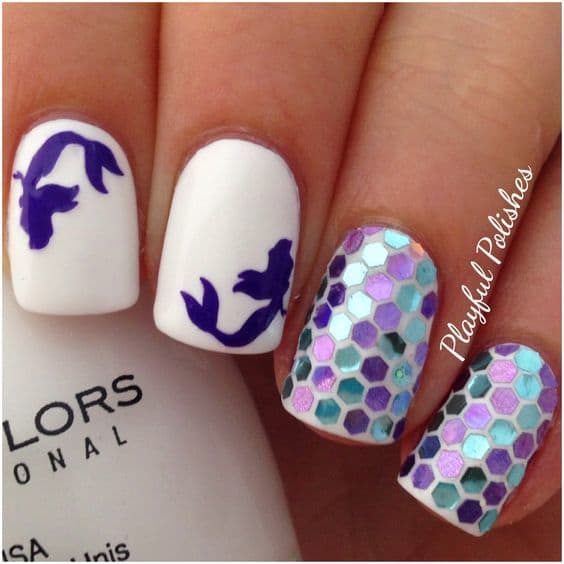 This funky mermaid nail silhouette isn't that much of a bold mermaid statement, but it is still something. If you are not all about those bold prints and dramatically shimmery stones, this is the perfect mini mermaid nail design you should get.
It is something for starters, and in time you will try out bolder prints too, but you got to start somewhere, and we suggest that you try out this lucky number 18.
#24: Crafting Time
If black color is the one you tend to wear most, this long acrylic speaks your name! If you feel the most comfortable in black, or if you love the mystery effect, continue with the black!
Darker nail lacquer color can also be a good mermaid base, but don't go overboard with the shimmery details.
#25: Pointy Mermaid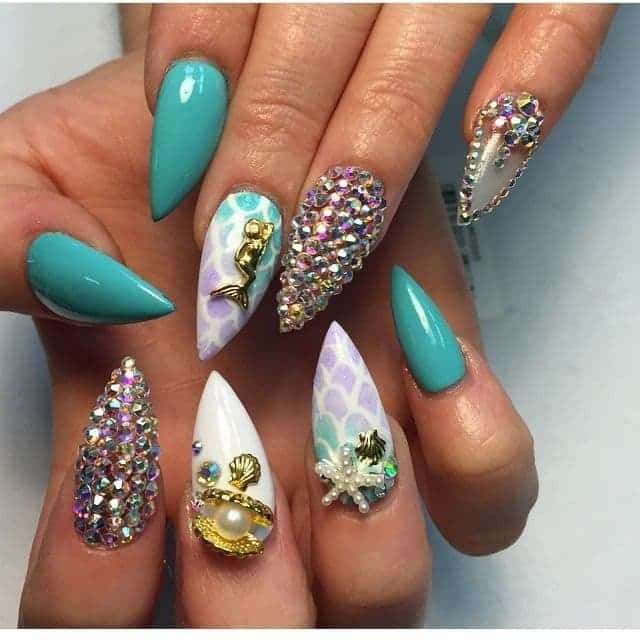 Pointy nails are required to be worn with class and sass! Make sure to have a license on you for these, since they look like a mean man catching machine.
Try Out This Easy DIY Mermaid Nails
Have a Look at These Stylish Mermaid Nail Designs
Since now you know the mermaid 101 facts, it's up to you to decide which one mermaid nail design made you feel like an underwater goddess, and which one screams your name the loudest.
We know it's a bit tough, but you will dominate no matter what you choose from this list because there are no wrong choices with us.