A very wise band (The Flying Lizards) once said, "The best things in life are free, but you can give them to the birds and bees – I want money!"
There's nothing wrong with having a love for money or showing your high maintenance, high-class personality, but have you ever considered showing that love on your nails?
Dollar Nail Art to Feel Rich
Dollar nail art is one new trend we can definitely get behind. Celebs like Lilly Allen, Rita Ora, and Rihanna all have flaunted their dollar nail art at some point, so you know it's gotta be a trend to hop on.
Combining shades of green with white, silver, and even black has made some pretty snazzy dollar nail designs. Enhancing those designs is even easier now thanks to nail decals and stickers that feature the different parts of dollar bills.
You may not have money in your pocket, but you can have them on your nails with the 12 rich dollar nail designs below!
#1. One Dollar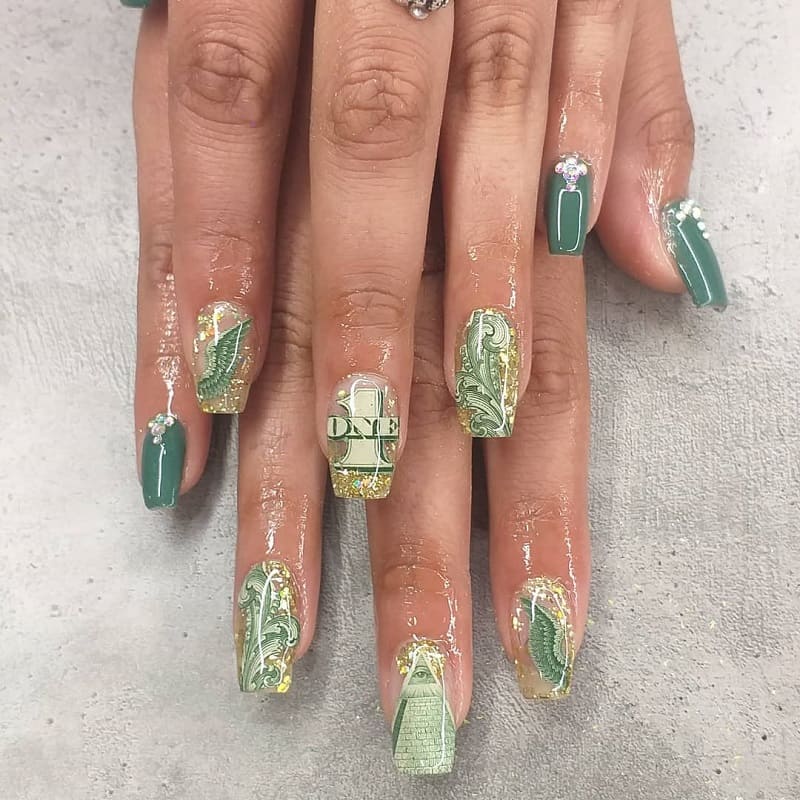 On this shiny dollar nail art, different parts of the one dollar bill are featured on a different clear-colored nail. The pictures are paired with a soft sage green and sparkly crystals.
#2. Extra Long Nails with Foils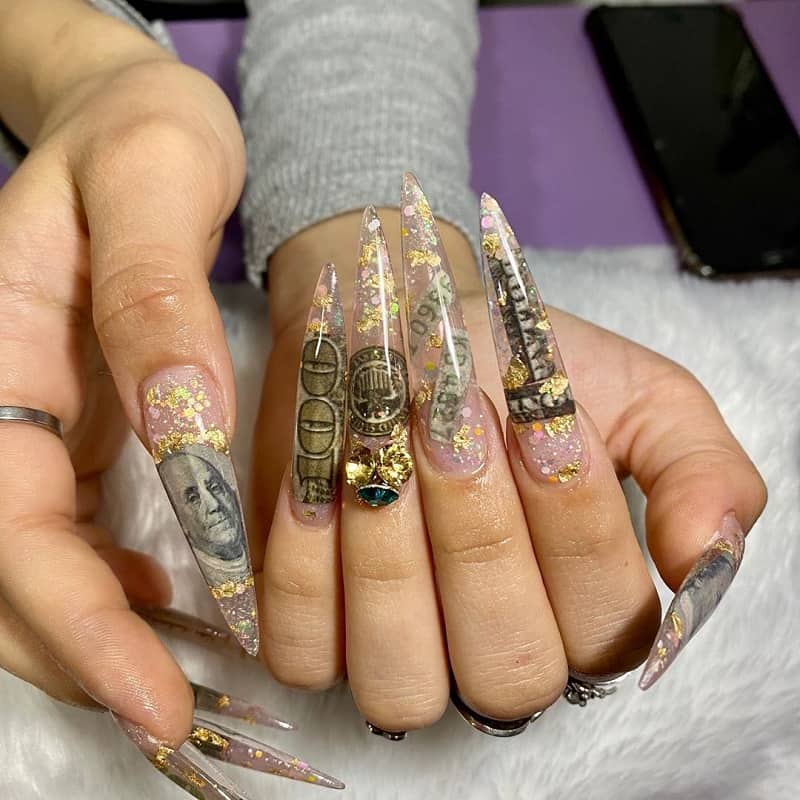 If one dollar is too little for you to display on nails, consider a higher amount, like the $100! On extra long stiletto nails, there's no missing the clear-colored claws with glitzy gold foils.
#3. Nude Coffin Nails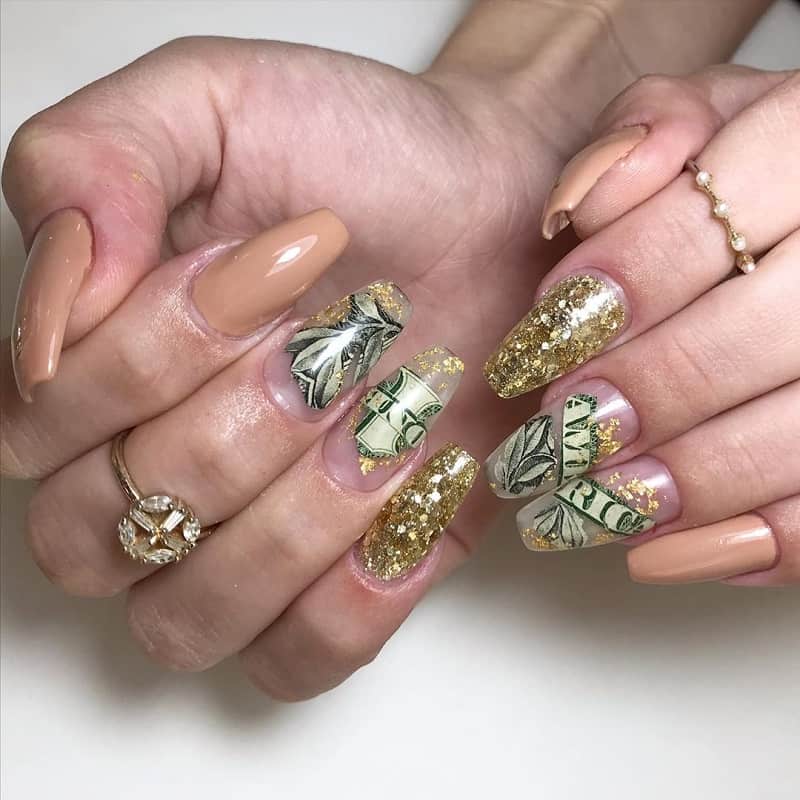 There's a way to make your dollar nail art tasteful and it involves a nude coffin nail. Pick the two middle fingers to seal in your dollar bill art, then add a gold glittered nail for sparkle.
#4. Black Stiletto Nails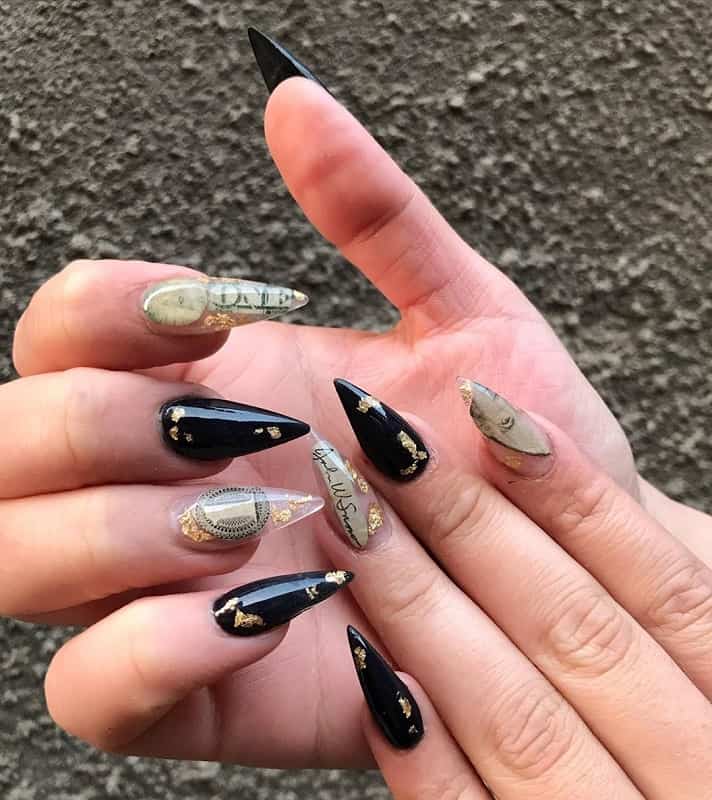 Not all dollar nail art is created equal, as evidenced by these stiletto nails and their sleek black color that frames pieces of the dollar bill. Gold foil is a beautiful touch to both the clear and black nails.
#5. Dollar Chrome Nail Art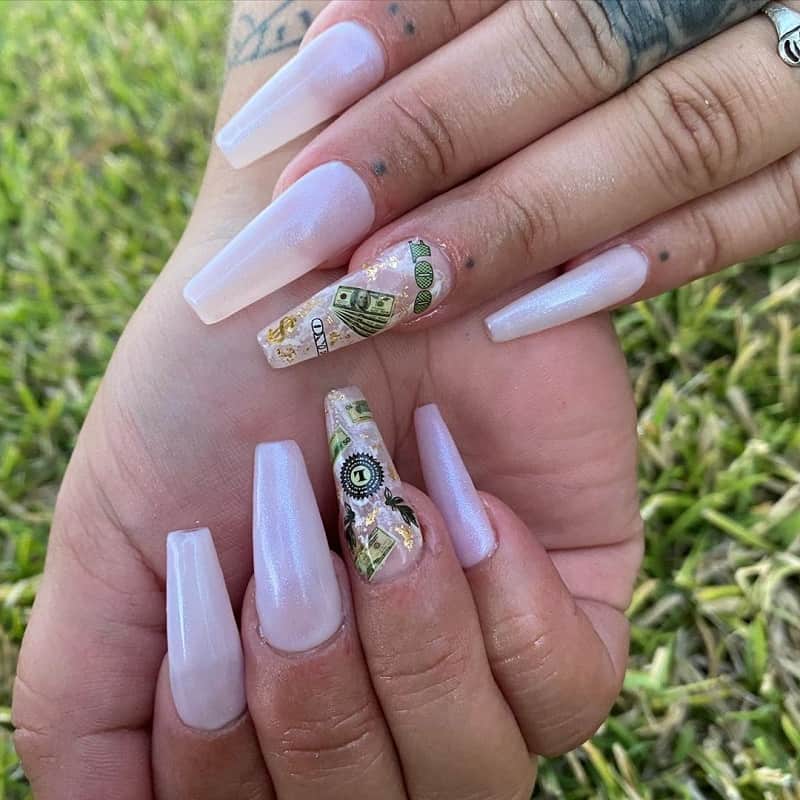 Another beautiful dollar design and chrome nail combo. Paint dollar design only on the ring finger and keep it simple but stylish.
#6. Have a Fiver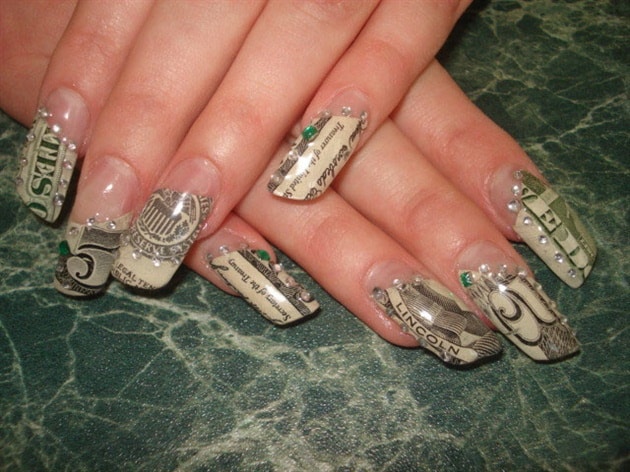 You can have the theme of a five-dollar note painted on your nails. Use the greenish-grey nail color to have this dollar nail art.
You can write the name of President Lincoln on this nail design, as the five-dollar note has his picture portrayed.
Trending Now! Acrylic Nail Designs
#7. A Score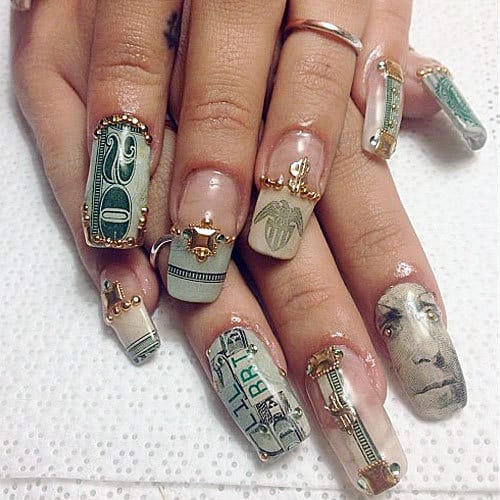 20 dollar note has the image of President Andrew Jackson and the White House imprinted on the two sides respectively.
You can use golden patterns for these dollar nail art to enhance the intensity of money. A golden dollar sign with jewels and stones will do the trick to express the richness.
#8. In God We Trust
"In God we trust" is inscribed in the notes of a dollar. This is the old custom of America.
Though the mentality of the American people changed over the years, no amendment is done to change this inscription. The stiletto nail is the shape which is compatible with anything chic and luxe.
#9. The Dollar's Up – Down
The greenish patterns of a dollar note amaze any artistic mind. You can use these patterns keeping the texture right. This is the perfect dollar nail art for your nails.
Funky Nail Art – Spice Up The Look A Bit
#10. It's The Money That Talks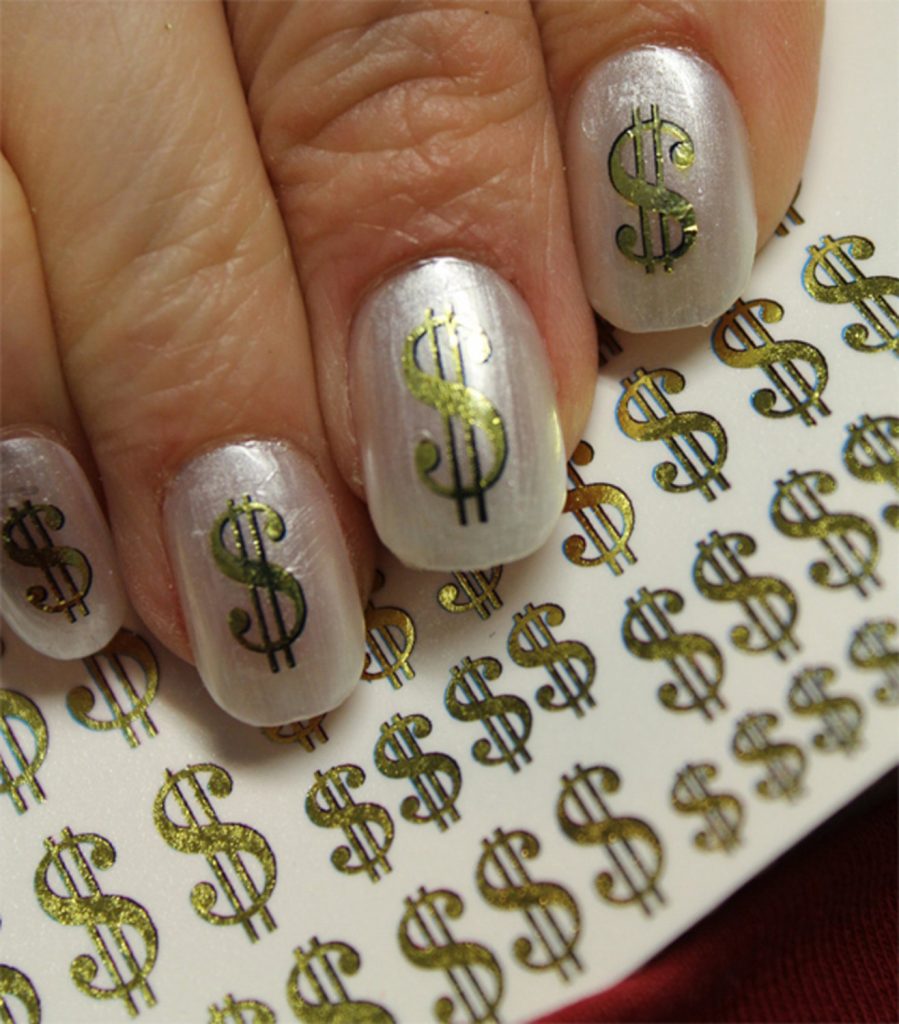 The dollar sign $ itself talks for money. You can use these signs on your nails to have dollar nail art. Draw some golden $ signs on your silver shiny nails to have money on the nails.
#11. Gold Digger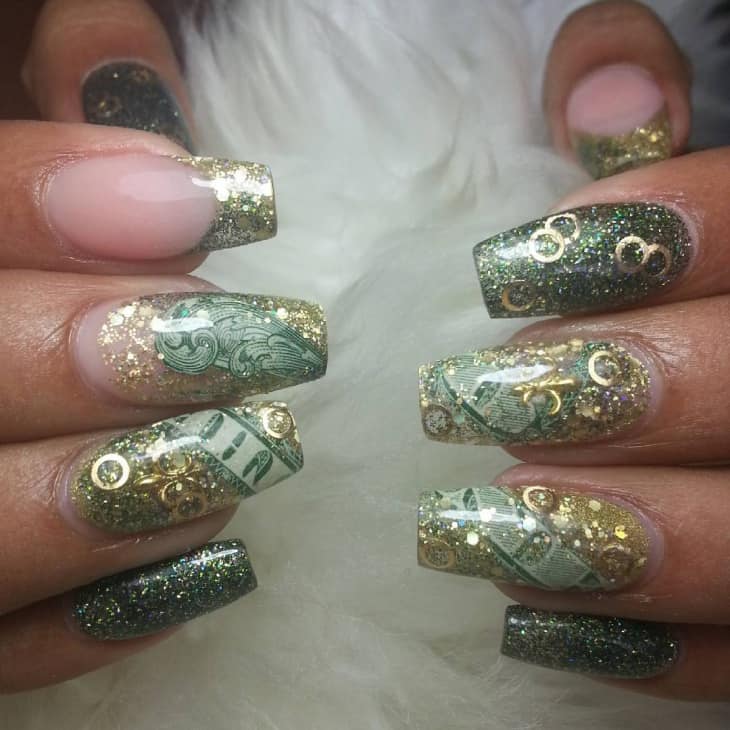 Don't be a gold digger by nature, this really evil. But, you can use the theme of gold and dollar together in this design. Use the richness of gold and the significance of glitter in this nail art.
#12. Acrylic Dollar Nails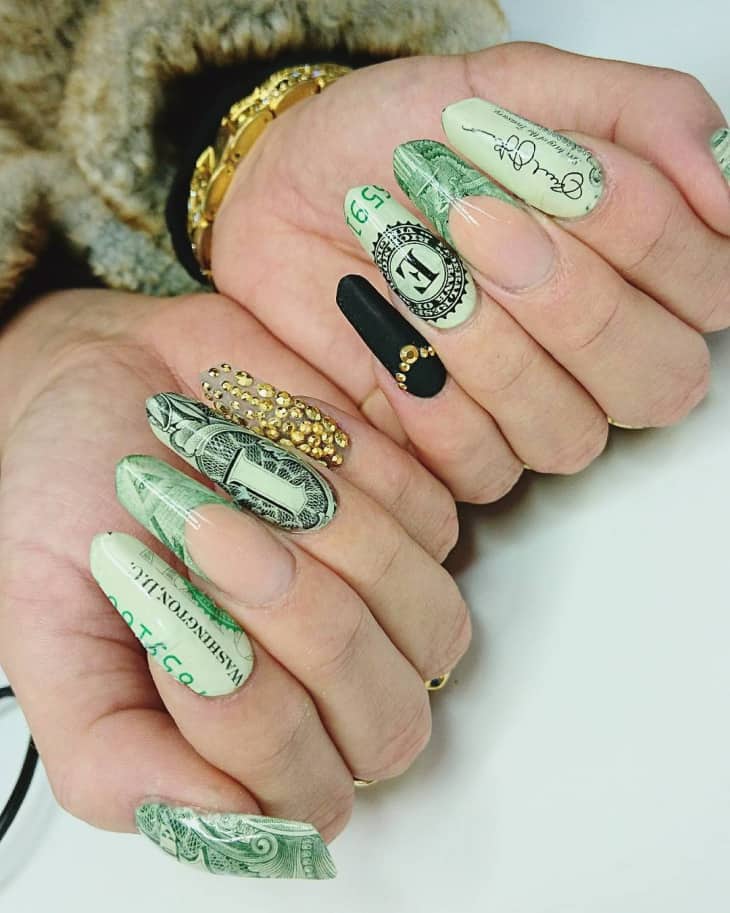 Dollar nails suit stiletto nails the most. Different shapes of acrylic nails are used in this single nail design You can use the greenish charm of dollar patterns on your nails to have this dollar nail art.
Celebrity Nail Fails: Click Here
Dollar nails are not to be carried for a long time. It will give the people around you a wrong idea.
Show off is not always good. But, you can have these nails occasionally. I have tried to discuss some basic dollar nails here. Hope, you will like them.