12 Dynamic Dollar Nail Art To Show Off Money
You may not have money in your pocket, but you can have them on your nails. Sounds funny? No, it's creativity. If you can have dollar sign marked on your accessories and outfits, what's wrong with dollar nail art then?
Dollar nail art can be the perfect instrument which will help you show off your money. You surely will stand out from the crowd, if you have these dollar nails painted on your precious nails. Let's have a look at what is waiting for you in this article.
Dollar Nail Art to Feel Rich
Whenever you will look at your nails, you will feel rich. How is the idea? Ok, These nails will complement your nails only if you can illustrate the traditional pattern of dollars. The dollar sign must be accurate. Usually, an image of President of US is portrayed on a side of the dollar notes and a motif is painted on the other side. Different President and different motif are used in different dollars.
For instance, Abraham Lincoln is portrayed on a five dollar note along with the motif of Lincoln Memorial. To have dollar nail art, you can use the inscription of God and the legality of dollars which is written in dollars.
#1.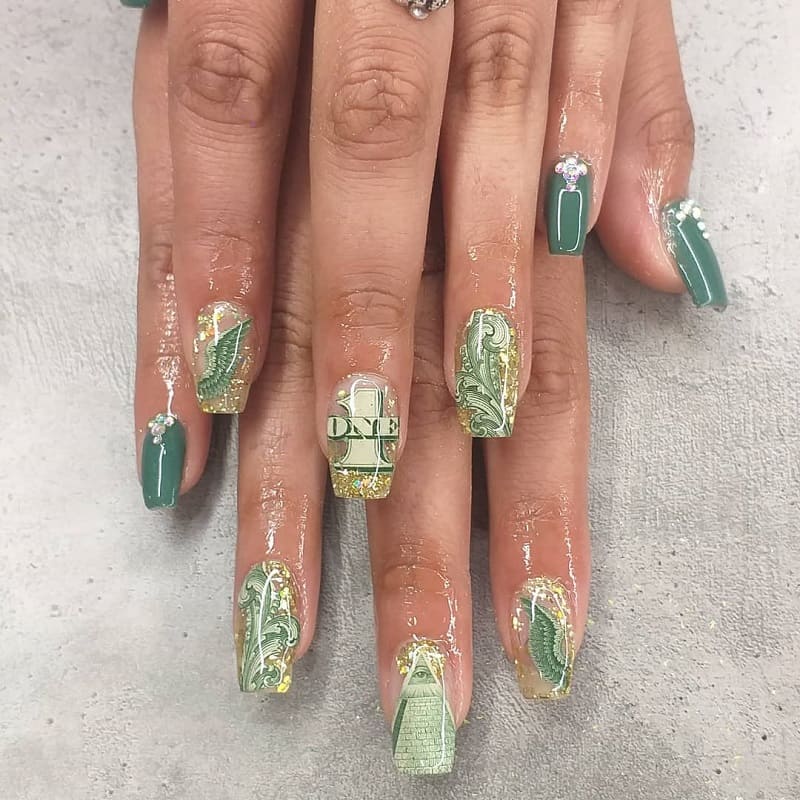 one dollar nail art
#2.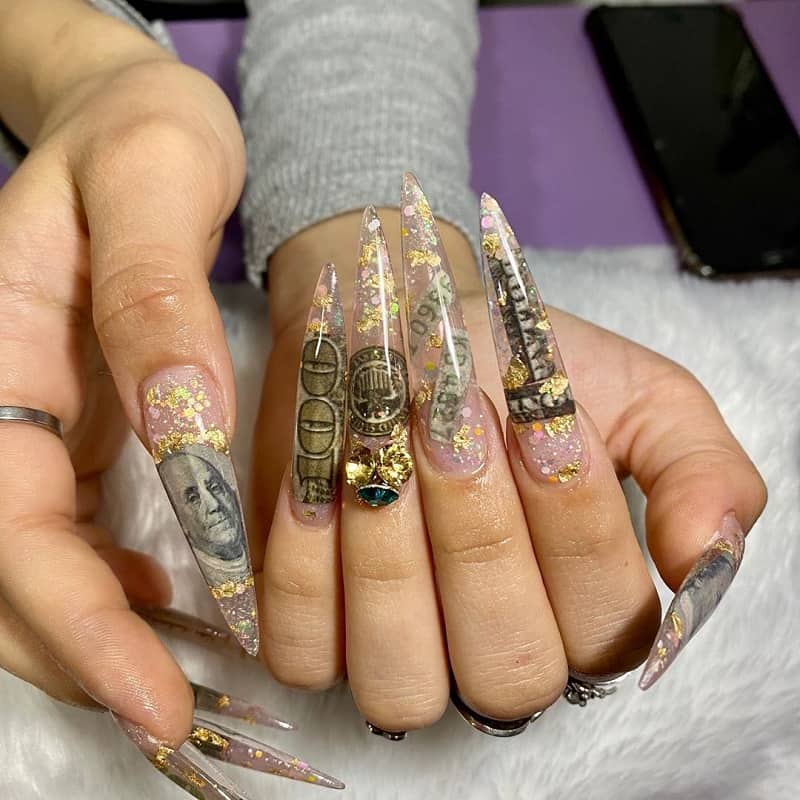 dollar nail art foil
#3.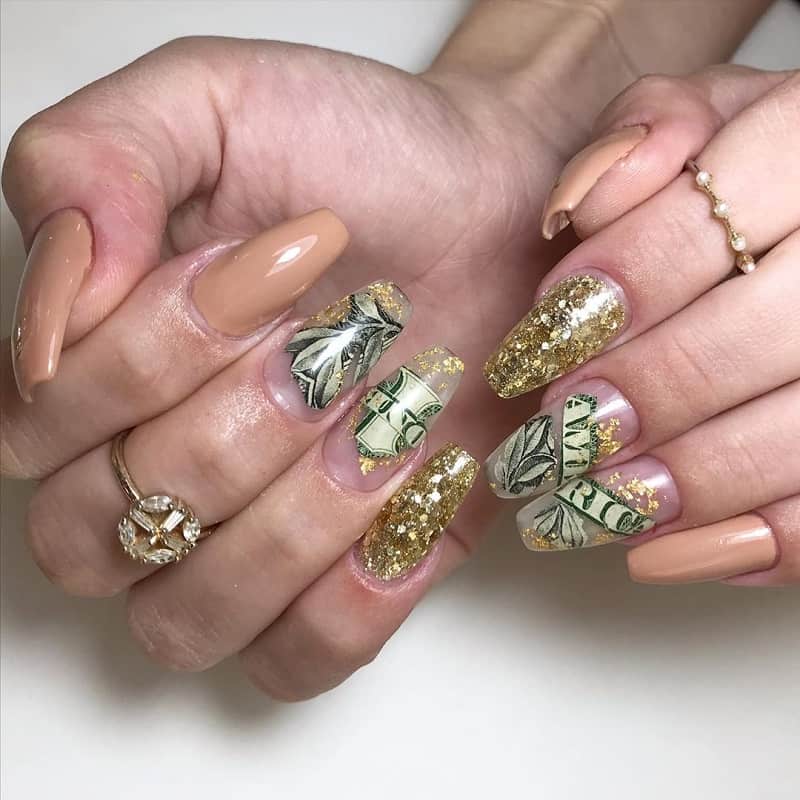 dollar coffin nail art
#4.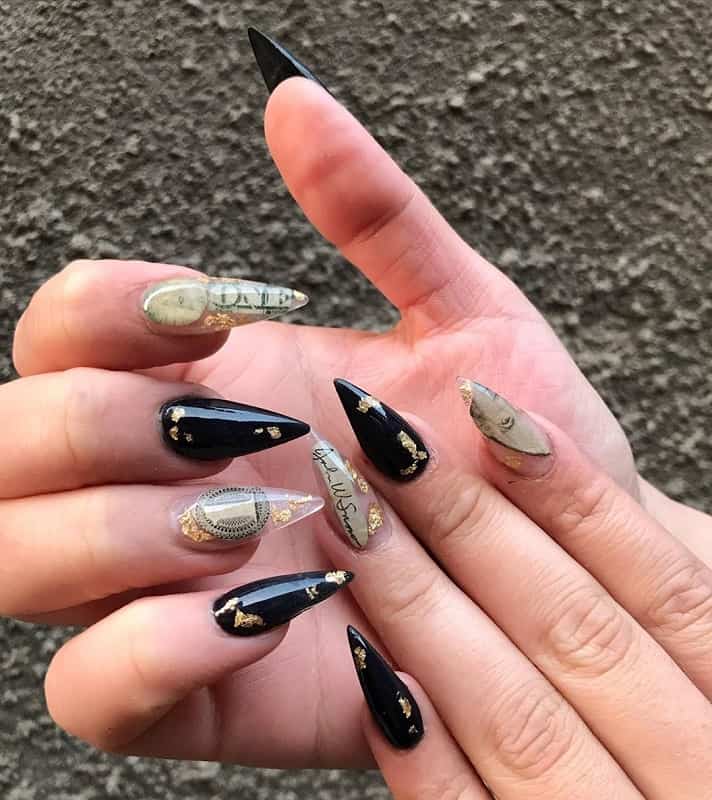 dollar stiletto nail art
#5.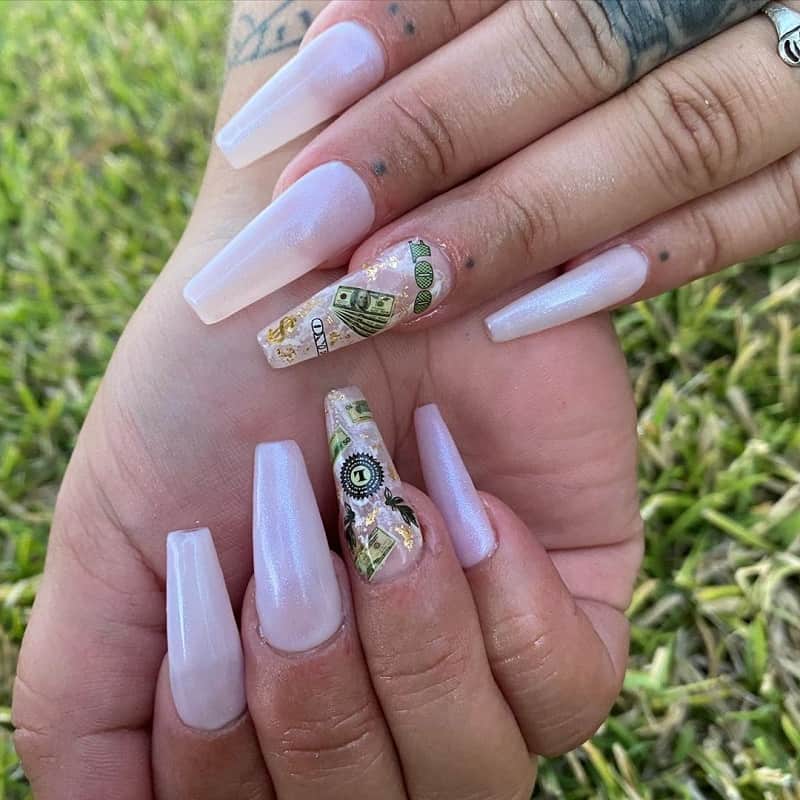 dollar chrome nail art
#6. Have a Fiver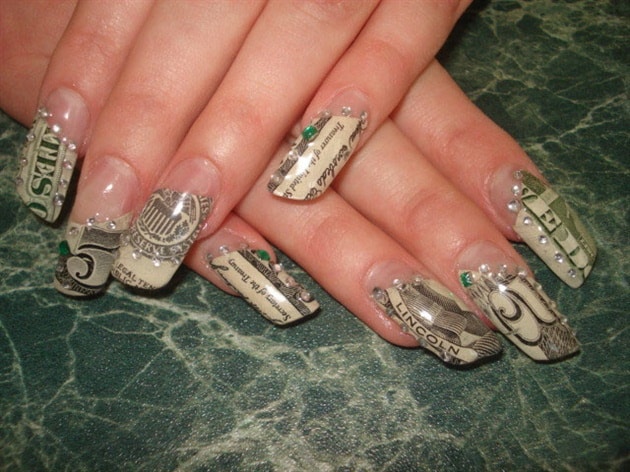 You can have the theme of a five-dollar note painted on your nails. Use the greenish grey nail color to have this dollar nail art. You can write the name of President Lincoln on this nail design, as the five-dollar note has his picture portrayed.
Trending Now! Acrylic Nail Designs
#7. A Score

20 dollar note has the image of President Andrew Jackson and the White House imprinted on the two sides respectively. You can use golden patterns for these dollar nail art to enhance the intensity of money. A golden dollar sign with jewels and stones will do the trick to express the richness.
#8. In God We Trust

"In God we trust" is inscribed in the notes of a dollar. This is the old custom of America. Though the mentality of American people changed over the years, no amendment is done to change this inscription. The stiletto nail is the shape which is compatible with anything chic and luxe.
#9. The Dollar's Up – Down
The greenish patterns of a dollar note amaze any artistic mind. You can use these patterns keeping the texture right. This is the perfect dollar nail art for your nails.
Funky Nail Art – Spice Up The Look A Bit 
#10. It's The Money That Talks

The dollar sign $ itself talks for money. You can use these signs on your nails to have dollar nail art. Draw some golden $ signs on your silver shiny nails to have money on the nails.
#11. Gold Digger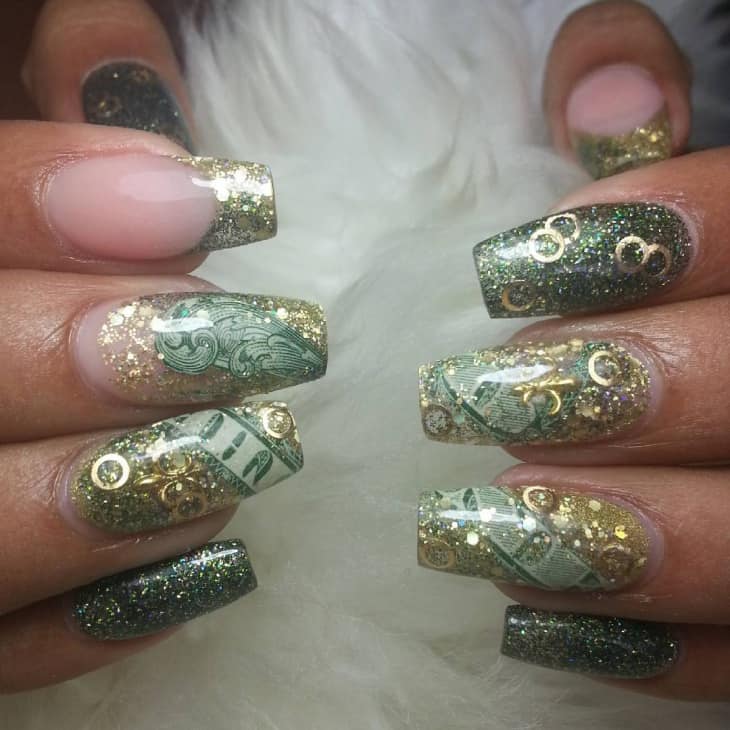 Don't be a gold digger by nature, this really evil. But, you can use the theme of gold and dollar together in this design. Use the richness of gold and the significance of glitter in this nail art.
#12. Acrylic Dollar Nails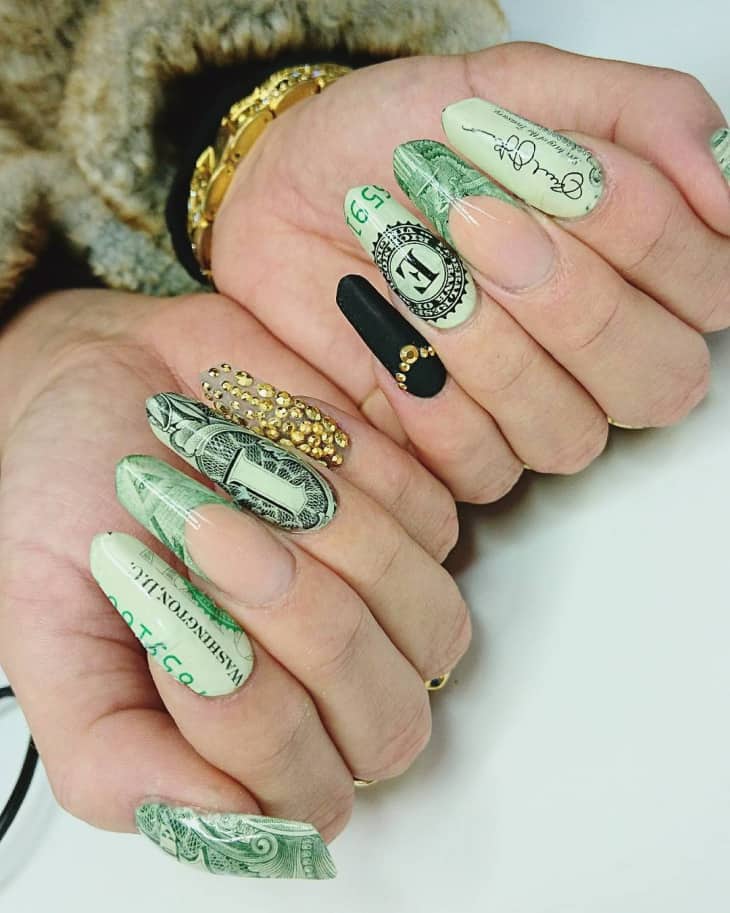 Dollar nails suit stiletto nails the most. Different shape of acrylic nails are used in this single nail design  You can use the greenish charm of dollar patterns on your nails to have this dollar nail art.
Celebrity Nail Fails: Click Here
Dollar nails are not to be carried for a long time. It will give the people around you a wrong idea. Show off is not always good. But, you can have these nails occasionally. I have tried to discuss some basic dollar nails here. Hope, you will like them.