Acrylic nails are fake nails placed on your nail beds to replace them with a cool manicure of your choice of the same size or extend them with taller nails. People usually go for them because they are tired of waiting for their weak and brittle nails to grow taller no matter how hard they try to take care of them and keep them away from anything that might cause them to break. Others just use fake nails because they tend to have bad habits like chewing and biting their nails when they are nervous. If you one of those people then acrylic nails are the solution to all of your nail-related problems. But everybody knows that it is hard when you go beyond the basic manicure to choose the right acrylic nail design from all the other options you might have laid out in front of you here and there , and thus it can get confusing to know which one you want.
Top 75 Acrylic Nail Designs
Confused what acrylic nail style to choose next for your upcoming event? So tired of surfing the internet for the latest and trendiest patterns ever? Would you just love it if there everything you needed to know was just crumpled up in one single list of various possibilities that work for every event and every occasion? Here is a list below that combines classy and sassy with practical and casual. Check it out and remember to keep that smile on your face because you ain't got problems anymore!
#1. Stilleto Glossy Black
Black fans tend to be conservative, serious, secret keepers and of high dignity and sophistication standards. Teenagers often are the biggest fans of this color because it allows them to shield their self from the outside world while they are witnessing a transitional state from the simple innocence of childhood to the complex wonders of the adulthood until they finish the path leading them to their personal identity. And with black being a color that fits for both casual and formal events you would have to give these teens some credit for being smart fashionistas because they got it all covered!
#2. Fuscia Nails
Simple yet beautiful example of acrylic nails with no art. Unravel your inner and exceptional beauty with this strong feminine color and don't be shy to them off! Acrylic nails are everywhere now. Natural nails are so last season!
#3. Neon Yellow Lights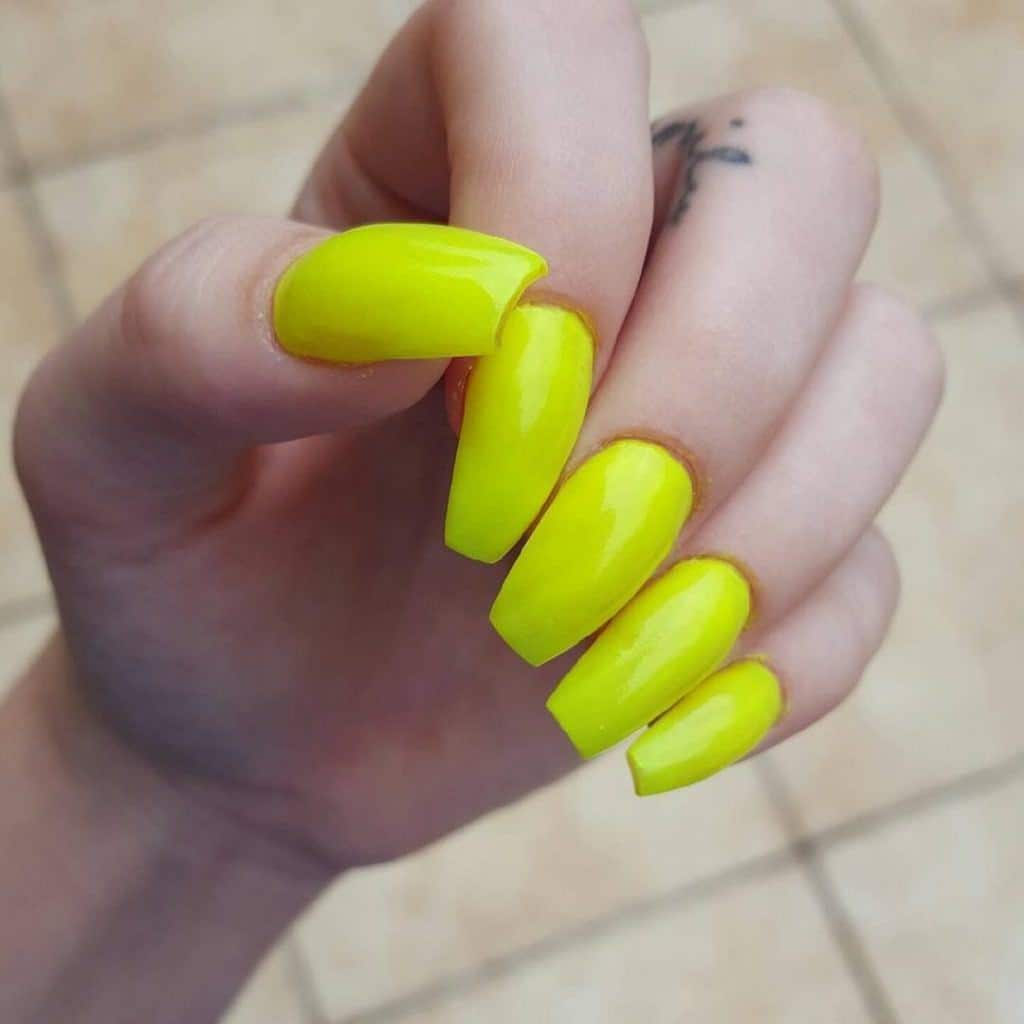 What's great about neon colors is that they can be seen everywhere and at anytime! Whether you're walking late at night on the sidewalk where street lamps are not working for some reason or you're gesturing with hands in broad daylight they are always guaranteed to glow in the dark or shine in the sun and stand out in the crowd! If you want yourself to be noticed as the girl with glowing acrylic nail design then this is the right option for you!
Black & White Nail Design Ideas
#4. Yellow Lava Nails
Yellow is the basic color of the sun which is responsible for keeping everything alive on earth ever since it began. It's the color of new life and new beginnings and therefore it is considered a great color to apply on your nails as it gives the impression that you are upbeat and ready for a challenge. With this lava bubbles effect, it only adds ambiguity and excitement and would make you look unique indeed.
#5. Glitter French Tips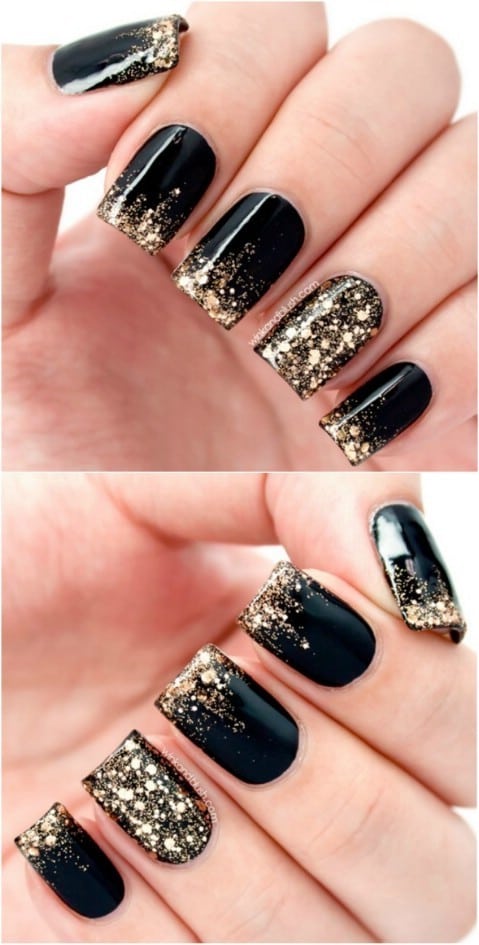 Glitter just works everywhere you put it on. Whether you cover the whole nail with it, use it as decorative coat above a basic nail polish, use it on your accent nail and make it the center of attention, or just be creative by putting it on your french tips. In all these cases, it will give you the reputation of a shining sensation! This style works most for parties, celebrations, and wedding rehearsal dinners.
#6. Baby Pink & Them

This is a soft and soothing nail design, yet not the kind that would make people be mistaken for you possessing a weak personality. It is the one to show others you might look self-confident and emotionless on the outside but there's a whole different person buried under those 7 layers of skin only revealed for those who are worthy of knowing of your trust in order to be granted the opportunity to know what's really hidden down there and lock away for centuries now.
Best Short Nail Design Ideas for 2023
#7. Mulberry Purple With Grey and Gold Glitter

Favoring different shades of purple nails means you are a person who loves to try new experiences and to be as spontaneous as possible! Thereby you are an imaginative and creative person who lives by an optimistic lifestyle.Using dark shades of that color only makes you more elegant and sophisticated.So splash that accent nail with golden glitter to make your mulberry and gray nails interesting and fabulous! Don't hesitate to stick on some 3D add-ons that would make your nails more realistic and appealing.
#8. Flowers, Flowers, & Flowers

Looking for a cute acrylic nail design? Try this one. Flowers are the key to every girl's heart. They are perfect for when you want to make up after a brutal and ugly breakup and they only add to the pleasure and joy after accomplishing a great achievement or would work as a great wingman on your first date when you show up at the girl's door to pick her up. And finally, they magically work as a great decorative theme to use as a girly nail design. Whether you want to add it as a french tip, as a belt in the middle of your tall acrylic nails , on the inside of your nail, hanging out on the sidewalks of your nails, just spread out there in the open as free as possible on the whole nail, or just mix all the previous suggestions all together because why have only one when we can have them all right? Be colorful and specific as each flower has its own symbolic meaning that would convey your current thoughts or tamper with your current mood. If you want the flowers to be the center of attention, then you probably should use light and bright recessive colors as a background coat such as baby pink, white, light blue etc..
#9. Watermelon Pink

Watermelons are delicious summer fruits that are very appreciated and adored especially in hot and humid summer days when you get to the point where you are dehydrated all the time and there comes the juicy watermelon to perfectly satisfy your needs! You know what watermelons work great as too? They make an awesome shade of pink to be used in our nail styles. If you haven't tried this epic summer color you should do it ASAP. Wear it to beach parties, strolls at the mall, girls day out, shopping sprees and sleepovers. It's cute and gets more interesting if you add your special simple touches like an accent glitter varnished nail or a small heart on the inside of your favorite nail.
#10. Cherry Red & Sparkles
Cherries have been highly praised by the Japanese culture for their beauty, fragrance and taste. They are symbols of rebirth, life, and death. What our fellow Japanese friends left out hidden as their secret to looking so cute all the time is that they rely on this color as a fashion trend. And now since the secret is out in the open, we are glad to be the ones looking cuter too! With this shade's effect and some sparkles, we'll be good to go!
#11. Rose Red

Roses are red, violets are blue, your outfit wouldn't be complete without an epic rose red nail style right there waiting for you! It's easy and simple and not time-consuming at all, all you have to do is apply several coats of the polish to get the right shade and Vòila!
#12. Wine Red

Now this is a color you would definitely go crazy for. Wine red is one of the most sophisticated colors you'll ever probably come across. It works great for a woman who wants to look attractive during the night, sexy in the sheets, and a confident successful icon at work.
How Long Do Acrylic Nails Last?
#13. Candy Glittery Red
Candy is all we longed for as little youngsters and it was the only thing our moms tried so hard to keep us from having all the time because they allegedly make your teeth wear out sooner than they are supposed to. Everybody knows well that when something is forbidden it only makes you crave it more and more and you won't rest until you have it in the grip of your hand. Let's not fade away with ou imaginations to our wish lists and just focus on acrylic nail designs, shall we? Red is the ultimate seductive color that brings out all the energy in you and makes look as cute and beautiful as ever. Unravel all this energy and use it to spread your power!
#14. Crimson Glitter French Tips

The first time I heard the word crimson red was in a conversation with my best friend who used to be a creative Fine Arts student. She used to go on and on about this shade like it was the queen of all red shades. After she used it in her painting, I started to understand what her fascination was about. It was a fantasy of reign and power right there all in one hue. Glitter only adds to it the party girl impression, but it's definitely the mother of all colors and the ultimate choice for french tips.
#15. Original Flare, Beware!

Keep that elegant impression but sass it up a bit with an original idea for the accent nail. While glitter and flowers might be a good idea, they are totally not as great as a custom pattern made by the one and only you! Get inspired by anything around you or by anything you are interested in like your favorite band's logo,your favorite artist's most recent painting, your most recent crush on a type of food or simple a layout of lines that make up a mysterious shape.
#16. Ruby Duty

Get in line and make yourself ready for a safety patrol because if your nails are not the ones responsible for guarding your own inner beauty then really what's the point of the world being oval shaped or the point of the sun rising from the east each day? Ok maybe that's way overboard, it's just a metaphor you guys don't shoot the messenger! Anyway, back to our point, ruby red is an epic trend nowadays that you might want to try with your new fancy ruby crop top and black short skirt with gold decals sprawling all over it.
#17. Halloween Spirit

A brilliant Halloween acrylic nail art. Too old for trick or treating but you still love Halloween and consider it as your number one favorite holiday? Then you can always make up for the trick and treat ritual with a spooky theme for your nail style. Skulls, black cats, spiders and their webs, pumpkins, zombies, ghosts etc… anything that might suit the Halloween spirit is up for trial as a doodle on your nails. Paint each nail with different doodles to avoid being repetitive and increase diversity. Be sure to use dark hues to enforce the chills down each person's spine when they catch a glimpse of what you have in store!
#18. French Rose Pink & Carnation Pink Florals

You can always classical decorative features to decorate your nail design like glitter or floral details of every color and size. But when both of glitter and flowers are smashed into one single composition that's when it becomes real and risky. Risky because you might be breaking too many hearts tonight it's almost illegal! This works for short nails as well.
#19. Glitter, Glitter, Oh Glitter…

Now, this is definitely not a style to wear for a day out with the guys, for a friendly game of dungeons & dragons with the nerds, or for a game of Xbox with your all-time nemesis. On the other hand, this design works great for parties and celebrations because everybody knows that it's not a party without glitter flying in the air! Don't hesitate and paint your nails with pure glitter varnish and be brave enough to choose strong colors that would grab everybody's attention like red and gold hues that scream " Party Time!" at the top of their lungs.
#20. Stiletto Scarlette Red Nails

Moving on with the party mode before the neighbors go ahead and call ahead the cops, try out this flaming hot acrylic nail design that would go great with a short red dress and blown out hair for THE evening party of your life! Remember, sharp nails only reflect your sharp and strong personality and would guys think twice before hitting you up and ever thinking about hurting your feelings!
#21. Metal Black

Black is psychologically a depressing color that just lets all your disappointing and heavy baggage over float the surface of the invisibility cloak you have been working so hard to build around all your insecurities and vulnerabilities. But when mixed with white, it makes all this negativity just disappear into thin air and reflects a classy style for any women out there. It is a great idea for those looking out to make a statement at a corporate event where they wish to look elegant and feminine yet strong as hell with the addition of these pointed black details.
#22. Wavy Tiger Print

Animal print on acrylic nails is never out of style so you can never go wrong with this wavy tiger accent nail along with basic glossy black nails. Works well with "little black dress" events and business dinners. It also works for not too formal events like the 22nd birthday party of your colleague at work or you best friend's welcome home party.
#23. Geekly Chic!

Fashion trends are not made only for people who are always ready to shop till they drop. They are made for everybody to follow, even those nerds, bookworms, and geeks everywhere. Whether you like to be indulged in a book all day long or you like to party your heels off there's always gonna be a great nail style in store for you! And this one goes to all the classic geeks out there with their black ray-ban eyeglasses, you can be trendy too!
#24. The Lovatics Effect

I don't know about you guys but this design definitely reminds me of the famous pop star " Demi Lovato" because it kinda looks like her tattoo on the wrist with all of the flying bird's touch and the feathers drawn blown out in the wind with black and white. Despite being a Lovatic for life, you've gotta fall in love with this original nail art and wear it out for morning Starbucks or afternoon milkshakes. And if you get lost in finding your way back home, those little cute birds will guide you home. Home Sweet Home.
#25. Eggplant Purple With Colorful Glitter

A simple and elegant acrylic nail design you'll love to try. Rainbow colors are stylish and upbeat. It is true that a rainbow is made up of 7 colors like we have been told every since we started to watch cartoons but what they left out was that it only takes 7 colors to draw a smile on our faces and restore happiness to our broken and shattered hearts. Just by using those colors we have the power in our hands to turn our mood around and feel better when our worlds come tumbling down at any second. Be the master of your own mood with this style that you can wear for any occasion anywhere and it's easy to apply at the same time! Be sure to show it off to your friends and family.
#26. Cubism Nail Art

Pablo Picasso's cubism style was one of the most influential visual arts and inspired millions of artists so far. Nail artists are also artists you know. And nail art is real solid art. This theme might be one of those inspired by Picasso's cubism one of a kind style. All it takes is black french tips and some random squares of different colors overlapping each other for a more visually interesting effect.
#27. Flamingo Pink

Flamingos are the type of shy birds but are dangerously attractive from first sight! They are the type that visually attracts you with their grace and style. Be a flamingo in your social norm and play the role of the magnet an iron field with this epic hue.
#28. Starry Night Ombre

Ombre styles allow you to gradually fade in or fade out a hue with a soothing brush stroke. It is a classy choice of polish that only people with high standards tend to fall in love with. This technique when used with midnight blue as a base coat and electric blue as topping varnish creates a great atmosphere like a starry night sky that would leave everything you're doing for and cancel all your meetings just to stare at it for endless hours. The ombre method is no picnic to be honest, but when you try it out you'll see for yourself that it is totally worth it!
#29. Feather Weather

Feathers sometimes become your only memories left from your favorite pet who recently got lost when you let it out of the cage and it flew right through the window by mistake. They might be the only thing that you have left from your pet back home when you had to move out to your college dorm that has a strict "No pets" policy. It's amazing what wonders nail art can do to cherish your beloved memories. All you need to do when nostalgia kicks in and you need to hold on tight to that single feather left you can always look down at your accent nail with it's exotic look and plaster a smile on that adorable face of yours!
#30. Summer Vibes

When summer comes up in a conversation, you automatically picture yourself on a deserted island wearing your favorite bikini and sunglasses while laying down on the sand of the beach's coast holding in your hand the latest sequel of your favorite novel while the other one holds on to a glass of fresh and icy lemonade. Well, that is a typical thing to visualize because summer is like the capital of all vacations and just by hearing the six lettered word out loud makes you crave a relaxing environment away from all your stressful and busy work days. Flaunt your imaginative or real summer vacation with this summer themed nail polish and don't forget to sit in the shade of a palm tree and put on enough sun cream! You don't need to get sun burnt in the process.
#31. Little Black Dress

This acrylic nail style is of utmost importance to any formal event with black and white glossy base coat and silver decals including rhinestones. It seems to be a popular request for nail art everywhere!
#32. Transparent Trick

While everybody goes for black nail polish to burry their deepest and darkest secrets you should go ahead and be different with this transparent acrylic nail design to let everyone know that you've got nothing to be ashamed of, flaws and all. You believe that your past mistakes have made you who you are today and if you had been given the opportunity to go back in time and fix them, you wouldn't taken it by any chance because you believe we, as humans, are nothing without out mistakes that made us fall so hard before we learn all about the right path to take.
#33. Rock 'N' Roll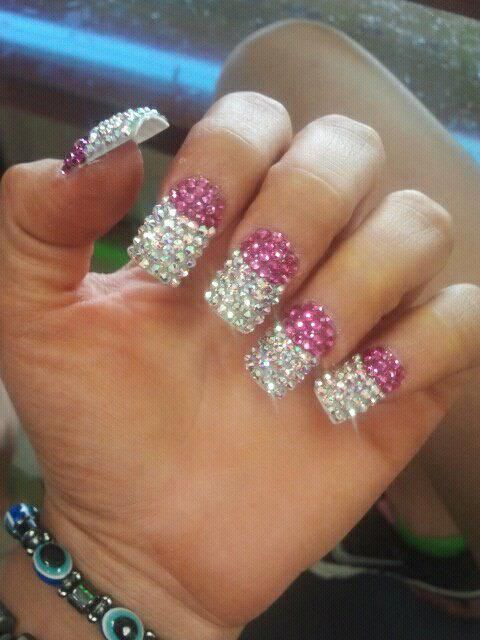 Just like the famous Jonas brothers said, or as many call them " The Joe Bros", if you've got heart and soul you can rock and roll! This style goes out to all fan girls out there who are not sure what nail design to pick out for their upcoming concert they would be attending with their dearest and nearest.
#34. Stiletto Periwinkle Purple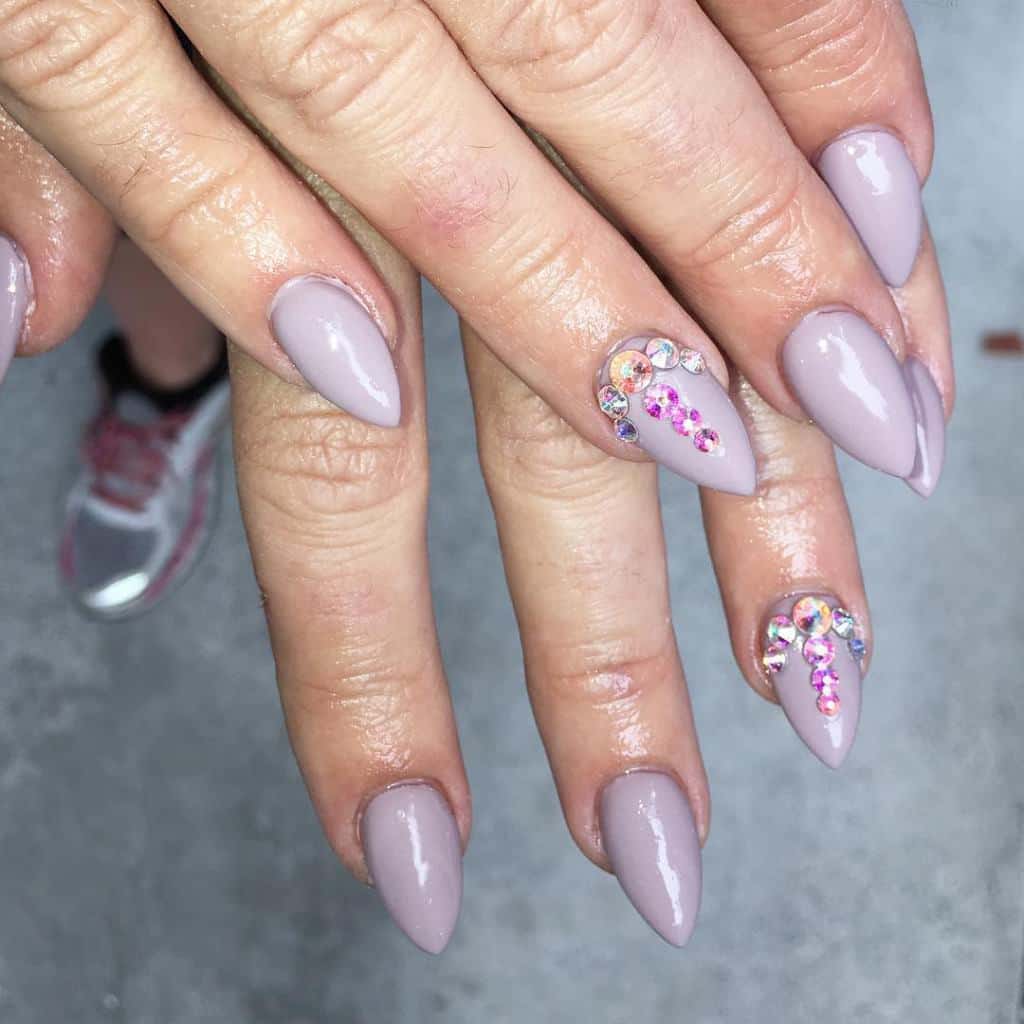 Stilettos nails are known to be sharp and feisty. But put together with a perfect periwinkle shade of purple, it kinda just makes you die a little of envy inside of you're not the one flaunting it with confidence out in the open.
#35. Black & Red Nails
Enough said about the mystery of the black color in this post and let's shed light on the power of provocation a red hue can cause even when it is used as a single stripe that divides the nail into 2 almost equal pieces. Topped with a silver varnish coat makes a great idea for an acrylic nail style to wear out for a club night!
#36. Tall & Rectangular

It's always great to try out different types of nail sizes to feel the joy of variety and distinction. Here's a design with a size you don't come across easily. Tall and rectangular nails with ombre baby pink polish applied to it gracefully along with golden studs and add-ons that every girl would go crazy for!
#37. Tortilla Brown

Everybody loves tortilla chips and a lot consider it as their favorite snack. But, hello, tortilla is not just a type of chips it's a shade of brown that goes perfectly with some silver decals on your nail beds when you go out shopping or just hang out with the girls.
#38. Black And White With Studs

Using bright acrylic nail designs would certainly brighten up your mood and spicing up the nails with the dashing and mysterious black color using stripes or adding studs makes it rough and gives the impression that you're not an easy target. Infant, you're hard to get.
#39. Love And Whispers In The Air

Go ahead and sweep that man off his feet with this heart themed nail style designed specifically for all girls who want to impress the right man. Be creative while u add columns of rhinestones or decorate your inner nail with them!
#40. Buzz Bee

Working hard all week like a busy bumble bee can be an obstacle for us busy young ladies. We tend to lack ample time to salvage ourselves from the horrors of everyday life like "black bags" under our eyes from staying up late all night trying to finish up that upcoming project that your boss is so intensely fond of, or waking up to new wrinkles you never knew they existed like the great aging magician just pulled a hell of a disappearing trick on you. But thank god that despite all of that we are still able to take quick and good care of ourselves without resorting to looking totally neglected with this simple glossy black nail style.
#41. Girl Power!

Life of women in the 21st century is not no longer as facile as it was before. In addition to all the house chores a woman was supposed to do, now she battles her way into society with a part-time or maybe full-time job crawled up on her back and sometimes it becomes her duty to participate in house expenses when life is no longer cheap anymore. While fighting to be super woman she has to look fabulous and fancy but doesn't find the time to do it. Go easy and simple with black polish that requires less than 2 mins of your precious and valuable time. Go Girl Power!
#42. Fancy Nancy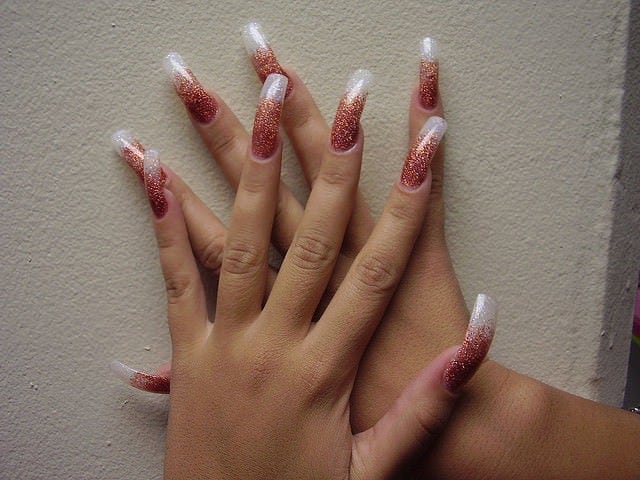 This one might be considered over the top to a lot of girls, but it is fancy and memorable design that you can't forget easily!
#43. Exotic Mixture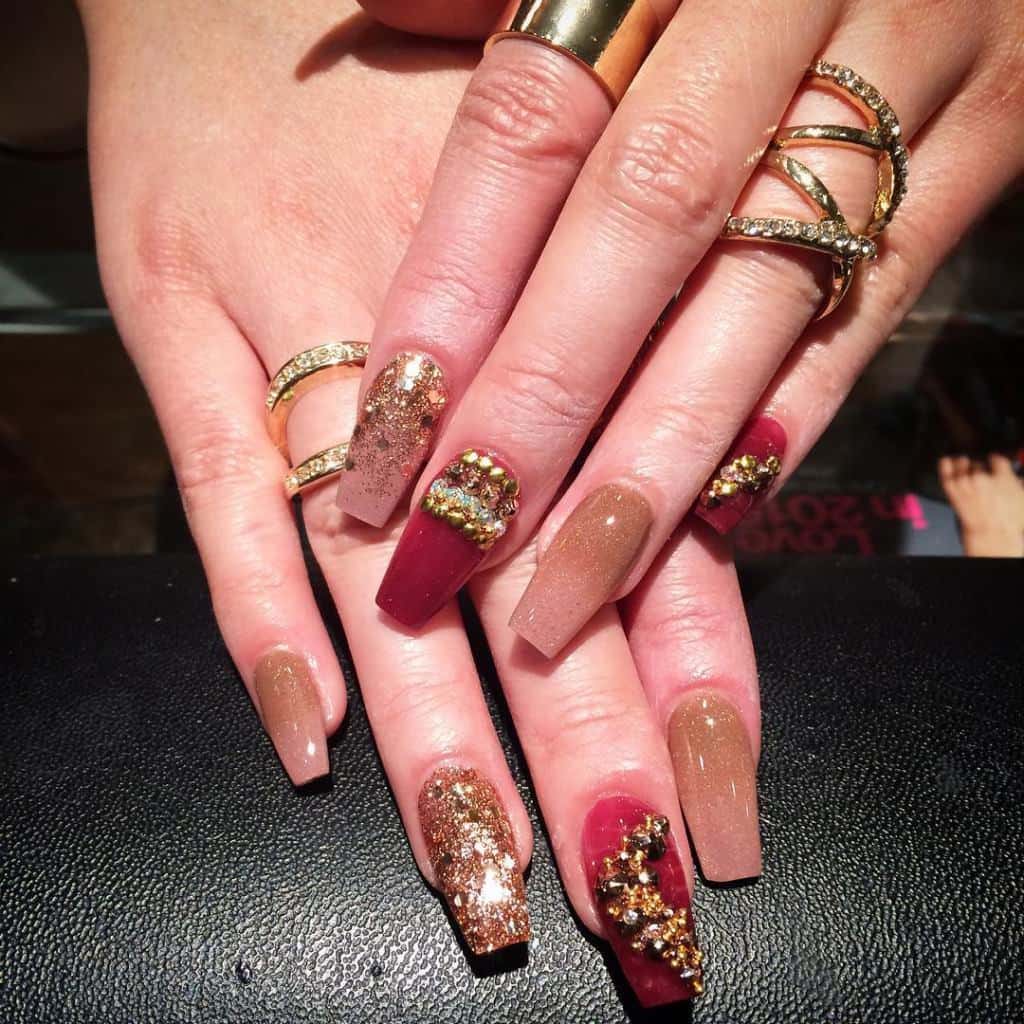 In order to be unique and special this nail design provides you with most impeccable nail style possible to look exotic and fresh with golden decals and all you are ready to be the queen of the event!
#44. Mulberry Accent Nail
Think outside the box with this amazing mulberry accent nail design surrounded by bright white glitter nails that totally make it pop into the scene!
#45. Apricot Orange Nails
Apricots make up tasty juices and autumn fruits in the society. But they also are appreciated for their fragrances and gum flavors. Fashion-heads see the apricot as a source for a bright shade of orange to be used in various occupations. One of which might be making an intimate acrylic nail design idea along with apricot colored flower buttons as an accent nail.
#46. 3D Flower Nails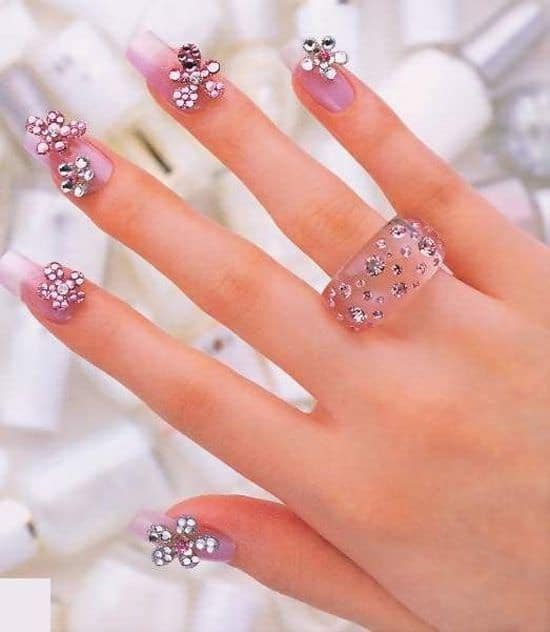 Not only movie producers can go full 3D and HD, even nail artists use that 3D effect to dazzle everyone with a one of a kind nail design especially if the florals being created are shining with small pieces of strass.
#47. Full On Black & Silver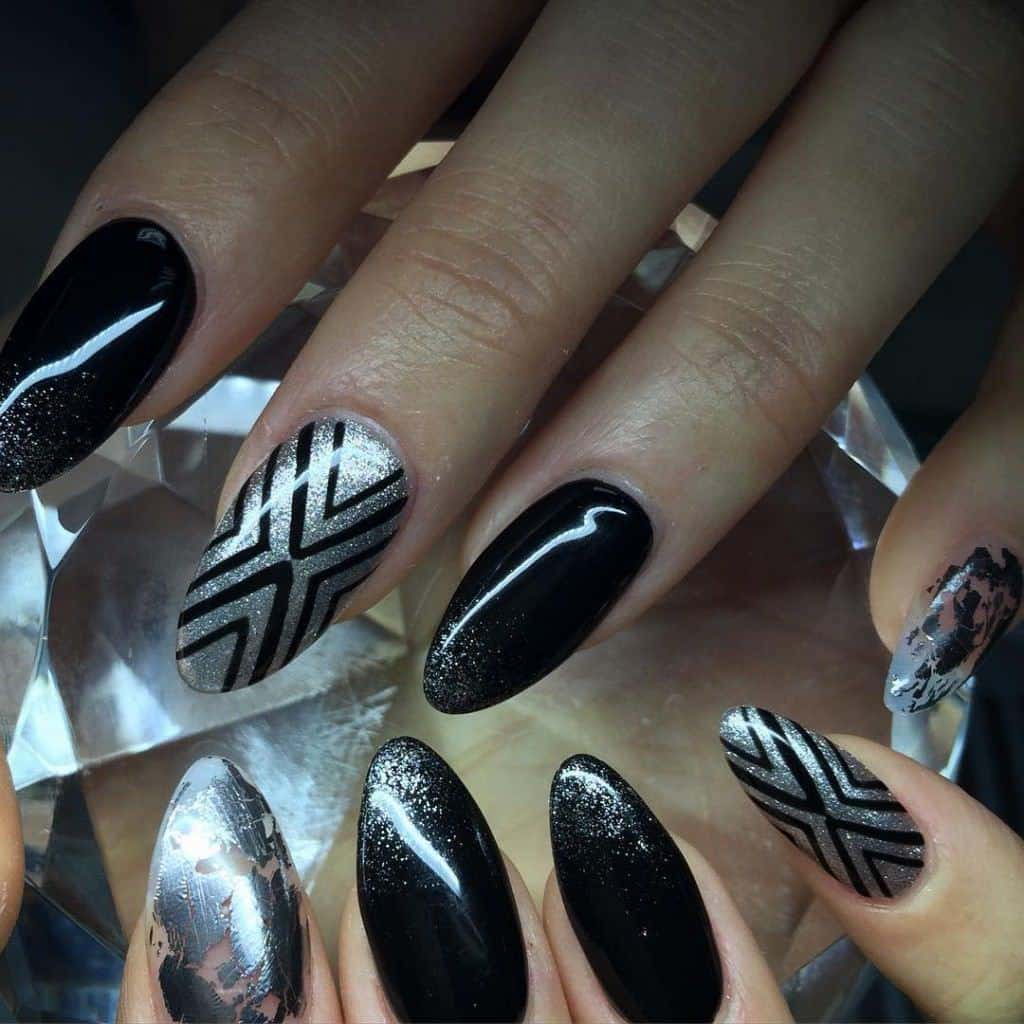 Go crazy and reckless with this full on black and silver nail design trying out various techniques like chevron patterns, glitter varnish coats or something weird and unusual to make your nails look peculiar.
#48. Tortilla Square Nails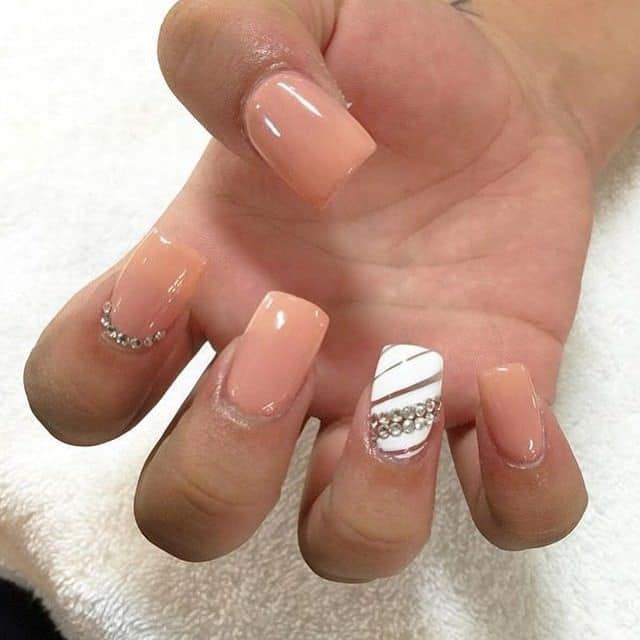 It looks like tortilla nails are the newest epic hit and everyone is rushing to try them out. Well, we can see why! They look fabulous and work with every outfit of every color and therefore are the mother of all manicures!
#49. Simplicity

A lot of fashion icons spoke about simplicity so abundantly. Like Coco Channel and plenty others, they said that key to the locked true of success is making elegance your one and only priority.
#50. Alizarin Red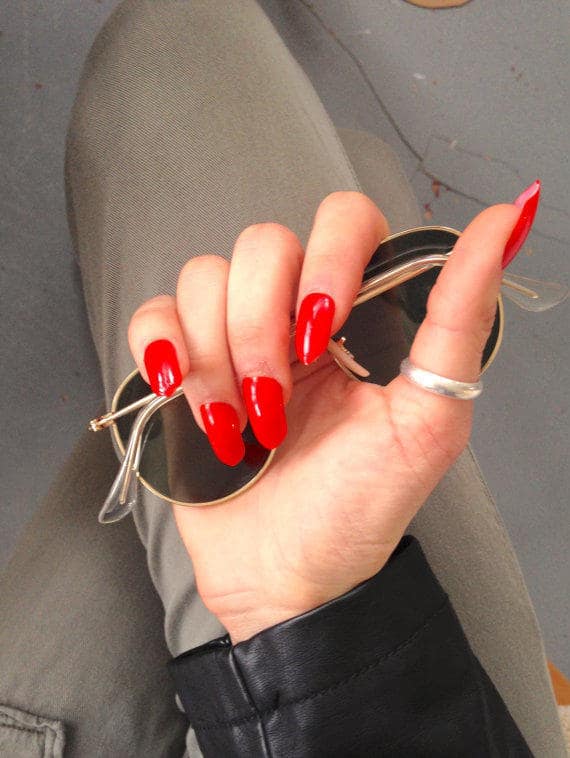 Red is the color of reign and power. It is also a sexy and provocative color that gives you a wide range of energy. Try this uncomplicated design that works for everyday casual wear and goes perfectly with any outfit for all ages!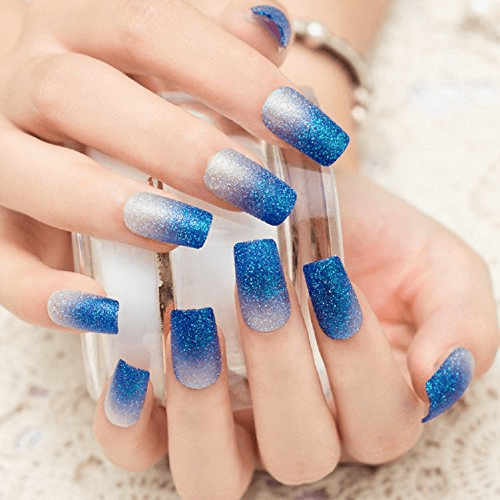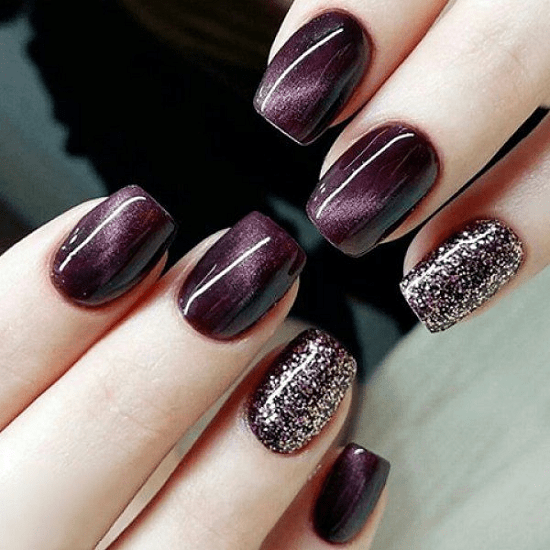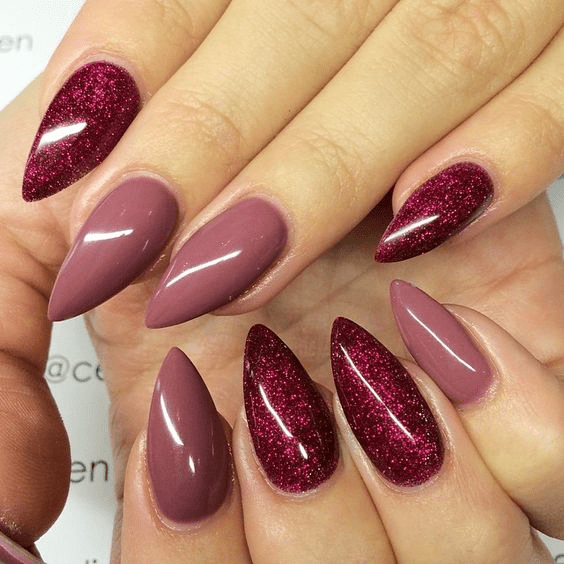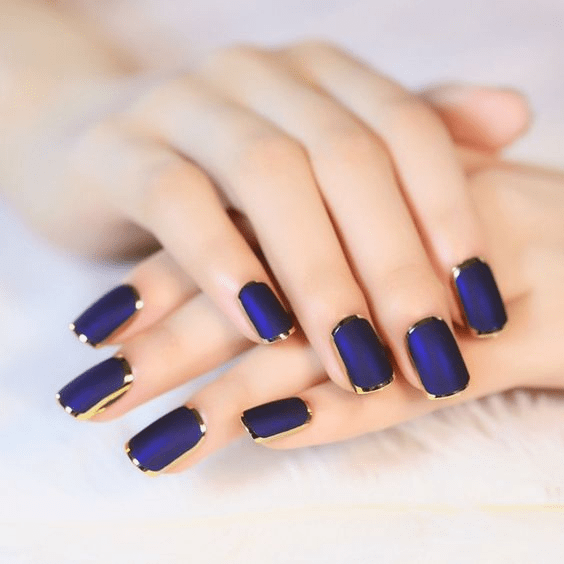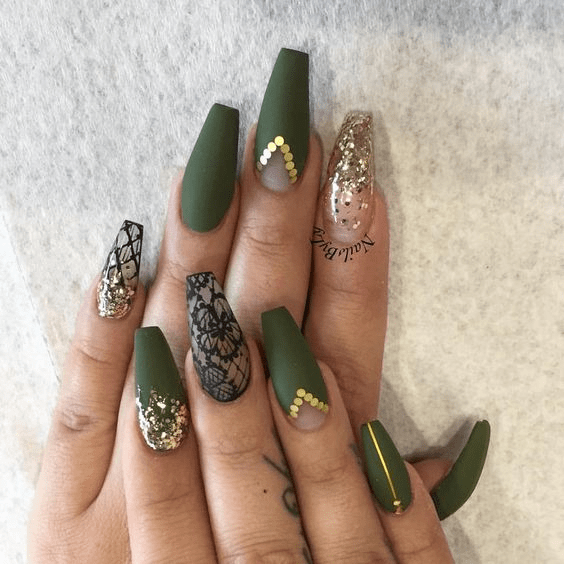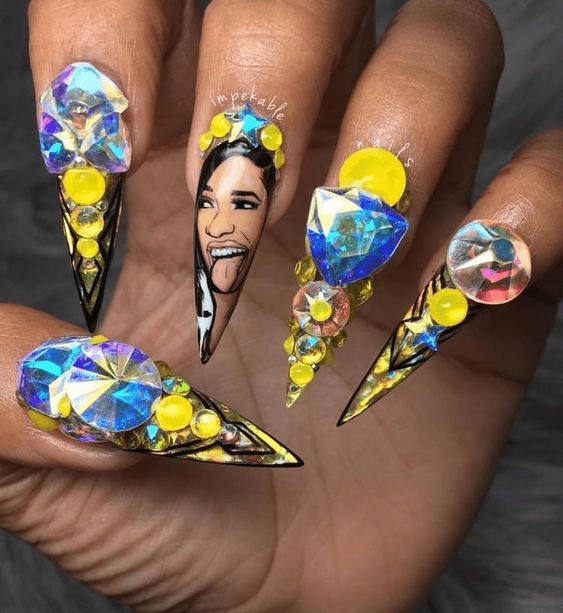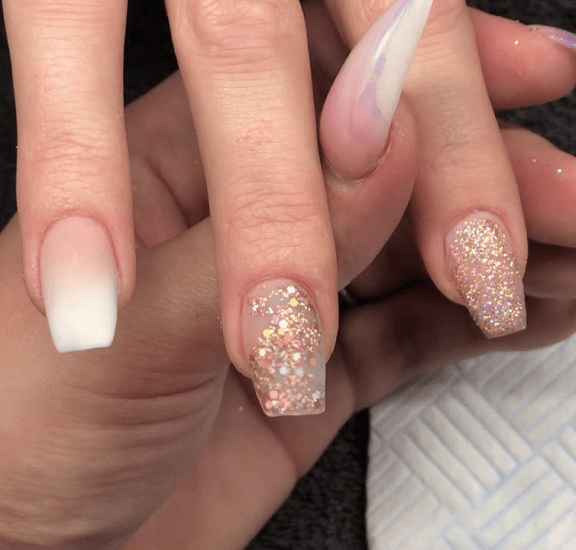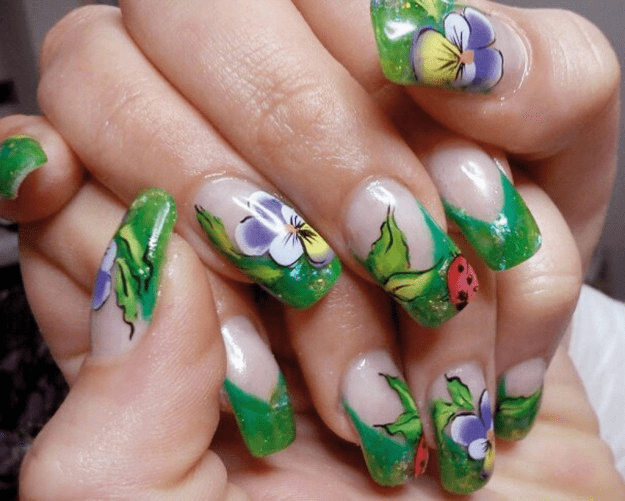 Finally, we can say goodbye to all the endless taping and ripping your hair out with this amazing list of the top 75 acrylic nail designs, just style! Style with grace, that's your gift!