75 Incredible Purple Nail Design Ideas for 2018
Favoring the purple color and using it with everything and everywhere such as adoring your new purple nail designs or adoring your matching purple curtains and bed sheets implies that you are a sensitive, understanding, supportive, and compassionate person.
Moreover, it shows that it is crucial to pick out a clear choice of words around you because you tend to be quite sensitive and overthink almost everything all the time. That's because you're an emotional person, so being needed motivates you and that's why people tend to take advantage of you most of the time.
Why Purple Nail
On the other hand, you are an unconventional spontaneous person and love to try new and unexpected experiences. Thereby, you are a creative person in almost everything you encounter and creativity turns into your own routine that you can never get bored of!
With your wild imagination and optimistic lifestyle you tend to inspire all those around you and give them threads of hope when they are in their darkest times.So be generous and shower us all purple lovers with the most creative purple nail designs you can come up with.
Since you tend to be so artistic and creative, why not use your powers for good instead of evil like using them for creating astonishing purple nail styles? Unchain that talented creature inside of you and salvage it from its thirst for true and genuine creativity!
Modern Purple Nail Design Ideas
Every new beginning starts with baby steps towards success and the first step in your creative lifestyle is picking out the pitch-perfect purple nails that suit what you aim for best! And if purple is your most desirable color then there is no doubt you aim way higher than expected. Here is a list of the 50 leading purple nail masterpieces you can apply!
Space is our final frontier and since purple is the color of new experiments and adventures then this is a great design for you!
#2. Magenta Breeze With Ease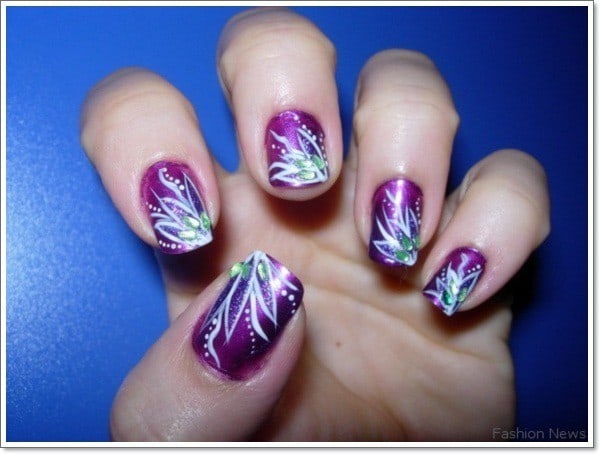 Flowers are a great component in a nail style. Letting loose of the petals so that they just go with the flow in the air would only make it even better!
#3. Iris Base & Floral Stickers

Using a specific sticker floral concept with your purple nail design can convey a more feminine appeal especially with that iris shade of purple in the base coat.
#4. Eggplant Purple And Orchids

Orchids are easily distinguished from other plants as they share some very evident characteristics. Add an orchid to your nail art if you want to catch the eyes of everyone all the time!

Lilac varnish, black stripes, lace, french tips and beaded decals are the ingredients for a perfectly provocative nail design.

Use some dots to make a path between flowers and make up a map of your own with this cute nail style.
#7. Plainly Tipped

If you are a woman who loves simplicity, then this style is the right one for you. By one single step: simply apply french magenta tips.
#8. Periwinkle Twinkle

Twinkle like the biggest star on the dance floor with this periwinkle shade of purple nails.
#9. Mauve Shaded Tips With Flowery Effect

Your nail beds are your canvas! Draw and paint whatever your mood addresses you to with your needle and brush.
#10. Chevron Raisin And Golden

Get sassy with this raisin shade of purple and add a chevron golden shape to make it pop.
#11. Glossy Violet

It's not a good purple nail design if it's not glossy and irresistible.
#12. Wine Purple & Glittery Iris

In a rush, but you really want to have a cool purple nail style? Pick your favorite nail and splash it with a glitter varnish stroke to get a fabulous look  in no time!
 #13. Lavender Tiger & Glitter French Tips

Have you ever thought about the lavender tiger and glitter themed french tips before? It's perfect for a day out with your girlfriends or for a shopping spree.
#14.  Wine Purple Hatching On A White Base

Make a white base coat pop by grabbing your needle or brush and hatching some wine purple nail varnish on it to make it more artistic and appealing.
#15. Stripes, Silver Glitter, And Little Hearts

Everybody loves little cute hearts let alone if they were in a small purple sized shape on the tips of an irresistible purple nail design!
#16. Chevron Pattern

Use patterns to make your nail styles more enchanting. For example, employing several shades of purple to a chevron pattern in a nail design can turn out to be a unique and fascinating piece of work!
#17. Intergalactic Theme

This one is my personal favorite. Because what is better than a purple nail design that is literally out of this world?
#18. Lilac Hopes And Dreams

Glossy lilac nails are a dream come true but adding that glitter varnish and you would be floating on cloud nine before you know it!
#19. FreeStyle Magenta And Black

Open your very own art gallery on your little nail beds with this freestyle magenta and black striped nail theme !
#20. Glossy Boysenberry

Neon hues go great with a boysenberry shade of purple employed as a base coat for this art piece!
#21. Doodle Doodle Doodle

Black base coated nails adorned with little rounded purple decals and black paisley print doodles are examples of unusual and vivid great purple nail designs
#22. Not Feather Free

Feathers, like glitter, are essential details that convey an exotic nature on a nail bed.
#23. Polka Dots And Glitter

Get ready to mix polka dots and glitter to get a trendy purple nail art design.
#24. Glitter French Tips

If you are in a hurry you can always try this plain, easy and precious style and you'll be ready to go in a blink of an eye!
#25. Glossy Orchid Purple

Choose two of your favorite nails and purple-ize them! Dip one with glitter garnish and sprawl the other with orchid leopard pattern to flaunt an impressive style!
#26. Snowflakes And Lavender

Celebrate winter and Christmas seasons with snowflakes, without restoring to the cliché red, green, and white colors. Be spontaneous. Be different. Be that compassionate purple lover and choose this style to unravel it all!
#27. Disco Fade In Effect

Being Colorful and delightful is the first thing you should think about when you want to initiate a nail style. A disco fade in effect is a great example of an upbeat design!
#28. Black Swan Strokes

Gently use your thin brush to create these delicate strokes in order to get a visually attractive design.
#29. Plum Purple Nails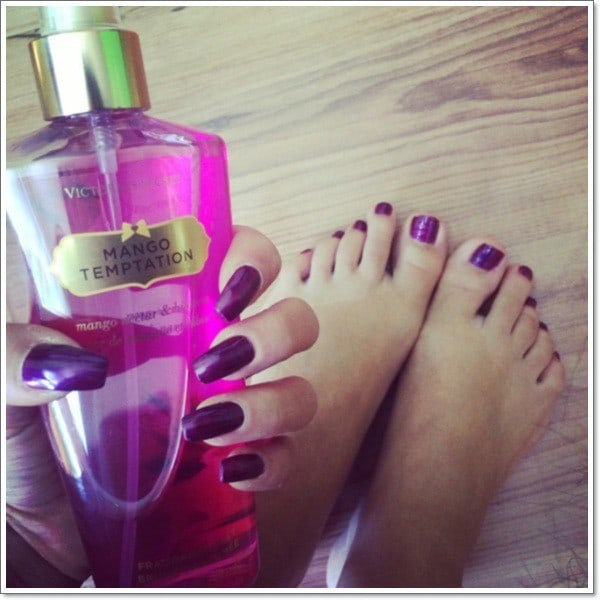 Want something not too simple but now too crazy? Then this purple nail design is the proper one for you!
#30. Fig Shimmering Purple

This purple nail design is great for going out to a birthday party or celebrating your new job a club with your close friends. And who knows, you might get lucky.
#31. Leopard Bright Hues

Using bright hues as background for a cool leopard pattern inside the nail beds is a very stylish idea you might want to consider!
#32. The Purple Flower Of Life
Up for a challenge? Try painting your favorite shade of purple inside an exotic flower shape!
#33. Spider Web French Tip

Break the purple ice and turn one of your fingers into a spider web to avoid monotony.
#34. Hibiscus Flower Tips

Try Flower tips for a change and check out the magnificent styles you come up with!
#35. Shattered Glass Nail Art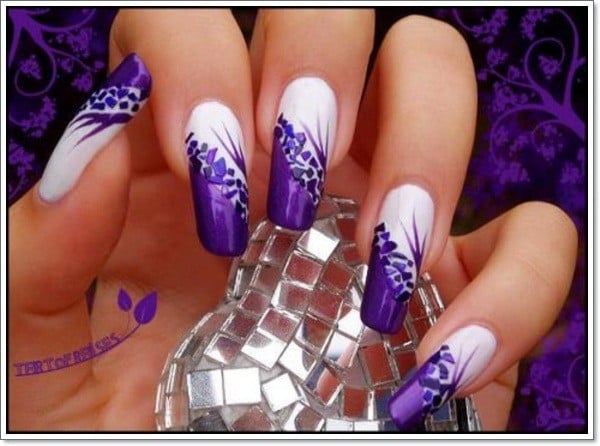 Get your inspiration from everything around you to create the world wrecking purple nail design. Anything can inspire you.I bet this nail style above was inspired by someone doing the dishes and one of the glass cups slipped and shattered into a million pieces. We've got slippery soap to thank for that amazing outcome!
#36. Newbie Purple Sun Flowers
If you're new to nail art then this one is suitable for your beginner skills. Just freehand some big flowers and try to obtain cute little semi-purple ones on the tips for starters.
#37. Flaming Magenta

Magenta flames of passion mixed with polka dots make a great theme for a sensitive and compassionate person like you purple lovers.
#38. Paisley Print Purple French Tips

Sick and tired of the same old plain french tips? Be the first one in your group to try this paisley print style and walk with pride.
#39. Lilac Leopard Cross French Tips

Improvise and sway those french tips beyond their natural borders with some silver decal soldiers guarding the line between leopard and glossy.
#40. Glitter FreeHand Fade In

Use that creative nature inside of you and add some freehand flower and wavy doodles on your little canvases.
#41. Pinkish Purple And Black Blend

Use your nail polish brush to blend in 2 colors together and get picturesque results!
#42. Fasten Your Nail Beds

Apply button-like decals on the opposite sides of your nail tips and fasten your seat belts for the best rollercoaster ride ever!
43. Sway Me More

Like a flower petal in the breeze. Dance with me. Sway with ease. Only this purple nail design makes you know how to sway smooth and sway now!
#44. Glitter Violet French Tips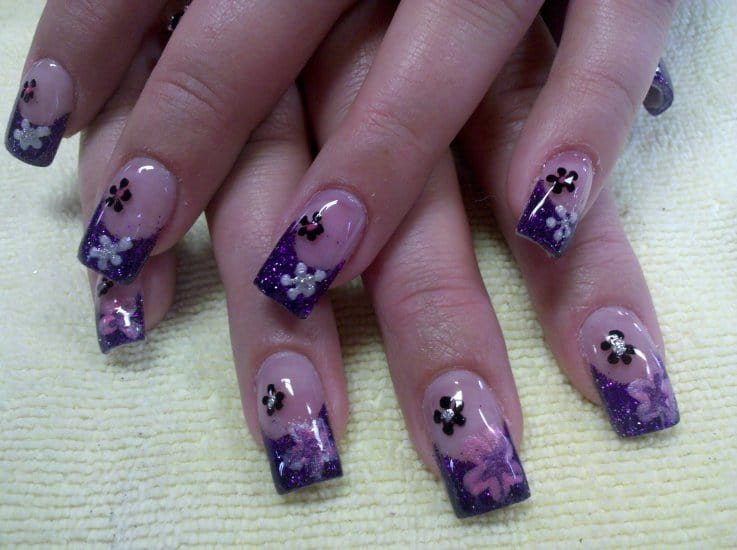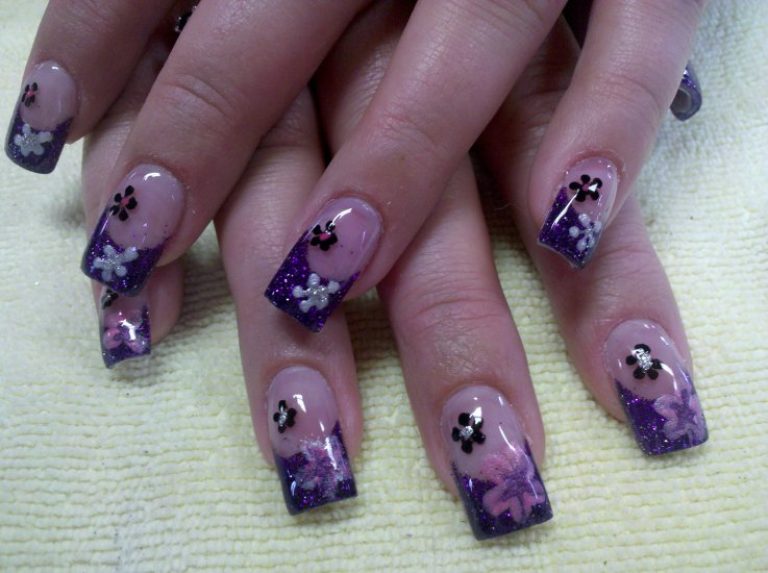 This is a pretty girlish style to put on for everyday use and works with a big variety of outfits.
#45. Just Glitter
Add some flair to your plain nails with this glitter only themed design that works great for parties and celebrations.
#46. Outside The Box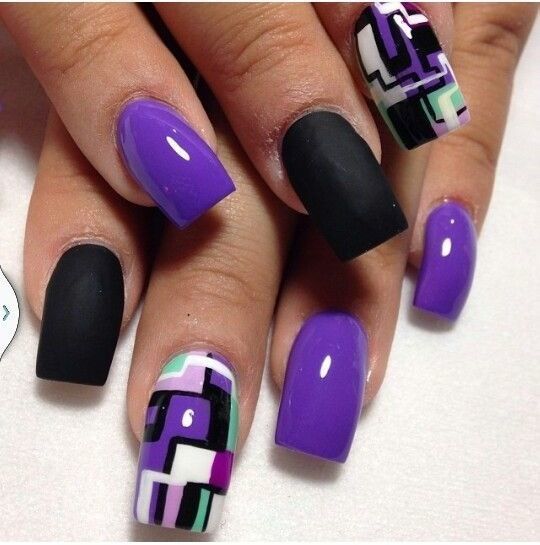 Think outside the box with this cohesive and artistic look. No pressure, but you might be treasured by millions after this one!
#47. Sincerely Swirly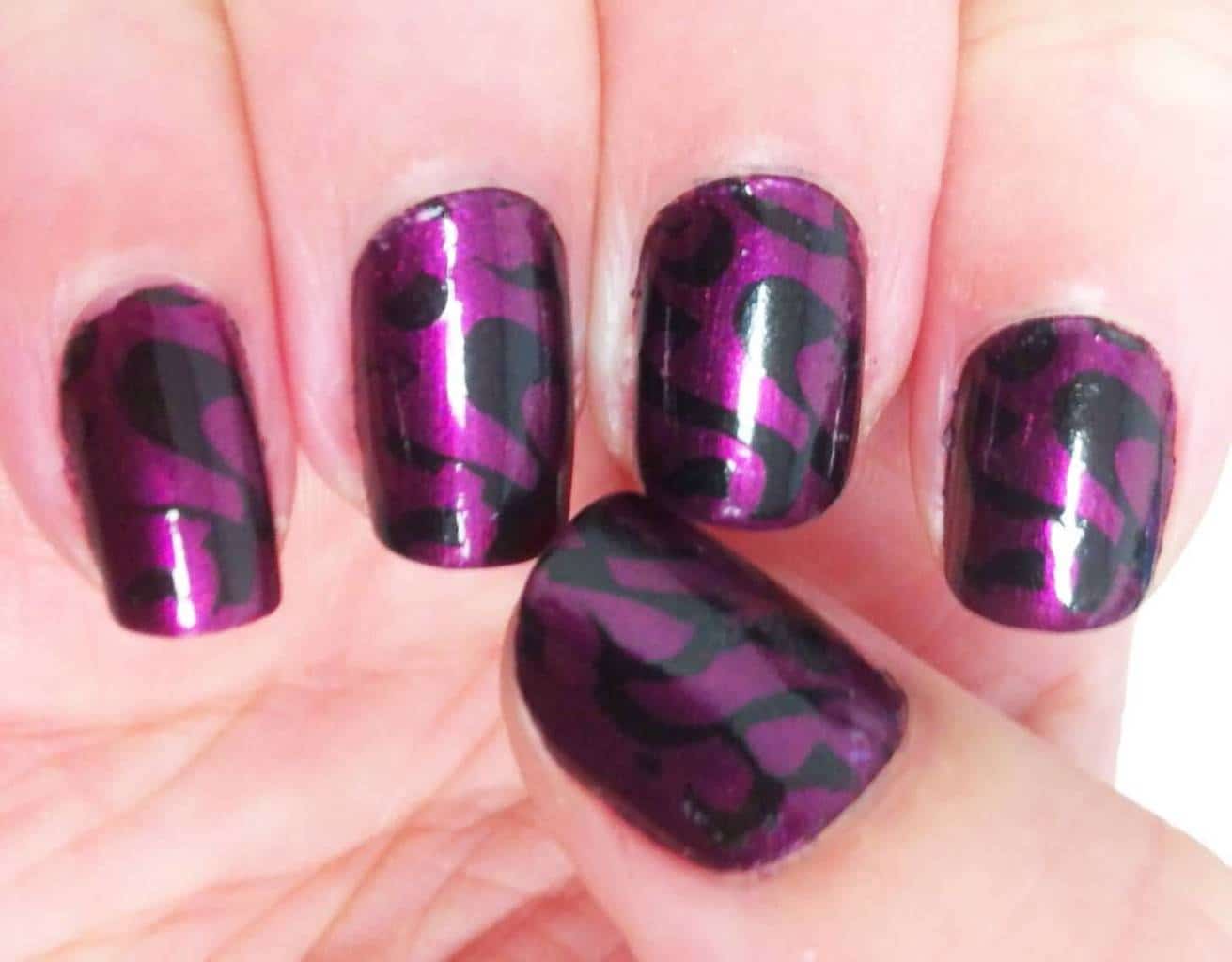 Don't hesitate to sprawl that purple base with black swirls to brighten up the mood and bring on the party mode!
#48. Violet Style For Short Nails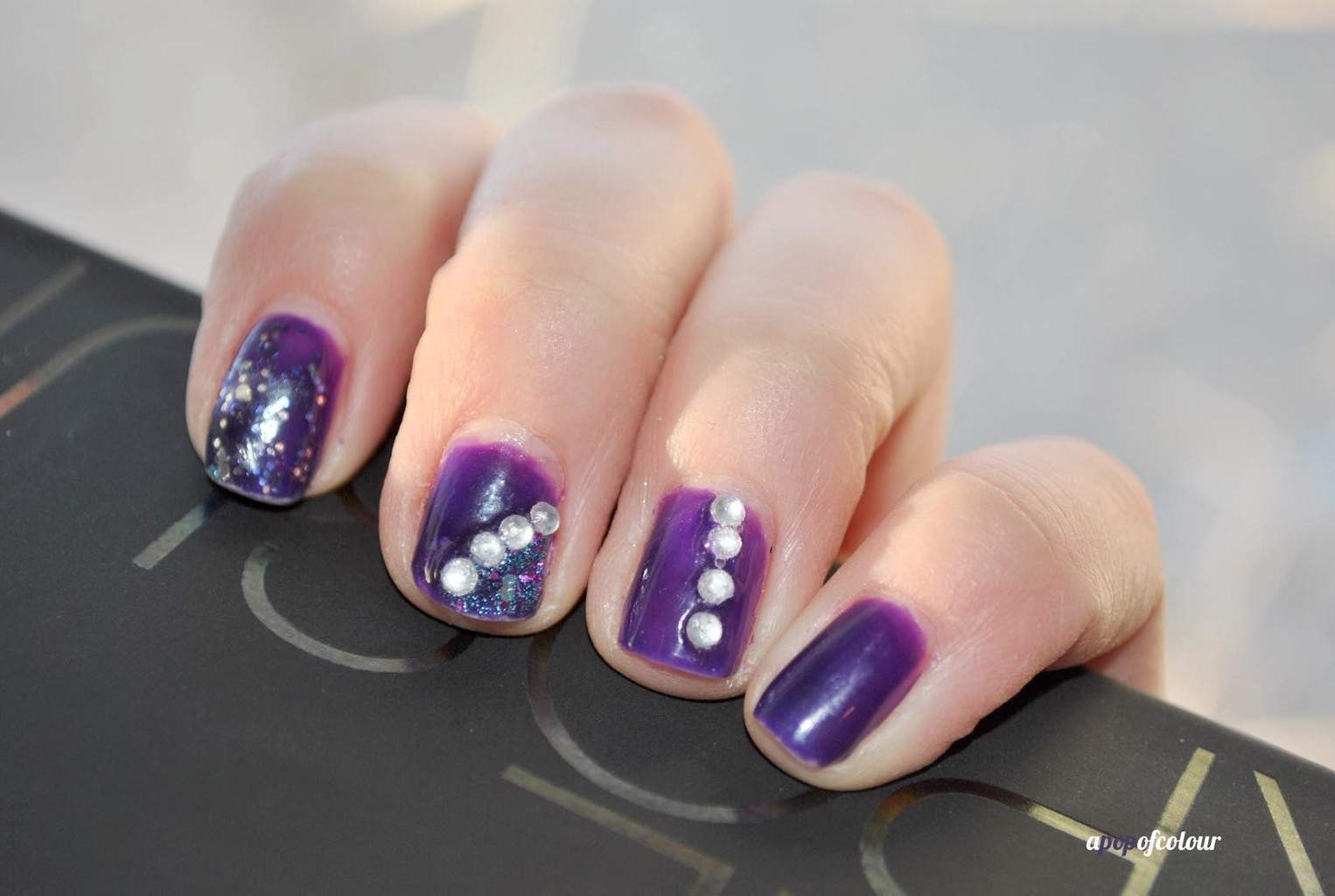 Who said that you need long nails to have a great manicure? Prove everybody wrong and apply this original composition because you feel like it.
#49. Different Is Prettier
Let people know what's on your mind and paint each nail with a distinct or complementary structure of your own choice. A style is all about creativity!
#50. Purple Little Mermaid Theme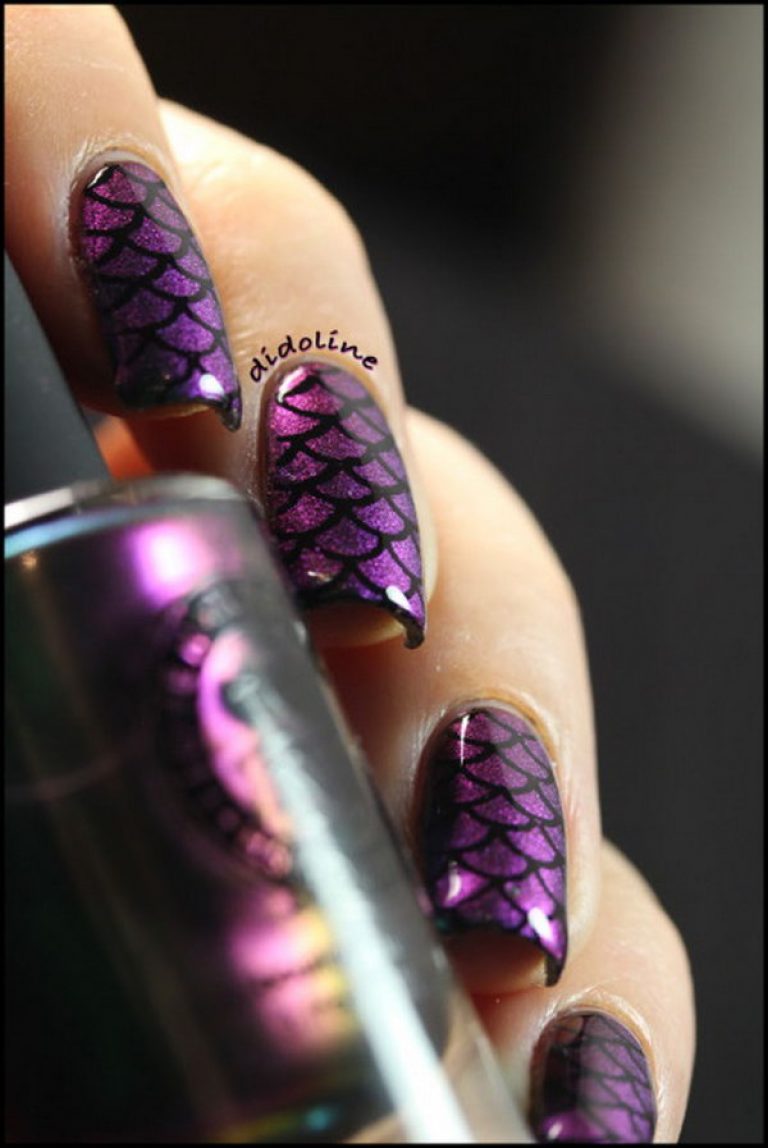 If you just love the sea, swimming, seafood, or maybe fishing! Then this is the ultimate purple nail design for you to walk in with a smile splattered on your face. Don't forget to keep smiling!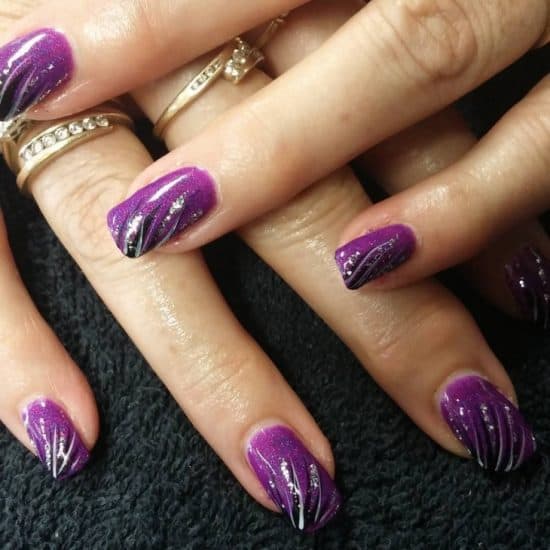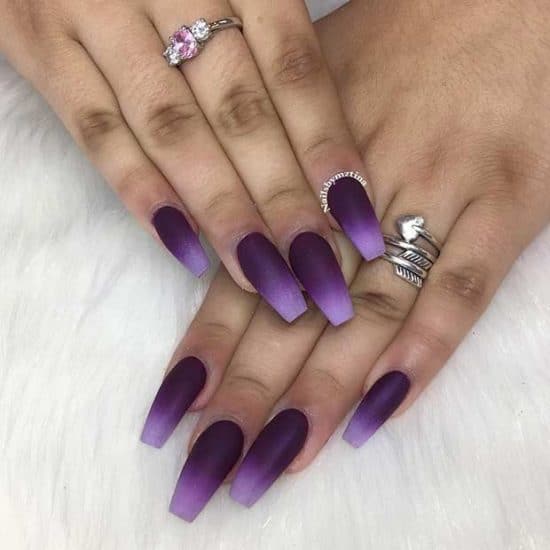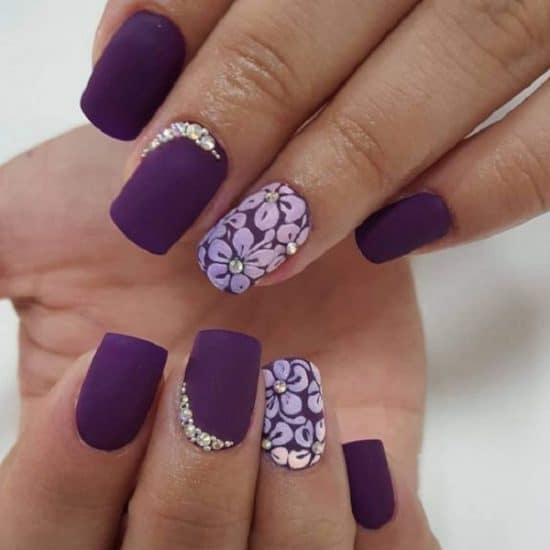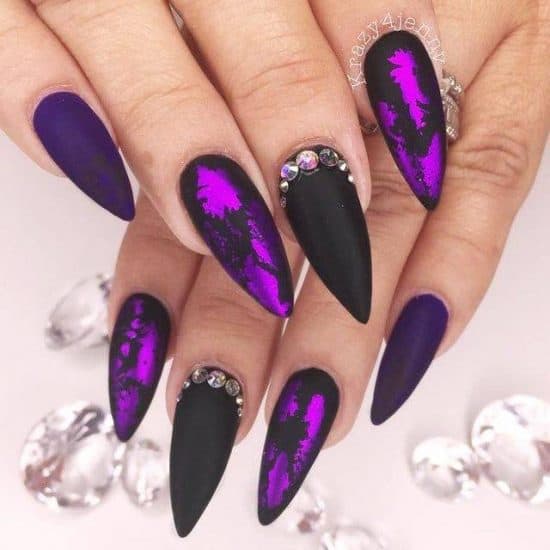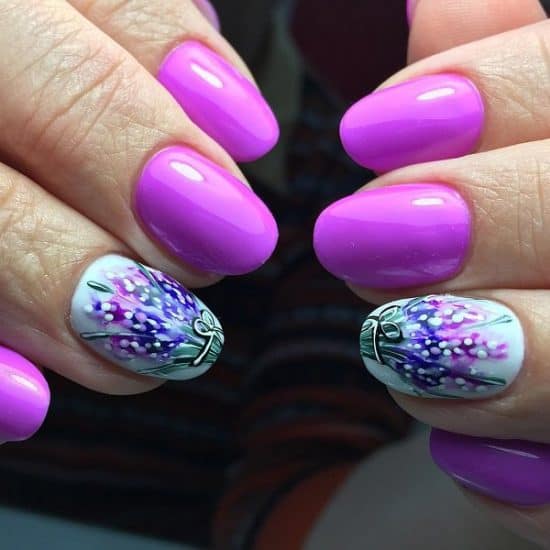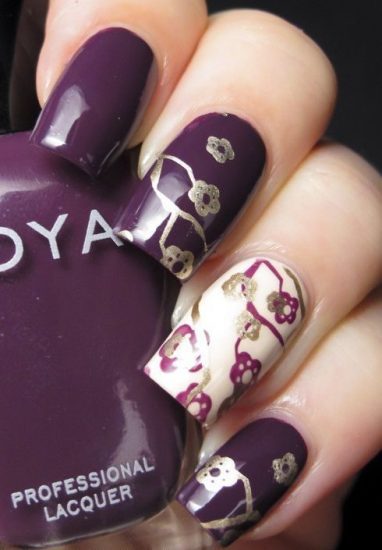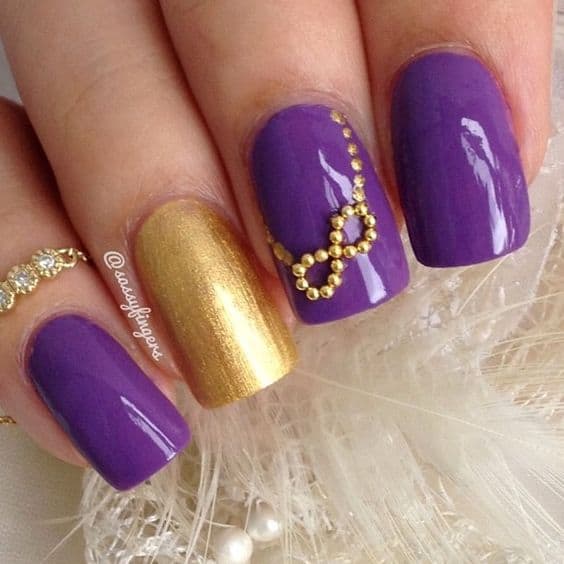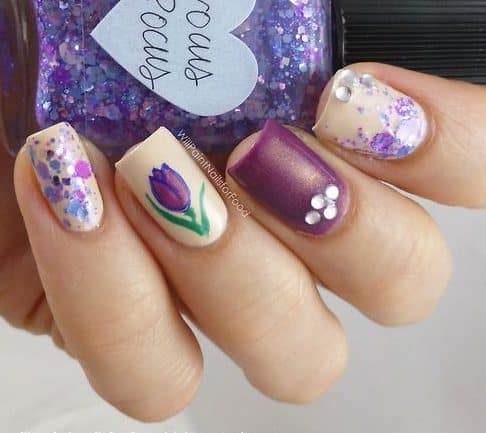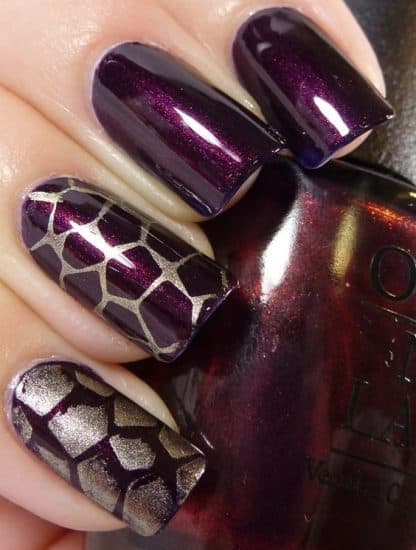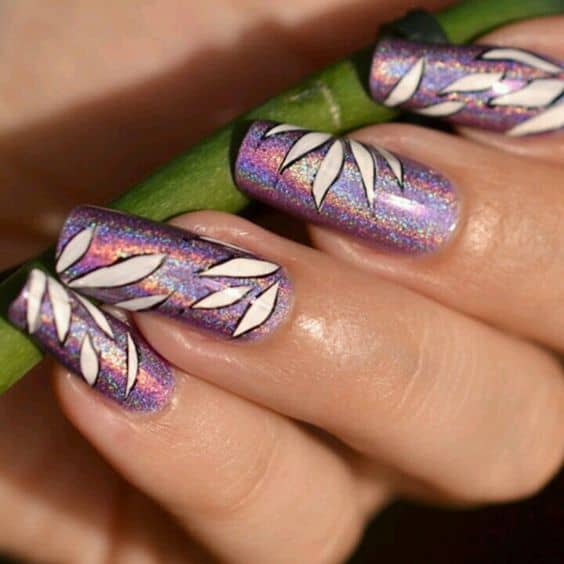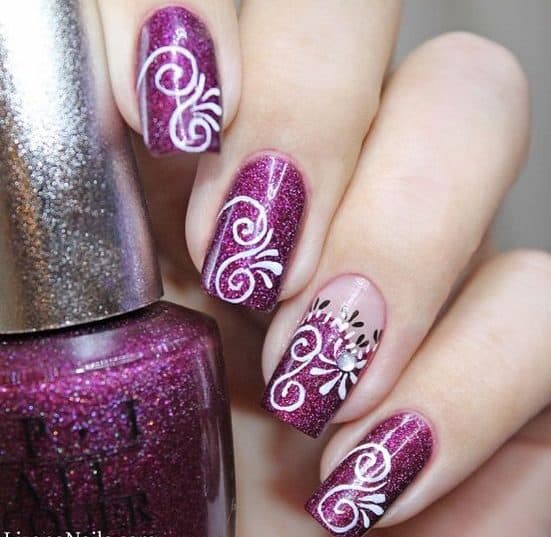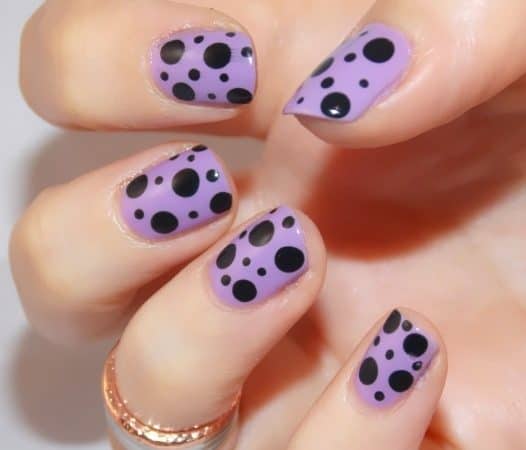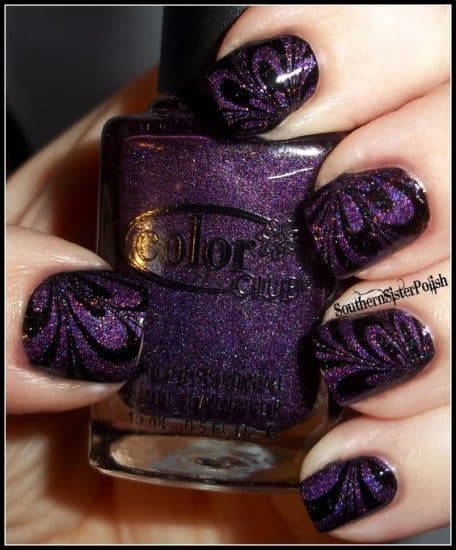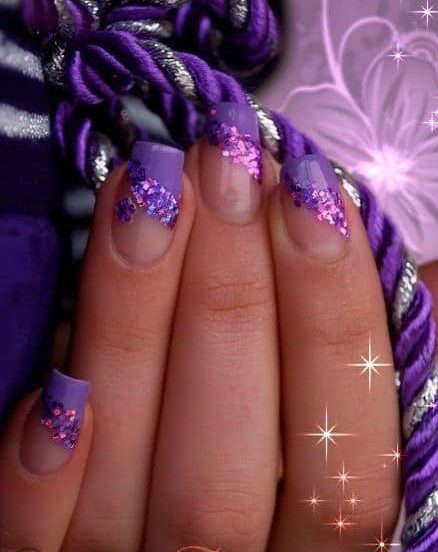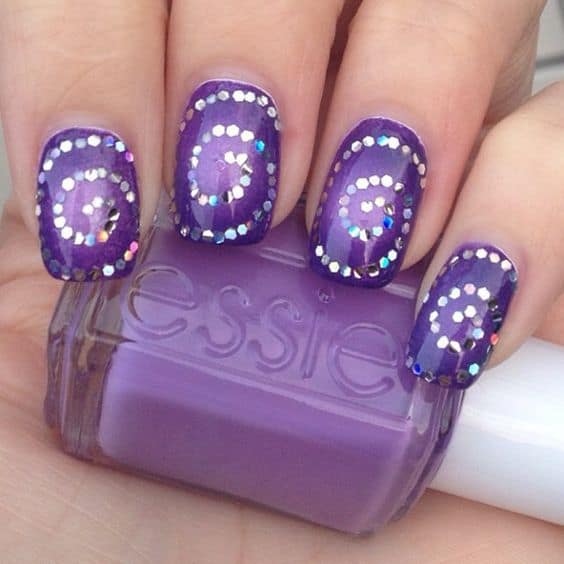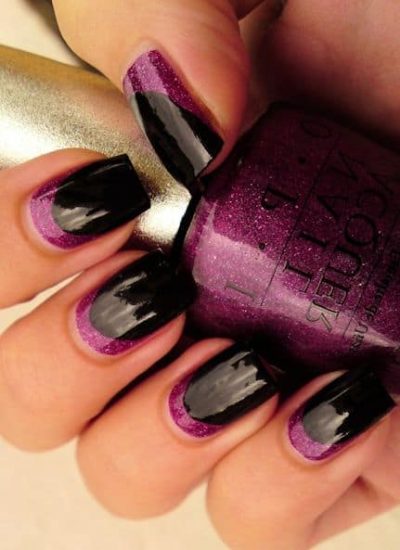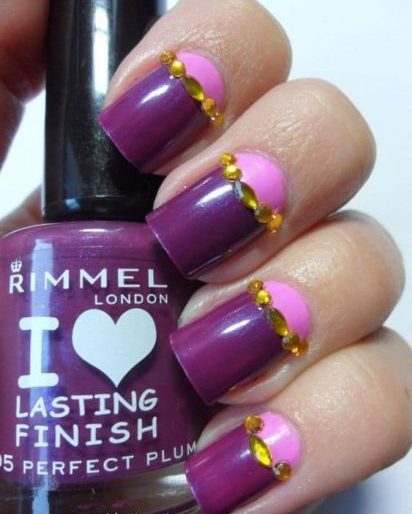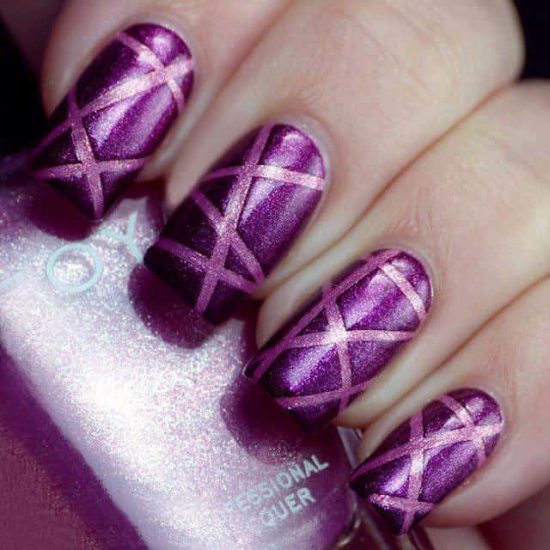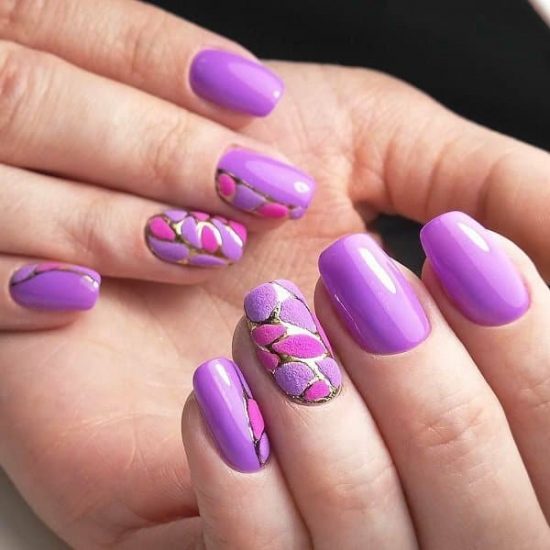 There you go, a really long list of the craziest purple nail art you can ever come across. You enjoyed just looking at all those shades of purple if you're are a purple freak like I am or you just can't take your eyes off all that high-quality creativity! It's up to you to decide which one you like best.