50 Incredible Purple Nail Design Ideas for 2018
Favoring the purple color and using it with everything and everywhere such as adoring your new purple nail designs or adoring your matching purple curtains and bed sheets implies that you are a sensitive, understanding, supportive, and compassionate person. Moreover, it shows that it is crucial to pick out a clear choice of words around you because you tend to be quite sensitive and overthink almost everything all the time. That's because you're an emotional person, so being needed motivates you and that's why people tend to take advantage of you most of the time.
But Why Purple Nail Designs?
On the other hand, you are an unconventional spontaneous person and love to try new and unexpected experiences. Thereby, you are a creative person in almost everything you encounter and creativity turns into your own routine that you can never get bored of! With your wild imagination and optimistic lifestyle you tend to inspire all those around you and give them threads of hope when they are in their darkest times.So be generous and shower us all purple lovers with the most creative purple nail designs you can come up with. Since you tend to be so artistic and creative, why not use your powers for good instead of evil like using them for creating astonishing purple nail styles? Unchain that talented creature inside of you and salvage it from its thirst for true and genuine creativity!
Top 50 Purple Themed Nail Styles
Every new beginning starts with baby steps towards success and the first step in your creative lifestyle is picking out the pitch-perfect purple nails that suit what you aim for best! And if purple is your most desirable color then there is no doubt you aim way higher than expected. Here is a list of the 50 leading purple nail masterpieces  you can apply!
Space is our final frontier and since purple is the color of new experiments and adventures then this is a great design for you!
#2. Magenta Breeze With Ease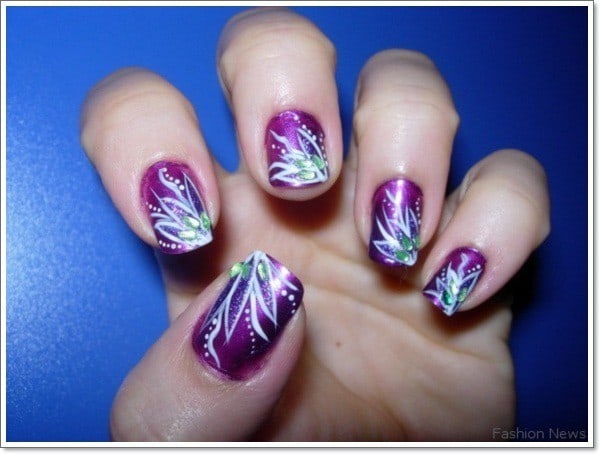 Flowers are a great component in a nail style. Letting loose of the petals so that they just go with the flow in the air would only make it even better!
#3. Iris Base & Floral Stickers

Using a specific sticker floral concept with your purple nail design can convey a more feminine appeal especially with that iris shade of purple in the base coat.
#4. Eggplant Purple And Orchids

Orchids are easily distinguished from other plants as they share some very evident characteristics. Add an orchid to your nail art if you want to catch the eyes of everyone all the time!

Lilac varnish, black stripes, lace, french tips and beaded decals are the ingredients for a perfectly provocative nail design.

Use some dots to make a path between flowers and make up a map of your own with this cute nail style.
#7. Plainly Tipped

If you are a woman who loves simplicity, then this style is the right one for you. By one single step: simply apply french magenta tips.
#8. Periwinkle Twinkle

Twinkle like the biggest star on the dance floor with this periwinkle shade of purple nails.
#9. Mauve Shaded Tips With Flowery Effect

Your nail beds are your canvas! Draw and paint whatever your mood addresses you to with your needle and brush.
#10. Chevron Raisin And Golden

Get sassy with this raisin shade of purple and add a chevron golden shape to make it pop.