Glitter nail designs are the best to be worn in lassie and cool events. Second, whats prettier and more alluring than such nail designs?
In a world full of colors called the world of fashion, glitter was the first way used in decorating colorful nail designs, then the shiny decals were invented.
However, glitter can appear in all colors, but the most 2 known and chic colors that glitter can appear in are the silver glitters and the golden one because they fit with all colors.
Fancy Glitter Nail Designs
So if you are attending a party or an occasion that is special to you, you better try one of the 80 glitter nail designs found in the list below, so that you can shine like a shooting star leaving beautiful, classy, and fancy touches all over the party and in the tiny brains of the invited ones.
#1. Ombre Glitter Nails
#2. Glitter Coffin Nails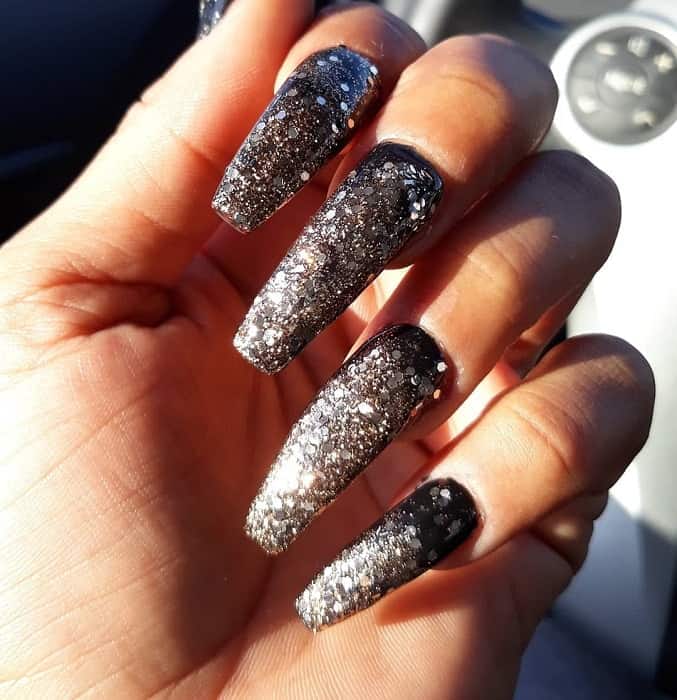 #3. Glitter Stiletto Nails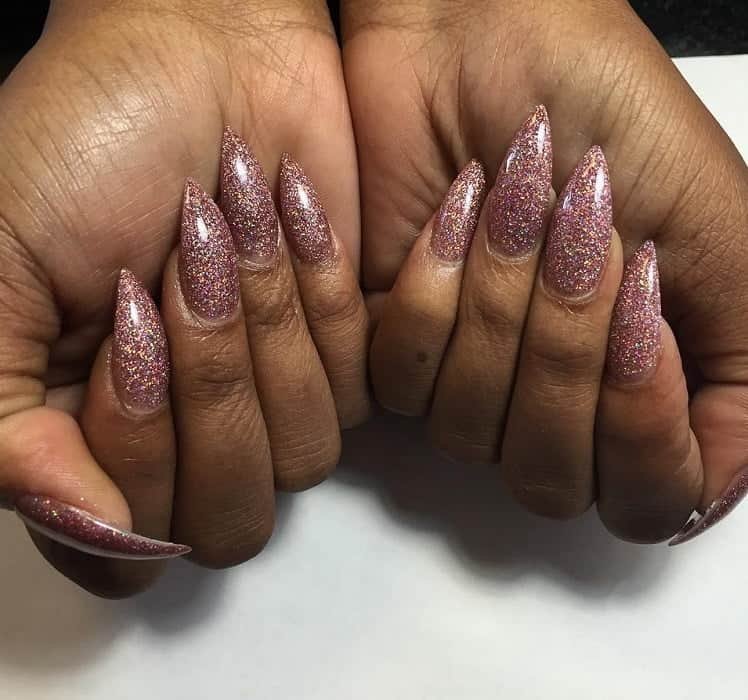 #4. Short Glitter Nails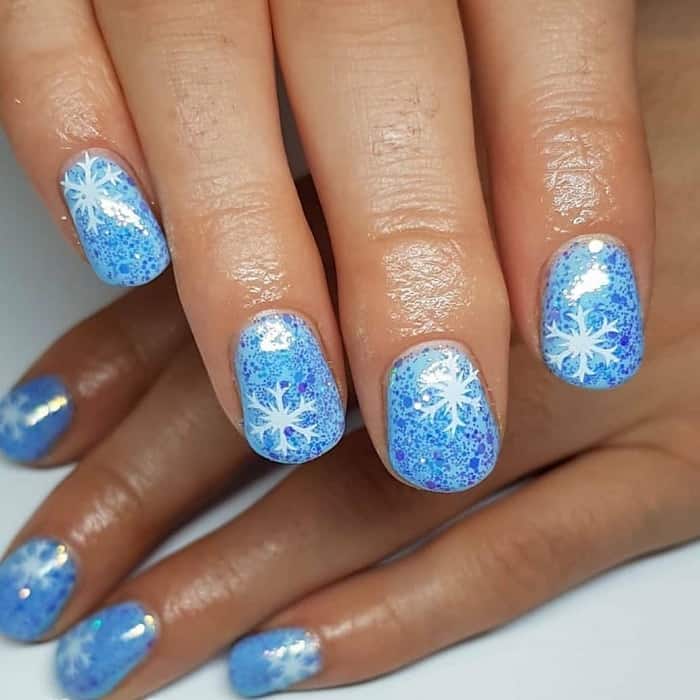 #5. Long Glitter Nail Design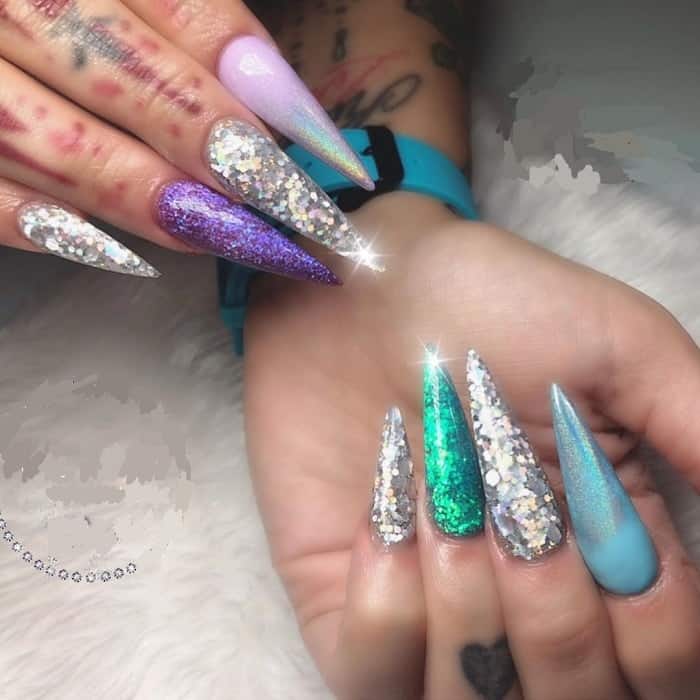 #6. Glitter Almond Nails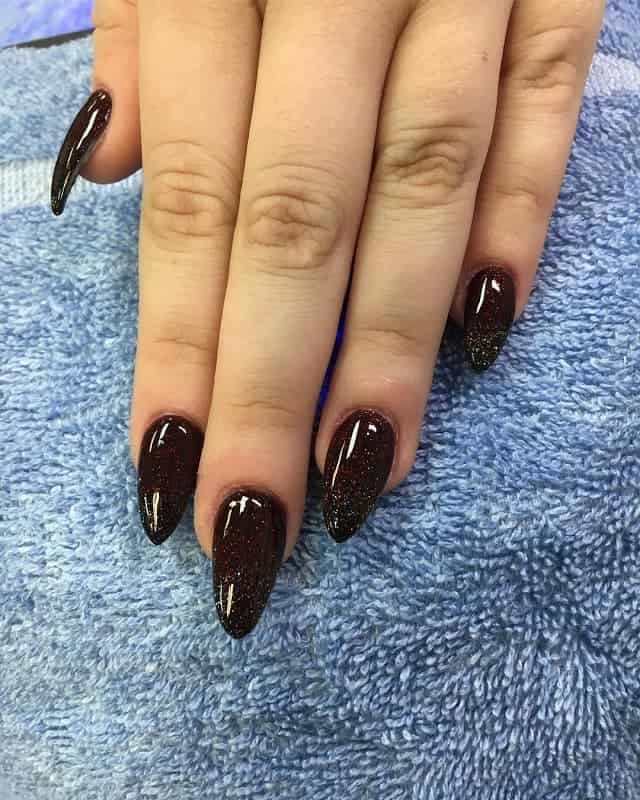 #7. Glitter Toe Nails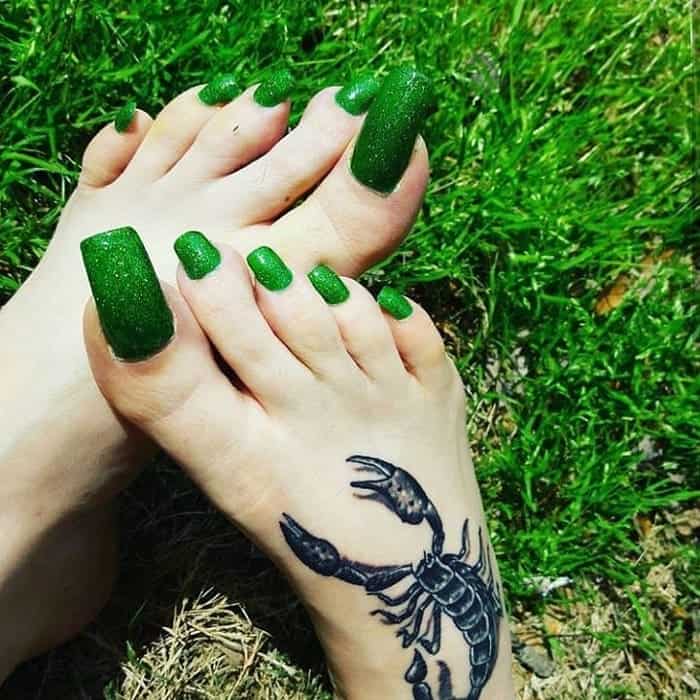 #8. Acrylic Glitter Nails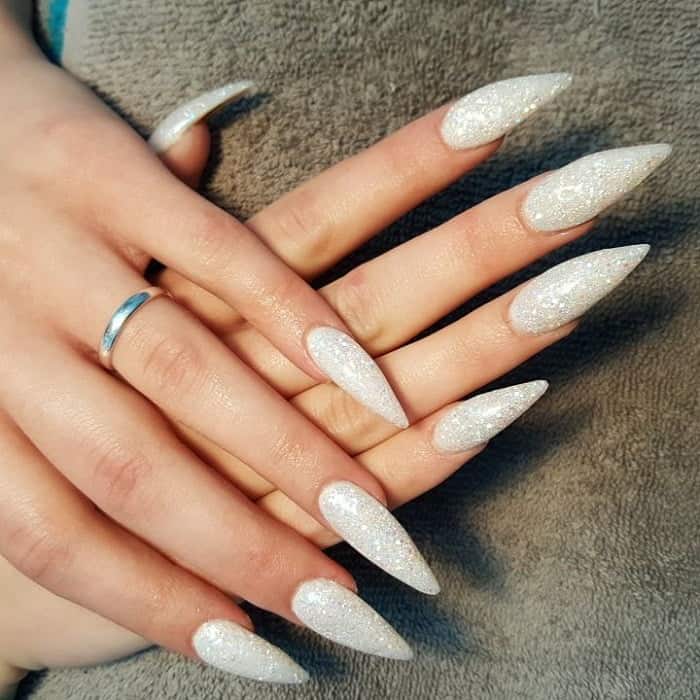 #9. Black Glitter Nails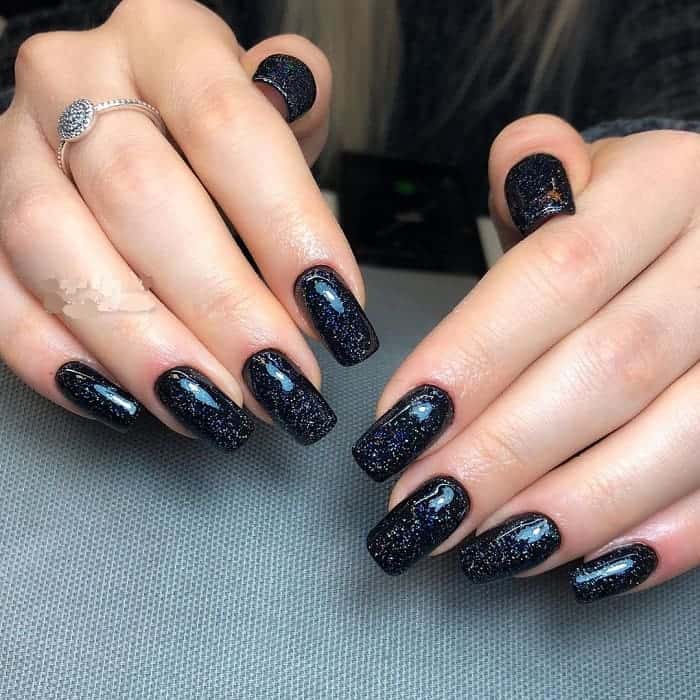 #10. Glitter Gel Nails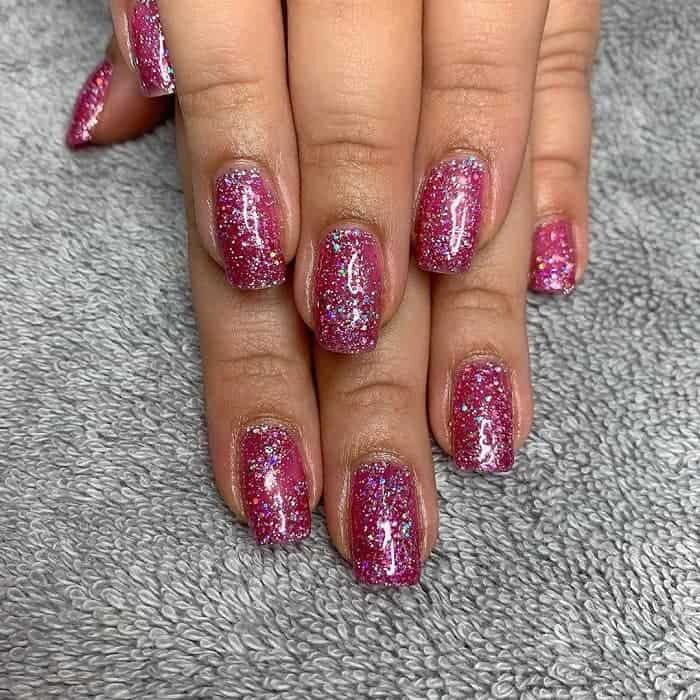 #11. Nude Nails with Glitter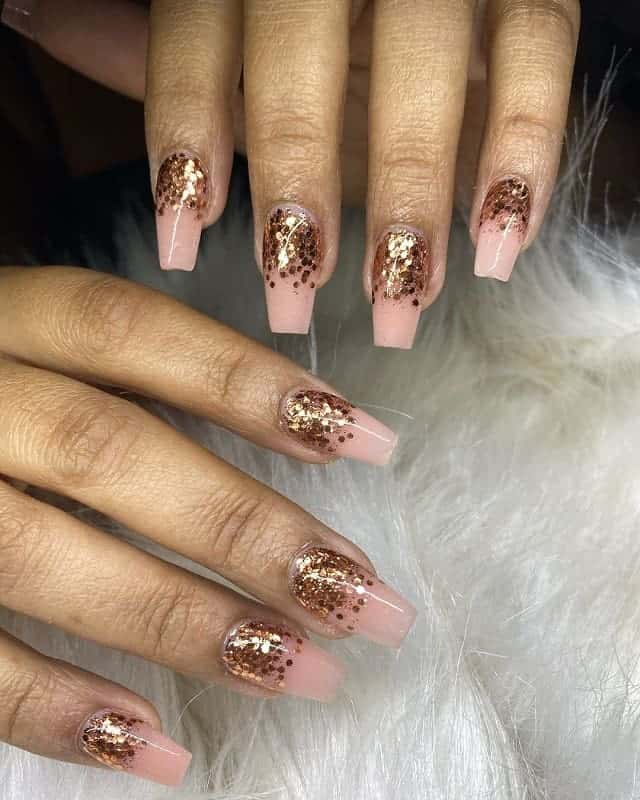 #12. Rose Gold Glitter Nails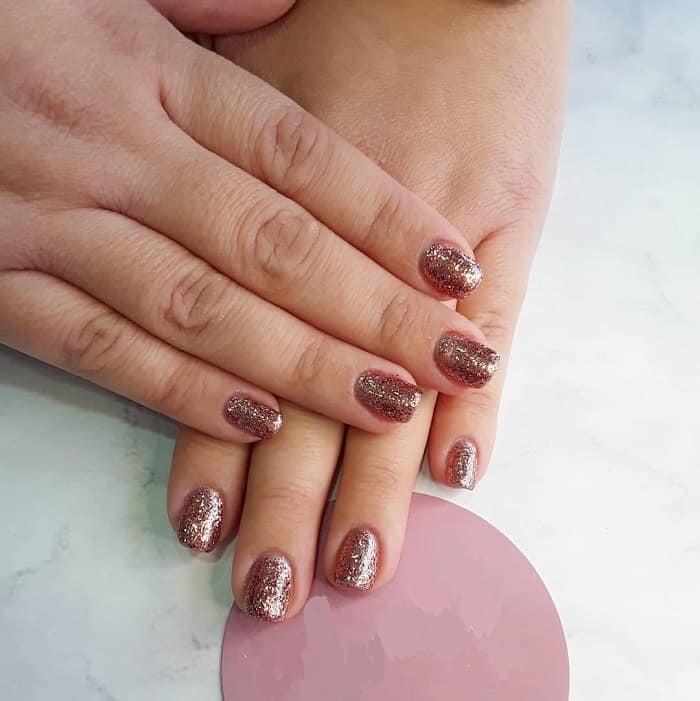 #13. Yellow Nails with Glitter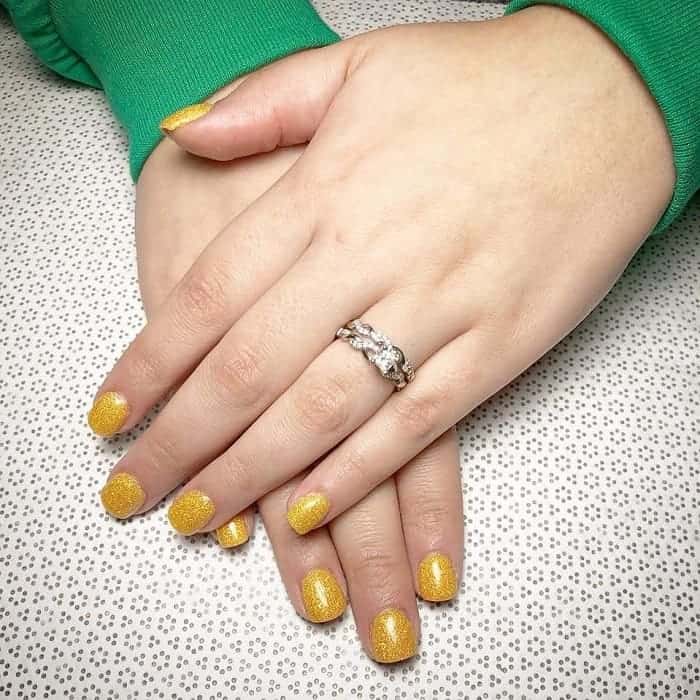 #14. Holographic Glitter Nails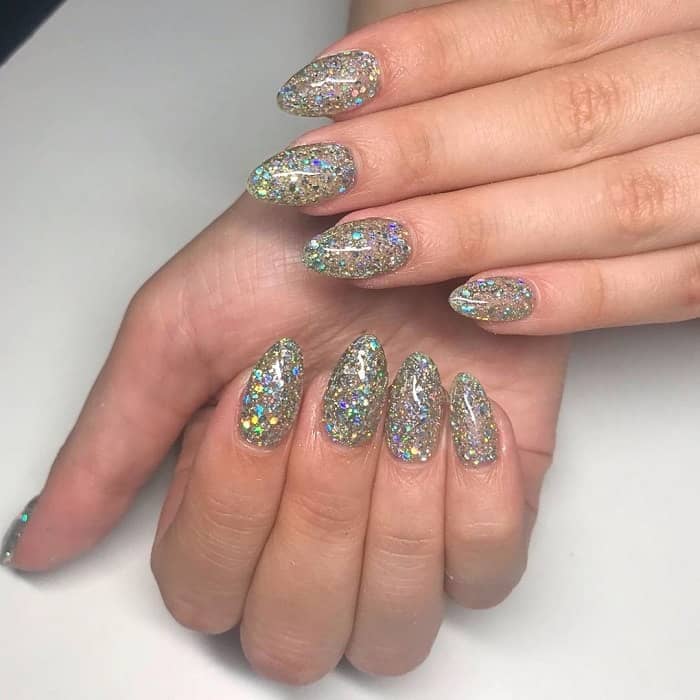 #15. Glitter Nails for Christmas
#16. Orange Glitter Nail Design
#17. Rainbow Glitter Nails
#18. Butterfly Glitter Nail Design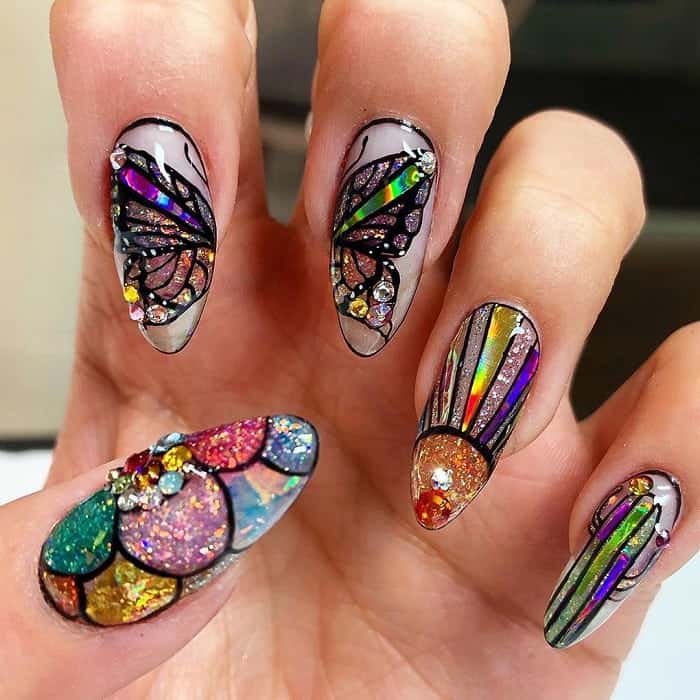 #19. Peach Nails with Glitter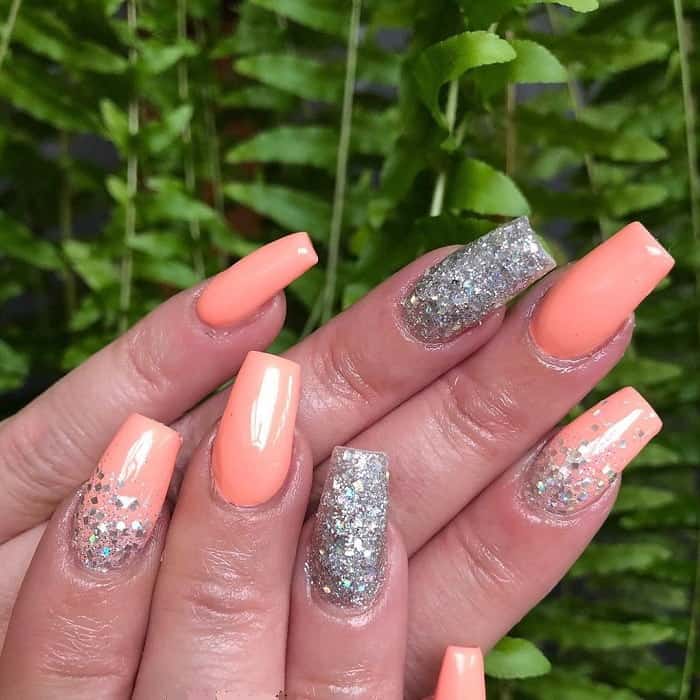 #20.Wedding Nails with Glitter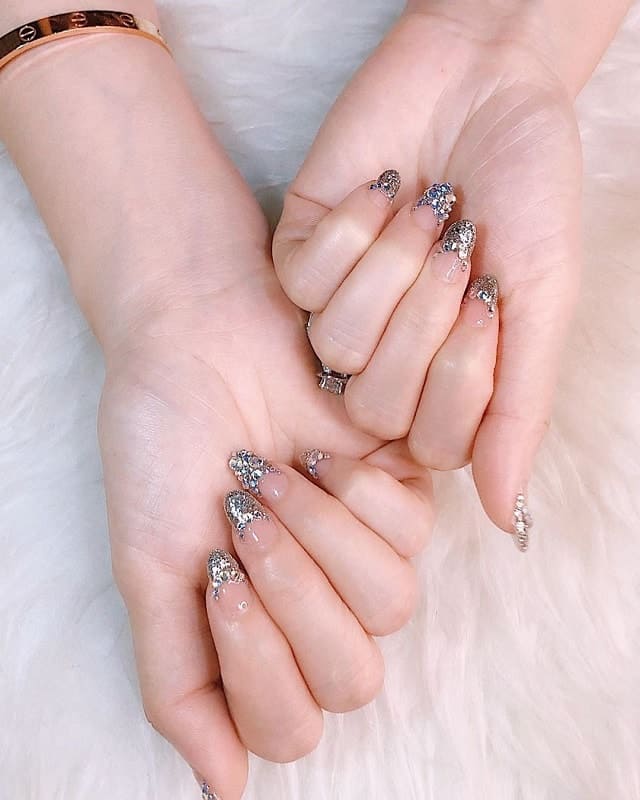 #21. Burgundy Glitter Nails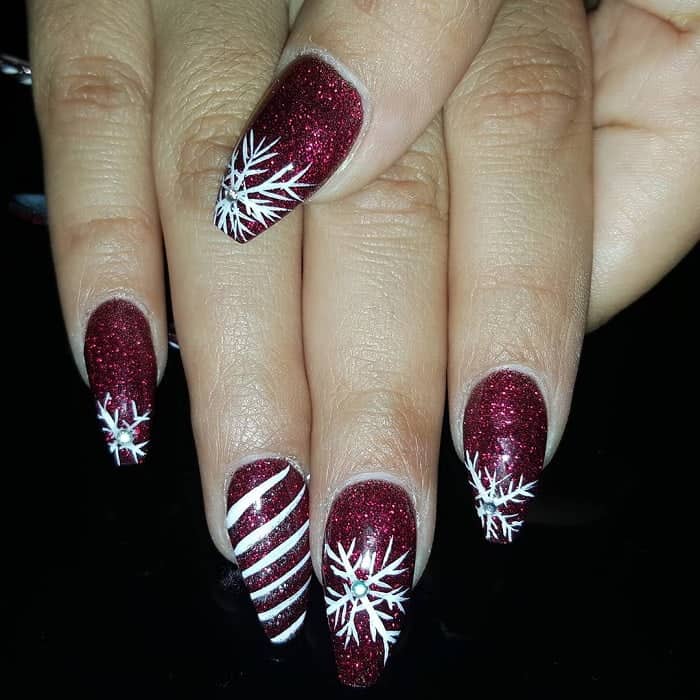 #22. Mermaid Glitter Nails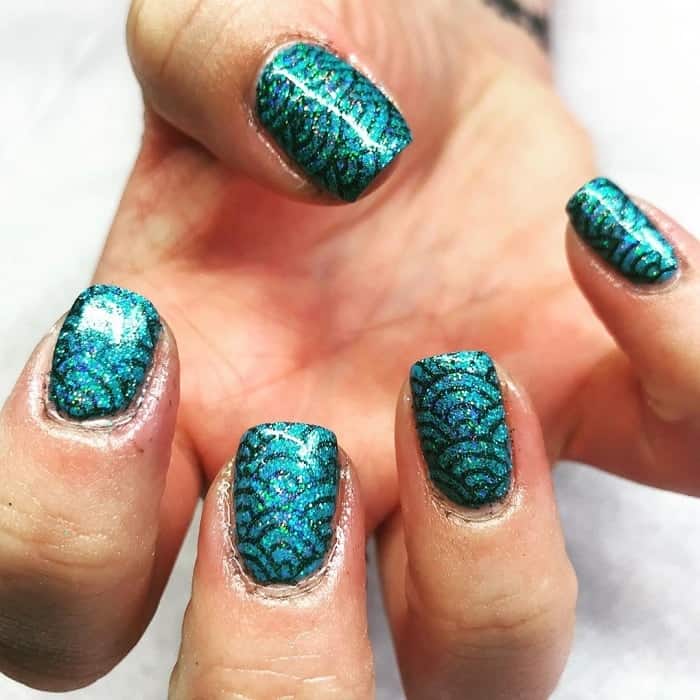 #23. Glitter Nails with Diamonds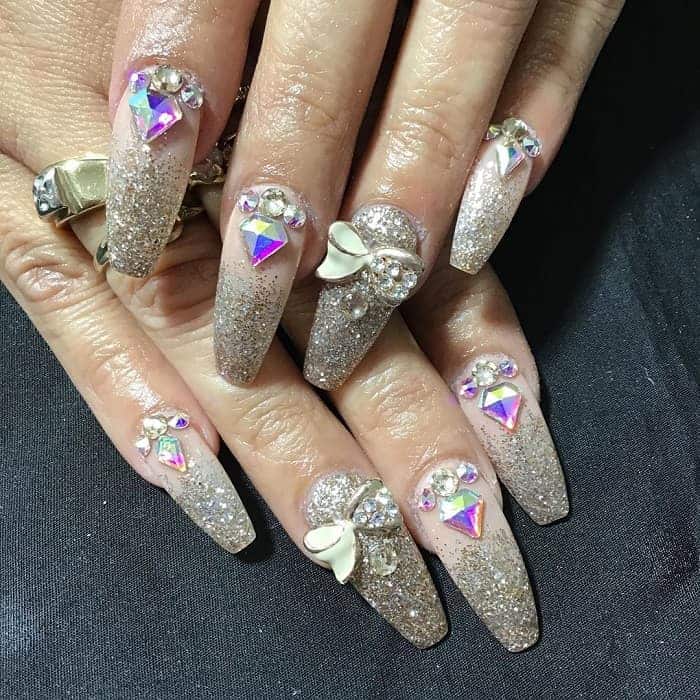 #24. Chrome Glitter Nails
#25. Brown Glitter Nails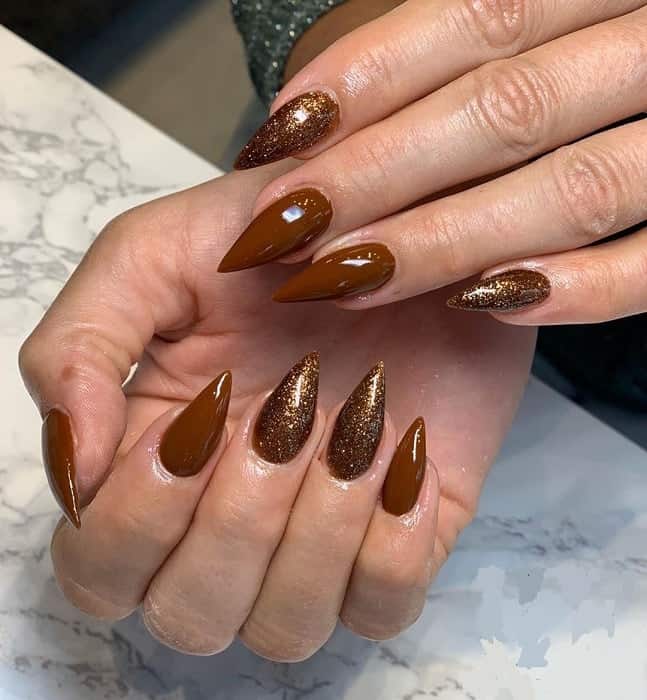 #26. Glitter Unicorn Nails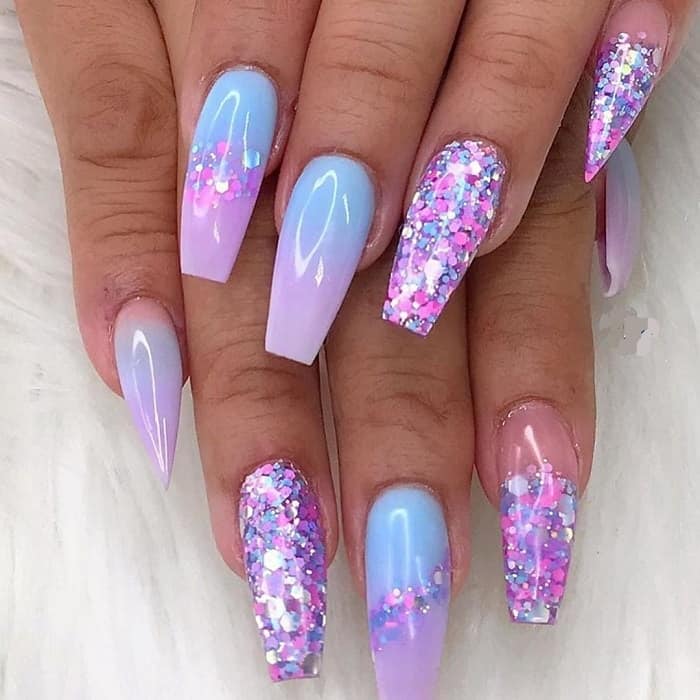 #27. Lavender Glitter Nails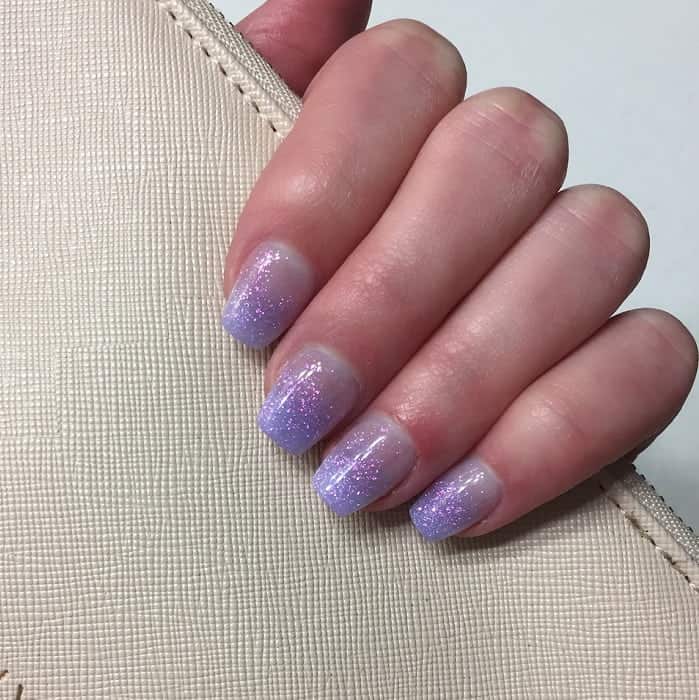 #28. Neon Nails with Glitter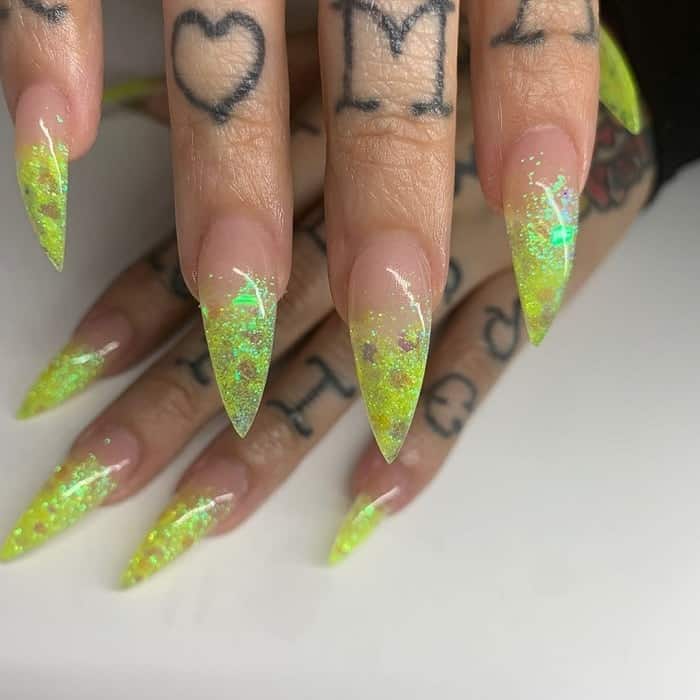 #29. Teal Glitter Nails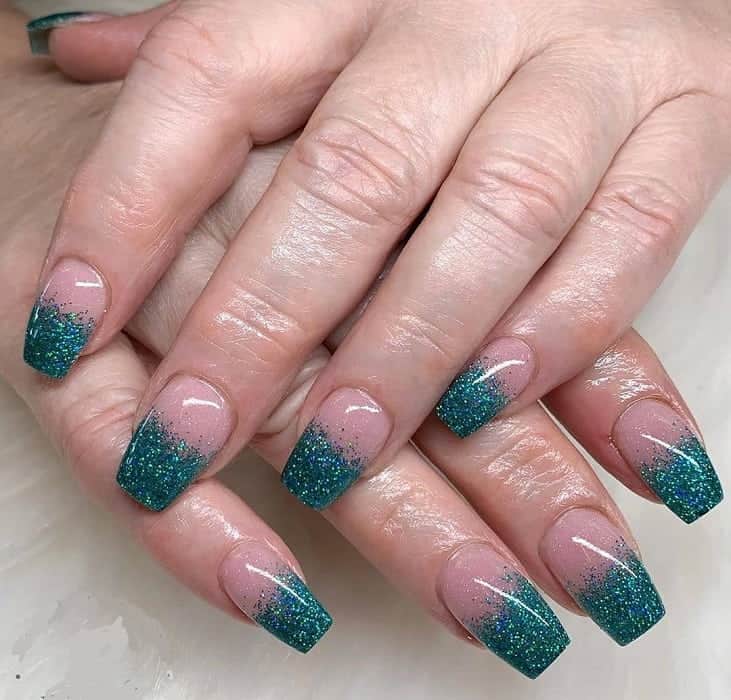 #30. Magenta Nails with Glitter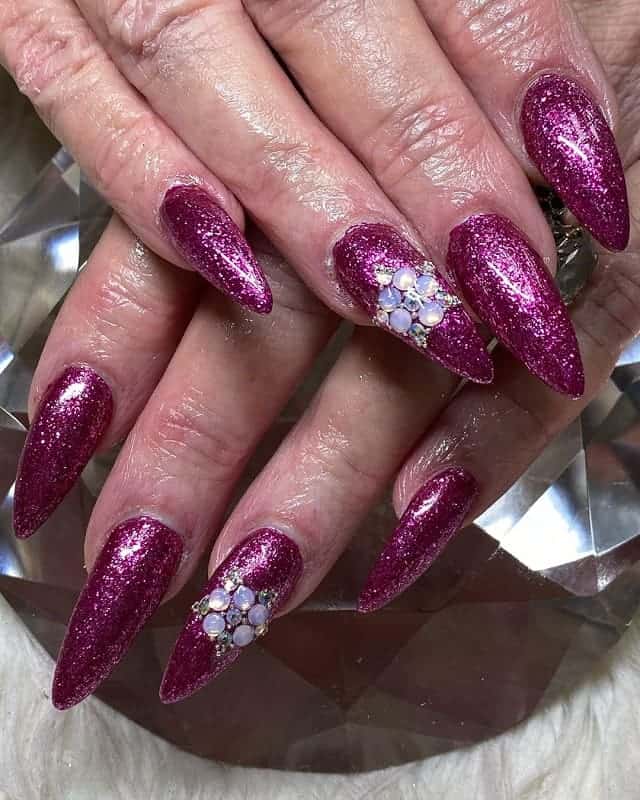 #31. Fifty Shades Of Gray – Glitter Version
The gray color has many shades and all gray shades are nice. However, this glitter nail design is made up of many shades of gray starting from the brightest similar to white in the ring finger, then gradually to the darkest shade which is black in the pinky finger nail.
#32. Silver Glitter Nails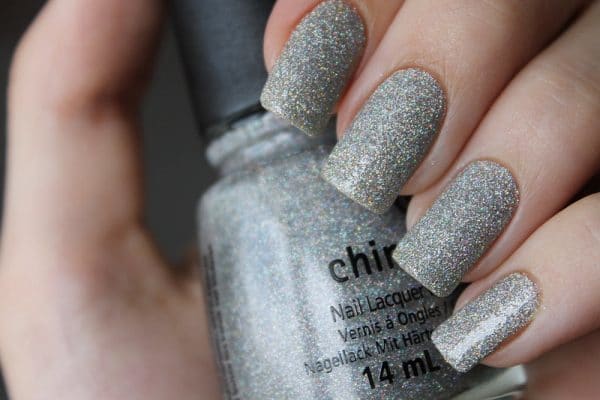 When you stare at this silver glitter nail design, all you can see is silver shining in every corner of your nails without leaving any single spot free from glitter, this is one of the most simple glitter nail designs.
The 50 Best Acrylic Nail Designs for Every Women
#33. Clear Glitter Nails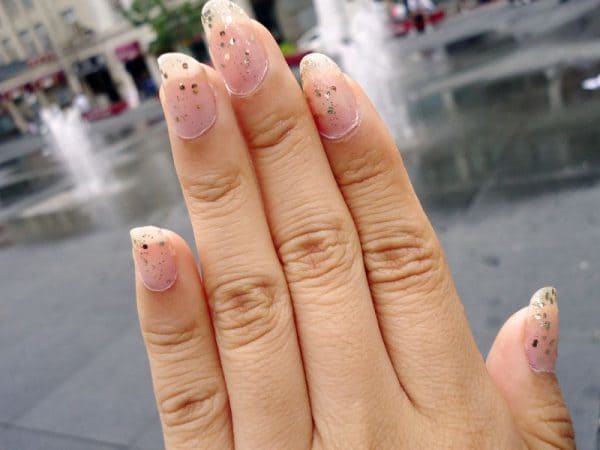 This is very simple, all you gotta do is to polish your tiny nails with a transparent nail polish that contains a little amount of glitter to have a transparent nail design with some glitter in the middle.
#34. Purple Glitter Nail Design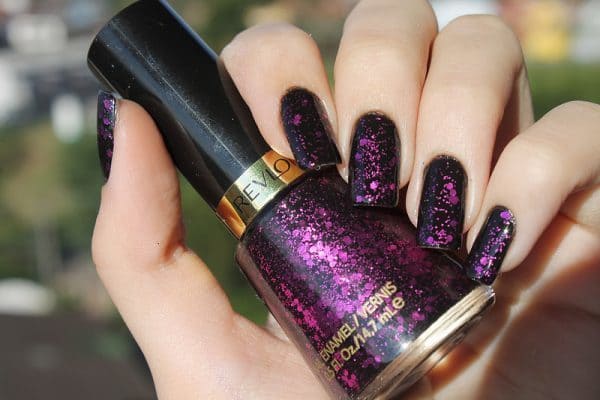 Even though you are used to silvering and golden glitter, this does not mean that glitter containing another color is not beautiful.
But actually, they are and one example is this perfect combination of the purple glitter and the black manicure. Find some of the most delightful purple nails we love.
#35. Green Glitter Nails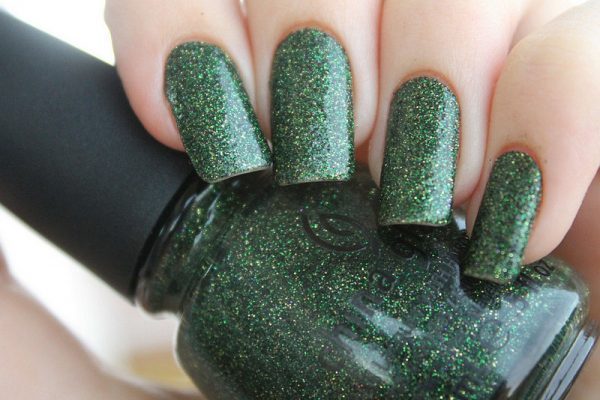 This green glitter covering every single part of the nails having the shine of a bright green color but actually it is a dark one makes me imagine an image where a green clear garden has grown in your nails. Browse these green nail designs.
#36. Pink and Silver Glitter Nails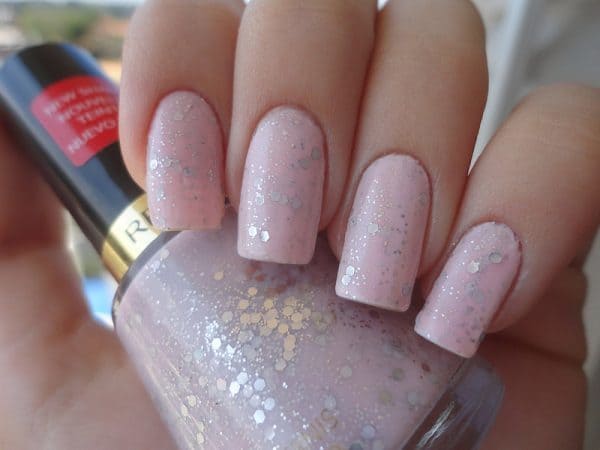 A baby pink background is so cute and girly, and what gives it a fancy taste is those silver shiny manicure splashes that are spread randomly on the baby pink nail polish in each finger nail.
#37. Golden Glitter Tips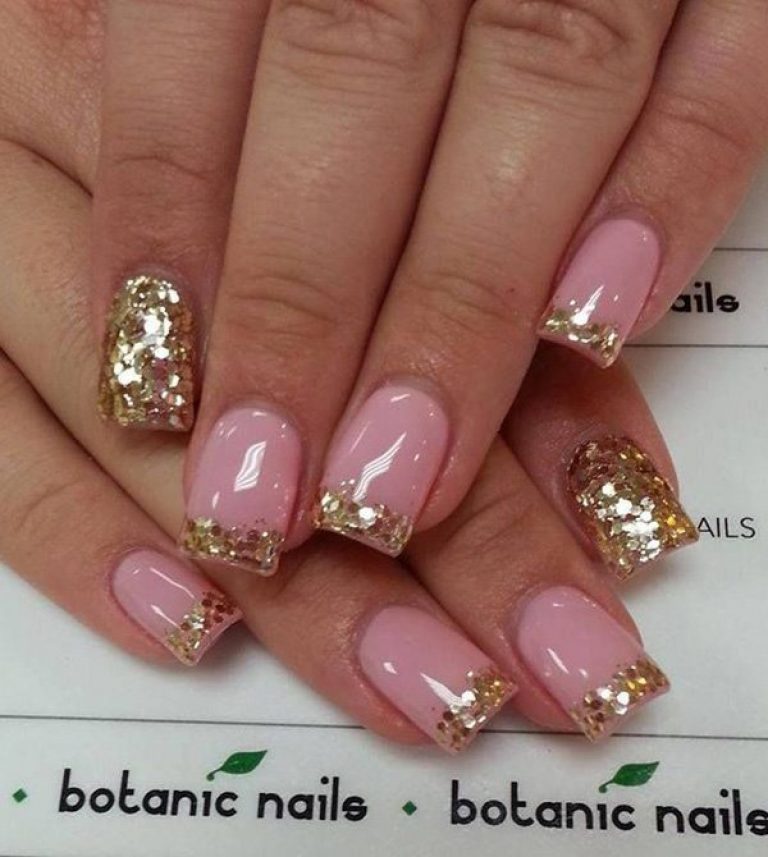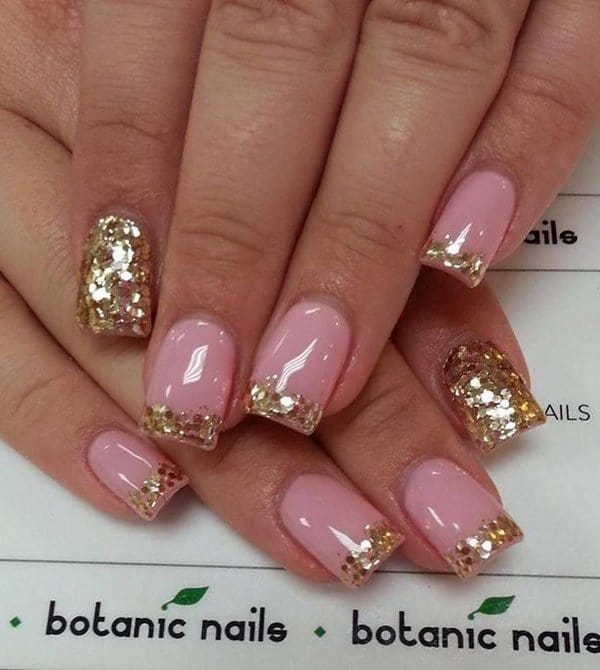 In a simple ballet slipper pink nail design, you need to do something to turn this color into a fancy one to have a nail design suitable for tonight's party.
All you have to do is to add golden glittery tips to your pink nails covering the index nail with shiny golden glitter.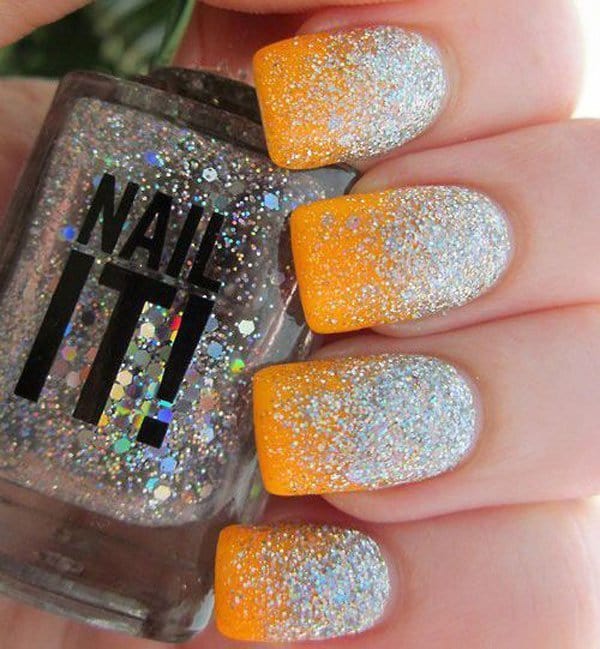 In this fire orange nail design, it seems like the winter season has arrived and started it snowfall because these glittery silvers concentrated at the bottom of each orange nail look like a bunch of snow that has fallen on your nails while you were crossing the street on a snowy day.
#39. Matte Glitter Nails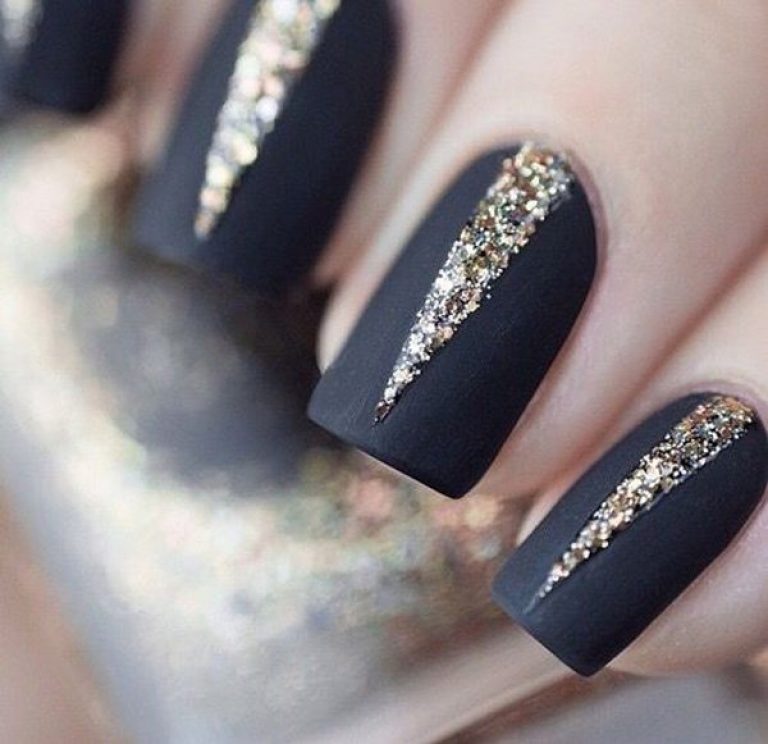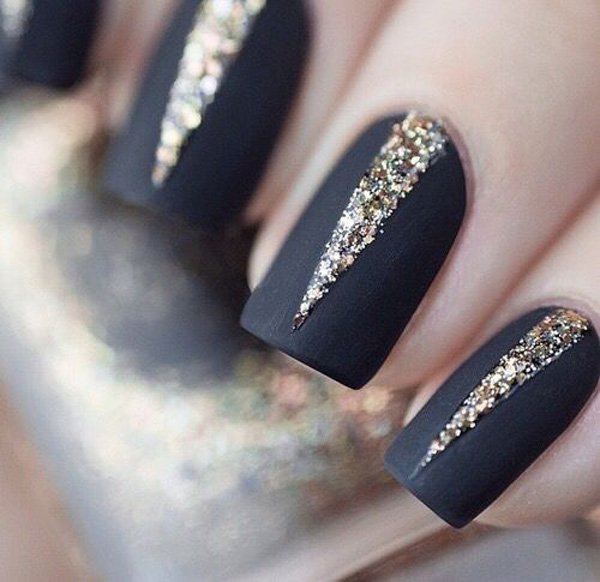 Matte black is such a chic choice to have in a black nail design, but to increase the percentage of chicness in this design, you can add some golden glitter drawn as a sharp shape with your thin golden glitter nail polish brush.
#40. Brown & Blue Combo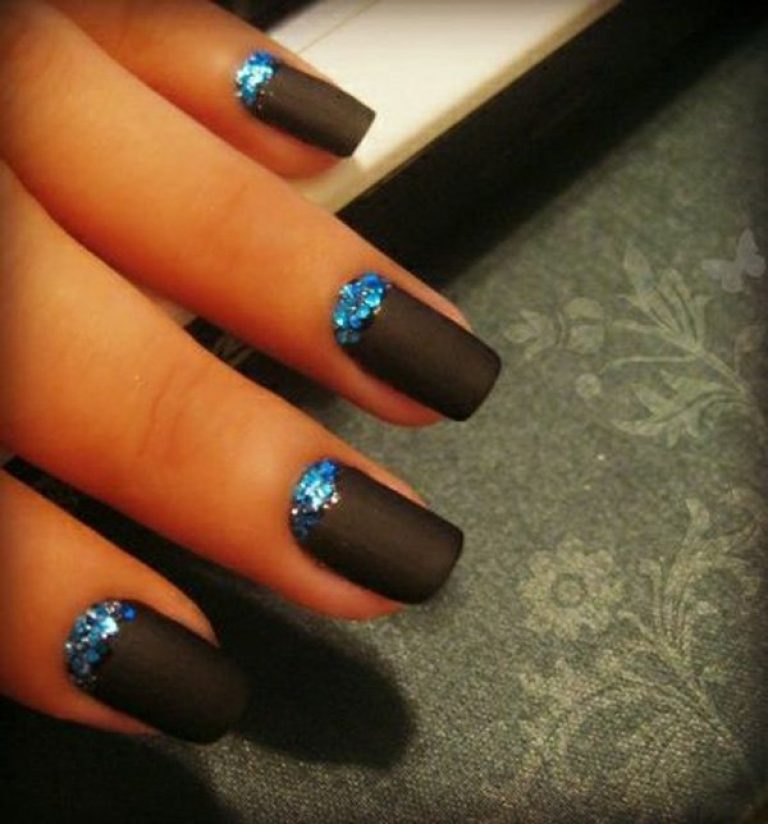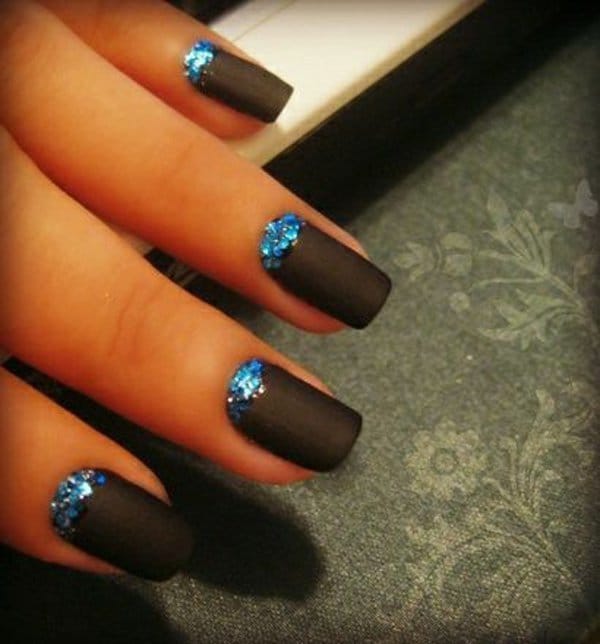 It is well known that these two colors fit together perfectly even if they were made up of matte brown and shiny blue decals at the bottom of the nails.
#41. Gold Glitter Nails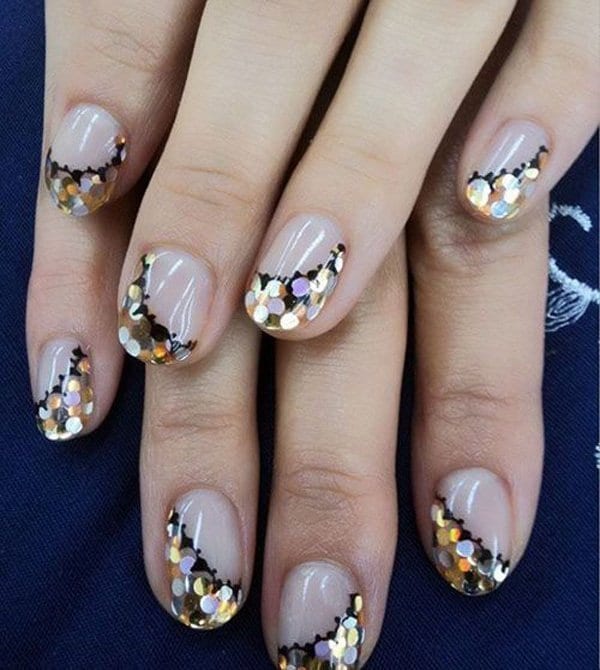 Golden glitter in any nail design gives a nice image to your nails, so if you want to have a fancy nail design, all you have to do is to enter a golden shiny touch in your nail design and everything will be okay.
#42. Pink Glitter Nail Art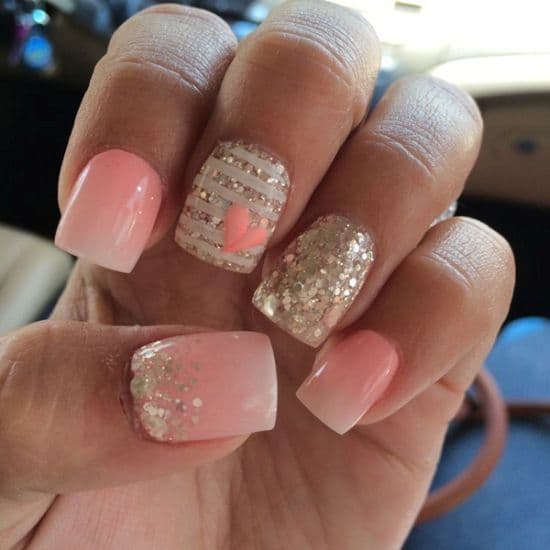 Pink is the color that reflects feminine characteristics and the color that shows that its own lovers are girly enough to wear a pink nail design.
However, this pink nail design becomes cuter when white glitter is added and the small pink heart is added to the middle finger too!
#43. Fuschia Fashion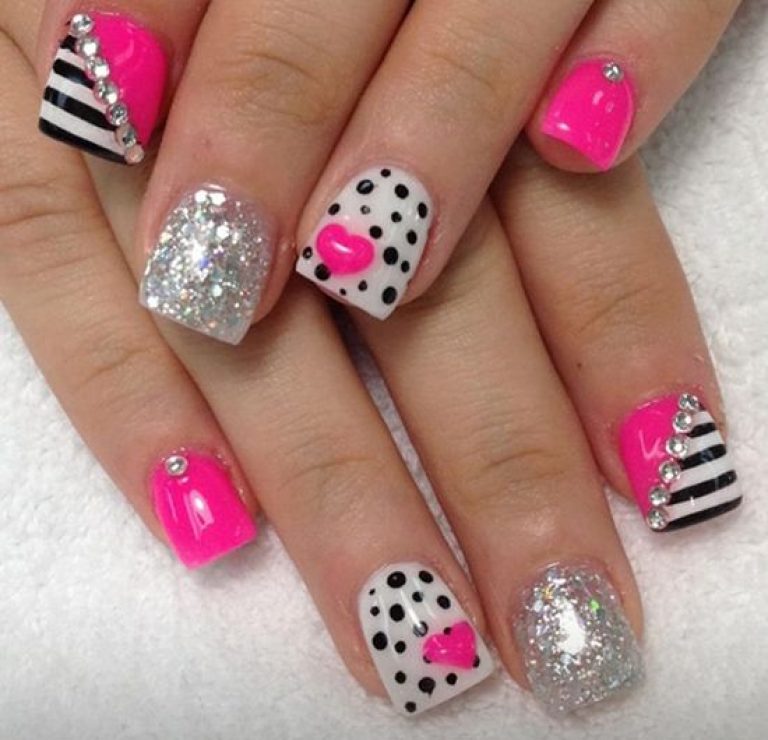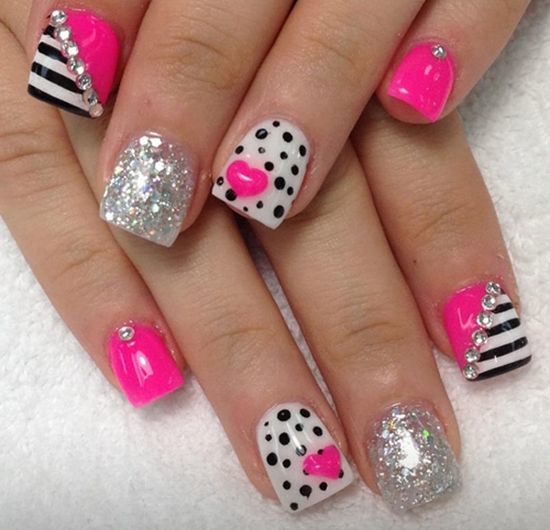 One of the best colors that go with any black and white design is the fuschia pink shade.
In this nail design each nail is decorated in a different way than the other, but what is most important is the shiny decals in the pinky and the index finger, in addition to the silver shimmer in the middle finger. These all together make up the best glitter nail design any girl wants.
#44. Red And White Dots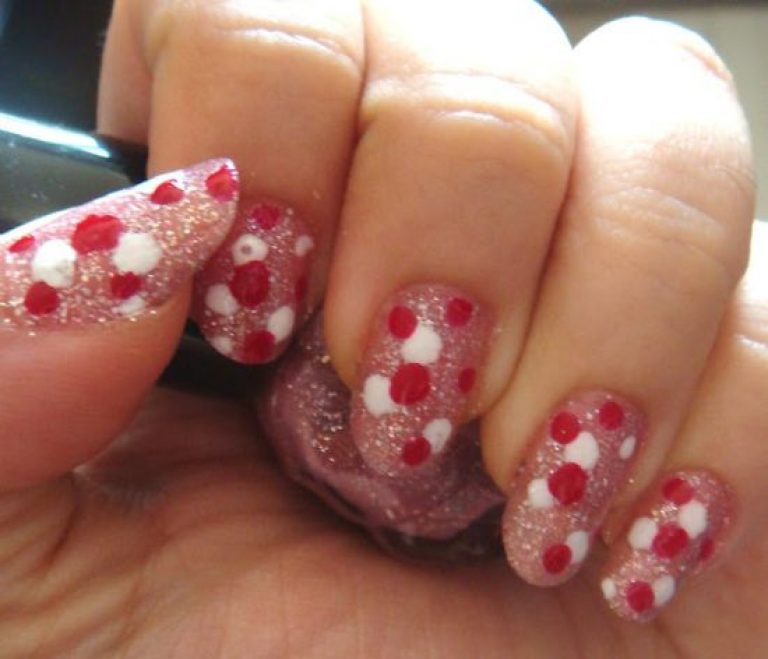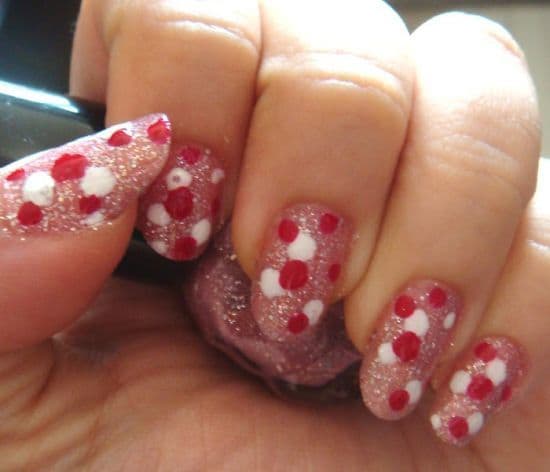 The red and white dots all over each nail having a shiny glittery pink background make up a cute and girly glitter nail design.
#45. Colorful Glitter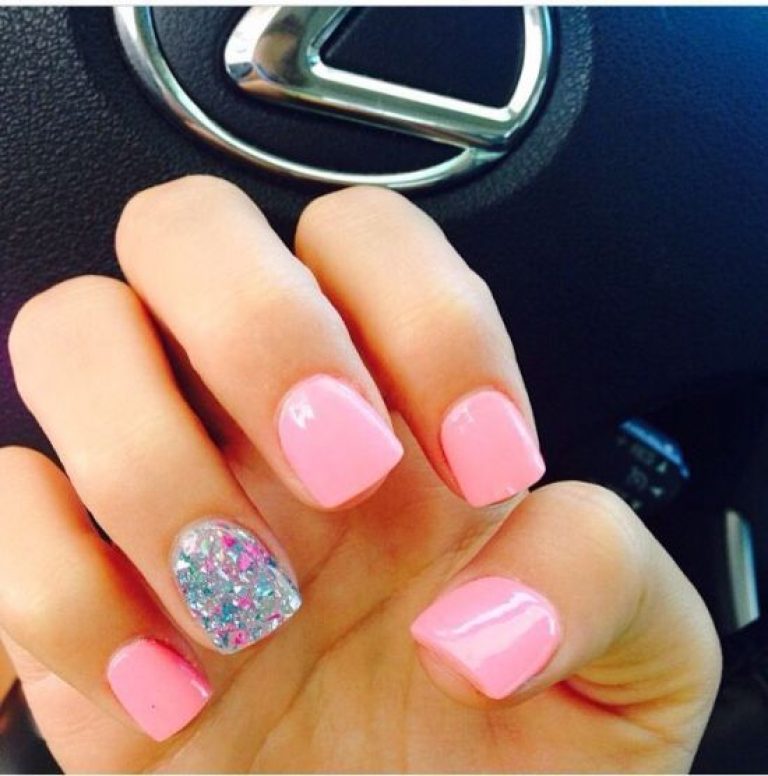 Unlike any other glitters, or any silver or golden glitter, in this design, we are breaking the rules by using a colorful glitter in the ring finger surrounded by a cute and girly pink nail design.
#46. Transparent Trick
It does not always have to be a base made up of a certain color, it is possible for it to be a transparent base with a touch of glitter and shiny silver decals at the bottom of each nail.
#47. It's All Hot Pink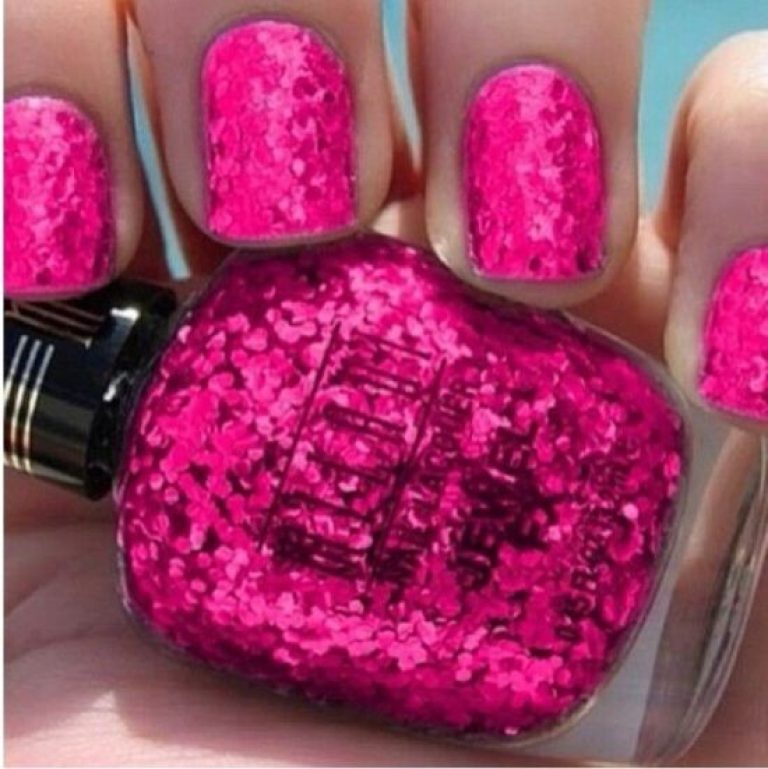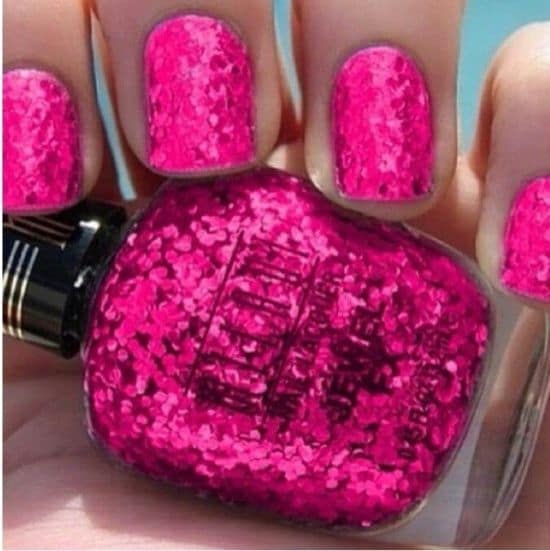 If you are looking for a fantastic nail design that will blow everyone's minds, all you have to do is to choose a glitter nail design made up from a very sexy, girly, and hot color such as the hot pink color.
#48. Chevrons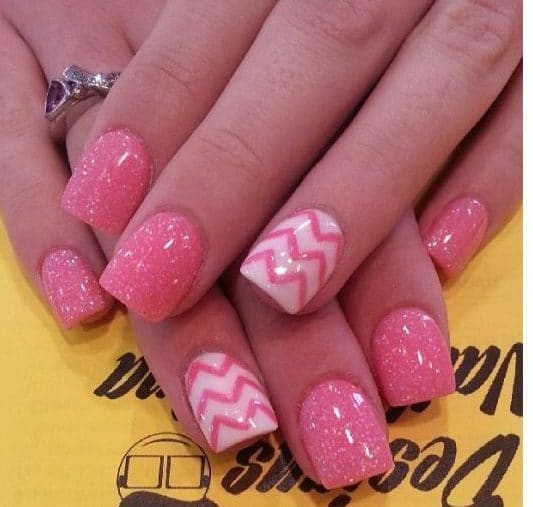 Well, according to this nail design, neither glitter is not the only factor of the eye attraction, nor the pink girly color, but also the glittery pink chevrons in the ring finger of a clear white base might attract you because of their cuteness.
#49. Pink And Grey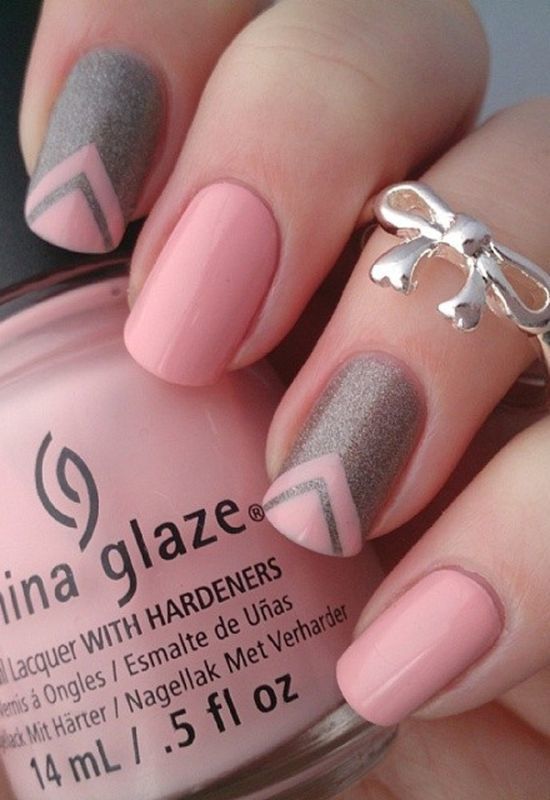 Wanna look so cute and girly? All you have to do is to mix up a glitter gray manicure with a baby pink nail polish to make up a cute and girly glitter nail design that reflects you.
#50. Golden And Silver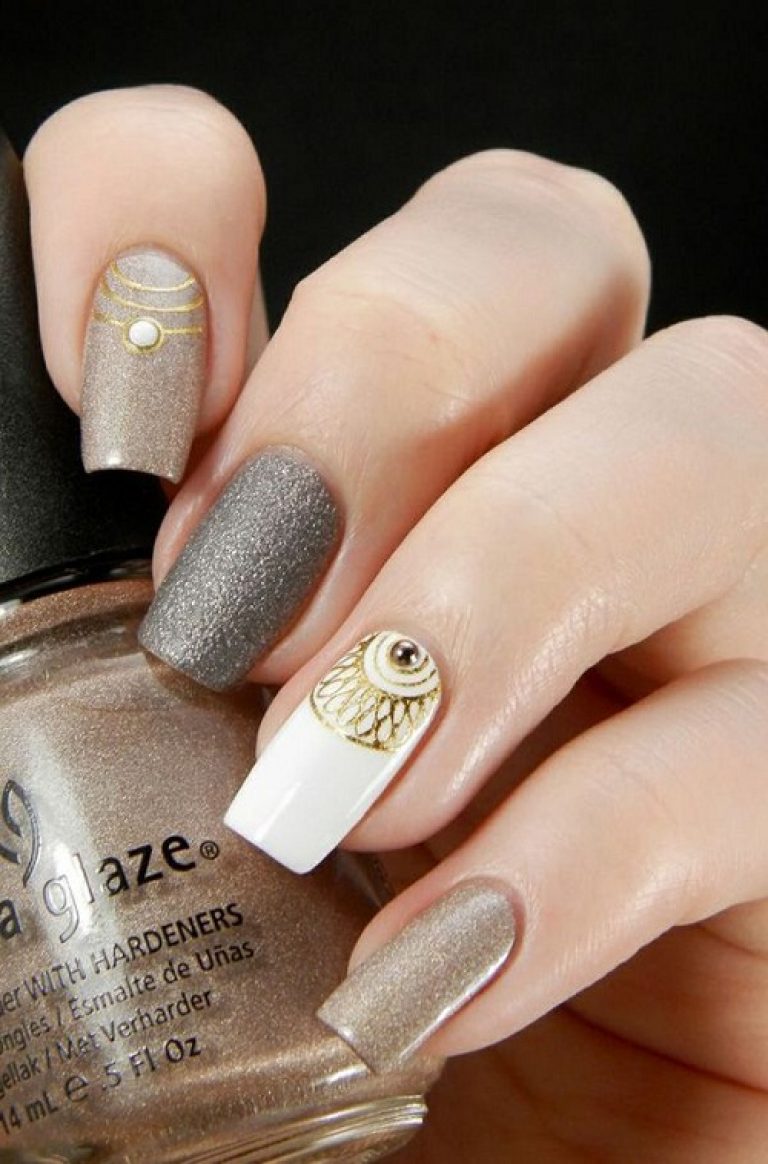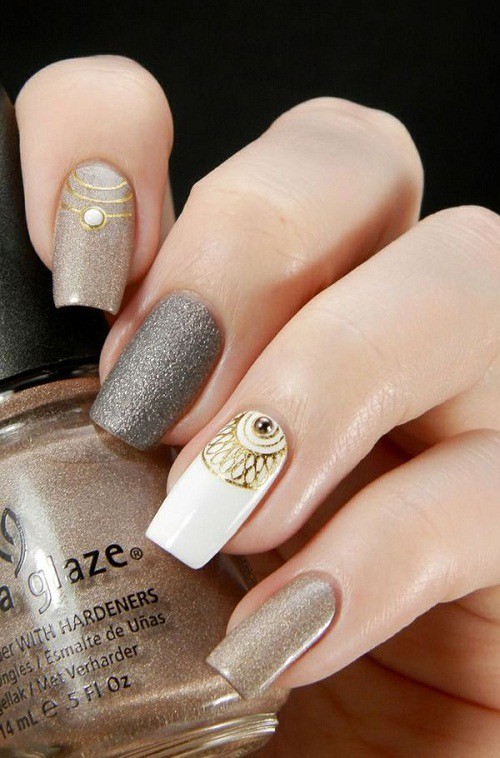 What we are usually used to is a shiny silver or golden glitter decorating a certain simple nail design, but what we have never witnessed and we are witnessing now is that both silver and gold glitter nail designs are combining together to make a fancy fusion.
#51. Coffee Lover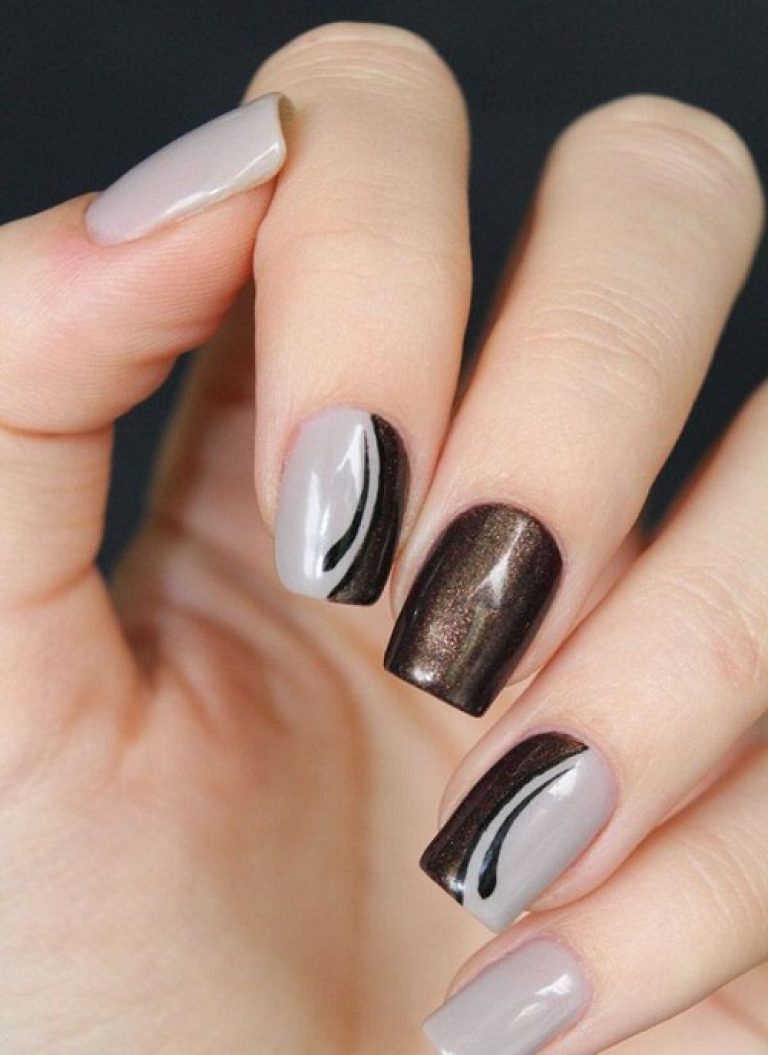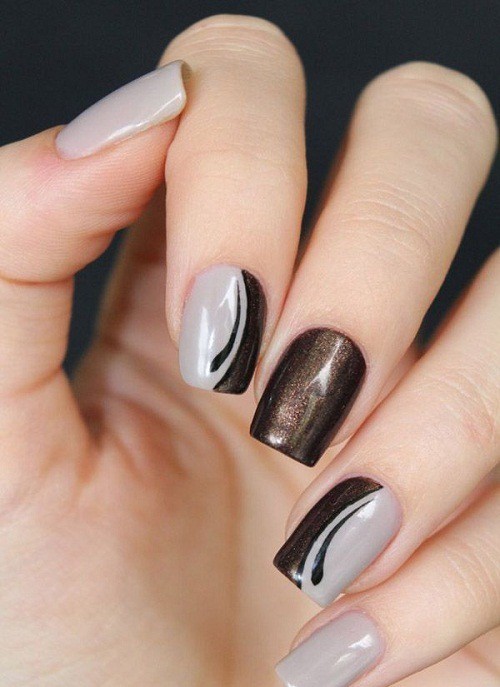 Are you a coffee lover? If the answer is yes, why not to try this brown glitter nail design with the color of the coffee you love?
#52. Bridal White Glitter Nails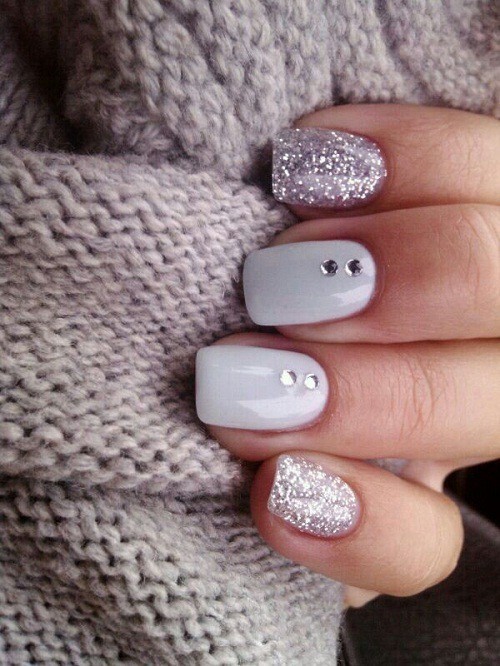 Are you confused about what kind of nail designs to wear on your wedding day? Well, this design is what you need.
It contains the bright white similar to the white color found in the dress, however, the shiny silver glitter gives a party taste and matches the decals on your dress.
Gorgeous Flower Nail Arts You'll Love
#53. Purple And White Fades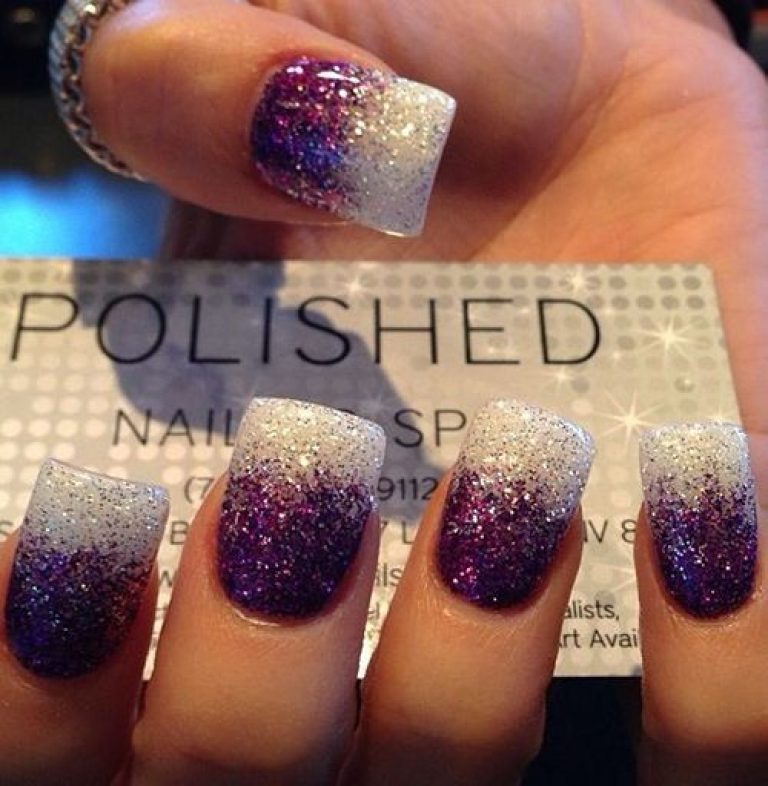 In these nails, it looks like the purple glitter is going up towards the white glitters and starts fading when it approaches the white part.
At the same time, it seems like that the white glitter also fades when approached to the purple glitter part. This makes up a cool glitter nail design.
#54. Satisfaction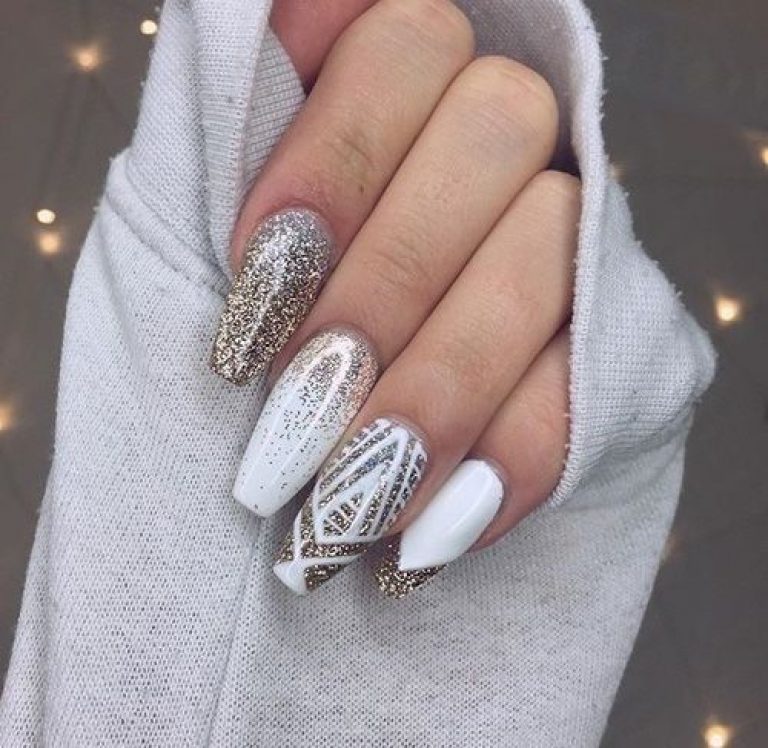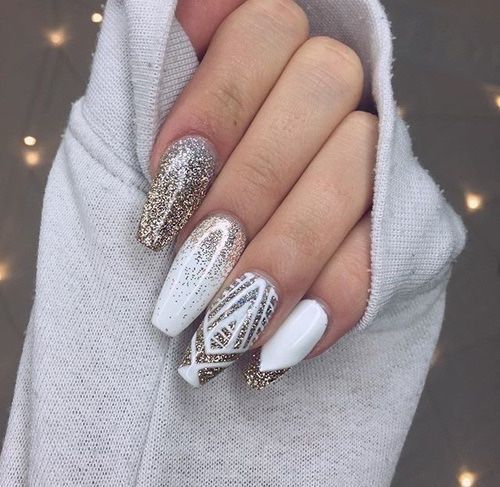 When I see this I am satisfied! I see that it is all that a girl needs to look fabulous at the best occasion or party she has ever attended.
This glitter nail design made up of silver glitter and white nail polish is just satisfaction and what any girl that has knowledge in fashion wants.
#55. Maroon Glitter Nails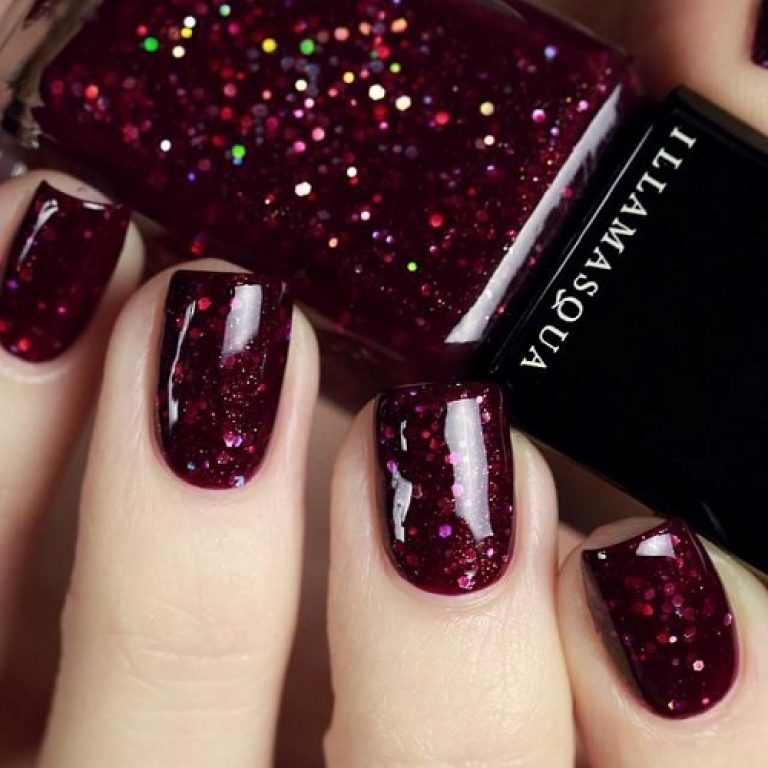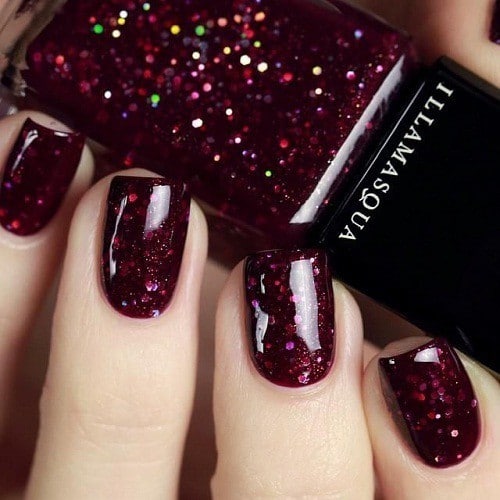 Searching for a chic color that makes you look the chicest woman tonight? Do not forget that the maroon shade of the red color is always there to help, it is one of the calmest and chicest colors, especially when represented in the form of glitter.
#56. Pine Glitter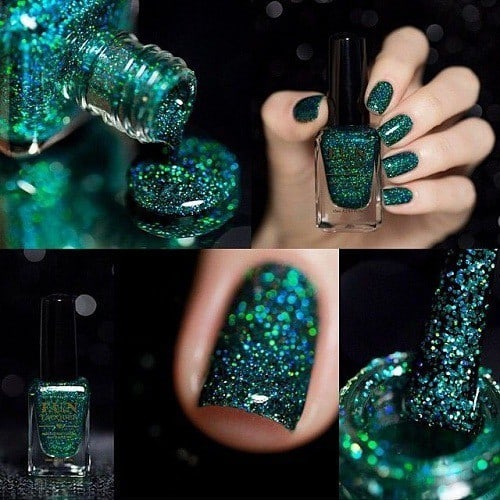 When you look at this glitter nail polish, you can realize that it is made up of the pine green color, but it has the shimmer of blue color and light green.
Well, that's what is special about some glitter colors that they own a certain color but have the shimmer of another.
#57. Golden Stage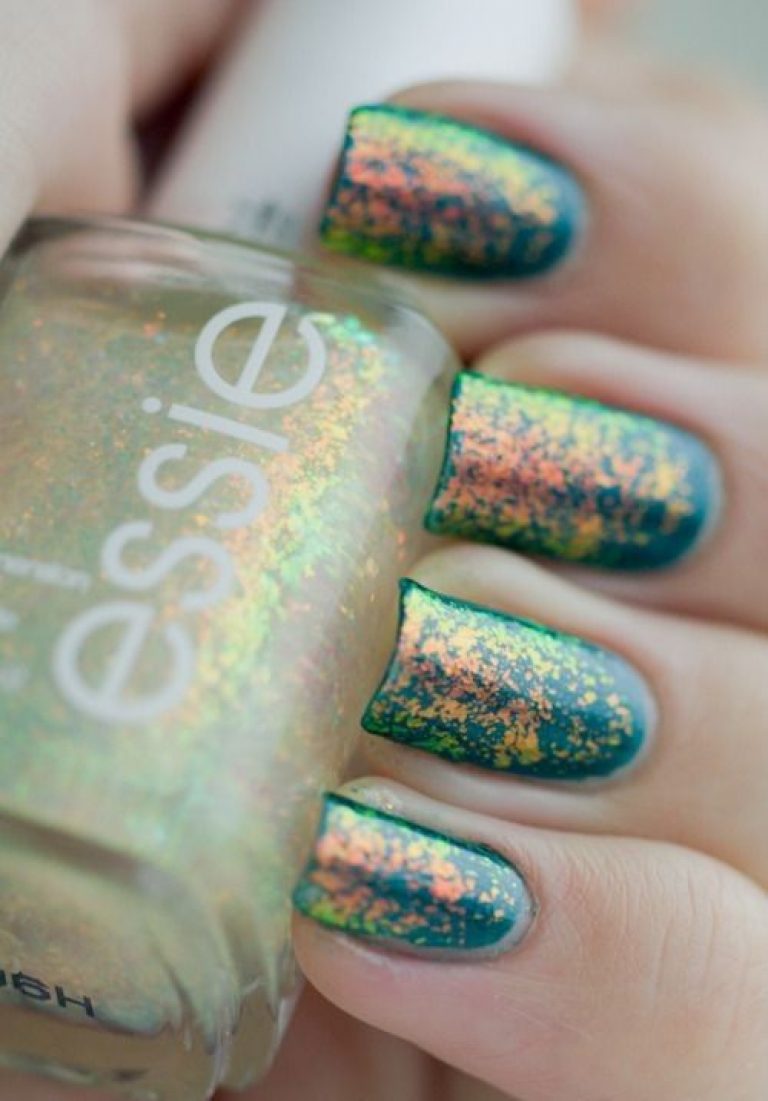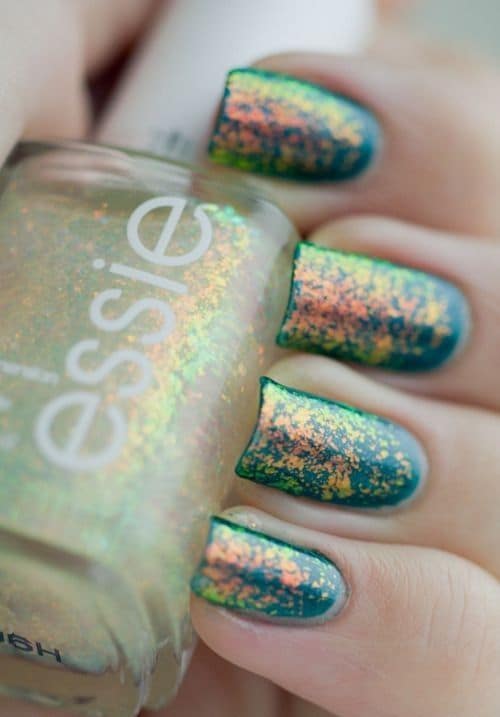 The fern green in the background is a beautiful color, but what increases its beauty is that golden stage placed above it.
#58. Matte Black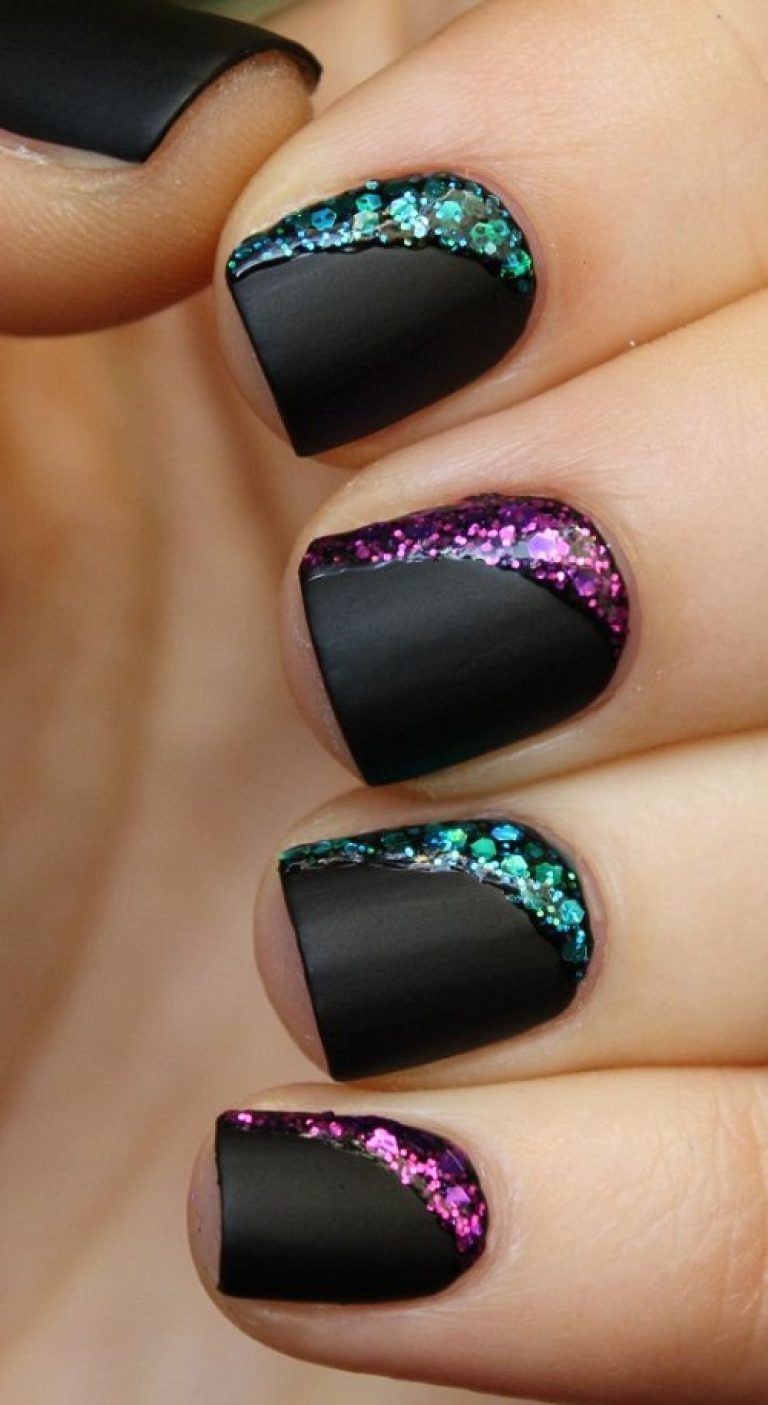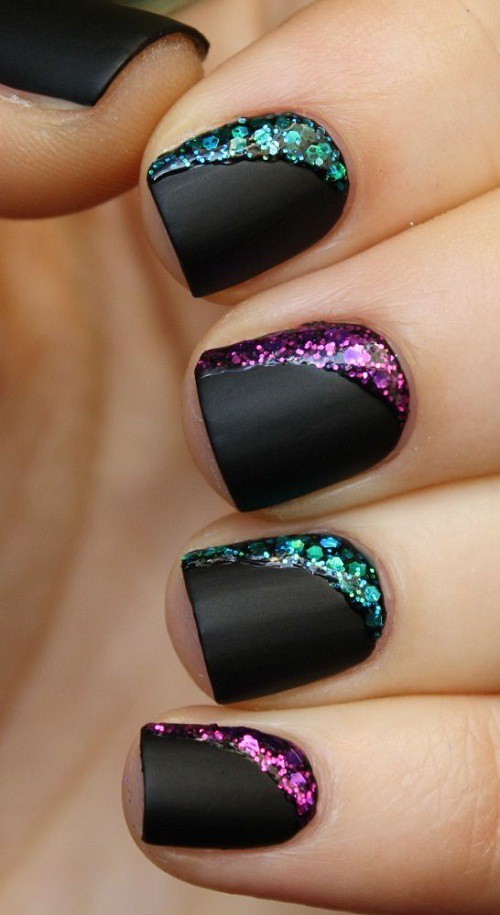 Black is the color of fame and chicness, so in a matte black nail design, you must try to leave a glittery touch that specializes your design from other simple black nail designs that everyone knows and wears.
#59. Blue Glitter Nails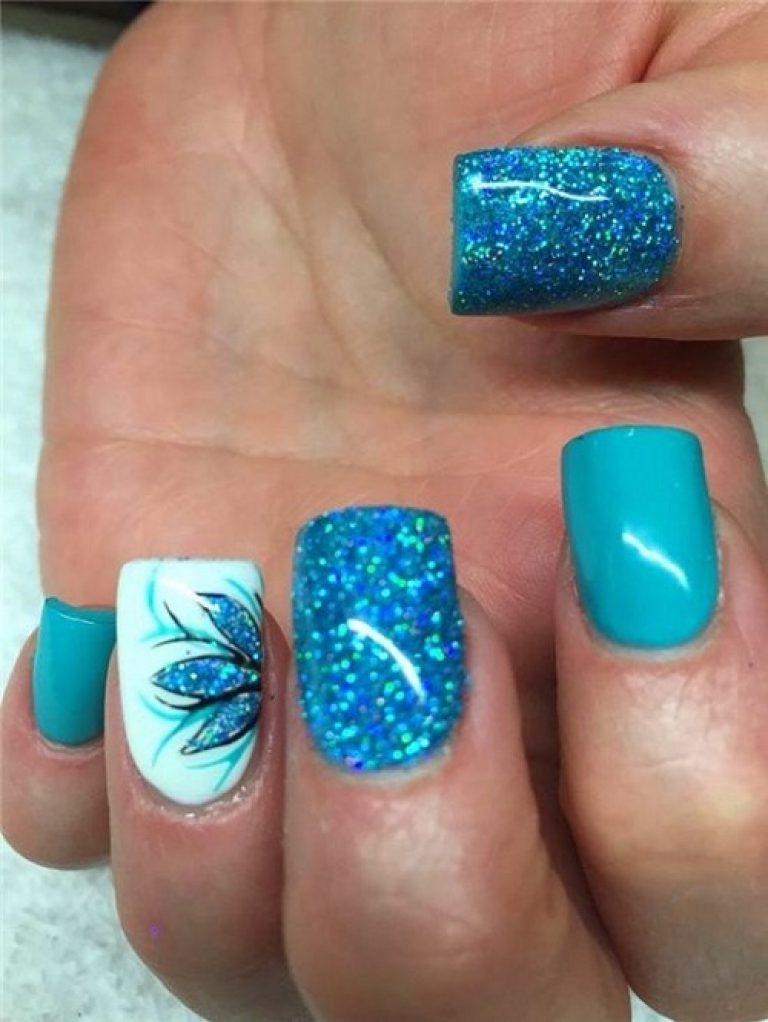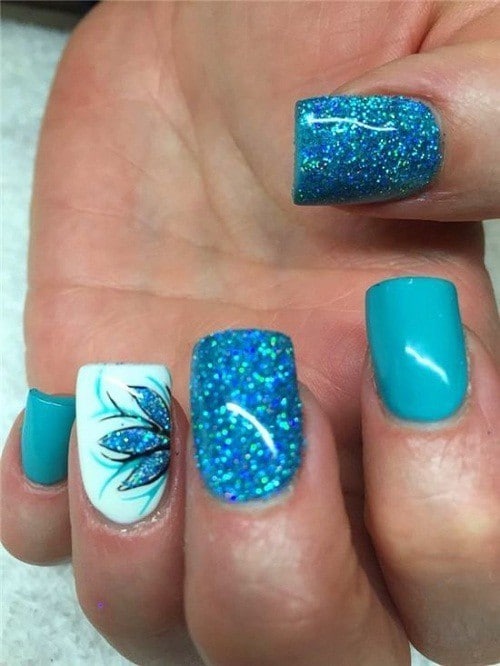 The color blue or the blue glitter is not what is important in this nail design, but what is really important is the blue flower drawn in the ring finger and that is colored from the inside with glittery blue having a white base that makes it clear between all nails.
#60. Lemonade Pink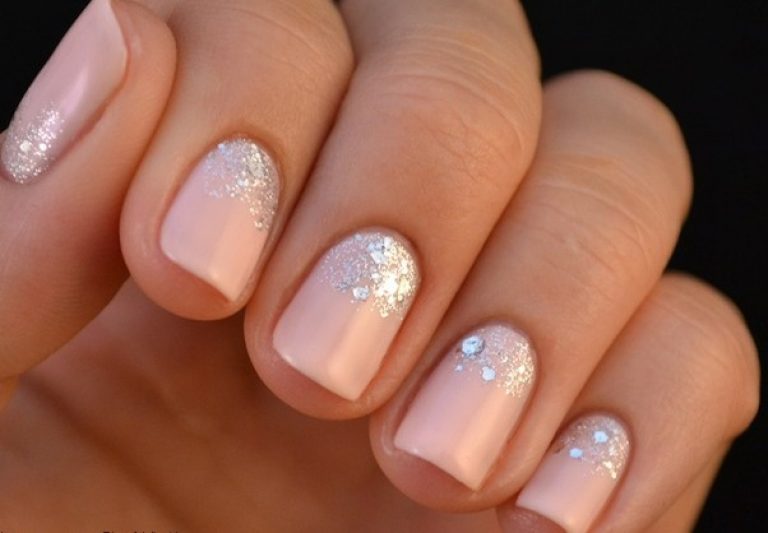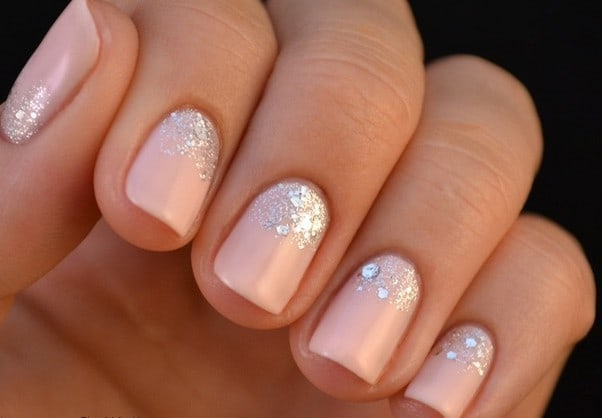 This shade of pink is so calm and girly, and what makes it a good nail design for a special occasion is those glitters and shiny splashes at the bottom of each nail.
#61. Candy Red Glitter Nails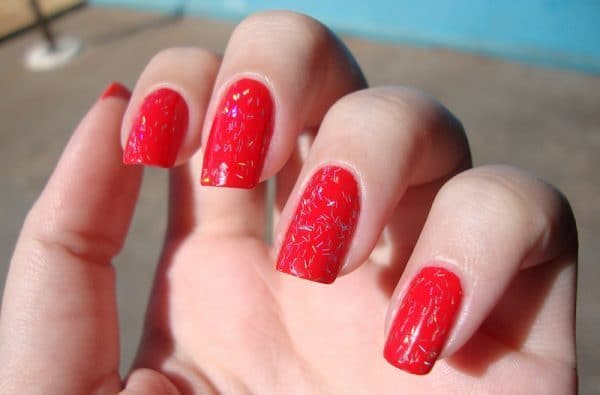 One of the hottest shades of red is the candy red color. This color makes up a special nail design especially when these silver particles are glued to the nails.
#62. Pink Tips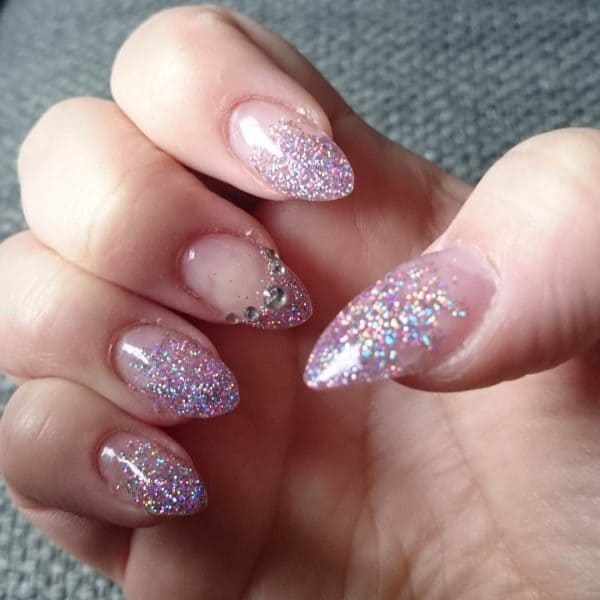 In this glitter nail design, glitter is present at the tips, where some of the glitters in the tips start fading into the transparent base in all nails except the middle nail where the glitter does not cross the tip line.
#63. Rosewood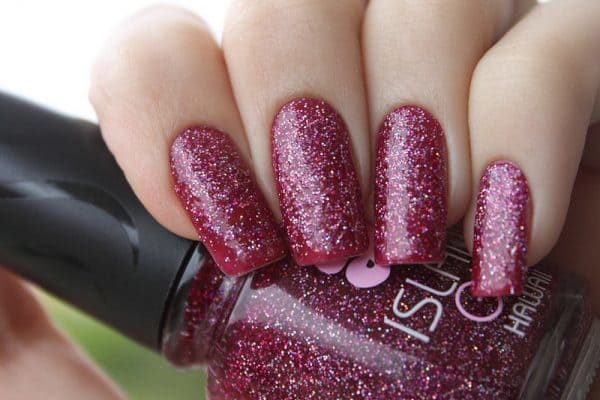 Even if the base of this nail polish is rosewood pink, but the shiny glitter at the top of each nail has the color of white, silver, and pink.
#64. Christmas Tree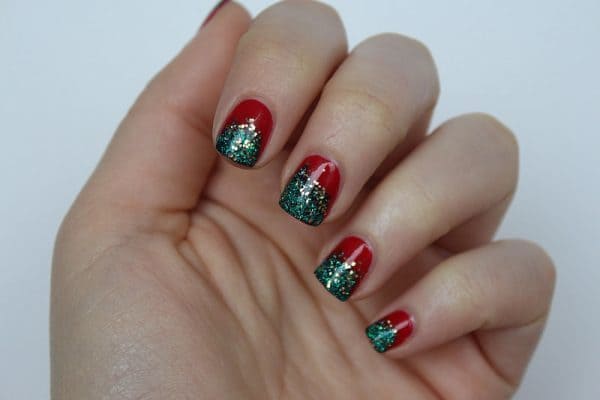 I don't know about you guys, but this nail design remembers me of the Christmas dark green tree with the shiny accessorize hanged on the tree that has the golden and the red color, with the red background where red is the color of Christmas and Santa's outfit.
#65. To The Moon And Back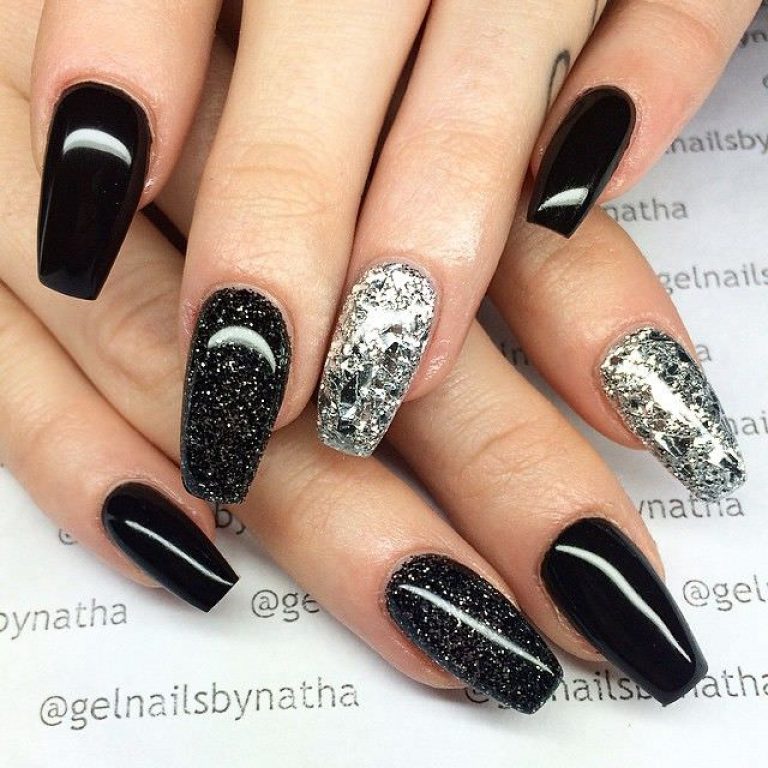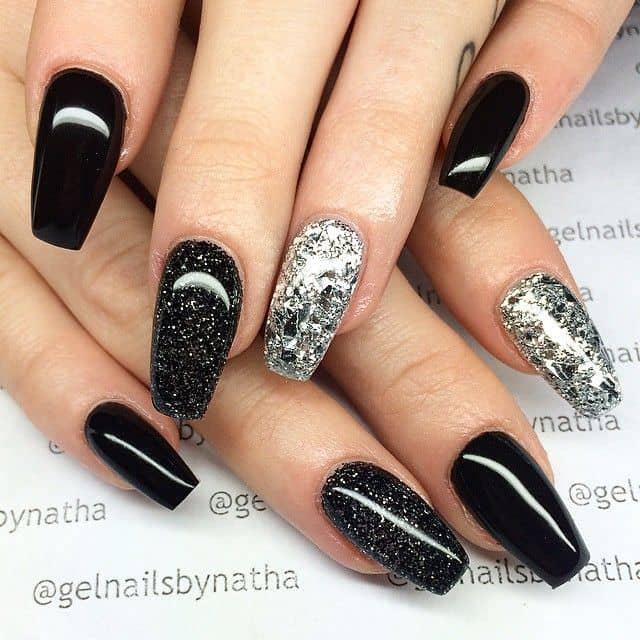 The black base with the white glitter in the ring finger seems to represent the space we know the place where the moon lives.
However, the silver shiny decals that cover the index finger with the black manicure in the pinky and middle finger, all make up a perfect combination for a glitter nail design.
#66. Disco Party
Are you going to a disco party tonight but you don't know how to look funky enough? Well, all you have to do is to have a dark blue phase with a colorful glitter at the top of each nail similar to the disco ball hung in the middle of the party.
#67. Twinkle Twinkle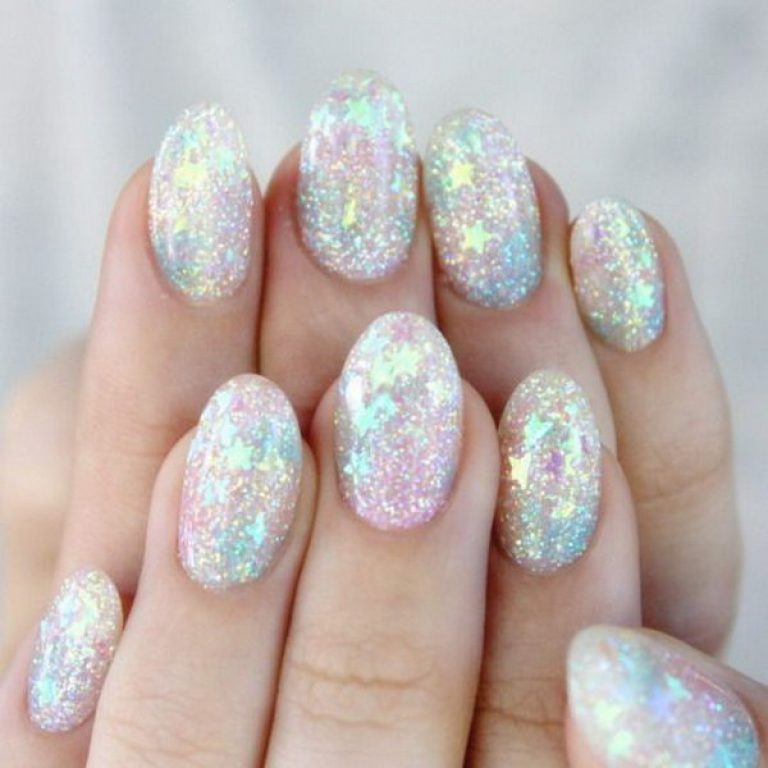 This nail design reflects the twinkle of the stars, the shiny white glitter with the star shape reminds me of the twinkle little star song every mother sings to her baby when she is trying to make him/her sleep.
#68. Chevron Style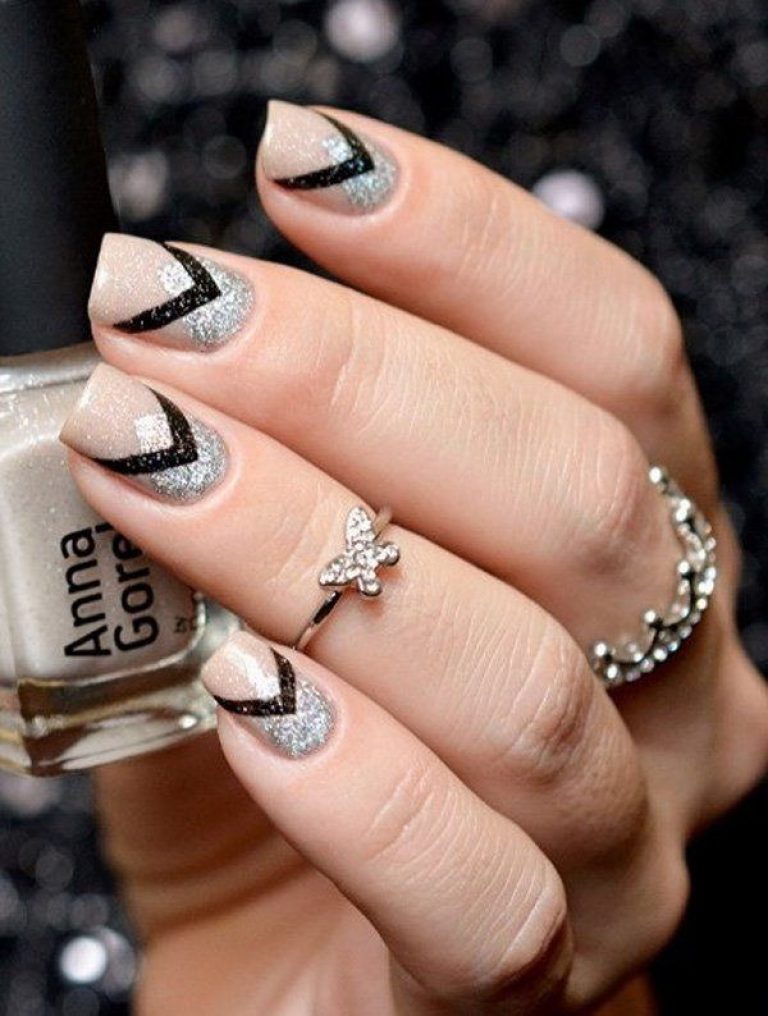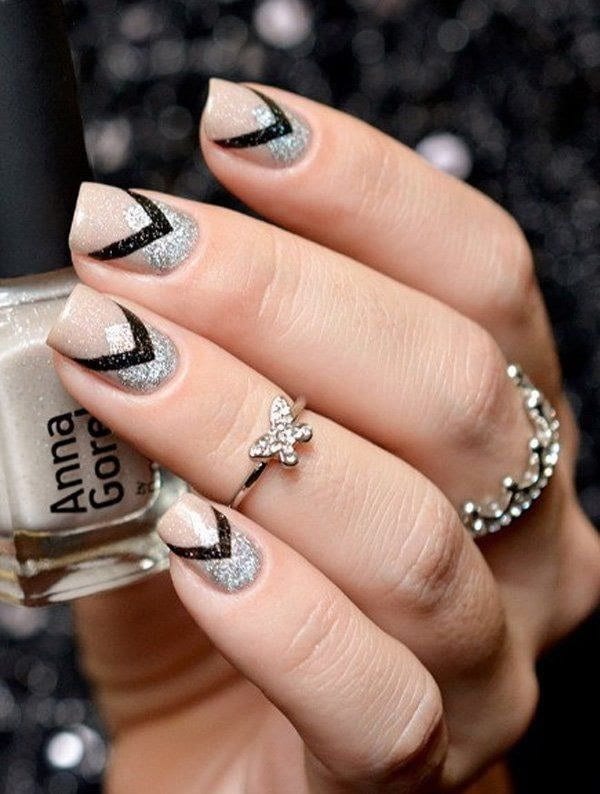 Every single move or part of this nail design is glittery. The silver part is glittery, the upper part is made up of glitter, also the chevron placed between the upper part and the below part is also made up of a glitter black nail polish.
#69. The X Factor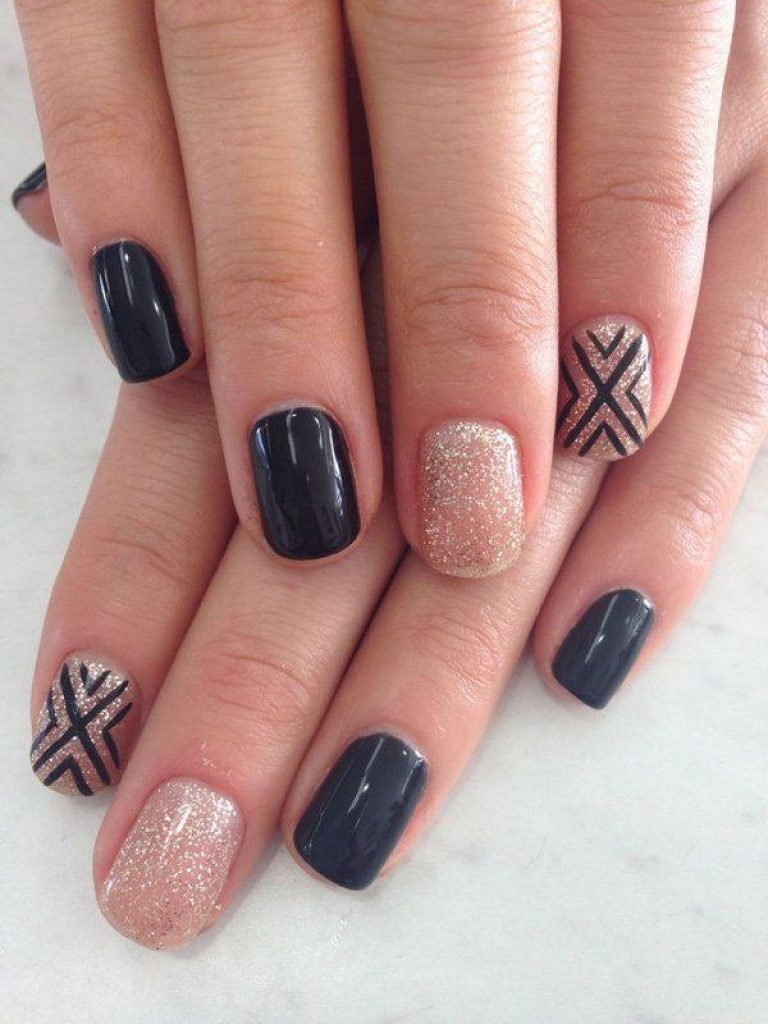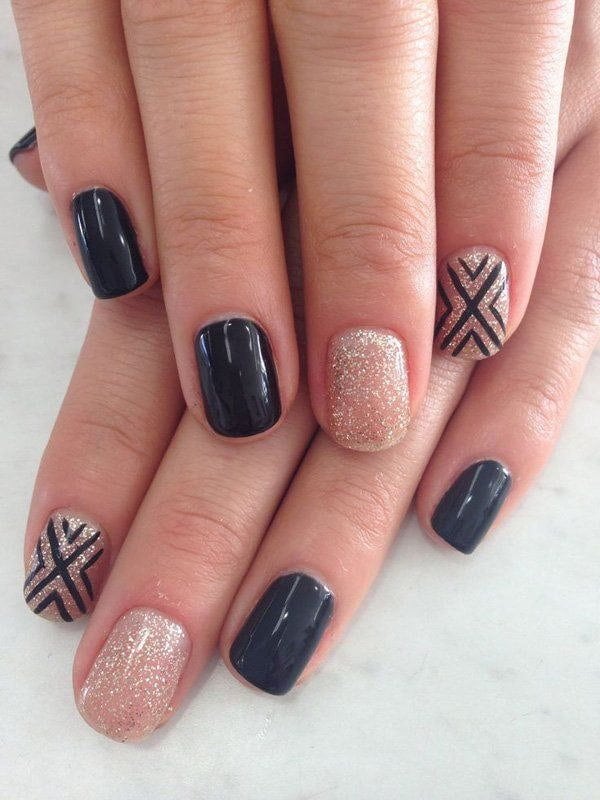 The black color with the golden glitter nail polish makes up the perfect fusion, especially when combined together as the shape X on the index finger.
#70. Simply Chic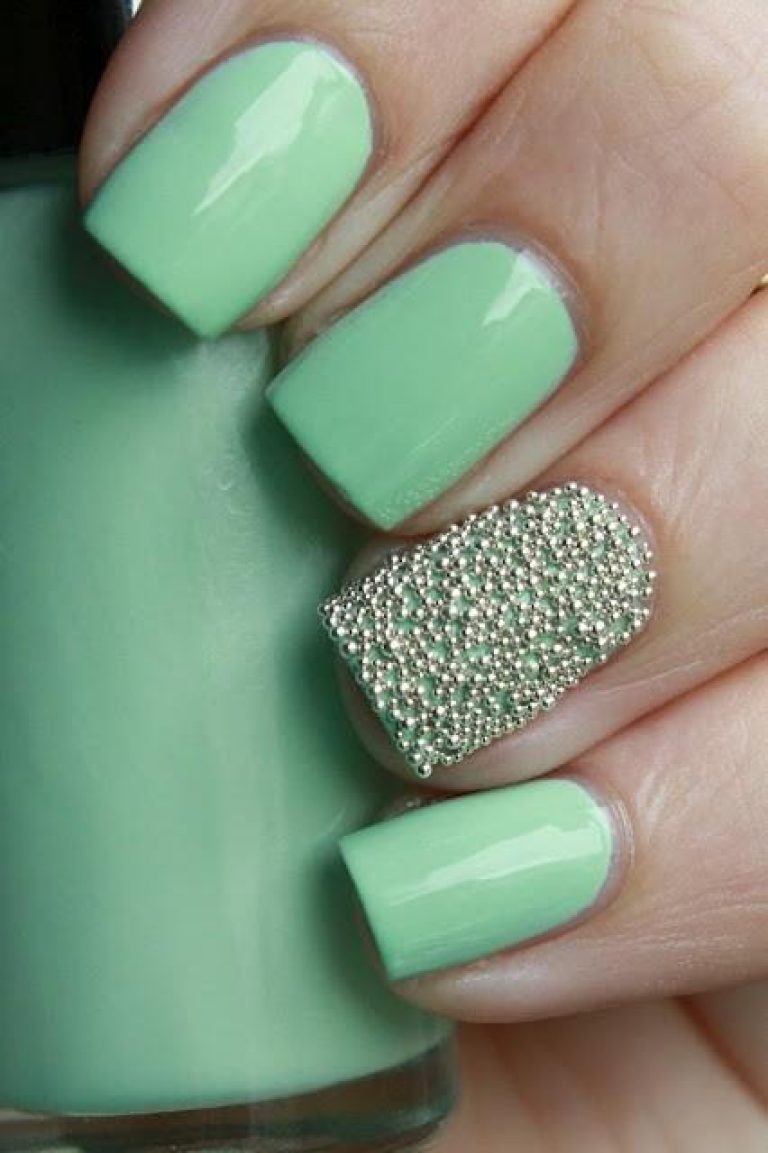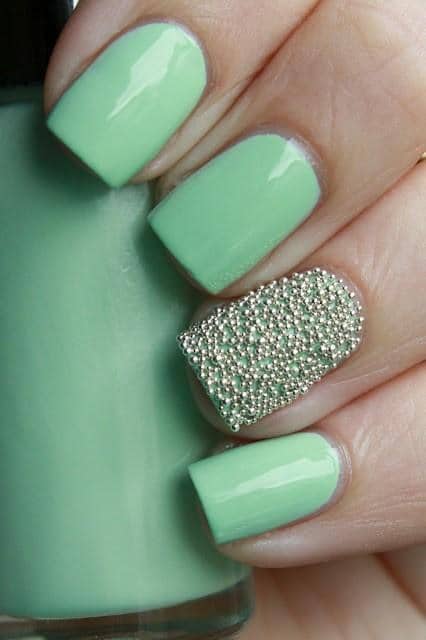 You don't have to be all colorful to be chic, you can also be simply chic by using one unique color in your nail design which is light green, adding a touch of tiny shiny golden decals in the ring finger.
#71. Decals In Tips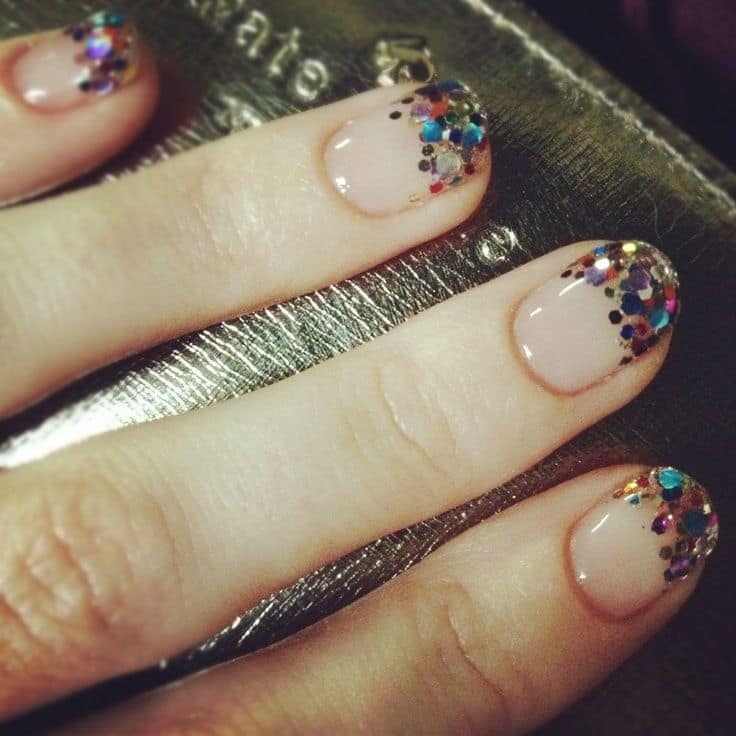 Usually, in french tip nail designs, we are used to a transparent base with a white tip or a glittered tip.
But here we are combining a french tip nail design with a glitter nail design, leaving the transparent base but making the tips from different colored decals.
#72. Anchor Style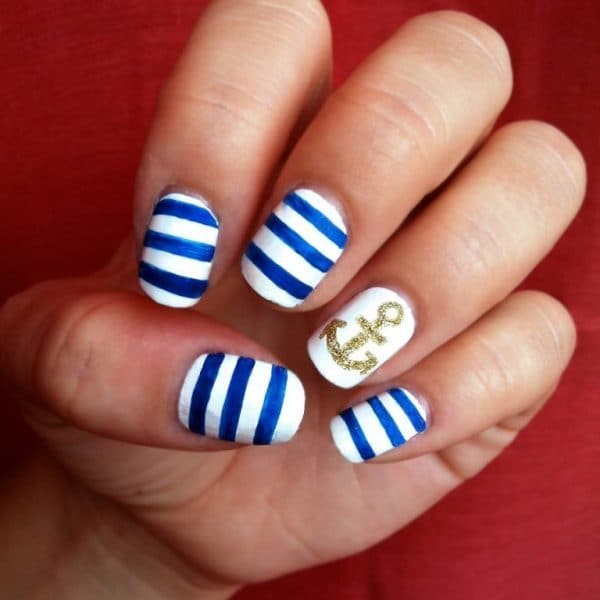 What grabs your eyes in this nail design is not just the blue-colored stripes with the white base, but the white and golden anchor style in the ring finger.
#73. Surrounded By Gold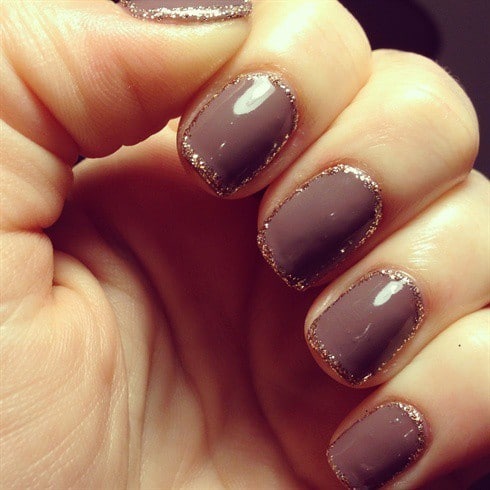 Each nail in this glitter nail design is surrounded by golden glitter which makes it weird, unique, and nice.
#74. Cloudy Chance Of Gold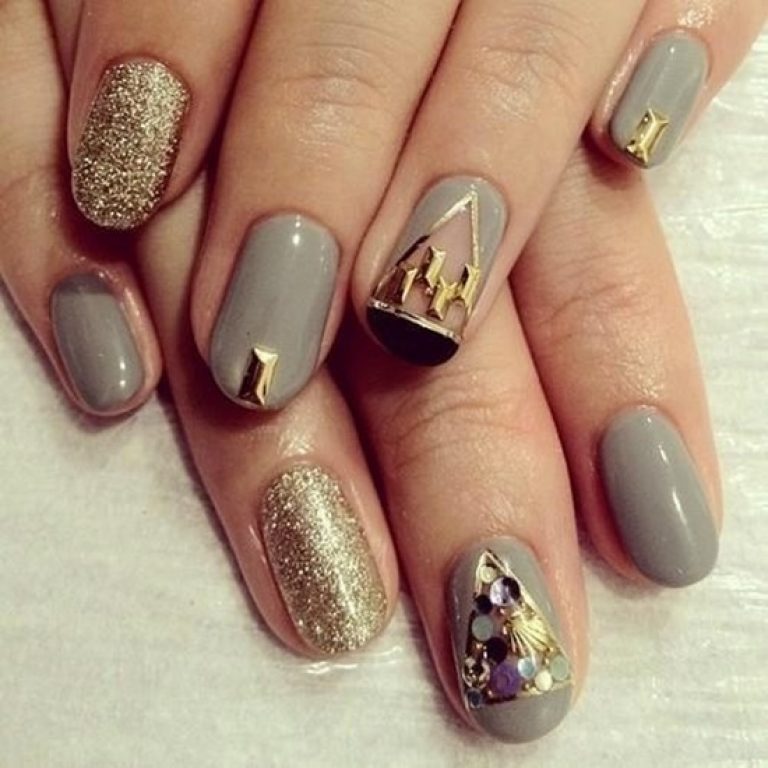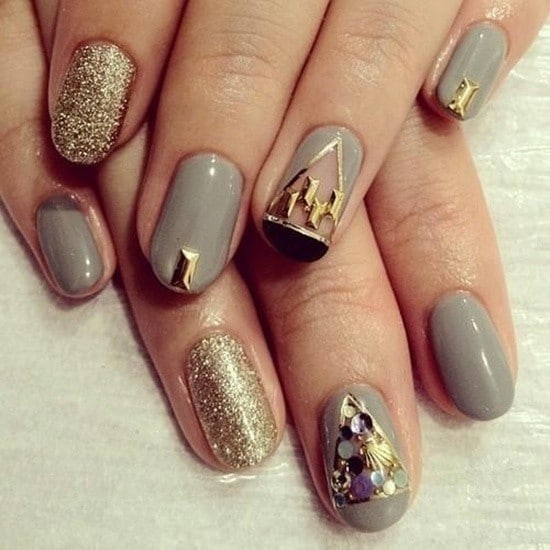 The cloudy gray nail polish in the different nails, in addition to the gold glitter, polished ring finger make the best mixture.
Moreover, the way the gray nails are designed with the golden color gives the design a special taste.
#75. Bee House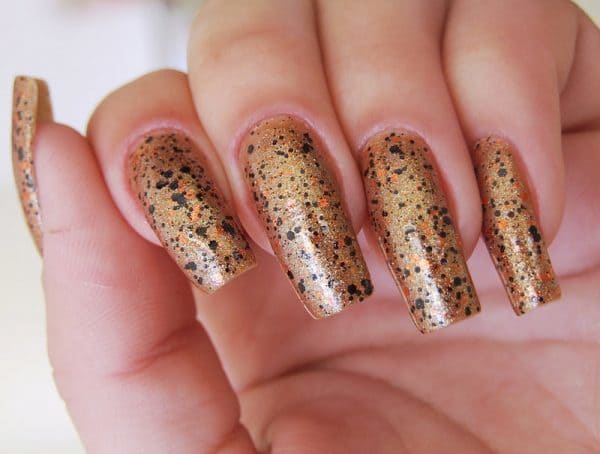 This nail design reminds me of the place where the bee lives. Its colors made up of black, orange, and gold all take me back to the tiny bee, its honey, and its own home.
#76. Tiger Print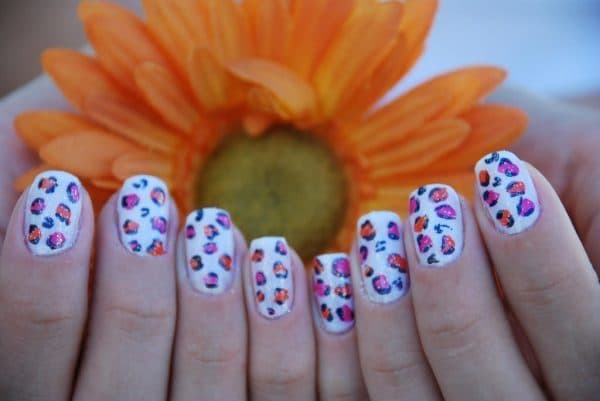 In this tiger print, we are breaking the rules of the original print by changing its colors from beige and black to white, orange and pink with a small amount of shiny silver glitter.
#77. Blue Clue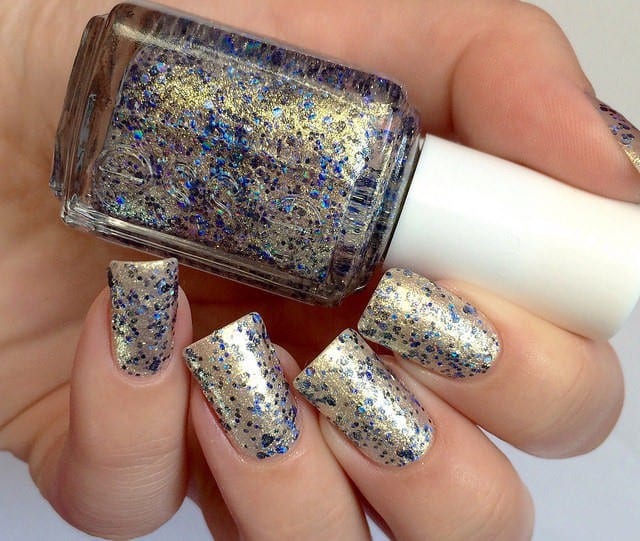 This design definitely looks like that a blue jewelry is lost in a large amount of gold shiny sand. This is one of the chicest and prettiest glitter nail designs.
#78. Fancy Nancy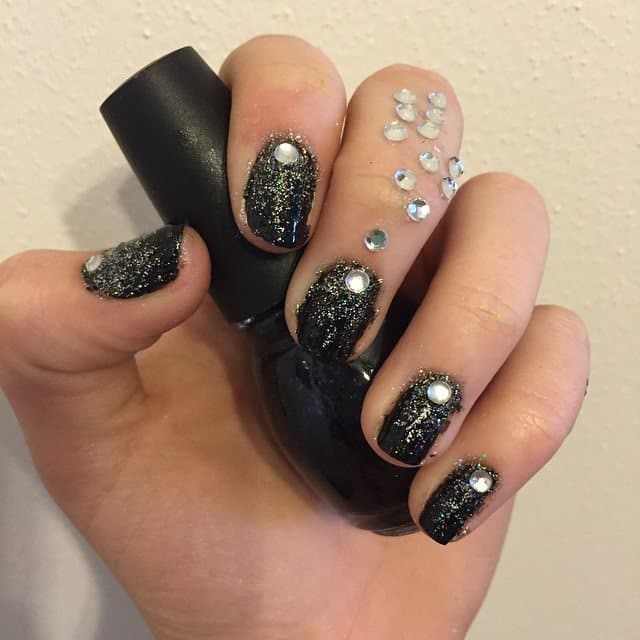 Go fancy wearing this gorgeous nail design with rhinestones and glitter full of a stage of glitter and a shiny white decal at the bottom of each black nail which makes you look fancy and chic.
#79. Cross-Love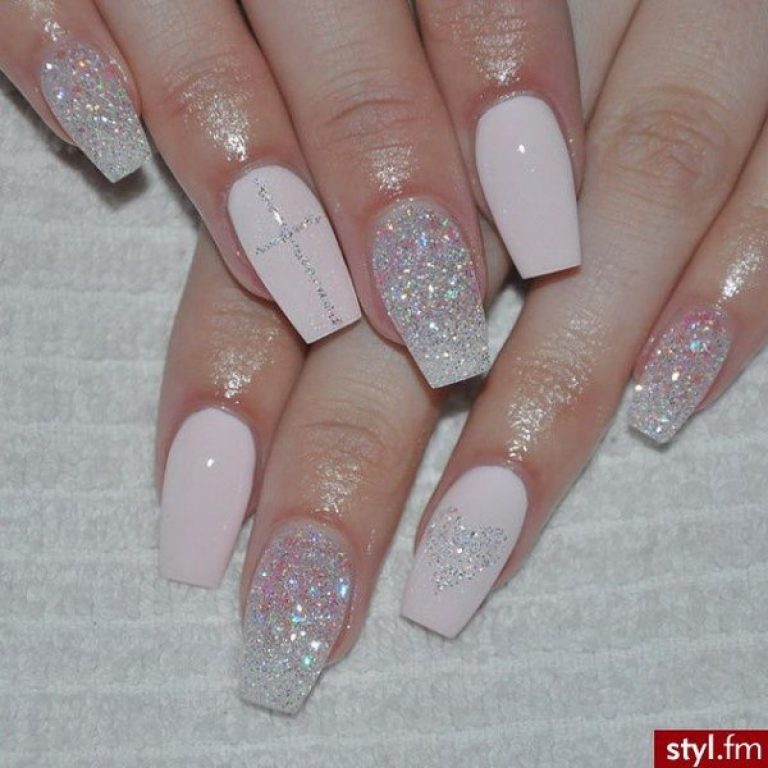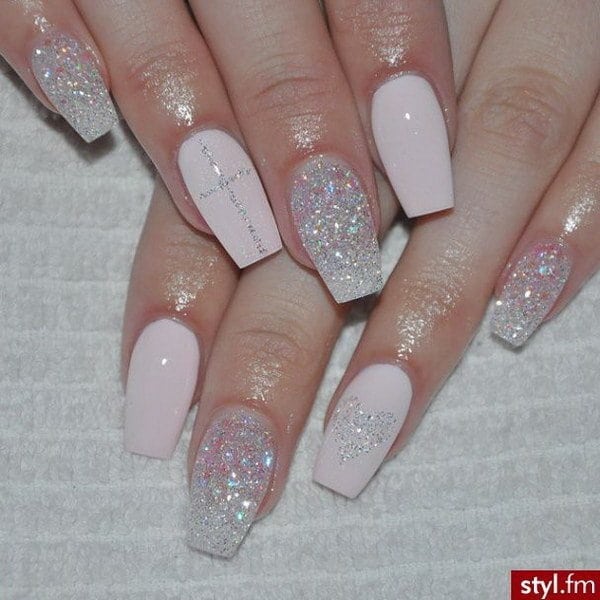 In this design, you can see that there is a silver glittery heart on the ring fingernail of the left hand, and a silver glittery cross having a white base in the ring fingernail of the right hand, in order to show love for the cross.
Going shiny and glittery in a gold nail design is something usual. Often, the gold nail polish is always glittery and used for decoration, but wearing it alone does not mean it is wrong, on the contrary, it might go well for a fancy party.
More Glitter Nail Designs That You Can Try
As you can see, the glitter touch can fit with any simple nail design and is the best one used for decorating, styling, and for giving life to any simple nail design.
However, glitter nail designs satisfy our fashion need for a special nail design that can specialize us in any important party or occasion.
So if you are wondering how to look fancy and chic, all you have to do is to take a look at the above list of 80 glitter nail designs. Hope you like it!