30 Stunning Round Nail Design Ideas
You can design your nails in plenty of ways but is not it convenient to have proper guidance? Follow our ideas and have the most trendy and delicate designs on your round nails. All you have to do is choosing the perfect color, design, and type of nail polish for your favorite round nail designs. We have depicted 30 amazing designs for you throughout this entire article, hope you will find them useful.
#1.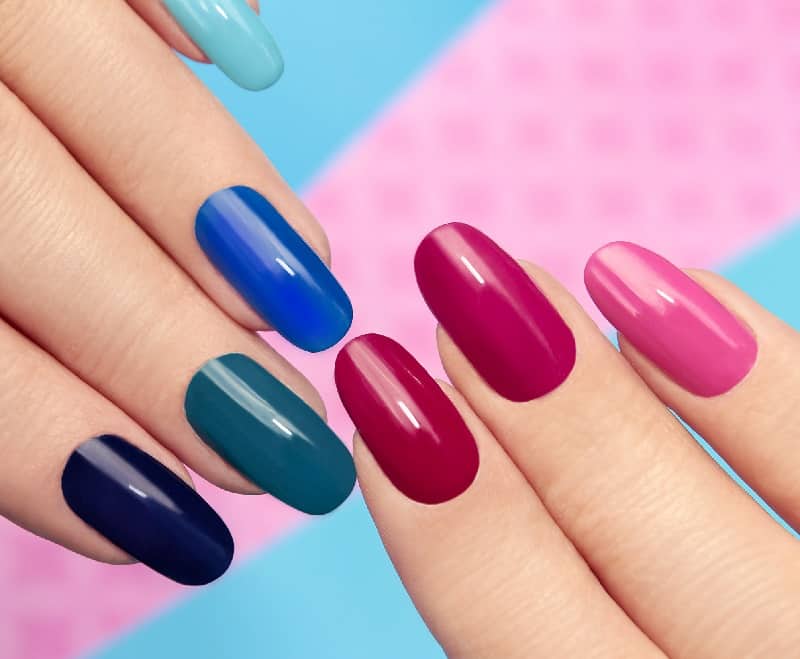 round long nail design
#2.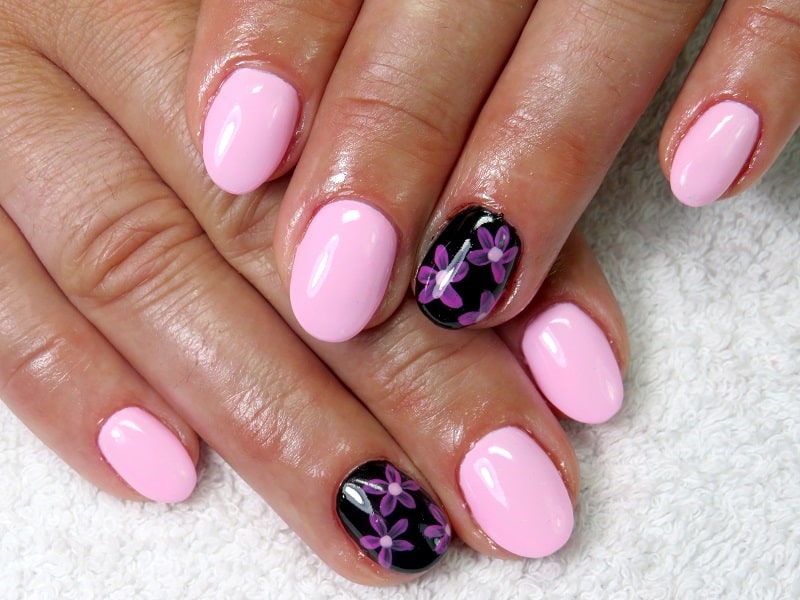 round gel nail design
#3.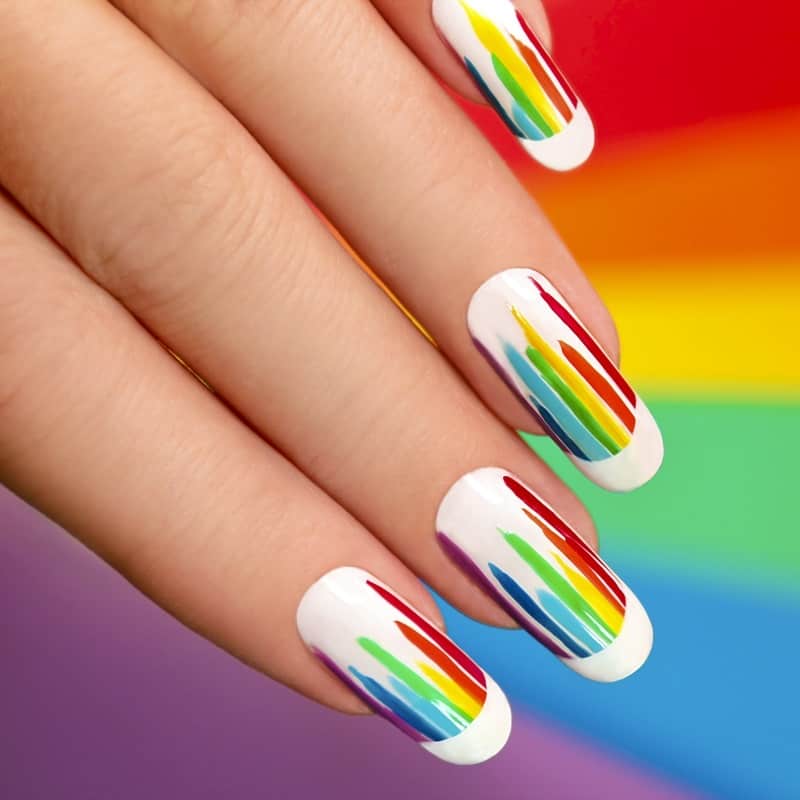 round summer nail designs
#4.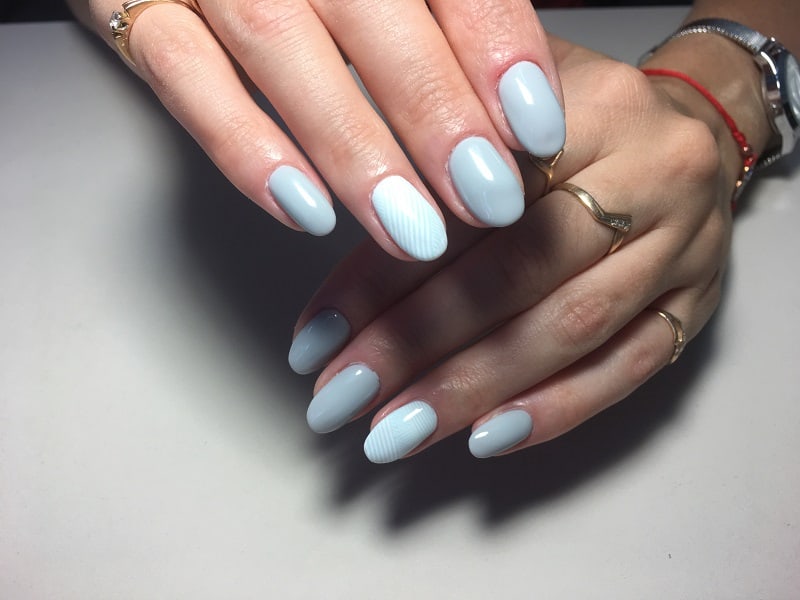 round winter nail designs
#5.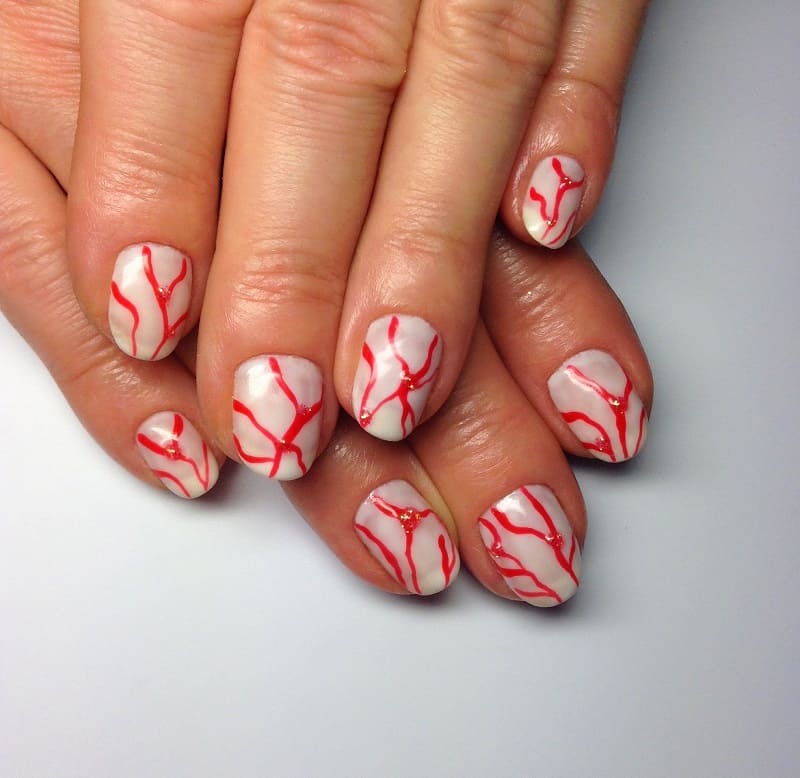 round short nails designs
#6.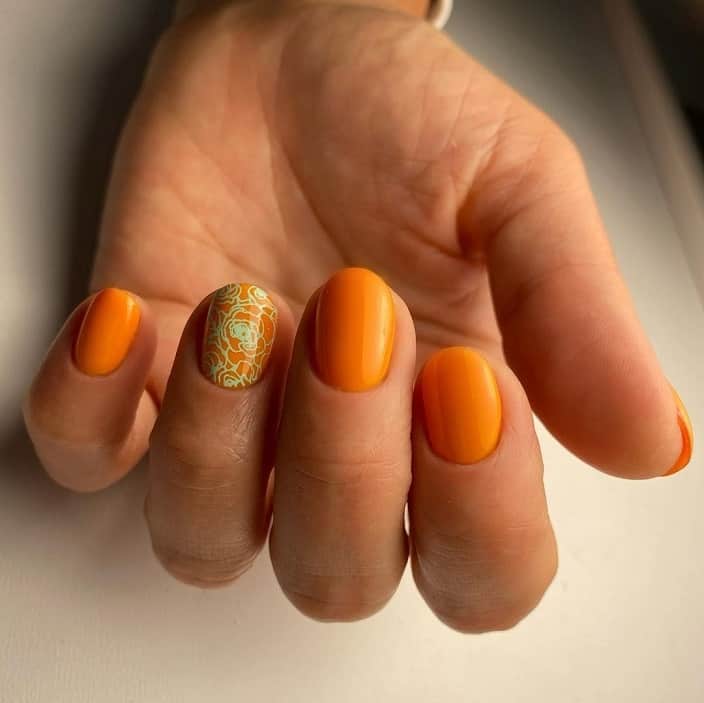 round fall nail designs
#7.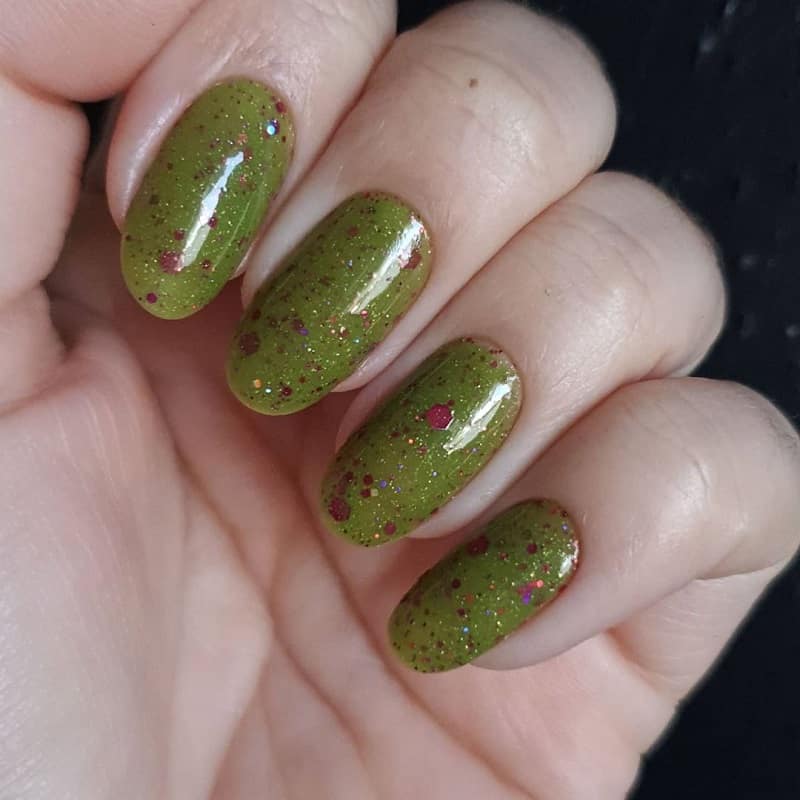 round green nail designs
#8.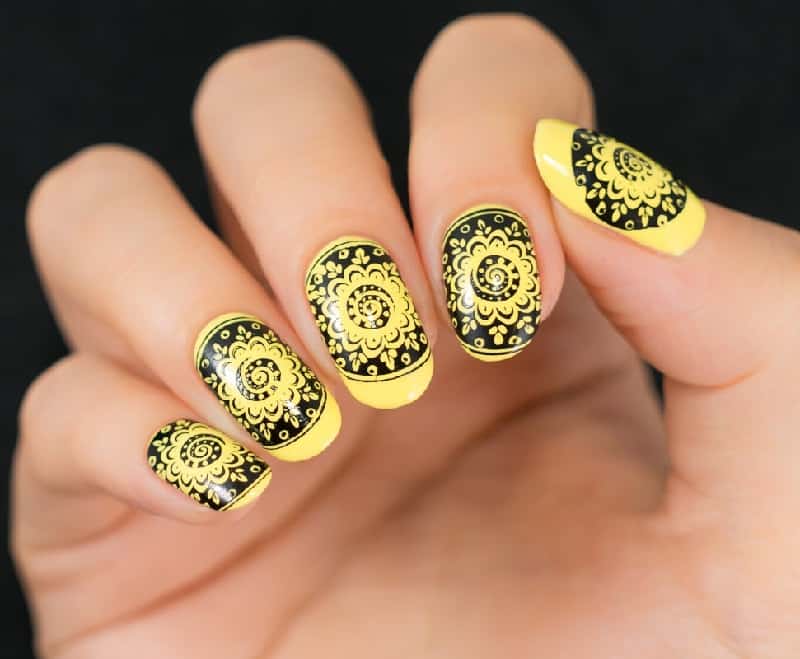 #9.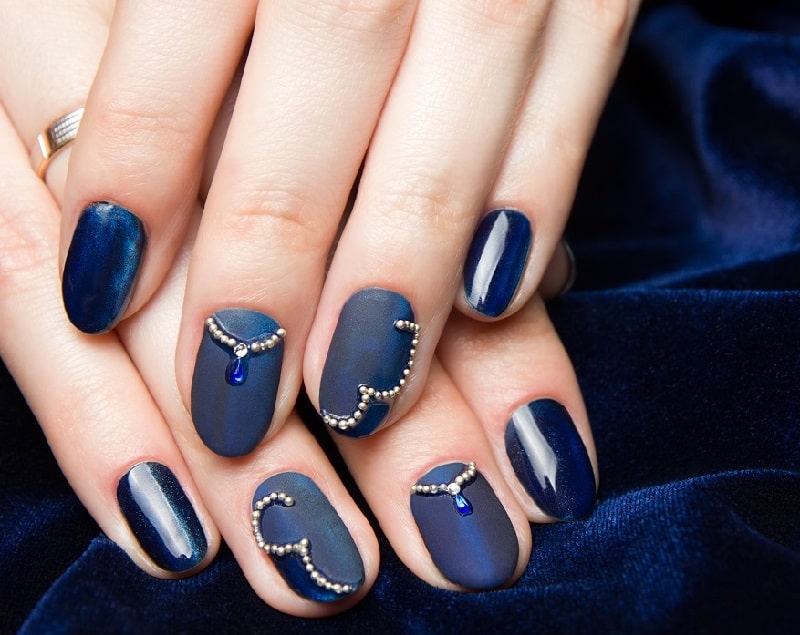 #10.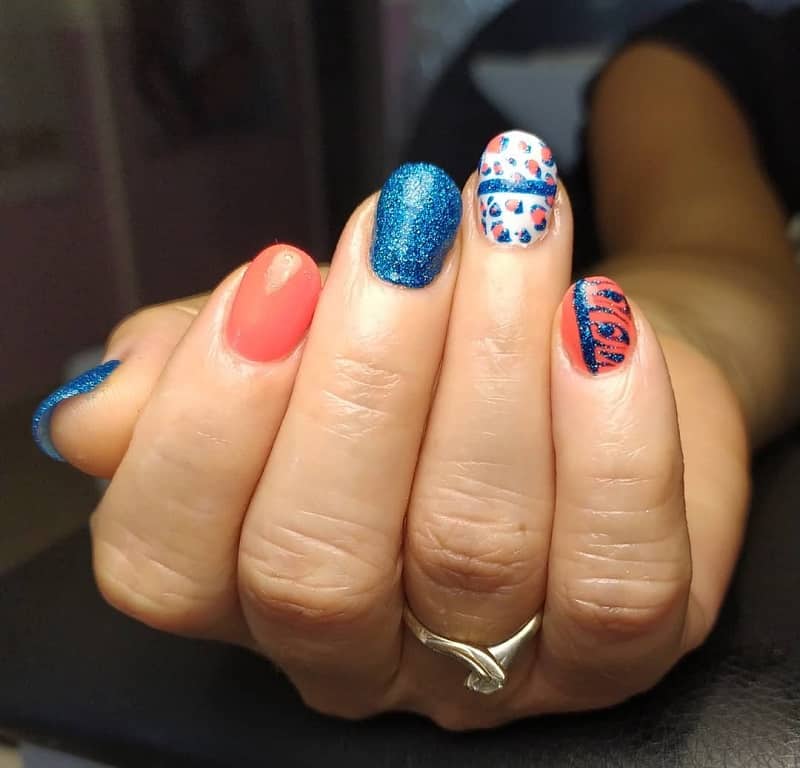 #11.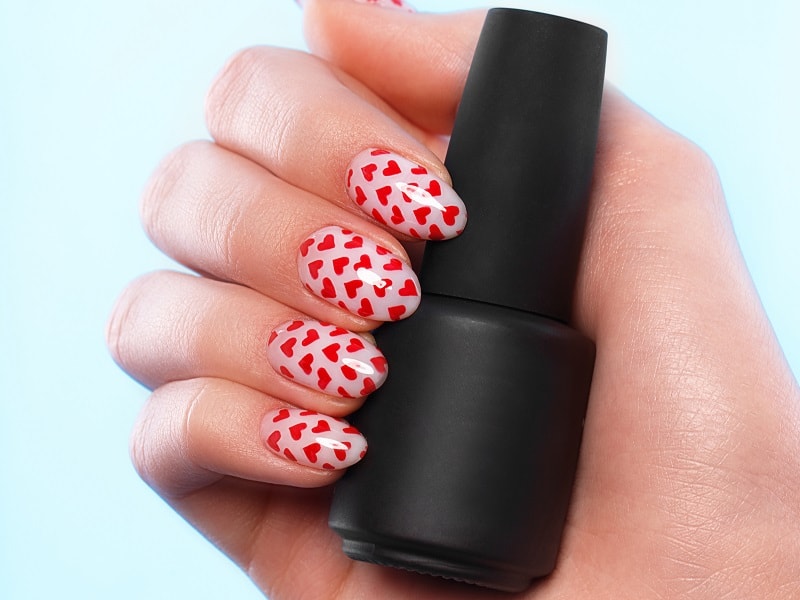 #12. Round Nails With Shiny Glitters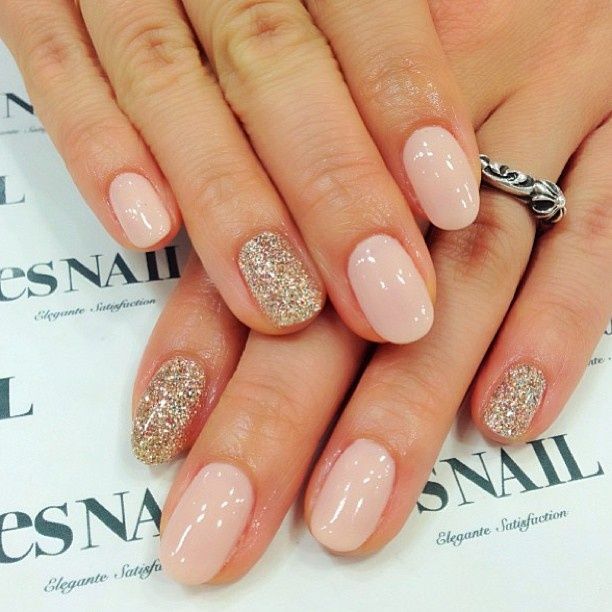 A simple and easy way to design your round nails is to put any shining acrylic color on your nails altered with some other glittery nail polish, especially on the ring finger, with silver or gold glitter as these two colors are glossy.
Nail Polish 101: Formula & Finish
#13. Red Round Nails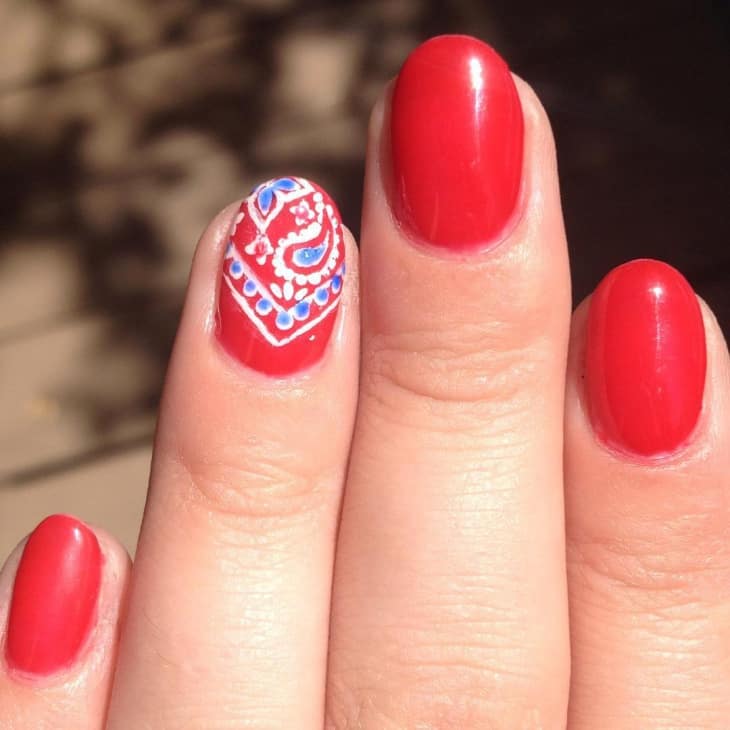 Red is always on the top of girls' priority list. And there is no exception about round nail designs too. You can have this simple but nice looking design by filling all your nails with red color and draw some of them with conventional artistic designs.
#14. Paint Your Canvas
What if you imagine your round nails as a canvas of an artist? This design is for such imaginative minds who love to experiment with things. To have this design you must consult an expert or you can be that expert by being very careful. Appropriate color is a must because if the color mixing goes wrong the whole concept of art will lose its appeal.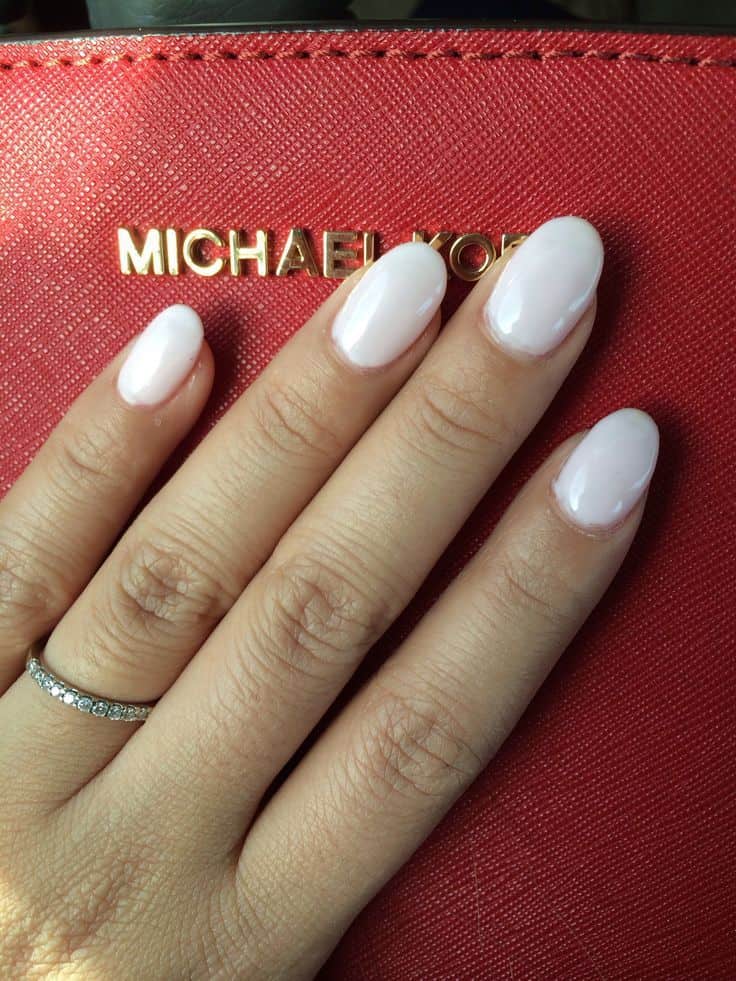 White is the color that resembles purity. This design is for those girls who do not wear heavy dresses or does not love sophistication. Simplicity at its best with the gentle touch of pure white.
#16. Different Acrylic Nails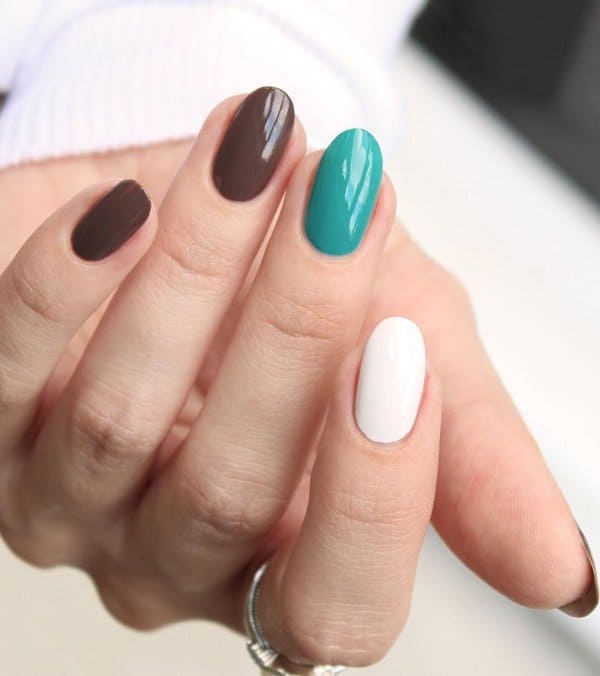 Two or three colors can be applied to have this beautiful design. Different acrylic color expresses the variety of your choice and personality. To have these round nail designs you can just interchange the colors within the five nails of each finger.
#17. Cardio on Your Nails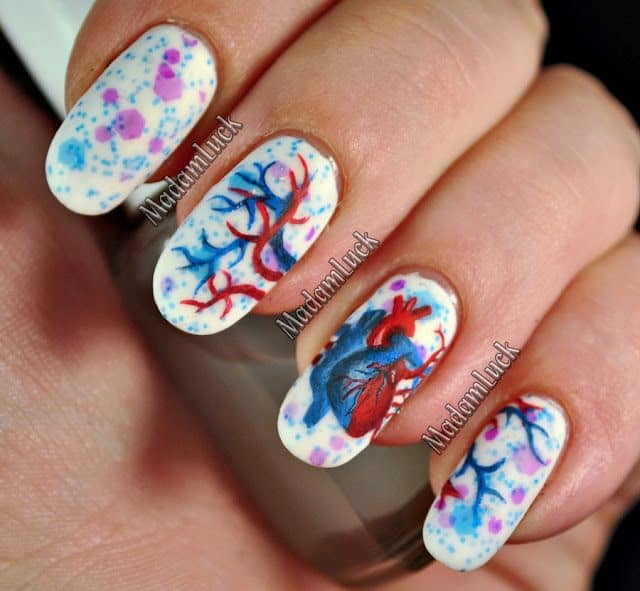 This is an interesting round nail design. It might be loved mostly by medical students but it will surely make a difference if you go for it. You can have this design by carefully following the anatomy of the heart from a biology book or you may leave the responsibility to a professional nail designer.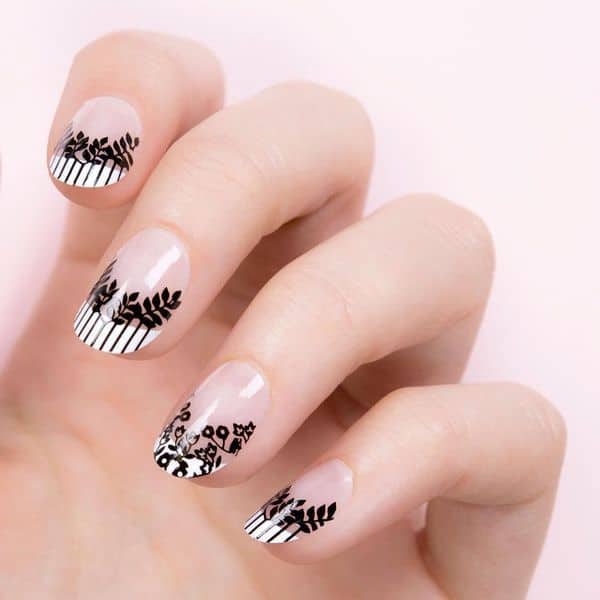 This french manicure is simply gorgeous for your round nail designs. French manicure is worldwide famous for its intense look and designs. Choose a light pink or clear base and make the tips of the nails stained with a touch of white nail polish. For a striking look, let your nails be drawn with black designs.
Play With Colors in Your Nails
#19. Colors and Flowers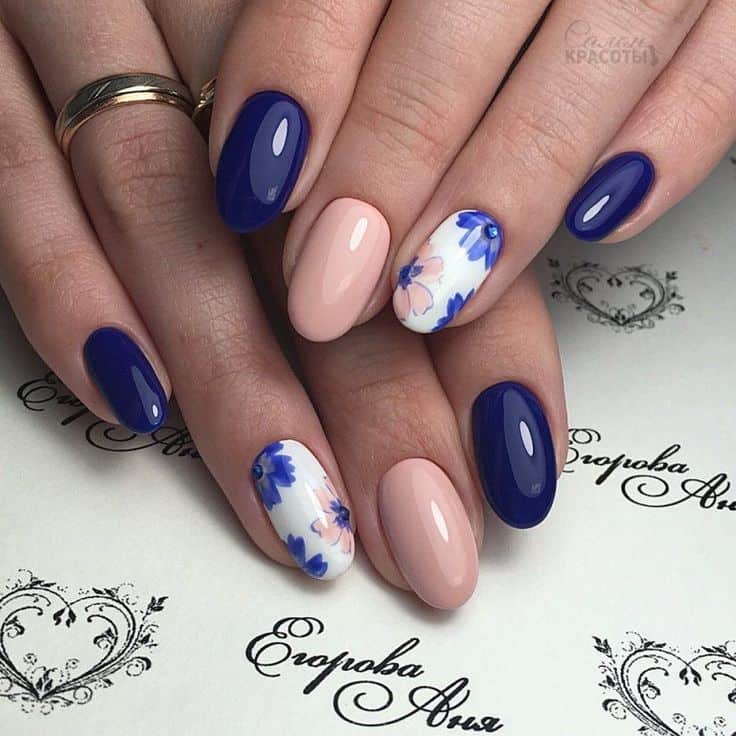 Shiny acrylic colors can be used in a lot of ways for short round nails.  Here it is a simple way to follow. Choose some colors as your wish and draw some nice looking flowers on some of them.
#20. Dotted Round Nail Designs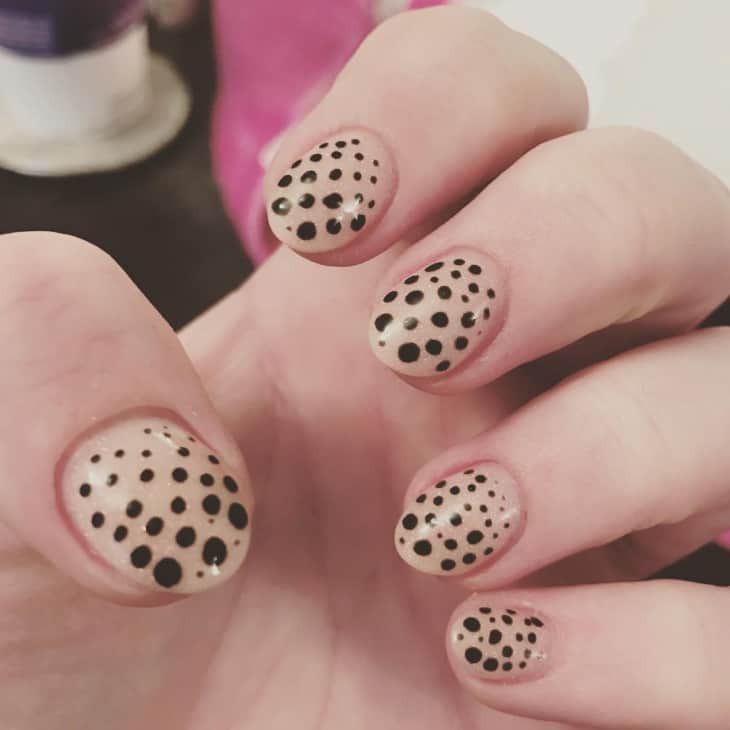 Black dots are drawn on the surface of a comparatively light color to have this design. You can choose a white acrylic color for the best contrasting look but light pink or yellow will also do the trick for your round nail designs.
#21. Pink Round Nails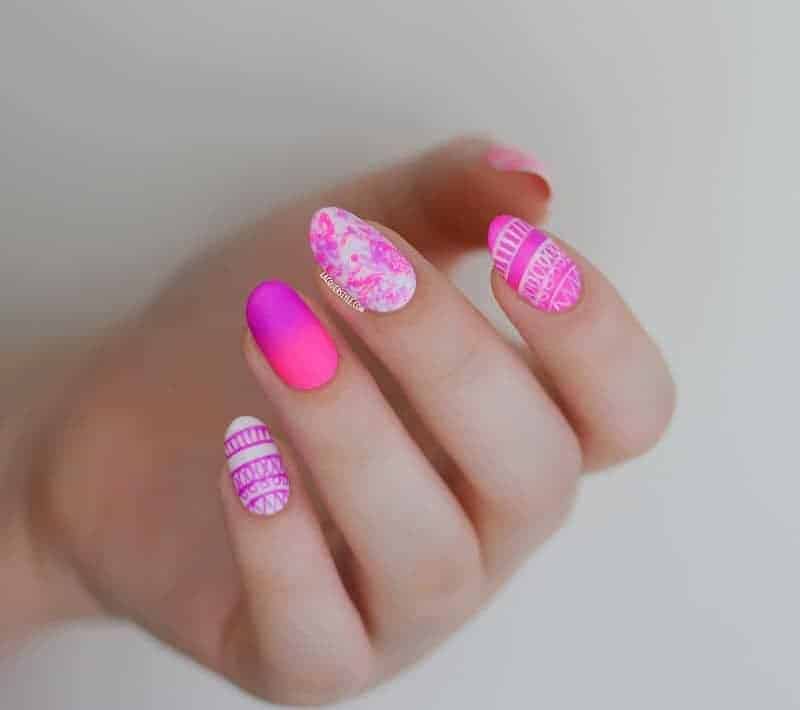 Pink is supposed to be the identical color for the girls. Most of the people think it as a girl suitable for only girls which might be considered as prejudice. But, it is very true that pink complements the girls more than the boys. Here are some pinkish designs for you. Ombre nails mixed with various pink art are the secrets of this design for your round nail designs.
#22. Black & White Round Nails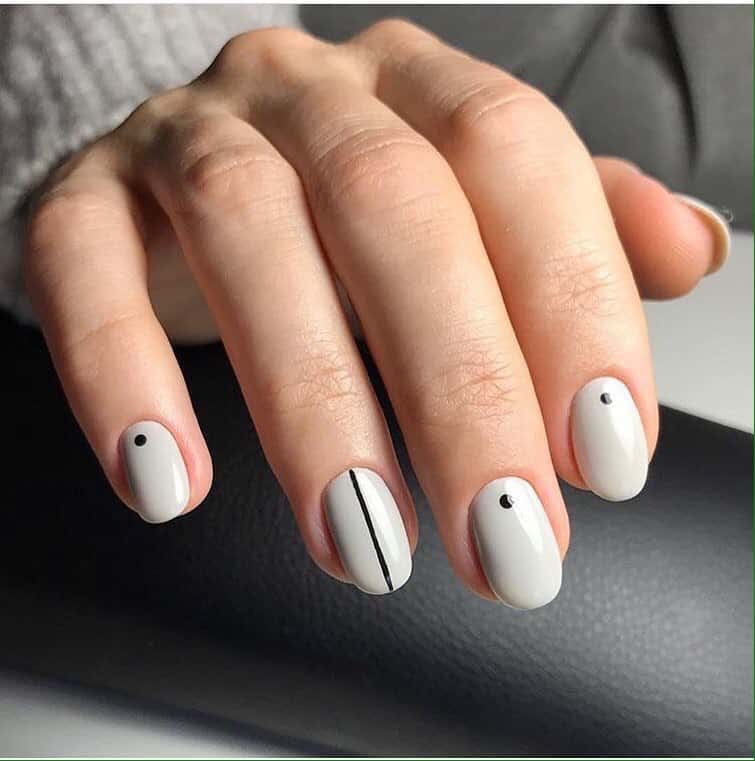 This design is for those girls who want to have a simple design to be drawn but gorgeous to be looked at. It is very easy to design. First, fill the nail with a single color, preferably white. Then draw a line right across the middle of the nail or draw a dot at the lower side of the nails, That is it, simple round nail designs for you.
#23. Pretty Round Nails
Another simple but pretty round nail design is given for you. Combine two light colors and apply them carefully on your nails determining a line between the extra nail beyond the base of the finger. It will give a look as if the extension of the nail is different than the base nail.
#24. Nail Leaves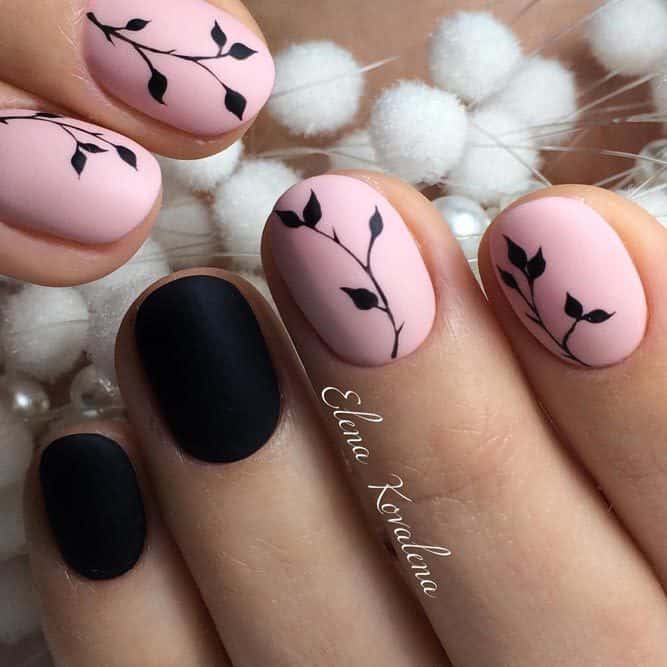 Leaves are an important element of any artistic designs, so why will it be an exception regarding round nail designs? You can have nice looking trendy designs by drawing your nails with the beauty of leaf blades on matte nail polish. Brown, black, maroon or a bit pinkish-white can be the best combination for this design. But for the leaves, black must be used to satisfy your aesthetic hunger.
Elegant Matte Nail to Get The Look
#25. Dragon Themes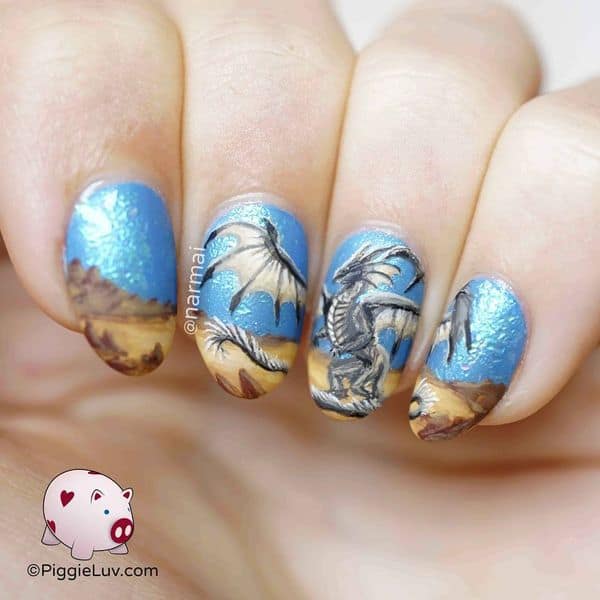 If you are a lover of myth or any dragon movie or cartoon, this design is for you.  Use all your nails of each hand as a sole canvas for the painting, then draw your desired dragon character. A very simple way to show the world that you are a fan of dragons along with round nail designsns.
#26. Marbling on Nails
Marbling is the art of intermingling two or more colors to give an appealing look which resembles beautiful patterns on smooth marble. Though, nail marbling does not necessarily require the implementation of conventional marbling art techniques. You can choose nude pink color as the focused color and white or off-white as the other color to have this unique design.
#27. Illuminati Eye
Illuminati has become a buzzword lately. No matter you are a fan of them or not, you must be fond of these round nail designs. It will be fun having the all-seeing Illuminati eyes at your fingertips. You can also use different patterns to give it a new dimension.
#28. Interwoven Black & White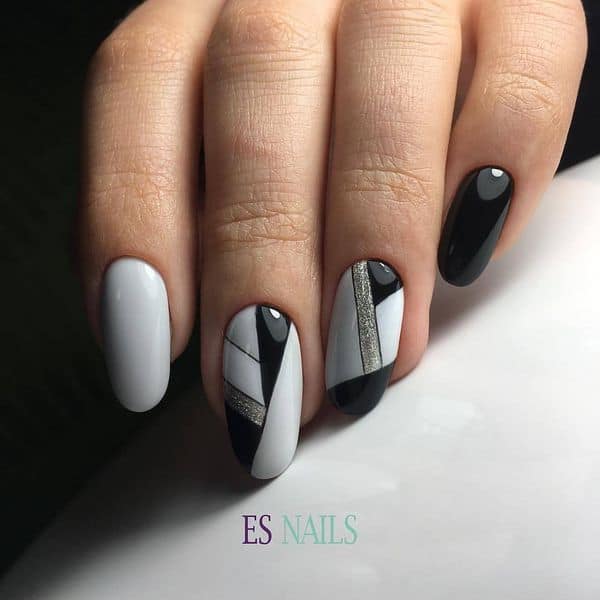 This design will be the ultimate choice of girls who are fans of black and white. Black and white nail polish is used for this elegant design. These two colors are interwoven keeping a glittery silver color in the middle in order to give a stunning look. You can use different patterns in between these three colors to give variations in your round nail designs.
#29. Round Nails for Kids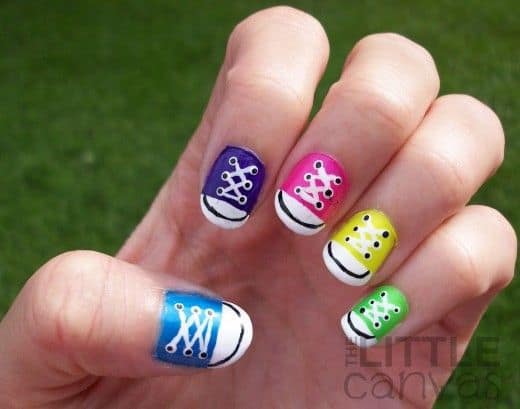 It is not always the grown-ups who crave for different nail designs. Your kids can be the center of attraction if she carries converse on her nails. Here is something interesting for you. Draw these shoes on your nails carefully. Remember to wait before using different colors on the same nail because nail polishes need a bit of time to dry. Here it is, one of the most loved round nail designs for the kids.
#30. Template Cute Cats Design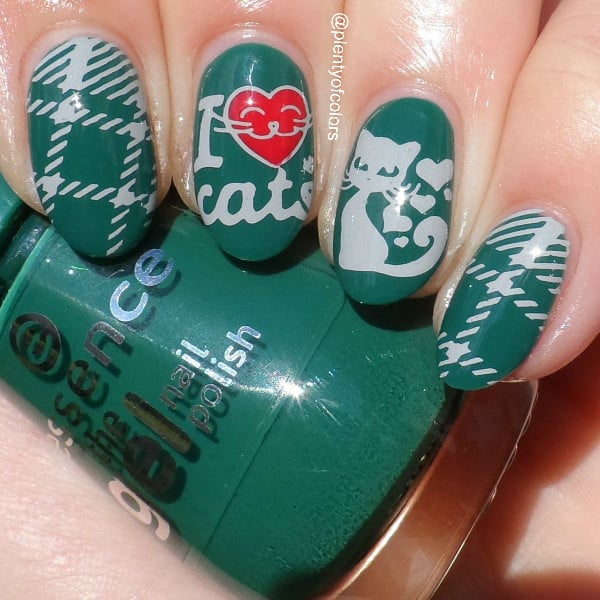 This design is mainly for cat lovers. A large number of girls are pet lovers, they have immense affection for cats. This design could be the best fit for them. But it is not solely dependant on nail polish, you have to stamp a template design to have these cute cats drawn on your round nails.  Apply a nude color on your nails.  It is used as decals.  Apply the sticker on your nail and wait till the image of the cat appears on your nail. Your desired round nail designs are ready. You can buy these template designs from online shops or keep connected with local shops to know if they have anything like this.
Cut it Short! Try These Round Nails
Amazing Round Nail Designs that Will Entice You
In conclusion, I can say that there are numerous designs available for round nails but a few are try-worthy. You can try our round nail designs to make a difference. I have tried to cover a wide range of designs for you, hope you all find it entirely beneficial.