Mickey Mouse series, Mickey Mouse Club House, and many other TV shows that are presented by Disney Channel with Mickey mouse as the star of all these shows which made him the superhero of many children and the cartoon character that many adults love. So if you really love him, try to take Mickey wherever you go by wearing a mickey mouse nail design.
Best Micky Mouse Nail Design Ideas
After being a Mickey mouse fan and you notice that this character has just stolen your heart, you start feeling that you want to take Mickey with you wherever you go!
And if you want this to happen, you are not going to feel satisfied by only buying some Mickey t-shirts from internet websites or some fluffy shoes, you will always feel that is something missing!
Actually, to fill this empty space you are talking about, you can try some Mickey mouse nail designs on that will make you look adorable, girly, and childish at the same time!
#1. Tiny Mice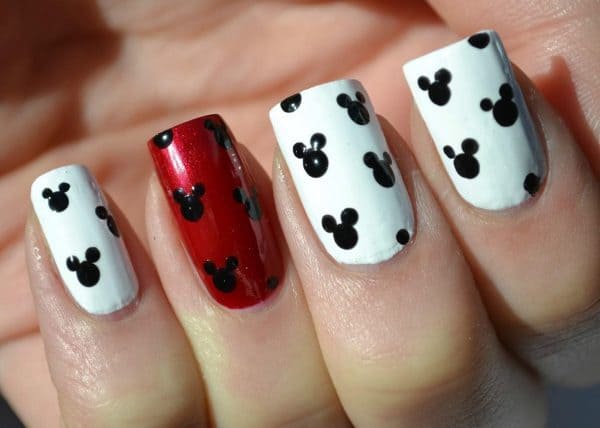 There are many ways to express your Mickey mouse love in a nail design. One way is to have tiny signals all over your nails made from the shape of Mickey's head by the help of a black nail polish having a white base in all nails but a red one in the ring fingernail knowing that the colors that present Mickey mouse is red, black, and white.
#2. Triple Phase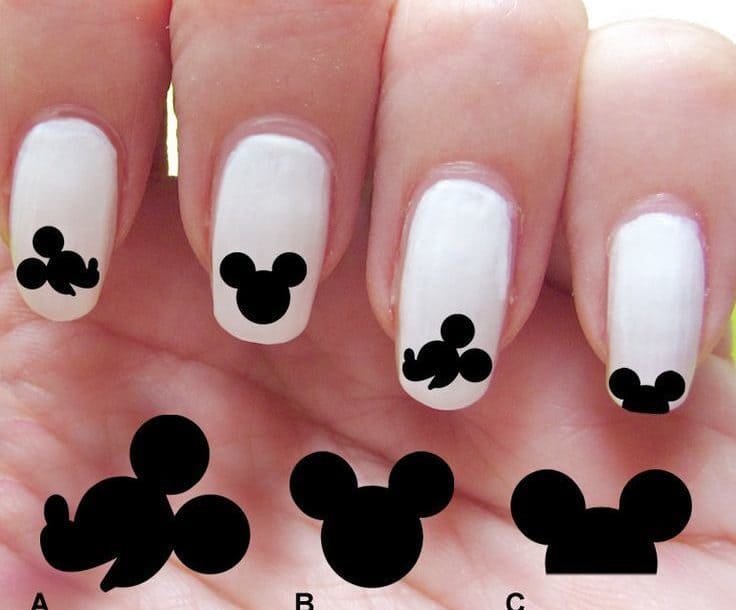 Another way to show your love for the Mickey mouse character is to present him in many phases and ways. You can have a simple white nail design, and then start adding different phases and positions for mickey in different nails by the help of a black nail polish, all together to create a Mickey mouse nail design.
#3. Mickey And Minnie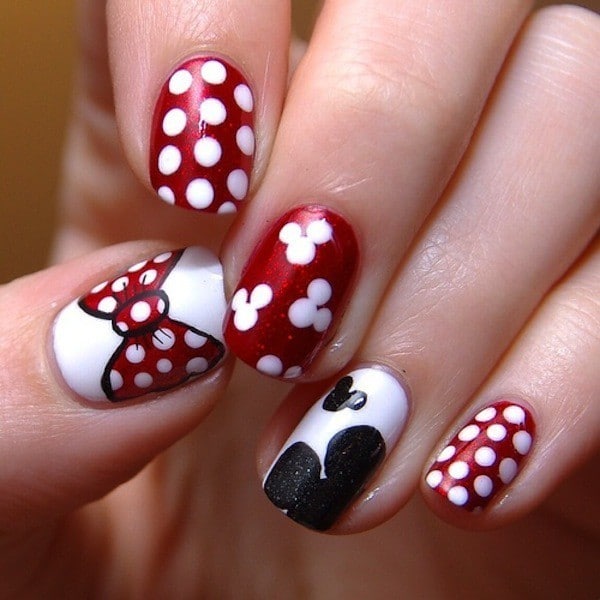 In this design we are choosing the style of having different patterns: red base and white polka dots similar to the one in Minnie's bow tie in index and pinky fingers, small white Mickey shaped heads with red base in middle finger, Mickey black ears with white base in the ring finger, and Minnie's red bow tie filled with white dots and a white base in the thumb finger.
#4. Boosting Cuteness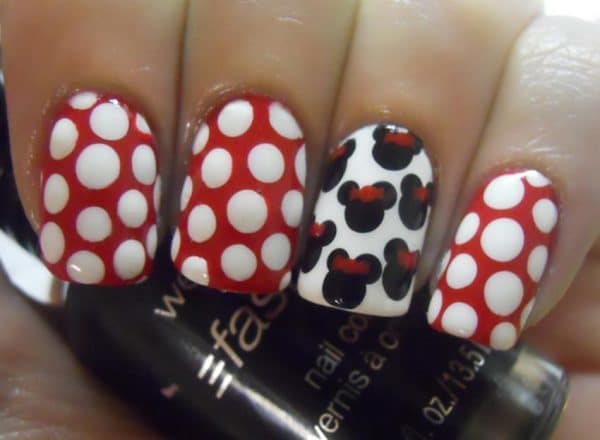 Minnie is the one that loved Mickey the most, so when talking about Mickey you instantly remember Minnie. However, Minnie is the idol of cuteness that she obtains when wearing that red bow tie on her black head as shown in the ring finger, and the rest nails are as a zoom in for the bow tie filled with white polka dots.
#5. The Kiss Of Love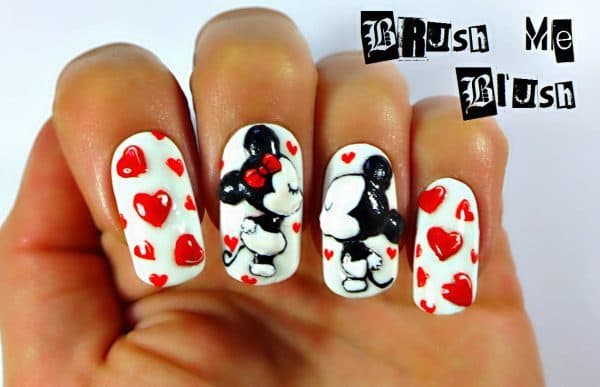 Social medias have always talked about the strong love between Minnie and Mickey. Moreover, this Mickey mouse nail design presents a romantic position between the couple while they are kissing with a white background full or red hearts that gives a lovely taste to the romantic moment!
7 Spongebob Nail Designs for Your Inner Cartoon Fan
As you can see, the best way to express your love towards the cartoon character "Mickey Mouse" is by wearing a nail design that is full of Mickey and Minnie mouse touches which provide you with the adorable and cute look you always wished to have. The above list of 5 Mickey mouse nail designs gives you brilliant examples about this kind of nail designs. Hope you enjoy them!