If you consider yourself a lady who loves love or loves feeling romantic, you definitely need to try heart nails! Your love of life, a friend, colors, or just love itself can be shown on pink, red, even blue nails!
Tiny hearts, big hearts, and even crystal hearts are all beautiful accessories that can be used to liven up your heart nail design.
To see how you can work in hearts on your nails, take a look at our favorite heart nail designs. One thing is for sure: there's more than one way to show love using your nails!
Heart Nail Designs
For 30 beautiful heart nail designs, you'll love, check out our collection below! Your next step will be picking your favorite one to try first!
#1. Gel Nails with Hearts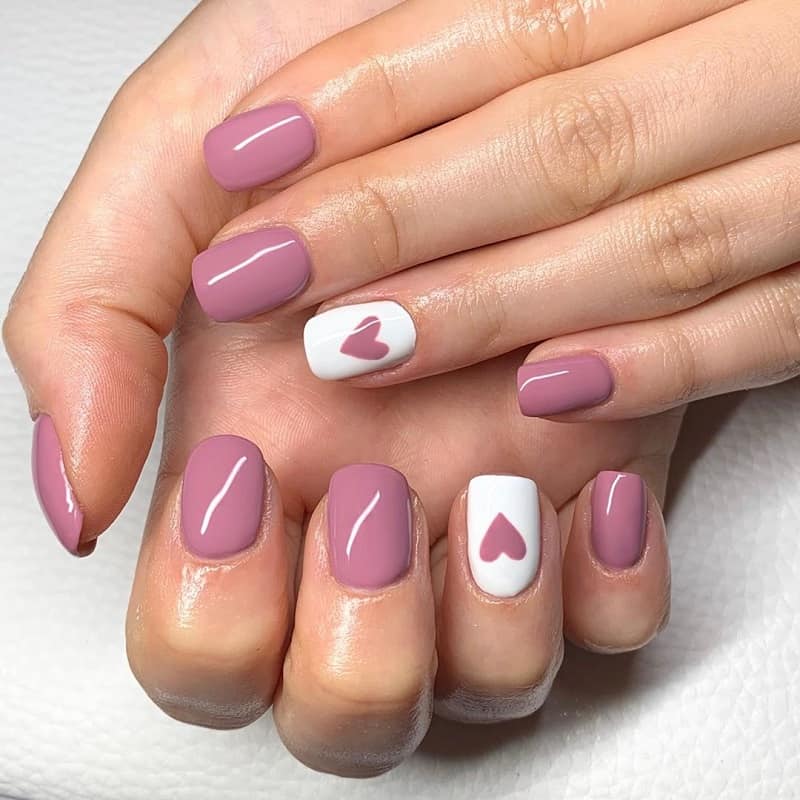 Short round nails are the perfect size and shape for a medium shade of pink gel polish. Paint the ring fingernail bright white and add a matching pink heart right in the center.
#2. Broken Heart Nails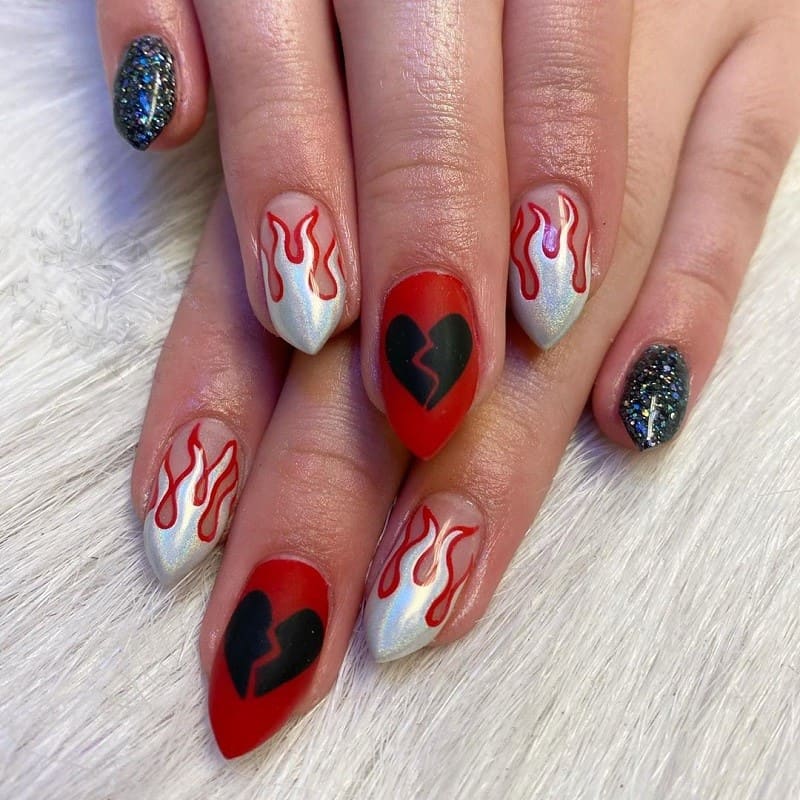 Whether you want to wear your broken heart on your nails or you just love the idea of an edgy heart nail, choose bright red for short stiletto nails and top with a black broken heart.
On the other nails, you can hand draw red flames, filling in with chrome silver, or fill them in completely with silver glitter polish.
#3. Heart Tips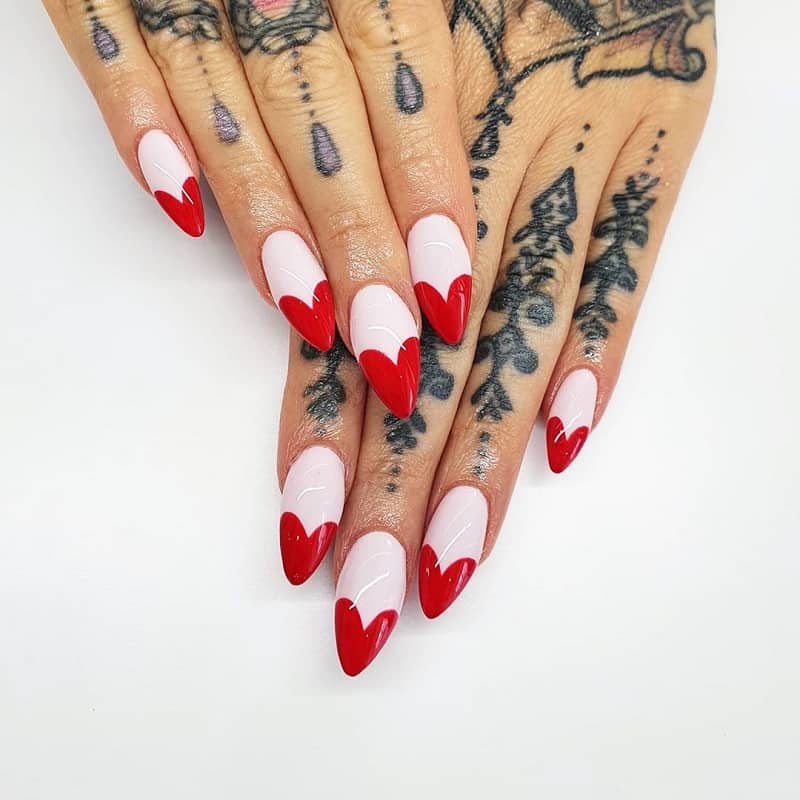 Dainty almond nails are painted bright white to draw all the attention to the bright red tips that are shaped like the top of a heart.
#4. Red Nails with Nude Heart
These bright red heart nails are super romantic, perfect for date night or Valentine's Day. To get the nude sparkly heart on the ring finger, you may have to airbrush the red on over a stencil.
#5. White 3D Hearts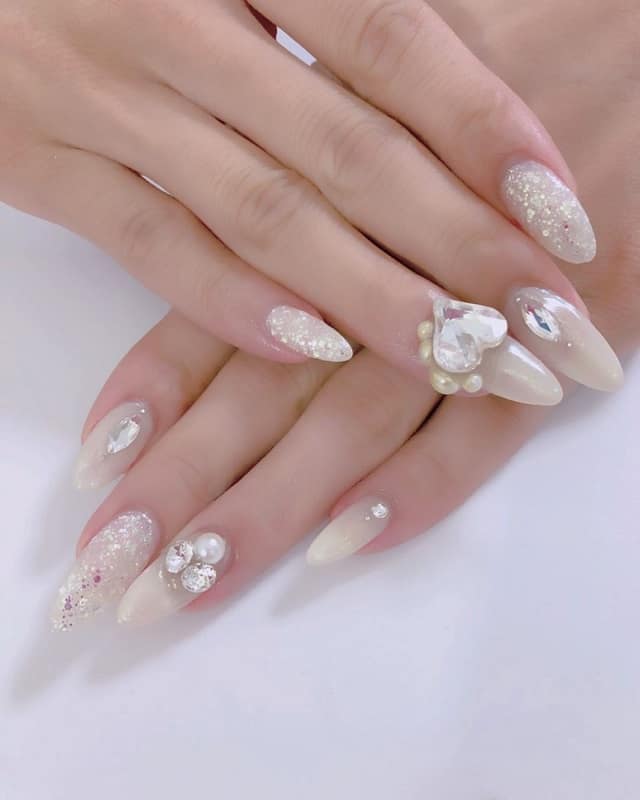 Glitz and glamor take center stage on these white heart nails. The large jewels, sparkly accent finger, and jumbo 3D heart will have everyone wanting to know who does your nails.
#6. Blue Heart Nails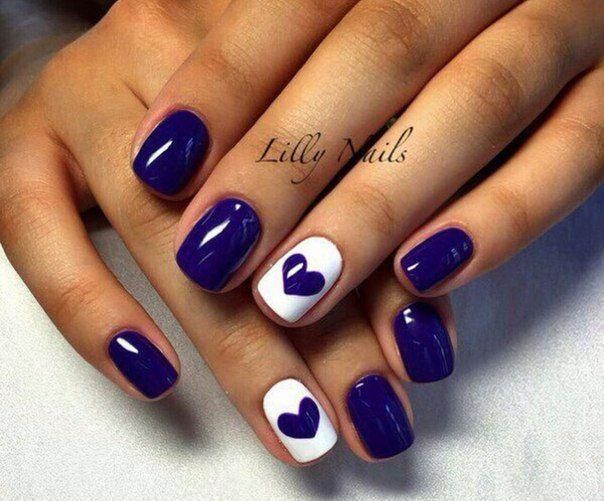 If you are really in love, sometimes you face heartbreak for sure. Love is something that gives us pleasure along with pain.
So, more or less you'll feel blue at times. But, don't get depressed at anything, you can shout out your sorrows through the voice of your nails. Paint your nails with blue heart shapes.
#7. Black and Red Heart Nails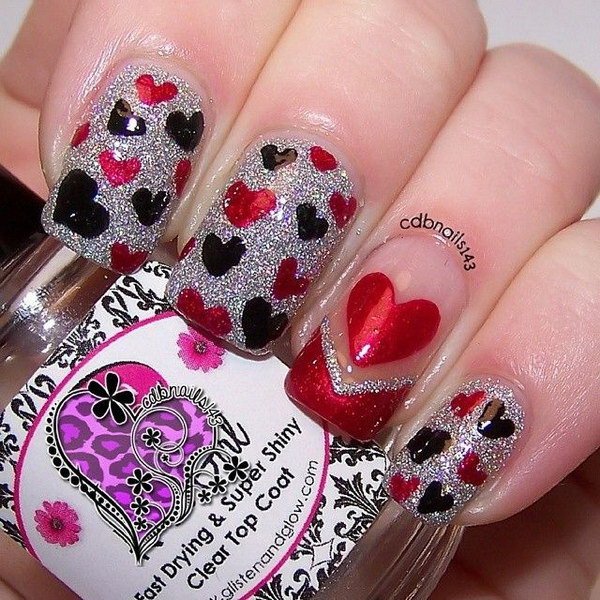 This is a happy-looking nail design. If you have bliss in your mind, this will be the perfect heart shape nail design for you. The outlook of this design creates a notion of happiness.
So, be careful not to wear them on a sad occasions. You can use silver glitters to make these heart-shaped nail designs glow.
#8. Simplicity of Heart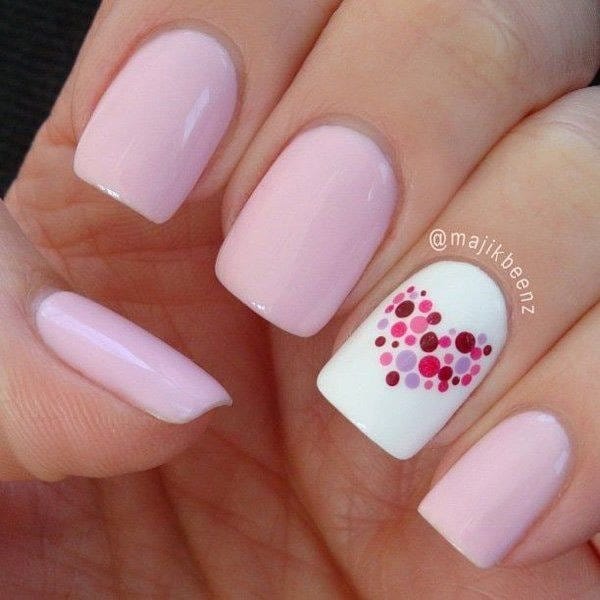 If you have a simple heart, you can have simple heart shape designs on your nails. Avoid all the complexities of nail designs, paint any of your nails with a heart shape using color drops.
#9. Sky Is the Limit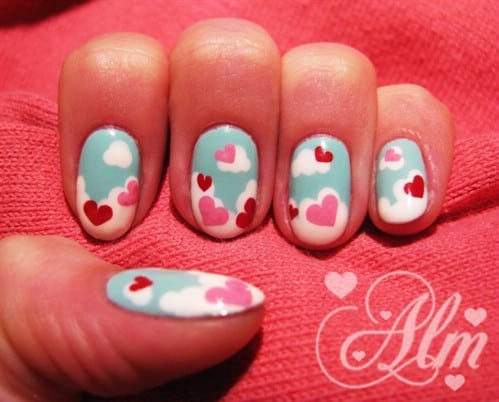 There is no limit fixed for love. Love can fly as high as it wants. For love, the sky is the only limit. You can draw this theme on your nails.
Draw some heart shapes on your nails illustrating white clouds on them. Paint the heart shape in a way as if they were floating on the clouds.
#10. Black Nails With Heart In The Middle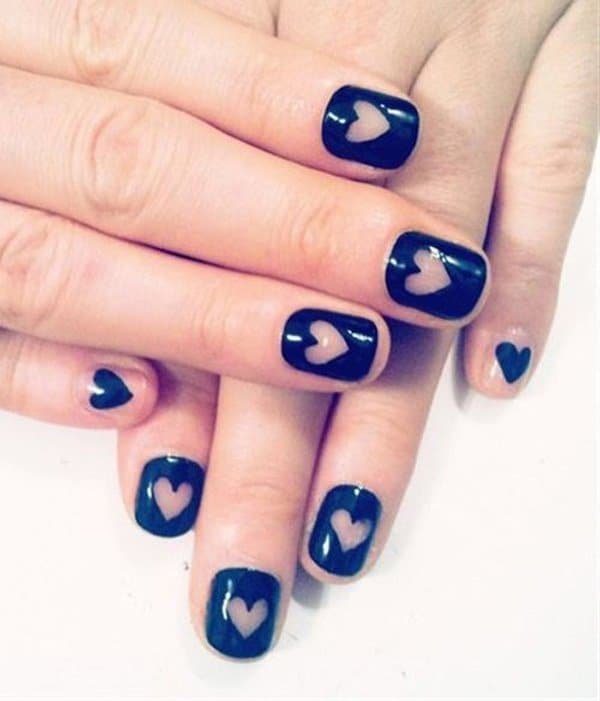 You can give this design a space in your heart. negative space is very effective to draw shapes like that of a heart. You can have this negative space heart shape nail designs at your fingertips using navy blue nail polish.
#11. Elegant Heart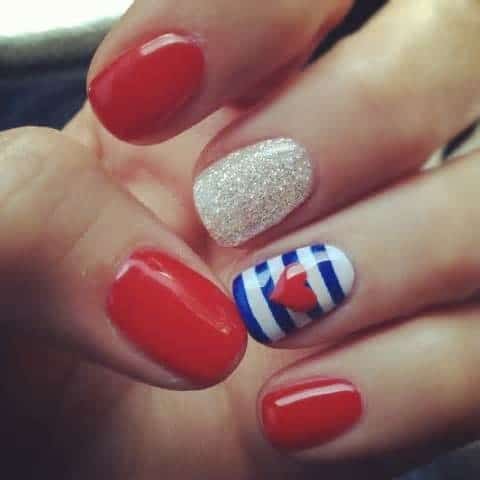 You don't have to talk about some designs. They themselves do the talking. This is that kind of design. This design is looking so elegant with that cute heart shape. You can have designs like this one for heart shape nail designs.
#12. Hot Pink Heart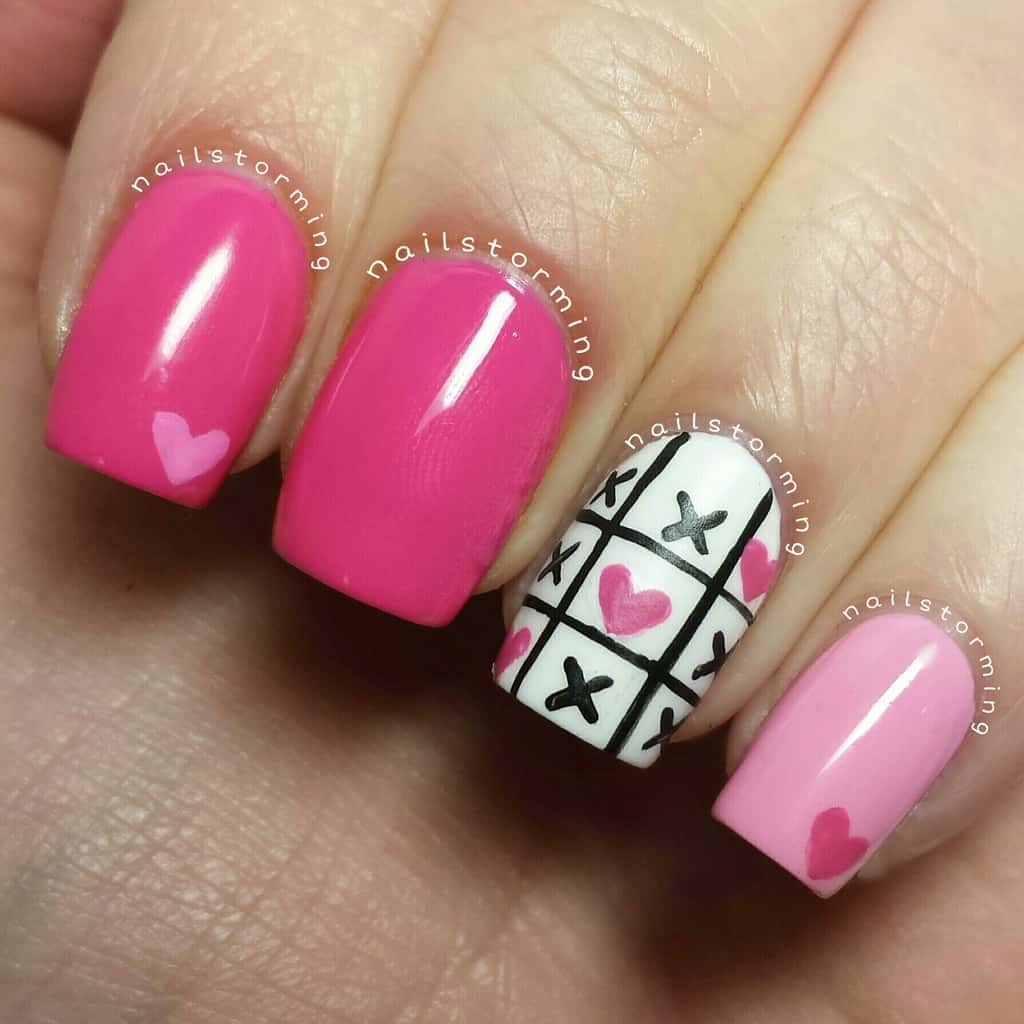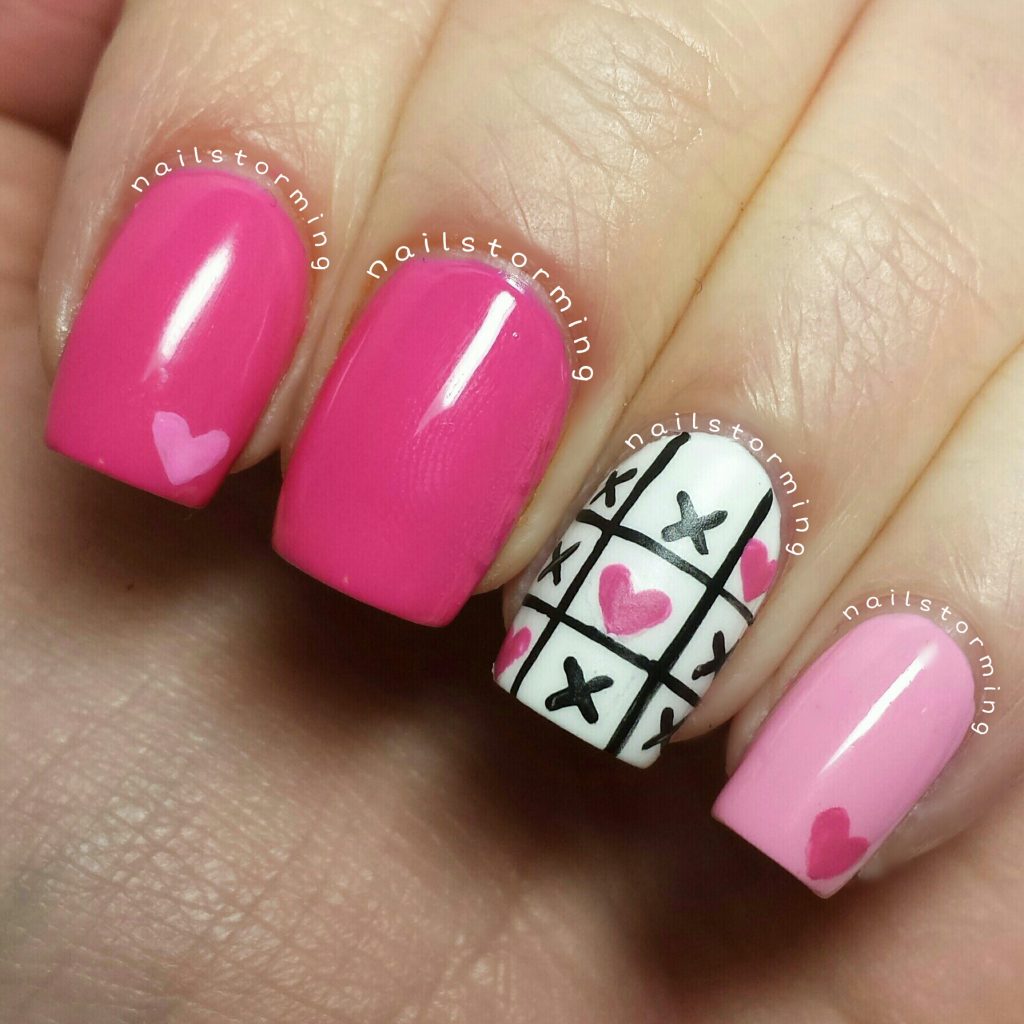 Pink is the ultimate color to express things like love and romance. You can use hot pink and black color to paint a hot heart. These pink nails look awesome if you can design them properly.
Music Note Nail Designs for The Music Lover
#13. Red and Black Heart Nails
Red nails are mostly used for painting heart shapes. The heart is the sole organ that pumps blood through our body and blood is red.
This idea somehow makes the heart shape and red color a compatible pair. You can use this pair to have heart shape nail designs on your nails.
#14. Abundance of Love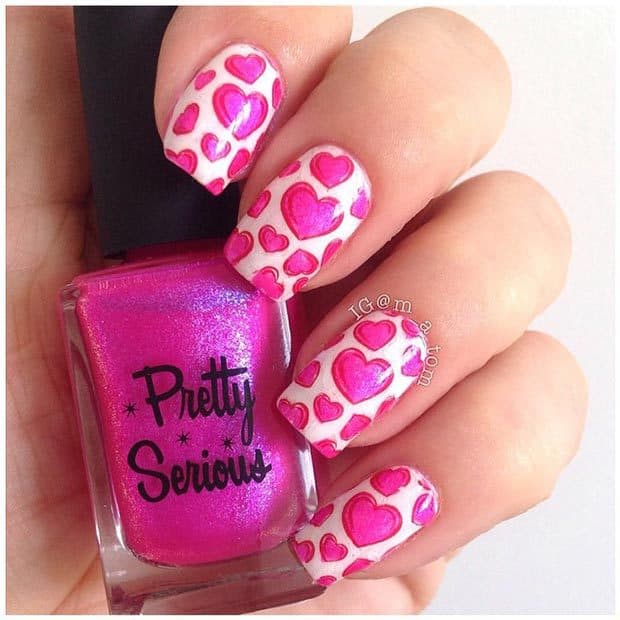 This is a simple design in the sense that heart shapes have been used in this design repetitively.
You can draw heart shapes of different sizes to have designs like this one. Different shades of pink and glitters will do good while having heart shape nail designs.
#15. Cracked Hearts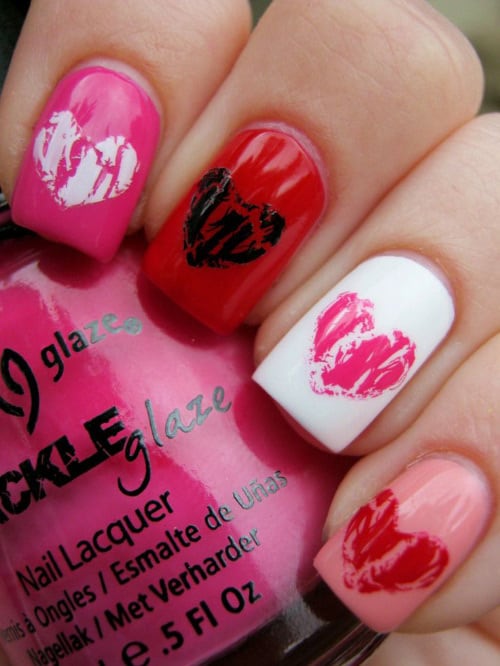 Loving someone means that you will feel broken at times. There is no perfect relationship on this earth either nobody is perfect.
So, your heart will get cracked sooner or later. But, this is not the end of your love. It gets mended most of the time by the who caused the cracks.
#16. Heart Tip Nail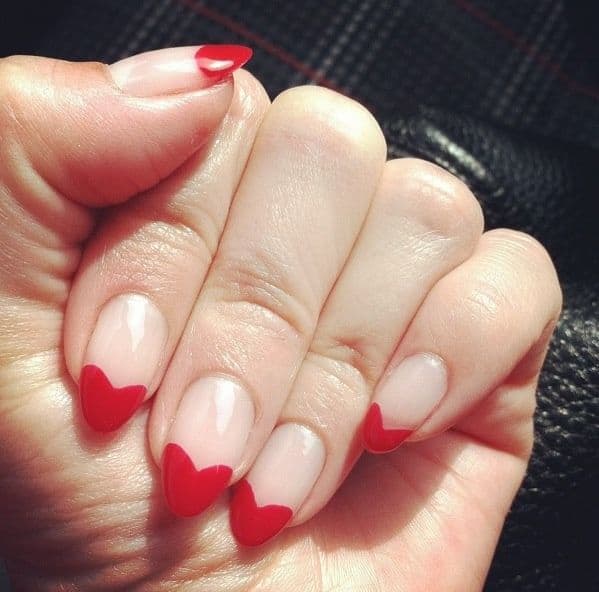 This heart tip french nail looks so simple yet gives an elegant look to your nails. This easy peasy design is something you can have as your everyday look.
#17. Heart Locket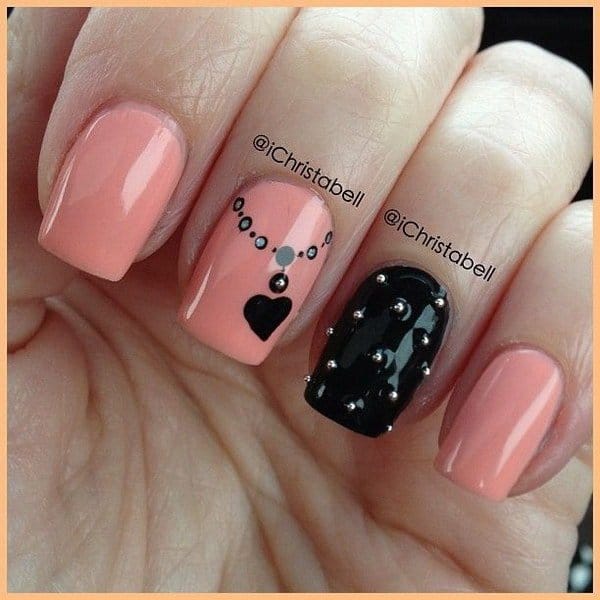 You can paint a heart locket on one of your nails to have designs like this one. Use some rhinestones to give it a luxe look.
#18. Let It Fly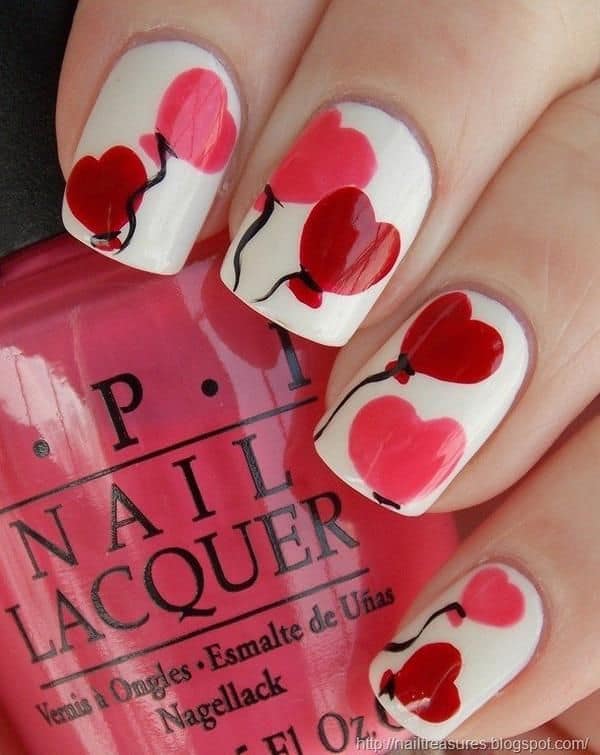 This design may mean a deep thought if you can take it that way. These heart-shaped balloons are flying high keeping a thread far below.
Likewise, when you are in an affair never try to captivate the mind of your beloved. Let him/her fly but make sure to have a thread on your control. Bring them back whenever you feel the urge.
#19. Gold Heart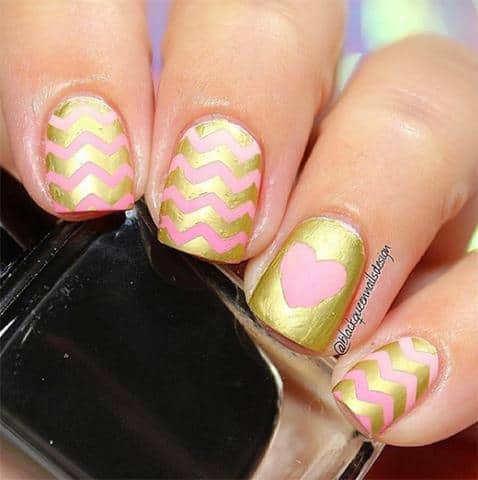 This design is so chic that anyone will fall in love with this design. Design all the nails with a chevron pattern, then accentuate one nail with heart shape design on gold and pink nails.
#20. A Heart Full of Stars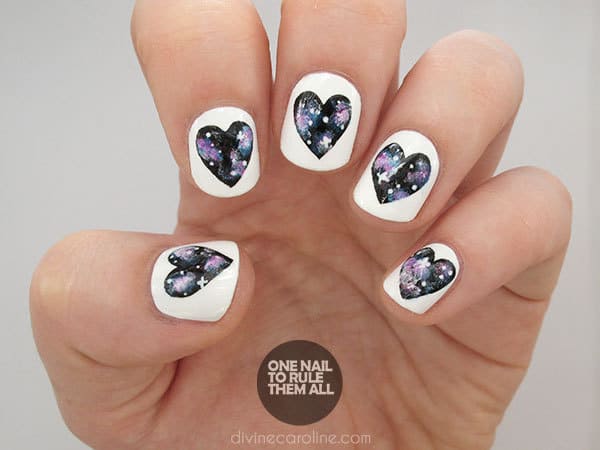 You can have galaxy nails drawn on your nails. Paint some galaxies in the heart shape of white nail bases. That will do the trick.
#21. Colorful Hearts
Our hearts are supposed to be full of colors. The heart is the source of love and affection, sorrow and happiness. So, it is a heart that consists of every feeling we feel every day.
#22. Love Is a Game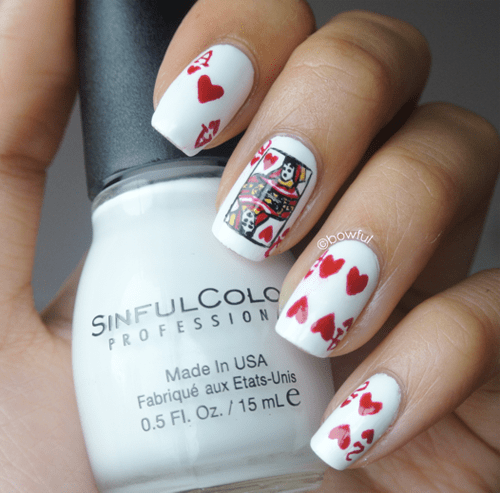 Wait wait! Don't get me wrong. I don't think love as any sort of game but the world of the internet is full of quotes like this one.
I'm just referring to name this particular design. You can draw heart shapes and playing cards to have heart shape nail designs like this one.
#23. Lone Warrior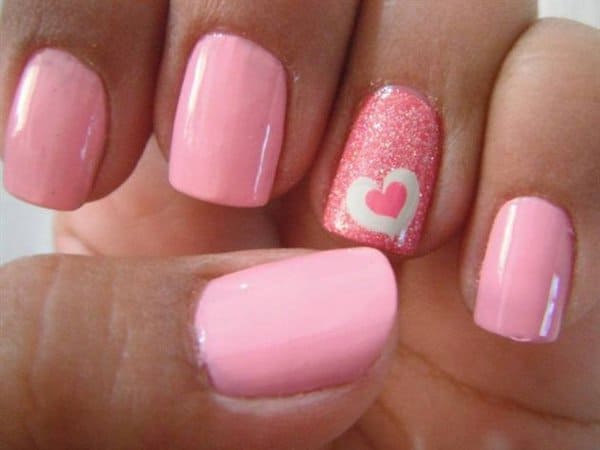 Sometimes, you have to fight the battle all alone. You can have this design by painting a heart shape along with glitters on any one of your nails.
Creative Hand Painted Nail Designs
#24. Red and White Heart Nail design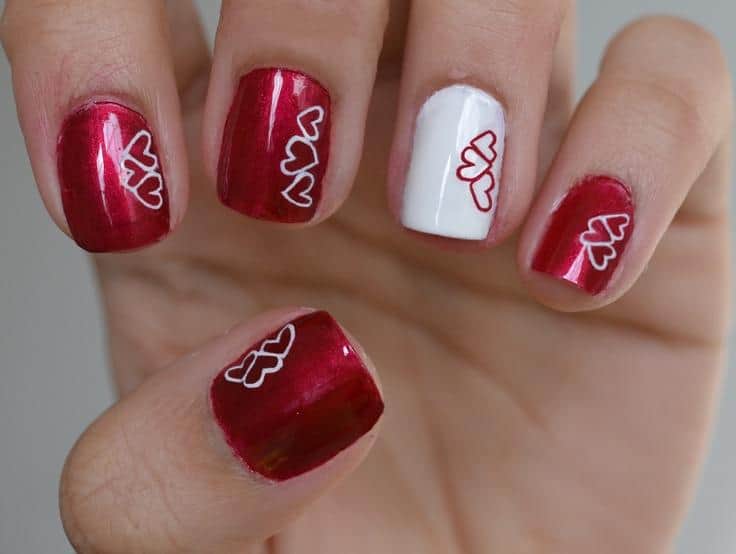 This design is exactly what the name is suggesting. Paint a cluster of hearts on each nail. You can use white and red or maroon color for this heart shape nail design.
#25. Peaceful Heart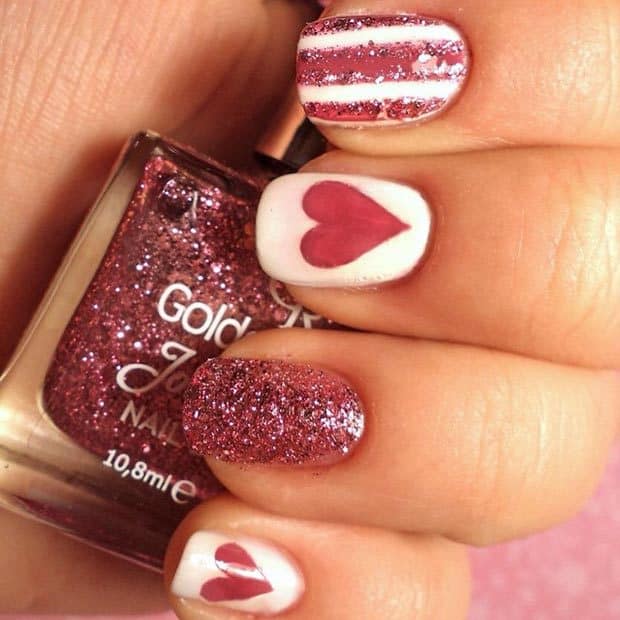 No matter what if you don't have peace at your heart but this nail design looks so peaceful. You can have this peaceful heart shape nail designs drawn on your nailbeds.
#26. Gray And Polka Dots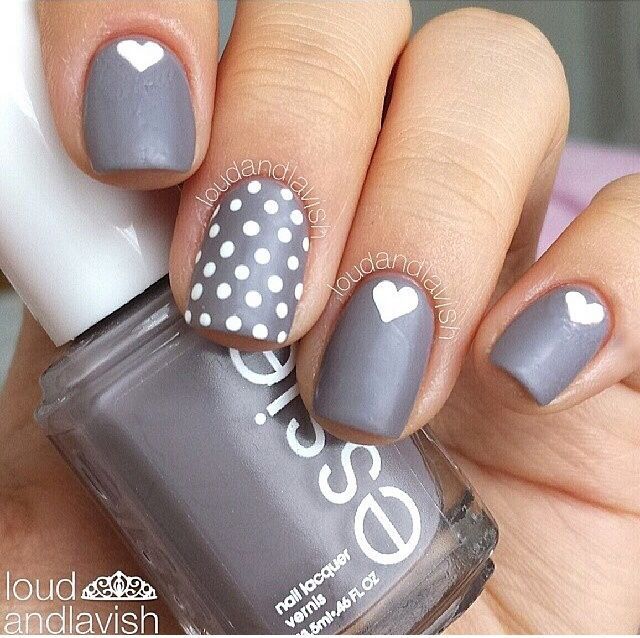 These white polka dots on grey nails look stunning. You can turn this beautiful design to one of the heart shape nail designs by adding one or two heart shapes in between the gray nails.
#27. Heart-Shaped Wedding Nails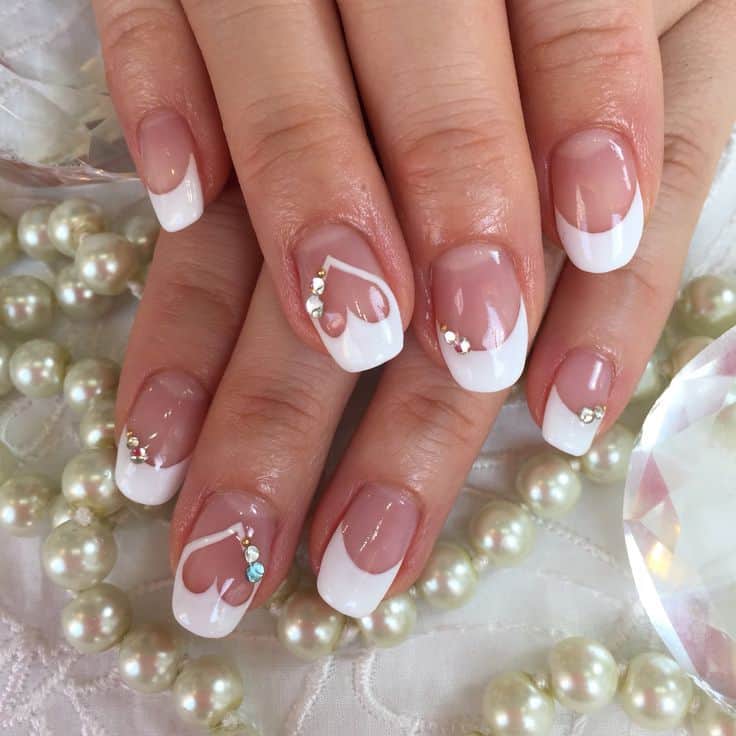 White-tipped nails are being used largely in wedding designs. You can have heart-shaped nail designs on your wedding because getting married is the ultimate goal of being in love.
#28. Striping Beauty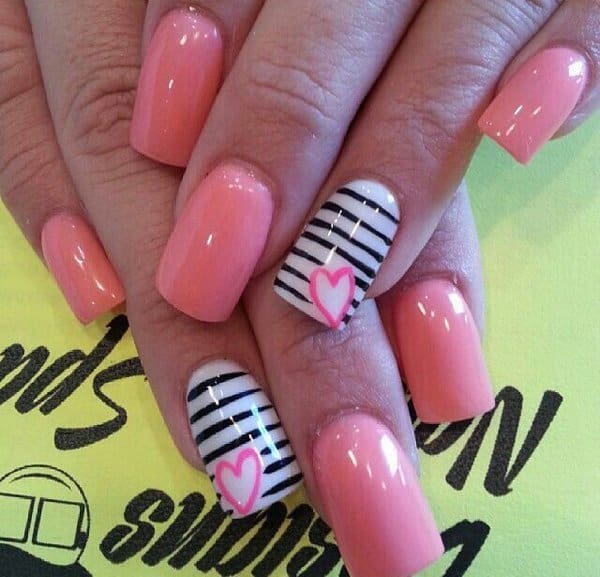 Stripes look beautiful if they are used with great efficacy. You can have striped nail as an accent nail among other pink nails. The pink heart looks beautiful in between the black and white stripes.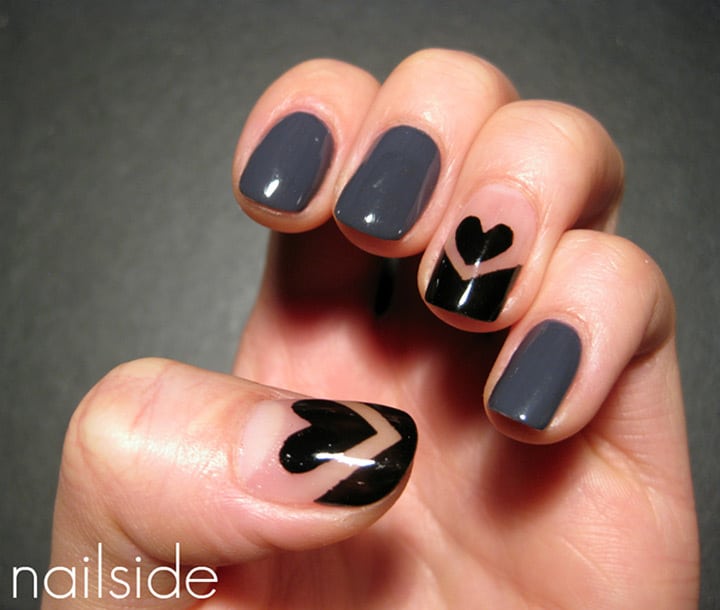 Black is the color that will stun you every time you take it lightly. These black tip nails look astonishingly beautiful with the heart shapes. You can have designs like this one as heart shape nail designs.
Flaunt These Nail on New Years Eve
#30. Stiletto Hearts
Stiletto nails look gorgeous in red color. And, you can turn them easily into heart shape nails.
Just draw the other side of the heart shape in the middle of the nails. You can use diamonds for these heart shape nail designs.