Pointy nails are so daring, and they certainly are a fantastic idea if you want to make your fingers and hands look longer.
Hottest Pointy Nail Design Ideas
Pointy nails are bold and fabulous and among every woman's requests when they pay a visit to their nail salon. You will ask yourself why? Because all Hollywood stars have them and style them in fantastic ways.
#1. Short Pointy Nails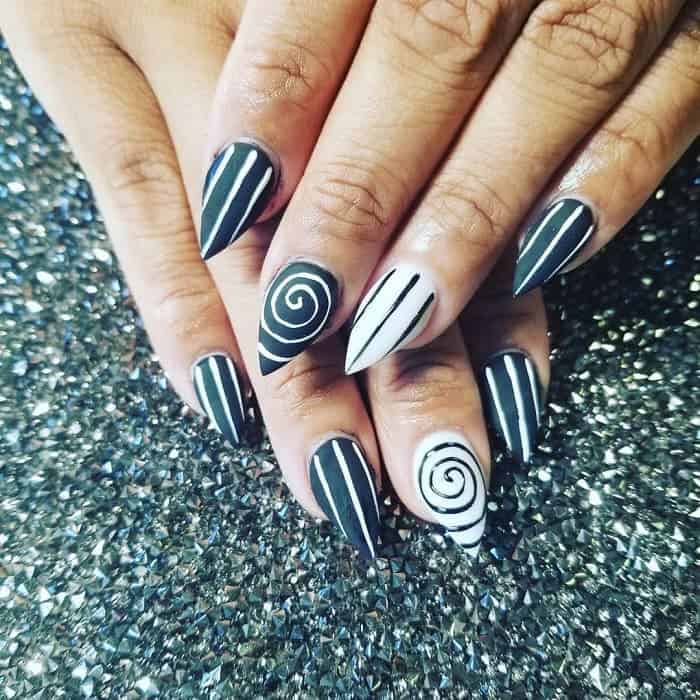 If you adore pointy nails but want to keep them shorter so that you won't harm yourself or anyone else, this amazing design is truly fabulous. Choose only black and white colors and play with the contrast!
#2. Long Pointy Nails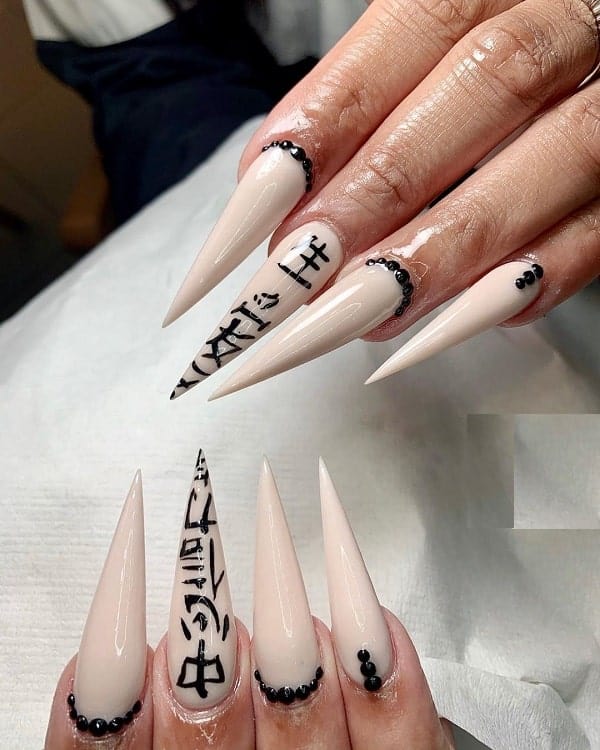 Long pointy nails look gorgeous, but before you choose to get this nail style make sure you can handle them. Make them in a creamy white color and create some dots at the base of your nail. You can even write something on one of them for a more impressive touch.
#3. Pointy Toe Nails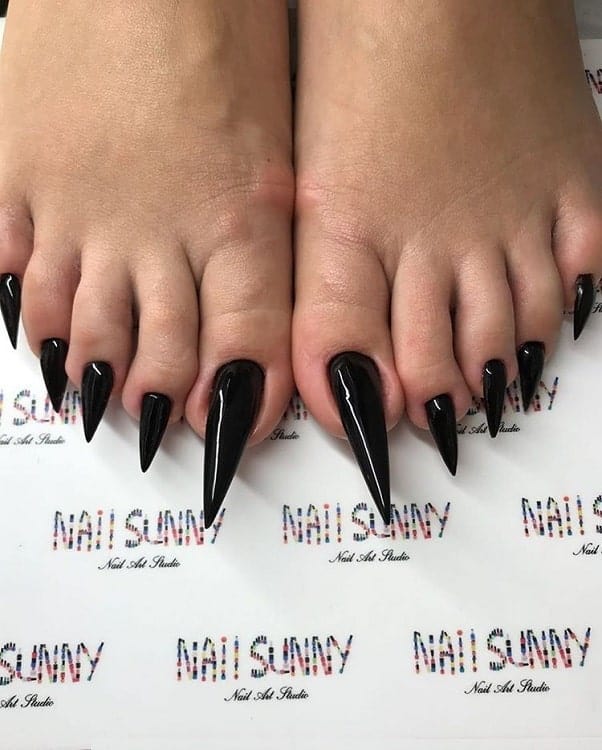 This pointy look for toenails is certainly a style that you can adopt during summer. These black long pointy nails will have a tremendous impact on your appearance, and you will adore the way they suit you.
#4. Pointy Acrylic Nails
#5. White Pointy Nails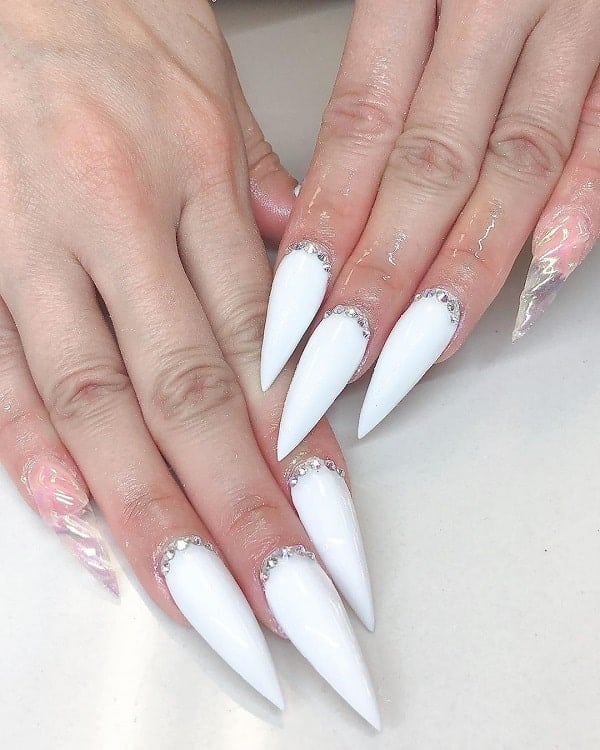 #6. Nude Pointy Nails
#7. Pointy Red Nails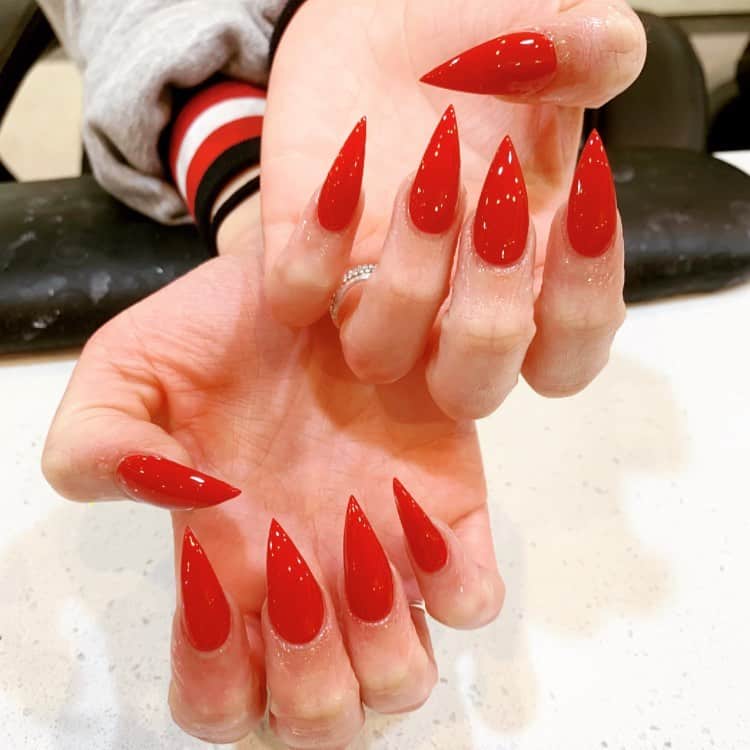 #8. Pointy Pink Nails
#9. Yellow Pointy Nails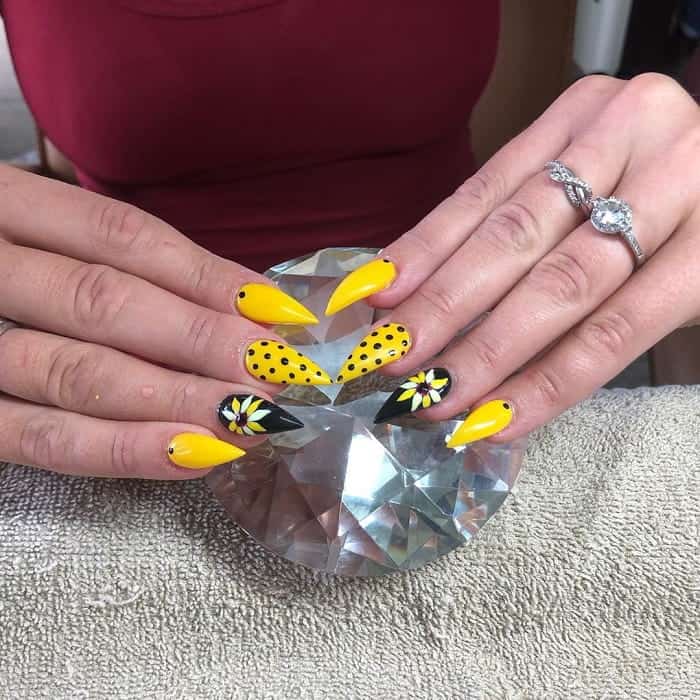 #10. Pointy Halloween Nails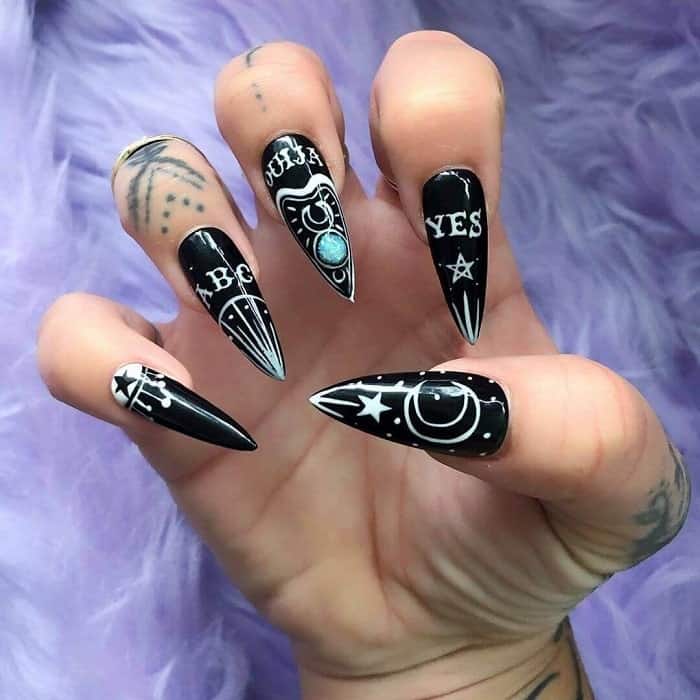 #11. Pointy Glitter Nails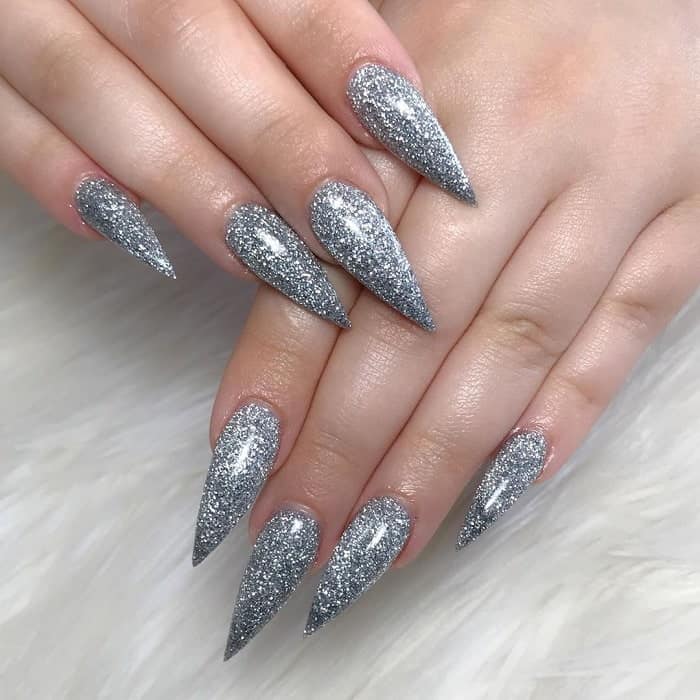 #12. Burgundy Pointy Nails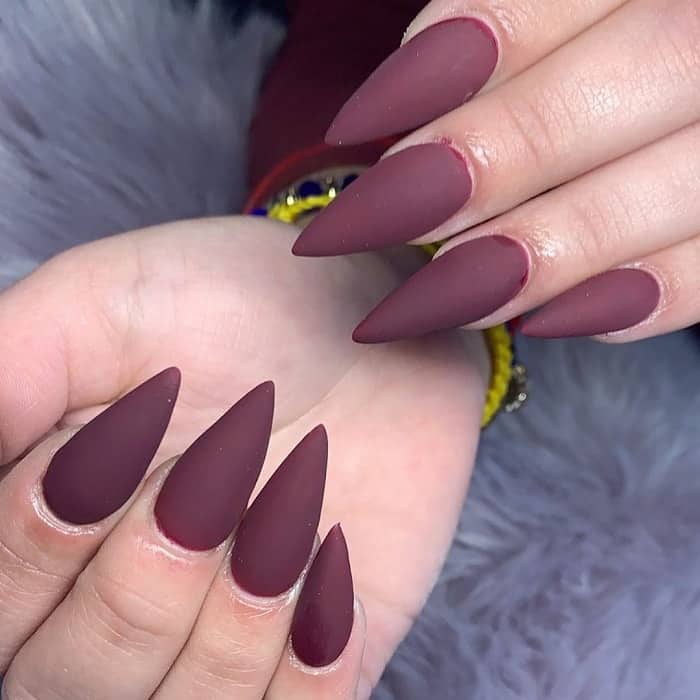 #13. Maroon Pointy Nails
#14. Pointy Nails with Rhinestones
#15. Clear Pointy Nails
#16. Mint Green Pointy Nails
#17. Pastel Pointy Nails
#18. Pointy Shellac Nails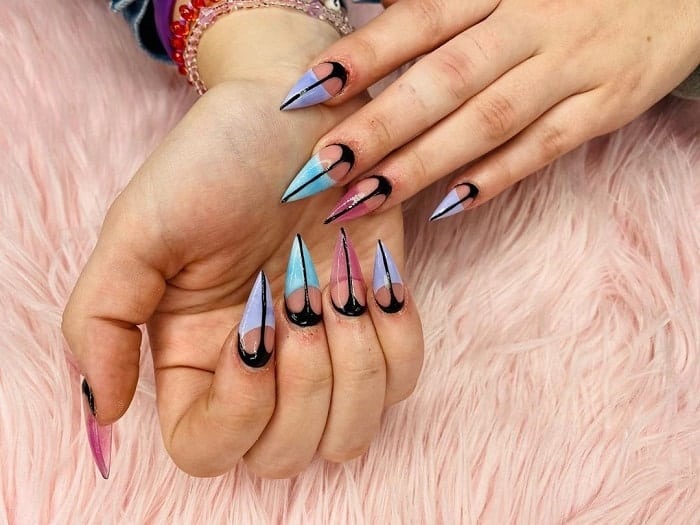 #19. Pointy Ombre Nails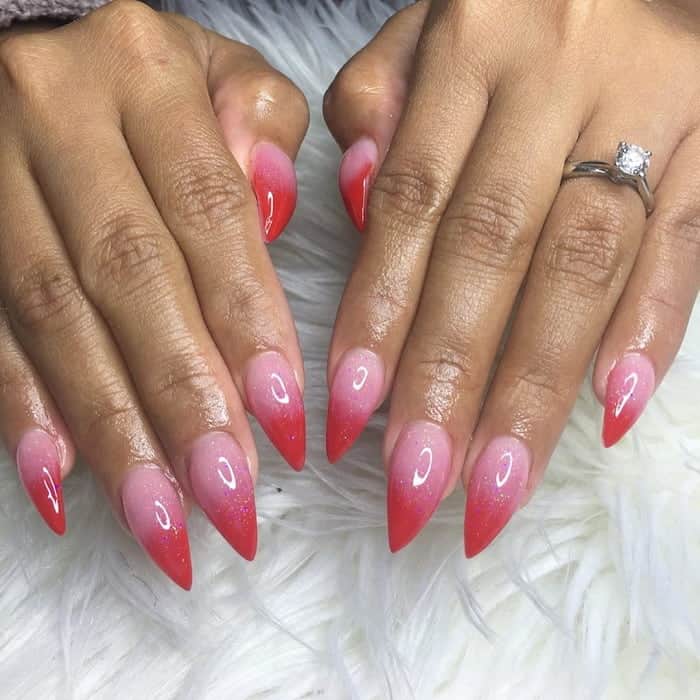 #20. Pointy Purple Nails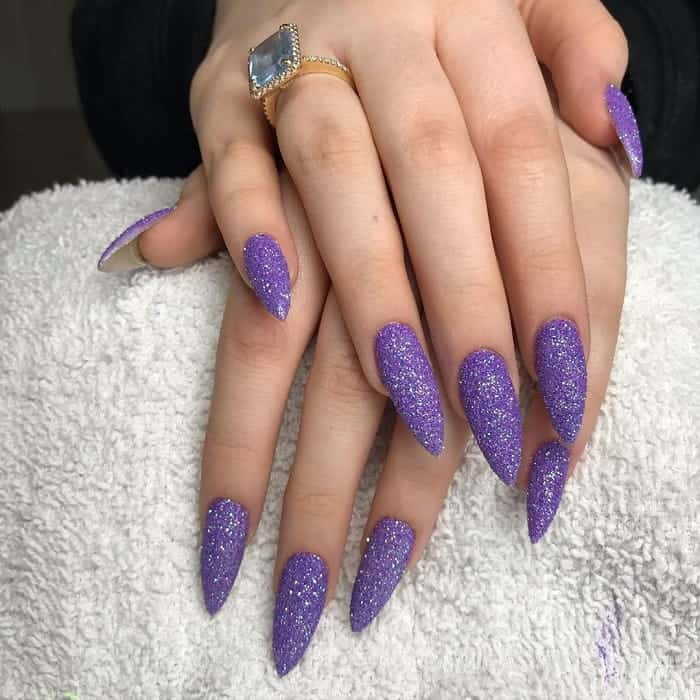 #21. Pointy Witch Nails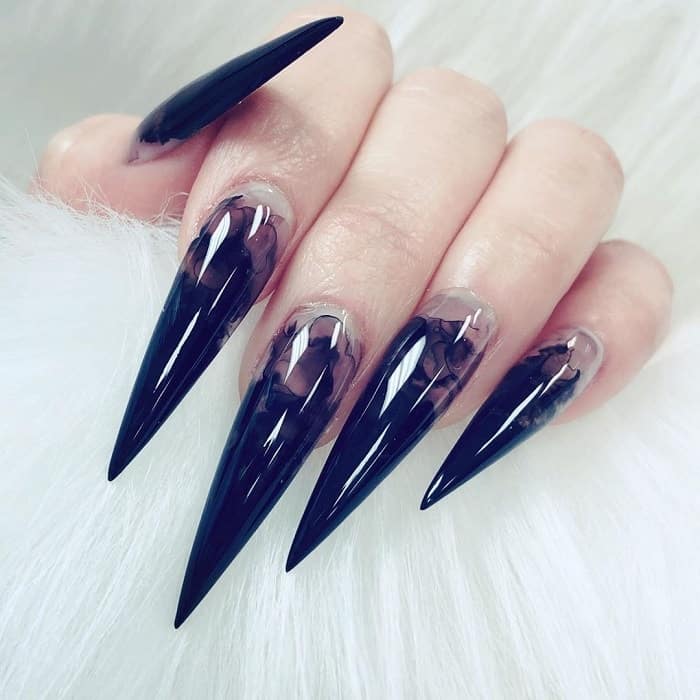 #22. Rainbow Pointy Nails
#23. Pointy 3D Nail Art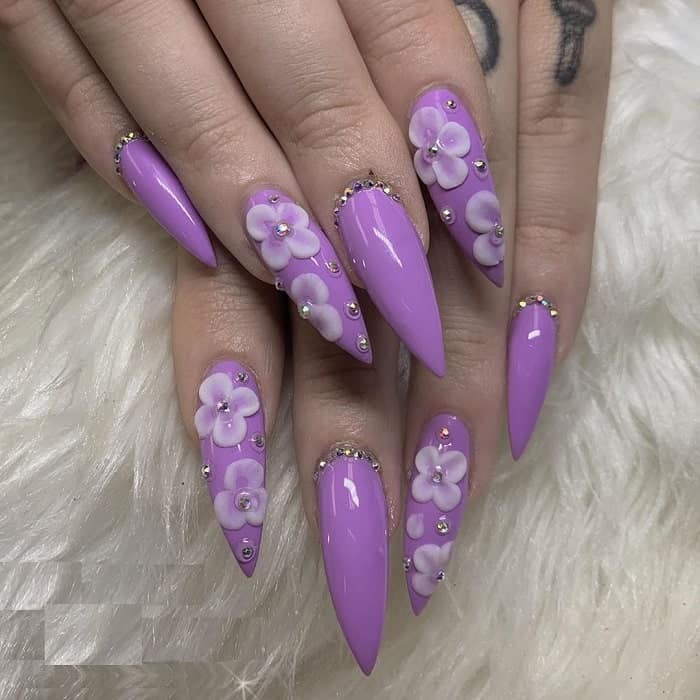 #24. Grey Pointy Nails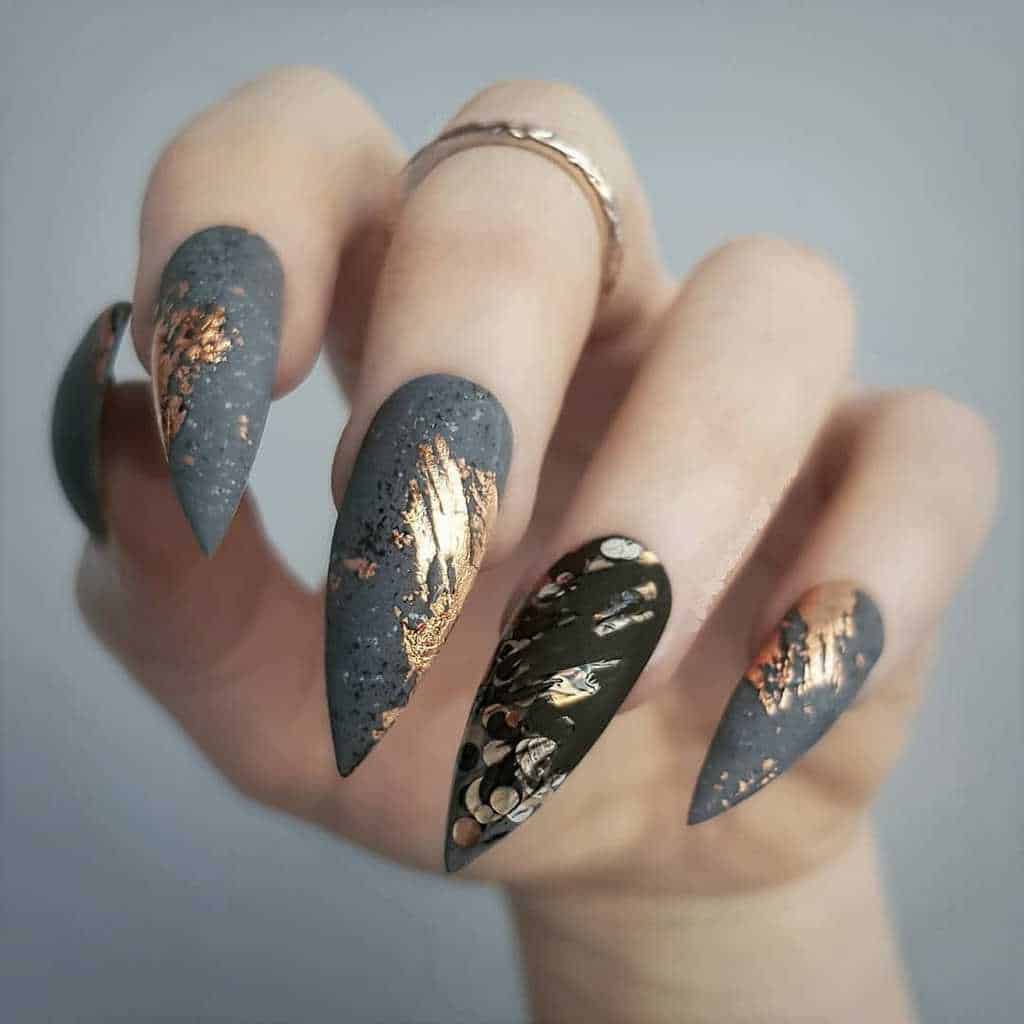 #25. Pointy Marble Nails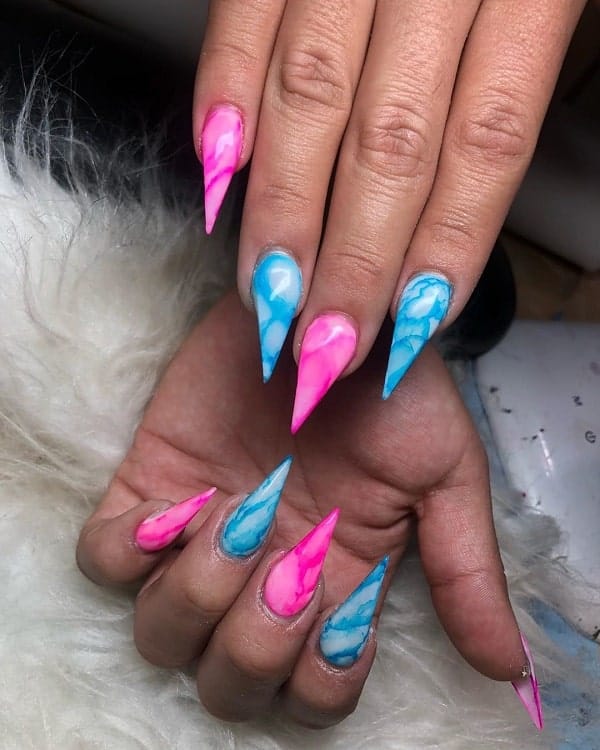 #26. Metal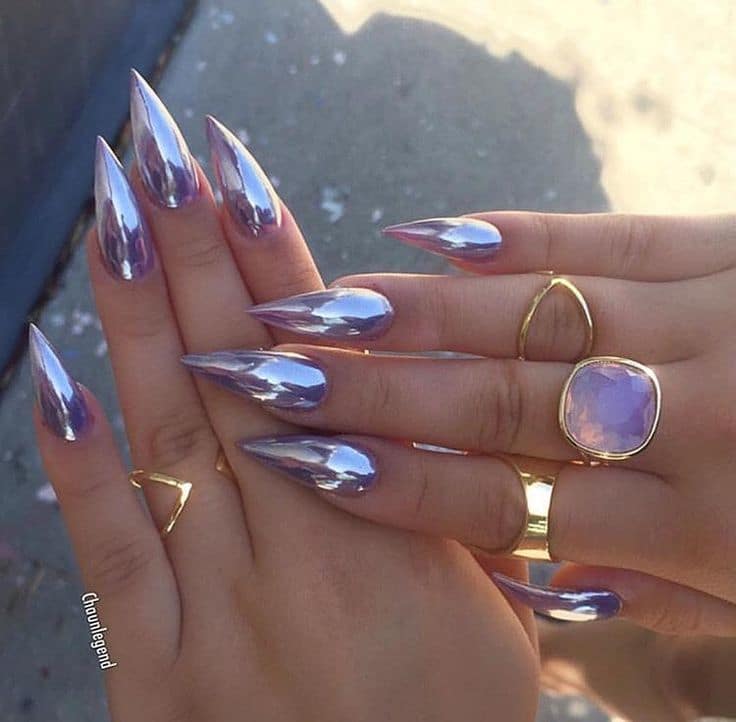 #27. Sculpted
#28. Natural Pointy Nails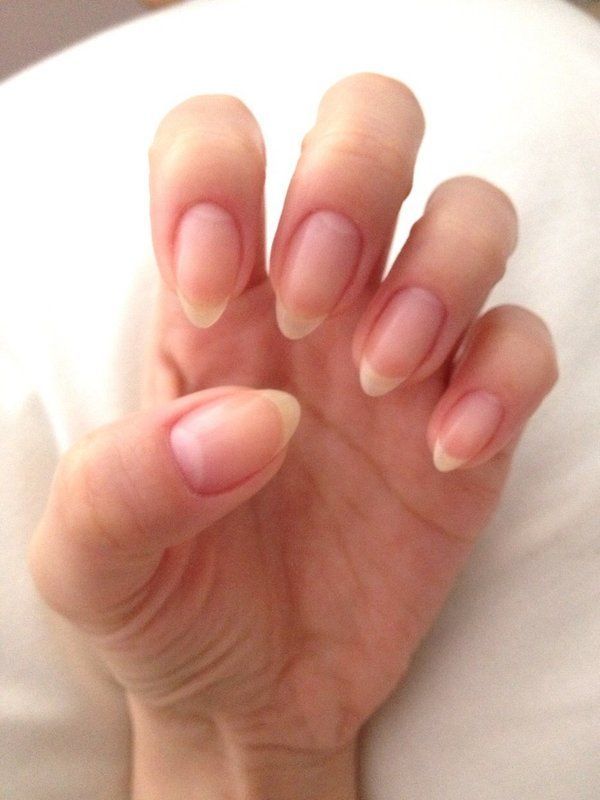 If you naturally have long and thick nails, all you need is a good file. The best file for natural nails is a crystal file, since it is very gentle, and it will probably last you forever.
#29. French Pointy Nail Design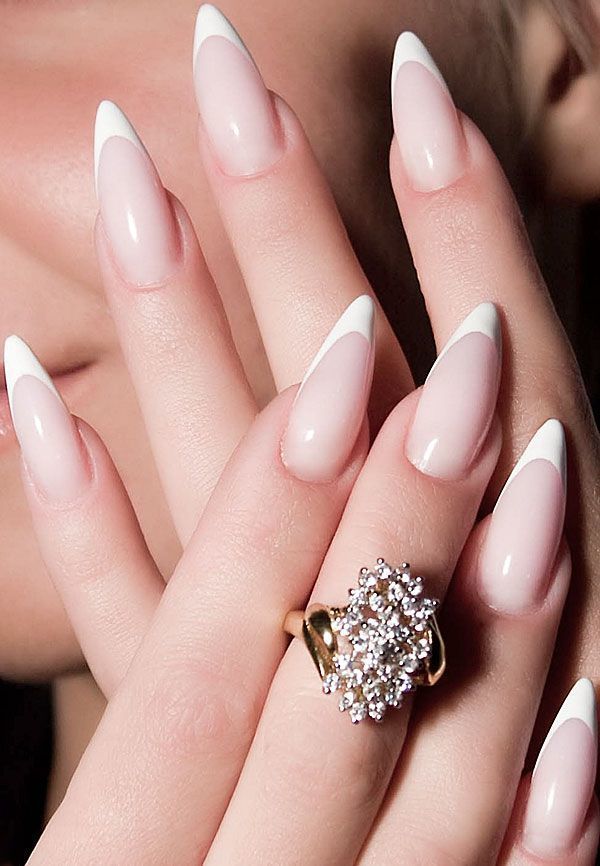 In this picture, you can see the difference between the first all-natural french method, and a stiletto acrylic french design.
Fake pointy nail designs definitely can't be pulled off as your own, at least not in this size. Although they do look at the ladylike business and could be a true winner in the meetings.
#30. Reverse French Pointy Nail Design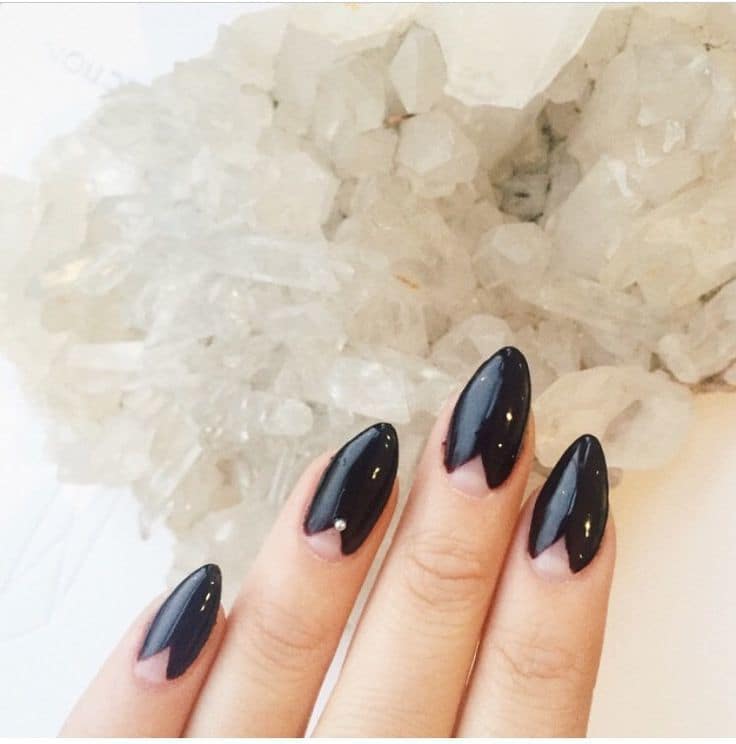 This reverse black french design is something that you don't see every day, and we don't see the reason why, since it is so stunning.
#31. Heart Pointy Nails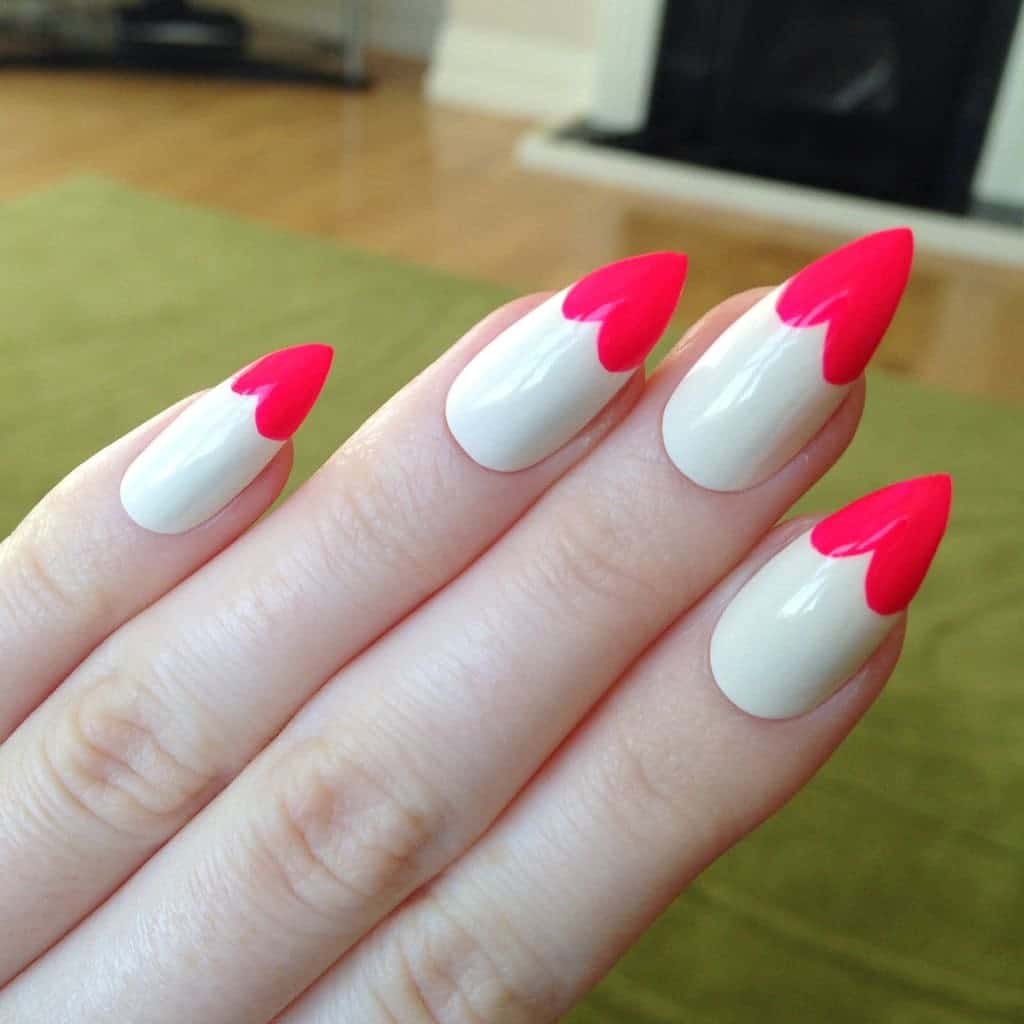 Perfect for Valentine's day, these nails will definitely melt down your sweetheart.
#32. A Little Bit More of Love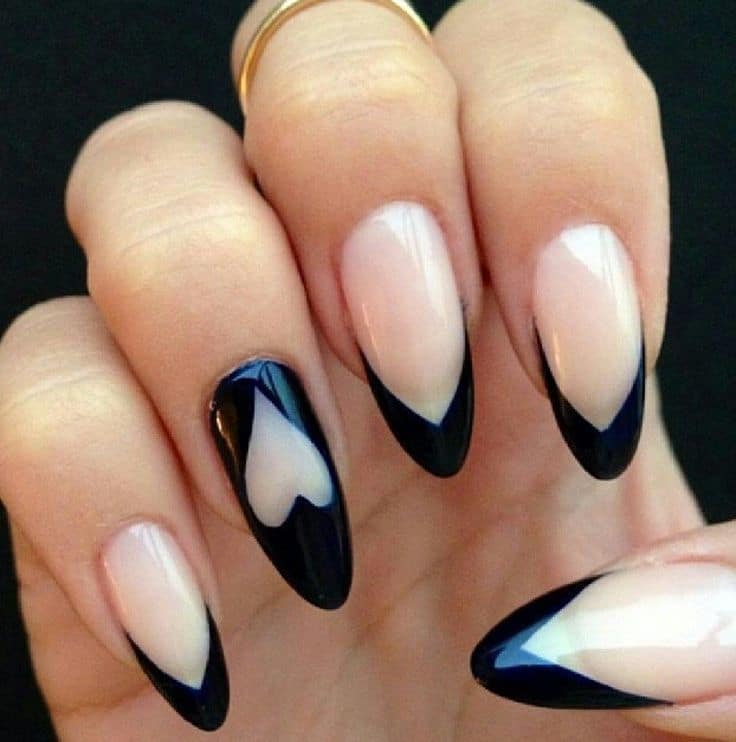 Since love is something we all need, how about we inspire you with some more heart pointy nail designs?
#33. Work Hon Work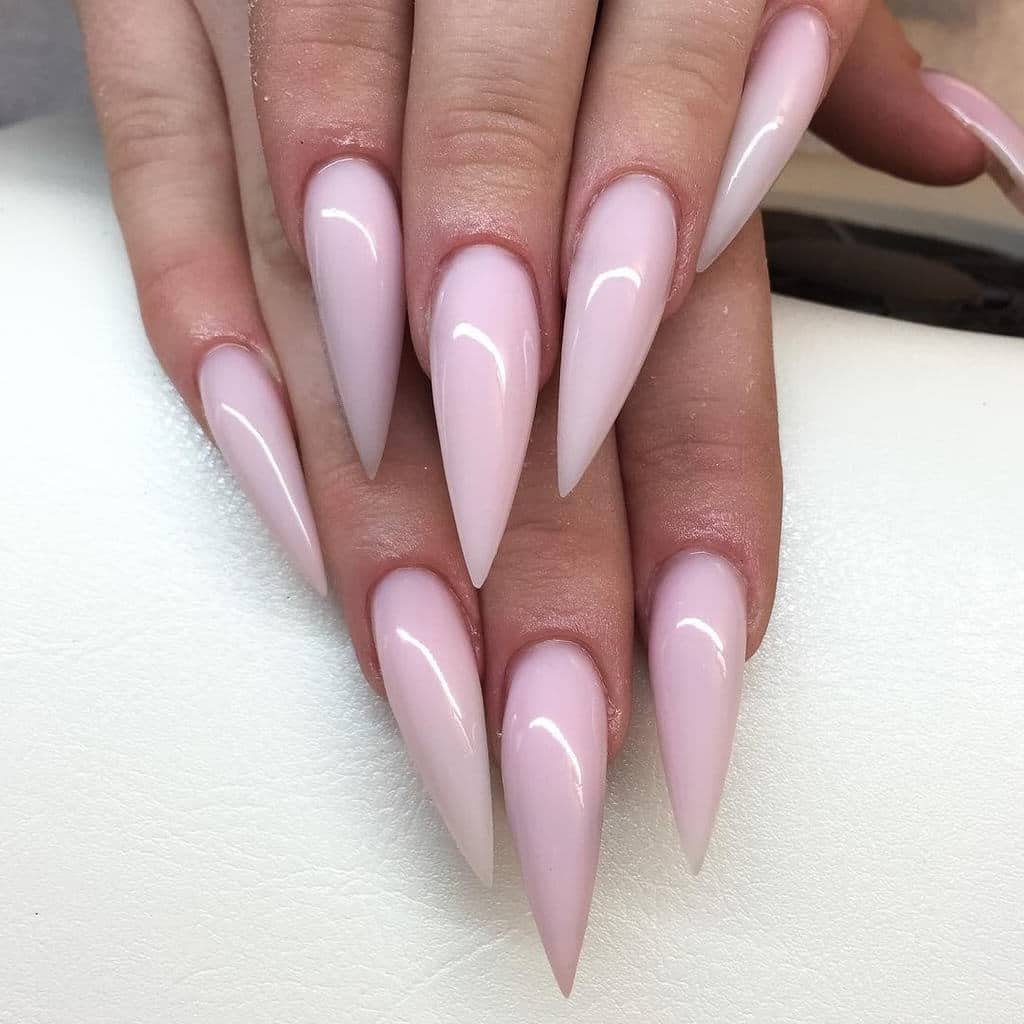 You've probably seen these at least once on someone. They are the ultimate party nails when paired with stiletto heels and a short party dress. Warning: License is required for these!
#34. Black Pointy Nails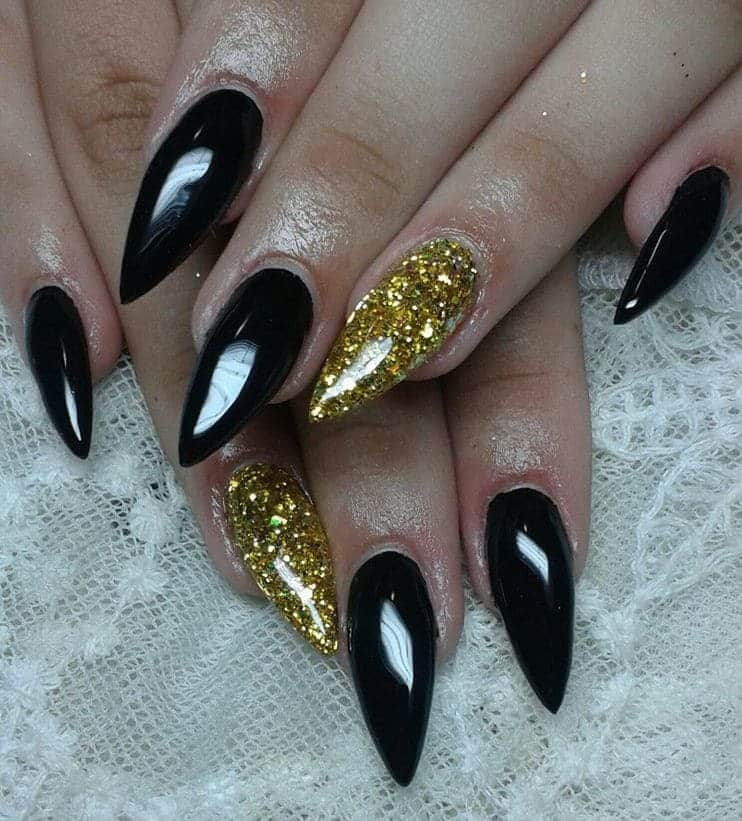 Glamorous black with golden details is a true hit when going out.
#35. Black Edges pointy Nail Art
Apply two coats of your favorite nail color, and after your nail polish dries completely, use a liner brush in order to make straight lines at the edges of your nails. We believe black looks elegant in this picture, but you can use whatever you like.
#36. Green With Gems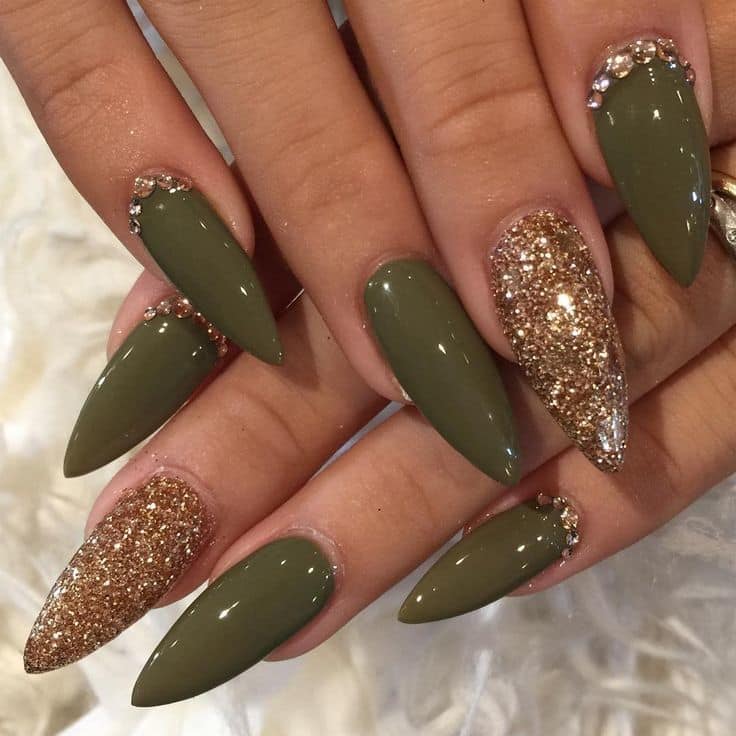 These are truly breathtaking. The green color is a symbol of nature, life, and energy while the gold represents richness, extravagance, and wealth. So if you get them done like this you can say that you are extravagant and energized lady.
#37. Shine And Sparkle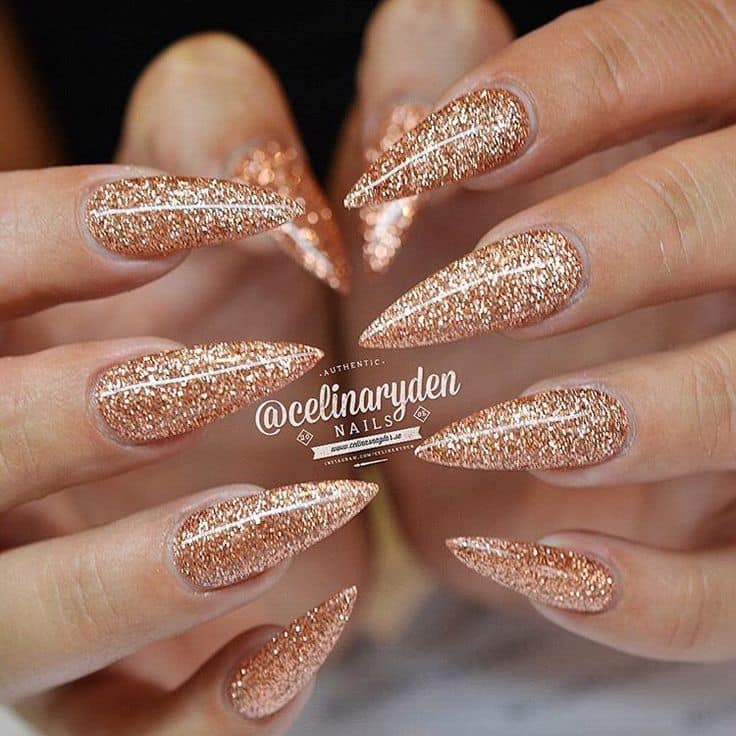 These pointy nails with pink and gold vibes are perfect for your sweet 16 birthday, or prom.
#38. Cheetah-On Me
The stunning print women can't live without.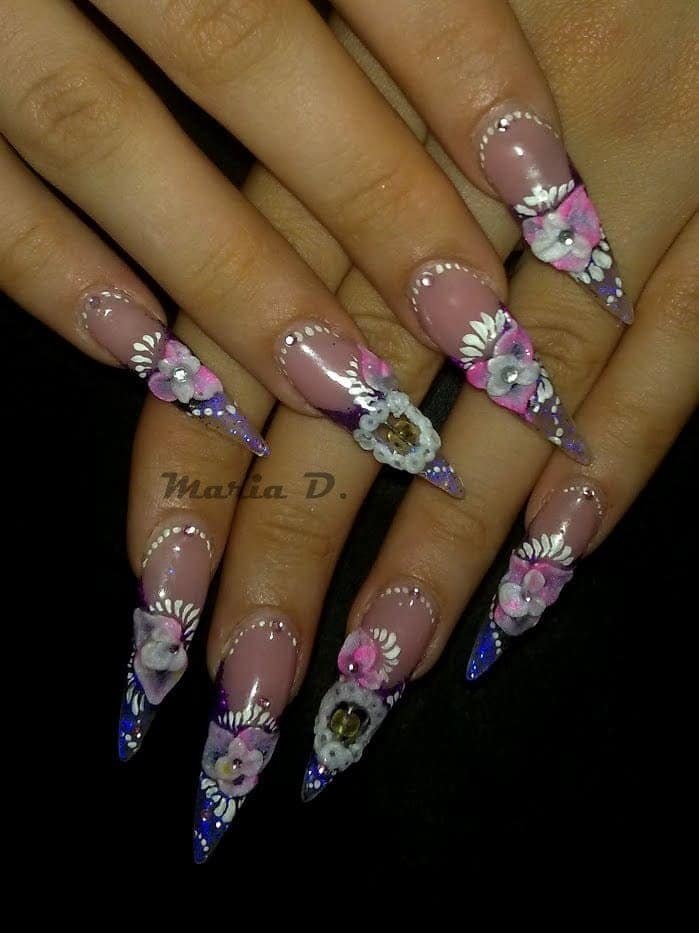 Get your tips, acrylics and shape your nails to perfection, it's about to get serious. After you've done all of the shaping and applying nail polish, use a detailing and liner brush to draw these flowers. Since the flowers can be per your will, and it's all about your own vision of the flowers we will let you go crazy and just have fun.
#40. Pointy Chrome Nails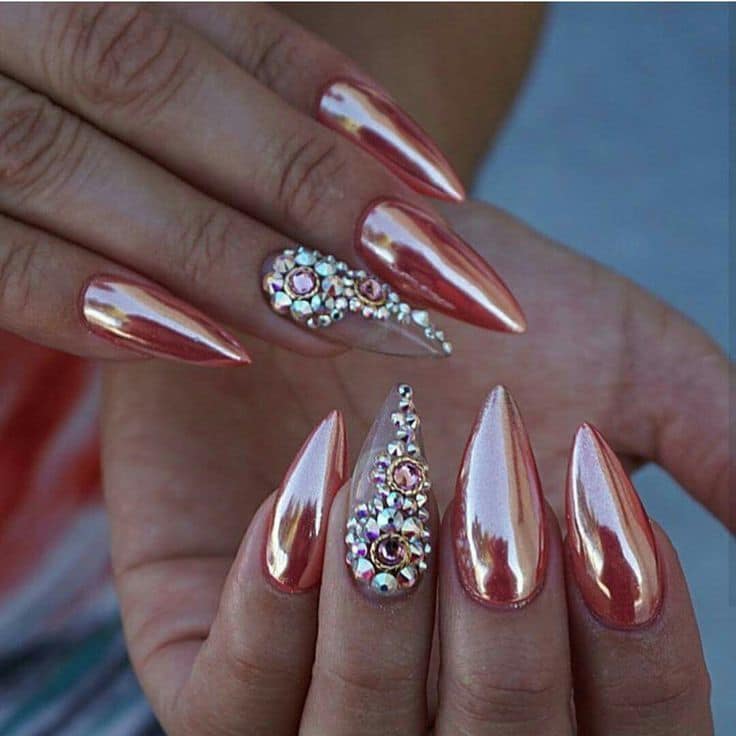 With this gorgeous chrome pointy nail design, the process is the same as with the #13 design. The only difference is that you have some extra bling on this picture, which we've thought was stunning.
#41. Matte Pointy Nails
Burgundy base for this nail pointy design is an obvious one. You should use matte nail polish because the burgundy color looks its best when it's matte. Apply some gems on your nails in order to make it look spicy. Don't forget your topcoats in order to secure them.
#42. Prom Dance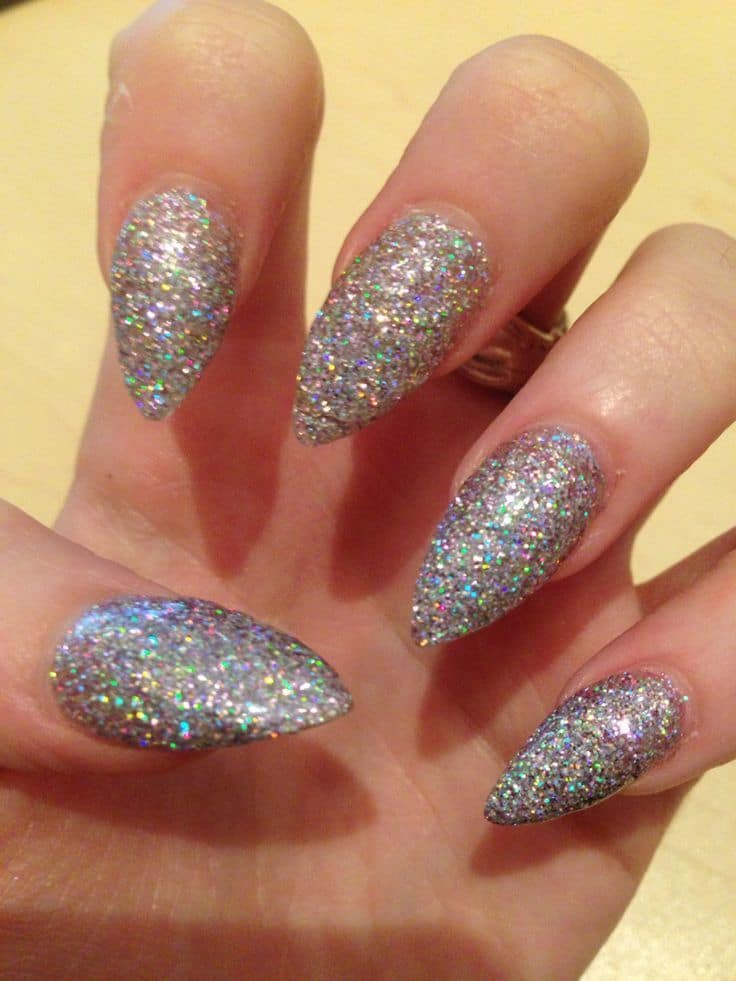 These perfect for prom pointy nails are a lot like our candidate on #10, so there is nothing much to be said about them, except that you should use white,
blue
and gray tones in order to achieve this.
#43. Palm
Palm trees are a hit combination during summer days. If you want to achieve these cute vibrant nails your best solution is the nail sticker, since the nails are so demanding. But if you want to be artsy, a liner and a detailer brush will help you out in creating these.
#44. Pointy Fake Nails
When everything betrays you, be your own savior! If the manicure you've ended up with at the salon isn't that appealing or if you were in a hurry and didn't get on time to the salon, or you didn't want to spend a lot of cash, then try out press on nails.
#45. Masterpiece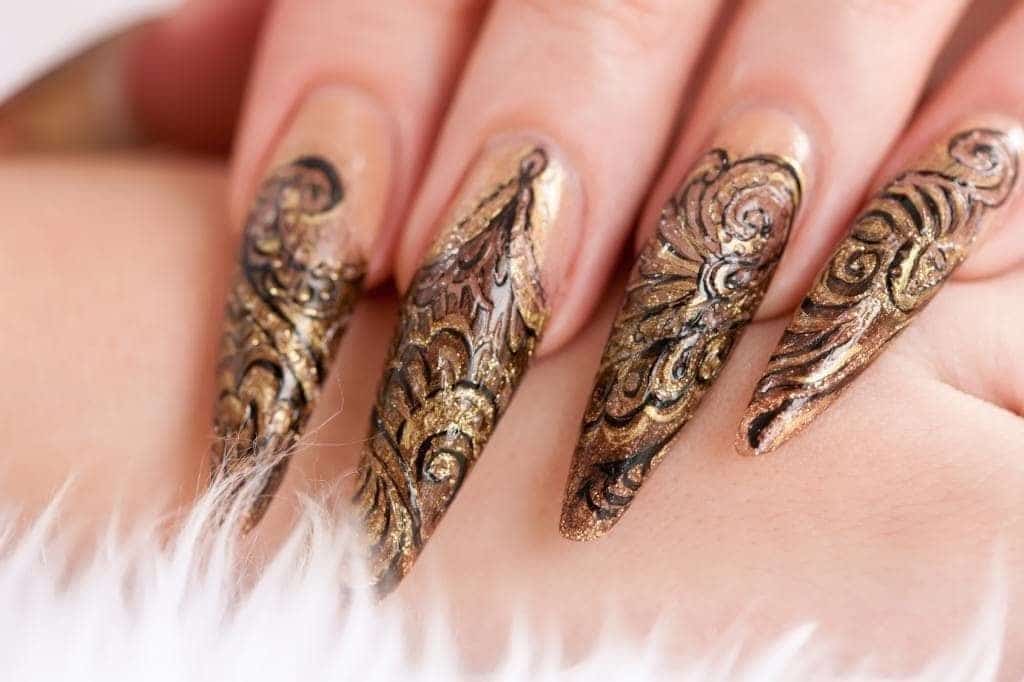 As the name says, these are a true masterpiece, and in our opinion the hardest ones to achieve on our list. This pointy nail design looks so unreal and glorious, so if you fall in love with them, just go straight to the salon, don't mess around with these.
Fabulous Pointy Nail Design Ideas