You're probably thinking nude has no place in nail designs because nails are for showing off color, right? Actually, we would be doing you a disservice if we were to keep secret how amazingly chic and trendy nude stiletto nails are.
Despite what many people think, nude is definitely a color. Just like how lipstick comes in different shades of nude, it refers to a range including pale taupe to neutral beige to rich brown.
To find the right nude shade for your nails, it may be helpful to take a wander down the nail polish aisle at the store and hold the bottles next to your skin. Sometimes you can even test these at the store to be sure you're buying the right shade.
Once you're confident you've found your nude nail polish, you'll want to pick a design to show off those stiletto nails! That's where we come in…
Nude Stiletto Nail Designs
Before we set you loose to give your own nails some love, we have to show you a few of our favorite nude stiletto nails. We dare you to pick a favorite!
#1. Black Tips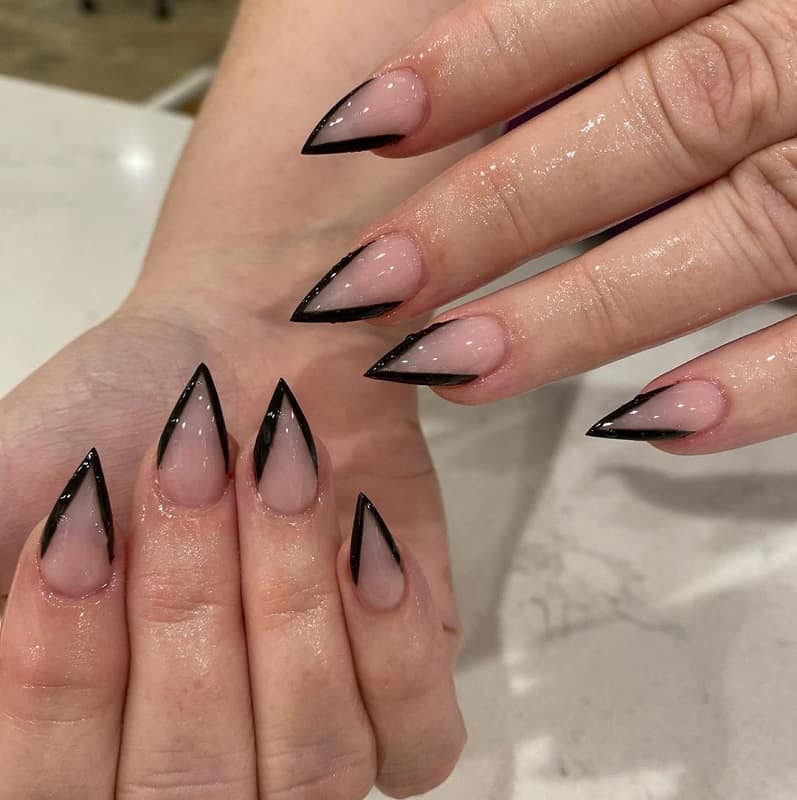 On short stiletto nails, keep the base nude but add bold definition with black at the tips. The V-shape is very eye-catching and emphasizes the nail shape.
#2. Nude with Holographic Tape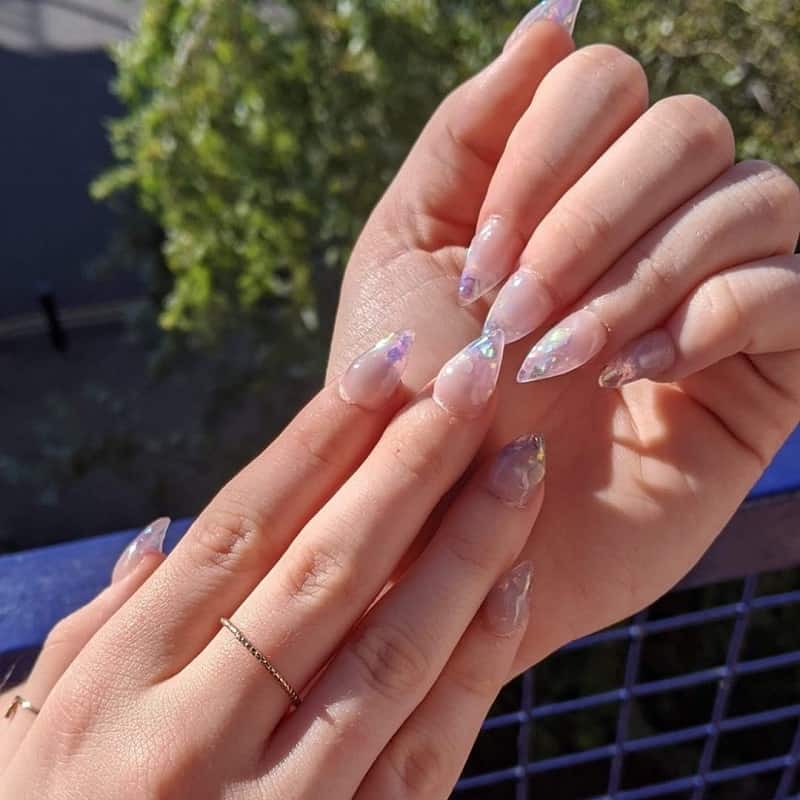 On nude stiletto nails, catch the sun in those summer months by adding holographic tape or "sea foam flakes," like the designer did for these nails. Seal with a top coat for shine and protection!
#3. Nude Ombre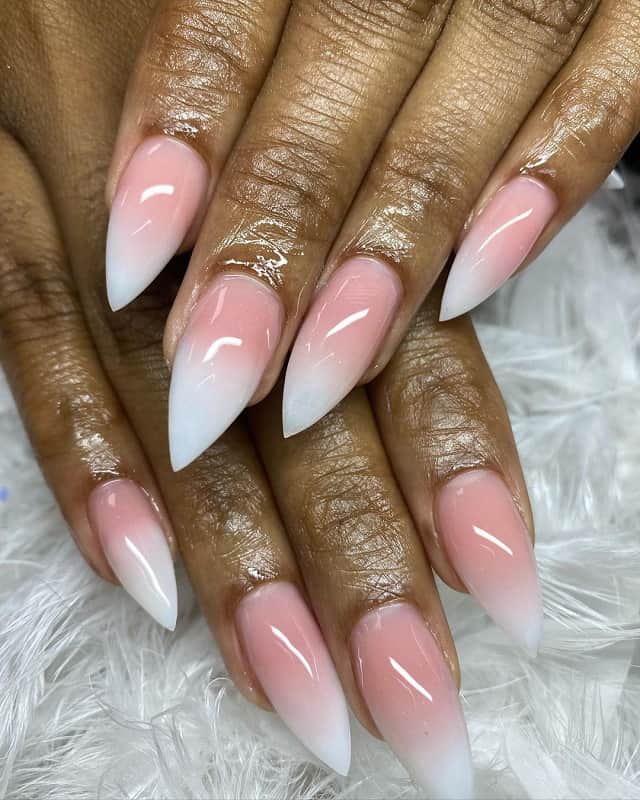 Against a dark skin tone, these long stiletto nails beautifully show off a nude ombre. The tinge of light pink is soft and feminine, perfect for any occasion.
#4. Gold Accents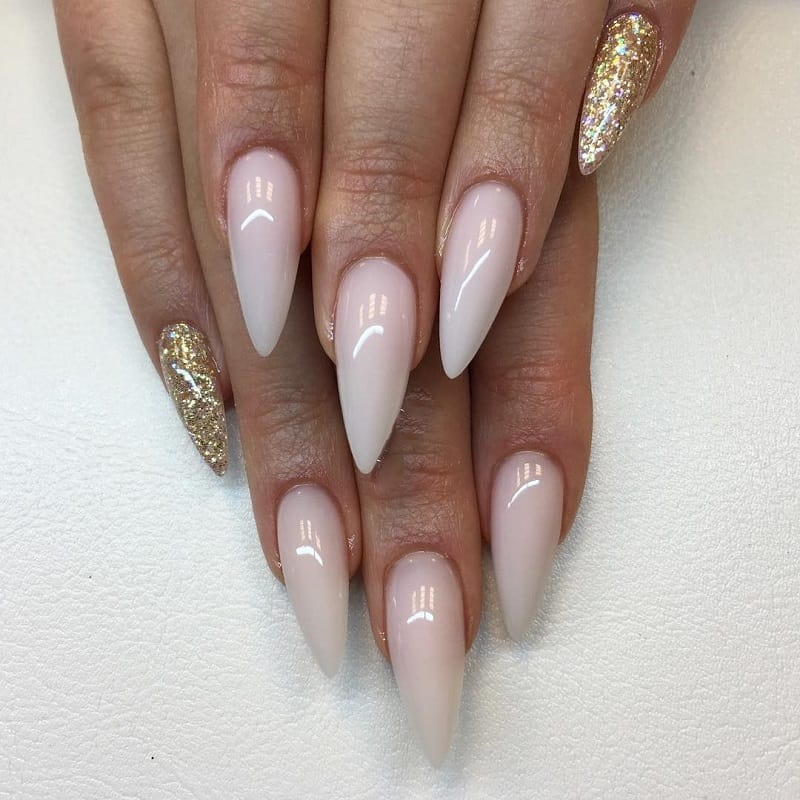 After painting the middle three stiletto nails with nude or a milky white, frame them with a sparkly gold pointer and pinky nail. The contrast is very edgy!
#5. French Tips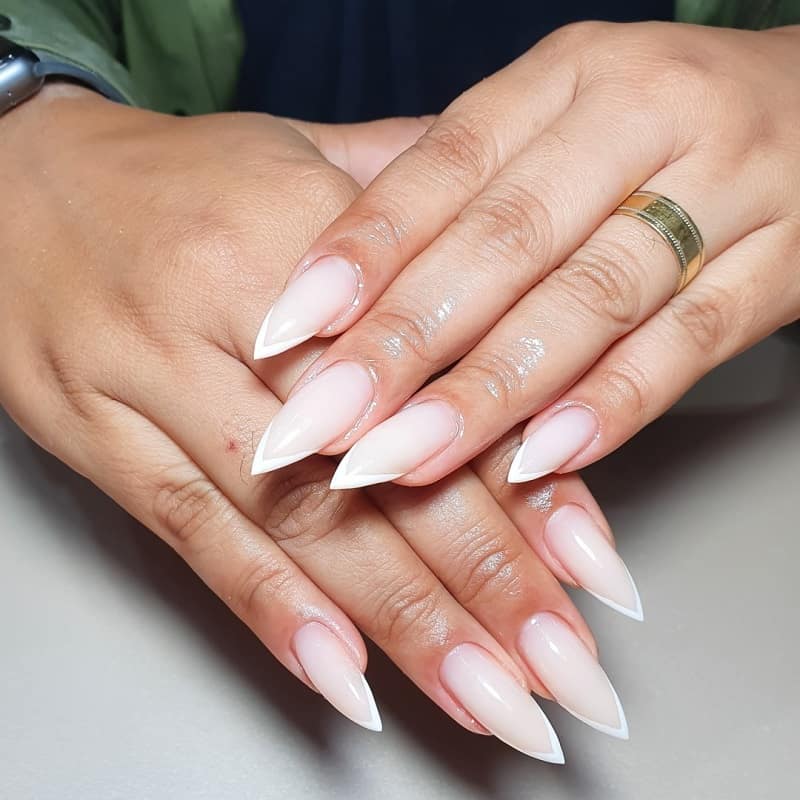 Dying to have those French tips on nude stiletto nails but you're missing the length? Opt for press-ons or acrylics from the nail tech. She'll help you get the nails you love!
#6. Gold Foils on Nude Nails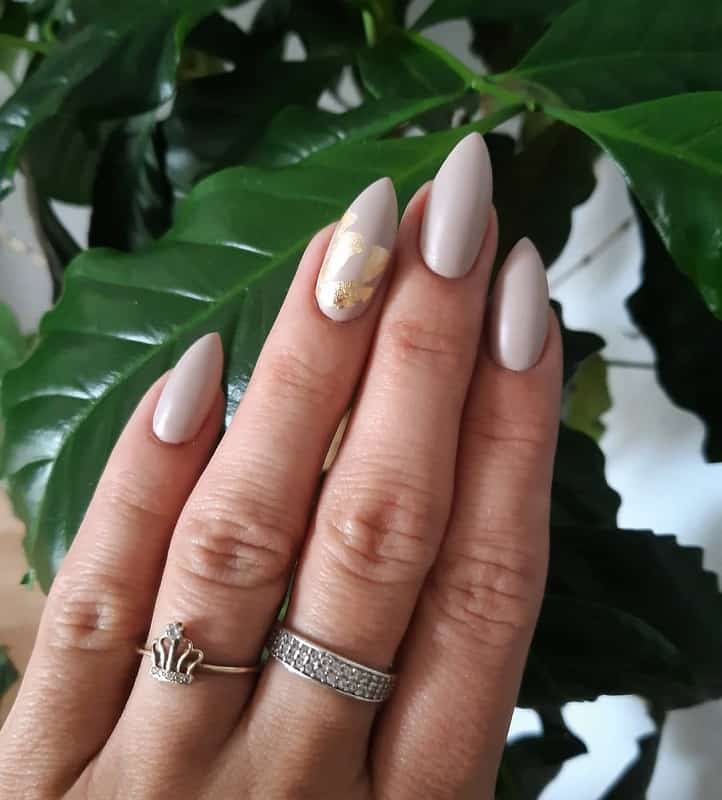 A patch of gold foil adds a dash of striking color and shine to nude stiletto nails. You can either keep the gold to one nail or use foils on a couple more to enhance the design.
#7. Nude with White Tips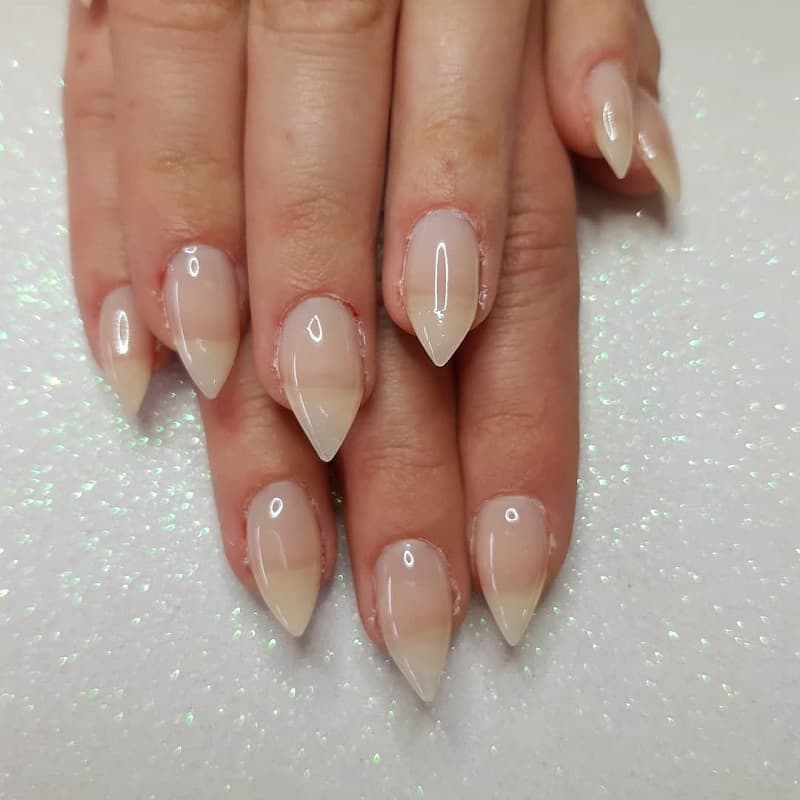 Talk about an updated way to feature a nude stiletto nail! We love this shiny spin featuring a nude base but slightly white tips.
#8. Extra Long Peach and Gold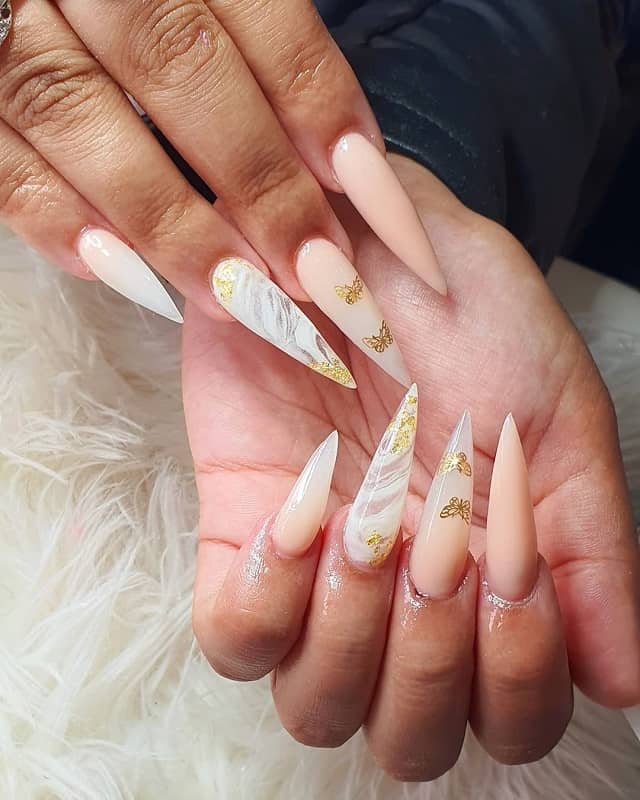 Feel feminine and fierce at the same time with an extra-long stiletto nail polished in peach! Go for detail by making the accent nail a swirled or marbled white. Tiny gold stickers like butterflies or foils are the perfect color complement.
#9. Nude and Black Stiletto Nails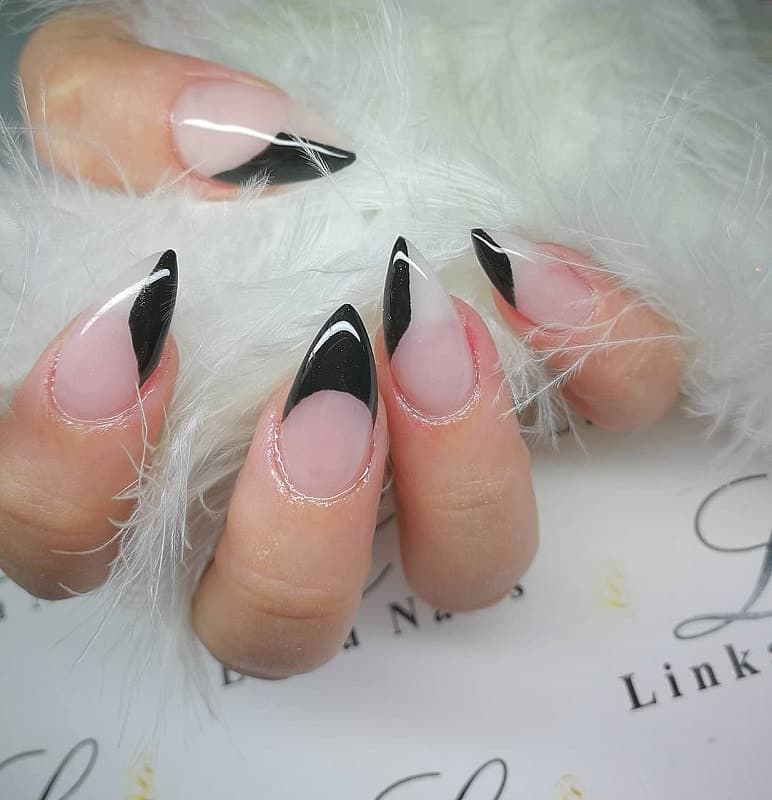 For something truly different yet still elegant, try out these nude stiletto nails with their bold black sections.
Pick a bottom portion on just half of the nail to paint, making sure to fill in the entire bottom of one nail with black.
#10. Nude Long Stiletto Nails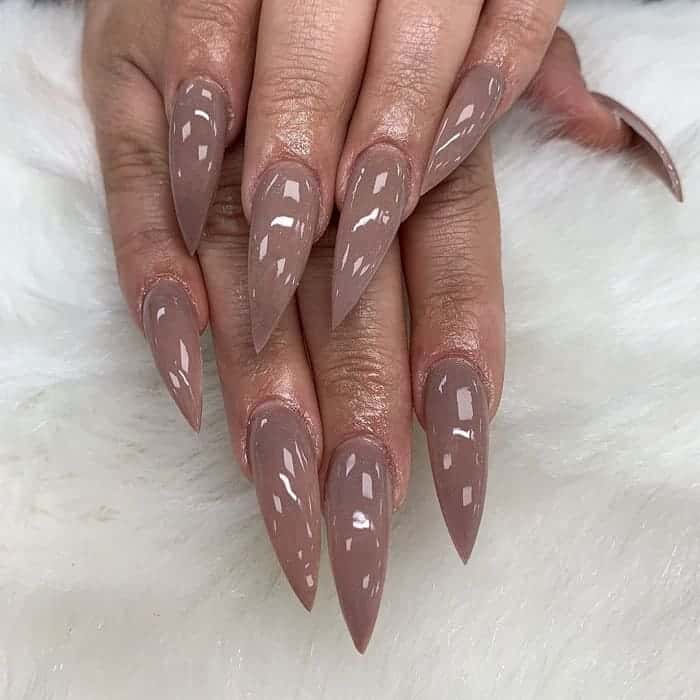 For dark or caramel-colored skin tones, this light brown is a great option for long nude stiletto nails. For extra shine, do at least two top coats.
#11. Short Stiletto Nude Nails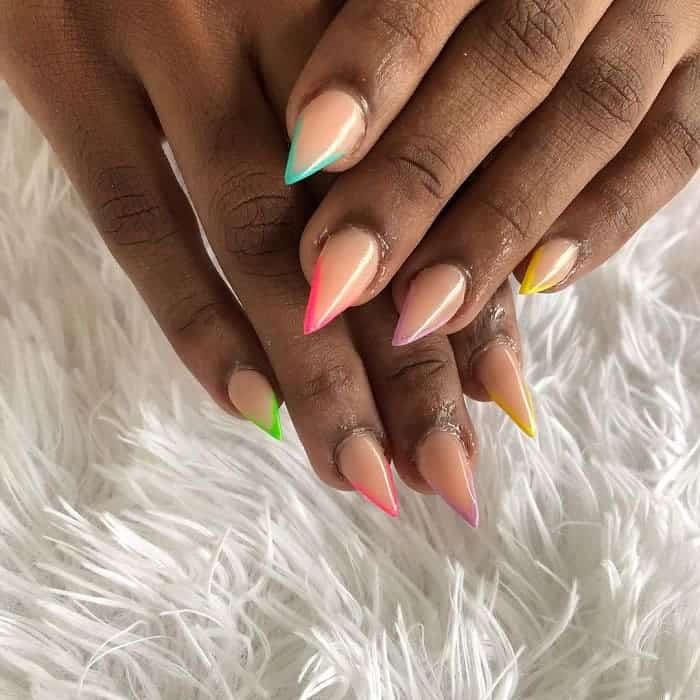 Bring all the attention to the colors you love by outlining nude stiletto nails in color. This style above features neon shades that emphasize the stiletto shape.
#12. Nude Stiletto Acrylic Nails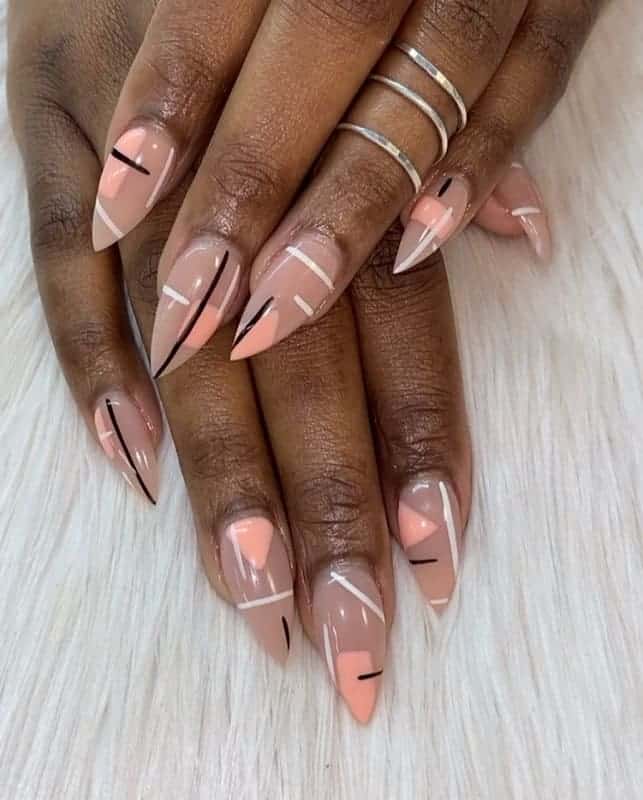 If you love abstract or line designs, try the technique on nude stiletto nails. These ones show how beautiful peach is with white and black lines in varying lengths.
#13. Nude Stiletto Nails with Rhinestones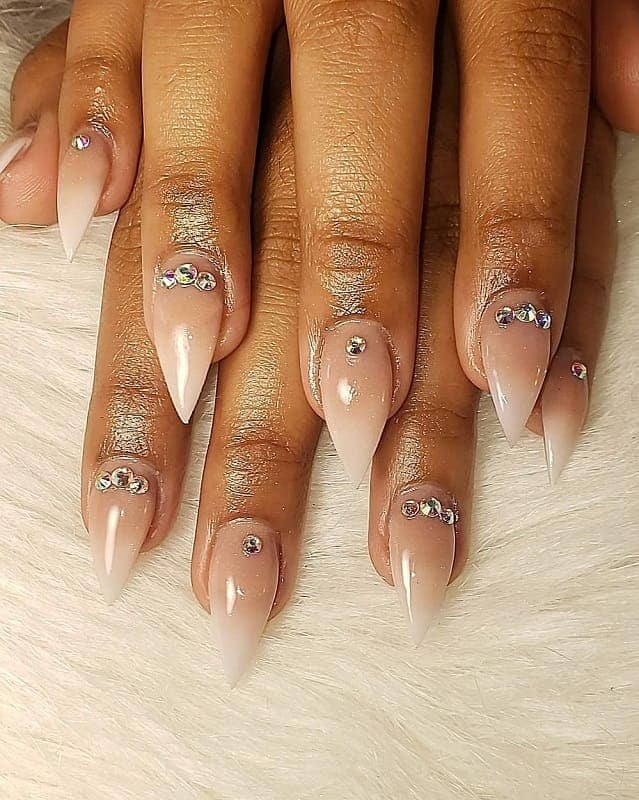 Is it just us, or do these nude stiletto nails scream "wedding day"? We think the rhinestones in a combination of singles and threes bring all the glam and romance you could ever want for your nails on that special day.
#14. Matte Nude Nails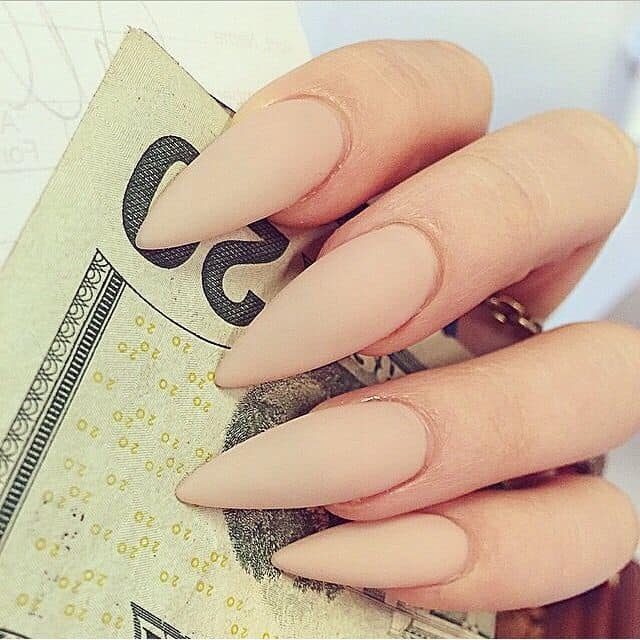 A few coats of a nude matte polish will make long stiletto nails instantly chic and sophisticated.
Short Yet Sexy Stiletto Nail Designs
#15. Diversity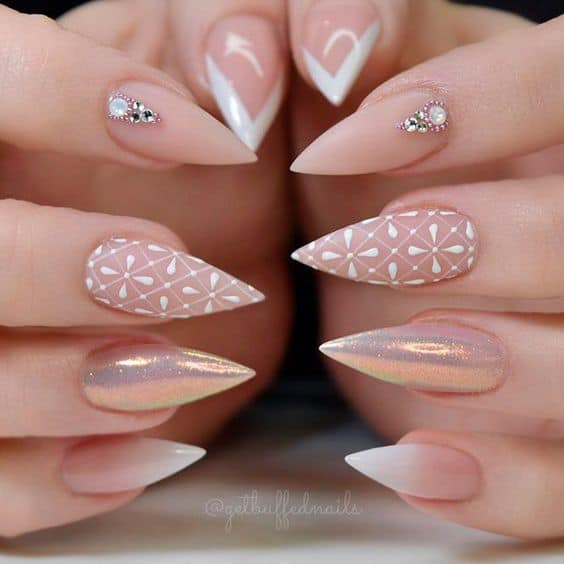 It is not just about using a single color when we talk about nude colors. In this photo, each nail carries a different design: glitter, rhinestones, and ombre are used together to make one detailed look.
#16. Rihanna Nails
Even Rihanna has shown her love for nude cheetah nails. Use gold foils and black to make the print at the ends of stiletto nails. You can also try a tiger or leopard print on nails.
#17. Flowers on Nude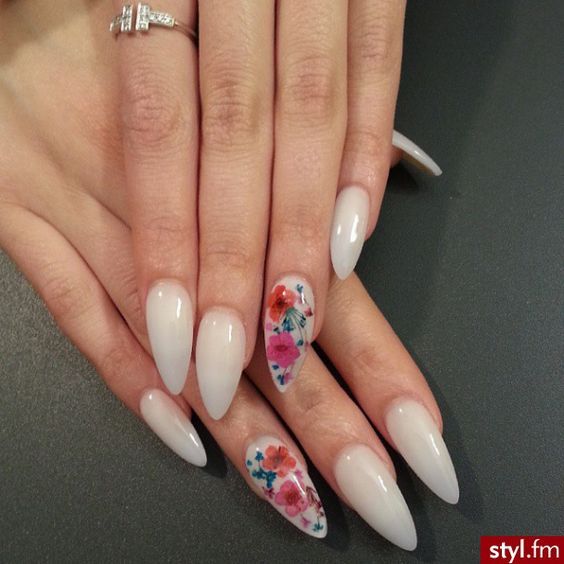 Consider adding colorful floral designs to your nude stiletto nails. Fill the surface of your nails with nude polish, then draw on colorful flowers or use stickers on the ring finger to give it a different look.
#18. Shines on Nude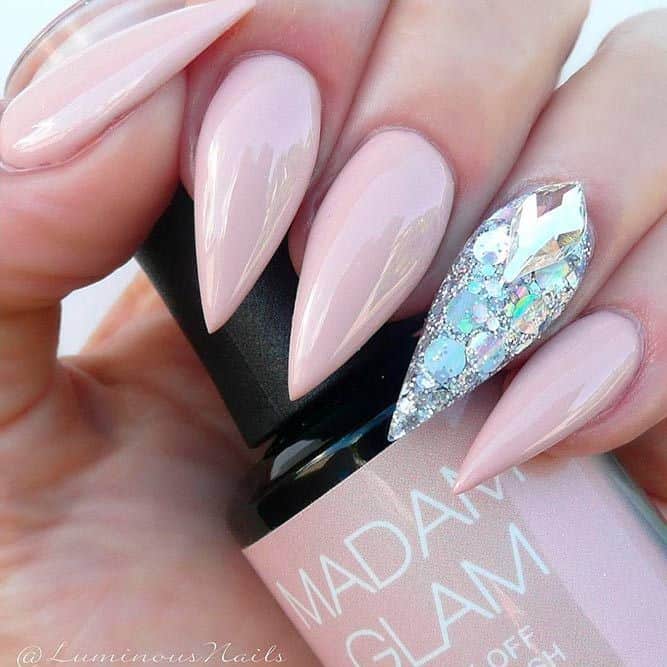 Shine brightly even with nude nails by opting for light pink nude acrylic colors on all but the ring fingernail. This one is covered in silver crystals, but you can also use rhinestones.
#19. Nude Ombre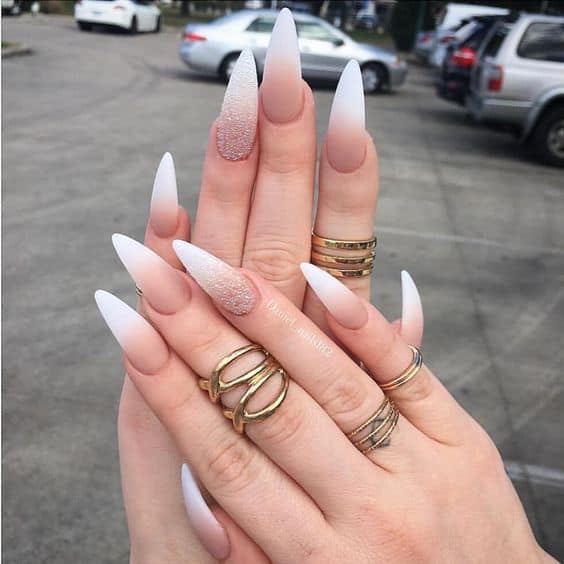 Ombre styled nails give chic results when used with nude colors. Here, nude fades to white in a smooth transition. The ring fingernails get a little more glam with sparkly ombre.
#20. Space Between White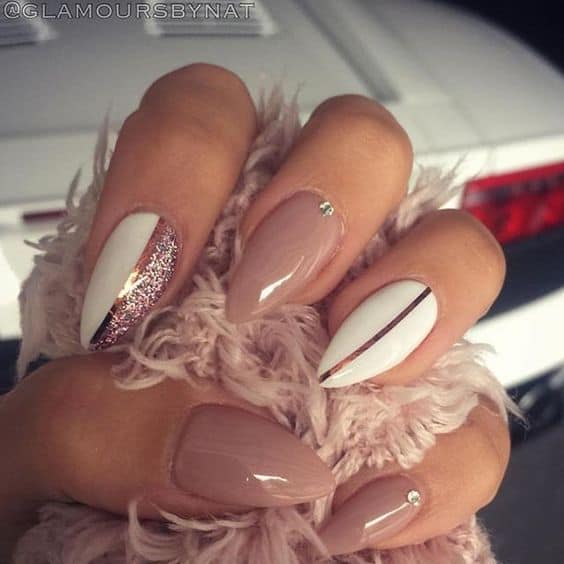 White is a popular color to use with white because of its obvious complementing. Try dividing the white nails in half, defining the middle with a thin gold line. Use glitter or rhinestones to complete.
Make Heads Turn With Stiletto Nails
Be careful when choosing the right shade of nude for your nails since it should typically match your skin tone. After selecting the right shade, all you have to do is scroll through the above designs and choose which one to start with first!
You can try our designs on your stiletto nails without any doubt. We have depicted the latest and finest designs on a single website to satisfy your quest for nail designs. Keep connected with us for any queries about any shape and type of nails.