If you are thinking you don't have too many options in terms of nail polish color for cool skin tones, you better read this. We are here to debunk this myth and show you all the fantastic models you can get.
First of all, you need to decide about the shape. Choose a design that makes you feel comfortable and boosts your confidence. As for the color, the most common nuances used for such skin tones are lavender, purple, or green.
Best Nail Polish Color for Cool Skin Tones
To be able to select the best nail polish for cool skin tones, you must first discover your undertone. And you can easily do that by looking at the veins in your wrist.
Besides the greens and purples, you can opt for icy grays, pink nuances, and blue tones. But that doesn't mean you can't add other hues to your nail design. To discover them, scroll down and find out how you can achieve a stunning mani!
1. Matte Pearlescent Blue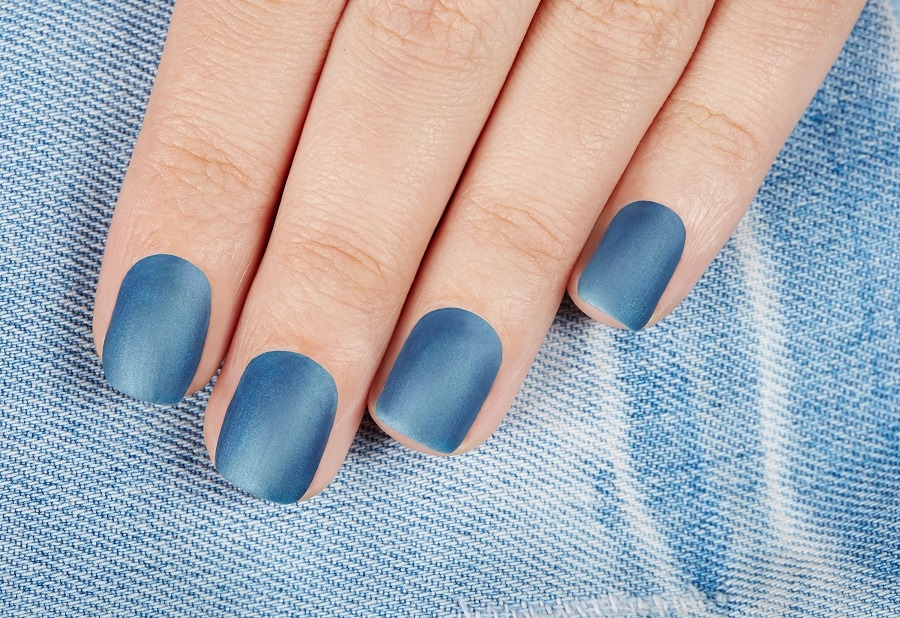 Matte, pearlescent colors in nuances of blue are fashionable and a good match for jeans outfits. 
Trim your nails short, in a square shape with slightly rounded corners, and get a manicure that will amazingly match your skin.
2. Red Nails for Cool Skin Tone
Red nail polish color does an excellent job for cool skin tones too. If you're fierce and bold and want your nails to be a true statement, no matter their length, then red is the color for you. 
This hue also allows you to decorate, so improve your design with a vertical glittery line. You can draw it yourself with nail polish or apply nail tape.
3. Bright Purple Orchid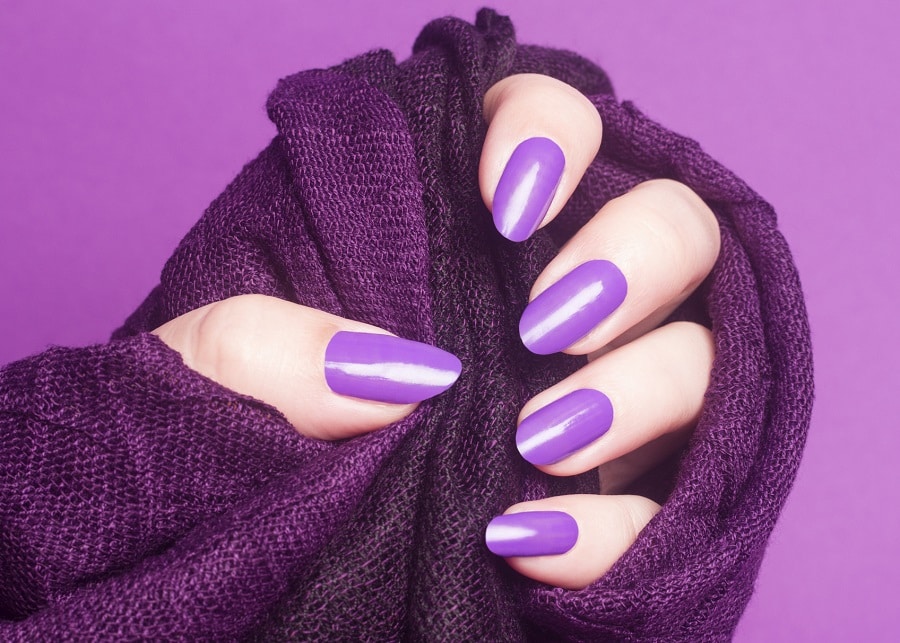 Purple is one of the most suitable colors for your skin tone. Choose an orchid nuance and apply it on previously rounded shaped nails. You can add a shiny topcoat to get that light reflection.
4. Ombre Lavander Nails
Lavender nails are so dreamy and enchanting and look like they're out of a story tale. To recreate this model, keep your nails short, in an almond shape.
Use a sponge to build that ombre and combine a lavender shade with a pale mauve hue. Give your nails more texture with a granulated top coat that will also help you better blend the colors into an ombre.
5. Almond Nails with Flowers
This pale red color painted on round nails creates a stunning contrast with the flower decoration.
To recreate this model, you can use nail stickers that you'll easily apply with tweezers or nail polish stamps.
6. Pastel Colors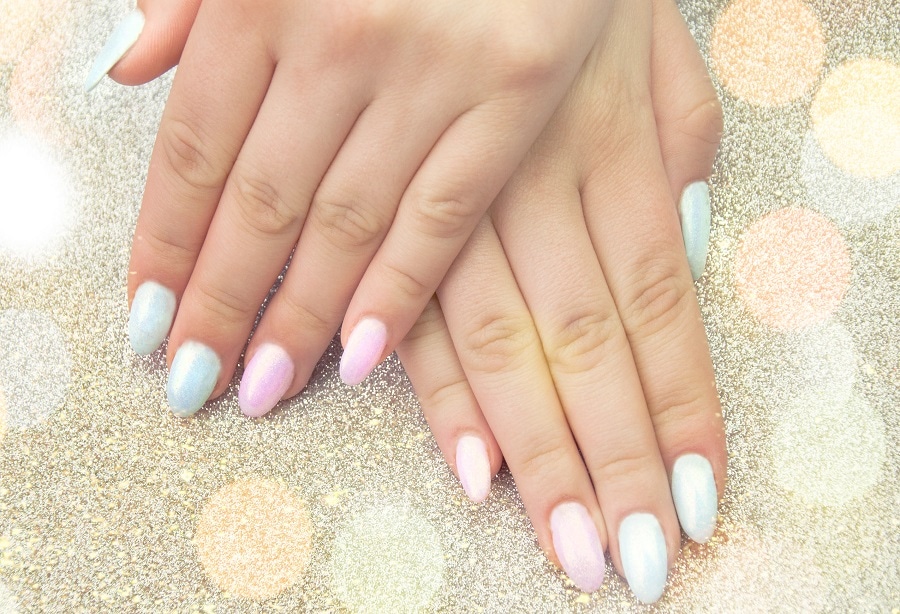 Pastel colors, especially those that use a pale blue hue, are probably among the best nail polish colors for cool skin tones. 
Make them look glittery and if you want a pop of color, keep the pastel theme and paint two nails in a pale pink nuance.
7. Coffee Short Nails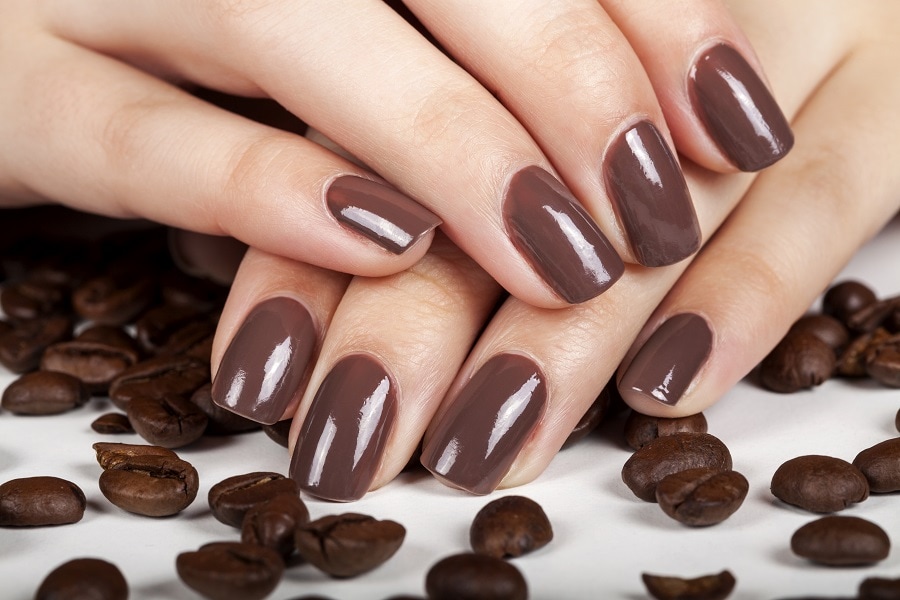 Coffee nail colors took Instagram by storm and became the trend of the moment in less than one second.
So if you want to join this movement, you only need dark espresso nail polish. Get those nails a square shape and paint them at home.
8. Light Gray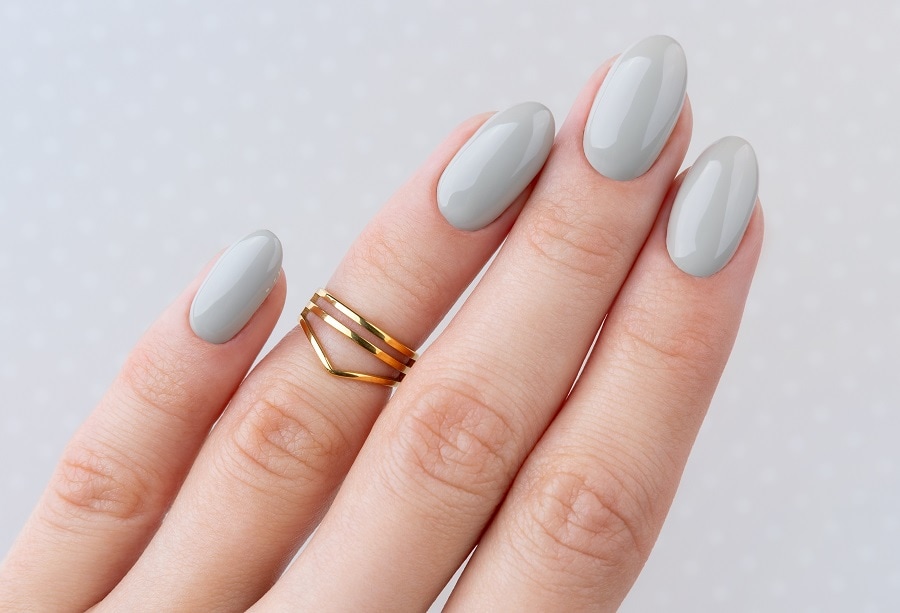 This pale light gray is so gracious and perfect for people with cool skin color. 
These nails look stunning if trimmed in a short almond shape and with gold jewelry-decorated fingers. 
9. Sparkling Green Christmas Mani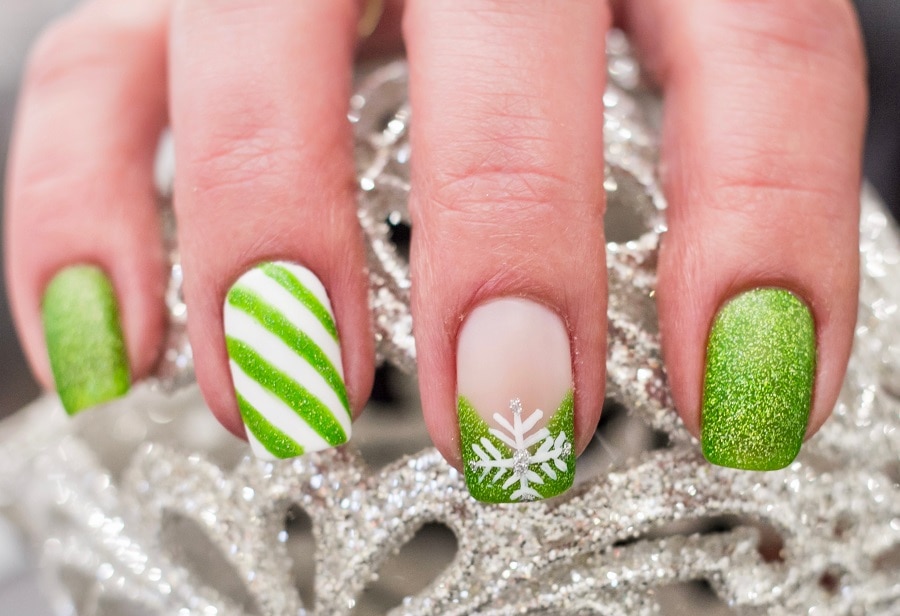 Is Christmas here? Then it would be best if you got a proper mani. And if you don't want your nails to be red like everybody else's, why not try a sparkling green nail gel?
Use this polish to create French tips, lines, and other nail decorations that you might love seeing every day on your fingers. And because it's winter, a snowflake should be integrated into your design.
10. Pointy Fuchsia Nails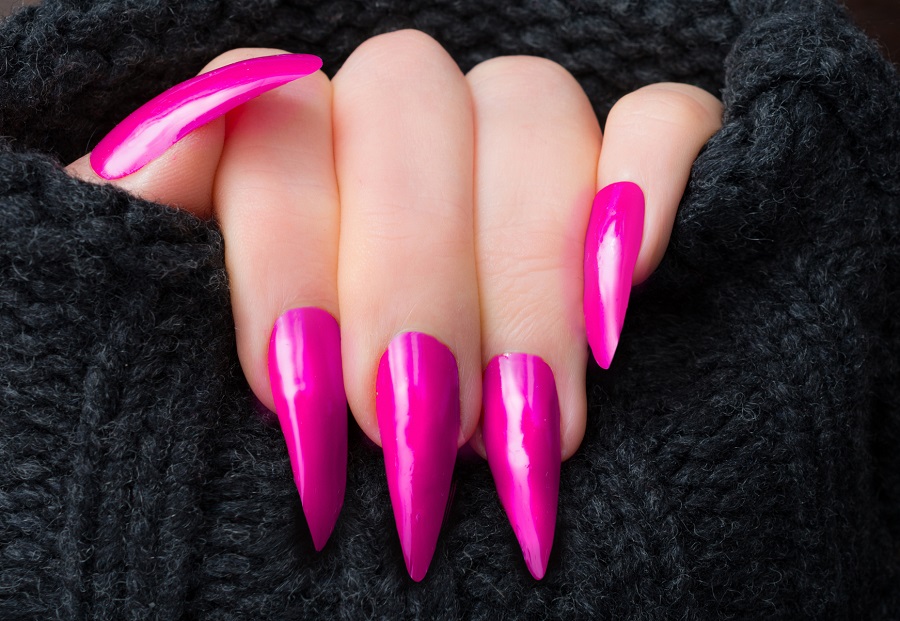 Long pointy nails like these ones are a clear statement about your personality: you are bold and never afraid to say and sport what you love.
Also, you can't ignore that electric color that yells confidence.
11. Matte Duo Violet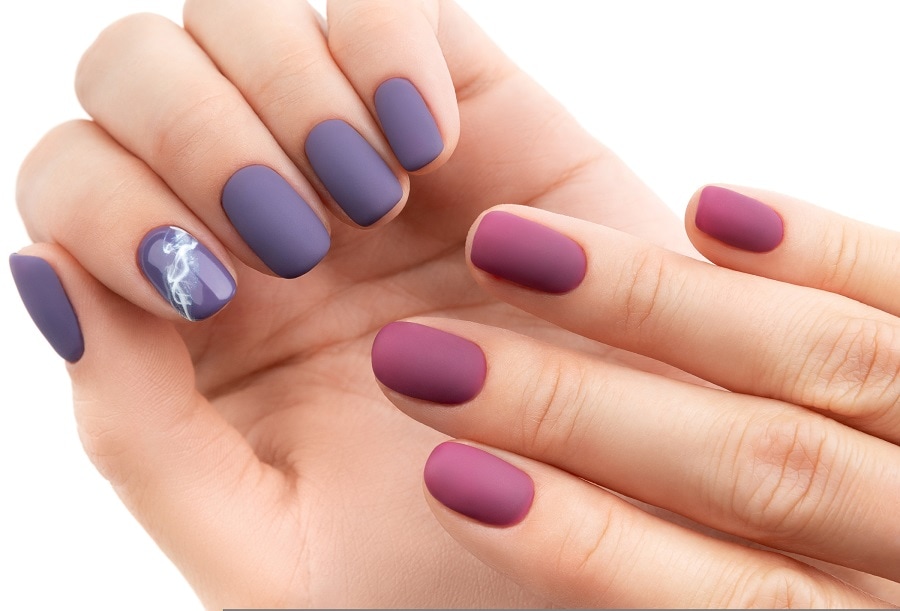 For this manicure, you will be playing with two nail polish colors for cool skin tones. Also, for practical reasons, choose a short-rounded shape.
On the one hand, you will choose a pale matte eggplant color, while on the other, you will use a pale magenta.
12. Stiletto Rose Nails
Stiletto rose nails are delicate and diaphane and look stunning with any outfit.
They are an excellent choice for those who love to stand out throw their elegant and sophisticated selections of shape and color.
13. Glittery Apricot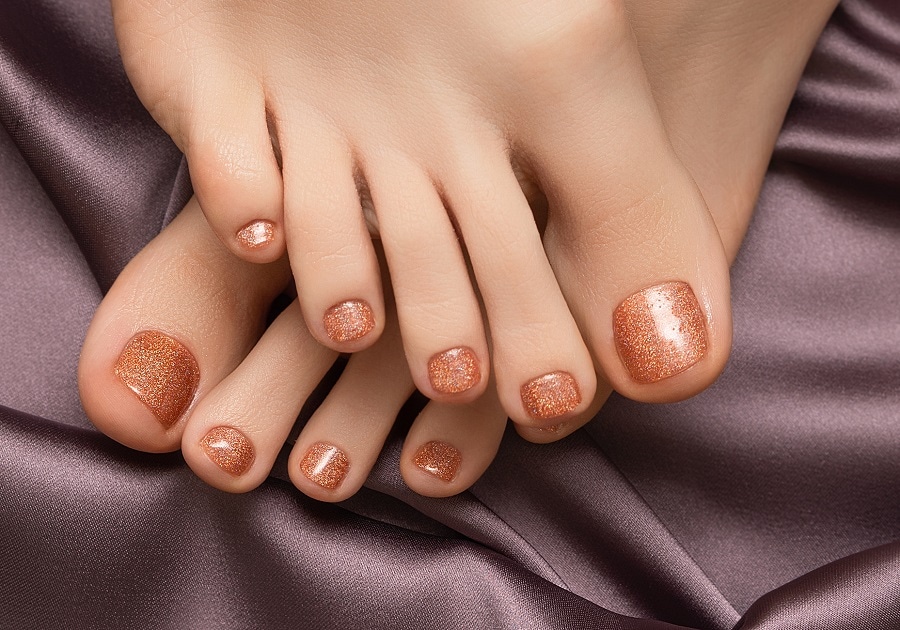 Which is the best way to transform a dull manicure into an eye-popping model? Well, the answer is glitter! 
On your regular polish, apply two layers of clear glittery top coat. Or you can buy a product in the same color that already has shining particles.
14. Polka Dots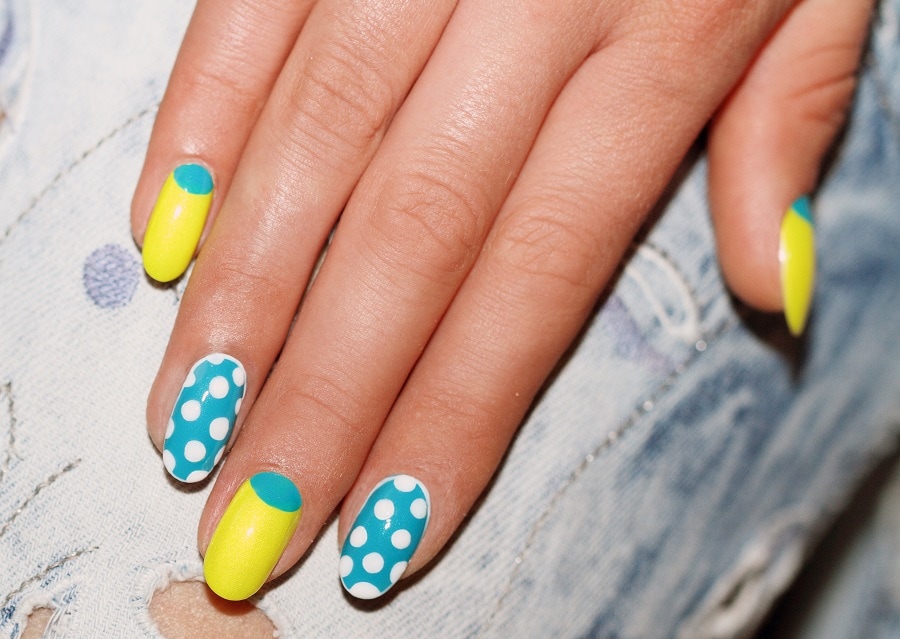 Polka dots are so joyful, playful, and fun when encapsulated in a nail design. Choose vivid colors like bright blue and yellow and create those white dots.
To transform this design into a pop art masterpiece, you can create a white outline on some of the nails and a spot of blue color on that stunning yellow.
15. Tiger Nails
In all of us lies a feline, ready to be channeled. Try an orange nail polish color for cool skin tones and sport some black lines resembling the pattern of a tiger's fur. 
Were you searching for the best nail polish color for cool skin tones? Then you should definitely try the colors and manicures we carefully picked for you.