Winter tops the list whenever you ask someone about their favorites season. Winter can be the most awaited season for many reasons but I love it mostly because I hate being melted with humid heat. Besides, winter is the season of holidays. Christmas and New Year's eve add a new dimension to this season. And if you are a fan of the fluffy and beautiful snow, you must love winter. No matter what reasons are behind your likeness, you should not miss the chance to welcome winter with different nail designs. A special season like winter demands some special nail designs from your fashionable faculties.
Winter Nail Designs to Celebrate the Coldness
Winter makes a great shift in weather which causes the downfall of temperature. People get used to this cold weather as soon as it comes. Some of the girls cover them with heavy and trendy clothes to prevail over the cold. Fashion geeks love winter season for this reason. This season is actually the season to show off different trendy dresses which cannot be worn in other seasons due to excessive heat and sweat. Ok! Now you have fashionable outfits, what about your nails? You can design your winter nails according to our exclusive ideas. Winter is associated with snowflakes, snowman, reindeer, polar bear, penguin, Christmas etc. So, you can use these elements in your winter nail designs.
Draw Winter Tree on Tree design on your nail. Check Out Free Hand Video tutorial
#1. Dark Winter Nails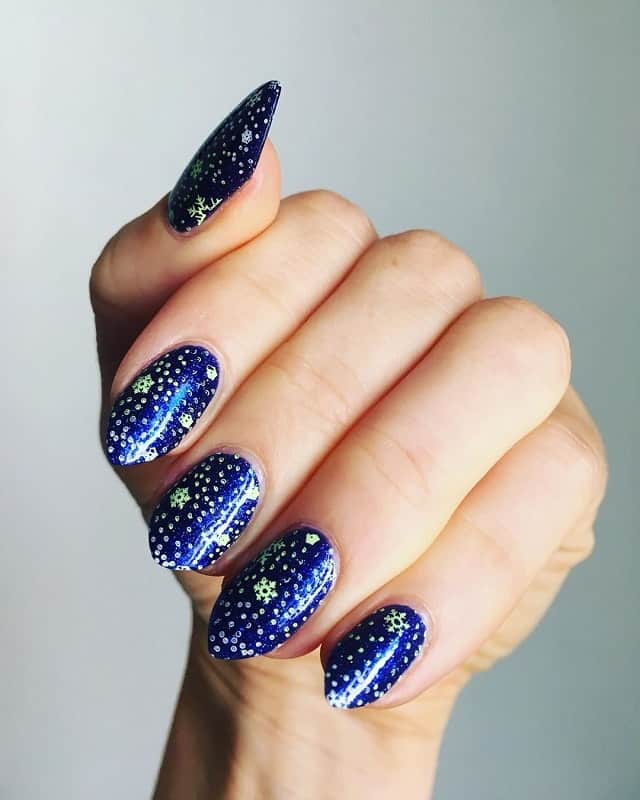 #2. Winter Coffin Nails
#3. White Winter Nails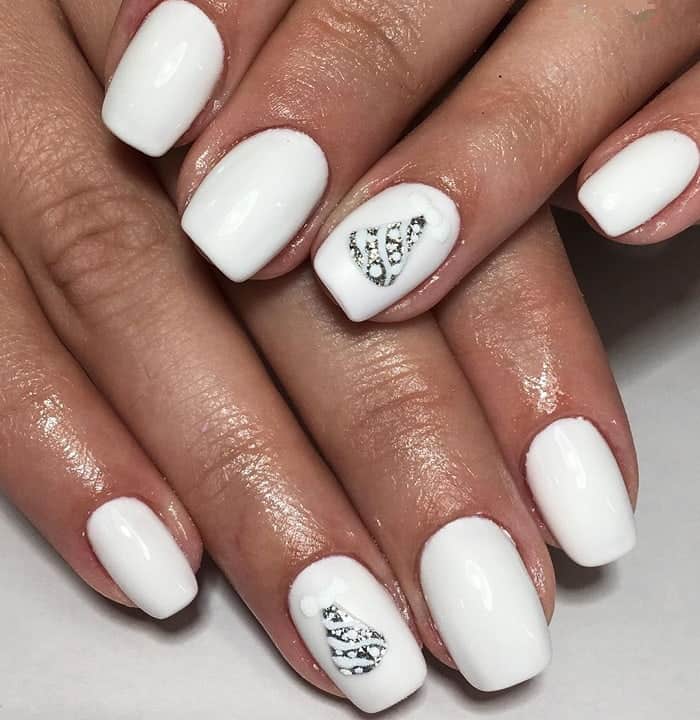 #4. Gel Nail Design for Winter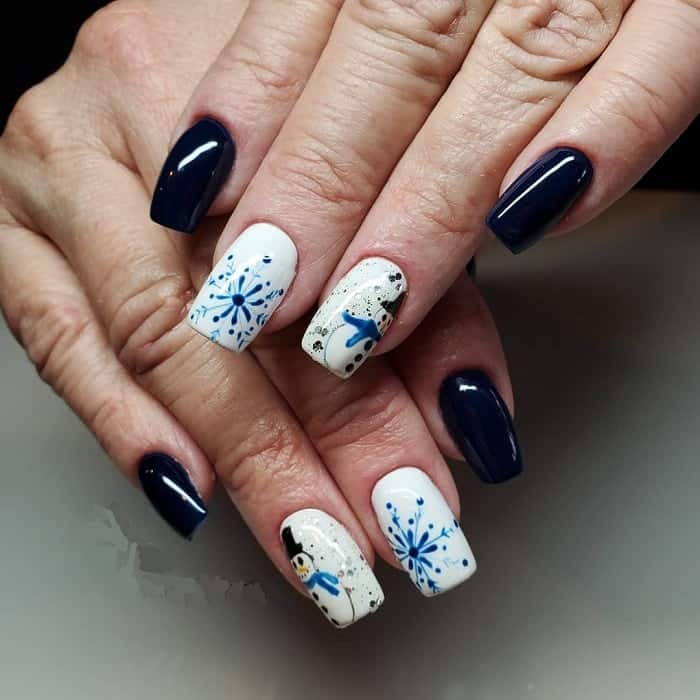 #5. Winter Toe Nail Design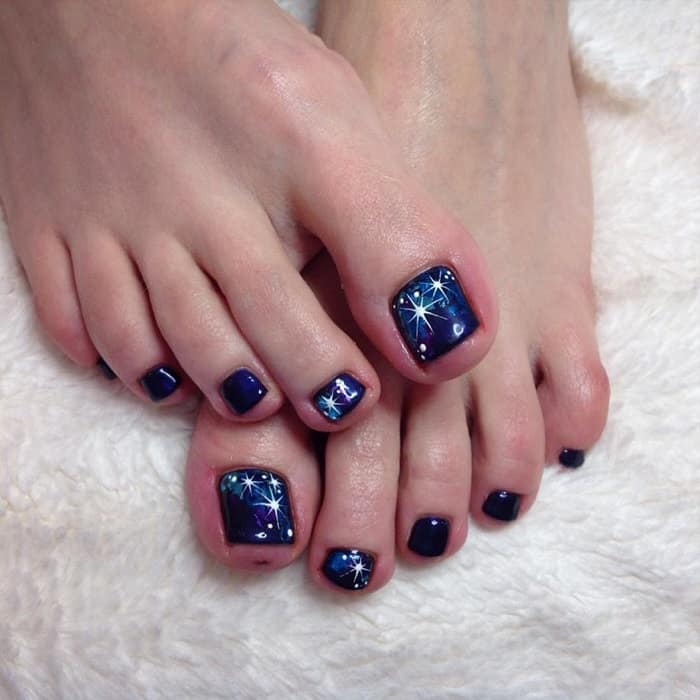 #6. Acrylic Nails for Winter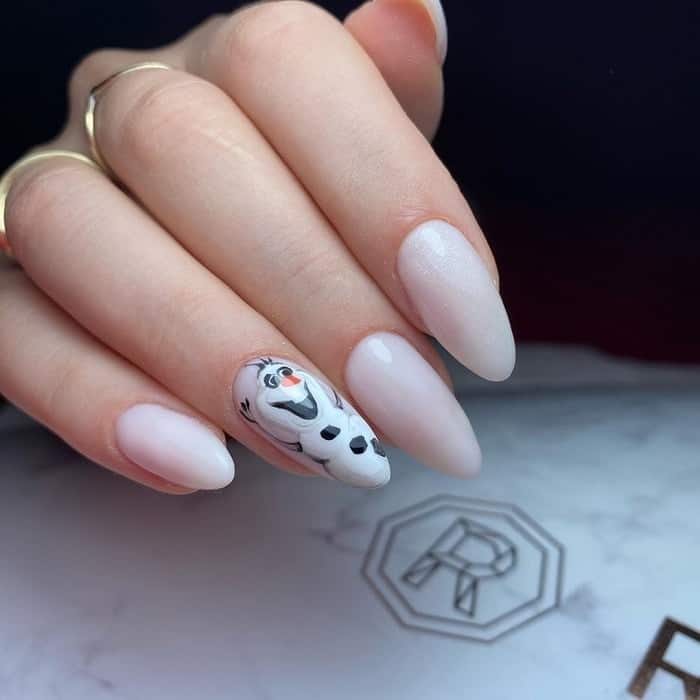 #7. Winter Nail Color for Pale Skin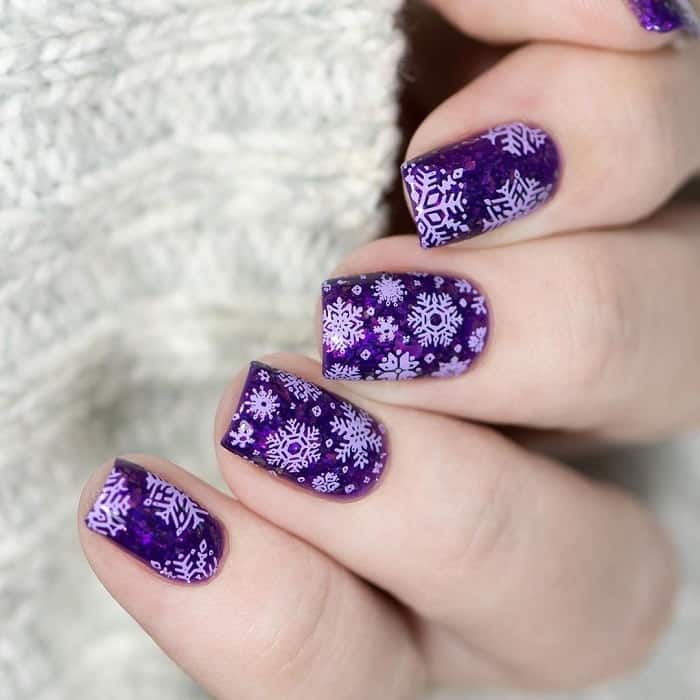 #8. Winter Nail Color for Dark Skin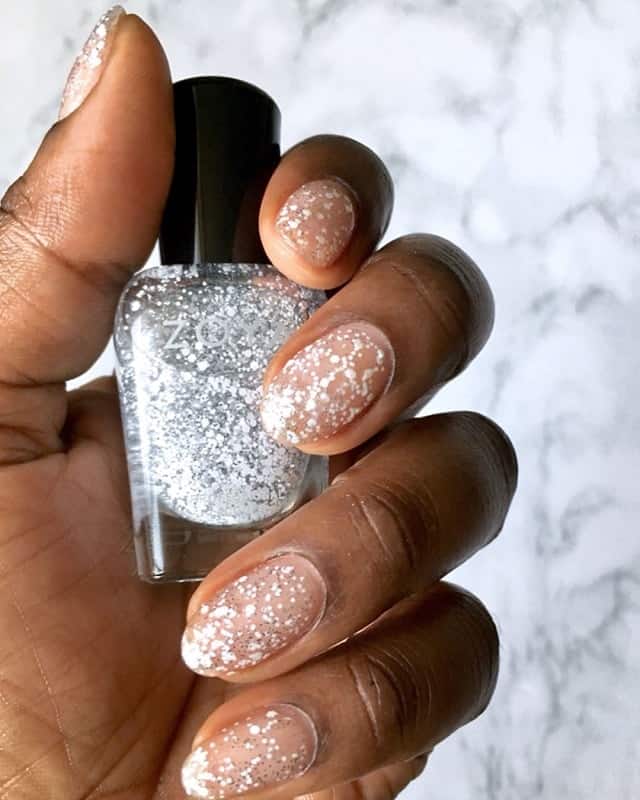 #9. Winter Ombre Nails
#10. Winter Nails with French Tip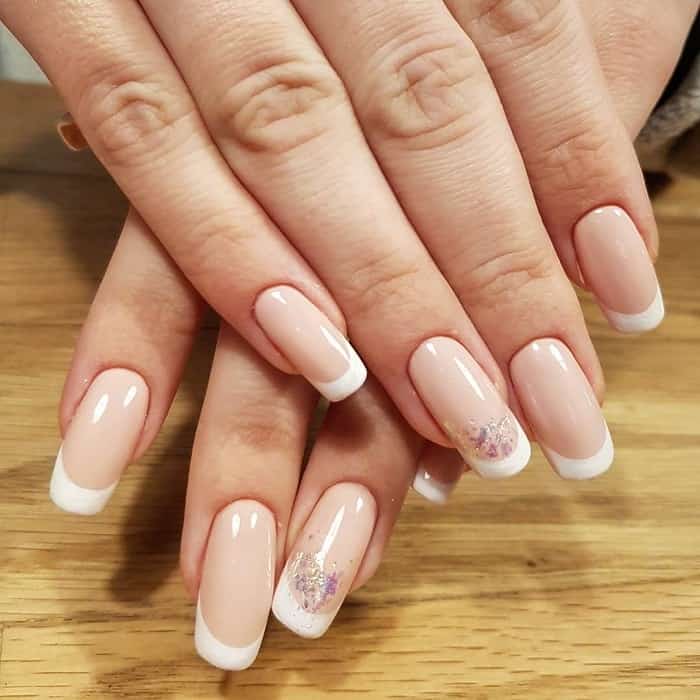 #11. Winter Nail Art for Christmas
#12. Short Nail Design for Winter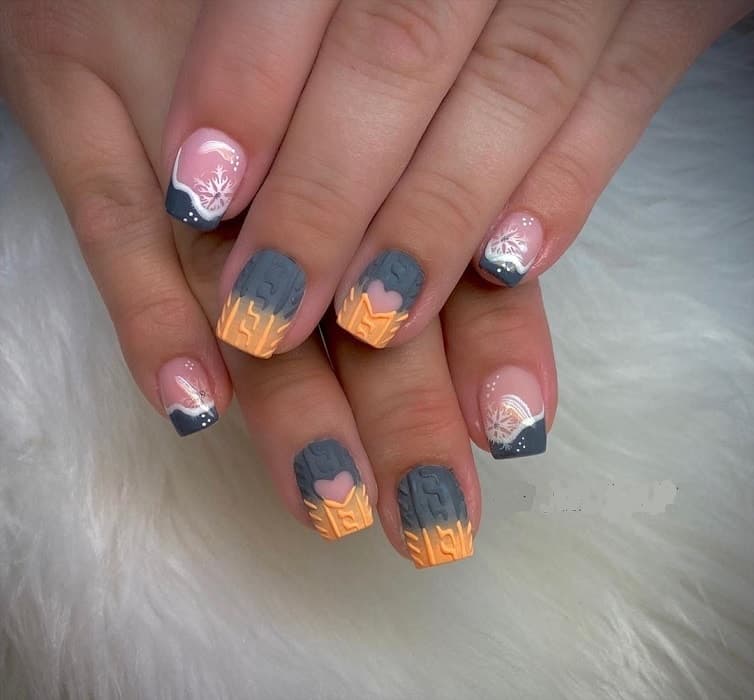 #13. Winter Nail Color for Wedding
#14. Winter Is Coming
The snows are falling and you are watching the beauty from a distant place. This imaginative scene arouses a notion that winter is coming. If you are a lover of GOT series, you will feel this more intensely. So paint this design on your nails to have a stunning look on your winter nail designs.
Give Your Nail Different Look Each Season
#15. Snowy Brown
You can draw some snow on your brown nails. This design is very simple to have. Use brown acrylic as the base coat, then use white color to paint snow. You can add flowers on the top If you want.
You can draw snowflakes and snowy Christmas tree on a blue base to have this design. You can also draw some star-like snowballs in between these designs. Your blue snows are ready.
#17. Blue Winter Nails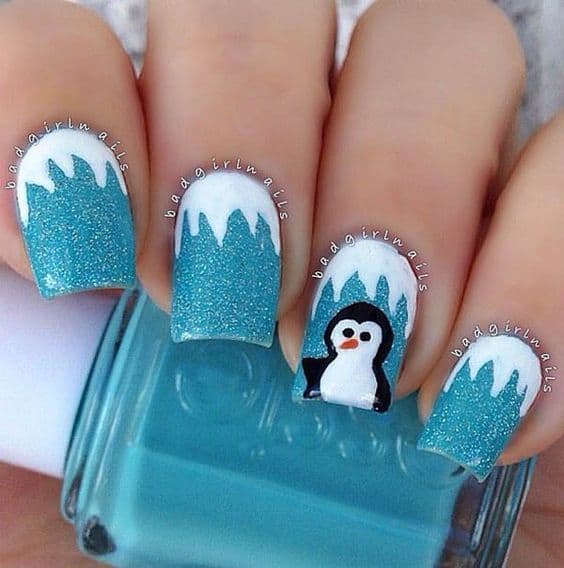 Penguins live only in the ice-cold area. So they are the perfect representative of winter. Draw a penguin on glittery sky blue base having a white snowy edge at the bottom of the nail beds to create your winter nail art.
#18. Winter Is Here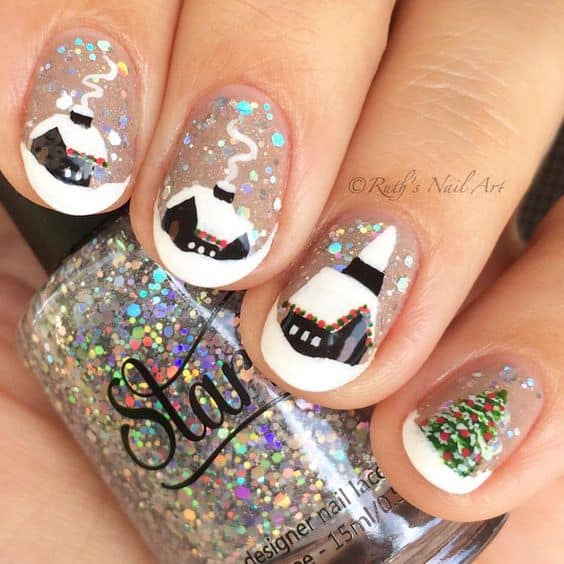 This design gives us the idea that these houses are well-prepared to embrace the winter. So, winter is already here. You can have this nail painting with glitter and glitz if you like the theme.
#19. Mr. Snowman
Here comes Mr. Snowman to give your nails the ultimate winter look. Paint a cute and handsome snowman on your sky blue nails for this design. You can use white polka dots or edge to create snowy ambiance. Don't forget to keep the hat on the head of Mr. Snowman.
#20. Peeping Reindeer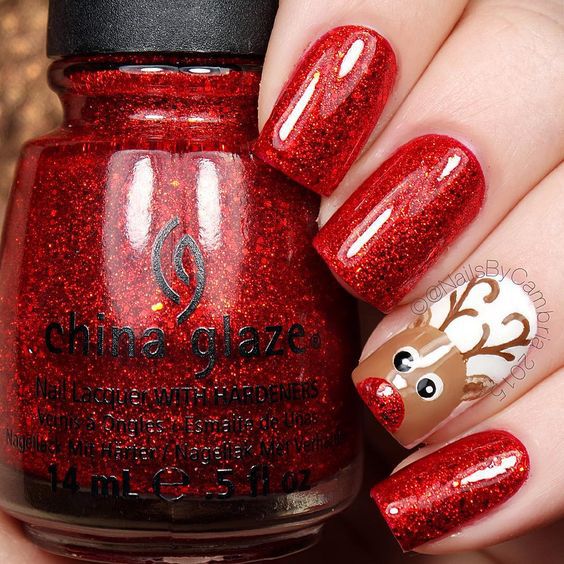 These red nails painted with a peeping reindeer looks awesome on your winter nails. Use red color and glitters on the surface. Then draw a reindeer on one of the nails. This will be considered as one of the gorgeous winter nail designs.
Kick Off Winter Blues with Blue Nails
#21. Muffler Scarf
Muffler scarf is a favorite thing to wear in winter for both girls and boys. These scarfs are stylish at the same time they protect you from the cold wind. So, this design will be a handy one for your winter nail designs. Draw the colors in different colors and you can put some black button too to give a human shape.
#22. Perfect Winter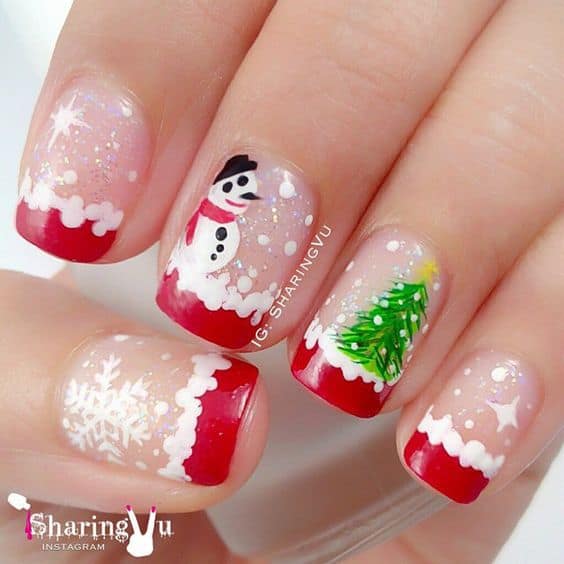 This design has covered three important themes together. Snowflakes, Snowman and Christmas tree, all three are prominent things with respect to winter. So, this could be the perfect winter nail design for you. Draw them on nude base coat using red at the upper edge.
#23. Flying Sleds
This design is for the innovative minds. Imagine a reindeer sled is flying in the sky and snow is falling on a full moon night. Now paint that image on your nails. You will have a hit winter nail design for sure.
#24. Snowflakes And Snowman
Snowflakes and Snowman altogether can give the appropriate look for winter nail designs. You can try out this design on nude nails edged with sky blue glitters.
#25. Saint Santa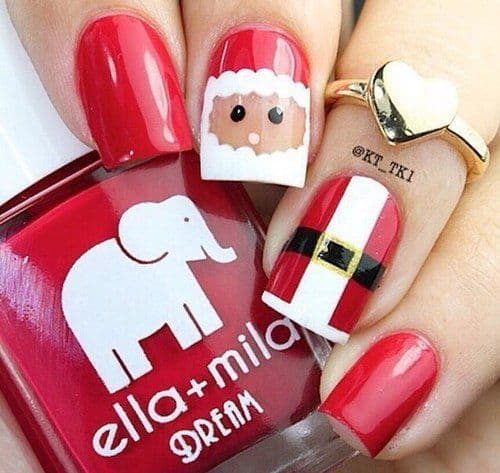 The presence of Santa Claus means the presence of winter as Christmas comes in winter. So, you can draw an image of Santa on your nails to have winter nail designs.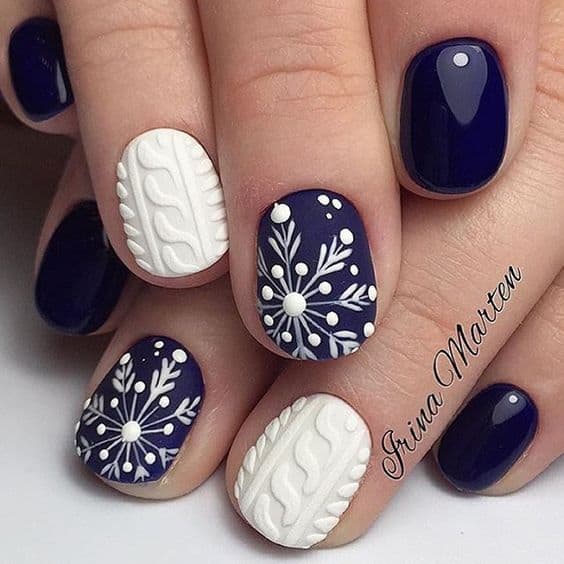 To have this design, draw snowflakes patterns on your nails. You can use these white patterns as depicted in the picture to make a difference.
#27. Penguin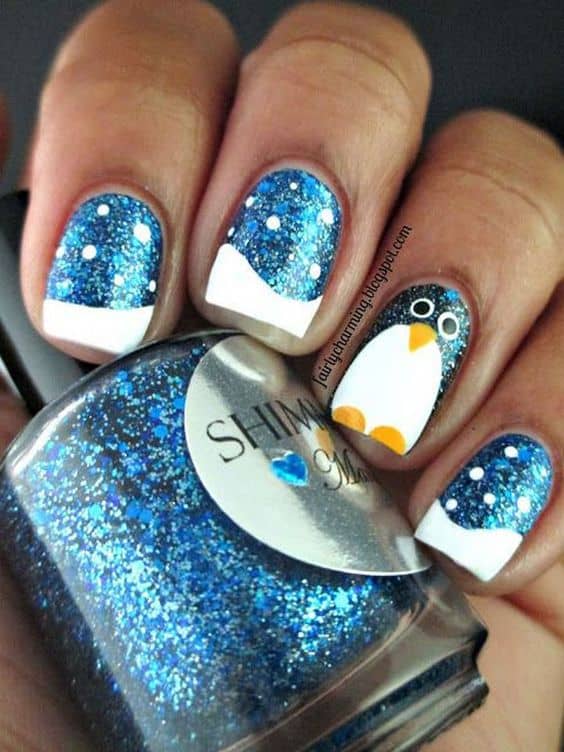 Draw a penguin who is peeping through your nails. Use blue glitters on the base and white color to draw the penguin along with the polka dots.
#28. Simply Winter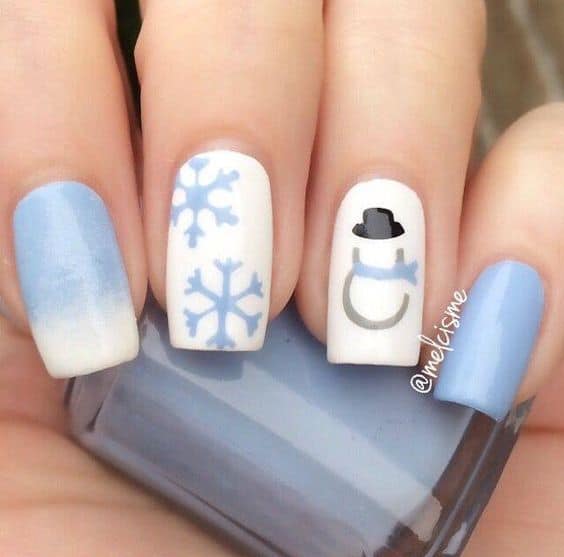 This simple design is conveying the message of the arrival of the winter. You can have this nail art done by using sky blue and white colors to draw snowflakes and snowman for your winter nail designs.
#29. Black Forest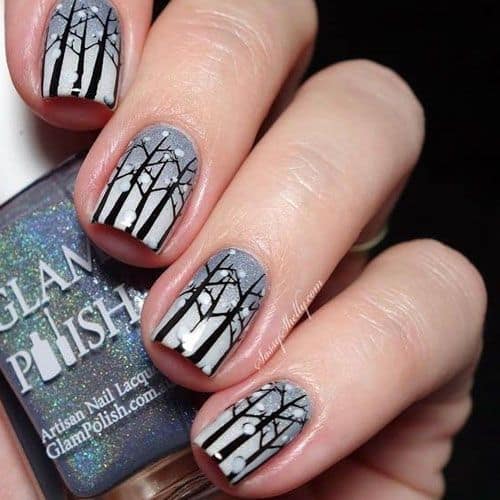 White snow falling in a dark forest, so thrilling to think. If you want to have this design then paint a black forest on your nails with black colors and keep the background grey. Then buff your white brush on the image to draw the snows, a perfect design for Halloween.
#30. Pink Winter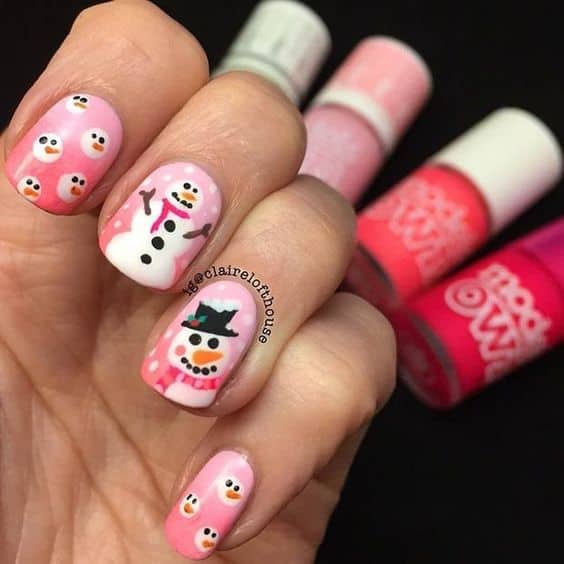 Pink is one of the most celebrated colors by the girls. They never miss a chance to use it in their designs. You can use the glamour of pink too. Draw some snowmen on pink base for this design.
#31. Snowy Reindeer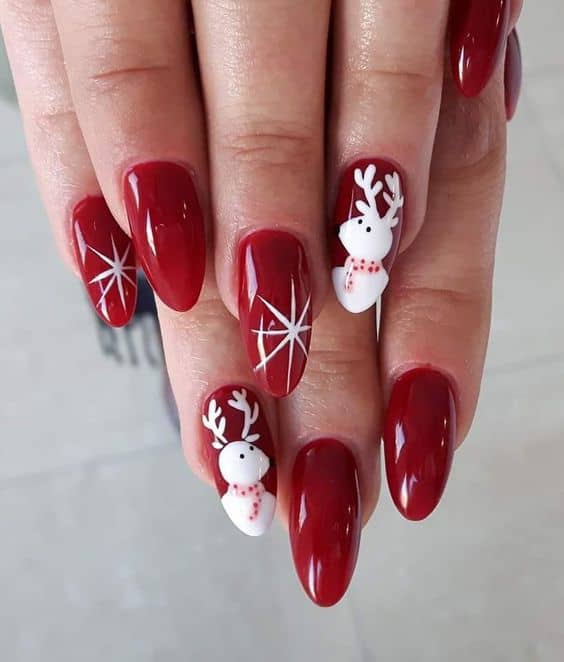 Enough with the snowman? Ok! let's move to the realm of snowy reindeer. Draw the images of snowy white reindeer on your red acrylic nails. You will have a hot nail design for the cold winter.
#32. Cozy House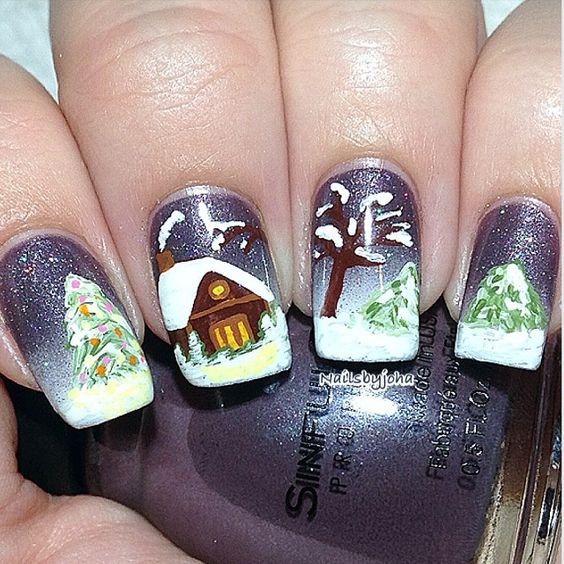 A cozy house is the most desired thing in a winter season. Everywhere there is cold except in your house, this feeling is really very relaxing. Paint your dream house to spend your days of winter on your nails. This is an amazing idea for winter nail designs.
#33. Polar Bear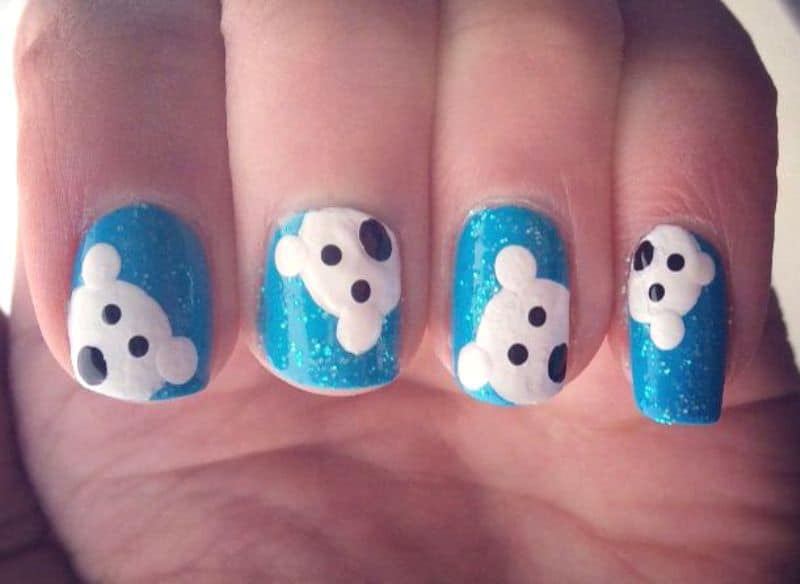 Polar bears are identical animals to the snow-covered places. The images of this bear express the entity of winter. So, having them at your fingertips will not be a bad idea. You can draw the faces of the polar bear in white color on the glittery sky blue base coat for this winter nail design.
Fall In Love with Autumn Nail Design
Amazing Nail Designs to Celebrate Winter
Winter is the season when people become ecstatic being touched by the first snowfall. It is the season when family members get together and gossip about the things which have been left untold. People share their bed, sleep under the same blanket and enjoy the holidays together. To me, this is the season of togetherness. But speaking of nail designs, this winter deserves to be drawn on your fingertips. That's why we have brought some amazing ideas and designs for you to try them out.