In case you are looking for some blazing maroon and gold nail designs you are at the right place. This specific color matching is so gracious and marvelous. Women who love these rich colors will also love your nail designs.
Maroon and Gold Nail Design Inspirations
If you are off to something formal make sure you bring your formal nails with you! You will notice that everyone will love your manicure if you are wearing it golden and maroon.
The best part about this is that it can be matched with that little red dress, as well as anything black or golden.
#1. Maroon and Gold Coffin Nails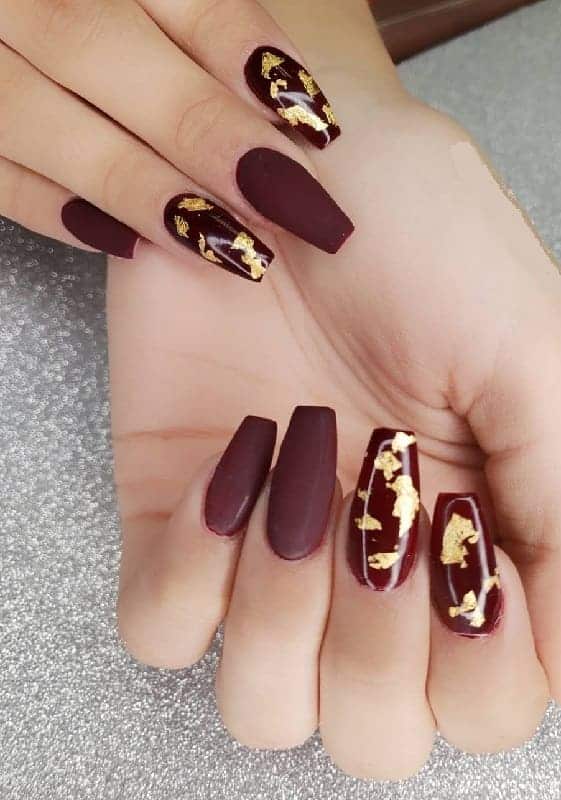 These imperial coffin nails look tremendously elegant and seem to have their own personality! That golden foil appears to be the key for an exquisite and graceful look.
#2. Maroon & Gold Stiletto Shaped Nails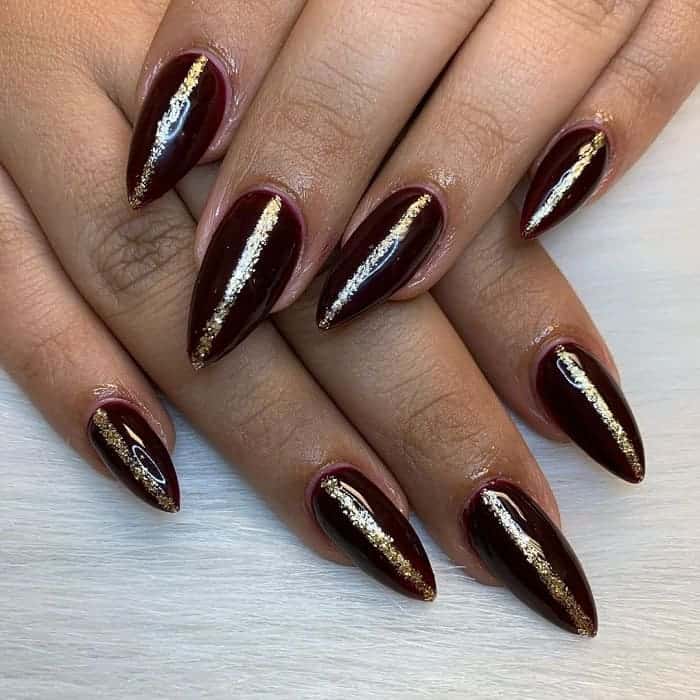 Match your pointy nails with stiletto shoes, and everybody will have their eyes on you! Use a dark wine marron color and make it look sumptuous with a small vertical gold glitter line.
#3. Gold and Maroon Matte Nail Art
Inspired by Aztec motifs, this gorgeously designed maroon and blue constructs beautifully mix two nail shapes: stiletto and square formats.
#4. Black + Gold + Maroon Combo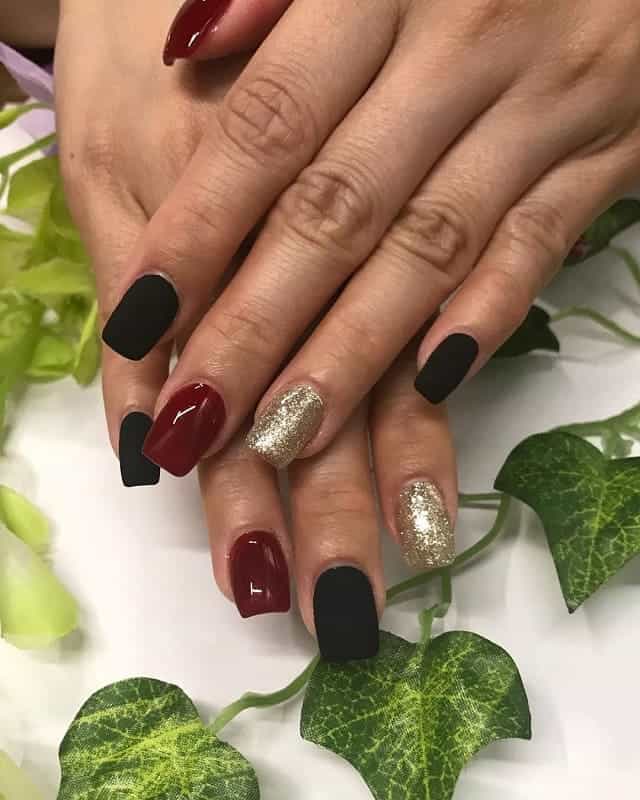 No matter the nail length, maroon always makes your nails look eye-popping. Combine this polish with black and gold glitter, and you'll obtain a notable effect.
#5. Maroon and Rose Gold Nails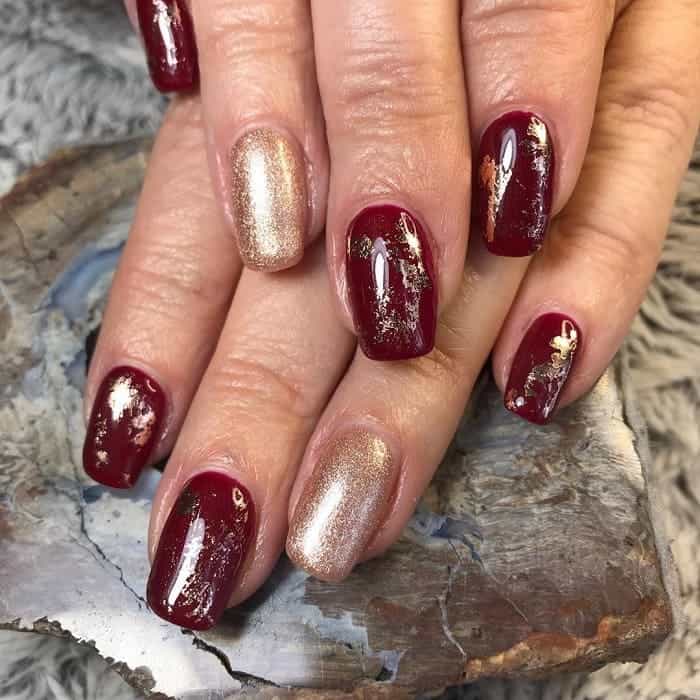 Maroon nails certainly look majestic if you choose to add some glitter and a golden foil. They look pretty impressive, don't they?
#6. Maroon & Gold Acrylic Nails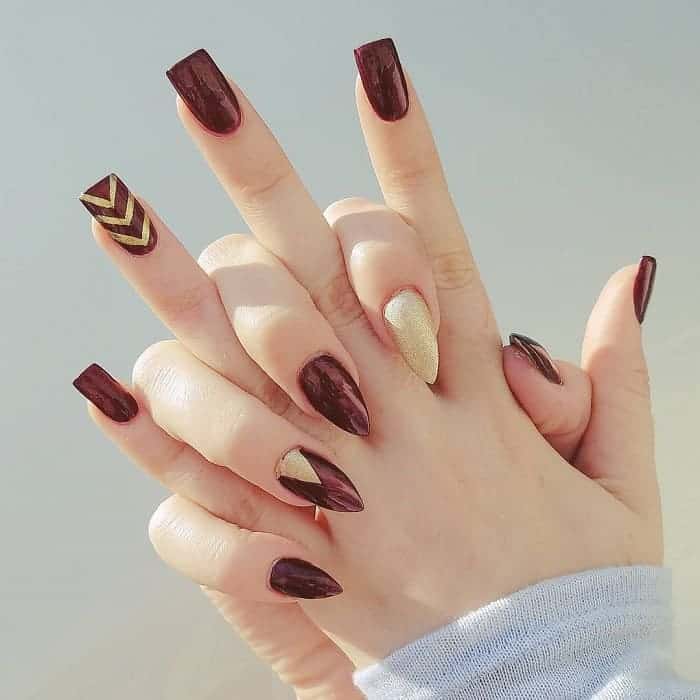 #7. Maroon and Gold Nails for Prom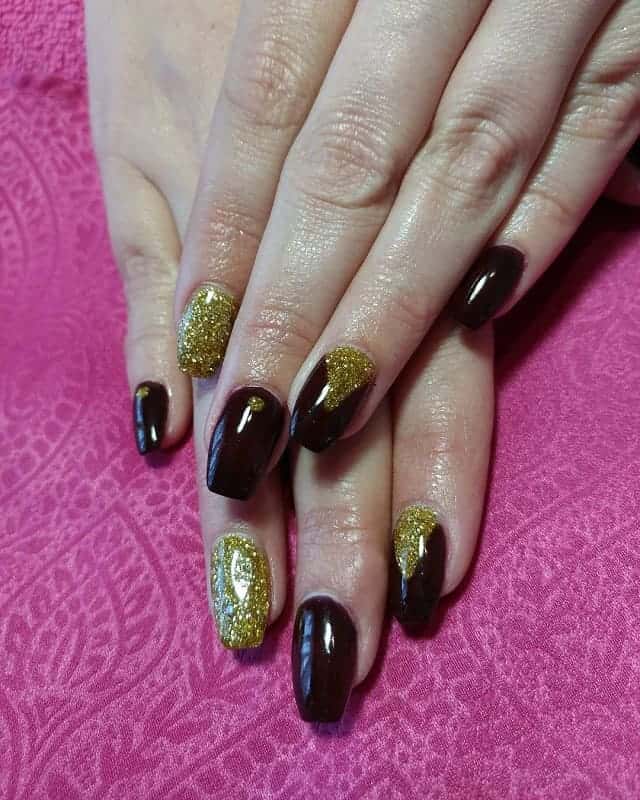 #8. Maroon and Gold Ombre Nails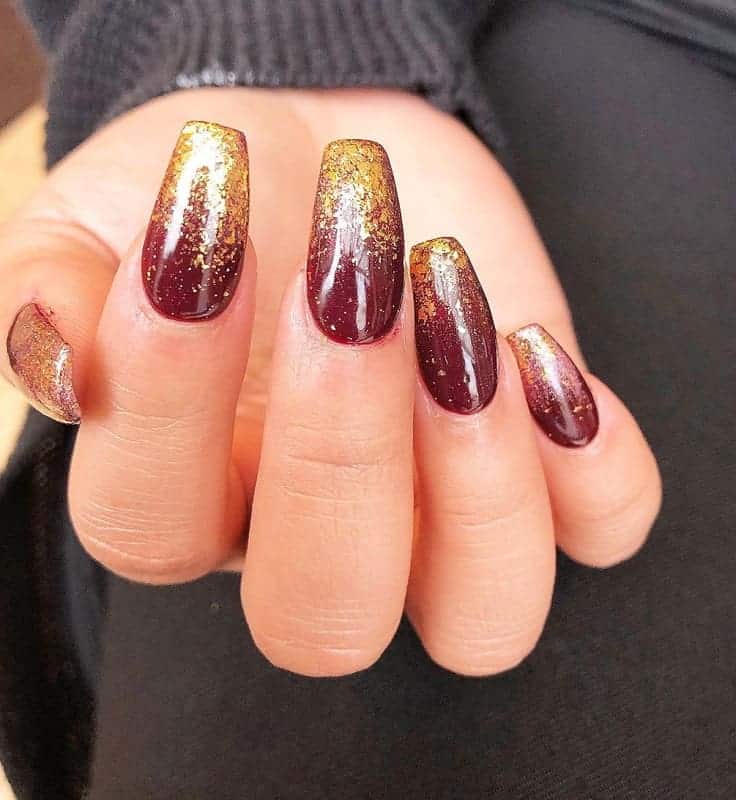 #9. Super Long and Super Pretty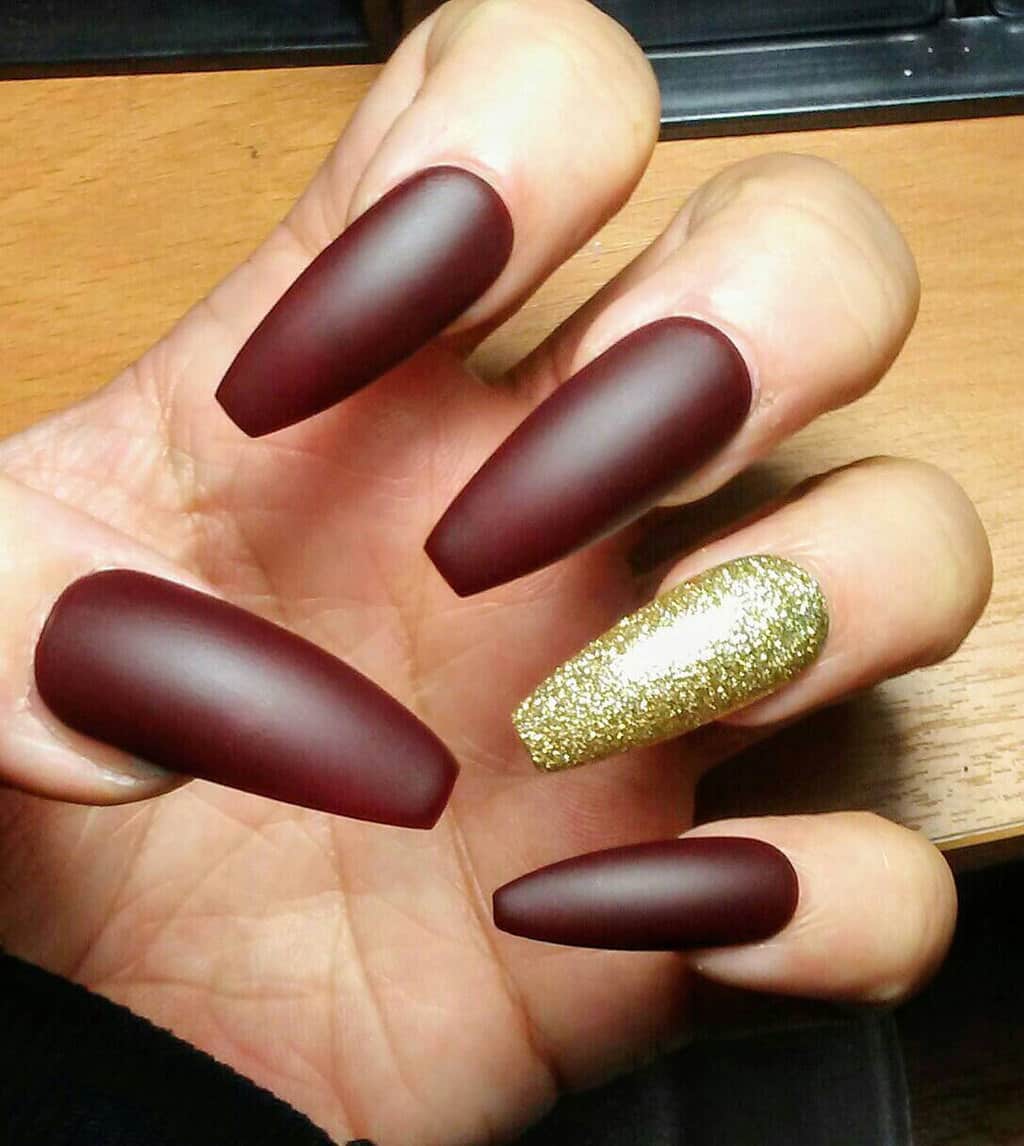 Very long and bold stiletto nails are a true example of a woman who knows what she wants.
If you are going to prom or a wedding make sure to get these maroon and gold nails. They are really sharp and pointy and just perfect for daredevil women.
#10. Mini Mad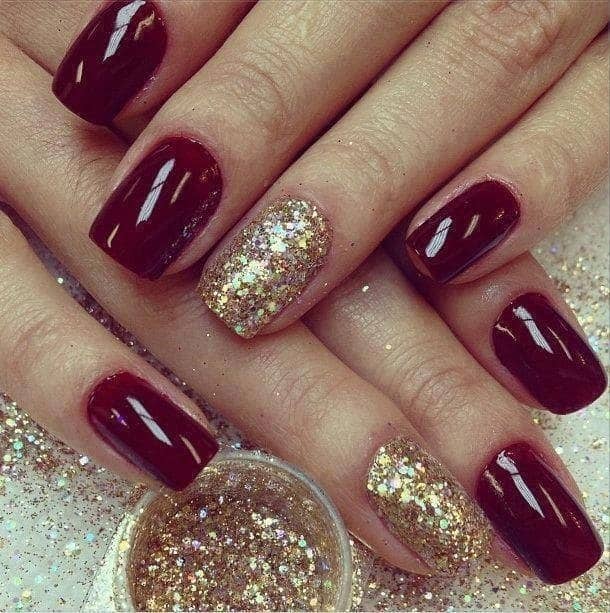 Now on the complete opposite side, we have a shorter yet stunning version. If you are a fan of shellac or gel nails these may suit you the best. They are still very cute and noticeable and could be your go-to option.
Let's not forget to say that men are crazy about all-natural types of women. So let that inspire you into getting this short and natural nail style.
#11. Maroon and Gold Sparkle Nails
Only a real professional will be able to pull these off. Maroon and gold matte nails with super long and bold accessories have never looked better.
However, make sure you have booked a nail pro. You will need your acrylics to be very long and very bold, and not everyone can pull that off.
#12. Hot and Spicy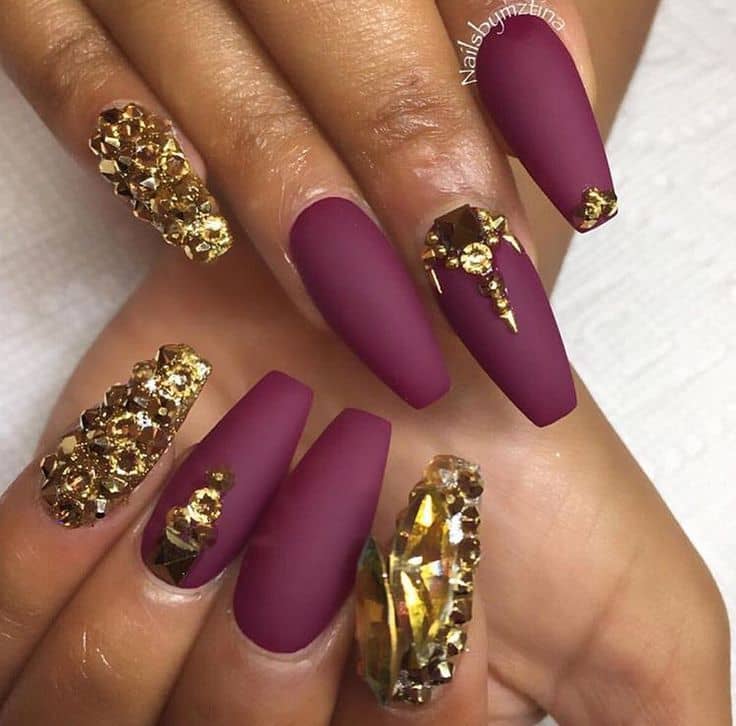 And last but definitely not least we have this beauty. They are super pretty and practically hard to resist. Those women who love to be in the center of the spotlight will adore this nail design.
Just be really careful when you are working with these long coffin nails since they can be a little harder to control and maintain.
Try Some Fascinating Maroon Acrylic nails
#13. OPI Colors
If you've ever gone with OPI it is a slight chance that you will be coming back. OPI has the best nail polishes in the world. They are just perfect for anything and can last you forever.
And let's not forget about the enormous color range. These nails are perfect for autumn and will look amazing, especially on the younger girls.
#14. Maroon and Gold Florals
The maroon and gold nail list would be incomplete without the flower design. Every woman in the world loves chocolate, jewelry, and flowers! There is no denying that. If you are searching for a perfect spring nail design we have it right here.
#15. Maroon and Gold Nails with Glitter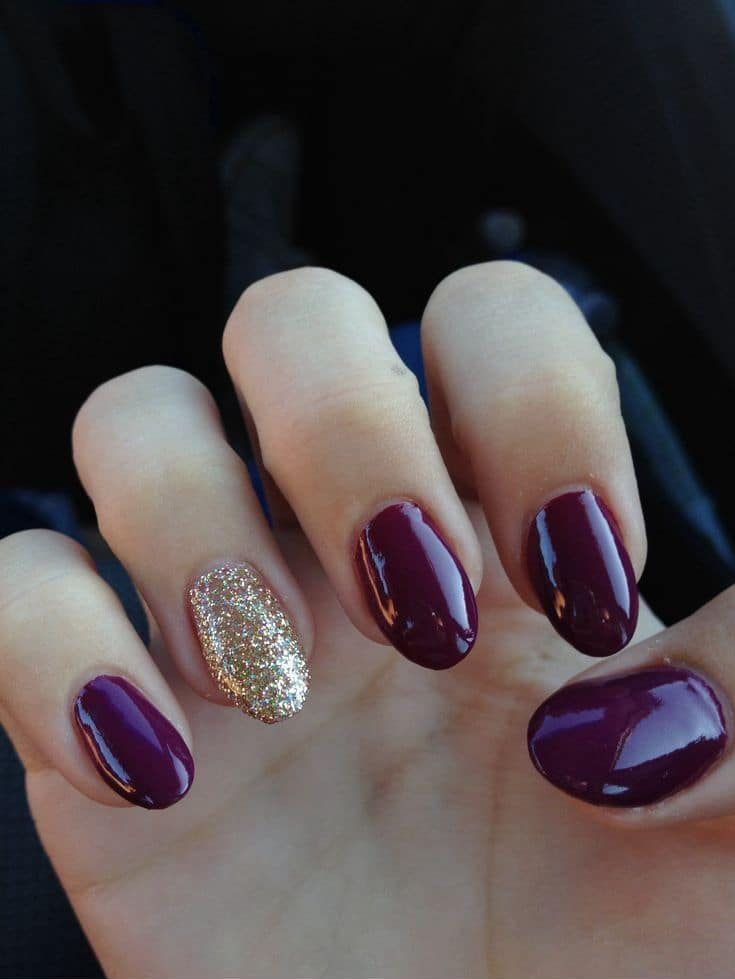 If you are someone who likes it all natural you should just leave it at that. There are some women who despise acrylics or are just allergic to the glass and powders that are used when creating these, so it is no wonder they can't have fake nails all the time.
It is completely normal if you want to give your natural nails a chance every now and then.
Let's Fall In Love With Teal Nail Paints
Which of these 15 beauties was your favorite? We call dibs on number three. Oh, that one was your favorite as well?
Hey don't worry, we can share! Make sure you enjoy these maroon and gold nails and take loads of pictures, and who knows, maybe one day your nail creation ends up in a blog.