The LED lamp can be your lifesaver for your gel nails at times. Imagine the scenario. You notice your nail polish is chipping right before a hot date with your major crush. Panic sets in because you have put way too much into your look to show up with haphazard nails.
Sure, you could paint them quickly but don't have time to wait for them to dry. Oh, you just remembered that bottle of gel polish you have not tried yet. That new LED lamp is also fully charged. Time for some red gel application and a quick 30-second dry under the dryer.
Ah, the beauty of an LED lamp!
Imagine how many customers you can rotate in and out with the right LED dryer if you are a nail technician: more customers, more money. Bear in mind that all gel polishes will be compatible with a UV lamp, but only selected brands can be cured by LED too.
Title
USpicy 24W White Light LED Gel Nail Lamp
DeepDream 84w UV LED Nail Lamp for Gel Polish
Best LED Lamps for Gel Nails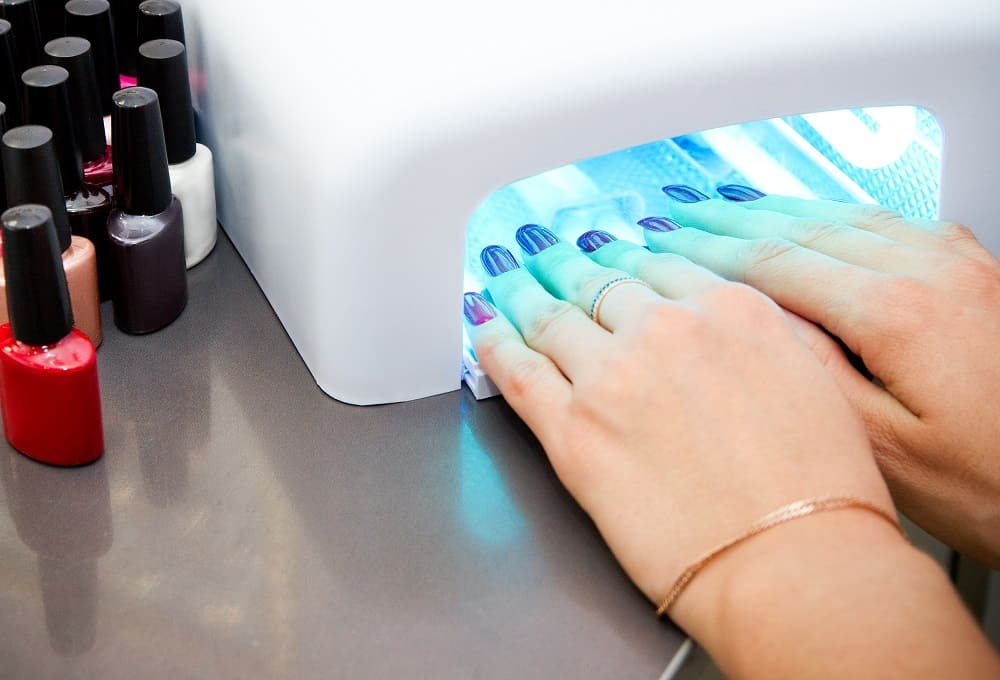 Regardless of your profile, you are most likely curious about the best LED lamp for gel nails. Get fast and furious gel nail designs with these six top picks.
After using the SUNUV Sun2 lamp, a reviewer named Andrew happily proclaimed, " I am a professional cosmetologist, and I would say that this lamp is comparable to a professional lamp."
This dryer is double the fun. It comes with 48 W of UV/LED dual light. The addition of UV means you can use it for shellac polish in addition to gel ones. Unlike some individual lamps, your thumbs don't have to get left out while the other four fingers get to suntan together.
All five fingers (and toes) can dry at the same time. For safety, it also comes with automatic sensing.
Another online customer review states, "I have been licensed and doing nails for 29 years, and I can say this is a great lamp for a new or seasoned tech". Well, some professionals seem to think this is the best LED  lamp for gel nails.
Nail Dryer, USpicy 24W Eye Friendly White Light LED Nail Dryer Lamp for All Gel Polishes - UV, LED, and More (Intuitive Finger Placement, 50,000 Hours of Use, LCD Display, Automatic Sensor)
Greater Protection Than UV Lights: The soft white light keeps eyes, nails, and hands safer compared to UV lights; will not tan skin even after continuous use
All Kinds Of Gel Polishes: With 24W double light source technology that covers a wider range of light bands, you can dry most types of gel nail polishes including UV, LED, and more
If you want a nail lamp with a cool name, look no further than the Spicy 24 W. All types of nail polish can dry in it. You can also fit your entire hand in – thanks to a special grooved design. Your nails will dry in 30 seconds under pretty blue lights.
You won't have to worry about the dryer sliding around as you move since it comes with non-slip feet. This non-slip element will keep your manicure table scratch-free. However, you need to count down the seconds yourself – there is no automatic timer.
The single-hand setting and lower voltage make it more convenient for the home versus a business.
Deep Dream 84w UV LED Nail Lamp Gel Polish Light Nail Dryer with 4 Timer Fingernail Toenail Curing Lamps Professional Salon
💅 Professional Salon Lamp: It can cure all gels within 15s: LED gels, UV gels, Base Coat, Top Coat, Acrylic, Hard Gels, Gem glue, Color Gel, Hard Gels, Sculpture gel and UV Resin etc, no sticky gel.
💅High Configuration: 42 upgraded UV and LED beads fast cure gel but won't hurt eyes or black skin; long-lasting 50,000hrs lifetime no need to replace. Large enough fit two hands or feet in at the same time, not to worry about bumping sides or messing up polish; also the bottom part is detachable from the top part, which is easily cleaned and sanitized.
💅Auto On/off by Infrared Induction: Hands in, lamp on. Hands out, lamp off; It can be started automatically by auto-sensor without pressing any key.
💅LCD Time Setting: 15s/30s/60s/99s of 4 timer settings, time depending on the amount of gel polish you have on for a perfect nail art. Max curing 99s at 1/2 low power mode was designed for sensitive skin.
💅Quality Assurance: DeepDream nail lamp provides 12 Months Friendly Customer Service at any time. During warranty, if there is any product issues, we offer free replacement. Customer satisfaction is our first target.
In addition to curing all gel nails in 30 seconds, curing UV gels, and protecting the eyes, the Deep Dream also saves marriages.
One Amazon reviewer and frustrated husband got tired of hearing his wife proclaim that she could not hand him something in the garage because her nails needed 30 minutes to dry. He bought this dryer for his wife, who informed him that " it only takes a minute or so to dry." Happy marriages and manicures are made from deep dreams.
LED beads last for 50,000 hours and don't need replacing. You can even get fancy and fit both feet or hands at the same time. Professionals can easily clean and sanitize this machine between clients by removing the detachable bottom.
Like other favored lamps above, it has auto sensor safety. So no more hovering around clients.
Liquid Gel Nails vs. Powder Gel Nails: Is There Any Difference?
This one has over 3,000 reviews on Amazon with a 4.7 out of 5-star rating. With a double UV LED nail light, all gel polishes can get cured.
A fan at the Melody Susie website wants you to know that" The opening is massive, actually bigger than the one at the salon I usually go to, which I really like."
This brand has developed salon-grade nail lamps for years. The LED lamp will dry two hands or feet simultaneously. Maintain a professional look and avoid table stains due to the magnetic detachable tray.
MelodySusie provides necessary safety features by protecting your hands and eyes with low heat. Power saving turns on after 5 minutes. Control your time with 30, 60, and 90-second settings.
When searching for the best LED lamp for gel nails, you should search for one at least 36 watts. Higher watt bulbs are needed for fast, professional gel curing. If you are a professional with a high amount of clientele, you may need to consider this last lamp seriously.
This super lamp is more than three times higher than the minimum voltage expected of a professional gel dryer.
The UV and LED tag team allow all types of gel nails to dry. The high voltage means nails will dry at an 80% faster speed than an average lamp. Your customers won't even have a chance to sit down when they enter the nail shop.
Before you know it, you can steal McDonald's slogan "over a billion served" for your nail business. You certainly won't have to stress if you have to paint your nails quickly before a date.
A large LCD screen shows the time, which comes in 4 presets. Of course, a lamp this advanced has a Smart sensor. It is also portable and comes with a handle – sounds perfect for a holiday party before you start singing carols.
One of the 5,000 positive reviews on Amazon states, " I like the wide-open hand space. The thumb and the pinkie finger do not touch the inside of this lamp. So, these fingers do not rub against the lamp."
Now that you have a good range of six lamps to choose from, you may have questions about another relevant issue – LED/UV exposure. If you are concerned about giving your extremities regular direct suntans, you can always cover them with sunscreen before placing them in the dryer.
Safety is important in the search for the best LED lamp for gel nails Special gloves or socks with fingers or toes cut out may come in handy as well.
UV Sense: The Battery-Free UV Sensor to Wear On Your Nails
Want a fun activity for a bridal shower? How about gel manicures? Gel II Pro-Cure 2.0 is perfect if you are usually on the go. It is lightweight, cordless, and takes up little space. You can use it for up to 3 hours after charging it for 2 hours.
Most Bridal showers only last about 2-4 hours anyway, so your lamp will stay charged long enough for all the bridesmaids to get wedding-ready nails.
You can only do one foot or hand at a time, but it may dry in as little as 5 seconds. If the mimosas set in, and your party loses track of time – no worries. This LED lamp automatically turns off to prevent overheating, and motion sensors ensure it only turns on when a hand or foot is inside. Your safety is assured.
In conclusion, nail technicians and home nail polish lovers have many options for their homes, businesses, or gifts. Whether you are picky about drying both hands simultaneously, need a timer, or don't want any limits on what type of gel polish you can use, there is something for you.