50 Royal Wedding Nail Designs for Your Special Day
As modern brides, taking care of the tiniest details is our duty, and asking for perfection is a must in each and every aspect including our wedding nail design. Because, ever since we were little girls, we dreamt of the day we'll find ourselves walking down the aisle. Walking in a princess cut ivory dress with the tallest veil, hair up in a classy bun, and a face glowing with love. Holding your father's hands to give you away to your soul mate and say "I do" and crown your love with a wedding ring. A ring that'll shine on your hand that is dressed for this special day.
The Bride's Wedding Nails
Being the center of attention on your big day is very stressful, for looking perfect from head to toe is no easy task. Polished and perfect for this once in a life time occasion. A great care is given to every detail, nevertheless nail art. A wide part of nail art has been dedicated to this special night. Various designs have managed to be the most loved and preferred by brides. Starting from classic French style, passing by silver glitter, and elegant embroidered designs… We've got you our dear bride-to-be the top 50 wedding nail designs to help you find the look you dwell.
#1. Frosty French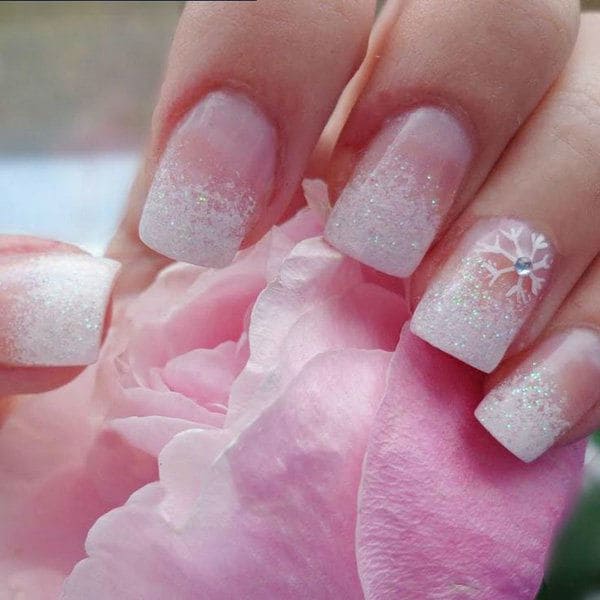 Enter this fresh new chapter of your life with style, by getting this modern ombre French art as your wedding nail design.
Startling Nail Art Design Ideas with Diamonds
#2. Simple Shine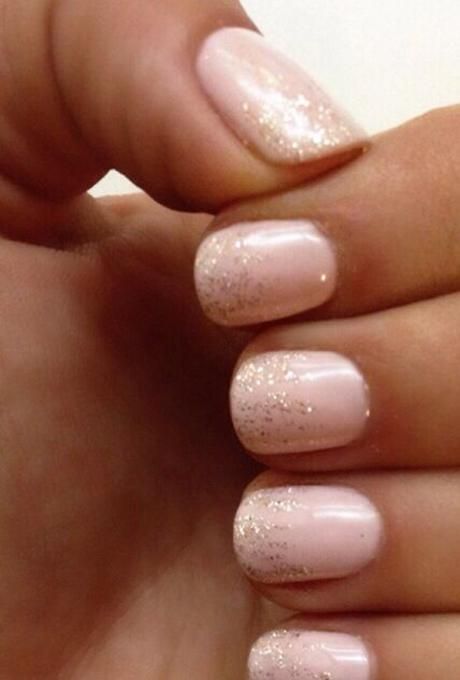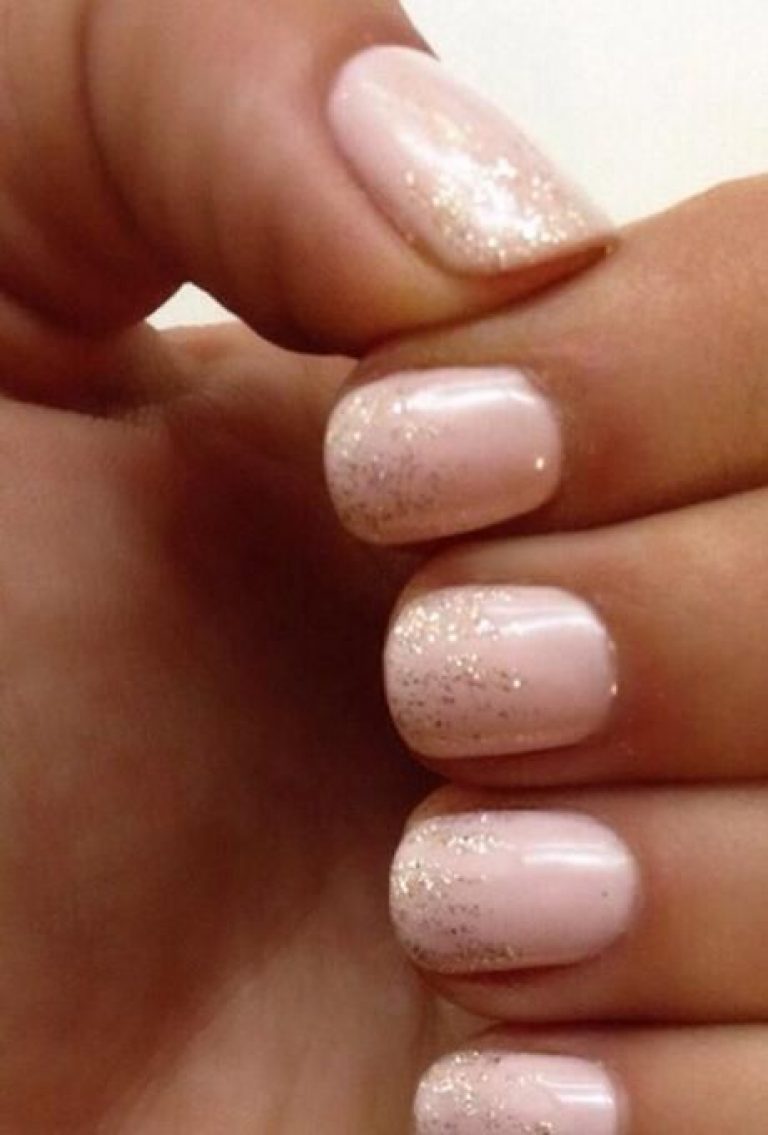 A simple shade of light pink is all you need to dress up your bridal nails And, with a sprinkle of glitter these nails are ready for the party to get started.
#3. Crystal Charm
Solar Nails had been in number one place for seasons now. A style known for its subtle elegance would certainly be suitable to get as your wedding nail design.
#4. Bridal Ombre
Just as you go on choosing between different shades for your wedding gown, you can choose between different shades such as white, ivory, or gold for example. This wedding nail design was created using a rose pearl nail polish for a majestic final look.
#5. Fading Beige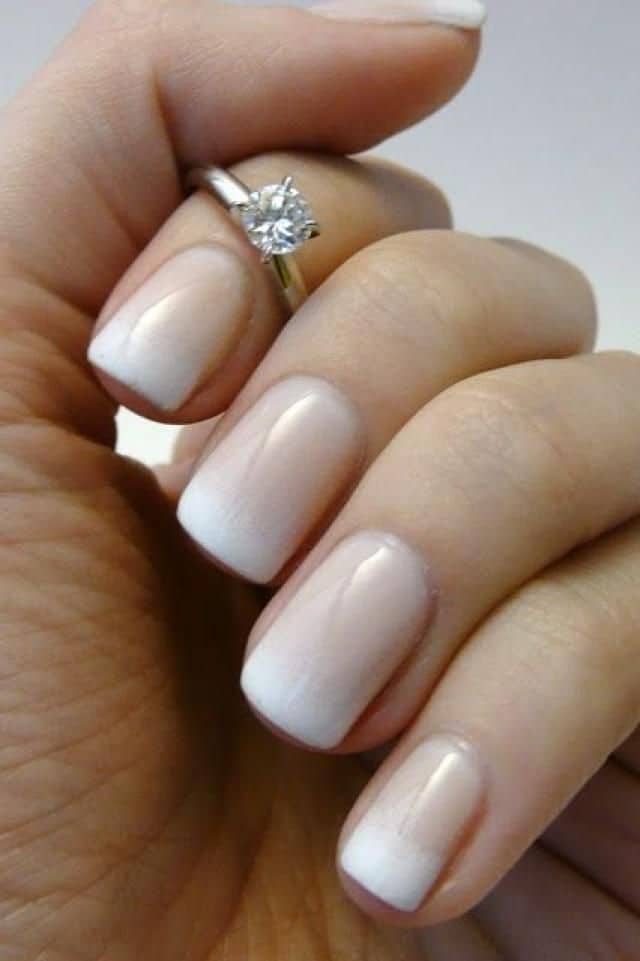 Infuse this season's hottest nail trend; ombre nail art with bridal colors to create this classy wedding nail design.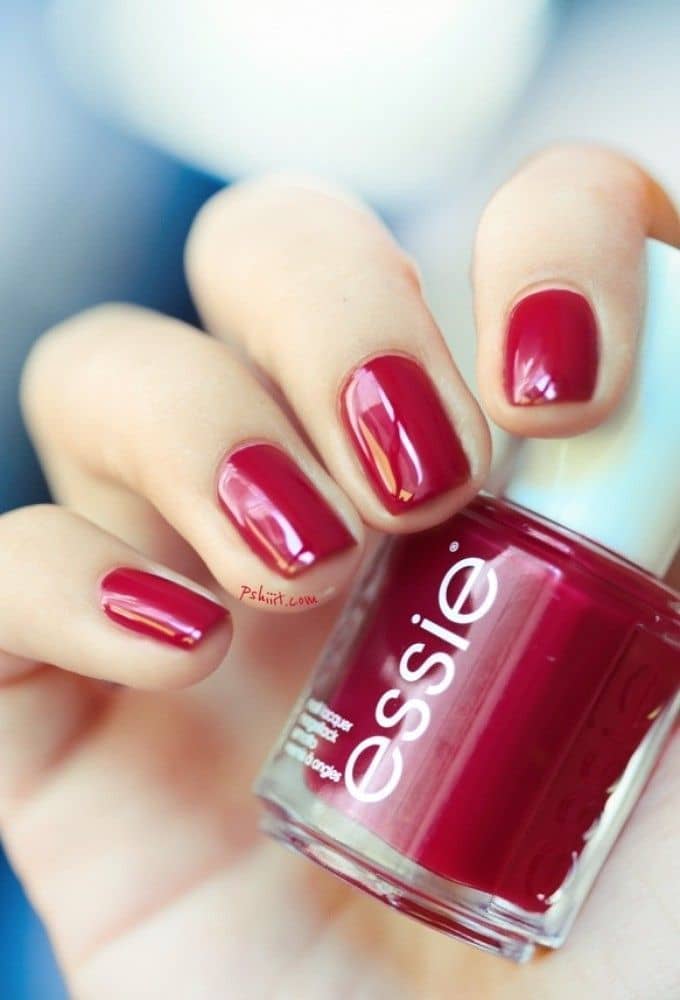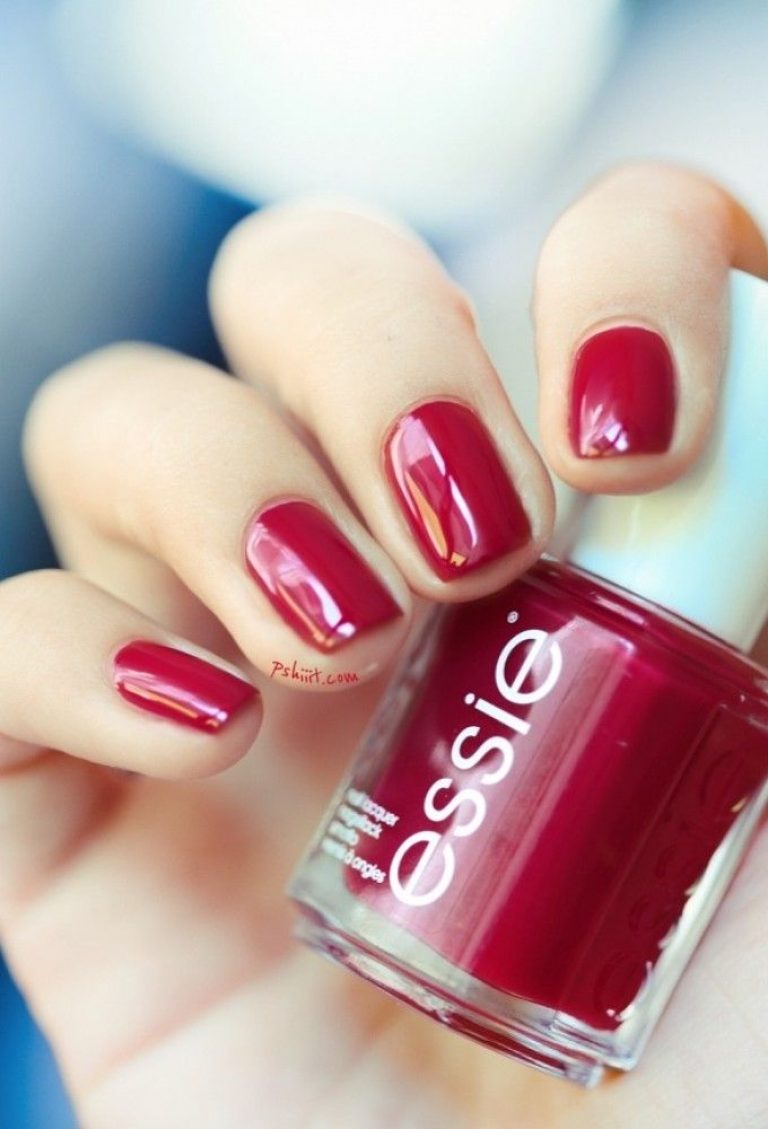 For a bride that isn't afraid to be the center of attention on her special day, a pop of color on her wedding nails would certainly suit her best.
#7. Charming Silhouette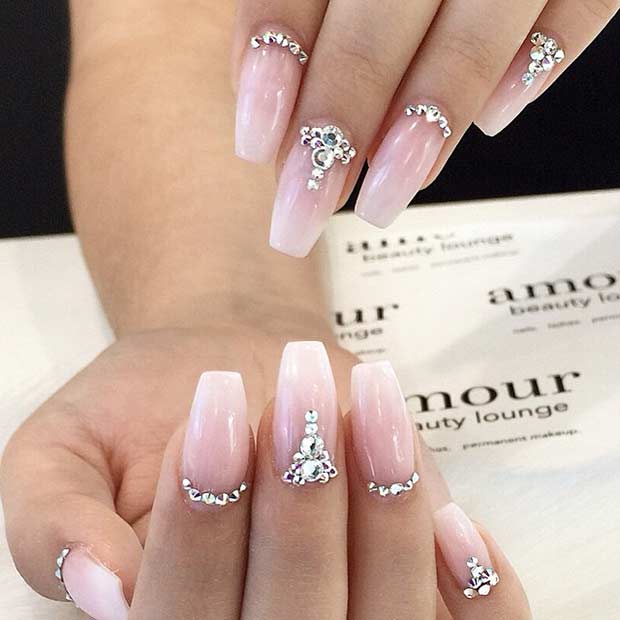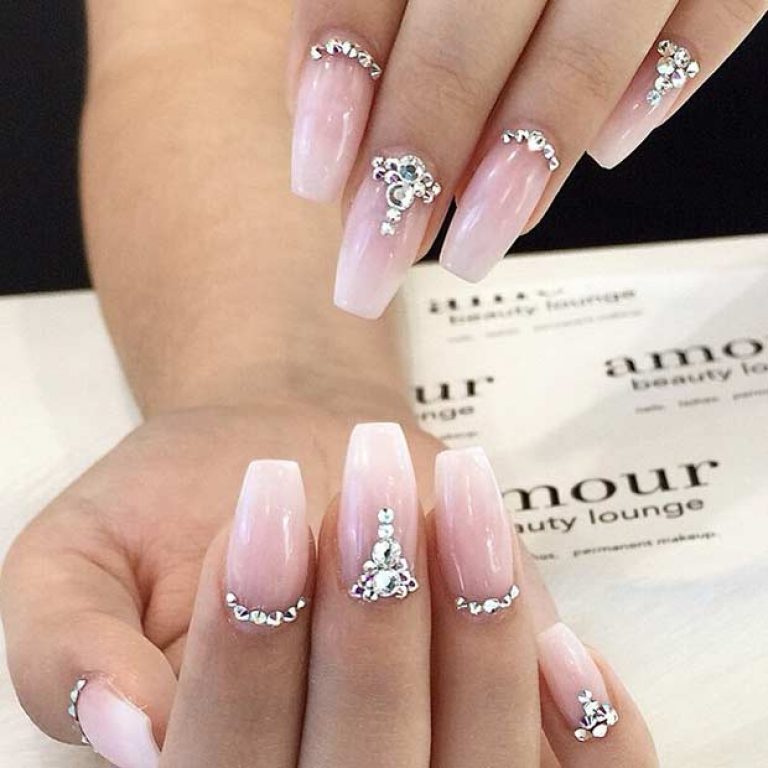 Flatter your overall bridal appearance with a bedazzled pink and white ombre wedding nail design.
#8. Put A Ring On It!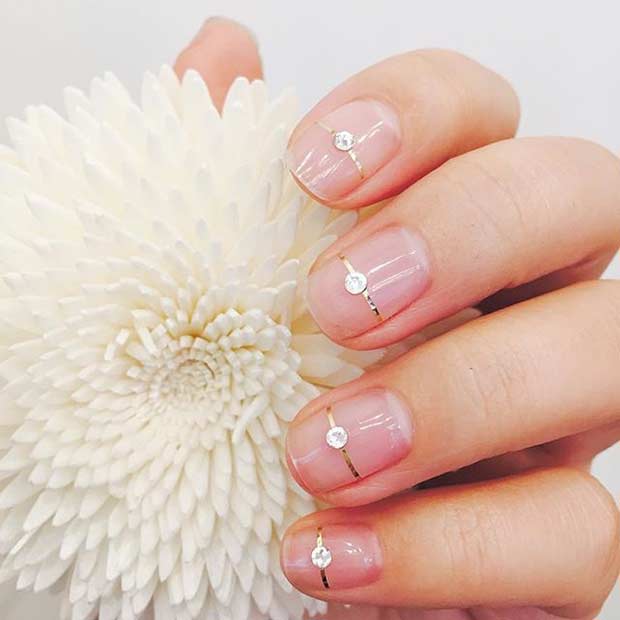 Nothing says this is the bride such as that wedding ring sparkling on her finger. This fun bride decided that accessorizing each nail with a diamond ring is her go to wedding nail design.
#9. Diamond Rings & Diamond Nails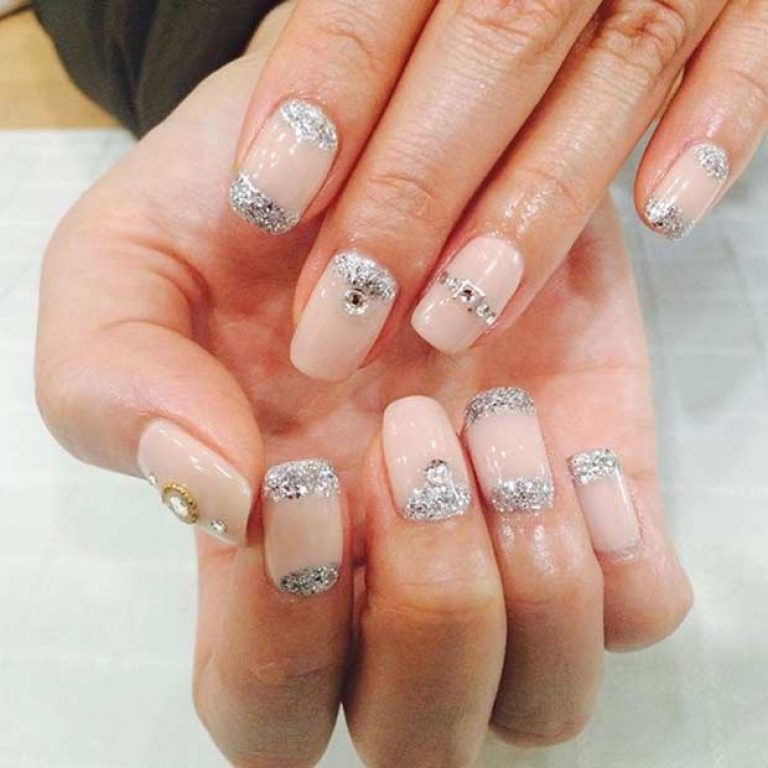 Get a natural cream colored nail design that you can rock almost every day on any outfit, and give it that twist to make it bridal approved such as adding these glitter and gems details.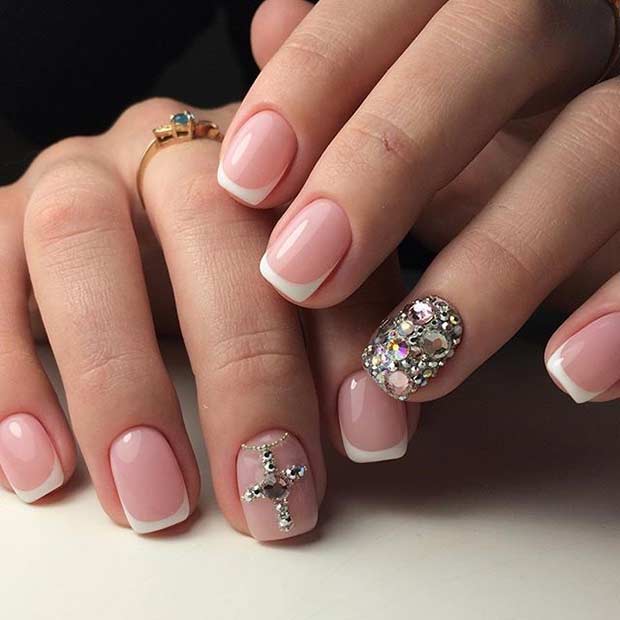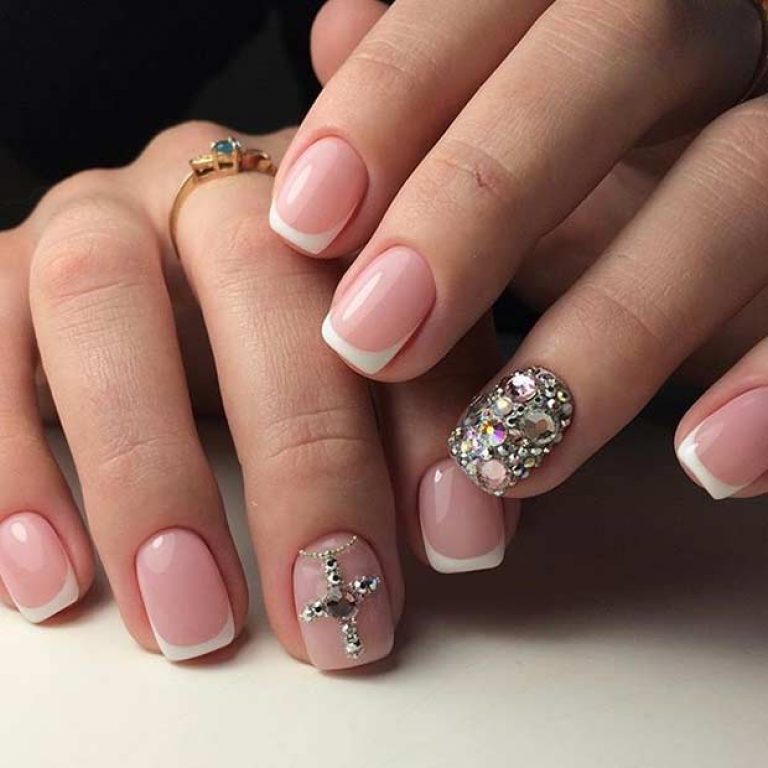 For such a special day, don't go experimenting on your nails, but head out to a trusted manicure artist and let her unleash her skills to create this acrylic French wedding nail design.
#11. Dazzling Acrylic Wedding Nail Design
French tips are the official style for wedding nail designs, however what about golden tips for this French design?
Acrylic Nail Designs for Any Occasion
#12. Simple Glam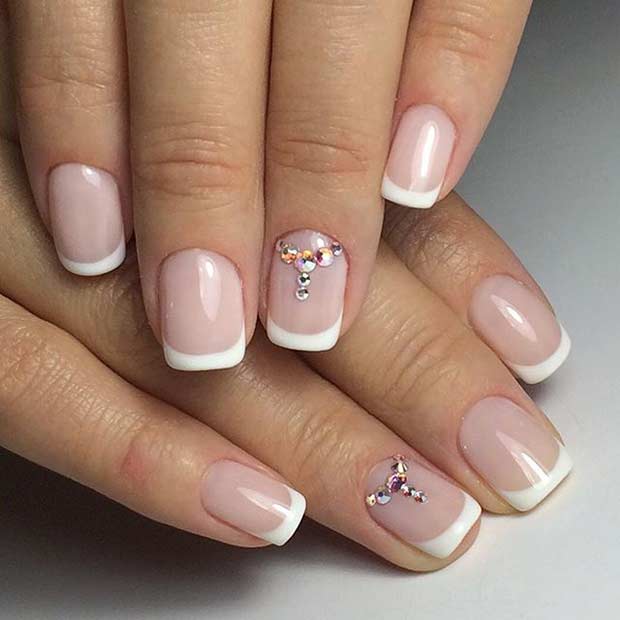 Let's be clear, no need to overdo your bridal nail art, for simplicity is always elegance as clear from this French acrylic nail design above.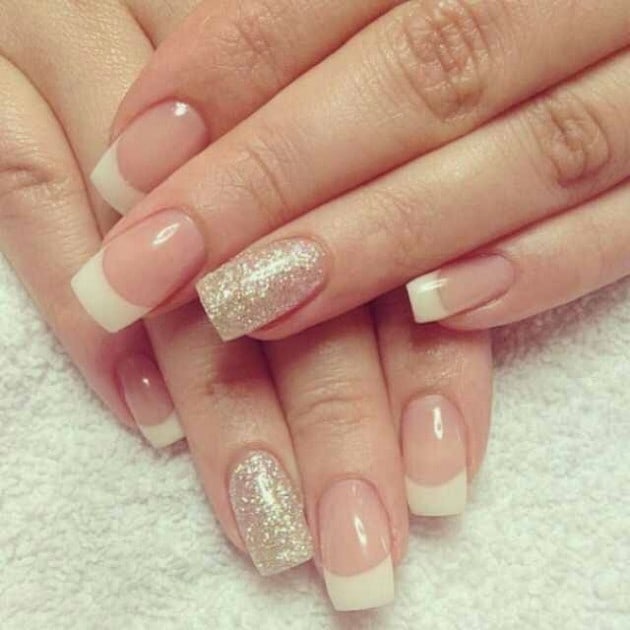 Don't bother yourself stressing about a suitable eye-catching wedding nail design, for French nail style runs always to the rescue. Here the bridal approach is accentuated with a remarkable glitter coated nail on that ring finger.
#14. Stiletto Bridal Design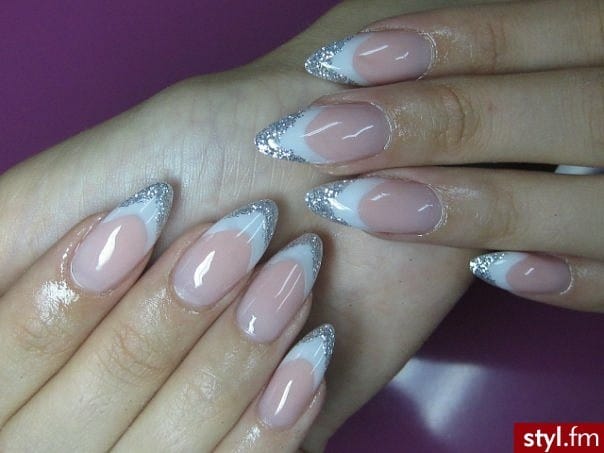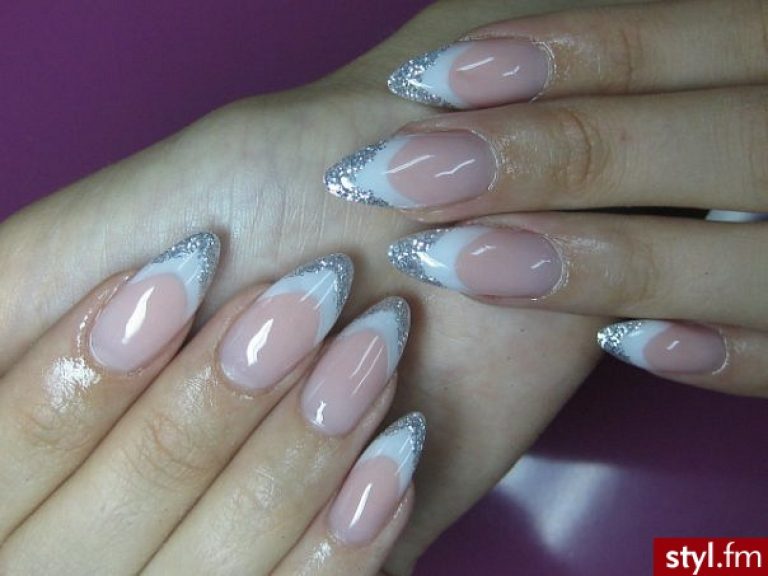 Ask for a double tipped French styled wedding nail art for a double charming end result.
When most brides go with classic white French style or red wedding nail design, stand out and ask for such out of the box pink and gold themed nail design to flatter your bridal outfit on this day.
#16. Royal Appeal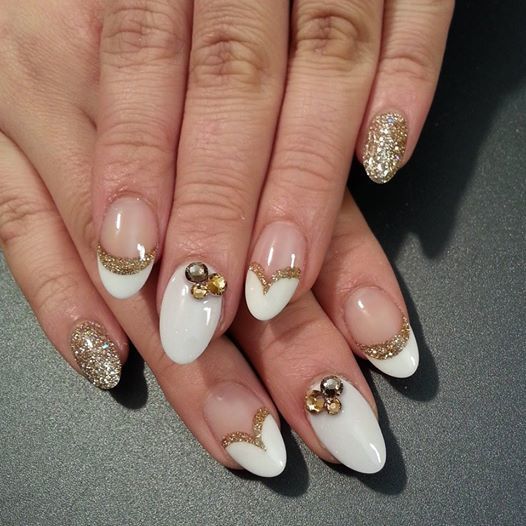 For a day that is one in a lifetime choose a unique wedding nail design that you won't get any other day such this gold decorated white nail art.
#17. Sharp & Sweet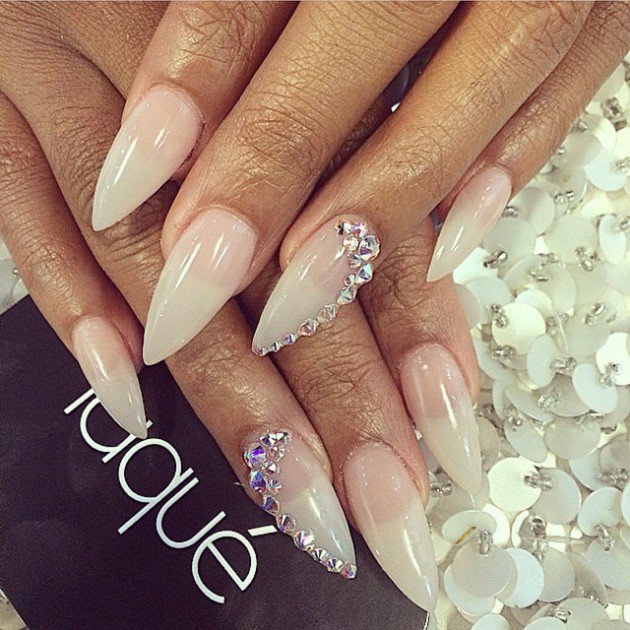 Who says you can't be a bit devious and fierce when dressing in white from head to toe. With this stiletto, wedding nail design adds a bold appeal to your sweet bridal look.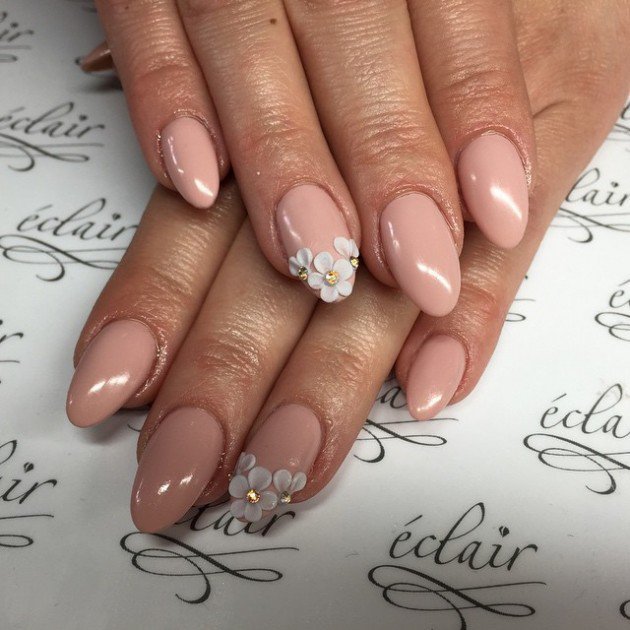 When nude color is so loved and adored by us all, we would certainly try to infuse it with any design to get it suitable for any occasion. In this look, we accessorized a single nail tip with beautiful 3D floral details to get these nude round tips attractive enough to suit a wedding nail design.
#19. Ombre Silhouette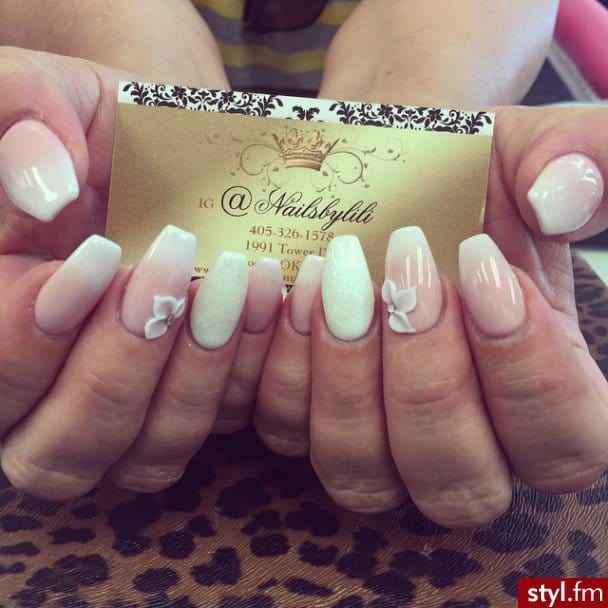 To make every moment of this celebration an everlasting memory, take care of each and every tinny detail, nevertheless your bridal fingertips. Ask your nail artist for this acrylic wedding nail design that is simply a masterpiece.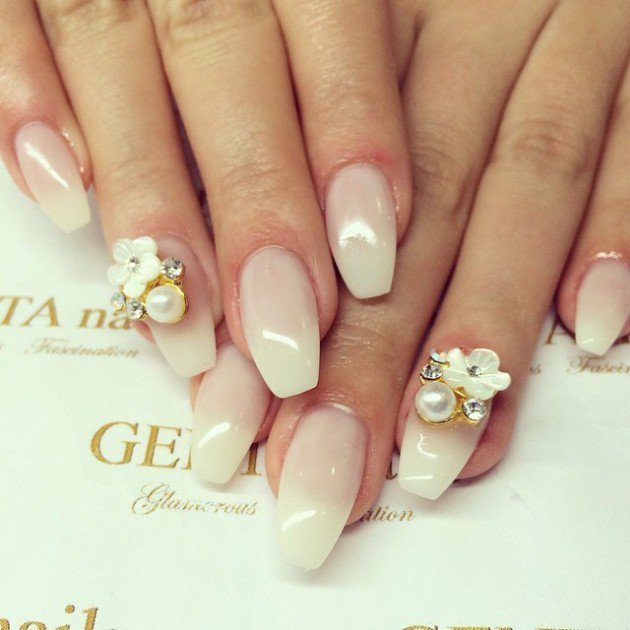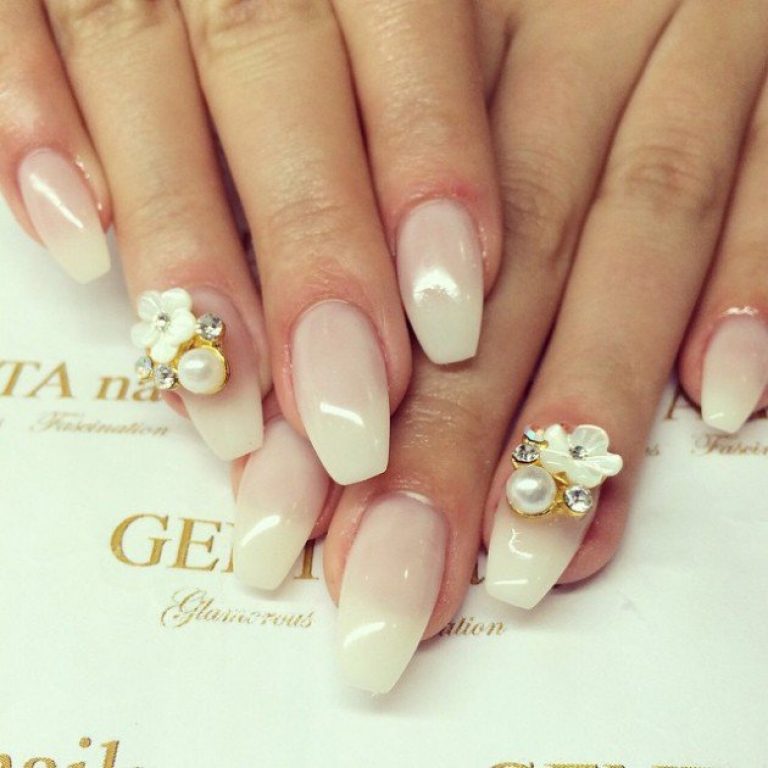 Add 3D ornaments to your simple white polished ballerina nails rendering them festive and celebratory enough for a wedding day.
#21. Modern Bride
Give a regular plain white polished nail design a bridal appeal with a modern stylish twist, by adding this singular golden stripe and colorful gems.
#22. Lace Vibes
Decorate those French tips with vivid lace details to flatter your lace wedding dress and graceful veil.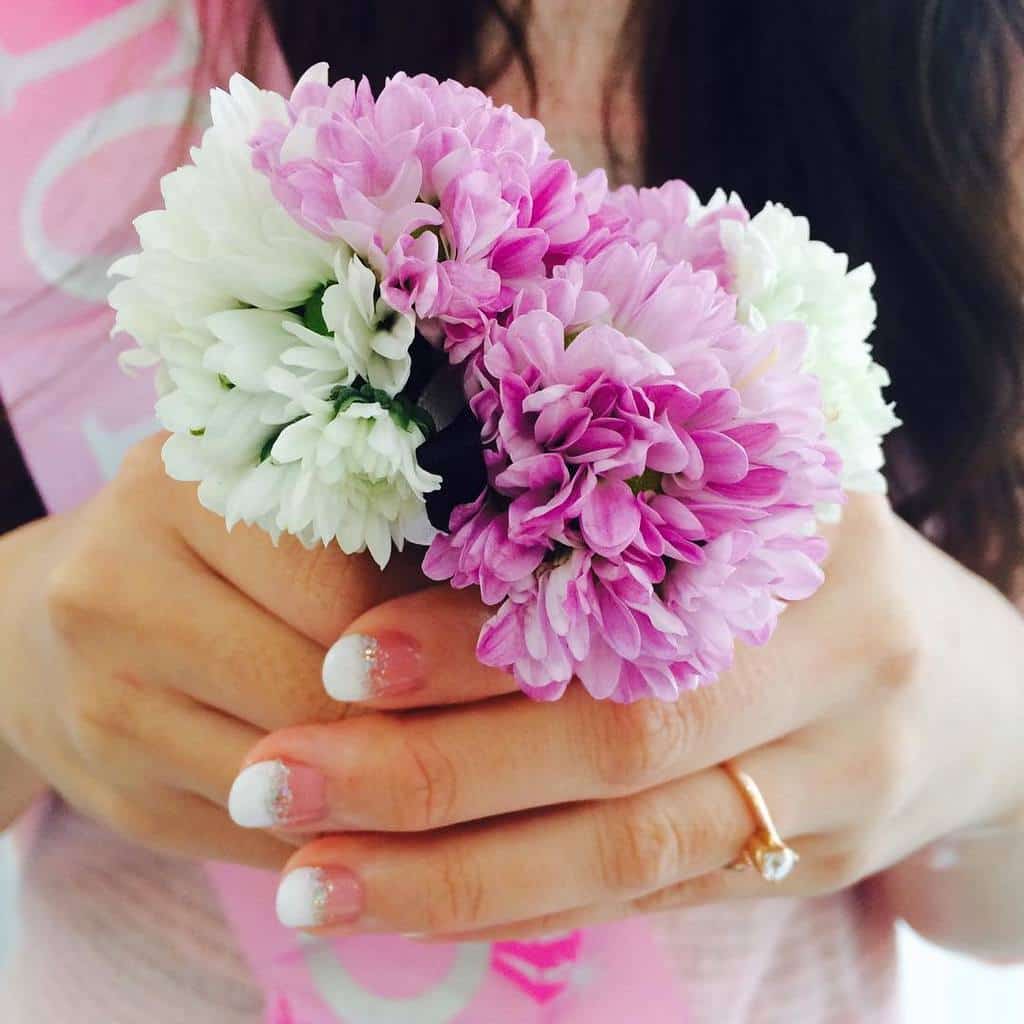 To get an attractive yet classy addition to your normal French nail design, an addition of a silver tip to line the initial white one to end up with a personalized simple wedding nail design.
#24. Unique French Style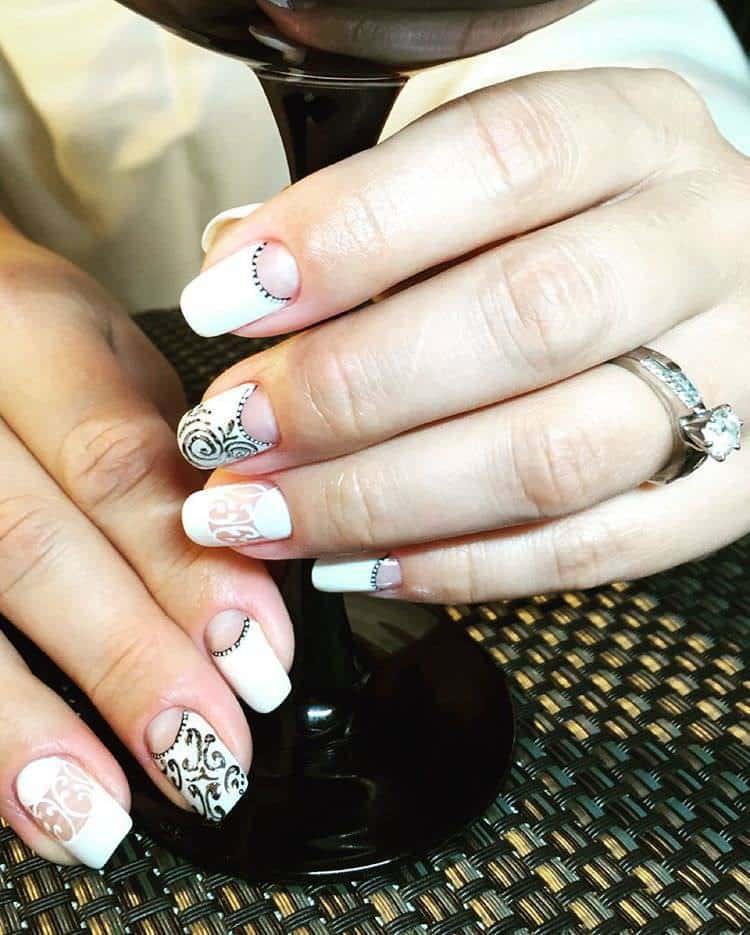 You can always decorate your wedding nails with contrasting black and white drawings.
#25. French Lace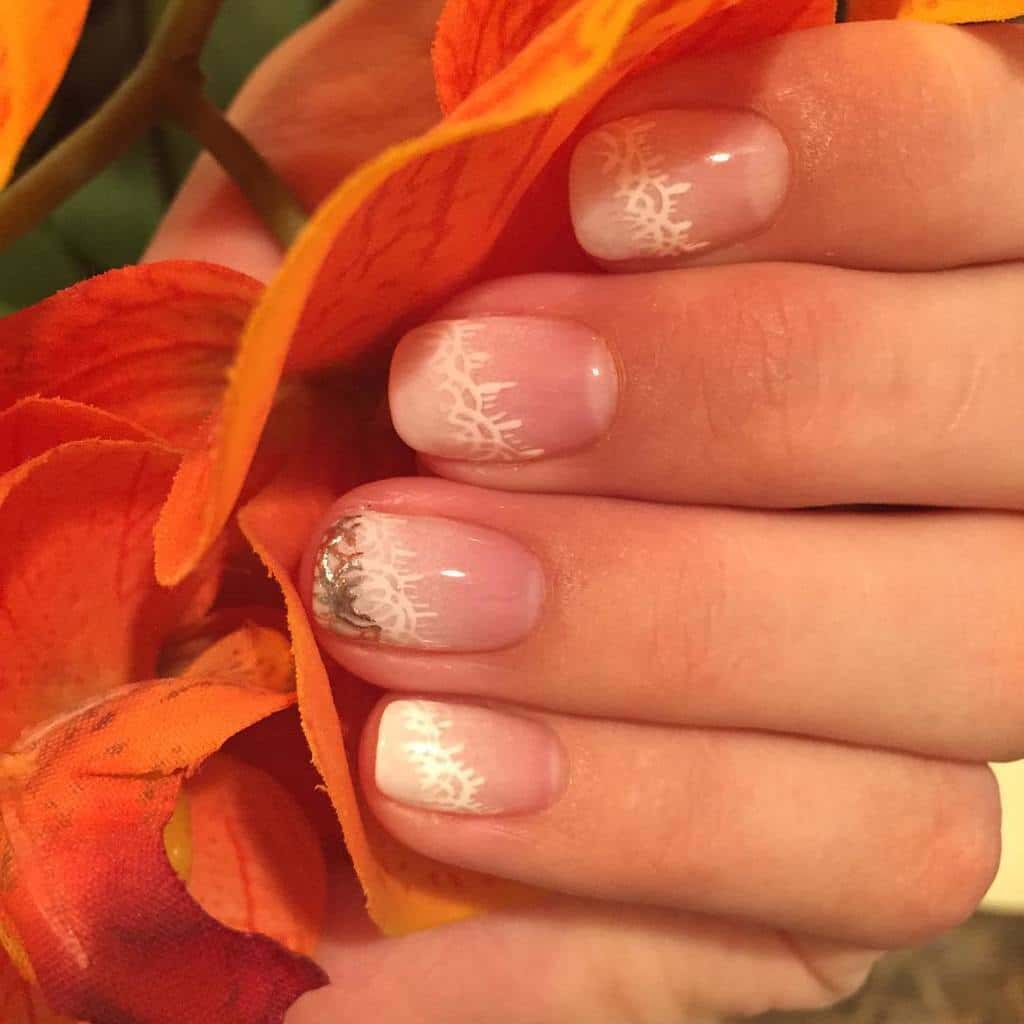 Nothing says wedding as that white satin lace veil that falls gracefully from the bride's tiara right down to her feet. And hence, nothing says bridal nails as lace tipped ones.
#26. Christmas Wedding Nail Design
Christmas themed wedding, cause why not? A lot of people choose the Holiday season to get their wedding done, and combine two festive occasions. For a Christmas themed wedding create a wedding nail design that mixes and matches the attractive red and frosty snowflakes.
#27. Matching His Tux!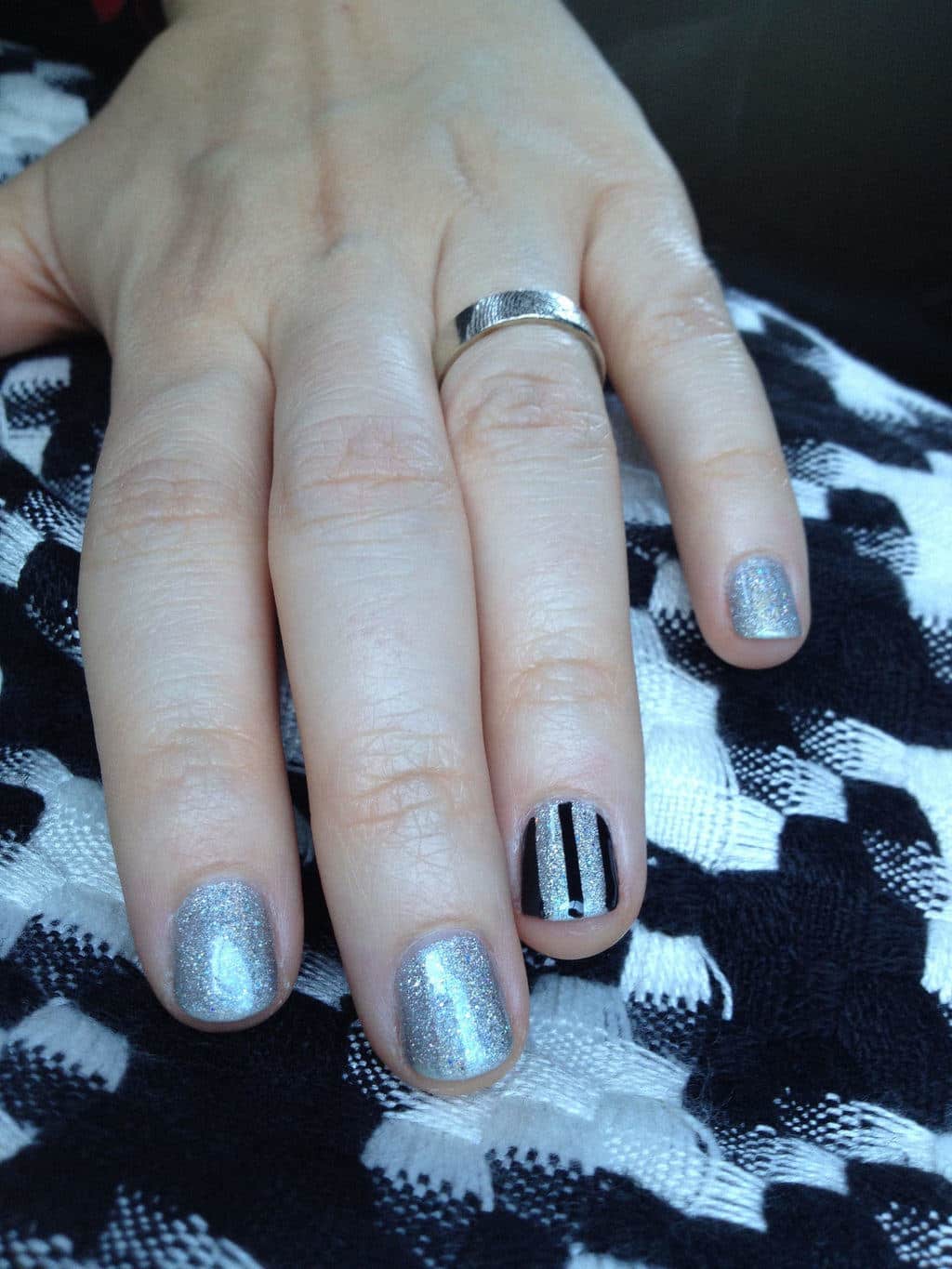 Most brides think of a wedding nail design that'll match their gown, however, this certain bride chose a color combo to match her Mr.'s tuxedo.
#28. An Interesting Alternative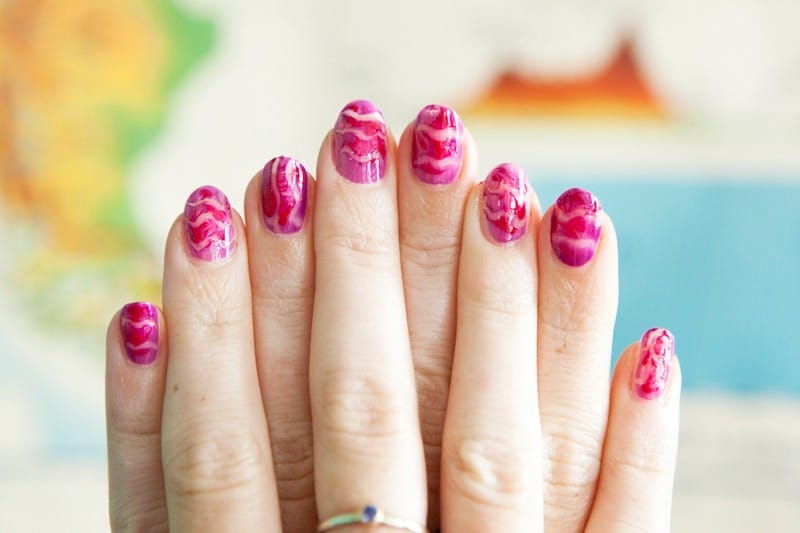 It's your wedding day, and you can do what you want to! Celebrate this special day with your favorite nail trend such as this pink marble canvas as wedding nail art.
#29. Bride & Groom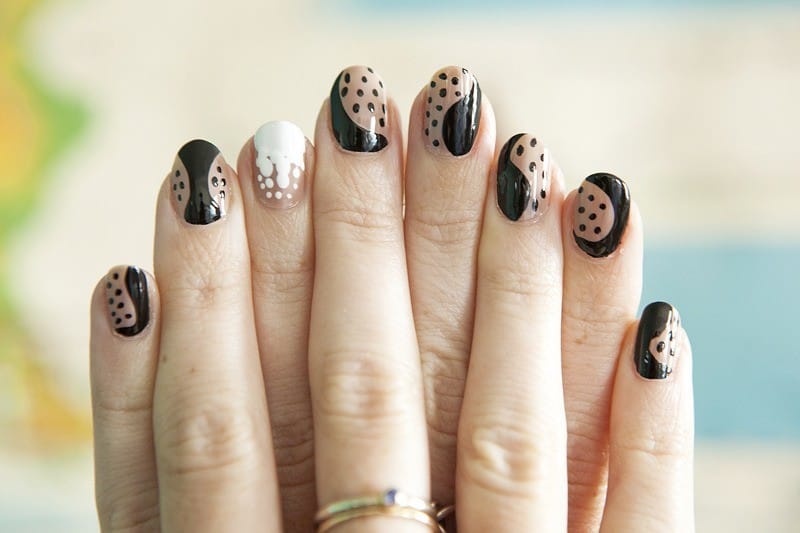 The wedding celebrated the entrance of a new life, a life full of ups and downs, good days and bad ones. Enter it with this stylish black and white art as your wedding nail design to symbolize the blacks and whites of your future life.
#30. Patriotic Bride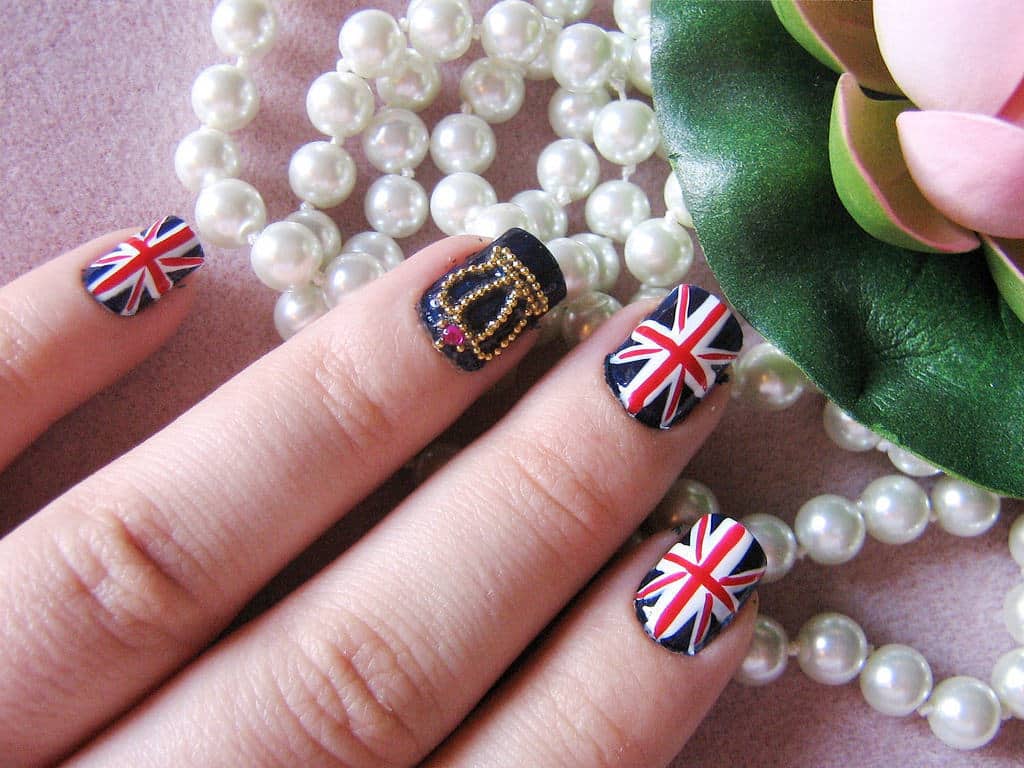 A true patriotic would show off her national British love even though on her wedding day.
#31. Strass For Sass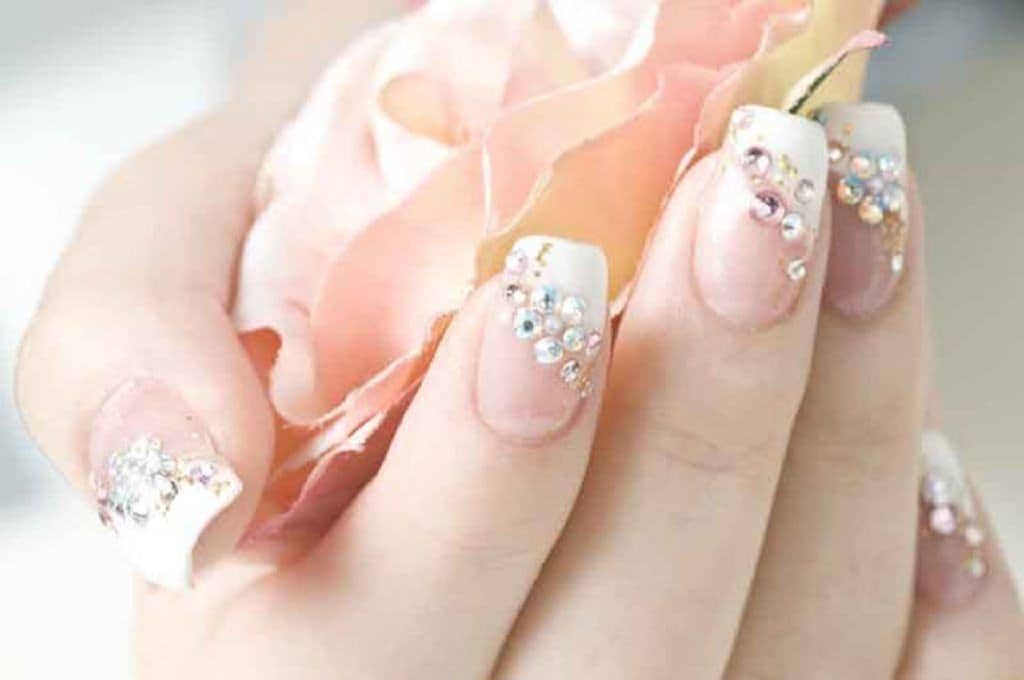 After planning every single detail of your dream wedding, it's now time to focus on those bridal nails. Choose a nail design that says it's the bride with the simplest notions such as these bold shimmering strass that align your French nail tips.
Adorn Your Nail With Rhinestones
#32. 3D Glam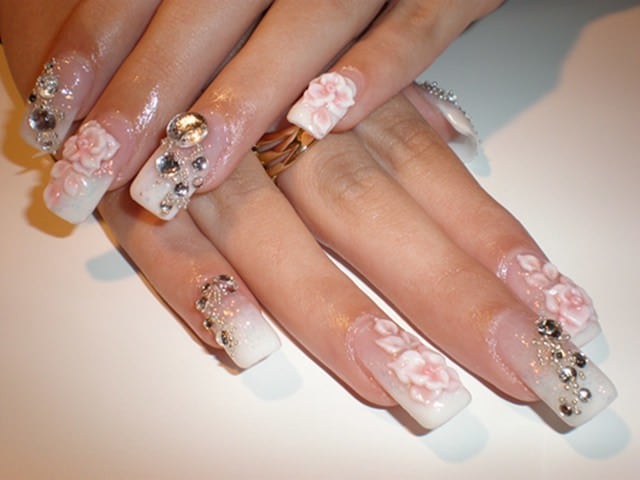 You want nothing subtle and dull on your wedding day, you want everything fascinating and majestic, that includes your wedding nail design!
#33. Floral Decorations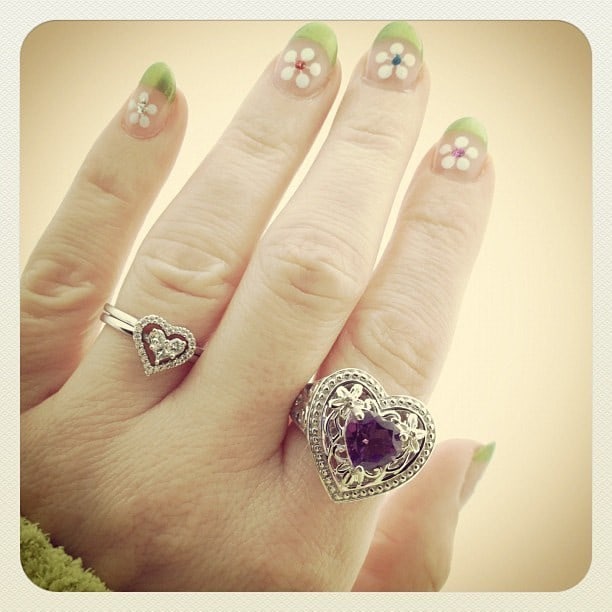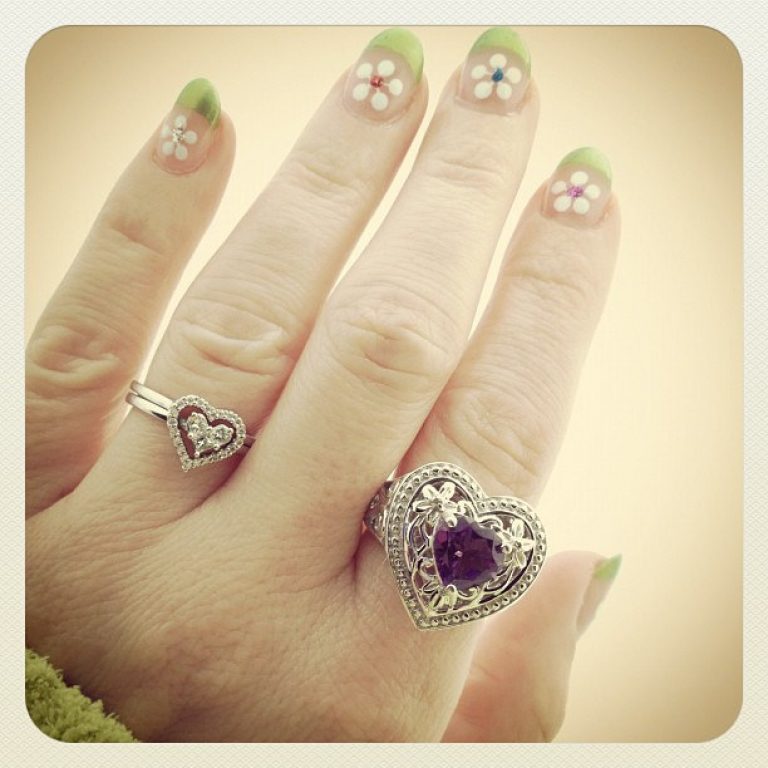 Simple and cute floral nail design is perfect to say goodbye to the little girl you once was as you enter this new life as a wife.
#34. Tigress Bride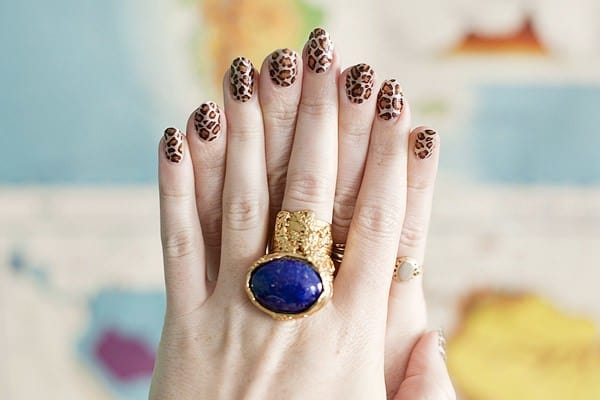 Who said a bride can't rock a leopard patterned wedding nail design!
#35. Silver French Wedding Mani

Such royal silver nail silhouette falls perfectly to match any bride's wedding outfit.
#36. Elegance In Nude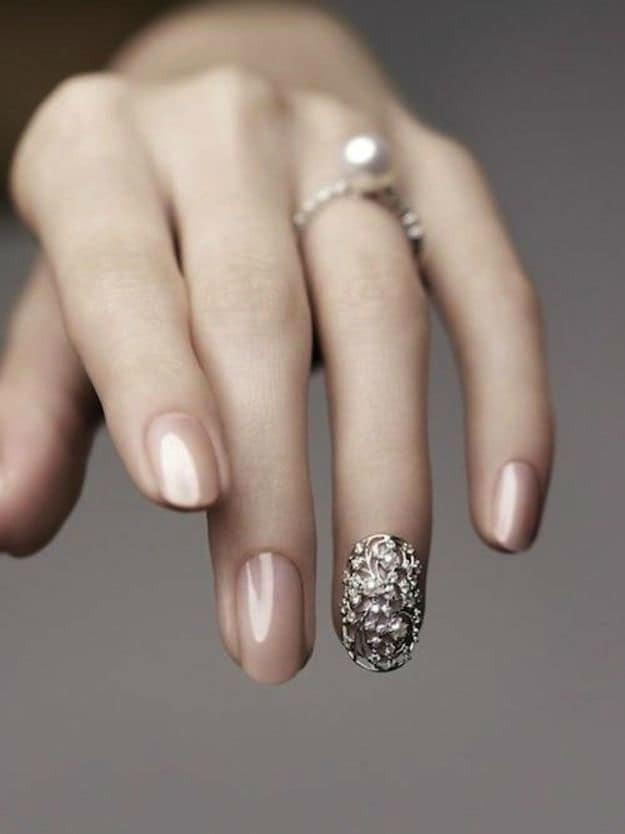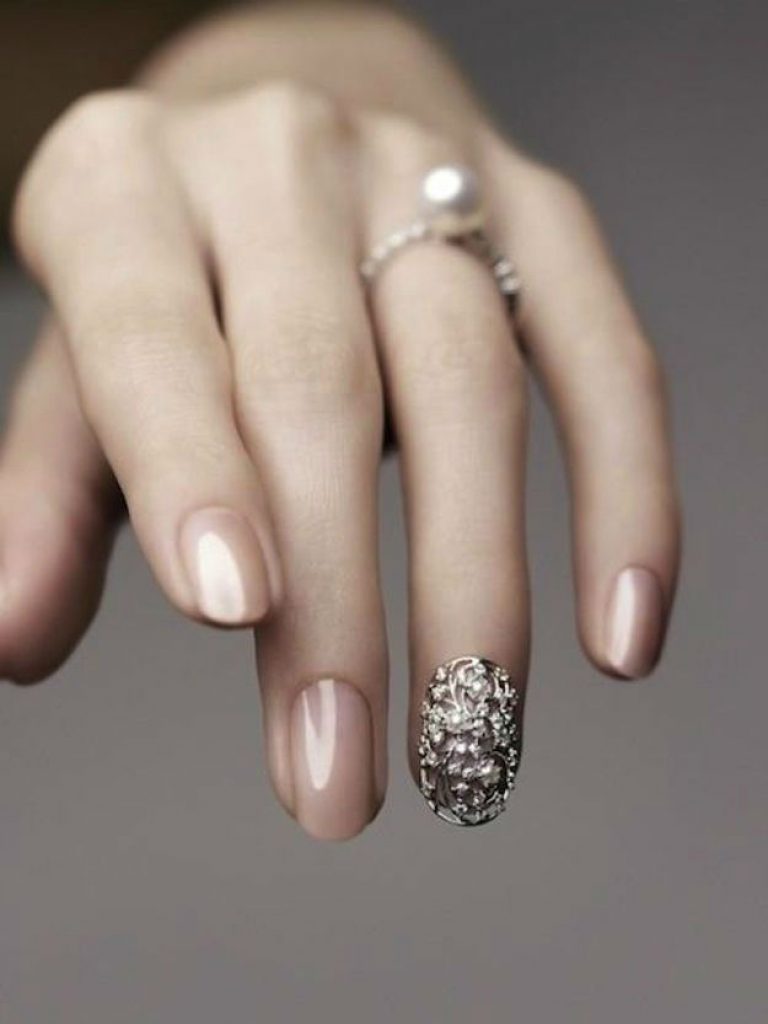 Beige with a pearl sparkle is a gracious option to choose for your wedding nail design. Here accentuating the royal appeal with an embroidered accessorizing piece on the ring finger.
#37. Cool Bride

Snowflakes had been claimed a bridal interest when it comes to designing wedding nails. Snowflake designs had been shown in different and various designs yet this particular gel art we displayed above is certainly the most fascinating of them all.
#38. Playful Bridal Design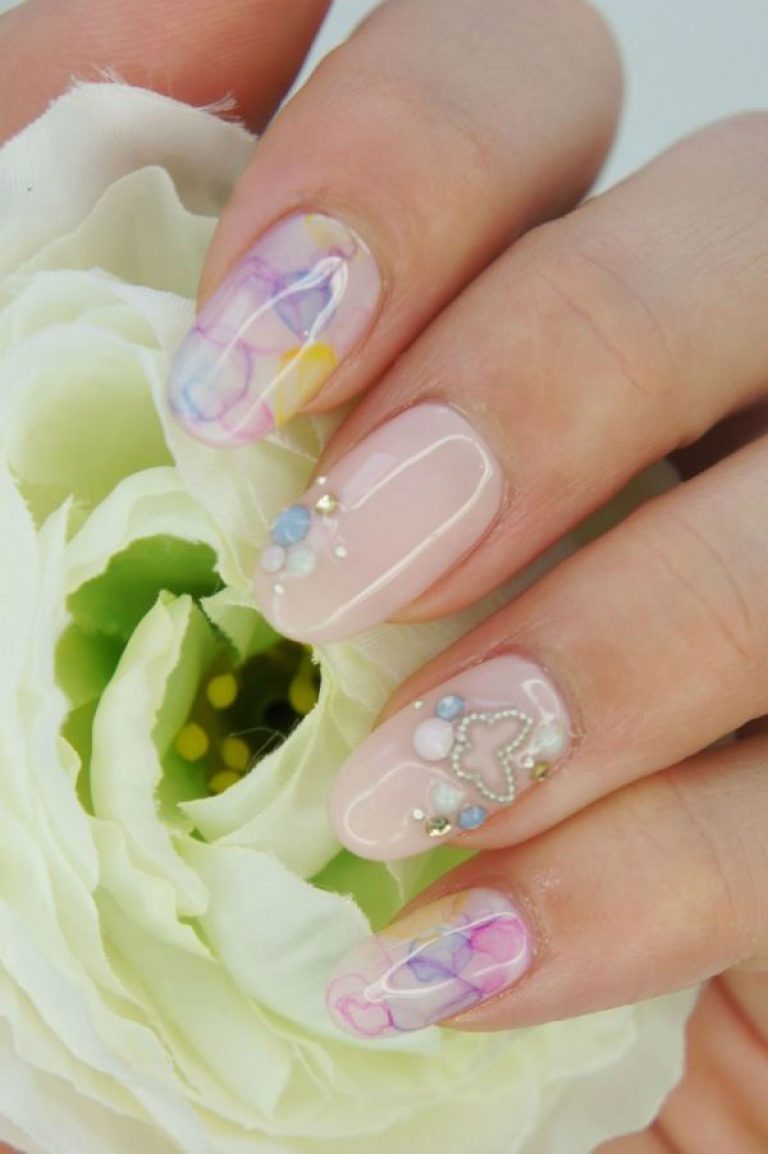 Why not go all playful and girly on your wedding day with this cute marble pink wedding nail design? After all it's your day.
#39. Gorgeous Gold Details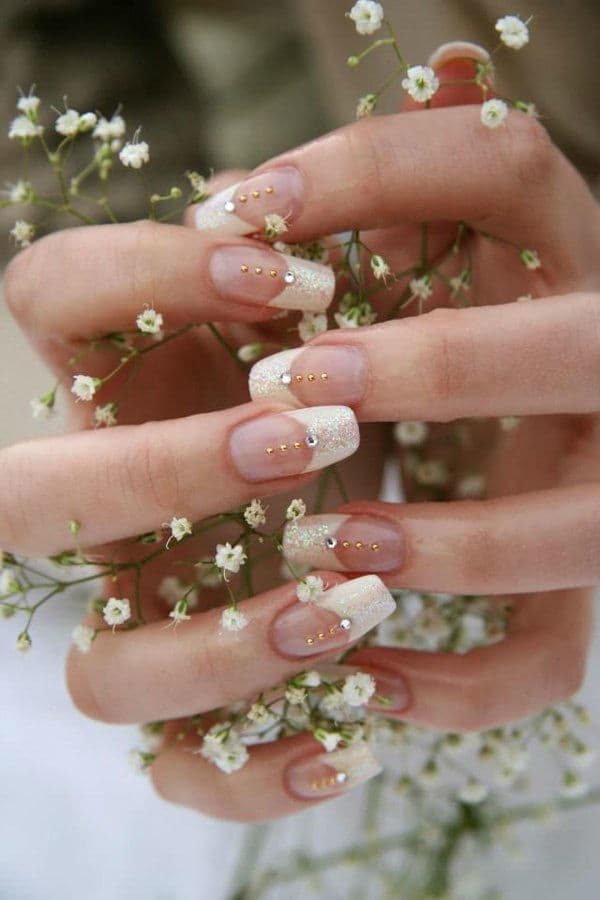 A hint of golden glitter is the secret element for alluring simple French styled bridal nails.
#40. Twisted French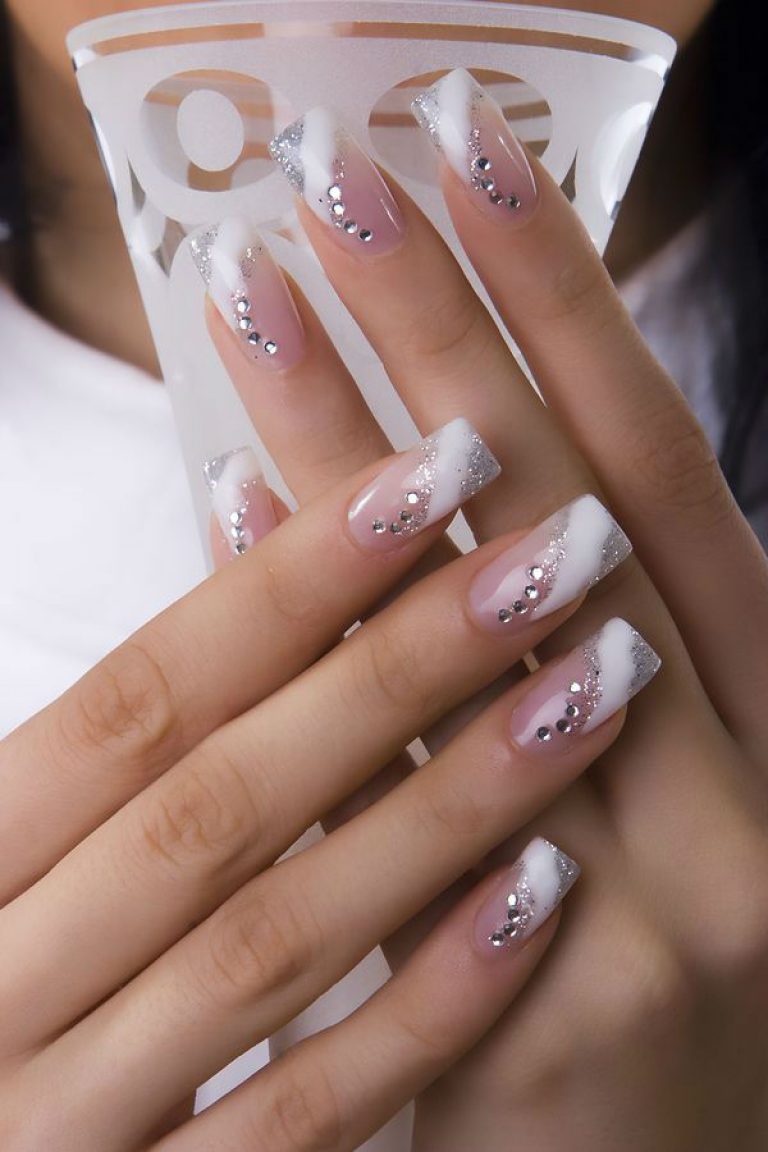 One of the necessary element of your bridal appearance is your wedding nail design. So, don't fall back and neglect the importance of dressing up your bridal nails with gorgeous wedding nail designs such as the above design.
#41. Here Comes The Bride!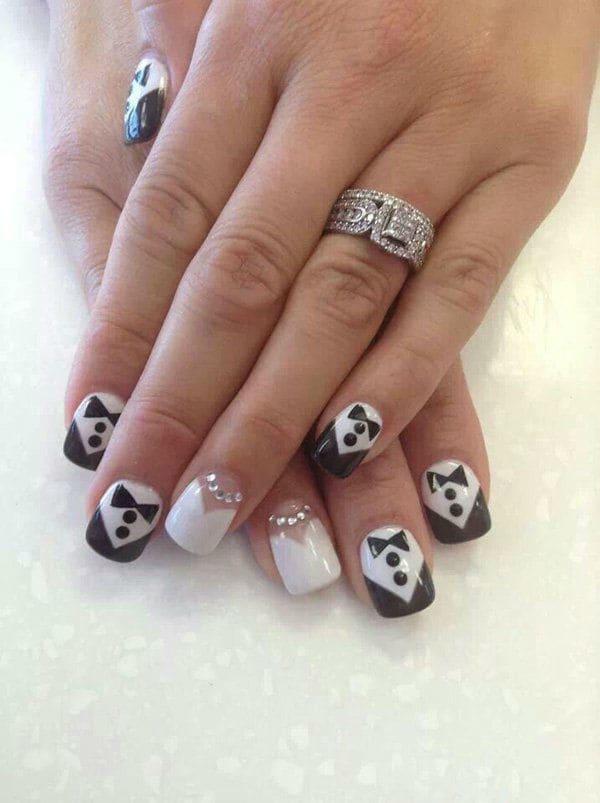 One of the cutest fun alternations to bridal nail designs. Get your nail artist to mimic your wedding dress and your husband-to-be's famous tux on those nails.
#42. Fashionable Bridal Nails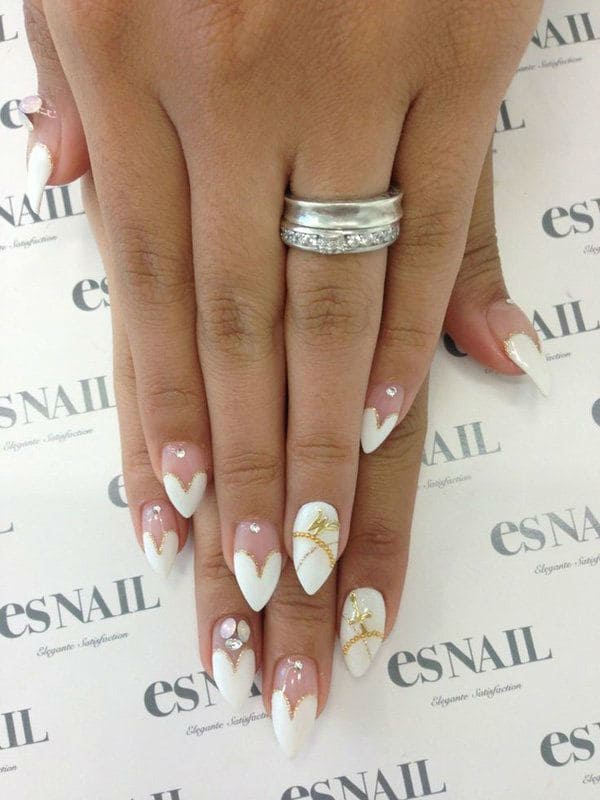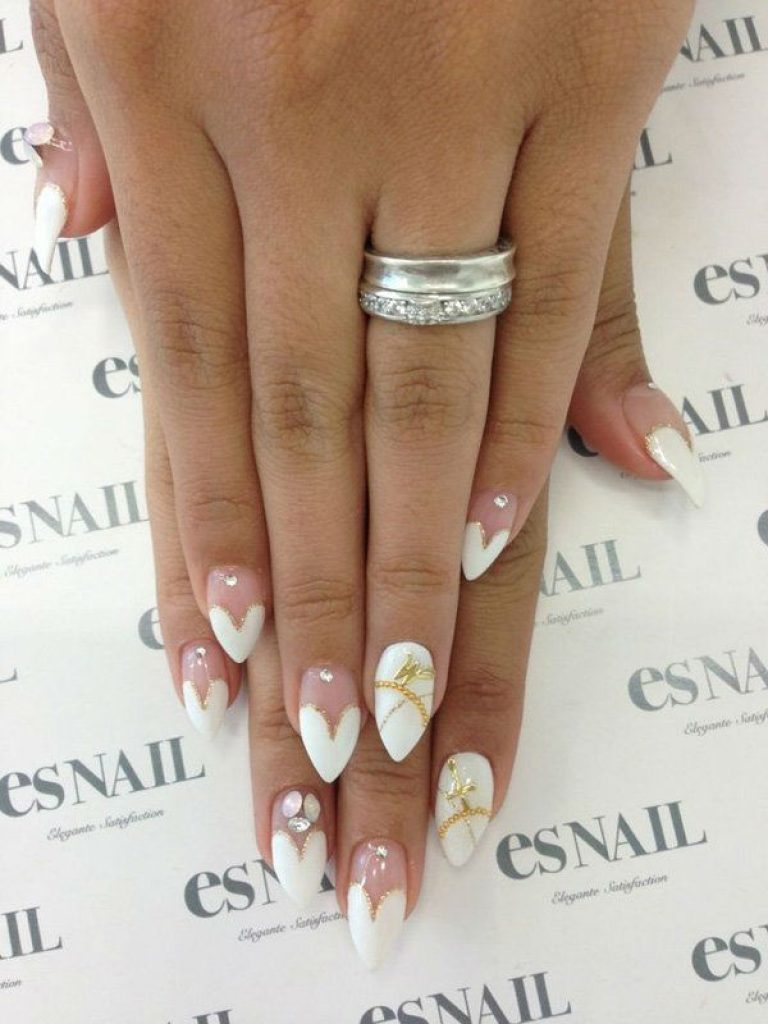 Mimic that heart shaped neckline of your dream wedding dress to create these fun bridal wedding nails.
#43. Cute Wedding Nails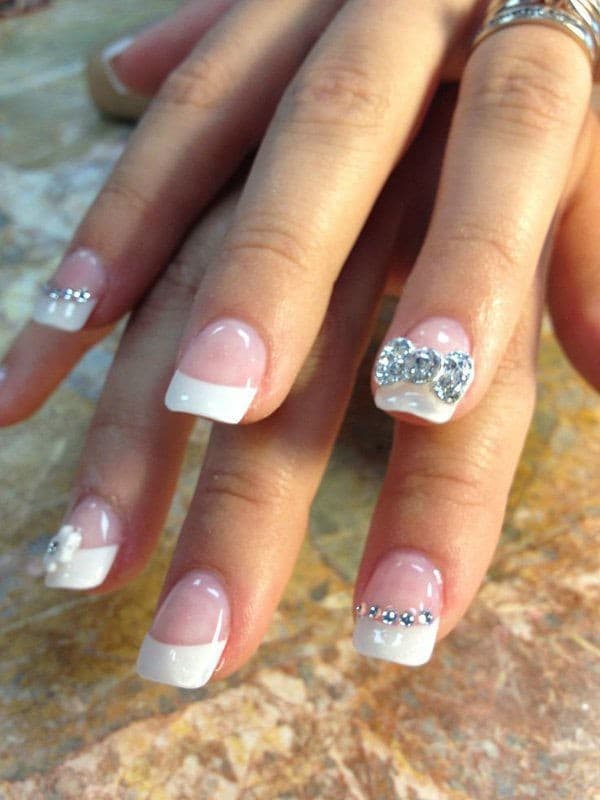 Seek a professional expert to give you such delicate clean end result for your wedding nails. Everything should be perfect on this day.
#44. The Marble Effect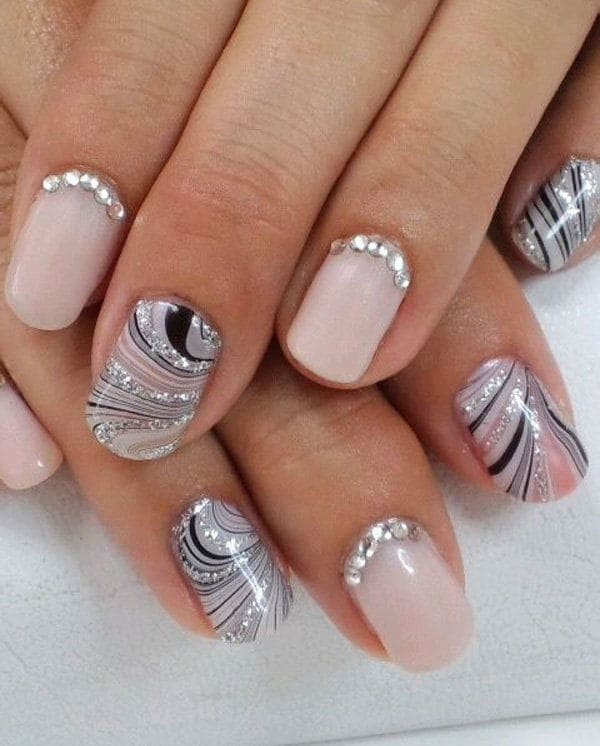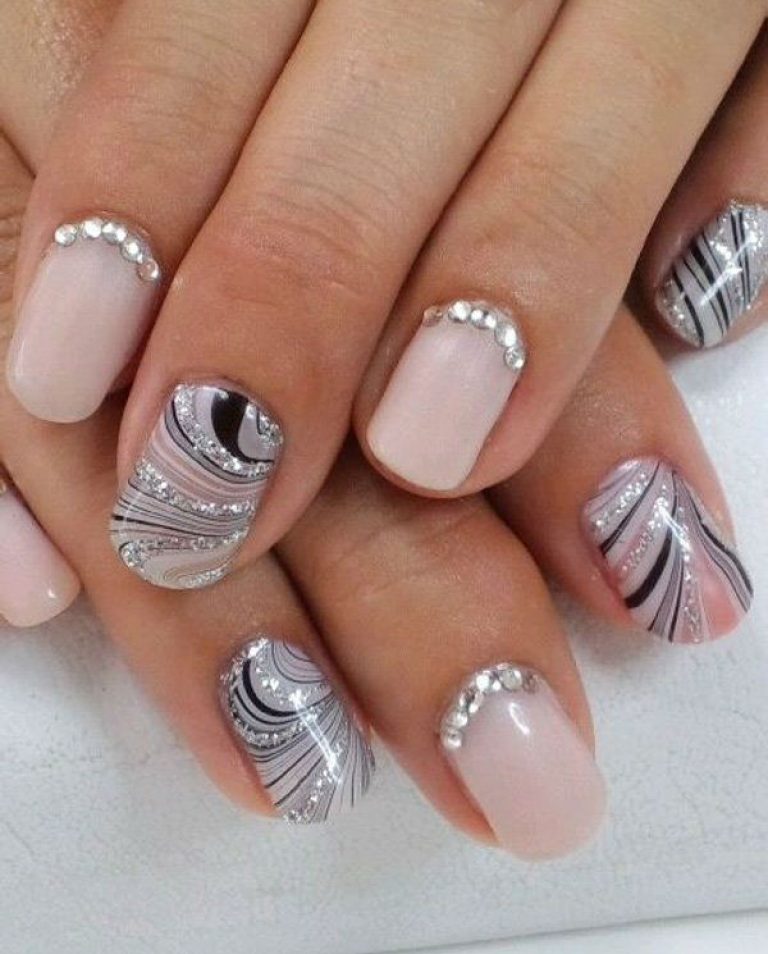 Well, everything matches with white, which means options aren't so limited to white nail polish and French styled wedding nail designs. This pink marble nail design could easily be rocked on your wedding day to flatter your unique individual style.
#45. Matching The RING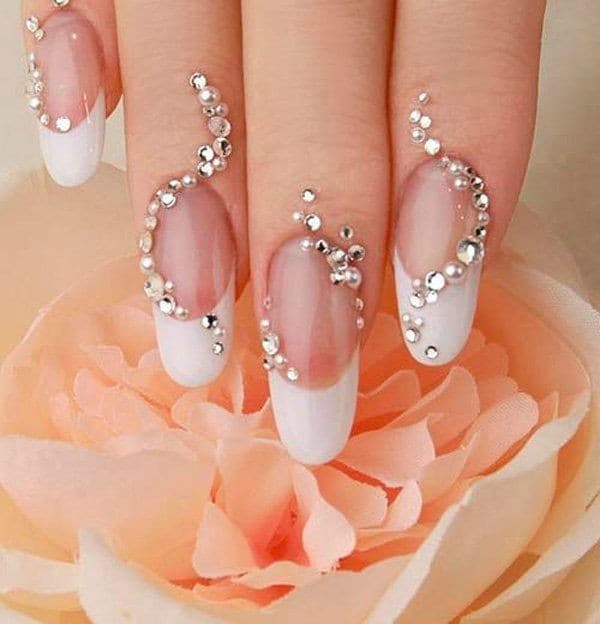 Just as you'll accessorize your finger with that wedding ring as you say "I do" down the aisle, accessorize your wedding nails with these shining gems.
#46. Lovely Lace Design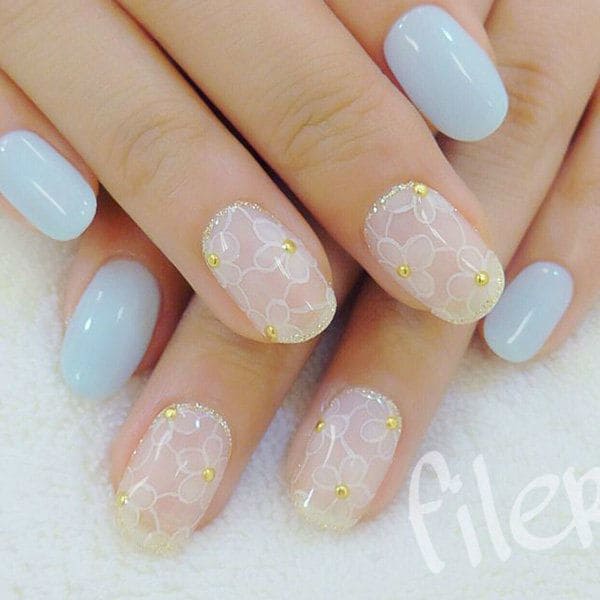 Everyone knows a bride needs something old, something borrowed and something blue. This wedding nail design is the something blue you're waiting for.
#47. Out Of The Box
Combine all your favorite elements in the nail art world to get the nail design you love on this special occasion.
#48. Artistic Wedding Nails

No need to dismiss the traditional accessories a bride usual asks for such as, French wedding nail design. Yet, no one said you can't personalize and alternate a classical silhouette such as adding these artistic brushes decorating the French tips.
#49. Dramatic In Black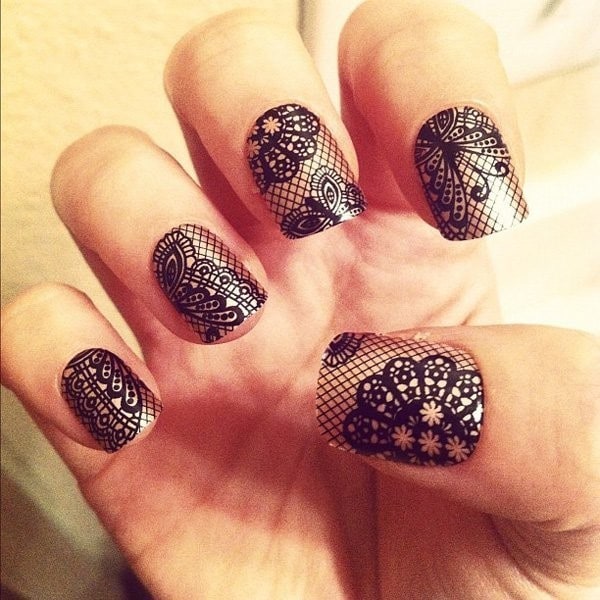 Choose a unique wedding nail design that you won't see any other traditional bride asking for. Ask your manicurist for a black lace nail art that is daring and bold to contrast the usual bridal silhouette.
#50. Bridal Details
Accentuate your bridal grace with artistic details that'll flatter your wedding nail design and compliment your whole appearance.
Elegant Bridal Nail Design for the Big Day
Try Out These Wedding Nail Designs on Your Special Day
When the wedding day is the most important day of a girl's life, it's the beginning of a new chapter of infinite love. A chapter started with festivities and celebrations of passion and beauty. Beauty reflected in every little detail of this wedding, from the crystal chandeliers to the fresh orchids centering every table, and of course the royal bride that glows from head to toe to nails.