Gel nails with designs are all you need this year. If you are tired of using regular nail polish that lasts on your nails for less than a week, it is certainly time to change the way you do your mani. And gel nail designs might be the option.
Why Choose A Gel Nail Design
Gen nail designs are long-lasting, and they consist of three steps. Firstly, you need to apply a base coat to your nails. Secondly, choose your color and paint the nails. Lastly, you apply the topcoat. This entire process makes them more resistant, the nails won't smudge and will last longer than regular polishes. If we like what you read and want to see some examples of stunning gel nails, scroll down and discover them.
#1. Electric Yellow and White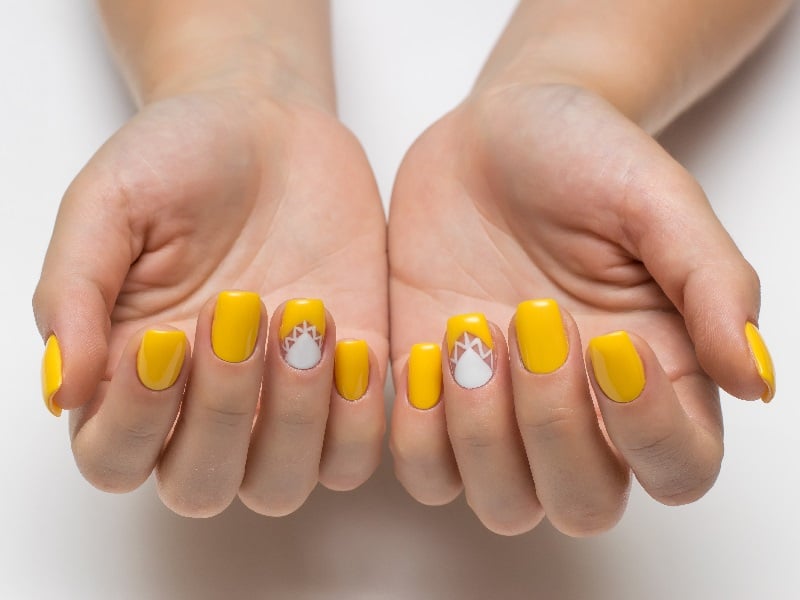 Short summer gel nails painted in an electric color like yellow will be like wearing sunshine on your hands. Make the mani look stunning by creating a white zig-zag design for the ring fingernail.
#2. Christmas Gel Nails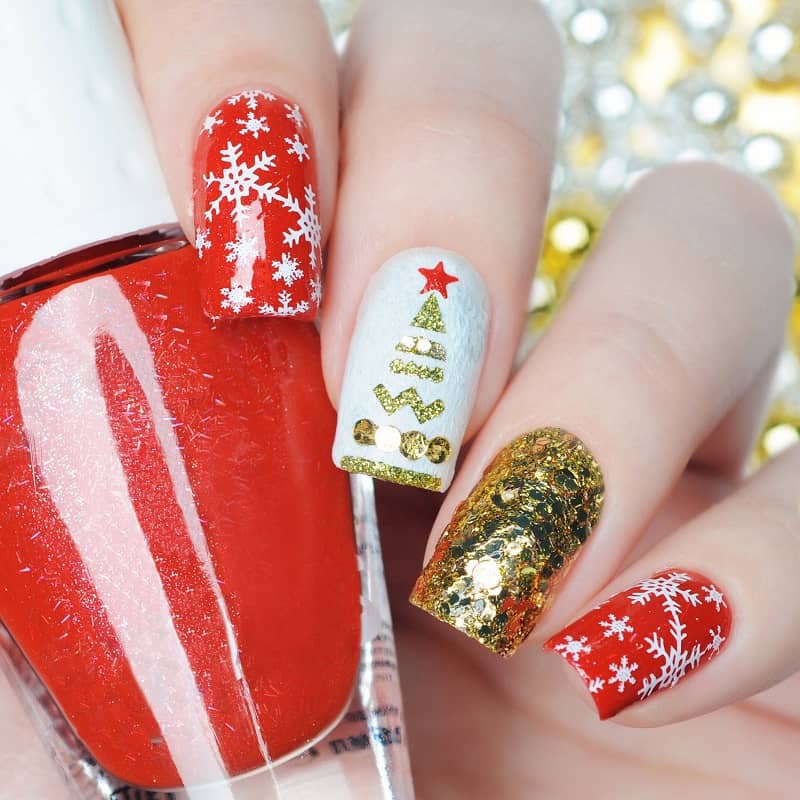 Christmas gel nails are so happy and jolly. To recreate this design, you will need white and red nail polish and loads of stickers. Apply snowflakes or Christmas trees and if you want something more glamorous, use golden glitter, and sequins nail polish.
#3. 3D Flower Gel Nails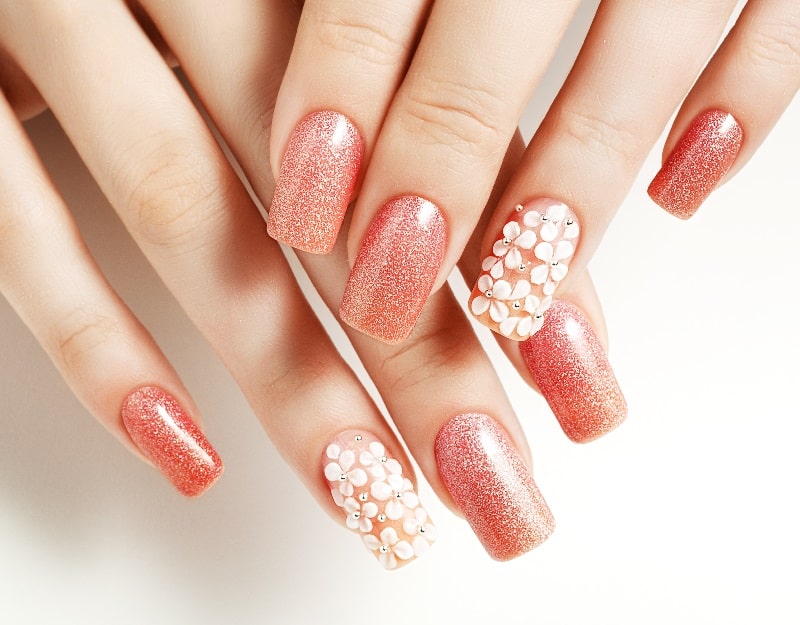 When autumn is coming, you need these fall gel nails. Get a squared shape with rounded corners and choose an orange nail polish. Apply a glittery top coat. On the ring fingernail, glue 3D white little flowers.
#4. Mint and Glitter
These winter gel nail designs don't show off snow and mistletoe. They are more suitable for those who don't like winter and need some colors in their life. So sport a few pink, pale nails and create a crossed design with glitter and mint green.
#5. Blue Ombre
Gel ombre nails look like you dipped your nails into a fluffy cloud. Use white nail polish and towards the tips, use a pale blue nuance. Your look will be quite unique and will brighten your days.
#6. Scary Halloween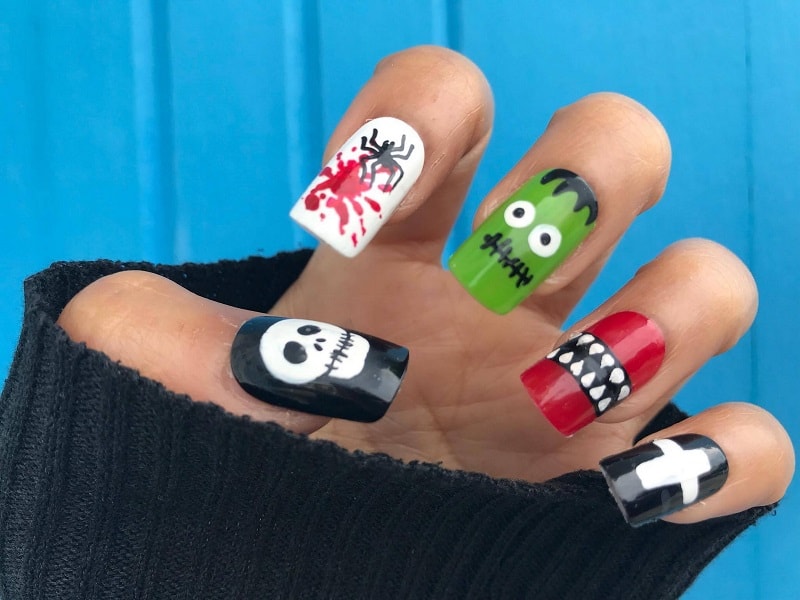 Paint each nail in a different color. Use black white, red and green. Choose a theme for each and style Halloween gel nails. If you're feeling festive, draw Frankenstein, skulls, spiders or teeth.
#7. Marble Gel Nails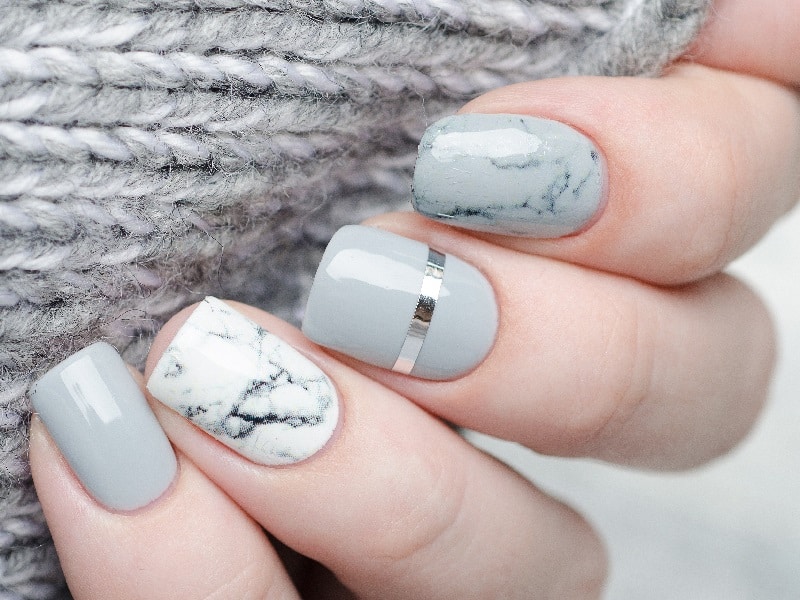 Gel nails marble designs are one of the trendiest manicures at the moment. Paint the nails with pale gray nail polish and apply marble stickers. On the ring finger, place a silver shining line horizontally in the center of your nail.
#8. Dark Matte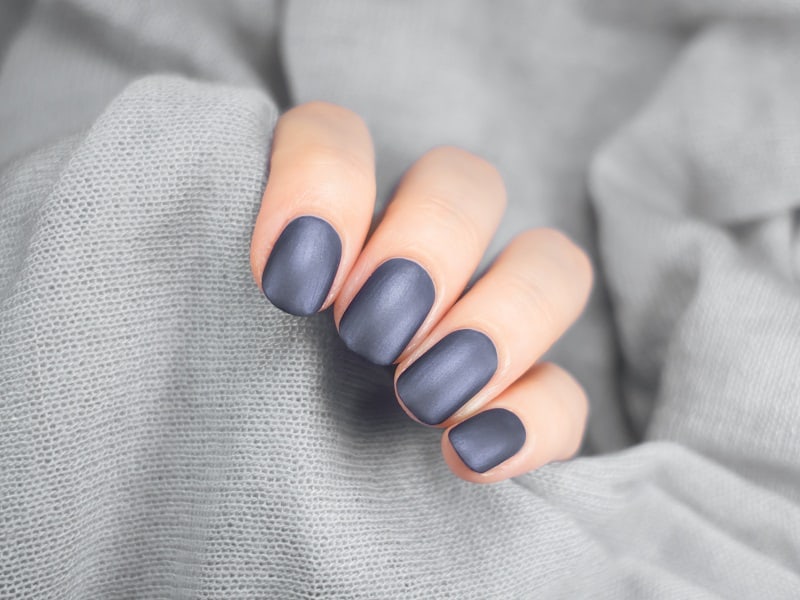 Matte gel nails are so extravagant! Use a gel nail polish that reflects light and apply a matte finish. Maintain your nail in a medium shape. They will be a perfect match for women who frequently use their hands typing and doing other chores.
#9. Shining Maroon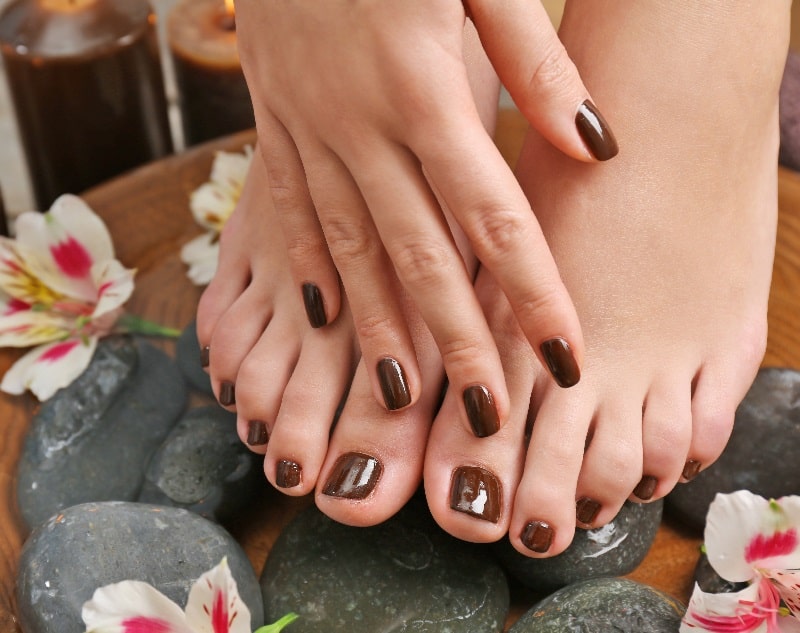 Gel toenail designs that use marron nuances will look stunning not only for your feet but also for your nails. This way, you'll be sure that both your manicures match.
#10. Spiders and Webs
Gel nails with spider designs will last a week or two, just enough to sport a themed mani for Halloween. Pull off a gray base color and add some yellow tones. On each nail, paint spiders and their webs.
#11. Twinkle Little Stars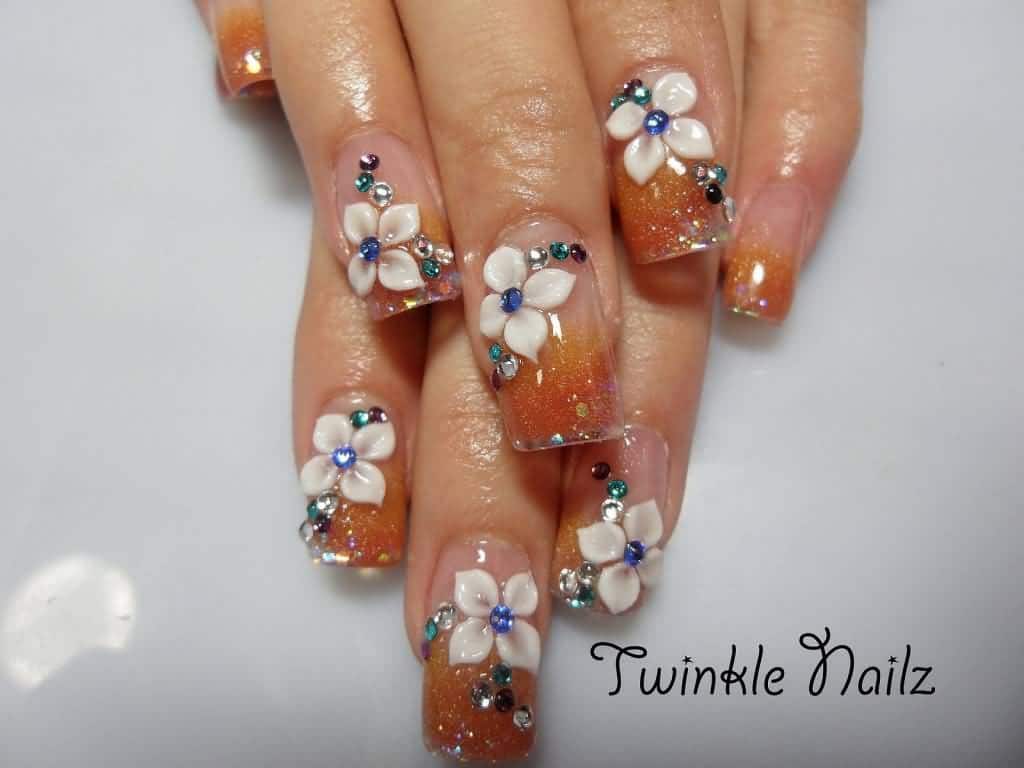 The Galaxy is represented in many colors and those colors are orange, blue, purple, and many others. However, in this nail design, the galaxy is represented with a shiny sparkling orange tip, and the blue and purple decals represent the shiny little stars twinkling high in the sky is those dark scary nights.
Cute Nail Designs for Little Girls
#12. Simplicity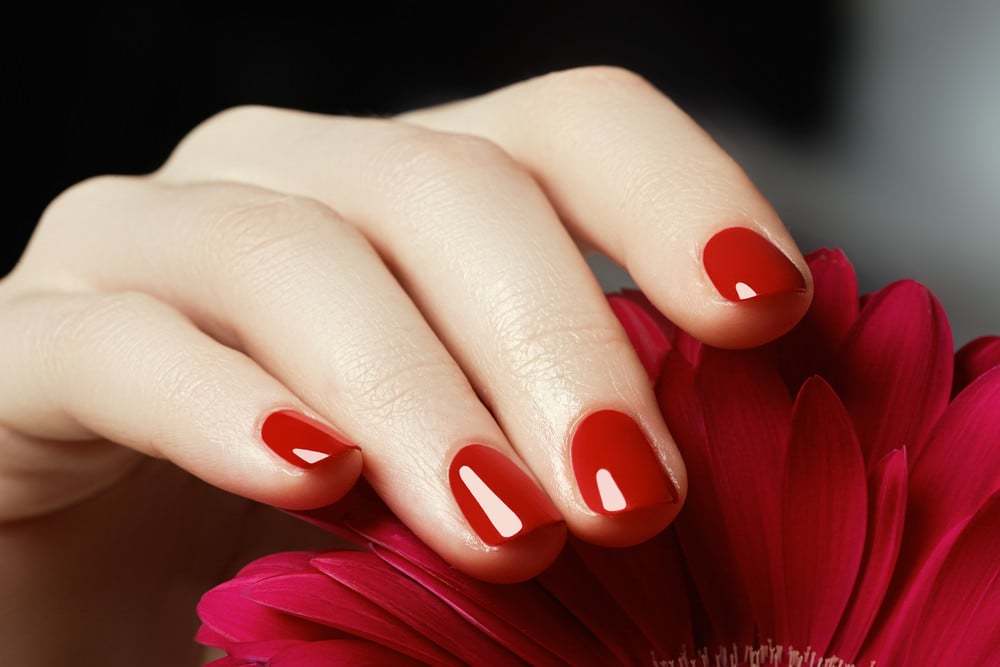 Sometimes, simplicity is better than going so shiny and patterned. This flaming red gel nail design gives you ladies the sexy and hot look you want without adding any decorations to it or wearing any tall artificial nails. And as Coco Channel says:" Simplicity is the keynote of all true elegance".
#13. Lassie But Classy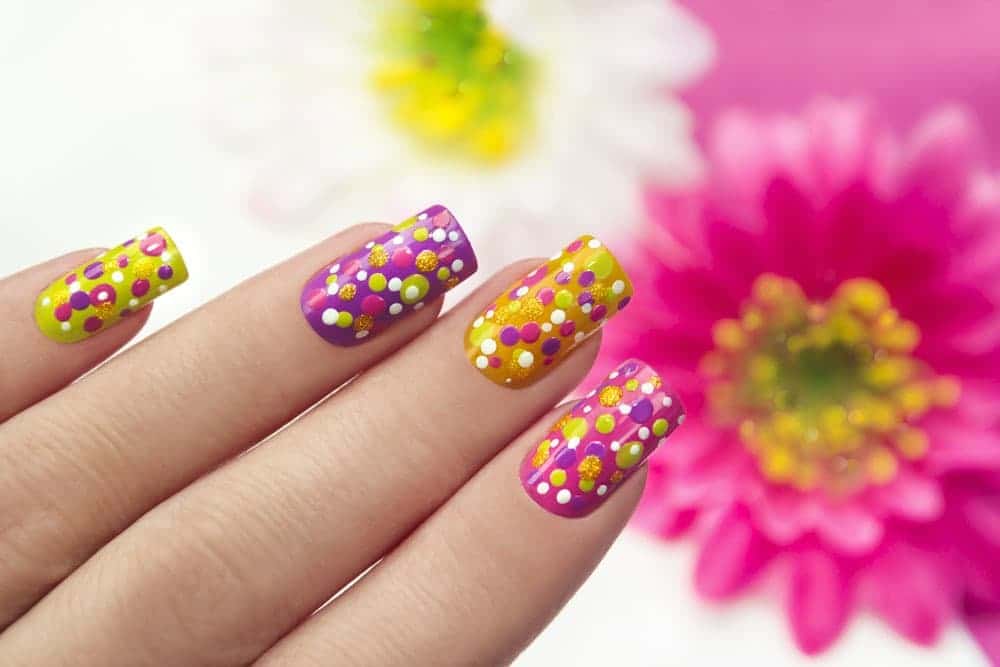 Going back to the age of 8 and 9, you ladies used to be school girls who adore the girly colors which are purple, yellow, and mostly pink. So as a throwback to those golden days, enjoy wearing this lassie nail design made of those three colors that contain your girly young days.
#14. Squared Scarlet
Scarlet is the chicest shade of orange. It is the color that fights between the orange and the flaming red color and leaves a hot touch. However, in this gel nail design, the scarlet-orange is used simply for squared nails leaving an empty space of the semi-circle shape at the bottom of each nail.
Best Purple Nail Designs to Try
#15. Parrot Love
A human's friend is what we can see about a parrot. It is the only taking animal that is specialized by its colorful feathers. So if you own a parrot and you wanna celebrate its birthday or you are only in love with parrots, this gel nail designs is the best choice for a nail design that shows your infinite love to parrots.
#16. Rosewood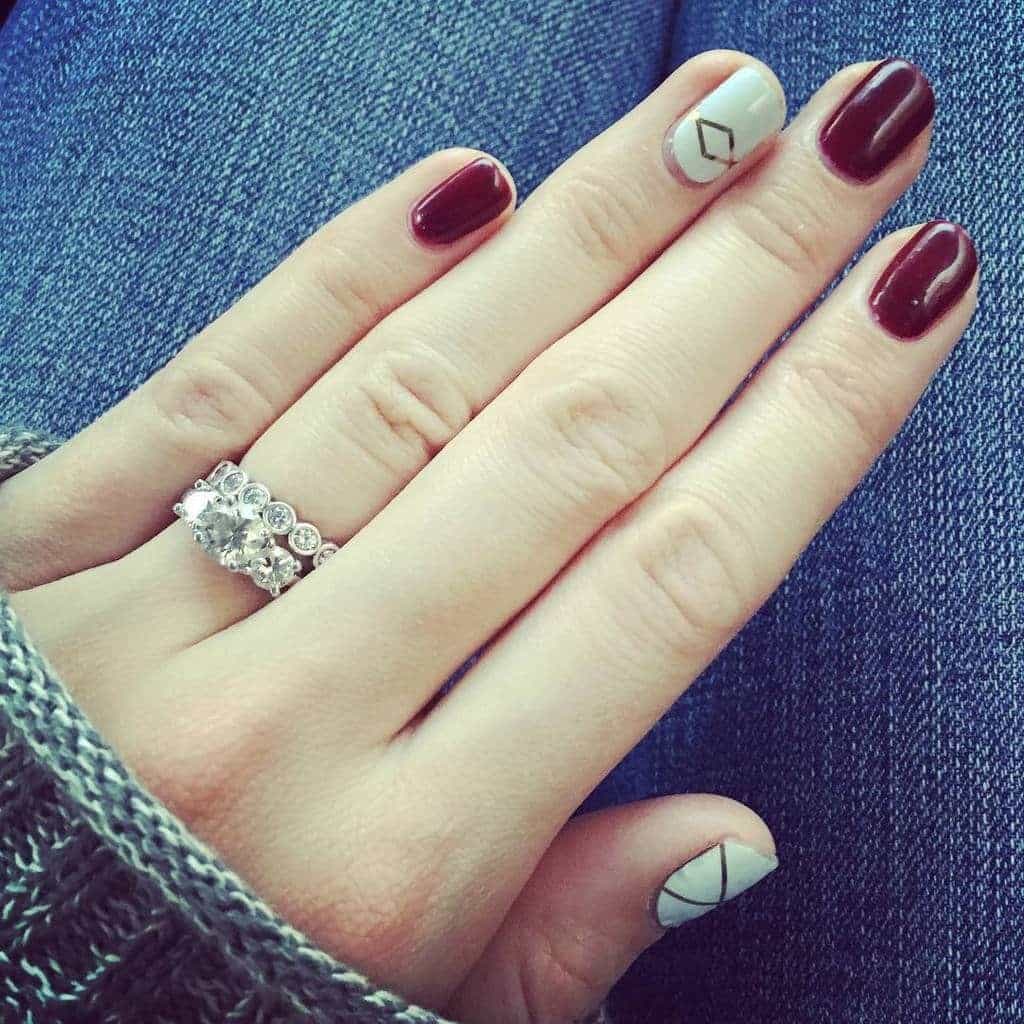 When things come to talking about elegance in our fashion world, the first things that come up to your minds ladies is the rosewood color. In this gel nail style, the rosewood color is used on all nails except the ring and thumb fingernail polished with clear white and designed with a golden touch in the middle of each.
#17. Skyscrapers
Skyscrapers mostly represent New York streets. So if you adore this country and you are dreaming of visiting it, express your love by wearing this gel nail design made up of black skyscrapers with a white background and a red gloomy heart that shows love.
Elegant Diamond Nail Design Ideas
#18. Stripes Mode On
Go chic by wearing this elegant nail design made up of the white, black, and gray colors designed by using the stripes pattern! This nail design can be worn on all kinds of occasions varying from normal ones, daily ones, parties, and many others.
#19. Holographic Style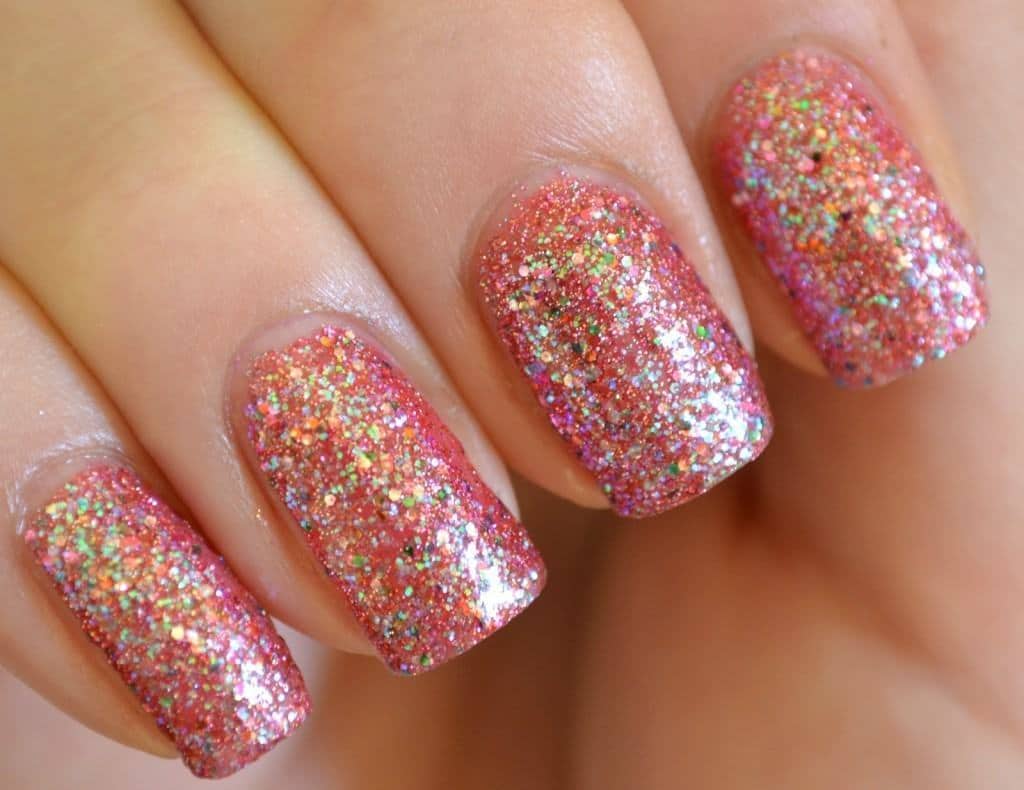 Wearing a shiny glitter rose to dress for tonight's occasion and wondering what nail design would fit that? No worries! Because this gel nail design is made up pf the same pattern of your dress following the holographic style, and it is the best nail design that might fit your dress making you a beauty queen.
Related Topics:
#20. Polka Everywhere
Polka dots in a nail design are the signs of cuteness. So if you ladies try this colorful polka gel nail design on, you would look so cute and lassie in a way no girl have looked like before in the history of fashion.
#21. Paint Drops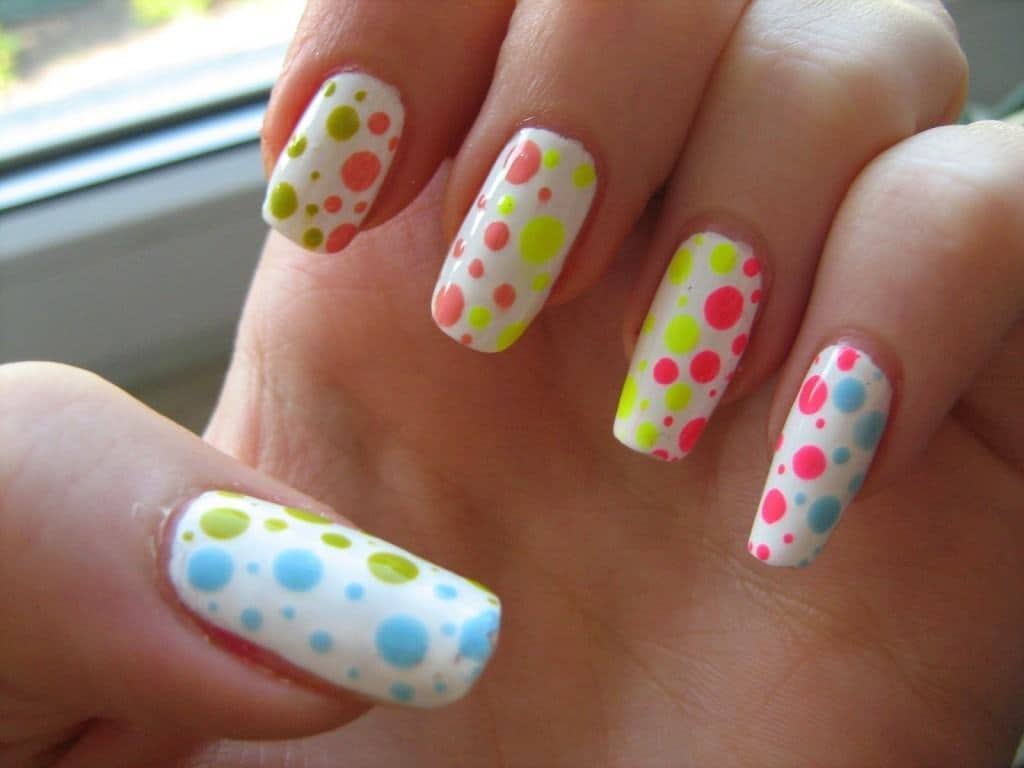 Are you an artist and your only hobby is drawing? If you are, this nail design is the best to represent your passion in sinking and getting lost between the colors you act friendly with and the painting brushes that speak for you in the shape of dazzling drawings.
#22. Rock And Roll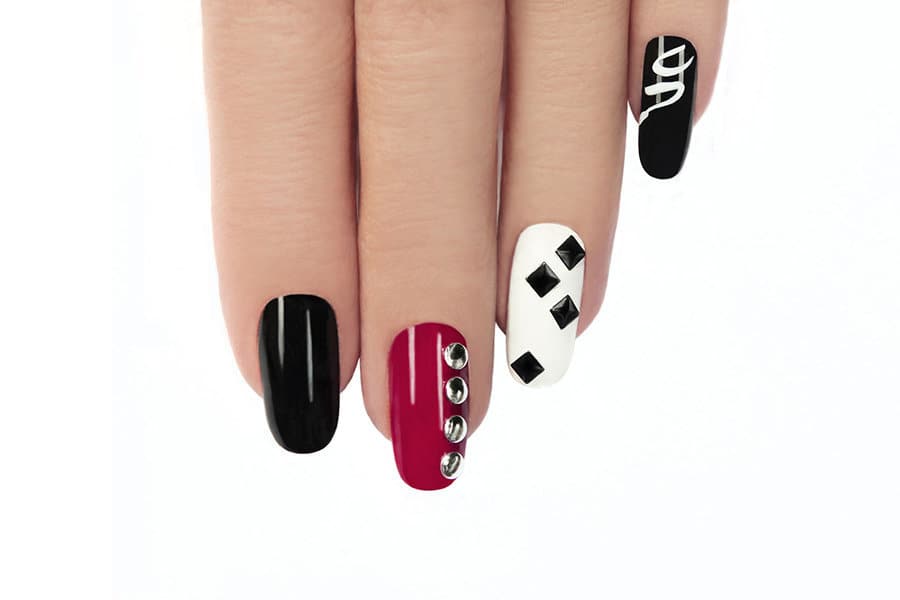 If you are visiting a rock and roll concert tonight, try wearing this gel nail design that turns you into a wild girl and gives you the spirit of a night concert. Besides, the colors of this design are totally dangerous, hot, and sexy enough to give you the look you are searching for.
#23. Gothy Vibes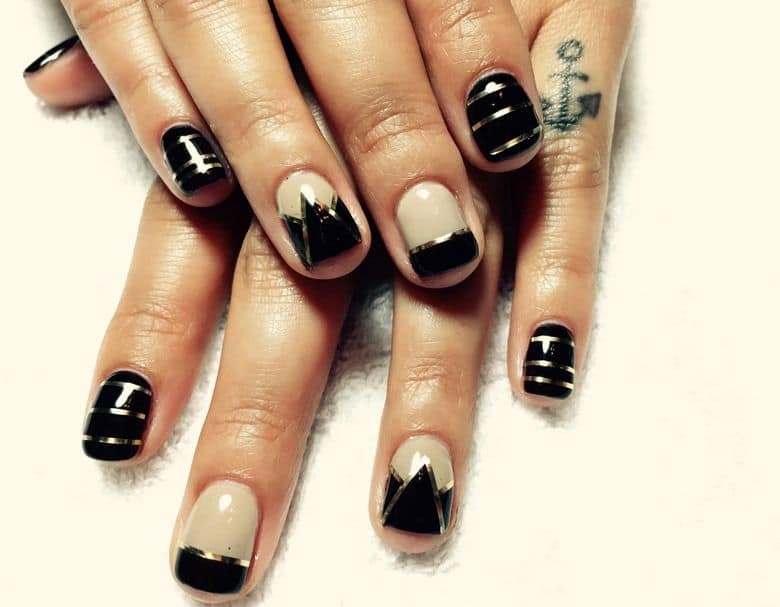 You Teenagers sometimes like to look dangerous in many parties such as on the Halloween night party. But have you ever knew that your nail design is the one giving you that scary look you want and not your outfits? This gel nail designs can give you the gothy and wild looks that some outfits cannot give you!
#24. The Joker!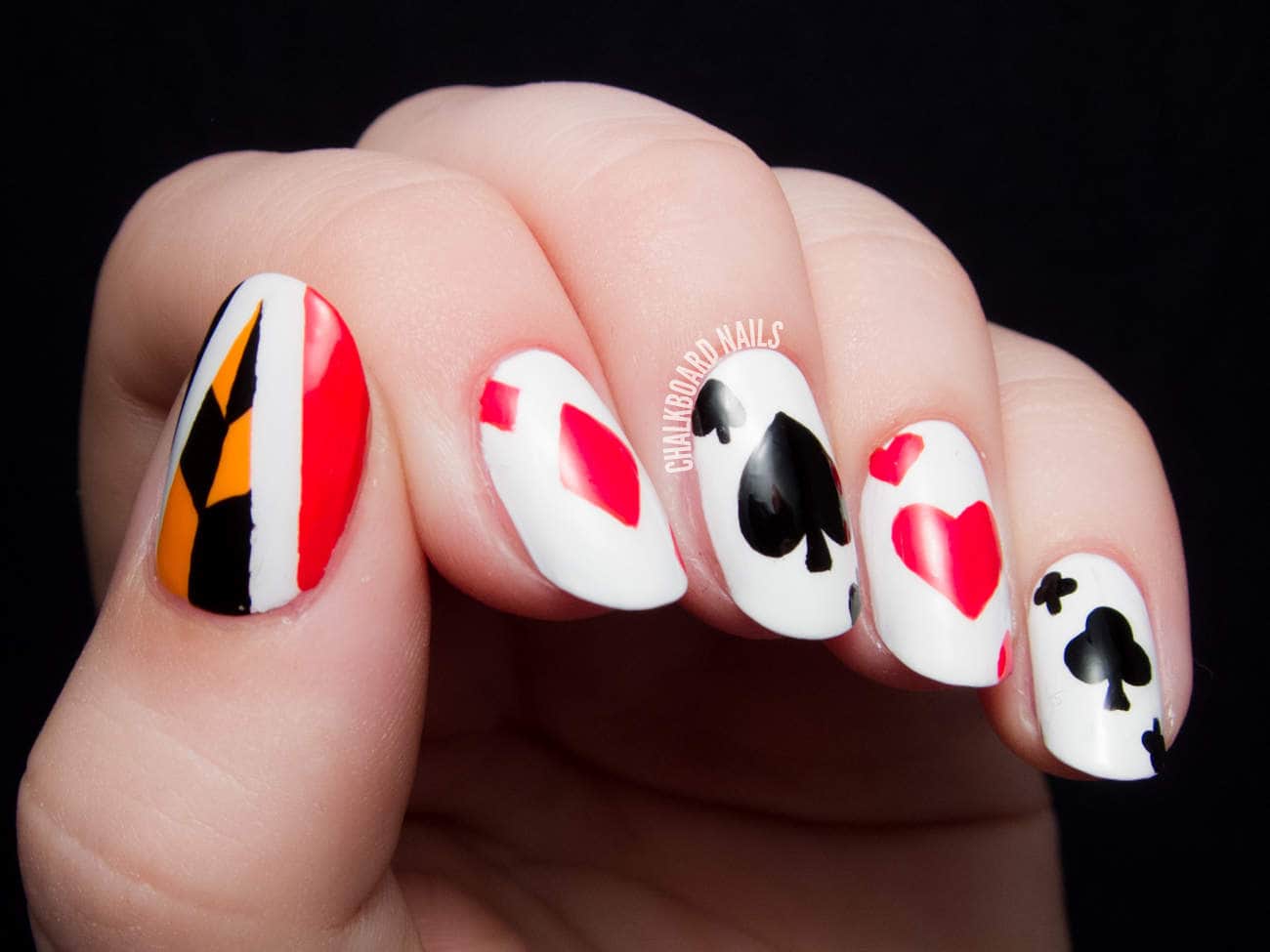 Having a cards game night tonight with your friends? If yes, this nail design gives you the appropriate look for that and shows your components and competitors that you are totally ready for the game, you are sure about winning, and the chance of losing is not even up to your mind!
Matte Nail Designs You'll Love
#25. Your Big Day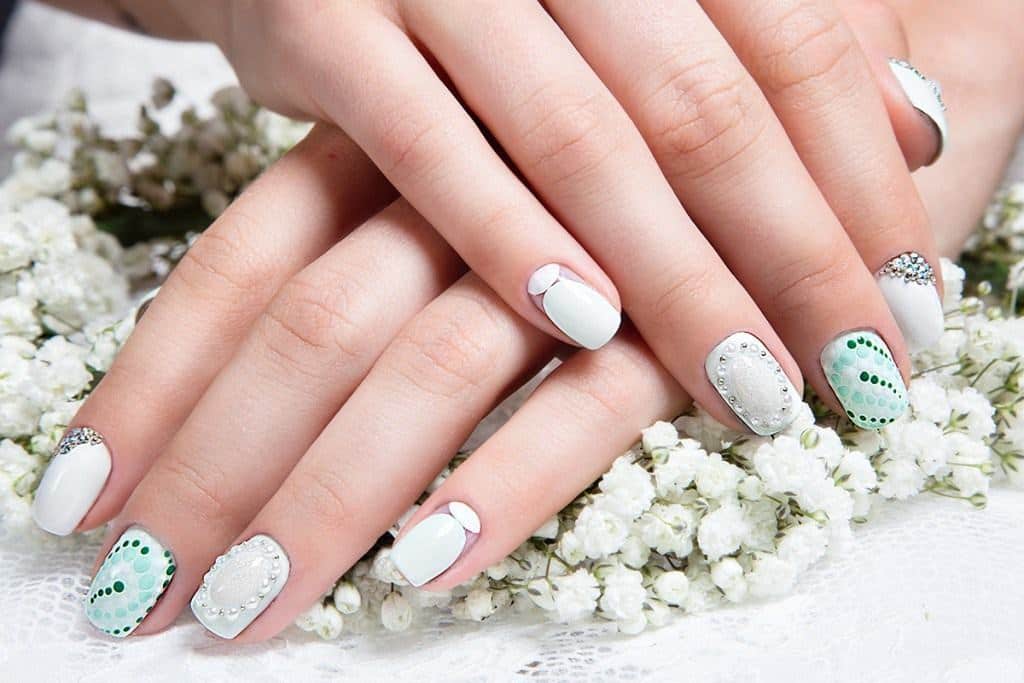 What's bigger than your wedding day? On such a day, you lady must look the best between all women that are coming over to help you celebrate with your happiness on such a day. So in order yo be the best, this nail style is designed for you to break the white color a little with those colorful small decals.
#26. Lost In The Blue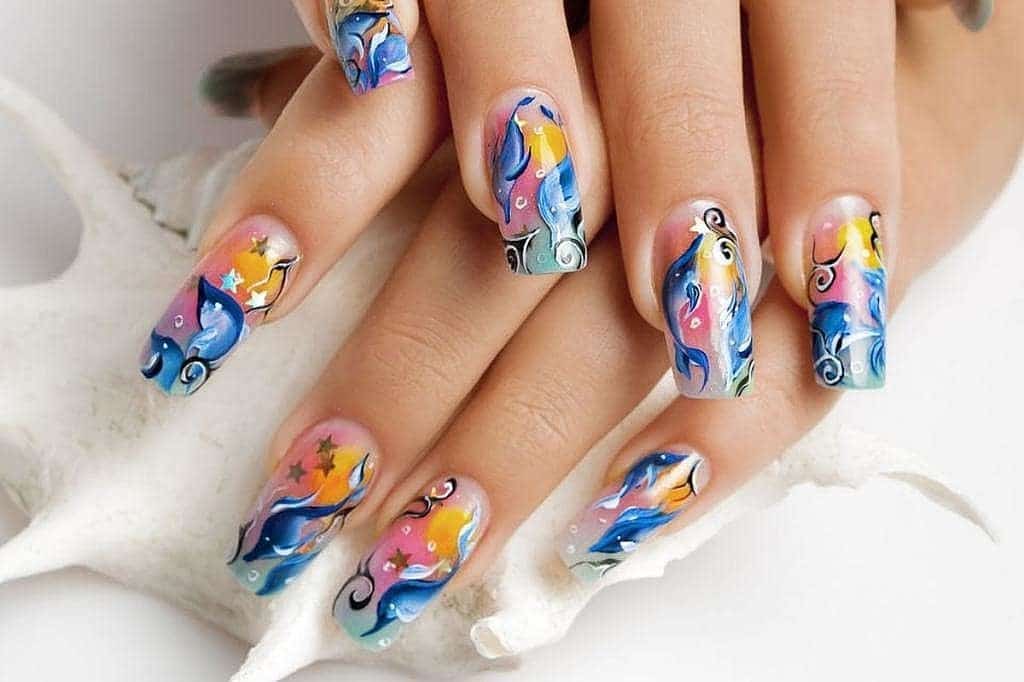 By the blue, of course I mean the blue calm sea! You ladies are in love with the sea on, the other hand you are afraid of all fish in that deep ocean full of secrets. But maybe, just maybe you are in love with the dolphin cute fish and you would like to mention it in your nails similar to the above gel nail design!
#27. Fading Snow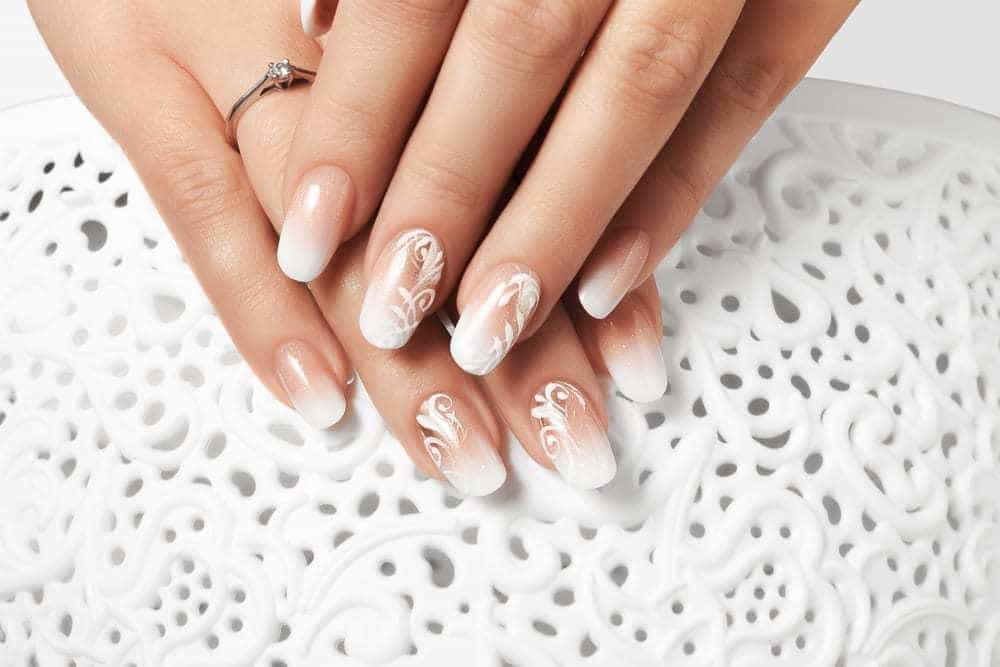 Clear white is calm and peaceful as much as snow is! However, this nail design shows the fading of the snow white color from light white to skin like one leaving this fading with a floral simple pattern at the edges.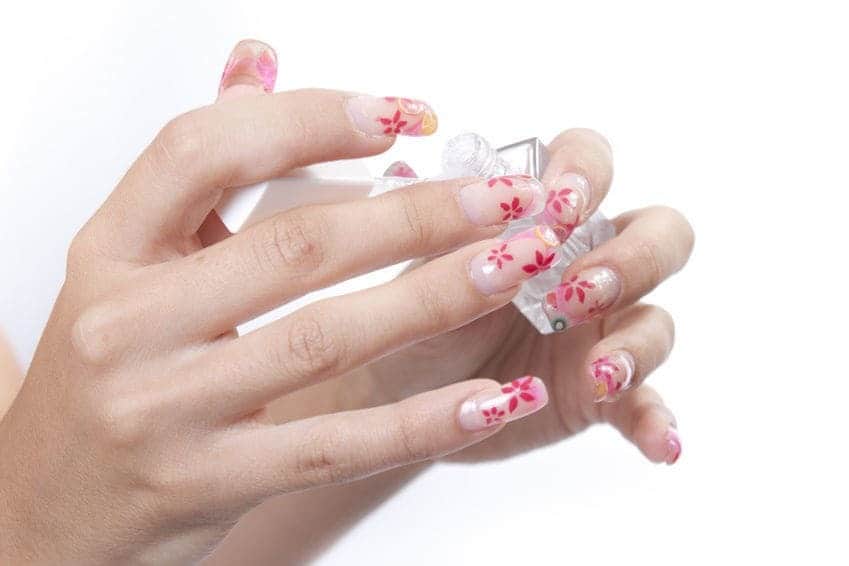 Speaking about what to bring a woman as a present, the only answer is always flowers. Flowers are adored by ladies because they represent women in their calmness and beauty. So if you are a flower lover girl, wear this gel nail design that looks like some flowers are sprouting from your gorgeous nails.
#29. Chevron Tips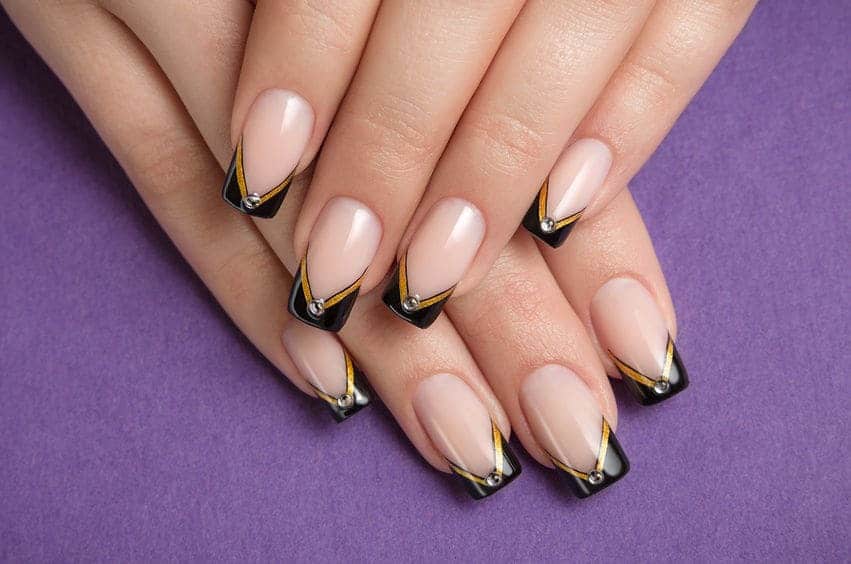 Black chevron tips with a golden touch, a white decal, and a transparent base all together make up the chicest gel nail design.
Best Black and White Nail Design Ideas
#30. Baby Blue Vibes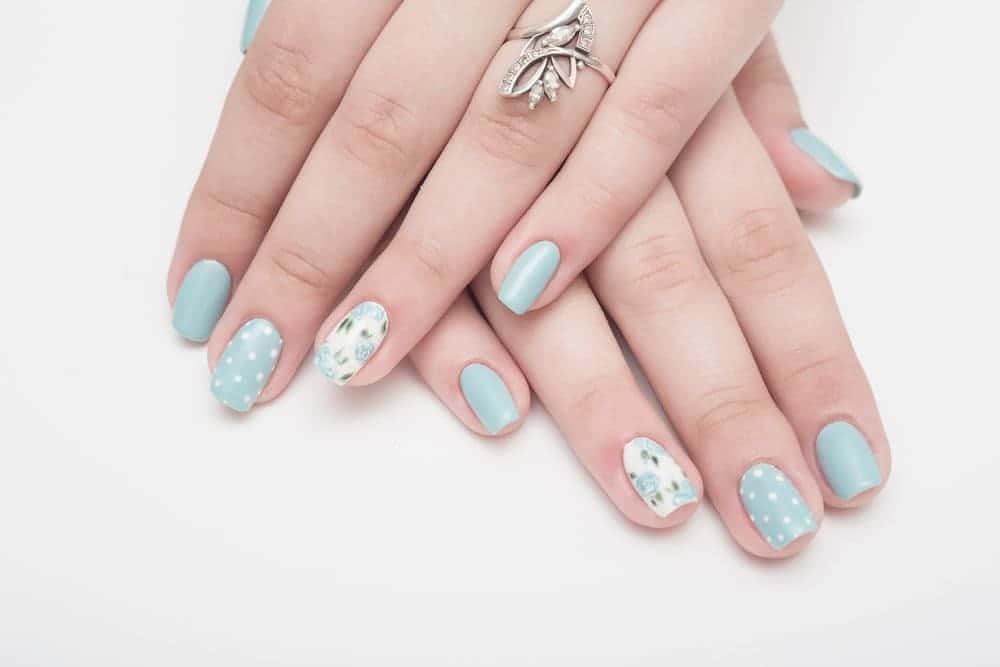 Nothing shouts out "cute" more than the baby blue shade of blue. However, this color combined with some blue flowers and polka white dots make up the most lassie gel nail design ever known in the world of fashion!
Look at Some More Beautiful Gel Nail Designs
Summing it all up, gel nail design always provide you girls the stylish look you wanted in those past black and white days, and until this day gel nail designs succeed in giving us the same look but in a trendy way by some new patterns and designs as shown in the above list of these gel nail designs!
Related Topics: