Do you think that being an army woman prevents you from going girly? If yes, you are totally wrong and this list of 10 girly camo nail designs proves you wrong with giving you some examples to believe in that!
Best Camo Nail Designs to Try
Who says that if you are an army woman, you can't be girly enough? Some say that they are not able to find a suitable nail design that shows their girly life when wearing the army suit at work. Well, after having a look on this below list of 10 camo nail designs, you will not have to be worried about that anymore. This list provides you with cuteness and with feminine characteristics you always searched for in you nail designs, but actually, you never found them.
#1. Camo Tips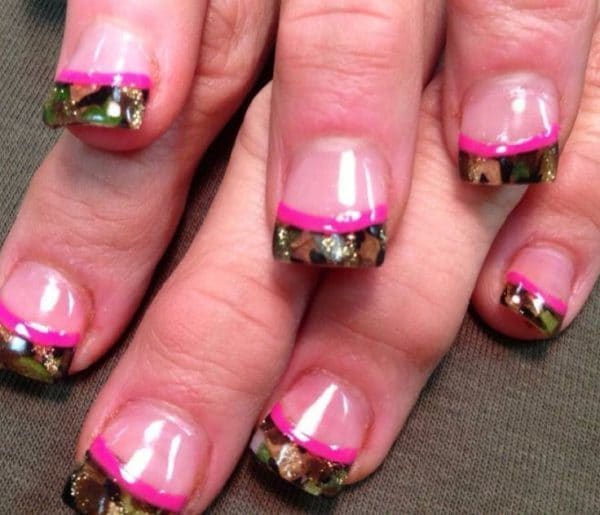 Wanna look girly enough? All you have to do is to replace the white tip in a normal french tip nail design with a camouflage pattern of the brown and green colors, you can keep the transparent base but add a pink line between the tip and the base so that you can go girly.
15 Teal Nail Designs for Girls
#2. Camouflage Style
In a square nail, you have to have a transparent base with tips that reflect your own job, the army one. What you have to do is to have the tips made up of the green and brown colors in a style of your own, adding one simple shiny green decal in each nail.
#3. The United States Of America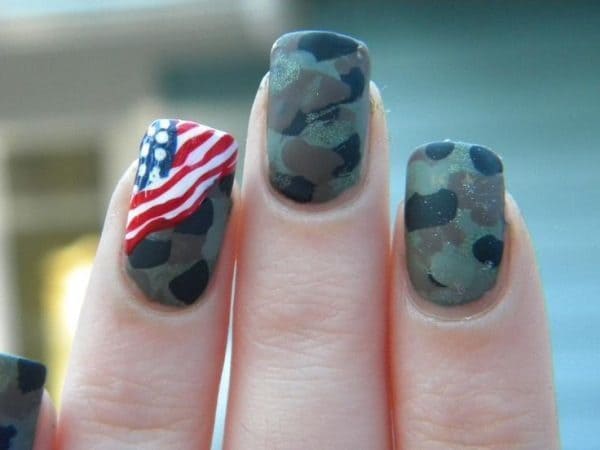 Are you a member of the army of the United States of America? Well if you are, this camo nail design made up of the army clothing pattern covering the whole finger with the American flag at the top of the index finger, suits you perfectly!
#4. Deer Romance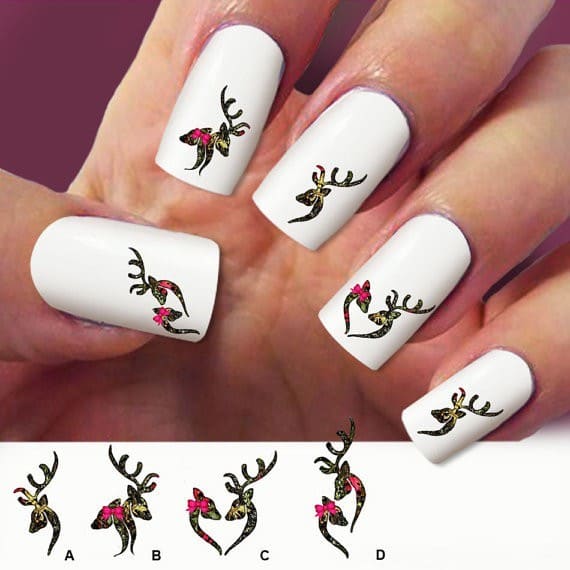 The female deer with the male one in the thumb, index, and ring finger are living a good romantic time with the female deer having a pink bow tie. However, both deer from the inside are colored with a camouflage style of the brown and green colors. This camo nail design fits a romantic army girl.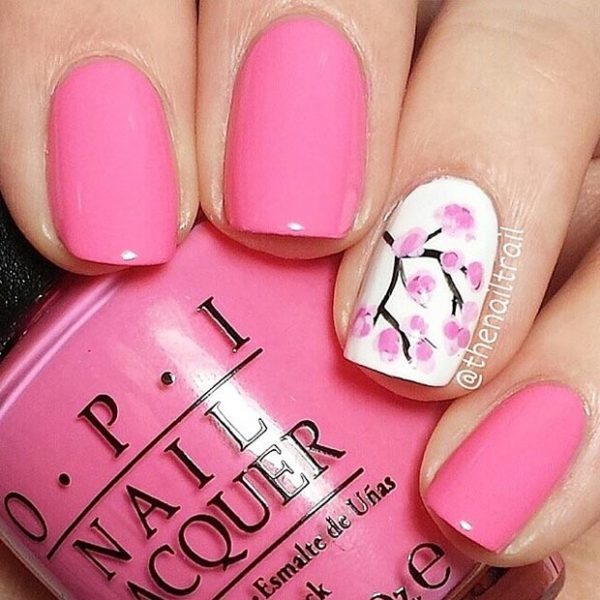 Wanna have that girly army look? Try wearing the above camo nail design with cherry blossoms!
#6. Stiletto & Yellow Nails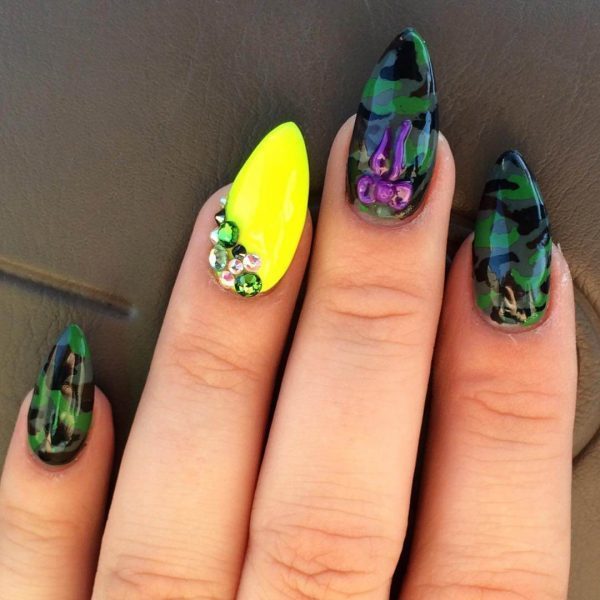 In a normal stiletto camo nail design, you are going to need a special touch that differentiates your design from your friend's nails. All you have to do is to add a certain color to the ring finger, this color may be yellow in order to light up the nail design and don't forget to add the colorful pink and green decals in the yellow nail.
#7. Real Tree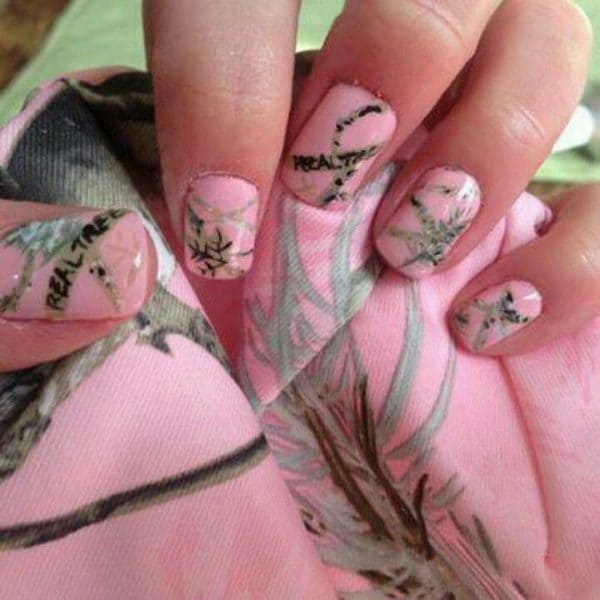 "Real Tree" this what the letters in the above camo nail design say! However, the pink base is what makes the design girly and the brown moves represent trees.
Wedding Nail Designs for Brides
#8. Camo Girly Art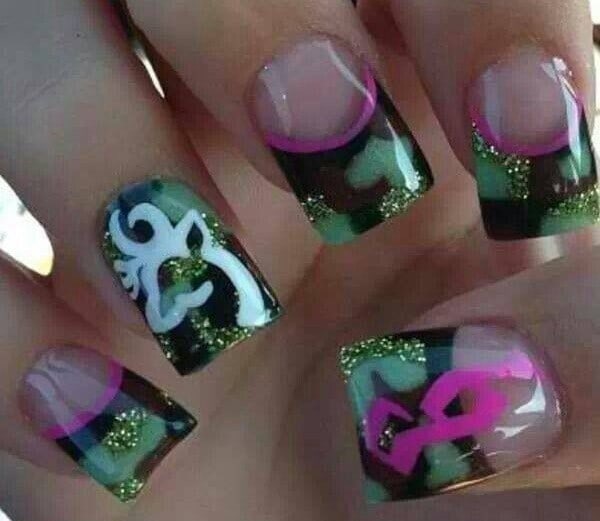 It does not always have to be a simple camo patterned tip. Green shiny glitter can be added with a pink curve at the bottom of the tips. Also, don't forget to add some art in the ring finger of the color white and in the thumb of the girly color pink.
#9. Shiny Tips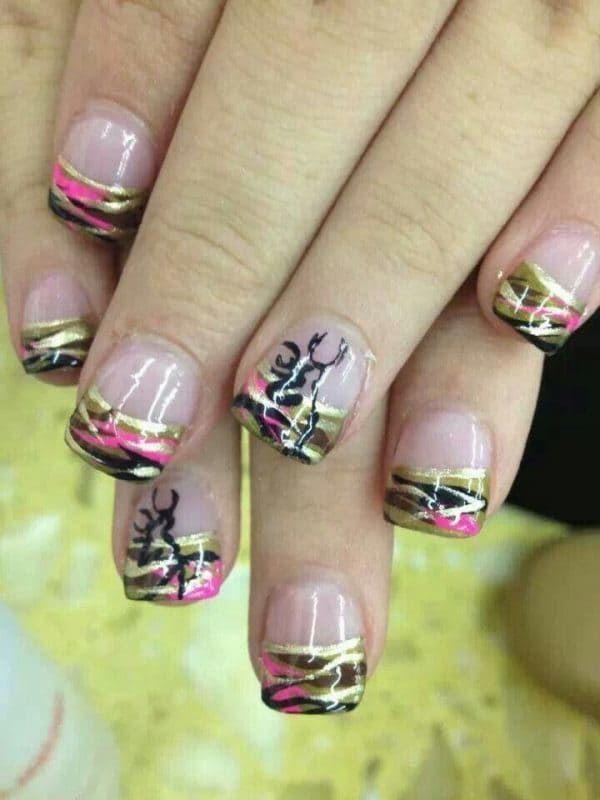 Makeup your army camouflage style in your own tips! Use the pink, black, moss green, brunette brown, and golden glitter. But, don't forget that your base is always transparent in order to have a cute and girly camo nail design.
In this camo nail design, why not to try to add your carrot orange color? Add the orange color in the tips of all finger, leaving the ring finger nail covered totally with the orange.
Best Nail Designs With Diamonds
Finally,  you don't have to worry about how to go girly and cute while working as an army woman. Because this list of 10 camo nail designs provides you with all girly kinds of designs an army woman can wear. However, this list proves that being in the army does not prevent a lassie girl from living her stylish and girly fashion life.