When talking about ombre nails on dark skin, you must know they are a fabulous way to create stunning designs that suit any taste. They are an option for both elegant women who want something smooth and delicate, or for bold ladies who crave a manicure that stands out and tells a story.
Ombre nails look stunning on dark skin if you choose the proper colors. So next time you're thinking about a new ombre manicure style, consider purple, green, and yellow as a base polish or as part of the gradient.
Best Ombre Nails on Dark Skin
To discover more ombre nail ideas for dark skin, keep reading and let us know which is your favorite model.
1. French Ombre Nails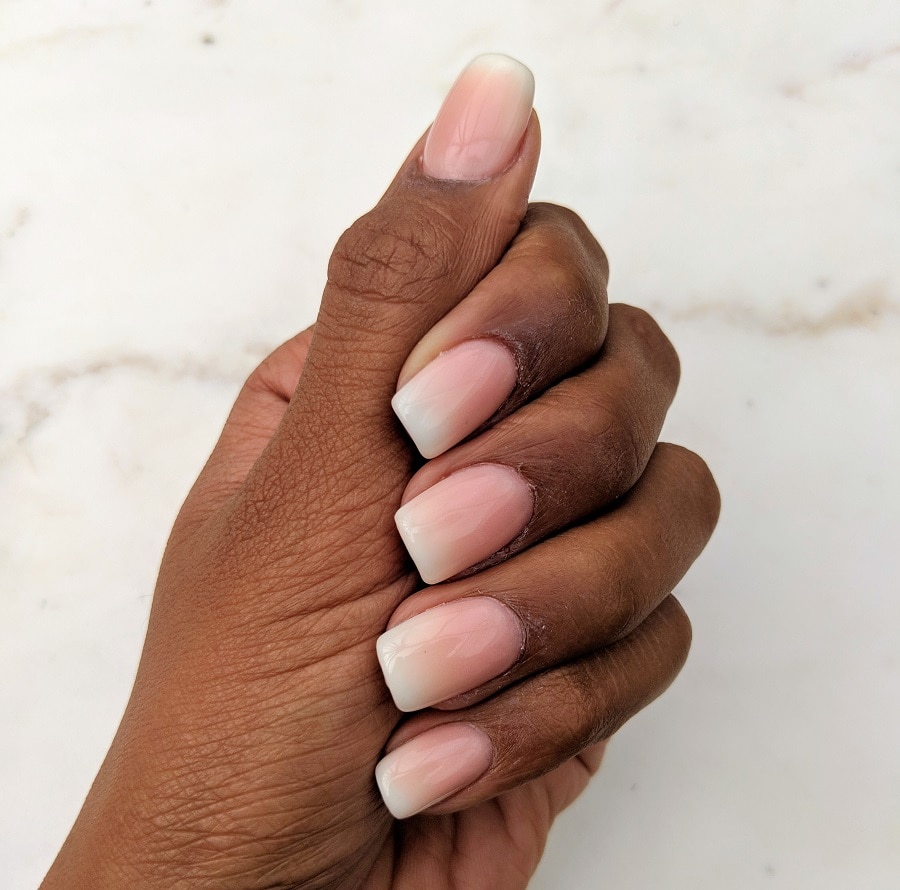 Instead of doing the classical French manicure, with well-delimited tips, you can try something different, like these ombre nails.
Trim them short and use a pale pink color for the base and white polish for the tips. Blend the two in the middle.
2. Green Long Ombre Nails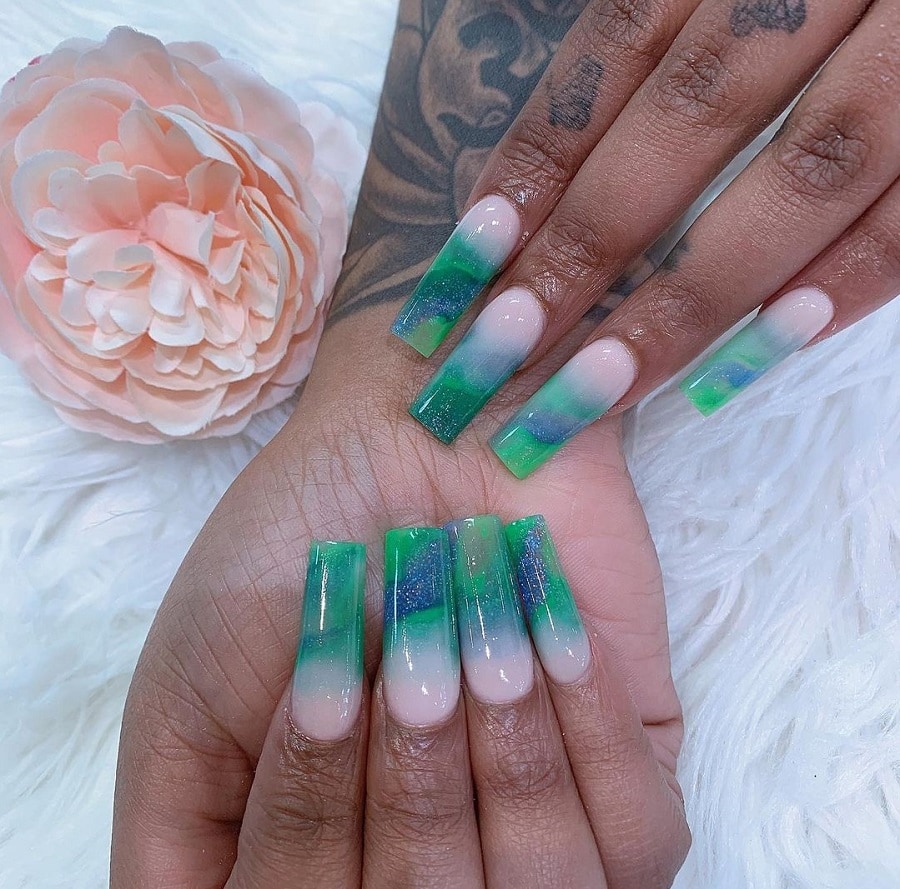 These glittery green ombre nails on dark skin will look fantastic and dreamy, especially if you make them look like Northern skies.
You will need nuances of green, blue, and a pale pink base. Add glitter to resemble the starry sky.
3. Mauve Ombre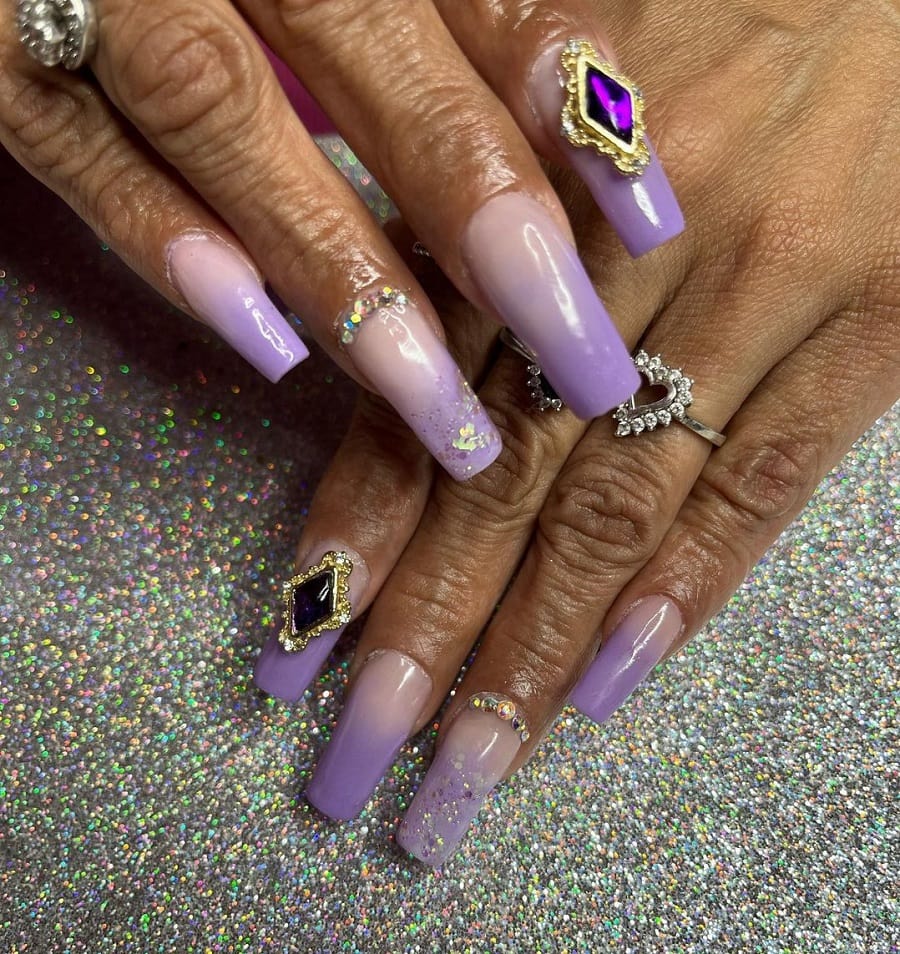 Purple symbolizes royalty and luxury, and you will need the proper decoration for these square-long ombre nails.
The color is perfect for dark skin, especially when you start with a light color base. Add glitter and rhinestones or other nail applications.
4. Faded Blue Nails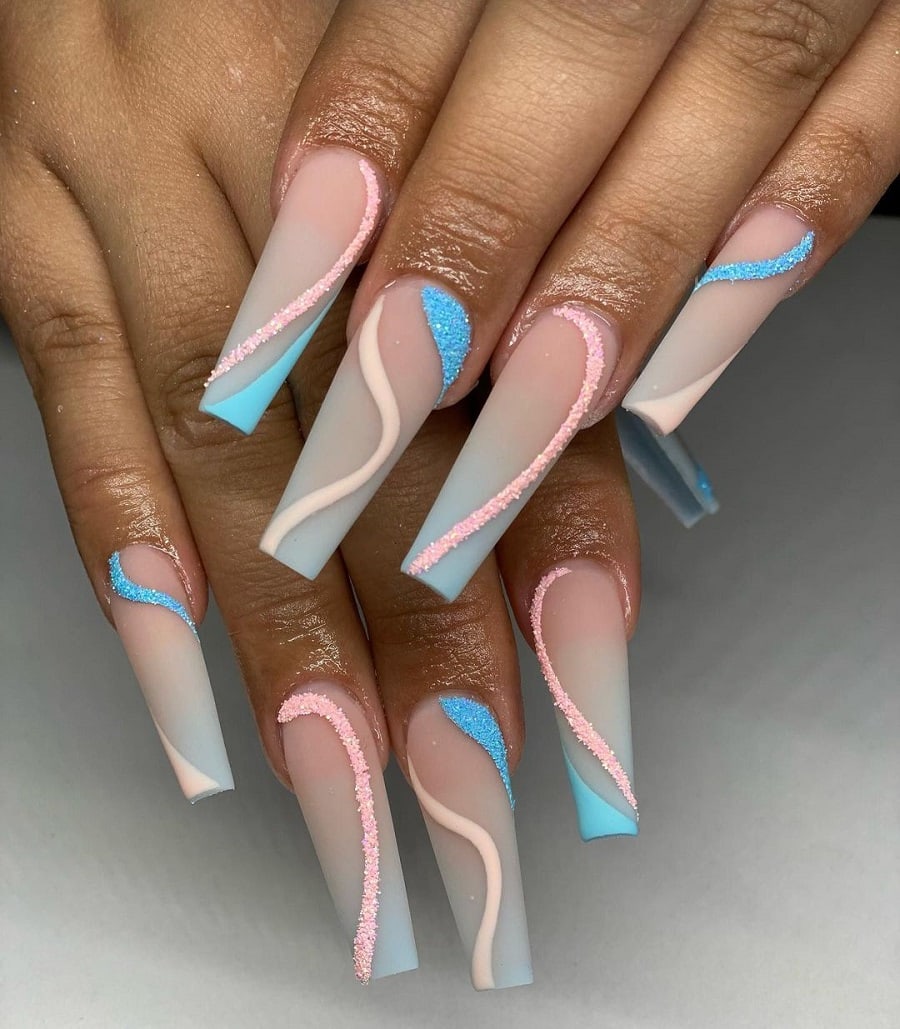 Matte ombre nails with granulated designs are absolutely fabulous. First, you must create the matte ombre using pale pink and blue.
Blend the colors and add a matte finish. With a thicker liner brush, draw the design lines and pour colored glittery powder.
5. Long Stiletto Nails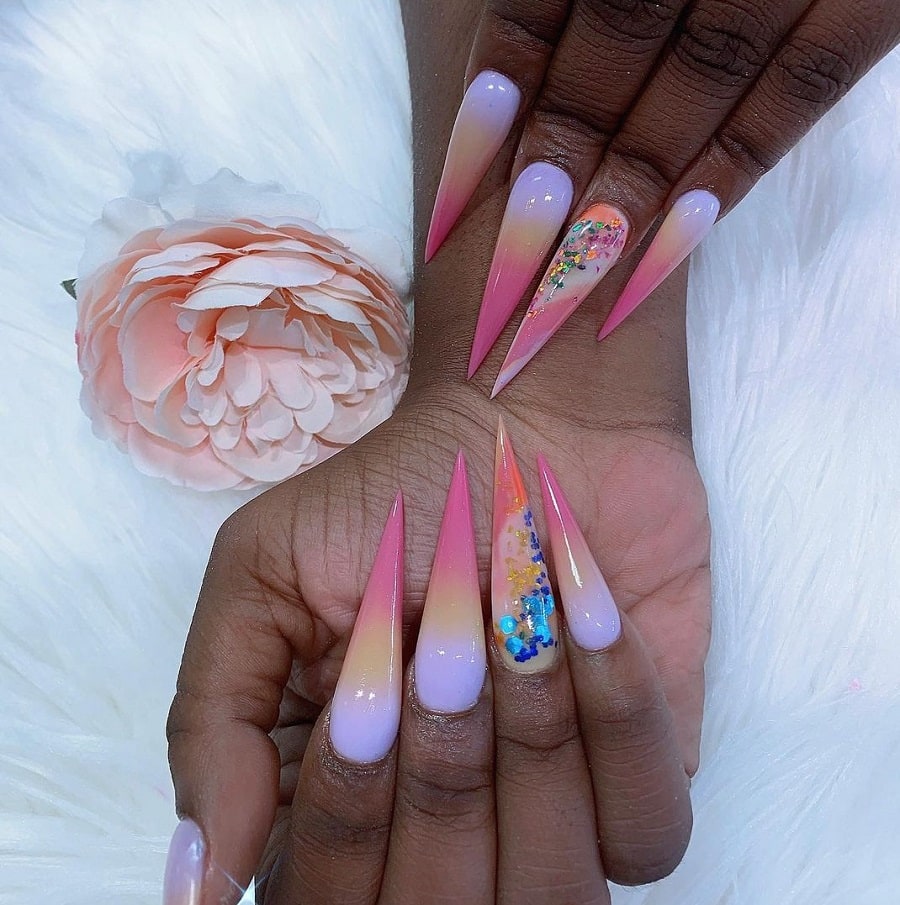 Stiletto nails are extravagant and yell confidence throw all their pores. But, because they are such attention grabbers, they mush look flawless all the time.
They allow you to style fabulous gradients like this mauve-pink and leave plenty of space for glittery and sequin decorations.
6. Bright Orange Ombre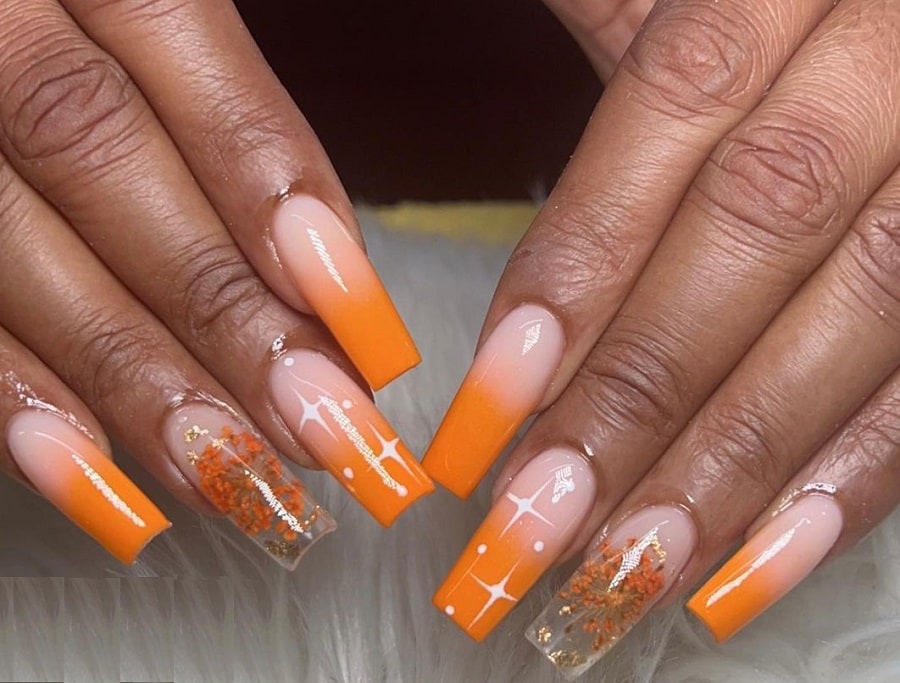 Orange ombre square nails on dark skin are so mesmerizing. And it's not just that gradient that makes them look so fabulous, but also the mix with that stunning clear nail with an orange sticker.
7. Coffee Long Nails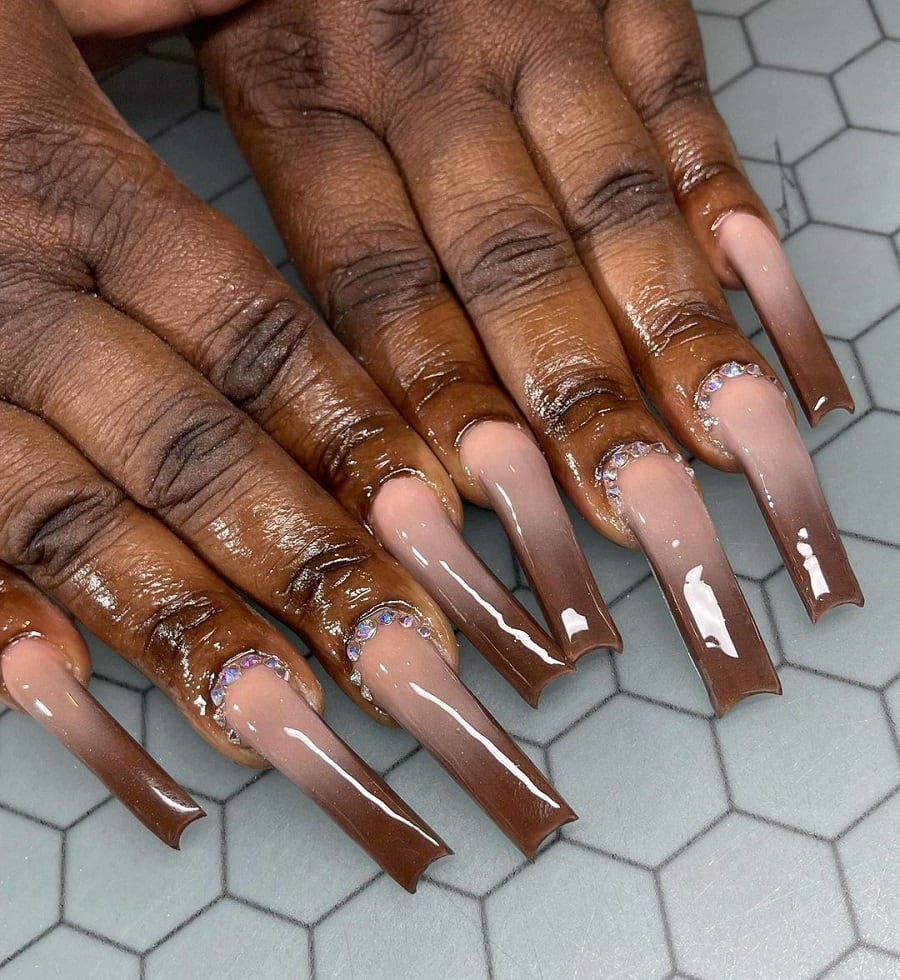 When doing your nails with acrylic gel, you must pay a lot of attention to the shape you're forming. Even if the nails are long, they must look as natural as possible.
Don't overload the nail, because it will be too thick, uncomfortable and get that bizarre shape.
8. Short Blue French
Short ombre nails on dark skin allow you to play around with colors and mix them as you please.
They will look beautiful if you create French tips and ombres. Decorate nails with rhinestones.
9. Black French Tips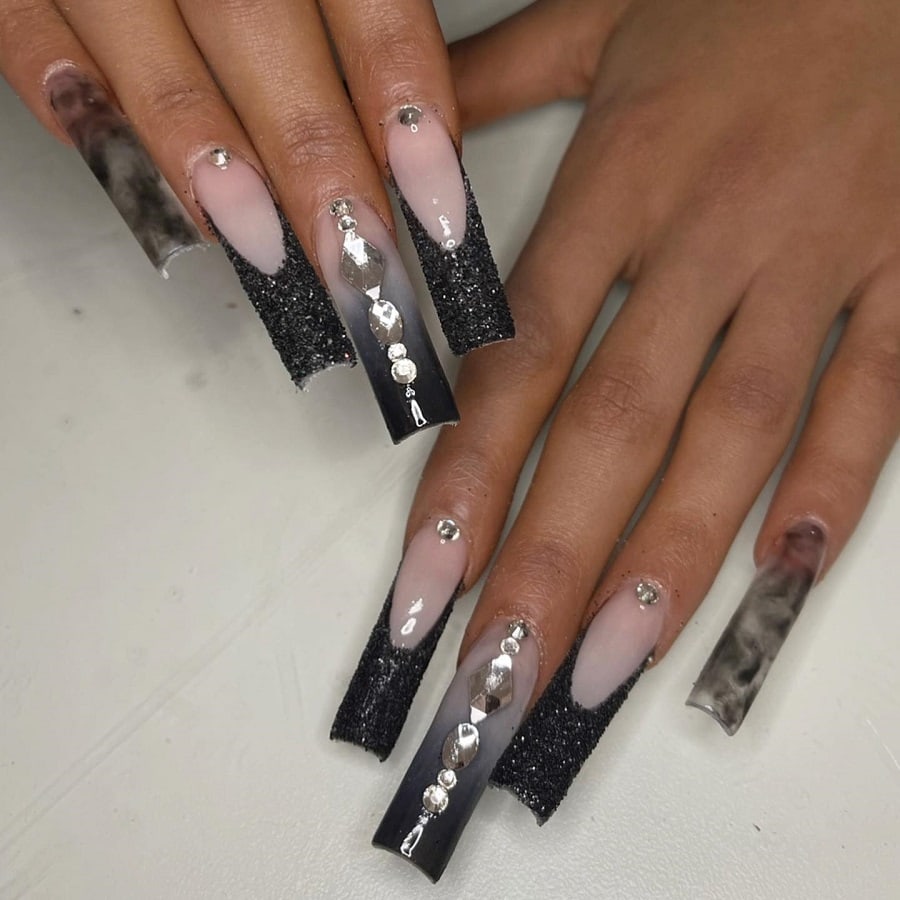 For this manicure, you will need to use acrylic gel and create that length from scratch. For some of the nails, you can style French tips with black glittery powder, ombre or marble effects.
Decorate some of the nails with rhinestones and diamond-looking pieces.
10. Yellow Toe Nails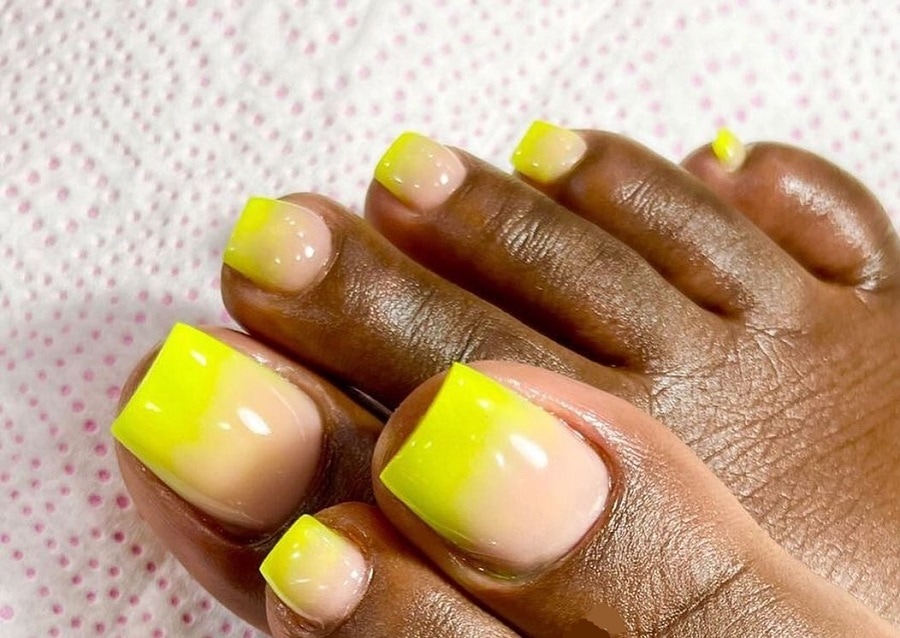 As a woman with dark skin, your nails will stand out more if you choose the proper color.
In this case, you should go for an electric yellow ombre that you will pull off on short square nails.
11. Rhinestone Nails
These pointy brilliant nails require some effort because you will need to apply each rhinestone piece by piece.
First of all, you will need to create a base color that will be white or red, depending on the decorations you choose to apply. For some other nails, you can get red French tips.
12. Pale Purple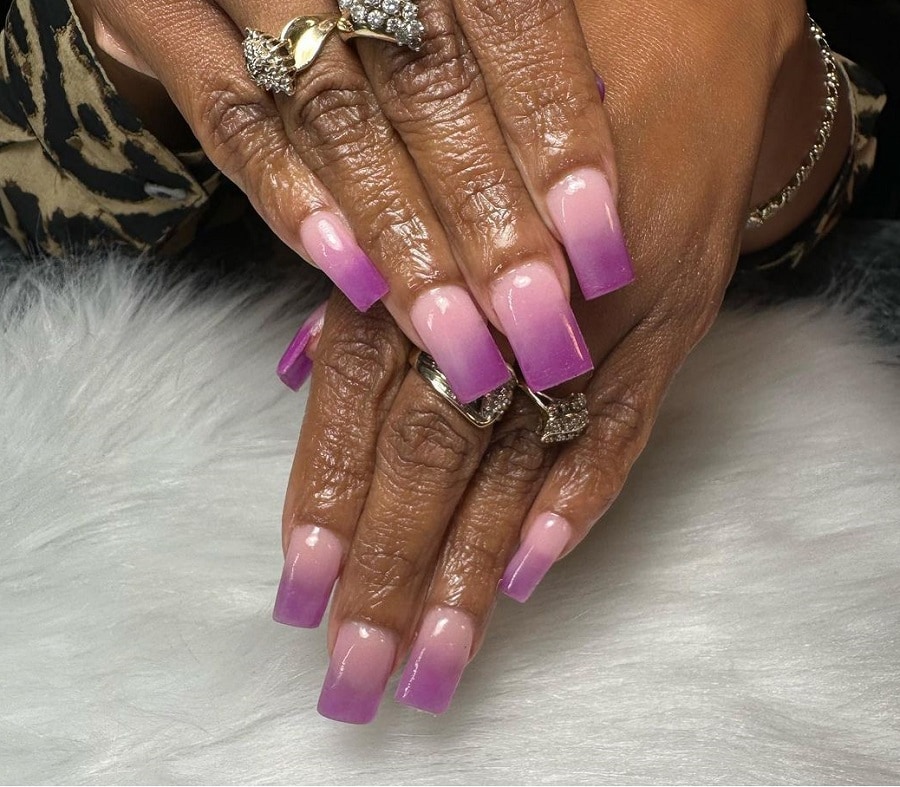 Pale purple ombre nails with a well-defined square shape can be easily styled to match dark skin tone.
You will have to choose a pale pink nuance that transforms into a deeper mauve. You can keep the design simple, as this manicure is a true statement on its own.
13. Matte Long Square Nails
During winter months, black women love to create a Christmas-themed manicure. And you will certainly love this option that uses a pink-to-glittery blue gradient and lots of decorations.
Apply rhinestones, spread that glitter and even create 3D flowers.
14. Duo Color Nails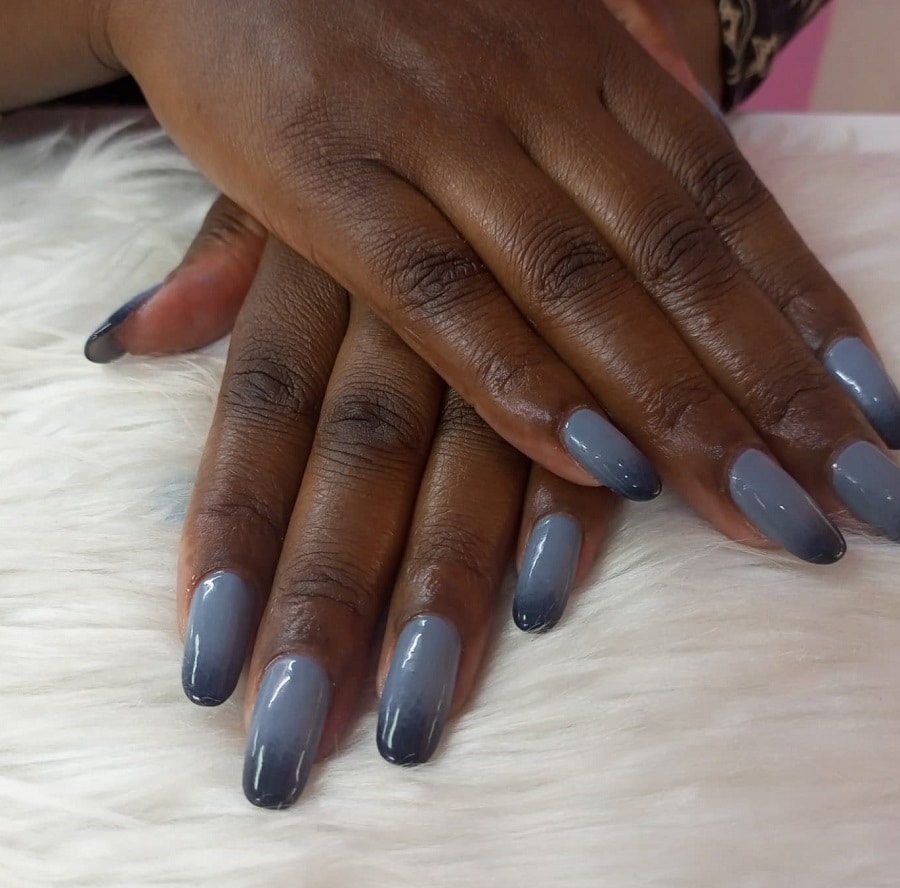 Most women prefer more colorful gradients for their manicures, but that doesn't mean you can't opt for a gray-to-black ombre.
15. Flare Long Nails
Flare ombre nails on dark skin give you a lot of room for ombres, paintings, marble effects and rhinestones.
You can use more nuances of the same color and combine them with full whites. Also, spice things up by adding stickers or painting small drawings.
16. Glittery Green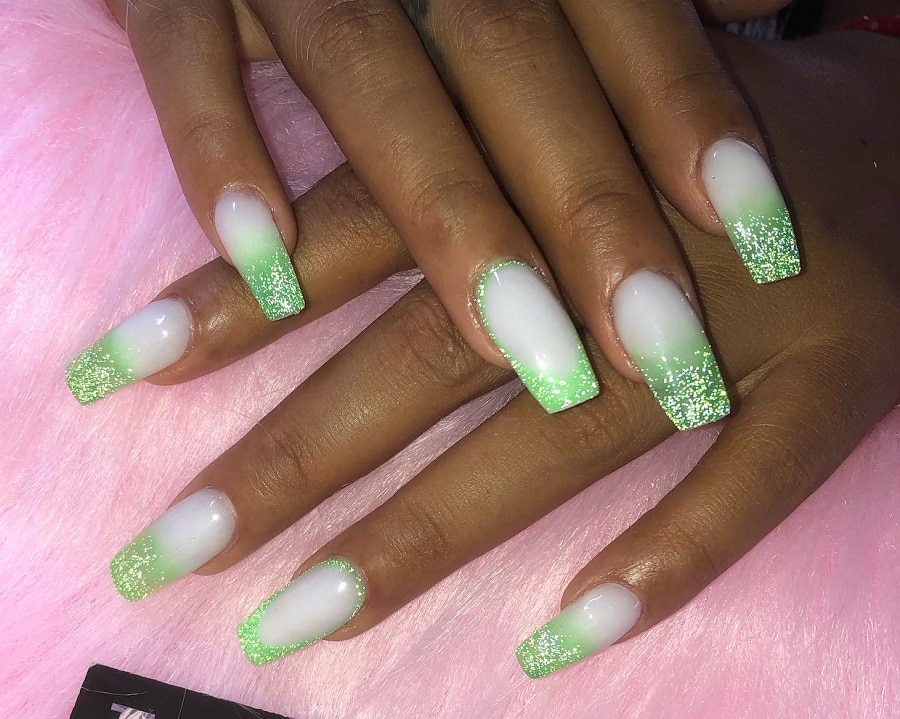 Glittery green ombre nails with a white base will certainly draw all the attention on your hands. After you created the ombre, use a glittery nail lacquer to highlight that green polish.
On one year of your hands, you can even use that green color to outline your nail.
17. Almond Acrylic Nails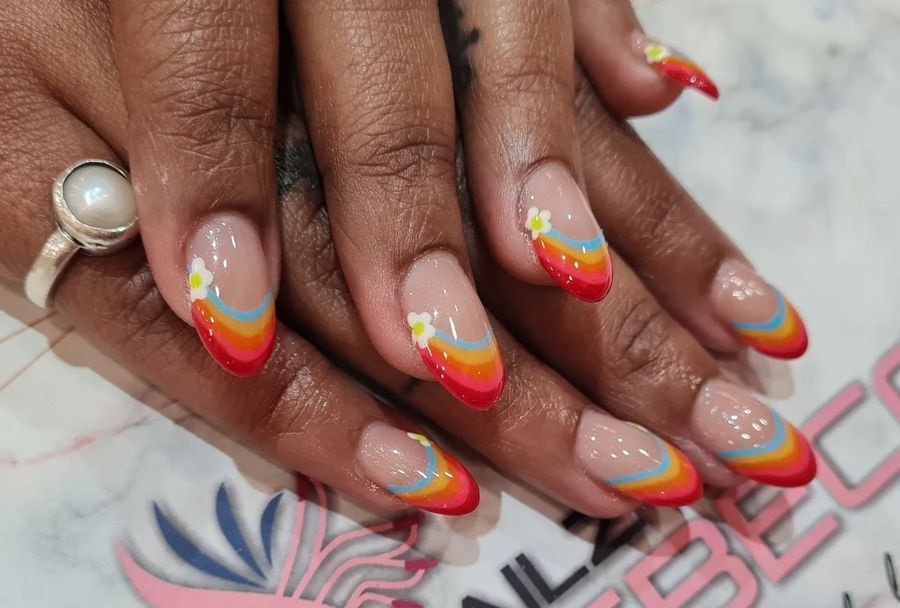 Short almond nails like this resemble the ombre effect. However, for this manicure, the transition from one color to another is done with a thin line that follows the shape of the nail.
To make the design even more friendly and romantic you can paint a flower in the corner of your nail.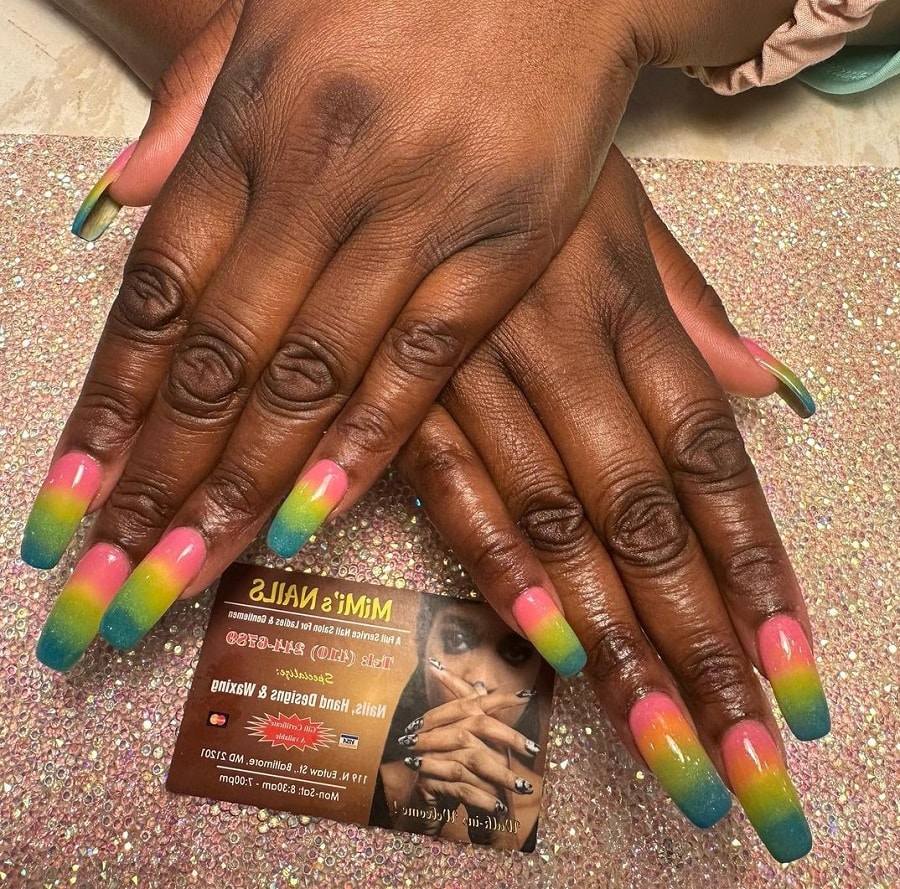 This amazing ombre for women with dark skin and long nails looks absolutely brilliant especially when you use more than two colors. So start with a pink nuance that transforms into a grass green color and lastly, in a teal shade.
Ombre nails on dark skin can use more than two nuances and can be transformed in real pieces of art. Combine this gradient technique with all sorts of decorations, nuances, textures, and nail shapes to get an eye-catching manicure.