Are you one of those girls who adore pink nail designs? If the answer is yes, you will undoubtedly love this article! Coffin nails, pointy nails, or even almond-shaped nails, we'll share with you fantastic ideas to make your hands look fabulous.
New Ideas of Pink Nail Designs
Create your own personal pink army down there on your nails by picking out one of the pink nail designs from the various options in the list below!
#1. Pink Coffin Nails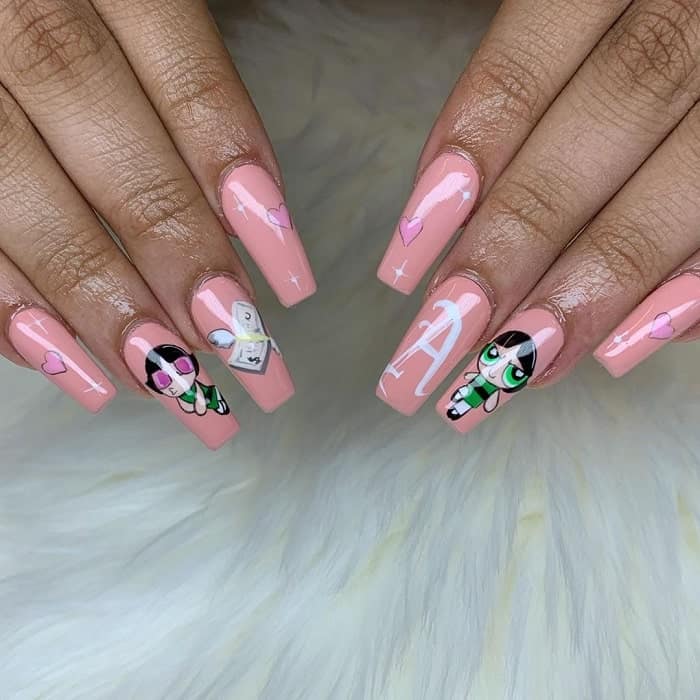 Coffin nails are always in trends because the shape looks so stylish and glamorous. If you want to make a pink nail design that reminds you of your childhood, get some cartoons on two of your nails. You can pick a Powerpuff girl such as Buttercup.
#2. Pink Almond Shaped Nails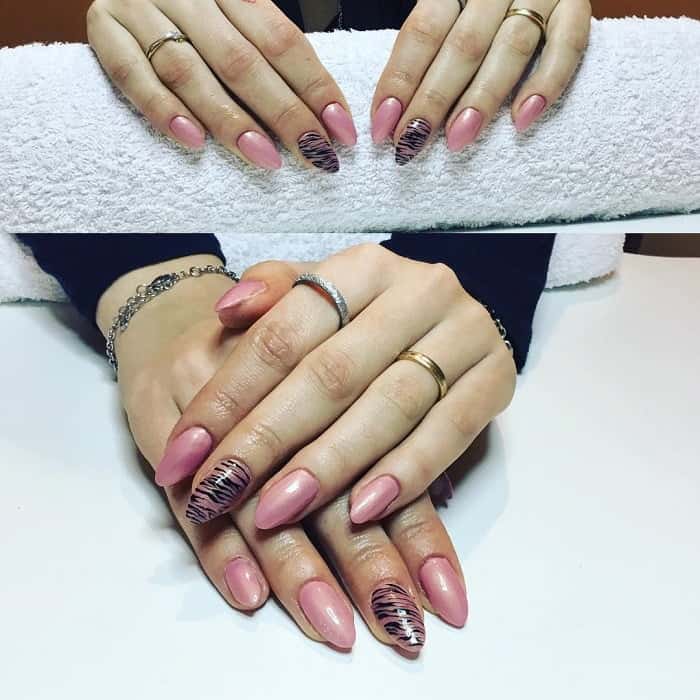 Give these almond-shaped nails an exquisite touch by creating a zebra design on one nail from each hand. Your hands will look elegant and with a luxurious touch.
#3. Short Pink Nails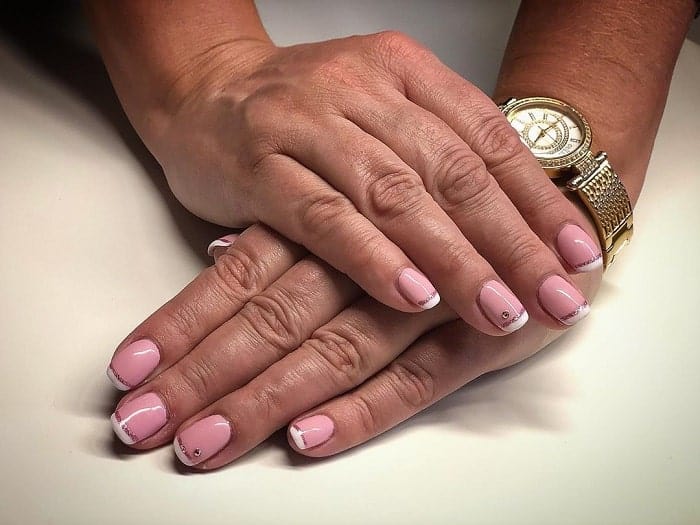 If you like French manicure you can combine it with pink beautiful nail polish. Give your fingers a glamorous tint by using a glitter nail polish in order to create a subtle thin line.
#4. Long Pink Nails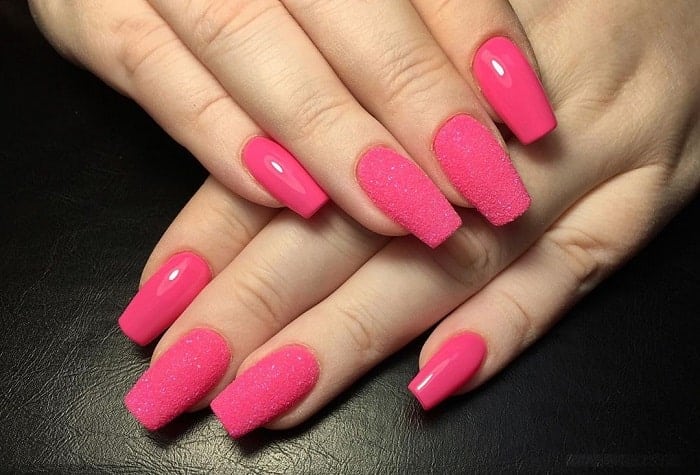 For these square-shaped nails, use a glossy and a mate granule-textured polish. If possible, choose colors that look very much the same.
#5. Dark Pink Nails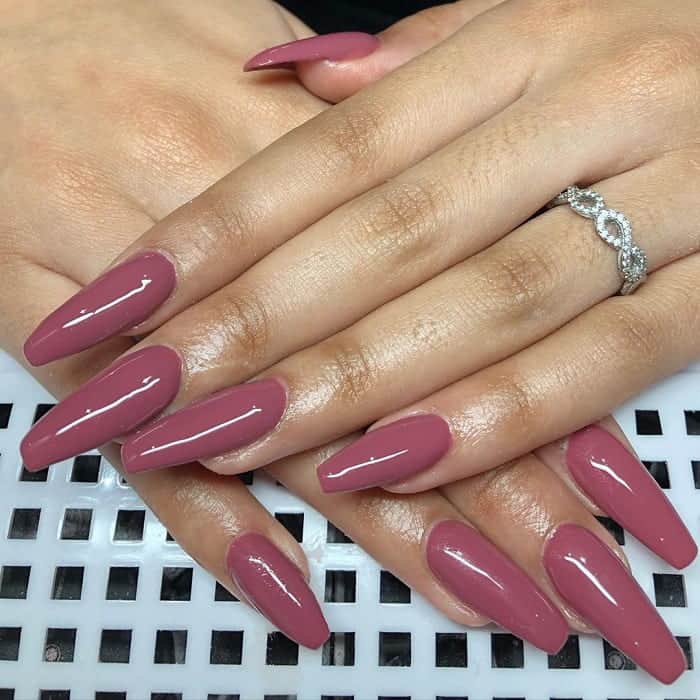 A dark pink color looks very good on long nails, especially if you cut them in a ballerina shape. Your hands will look elegant and stunning at the same time.
#6. Clear Pink Nails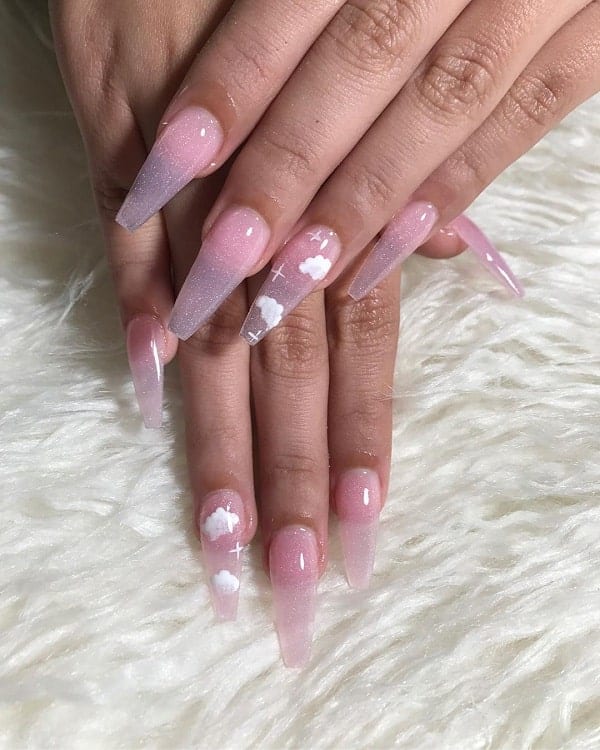 #7. Matte Pink Nails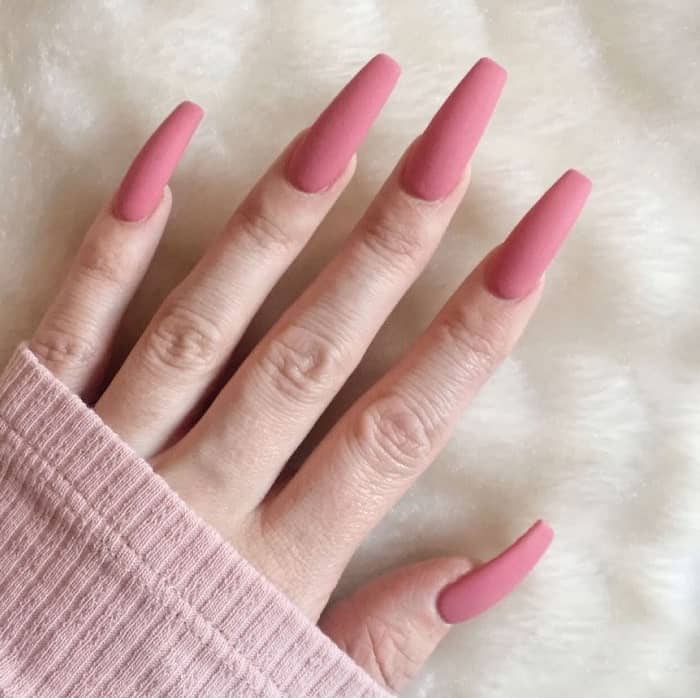 #8. Neon Pink Nails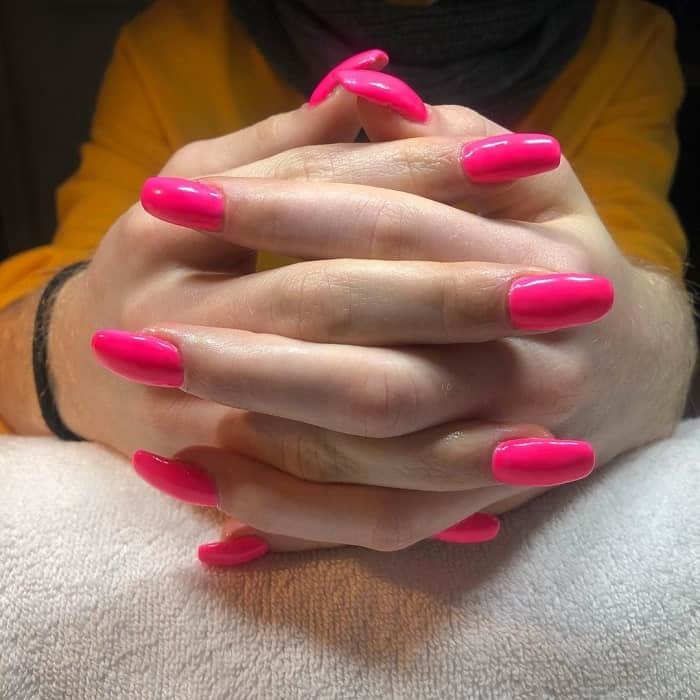 #9. Pink Chrome Nails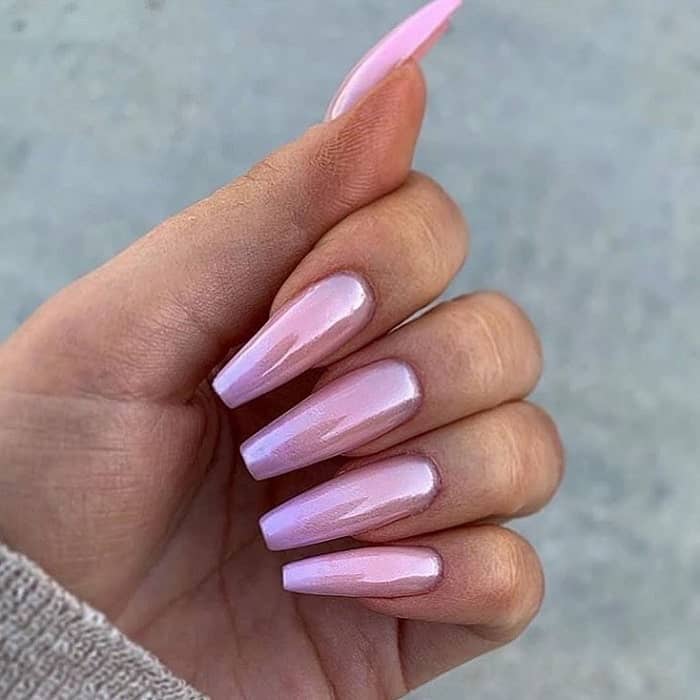 #10. Pink Nude Nails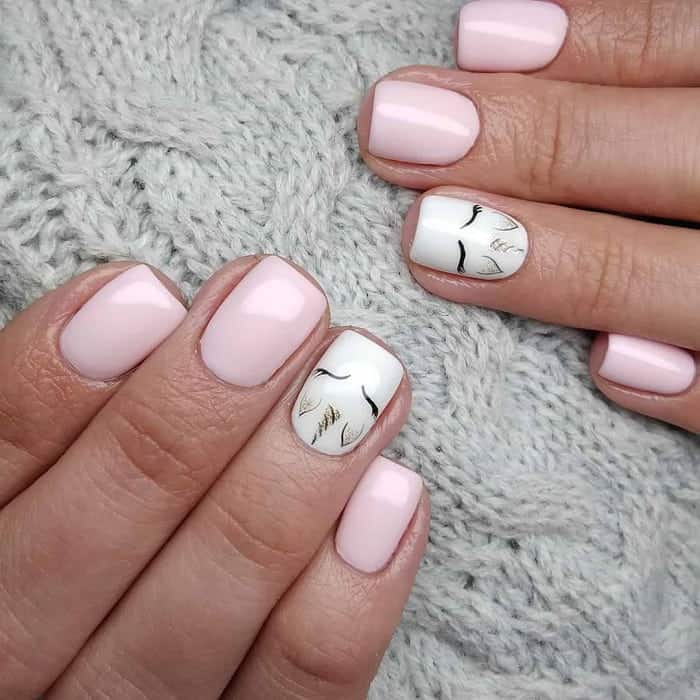 #11. Pink And Yellow Nails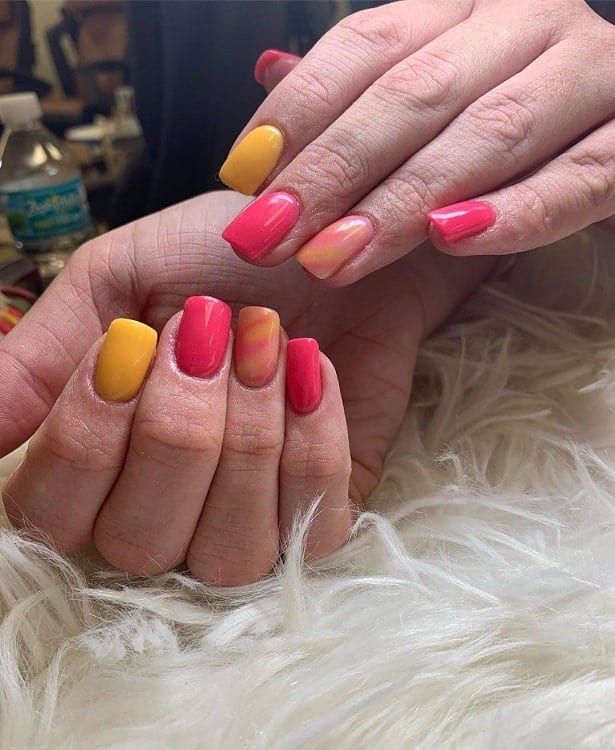 #12. Pink And Purple Nails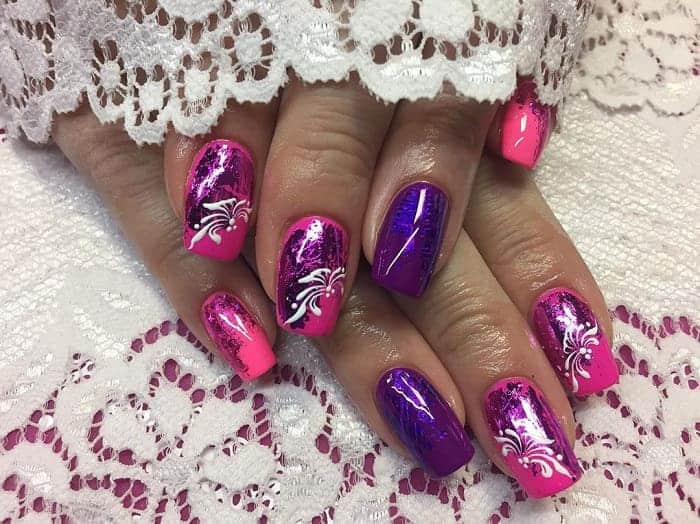 #13. Pink And Grey Nails
#14. Pink Holographic Nail Art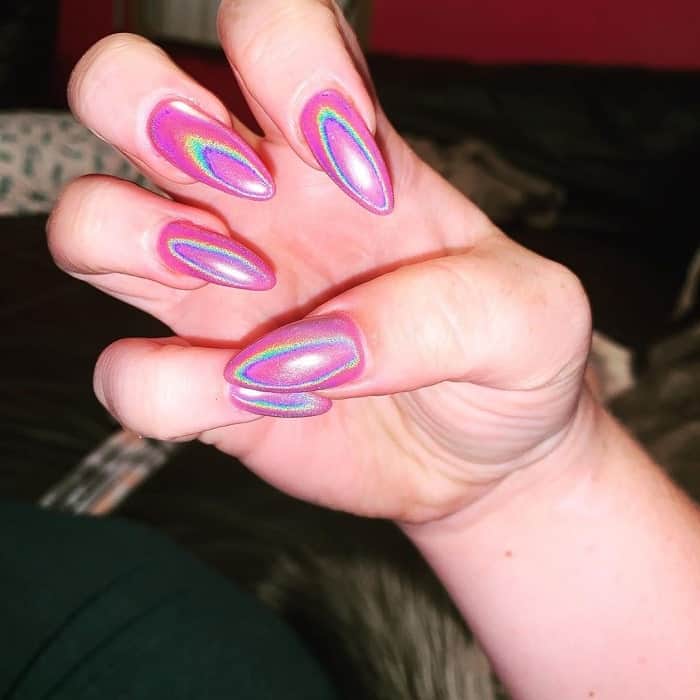 #15. Pink Marble Nail Design
#16. Pink Sparkly Nails
#17. Pink Toe Nail Design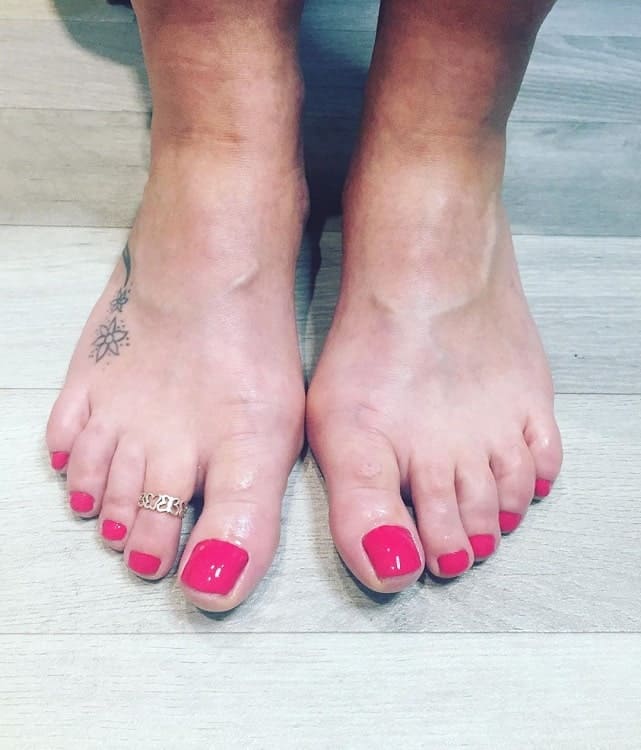 #18. Pink And Orange Nails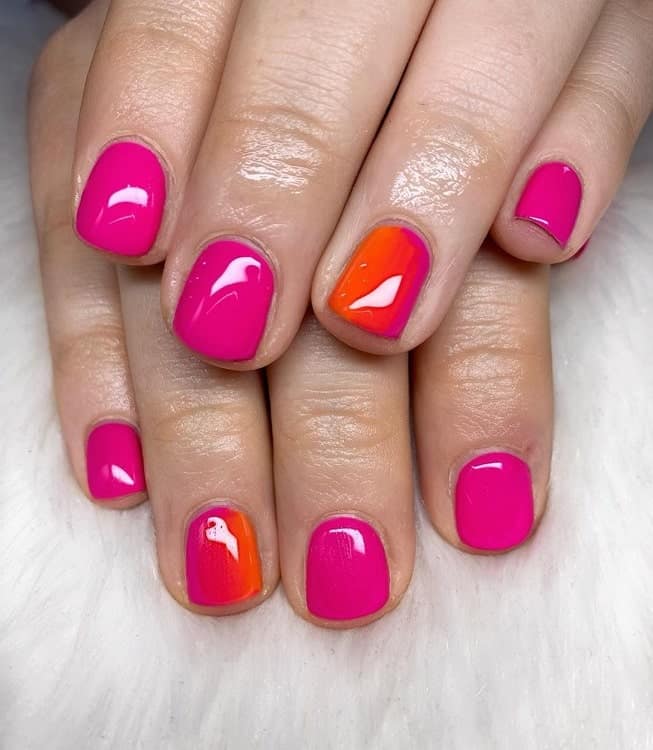 #19. Metallic Pink Nails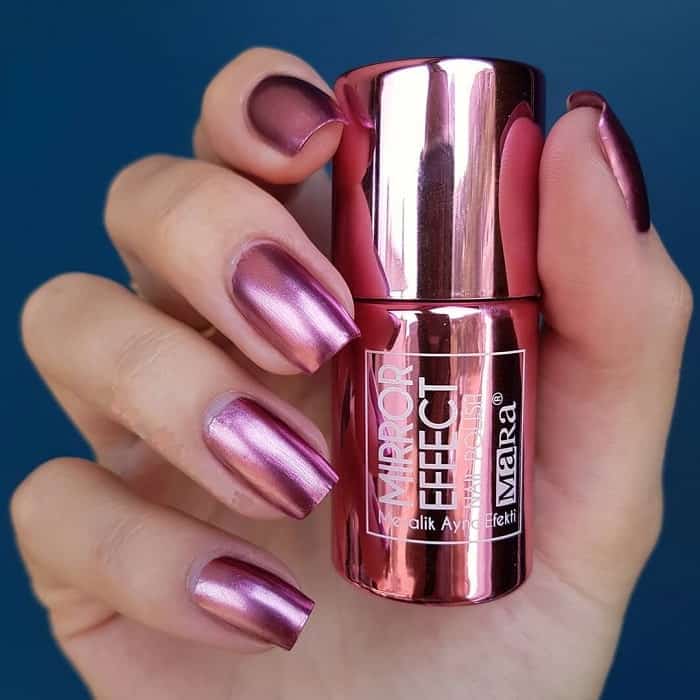 #20. Pink And Green Nails
#21. Pink Summer Nails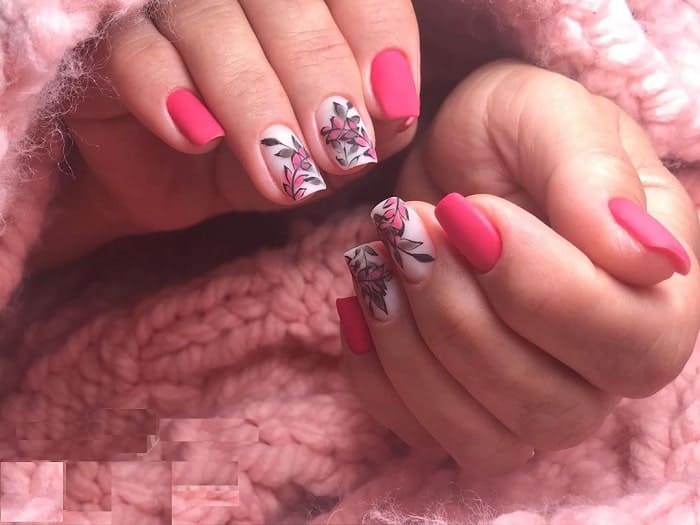 #22. Pink Solar Nails
#23. Peach Pink Nails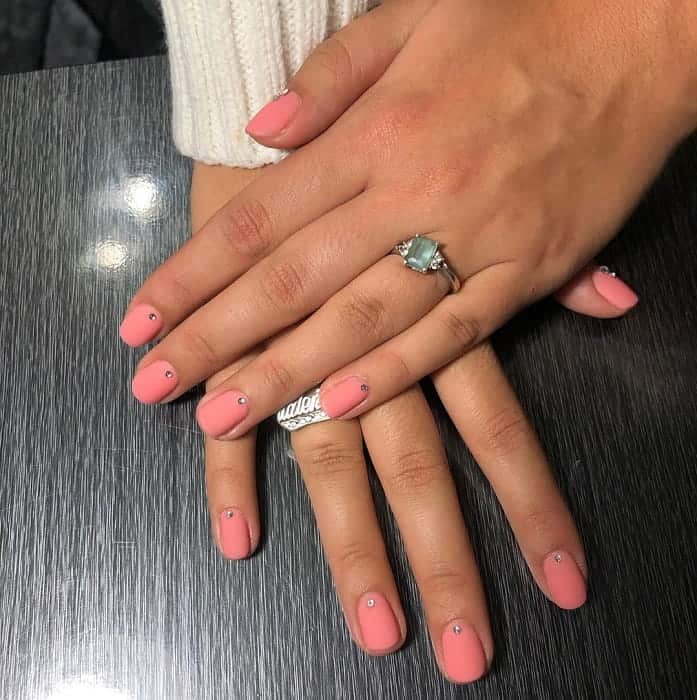 #24. Dusty Pink Nails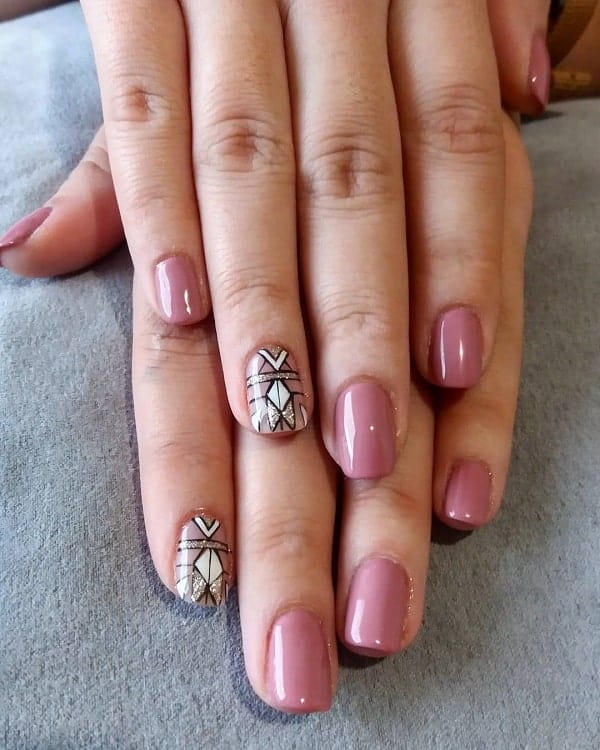 #25. Pink Shellac Nails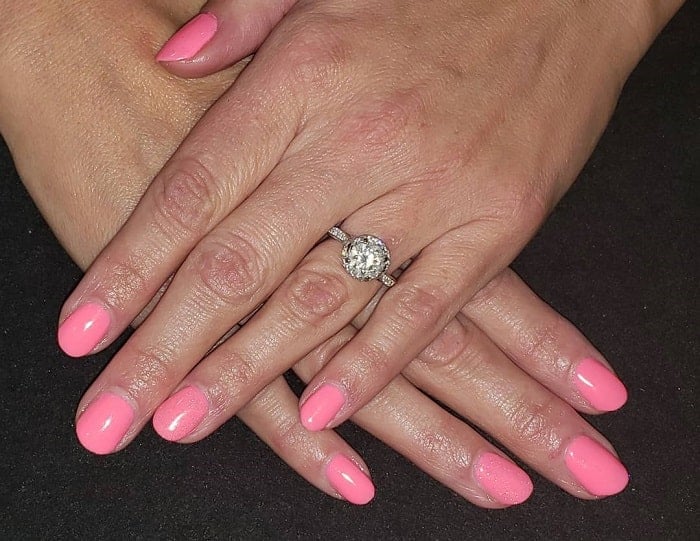 #26. Pearl Pink Nails
#27. Pink Lotus Nail Design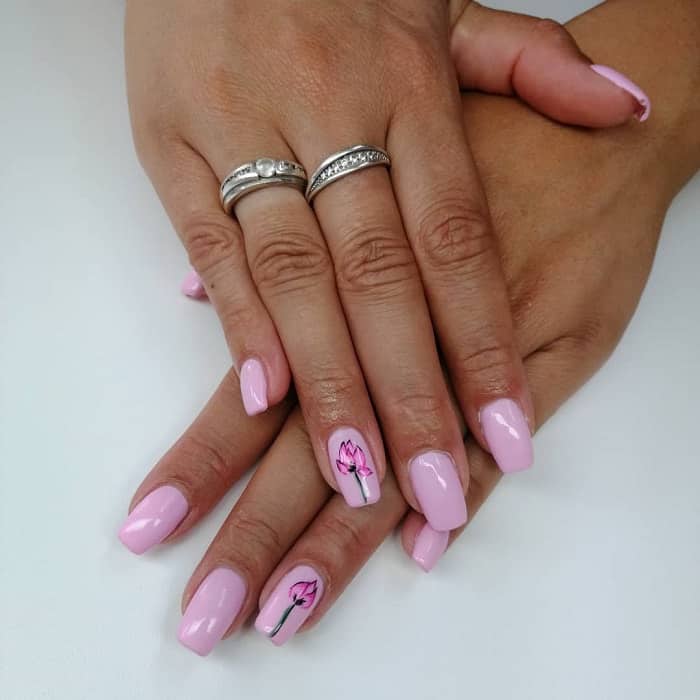 #28. Pink Nails with Diamonds
#29. Pink Christmas Nails
#30. Pink Prom Nails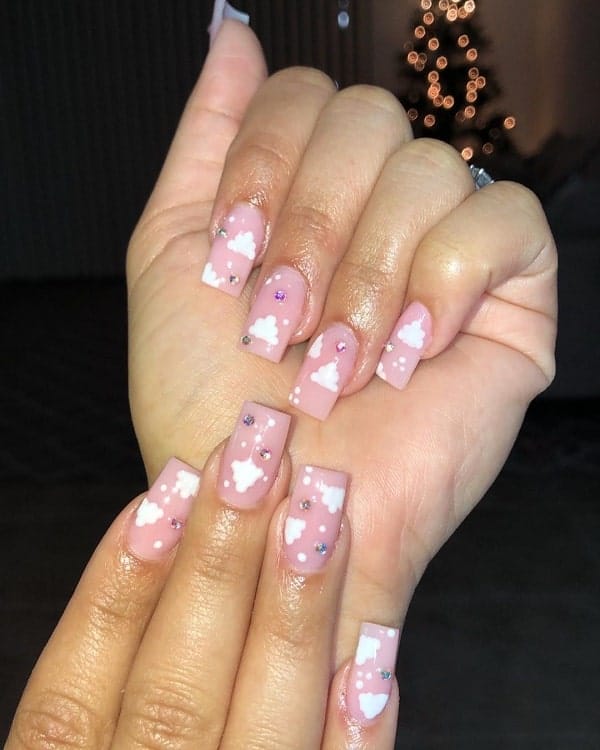 #31. Pink Birthday Nails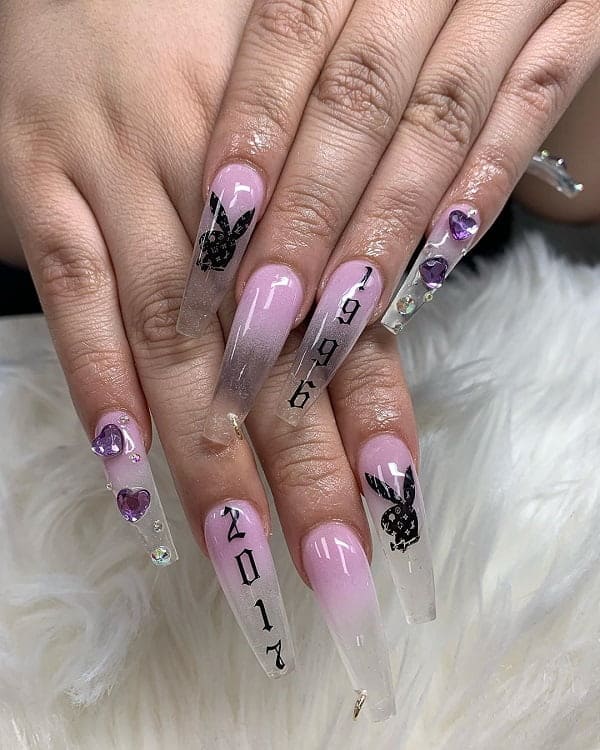 #32. Minnie Mouse Pink Nails
#33. Lime Green And Pink Nails
#34. Pink Wedding Nails
#35. Teal And Pink Nails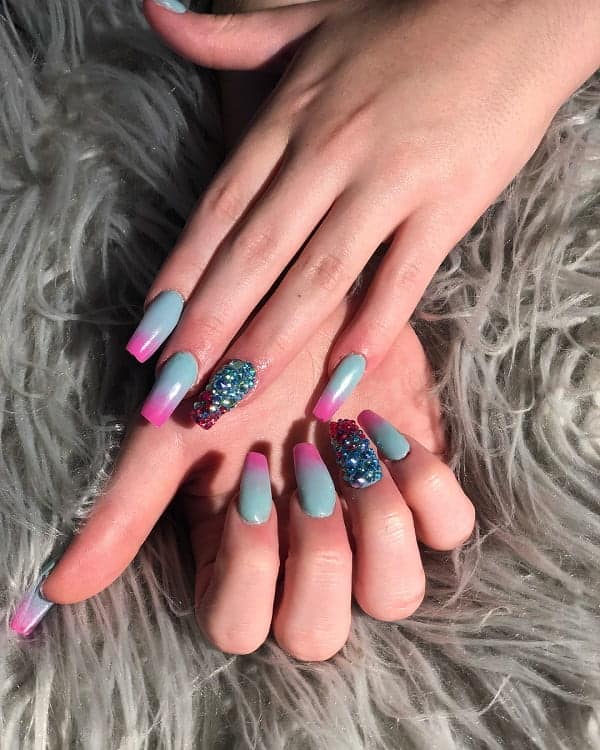 #36. Pink Blush Pointillism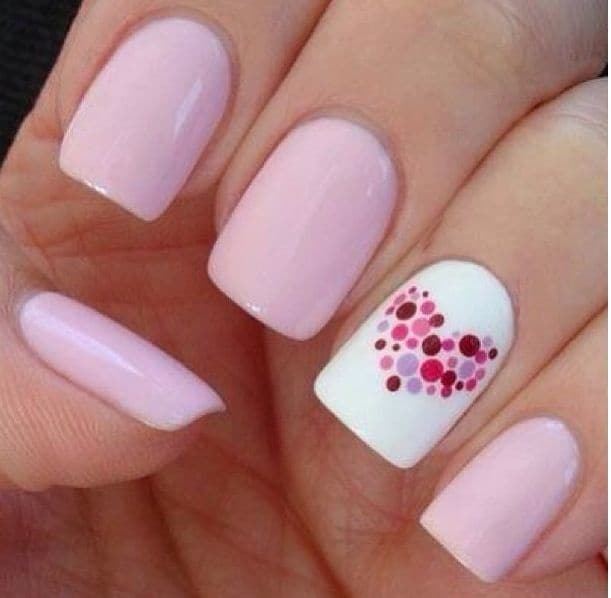 Make everyone blush at the sight of your cute blush pink manicure. Along with the white base coat on the accent nail that makes the heart-shaped pointillism piece of art pop!
#37. Pink Glitter Nails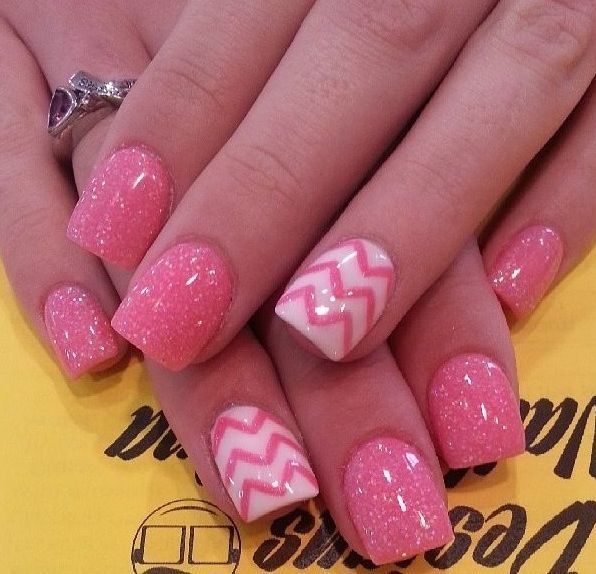 Glitter varnish is easy to apply and looks gorgeously fabulous on nail beds. Spice up the accent nail with a chevron pink pattern located on a white base coat for a more sassy taste. Wear it for parties of every kind!
Whether they are slumber parties, frat or sorority parties, graduation parties, birthday parties, my-folks-are-out-of-town-parties etc…. this style for them all! Get your party mode turned ON!
Mind-Blowing Purple Nail Styles
#38. Five Shades of Pink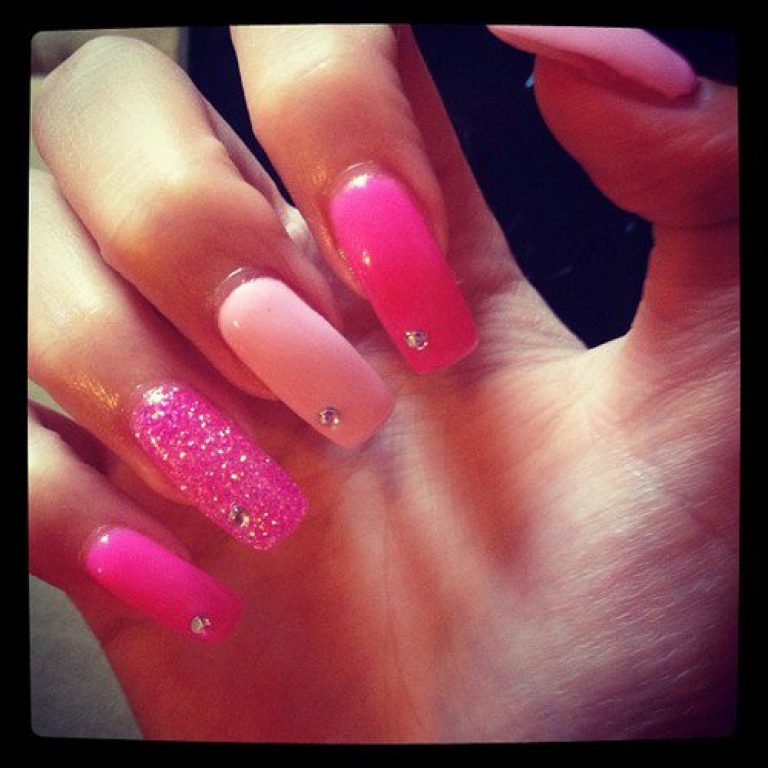 Varying the pink shades will only make your design look more interesting and different. Avoid repetition and monotony with this example.
It's easy to copy too! All you have to do is assign a different shade to each nail and you can always try to arrange them from lightest to darkest or you can just mix them up.
Add a rhinestone to the tip of each nail for more attention and don't be shy to use pink glitter varnish!
#39. Pink French Tips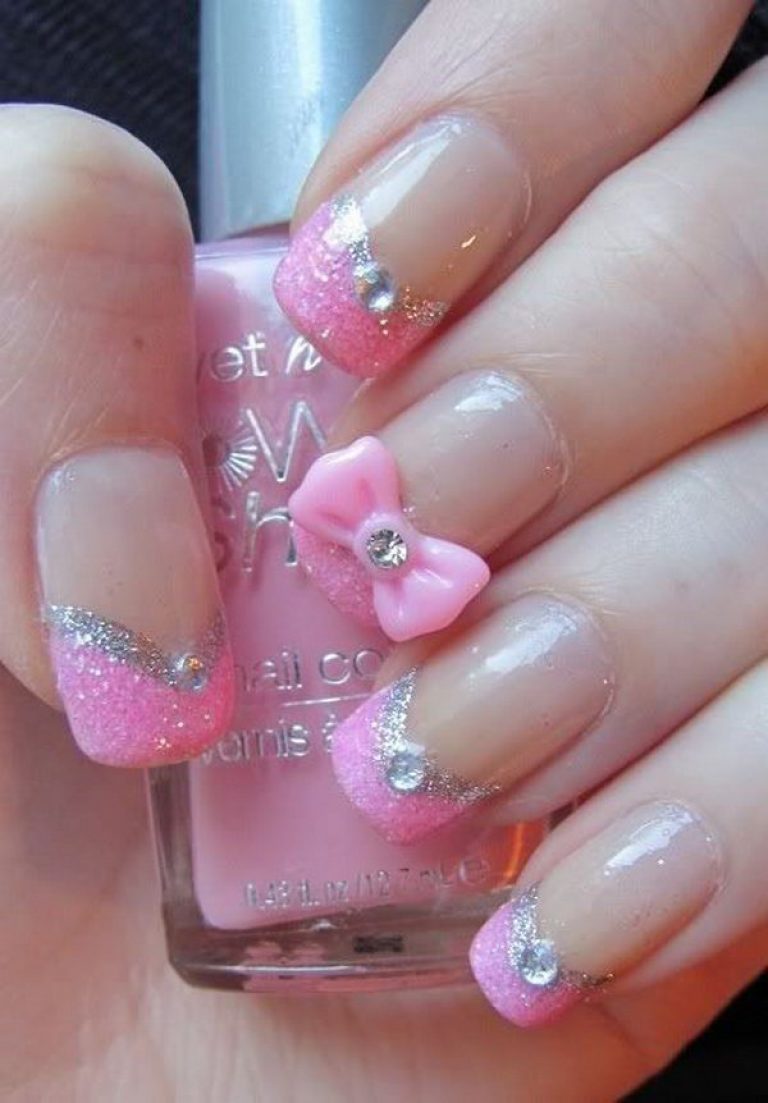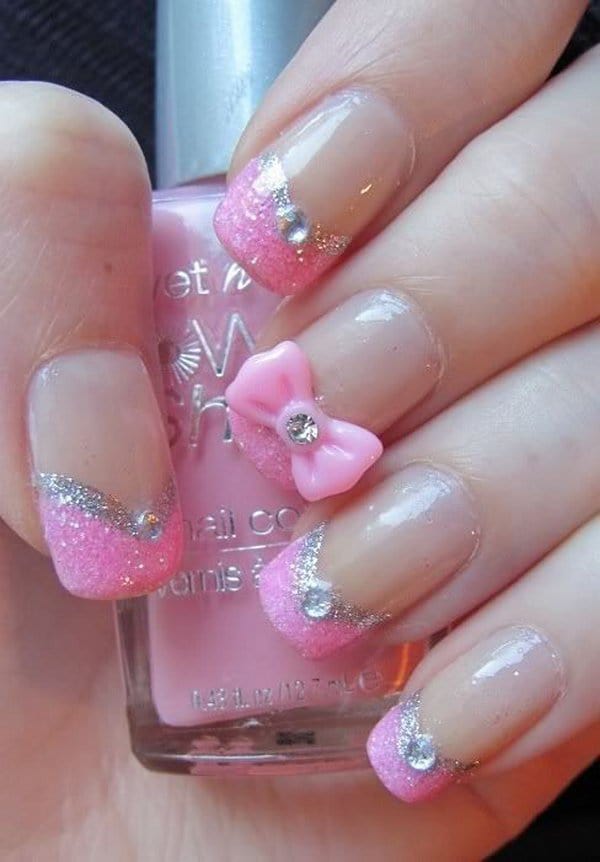 Silver goes great with pink shades. Use them to create unique french tips and don't forget to choose your favorite nail and spice it up with a 3D decal like the cute little bow tie shown in the example above!
#40. Hot Pink Nails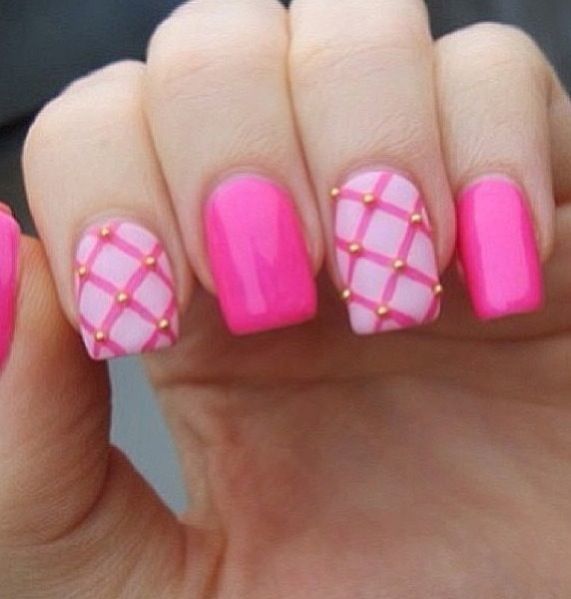 Celebrate the spring season with this easter egg-like theme for a dashing nail art style. It not only symbolized the famous easter holiday that everybody is so fond of, it also brings out that smile you have been h0lding back for like forever now!
All it takes is overlapping hot pink strips on a blush base coat and you can stick on a golden detail at the points of intersection f0r a more visually interesting 3D effect!
#41. Cancer Free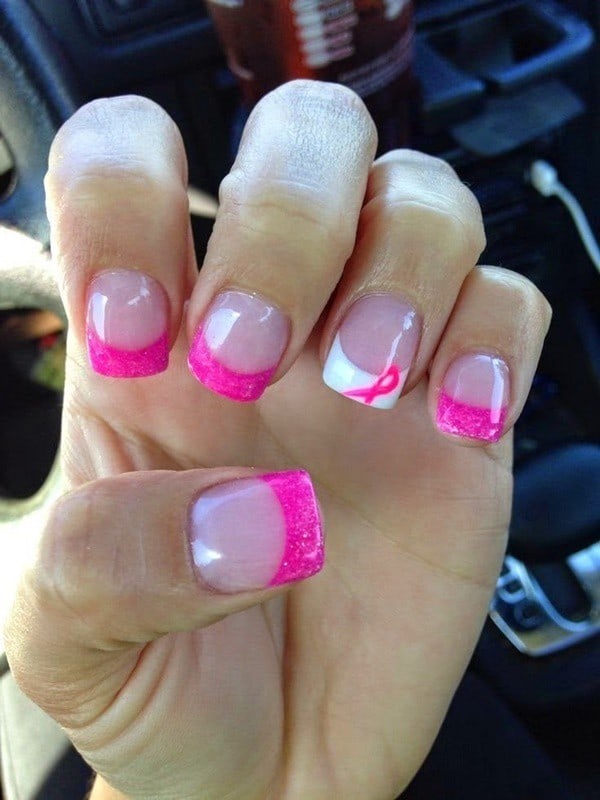 Show your support to breast cancer patients with this pink nail design where the accent nail is showcased with the lead part and has the breast cancer print on it as an accessory on its white tip.
Meanwhile, your other nail beds flaunt hot magenta glitter varnished french tips!
#42. Little Pink Dress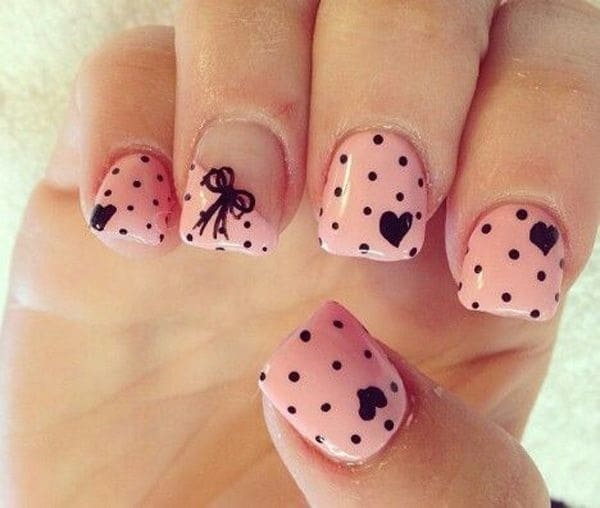 On a powder pink base coat, set your artistic hand free to polka-dot your nails away with a bold dark color (black) and throw in some small heart doodles on each nail while you cast a dramatic effect on the accent nail.
As you only paint the tip with the same pattern leaving the other part mysteriously unpainted and overwhelmed with a black ribbon on the line that marks the territory between the painted and unpainted part.
This design would be perfect for events that are like little black dress events, sophisticated and elevated.
#43. Salmon Pink Nails with Glitter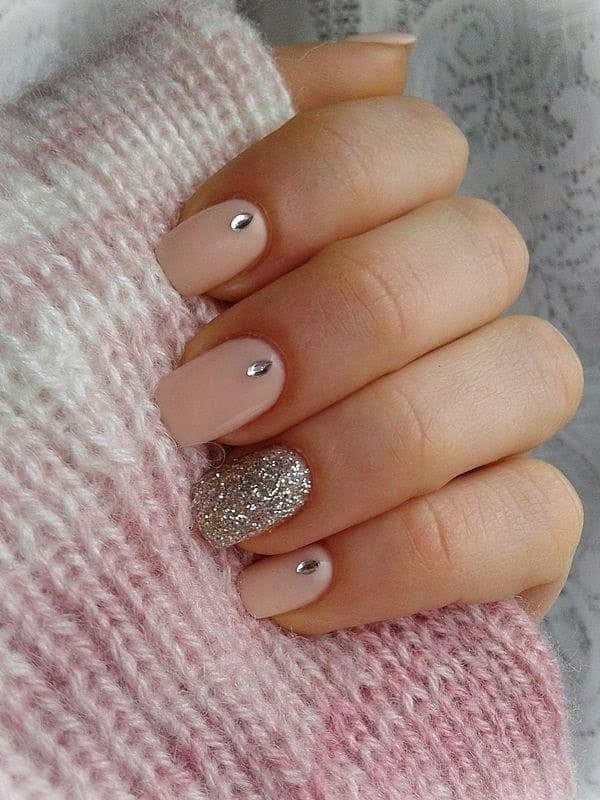 In psychology, pink is a soothing calming color assuring that everything will eventually be okay. Especially, if the light shades of pink are concerned.
That goes to the example above showing a salmon pink shade base coat with a silver glitter accent nail and a silver detail on the inside of each nail bed. Due to its elegant appearance, this style would be perfect for a formal calm event
. It practically goes with any color combination you already picked for your dress and therefore it has a high chance of compatibility with a lot of girls!
#44. Pink & Swirly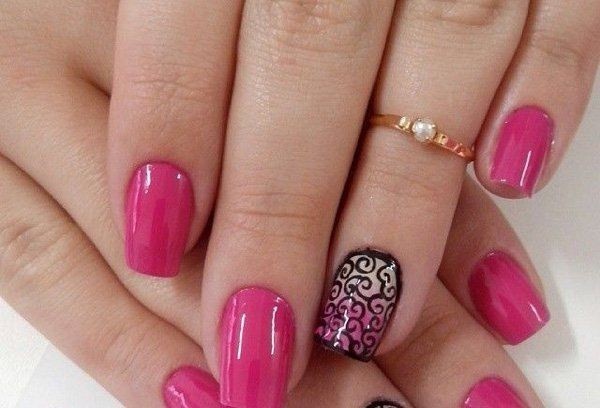 Go ahead and use a nail art pen to freehand draw the swirls on the gradient-based accent nail with a bold color like black to make it look sophisticated and full of mysteries. All while other nails are delicately painted with a soft magenta shade of pink.
#45. Silver + Baby Pink Nails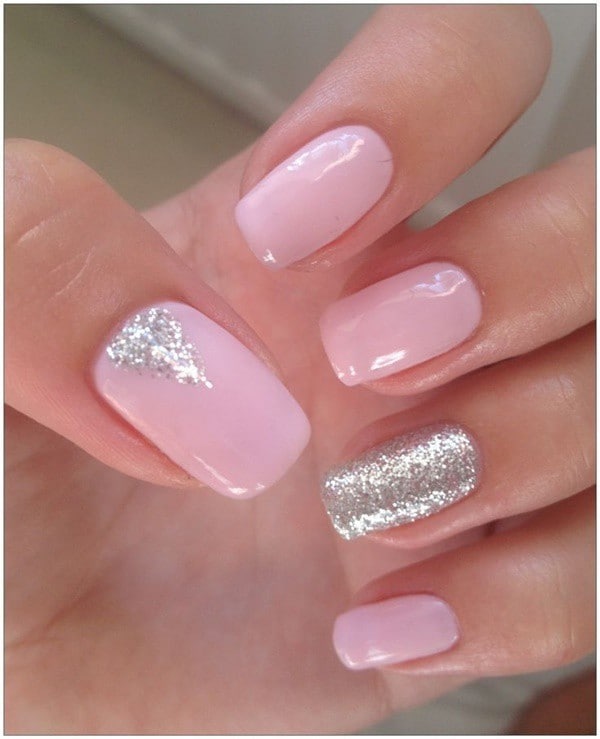 Whenever you try to think of a girly color it hits you. PINK. And it's true because girls always go crazy with the pink color.
And they make sure they live in a Pink Only World ranging from their pink phones, pink laptops, pink toothbrushes, pink hair comb, pink pens, pink chairs, pink bed covers and much more!
#46. Pink and Blue Nails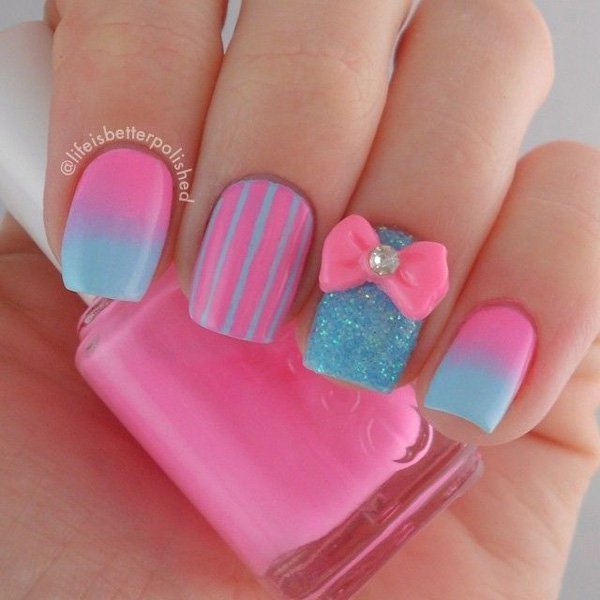 Gradient blue and cotton candy pink swished together is a great idea. It's not too girly due to the presence of the blue color yet not masculine at all!
Don't go all gradient, use stripes and glitter varnish as well as 3D bow tie details to make it more and more vivid!
#47. Cloudy with A Chance Of Fruits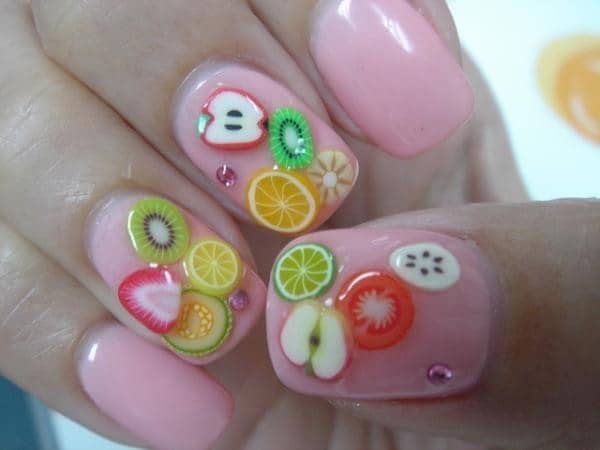 Are you in love with fruits? Combine both of your favorite things! Fruits and old rose shade compliment each other perfectly in a new exotic look that not many can pull off.
#48. Floral Pink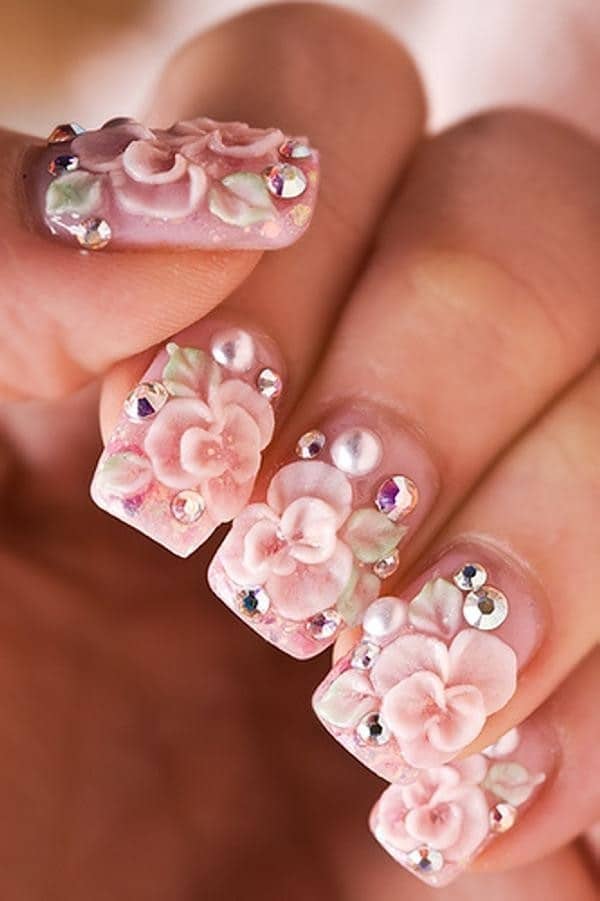 Flowers come in every color and every size. However, pink flowers symbolize a nurturing and unconditional love that would take more than just centuries to fade away.
It is the affectionate, intimate, and comforting choice of flower that you would only want to offer for that special someone you're quite sure of. Wear this style only for special occasions with people dearest and nearest to your heart.
#49. Pink and Silver Nails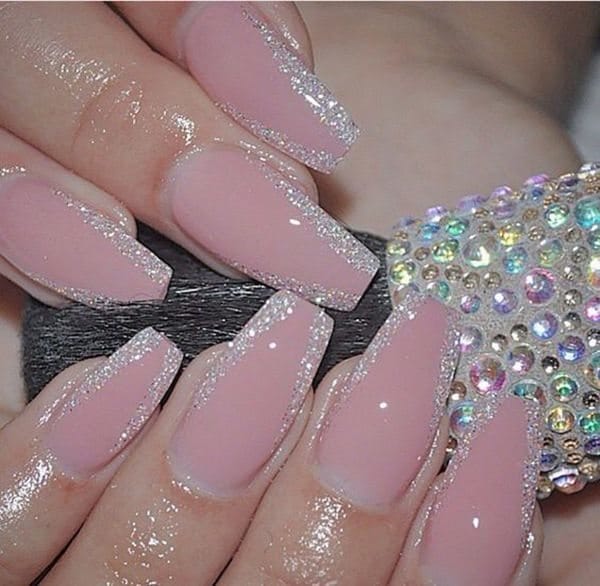 Surround your pink nail design with silver glitter linings that mark the right and left ends of your nails. This touch not only makes it special but also brightens up the serious pink shaded background on your nail.
#50. Lacey Print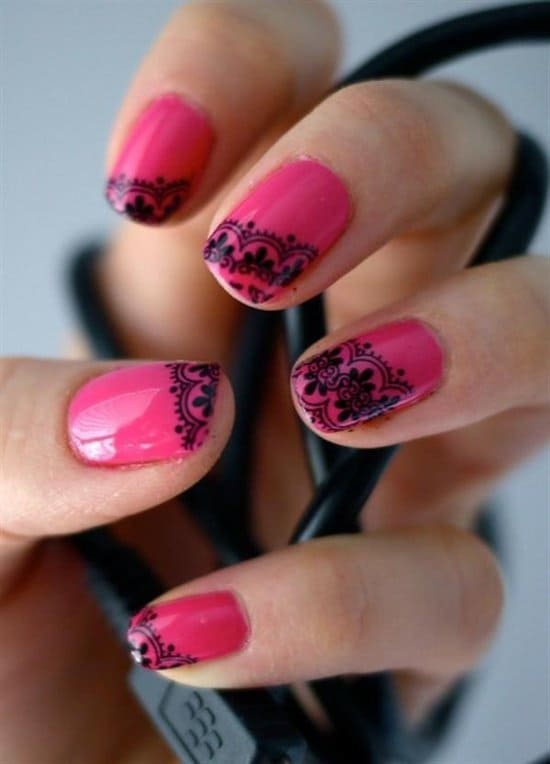 If you have lace on your dress and you would like to pair it up with a stylish pink nail style then you can always apply a black lace print on the edges of your hot pink base coated nails.
#51. Plumeria Pink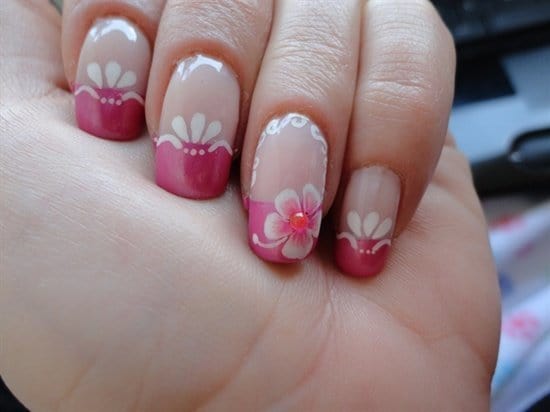 Decorate your fuschia pink french tips with Hawaiian themed decorations. Start with a plumeria flower on your accent nail and scribble some other shapes to life on the other nails.
#52. Ombre Pink Nail Art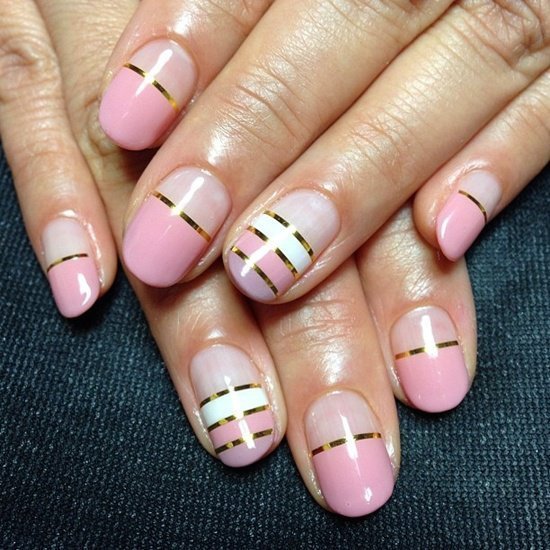 This is a wonderful choice for women who want a respectful image at work while they still can look beautiful and discrete.
Pick out several shades of pink to form a pink palette, you can from a bright shades palette from rose, flamingo. crepe, lemonade, and blush pink hues or you can go for one with flashy shades from a punch, fuschia, magenta, hot pink, bubblegum….
The softer the colors the more sensitive the image you reflect. Use gold metal strips between the shades.
#53. Pink Acrylic Nails with Studs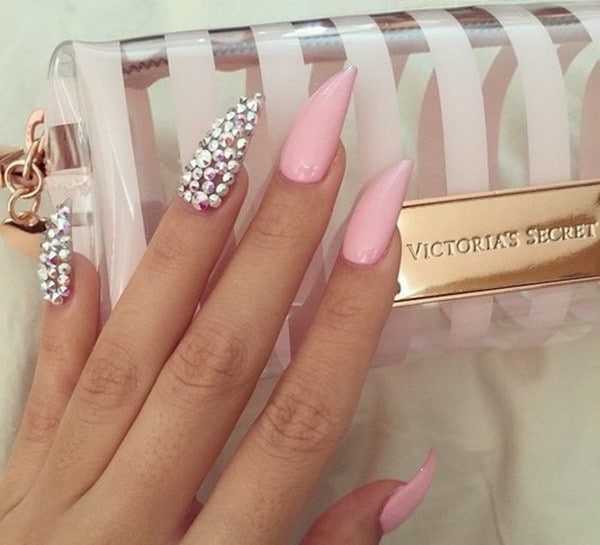 This one is for all of you girls who lack steady hands for drawing and doodling shapes, all these design needs are freestyle sticking silver studs on.
Pick out two of your favorite nails and glue away! Or if your nails are not long enough you can always use acrylic or fake nails instead.
#54. Hot In Pink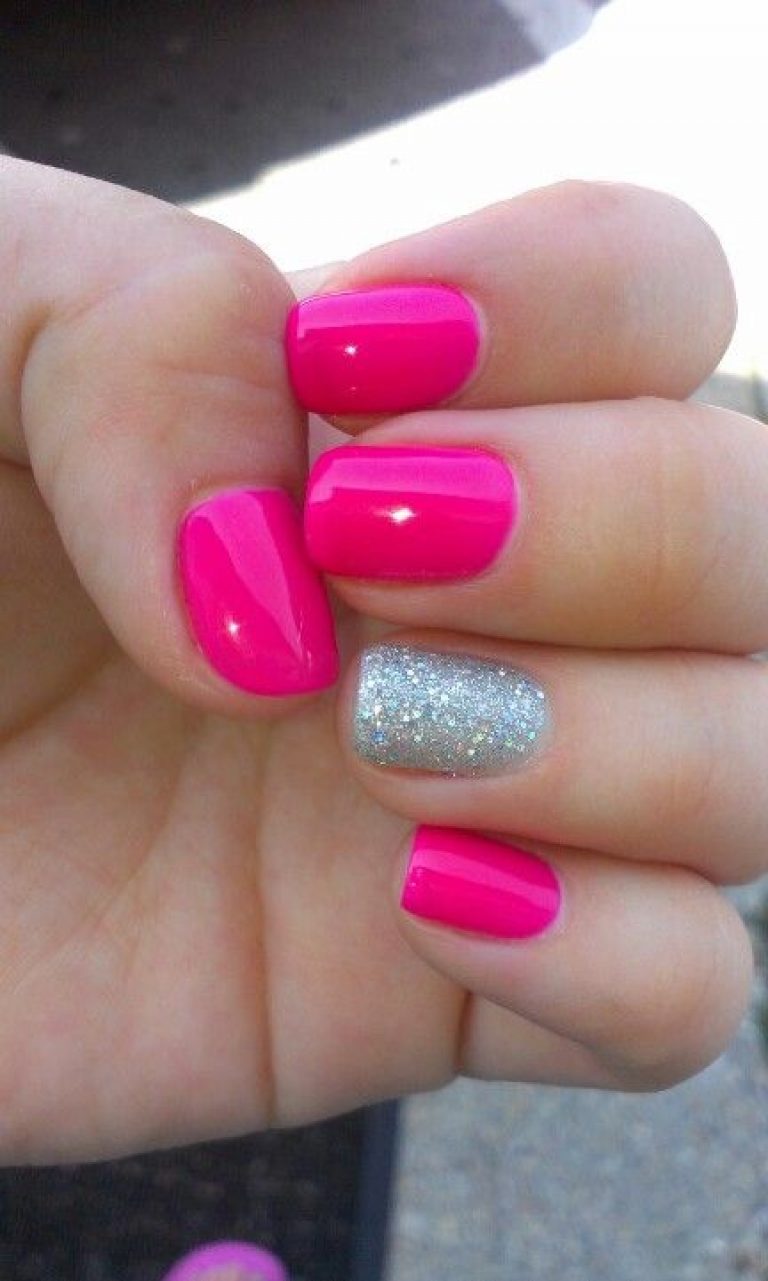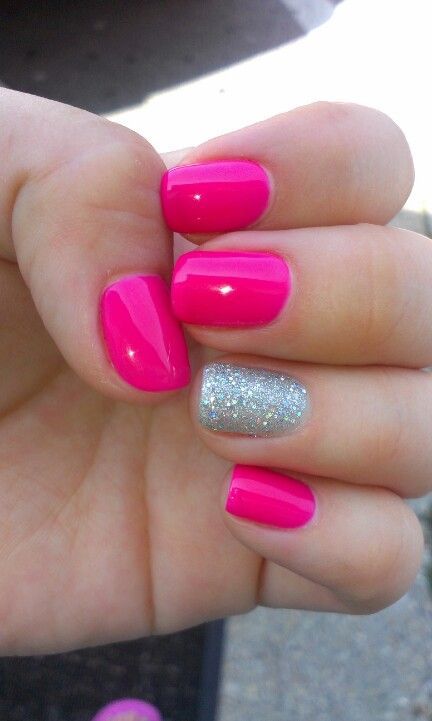 Easy Peasy-Bo-Beauty is what this above design most popular for. It's easy and effortless to put on yet it is a really good one for celebratory events or would just compliment your pink outfit perfectly.
It is great for all those who work part-time and study with the time left so they are too busy to take full care of their beauty.
#55. Gradient & Glossy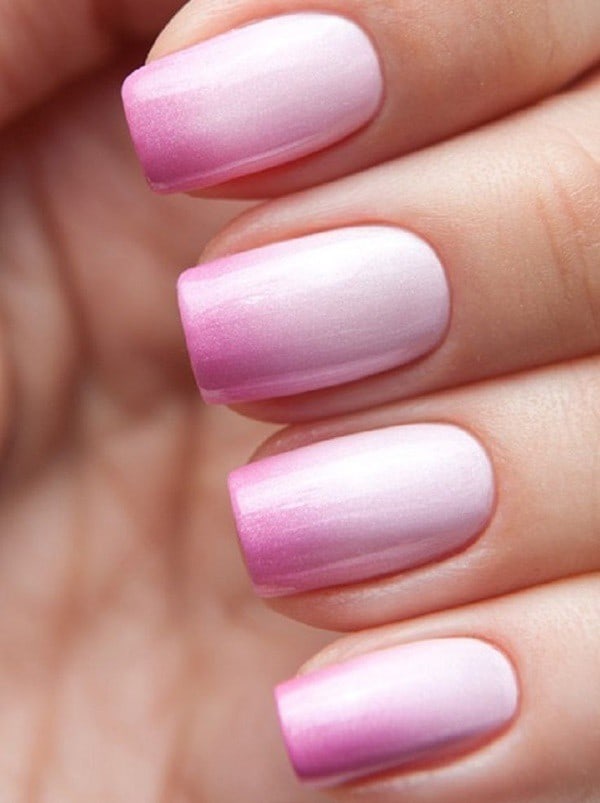 Mix up 2 shades of pink in one gradient pink nail design and look as sweet, thoughtful, and caring as ever.
#56. Ballet Pink Nails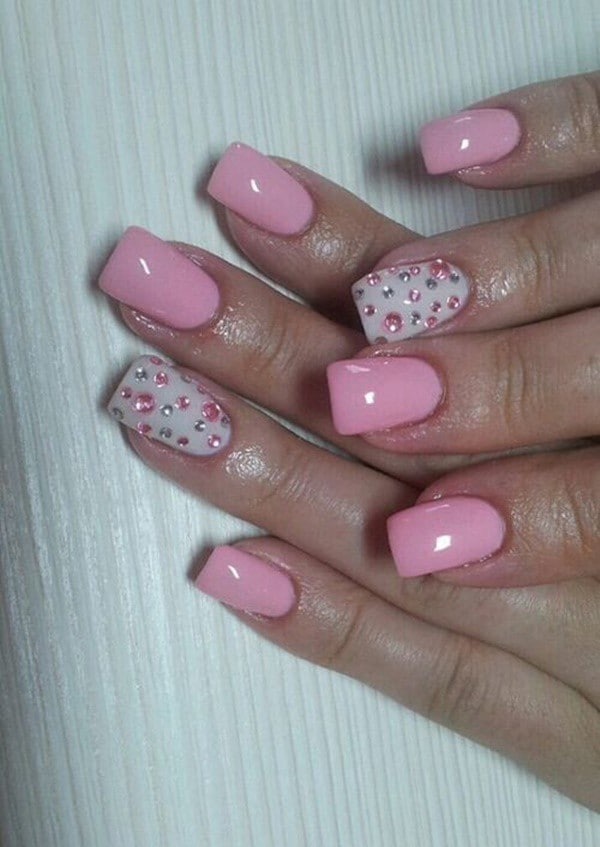 Be as graceful as a ballerina and as cute and useful as her slipper with this amazing shade of pink as a base coat for your nails. Accent nails can be white base coated to bring out the pink and silver strass.
#57. Crepe Pink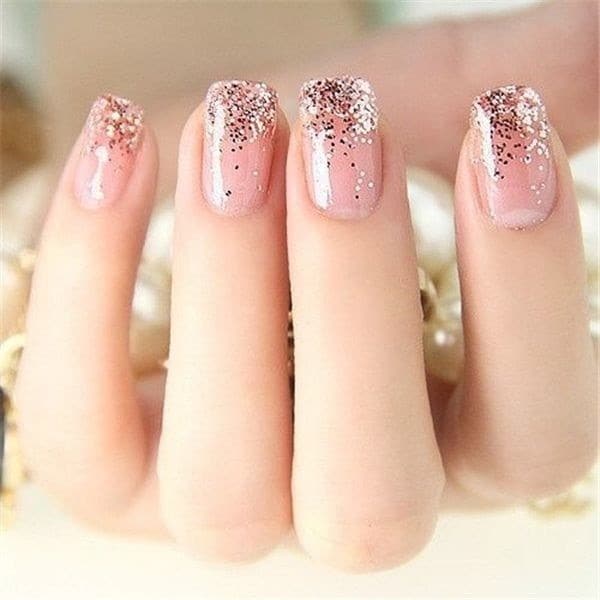 Crepes don't only make a healthy breakfast, they also provide us with a pink shade to be extracted from them and used in our daily fashion trends with glitter they make a stylish combination.
#58. Flamingo Pink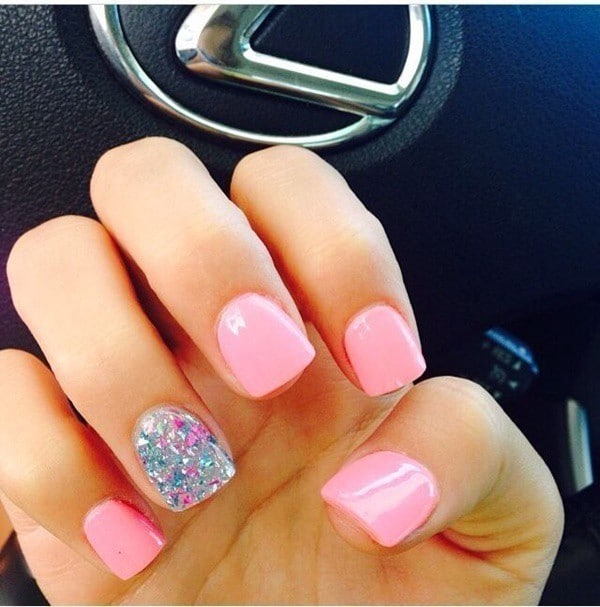 Flamingos are delicate animals that are famous for their grace and lightness. They definitely symbolize the sensitivity of every female and encourage every male to think about her in a special way.
#59. Coral Pink Nails

This is the shade of pink that is very similar to skin color. It is glamorous and the best part is that it works for all outfits of every attire category and thus can be worn everywhere at any time!!
#60. Just Pink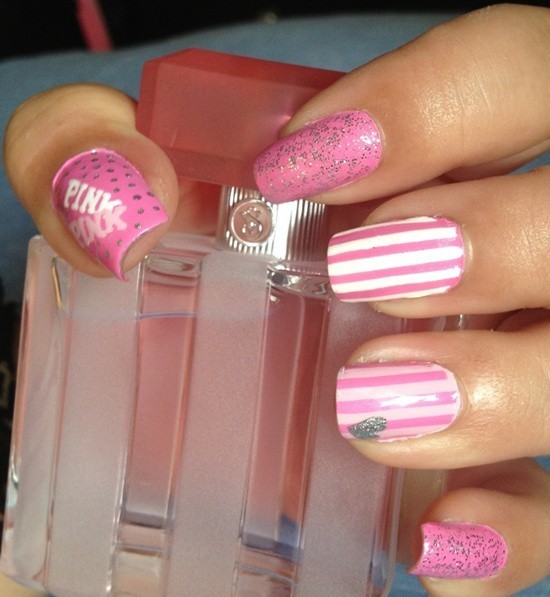 This year's trend is all about clashing patterns. You can employ one pattern or why choose when they all look so fabulous right? Apply them all and take the positive aspect from each and every one of them!
Polka dots, stripes, stickers, prints, glitter varnish or whatever you choose to apply everything looks better in pink!
#61. Light Pink Nails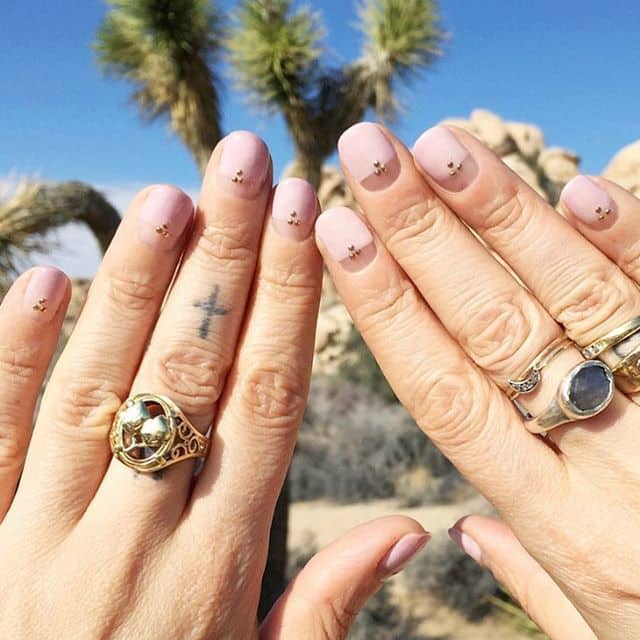 It is said that life is really simple but we insist on making it complicated. That's true because in human nature we tend to make everything seem too complex instead of thinking of it in a simpler way. Be simple yet stylish with this great pink nail design!
#62. Cerise Pink Tip Nails
Leaving a part of the nail unpainted draws a sense of mystery and attention to it. Go with cerise pink french tips and add golden details on the accent nail to break the ice.
#63. Scrambled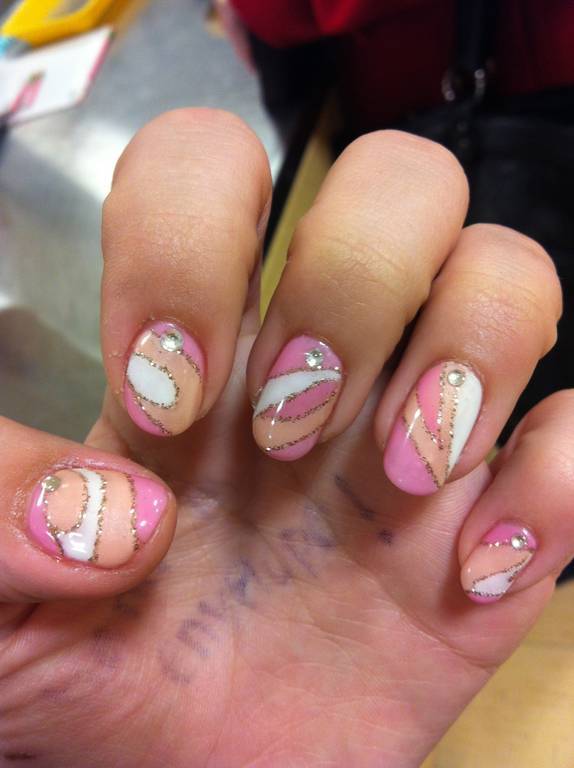 Choose any two other recessive colors that you would like to share the responsibility with the pink color to make you look trendy and they scramble them all together randomly to get the result you want!
#64. Pink Gel Nails
Being the sweet side of red, pink is a romantic color that secretly longs for an intimate relationship with their one and only. They are sweet and tender it's hard for them to show it directly so they tend to seek other ways to drop hints.
And what better way to do that than a lovely pink nail art that serves best as your helper in need? Pick out a letter for each nail and spell the word "LOVE" while your thumb keeps the heart shape safe and sound ready for whenever the question pops up!
#65. Leopard Pink Print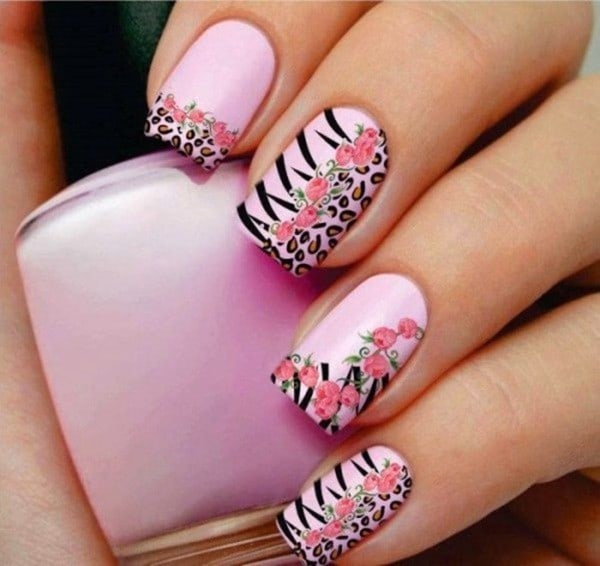 Animal prints have never looked so exotic and out of this world in this pristine petal pink. And since this shade is named after flower petals why not get inspired and combine animal print with floral patterns to create an exceptional art?
#66. Pink and Red Nail Art
French tips are so last season. Now you can improvise and use a basketweave pattern, silver lining glitter varnish, and a cute hand drew a red heart shape on the inside and make the love flow.
#67. Crystal Art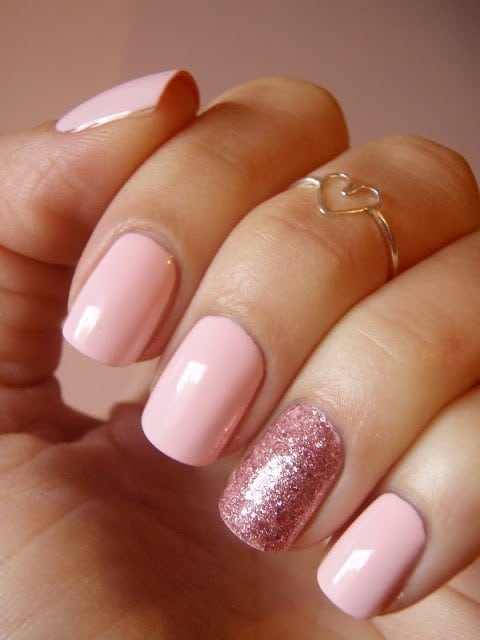 Shine bright like a crystal with this bright hue of rose reflection pink. Red roses symbolize love but pink roses symbolize infinite compassion and care. Be the pink rose!
#68. Butterfly Fly Away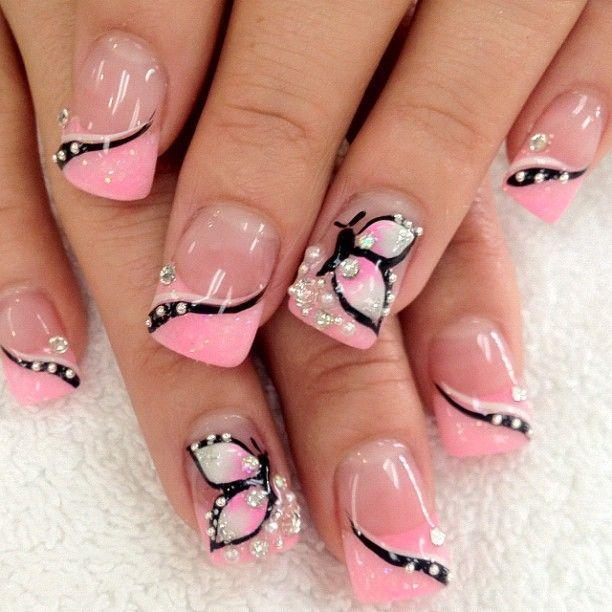 Perhaps the best french discovery has been the discovery of the great french tips! It has been popular since ever and it keeps growing widely until is spread all over the world!
It is a scheme you can wear for all kinds of events depending on the decals and colors used of course. The above sample is for a butterfly themed french tips that are great to welcome spring with!
#69. Neon Pink & Black Tips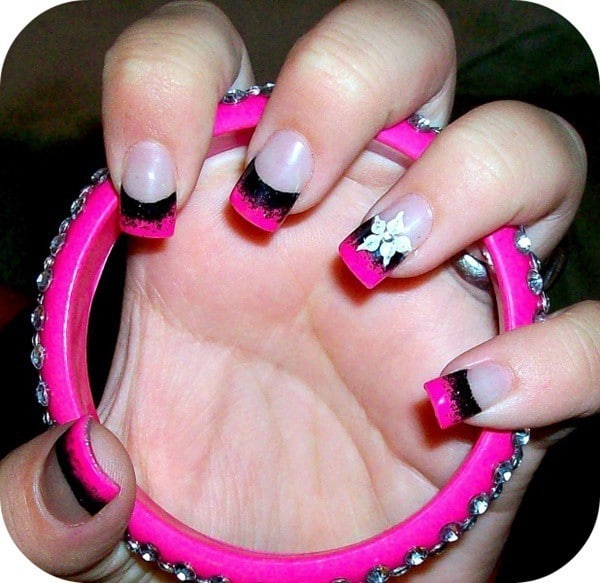 If you're a hard rock and roll fan or you simply love the metal style then this might be the right style for you with black gothic color and the neon shade of pink that glows in the dark and works great as a manicure you can wear to a night concert!
#70. Pink Stiletto Nails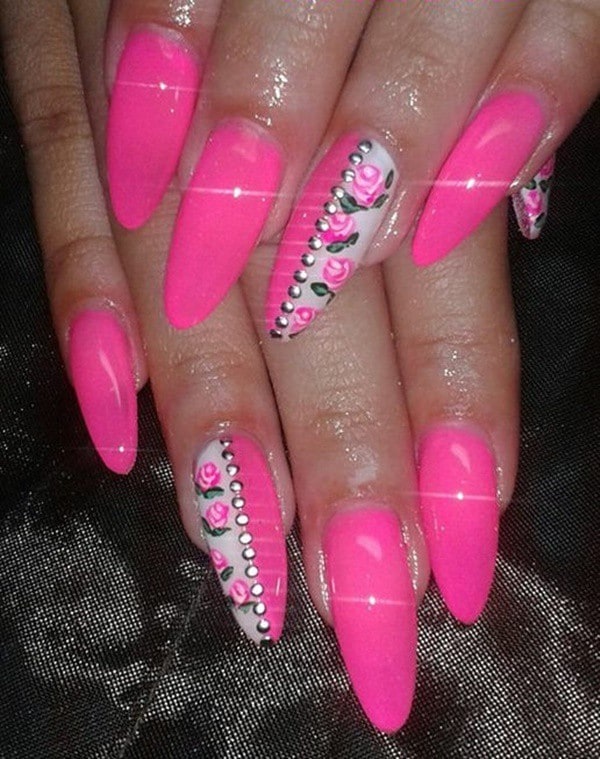 Tall nails make you look sharp and harder to get. Hot pink roses on the accent nail and a column of details are all you need.
#71. Pink Square Nails
Polka dots, zebra, double stripes and pretty little bowties make a pretty pinkish combination for every girlish trend out there!
#72. Pastel Pink Nails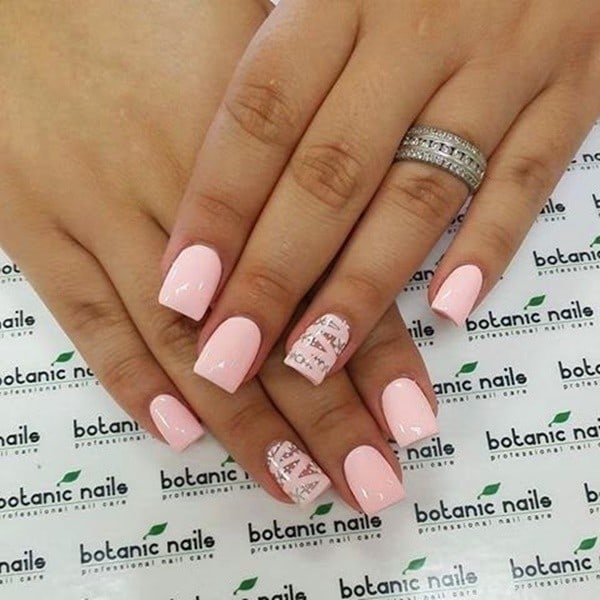 Zig zag accent nail with swan lake pink shade is classy as ever! They go really well with a pink pajama party and with a formal dress you would wear for a cocktail party or a reunion with your all-time friends.
#73. Pink and White Nails

Do you have a new sweetheart but you really can't find a way to impress them and make them linger to you so tight they would never want to leave?
Try this intimate sweetheart rose shade of pink with the black and white polka-dotted accent nail surrounding your heart that you are helplessly giving him no strings attached.
#74. Hope In Nails

Maybe I'll never be able to love someone after him. That's the kind of unhealthy thoughts you'll have in your head after every heartbreak and that's what you would say after you've been hurt so deeply you don't think you can bear the pain another time.
But as girls, we need to show that even though we are sensitive creatures, we can be as strong as the male race if we wanted to (or at least act strongly). So pull yourself together and paint a nail art full of hope and joy!
#75. Chiffon Rose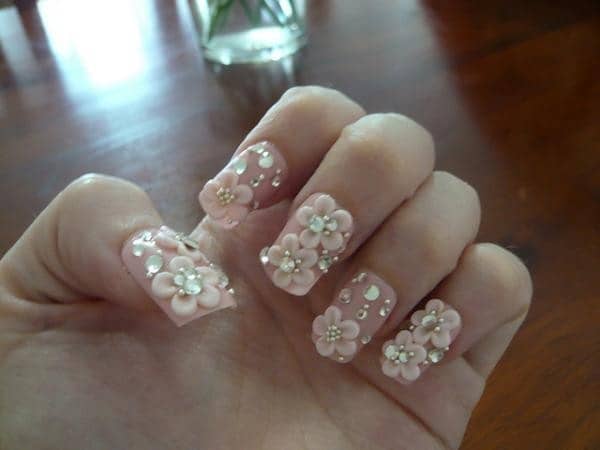 What's more feminine than a nail art style that combines both beautiful flowers and a bright pink hue? If you're going for a girly girl look then this might be the one for you.
#76. Melon Mania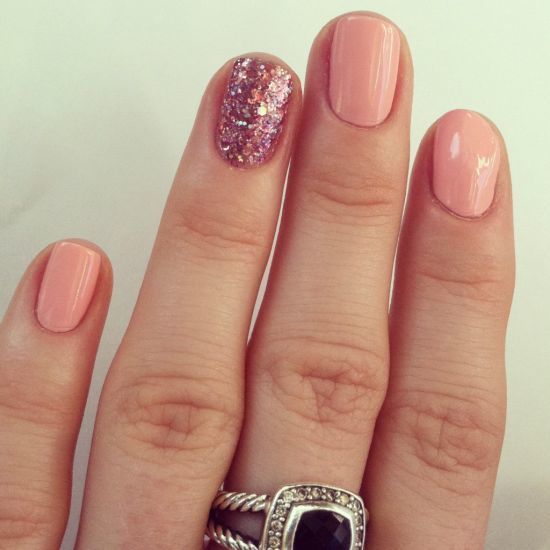 Aren't you just in love with the watermelon pink shade? Watermelons are way more than delicious summer fruits, they are a great source of nail polish colors and that's what we intend to take advantage of.
#77. Black Eyed Nails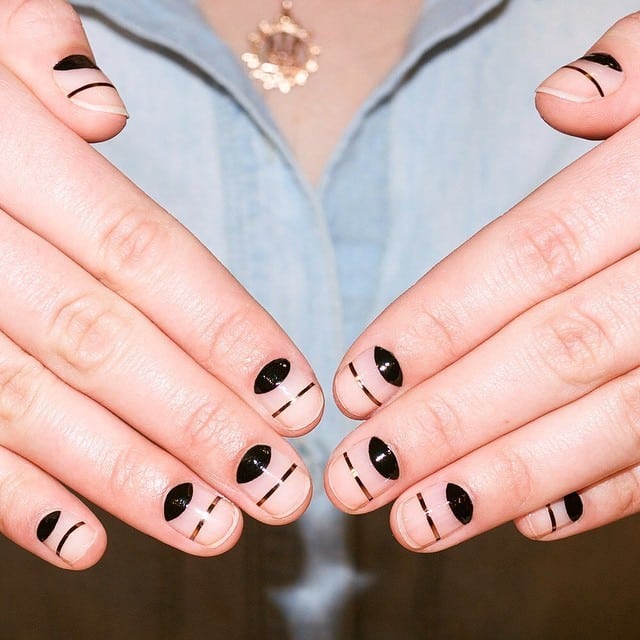 Tell everyone that you don't get fooled easily because you have been betrayed so many times when you tried to be sensitive and delicate like the pink color with this glamorous pink nail design!
#78. Swimming In Chocolate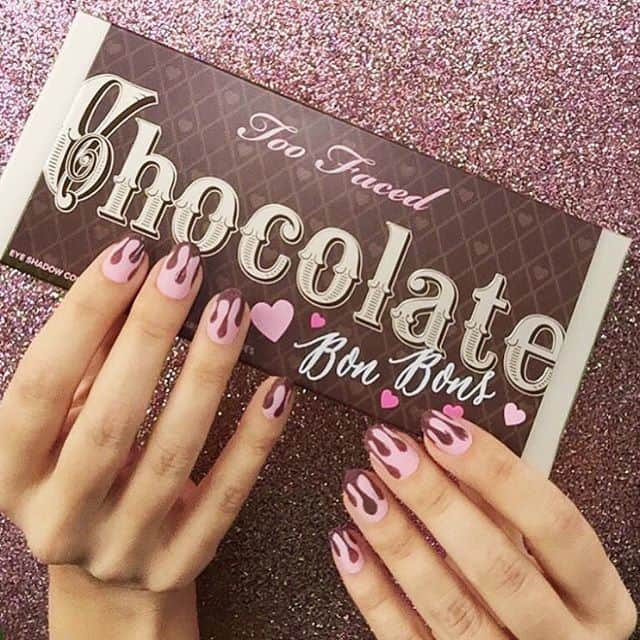 Chocolate: Every girl's weakness! Dive in the chocolate fountain and dip your pink nail tips in it to get a creative and one of a kind nail design that is just the right selection of all of you foodies out there! Bon appetite!
#79. Chevron & Glitter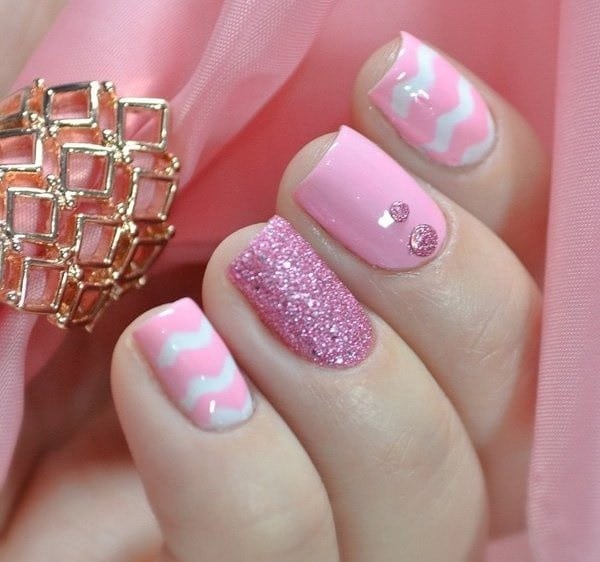 Pink, pink, pink, and more and more pink! Whether it's glitter or chevron or matte schemes they only look appealing to us girls in pink and pink ONLY!
#80. Magenta Zebra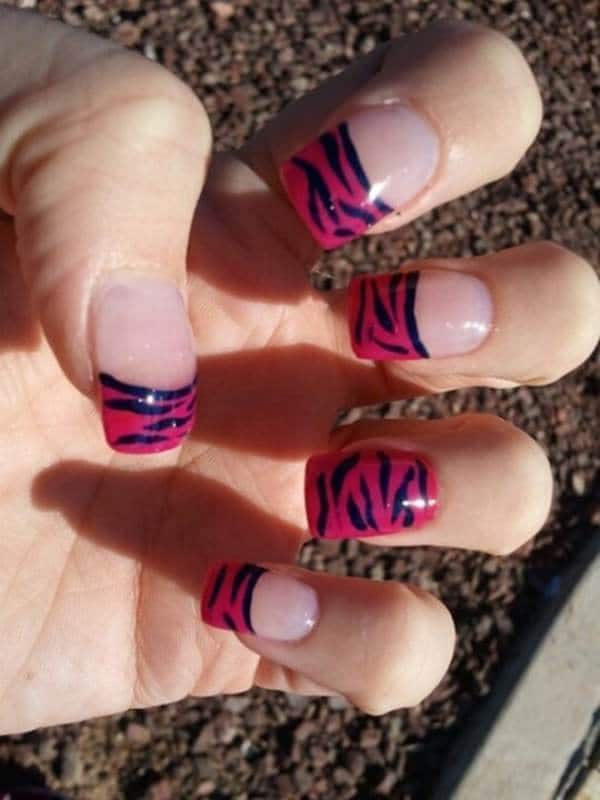 The zebra texture is adored by all fashionistas out there! They just love how an animal print can be so provocative and endearing! Whether it's used as a base coat or for french tips it always looks as sexy as ever!
#81. Louis Vuitton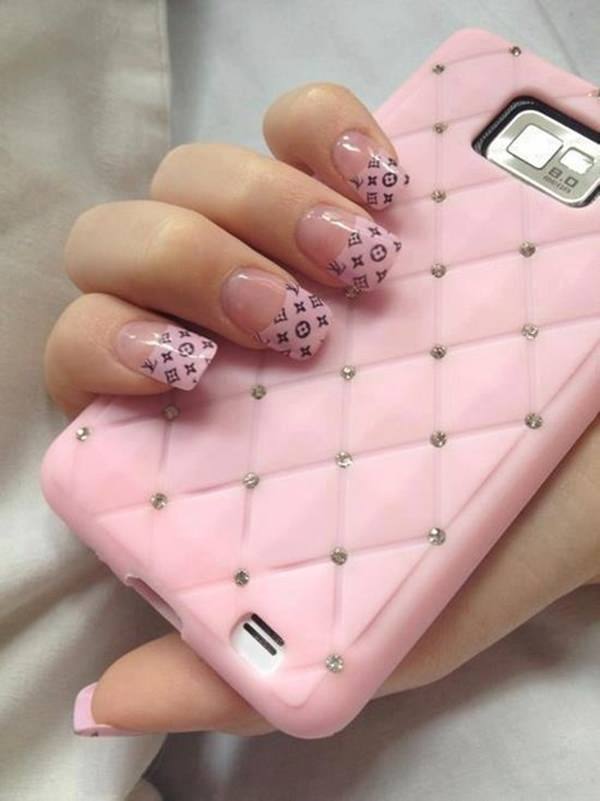 Every girl looks pretty in pink, but in Louis Vuitton pattern she doesn't only look cute she looks the style icon of the year!
#82. Pink & Black Nail Contrast
Using contrasting colors like black and pink is always a great idea to draw attention to yourself especially if you are satisfied and confident enough with the way you look! They imply a brave impression.
#83. Snake Skin Scheme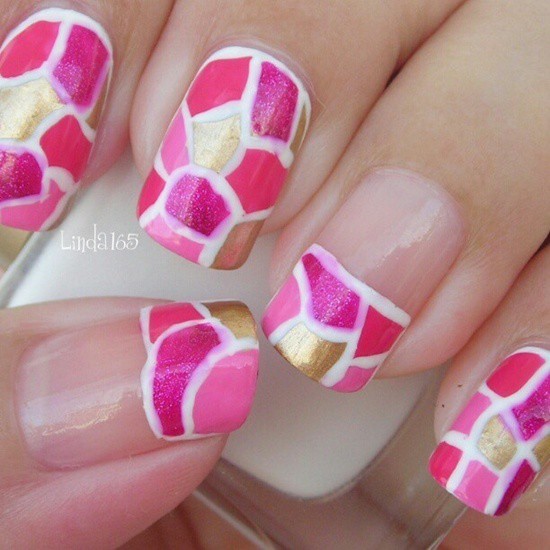 Everybody fears the snake but values it's skin. It's the kind of remedy you would want as an asset to your personal image.
#84. Scribble Away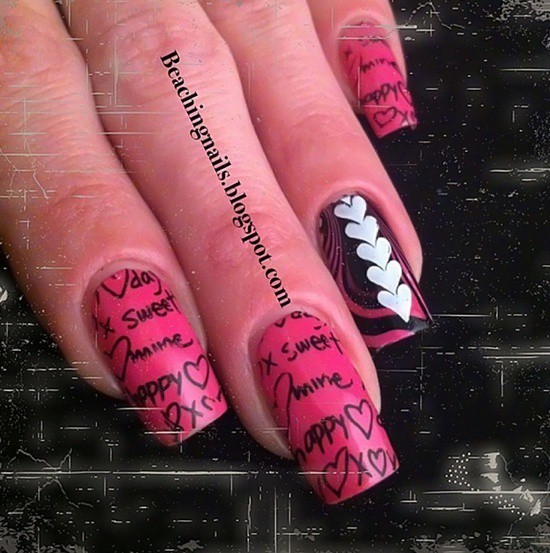 If you're such a busy girl with a tight schedule and could use every inch of space to write down notes and reminders during the day don't forget that you can always use your nail beds as your personal notepad if you run out of space!
Cute Nail Art Designs That'll Make You Look Adorable
#85. Pink With Leopard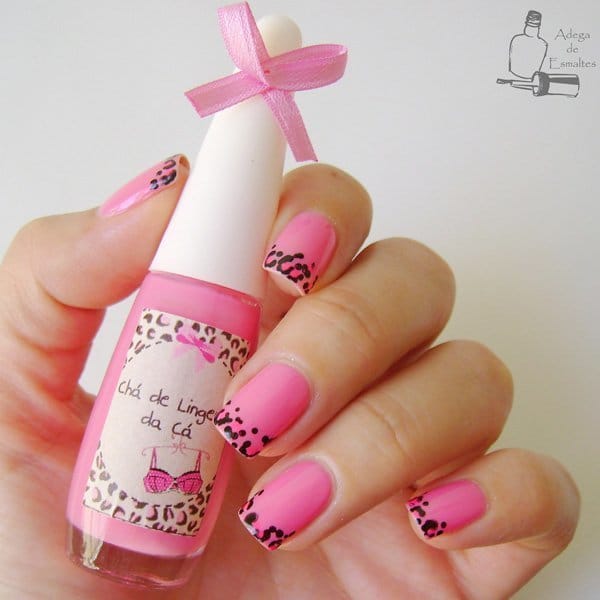 Leopard french tips in an upbeat shade make you more optimistic and clear full. use the black nail polish to draw the shape surrounding the pink dots.
Have a Look at Some More Designs
If you have that feeling inside of you telling you that pink is the color for you, then don't think twice about it and get yourself that pink nail art that you deserve! Each shade of pink conveys a different meaning, all of which have one single similarity.
They all shout out feminine at the top of their lungs. Your job is to be wise and pick out the suitable pink nail design that conveys your mood and makes your skin glow in the light!