25 Vibrant Orange Nail Designs to Capture All The Attention
Do you love orange nails? We do! It's a well-known fact that delicious juicy oranges are good for your health; boosting your immune system, enriching you with vitamin C, enhance your skin, heart.. and much more. The not so known fact is that the orange color has great emotional effects; strengthens your emotional state, reflecting joy, cheerfulness, and comforting as well. So it would be only a matter of an orange coat on your pedicured nails to transmit this excitement and joy from your soul to your look, and help you get an orange nail design to match your taste and mood.
Refreshing Orange Nail Design Ideas
What another way to create nails radiating energy and happiness other than a color that came as a combination of strong red and joyful yellow; orange. Refresh your mood with rays of sunshine on your nails with any orange shades. Here's a list of orange nail designs from the simplest to the most creative to satisfy everyone's style.
#1. Oranges & Diamond combo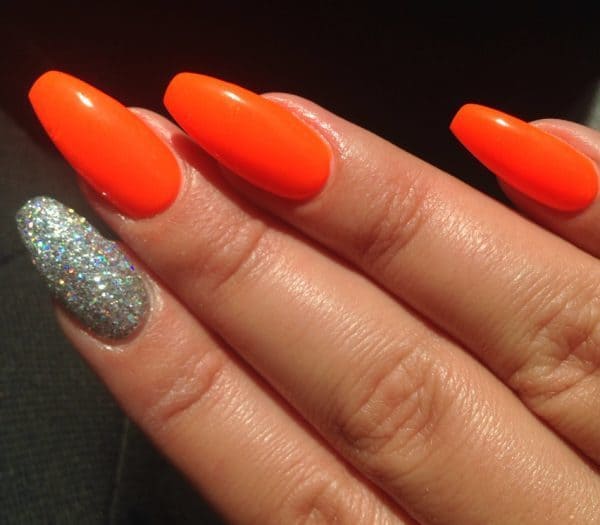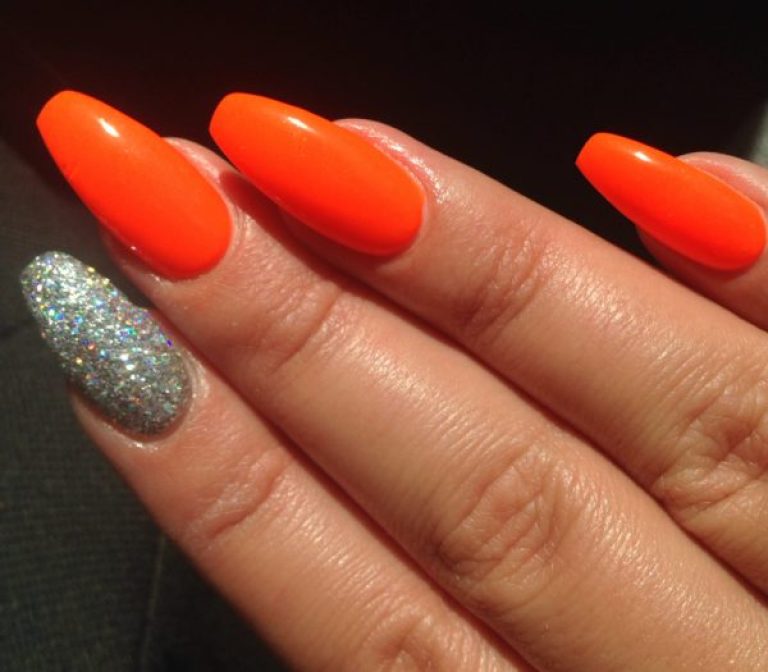 Bedazzle your simple vibrant orange nails, with a statement single diamond dressed nail.
#2. Orange Tigress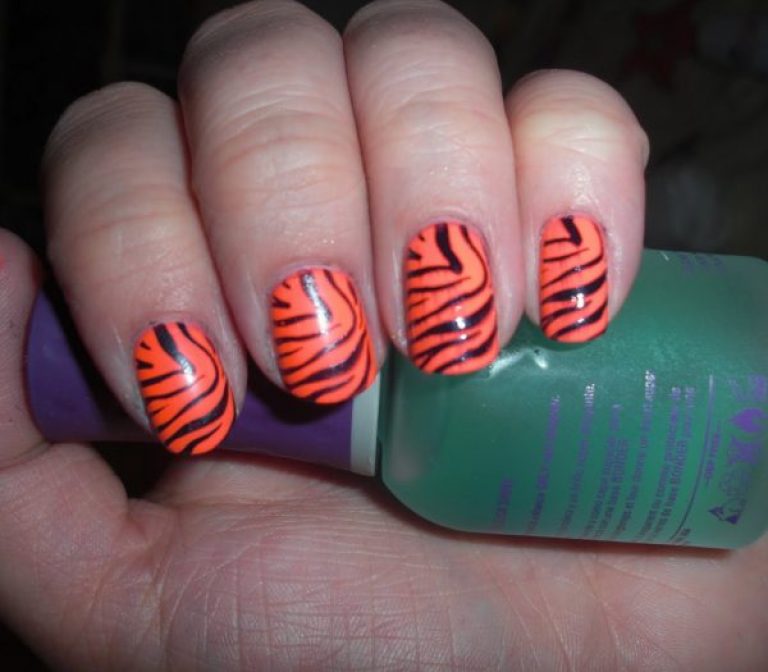 Flash back to your sweet childhood memories of "Winnie the poo" and trigger his adorable energetic friend with this leopard orange with black stripes nail design.
#3. Hawaiian Vibe

Get your nail's vacation mode on, by mimicking the traditional palm tree design we see on vacation-y shirts and shorts, above the warm island sunset background, created with merigold and orange ombre manicure.
#4. Splashing Orange

Splash the ring finger with an abstract orange flower to match the other orange nails, and that's your chance to get adorable girly short nails.
#5. Creative With Orange

Swipe your brush effortlessly and randomly on this gorgeous clean orange canvas with white and black stripes and dots.
#6. Feminine Twist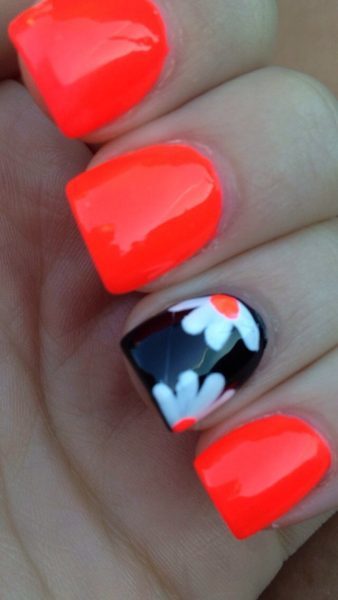 Flash your femininity on that ring finger with these white daisies with an orange center, on a black background. The vibrant shiny orange on the other nails will help match those daisies.
#7. Ginger tips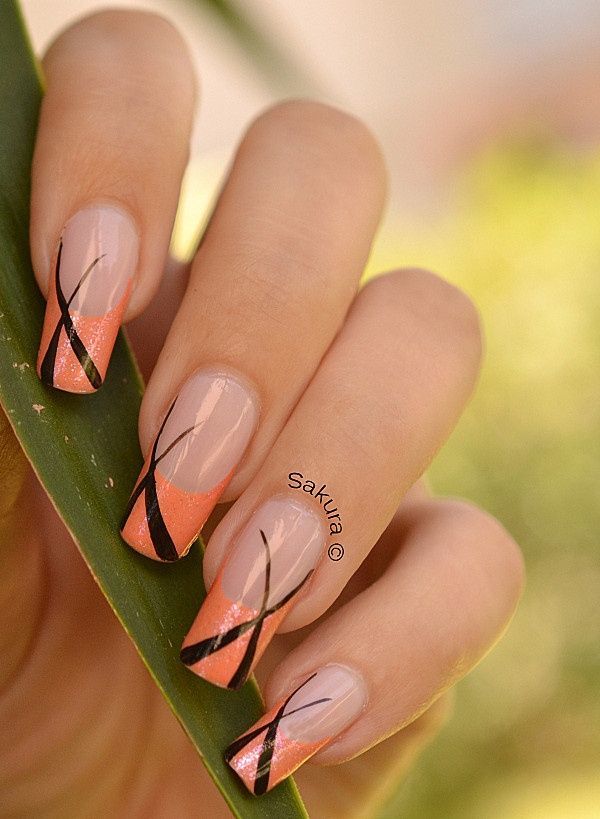 Painting your nails with solid orange requires a bold soul, however, if you're just aiming for an elegant appeal that includes your passion for orange, you can always go with ginger orange, for its calm soothing appeal. Use this color on your nail tips to create this french orange nail design.
#8. Deep and Light Orange Nails with Diamond

Well… oranges are round! Get the orange nails on round pedicured ones, with a singular silver gradient polished nail to add an elegant appeal to your cute oranges.
#9. Falling For Orange Nail Art Design
Somehow orange and autumn are always related, so it doesn't come as a shock designing your orange nails with the season's tree and its falling leaves using the warmest green, brown, and yellow colors.
#10. Simply Spooky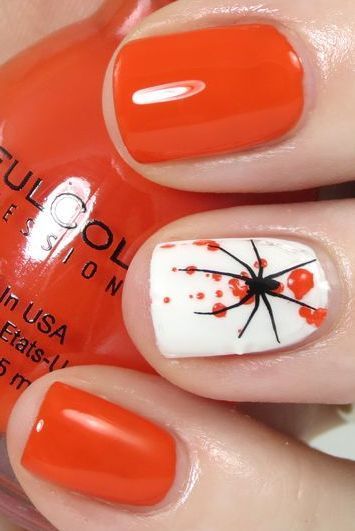 Why leave your glossy orange nails bare and basic, when you can add a spooky spider with the bloody-orange stain on a nail of your choice for a Halloween vibe, and get your nails dressed up for those parties!
#11. Creative Or Halloween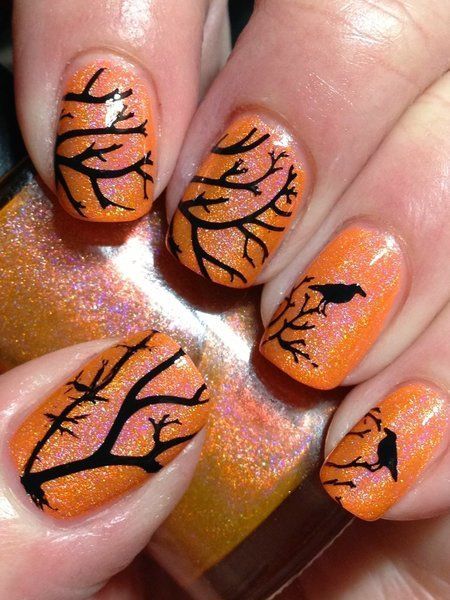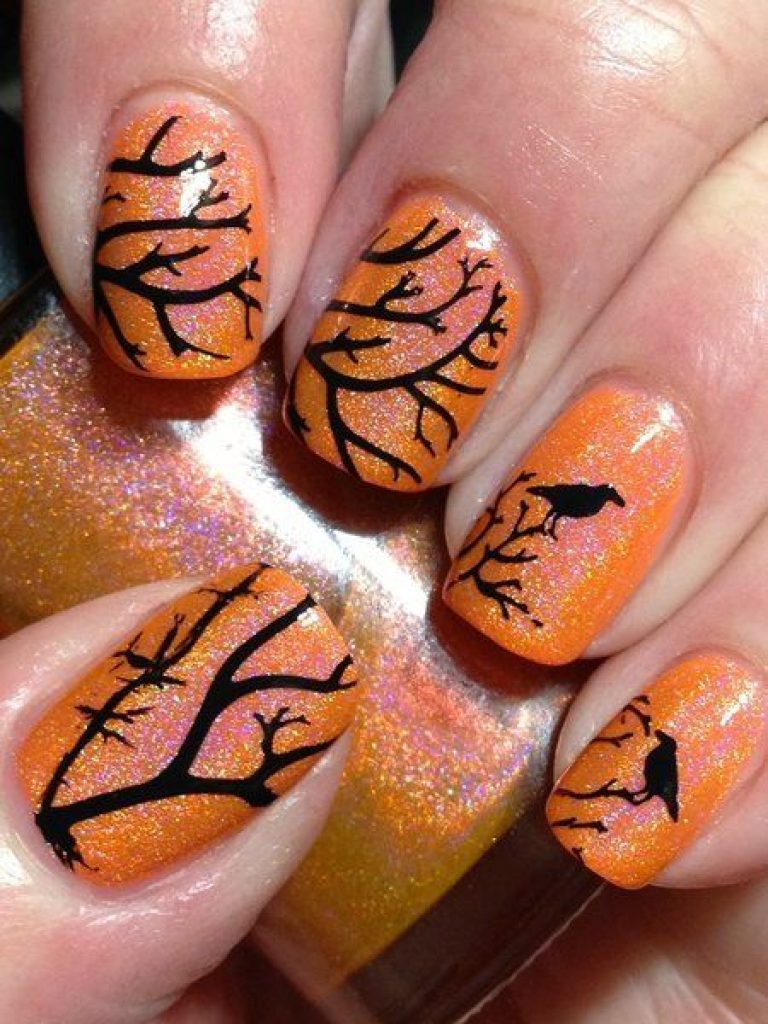 Get the whole Halloween theme on your star shiny orange sky, and paint on the traditional scary bare trees and disturbing craws using your artistic polish needle.
#12. Orange With White Nail Art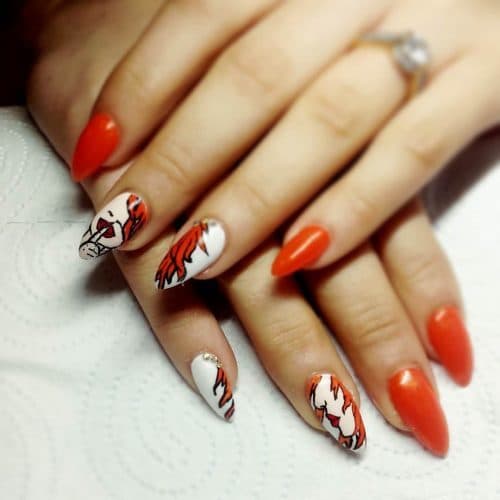 Free the graphic artist within you, and let her unleash these interesting illustrations on your matte orange stiletto nails.
#13. Perfectly matched orange
You're certainly fully dressed when your nails match your toenails… match them with basic glossy orange polish twisted with edgy gold studs for a geometric 3D final sensation.
#14. Fully Orange or Just Tipped

Another way to Upgrade your orange nail design is using glossy shimmering nail polish, either as a full coat or as French tips on transparent background with immense black and silver brushes.
#15. Costumed Orange with Black Nails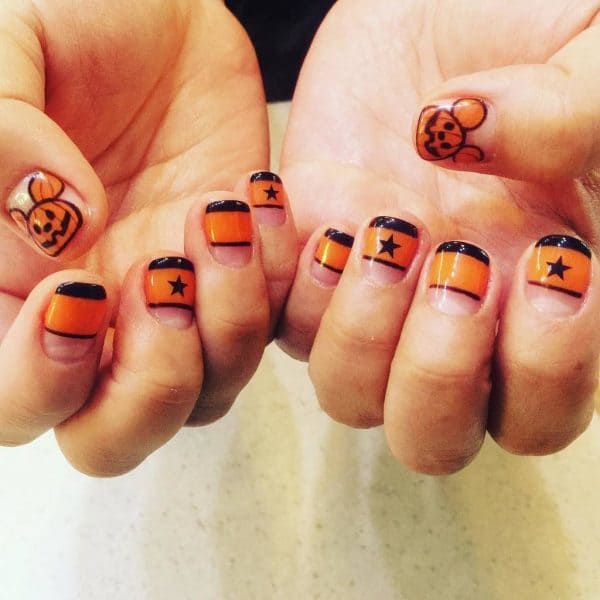 Pumpkin carving, customs, scary pranks, parties, trick or treating… Halloween is by far the most exciting and fun holiday, so this excitement will end up reaching our orange nails!
#16. Shimmering Shine Orange and Red Nails

For a full look, create a nail design to match your tanned skin. Flash your perfect summer tanned skin with not only shiny orange but shimmery polish as well, and with these simple embellishments your nails are ready and set for any extravagant occasion.
#17. Simply Just Orange!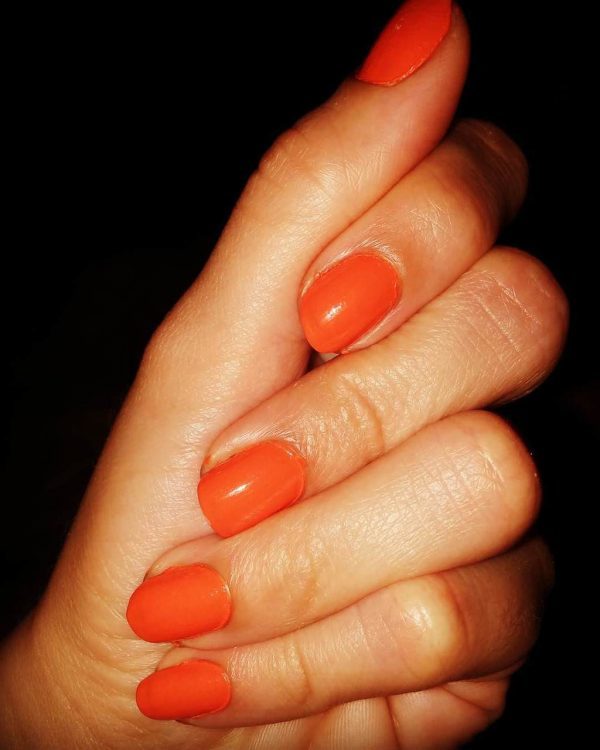 Get those oranges from the basket right down to your nails, scream your love of oranges and their color with the simplest coat of glossy orange on your cute short nails.
Blissful Red Nail Designs to Try
#18. Fashionable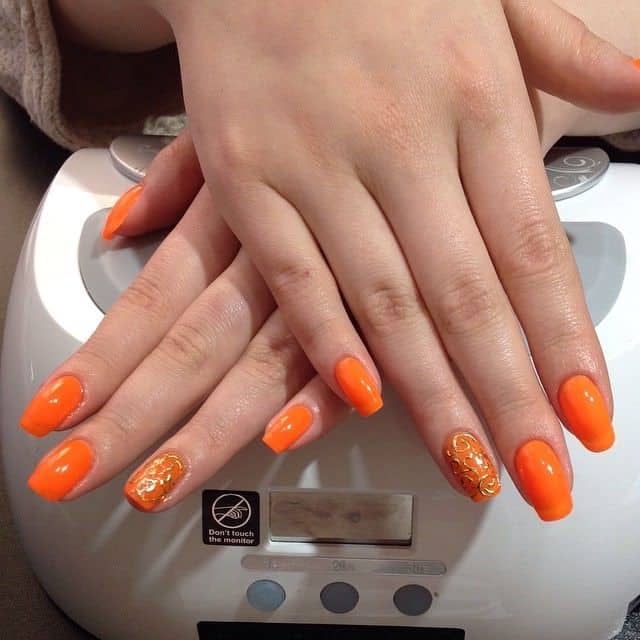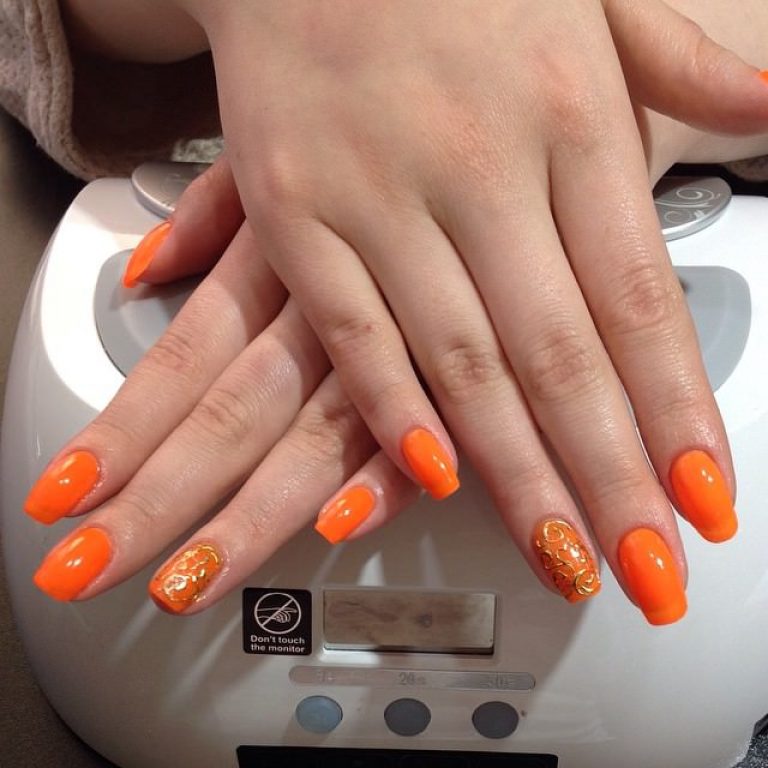 Go simple, go classy with this vivid orange style, just decorate a single nail on each hand with gold patterns channeling Italian haute couture vibes on your orange nails.
#19. Fading Orange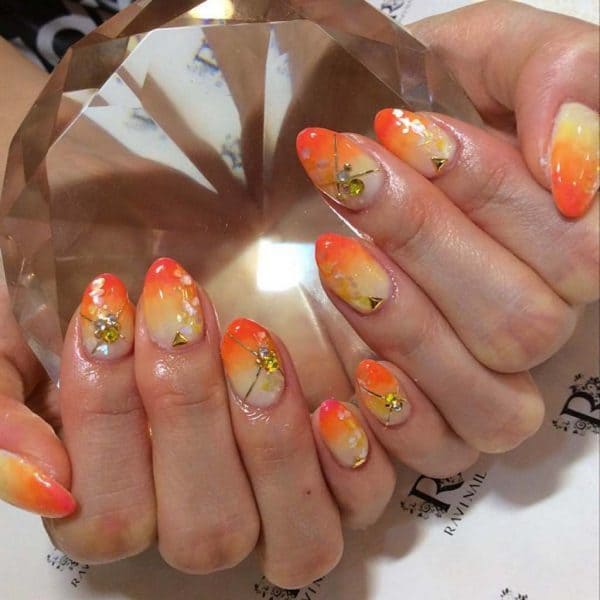 Looking for a new twist for your orange nails? Painting your nails with basic orange has great appeal, but why stick to that when you can get this edgy look by creating ombre style with degradation of cream to orange on stiletto nails, and add golden stripes and embellishments as a final decorative choice.
#20. Halloween Nails

Who said short nails aren't cool! Get your nails to match your Halloween-loving spirit with these cute fun designs on your orange nails.
#21. Spiral Black and Orange Nail Design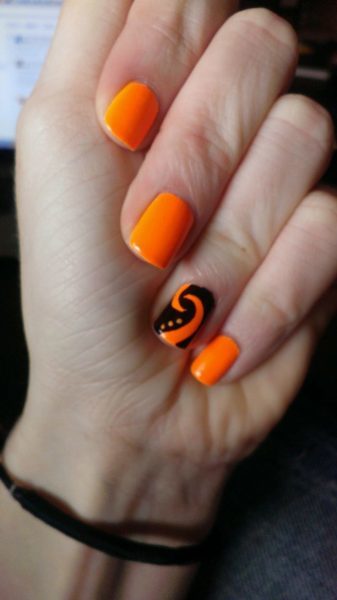 Swirling with joy? Get your orange nail design to mirror your mood and create this spiral of joy on your ring finger using your orange dipped brush on a deep black coat.
#22. Sexy In Simplicity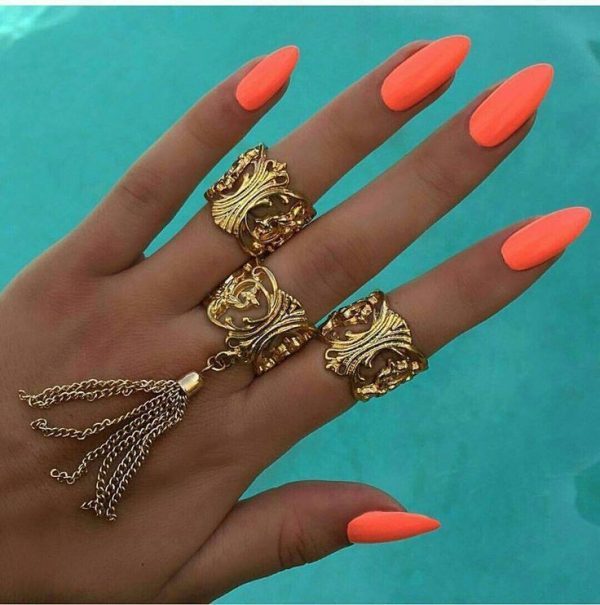 Nothing but hot orange on long stiletto nails is your answer for a seductive sexy orange nail design.
#23. Childish & Fun

No nail like another, different shade, different style.. but orange is for sure linking them all; matte carrot nail, glossy orange, stripes orange and white, and polka dots!
#24. Floral Touch
We are fun, but we are not here to play. We are elegant, but we are not afraid to take a chance… These orange nails say it all.
#25. Melon Orange Design

Glossy melon orange is your answer if you're a calm girl that cherishes simplicity, yet looking for an exciting orange nail design to boost your spirit.
Also Have a Look at These Amazing Orange Nail Designs
Orange isn't a nail polish color that you'd normally choose, but today nail design have let loose of any previous rules, do's and don'ts, and any color of the spectrum is available for your demand, any color that'll refresh your mood and style is welcomed on your nails. So don't get afraid from a simple daring pop of color to your style and create your preferred orange nail design.