You will definitely love the Disney nail designs as our childhood can recall the amazing memories around this show.
Watching your childhood shows is not only because you reminisce your childhood memories, but it's also because your childhood is, by convention, the only part of your long run that is guaranteed to be problem-free and full of innocent excitements and thrills over the littlest things.
It is the least troubling part of your life because your biggest problem would be not knowing what to dress up your barbie for a playdate with your neighbors or not being able to find your favorite channel when you get a new TV and get upset because it has started 10 minutes ago and you didn't get to sing along the theme song!
But if you're not much of a TV person yourself, you can always turn your child mode -on- by covering your nails with a Disney nail design that is linked to your best memories so you can get yourself together and cheer up!
Adorable Disney Nail Designs
Other than the whole cheering up thing, painting a Disney themed nail design will only make you look younger and cuter!
Guys love it when women seem way younger than them, makes them pump up with self-esteem because they could get a youthful girl on their side. But don't get me wrong, too much of this and you make the wrong impression that you are childish and naive.
Like everything in this world, a little or too much can be misguided and leads to unwanted results. But don't worry, all you have to do is pick one of the best Disney nail art designs in the list below and you're good to go!
PS. All of these designs work for young girls and no need to worry about the part above.
1. Acrylic Disney Nails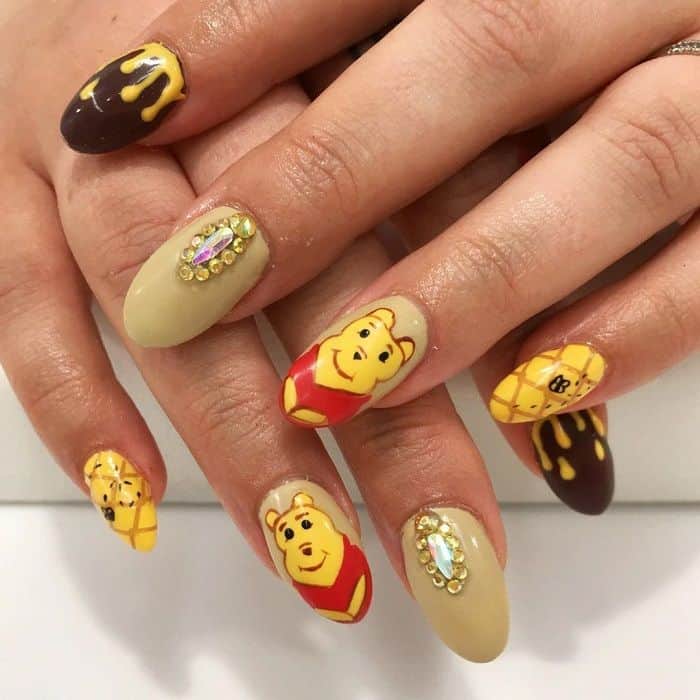 2. Disney Moana Nails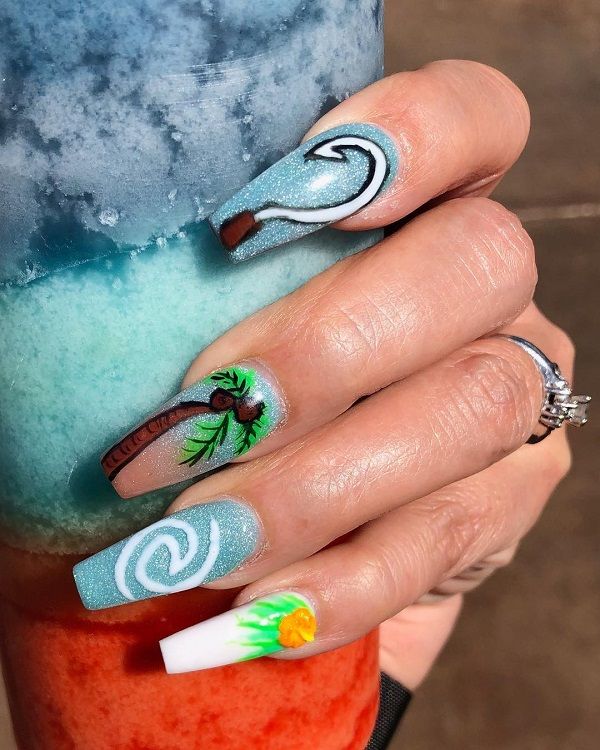 3. Disney Nail Stickers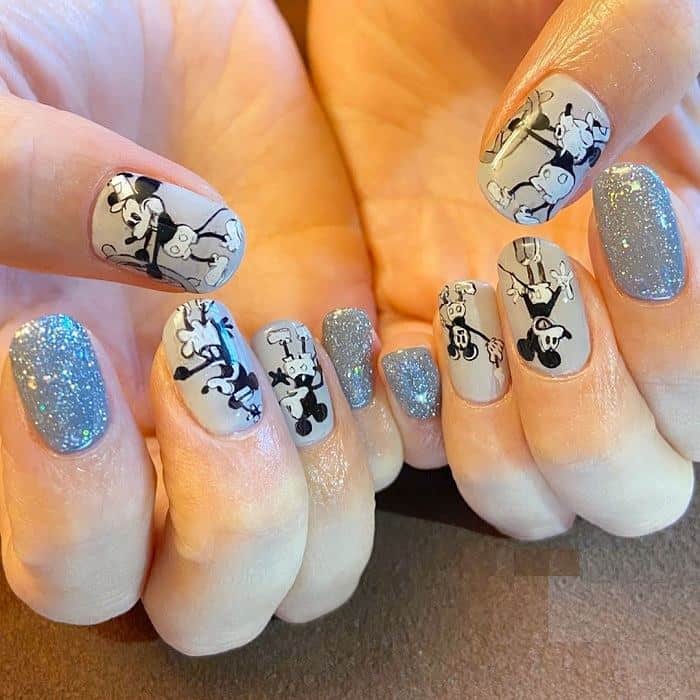 4. Disney Inspired Halloween Nails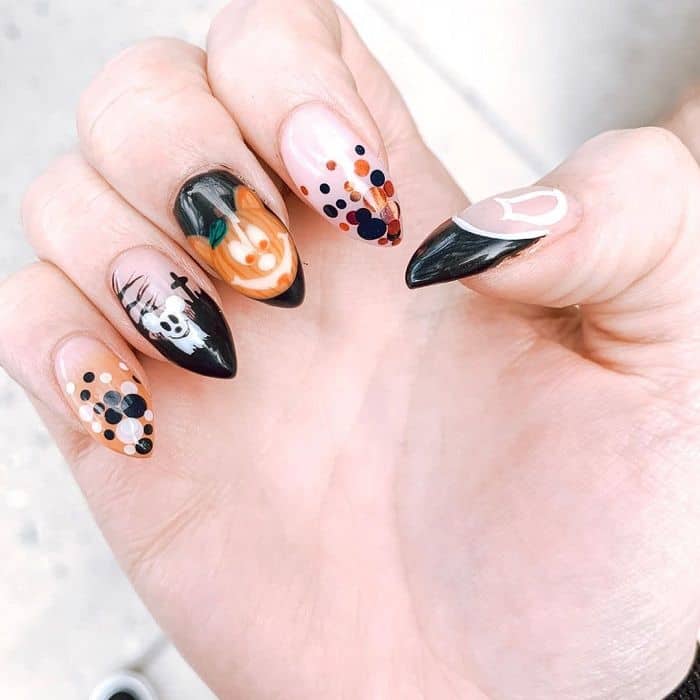 5. Disney Red Nail Art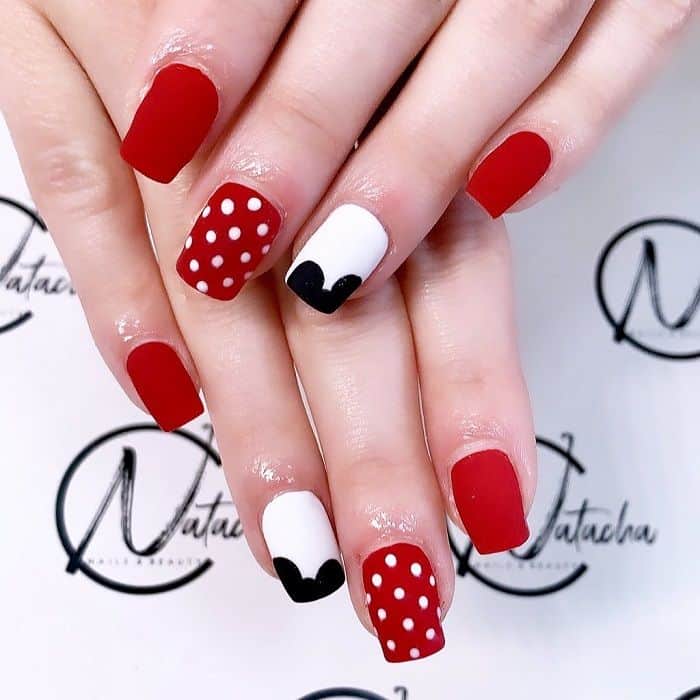 6. Disney Princess Nails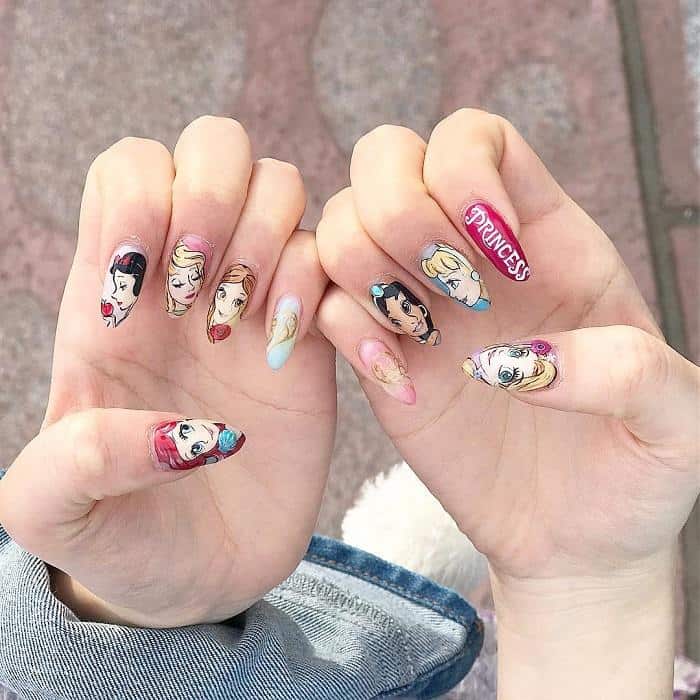 7. Disney Nails for Christmas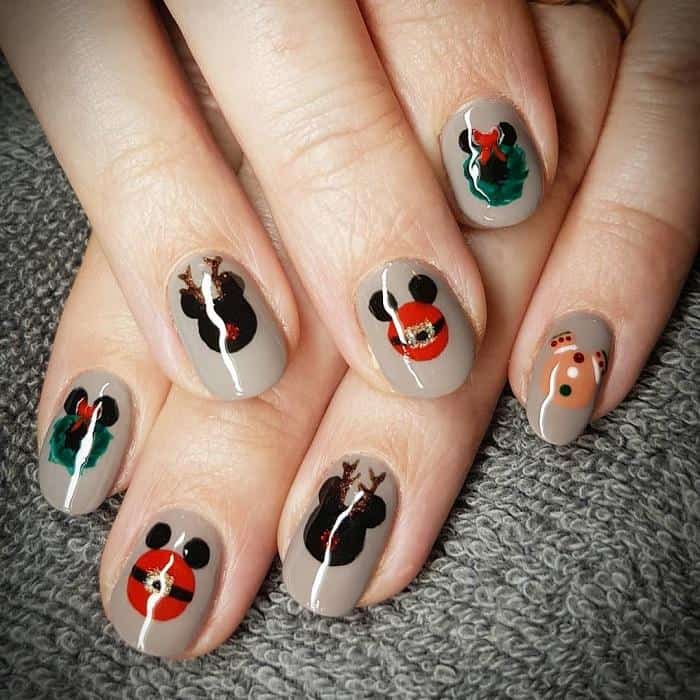 8. Disney Gel Nails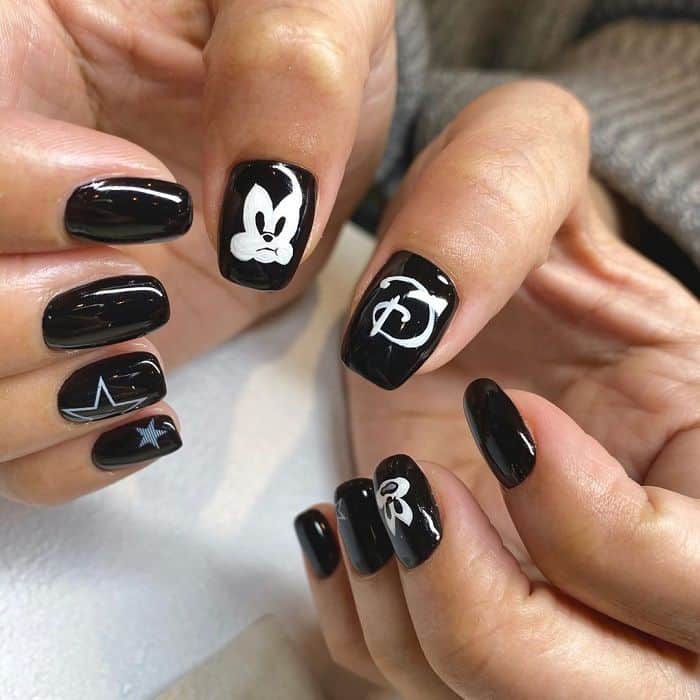 9. Disney Cruise Nails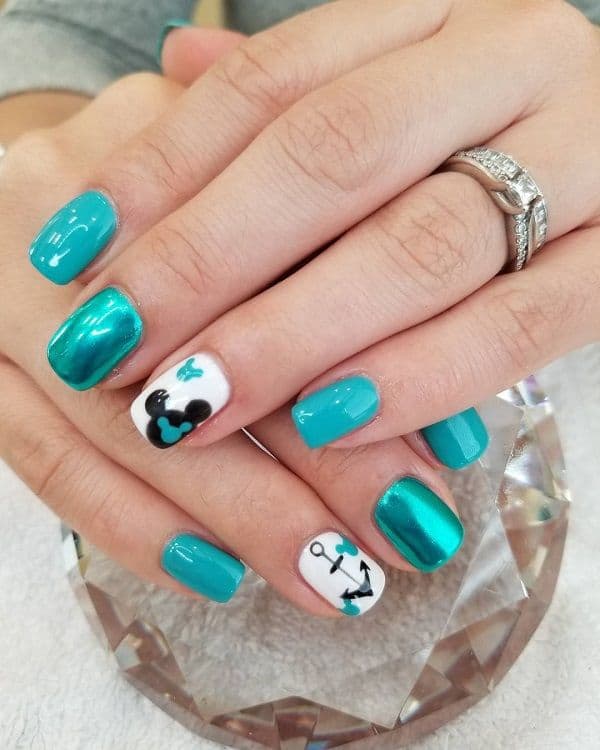 10. Disney Nail Stamps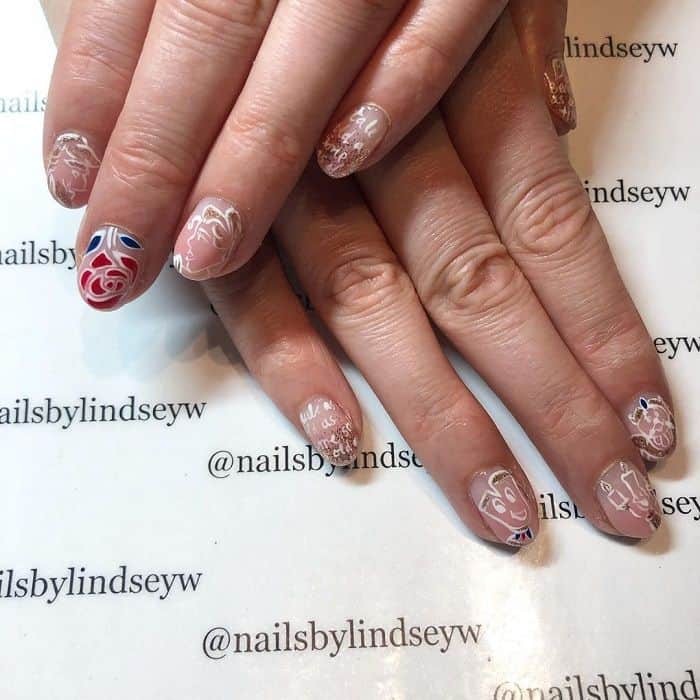 11. Disney Villain Nails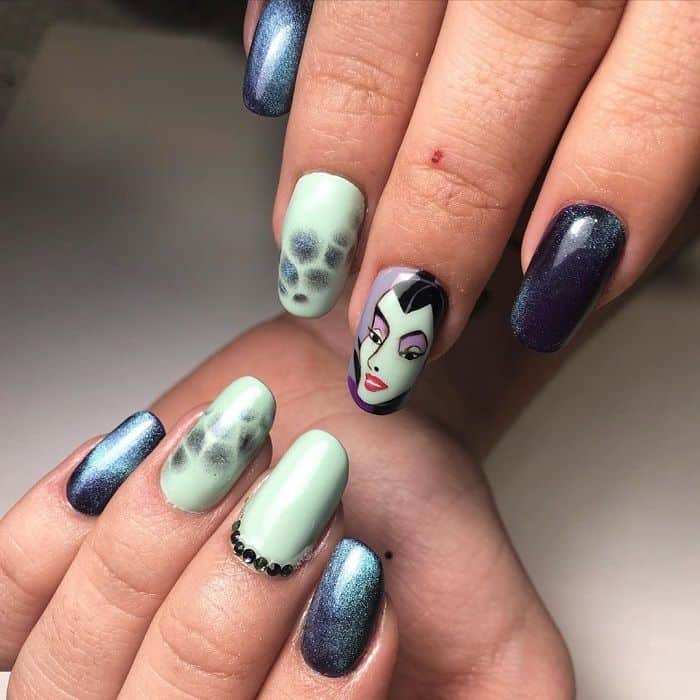 12. Disney Nails with Glitter
13. Pink Disney Nails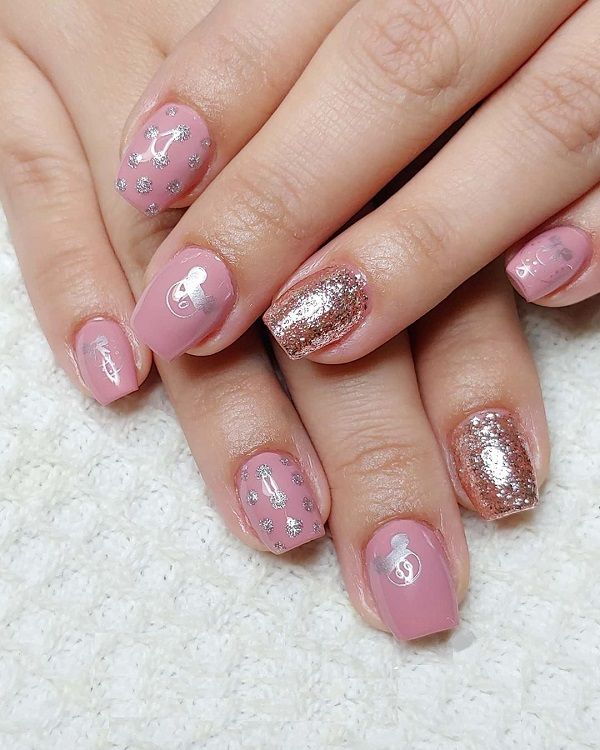 14. Disney Coco Nails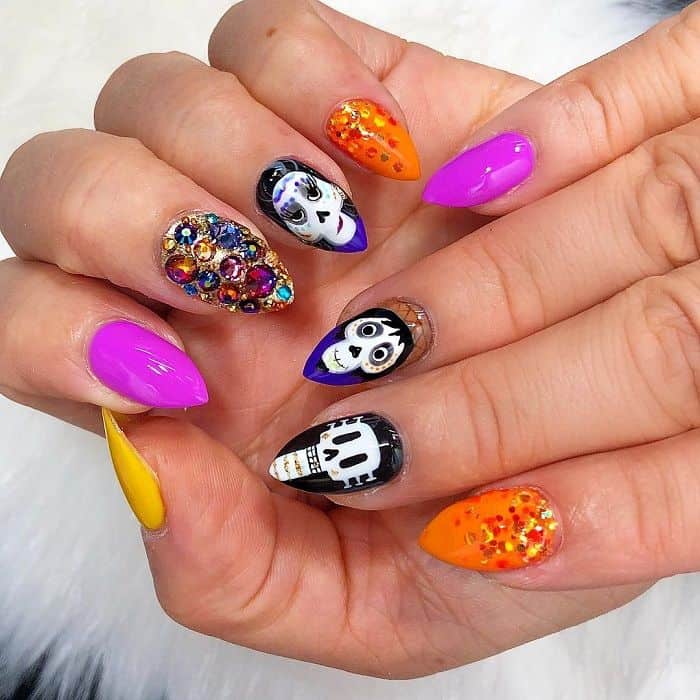 15. Disney Stitch Nails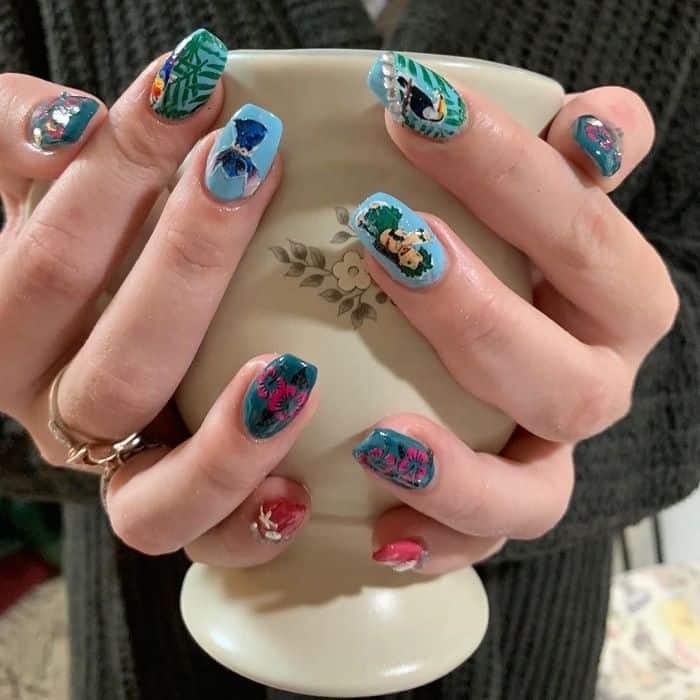 16. Disney 3d Nail Art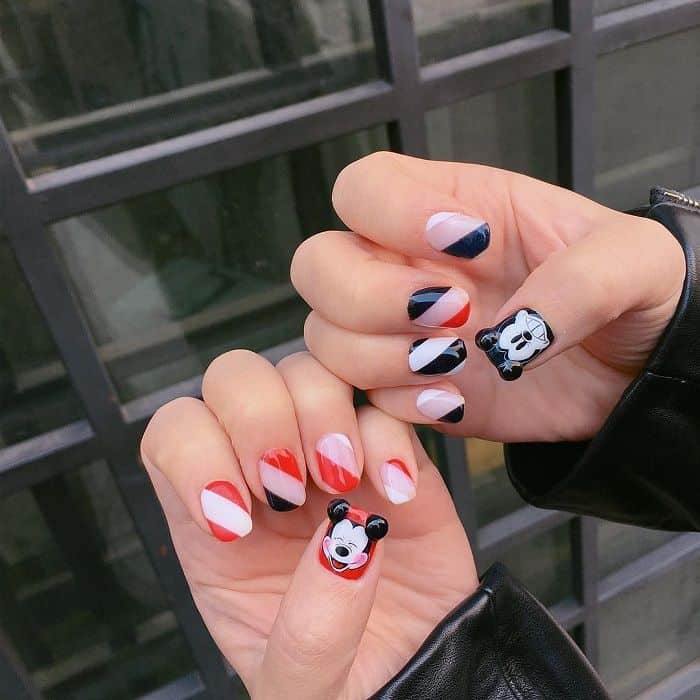 17. Disney Aladin Nail Art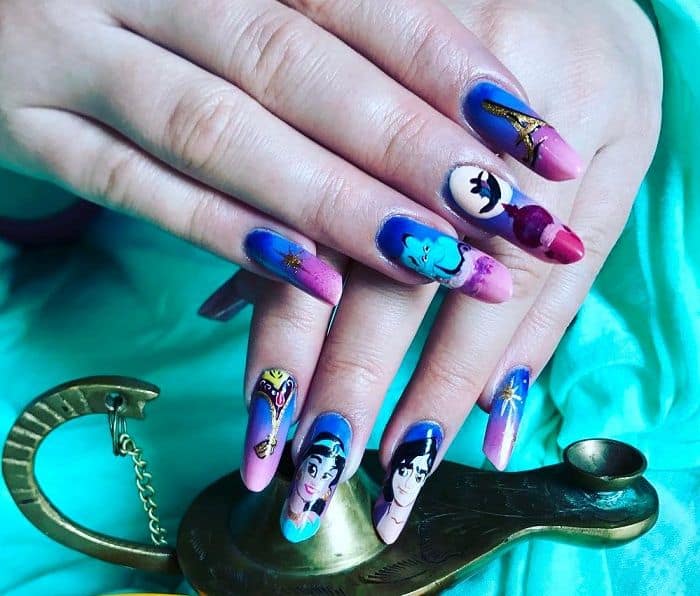 18. Disney Toe Nail Design
19. Short Disney Nails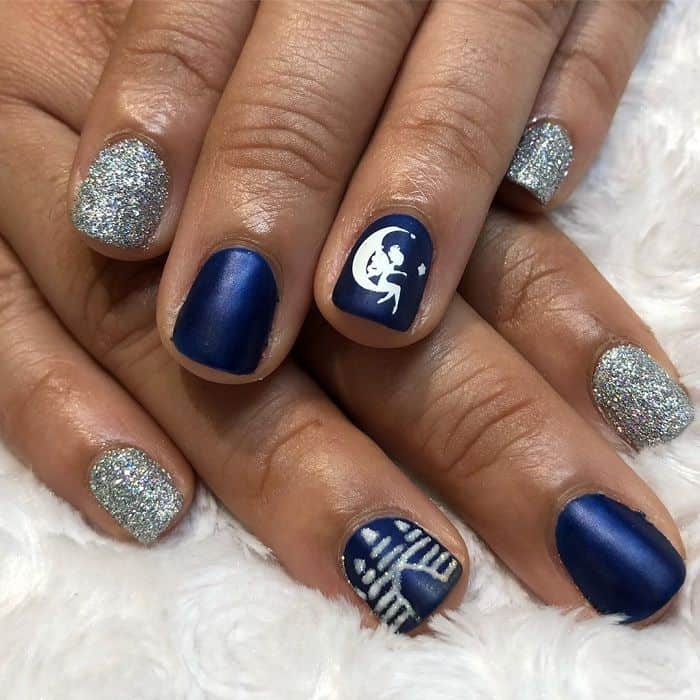 20. Disney Coffin Nails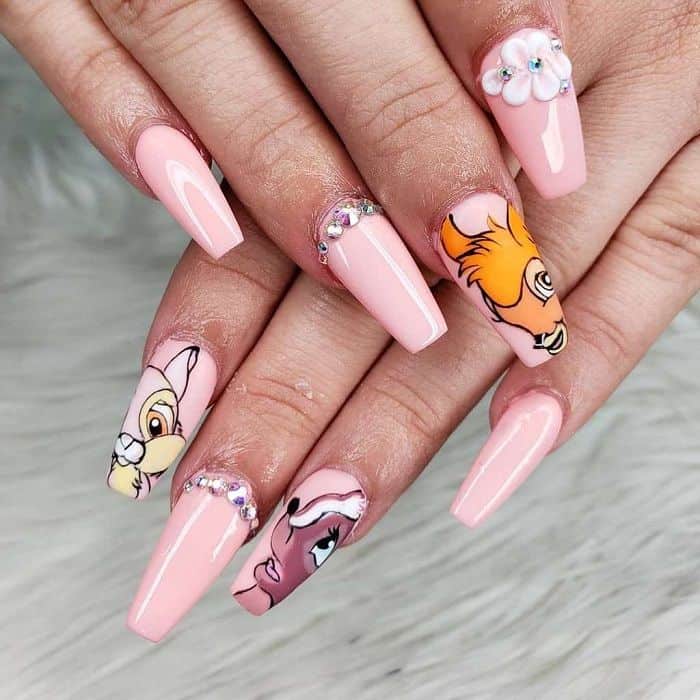 21. Almond Shaped Disney Nails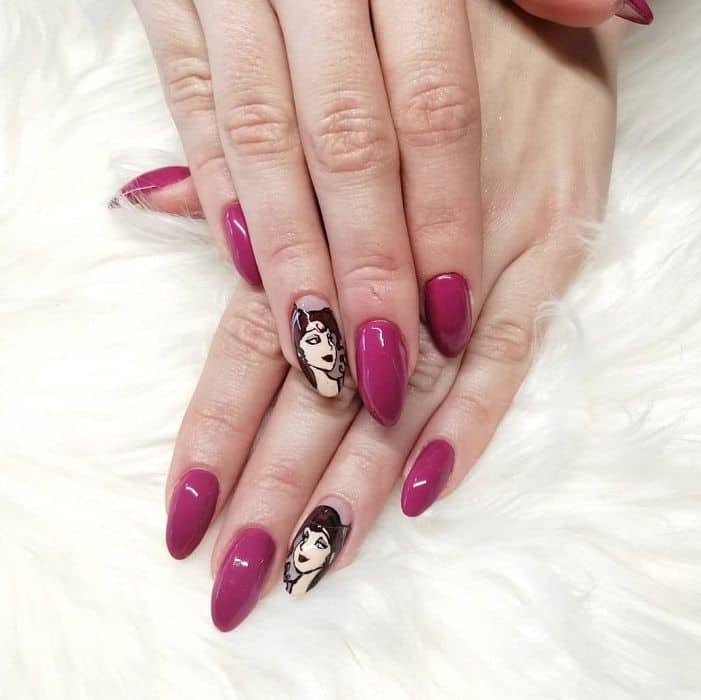 22. The Little Mermaid Nail Art
Drown your nails with this little mermaid theme if you feel like your problems are gonna get you swallowed in the sea and if you are confused about how to approach a guy whose lifestyle is totally out of your world.
This also works for girls with overprotective dads who keep them on a leash and won't understand that their once little girl is all grown-up and she's not too young to feel this way
Top Picks: Trendiest Black Nail Designs
23. Quack, Quack… Donald Duck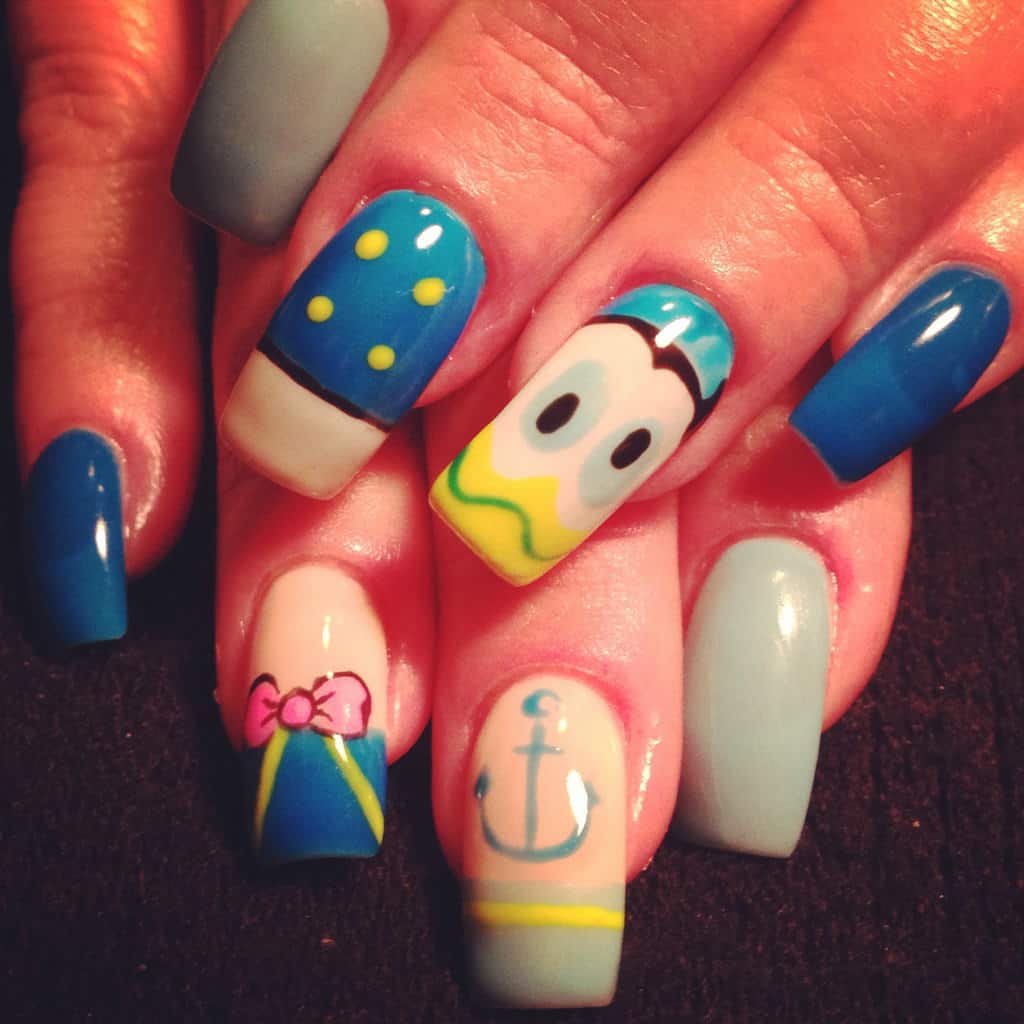 I don't know about you, but one of the things that used to make me laugh my eyeballs out was the way Donald Duck used to get all upset and grumpy because he is a hot-headed duck and everything used to happen just in the opposite way he wanted it to.
What made it so hilarious are his priceless facial expressions every time something goes wrong and he ends up putting so much effort to make it go the other way.
If you are a hot-headed girl with terrible luck and blue is your favorite color then this style might be the one for you!
24. Mickey & Minnie Collection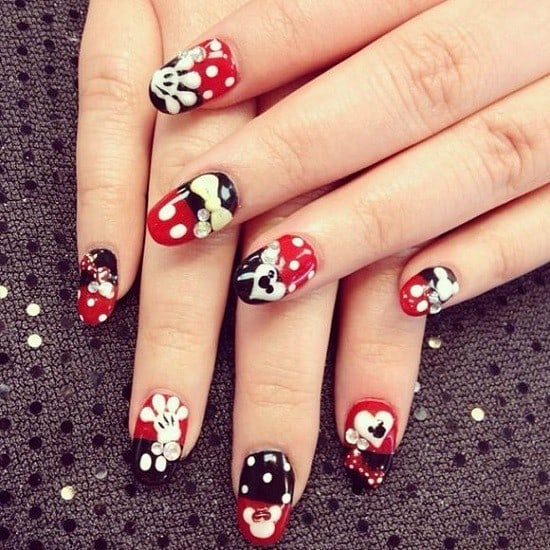 If you are having some trouble with your significant other and feeling down, mickey was the first character made by chance by Walt Disney himself when he wasn't feeling well.
Take inspiration from everything around you like Walt Disney, and get ready to change the world as we know it thanks to your mood swings!
All you need for this design is black and red nail polish, white varnish to add the spots that make up the face and mouse ears of the mickey character and a few decals from your own choice like little red bow ties with white polka dots or rhinestones that add some flare.
25. Comic Vibes
If you are a mega-fan of comic books then put your nerdy glasses on and get ready to the comic Disney nail art. It is no different from the original Disney characters we know and love so much.
They are still there with their crazy humorous nature and amusing stories but in a comic version that would reflect your catchy style!
26. Alice In Wonderland
You certainly don't need to wonder about this Alice In Wonderland-themed Disney nail design.
It is the ultimate style for girls who have a million uncertainties about a guy who they have been out with a couple of times and are not sure if they wanna just end it before it's too late or keep going because it just feels right. I
t is also for all curious girls out there who can't keep their nose away from everybody's personal business and for all of you who love to daydream about unusually vivid adventures under the safety of a tree.
27. Disney Fan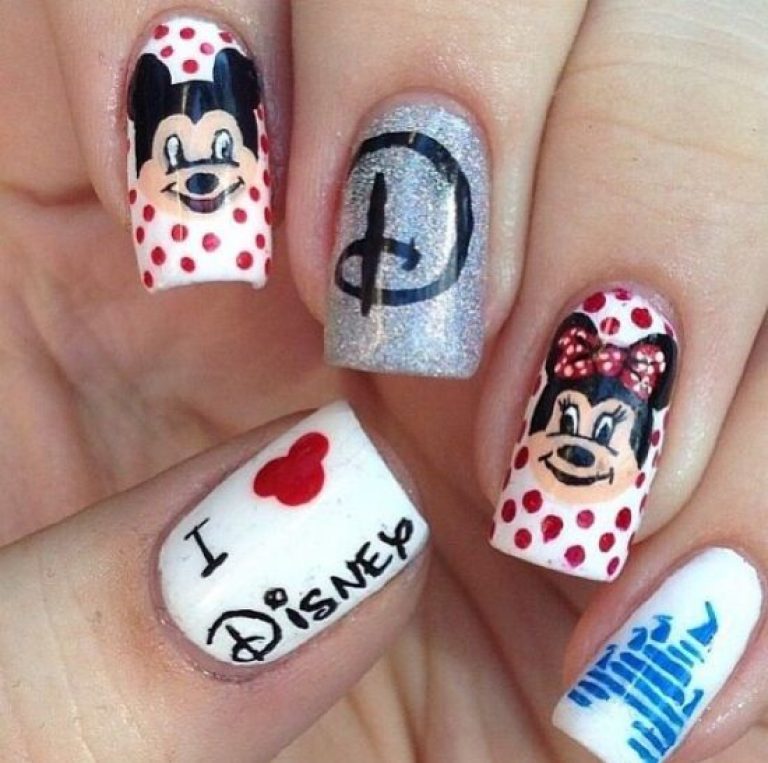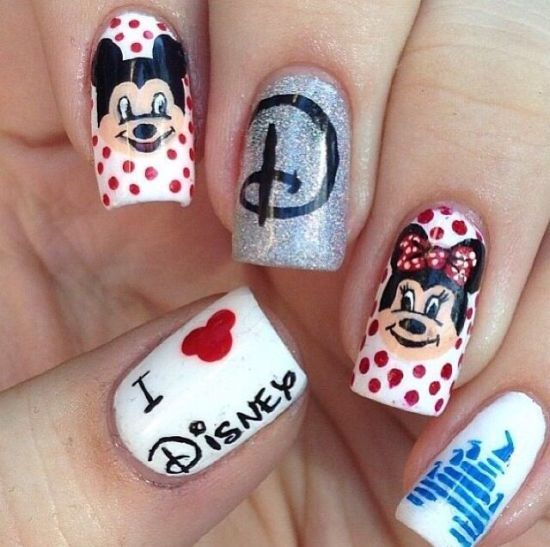 If you have always been a number one Disney fan and want to show off your crazy admiration to this original channel, here's a way to make it look real and simple. Painting down a plain " I <3 Disney" is one way of expressing it.
Another might be drawing the Disney castle figure or the logo on your nails. Drawing the first characters of the channel might be a great idea as well!
28. Disney Black Tip Nails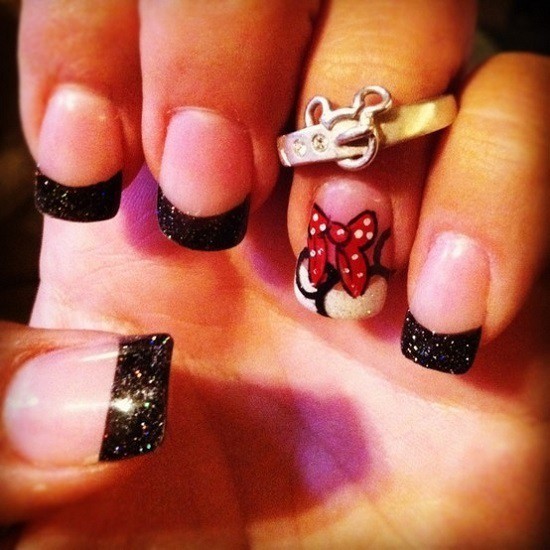 If your aim is to look beautiful and youthful but not too childish then this might be the Disney nail design you are looking for.
It is simple, eye-catching and too cute to bare any second look, or else they will fall instantly in love with you!
29. Mickey Ears And Polka Dots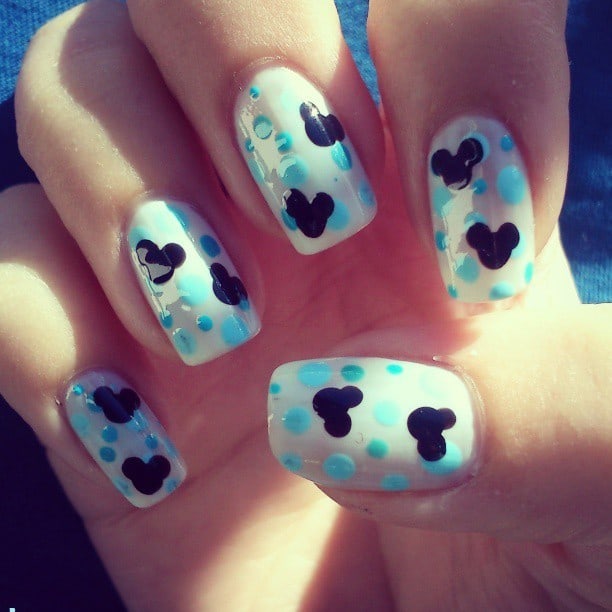 Polka dots are a classical method of decorating a nail design, but put together with tiny mickey mouse ears silhouettes become a timeless combination that will take you to the next level for sure! Be creative. Be a Disney fan-head.
30. Disney Castle Nails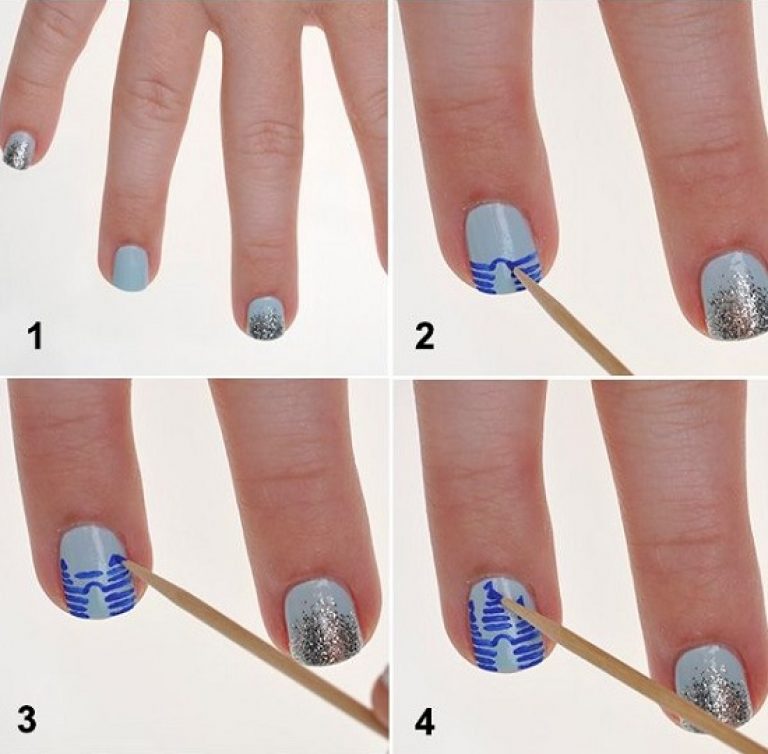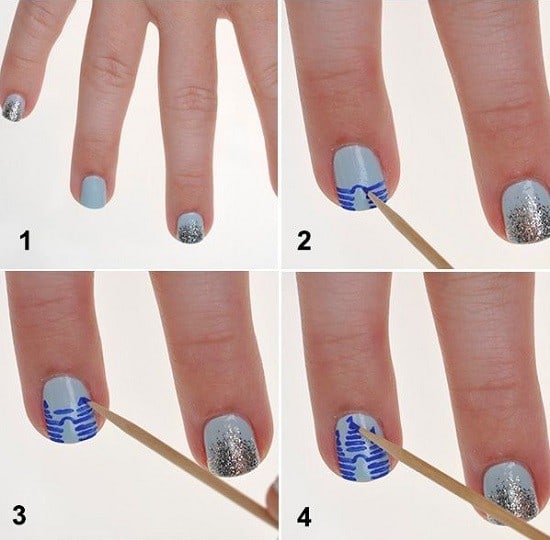 If you always longed for a trip to Paris Disney land and for some reason ( financial or parent approval etc..) couldn't make that wish come true, all you can need to do is paint the Disney castle silhouette on your accent nail and pretend like Disney Paris was just around the corner and someday somehow you'll get to go and have the time of your life.
This is also for all of you who used to sing along whenever a movie starts and the Disney theme song just flashes before your eyes while you spot tinker bell sprinkling pixie dust all over the Disney kingdom!
All of this can be done in 4 simple steps! So what are you waiting for? go ahead and try it on!!
31. Disney Animated Nails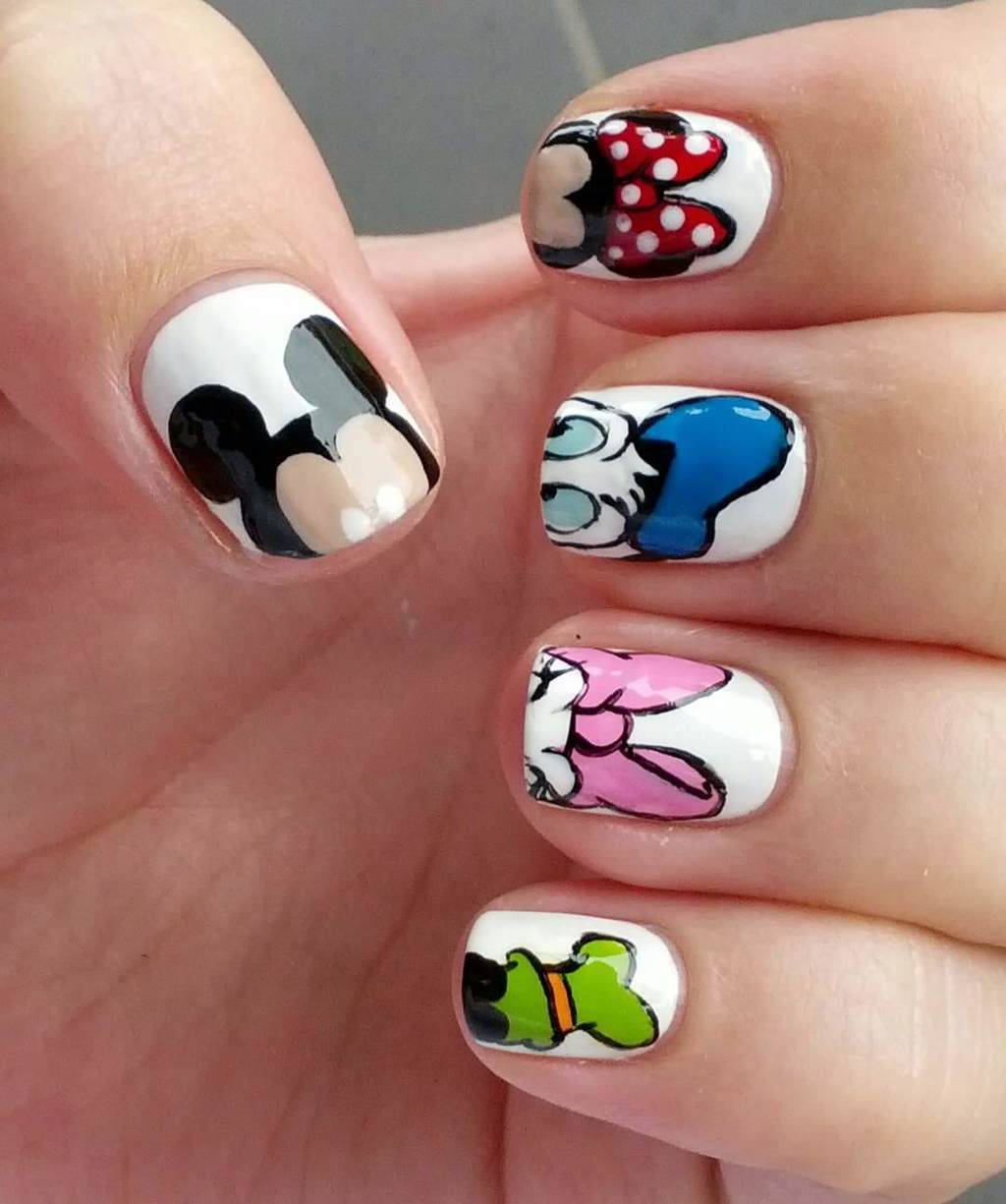 Nothing ever screams "adorable" like Disney animated nails! If you've still got that energy of a youngster inside of you don't be shy to show it to the world.
Besides, no one ever sees a baby and walks away without expressing its cuteness and beauty out loud. Painting only the upper half of their faces is an artistic choice and conveys that you think everything is not what it seems!
32. Magic Mickey Merlin
If you hadn't got the chance to see a magic show done by the mighty mickey then you have to buy front row seats for the best magic show in town!
We've all see merlin the great magician in the famous movie "The Sword In The Stone" and were amazed by what he do with just a snap of his bare fingers, but mickey's various attempts and efforts at being a good magician always cracked up a smile on our faces.
33. Pretty Simple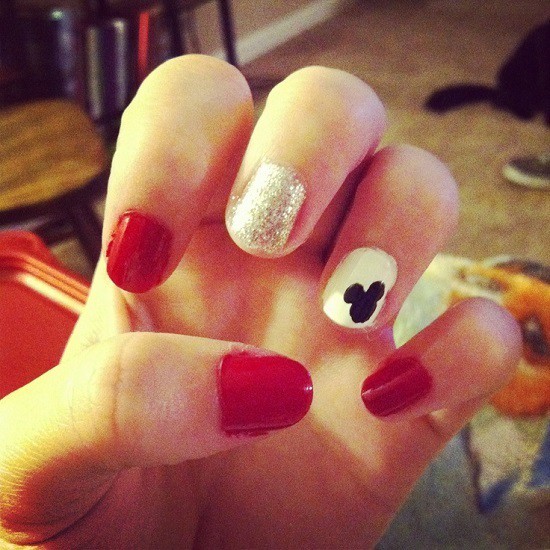 Simply painting your nails with red nail polish is attractive but yet not perfect. Adding the mouse Disney ear logo to your accent nail is not just an addition but the kind of addition that without it the design wouldn't be complete.
34. Disney In 3 Colors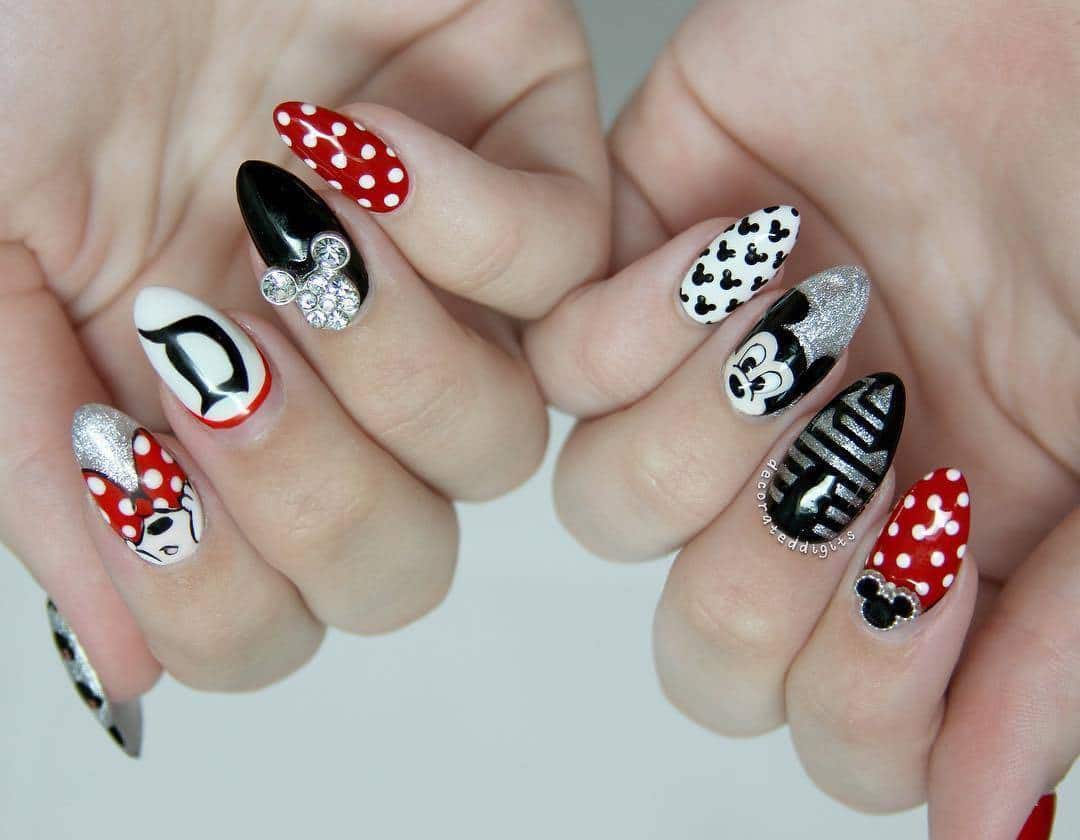 If red, white and black are your favorite color combination then maybe you should try them on a Disney nail art style.
Choose a different pattern for every nail to make it look exotic and unique. Polka dots, glitter, drawing, doodles, logos, 3D add-ons and many more!
35. Disney French Tips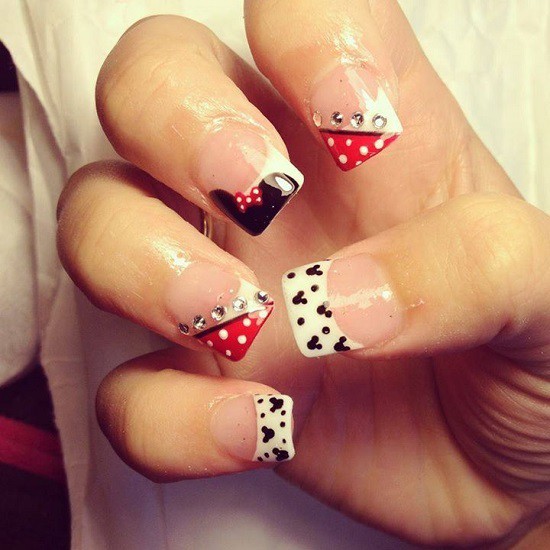 If you want fresh french tips, don't be cliché and try this Disney scheme instead! All you need to do is put a big black dot in the middle between two smaller ones on the side and you'll have a design that works best if you are in a rush and takes no effort whatsoever.
Once you've mastered this technique you will be able to apply it and look fabulous everywhere every time!!
36. Disney Pixar Nails
Find your inner beauty with this exceptional Finding Nemo/ finding dory nail art! All you have to do is doodle your favorite characters from that Disney Pixar original movie on your nail beds and you'll be as cute as a button!
Don't let anything bother you, go with the flow and just keep swimming with Dory and marlin as they go on a quest to find young little lost Nemo!
37. Tick, Tock On The Clock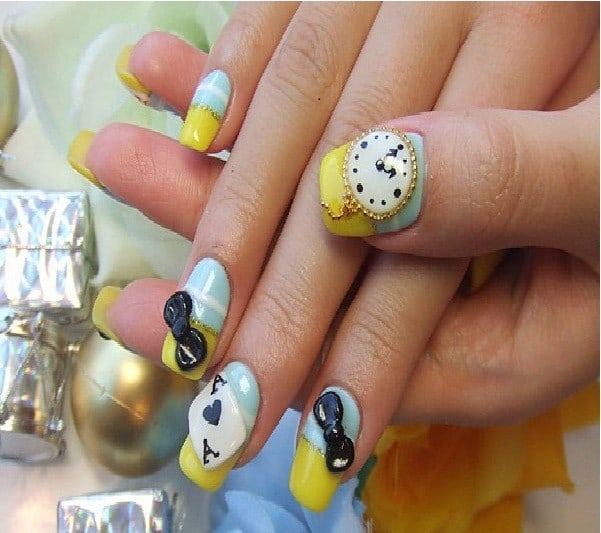 If you are known for you fashionably late habits and therefore have time to apply this amazingly inspired nail art from "Alice In wonderland" then you should totally go for it.
Taking care of our outer beauty is as important as taking care of our inner beauty, so it tends to be time-consuming then let it be!
Take all the time you want to flaunt a flawless style and be ready to make jaws drop and eyes pop because girl you have got to show them that you are truly the queen of all hearts and not just anybody is worth your precious time!
38. Little Black Minnie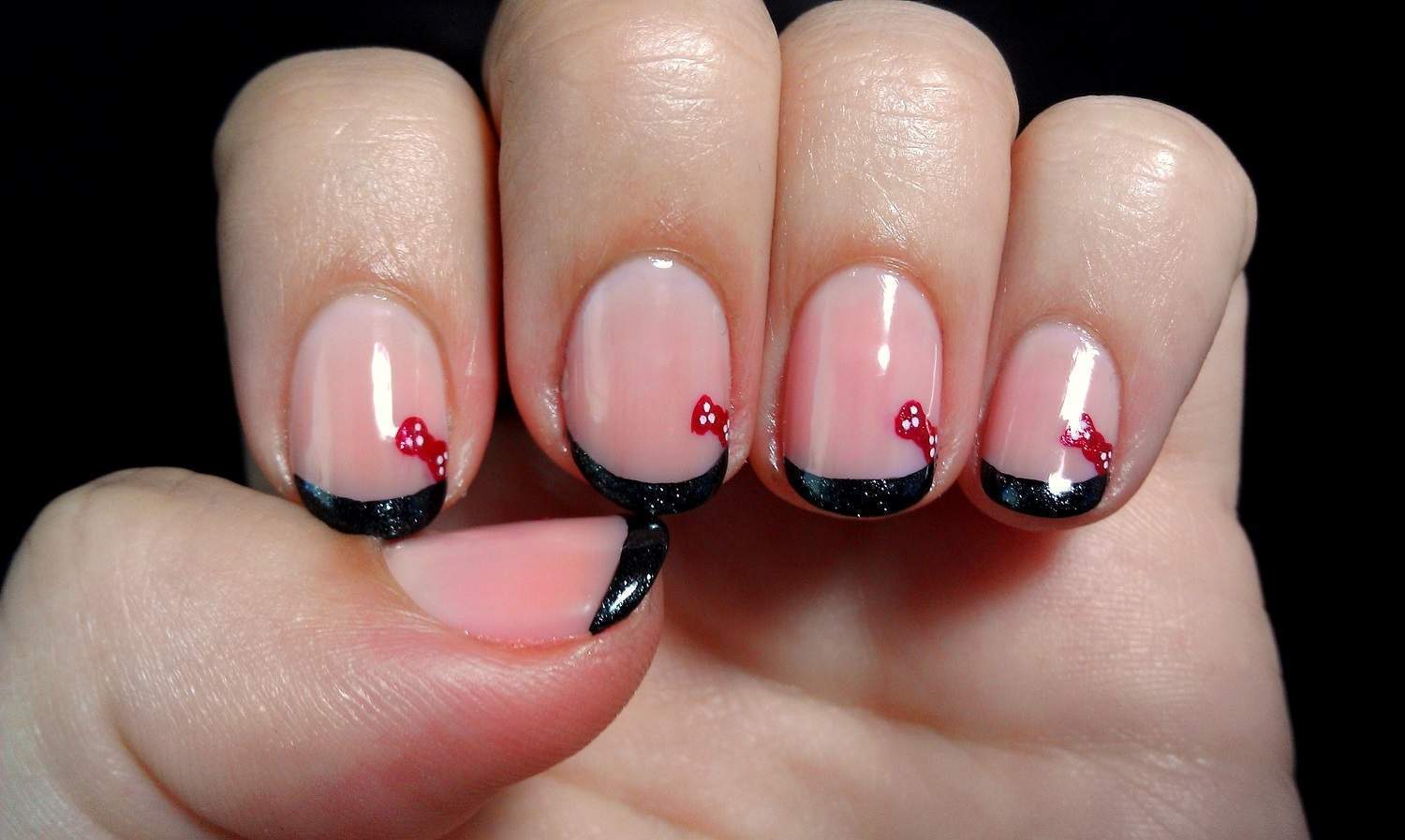 If you're looking for a style to wear to your Little black dress event but would really love to hold on to your pleasant childhood memories while you're getting down to serious boring business deals then you might have a soft spot for this Disney nail design.
French tips are practically entitled with elegance but equipped with cute little red Minnie bow ties on the side of your nail tips would definitely scream cute and classy at the crowd!
39. Disney Toy Story Nail Art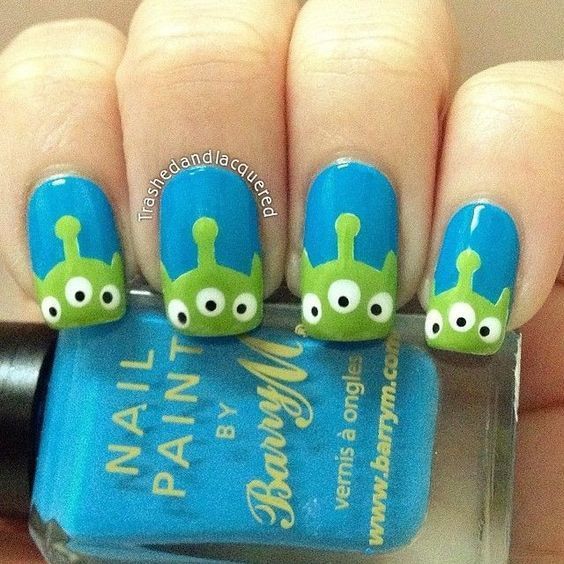 I don't know about you but these little guys were mega cute and funny in the "Toy Story" Pixar movie. They're like the minions of "Despicable Me" but from old times.
With their weird three-eyed faces and extra-terrestrial look, they made the movie more enjoyable and more interesting to watch. Use their effects on your nails to have a more interesting look!
40. Mater The Great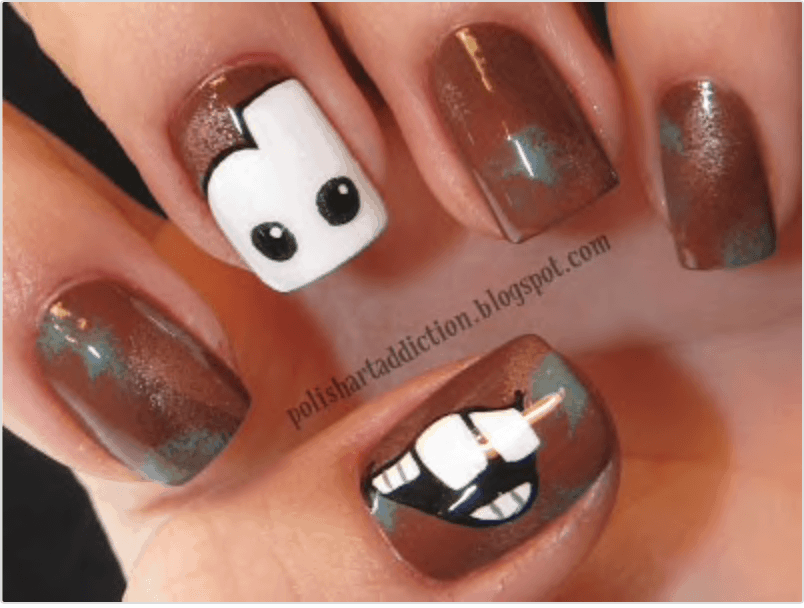 Mater didn't have to be the fastest car in the race or the most handsome to win. He was funny and charismatic and just like that it was more than enough to make our engines skip a vroom and made us fall in love with his personality and root for him to win the race!
Pick out your favorite Disney movie character and showcase him! Dedicate a whole hand to your beloved character and you'll have a fantastic mani to boast about!
Most Beautiful Nail Art Design Ideas
41. The Lost Boys
We've all wished we could go to Neverland and get lost with Peterman and lost boys where we can never grow old and do whatever we want whenever we feel like it!
This theme is totally recognizable and stands out from a mile away, like really who on earth hasn't watched Peterman and laughed so hard at Captain Hook's bad decisions and stunts.
Who here hasn't wished for a little of tinker bell's pixie dust so that they can finally know how cool birds feel when they soar through the sky?! Be dreamy and imaginative with this Disney nail design!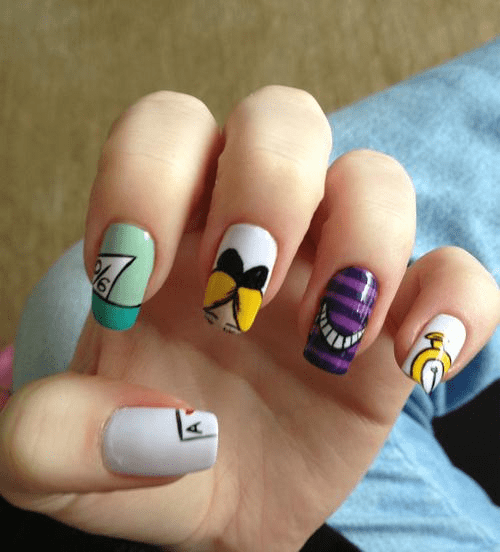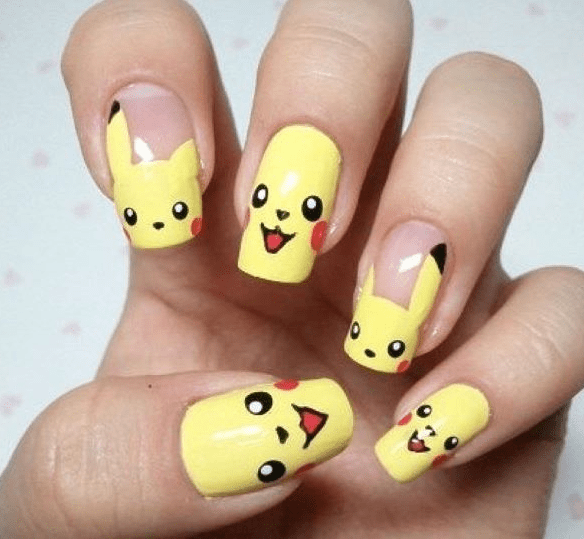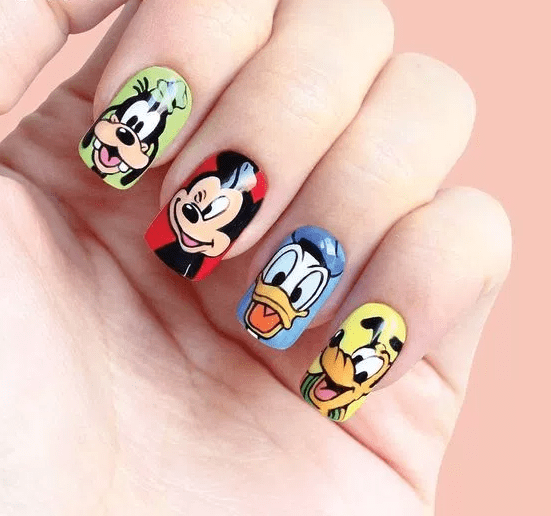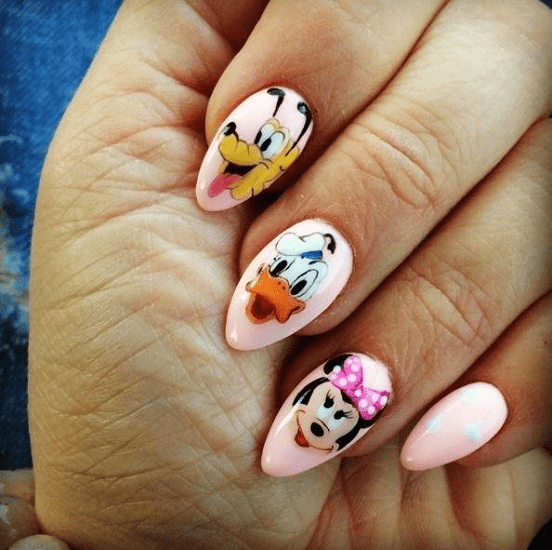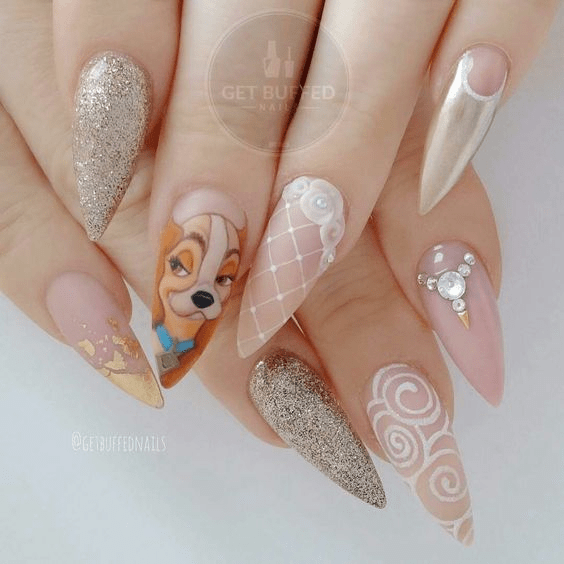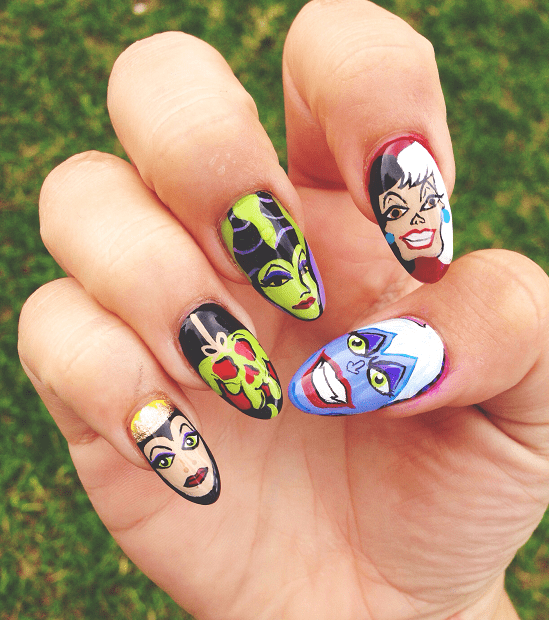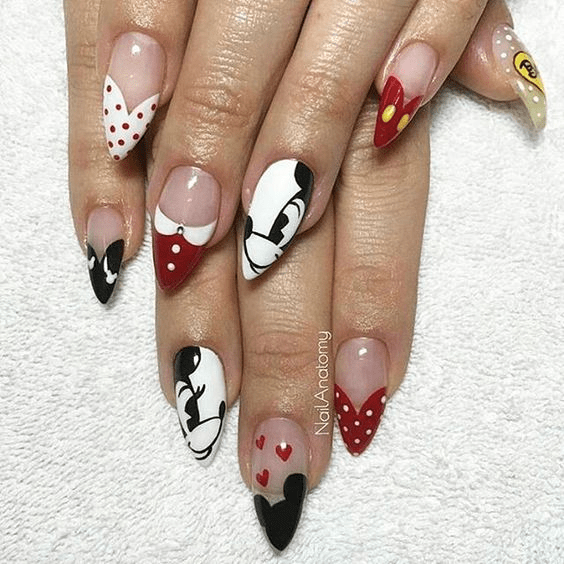 Everybody loves Disney and has their favorite character and the favorite movie that gives them the warm-n-fuzzies.
Reaching way back into memory lane you'll find some real buried inspirational treasures in your childhood ranging from the morning shows of Mickey Mouse Club House & Winnie The Pooh to the inevitable noon adventures of the unbeatable Kim Possible and undercover Jake Long.
Finishing it off with an original Disney flick like Brother Bear that taught us the importance of brotherhood, judgment, and the value of life or 101 Dalmatians that made us believe that being different means being special and not out of place.
This list of Disney nail art designs holds on to infinite memories and allows you to make many more so don't hold back and be sure to check them out!