Pink is glamorous. If there's one thing you should know about pink, it's that its design possibilities for nails know no limits! One of the best nail shapes to use to flaunt the girly color is coffin nails.
Coffin nails, often called ballerina nails because of its shape similarities, can be short or long. They're similar to stiletto nails, but their edges are more square than round or pointed. This makes them a very edgy and modern nail shape perfect for creating a mixture of looks.
If you have coffin nails currently or you're just looking to upgrade, we'll show you some gorgeous ways to pretty them up with pink!
Best Pink Coffin Nail Ideas
If you're a woman and you like to paint your nails, it's practically a requirement that you try pink coffin nails! Not sure about it? We'll show you 12 gorgeous pink coffin nail designs that will have you convinced in no time!
1. Light Pink with Florals
Coffin nails in a light shade of pink are soft and feminine, perfect for pairing with a floral nail. You can either paint the flowers yourself, or purchase flower nail stickers to apply to a very light shade of pink polish.
2. Plain Hot Pink Coffin Nails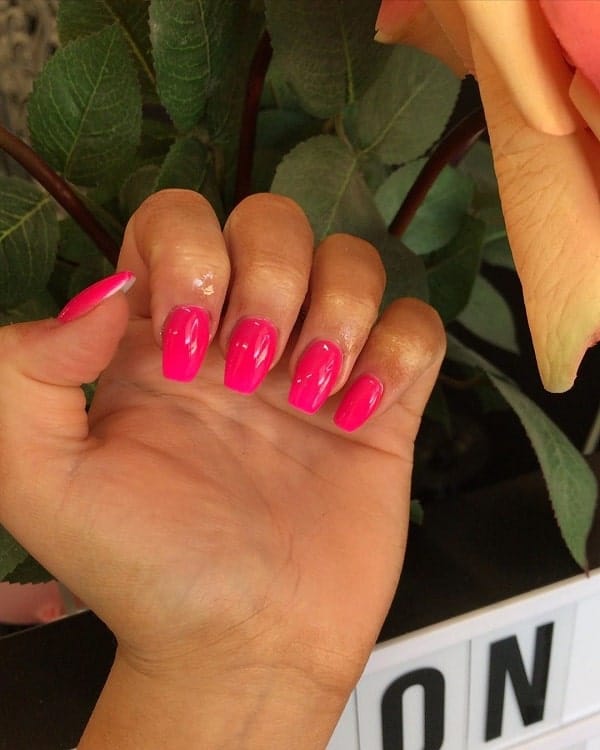 These hot pink coffin nails are so bright they almost look neon! We're loving the shade for a sexy night out look. Since the shade is so hot, you can leave nails like this, no detailing needed!
3. Pink Hearts on White Nails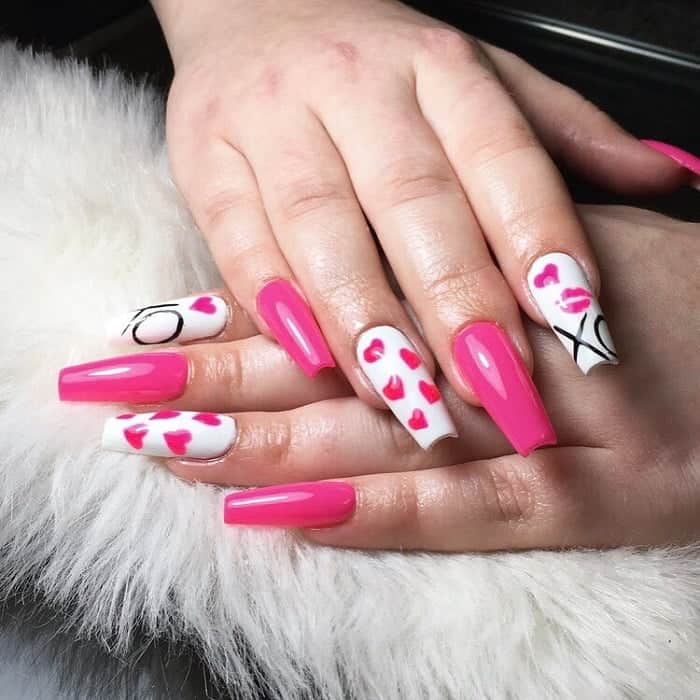 Here's a pretty coffin nail design for Valentine's Day! It features bright pink nails with two white nails decked out in tiny pink hearts and lips. The big black XO letters are a cool touch of word art.
4. Baby Pink and Ombre Coffin Nails
The transition from practically white-pink to light pink on these ombre coffin nails is so subtle, you have to look really closely to see it. These shades are gorgeous on light and pale skin tones. For an accent nail, just dab on light pink with your brush and add a couple of rhinestones.
5. Neon Pink + Ombre + Black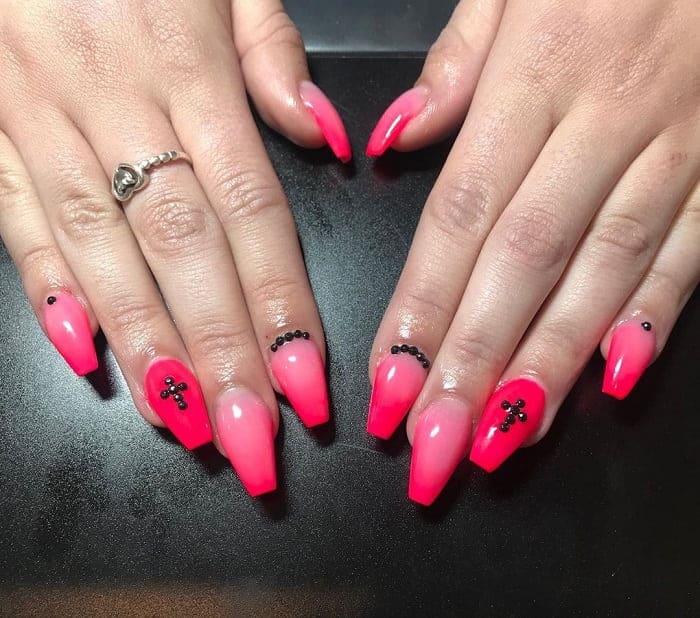 Vibrant hot pink is just the color for ladies who love going out. Make an ombre nail design with it and add black stones for detailing, like shown here as crosses. If you're into black nails, check these black & pink nail designs.
6. Pink Acrylics with White Swirls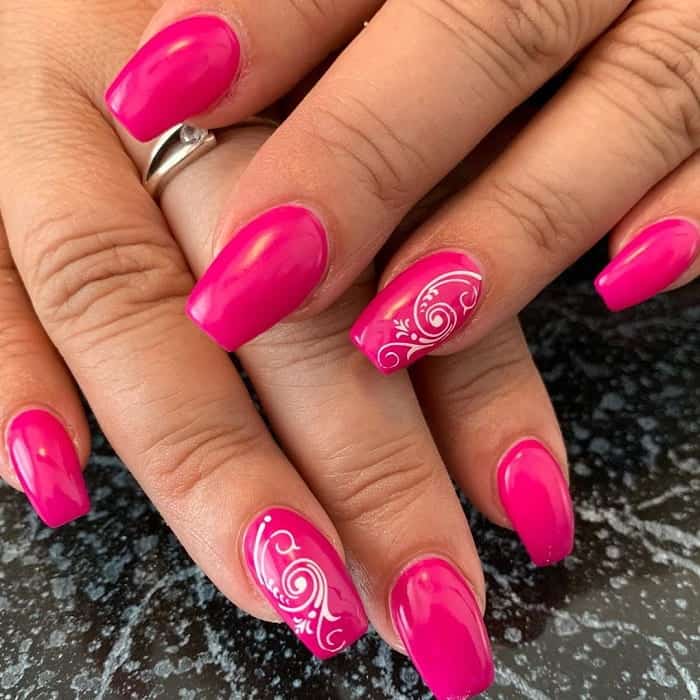 These bright pink acrylic coffin nails feature minimal yet statement detailing on the accent nail. To get this design precisely, you may want to visit a nail tech. You could also purchase nail decals to DIY.
7. Transparent Pink Coffin Nails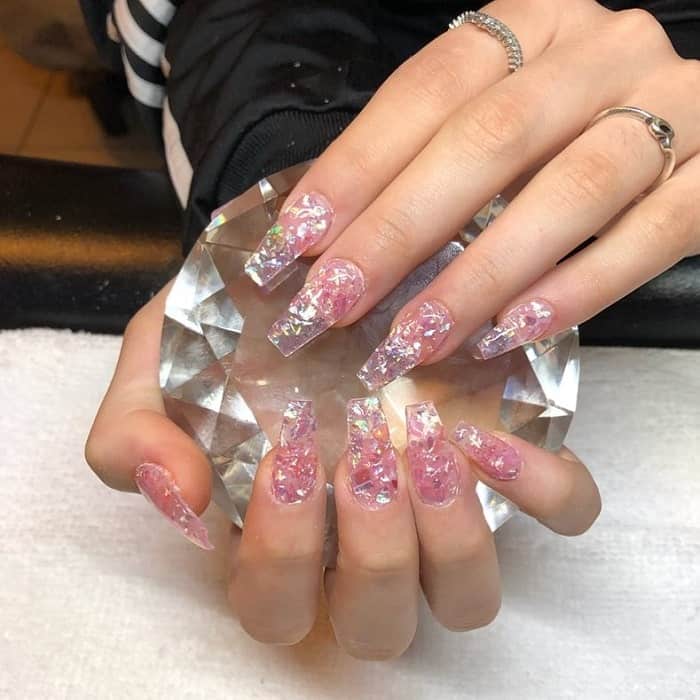 If just a little bit of pink is what you're after for your coffin nails, you'll love the way transparent pink looks. The pink shines through with the help of silver foils.
8. Matte Pink Coffin Nails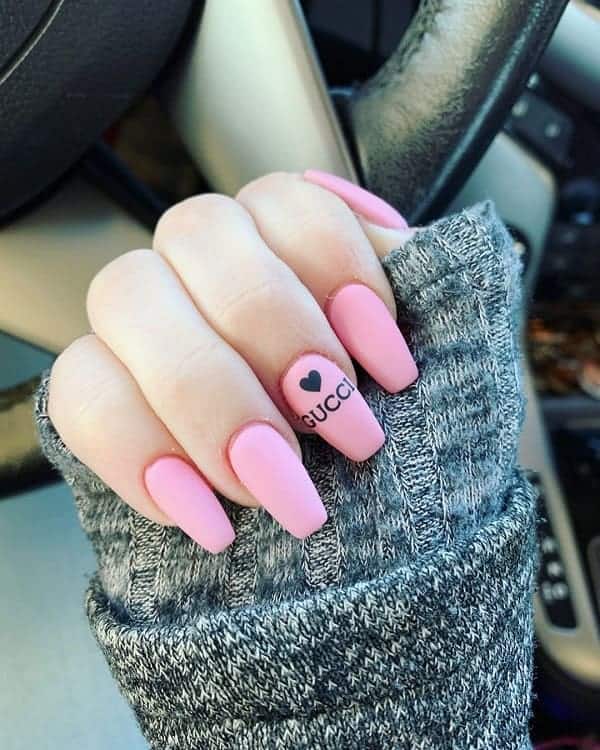 This matte light pink with black text coffin nail is ideal for ladies who don't like the shine of traditional nail polishes. Instead of the shine, add other details like black word art paying homage to your favorite fashion designer!
We Love These Matte Black Nails
9. Long Coffin Nails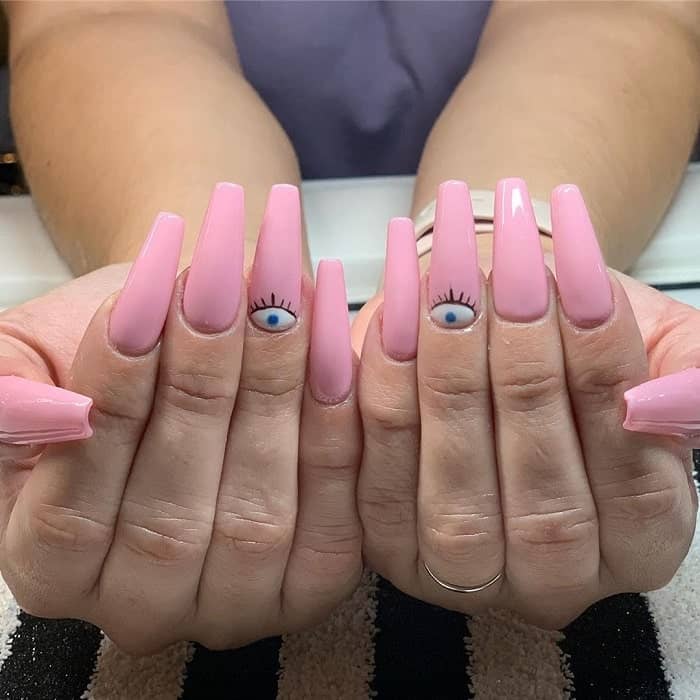 If you're a lady lucky enough to not have to worry about making sure your nail length is practical, then go big with extra long pink coffin nails! The little eyes on this design's nail crescents are super easy to do on your own.
10. Short Pale Pink Nails
A muted shade of pink is soft on the eyes and flattering to many skin tones. Try the gorgeous color on your short coffin nails, then add cute little butterfly nail decals and silver stones to sparkle it up!
11. Marbled and Glittered Pink
If you've read enough of our articles, you know we're huge fans of marbled nail designs. So when you combine marbled nails with pink glitter on coffin nails, you get one awesomely amazing look!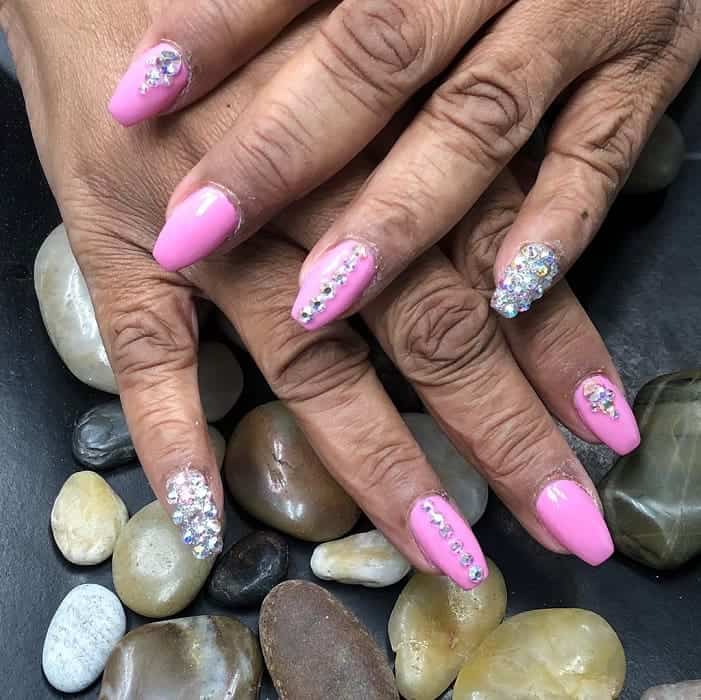 No pink coffin nail design would be complete without some sparkle! After painting your nails with a light shade of pink, load up the pinky nails with rhinestones while only adding a few to the ring and pointer nails.
If you weren't a lover of pink before, you have to be now that you've seen the pretty ways you can use the color on coffin nails! When it comes to painting your nails, any shade of pink will create a beautiful design. If you're concerned about it matching your skin tone, just experiment with a few shades before committing!
Be sure to share your final result with us in the comments!