Wondering how to wear your two favorite nail colors pink and blue together? From ombre and half/half to solid colors and airbrushing, there are many nail designs for pink and blue!
The best thing about the nail designs below is that they don't require a particular nail shape. If you have trouble growing your nails out, you can still make them look fashionable with, for example, a pink and blue ombre! Is your default nail style coffin acrylics? There's a gorgeous way for you to wear the two colors beautifully as well!
Before you go checking out our favorites pink and blue nails, make sure you have the colors on hand since we know you'll be dying to try them after seeing their gorgeousness!
Trendy Pink and Blue Nail Designs
Give your manicure a punch of color by wearing pink and blue together! These pink and blue nail designs are a must-try!
1. Pink And Blue Ombre with Hearts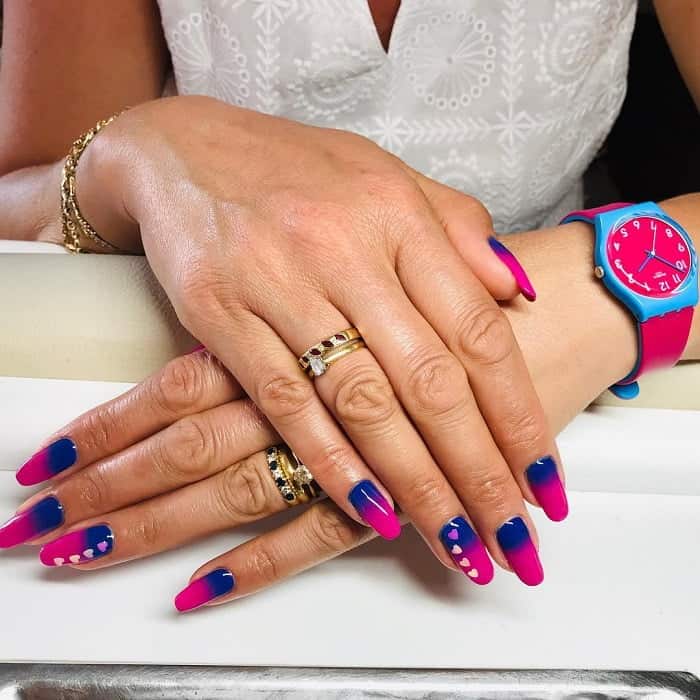 Long almond nails in pink and blue ombre are super cute with tiny pink hearts on the accent nail. You can use nail decals for these or draw them on yourself on just the side of the nail.
2. Light Pink And Blue for Acrylics
There's a slight shimmer to these light pink and blue stiletto nails. The effect keeps the color from being too plain, as does the diamond detail for a cute pink flamingo!
3. Melted Hot Pink And Blue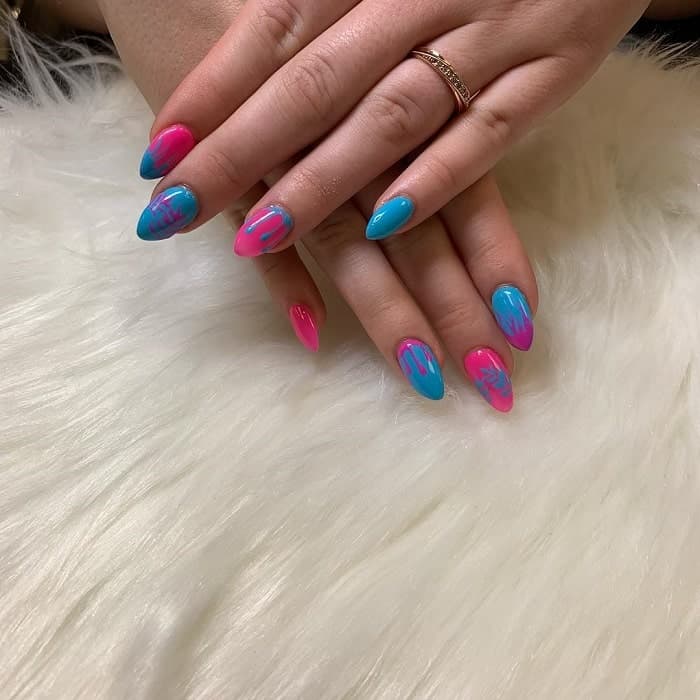 Create a cool graffiti effect with hot pink and bright blue on long nails by letting each color "drip" into the other. For a bigger effect, it's best to try this style on lengthier nails like the short stiletto ones above!
4. Matte Pink And Blue Ombre with Flowers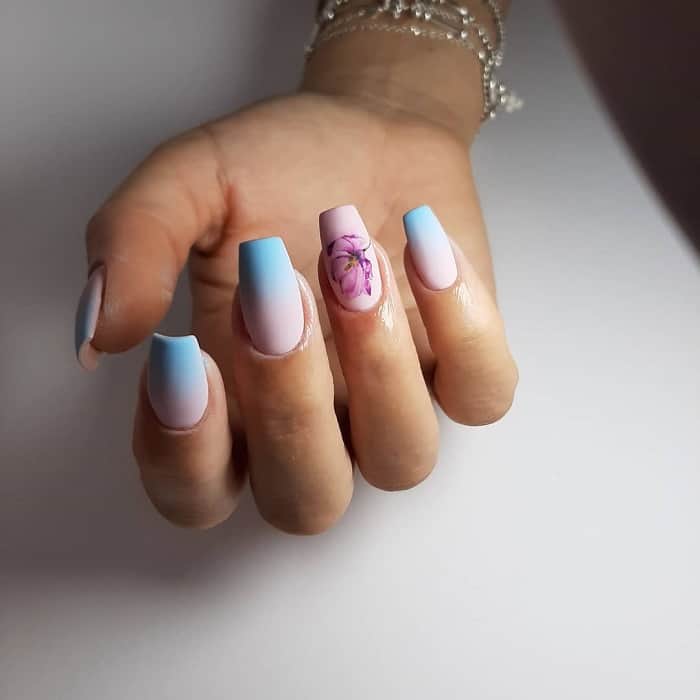 The gorgeous effect of pink and blue ombre doesn't disappear with a cool matte nail polish. Its smoothness is even more enhanced by the flower detail on the solid light pink accent nail.
Different shades of beautiful blue work with a baby pink and white on these square nails. To get the design above, you'll probably want a nail tech to do airbrushing, but you can certainly try your own hand at the leafy art too!
6. Dark Blue And Pink Flames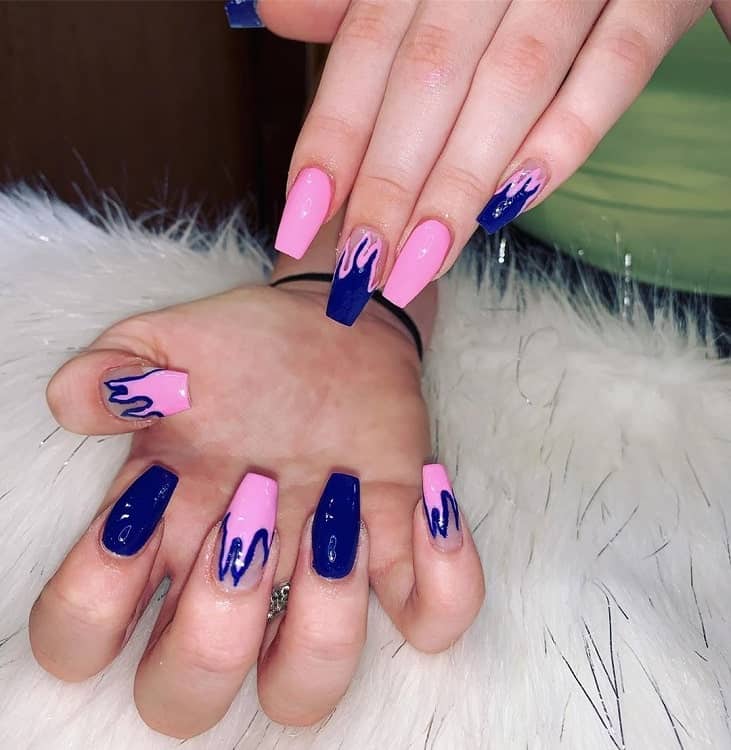 Get "hot" nail art by drawing light pink flames on a nude base for every other nail, then outlining the flames in dark blue! Finish the design off by painting the other nails a solid dark blue. Leave the design like this, or go a step further with a few swipes of glitter on the flames.
7. Navy Blue and Bright Pink Nails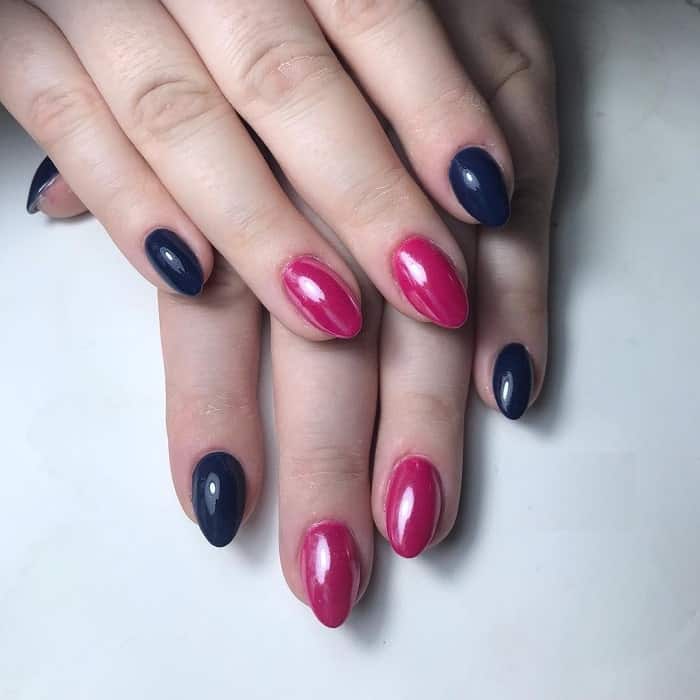 Are you more about solid colors without any intricate design? Paint your two center nails with hot pink and frame them with a navy blue pointer and pinky nail. These short oval nails are shiny and gorgeous!
8. Bright Pink and Blue with Glitter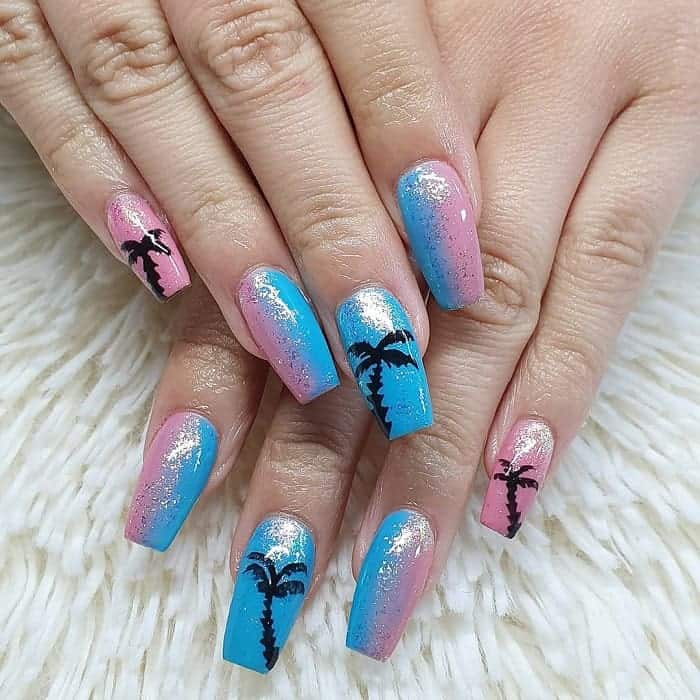 For a stunning statement pink and blue design, start by painting every other nail half in light blue and the other half in light pink. Use a clear coat of glitter to sparkle them up and add cute black shadow nail art like the palm trees above!
Choose to wear your pink and purple nails solid and by themselves or add fun detail with glitter design, rhinestones, or nail decals! You'll never know how gorgeous your nails can be until you experiment with pink and blue together!
Interesting Topics: