Yummy 15 Cupcake Nail Designs for The Sweet Tooth
Cupcake nail designs are the ultimate fantasy of all the foodies out there. Cupcakes themselves are cute, with their fluffy icing and toppings and flavors. For anyone with a sweet tooth and a flair for good nail art, cupcake nails present a perfect marriage of passions.
Cupcake Nails are Fun and Colorful
Cupcake nail art hinges on the ability of the manicurist to incorporate details on a small canvas. A cupcake has several features, including the base, the voluminous icing, and the glittering toppings. A good cupcake nail art requires the use of every possible art of nail designing to recreate the same effect.
1.
cupcake sky blue nail art
2.
cupcake gel nail design
3.
cupcake acrylic nail design
4.
cupcake nail stickers
5.
cupcake freehand nail art
6. Single Nail Cupcake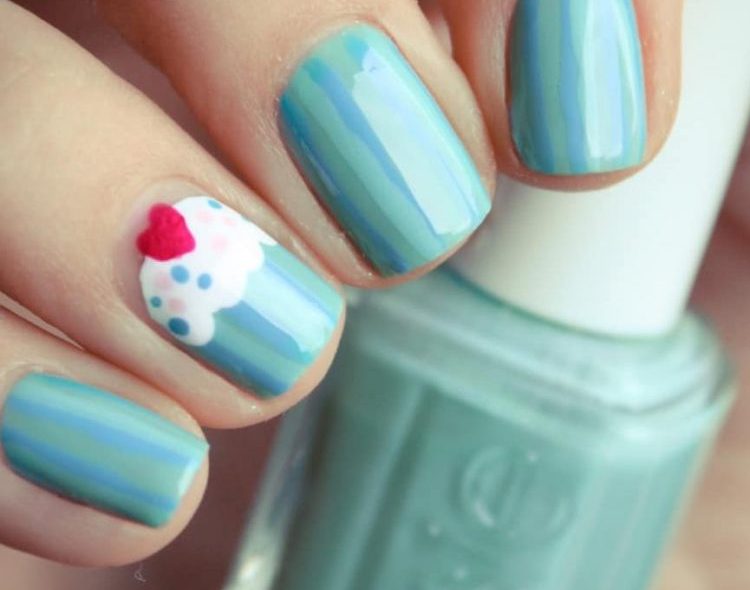 As with any complicated design, the best way to make it stand out is to have it painted on a single nail in each hand. The same goes for cupcake nails. The other nails can be painted in a coordinated shade with respect to the cupcake.
Hooked for Abstract Nails? Dote on These Arts!
7. Chocolate Icing Cupcake Nail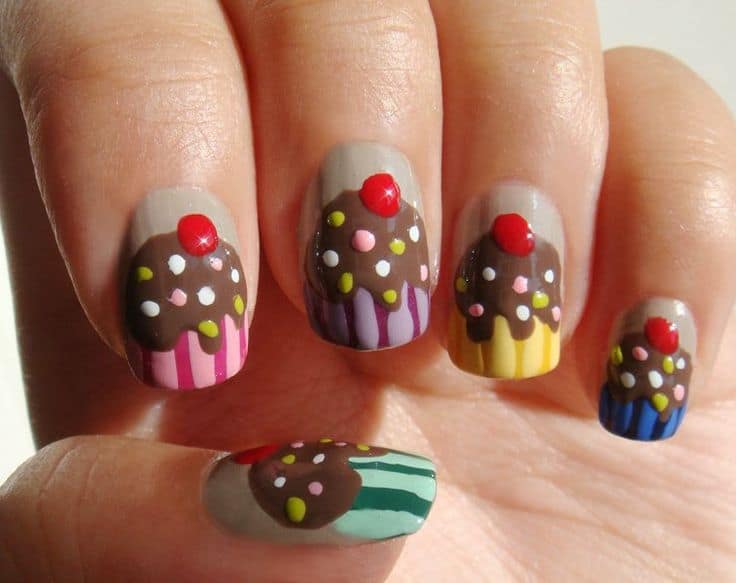 The cupcake icing need not only be white. A more alluring shade would be chocolate brown. The surrounding colors must be chosen accordingly, however, so as not to dull the effect of the brown nails.
8.Studded Cupcake Nail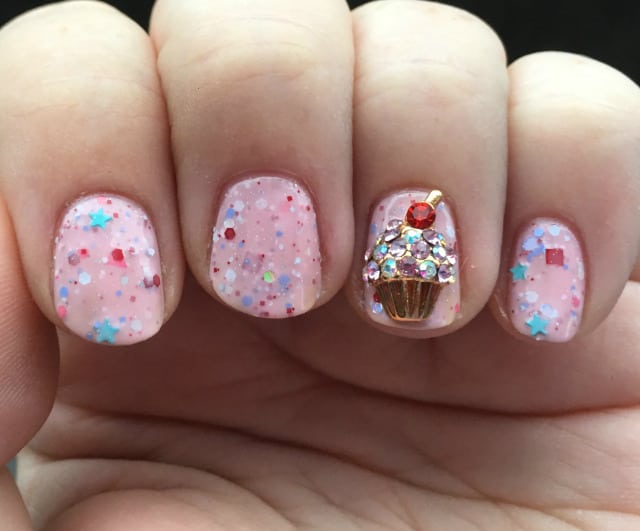 The toppings of the cupcake can be painted on. An alternative is to use multi-colored crystals and beads. These are shiny and lend a 3-dimensional aspect to the detail while adding texture to the nail art.
9. Polka Dots and Cupcake Nails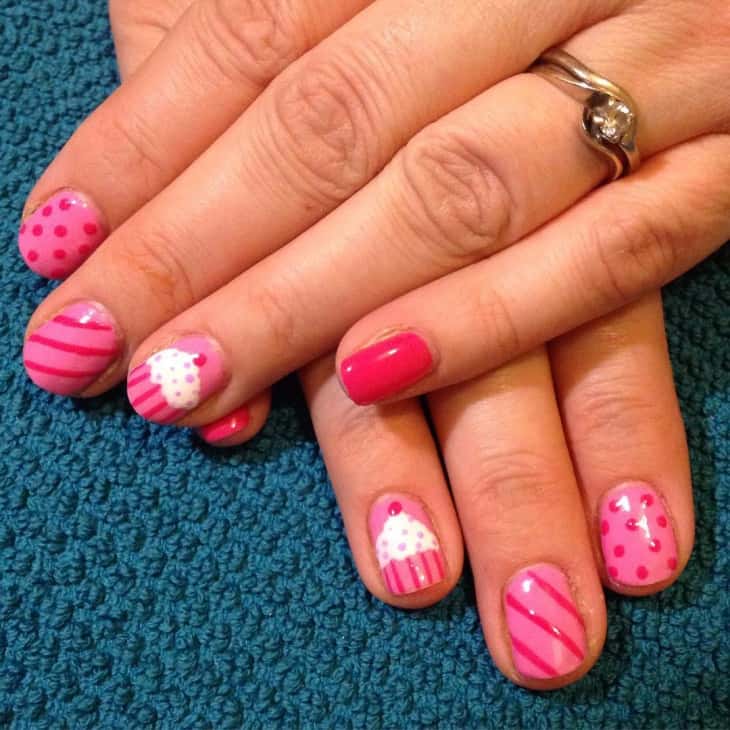 Cupcakes are cute. The only things just as cute are polka dots. So it is hardly a surprise that cupcakes and polka dots feature together. This can follow the single nail pattern, wherein a cupcake may grace one fingernail, while the others are painted with polka dots.
10. Birthday-Themed Cupcake Nail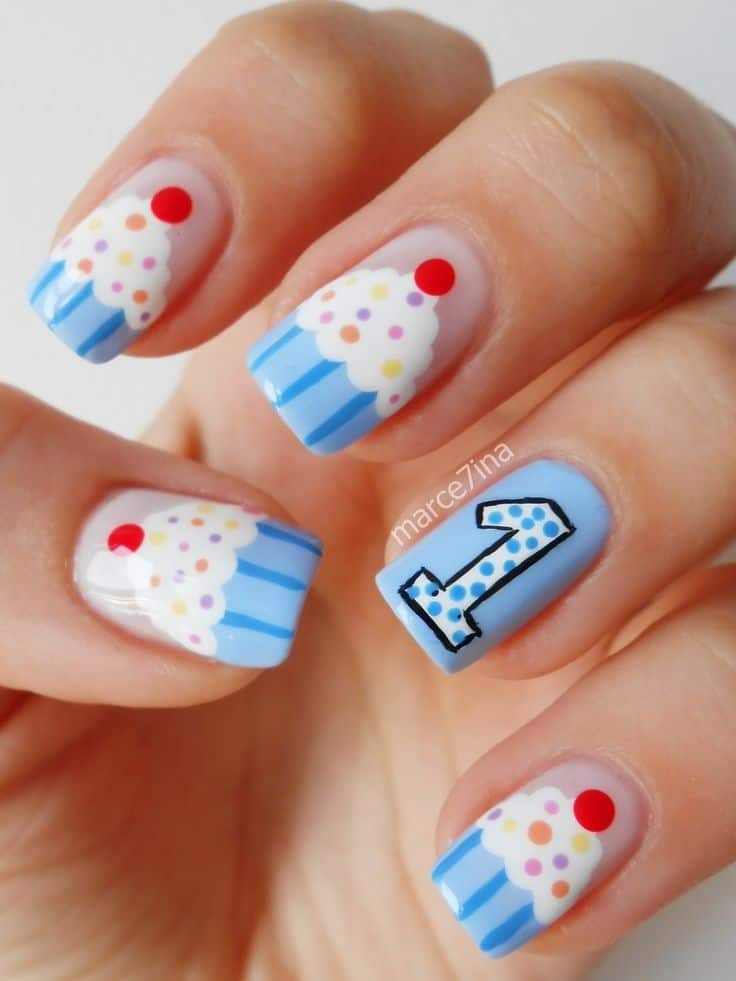 Want to spice up your birthday celebrations? Sports candles, confetti, and cakes on your fingernails. This is a pretty way of growing older. Admittedly, the requirement of this nail art is short-lived but if you want to indulge yourself on your special day, who's there to stop you?
Nail Designs for Your Little Munchkins
11. The Inverted Cupcake Nail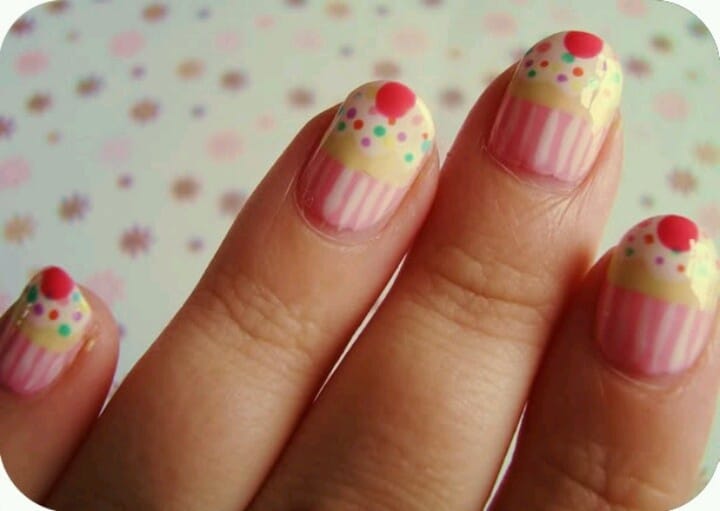 Usually, cupcake nail art uses the tip of the nail as the base of the confectionary, while the icing faces the cuticle. Another way of doing this is to use the whole nail as the body of the cupcake and paint the icing and toppings on the tips. This method avoids excessive detailing and comes across as smart and casual.
12. Multi-coloured Cupcake Nails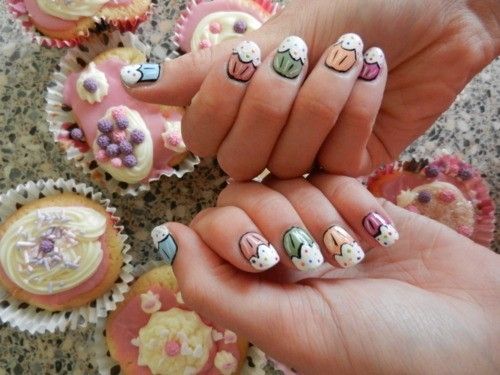 Cupcakes can be decorated differently, each with its own flavor. Similarly, each nail of the two hands can sport differently painted cupcakes. This increases the level of diversity of art and makes the entire ensemble very colorful and jolly.
13. 3-D Cupcake Nails
The latest fad in the nail art industry is 3D nails. The embellishments used in this kind of nail art is not simply painted on but is given a three-dimensional aspect. When something like a cupcake is depicted in such a format, it evidences a different level of expertise.
14. Emoji Nails Cupcake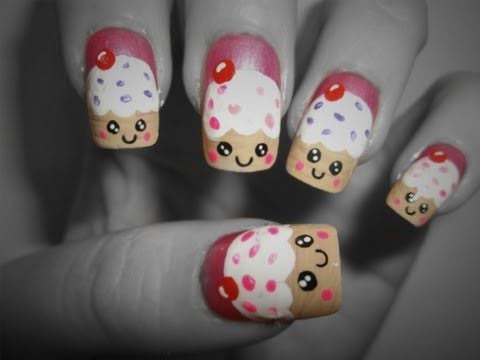 Cupcakes are comfort food. They are associated with a sea of emotions- mostly happy and cheeky. So including minion emojis in the painted cupcakes is a cute way of making the world realize what you feel when you bite into one.
15. Sweet-Tooth Cupcake Nails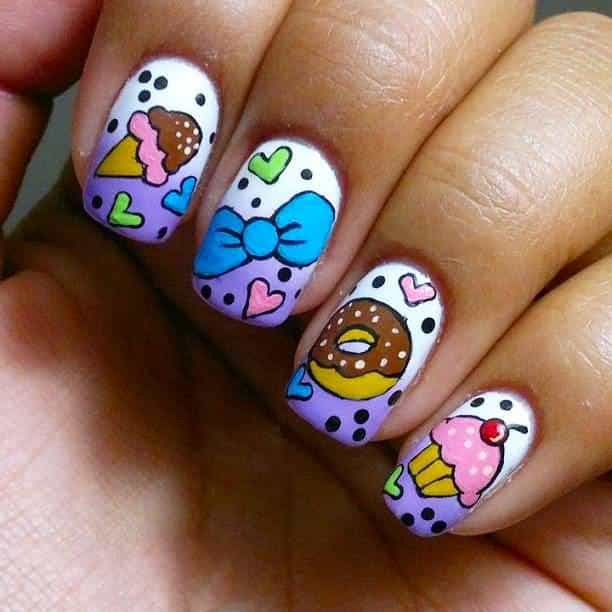 A cupcake nail art need not be just that; anyone with a sweet-tooth will kill for a donut too. For aficionados of such confectionery, it is a great idea to paint donuts, ice-creams, cupcakes and other sweet nothings on the nails. Pink is a common background for painting anything sweet (literally so!), although ideally, any subdued background like white, cream, ivory goes well with the fun-factor of cupcakes.
How to Draw Cupcakes
Every manicurist must learn how to draw cupcakes, seeing that these patterns are in very high demand these days. In fact, it is fairly easy to create a cupcake nail art. Here are the steps:
Prepare the Nails: As always, no nail art will stick if your nails are not well prepared with a strong manicure and ready to accept the several layers of polish.
Use the Base Coat: Once the nails are prepped, apply a layer of a strong base coat to smoothen the surface of the nail. Let the coat dry ut completely.
Start Painting the Cupcake (style 1): How to draw cupcakes? Easy. If you are drawing a regular cupcake, follow these instructions. First, paint the top one-third of the nail from the tip in a base brown or purple color. You can use color blocking techniques to ensure a smooth finish. Once this layer has dried out, paint longitudinal stripes in a contrasting color on top of this section. Next, you can paint a cloud-shaped icing in white, or any such demure shade atop the striped block. The curls of the icing can dribble into the striped block. That makes it look artistic.
Start Painting the Cupcake (style 2): Another way of doing this is to reverse the cupcake. You can start by painting the nail from the cuticle upwards in the base color, covering about two-thirds the nail. The curve of the tip of the nail forms a natural scoop of icing, which can be shown to dribble into the base block. Both forms of painting can be finished by adding small blobs of colorful paint and topped with a red blob of cherry.
Use the Top Coat: Once the artwork has dried out, finish it by coating it with a layer of top coat.
Drawing Cupcake on Nail Is As Easy Eating One. Check The Video!
Bourjois has come with a new Spring collection called "Sucré"! these 2 nail polishes are from the new collection. For more info, go to http://www.bourjois.co…
7 Cool Alice Wonderland Nail Designs
Cupcake nail polish art is a special draw for teenager girls. They do not require any special type of nail paint and can be painted by any manicurist with a steady hand and a clear idea of the pattern. The result is a scrumptious little confectionery, pattern snuggled in a nail.