What's better than an ice-cold drink, some chocolate, or a good movie? A hot stone pedicure.
You may be thinking that this sounds too luxurious to actually exist but it does! This involves sitting on heated stones while your feet are molded with moisturizer for about half an hour – all in preparation before even starting out nicely scented foot scrub made especially by you (of course).
If we're talking relaxation techniques then nothing beats getting pampered your toenails at home from time to time.
What Is A Hot Stone Pedicure?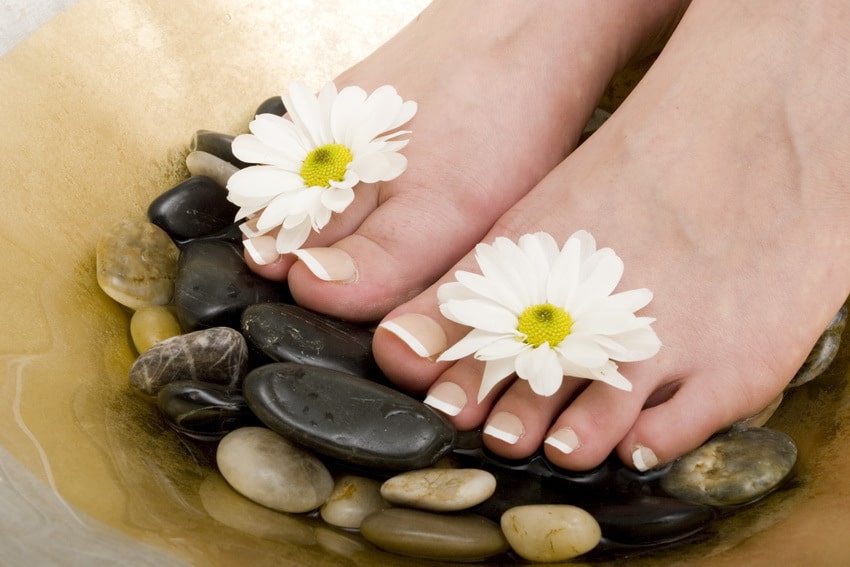 A hot stone pedicure involves, of course, a pedicure with some nail trims, removing callouses and exfoliating your skin.
Then, the hot stone part comes in. After the pedicure procedures, your feet will be treated with warm towels.
As terrifying as it may sound to use hot stones for massage, the warmth actually does wonders for your muscles and skin. You can imagine this pedicure as heat therapy.
Dry Pedicure: Try The New Trend
Benefits of Hot Stone Pedicure in Short:
Hot stone pedicure sessions are relaxing.
Increase blood circulation in the feet.
You will leave feeling refreshed and energized.
Popular therapy for athletes because it promotes recovery.
Eliminate calluses.
Erase skin scars.
Achieve better sleep.
How Does Stone Hot Pedicure Work?
A standard stone hot pedicure session at a dedicated nail spa will allow the clients to choose their favorite aromatherapy scent. You will soak your feet in warm water with some Epsom salt to relax your feet a little first.
Then, the massage therapist will exfoliate your skin – even on your heels. These stones will first be sanitized by heating them up in 120-150 degrees water. Hot stones will be used to massage your legs by pressing your pressure points first.
Your massage therapist might place a hot stone between each toe and wrap your foot up with a warm towel for about 10 minutes.
Afterward, the essential oil will be rubbed onto your feet and your calves, and your massage therapist will rub the stone over your legs and feet. When your legs are fully relaxed, your toenails will be tended to as per a standard pedicure session.
Watch Step-by-Step Video Tutorial of Stone Hot Pedicure
Why Should You Try Stone Hot Pedicures At Least Once?
This type of pedicure is available in any salon with its own special foot spa. Admittedly, it does cost a little more than your usual pedicures, but the extra cost will be so worth it when you are relaxed after the session.
Other than the obvious benefit of having relaxed foot muscles and de-stressing yourself in general, you will feel refreshed with your pressure points being massaged. Even Chinese medicine practices hot stone massages since this technique is believed to contain both yin and yang energies!
One of the main benefits of massaging your feet with hot stones is that the tension or even cramps within your knotted muscles can be relaxed, which helps blood to flow better and thus, remove some toxins from your muscles.
Embrace Shellac Pedicure Ideas
You Can Do A Hot Stone Pedicure from Home!
Most of the stone pedicures utilize basalt stone, which is a black volcanic rock. These rocks are used since they are often found smoothened by the river or sea currents.
They are also excellent at absorbing and retaining heat. As such, if you are looking to get this session done from home, go through with the steps-
Purchase these stones online or from a salon that sells them.
Heat these stones up in an old slow cooker if you want to, but always be sure to remove the hot stones carefully with a pair of tongs afterward!
To be safer, use a massage stone heater that is also available in the market.
Make sure that you have some towels nearby for your pedicure session as well.
Easy & Quick process: Prepare Basalt Stones for A Hot Pedicure at Home
Tips for An Awesome Stone Hot Pedicure Session
Not everyone is a specialist in hot basalt pedicures even if they are skilled massage therapists.
If you are looking to get this spa and pedicure session done at a salon, you should request a hot stone massage specialist. This is more important than you think since hot stones can be difficult to handle.
Some Safety Measures You Should Know About
If you are doing this in a salon, you should make sure some safety measures:
Sanitization measures have to be ensured. Since these stones are also used on other individuals' bodies, these hot stones need to be bathed in hot water properly before it is used for the next client.
Of course, you need to ensure that the hot basalt pedicure specialist knows what they are doing since overheated stones can turn a relaxing pedicure session wrong very quickly! As an example, hot stones should not be left static on your bare skin since this could lead to skin burns, even if you have a towel between the stone and your skin!
Cute Pedicure Nail Designs for 2023
It's best if you can visit a salon for your first hot stone pedicure so that you can get a rough idea of how it works.
Once you have caught on to the techniques and methods used, you can start trying to DIY it at home! Who knows, perhaps your massage therapist would have better tips for you.