If you want to take your nails to the next level and learn how to do chrome nails with glitter, look no further!
Our guide can help you create idyllic nails with a high level of sparkle, so you get the most visual impact from your manicure.
What Are Chrome Nails?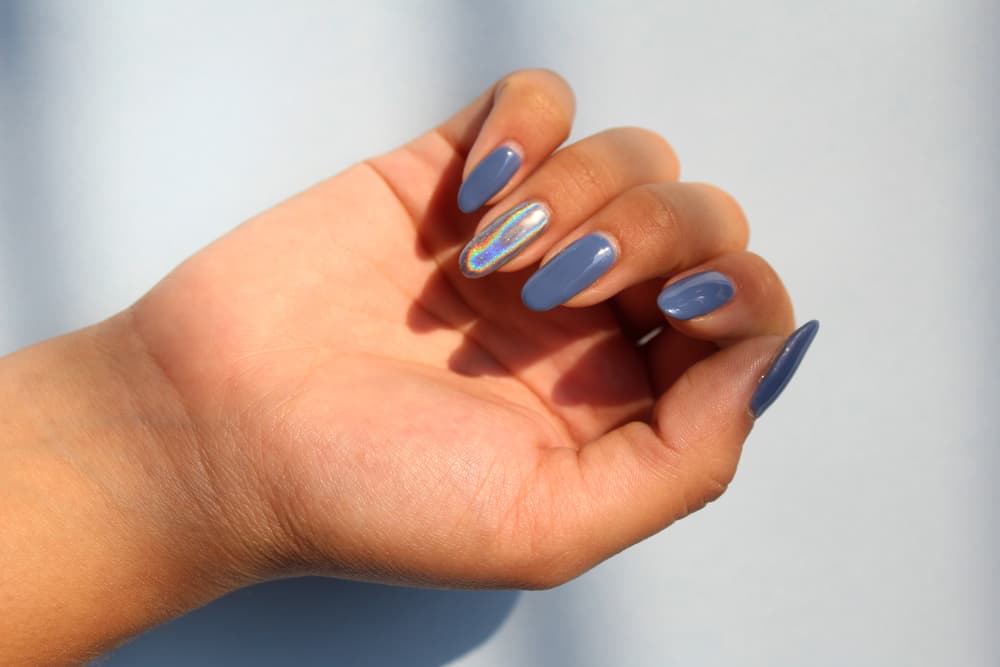 Chrome nails get their look from a special chrome pigment applied to a preliminary layer of polish. Achieving this look requires buffering your nails and completing a few preparation steps before curing the first layer of nail polish. Some products also require drying your nails under a UV lamp.
Chrome nails come in many different shades, and you can add little charms, glitter, or other adornments as needed to create a more custom look. Some individuals like to layer super-fine glitter over chrome nails to give them a more satin sheen with a hint of sparkle.
What Does Glitter Do to Chrome Nails?
Traditional chrome nails give the nail a metallic look and highly reflective surface compared to regular nail polish, and chrome polish also serves as an ideal base color for creating various other finishes.
For example, you can use a chrome base layer to create a holographic effect or the opalescent mermaid effect. Depending on how fine the glitter is, you can get a subtle sheen or use chunkier glitter for a bold statement that allows the chrome base to show through.
How to Do Chrome Nails with Glitter
There are a couple of different ways to apply the glitter over a chrome nail to achieve your desired effect, and many of the online examples will have you apply loose glitter directly over your chrome nail.
This technique makes it easy to apply the glitter, and you'll get the best sparkle since the chrome shines through between the glitter particles.
Other methods feature similar processes and include:
Applying chrome powder over gel polish
Spreading chrome powder over regular polish
When working with the gel polish method you'll need to use a UV light, but all of these methods require a good base coat and top coat to prevent premature peeling or chipping.
Start with clean and dry nails for all of these methods and apply a base coat and base color. Your base color can be regular nail polish or chrome nail polish, and we'll go over the steps you'll take using these products.
2 Best Ways to Remove Powder Nail Polish
Prep and Base Colors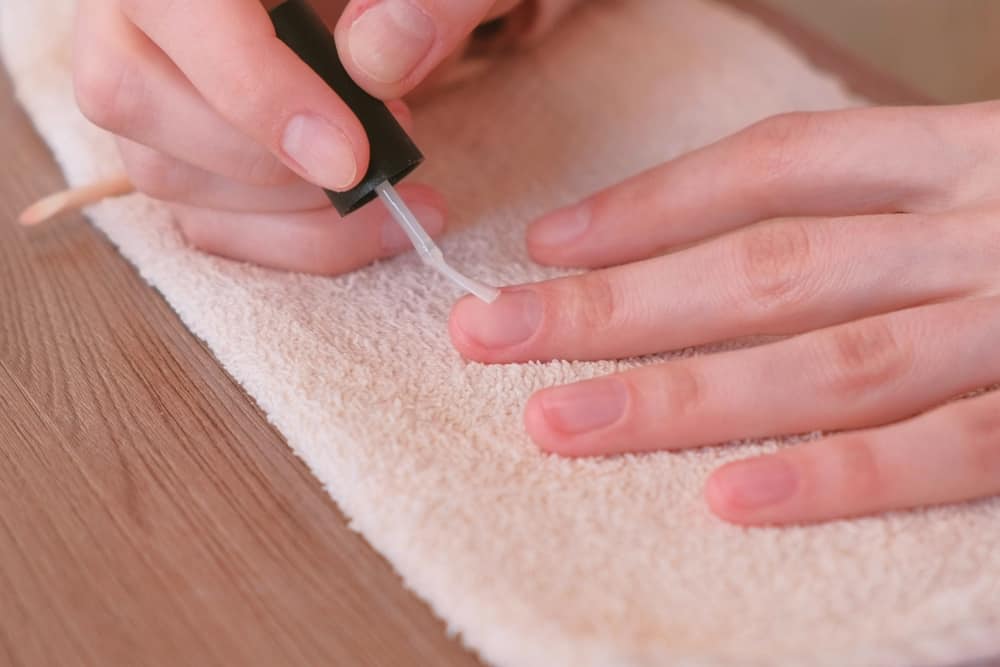 Once you have the base color applied to all of your nails, you'll let it dry for about five minutes, so it's mostly dry before applying a top coat for the smoothest surface possible.
It's important to note that the chrome finish highlights any imperfections on the nail surface, including even tiny bumps.
Chrome Powder and Topcoats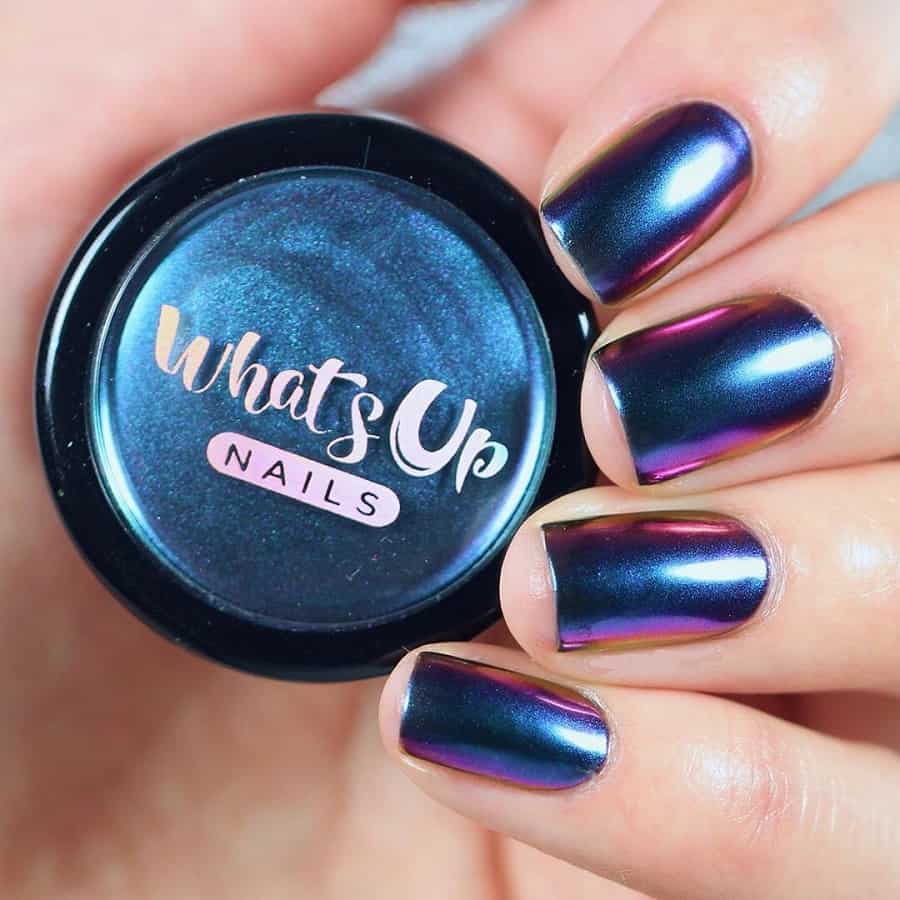 Source: Instagram
If you're going to use chrome powder on the surface of your nails, you don't have to use a topcoat product first, but many individuals will apply a topcoat under and over the glitter layer for the best adhesion.
How To Remove Glitter Nail Polish: 5 Easiest Steps
Applying Glitter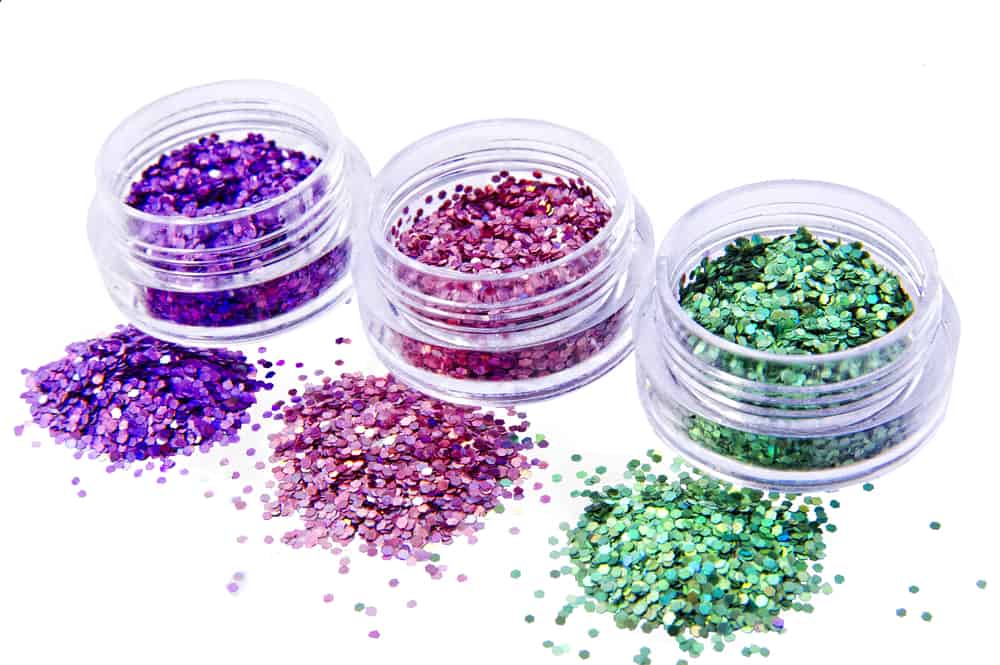 Once you have your chrome layer in place, you can apply glitter to your nails one at a time and allow them to dry before knocking off the loose glitter.
If you're using a gel polish or holographic powder, make sure to follow the instructions, as some of these products require curing utilizing a UV or LED lamp.
If you want to experiment with different types of glitter, take a look at some varieties of craft glitter. Crafting glitter comes in many textures and ranges from finely milled to chunky so you can achieve a custom look.
Finer glitter is easier to adhere to your nail and is less likely to come detached when adequately sealed with a topcoat. Larger particles of glitter add significantly more drama but might require that you use tweezers or another tool to place individual pieces in their desired location.
FAQs
If you have further questions about doing chrome nails with glitter, check out the answers to some frequently asked questions.
Do I need to add glitter to my chrome nails?
It's unnecessary to add glitter to your chrome nails, but adding different colors of glitter enhances how your nails look. For example, you can try different glitter types and colors to create a mermaid or ombre glitter nail effect.
Can I use any type of glitter?
Glitter comes in various textures, but more delicate glitter pieces create a different texture than chunkier glitter. Whichever you choose, you'll end up with a surface that you can manipulate to create a faded or ombre effect.
Can I create chrome nails with glitter at home?
Yes, you can buy everything you need to create high-quality chrome nails with glitter at home, and you won't need to visit any specialty stores to get professional quality materials.
At-home kids available online provide everything you need to get started, and you can see examples by doing a quick search online.